Surnames Beginning With 'U & V'
---
JOHN VAN HOOSER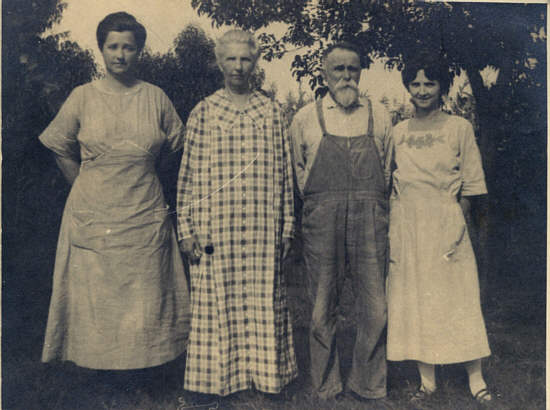 (Nancy) Meckie Van Hooser, Nancy Ann (Russell) and John M. Van Hooser.
The younger woman is thought to be a granddaughter, Grace M. Van Hooser.
John Van Hooser was born 26 July 1849 in Miller County, MO. He was one of three sons born to Bluford and Deborah (Jenkins-Freeman) Van Hooser. His parents married c/1845/46 in Miller County. Both were middle-aged and had other children from previous marriages. Bluford was born in Kentucky about 1807 and Deborah, daughter of Henry Jenkins Sr., was born in Claiborne Co., Tennessee circa 1808.
Bluford Van Hooser, father of John, was a son of Sampson Van Hooser and Elizabeth Cowan who married on 4 January 1804 in Wayne Co., Kentucky. Sampson was a native of Montgomery Co., Virginia, born in 1779 and Elizabeth was also born in Virginia in 1787. The grandparents of Bluford were Jacob Van Hooser (1751-1845) and Elizabeth Rinehart.
Deborah's first husband was James Freeman, whom she married back in East Tennessee. They were parents of six children: Nelson Freeman, Louisa Freeman Edgeman, Mary Ann Freeman Williams, Jane Freeman Boyd, Sarah Freeman Jenkins and Isabelle Freeman Stepp. James and Deborah (called Debby) came to Miller County prior to 1840 and settled in Jim Henry Township near present-day Mary's Home. James Freeman died in 1844 leaving Deborah with her six children to rear alone. About 1845/46 she married Bluford Van Hooser who lived in the same area of northern Miller County. Before Deborah's death, in the mid 1850s, she had three more children by Van Hooser including James, John, and Henry. Henry must have died young because there is no account for him in later records.
NOTE: I have heard from a Van Hooser descendant who is descended from the first wife of Bluford. Her ancestor was Amanda C. Van Hooser who married Samuel Long. She did not send names of other children that may have been born to the first wife, only her ancestor.
After Deborah's death, Bluford married his third wife, Louisa Evans in June 1856. He fathered four children by Louisa including Nancy Jane Van Hooser, Cordelia A. Van Hooser, Bluford Van Hooser Jr., and Sarah Van Hooser. Sometime between 1870 and 1880, Bluford died. The burial place of Bluford and Deborah (Jenkins-Freeman) is unknown. I have to wonder if they are at Jenkins-Bungart Cemetery near Marys Home where many members of the Jenkins family are buried. Perhaps only Deborah is buried there.........
John Van Hooser, son of Bluford and Deborah, attended schools in both Miller and Moniteau counties. At the age of 19 years, he began a business dealing with local farming in Moniteau County. In February 1874, he married Nancy Adeline Russell, daughter of Buckner J. and Martha Jane (Clark) Russell. Her grandparents, all from East Tennessee, were Hiram and Jemima (Etter) Russell and James and Polly (Stubblefield) Clark. The town of Russellville (in nearby Cole County) received it name from members of this Russell family who lived in the immediate area.
John and Nancy moved to Saline Township, Miller County, MO, after their marriage and bought some land in the eastern section of the township. Some of their neighbors were James Agee, Phillip Stubblefield, James Long, James Hicks, and John Templeton. John cultivated part of his land and also had some fine timber on another part of the farm. In 1885, the Van Hoosers built a nice home on their acreage and planted 100 apple trees, the beginning of an excellent orchard.
As the years went by, John became a prosperous stock raiser, dealing in both cattle and hogs. He was very interested in education and served as a member of his school's board of directors; was an active member of the Agricultural Wheel; and his family attended the Christian Church at Olean.
The children of John and Nancy (Russell) Van Hooser were:
Hiram Buckner Van Hooser b. July 1876 m. (1) Mary Ann Bond 1895 (2) May Hill 1900
Martha Leona Van Hooser b. 1878 m. Ollie Etter 1894
Nancy Meck Van Hooser b. Oct 1882 m. Thomas W. Bond 1904
Deborah Jane Van Hooser b. June 1886 m
John Van Hooser lived until January 1, 1932 when he died at the age of 83 years and was buried at Eldon City Cemetery, Eldon, MO. His wife of 58 years, Nancy Adeline (Russell) Van Hooser, survived John for 10 years when she died at the age of 88 years on October 8, 1942. She was buried beside John at Eldon's City Cemetery.
NOTE: Until I started researching my family's history in 1975, I had no idea that John Van Hooser was a half-brother to my great, great randmother, Jane Freeman Boyd. She was the daughter of Deborah (Jenkins-Freeman) and her first husband, James Freeman. John Van Hooser was a son of Deborah and her second husband, Bluford Van Hooser.
---
JAMES HARVEY VERNON
James Harvey Vernon was born in Miller County on June 13, 1853. He was a son of Wilburn Vernon (1827-1904) and Sarah S. Henderson (1828), early settlers in Saline Township. They married in Miller County on 20 May 1847, the marriage performed by Hugh Gartin, a justice of the peace.
The children of Wilburn and Sarah Vernon were:
1. Mary E. Vernon b. c/1848 m. Benjamin F. Allen 1865
2. William J. Vernon b. c/1850 m. Theodosia E. Jordan 1884
3. James Harvey Vernon b. c/1853 m. 1-Sarah D. Jones 1871 2-Rachel S. Cox 1885
4. Isaac T. Vernon b. c/1856 m. Martha J. White 1882
5. Martha A. Vernon b. c/1858 m. John M. Evans 1873
6. Nancy E. Vernon b. c/1860 m. no record found
7. George W. Vernon b. c/1864 m. Martha A. White 1882
8. John A. Vernon b. c/1866 m. Rosa McKinney 1886
9. Frank Marion Vernon b. c/1869 m. Sarah Kelsay 1891
James Harvey Vernon, third child of Wilburn and Sarah, married Sarah D. Jones on 6 September 1871, the marriage conducted by Ludwell Bacon, minister. They became parents of at least 5 children (perhaps more) before her death on 10 Dec 1881. James then married his second wife, Rachel Salina Cox on June 14, 1885. They became parents of several more children. According to his obituary he was father of 19 children! Five of the nineteen preceded him in death.
I was not able to get a complete list of all 19 children but did find the following:
1. Eliza A. Vernon b. 1873 m. Levi Cunningham 1891
2. Fannie B. Vernon b. 1875 m. George B. Skiles 1891
3. William A. Vernon b. 1876 m. Mary A. Stark 1898
4. Nancy L. Vernon b. 1878 m. Robert Forrest White 1897
5. James Walter Vernon 1880-1887
6. Myrtle Vernon 1888-1889
7. & 8. infant son & dau. born & died 1898
9. Virgie N. Vernon 1889-1890
10. Cecil Vernon
11. Gertie Vernon
12. Amy Vernon
(I could not find record of the other 7 children)
Rachel Cox Vernon died 20 April 1932 and James Harvey (whom many called "Uncle Harvey") continued to live on the same homestead where he had spent most of his life and reared his large family. On May 2, 1941, Uncle Harvey Vernon died of a stroke at the age of 88 years. He was survived by 14 children, 55 grandchildren, 75 great grandchildren, and 3 great, great grandchildren.......can you imagine he left behind a legacy to 149 descendants!! He was also survived by a brother, Frank Vernon and a sister, Elizabeth Vernon Merriott.
His funeral services were held at the Aurora Springs Baptist Church where he had been a member for many years, conducted by Rev. N. E. Williams. Following the funeral, he was buried at Allen Cemetery where both his wives were also buried (Sarah Jones-Vernon in 1881 and Rachel Cox-Vernon in 1932.
---
REBECCA VERNON
Rebecca Vernon was born near Olean Jan.30, 1832. At that time, the area was part of Cole County and later became Saline Township of Miller County. She was the sixth of 16 children born to Jeremiah Vernon (b. c/1805) and Elizabeth /Betsy Vernon (1809-1880), natives of East Tennessee. They came to central Missouri in the 1820s so were one of the area's pioneering families. Jeremiah (called Jerry) and Betsy had a large family. As far as I can determine, they had at least 16 children. Not all names have been found, but those gleaned from census records include Caroline, Martha, Ann, Larkin, George, Missouri, Susan, James, Leah, and Rebecca. Some of the other children may have been Wilburn, Polly and Sarah.
On April 16, 1848 Rebecca married Richard Calvin Starling (1822-1898), son of Thomas Day Starling and his wife, Elizabeth Starling. The Starling family was also natives of Tennessee and had lived in Saline Township for quite some time.
Rebecca became the mother of nine children including
Mary E. Starling b. c/1849;
Susan E. Starling b. c/1852;
Nancy J. Starling b c/1853
William H. Starling h. c/1855
James M. Starling b. c/1856;
Martha M Starling b. c/1858;
Amanda M. Starling b c/1863;
Eliza R. Starling b. c/1867 and
Thomas M. Starling b. c/1871
Among the, neighbors of the Starlings in 1880 were the families Sullens, Harrison, Pitchford, McClure, Stephens and other Starling families. In October 1885, Rebecca Vernon Starling became a member of the Mt. Herman Church and remained a member until her death on April 23, 1900. Her' services were conducted at the church with Rev. David McComb officiating. She, had been paralyzed for two years prior her death, probably due to a stroke. She died at her home in 1900, which was located three and a half miles east of Olean. She was buried at Allen Cemetery. I presume her husband, who died in 1898, was buried there also, but no record was found of his' gravesite in cemetery inventory records. Many of her Vernon kinfolk's are also buried at Allen Cemetery. She was survived by only two sons and one daughter, having been preceded in death by her husband and six children.