Surnames Beginning With 'P'
---
JULIANN PACK FAMILY
The date was 11/16/1851, when a young woman named Juliann Pack made a "last will and testament" in Miller County and filed it for record at the courthouse. She was 24 years old, by her own words, "being in a low state of health but of sound mind and memory do make and publish this my last will and testament."
Juliann was a daughter of William and Cloah/Cloe Pack who were living in the Osage River country of Jim Henry Township in 1840 when the Miller County census was taken. William & Cloe had four daughters and two sons living with them in 1840. Some of their nearest neighbors were families of Row, Belshe, Woods, Roberts, Witten, Freeman, Newton and Roark. Their nearest neighbors in 1840 could have been quite a distance away, since the county was sparsely settled in the 1830s & 40s.
By 1850, the Pack family had evidently moved south of the Osage River and was living in Osage Township near the old Capps settlement.
Some of the children of William & Cloe were:
William Pack born c/1814 in VA
Anderson Pack born c/1818 in VA
Juliann Pack born c/1827 in VA
Eri Pack born c/1833 in VA
and Rachel Pack born c/1835 in Missouri
By the census records it would appear the Packs were in Missouri by 1835. Their neighbors in Osage Township were the Dentons, Birdsongs, Bilyeus, Capps, Thackers, Ramseys and Goldens. In Juliann Pack's will was reference to her property, which included a mill on Humphries Creek called "Packs Mill". In research I found that Pack's Mill was a cotton gin and carding/flour mill located on Humphreys's Creek. The exact location is not known, but I would venture a guess it was not far from the mouth of the creek that empties into the Osage River a short distance east of the old Capps settlement/landing.
With speculation, I would presume her father, William Pack, was the owner and operator of the mill and Juliann had an heir's portion of the property. She willed it to her mother, Cloe Pack, so it is likely her father, William may have been deceased in November 1851. The executor of her will was Daniel Cummings of Tuscumbia with witnesses Dr. George W. Lansdown and Dursewell Wright to her last will and testament.
Also in her will was an item that was interesting...she willed her mother all her rights of title and interest in an estate of her "father's father" (her grandfather) in Monroe County, Virginia. Her grandfather was Samuel Pack, deceased, "late of Monroe County, Virginia" in 1851. I do not know what happened to Juliann Pack. There is no record of the Pack family in the 1860 census of Miller County. Did Juliann die between 1851and1860 while still living in Miller County? Did her mother and the rest of the family move on westward or did they return to their original home in Monroe County, Virginia? Many questions are left unanswered about this elusive pioneer family of Miller County. Did Juliann Pack die as a young woman, hardly before her life had begun, here in Miller County? Is she still resting somewhere in a peaceful valley in our Osage River country?
---
MAHALA J. PEMBERTON WALL
Mahala J. Pemberton was born in Miller County on March 14, 1868. She was a daughter of James Lewis Pemberton (1845-1931) and Frances Jane Williams (1845-1926). She was the second child born to James and Frances.
Their family included:
SARAH PEMBERTON (1867-1867)
MAHALA J. PEMBERTON b. 1868 m. Daniel Gideon Wall 1890
JOHN RILEY PEMBERTON b. 1871 m. Laura B. Pemberton 1896
LEWIS PRESTON PEMBERTON b. 1875 m. Stella B. Watkins 1902
ELBERT PEMBERTON b. 1879 m. Edith Swofford 1908
WILBERT DAVID PEMBERTON b. 1881 m. ? (he later moved to Oklahoma)
WADE A. PEMBERTON b. 1883 m. Edna Frances Wall 1904
NAOMI G. PEMBERTON b. 1886 m. Ray Casey 1908.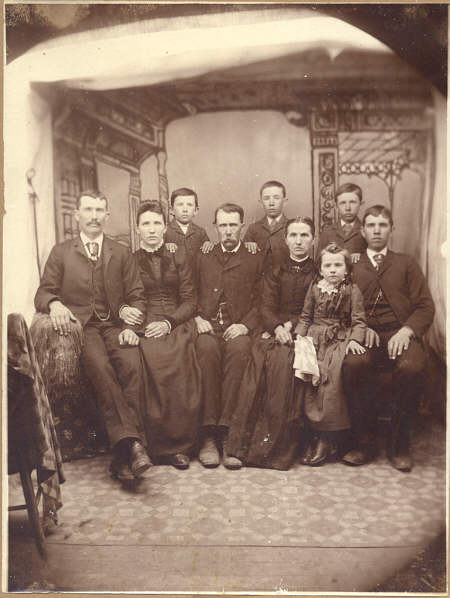 Pemberton Family about 1890:
John Riley, Mahala, James Lewis, Francis Jane,
Naomi, Lewis Preston, Wade Alexander, Elbert, Wilbert David
Mahala married Daniel Gideon Wall in Miller County on 27 February 1890, the marriage conducted by Manessah Catron, a minister of the gospel. Daniel was born 10 May 1863 and was a son of James Wall and Malinda Price, natives of Montgomery County, Virginia.
They were parents of at least 9 children including:
WILLIAM J. WALL 1847-1919
ADAM FLOYD WALL 1849-1926 m. Susannah Williams
FRANCES V. WALL 1851-1932 m. Andrew Jackson Plemmons
JAMES T. WALL 1853-1915 m. ?
HENRY D. WALL 1854-1916 m. Mariah C. Graham 1879
GEORGE P. WALL 1857-1936 m. ?
CROCKETT M. WALL 1860-1932 m. ?
DANIEL GIDEON WALL 1863-1933 m. Mahala J. Pemberton; and an infant son died at birth.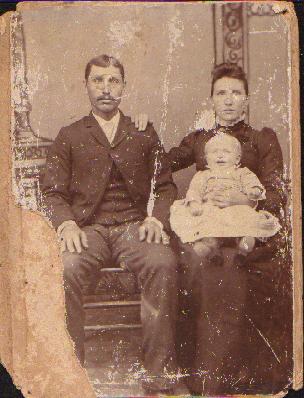 Dan & Mahala Wall about 1892
Mahala and Daniel Wall lived in Glaize Township near the old Honey Springs schoolhouse. In 1900 their neighbors in the eastern part of Glaize Township were William and Haseltine (Phillips) Howell, Samuel and Estella Williams, Oliver and Lucy (Gumm) Pierce, John and Nancy (Meredith) Shelton, and Samuel and Lucy Bass.
The children of Mahala and Daniel were:
Virgil A. Wall 1892-1983 m. Ann Hill
Urshel Lewis Wall 1894-1957 m. Alma Cochran
Hobart Ernest Wall 1897-1980 m. Nellie Ramsey
Ora Wall m. Mabel Karr
Noble Wall 1904-1998 m. Ezmul Belle Karr
Ruby Wall m. Robert Colvin
an infant daughter died in 1891 and another infant daughter died in 1900.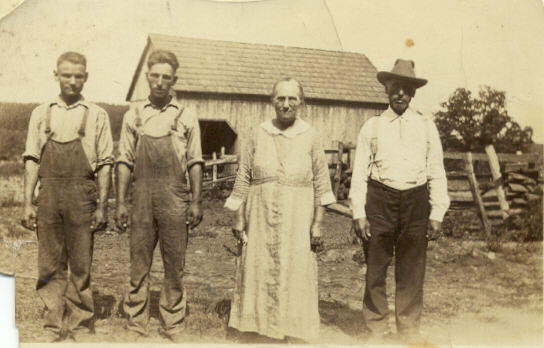 Ora, Noble, Mahala and Daniel Wall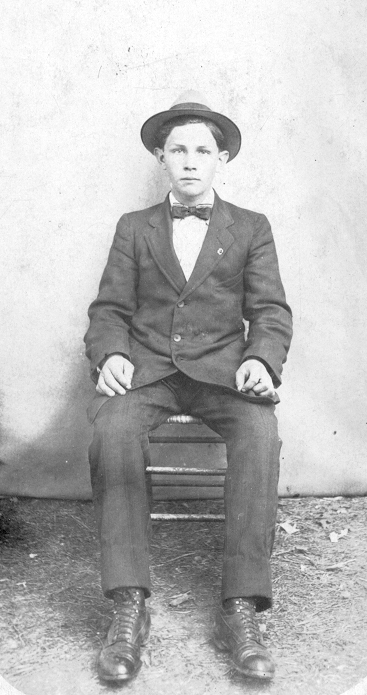 Urshal Wall
Mahala J. Pemberton-Wall died 10 January 1934 and was survived by 6 children; one sister, Mrs. Ray Casey (Naomi); and five brothers, Lewis Preston Pemberton, John Pemberton, Wilbert Pemberton, Wade A. Pemberton, and Elbert Pemberton. Her funeral services were held at her home by Rev. Virgil Smith of Brumley and she was buried at Williams Cemetery beside her husband, Daniel G. Wall, who had died a year earlier on January 13, 1933.
---
SAMUEL PENNINGTON
Samuel Pennington was born in Pulaski County, Kentucky on 16 May 1828. He married Martha Walls in Kentucky on June 8, 1848 and they came to Miller County 2 years later in 1850. Martha was born in November 1833, a native of Kentucky.
They were parents of 14 children (8 boys and 6 girls). I have found the names of all their children except for one son.
They were:
1. Perlina/Pauline Pennington b. c/1850 m. James W. Plemmons 1871
2. Perry Pennington b. c/1852 m. Mary Jane Wilson 1873
3. William Pennington b. c/1854 m. no record found
4. John Pennington b. c/1857 m. Louisa McCubbin 1875
5. James Pennington b. c/1859 m. (1) Rosena Martin Sidwell 1882
(2) Ida Moneymaker 1890
6. Benjamin Pennington b. c/1864 m. (1) Sarah E. Coffee of Camden Co. 1887
(2) Sarah L. Winfrey 1893
7. Mary E. Pennington b. c/1862 m. Theodore B. Wornell 1884
8. Everett G. Pennington b. c/ 1866 m. (1) Mary Jane McComb 1884
(2) Lucy J. Holman 1899
9. Harrison Pennington b. c/1868 m. Alzora J. Wornell 1886
10. Lucinda Pennington b. c/ 1870 m. William E. Chambers 1889
11. Rosena Pennington b. c/1872 m. John C. Williams 1889
12. Ida Pennington b. c/ 1874 m. David E. Thompson 1890
13. Waxa/Walksie Pennington b. c/1876 m. David J. Slifer 1897
On December 28, 1859, Samuel Pennington served as a juror to decide a case in a Justice of the Peace Court in Glaize Township. William Abbott, a schoolmaster, sued John Carlton, William Wright and Hezikiah Robinett who were trustees of the local school district (now located near the town of Brumley) for $5.00. The case concerned a student who had gone to the school for a 6-month period and evidently the teacher was not paid for the particular student. Mr. Abbott was awarded $3.00 for his services minus a credit of $2.00 which was called a 'sow credit'....I have no idea what a 'sow credit was!!
The Pennington family lived about 8 miles south of Brumley when they first came to Miller County, which would have put them very near the Camden County boundary line. At the beginning of the Civil War, Samuel enlisted in the Union Army in the Osage Regiment under the command of Col. J. M. McClurg who later became a governor in the state of Missouri. In later years, Samuel became a member of the William Hawkins GAR Post #425 in Brumley, which was an organization of old Civil War soldiers.
Both Samuel and Martha (Walls) Pennington became members of the Baptist Church in Miller County.
Martha died in June 1904 and was buried at Gott Cemetery in Glaize Township. At the age of 82 years, Samuel married his second wife, Catherine Stout on June 15, 1910. Their marriage was performed by, J. D. Thompson, a minister of the gospel. Catherine nursed him through the remaining years of his life as he was quite feeble and in ill health. He died in April, 1914, almost reaching his 86th birthday. He was buried beside his first wife, Martha, at the Gott Cemetery. His funeral services were conducted by Rev. J. C. Thompson and Brother J. M. Hawkins.
In Gott Cemetery is the following information on their double tombstone:
Samuel Pennington 16 May 1828-no death date given on the gravestone (April 1914)
Martha Pennington 17 Nov 1833 - 28 Jun 1904
---
ANDREW JACKSON PERKINS
Andrew Jackson Perkins was born in Franklin County, MO on January 3, 1829. The area where he was born would later become part of Gasconade County when it was formed. The Perkins family was pioneer settlers in Missouri Territory. Isaac Perkins was an early-day hunter and trapper who came into the Gasconade river country as early as 1818. Other members of this family who lived in Franklin and Gasconade counties before 1840 were Hiram Perkins, Shockley Perkins, Levi Perkins, and Rebecca Perkins. I do not know for sure, but I suspect Rebecca may have been the mother of Hiram, Shockley and Levi and perhaps was the wife of Isaac Perkins.
Andrew Jackson Perkins married Tabitha Lambert/Lambeth on 14 April 1850 and they became parents of six children. After her death, Andrew married Susan Elizabeth (Prior) Ward in Osage County on 28 May 1865. Evidently Susan Elizabeth was the widow of John E. Ward whom she had married in Gasconade Co., MO on April 20, 1856. Before her death, circa 1866, Susan Elizabeth had given birth to one son by Andrew Perkins. She may have died in childbirth. Andrew's third wife was Mary Jane Young who was only about 17 years old when they married in Osage Co., MO on May 12, 1867. Andrew and Mary Jane were parents of six children.
Andrew J. Perkins had 13 children by his three wives, the names not all known.
The following have been found recorded in census, probate, and death records:
ARZULA/MARY b. c/1854 m. William B. Jones
REBECCA S. b. 1855 m. Robert O. Lea
LOUISA b. c/1861 m. (no record found)
RUSSELL b. c. 1863 m. (no record found)
MELVIN b. 1868 m. Adeline Cross
MELISSA b. 1869 m. (no record found)
ELIZA J. m. William A. Lawson
PARALEE m. George Whalen
EVELYN EVA b. 1890 m. Oliver Delbert Agee
EMELINE (died before 1918)
VIOLA (died before 1918).
In 1852, Andrew became a member of the Methodist church and later served as a pastor in the Methodist movement in central Missouri. Andrew and his third wife, Mary Jane (Young), were living in Miller Township, Maries County, MO during the census of 1870. There were 6 children in their home at that time. By 1880, they were still living in Miller Township of Maries County. The census record gave the info that Andrew's father was born in North Carolina and his mother in Missouri, but I would imagine his mother was born in North Carolina or one of the eastern states. Mary Jane's parents were both natives of Illinois. Their neighbors during the 1880 census were the families of Bumpass, Stites, Rowden, Copeland, and Crismon.
I am not sure when he and Mary Jane came to Miller County, but probably after the turn of the 20th century. Two of their children, Melvin Perkins and Rebecca Perkins Lea, were living in the Iberia area by 1900, so the older folks probably moved to the area to be near their children and families. He owned several tracts of land in Iberia at the time of his death in 1918.
Andrew Jackson Perkins died 10 February 1918 at the age of 89 years. His funeral was held at the Methodist church, conducted by Rev. T. R. Hodge and Rev. Charles M. Sooter. He was buried at Brays Union Cemetery, a few miles northeast of Iberia. Mary Jane Perkins died in 1926 and was buried beside her husband with whom she had spent over 50 years of her life. Most members of the Perkins family, who still live in the Iberia area, are descendants of Melvin Perkins and his wife, Adeline Cross.
---
REBECCA LEA PERKINS
In October 1949, Iberia's oldest citizen, Mrs. Rebecca Lea, was honored on her 94th birthday. "Grandma Lea", as I remember her, lived on to almost reach her 101st birthday when she died in March 1956. The newspaper report said her "memory is good and she can recall days of long ago."
Rebecca S. Perkins was a daughter of Andrew Jackson Perkins and his wife, Mary Jane. She was born in Maries Co., MO on 8 Oct 1855. She was one of several children born to the Andrew and Mary Jane. Her brothers and sisters included Arzula (Jones); L. Eliza (Lawson), Paralee (Whalen), Eva (Agee), Russell Perkins, Robert Perkins, Melvin Perkins, and Lewis Perkins. There may have been other children who died young. The above names were listed in a 1926 probate record as heirs of Andrew Jackson Perkins.
On Jan. 30, 1876, Rebecca S. Perkins married Robert O. Lea in Maries Co., MO. They lived there for a few years and eventually moved into Miller County, locating near Iberia.
She and Robert had five children:
1. Dora Elizabeth Lea 1881-1936 m. William Pickering
2. Charles A. Lea (later lived in Montana)
3. Mary L. Lea 1877-1951 m. Richard M. Pankey
4. Laura J. Lea 1888-1970 m. William W. Dake
5. Albert A. Lea 1886-1898
Rebecca's husband, Robert O. Lea, was born 19 Apr 1857, a son of Alexander and Elizabeth Lea, natives of Illinois and Alabama, respectively. Robert preceded Rebecca in death when he passed away in October 1925. Both Rebecca and Robert are buried at Brays Union Cemetery, northeast of Iberia.
Grandma Lea was one of those marvelous pioneer ladies who reared her children, kept her home a safe haven, worked beside her husband, and still had time to make hand-woven counterpanes, home-made blankets, and hand-quilted patchwork quilts which became prized family heirlooms.
NOTE: When I was about 2 years old and my brother was an infant, my parents lived in the home of "Grandma Lea". This would have been about 1937. They lived in the upstairs area of the Lea's 2-story house in Iberia. I was too young to remember when we lived in her home, but I have heard my mother speak so kindly of her. She had granddaughters living with her at the time (Lucy and Ollie Pickering) and all three women took turns spoiling my brother and myself, per my mother! Today I can barely remember "Grandma Lea", but I remember Lucy and Ollie Pickering so vividly as I grew up in Iberia. Neither one of the women ever married. Ollie died in 1965 and Lucy lived until 1996.
---
MARY CATHERINE PHILLIPS ROBINETT
Mary Catherine Phillips was born near Brumley in December 1864 (some records give her birth year 1866). She was a daughter of Irvin and Louisa (Robinett) Phillips of Scott Co., VA. Her parents came to Miller County in the early 1850s from Virginia with three children. Several more children were born to them after arriving in Missouri.
They had a large family including:
LEWIS PHILLIPS b. 1846 m. Sarah E. Trusley
REBECCA A. PHILLIPS 1847-1911 m. Andrew T. Robinett
MICHAEL PHILLIPS b. 1850 m. Sarah Pemberton
DELILAH PHILLIPS b. 1851 m. Richard Godfrey
LUIZEA JANE PHILIPS b. 1854 m. James L. Gardner
IRVIN PHILLIPS JR. 1856-1937 m. Sarah Jane Miller
EMELINE L. PHILLIPS 1857-1941 m. William James Godfrey
SARAH/SALLY PHILLIPS b. 1860 m. Alexander Godfrey
DANIEL PHILLIPS b. 1861
MARGARET PHILLIPS b. 1863 m. George W. Luttrell
MARY CATHERINE PHILLIPS b. 1866 m. Samuel Robinett
LAZARUS G. PHILLIPS 1871-1948 (never married)
BALIUM PHILLIPS b. 1874 (no other record found).
The Phillips, Robinett, and Ash families were closely related before they came to Miller County. All these families are said to have immigrated from Ireland to America together. After moving to Glaize Township, they continued to live near one another. The Robinett families have a Tri-Centennial Reunion every few years at Fulton, MO and it is an international organization.
In 1890, Mary Catherine Phillips married Samuel L. Robinett, a son of Samuel and Arminda (Ash) Robinett who also lived near Brumley. Samuel, born 1838 in Virginia, and Arminda, born 1844 in Virginia, were married in Miller County in 1860. They were parents of 12 children but only 8 lived to adulthood.
The surviving children were
BARBARA ROBINETT b. 1861
PHOEBE ANN ROBINETT b. 1864 m. Wm. A. Workman
ELIZA ROBINETT b. 1865
WILLIAM H. ROBINETT b. 1867 m. Emma D. Sons
SAMUEL L. ROBINETT b. 1870 m. Mary Catherine Phillips
NORA E. ROBINETT b. 1876 m. Louis A. Thornton
DANIEL W. ROBINETT b. 1879 m. Gertie Popplewell
VESTA E. ROBINETT b. 1883.
Mary Catherine and Samuel Robinett were parents of 6 children but only two survived their parents...Phoebe Ann Robinett b. Nov 1894 (remained single) and Louisa Jane Robinett b. Apr 1896 m. Dolph Ash. (I have not found the names of the other four children who did not survive their parents).
Samuel Robinett died in 1942 and was buried at Rodden Cemetery, just a short distance south of Brumley. Mary Catherine (called 'Aunt Cat' by most who knew her) lived until November 2, 1944 when she passed on at the age of 80 years. She was survived by her two daughters, 6 grandchildren, and 2 great grandchildren. Also surviving her were a sister, Ludema Phillips, and a brother, Lazarus B. Phillips. Her services were held at Pension Ridge Church of Christ. Today this church is known as Rodden Church of Christ and the Rodden Cemetery is located near the church.
---
JOHN PICKERING FAMILY
While reading an old 1932 MILLER COUNTY AUTOGRAM a few years ago, I found an article which told a story of the devastating cholera plague which hit central Missouri in 1832. An old man living near Tuscumbia, John Pickering, told the story of his family's struggle to escape this dreaded disease. John Pickering was from an old French family who had settled in Cote Sans Dessein, a French settlement north of the Missouri river in Callaway County, later destroyed in a Missouri river flood. This settlement was begun in the early part of the 19th century in 1808. The location, in later years, was known as Barkersville.
In 1812, the small community was attacked by Indians and the seiges were withstood by a man named Baptiste Louis Roi, together with 2 other men and 2 women. Baptste Roi, along with Baptiste Denoya (the great grandfather of John Pickering) and other Frenchmen paddled their canoes up the Osage river in search of wild game needed for the winter's supply, which was more plentiful in the Osage country. It was told that Denoya was a great old-time fiddler and the others would dance to his lively music. In those days, every family had a jug of brandy on hand and with a little brandy, the fiddle music, and the dancing, those early settlers livened up their hunts.......
In 1832, there came a time of distress and disaster at Cote Sans Dessein when cholera broke out in Callaway County. Baptiste Denoya, his family, and others, making a party of 12, fled from the settlement to escape the epidemic. They came up the Osage in their canoes, navigating approximately 50 miles upriver and stopped at the mouth of Bois Bruhle creek, named also by the French. Bois Bruhle is a creek in Cole County. Its headwaters begin near the Miller County and Cole County line on Highway 54. It flows eastward toward the Osage where it empties into her waters approximately 2 1/2 miles due west of present-day St. Thomas.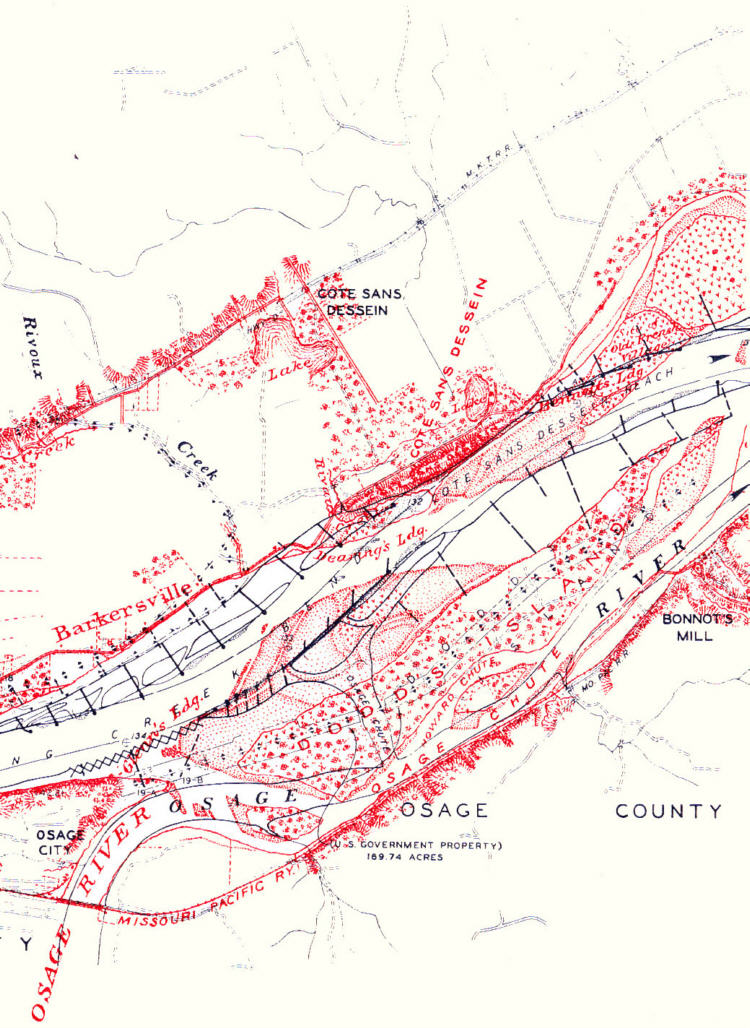 Cote sans Dessein Area (1879 & 1954 Army Corps of Engineers Maps - red 1879, blue 1954)
Margart Denoya, who later married a Roi, was the grandmother of John Pickering and a daughter of Baptiste Roi. She was born in 1816 and was 16 years old in 1832 when her family landed at Bois Bruhle. A son of Baptiste died there and it was in a rugged unpopulated area. Only one family lived in the territory: their name was Clark. I do not know which Clark family this pertained to during those years, but I do know there were several in the region in the early 1830s. The heads of household of these early Clark families included: William, George, Ephraim,Isaac, Benjamin, Michael, and John. It could have been any of these families, I suppose.
There were no burial supplies nor coffins, so they had to bury the Roi boy on a high hill overlooking the Osage river and creek. They hewed out logs, put them in the grave and laid the child inside, wrapped in a winding sheet. Another hewn log was lain over him and the grave filled with earth. We certainly have to admire those early pioneers who braved the wild country and blazed the trail for those who later came to make their homes in the valleys of the Osage.
John Pickering, mentioned above, was born in 1866 and died in 1947. He was about 66 years old when he gave the AUTOGRAM his interview about the cholera plague of 1832. In the Old Zion cemetery, located a few miles south of Tuscumbia, John Pickering and his wife, Pauline, are lying in their final resting place and in the same cemetery is his grandmother, Margaret (Denoya) Roi...Later the surname was changed to Roy. She probably lived out her elderly years with her grandson and family and I would imagine she had a marvelous memory. I am sure John Pickering heard the story of his family's flight in 1832 to avoid the great cholera plague many times in his lifetime enabling him to give the AUTOGRAM a marvelous story.
---
WILLIAM DANIEL PIERCE FAMILY
William Daniel Pierce was born in Miller County on May 12, 1873. He was a son of Thomas Woolsey Pierce and Minerva Scott. His grandfather was Daniel Pierce, born circa 1826 in Mississippi. According to census records, his father Thomas Pierce, was also born in Mississippi and his mother in Missouri. Grandfather Daniel Pierce and his second wife, Mary (several years younger than Daniel) was living in Osage Township in 1870 with eight children in their household. Evidently they had moved from Mississippi to Miller County after the Civil War.
William Daniel Pierce grew up in Osage Township and lived among the families of Roark, Workman, Wilson, Burton, Prock and Stephens. His brothers and sisters were: Martha L. (Myers), Florence Pierce (died young), Sarah J. Pierce (died young), John F. Pierce, Thomas Walter Pierce, James W. Pierce, Ethel Maude (Musick), and Ina Pierce.
NOTE: Five other children died in infancy or very young including (1) Lester Daniel, (2) Amy Lorene, (3) Ruby Loreanne, (4) Stanley Arnold (5) Edna M. William Daniel Pierce married Sarah Elizabeth Roberts in Miller County on September 19, 1897. She was only 17 years old, born in August 1880, so consent for their marriage was given by W.D. Roberts.
William Daniel Pierce married Sarah Elizabeth Roberts in Miller County on Sept. 19, 1897. She was only 17 years old, born in August 1880, so consent for their marriage was given by W. D. Roberts.
The Pierce family moved around somewhat over the next few decades. They first lived in Osage Township and then moved to the Ulman area where they lived in 1900. Henry Clay Jackson and his family who lived on the Linwood Farm south of Ulman, were their neighbors during the census of 1900. Later William Daniel & Sarah moved to Saline Township into the Etterville area and attended the Etterville church.
The children of William &Sarah (Roberts) Pierce incuded: Myrtle (Henley), Mabel (Coffman), Sylvia (Brinkman), Marie (Barnard), Hyledred (Strange), Thomas Pierce, Bert Pierce, and Otto Pierce.
William Daniel Pierce died on November 7, 1944, at age 71, and was survived by his wife, eight children, two sisters (Martha & Ethel), and two brothers (John & James). His younger brother, Thomas Walter, died only one week earlier in the fall of 1944. William was buried at Eldon Cemetery and when Sarah (Roberts) Pierce died in 1955, she was buried beside her husband. There are some members of the Pierce family buried at Gageville Cemetery south of Etterville.
---
THE PILES FAMILY OF THE OLD CAPPS SETTLEMENT
James Carroll Piles was born in 1828 in Illinois (per census records). I have not been able to find a record of his father, but believe his mother was Elizabeth Piles, who was living in the home of her daughter and son-in-law, Edmund and Mary Ann (Piles) Riggs, during the Miller County census of 1850. They were living in Jim Henry Township near the Osage River and some of their neighbors were the families of Berry, Musick, Newton, Wood, Van Hooser, Farley and Witten.
James Carroll was one of several children born to his parents including:
MARY ANN PILES b. 1826 m. Edmund Riggs 1844
JAMES CARROLL PILES b. 1828 m. (1) Emily J. Berry 1857
(2) Caroline Brazier (1881)
JOSHUA W. PILES b. 1834 m. Susan_______
PHOEBE/FERBA PILES b. 1836 m. (no record)
FERDINAND PILES b. 1837 m. (no record).
During the census of 1860, James C. (called Carroll) and Emily Piles were living in Camden County, MO in Russell Township. Their post office was listed as Mack's Creek. His mother, Elizabeth, had also moved to Camden County and was living with her son, Joshua Piles, during the same census.
By 1870, Carroll and Emily were back in Jim Henry Township of Miller County and were parents of 8 children:
PHOEBE (called Ferba) PILES b. c/1857 m. William R. Abbett
ALICE PILES b. c/1858 m. _____Messersmith
CALVIN J. PILES b. c/1861 m. (no record)
JOHN W. (called Jay) PILES b. c/1863 m. Rena Henley
MARY ANN PILES b. c/1865 m. (1) Frank Fancher
(2) Francis Abbett
WILLIS PILES b. c/1868 (never married) and his twin brother,
PORTER P. PILES m. Belle Wilson; and CHARLES PILES 1870-1870.
Emily J. (Berry) Piles died in 1876 at the age of 40 years leaving Carroll with several young children still home. He married Caroline Brazier in 1881 and was only married a short while before his death in 1882. He was buried beside his first wife, Emily, in the Berry Family Cemetery which is located today on the Bernard Schwaller farm, north of the Osage River in Jim Henry township.
By 1900, Jay and Willis Piles, sons of Carroll and Emily, were living in the Old Capps area where they owned and operated a general store called "Piles Brothers General Mercantile". They were also one of Miller County's largest early buyers and sellers of railroad ties, which was a booming business along the Osage. Some of their neighbors in the Old Capps community were the families of McDonald, Stark, Fancher, Lee, Burton, Brown, Atkinson, and Gray.
While reading old Autogram newspapers, I had often read of the Piles Brothers general store, but didn't really know anything about the family. I found a notice of the death of Willis Piles (spelled Pyles in his obituary), who had died in Rolla, MO in March 1953. It said he was a son of Mr. and Mrs. Carroll Pyles who formerly resided on a farm near Marys Home and he was survived by a brother, Porter Pyles of Arkansas, several nieces and nephews from the Abbett family of Tuscumbia. It also stated "in the late 1800s and early 1900s, he was engaged with his brother, the late Jay Pyles, in a general merchandising business at Capps." With this bit of information, I thought perhaps a story about the Piles family might be of interest to some in the Old Capps/Marys Home area.
I found an interesting item in the Miller County Autogram, dated 8 Feb 1900 ....."CAPPS NEWS...We had musical entertainment at the Piles Brothers in Capps last Friday night and we much regret the report is out that our social ended in a 'shindig'. We hardly think this name applicable to the occasion.".............According to Webster's Dictionary, a shindig is a folksy term that was described as a dance or any social affair or party or merrymaking or noisy disturbance or commotion...........To me, it sounds like they were just having a good time!
---
GERTRUDE PLASSMEYER
Gertrude (Jacobstroer) Plassmeyer was born in Germany on 19 January 1828. When a young woman, she married Bernard Plassmeyer in her native land. After Gertrude and Bernard came to America, they first settled in St. Louis. They stayed there for awhile and then followed the route of many other German immigrants into Osage County, MO and settled on a farm near Koeltztown.
In 1882, Bernard died and was buried in Osage County. In 1888, Gertrude and two of her sons, Stephen and Herman Plassmeyer, moved to Miller County and took up residence on a farm near the Little Tavern creek in Jim Henry township, northeast of St. Elizabeth (today it is Osage township). For some reason, I could not find any of the Plassmeyer families listed in the Miller County 1900 census........
Gertrude and Bernard were parents of six children but only three survived their mother including:
1. CASPER PLASSMEYER of Osage County m. Theresa Morff at St. Thomas, MO. They lived in Owensville (Gasconade County) and had 6 children including: Bill, Ben Alex, Leona, Veronica, Regina, Evelyn, and Peggy. Evelyn is the only one still living in 2004.
2. STEPHEN PLASSMEYER 1869-1947 m. Isabella Herx 20 Oct 1896 at St. Thomas. They lived on a farm in Maries County all their married lives where they raised livestock and crops. They had 4 children: MATHILDA GERTRUDE 1897-1993 m. Henry Luckenhoff at St. Elizabeth. They had 4 children: Lawrence, Leo, Laurentie (Hamacher(, and Norma Lee (Shorter); LEO STEPHEN 1899-1900; LOUIS HERMAN 1901-1988 m. Regina Borgmeyer 13 Apr 1925. They had 4 children: Roman, Eleanor (Wilde), Albert, and Lorene (Heckemeyer); EMIL m. Rose Lueckenhoff 15 Apr 1929. They had 4 children: Norbert, Leo, Evelyn (died infancy), and Mary Ann (Gentges).
3. HERMAN PLASSMEYER 1854-1935.....Herman never married so had no descendants. Gertrude (Jacobstroer) Plassmeyer died at her Miller County home on 16 October 1923. She had almost reached her 96th birthday and was one of the oldest citizens of her community. She was buried at St. Lawrence Cemetery in St. Elizabeth. Her husband, Bernard, was buried at Koelztown (Osage County) when he died 41 years earlier. Other members of the Plassmeyer family buried at St. Lawrence are Herman, Stephen and his wife, Isabella and their son, Leo.
NOTE: I could not find very much information on the Plassmeyer family in Miller County records. Some of the Plassmeyer families of Osage County are descendants of John Heinrich Nienkempter-Plassmeyer and Elizabeth (Heckenmeyer) of Wadersloh, Germany. I do not know if Bernard Plassmeyer, husband to Gertrude, was part of this family, but I suspect he was..........
---
ALEXANDER H. PLEMMONS
Alexander Hamilton Plemmons was born in Tennessee circa 1813. According to census records his parents (names unknown) were natives of North Carolina. Alexander married Elizabeth F. Hardy in Tennessee and they had several children. According to census records, Elizabeth was born c/1818 in Tennessee and her parents were natives of Virginia. Family legend states Elizabeth was an American Indian of the Cherokee tribe, but no proof has been found. Alexander and Elizabeth came to Miller County about 1851. Some of their children were born in Tennessee and some in Kentucky before they came to Miller County. At least six were born after they arrived in central Missouri. Their children included:
1. Stephen F. Plemmons b. c/1844 TN m. no record found
2. Susanna Plemmons b. c/1847 KY m. Marion A. Franklin
3. James Watts Plemmons b. c/1851 KY m. Perlina Pennington
4. Samuel C. Plemmons b. c/1851 KY m. Nancy Thornsberry
5. Andrew Jackson Plemmons b. 1852 MO m. Francis Virginia Wall
6. Angeline Plemmons b. c/185 MO m. Frank Snelling
7. Mary Louis Plemmons b. c/1857 m. R. A. Harper
8. Geo. Washington Plemmons b. 1858 MO, m. (1) Louise Christian (2) Betty McDowell (3) Mary M. Winfrey
9. Clementine E. Plemmons b. c/1862 MO m. (no record)
10. Elizabeth M. Plemmons b. c/1865 MO m. James H. Karr
Alexander Hamilton Plemmons served in the Civil War in Co. D, Osage Regiment of the Missouri Home Guards. He has a military stone at Hawkins Cemetery, located east of Brumley. There are no dates on his stone, only his military information. His wife, Elizabeth, is probably buried beside him, but she has no tombstone to mark her grave. I have found Alexander's date of death as 24 Jan 1892 (found in Brumley's old G.A.R. military records). The G.A.R. was the Grand Army of the Republic (Union soldiers).
Andrew Jackson Plemmons was the 5th child born to Alexander and Elizabeth. He was born in July 1852, the first of their children born in Miller County. Andrew married Frances Virginia Wall on November 26, 1874. She was born in Montgomery County, Virginia in May 1851. Frances was a daughter of James Wall (b .c/1815 VA) and Malinda Price (b.c/1820 VA).
The children of Andrew Jackson Plemmons and Frances Virginia Wall were:
1. Wm. L. Plemmons b. Aug 1875 m. Edna Mae Carrie
2. Henry D. Plemmons 1878-1907 m. no record found
3. Ida Plemmons b. Sep 1882 m. no record found
4. Allie Cephas Plemmons 1887-1966 m. Alma Keeth
5. Earl A. Plemmons 1890-1950 m. Lora McDowell
6. Roy F. Plemmons 1892-1950 m. Veda O.
7.Chester M. Plemmons 1895-1902
8. Olney V. Plemmons 1880-1881
9. Frank C. Plemmons 1885-1899
Andrew Jackson Plemmons died on October 17, 1931 at the age of 79 years. His wife, Frances (Wall) Plemmons lived until August 1, 1932 and both were laid to rest at Hawkins Cemetery where many members of the Plemmons family are buried.
NOTE:There is the possibility that Alexander Hamilton and Elizabeth (Hardy) Plemmons had an older daughter named Martha J. (b.c/1837) who married (1) Melton McClain and (2) Joseph Patterson. Martha had a son by her first husband and they named him Alexander McClain who was probably given the name of his maternal grandfather. Alexander McClain was reared by his stepfather, Joseph Patterson.
---
WILLIAM JEREMIAH PONDER
William Jeremiah 'Jerry' Ponder was born in Miller County 20 October 1866, a son of Wencelaus Ponder (1822-1902) of Baden, Germany and Joanna Robinson (1831-1916), born in Missouri. His maternal grandparents were Phillip and Margaret (Moore) Robinson of North Carolina.
The nine children of Wencelaus & Joanna Ponder were:
1. Phillip Raphael Ponder b. 1849 m. 1) Sarah Haseltine Skaggs 2) Lillie Kellison
2. Theodore Lawrence Ponder b. 1853 m. Martha E. Pilkington
3. Oscar Fitzallen Ponder b. 1856 m. 1) Jennie Crismon 2) Susan Clayton 3) Mary Lucinda Dodds
4. Mary Elizabeth Ponder b. 1858 m. Gordon Skaggs
5. Rachel C. Ponder b. 1861 m. John Preston Wilson
6. George Washington Ponder b.1864 m. Hepsibeth Stone
7. William Jeremiah Ponder b. 1866 m. Margaret J. Shackelford
8. Emma Olive Ponder b. 1871 m. John Grant Thompson
9. Frank Raymond Ponder b. 1873 m Elsie Ann Lilly
On June 13, 1906, 'Jerry' Ponder married Margaret J. Shackelford, a daughter of Murrell Shackelford (1829-1911), born in Kentucky, and Mary E. Forrester (b. 1852 Tennessee). Margaret's parents married in Miller County on December 22, 1867. Margaret was born in Richwoods Township, north of Iberia, on March 4, 1873.
Over the next 27 years Murrell and Mary Shackelford became parents of 15 children including:
1. James H. Shackelford 1869-1932 m. Florence Ponder 1893
2. Henry D. Shackelford 1871-1898
3. Margaret J. Shackelford b. 1873 m. Wm. Jerry Ponder 1906
4. Sarah/Sally Shackelford b. 1874 m. Everett Golden 1901
5. Susan Shackelford b. 1876 m. Adam W. Setser 1893
6. William Wiley Shackelford b. 1878 m. Lucy F. Maxwell 1900
7. Matilda Shackelford b.1879 m. James B. Forrester 1905
8. Robert Shackelford b.1880 m. Martha E. Drace 1901
9. Roscoe Shackelford 1884-1967 m. Elizabeth Sloan 1912
10. Ollie Shackelford b.1886 m. James Gardner
11. Earnest Shackelford 1890-1935
12. John Shackelford 1892-1967
13. Edith Shackelford 1893-1904
14. Walter Shackelford 1895-1898
15. infant son 1896-1897
Jerry and Margaret (Shackelford) Ponder spent all their married life in Miller County. They became members of the Christian Church. Margaret died in 1918 at the age of 45 years. During this time era many people died of the influenza plague, which flared up near the end of World War I.
She and Jerry were the parents of three children:
1. Dorsey Ponder b. 24 Sep 1907 m. Emma Hicks
2. Paul Ponder b. 20 Jul 1909 m. Katherine Dodd
3. Jewell Ponder b. 16 Oct 1911 m. Ora E. Keeth
William Jeremaih Ponder died on May 18, 1929 at the age of 62 years. His funeral service was held at Livingston Cemetery near the Barren Fork creek, north of Iberia. The funeral service was conducted by three ministers--Rev. E. H. Pontius of the Methodist Church, Rev. Wyrick and Rev. Hurst of the Christian Church. He was laid to rest beside his wife, Margaret Shackelford Ponder.
---
THE POPE FAMILY OF MILLER & CAMDEN COUNTIES
William Meredith Pope, born 23 Apr 1812 in Kentucky, came to Missouri in the late 1840s and settled in Glaize Township, Miller County. His Pope ancestors came to America from England and first settled in Maryland, later moved to Kentucky, and finally came to Missouri. William's parents were John and Martha Pope who settled near Passover, Camden Co., MO. John built a grist mill on the Auglaize/Glaize Creek.
William M. Pope, son of John & Martha, married Lucinda Ulmon in Miller Co., Glaize Township, on November 4, 1849. Their marriage was performed by Elmer Thomas Winfrey. The marriage was short-lived and later William married Julia Ann Strong who was the mother of his three children.
Julia Ann (Strong) Pope was born in Kentucky 11 July 1818, a daughter of Jane Strong.
William and Julia Ann had at least three children including:
1. William Samuel Pope b. 1854 m. Evaline Carnes c/1874
2. Green Berry Pope b. 1858 m. Nancy Parish/Parrish 1876
3. Martha Jane Pope b. 1860 d. 1865
In the census of 1860 and 1870, Jane Strong, mother of Julia Ann Pope, was born circa 1795 in Virginia per the census records. She was living in the home of her daughter and son-in-law, William & Julia Pope. In 1860, their nearest neighbors were the families of Winfrey, Carlton, Popplewell, Quinn, Abbott, Phillips, Robinett, and Brown.
William Meredith Pope was a slave owner in Miller County according to county records. In 1859 he owned two slaves with a value of $700; in 1860 their value had increased to $750; but by 1862, when the Civil War begun to enter Miller Co., the value of the two slaves had dropped to $200.
William Meredith Pope died 21 Dec 1875 and Julia Ann lived one year longer when she died 19 Dec 1876. Both are buried at Gott Cemetery in Glaize Township, Miller County. They were first buried in the Pope family cemetery which was located on the Pope farm near the Glaize creek. When Bagnell Dam was built, the cemetery, which laid in the lake's basin, had to be re-located. Some of the deceased were taken to Gott cemetery in Miller County and others to the Freedom Cemetery in Camden County. William and Julia Ann were re-buried at Gott about 1931.
Green Berry/Greenberry Pope, second son of William and Julia Ann, was born in March 1858 in Glaize Township (Miller Co.). On March 19, 1876 Greenberry married Nancy Parish/Parrish at Chauncey, Camden Co., Missouri (now known as Hugo, MO). Nancy was born 27 Aug 1857 in Missouri. She was a daughter of John & Clarissa (Reese) Parish. According to census records her father was born in North Carolina and her mother in Missouri.
The children of Greenberry and Nancy (Parish) Pope were:
1. John W. Pope b. c/1877
2. Cora W. Pope b. c/1879
3. Arthur M. Pope b. c/1881
4. Carrie M. Pope b. c/1883
5. Nancy M. Pope b. c/1885
6. Nellie M. Pope b. c/1887
7. Green B. Pope b. c/1892
---
LUCINDA SEDONIA PROCK ABBETT
Lucinda Sedonia Prock was born in Miller County on 20 October 1860, a daughter of John and Elizabeth (Albertson) Prock.
Lucinda was one of several children born to John and Elizabeth including:
John E. Prock b. c/1846
James L. Prock 1851-1936 m. (1)Nancy Lodessa Wyrick 1877
(2) Lulu Ann (Short) Stephens 1899
Susan Lurana Prock 1857-1918 m. Jobe H. Wickham 1878
Ambrose Prock b.____
Lucinda Sedonia Prock 1860-1941 m. John Randolph Abbett 1880
Another daughter (name not found) was born in 1853 and died at the age of 5 years in 1858. According to the census of 1900, Elizabeth Prock (wife of John) was still alive and was 82 years old. She lived in Osage Township and was a native of Virginia; her father was born in North Carolina; and her mother in Virginia.
According to records, John and Elizabeth first lived in Gasconade County, MO before moving to Miller County about 1853. They settled near the Brushy Fork creek and their neighbors in the early years were the families of Snelling, Birdsong, Doubikin, and Abbett.
Lucinda Sedonia Prock married John Randolph Abbett on 16 Sept 1880, their marriage performed by Nelson A. Davis, minister of the gospel. John Abbett was born 11 Feb 1859 in Miller County and was a son of William and Mary Jane Abbett. William and Mary Jane were parents of several children. The ones listed in the 1860 and 1870 census of Equality township (Miller Co.) were: Louisa A. Abbett b. c/1855; James T. Abbett b. c/1856; John Abbett b. 1859 m. Lucinda Prock 1880; William Carroll Abbett b. c/1862 m. Nancy Denton 1886; Levi W. b. 1865 m. Susie Forrester 1886; Hudson Abbett b. c/1867; and Melissa Abbett b. c/1870.
Lucinda and John Abbett were parents of nine children including:
Lafayette A. Abbett (called Lafe) b. 1881 m. Minnie Gibson 1905
Burley E. Abbett 1885-1935 m. Eliza E. Broom 1909
Oliver P. Abbett b. 1888 m. Anna M. Newhart 1907
George Oscar Abbett b. 1893 m. (1) Caroline Wilson 1911
(2) Etta Jackson
Eva G. Abbett b. 1899 m. Ottie Dickerson
Elsie Opal Abbett b. 1896 m. Benjamin Harrison Carroll 1913
Grace Abbett b. after 1900 m._____Ransom
Otto Abbett m.________
an infant child that died before 1900
In 1900, Lucinda and John Abbett were living in Osage Township and their neighbors were the families of Hendricks, Shepherd, Birdsong, Albertson, Burton, Hensley, Wilson, Humphrey, and Doubikin.....Lucinda's mother, Elizabeth (Albertson) Prock lived near them and was quite elderly at the time..........The Abbetts must have moved to the Iberia area before 1941. She died on March 27, 1941 and her funeral services were held at the Adams and Casey Funeral Parlor in Iberia with burial in the Iberia Cemetery. According to her obituary, she had united with the Christian Church about 1891, but in 1917, placed her membership with the Iberia Nazarene Church. John Randolph Abbett, her husband of over 60 years, died in 1951 and was placed beside Lucinda at Iberia Cemetery.