Surnames Beginning With 'N'
---
CAMILLA NIXDORF-PATTERSON
Camilla Adeline Nixdorf was born in Miller County in Osage Township, south of Tuscumbia on 5 Nov 1860. She was a daughter of Dr. Anton Paul Nixdorf (1832-1906) and Wilhelmina/Minnie Moehle (b. 1836) who were natives of Breslau, Prussia. The Nixdorfs came to Miller County in the decade prior to the Civil War and settled in Osage Township locating in what would later be known as the Pleasant Farm community. Some of their early neighbors were the families of Wyrick, Bilyeu, Blanton, Ramsey, Thompson, McDonald, Albertson, Barton, Brumley, Shockley and Crane. A detailed account of the life of Dr. Anton Paul Nixdorf is found in the book GOODSPEED'S 1889 HISTORY OF MILLER COUNTY (AND OTHER CENTRAL MISSOURI COUNTIES).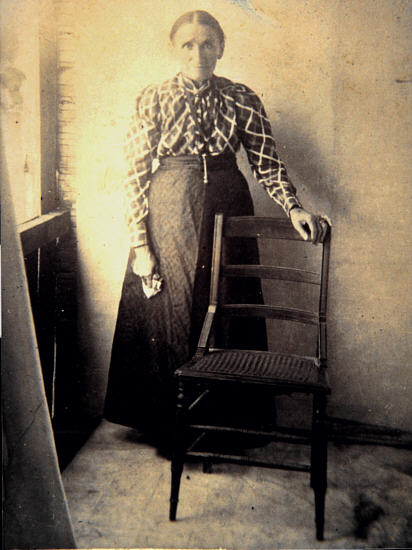 Wilhelmina Nixdorf
The children of Anton and Minnie Nixdorf were:
1. Perry Tolbert Nixdorf 1859-1925 m. (1) Nancy A. Brumley (2) Cordelia Koester
2. Camilla Adeline Nixdorf 1860-1940 m. William W. Patterson
3. Franz Seigel Nixdorf 1862-1891 m. Julia Ann Crawford
4. Jane C. Nixdorf b. c/1865 m. Wesley Rhoades
5. Minerva A. Nixdorf b. c/1867 m. John Kallenbach
6. Otto Bismarck Nixdorf 1870-1948 m. Florence McDonald
7. Anthony Paul Nixdorf 1874-1950 m. Ida Lupardus Cooper
8. William Carroll Nixdorf 1878-1961 m. Josephine/Josie Burks
9. Paulina Nixdorf 1876-1901 m. Charles T. Burks
10. Victor Emanuel Nixdorf 1883-1950 m. Edith____________
11. Cecelia/Cisley Nixdorf 1872-1896 m. Joseph Oligschlaeger
12. Oscar Lewis Nixdorf died young
13. Robert August Nixdorf died young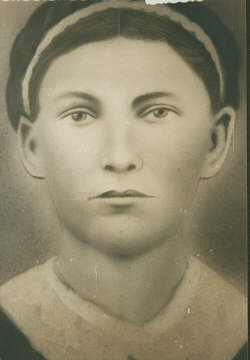 Camilla Nixdorf Patterson
Camilla Adeline Nixdorf, oldest daughter of Anton and Minnie, married William W. Patterson in 1877 and before his death, in May 1900, they became parents of ten children. William was a son of Joseph Patterson (1836-1916) and Martha Jane McClain-Patterson (1837-1915) who lived in the same community as the Nixdorfs. When Joseph and Martha married in December 1855, she was a young with widow with a 3-year old son, ALEXANDER MCCLAIN, who was a half-brother to the 10 Patterson children.
Joseph and Martha's family included:
1. William W. Patterson 1858-1900 m. Camilla Adeline Nixdorf
2. Gilson Patterson 1860-1890
3. Bennett Patterson 1862-1883
4. John Patterson 1865-1881
5. Grant Patterson 1867-1945, m. Emma Crane
6. Augusta T. Patterson b. 1864, m. Samuel A. Houser
7. Mary Elizabeth Patterson 1871-1872
8. Laura F. Patterson b. 1875, m. William Carrico
9. Clayton Patterson 1876-1908, m. Fannie Payne
10. Charles Patterson b. 1879, m. Nora Kesterson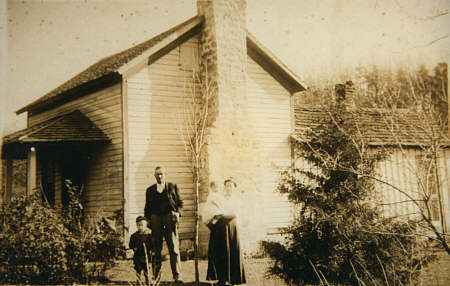 Fred, Tennyson, Minnie and Luna Patterson
The children of Camilla Adeline Nixdorf and William W. Patterson were:
1. Perry T. Patterson 1880-1966, m. Martha Cooper
2. Fred Patterson b. Feb 1882, m. Minnie Lupardus
3. Roger/Rig Patterson b. Mar 1884, m. ____________
4. Carrie Patterson b. Apr 1886, m. Asa M. Myers
5. Fannie Belle Patterson 1888-1966, m. Elisha Dawson
6. Willard J. Patterson b. Nov 1890, m.___________
7. Joseph Patterson 1893-1916
8. William Patterson b. Aug 1894, m. Cora Davenport
9. Gertrude Patterson b. Nov 1896, m. Carl Brumley
10. June Patterson b. Jun 1900, m. _____Groff
| | | |
| --- | --- | --- |
| Fred, Jim & Perry Patterson, Carrie & Belle Patterson, Junia & Gertie Patterson | | Joseph Patterson |
In 1900, Camilla was head of her household, a widow of only a few months. William Patterson (called Beed) had died in May 1900 and a month later in June 1900, the 10th child was born. Camilla was still a young woman and had 9 of her 10 children still at home. The oldest son, Perry T. Patterson, was not in the household when the census taker came through the countryside enumerating the residents of the county. On the adjoining farm lived her in-laws, Joseph and Martha Patterson. Other neighbors were the families of Wyrick, Topping, Helton, Lamb, McDonald, Keyes, Thornton, and Bear.
Camilla Nixdorf Patterson lived until May 21, 1940, almost reaching her 80th year. She had been a widow for 40 years. She was survived by several children and grandchildren; two sisters-Minnie Nixdorf Kallenbach and Addie Nixdorf Burks; and four brothers-Bismarck, Paul, Carroll, and Victor Nixdorf. Her funeral service was held at the Ulman Christian Church. She was buried beside her husband, William (1858-1900), in Jackson Cemetery, near Ulman.