Surnames Beginning With 'I & J'
---
GEORGE IRWIN (EARPS)
George Irwin, son of William Laird Irwin and Sarah (Livingston), and a grandson of William Irwin of Ireland, was born in Mifflinburg, Penn., July 26, 1844. He moved to Miller County with his parents when he was 15 years old. About the age of 17 years, in December 1861, he enlisted in Company H, 6th Regiment of the Missouri Cavalry. He was discharged at New Orleans in December 1864. He made Sergeant in Company H, but lost his rank in August 1864 due to a condition of A.W.O.L.
For some unknown reason, George never returned home to Miller County after the war, and for 30 years he was presumed dead. His parents died not knowing if George was dead or alive. In the 1890s, George wrote to the editor of the old Iberia Sentinel newspaper, requesting a subscription to be sent him in Williams, Ariz. The editor, knowing the story of this missing man, informed his brother, John L. Irwin, of his letter from George. Through this means, the family was reunited and George made two trips back to Missouri before his death in 1913.
Between 1865-1880 George's whereabouts are unknown. He was finally found in the 1880 census living in Tombstone, Pima County, Arizona. Tombstone, in those days, was a famous mining camp and was the haunt of many early day outlaws and desperadoes. George Irwin was clerking in one of Tombstone's stores in 1880 and was living alone.
Evidently George Irwin never married. He certainly had some interesting neighbors who lived almost next door, including Virgil and Allie Earp, ages 36 and 22; Wyatt S. and Mattie Earp, ages 32 and 22; James C. and Bessie Earp ages 39 and 36 with their daughter, Mattie age 18. All these Earp families were living in the same household.
Allie Earp, wife of Virgil, made the following statement in a book entitled THE EARP BROTHERS OF TOMBSTONE, by Frank Waters..."Tombstone, when we got here, was a big, booming camp. Every house was taken and as fast as men could haul lumber from Hauchucas and build another, there were people camping on the spot in wagons or tents waiting to move in. We happened on a one-room adobe on Allen Street that some Mexicans had just left. It didn't even have a floor...just hard-packed dirt, but it cost $40 a month.
Wyatt Earp was born in Illinois in 1848 and died in 1929. He was the noted frontiersman and gunman of western history. Virgil and James were both older brothers who had been born in Kentucky. Wyatt was probably born enroute from Kentucky to a western land, where his family homesteaded.
George Irwin, having lived in the wild and wooly west of the 19th century, could have probably spun an intriguing yarn about Tombstone, Ariz. He may have known all about the Earp brothers, the fight at the OK Corral, and many other untold western stories of that era. It is unfortunate that there are no records of his wanderings left so that his relatives, some who still reside in or near Iberia, could document the proof that he had a friendship or at least a knowledge of the famous western heroes of the past.
---
JOHN L. IRWIN
John L. Irwin was born in Mifflinburg, Pennsylvania in 1857, a son of William Laird Irwin (1813-1893) and Sarah Livingston (1825-1893). When John was just a few months old, his parents came to Miller County and settled in the Big Richwoods where other Pennsylvania pioneer families also located. When William and Sarah moved to Miller County, they settled on a farm about one mile east of Iberia.
They were parents of several children including:
1.George Irwin 1845-1913 m. (no record of a marriage-he moved west to Arizona Territory after the Civil War and did not return to Miller County until after the death of his parents. They died not knowing if he was still alive or not)
2. Mary Irwin b. c/1847 m. no record found
3. James Irwin b. c/1850 m. no record found
4. William Irwin b. 1851-1939 m. Lauretta Watkins 1881
5. Laura J. Irwin 1854-1923 m. George W. Johnston 1871
6. John L. Irwin 1857-1941 m. Nancy Ann Hopkins 1886
7. Sarah E. Irwin 1860-1929 m. Charles Farnham 1878
8. Robert Holmes Irwin 1863-1943 m. Ida V. Dickerson 1891
9. Charles T. Irwin b. c/1865 m. Emma Pankey 1889
10. Alfred H. Irwin 1869-1870
NOTE: The six older children were born in Pennsylvania and the other four were born after the Irwins came to Miller County
John L. Irwin married Nancy Ann Hopkins in Miller County on January 1886. She was a daughter of Samuel J. Hopkins and Matilda Small of Washington, Daviess County, Indiana. She came to Miller County in the 1880s with her brother, John L. Hopkins and family and her sister, Ellen Hopkins (Mrs. George Osborn).
The children of Samuel J. Hopkins and Matilda Small were:
1. B. Ellen Hopkins 1850-1933 m. George A. Osborn
2. John L. Hopkins 1852-1939 m. Laura Young
3. Nancy Ann Hopkins 1860-1940 m. John L. Irwin
4. Daniel Hopkins b______(he did not come to Missouri with his sisters and brother)
John and Nancy (Hopkins) Irwin lived on the Irwin family farm until 1920 when they moved into Iberia and John became president of the Bank of Iberia. He continued on as the bank's president for a few years. He was one of the town's more prominent citizens when he died on July 21, 1941 at his home at the age of 83 years. His wife, Nancy, had died a year earlier in 1940. Both are buried at the Iberia Cemetery.
The children of John and Nancy were:
1. Myrtle Irwin b.1886 m. J. H. Trippe (they were living in Richland, Pulaski Co., MO when her father died in 1941)
2. Earl E. Irwin 1891-1956 m. Elvia Eva Casey 1913
3. Jessie L. Irwin b. 1893 m. E. Clay Perkins 1925
4. Sedden F. Irwin 1895-1978 m. Clara Mildred Bort
The Irwin family sent several of their children to Iberia Academy over the years. In later years, some of the grandchildren also attended Iberia Academy as well. In 1941, when John L. Irwin died, his funeral services were held in his home in Iberia and were conducted by Professor G. Byron Smith, the founder of Iberia Academy, which organized in the late 19th century. The Irwins had been members of Iberia Congregational Church for many years. The Congregational Churches of Missouri helped to fund and support Iberia Academy over many years of the late 19th and early 20th century.
---
LAURA J. IRWIN
Laura J. Irwin was born in Mifflinburg, Pa., on April 8, 1854, a daughter of William L. and Sarah Irwin. About 1860, at the age of 6 years, she came with her parents to Richwoods Township and settled near the new town of Iberia (in 1860 it was called Oakhurst.)
William L. Irwin (1813-1893) and Sarah Irwin (1825-1893) were both natives of Pennsylvania and were parents of a large family including:
1. George Irwin b.c/1845/PA m. no record
2. Mary Irwin b.c/1847 PA m. no record
3. James Irwin b.c/1850 PA m. no record
4. William E. Irwin 1851-1939 PA m. Lauretta S. Watkins 1881.
5. Laura J. Irwin 1854-1923 PA m. George W. Johnston 1871
6. John L. Irwin 1857-1941 PA m. Anna Hopkins 1886.
7. Sarah Irwin 1860-1929 PA m. Charles Farnham 1878.
8. Robt. Holmes Irwin 1863-1943 MO m. Ida V. Dickerson 1891
9. Charles T. Irwin b. 1866 MO m. Emma Pankey 1889
10. Alfred H. Irwin 1869-1870
When the Irwins came to Miller County they settled a short distance northeast of Iberia. Their neighbors during the census of 1860 were the families of Hoskins, Dyer, Allen, Gardner, Groff, Short, Ludwig, Tyler, Blize, Tucker, Burks, Moore and Aust. They remained in the same location over many years and onward into a new century. The old Irwin home place was sold a few years ago and the old house, partially made of logs, was torn down and replaced with a new home, built by the Doug Baker family.
Laura J. Irwin, the fifth child born to William and Sarah, married George W. Johnston in Richwoods Township on July 27, 1871. She was about 17 years of age and George was an older man of about 31 years when they married. I do not know the identity of George's parents but they were born in Ireland. George was born near Montreal, Canada, on Aug. 20, 1840, and came to America in 1865.
Laura Irwin and George Johnston were parents of at least six children that I found record of, three sons and three daughters.
They were:
1. David Johnston b. 1873 m. Maggie McKinley 1893
2. William I. Johnston b. 1875 m. Pearl Miller 1896
3. Zella M. Johnston 1877-1897 m. Everett Allen 1894.
4. Anna M. Johnston 1881-1970 m. Wm. von Gremp 1900
5. Sarah Johnston b. 1883 m. ________Stuntz
6. Victor G. Johnston 1889-1962 m. Anna B. Groff 1910
Laura J. Irwin Johnston died Nov. 9, 1923, at the age of 69 years at her home in Iberia where they had lived most of their married lives. Her husband of almost 50 years preceded her in death on Jan. 31, 1919. They are buried at Iberia Cemetery. Her funeral services were held at the Iberia Methodist Church, conducted by Dr. G. Byron Smith of Iberia Academy. She was survived by five of her six children, four brothers: Charles, William, John, and Holmes Irwin and one sister: Sarah Irwin Farnham.
---
Surnames Beginning With 'I & J'
JOSEPH JACOBS FAMILY
About 16 years ago, in 1984, one of Iberia's oldest homes was destroyed by fire. The house sat to the north of the Iberia Nazarene Church. For many years, the old Baptist Church also sat in the same area but was torn down several years ago and rebuilt on Highway 17 North. The house was a type of structure that was rather foreboding on the horizon and like many old buildings of the Iberia vicinity, it had a history....
When I was a little girl of about 4 years, this old house was my next-door neighbor! It was a large, two-story Victorian styled house that had a certain sophistication in its appearance. Mr. and Mrs. Willard Duncan occupied the house in the years I grew up in Iberia and I well remember the large rooms both upstairs and down. It had wonderful, railed porches in the upstairs area on the front and sides of the house.
A man named Joseph B. Jacobs built the house in the late 19th century. Joseph, born in Tennessee in 1845, and his first wife, Mary Elizabeth (Garner), came to the Iberia area circa 1865-1870 with her parents, Thomas D. and Mary Ann (McCartney) Jacobs. Thomas D. Garner was born in Tennessee in 1822 and was an early dry-goods merchant in the new town in 1870. Iberia did not incorporate as a village until August 1875, so in 1865-70. When the Jacobs and Garners came to Miller County, it was a small, newly populated community of both white and black families.
Mary Elizabeth Garner Jacobs was born 13 Nov 1851 in Arkansas and she probably married Joseph Jacobs in that state since I found no record of a marriage for them in Miller County. At the early age of 21 years, in September 1872, Mary Elizabeth died and was buried at Iberia cemetery. Lying beside her is an infant son born in 1868. He lived only eleven hours. It would appear the infant son may have been the only child born to Joseph Jacobs.
After his first wife's death, Joseph B. Jacobs married a lady named Mary F.____. In the 20 years spanning 1880-1900, there are several land transactions involving Joseph Jacobs. In 1880, he bought 80 acres of land from Dr. Jesse B. Smith, located northeast of Iberia which was later the Arkley Hensley farm. In 1883, he sold these 80 acres to Harry V. Sooter plus an additional 20 acres comprising part of the Eiffert and Shackleford farms.
In 1883, Jospeh and Mary sold some land in Iberia to his former father-in-law, Thomas D. Garner, who later converted it into the "T.D. Garner Additon to the Town of Iberia". In 1885, he sold 80 acres to his former brother-in-law, Robert B. Garner, and it was located near the Rabbithead schoolhouse. From these various land sales, it appears that Joseph Jacobs owned tracts of land in several areas surrounding Iberia.
Joseph became a mercantile businessman in Iberia about 1875-1880 operating under the name Jacobs & Thompson. His partner may have been John C. Thompson. His former father -in-law, T.D. Garner, operated a general store in the same time era at the southwest corner of St. Louis and Main Street which later became the Hedges Hardware Co. Directly across the street on the present day site of the city hall, Garner also operated a hardware store and he later built the Thomas D. Garner and Son Roller Mills in the town.
In March 1894, the firm known as Mace & Son General Merchandise dissolved and became known as Mace & Jacobs which was located at the southeast corner of Lombar Ave. and Main Street. Joseph Jacobs continued as an Iberia businessman for many years.
Joseph Jacobs and his second wife, Mary, built their beautiful house on one of Iberia's hilltops with a panoramic view of the countryside from all directions. Looking toward the west they could enjoy the sight of open prairie land stretching form many miles; to the north they could see the hills and ridges of the Big Tavern country; to the east could be seen the Ozark foothills where one of the summits is the highest point in Miller County; and to the south, they had a bird's eye view of the new Iberia Academy which opened its doors in 1891.
In 1901, Joseph Jacobs, who was well into middle age, began the construction of his tomb. It was built of native stone measuring 10 ft. by 12 ft. and 6 ft. high. It was said "old Joe built it large enough so that he could get up and turn around in it if he wanted to." Joseph Jacobs had his rock tomb built to the north of his house down a hill in the middle of a grassy meadow. As a child, I played in that field and used old Joe's crumbling tomb as a 'make believe' fortress. He wasn't there anymore during the years of my youth, but had been re-interred in a new grave in Iberia's town cemetery.
The story was told to me many years ago by my grandfather, Frank Smith, one of the four men who moved old Joe from his tomb to Iberia Cemetery. When Joseph Jacobs died in June 1904, he requested he be entombed in his burial vault. His casket was placed upon a rock ledge and the top was made of glass so that anyone who entered his tomb would be able to view his remains! He remained there for many years undisturbed but when his property sold in later years, the new owners wanted his gravesite moved so they could close the tomb. They hired four men to move his body to the city cemetery---Frank Lombar, Frank Hedge, Frank Gardner, and my grandfather, Frank Smith. Highway 42 was not in existence at the time so the four men loaded the casket on a wagon drawn by a team of horses and carried Joe Jacobs through Iberia, up the hillside past the Heltzell home; eastward on the old Tuscumbia-Big Piney road to an entrance that opened for access across the Hopkin's field and finally to the cemetery. My grandfather said that by the time the procession had reached its destination, the body of Joe Jacobs, exposed to the elements, had deteriorated to nothing!
When Joseph B. Jones died in June 1904, he was survived by his second wife, Mary. She lived until 1909 and was buried at Brays Union Cemetery, northeast of Iberia. His estate was probated in the Miller County Court and his heirs listed were his wife, Mary: three brothers, John W. Jacobs, William P. Jacobs, and James F. Jacobs all of Arkansas; and sister Elizabeth Jacobs Shell of Arkansas; and the children of his deceased sister, Martha J. Jacobs Sanders who also lived in Arkansas. George I. Farnham of Iberia was the administrator of his estate with Wm. Rankin Wright and George W. Arnold, also residents of Iberia, as witnesses to the Letters of Administration of the estate.
---
FRANK AND JESSE JAMES
"Robbery of a Missouri Pacific Train at Otterville, MO on July 6, 1876"...info gathered from the Missouri Pacific Historical Society...
The famous Missouri outlaw brothers, Jesse and Frank James, held up and robbed the Missouri Express passenger train at the Lamine river bridge in the "Rocky Cut", a short distance east of Otterville (Cooper Co. and near the Morgan Co. line). On Tuesday, July 4, 1876 (the centennial anniversary of the birth of America), the James gang gathered at a spot near California, MO in Moniteau County. The outlaw band included Jesse & Frank James, Cole & Bob Younger, Bill Chadwell, Clell Miller, Charley Pitts, & Hobbs Kerry.
On July 5, a stormy summer day in l876, the group rode into California and spent the entire day in the Moniteau County seat. Early on July 6, the 8 men leaded west, riding in two, possibly three groups. They re-assembled about 2 miles east of the Lamine river bridge about 2 o'clock in the afternoon. About 6 p.m., four of the men went down to the bridge and there they found the bridge watchman, a man named Henry Choteau, smoking his corncob pipe. He greeted them with great pleasure, having no idea who they were. He was just 'plain happy' to have someone to talk to.
About 9 p.m. the old man went into the pump house for a drink of water and when he emerged out the door, a gun was stuck to his head and his visitors began putting on masks! While he was held prisoner the men piled ties on the track to help stop the approaching train. When the train got near "Rocky Cut" the watchman was told to get his red lantern out and stop the train or take a chance of being shot.....he stopped the train! In the commotion that followed, Henry Choteau ran into the night's darkness and disappeared into safety.
The Express train had left Kansas City at 4:45 p.m. with several coaches, 2 sleeping cars, a smoker, and an express/baggage car. At Sedalia, the train took on another express car. As the Express train steamed into "Rocky Cut", between l0-11 p.m., a red light could be seen swinging across the tracks and the engineer applied his emergency brakes, fearing the heavy rains may have washed out the bridge. All the outlaws jumped on the train when it had come to a halt. With much difficulty in getting it opened, they robbed the safe in the baggage car. They had to use a fireman's coal pick to get into the safe and never did get the door completely open. They finally managed to reach their hand through a small hole in the door and took the money out-one handful at a time....It is reputed Jesse James exclaimed..."Damn, but that's hot work!"
The robbers continued on into the passenger cars which were well-filled. The loot they acquired was put into a grain sack which contained money, jewelry, and other valuables. With a wave of his hand, Jesse James and his gang disappeared into the hot July night and rode into the countryside of Cooper County, Missouri. A short while later, Jesse James handed a letter to a Kansas City newspaperman and denied any participation in the "Rocky Cut" robbery! He was famous for his press releases to area newspapers denying the many robberies for which he was blamed over the years before his death.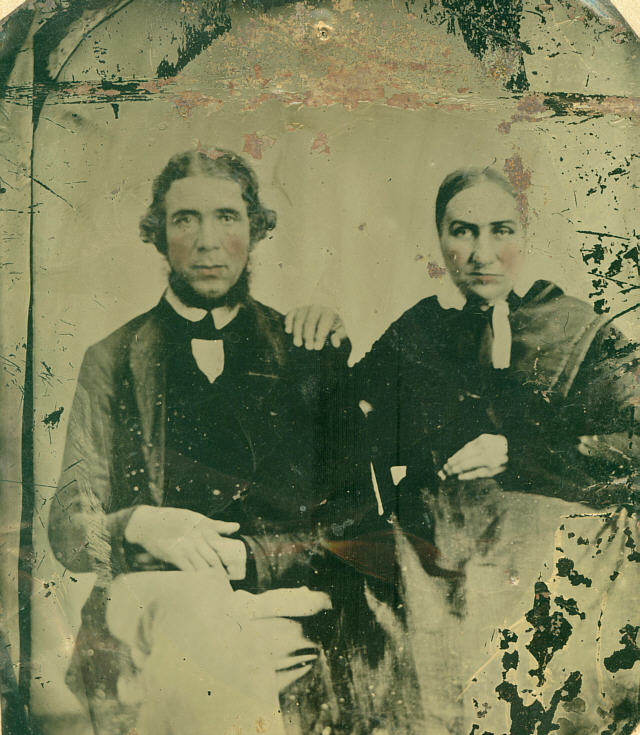 This tin-type photo was given to the Miller County Historical Society many years ago.
It is purported to be the parents of Frank and Jesse James and belonged to a local family that
Jesse spent time with. We have not been able to prove or disprove this claim.
SOME INTERESTING QUOTES ABOUT JESSE AND FRANK JAMES IN CENTRAL MISSOURI.....
Some of this information was found in the book, "The First 100 Years of Crocker", written by Nellie Stites Wills in 1968.....
In the eighteen sixties and seventies, Jesse James (1847-1882) and Frank James (1843-1915) frequented the backwoods trails of this territory. They often visited their cousin, the wife of Black Jim Wall, who owned and operated a trading post, mill and post office called Faith (in Richwoods Township, Miller County, southwest of Iberia).....In their home was fed 7 sons (Frank, Peach, Cat, Floyd, Will, Chester and Jesse) and 5 daughters (Betty, Ida, Ollie, Cora, and Stella).
Mr. and Mrs. Brownie Miller lived on a farm, now owned by John Ichord, surrounding the Madden Church. They lived on the trial leading to the Wall home and were considered their neighbors. On one occasion, after they had complied with a request for water to drink, they had a very friendly conversation with the mild mannered Frank James. Having met him previously in the Wall home, there was no mistaken identity concerning him, his beautiful horse or his brilliant diamond.
An individual who had a midnight ride with one of the James boys was Jim McMillian. He was returning home on horseback from a courting date with Ollie Porter (Mitchell) when he heard hoof sounds approaching from behind. A man riding a horse of recognizable worth came up quickly by his side and for a while talked small talk in a very friendly manner. Then quite abruptly, he asked, "Are the James boys any where around?" Young Jim's reply was, "If I thought so, I'd be home." Then, the horseman smiled and said, "You are riding with one right now." With that introduction over, it was as before until the crossroads separated them and the dark woods covered the two. Through the mind of one of them keeping time with his horse's hoof beats, there were two after thoughts cutting deep in his mind - - What a horse! What a man!
From the Associated Press news release in the Springfield, MO Daily News (1968): The mother of the late Walter (Big Train) Johnson, famed pitcher for the Washington Senators, is dead. Minnie O. Johnson died Sunday. She was 100 years old. She was born in Wayne County, Indiana, and one of Mrs. Johnson's favorite stories was how as a child she had taken care of the guns of Jesse and Frank James when the notorious robbers were lodged overnight at her farm home in Dixon, MO
Several years ago I visited with Wm./Bill Cochran before his death and he told me an interesting story about Frank James......Bill could remember Frank coming to the Faith community of southern Richwoods Township and visiting with some of the kinfolks of Jesse and Frank James. He was speaking of the Wall family-----Jim and Mildred (James) Wall who operated a trading post, blacksmith shop, and post office in their home called "Faith". It is said that Mildred James Wall was a cousin to Frank and Jesse James and all were born in the state of Virginia......Jesse Woodson James (1847-1882) and Alexander Franklin James (1843-1919) were born in the Old Dominion State and were sons of Robert Sallee James (1818-1875) and Zerelda Cole (1825-1911). Their ancestors came to America before the Revolutionary War from Pembrokshire, Wales and settled in Goochland Co., Virginia.
Bill Cochran told me he could remember when on a warm summer evening, the folks in the neighborhood would gather at the Wall home and music could be heard ringing out across the hills.......An old piano would be pushed under a tree with other stringed instruments keeping time to the lively music. He said that Frank James played a fiddle and joined the others in singing and playing the 'hill music'. Bill Cochran was a wonderful storyteller and he certainly held my attention during the evening I visited him.
---
THE JARRETT FAMILY
John J. Jarrett was born in North Carolina circa 1792, the son of John Jarrett and Elizabeth Fisher of Lincoln County, NC. This is proven by the will of Martin Fisher, father of Elizabeth. John came to Miller County sometime between 1840 and 1850 with three sons, David, Abel and Ambrose, and a daughter Elizabeth.
All the children of John J. Jarrett were born in North Carolina, except for Ambrose who was born in Missouri, according to the 1850 census. David born ca 1822; Elizabeth born ca 1824; Abel born ca 1827; and Ambrose born ca 1839. The first wife of John was Claressa Shuford whom he married in Lincoln County, NC. She died probably in Missouri after the birth of Ambrose. The family had come West to Cape Girardeau then on to Miller County. On 11 July 1852 John married Mrs. Frances Sherley, the widow of John Sherley, in Miller Co., the marriage performed in the Big Richwoods by Jonathan Blevans, a Justice of the Peace. Frances was a native of South Carolina, born ca 1803. Frances had a daughter who married Stephen Humphrey in Miller County before the Civil War and they lived in the old Brays area. Stephen Humphrey was a casualty of the Civil War, killed at the Battle of Wilson's Creek near Springfield, MO. They were parents of Mary E. Humphrey who married James M. Humphrey, a distant cousin. Mary [Humphrey] Humphrey and her husband, James, were the ancestors of the children and grandchildren of Francis Marion & Mary [Morrow] Humphrey of the Iberia area.
David Jarrett, the oldest son, was the only one to carry the name of Jarrett on into new generations. Elizabeth, Abel, and Ambrose never married. David Jarrett married Jemima A. Sherley, a daughter of John and Frances Sherley in Miller County, but the marriage is not recorded. However, the date of 1 June 1851 appears in the Crane family Bible. Jemima Sherley Jarrett was born in Tennessee on April 9, 1837 and died April 6, 1909. Per her obituary, her family came to Missouri in 1831 and moved to Miller County in 1850. In 1851, at the age of 14, she married David Jarrett. She was the mother of 10 children; three died young.
The seven who survived were:
JOHN W. "POLK" JARRETT [1852 - 1919] m. Elizabeth Rothermel in 1876;
ARVAZENA LUCINDA JARRETT [1853 - 1930] m. Thomas Hensley in 1873;
TABITHA ELLEN JARRETT [1855 - ? ] m. Joseph Hensley in 1872;
ABEL ANDREW JARRETT [1858 - 1917] m. Missouri Ahart 1887;
BARBARA CATHLEEN JARRETT [1863 - 1943] m. Jerry Crane 1883;
MARY E. JARRETT [ 1865 - ? ] m. David Humphrey 1885;
MINNIE A. JARRETT [1868 - 1949] m. Frank S. Ramsey 1887;
PERRY E. JARRETT [1872 - ? ] m. ? .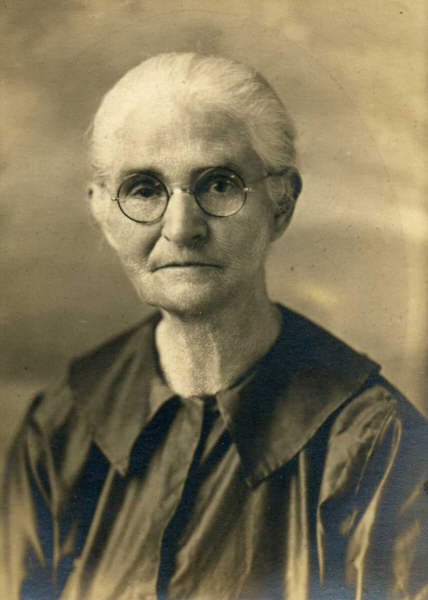 Arvazena Lucinda Jarrett Hensley
The following can be found in Judge Jenkins's History of Miller County, pages 391 - 393: " In 1861, John J. Jarrett and his family lived on the south bank of the Big Tavern creek by a large spring in a log cabin home. He was 69 years old and owned over 1000 acres of land. His daughter Elizabeth and [gr] son Ambrose were with him; his wife had died earlier [I do not know if this referred to his first wife or Frances Sherley whom he married in 1852. psh] Also with him was a granddaughter Orvasenie Lusinda Cidoney [Arvazena Lucinda], age 10 years, daughter of David Jarrett. Her parents lived about a mile down the Big Tavern creek. He was beaten by intruders who demanded his money. They found $200 in silver in a sock hidden inside a haystack. In anger, they hung John from a tree nearby. A man named Grady cut the rope and he fell to the ground. Grady spared John's life. The rope cut his vocal chord and until his death, John could only speak in a whisper."
John J. Jarrett died 17 July 1867 at the age of 75 years and was probably the first person buried at the Jarrett Family Cemetery, located near the Big Tavern Creek on the original land homesteaded by John in the early 1840's. All his children are buried in this family cemetery. Elizabeth Jarrett 1821-1881; Abel Jarrett 1827 - 1878; Ambrose Jarrett 1838 - 1887; David Jarrett 1822-1874 and his wife, Jemima A. [Sherley] 1837 - 1909. Members of the Jarrett family from the ensuing generations are buried there also.
CHILDREN OF ABEL ANDREW `Andy' JARRETT & HALEY MISSOURI AHART:
James Polk Jarrett born 2 Nov 1889 m. Dona Bilyeu 24 Dec 1916;
William David Jarrett born 2 Sept 1888;
Sherman Grant Jarrett born 1 March 1891 m. Zula Jane Sooter March 16, 1919;
Martha Lue Jarrett born 22 July 1892 m. Herman Ponder Skaggs Sept. 22, 1918;
Charles Fountain Jarrett born 7 Feb 1894 m. Pearl Hicks 13 Sept. 1922;
John Henry Jarrett born 26 May 1895 m. Edith Adams 14 Nov. 1923;
Fred Andrew Jarrett born 15 Feb. 1900 m. Clara Bass 14 May 1924;
Lewis Arthur Jarrett born 21 Feb 1904 m. Fleeta Lucille Watkins 27 April 1931.
Fleeta was a daughter of Gilbert and Cora [Gott] Watkins. The children of Lewis and Fleeta include: Robert Lewis Jarrett born 16 Nov 1937, died 20 May 1981; and Donald Roger Jarrett born 2 June 1943 m. Pamela Pendleton.
CHILDREN OF JOHN `POLK' JARRETT AND ELIZABETH ROTHERMEL:
William Jarrett married Beulah Hicks, daughter of Martin & Mary [Dake] Hicks;
Henry M. Jarrett [1901-1970] married Flossie M. Adams;
Abel Andrew Jarrett [1892 -1957] married Ida Ahart, daughter of James Ahart;
Oscar Jarrett married Gertrude Blankenship;
Fred D. Jarrett married Hattie Casey;
George F. Jarrett [1884-1961] married Genie Jones, daughter of Arthur Jones;
Margaret Jarrett married Theodore Gray;
Alice Jarrett married George Barr;
Emma Jarrett married Joe Slone;
Charles M. Jarrett married Dora Ahart.
CHILDREN OF TABITHA ELLEN JARRETT & JOSEPH T. HENSLEY [m. 1872]:
Willis A. Hensley;
Lura J. Hensley m. Owen E. Burton 1895;
Mary Belle Hensley married Joseph M. Lamb, son of Isaac Lamb, in 1899;
Merton Hensley;
Olive Hensley;
Electa Hensley;
Thomas E. Hensley [1874 - 1877]
Children of ARVAZENA LUCINDA JARRETT & THOMAS HENSLEY [m. 1873]
William F. Hensley married Nellie Setser, daughter of John & Jemima [Gardner] Setser;
Emma Hensley married John Blankenship;
James Arthur Hensley married Cecile Reed;
J. Milton Hensley [twin to James Arthur] married Nellie Bond;
John D. Hensley married Mae Berry;
Harvey Hensley married Mabel Clark, and Joseph Hensley [died young]
OBITUARY OF John W. Polk Jarrett:
John W. Polk Jarrett was born 2 May 1852 and died 10 April 1919 at his home north of Iberia. His death was caused from a stroke while shucking corn in a crib near his home. On 23 January 1876, he married Elizabeth Rodommer/ Rothermel [daughter of Frederick Rothermel]. They were parents of 10 children, seven boys and three girls [none named]. At the age of 27 years, circa 1880, Polk Jarrett joined the Christian Church. His funeral services were held at his home, conducted by Rev. Charles Sooter with burial in the Jarrett Cemetery.
---
SANFORD JEFFRIES
Sanford Jeffries was born in Russell County, Kentucky on 16 September 1837. He had a twin brother, Hansford Jeffries, and they were the youngest of 14 children born to Toliver Jeffries and Mary (Warner). The known children of Toliver and Mary were: John Thomas Jeffries b. c/1812; Eliza Jeffries b. c/1817 m. Jesse Martin; James Madison Jeffries b. 1818; Derrick Jeffries b. c/1819 m. Nancy Jane Patterson; Samuel Jeffries b. c/1820; Toliver Jeffries Jr. b. c/1824; William W. Jeffries b. c/1826; Benjamin D. Jeffries b. c/1827; Sanford Jeffries and his twin brother, Hansford Jeffries b. 1837.
The Jeffries family left Russell County, Kentucky about 1854 and came to central Missouri. They settled in the Miller/Camden counties area and continued to live in the same region of Glaize Township of Miller County where the Lake of the Ozarks State Park is now located.
In July 1855, Sanford married Elizabeth/Betsy Kuykendall, a daughter of Jacob Kuykendall. His twin brother, Hansford, married Susan Ann Kuykendall, a sister to Betsy. In 1866, Sanford, Betsy, Hansford and Susan Ann were named as heirs of Jacob Kuykendall in his probate records at the Miller County courthouse. They fell heir to 80 acres of land in the southwest corner of Glaize Township, south of the Auglaize Creek.
During the Civil War, Sanford served with the Union army in Company D of the Osage Battalion, under the leadership of Major J. W. McClennen. His older brother, Benjamin Jeffries, was Captain of Company D........Sanford served from 1861-1865.
Sanford and Elizabeth/Betsy (Kuykendall) were parents of seven children. Betsy died while still young and Sanford married his second wife, Mary Rinard. They became parents of three children. I have found the names of his ten children but do not know to which mother they belonged. The children were: Susan, Frank, Benjamin, Clate, Ada, Sadie (Blize), Dora (Huddleston), W. T., D. L., and E. H. These names appeared in Sanford's obituary notice.
In 1889, Sanford married his third wife, Mary Frances Blankenship Huddleston, widow of George W. Huddleston. She was a daughter of David Blankenship and Mary Ballenger. Mary lived until 1925. Sanford Jeffries outlived three wives and five children. He died on March 23, 1935, almost reaching his 98th year. His funeral services were conducted by Rev. Charles Sooter at the New Hope Church near Kaiser. He was buried in the church's cemetery located nearby.
---
DEBORAH JANE JENKINS-FREEMAN-VAN HOOSER
In the 1840 census of Miller County, Jim Henry Township, the family of James Freeman was found enumerated near the families of David Trimble, John G. Witten, Rachael (Jenkins) Newton, James Witten, William Hoskins, Samuel and James Roberts, Jane C. Stephens, Boyd Miller, Allen Henderson, Zebulon and Stephen Loveall.
Note: Rachael Jenkins Newton was a sister to Deborah Jenkins Freeman.
In the James and Deborah Freeman family in the 1840 census, there was one male age 30-40 (James); one male age 10-15 (Nelson); one female age 30-40 (Deborah); one female age 10-15 (Louisa); 2 females ages 5-10 (Mary Ann and unknown female); one female under age 5 years (Sarah). Later two other daughters were born: Jane (c/1841) and Isabelle (c/1843).
When the children were all young, their father died in December 1844. He was in his mid to late 30s when he passed on. I do not know what caused his death at an early age but do know he died in December 1844 because his probate records are filed at the Miller County courthouse. His widow was "Debby" Freeman and the administrator of the estate was Harrison H. Jenkins who lived in the same vicinity, which is near present-day Mary's Home. I believe Harrison Jenkins was no closer kin than a cousin to Deborah/Debby (Jenkins) Freeman.
The heirs listed in his probate records were:
Deborah/Debby Freeman, widow
Nelson Freeman, son Jane Freeman, daughter
Louisa Freeman, daughter Sarah/Sally Freeman, daughter
Mary Ann Freeman, daughter Isabelle Freeman, daughter Note: According to the 1840 census, they had another daughter, but evidently she had died before the death of her father in 1844.
In 1846, Deborah (Jenkins) Freeman married Bluford Van Hooser who was a widower in the same general area of northern Miller County.
She had three sons by Bluford including:
James Van Hooser born c/1847
John Van Hooser born c/1849
Henry Van Hooser born (unknown and probably died as an infant)
Deborah Jenkins Freeman-Van Hooser died in the mid 1850s leaving 8 children, most who were young and unmarried. There is no record of her burial in Jim Henry Township but I suspect she and her first husband, James Freeman, are buried at Jenkins-Bungart Cemetery which is north of Mary's Home. Many members of the Jenkins family are buried there and it is reasonable to presume they may be there also, but in unmarked graves.
The marriages for the children of Deborah Jenkins Freeman-Van Hooser and her two husbands are:
1. Louisa Freeman m. Thomas Edgeman 28 Sep 1848
2. Nelson Freeman m. Harriett J. Walker 18 Jul 1849 (they married in Callaway Co., MO)
3. Mary Ann Freeman m. Thomas A. Williams 9 Sep 1849
4. Sarah/Sally Freeman m. James A. Jenkins 23 Apr 1857
5. Jane Freeman m. Greenville Boyd 18 Dec 1856
6. Isabelle Freeman m. Joseph Stepp 3 Feb 1864
7. James Van Hooser m. (no record found)
8. John Van Hooser m. Nancy Adeline Russell in 1874
Note: Bluford Van Hooser had older children by a first wife who were half-brothers and sisters to James and John Van Hooser.
James Freeman and Deborah Jenkins were probably married in Claiborne County, Tennessee or a neighboring county in the late 1820s or early 30s. That is the county where the Jenkins families lived before moving to Miller County. Deborah's father was Henry Jenkins Sr. who died in Claiborne County, TN and has a probate recorded there. She is mentioned in his will as a surviving daughter.
Claiborne County, Tennessee is in the northeastern section of East Tennessee near the Cumberland Gap. I have visited there in the past years doing research in the courthouse at Tazewell and it is beautiful country which is located in the hills and valleys of the Appalachian mountain ranges.
James and Deborah (Jenkins) Freeman were my great, great, great grandparents. I am descended from their daughter, Jane Freeman (born c/1843), who married Greenville Boyd in 1856. The only record I can find of her name is "Jane Freeman" but I strongly believe she may have been named Deborah Jane but always called Jane because of her mother being called Deborah/Debby. Note: Also, somewhere in all my research I have found Deborah Jenkins called "Debby Jane", so that is my theory that her daughter was also named Deborah Jane, called "Jane".
---
ELLA JOHNSON FAMILY
Ella Johnson was born in Osage County, Mo on 3/21/1865. She was a daughter of Joseph & Mary Johnson, natives of Virginia & Tennessee, respectively. I could find no information of Ella's childhood in the Osage County area. The only clue I had to her youth was the statement in her obituary which said she was born in Osage County and was Joseph & Mary's daughter.
Ella married George Wyrick in Miller County 2/15/1885, the marriage performed by Elder A.W. Mapes. She was George's second wife. He married first Isadora Hix in November 1882 but she lived less than a year after their marriage. Isadora is buried at Gott Cemetery in Glaize Township. Her death may have been from childbirth complications.
George W. Wyrick, born March 1855, was the oldest of three children born to Michael Wyrick Jr. and Laura Ann Golden. His Wyrick ancestors came to Miller County in the 1840s from Grainger County Tennessee and the Golden family also came to Missouri from Tennessee after a short stopover in Indiana.



Minzo Wyrick

For many years George & Ella lived on his parents farm known as "the Michael Wyrick place", located on Dog Creek about three miles south of Tucscumbia. Some of the neighbors were the families of Bear, Birdsong, Lupardus, Nixdorf, Topping, Helton, Patterson, Wright, and other Wyrick families.

Ella was the mother of a large family of at least 10 children including:
1. Clyde M. Wyrick 1885-1962
2. Eura(Wyrick) Martin born 1887.
3. Owen S. Wyrick 1889-1971.
4. Lulu Wyrick born 1890.
5. Minzo Wyrick born 1892
6. Ora Wyrick born 1896.
7. Marjorie (Wyrick) Colvin born 1898.
8. Chloe (Wyrick) Phillips
9. Glenn Wyrick
10. Norman Wyrick 1906-1990.

Ella Johnson Wyrick was a member of the Mt. Zion Christian Church for many years. She died in 1936 and her funeral services were held at Mt. Zion, conducted by Rev. Virgil Smith. She was buried in Old Mt. Zion Cemetery beside her husband, George, who had passed away four years earlier in June 1932. Both are at rest in the old cemetery which overlooks Dog Creek in the valley below as it flows toward the Osage River just a short distance to the north.
---
JOSEPH R. JOHNSON
Joseph R. Johnson was born in Miller County on April 2, 1860 in the Big Richwoods, northeast of Iberia, in what today is called the Brays community. He was a son of Joseph J. Johnson and Elletha Rowden, both natives of East Tennessee. Joseph and Elletha married in Roane County, Tennessee on 8 Nov 1840. Elletha was a daughter of Meshac Rowden and Sarah (McNabb). Her parents married in Roane County on May 5, 1816.
Meshac and Sarah came to Miller County in the early 1840s with Joseph and Elletha Johnson. William and John Rowden, brothers to Elletha, also came to Miller County at the same time. Meshac Rowden was the first person buried in the old Brays cemetery that was located on land that Meshac and Sarah bought when they came to the Big Richwoods.
Joseph J. Johnson, father to Joseph R., was a justice of the peace in Richwoods Township in the 1850s and performed several marriages in the area. In 1860, he was one of only a hand-full of men in Miller County who voted for Abraham Lincoln in the Presidential election. Even though from East Tennessee, which was part of the "Old South", apparently Joseph did not favor the outlook of his southern neighbors concerning slavery.
During the Civil War years, five horses were stolen from the farm of Joseph Johnson by the Confederate troops passing through and Joseph shot into the group, injuring two soldiers. Three years later, about 1864/65, Joseph J. Johnson was called outside his home and killed in his front yard by Confederate troops who remembered what had happened three years earlier. It is probable he is buried at old Brays cemetery where his father-in-law, Meshac Rowden, had been buried a few years earlier. No stone marks his gravesite. I do not know how long Elletha Rowden Johnson lived after the death of her husband because no record of her burial place has been found either.
Joseph R. Johnson, born in 1860, was the 6th child born to Joseph and Elletha (Rowden) Johnson. The known children are:
1. Ernel R. Johnson b. c/1844 TN m. no record found
2. John M. Johnson b. c/1846 TN m. Sarah Winningham
3. Wm. T. Johnson b. c/1848 TN m. no record found
4. Mary S. Johnson b. c/1850 MO m. John A. Slone
5. James M. Johnson b. c/1852 MO m. Sarah Shedman
6. Joseph R. Johnson b.1860 MO m. Charlotte Dake
7. Martha E. Johnson b.c/1866 MO m. George W. Wyrick
During the 1860 census of Miller County, the Johnsons were living near the families of Billingsley, Castleman, Cross, Wiseman, Davis, Bryant, Record, Pittman, Reed and Hanes.
On January 15, 1893, Joseph R. Johnson married Charlotte Dake (known as Lottie). The marriage was performed by F. M. Stickney, minister. Charlotte/Lottie was a daughter of George W. & Mary M. (McKee) Dake of Richwoods Township.
The children of George and Mary Dake were:
1. Wm. R. Dake b.c/1868 m. Abigail Agnes Humphrey
2. Benj. A. Dake b.c/1870 m. Martha J. Humphrey
3. Mary S. Dake b.c/1873 m. Martin Hicks
4. Charlotte J. Dake b.c/1874 m. Joseph R. Johnson
5. Rachel L. Dake b.c/1876 m. James M. Hicks
6. Eliz. M. Dake b.c/1882 m. no record found
7. Flora A. Dake b. 1885 m. Edward I. Shelton
8. Grover C. Dake b. 1877 m. no record found
Joseph and Lottie (Dake) Johnson were parents of three children but only one lived to adulthood. Their daughter Gertrude died at the age of 28 years. Two of their children died in infancy. They grew old together with no family to look after them since no children survived and their story becomes one of sadness at his death.
Sometime in their elderly years they moved to the Tuscumbia area to be near his sister and her family, Mrs. George W. Wyrick (Martha Ella Johnson). Joseph died on Friday morning, December 12, 1930 and his body was not discovered until Saturday evening, December 13. A nephew went to check on his uncle and aunt and found a frightful sight. Joseph had been dead for over 24 hours and Lottie was bedfast, completely helpless. She had to do without food, water, and heat during those long hours before the nephew came to see if they were all right.
Joseph R. Johnson was buried at Mt. Zion Cemetery, south of Tuscumbia. His services were held at the church nearby, conducted by Rev. Davenport. His obituary stated he had been a member of the Brays church for over 35 years that was located in eastern Richwoods Township in the same community where he had been born 70 years earlier. At his death he was survived by his invalid wife, Lottie, and his sister, Ella Johnson Wyrick.
NOTE: I do not know when Lottie Dake Johnson died or where she is buried. There is no stone in Mt. Zion cemetery for either Joseph or Lottie. His obituary said he was buried at Mt. Zion so I would presume she was placed beside him at her death.
---
JOHN WELLS JOHNSTON
John Wells Johnston was born in Virginia 5 January 1793 and died in Miller County on November 11, 1855 at the age of 62 years. He was an early pioneer of Saline Township settling in the Saline Valley before 1840. He and his wife, Nancy (Berry) Johnston, were parents of 12 children with 11 in their household in the census of 1840 and the 12th child born in 1842. Nancy Berry Johnston was born in Kentucky in 1797 and died in Miller County in 1887.
Their children were:
1. Mary Johnston b. c/1822 m. Joseph Moore
2. James Johnston 1824-1896 m. Emily Challes 1851
3. Catherine Johnston b. c/1825 m. James Reed 1844
4. Richard B. Johnston b. c/ 1827 m._______(moved to California before 1855)
5. Margaret B. Johnston b. c/1830 m. Hiram Reed 1851
6. Edward Berry Johnston 1831-1905 m. 1- Mary E. Matthews 1858 2- Nancy E. Harbison 1860
7. Samuel B. Johnston b. c/1834 m. 1- Mariah Hinds 1857 2- Ellen E. Walker
8. George W. Johnston b. c/1835 m. Sarah Hinds 1863
9. Martha Jane Johnston b. c/1838 m. Joseph Hinds 1857
10. Lucy E. Johnston b. c/1840 m. John Slater 1863
11. Joice/Joyce W. Johnston b. c/1842 m. Barton S. Bond 1861
12. a son died before 1850
John W. Johnston owned 280 acres in the Saline Valley which today is near the wildlife and conservation area. He had a mill somewhere on his 280 acres and a mill pond which was mentioned in court records. Several bushels of grain were stolen from his mill house and he filed a report to the County Court in the early 1850s about his loss.
On Sept 22, 1849, School District #4 was formed with the meeting of the inhabitants held at the home of John W. Johnston near the Saline creek. The County Court appointed John W. Johnston as school commissioner with Champ Smith and John Stapp as inspectors of the common schools of the district.
The Johnston family was active in Miller County politics in the 1850s. John Wells Johnston served as a County Judge in 1850; his son, James Johnston, served as Assessor 1849-1850, Collector 1856-1858, and Sheriff during 1856-1858; and son, Joseph Johnston was a County Judge from 1854-1856.
John Wells Johnston died in November 1855. His estate was recorded in the probate court at the Miller County courthouse on November 19, 1855. His oldest son, James, was named administrator of the estate. He listed the heirs of John W. Johnston who all lived in Miller County with the exception of Richard, who was residing in the state of California. The estate was active for nine years and was finally settled in August 1864.
After John's death in 1855, his wife, Nancy, lived most of the remaining years of her life with their son, James and family. She died in 1887 and remained John's widow for 32 years. John is buried at the Harbison Cemetery in the Saline Valley on land that was later owned by the Paul Martin family. Nancy was buried at Mt. Pleasant AF & AM Cemetery and was not placed beside John at Harbison Cemetery which is a few miles south.
---
OBITUARY OF LAURA (IRWIN) JOHNSTON
Laura Irwin was born in Miffingburg, Pennsylvania on April 8, 1854 and came to Missouri with her parents when she was 6 years old in 1860. In 1869, at the age of 15, she married George W. Johnston of Miller County. Laura and George were parents of several children. Those surviving her included David, W. I., Sallie (Stuntz), Mrs. William von Gremp, and Victor. A daughter, Mrs. Everet Allen, preceded her in death. Also surviving Laura were 4 brothers, Charles T. Irwin, William Irwin, John L. Irwin, and Holmes Irwin and a sister, Mrs. C.W. Farnham, all of Iberia. Dr. Byron Smith conducted her funeral services at the Iberia Methodist church. She was buried at the Iberia cemetery.
---
REUBEN BAILEY JOLIFF AND ANNA EVANS
Reuben Bailey Jolliff was born 22 March 1856 in Indiana, the 5th child of William and Sarah Jolliff. He came to Miller County in the 1870s with three brothers and a sister. On June 14, 1877, he married Anna Lorraine Evans, daughter of David H. Evans and Stacy Anna (Colvin), natives of Grainger County, Tennessee. Anna Evans was born in Miller County 3 September 1860.
About 1859, David and Stacy (Colvin) Evans and several other families, including Stacy's parents, James and Barbara (Phipps) Colvin, came to Miller County from East Tennessee.
Reuben Jolliff and his wife, Anna, had 9 children and lived in Miller County until 1891 when they moved to Saline County, Missouri and later, in 1901, moved to Kansas City, Kansas. Both Reuben and Anna died there.
During the years they lived in Miller County, he wrote entries in a small journal about his everyday life near Old Bagnell. He was a tenant farmer and also made railroad ties and sold them. The tie-making business in the late 19th century was what made Old Bagnell such a thriving, booming area. It was once called "the Tie Capitol of the World" because of the vast amount of ties made and put in the river at Bagnell's port on the Osage.
Reuben's journal gives a good look at life in Old Bagnell and surrounding countryside, especially in 1889-90. In August 1889, he wrote his brother, Daniel Jolliff, who lived in Scotland County, Missouri and told of the dry, hot wind across the Osage.
There were many other interesting items recorded in his journal including the following:
1. In early October 1889, a holiness meeting was begun in the area and it lasted for over a week.
2. On October 7, 1889, he built a corn crib.....a few days later he sold 57 pounds of pork for 5 cents per lb.
3. In November, 1889, he made a trip to Tuscumbia and bought the following items:
l gallon molasses $1.00; coffee 50 cents; tacks 20 cents; soap 25 cents; knife 25 cents; tobacco 10 cents; oil cloth 50 cents; muslin 20 cents; blue drilling (cotton cloth) 20 cents; 12 yards calico 90 cents; coal oil 25 cents; shoes $1.40; 7 yards shirton (shirting material) 55 cents; 12 yards flannel 50 cents; thread 10 cents;
4. On November 8, he traded ties he had made for 2 steers.
5. On December 6, he went to the mill with 4 bushels of grain.
6. On December 21, they butchered a hog and the weather was warm and windy.
7. On December 30, they killed more hogs.
8. In January 1890, he built some fence because the weather was warm.
9. By mid January it had turned cold and they had all sorts of weather "rained and thundered", "cold and snow", "sleeted", "ground white".
10. In February, they attended a "singing" at church
11. And later they prepared a bed for planting tobacco seed; cleared off the garden; 'set up' with the sick; turned steers into the stalk field...
..........THAT WAS WHAT LIFE WAS LIKE IN MILLER COUNTY IN 1889-1890, MORE THAN A CENTURY AGO.
A great grandson of Rueben and Anna Jolliff, who lives in California, has possession of Reuben's old journal and he was kind enough to share some of his grandfather's memories with me. This is a wonderful "piece of Miller County history" that Mr. Anderson shared with me a few years ago.
---
ADOLPHUS JONES
Adolphus Jones was born January 27, 1843 in Muskingham County, Ohio, a son of Alfred and Sarah Jones. I do not know if Alfred and Sarah had more children---Adolphus is the only one I found on record. Alfred was born in Virginia c/1810 and Sarah was also a native of Virginia, born c/1811.
When Adolphus was a small child his parents moved to Illlinois and lived there for a number of years. By 1860, they had moved to Miller County, MO and had settled in Equality Township near the families of Dobson, Bourne, McDowell, Wells, Bass, and Wyrick. About the time the Civil War began, the Jones family moved back to Illinois where Adolphus enlisted in the Union Army. He served in Company E of the Illinois 32nd Infantry. He received his discharge from military service in January 1864 at Natchez, Mississippi.
While in Missouri, Adolphus and his parents lived near Thomas and Judith (Stewart) Dobson who had a young daughter named Bethabra, born in Miller County in 1846. She was only about 15 years old when Adolphus went back to Illinois but evidently he did not forget her.....After the war was over, he returned to Miller County and married Bethabra on December 14, 1865. It wasn't long after their marriage that they went back to live near his parents in Illinois. While there they had five children......
Circa 1877, they came back to Miller County where they lived the remainder of their lives. Two more children were born after their return to Miller County. The children included: Rosetta Alice Jones b. 1866 m. Bird Kelsay 1883; James A. Jones b. 1867; Judith Frances Jones b. 1873 m. Elmer Evans 1889; John Wesley Jones b. 1874 m. Nettie Victoria Kilgore 1898; Walter b. 1878 m. Rosa Kay 1900; and Ida Jones (died in infancy).
Adolphus and Bethabra lived in Glaize Township in the Elm Springs community near Little Bear creek. He joined the Elm Springs Christian Church in 1884 and remained a member for many years. The old church, a log structure, later became a Baptist Church. In 1908, Elmer Kidwell bought the log church, which was located on an acre of land. In later years it was used as a storage barn.
After 39 years of marriage, Bethabra died in January 1904 and was buried at the Eldon Cemetery. Adolphus married his second wife, Martha Wilcox, on August 17, 1905. He lived until October 6, 1927 when he passed on at the age of 84 years. His services were conducted by Rev. Charles M. Sooter and he was buried beside Bethabra at Eldon Cemetery.
---
FETNA SLAWSON JONES
Fetna Slawson Jones was born 30 March 1850 in Jasper County, MO near the town of Sarcoxie. She was a daughter of Joseph Arnold Slawson Sr. and his first wife, Celia Williams, both natives of North Carolina. Both were born about 1812 and according to Mormon Church records, married in Wake County, NC on January 25,
The Slawsons came to Miller County from southwest Missouri (near Sarcoxie, Jasper County) after the Civil War and located in the Brays Mill area. Before coming west to Missouri, they had stopped off in Kentucky on their way from North Carolina where a couple of their children were born. Some of their children included: Katherine Slawson b. c/1833 in NC; Haywood Slawson b. c/1835 NC; Lowry A. Slawson b. c/1839 KY; James Slawson b. c/1841 KY; Sarah Slawson b. c/1847 MO. and Fetna Slawson b. c/1850 MO. Later more children were born to Joseph Slawson Sr. and a second wife including Joseph Arnold Slawson Jr (born in Jasper Co., MO in 1854).
Fetna Slawson married William Marshall Jones in Miller County 3 March 1867, the marriage performed by Rev. Thomas Owen Workman, a circuit-riding preacher of central Missouri. William Marshall Jones was a son of Henry and Nancy (Davis) Jones who had moved to Pike Co., Illinois by 1832 because they married there on April 5, 1832. Their marriage was performed by Rev. John M. Davis, the father of Nancy. The Jones and Davis families came on to the Big Richwoods of Miller County in the late 1830s and lived near one another in the census of 1840.
William Marshall Jones was born in Miller Co. 9 Apr 1849. He was one of nine children born to Henry & Nancy. I do not know where Henry and Nancy are buried. There is no record for them in any of the cemetery records. He died c/1874 and she lived until 1902. They are probably buried in unmarked graves in either the Old Brays Cemetery or the Brays Union Cemetery. Fetna (Slawson) and Wm. Marshall (called Marshal) continued to live in the same area of the Big Richwoods in the Brays/Alder Springs community. The Jones' lived there for several generations but most of the Slawson family evidently moved elsewhere. Fetna had a half-brother, Joseph Arnold Slawson Jr., who lived in the Brays Mill area and at one time operated a grist mill in the area. I believe he may have run and operated the old Brays Mill before it was known by that name.
Fetna and Marshall became parents of several children including:
1. Laura A. Jones 1867-1889 m. John H. Thompson
2. Sarah Ella Jones 1870- m. Wm. T. Yoakum
3. Joseph N. Jones 1871-1967 m. Mishia F._________
4. Nancy E. Jones 1874- m. Albert S. Sloan
5. Sophia F. Jones 1876- m. George Clinton Bilyeu
6. John Thomas Jones 1879-1960 m. Elizabeth Ardora Irvin
7. James Walter Jones 1882- m. Leftie Morrow
8. Otis/Ottie M. Jones 1884-1958 m. Martha Jane Sloan
9. Wm. Gordon Jones 1886- m. Maude Crismon
Marshall Jones died at the young age of 36 years leaving Fetna alone to rear their 9 children. He died of typhoid pneumonia on 2 Dec 1888 and was buried at the Morrow Cemetery (today known as Brays Union). I found record of his death in an old book at the Miller County courthouse. Between 1883-1891, both birth and death records were kept by Missouri counties and Miller Co. has their records in an old book in the County Clerk's office. About 1896, when she had been a widow for about 8 years, Fetna married an older man who lived in her neighborhood. His name was Elijah Dake and he was 25 years older than Fetna. His first wife, Eliza (Lawson) Dake, had died after giving birth to at least 7 children: James, Matilda, Mary, Harvey, Sarah, Perry, and Rebecca. I do not know how long Fetna was married to Elijah. He died sometime after 1900. Fetna Slawson-Jones-Dake lived to the age of 86 years and died at her home in the Alder Springs/Brays area on October 13, 1937. She was survived by 8 children (her oldest daughter, Laura Jones Thompson, died in 1889). She was buried beside her first husband, Marshall Jones, in Brays Union cemetery where many other members of the Jones family are buried.
NOTE: John Thomas Jones, the 6th child of Fetna Slawson & Marshall Jones, was the great grandfather of my children. John married Elizabeth Ardora Irvin on December 28, 1905. The second child born to John T. Jones and Elizabeth Ardora Irvin was Lattie Cecile Jones, the grandmother of my children.......PSH
---
HENRY & NANCY JONES
Henry Jones and his wife, Nancy Davis Jones, were among the county's earliest settlers. They were living in the Big Richwoods of southeastern Miller County before 1840. In the 5th U.S. census, taken in 1840, Henry and Nancy were living in the community we know today as Alder Springs. Some of their nearest neighbors were Woodford Jones (probably a brother to Henry), Cornelius Bilyeu, Peter Bilyeu, Cornelius Roberts, Davis Henderson, and other Davis families whom I presume were Nancy's kinfolks.
Henry and Nancy were both listed as natives of the "Blue Grass State", Kentucky, born 1809 and 1813, respectively. They were married in Pike County, IL and shortly after their marriage, moved westward to Miller County, MO.
Their children included:
JAMES W. JONES b. 1834 m. Frances Bowlin;
ELIZABETH ANN JONES b. c/1836 m. Alexander Pittman;
BETTIAH JONES b. c/1839 m. James M. Morrow;
JOHN F. M. JONES b. c/1841 m. Catherine Sloan;
SARAH JANE JONES b. c/1844 m. Isaac A. Sloan;
THOMAS B. JONES b. c/1847 m. Sarah M. Schooley;
WILLIAM MARSHALL JONES b. 1849 m. Fetna Slawson;
ALEXANDER JONES b. c/1853 m. Martha Mary Pittman; and
MARY F. JONES b. c/1854 (no record after 1860).
Henry Jones died in 1875 and his land was divided among his heirs, including his wife, Nancy. Some of the children sold their share of the land to youngest brother, Alexander Jones. Since Nancy Davis Jones does not appear in the Miller Co. census of 1880, she probably died c/1875-1880. Where she and Henry are buried is unknown, but probably somewhere on the land they homesteaded and called home for many years in the Alder Springs community.
James W. Jones, oldest son of Henry and Nancy, was born 16 Mar 1834. On 24 Feb 1854, James married Frances Bowlin, the marriage performed by Joseph Johnson, a justice of the peace. She was one of 6 children born to James and Sarah Bowlin, natives of Virginia and North Carolina, respectively.
The children were:
STACEY BOWLIN b. c/1827;
JAMES BOWLIN b. c/1830;
JOHN BOWLIN b. c/1832;
JOSEPHUS BOWLIN b. c/1834;
FRANCES BOWLIN b. c/1838; and
MARTHA BOWLIN b. c/1840, all born in Tennessee.
James and Frances (Bowlin) Jones lived in the Alder Springs area near the other Jones families.
Their children included:
JOHN MARSHALL JONES b. 1857 m. Mary Luella Smith;
JAMES HENRY JONES b. 1859 m. Martha Jane Smith;
JOSEPHUS JONES b. 1855 (no record after 1870);
WILLIAM R. JONES b. 1861 m. Emily Carlton;
SARAH J. JONES b. 1864;
NANCY JONES 1866-1868;
THOMAS B. JONES b. 1868 m. Jemima Fike;
MARION W. JONES b. 1871 m. Della Smith;
ISAAC L. JONES b. 1873;
GEORGE W. JONES b. 1875 m. Leona Serl;
ALCENA JONES b. 1877 m. Fred Hannah;
WILEY JONES b. 1879; and
DAVID F. JONES 1882-1892.
John Marshall Jones, son of James and Frances, was born in Miller County on 28 Oct 1857. He married Mary Luella Smith 16 Nov 1879, a daughter of John Wesley Smith and Nancy (Stinnett). Mary Luella was born in Pulaski Co., MO 15 June 1860, one of 10 children born to John Wesley & Nancy Smith.
The Smith children were:
WILLIAM HARRISON SMITH (great grandfather of Peggy Smith Hake),
JOHN WESLEY SMITH, JR.;
MINERVA SMITH (died young),
MATILDA (SMITH) BAILEY;
AMANDA (SMITH) MORROW,
MARY LUELLA (SMITH) JONES,
ALEXANDER SMITH,
JAMES MONROE SMITH,
DANIEL C. SMITH,
LEWIS SMITH,
MARTHA JANE (SMITH) JONES.
Note: Mary Luella Smith and her sister, Martha Jane, married Jones brothers.
The children of John Marshall Jones and Mary Luella Smith were:
OLLIE JONES WILES b. 1881;
BESSIE JONES CREECH b. 1883;
GENIE JONES JARRETT b. 1885;
ARTHUR JONES b. 1887;
EVERETT JONES b. 1890;
LEMUEL JONES b. 1892
GALE JONES b. 1895.
John Marshall Jones and Mary Luella (Smith) Jones are buried at Brays Union Cemetery. He died 9 June 1941 at the age of 84 years and Mary Luella lived until 7 Feb 1956 when she passed away at the age of 96 years.
NOTE: I printed this story in the Autogram-Sentinel in 1993 at the request of Rev. Earl Jones of Dixon (now deceased). He was a grandson of John Marshall & Mary Luella (Smith) Jones.
---
ARDORA ELIZABETH IRVIN
Born 19 February 1888 in Maries County, MO
Died 2 November 1980 in Miller County, MO
Daughter of James G. Irvin (1860-1919) and Martha Ellen Hazeslip (1862-1920)
Granddaughter of John Irvin & Eliza Ann Skinner and Dempsey Haslip & Elizabeth Robinson
Married John Thomas Jones on 28 December 1905 in Miller County, MO
born 28 Dec 1879 in Miller County, MO;
son of William Marshall Jones & Fetna Slawson
died 11 Aug 1960 in Miller County, MO
Children of James G. Irvin & Martha Ellen Hazeslip:
1. Ada Marinda Irvin b. 2 Jun 1881, d. 6 Sep 1971, m. Rector A. Slone
2. Lucy Clementine Irvin b. 30 Nov 1882, d. 19 Sep 1976, m. Emery Hensley
3. Nola Paralee Irvin b. 4 Sep 1885, d. 4 Sep 1919, m. Albert Baker
4. Ardora Eliz. Irvin b. 19 Feb 1888, d. 2 Nov 1980, m. John Thomas Jones
5. Walter Dempsey Irvin b. 29 Apr 1890, d. 16 Mar 1897
6. Grace Ellen Irvin b. 3 Jul 1892, d. 19 Jun 1972, m. Isaac Richmond
7. Archie Clifford Irvin b. 19 Oct 1894, d. 23 Sep 1979, m. Lena Juergens
8. Frank Ernest Irvin b. 3 Apr 1897, d. 21 Aug 1972, m. Mae Emery
9. Everett Ray Irvin b. 3 Dec 1899, d. 15 Jan 1980, m. Inez Summers
10. Thomas Earl Irvin b. 25 Oct 1903, d. 17 Jul 1978, m. Ellen Berry
NOTE: I found in my records that James G. Irvin, father of Ardora Elizabeth Irvin-Jones, had 3 brothers who were: William Irvin, George Irvin, and John Irvin
JOHN THOMAS JONES
Born 28 December 1879 in Miller County, MO
Died 11 Aug 1960 in Miller County, MO
Son of William Marshall Jones (born 9 April 1849 and died 2 Dec 1888 in Miller County,
MO) and Fetna Slawson (born 30 March 1850 in Jasper Co., MO and died 13 October
1937 in Miller County, MO)
NOTE: Fetna married after the death of William Marshall Jones. Her second Marriage was to Elijah Dake whom she married about 1896)
Grandson of Henry Jones and Nancy Davis who married in Pike Co., Illinois on April 5, 1832
Children of William Marshall Jones and Fetna Slawson-Jones:
1. Laura Jones b. 26 Dec 1867 d. 15 Jan 1889 m. John Thompson
2. Sarah Ella Jones b. 18 Jan 1870 d. 26 Jan 1954 m. William T. Yoakum
3. Joseph H. Jones b. 7 Dec 1871 d. 21 Jun 1967 m. Mishia F.________
4. Nancy E. Jones b. 24 May 1874 d. 3 Aug 1966 m. Albert Slone
5. Sophia F. Jones b. 26 Sep 1876 d. 25 Jun 1960 m. George C. Bilyeu
6. John Thomas Jones b. 28 Dec 1879 d. 11 Aug 1960 m. Ardora Elizabeth Irvin
7. James Walter Jones b. 24 Jan 1882 d.______1959 m. Leftie Morrow
8. Otis/Ottie M. Jones b. 20 Jun 1884 d. 12 Oct 1958 m. Martha Jane Sloan
9. Wm. Gordon Jones b. 4 Jul 1886 d.______ 1983 m. Maude Crismon
---
PARADINE JONES THOMPSON
Paradine Jones was born in Miller County in the Alders Springs community of Richwoods Township on February 12, 1871. She was a daughter of John F. M. Jones and Catherine Dorcas (Sloan). The grandparents of Paradine Jones were Henry and Nancy (Davis) Jones, natives of Kentucky and Thomas S. & Margaret C. Sloan, both born in North Carolina.
John F. M. and Catherine (Sloan) Jones were parents of five children:
1. Nancy E. Jones b. c/1866 m. Wm. M. Lawson 1887
2. Mary Margaret Jones 1867-1869 (buried in Brays Cemetery)
3. Paradine Jones 1871-1936 m. William Grant Thompson 1888
4. Ida A. Jones b. 1873 m. John H. Bilyeu m.1888
5. Thomas L. Jones b. 1875 m. Mary M. Thompson 1893
Paradine Jones married William Grant Thompson on July 13, 1888 when she was about 17 years old. Their marriage was performed by J. D. Thompson, a minister of the gospel. William Grant Thompson, born 25 June 1867 in Miller County, was a son of Nathaniel Thompson and Narcissus Record.
Paradine and William Grant became parents of three children:
1. Clara R./Belle Thompson m. Medford Owen Kellison 7 Dec 1911
2. J. Ray Thompson (1893-1970) m. Laura E. ___c/1917
3. Marcia Alma Thompson (1898-1965) m. Frederick Valentine Kallenbach
Paradine died on March 25, 1936 at the age of 65 years. She was survived by her husband William Grant (who died in 1966), three children, two sisters: Mrs. Wm. W. Lawson (Nancy) of Oklahoma and Mrs. John H. Bilyeu (Ida) of the Alder Springs area; and one brother, Thomas L. Jones of the Alder Springs community.
At the time of her death, Paradine was a member of the Alder Springs Church of Christ. Her funeral services were conducted by Wm. Freeman Jones, her nephew, and she was buried at the Alder Springs Cemetery which was near the church.
None of the children of Paradine and William Thompson are buried in the Alder Springs area. The oldest daughter, Clara, and her husband, Owen Kellison lived in the state of California in their later years of life and died there. Owen was an ordained minister in the Disciples of Christ Church and pastored churches in the Los Angeles area. Both Clara and Owen were graduates of the old Iberia Academy, graduating together in 1917 (six years after their marriage). They both died in the 1980's, well past the age of 90 years.
J. Ray Thompson and his wife, Laura E., are buried at Kenner Cemetery in Maries County, MO. The youngest daughter, Marcia Alma, and her husband, Frederick Kallenbach, are buried at Tuscumbia Cemetery.
---
WILLIAM FREEMAN JONES
William Freeman Jones was born in Miller County near Iberia on July 12, 1883. He was one of 13 children born to John Franklin Jones (1858-1941) and Sarah Catherine Fike (1866-1937). His maternal grandparents were Manessah Jones (1833-1906) and Margaret (Poynter) Jones (1834- 1904) His maternal grandparents were Benjamin F. Fike (1834-1914 and Louisa (Shirley) Fike (1833-1910). John Franklin Jones and Sarah Catherine Fike were married 31 March 1881, the marriage performed by Rev. R. T. Marlow.
They became parents of 13 children including:
1. Louisa Margaret (Jones) Humble 1882-1954
2. William Freeman Jones 1883-1975
3. Franklin M. Jones 1886-1954
4. Millie Vina (Jones) Vaughan 1888-1952
5. Genettie Ellen (Jones) Bracken b. 1890
6. James Henry Jones 1891-1944
7. Mary Emmaline (Jones) Akin b. 1893
8. Frances Mae (Jones) Schubert b. 1895
9. Laura Helen (Jones) Wilson-Nygaard 1899-1988
10. Wesley Spurgeon Jones 1901-1902
11. David Roy Jones b. 1903
12. Charles Howard Jones b. 1905
13. Flora Nellis (Jones) Kinder b. 1909
William Freeman Jones, the oldest son of John & Sarah (Fike) Jones married Nellie Sophie Bilyeu at Alder Springs, Richwoods Township, on June 18, 1911. Their marriage was performed by Bro. George Shephard. Nellie Sophia was born 12 Nov 1889 in Miller County, a daughter of John H. Bilyeu (1866-1953) and Ida A. Jones (1872-1960). William Freeman was baptized in 1912 and began preaching and traveling for the Church of Christ in 1913. He remained a minister most of his life. He also built a newspaper at Hancock, Pulaski Co., MO and was a newspaper editor almost until his death. After publishing the Hancock paper, he moved to the Iberia area and printed several publications over the years including "Footprints in Time", "The Iberia News" and published several booklets concerning the Iberia Academy.
William Freeman and Nellie were parents of several children including:
1. Dorcas Louise (Jones) Copley
2. Lois Eleanor (Jones) Thomson
3. Paul Freeman Jones
4. LeRoy Valentine Jones
5. Karl Franklin Jones (died young)
6. Samuel Lee Jones (died young)
7. Infant daughter (died at birth)
Nellie Sophie Bilyeu-Jones died on July 26, 1970 at the age of 80 years and was buried at Iberia Cemetery. William Freeman Jones lived until April 21, 1975 when he died at the age of 92 years, He was survived by 4 children (Lois, Dorcas, Paul, and LeRoy); 2 brothers: Howard Jones of Kansas and David Jones of New Mexico; 2 sisters: Flossie Kinder of Missouri and Helen Nygaard of Texas. His funeral services were held at Stevinson Chapel in Iberia, conducted by Brother B. J. Tidwell and he was buried beside Nellie Sophie at Iberia Cemetery.