Surnames Beginning With 'H'
---
THE HACKNEY FAMILY
Wesley A. Hackney, son of William M. and Isabel (Rice) Hackney, was born in Cole Co., Missouri on 12 Nov 1835. He was one of 10 children born to William and Isabel Hackney. William and Isabel married in Cole Co. 24 July 1834; she was a daughter of Rachel Rice. William, the father of Wesley, was reared in Tennessee and went to Kentucky when he was about 24 years old. William was a son of Jacob Hackney, native of Virginia, who also lived in Tennessee for a few years and died in Laurel Co., Kentucky.
William Hackney was a soldier of the Mormon War of the late 1830s and also served in the Civil War, holding the rank of Captain in Co. B, 6th MO Cavalry. Isabel (Rice) Hackney died in Cole Co. in 1857 and after her death, William moved to Texas Co., MO in 1859. He died there in 1873. When William died in 1973, he was survived by 3 of his 10 children including: Wesley A. Hackney, Mrs. William Walker (Mary E.), and John L. Hackney.
In 1855, Wesley A. Hackney moved to Miller County from Cole County and the same year married Eliza Roberts, daughter of Aaron and Elizabeth (Grimmet) Roberts. They located at Little Salem in Saline Township. In 1860, he bought the farm on the Saline creek which later became the farm of Herman Tellman and family. This farm had earlier been the location of the Miller family log cabin, site of the first county court after the county was organized in 1837.
During the Civil War, Wesley served in the Home Guard for 3 months in 1861. He then enlisted in Co. K, 6th MO Cavalry in 1862 and was mustered in as 2nd Lt. He was in battles across the South in Mississippi; on the Red River expedition; and fought in several other hard battles. In December 1862, he was captured at Helena, Arkansas and was incarcerated for about a month. He was paroled and was sent to St. Louis where an exchange of prisoners took place. In February 1865, he finally returned to Miller County.
During the 1860s Wesley Hackney owned a general store in Tuscumbia and bushwhackers made a raid on the store. A posse followed the outlaws into another county and salvaged some of the goods.
After the Civil War, Wesley and Eliza continued to live in the Saline creek area, and abut 1868, he bought land in what was called the Gageville area. This was about 6 miles north of Tuscumbia. In 1874, lead was found on his property. A lead mine was constructed there and he later sold his Gageville property and the Hackney Mine for $30,000 to a St. Louis farm owned by a Mr. Gage and Mr. Quinby. I would surmise the Gageville name came from the Mr. Gage who owned the mine after Hackney.
Wesley and Elizabeth moved south of the Osage river in Equality township to what later became the county's 'poor farm', about a mile downriver from Tuscumbia near the mouth of Dog Creek. The county's poor, downtrodden, indigent, and paupers were housed and taken care of with county funds paid to the supervisor of the "Poor Farm"… He built the house that was used for the county's inmates during those years of the late 19th century. About 1887-88, the Hackneys moved to another piece of property in the same general area of southern Equality Township.
Wesley A. Hackney was active in Miller County politics, a Republican, and served in the Missouri State Legislature in 1882-1886 and again in 1892-1894. He was also an active member of the G.A.R. and the I.O.O.F. Lodge.
Wesley and Eliza (Roberts) were parents of three children, none whom lived to adulthood. Eliza died on August 10, 1912 and Captain Wesley (as he was commonly known) lived until 1928. He died at the home of his nephew, Mon Roberts, in February 1928 at the advanced age of 92 years. He was survived by one brother, John Hackney, his nearest of kin. He was buried beside his wife, with whom he had shared 57 years of marriage, at Mt. Zion cemetery, south of Tuscumbia.
Wesley A. Hackney 13 Nov 1835-3 Feb 1928
Eliza (Roberts) Hackney 12 Mar 1833-10 August 1912
In the 1850 census of Miller Co. lived Hightower Hackney, age 68, born ca 1782 in North Carolina, and his wife Susannah, age 42 born ca 1808 in Kentucky. They lived in Jim Henry Township near the families of Jenkins, Allen, Coggburn, Newton, Musick, and Riggs. This family of Hackney was probably related to the Hackneys who moved to Cole County in the 1830's. The exact kinship is not known. Hightower and his young wife (probably #2) had 3 children in their home in 1850: Sarah born ca 1838 in MO.; William H. born ca 1839 in MO. married Avarella Gossett 1855; and John J. born ca 1843 in Missouri. Evidently Hightower died in Miller Co., between 1860 and 1870, but there is no record of his burial place.
In 1856, Hightower and Susannah deeded their 200 acre farm in Jim Henry Township, about 3 miles southeast of present-day Marys Home, to their 2 sons, William and John for the total price of $5.00.They reserved to themselves the right to live upon and occupy said land during their natural lifetime; and to reserved the right upon and occupy said land during their natural lifetime; and to reserved the right of the use of the farm and sufficient timber; to keep in good repair, firewood, and all necessary purposes during their natural lives and after their death, all would revert to the 2 sons, William and John Hackney.
---
MARY E. HAGEN
Mary E. Hagen (also spelled Hagin/Hagan) was born November 3, 1853. I am not certain but I suspect she was a daughter of Richard Hagen (b. c/1808 in Kentucky) and his wife, Theresa (b. c/1817 in Tennessee). In the census of 1880, there were families named Hagen living in Glaize Township including Richard and Theresa born in Kentucky and Tennessee, respectively; and John J. and Sarah (Wilson) Hagen of Tennessee. I believe Richard and Theresa were the parents of Mary and, most likely, John Hagen was her brother.
Mary E. Hagen married James Louis Winfrey in Miller County on December 13, 1877. Their marriage was performed by Elder Zachariah Wiseman, who also performed the marriage for John Hagan and Sarah Wilson in 1874. James Louis Winfrey, born 4 January 1860, was a son of William G. T. Winfrey (b. c/1835) and Susan Winfrey (B. c/1837). William and Susan were married in Miller County on October 7, 1858, the marriage conducted by Hiram Reed, a justice of the peace in Glaize Township.
Mary (Hagen) and James Winfrey never had any children of their own, but did adopt a daughter, Pearl, when she was born in 1894. Pearl married Marshall M. Meredith (1890-1961) on July 15, 1911. Her adopted father, James L. Winfrey, gave the consent for her marriage to Marshall.
James Louis Winfrey served as county judge of District No. 2 from 1911-1915 and his son-in-law, Marshall Meredith, served in the same office during the early 1930s. Mary and James' grandson, Paul Meredith, carried on the family tradition, serving as a Miller County official for many years.
Mary E. Hagen-Winfrey died 26 March 1932 at the age of 78 years. James Louis Winfrey had passed on six years earlier in June 1926. They had spent almost 50 years together and husband and wife. Mary's funeral service was held at Mt. Union Church of Christ, conducted by Rev. William Freeman Jones. She was buried beside James Louis in Mt. Union cemetery nearby. According to her obituary, Rufus Frank Moneymaker sang two special songs at Mary's funeral, but the titles were not given. She was survived by her adopted daughter, Pearl Meredith, and several grandchildren and great grandchildren.
---
THE FAMILY OF AMBROSE AND PEGGY (SMITH) HAKE
Ambrose Herman Hake and Peggy Smith-Warman were married February 17, 1981. Ambrose was born at Marys Home on October 18, 1927, a son of Conrad Antone Hake, born 26 Dec 1897 at Marys Home, and Ida Veronica Volmert, born 24 Sept 1900 at St. Elizabeth. Peggy was born August 10, 1935 at Iberia, daughter of Gene Oliver Smith, born 11 Nov 1914, and Verlie Alberta Wyrick, born 25 Oct 1914, both natives of the Iberia community.
The ancestors of Ambrose Hake were German immigrants who came from Germany in the 1840s. The Hake family came from Ruhlertwist, Germany and the Volmert family was natives of Leisborn, Prussia. When they first came to America, the families settled in Osage County---the Hakes at Westphalia and the Volmert ancestors settled near Rich Fountain. Later the families moved to the 'Osage River country' of northeastern Miller County where the Hakes settled near Marys Home and the Volmerts lived in the St. Elizabeth vicinity. Other ancestral names in Ambrose's lineage were the families of Buechter, Weissling, Williams, and Evers.
The ancestors of Peggy were early settlers of Miller County. The Smiths were from Tennessee and later moved to Crawford County, MO before finally settling in Miller County. The Wyrick family came to Miller County in the early 1840s from Grainger County, Tennessee. Peggy's early ancestral lines originated in England, France, the Rhineland in Germany, and she is also descended from the Cherokee Indian tribes of early America.
The paternal grandparents of Ambrose were Herman Henry Hake, born 9 Aug 1869 at Westphalia (Osage County) and Sophia Elizabeth Evers, born 7 Feb 1871 in Osage Co., MO. His maternal grandparents were John Volmert, born 1 Aug 1855 at Rich Fountain (Osage County) and Elizabeth Buechter, born 5 July 1863 at Westphalia (Osage County).
The paternal grandparents of Peggy were Henry Franklin Smith, born 20 Jun 1884, and Sarah Eliza Boyd, born 9 July 1888, both natives of Miller County, born in Richwoods Township. Her maternal grandparents were Chesley S. Wyrick, born 26 Jan 1892 near Ulman, and Amanda Elizabeth Whittle, born near Iberia on 4 Sept 1896.
As a young man, Ambrose enlisted in the U.S. Army and is a Korean War veteran. During the war he spent almost 2 years in Korea. He was in the Medics Corps where he worked with ambulances bringing the injured from the front lines to MASH units in the field. He was discharged from the U.S. military and returned to Miller County in 1952.
Ambrose spent many years employed at Ft. Leonard Wood where he worked as a machinist and mechanic for Allied Trades and the Director of Maintenance. He retired in 1987 and raised cattle for awhile on the Hake family farm located a few miles south of St. Elizabeth. He also was engaged in custom bush-hogging for several years, but is fully retired today where he and Peggy enjoy living in the Big Tavern valley on their farm called "Whispering Hills".
Peggy worked for several years in the banking business in the Kansas City area before she returned to her hometown in 1979. She also served as an elected official of Miller County, serving as county judge and commissioner.
Ambrose and Peggy Hake share a large family. Ambrose's children are William Conrad Hake, born 22 July 1954 and lives at Rocky Mount; Rebecca Diane (Hake) Perkins, born 13 July 1957, is living at Rolla; Donald Robert Hake, born 6 May 1966, living at St. Elizabeth; and David Scott Hake, born 30 Sept 1972, living at Ft. Smith, Arkansas. He has 2 granddaughters and a step grandson: Melissa (Hake) Barringer of Lebanon; Cayce Jo (Plemmons) Beardslee of Hamlin, New York; and Chad Perkins of Rolla. The 3 great grandchildren are Dylan Scott Barringer of Lebanon; Madison McKinnon and Chase Beardslee of Hamlin, New York.
Peggy's children are Kathy D'Ann (Warman) Smith, born 16 Feb 1957, of Independence, MO; Kerry Douglas Warman, born 24 July 1958, of Pleasant Hill, MO; Kelly Denise (Warman) Stallings, born 5 April 1960, living at California, MO; and Kirk Duane Warman, born 16 April 1962, living at Iberia. Her grandchildren are Alicia Nichole (Stallings) Prenger of Auxvasse, MO; Kyle Douglas Warman of Clearview City, Kansas; Amanda Nichelle Stallings of California, MO; Ray Edward Stallings II of Fairbanks, Alaska; Kandra D'Ann Warman and Keisha Danielle Warman of Iberia; Krystal Dawn Warman of Eldon; Keidra Denise Warman of Lake Ozark, and Joshua Smith of Independence, MO. The great grandchildren are Kolin Bruce McGhee of California, MO; Emoni Rae and Alyssa Noelle Prenger of Auxvasse; Christopher Simms Stallings of Jefferson City; Hailey Jade and Chase Devon Phelps of Lake Ozark; Kira Alexandra Warman of Eldon, and the 8th great grandchild is expected in late 2004.
---
JOHANN BERNARD HAKE
Johann Bernard Hake was born 17 April 1832 in Hanover, Germany, a son of Bernard Heinrich Hake and Anna Maria Schweiter. When he was 11 years old (c/1843) he came to America and spent the rest of his life in Osage and Miller Counties of central Missouri.
He married Francisca Catherine Thebing at Westphalia, Osage County, MO on 25 Nov 1856. Francisca was born in Borken, Westphalen, Germany on 25 July 1836. They were married for only one year when Francisca died of childbirth complications. Her only child, Anton Hake, born 8 October 1857, lived a month and he died on November 9, 1857. His mother, Catherine, had died two days earlier on November 7th. Both are buried at St. Joseph's Cemetery in Westphalia.
Johann/John Bernard married his second wife, Maria Gessina Wessling-Brandt, at St. Joseph's Church in Westphalia on May 4, 1858. She was the widow of John Heinrich Brandt. Maria was born at Twist, Hanover, Germany on June 17, 1832, a daughter of Gerhard Henirich Wessling and Anna Maria Elizabeth Temmen.
Maria Gessina and her first husband (John Heinrich/Henry Brandt) were parents of two children: Anna Maria Brandt b. 1857 m. (1) Joseph Brenneke (2) John Henry Schulte; and Gerhard Henry Brandt 1856-1856
John Bernard Hake and his second wife, Maria Gessina, became parents of seven children: Anna Catherine Hake b. 1860 m. Henry Eicholz; Maria Elizabeth Hake b. 1861 m. (1) Steve Lepper (2) Bernard/Ben Kempker; John Peter Hake b. 1864; Bernard Henry Hake b. 1865 m. Adeline Kempker; Mary Adeline Hake b. 1865 (she was a twin to Bernard Henry and she died at the age of 14 years in 1879); Herman Henry Hake b. 1868 m. Sophia Elizabeth Evers; Gerhard Henry Hake b. 1872 m. Anna Kempker
John and Maria moved from Osage County to Miller County and settled in the Marys Home area where they remained the rest of their lives. Maria died on December 28, 1902 and was buried at Our Lady of the Snows Cemetery at Marys Home.
John lived until June 9, 1921 and had reached the age of 89 years. His death was caused by diabetes and the disease had caused him to become blind the last year of his life. He spent his latter years with his son, Herman and family at Marys Home, but at the time of his death he was visiting his daughter, Mrs. Henry Eicholz (Anna Catherine). He was survived by 3 children and a stepdaughter including Herman Hake, Anna Catherine Eicholz, Maria Elizabeth Kempker, and Anna Maria Schulte. He was buried beside his second wife, Maria Gessina (Wessling-Brandt) at Marys Home. They were married for 44 years before her death in 1902.
---
HANEY - LUTTRELL
Benjamin Haney was born circa 1829 (census record says Alabama). There is not much that can be found about him in Miller County, MO records. He married Thursa/Theresia Matilda Luttrell 7 Sep 1849 in Bolivar, TN. She was a daughter of Bluford Luttrell and his wife, Malinda Shelton of East Tennessee. I believe she was called "Tilda' because that was the way her name was recorded in her father's probate records filed in Miller Co., MO. She was born 21 Jun 1833 in Tennessee (census records stated her birthplace as Alabama also). Benjamin J. Haney died in Miller Co. 7 Oct 1870 (family researchers say he died at Swedeborg, MO which is in Pulaski County, MO).
Thursey Luttrell Haney lived until 26 Nov 1893 when she also died at Swedeborg, MO I believe that Benjamin and Tilda Haney had several children.
The ones I have found record of, through census records are as follows:
1. Mary Amanda Haney b. c/1850 Illinois m.______Jarvis
2. Malinda B. Haney b. c/1852 Illinois m. ___________
3. Martha Jane Haney b. c/1854 Missouri m.Wm.Kissinger
4. Bluford L. Haney b. c/1856 Missouri m.____________
5. Huldah Melissa Haney b. c/1859 Missouri m.Thos. Ed. Neel
6. Fannie Eliz. Haney (1863-1876)
7. Bennett Haney b. 1861 m. Martha Shelton
8. Robert Benj.Haney b. 1868 m. Mary Bryant (Camden Co.)
9. Sarah Ann Haney b. 1864 m. Jos. Calvin McDowell
10. Minerva Caroline Haney b. 1866 m. Charles Alex. Neel
Benjamin Haney was a Civil War soldier. He served in Company E of the 4th Missouri Infantry. He died about 1870 from complications of injuries received in the war. He is buried at an old cemetery about 7 miles southwest of Iberia, MO in Richwoods Township. His wife, Matilda, is also buried there. She died 26 Nov 1893 and was about 60 years old at her death. They have a daughter also buried in the old cemetery: Fannie E. Haney (1863-1876).
Matilda's father, Bluford Luttrell, is also buried at Smith Cemetery. On his stone was his military record: Company D, Osage County Home Guards. I think it is possible his wife, Malinda (Shelton) Luttrell is also buried in the same old cemetery. It is a very old cemetery and has not had any care for many years. It is rumored that much of the cemetery is now gone from sight due to construction of a home in the area. I do not know for sure, but will try to visit it someday and see if the old stones are still standing. In the probate records of Miller County (now only on microfilm at the Missouri State Archives in Jefferson City), is a record of Bluford Luttrell. The following information was found several years ago before the records were transferred to the Archives:
Administrator's Bond

Book C page 281.....Miller County, MO
ADMINISTRATOR'S BOND:
"Know all men by these presents: That I, Edward F. Wright as Principle and Wm. E. Padgett and J. J. Cooper as securities are held & firmly bound unto the State of Missouri in the full sum of Five Hundred Dollars to the payment well and truly to be made we bind ourselves, our heirs, executors, administrators, and assigns jointly and severally firmly by these presents: Sealed with our seals and dated at Tuscumbia this 13th day of April AD 1891. The condition of the above Bond is Edward F. Wright administrator of the estate of BLUFORD LUTRELL, deceased, shall faithfully administer said estate, account for pay and deliver all money and property of said estate, and perform all other things touching said administration required by law or the order or decree of any Court having jurisdiction then the above bond to be void, otherwise to remain in full force.
EDWARD F. WRIGHT
W. E. PADGETT
J. J. COOPER
I, J. E. Wirick, Judge of the Probate Court of Miller Co., MO hereby certify that the forgoing bond was signed and executed in my presence.
J. E. WIRICK, Judge
State of Missouri, Edward F. Wright administrator of the estate of Bluford Lutrell, deceased, being duly sworn says that Bluford Lutrell died intestate at Miller Co. in March 1891 leaving as his heirs: TILDA HANEY, H. J. LUTRELL, H. L. LUTRELL, SARAH E. ALEXANDER, MARTHA A. WITT, ALBERT B. SHELTON and heirs of JAMES LUTRELL, deceased. And that he will make perfect inventory of and faithfully administrate all the estate of the said Bluford Lutrell and pay the debts...........
EDWARD F. WRIGHT
Scribed and sworn to before me this 18th day of April A.D.
J. E. WIRICK,
Judge of Probate
CHILDREN OF BLUFORD AND MALINDA (SHELTON) LUTTRELL:
1812-1891 1814-1879 d/o Haman L. Shelton & Wife #1
Thursa Matilda 1833-1893 m. Benjamin Haney
Nancy C. b. c/1834 m. Silas Luttrell
James L. b. c/1836 m. Sarah E. Luttrell
Minerva Jane 1838-1865 m. Bennett Shelton
Henry J. 1842-1892 m. Celia Witt
Haman L. 1843-1896 m. Elizabeth Thornton
Frances/Fannie b. c/1845 m. William Witt
Sarah Elizabeth b. c/1847 m. Elbert Beech Alexander
Martha A. 1849-1906 m. Jesse Marion Witt
---
JOSEPH HANKS AND MARTHA SUSAN LIVINGSTON
Joseph Hanks married Martha Susan Livingston in Miller County on 11 Sept 1862, their marriage performed by William C. McCubbin, minister of the gospel.
Martha Susan was a daughter of Daniel and Parthenia Livingston who lived in Richwoods Township near the Hickory Point community.
The children of Martha Susan (Livingston) and Joseph Hanks were:
1. Charles Hanks b. 1869 m. Sarah Elizabeth Wheeler 7 Feb 1886
by John B. Stone, minister
2. Daniel Hanks b.____ m. no record found. He moved to Camden Co., MO
3. Elizabeth Hanks b. 1865 m. Silas P. McCubbin 16 Oct 1883 by S. O. Burks, M.G.
(Elizabeth Hanks McCubbin died in childbirth about 1885)
4. Martha Hanks 1871-1888-buried at Hickory Point Cemetery. Martha had her feet burned badly when a baby and was handicapped all her life.
According to family history, written by Mrs. Ethel Livingston before her death many years ago, Martha Susan Livingston (wife of Joseph Hanks) must have had a very difficult life. Joseph Hanks moved his family "over on the Moreau" (which could have been in northern Miller County or southern Moniteau or Cole counties.) The Livingston family did not hear from Martha and her family for a long time. Two of Martha's sisters, Elizabeth (called Bet) and Virginia (called Jennie) went on horseback looking for Martha's family. When they found them, Martha had been dead for quite sometime and the four small children were with their father, Joseph Hanks. The two sisters offered to take the children back to Richwoods Township and raise them. He didn't object and gave them to the 2 sisters. Charles, Daniel and Elizabeth Hanks were reared by their grandmother, Parthenia and Aunt Elizabeth Livingston, while the youngest child, Martha, was raised by her Aunt Jennie (Livingston) Castleman, wife of Benjamin Castleman.
There is no other mention made of Joseph Hanks after the women had brought the young children back to the Hickory Point area. I have learned in the meantime that Joseph moved to Camden County, MO and married Margaret Jane Brown. They had one son, Joseph Preston Hanks, who was the grandfather of Pat Irwin of Iberia. Joseph Preston Hanks lived most of his life at old Linn Creek in Camden County. The older children of Joseph Hanks and Martha Susan Livingston were half brothers and sisters to Joseph Preston.
According to the writings of Mrs. Ethel Livingston, the two Hanks brothers (Charley and Dan) grew up in Richwoods Township and later left the area. Charley's family lived in New Mexico in 1928 but she did not indicate where Dan relocated. Their sister, Elizabeth/Lizzie (Mrs. Silas McCubbin) had died in childbirth in 1885 and the baby sister, Martha (called Toody) died at the young age of about 16 years and was buried at Hickory Point Cemetery.
---
FREDERICK HANNAH
In 1927, Fred Hannah operated a country store in northeast Richwoods Township and called it "Trade Right". It was located a short distance from Mt. Gilead church. The Berry school was not too far away. I was fortunate to read some of the old ledgers from his country store and most of the farming community around the store, including residents of both Miller and Maries counties, traded at his store.
Most of the staple goods were available including sugar, salt, coffee, flour, dress materials, thread, shoes, nails, coal oil, stove pipe, stove black and polish and other necessary items for that time era. Later, Trade Right store offered gasoline and oil for the cars that passed by the old country store.
Some of the customers of Old Trade Right were from the families of Alexander, Baker, Berry, Blankenship, Bolin, Crismon, Clayton, Cross, Crane, Copeland, Cottrell, Dake, Donaldson, Duncan, Fritchey, Hannah, Hales, Humphrey, Healey, Helton, Hickey, Irvin, Jones, Kee, Keeth, Lee, Lawson, Morrow, McKee, Machon, Moss, Pankey, Prater, Pendleton, Patterson, Rowden, Roark, Rollins, Skaggs, Strickland, Sherrell, Sooter, Shelton, Slone, Thompson, Veasman, Vineyard, Watkins, Wilson, Wiles, Willis, Whitaker, and Yoakum.
Frederick/Fred Hannah was the oldest son of Benjamin and Elizabeth (Simpson) Hannah, natives of Pennsylvania...(In some records her maiden name was spelled Sampson). Benjamin and born circa 1830 and Elizabeth in 1841. They married in Miller County on June 7, 1870, the marriage performed by Wm. Posten, justice of the peace. According to marriage records her name was Hannah Elizabeth Simpson, so it is understandable why she preferred to be called Elizabeth Hannah, not Hannah Hannah! Fred was born in March 1872 and had two younger brothers, John Franklin b. 1874 m. Ida M. Wilson and James Albert b. 1877 m. Grace E. Phillips. There may have been other children I did not find record of.
Frederick/Fred Hannah married Alcena Jones in October 1896. She was a daughter of James W. Jones and Frances Bowlin who lived in the same community as the Hannah family. In 1927, when Fred was operating Trade Right store, he was 55 years old. He died in January 1966, almost reaching his 94th birthday, and was buried beside Alcena at Brays Union Cemetery. She had died 14 years earlier in 1952.
---
THE HARRISON FAMILY
Samuel Thomas Harrison, Sr., a representative of Miller County in the state legislature in the 19th century, was born in Barren County, Kentucky about 1820. He was a son of Reuben and Elizabeth (Hill) Harrison who were from Amherst County, Virginia. Reuben (1782-1844) was a well-known educator in Barren County in the early 19th century. He and Elizabeth (1786-1871) moved to St. Louis in 1826 and lived there till 1833 when they moved westward and settled in Cole County near the present town of Olean (today located in Miller County).
Samuel Thomas Harrison Sr. married Mary Jane Francis in Miller County on 15 Dec 1842. She was a daughter of John and Fannie (Morris) Francis, natives of Tennessee. They came to Moniteau County, MO from Tennessee and at a later date moved to Miller County and settled south of the Osage River near Tuscumbia. The parents of Mary Jane continued to migrate southwest to Greene Co., MO and later to Texas where both died.
The children of Samuel T. and Mary Harrison were: JAMES PRIOR m. Liza Ann Humes 1868; MINERVA FRANCES m. William James Dooley 1873; JOHN PERRY m. Frances Stephens 1874; REUBEN C. m. Eliza Cotton 1873; NANCY E. m. William G. Etter 1874; CERILDA JANE m. Allen Messersmith 1877; WILLIAM M. m. Nannie Messersmith 1881; IDA JOSEPHINE m. ______Crumbo; and CORA B. (born & died 1873)
Mary Jane Francis-Harrison died in 1875 and later Samuel T. Sr. married Phoebe Yarnall Williams in 1877. They had 4 children: LILLIE MAY, ETHEL GERTRUDE m. John Leslie Benage of Iberia 1901; RHODA BROOKS m. ______Inglish; and ELMER G. (1886-1891).
Samuel Thomas Harrison Jr., son of Samuel & Mary Jane, was born on the old Harrison homestead southeast of Eldon on 16 Mar 1865. In 1892, he married Gertie Williams, daughter of Daniel Williams. They had 4 children: Byron Petros, Gordon, Willard, and Louise (Clubb).
Per the obituary of Samuel Thomas Harrison Jr., who died in 1939, he was survived by his four children; 2 brothers: William M. Harrison, president of Citizens Bank, Eldon; and Robert/Bob Harrison of Callaway Co., MO; also 3 sisters: Minerva Dooley and Anna Rusk of Eldon; Josie Crumbo of Washington; 2 half-sisters: Ethel Benage of Lebanon, MO and Brooks Inglish of Oklahoma……Gertie Williams Harrison, wife of Samuel Jr., died six years earlier in July 1933.
---
HAUENSTEIN FAMILY
In April, 1981, I wrote a short article about the Hauenstein family and the following is an excerpt from that story:

"In 1872, William H. Hauenstein set up a saw mill in what is now Riverside Park in Tuscumbia. The following year he set up a grist mill also. He placed his oldest son, William Hauenstein Jr., in charge of the grist mill and his younger son, Capt. Phillip Hauenstein, managed the saw mill. In 1888, he and Capt. Robert Marshall formed a partnership and established the first roller mill in Miller County. They sought a more suitable location for their mill and moved it from the low ground of Goose Bottom to a site east of the town and started their new operation in June, 1894."
The Hauenstein's were an interesting family who came to America from the Rhine country of Bavaria in 1853. William Hauenstein Sr. was born 15 February 1822 in Bavaria. After his school years, he was appointed by the government as a district clerk, which office he held as long as he was a citizen of Germany. In 1845, he married Marie Elizabeth Stiegleman and they became parents of nine children.
The children were:
1. William Henry Hauenstein Jr. 1846-1936 m. (1) Sarah Elizabeth Goodrich born in Gemany (2) Martha Challes Henley
2. Elizabeth Hauenstein b. c/1848 m. no record found born in Germany
3. Augusta P. Hauenstein 1850-1921 m. (1) Theron Folsom born in Germany (2) John Fogelman
4. Phillip Hauenstein 1855-1924 m. Sarah R. Riggens born in New York
5. Lena Hauenstein 1857-1877 m. Samuel H. Sone born in Michigan
6. George T. Hauenstein 1859-1911 m. Ida McCommons born in Michigan
7. Emma Hauenstein 1860-1950 m. Robert M. Marshall born in Michigan
Note: Evidently the other 2 children died young since I could find no record of them in marriage, death, or cemetery records.
William Sr. came to America in 1850 and returned to Germany during the same year. He was so well pleased with this country he arranged his affairs to make the United States his home and in1853 moved his family from Germany crossing the Atlantic on a ship during the stormy season of March, being 36 days on the ocean. After reaching New York, he remained there for 2 years and then moved to the state of Michigan in 1855, locating in the southeast corner of the state in the county of Monroe located on the western edge of Lake Erie. They lived on a farm there until 1862/63 and decided to come on to Missouri where they landed at St. Louis; then traveled up the Missouri River to Boonville in Cooper County; and the same year went into the mercantile business in California, Moniteau County.........in 1864 he came to Tuscumbia where he lived the rest of his life. As a child he became a member of the German Evangelical Church and he may have attended the Presbyterian Church in Tuscumbia since some of his children were members of that church.
The Hauensteins were merchants, mill owners, and they also took interest in the steamboats that plied the Osage River. In 1870, William acquired the "Alice Gray" steamboat and other members of the family operated boats and barges up and down the river. They had interests in other steamboats including the 'Frederick' and the 'Hugo'. When they first came to Tuscumbia in the mid 1860s, they set up a mercantile business and in 1864, during one of Price's Confederate raids, their store was entered, vandalized, and the contents were all destroyed.
Marie (Stiegleman) Hauenstein died in 1888 and was buried in Tuscumbia Cemetery. William lived until 17 Nov 1915 when he died at the age of 93 years. He was buried beside Marie at Tuscumbia Cemetery and several other members of this old pioneer family are also buried there.
---
AUGUSTA P. HAUENSTEIN
Augusta P. Hauenstein was born at Rhodt, Bavaria (Germany) on August 23, l853. She was a daughter of William Hauenstein (b. 1821 Germany) and Maria Elizabeth Stiegelman (b. 1820 Germany). The Hauenstein family came to America before the Civil War circa 1853 and settled in Miller County in 1869.
They first lived in New York and then moved to Michigan before coming to Missouri.
The children born to William and Elizabeth Hauenstein were:
1. William H. Hauenstein b. 1846 Bavaria m. Sarah Elizabeth Goodrich
2. Augusta P. Hauenstein b. 1850 Bavaria m. (1) Theron A. Folsom 1869) (2) John W. Fogleman 1884
3. Elizabeth Hauenstein b. 1848 Bavaria m. no record
4. Phillip F. Hauenstein b. 1856 New York m. Sarah R. Riggens 1882
5. Lena Hauenstein b. 1858 Michigan m. Samuel H. Sone in 1876 Samuel was from Clark Township, Cole Co., MO
6. Emma A. Hauenstein b. 1860 Michigan m. Robert M. Marshall 1881
In 1870 the Hauensteins lived in Equality township near the families of Davis, Folsom, Wright, Melton, Kallenbach, Wyrick, Abbett, and Martin. By 1880 they had moved to the village of Tuscumbia.
Augusta P. Hauenstein married Theron A. Folsom on September 2, 1869. Their marriage was performed by Jeremiah (Jerry) W. Tallman, a Judge of the Probate Court. Theron (1842-1878) was a native of New York and was a merchant at Tuscumbia. His store/trading post dealt in purchasing and selling wheat, wool, feathers, lead ore, tiff, and railroad ties as well as other items. In 1875, Theron was elected as a state representative from Miller County in the Missouri State Legislature where he spent 2 years. In 1878, he entered the political scene again and ran for the office of Miller County Clerk of the County Court. Just a few days before the election, Theron died at the age of 35 years from over-work on his campaign. He and Augusta were parents of four children, but only one lived beyond infancy. There were: ELIZABETH ALICE 1870-1870; CLARENCE E. 1873-1892 (died at the age of 19 years); LENA INES 1874-1875; and an infant daughter died 1 day after birth in 1876.
NOTE: Clarence E. Folsom, son of Augusta and Theron, died in January 1892 when a young man. He had a tooth pulled and then went into the January cold weather to do some ice skating. An infection occurred and he developed blood poisoning which turned into pneumonia. He died a short time late . His funeral was held at the Tuscumbia Presbyterian Church with Rev. L. S. Garnett of Aurora Springs conducting his funeral and then was buried in Tuscumbia Cemetery. His pall bearers were some of his best friends who were John W. Adcock, Edward Kallenbach, Willie Earp, Charles Thompson, William M. Cummings, and Albert B. Breen. Notice of his death and burial was written in an old newspaper called THE EYE OPENER which was published in Tuscumbia.
In an old 1876 edition of "The Vidette" newspaper, published at Tuscumbia, it states that Theron A. Folsom had a general merchandise store. Other merchants of the small river port town included: Abbett's Mill, owned by R. Goodrich; Samuel Sone's Hack Line (brother-in-law of Augusta & Theron); Tuscumbia Saloon located at the Brumley House operated by Ira Johnson; John D. Weitz, blacksmith and wagon maker; Attorneys Elias C. Swalem, Jacob Gantt, Abram Fulkerson; Physicians: Dr. J. B. McGee, Henry Bradleyford, George W. Tremain (he was also listed as an Oculist and Aurist); Isaac M. Goodrich, notary public and land agent; Daniel Cummings, notary public and land agent. Abram Fulkerson was an attorney, war claim agent, and publisher of the local newspaper (The Vidette).
Augusta continued to stock and maintain their mercantile business for several years after Theron's death. On May 11, 1884, she married John W. Fogleman and they became parents of four children:
1. Florence Ethel Fogleman b. 1885 m. Grant Davidson
2. William F. Fogleman b. 1886 m. Arie Bunker
3. Robert M. Fogleman b. 1888 m. no record found
4. Vivian A. Fogleman b. 1892 m. Charles Caldwell
During the Miller County census of 1900, John and Augusta lived in the eastern part of Saline Township near the families of Hicks, Miller, Atkinson, Long, Scott, Stubblefield, Sullens, and Pickering. In the home were their 4 children (Florence, William, Robert, and Vivian) as well as Augusta's father, William Hauenstein, age 78 years.
John W. Fogleman was born in Montgomery County, Illinois near the town of Litchfield on 7 Jan 1851. He was the oldest son of Israel and Jane (Carlew) Fogleman. His father was a blacksmith and farmer and died in Montgomery Co. in 1877. John's grandfather was Melcher Fogleman who built the first water-powered grist mill in Montgomery Co., Illinois which was known as the old Pepper Mill.
John Fogleman was a liquor salesman for two years in Illinois and came to Tuscumbia, Miller County, in 1875 and continued his business for 10 years. He then embarked in a livery business and in 1889 he owned a good horse barn, 10 head of horses and plenty of vehicles. He was active in the I.O.O.F. at Mt. Pleasant and was a Royal Arch Mason at Tuscumbia in 1889.
Augusta Hauenstein Folsom-Fogleman preceded her second husband in death. She died at her home in Tuscumbia on October 10, 1921 after being an invalid for several years. She united with the Tuscumbia Presbyterian Church in 1888 and was a charter member of the congregation. Her funeral services were held at the Presbyterian Church by Rev. Crockett and she was buried at the Tuscumbia Cemetery. John Fogleman lived until 4 Feb 1925 and was buried beside Augusta at Tuscumbia. Both were survived by their 4 children-Mrs. Florence Davidson of Wichita, Kansas; William F. Fogleman of Iberia; Robert M. Fogleman of Eldon, and Mrs. Vivian Caldwell of Eldon.
---
WILLIAM HAUENSTEIN SR.
William Hauenstein Sr. was born in the Rhine country of Bavaria (Germany) on February 15, 1822. About 1845, he married Maria Elizabeth Steigelman in Germany. Maria was born 27 February 1816, also a native of Germany. In 1850, William came to America but did not stay long. He returned home to Europe and in 1853, he returned back to America with his family. They set sail during the stormy season of March and were at sea over a month before landing in New York Harbor.
They remained in New York for about 2 years and in 1855, moved to Monroe County, Michigan and settled near the Raisen river which was located at the west end of Lake Erie. In 1859, the family moved to Booneville, Missouri, coming by boat to St. Louis and on up the Missouri River. From Booneville they moved for a short while to California, Moniteau Co., MO. About 1865-66, the Hauenstein family made their last move when they came to Miller County and settled at Tuscumbia.
William and Maria had 3 or 4 children when they left Germany in 1853. His obituary stated they were parents of 9 children but I was able to find record of only seven. It is likely two of the children died in infancy.
Four children were born after they came to America. The children included:
1. William H. Hauenstein Jr. 1846-1936, m. 1-Sarah Elizabeth Goodrich 1872 2-Martha Challes-Henley 1884 NOTE: William Jr.'s first wife drowned in the Osage River in 1881 and her body was never recovered.
2. Elizabeth Hauenstein b. c/1848 (died after 1870)
3. Augusta P. Hauenstein 1850-1921, m. 1-Theron Folsom 1869 2-John W. Fogelman 1884
4. Phillip Ferdinand Hauenstein 1855-1924, m. Sarah Rebecca Riggens 1882
5. Lena Hauenstein 1857-1877, m. Samuel H. Sone
6. George T. Hauenstein 1859-1911. m. Ida R. McCommons
7. Emma A. Hauenstein 1860-1950, m. Robert Melville Marshall 1881
When William and Maria came to central Missouri, they set up a mercantile business at California City (Moniteau County). I am not sure how long they were merchants in that city. In 1864 they came to Tuscumbia and set up a merchandising business in Miller County's capitol city. According to Goodspeed's 1889 History of Cole, Benton, Moniteau, Morgan, Miller, and Maries Counties, the Hauenstein store was badly damaged and the contents spoiled by Confederate troops who stormed into Tuscumbia in a raid about 1864.
About 1870, a few years after the Civil War, William Hauenstein bought a riverboat called ALICE GRAY. His son, William Jr. (known as Capt. Hauenstein), built a steamboat, the FREDERICK, and plied the Osage River from Tuscumbia to Osage City and sometimes on to St. Louis on the Missouri River. The Hauensteins remained in the mercantile and boating business during the last half of the 19th century at Tuscumbia.
When a child back in Bavaria/Germany, William Hauenstein Sr. was a member of the German Evangelical Church. Since there was no church of that denomination in Miller County, the Hauenstein family became active members of the Presbyterian Church.
Marie Elizabeth (Steigleman) Hauenstein died in 1888 at the age of 72 years. She was buried at Tuscumbia cemetery. William Sr. lived as a widower for 27 years and died l7 November 1915 almost reaching his 94th birthday. He was buried beside his wife in Tuscumbia Cemetery. He was survived by 4 children---William Hauenstein Jr., Augusta Hauenstein Fogelman, Emma Hauenstein Marshall, and Phillip Ferdinand Hauenstein. They all lived in the Tuscumbia area which had been their home for over 50 years.
---
FRED P. HAUS
Fred P. Haus was born June 3, 1842, in Mobile Alabama. At an early age, he moved with his parents to St. Louis and lived there for many yeas. He graduated from the public schools in that city. I do not know anything about his early years nor his ancestry, except his father was of German descent, born in Germany, while his mother was a native of South Carolina (per the 1900 census).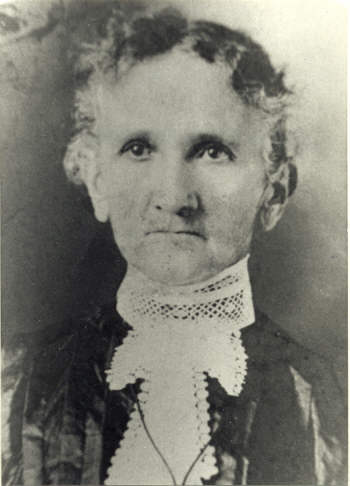 Elizabeth Ferguson Haus
Fred P. Haus married Elizabeth/Lizzie Ferguson in St. Louis in 1865. Elizabeth, born in Dumfries, Scotland in April 1843, was a daughter of William Ferguson and Isabelle (Hunter). When she was about ten years old, the family came to America. Her father died at sea and was buried in the depths of the Atlantic Ocean. Elizabeth's mother and her three children landed in New Orleans in October 1852 and eventually sailed up the Mississippi River to St. Louis where they had kinfolks living.
After the Civil War, Elizabeth remained in St. Louis while her mother and brother (John Ferguson) ventured into central Missouri to Maries County, where Isabelle's family, the Hunters, were living. John Ferguson came on westward to Miller County and settled near Iberia. He married Dorcas Canzada Shelton of the old Madden community and they reared their family in that area. Squire John Ferguson, Elizabeth's brother was a well-known resident of the Big Richwoods.
Fred P. Haus was employed by the Charter Oak and Stove Co. of St. Louis for many years as a traveling salesman. He also was an active member of the Gideon organization for more than 21 years and one year served as Missouri State Chaplain of the Gideons.
Fred and Elizabeth/Lizzie were parents of eight children:
Charles D. Haus (1878-1964) married Flora Keeth
William Haus
Fred P. Haus Jr.
Richard M. Haus
Mary McCook Haus (1882-1957)
Margaret J. Haus born 1875 married James H. Long
Isabelle Haus married ??? Goodrich
Harry M. Haus born Sept. 1882 married Ellen Wall
I am not certain when the Haus family moved to Miller County. In the 1900 census, Fred & Lizzie were living near Iberia. In their home were three of there children: Margaret, Charles and Harry. According to census records, five of their eight children were still living in 1900.
Fred P. Haus died in 1920 and was returned to St. Louis for burial in Bellefontaine Cemetery in the Haus family plot. His wife, Elizabeth/Lizzie (Ferguson) lived until April, 1928 and at her death, was also taken to Bellefontaine for burial beside her husband. Some of their children remained in the Iberia area and reared their families. Their sons, Charles and Harry are both buried at Iberia Cemetery.
---
DAVID HAWKEN
David Hawken was a native of Lancaster County, Pennsylvania, born 22 January 1812. Sometime about 1830, he married Susan Wiker/Weiker, born c/1812 in Pennsylvania. For several years they continued to live in Lancaster County and became parents of four children while there. About 1840, they moved west into the state of Ohio and remained for a few years. Four more children were born while in Ohio.
In 1856, David, Susan, and their 8 children moved by wagon to Miller County and settled in Equality Township in the Saline Creek Valley (near the Jim Henry Township line). Their neighbors included the families of Buster, Birdsong, Roark, Wright, Loveall, and Melton.
The children of David and Susan (Weiker) Hawken were:
1. Hannah Hawken b. 1834 m. Hugh W. Wyrick 1860
2. Mary A. Hawken b. 1837 m. Albert June 1866
3. Samuel Hawken b. 1838 m. Evaline Thompson 1869
4. John Hawken b. 1839 m. Ann Hayes 1862
5. Nancy Hawken b. 1841 (died before 1889)
6. Matilda Hawken b. 1840 m. Samuel W. Sanford
7. William Hawken b. 1848 (died before 1889)
8. Lewis Hawken b. 1853 m. (1) Caroline Smithy 1875, (2) Rosa McGowan 1900
9. Amanda Hawken b. 1859 (died before 1889)
David Hawken was a blacksmith and practiced his trade all his life. After moving to Miller County, he ran a mill near Tuscumbia. It was probably located on his farm near the Saline Creek. Susan Weiker Hawken died prior to 1880 and was probably buried at Jesse Hawkins/Hawken cemetery near Tuscumbia. There is no record of her death or burial in county records. David married his second wife, Mrs. Elizabeth/Betsy Carson, on May 29, 1880. She was the widow of P. W. Carson, a native of North Carolina.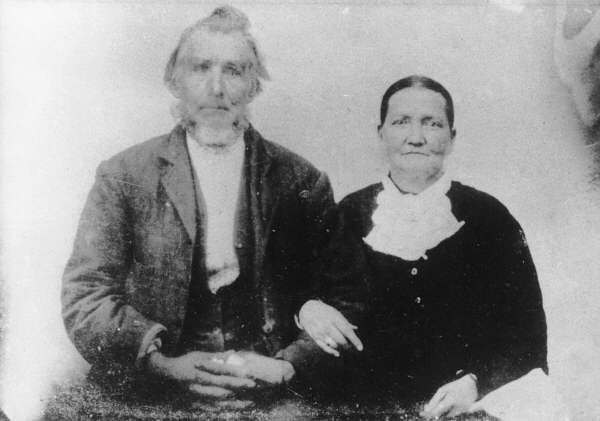 David Hawken and second wife Mrs. Elizabeth/Betsy Carson
David lived to the age of 79 years and died on March 1, 1891. He was buried at Jesse Hawken Cemetery, probably beside his first wife, Susan. David has a gravestone marking his burial site, located on a grassy knoll overlooking Highway 17, about 1 1/2 miles northeast of Tuscumbia. The land is owned today by the Missouri Conservation Department.
NOTE: Jesse Hawken Cemetery is one of the oldest cemeteries in Miller County. The first person buried there was Charles Smith (1760-1850), a soldier of the Revolutionary War. His grave was marked with special dedication services in February 1999 by the Eldon Chapter of the Daughters of the American Revolution (D.A.R.).
---
E.D. HAYS
E. D. Hays was born April 28, 1838, in Kentucky (per census records) and died Jan. 5, 1911, at Iberia. In the 1900 Miller County census, his name was spelled "Efominodas" and in the records of Iberia G.A.R. (Grand Army of the Republic), he was listed as Eponainondas Deampird Hays. I have been told his name was of Greek origin. E.D. Hays married Martha E. (maiden name not found) circa 1866. She was born April 23, 1841, in Tennessee and died Nov. 2, 1924. Both are buried at Iberia City Cemetery. Both are buried at Iberia City Cemetery.
They were parents of several children including:
1. Walter Grant Hays, Aug.27, 1869-Feb.9, 1925 m. Zylphia Russell 1891;
2. Porter Hayes (later lived in the state of Montana);
3. Herbert E. Hays (graduated from Iberia Academy in 1895 and later lived in California);
4. Della Hays b. Apr. 1882 m. Samuel Johnston (they later lived in Chicago);
5. Name not found-probably died young.
E.D. Hays was a Civil War veteran and in 1890 was a member of Iberia's Miles Carroll G.A.R. Post Number 11. The father of E.D. was born in Kentucky, his mother in Tennessee and both parents of Martha Hays were natives of Tennessee (per 1900 census records). The oldest son of E. D. and Martha was Walter Grant Hays, born Aug. 27, 1869, and he died on Feb. 9, 1925. He married Zlyphia Russell in 1891 and they became parents of seven children. Two of the children died while young and five survived to adulthood.
Walter and Zylphia were living at Hawkeye, Pulaski County, Missouri, during the census of 1910. Both stated they were born in Missouri and Walter was a farmer by occupation.
In their home were their five surviving children:
1. Virginia Hays 1895-m. Orville S. Ulman;
2. Ethel G. Hays, 1900-1987 m.___________ Thornsberry;
3. Edith Hays 1902-1994 m. Wray Thoss;
4. Jessie Hays, 1903-1989 m. David Garnham;
5. Clarence Hays 1907-2000 m. Verna Morrow.
NOTE: all the children of Walter and Zilphia Hays attended Iberia Academy. At the time the census was taken in 1910, the neighbors to the Hays family in Pulaski County were W.R. and Evaline Pemberton, Jason and Frances Stebbins, Charles and Ruah Thompson, T. R. and Sarah Thornsberry, J.K, and Sarah Shelton, Fred and Effie Ferguson, Alex and Talitha Long, Willis and Mary Wall, Henry and Sarah Strutton and James H. and Zilphia Boren. All these folks lived in or near the small village of Hawkeye.
Walter and Zylphia (Russell) Hays are buried at Concord Cemetery in Pulaski County. It is in the same area where they reared their children near Hawkeye. I believe they have a young son buried beside them.
The following in the cemetery record: Walter C. Hays 1868-1925; Zyphia J. 1871-1940; Otis, 1892-1897.
---
FATHER HELIAS, PIONEER PRIEST OF THE NORTHERN OZARKS
In 1838, Rev. Ferdinand Helias was sent by the Jesuit Provincial of St. Louis to minister to the band of German immigrants who had settled near the Maries River in present-day Osage County, Missouri. These folks were from the Westphalen Province of Germany and had chosen the beautiful Maries River country as their American home. It was said the green, rolling hillsides and river valleys reminded them of their German homeland.
The German immigrants desired to preserve their traditions and customs even though in a strange and new land. The descendants of these German pioneers have continued the same beliefs, attitudes and customs into our present day.
When Father Helias arrived in Osage County, he decided a new church should be built upriver a short distance from where an old log building was standing. They called their new community New Westphalia, later shortened to Westphalia. Father Helias named the log church and parish for St. Joseph and it was designated as the Jesuit headquarters for central Missouri.
It was from this Maries River town that Father Helias, with a missionary zeal, ventured out and founded six additional parishes including Taos, Reich Bonn (Rich Fountain), Loose Creek, St. Peters at Jefferson City, St. Thomas and Cedron. An offshoot of additional parishes has been established throughout the last century in the counties of Maries, Miller, Osage, Cole and Callaway.
His life story is a fascinating adventure. Born Ferdinand Bonoit Marie Gusilan Helias D'Huddinghen on August 3, 1797, Father Helias was a native of French Flanders (Belguim). He was born in the same house where Emperor Charles V was born and he grew up in the town of Ghent, which was predominantly Flemish-Catholics; the language was Flemish/Dutch. Father Helias was not only a Jesuit priest, but he also served as an ex-soldier and was considered to be a man of wealth. These qualities produced an outstanding pioneer missionary for the American wilderness. It was said his superiors were happy to send him off to American because they felt he was too wild and energetic for any European cloister.
Before coming to the Maries River country in the northern Ozarks, he served as priest to a band of German immigrants on St. Louis' north side where he organized St. Joseph's Church. He made periodic missionary visits to Catholic families along the Missouri river and its tributaries. He traveled by horseback seeking out and visiting the scattered Catholic folk
He would stay for a few days at each settlement, then venture further in search of more of his flock. He was as rugged a pioneer as the people he served. In his travels, it was not uncommon for him to sleep outdoors wrapped in buffalo robes. He braved fevers, the cholera epidemic of 1853, and the near-drowning in a river of himself and his boatman. During the Civil War, he was accused of harboring Confederate spies and he also endured many attacks from some "Latin farmers" who plagued him throughout his ministry.
Father Helias was a man of personal wealth before becoming a priest and it was with this wealth that he helped to build many churches throughout his territory. He remained in Westphalia until 1842. At that time, he experienced some difficulties with his parishioners, so he returned to St. Louis for a short while. In the autumn of the same year, he returned to his missionary duties and moved his residence to Taos, a small community in Cole County.
In 1848, Father Helias made a trip back to Westphalia to bless the cornerstone of the new stone church that was to be built. Today, the church is a historic landmark in its 'old world' setting, majestically standing atop a hill overlooking the green valley of the Maries River below.
In 1838, when he first arrived in the region, one of the first jobs Father Helias undertook was enumerating a census for the Catholic settlements. It was difficult to translate his writings because he wrote the census in a combination of Latin, Old French, Flemish and a little German. Almost 170 years later, some of the family names he recorded in 1838 can still be found in the various parishes. He was also the first man to minister to the spiritual needs of the inmates of Missouri's state prison in Jefferson City.
Father Helias died at the age of 78 years on August 11, 1874 at Taos, poor and alone at his simple country rectory. He died with little more than the clothes he wore on his back with no attending physician and no relatives to give him comfort in his last hour of life. It was 78 years and 8 days since he was born into a wealthy, noble Flemish family that he died alone in a simple log house on the plains of our northern Ozarks.
On the shrine/tomb of Father Helias, located inside Taos' St. Francis Xaviar Church, are the following words...."Flanders was my cradle; France instructed me; Italy, Germany and Switzerland sheltered me. After many ventures and labors on land and sea, God settled me in Missouri. The foundations of Westphalia were laid by me and seven churches were founded by me to the greater glory of God."
It seems fitting that this pioneer priest, who was instrumental in establishing important parishes in central Missouri, should remain in the land he served so well. In his twilight years, he was given the opportunity to return to his native Belguim, but he refused. He loved his new land and its people and wished to live out his remaining years in our beautiful Ozark plateau country....he was certainly a true and honored Missourian.
---
JEREMIAH J. HELSEL
While researching in Miller County records you may run across a name that is not familiar to our county's ancestral residents and the latest one I researched was Jeremiah J. Helsel, also called Uncle Jeremiah by his friends and neighbors. An obituary for Jeremiah J. Helsel was written in a local newspaper in 1916 telling of his death in Osage Township and his burial in Capps Cemetery (died January 8, 1916)......I looked up the cemetery records for Capps, sitting near the Osage River west of St. Elizabeth, and could find no record of his burial, so evidently he has no tombstone to mark his grave.
Jeremiah J. Helsel was born in Somerset County, Pennsylvania on June 8, 1836. He was an old Civil War soldier who had served under the command of General Meade at the battle of Gettysburg (Pennsylvania) in the 5th Corps Regiment of PA. During the war he received a cannon ball wound in the foot at the Gettysburg battle for which he received $14.00 per month for many years and just prior to his death in 1916, his pension had been increased to $30.00 per month.
After the Civil War, he moved his wife (name not found) to Missouri to Ray County; then he moved to Johnson County; and sometime between 1880-1900, they moved to Miller County and bought a little farm about 3 miles south of Etterville in Saline Township. Mrs. Helsel died on this farm and was buried at Russell Cemetery on the Saline. Today this cemetery has been inventoried as the Harbison Cemetery and is located on the farm once owned by the Paul Martin family. The original owner of the land was a Harbison family who had a grist mill and blacksmith shop on the property. The old cemetery is in very poor condition and there is no record for the burial of Mrs. Helsel, so it is rather sad to know that she is buried in an unknown gravesite in Saline Township and her husband is buried in an unknown grave in Osage Township.
Jeremiah Helsel and his wife were parents of three sons including:
1. William Grant Helsel b. May 1868 Penn. m. Minnie C. Farris 14 Nov 1888
2. Charles F. Helsel b. June 1874 MO m. Lennah S. Buster 18 Nov 1894
3. Major D. Helsel b. May 1880 MO m. no record found
During the census of 1900, Jeremiah and his youngest son, Major D., were living in Osage Township near the families of Edwards, McDonald, Flaugher, Johnson, Varner, Ripka, Burks, Burnett, Lee, Barton, and Barnhart. He was listed as a widower, so his wife had died during the time they lived near the Saline creek and before he moved to Osage Township. In the same vicinity lived his second son, Charles F. Helsel with his wife, Lennah (Buster), and children: Bragora, Roscoe J., and John B. Helsel.......The oldest son, Wm. Grant Helsel and his wife (Minnie C. (Farris) were living in the eastern part of Saline township with three children in their household: Gertie M., James Willard, and William C. Helsel. Their neighbors included the families of Scott, Harris, Buster, Thomas, Gilmore, Kay, Pinkston, Bond, and Graham.
I can find no record of the name Helsel in Miller County today, so evidently family members may have moved elsewhere. A grandson, James Willard Helsel (son of William Grant) served in World War I and he married Nancy Ethel Slavens in Miller County on 14 June 1917. They are both buried in the Eldon City Cemetery. Where the other children and grandchildren are today is not known to me.
---
WILLIAM LOFTIN HELTON
William Loftin Helton was born in Maries Co., MO (Boone Township) on October 11, 1872. He was the first child born to Jesse B. Helton and Matilda Sherrill who were married in Maries County on Christmas Day, 1870. His parents were buried at Stokes Cemetery in Maries County (Jesse B. Helton 1851-1921 and Matilda Sherrill-Helton 1852-1932). The ancestors of both the Helton and Sherrill families were natives of Tennessee.
William Helton married Ermina/Mina Barnhart on April 11, 1897. Ermina (sometimes spelled Urmina & called Mina) was born in Maries County 17 February 1879. She was a daughter of James M. Barnhart (b. 1839) and Mary J. Burns (1846-1897). His mother, Mary, died in 1897 and was buried at Campground Cemetery at Van Cleve, Maries County. According to census records, Mina's ancestors were born in South Carolina and Tennessee. After the death of Mary Burns Barnhart, James married Harriett C. Cleine in Miller County in 1899. They were neighbors to James' daughter and her husband, William and Mina Helton, in Osage township in the 1900 Miller County census.
William and Mina were parents of twelve children including:
1. Ray Juston Helton 1898-1929 m. Ellie McKee
2. Mary May Helton 1901-1940 m. Kirk Lyons
3. Clarence Earl Helton 1902-1933 m. Florence Yontz
4. Ida Belle Helton 1905-1983 m. (1) Clyde Grady (2) Earl Short
5. James Everett Helton 1907-1982 m. Clara Pointer
6. Edna Marie Helton 1909-1980 m. Ray Rowden
7. William Clay Helton 1911-1999 m. Delcina Doom
8. Reba Viola Helton 1913-1997 m. Claude Young
9. Laura Lorene Helton 1916-1993 m. Zephna Barnhart
10. Wade Albert Helton 1919-1980 m. Marie Bilyeu
11. Olive Elwanda Helton 1921-1997 m. Wilburn Barnhart
12. Matilda Faye Helton 1923- m. Vernon Keeth
Sometime before 1900, William and Mina Helton moved and settled in Osage township in the old Claxby community of northeastern Miller County. Their neighbors included the families of Clark, Ortbals, Buechter, Schaffer, & Shelton. Their children attended the old White country school in the same vicinity.
The Heltons attended and became members of the Smyrna Church of Christ in western Maries County. William followed the farming business most of his life and was highly respected in his community.
William Loftin Helton died at his farm home in Claxby on June 20, 1945, almost reaching his 74th birthday. He suffered a heart attack and a hemorrhage that took his life. He was survived by his wife, nine children, 26 grandchildren, and 2 great grandchildren. Three children preceded him in death (Ray, Mary, and Clarence).
His funeral service was held at Brays Union Church with Rev. Virgil Smith conducting the services. He was buried at Union Cemetery which adjoins the church property. Mina Barnhart Helton lived until February 3, 1965. She was buried beside William at Brays Union Cemetery. The youngest child of William and Mina, Faye Helton Keeth, is the last of her large family who is still living today. I want to thank Faye for taking time to give me so much information about her family. She is such a great little Christian lady and such fun to know. She's quite a storyteller and her memories are priceless...................
---
GEORGE HELTZELL
George Heltzell was born in Bedford, Pennsylvania on August 2, 1834. In 1860 he married Priscilla Harrier. She was born 10 May 1838 in Pennsylvania. Both the Heltzell and Harrier families were probably of German descent. Many immigrants of Germany and its provinces settled in Pennsylvania in the 1700s and 1800s.
In 1864, George and Priscilla moved to Glencoe, St. Louis County, Missouri and stayed there for 19 years. About 1883 they came to Iberia, Richwoods Township.
George and Priscilla were parents of four children including:
1. Sarah/Sadie E. Heltzell 1861-1964, m. Wm. L. Farnham 24 Jan 1886
2. Samuel Grant Heltzell 1866-1913 m. (no record)
3. Anna E. Heltzell 1870-1954 m. George I. Farnham l Nov 1891
4. Selby J. Heltzell 1874-1928 m. S. Josephine Mace 30 Jan 1894
NOTE: George and William Farnham were brothers, sons of David and Henrietta Farnham (of Maine & Pennsylvania). Josephine Mace was a daughter of Thomas and Julia (Tate) Mace of Illinois.
George Heltzell died in Iberia on December 30, 1922 at the age of 88 years. He was survived by his three children (Selby, Sadie, and Anna) and by three sisters who lived in St. Louis and Kansas City (they were not named in his obituary). George's funeral service was held at the Congregational Church in Iberia conducted by Dr. G. Byron Smith of Iberia Academy. He was buried in Iberia Cemetery next to his wife, Priscilla, who had died May 12, 1893.
---
ELLA HENDRICKS GRAHAM
Ella Hendricks was born in Miller County on November 2, 1870 near Ulman in Glaize Township. She was a daughter of Hezekiah Hendricks (1848-1888) and Lucy Jane Horton (b. c/1847). Her parents were married 23 January 1870 by Hezekiah Robinett, a Justice of the Peace in Glaize Township. Lucy Jane Horton had first married William Brown on December 7, 1866 and they had a daughter, Sarah Brown (born c/1867). William Brown probably died before 1870 and left Lucy Jane with a small child.
Hezekiah Hendricks was a soldier in the Civil War, serving in Company D of the 49th Pennsylvania Infantry of the Union Army. I believe the Hendricks family lived in Union County, Pennsylvania before coming to Miller County after the Civil War. They were of German/Dutch descent.
Hezekiah and Lucy had a large number of children including:
1. Ella Hendricks m. George E. Graham
2. Oscar Hendricks m. Lucinda _______
3. Mary Hendricks m. Louis Shelby Colvin (lived in Stark, KS in 1940)
4. Dora Mae Hendricks m. James B. Brockman
5. George H. Hendricks m. Jennetta Beard (lived in Ft. Scott, KS in 1840)
6. James R. Hendricks m. Bessie Beard
7. Cordia Hendricks m. ____ DeRemus (lived in Kansas City in 1940)
8. William/Billy Hendricks m._____________ (lived in Moberly, MO in 1940)
9. Ora Belle Hendricks died young
Ella Hendricks, the oldest child of Hezekiah and Lucy, was almost 43 years old when she married George E. Graham on March 2, 1912. George was a son of George W. and Eliza Ellen (Golden) Graham. Ella and George had only one child, a son Ray Graham. At her death, Ella was survived by her aged husband, her son, Ray Graham and his wife, and 9 grandchildren.
Ella Hendricks Graham died on November 4, 1940 at her home near Brumley at the age of 70 years. Her funeral was held at the Brumley Baptist Church where she had been a member for many years. Her services were conducted by Rev. W. Williams of the Baptist Church and she was taken to Gott Cemetery for burial. George E. Graham survived Ella for 5 years and he was also placed beside her at Gott.
Their tombstones read:
George E. Graham 14 Aug 1867 - 8 Apr 1945
Ella (Hendricks) Graham 2 Nov 1874 - 3 Nov 1940
NOTE: Her obituary said she was born in 1870 and her gravestone says 1874. According to the 1900 census, she was 30 years old, born in November 1870. Researching pioneering ancestors can be very confusing at times....................
---
HENSLEY FAMILY
John Hensley was a son of Francis Hensley (1779-1850) and Nancy (maiden name not known), who were living in Cole County, Missouri in the early 1800s. John's grandparents were Davis and Lydia Hensley. Davis Hensley came from Greenville District, SC through Kentucky to St. Louis where he died in 1814. He has probate files in both St. Louis and Franklin Counties, MO. He had a son Francis who died in 1850 in Cole County, MO.
John Hensley was born in 1811 and married Marian Sanderson (born c/1812) in Cole County, MO on 31 March 1836. During the 1850 census they were living in Equality Township of Miller County and before 1870 had moved to Osage Township. The children born to John and Marian (Sanderson) Hensley were:
1. Rachel Jane Creason (dau. of Marian and a half-sister to the other children) m. (1) William Crane, Sr. (2) M. Samuel Crawford (3) Boyd Roark
2. William Morris Hensley m. Catherine Wilson
3. Sarah Hensley m. (1) William Crane, Jr. (2) James Airhart
4. Benjamin Franklin Hensley m. (1) Magdalena/Lena Miller (2) Mary Cooper-Vaughan
5. Mary Elizabeth Hensley m. (never married-had a son, Wesley Hensley
6. James Hensley m. Etta Pierce
7. Joseph T. Hensley m. Tabitha Ellen Jarrett
8. Thomas J. Hensley m. Avazena Jarrett (sister to Tabitha Ellen)
9. Nancy Ellen Hensley m. Thomas Doubikin
In the 1860 census of Miller County, John and Marian were living in Osage Township with four of their children living with them (James, Joseph, Thomas, & Sarah). By 1870, John Hensley had evidently died because his wife was listed as "head of household" and her name was recorded as Emma....those census records were wrong so often that it is difficult to research accurately! ... By 1880, Marian does not appear in any census record so she must have died between 1870 and 1880. They are not found in Jarrett Cemetery so I do not know where John and Marian are buried.
Benjamin Franklin Hensley, son of John and Marian, was born in Missouri on August 5, 1842. He first married Magadlena/Lena Miller about 1865. They met in met in Louisiana during or after the Civil War and she died in September of 1874 in Washington County, MO, according to Ben's pension application from the Civil War. They became parents of 4 children:
1. William Thomas Hensley b. c/1866 m. Mary Belk 1888
2. Anna E. Hensley b. c/1868 m. James T. Humphrey 1887
3. John C. Hensley b. 1870 m. A. Maggie Sooter 14 Nov 1897
4. James F. Hensley b. c/1873 m. (he was still single in 1900) Lena (Miller) Hensley died sometime between 1870 and 1876 and Benjamin F. Hensley then married Mary Elizabeth Cooper-Vaughan on December 31, 1876. Mary Elizabeth was the widow of Jackson Vaughan. Mary and Jackson Vaughan had one child: Albert D. Vaughan b. 1872 m. Ethel M. Blankenship 1893
Benjamin and his second wife, Mary (Cooper-Vaughan), had 2 daughters:
5. Orpha M. Hensley b. 1878 m. Fred Berry 1897
6. Nevada J. Hensley b. 1880 m. Charles B. Berry 1898
Benjamin Franklin Hensley was a Civil War soldier who served in Company I of the 5th Missouri Cavalry. He died 25 Jan 1907 and was buried at Jarrett Cemetery. His second wife, Mary Elizabeth Cooper-Vaughan-Hensley is buried at Livingston Cemetery. She was born in 1852 and died in 1919. There is no record of the death or burial of Benjamin's first wife, Lena, but she may be buried at Jarrett Cemetery without a headstone.
John C. Hensley, son of Benjamin Franklin and Magadlena/Lena (Miller) Hensley, was born in 1879 and died in 1951. On November 13, 1897, John married A. Maggie Sooter (born in December 1877). I do not have a listing for their children other than the firstborn who was recorded in the census of 1900------Colmer Hensley b August 1898.............I believe A. Maggie Sooter was a daughter of Charles Marion Sooter and his first wife, Jane A. Carson, who married in Miller County on 23 July 1879. Some of their children included William Mark Sooter b. 1883; Victor J. Sooter b. Dec 1884; Elizabeth A. Sooter b. Sept 1887; Menzo E. Sooter b. Dec 1889; Charles Wesley Sooter b. July 1892. There may have been a daughter named Nellie who was born about 1879.
---
DR. SAMUEL P. HICKMAN
Dr. Samuel P. Hickman was born at Crawfordsville, Russell County, Indiana on 9 December 1849. He was a son of James M. Hickman (1825-1909) and his wife, Elizabeth A. Hickman (1826-1907).
The children of James and Elizabeth Hickman were Samuel P. Hickman 1849-1908 m. Frances E. Garner in 1875; James W. Hickman 1853-1943 m. Rachel A. Meyer 1877; Mary A. Hickman b. c/1861 m. Lemuel Payne 1879; Thomas S. Hickman b. c/1865 m. (1) Mary Jane Catron 1887 (2) Mary Evans 1899; and Edmund B. Hickman 1867-1924 m. Mary J. Hill 1889.
Samuel P. Hickman was educated in the Crawfordsville common schools and later attended the Indiana School of Medicine where he graduated in February 1874. Two months later he came to Miller County with his parents who settled in the Brumley area of Glaize Township. Dr. Samuel was often called "Little Boy Doctor" and he went to the Iberia area to practice his medical profession. It was there, on 7 February 1875, he married Frances E. Garner, the only daughter of Thomas and Mary (McCartney) Garner of Iberia.
The Garner family came to the Iberia community after the Civil War from Izard County, Arkansas where most of their children were born. In 1870, Thomas and Mary lived in the village of Iberia where he owned a general merchandise store and was also a miller.......Their children included: Robert Benjamin Garner b. 1853 m. Elizabeth Thompson 1873; Frances E. Garner b. 1856 m. Dr. Samuel P. Hickman 1875; Thomas D. Garner Jr. b. 1860 m. Margaret Ann Adams 1881; James Garner b. 1868 - died young; and Hugh McCoin Garner b. 1870 m. Rosa Estella Moore 1893. The Garners had two other children who died in infancy. Estella Moore Garner (Mrs. Hugh M. Garner) was the first graduate of the old Iberia Academy (Class of 1893).
NOTE: On 6 August 1892, the Miller County Medical Society was formed at Tuscumbia. The doctors present at the time included Dr. S. P. Hickman as well as Drs. Baysinger, W.W. Norwood, Anthony, Kouns, J.B. Norwood, McKee, and Conner.
After their marriage, Dr. Samuel and Frances (Garner) Hickman moved to the Brumley/Ulman area. In 1901 he joined the Ulman Baptist Church where he remained a member until his death in 1908. The Hickmans were parents of six sons: Mack Alvis Hickman b. 1878; James Thomas Hickman 1812-1903; Samuel G. Hickman 1884-1904; Eugene P. Hickman 1889-1928 (also was a doctor); Orville Hickman and Howard Hickman.
Dr. Samuel P. Hickman died 15 February 1908 at the age of 58 years. Frances Garner Hickman, his wife of 33 years, died seven months later on 1 September 1908. Both are buried at Gott Cemetery, near Route C between Ulman and Brumley. The Hickmans have a tall, ornate tombstone on the south side of the cemetery which has the Masonic emblem as part of the engraving and decoration.
---
HICKS GRADY FAMILIES OF OSAGE AND RICHWOOD TOWNSHIPS
In the 1860 census of Miller County, in Osage township, lived a family named Hicks. There were three brothers and a sister including Fulton b. c/1837 in Tennessee; John b. c/1838 TN; Robert b. c/1840 TN; and Sarah b. c/1843 TN. They lived near the present site of St. Anthony and their neighbors in the mid 19th century were John and Ellender (Wilson) Barr, William Kinworthy, William Blize and Isaac Renfrow.
I believe Fulton's full name was Creed Fulton Hicks and he married Sarah West in Miller County in 1863, the marriage performed by George Wilson, minister. His sister, Sarah Hicks, married Harden West of Osage County in 1867. Harden and Sarah West may have been a brother and sister. There was a family named West who lived in northeast Miller County in this era of time near the Osage/Maries boundary line.
In 1870, none of the above Hicks men were enumerated in the Miller County census, but there were two other Hicks families living in the same general area of Osage township near St. Anthony. They were Manessah and James Knox Polk Hicks with their respective families. I believe the Hicks brothers and sister found in the 1860 census and the two Hicks men (Manessah & James) were kinfolk, possibly other brothers and sister. In an interview with Willie Hicks of St. Anthony (now deceased), I learned that according to family legend, "his grandfather, James Hicks, had a brother called 'Nass (Manessah) Hicks who lived in Miller County for awhile. Uncle Nass moved his family to Texas. James also had brothers named John Hicks and George Hicks and a sister who married some man over toward Maries County. John Hicks moved to southern Missouri and none of the family ever saw him again." George Hicks is the only name that does not show up in the Miller County census records. Is it possible he was George Robert? In genealogical research, one has to speculate widely!
All the Hicks descendants in the area today are descended from James Knox Polk Hicks and Nancy Grady, daughter of Calvin and Mary (West) Grady and a granddaughter of John and Mary Grady, natives of North Carolina and Virginia, respectively. James married Nancy in Miller County on 9 November 1865, their marriage performed by Hazen S. Burlingame, a justice of the peace, who lived nearby in the northern Richwoods/southern Osage township area; today near the same village of St. Anthony. The village is located near the boundary line of the two townships mentioned and is sometimes difficult to determine which township a pioneer family was living when reviewing old census records.
James Knox Polk Hicks was born 10 August 1835 in Tennessee and died 19 March 1902. Nancy Grady Hicks was born in 1845 and died in 1937. Both are buried in the Hicks cemetery, a short distance north of St. Anthony.
The children of James and Nancy (Grady) Hicks were MARTIN C. HICKS b. 1866 d ? m. Mary S. Dake (1872-1932); SARAH J. HICKS (1868-1917) m. George E. Stickney 1887; MARY ELLEN HICKS (b.?d.?) m. Henry Dake; DOLLY HICKS b. 1879 died young; JAMES M. HICKS (1879-1918) m. Rachel Dake (1876-1936); THOMAS HICKS (1874-1918) never married; JOHN R. HICKS (1877-1958) m. Stella M. Pendleton (1882-1969); GEORGE HICKS (1880-1970) m. Emma Pendleton (both buried in St. Louis County); SUSAN EFFIE HICKS (1882-1891); EDWARD HICKS b. 1885 m. Lucille_____(both are buried in Colorado).
---
HILL-HICKS
Margaret E. Hill was born near Mt. Pleasant, Saline Township, on March 29, 1850. She was a daughter of Jesse and Mahala Hill, natives of Virginia and Tennessee respectively. Her father was born c/1809 and her mother c/1808. Jesse and Mahala Hill were parents of five children: WILLIS HILL b. c/1831 in TN; JULIAN HILL b. c/1839 TN: WILLIAM HILL b. c/1846 in MO; JOHN HILL b. c/1848 MO; and MARGARET E. HILL b. 1850 MO.
The Hill family came to Missouri from Tennessee in the early 1840s and settled in Saline Township near the families of Brockman, Bond, Smith, Bittle, Crisp, and Roark. I believe the mother of Jesse Hill also came to Miller County...Margaret Hill, born c/1780 in Virginia, was living in the home of Robert Hill (brother to Jesse) in 1850 and their farms adjoined. Margaret E. Hill married Joseph N. Hicks on 7 Feb 1870, the marriage performed by D. H. Austin, a Justice of the Peace in Saline Township. Joseph was a son of William and Margaret (Crisp) Hicks and was born in Miller County in August 1848.
The children of Wm. and Margaret were:
ELIZABETH E. HICKS b. 1841 in Indiana; JAMES L. HICKS b. c/1846 in MO; FRANCIS M. HICKS b. c/1850 MO; THOMAS HICKS b. c/1852 MO; PHOEBE A. HICKS b. c/1855 MO; JOSEPH N. HICKS b. c/1858 MO; GEORGE W. HICKS b. c/1860 MO; MARTHA A. HICKS b. c/1864 MO; WILLIAM R. HICKS b. c/1866 MO and JESSE M. HICKS b. c/1869 MO.
Margaret (Hill) and Joseph Hicks continued to live all their married lives in eastern Saline Township and at one time was enumerated living in Jim Henry township. I believe their farm was near the Saline/Jim Henry township lines and the census taker often misplaced families living so near township lines. Margaret and Joseph Hicks reared five children on their Miller County farm including: JESSE S. HICKS b. 1871; JAMES HICKS b. 1873; WILLIAM HICKS b. 1876; EMMA V. HICKS (Mrs. Emanuel E. Templeton) b. 1878; and JOHN HICKS b. 1882.
Over the years their neighbors included the families of Crisp, Haynes, Harbison, Wyrick, Simpson, Graham, Long, Russell, Mulkey and Carrender. Joseph N. Hicks died in 1929 and was buried at the Tuscumbia Cemetery. Margaret Hill Hicks remained his widow for 10 years and died on December 29, 1939 at the age of 89 years. She died at the home of her oldest son, Judge Jesse S. Hicks, who lived in the Big Saline community, northeast of Tuscumbia. Her services were held at the Tuscumbia Christian Church and she was laid to rest beside her husband in Tuscumbia Cemetery.
---
HIX-MYERS-CRISMON-WYRICK
James Guy Hix was born in 1905 in Miller County, a son of John Hart Hix and Desdemonia D. Myers. His parents married in Miller County on February 7, 1889. Their marriage was performed by John S. Wilson, a justice of the peace.
Their children were:
1. Charles Herbert Hix 1890-1968 m. Bessie Dawson
2. Byron H. Hix 1893-1970 m. Ida M. ______
3. William M. Hix b. 1896 (never married)
4. Gail R. Hix 1899-1951 m. Marjorie Catherine Mace
5. James Guy Hix 1905-1987 m. Grace E. Crismon
6. John Hix
7. Edith (Hix) Wechsler
8. Elsie (Hix) Barnes
John Hart Hix, father of Guy, was born August 10, 1862 during the Civil War years. His parents were John H. Hix Sr. and his wife, Hettie Frances (maiden name not known). His father was in the Civil War and served as a Sgt. in Company D of the Osage Regiment, Missouri Home Guards. I do not know if he was killed in the war but he died in 1862 when the war was raging across the countryside. John H. Hix Jr. was born the same year his father died.
There were 5 children born to John Sr. and Hetty including:
1.Francis Marion Hix 1851-1856
2.John H. Hix 1854-1859
3.Isadora Hix b.c/1856 m. George W. Wyrick 1882
4 Mary Priscilla Hix b.c/1860 m. Joseph Wickham 1885
5 John H. Hix 1862-1929 m. Desdemonia B. Myers 1889
NOTE: It was not uncommon for families to give a child a name that had also
belonged to an older, deceased child as in the case of John H. Hix..
After the death of John H. Hix Sr. in 1862, his widow, Hettie Frances Hix, married Jesse Livingston in 1867 and then married a third time to John W. Cooper in 1874. She lived until May 27, 1914 when she died at the age of 80 years (born in 1834). She was buried at Gott Cemetery beside her first husband, John H. Hix.
Desdomonia B. Myers, the mother of James Guy Hix, was a daughter of Charles Phillip Myers and Nancy (Bass) who married in Miller County 30 August 1866, their marriage performed by Evan L. Short, a justice of the peace in the Big Richwoods. Charles was a son of Charles P. Myers Sr., a native of Prussia, Germany and Minerva Davidson, born in Greenup County, Kentucky. His father died in 1844 and Minerva then married Alexander Clark. Charles and his brother, James Myers, were reared by their stepfather in Miller County.
Desdemonia was one of 7 children born to Charles and Nancy (Bass) Myers:
1. James R. Myers 1867-1943 m. Sadie Love 1901
2. William M. Myers 1870-1955 m. Martha L. Pierce 1896
3. Desdemonia Myers 1872-1925 m. John H. Hix 1889
4. Asa M. Myers 1875-1949 m. Carrie J. Patterson 1911
5. Emma C. Myers 1877- ? m. (no record found)
6. Dora B. Myers 1880- m. L.J.'Bud' Mayfield 1899
7. Perry P. Myers 1883-1900
Grace E. Crismon was born in 1907, a daughter of Rufus Crismon and Elvia Wyrick. Her mother was a daughter of Henry C. Wyrick and Brazonia (Gibson). She was from the Wyrick family who migrated to Miller County from Grainger County, Tennessee in the 1840s. The ancestry of the Wyrick family was from the Rhineland of Germany. They came to America in the early 1700s and lived in Pennsylvania for many years. Some of the family moved down the Shenadoah Valley of Virginia and settled in Wythe County where they lived and some remained. Others moved on to Grainger County in Eastern Tennessee. Typical of other pioneers, they kept moving on westward and many came to Miller County.
Grace's father, Rufus Crismon, was a son of William J. and Eliza Crismon who lived in Boone Township in western Maries County during the census of 1880. Evidently when Rufus married Elvia Wyrick he was underage because his father, William, had to give his consent for them to marry. Rufus was Elvia's second husband. She had first married Kellis J. Martin in Miller County on April 17, 1887. On April 9, 1893 Elvia married Rufus Crismon, the marriage pefromed by Joel M. Topping, a minister of the gospel.
James Guy Hix (1905-1987) and Grace E. Crismon (1907-1990) never had children of their own. They spent many years together in Glaize Township and in the little town of Ulman where they were well-known and well-loved by all who knew them. Guy was a staunch Republican in his politics and he never missed the Lincoln Day Banquets held in Miller County each year. I don't believe he missed even one during the decades of the late 1930s, 40s, 50s, 60s, 70s, and up to 1987 when he died. I know he loved the game of baseball also because he told me on several occasions how many times he had played baseball with the Smith brothers at Iberia. He was speaking of my father, Oliver, and his brother, Conard/Cap. Later their youngest brother, Glen, played the game but I believe Guy wasn't able to play baseball by that time. I have pleasant memories of Guy and Grace Hix……sharing baseball memories with Guy and sharing the Wyrick family ancestry with Grace.
---
HICKS-WICKHAM
Mary Priscilla Hix was born near Brumley on 31 December 1859. She was a daughter of John H. Hix (1824-1862) and his wife, Hetty Frances Tinsley (1834-1914).
She was one of six children born to John and Hetty including:
1. Francis M. Hix 1851-1856
2. John H. Hix 1854-1859
3. Isadora Hix 1856-1883, m. George W. Wyrick 18 Nov 1882
4. Dolly J. Hix 1858-1920, m. James P. DeVore 1872
5. Mary Priscilla Hix 1859-1940, m. Joseph Manning Wickham 1 Sept 1885
6. Jonathan H. Hix 1862-1929, m. Desdemonia Myers 7 Feb 1889
After the death of John H. Hix, Hetty Frances Tinsley-Hix married two more times; first to Jesse Livingston on July 11, 1867 and then to John W. Cooper on July 1, 1874.
On September 1, 1885, Mary Priscilla married Joseph Manning Wickham, a son of Halsey and Nancy (Manning) Wickham. Halsey Wickham (1810-1878) was a native of New York and his wife, Nancy Manning (1816-1904), was also born in New York. Evidently they moved into Pennsylvania after their marriage because all their children were born in that state.
The children were:
1. Mary Wickham b. c/1841 (died young)
2. Morgan Wickham b. c/1845 (no other record found)
3. Nelson Reuben Wickham b. c/1849, m. 1-Sarah Ellen Boyd 1873
2-Marzilla Brazonia Grosvenor 1885
4. Anna Wickham 1846-1891
5. Halsey Wickham b. c/1851 (no other record found)
6. John/Jobe Wickham b. c/1854 m. Lurana Prock 1878
7. Joseph Manning Wickham 1856-1935 m. Mary Priscilla Hix 1885
8. Mary Adeline Wickham b. c/1860 m. Tolbert Wyrick 1879
According to the census records of 1900, Hetty Frances Hix was the mother of 12 children, but the above are all I found record of. Mary Priscilla (Hix) and Joseph Wickham were parents of two sons, Oscar Manning Wickham (born November 1886---married Mary E. Helton) and Ross Hix Wickham (born October 1895---married Anna Lee Watson). In 1900, Joseph and Mary Priscilla were living in the east part of Glaize township with their two sons and Mary's mother, Hetty Frances Cooper, the widow of her third husband, John W. Cooper. Over the years, Hetty Frances was called "Aunt Frank" by family members.
During the census of 1900, the neighbors of the Wickhams included the families of Lamb, Wilson, Bass, Martin, Williams, Coburn, Howell, Sullivan, and Wyrick. Joseph Manning Wickham died at the age of 79 years on 21 January 1935 and was buried at Gott Cemetery in Glaize Township. He and Mary Priscilla had spent almost 50 years together as husband and wife. She lived until October 31, 1940 when she passed away, having almost reached her 81st birthday. Her funeral services were held at Gott Church, conducted by Rev. Virgil Smith. She was laid to rest beside Joseph in the churchyard nearby.
---
ISADORA HIX WYRICK
The name Isadora Hix Wyrick has been discussed in the Autogram-Sentinel for the past few issues and I thought perhaps you would like to know more about her. Judy Prince at Brumley has written in her column that several folks have called her concerning Isadora after her original tombstone was found a few weeks ago. I took time to see what I could find about Isadora and found a few things that may be of interest.
She was born on February 15, 1856 in Missouri and died at the age of 27 years on August 6, 1883. Isadora was a daughter of John H. and Frances Hettie Hix who came to Miller County sometime between the census of 1850 and the one taken in 1860. In 1860, they were living in Glaize township near the families of Ulmon, Martin, Williams, Horton, Graham, Gott, Hawkins and DeVore.
Isadora was the third of six children born to John and Frances (called Hetty) Hix.
The children included:
1. Frances M. Hix 1851-1856
2. John H. Hix 1854-1859
3. Isadora Hix 1856-1883 m. George W. Wyrick 1882
4. Dolly J. Hix 1857-1920 m. James DeVore 1872
5. Mary Priscilla Hix 1859-1940 m. Joseph Manning Wickham 1885
6. John H. Hix 1862-1929 m. Desdemonia Myers 1889
NOTE: John & Hetty named two sons John H. Hix. That was not an uncommon practice because in many families I have researched, I have found when a child died young, then another child, born later, was given the same name.
John H. Hix, father of Isadora, died in 1862. I am not sure at this time if he was a casualty of the Civil War because he served as a Sgt. in Company D, Osage Regiment of the Missouri Home Guards. The Civil War was raging across Miller County in 1862 and he may have not survived the war.......at this time, I am only speculating.
On July 11, 1867, Frances Hix married Jesse Livingston. I do not know what happened to Jesse Livingston because I could find no record of his death and burial and he was not enumerated in the 1870 census. Frances/Hetty married her 3rd husband, John W. Cooper, in 1874. In 1880, Isadora, her sister Mary Priscilla, and her brother John H. Hix were living with their mother and stepfather in Glaize Township.
Isadora Hix married George W. Wyrick on November 18, 1882 at the age of 26 years. I believe that George, born about 1855, was a son of Michael Wyrick, Jr. and his wife, Laura (Golden).
Isadora Hix Wyrick died less than a year after her marriage, on August 6, 1883. I have no way of knowing what caused her death.....perhaps it was childbirth complications, or it could have been any number of diseases that struck down so many of our ancestors. She was buried at Gott Cemetery where her father and two siblings were buried. Her mother died in 1914 and is buried beside John H. Hix at Gott Graveyard. Isadora's husband, George W. Wyrick, married Ella Johnson of Richwoods township in February 1885.
Isadora Hix Wyrick did not live a long life on earth but because of some interest shown in an old gravestone, with her name inscribed, perhaps she will be remembered for awhile by folks who read this column....... If you happen to go by Gott Cemetery sometime, take the time to stop by her gravesite and whisper a soft greeting to her.
---
HOLEYFIELD FAMILY
I have been told that the progenitor of the Miller County Holeyfield family was named Elisha Holeyfield and was probably born in Tennessee. He had died by 1850 because the Holeyfield family appears in the Miller County census records that year. According to a death certificate, the father of Sarah A. Holeyfield was Elisha Holeyfield and her mother was _____Birdsong (no first name given). There have close ties to the Holeyfield and Birdsong families all the years they have been in Miller County.
NOTE: A few years ago I had a letter from a lady in Baxter Springs, Kansas who was interested in a Holeyfield family whose head of household was named David. For some reason, she had obtained the death certificate of Sarah A. Holeyfield and she wrote me to say the information given showed the father of Sarah was Elisha Holeyfield and her mother was a Birdsong.......
In 1850, in Equality Township, Emeline Birdsong-Holeyfield, was in the home of John Roark and was his second wife. John Roark's first wife was Polly Gartin with whom he had 8 children. Living in the Roark home were the 3 daughters of Emeline by Elisha Holeyfield---Louisa C. Holeyfield, born c/ 1844; Lucinda Adeline Holeyfield b. c/1846; and Sarah A. Holeyfield b. c/1849.
By 1860, I don't know if Emeline Birdsong-Holeyfield-Roark had died, but her 3 daughters and a son, Charles Roark (half brother to the Holeyfield girls), were living with their Birdsong grandparents, John and Catherine, in Equality Township. The Birdsongs still had 6 children at home as well as the 4 grandchildren.
In 1870, Sarah Holeyfield, age 19, was living with her uncle and his wife, Benjamin F. and Loretta (Curry) Birdsong in Equality Township. Also in the home was her half brother, Charles Roark. Living next door were the grandparents, John and Catherine Birdsong with their son, John Birdsong, Jr. (b. c/1843)
The Holeyfield sisters (along with Charles Roark, their half-brother) seemed to move around quite often, but always were in the homes of their kinfolks.
By 1880, John W. Birdsong, son of John and Catherine, had moved to Osage Township and in his home were Louisa Holeyfield, Sarah A. Holeyfield, and Charles Roark. They were identified as his nieces and nephew......Living nearby was Lucinda Adeline Holeyfield (1838-1886) and her husband, John Shockley (1819-1906). He was about 22 years older than Lucinda and had married her in 1875. He had several children by his first wife, Mary Birdsong (I'm sure she was from the same Birdsong family)....They had married in 1851 and I think they had about 4 children before her death. Lucinda Holeyfield bore him 6 more children during the next 11 years. She died at the age of 46 years in 1886. Some of their descendants are found in the families of McDonald, Doubikin, Massey, Gardner, Shackelford, and Humphrey.
In 1885, Louisa C. Holeyfield, sister to Sarah, Lucinda, and Charles, married Isaac Smith Tinsley who lived in Glaize Township near Ulman. They had a daughter, Janetty L. Tinsley who was born in May 1886 and died in Sep 1886 as an infant. Louisa and Isaac had no other children. Isaac, Louisa, and their infant daughter are buried at Gott Cemetery a short distance south of Ulman..
Sarah A. Holeyfield is buried at Gott Cemetery and the only connection I can make to that area is her sister and husband, Lucinda (Holeyfield), and Isaac Tinsley, and their infant daughter who are also buried at Gott Cemetery. Perhaps Sarah spent the last years of her life with her sister and family on their farm near Ulman.
---
ELECTA HOPKINS
Electa Hopkins was born near Washington, Indiana on August 31, 1863. Washington is the county seat of Daviess County, located in the southwestern section of Indiana. Electa was a daughter of Samuel J. Hopkins and Matilda (Small), natives of Kentucky. In her obituary, it was stated her father was "an old Kentuckian". Electa had two brothers and three sisters: JOHN L. HOPKINS 1852-1939 m. Laura Young; B. ELLEN HOPKINS 1850-1933 m. George A. Osborn; NANCY ANN HOPKINS 1860-1940 m. John L. Irwin; DANIEL HOPKINS b.____(evidently he did not come to Miller County but remained in Washington, Indiana). There is the possibility there was another sister named THEODOSIA (HOPKINS) NANLY who died in 1919.
Electa's mother and father both died in Indiana in the mid 1880s. Evidently Electa, John, and Nancy Ann came to Miller County shortly after the death of their parents with their older sister and her husband, George and Ellen (Hopkins) Osborn. The Hopkins and Osborn families settled in Richwoods Township near Iberia.
On October 8, 1887, Electa married Miles J. Davidson at Iberia. When they married he was a widower with a young son, Willard E. Davidson born 1878. Miles Davidson was born in Miller County in 1850, the oldest child of John Davidson and his second wife, Mahala Lawson.
Miles J. Davidson's first wife was Sarah L. Brown and they were living in Iberia during the census of 1880 with their 2-year old son, Willard. I could find no record of their marriage in Miller County records, but I am presuming they married about 1876-77. Sarah L. (Brown) Davidson died in 1886 at the age of 30 years.
Electa (Hopkins) and Miles J. Davidson were parents of two sons, Otto born 1888, and Miles Jennings Jr. born 1900. Miles' oldest son, Willard, died in 1891 at the age of 14 years and Otto lived for only two years, so Miles Jennings Davidson Jr. was the only child who survived to adulthood.
In 1900, the Davidson's lived in the village of Iberia. Their neighbors were George and Anna (Heltzell) Farnham, Monroe and Mary Barnhart, William and Laura Kershner, John and Harriett Hays, John and Martha (Barlow) Casey, William von Gremp, and Andrew and Martha Benage.
For many years Miles and Electa owned a general merchandise store in Iberia, which was located on the northwest corner of St. Louis and Main Streets. Today, Wilson's Trophies is located at the site and during the 1940s, when I was growing up in Iberia, it was the Grady and Porter General Store. Miles also served as Iberia's postmaster for a number of years, beginning in June 1885. The Davidson's were members of the Iberia Congregational Church.
Miles J. Davidson died 28 Aug 1925 just a few days after he had reached his 75th birthday. Electa Hopkins Davidson lived as his widow for seven years when she died, at the age of 71 years, on 29 November 1932. Both are buried in their family plot at the Iberia Cemetery. Miles' first wife, Sarah (Brown), and his two young sons, Otto and Willard, are also buried there.
---
JAMES M. HOUSTON
James Montgomery Houston, one Miller County's pioneer settlers, died at his home, four miles northwest of Eldon, on 20 December 1922. James was one of nine children born to Alfred M. and Malinda Houston who came to Miller County in the late1820s and the county was not formed until 1837. Alfred was a native of North Carolina and Malinda was born in Kentucky (per census records).
Their children included:
1. Emily Houston b. c/1828-29 m. John Oneal
2. Milton A. Houston b. c/1831 m.
3. Porter L. Houston b. c/1835 m. Emaline A. McConnell
4. Minerva J. Houston b. c/1836 m. James Brown
5. James M. Houston b. 1838 m. Sarah Ann White
6. Hiram C. Houston b. 1840 m. Drucilla Noelle
7. Thomas M. Houston b. c/1842 m. Laura Croy
8. Amanda Houston b. c/1845 m. Jacob McComb
9. William A. Houston b. c/1848 m.
Alfred M. Houston, the father of James, was a son of James Houston and Patience Bills and was born in North Carolina in 1798. When the Houston family came to Miller County in the late 1820s, the land they homesteaded was then part of Cole County. It was stated in his obituary that the land was bought for 25 cents per acre. Some of their neighbors in the census of 1840 were the families of Spence, Wilkes, Taylor, Adcock, Swanson, and Dresser. When Miller County was formed in February 1837, Alfred M. Houston was appointed as Commissioner of Miller County's Seat of Justice, the first county official in the town of Tuscumbia. He served in this capacity until 1845.
James Montgomery Houston was born on March 9, 1838 on the farm his parents homesteaded just a few years earlier. He lived on the family farm in northwest Saline Township all his life and died there at the age of 84 years in 1922.
James married Sarah Ann White in Miller County 11 Feb 1875. She was a daughter of George W. and Mary White who lived near the Houston family. James and Sarah/Sally never had any children of their own. James was active in the Christian Church at Barnett (Morgan Co.); was a member of Ionia Lodge of Eldon; Chapter of Free Masons of Royal Arch Masons of Eldon; and the Etterville Lodge of the I.O.O.F. During the Civil War, James served in the Missouri Home Guards from the rosters of 1861-65.
James died on December 20, 1922 at his home and was laid to rest in Salem Cemetery where his father and mother were also buried. He was survived by his wife, Sarah/Sally(White) to whom he had been married for almost 50 years. Sarah Ann lived until 3 April 1926 and was buried beside James at Salem Cemetery.
According to cemetery records the following is the births and deaths of the Houston family:
HOUSTON, James M. 9 Mar 1838-20 Dec 1922
Sarah A. 7 Sep 1847-3 Apr 1926
Alfred M. 17 Aug 1798-7 Sep 1881
Malinda 15 Apr 1809-13 Aug 1874
---
WILLIAM CLARK HOWELL
William Clark Howell was born in Miller County, near Ulman's Ridge, on August 13, 185l. He was one of two children born to Josiah K. and Elizabeth J. (Case) Howell. His other sibling died in infancy so he was reared an only child. His Howell ancestors were from North Carolina. William's great grandparents were Josiah and Sarah L. Howell and his grandparents were William/Wiley and Tabitha (Hobday) Howell. The Howells left North Carolina in the early 1790s and moved to Middle Tennessee (Sumner County); later they moved to neighboring Smith County and finally moved westward to Henry County, Tennessee.
Wiley/Wm. Howell married Tabitha Hobday in Smith Co., TN on August 13, 1810. Josiah K. Howell, father of William Clark, was born in Tennessee in 1816 and died in Miller County in 1872. William's mother, Elizabeth J. (Case) Howell, was born in 1823; died in 1903. Both parents are buried in Gott Cemetery, Glaize Township.
Josiah and Elizabeth had married in southern Missouri, Ripley County, in 1844 and after their marriage moved into Miller County. About 1850, their neighbors in Glaize Township included John Workman, John McCubbin, Henry Wyrick, Michael Wyrick, Alexander Colvin, Joseph Ulman and George Coker. William Clark Howell married Heseltine A. Phillips in Lacade Co., MO on 25 October 1884. They continued to live on the Howell family farm and reared three sons and four daughters on their land. The children included: SIMON WILEY HOWELL 1875-1876; FRANKLIN C. HOWELL b. 1877 m. Edith Purviance; CHARLES E. HOWELL b. 1879 m. Fannie Mace; LENNA FLORENCE HOWELL b. 1887 m. Del Sorter; SARAH A. HOWELL b. 1885 m. Mark Smith; MARY CYNTHIA HOWELL b. 1884 (never married); and a 4th daughter (name not found) married W. T. Fry.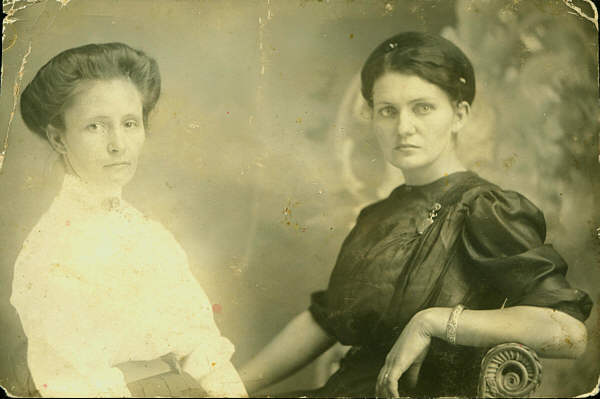 Lucy Casey and Lennie Howell
William served as Miller County sheriff and collector for two terms (1883-84 and 1887-88). He was a successful farmer in the Ulman area for many years and the Howell school, which was located nearby, was evidently named for this family. In 1919, William and Haseltine sold their farm to Fred Stone and moved to Eldon where they spent their elderly years. Like his father, Josiah, William was a member of the Masonic Order for many years.
For some reason, when Heseltine (Phillips) Howell died in May 1930, she was buried in Jefferson, Wisconsin. William lived until November 1940 and after his funeral service was held in Eldon, his body was transported to Jefferson, Wisconsin and buried beside his wife. Perhaps some of their children and families were living in Wisconsin and that is the reason they are both buried in that state.
---
THE HUMPHREY FAMILY
The Humphrey family was among Missouri's earliest settlers. They were in Miller County when it was still called Missouri Territory. In 1822, John Humphrey married Nancy Skaggs, and their marriage was recorded in Gasconade County. Five year later, in 1827, John's brother, Nathaniel Humphrey, married Sarah/Sally Jamison, also in Gasconade County. I believe they were new setters in the Big Tavern country of present-day northeast Miller County. When the two couples married in the 1820s the land was in Gasconade County.
From 1834-1837, it was part of Pulaski County, and finally, after February 1837, they were permanent settlers of Miller County. As the county boundaries were extended over two decades of the early 19th century, the Humphrey family remained in their homesteads, perhaps unaware they had lived in three different Missouri counties but had never moved!
In 1840, Nathaniel and John Humphrey, with their families, were living in Osage Township (Miller County) a few miles southwest of present-day St. Elizabeth. Both men were natives of Kentucky. John was born circa 1796 and Nathaniel about 1808. Sally Jamison Humphrey, wife of Nathaniel, must have died sometime prior to 1839 because in that year he married Jane Airhart/Ahart who was living in the same area with her mother, Ann Airhart.
Nathaniel reared his children in Osage Township near the Big Tavern Creek. Later, in 1844, he married his third wife, Susan Airhart, sister to Jane. Nathaniel had several children by his three wives, but I found the names of only three: Orrena born c/1836; Stephen born c/1837; and James born about 1838.
John and Nancy (Skaggs) Humphrey left the Big Tavern area of Osage Township and moved south to Richwoods Township before 1850 locating in the Brays Mill area.
They became parents of several children including:
1. William Humphrey b. c/1824 m. (no record found)
2. Wilbert Humphrey b. c/1824 m. 1- Agnes Blankenship (twin to William) 2-Martha Shepherd
3. Sarah Humphrey b. c/1832 m. John Patterson
4. Andrew Humphrey b. c/1833 m. Elizabeth J.__________
5. Stephen Humphrey b. c/1834 m. Louisa Bolinger (Sherley?)
6. Altha Humphrey b. c/1836 m. no record found
7. Willis Humphrey b. c/1838 m. Mahala Clark
8. Franklin Humphrey b. c/1843 m. no record found
9. Mastin/Martin Humphrey b. c/1846 m. Laura Belle Russell
l0. Lucinda Humphrey b. c/1851 m. William N. Humphrey
l1. James Madison Humphrey b. c/ 185_ m. 1-Sarah___________ 2- Mary E. Humphrey
The descendants of these Humphrey families married into the families of Blankenship, Dake, Rowden, Grady,Hawkins, Groves, Newhart, Bowden, Slone, Shepherd, Lawson, Tyler, Morrow, Patterson, Clark, Russell, Hensley, Renfrow, Wilson, Helton, Cross, Crismon, Atwell, Sooter, Whitaker, Shelton, McKee, and the list goes on................
As you can see, the descendants of the two Humphrey families who came to Miller County are numerous today. The tradition of this early pioneering family of Missouri has been deeply embedded in our county for many generations. They left a fine ancestral heritage for their children, their children's children and on down through the corridors of time..............
---
DONNA SUE HUMPHREY
1943 - 1999
Donna was the third of five children born to Woody & Florence (Wyrick) Humphrey. She came into the world during a time of great strife when it seemed that war would forever swallow up the peace of the nations......Wonderfully, God's ways are not man's ways so He brought some sunshine into a world that needed warmth and love. He sent a 'shining light" into the Humphrey home in October 1943 and Donna Sue was that very special "light" in our family.
In the "Springtime" of her life (her childhood), Donna was a beautiful little blonde-haired child, playing with her older brother and sister and experiencing the joys of childhood as she learned to walk and talk....The family numbered five. As the "Summer" of her life approached (her youth), she learned to share her time with two little sisters who came along and joined the Humphrey family.......And now the family numbered seven....
At the end of the "Summer" of her life, the family lost their "guiding light". Their beloved mother, Florence, passed away in 1964 at the young age of 47 years. Once again we questioned why young children had to be left without the love and guidance of a mother, but God has the answer....Be patient and someday He will explain.....
Their dad, Woody, carried on for many years rearing the three younger girls, Donna, Mary, and Linda. Harold and Helen were married by the time their mother passed on. In a few short years Mary and Linda married and left the family home. Donna remained. She was entering the "Autumn"of her life (her adulthood) when her dad passed away in 1975 and then for the first time, Donna was alone. Somewhere in the deep regions of our minds we thought Donna could not make it on her own.....Ouch! God stepped on our toes and softly whispered to our earts..."Oh! ye of little faith".
For the next 20 plus years she proved she was capable of handling her own life (with a little help along the way)....But don't we all need "a little help along the way" at times? The joy of her life were nieces and nephews who helped to fill the void of her heart that a family of her own would have fulfilled......Donna was one of God's "special children" who generously spread her love among her family and I am sure she felt their love and admiration in return.
Well, Donna never made it to the "Winter" of her life (her senior adult years), but she came so close! Perhaps God knew, in His marvelous wisdom, that Donna's "Winter" should be spent in a more comfortable, worry-free, pain-free place where the snowflakes are shades of gold and silver; the ice that forms on the Tree of Life is glistening emeralds, the snowfall on the ground is a blanket of shining pearls and there, where Donna is at rest and peace, God's Eternity extends into forever.......
Remember this:
The Seasons of Life come gently and then, just as quietly, they disappear into memory.
Death, itself, is powerless to still that remembered voice nor can it erase a remembered smile.
When we enshrine our days in memories then they are never lost.
---
TRIBUTE TO HAROLD G. HUMPHREY
Joyce asked me if I could write something in memory of Harold and it is my privilege to honor him today.
I was the oldest of the Wyrick cousins...Harold came along 9 months later in May 1936 and in Nov. 1936 my brother, Bill, was born. We were the 3 oldest grandkids born to our Wyrick grandparents. As we grew up, we were more like brothers and sister than cousins. When World War II came along in the early 1940s we were just young children living in a child's world of wonder. Our families moved to Ft. Leonard Wood during those war years and we lived across the street from the Humphrey family. It seems we were never too far away from each other in our days of childhood. That closeness never left our families...
Harold's children and grandchildren have some wonderful memories of a loving father and grandpa...he was so proud of his family. He gave them so much of himself over the years. He was there in the good times and the bad. Their memories are so precious and will remain so over all the years ahead. He fished with them, played ball with them, and done all the wonderful things that a devoted, loving father and grandfather can do. He and Joyce shared many years together. I remember their 25th wedding anniversary all those years ago when we met at Crocker Park and had a carry-in dinner under one of the pavilions. I have pictures from that day that I will always cherish....One is the 4 cousins standing side by side...Harold, Bill, Bob, and Sonny. One is Harold, Joyce and the family with a banner flying in the background that said, "Happy 25th Anniversary".
I have pictures and memories from our childhood that I would like to share with you. I remember one Sunday so many years ago (probably about 1940) when the Wyrick family decided to spend a day at the old farm near Ulman where Grandpa Wyrick was born in 1892. I have this great picture of Harold, Bill, Helen, Gaynell, and myself sitting on the running board of an old 1930s car that day in April. We were all so small, probably ranging in the ages of 1 to 5 years. A fortune would not buy that picture!
Another time I remember when the Humphreys lived in a small house to the back of the old Mace schoolhouse, west of Iberia. I don't remember the occasion but we all met there one Sunday for a family get-together. I have pictures from that also. We children were standing on the front steps of the old school. There was Harold, Helen, Gaynell, Sonny, Joe Warren and Patsy Alexander, Bill and me, and our Smith cousin, Max. I hadn't looked at the picture for quite sometime until last night and I was surprised to see that Harold had a big white patch over his left eye...I can't remember what had happened to him, but Helen looked o.k.! If they had fought, then she came out the winner on that one! !
When we became teenagers, we attended Iberia High School. Harold was a great basketball player....did you know that? In his sophomore year, he made the boy's basketball A Team...and he played on the school's baseball team also. I can still see him on the basketball court...he was not a tall athlete, but was smaller and faster!
There are so many other memories that will remain with me for the rest of my life...Harold, Helen, Bill, and I would walk out the old country road, past Eads airport and onward 4 miles further to visit Grandpa and Grandma Wyrick...turning the handle of an old wooden bucket as we made homemade ice cream at the farm...going for Sunday dinners there and spending the entire afternoon outside playing games as the old folks sat around the kitchen table playing pinochle or pitch...riding in an armored-type vehicle as we were carried from Ft. Wood to the school at Waynesville during the war years...Harold and I spoke many times of our childhood and these wonderful memories...We all attended the little, one-room Christian Church in Iberia when we were growing up in Iberia. Our Wyrick grandparents attended this church and we followed the tradition as we grew to adulthood. We were there for weddings and were there when we had to say good-bye to a loved one.
I could go on and on sharing these wonderful memories, but time continues to march on. Today we gather once again to say our goodbyes to Harold, but it is certainly not a final goodbye...I know it will be only a short while until our family circle will again be complete. We will keep carrying on in our family tradition of loving one another as brothers and sisters...our parents and grandparents are gone so that generation has passed to a new one....we are now the older generation traveling through life with only memories of those days when we clung to childhood, not wanting life to change but wishing to continue on in our innocence.
God has given each of us a purpose and a place in His world, so treasure each moment; appreciate each blessing; and be thankful for this day He has given us so we may once again join together our hearts and voices in praise. Let us wish Harold a peaceful and joyful journey on his way to God's Forever...Can you imagine what joys he is experiencing this day?