Monday, June 21, 2010
Progress Notes
One of the more prominent displays in our museum features an old handmade quilt located in the upper level of the new addition on the south end. The quilt is displayed inside a large glass cabinet especially designed for its viewing (photo 01).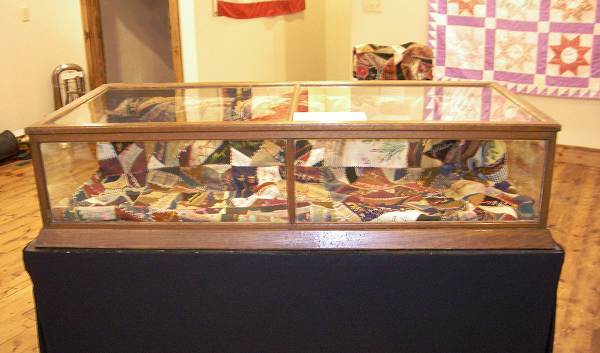 01 Quilt Display
We have many quilts on display in the museum but this one has special significance. It is a Victorian quilt made prior to 1899 as a fundraiser by the ladies of the Iberia Methodist Church in which more than 300 names are embroidered on a "crazy patch" pattern quilt. It is over 100 years old so no one is alive today who signed the quilt when it was made (photo 02).
The next group of photos list the names woven into the quilt (photos 03, 04 and 05).
It is one of our oldest and most valued quilts and for that reason is displayed in a protective glass sealed environment.
The old quilt was donated to the Miller County Historical Society by the estate of Edith Short Chittum in March, 2002. Edith was born and reared at Iberia and was a daughter of Charles O. and Cora (Miller) Short. Edith passed away in January 2002 and it was her request that this quilt "be donated and placed in the museum of the Miller County Historical Society in Tuscumbia." Edith's father, Charles O. Short, purchased the quilt from the Iberia Methodist Church and it remained with the family until the time we received it. Recently, board member Connie Prather received from James P. Wilson and Edith Shelton Wilson a couple of photos of the daughters of Charles and Cora Miller Short, who were raised in Iberia many years ago (photo 06).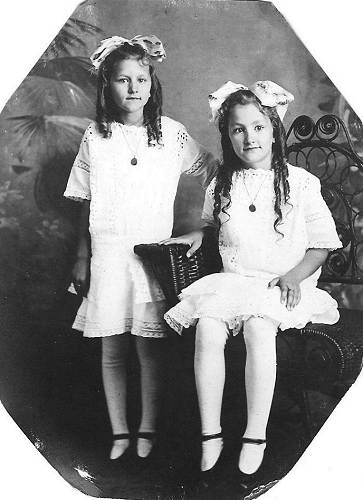 06 Lela Short (left) and Edith Short (right)
The sisters attended Iberia Academy while living in Iberia. Lela later became principal of the high school at Mack's Creek, Missouri, and Edith taught in the High School at Newburg, Missouri. Both of them were graduates of Drury College.
Sometime after Mr. Short died in 1937, Mrs. Short and the daughters moved to Chicago, Illinois. Lela Short became a school teacher and retired from teaching in Morris, Illinois where she later passed away. Edith Short married a Chittum and also passed away in Illinois in 2002. She directed that the quilt be donated to the museum since no living relatives existed to inherit it. After the sisters' death they were brought back to Iberia to be buried by their parents in the Iberia Cemetery. Here is a photo of the daughters in later life (photo 07):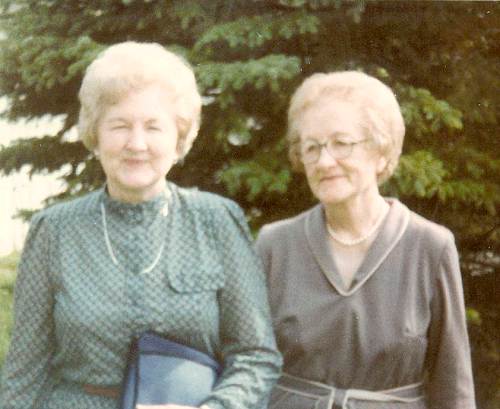 07 Lela and Edith Short - 1982
The Short family at one time was very prominent and influential in Iberia and was one of the earliest families to settle there. Charles Short was one of Iberia's most successful business men and for that reason was one of the people given a special place in Gerard Schultz's History of Miller County several years before Charles passed away in 1937:
CHARLES O. SHORT
By Gerard Schultz, 1933
Charles O. Short, real estate and insurance agent at Iberia, was born on a farm near that town, October 5, 1870. His forefathers came to Miller County in 1837. His father, William Reuben Short, was born February 8, 1844, and his mother, Martha J. (Shelton) Short, January 26, 1865, both near Iberia. His grandfather, E.L. Short, was born November 6, 1815, at Smith's Falls, Pulaski County, Kentucky. His great-great-grandfather was a native of Virginia and a soldier in the Revolutionary War. His maternal grandfather, William Shelton, was a native of Tennessee.
Mr. Short taught in rural schools for ten years, after which he engaged in the mercantile business. In 1907 he organized the Farmers and Traders Bank at Iberia, and worked as cashier for almost nine years. He then returned to the mercantile business. He served in the 1921-22 session of the Missouri Legislature; as a representative he was an able champion of good roads of Miller County. Since that time he has been engaged in real estate, insurance, and farming. In the meantime he has devoted much time to public improvements. He has been mayor of Iberia and for many years has been a member of the Iberia Junior College Board of Trustees.
Mr. Short was married on August 25, 1904, to Miss Cora E. Miller, daughter of S. Brown Miller and Amanda M. Miller. Originally her paternal ancestors were German and her maternal forefathers Irish. Mr. and Mrs. Short have two children: Lela, who is now Principal of the High School at Mack's Creek, Missouri, and Edith who is now teaching in the High School at Newburg, Missouri. Both are graduates of Drury College. Mr. Short is a member of the Methodist Church, and gives his political allegiance to the Republican Party.
Cora Miller Short, wife of Charles, also was given a biographical sketch on our own website:
CORA E. MILLER (photo 08)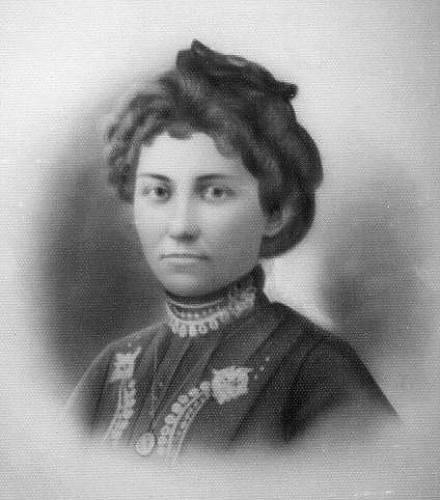 08 Cora Miller Short
Cora E. Miller was born near Iberia on November 12, 1885, a daughter of Stephen B. Miller and Amanda (Madden). Her father was born in Tennessee in October 1854 and her mother was also a native of Tennessee, born in July 1856. In the 1900 Miller County census, her parents were living in Richwoods Township, southwest of Iberia, near the families of Brumley, Duncan, Carroll, Madden, Woolery, Wright, Long, and Keeth. In 1900, Stephen and Amanda Miller had 6 children at home including: James W. Miller b. April 1878, William L. Miller b. Apr 1880; Walter Miller b. Jun 1883; Cora E. Miller b. Nov 1885; Sarah A. Miller b. Oct 1887; and Carrie N. Miller b. Jan 1891.
On August 25, 1904, Cora married Charles O. Short of Iberia. Charles was the oldest son of William Reuben and Martha J. (Shelton) Short and a grandson of Evan L. Short who was an early settler in the town of Iberia. The Short family once lived in Smith Falls, Kentucky before coming to Miller County in the late 1830s. The children of William Reuben and Martha Short were: Charles O. Short b. 1871; William L. Short b. 1872; Luly Ann Short b. 1876; John F. Short b. 1878; Elmer Short b. 1882; and Walter Short b. 1887.
Cora Miller Short taught in the rural schools of Miller County as well as her husband, Charles, in their younger years. Later Charles became a businessman in Iberia and Cora assisted him in his businesses. He owned a retail merchandise store, was a real estate and insurance agent. Charles also helped to organize the old Farmers and Traders Bank of Iberia where he served as cashier for 9 years; was a vice president on the board of trustees of Iberia Academy and Junior College; and served as Republican state representative from Miller County, elected in 1920. Charles and Cora became parents of two daughters: Lela Short, who later lived in Morris, Illinois and Edith Short Chittum, of Chicago. Both of the daughters are now deceased and were brought back to Iberia for burial beside their parents. Charles died in October 1937 and was buried at Iberia Cemetery. Cora lived for 36 years as his widow and died 25 Sep 1973 at the age of 87 years. When Cora died in 1973, she was survived by her two daughters and a sister, Carrie Miller Brooks of Phoenix, Arizona.
Peggy Hake has written the history of Charles' father, William Short. William was as important to Iberia history as his son, Charles:
Window to the Past
Peggy Hake
William Reuben Short was born in Miller County of February 8, 1844, a son of Evan L. and Nancy Ann (Jones) Short. His father, Evan, was born in 1815 at Smith Falls, Pulaski County, Kentucky and his mother was born in 1824 in Tennessee. William Reuben (called Reuben) was a grandson of Reuben and Levina (Owens) Short, natives of Virginia. Reuben Short Sr. brought his family to Miller county in the 1830's and settled in the Big Richwoods on land, which today is part of the town of Iberia. Reuben was an early day minister in the Big Richwoods and was also Iberia's first postmaster. The town was not named officially until 1859, but in the late 1830's and 1840's, it was called Iberia and the post office was set up in the home of Reuben Short.
(Note: It has been said that the Short family were the ones who gave Iberia its name because they had come here from New Iberia, Louisiana. No where in any research can the Short family be found in Louisiana…they were natives of Virginia; went to Tennessee and Kentucky for awhile; came westward through Indiana and Illinois and finally settled in mid Missouri in the 1830's…it is still a mystery how Iberia was named although I tend to believe that Reuben Short may have given the town its name since he was an early pioneer settler and was the town's first postmaster.)
William Reuben Short was the second of several children born to Evan L. and Nancy (Jones) short including: Drushane Short b. 1842 m. Isaiah Allen Gardner; William Reuben Short b. 1844 m. Martha Jane Shelton; Levina Didama Short b. 1846 m. (1) John Watkins (2) John Bowers; Robert Short b. 1853 m. Martha Jane Tramble; Mary Jane Short b. 1856 m. Dr. H.C. Murphy; Isaac N. Short b. 1858 m. Rebecca Moore; Louise E. Short b. 1860 died young; Willis L. Short b. 1863; and Lincoln B. Short b. 1866 m. Margaret C. Hume
William Reuben Short was a soldier in the Union Army during the Civil War. He enlisted in June 1864 in Company E of the 48th Missouri Infantry Volunteers and served until June 1865. For many years he was a member of the Mile Carroll G.A.R. Post #11 at Iberia. After the war, he came back to Iberia and studied law and was admitted to the bar while Judge George Miller was on the bench.
William Reuben married Martha Jane Shelton in Miller County on February 16, 1870. Their marriage was performed by Samuel O. Burks, minister of the gospel. Martha Jane was a daughter of William and Mary Ann/Polly (Lawson) Shelton of eastern Richwoods Township. Her Shelton and Lawson ancestors were from East Tennessee (McMinn County) and came to Miller County in the late 1830's. She was a granddaughter of George Washington Shelton and Celia Burks who married in McMinn County, Tennessee in 1834.
The children of William and Polly (Lawson) Shelton were:
Martha Jane Shelton b. 1856 m. William Reuben Short; Mary Olive Shelton b. 1858; Andrew Jackson Shelton b. 1860 m. Leerva Berry; Louisa Caroline Shelton b. 1861 m. (1) Mort Helton (2) Franklin H./Bud Fancher; (3) Guy Whitaker; Harrietta A. Shelton b. 1865 m. William Burd; Josephine Shelton b. 1868 m. Robert/Bob Crismon; Miller R. Shelton b. 1870; George W. Shelton b. 1876 m. Cora Rowden; William C. Shelton b. 1878 m. Alma Gray; and Owen R. Shelton b. 1884.
Reuben and Martha lived in Iberia after their marriage where he spent time practicing the law, taught some schools, and engaged in farming. He was widely known all over the county because he had spent his entire life in the Iberia area. The children of William Reuben and Martha were: Charles O. Short b. 1870 m. Cora Miller 1904; William L. Short b. c/1873 died young; Lulu Ann Short b. 1875 m. (1) Fletcher Stephens 1895 (2) Fames L. Prock 1899; Jonathan Fred Short b. 1878 m. Lillie Wyrick 1906; An Infant child was born and died in 1880; Elmer Short b. 1882 m. Ethel Osborn 1906; Walter B. Short b. 1887 m. Bertha Farnham Thomas 1909.
William Reuben Short died at his home in Iberia on March 15, 1919 at the age of 75. His funeral services were held at the Iberia Cemetery and conducted by Squire John Ferguson, Commander of the Iberia GAR Post. He was survived by his wife, to whom he had been married almost 50 years; five children, and several brothers and sisters. Martha (Shelton) Short lived until February 3, 1937, when she died at age 81. She was buried beside Reuben at Iberia Cemetery.
The father of William Reuben Short, Evan Leland Short, wrote his own autobiography, which must be one of the oldest original essays written by a Miller County native. We have the autobiography on our own website which I will copy here:
Biography of Evan Leland Short
By Evan Leland Short
I am aware that it is not altogether a pleasant thing to write a narrative of one's own life, or a part thereof. One reason is the writer is or apt to be branded with exaggeration by someone. At any rate if there is anything presented a little strange but I assure the reader of these lines I am in my right mind and what I here pen shall be the truth and nothing else.
I was born on the 6 day of Dec. A.D. 1815 on the Bluff of Cumberland River at Smith Falls, Pulaski County, Kentucky. My father was Ruben Short. He was born Oct 15, 1794 in W. Virginia. My grandfather Short was John. He was born in the year 1756 on the 20th Feb and died Apr. 9, 1836. He was born in Virginia and died in Lawrence County, Indiana. My grandmother Short was Mary Hansford. She was born in 1758, deceased July 1821 over 15 years before grandfather but near the same place in one mile. They were married in Virginia, at least emigrated from there, to Kentucky as I was always taught these things that date before my time. My grandmother Short spoke and read the German. She was a good doctor in her day-a good Christian and a noble woman. My grandfather Short was of the Welch descent, was a Baptist preacher when I can first remember but about the year 1825, with uncle Wesley Short, my father's oldest brother, a prominent Baptist preacher, together with B.W. Stone and a Campbell, renounced the old creed and turned to the faith of Christ and the Apostles alone.
My father had seven brothers lived to be grown. Welley the 1st, John 3rd, Wm. 2nd and one sister, Sarah. Uncle Wesley Short was born 1780 Dec. 20, Aunt Sarah 1782, William 1784, John 1786, Thomas 1789, Samuel 1791, Ezekiel 1797, Hansford 1800. They have all passed away. Were members of the Christian Church except Uncle Sam. He was a Baptist preacher when I saw him last and Uncle William died a single man. Don't know anything of him only as told me.
The others I was partly raised with and delight to say I never heard a blemish to the character of one of them. They were all of a fair English education and intellect. They all raised a good sized family. I have never heard anything derogatory to the character of any of them yet they are scattered over North America from Virginia to Washington Territory. My grandfather on my Mother's side was William Owens. He was also from Virginia. My grandfathers were both Revolutionary soldiers, both immigrated to Kentucky when the bear and Indians were there and lived on bear meat one year or more, so they always told me. My Grandmother Owens told me that Grandfather went out _____ to kill game and she would hear his gun and fear it was the report of an Indian's gun 'till he returned. He was born Nov. 10, 1750; died Aug. 8, 1836. He hope his Christian preacher and a big gun to Uncle Samuel Owen. Lived many years at Springville, Iowa and died there.
Their other brothers all died in Kentucky. He was a Baptist preacher and a noble man. He was a farmer, had a good farm joining town, a smith shop. Sold goods there. All of my father's brothers and my mothers had several sons and the most of them daughters, and all were of good reputation the last I knew of them. Was the youngest child. She had five sisters. Aunt Jennie married Samuel Tate Aust. Sarah or Sally married Hansford Price. Their daughter Sarah, Perry Bonds wife, both lived and died near Mt. Pleasant, Miller County, Mo. Aunt Nancy Newell their children lived in Platte County, Missouri and Aunt Rebecca, wife of Uncle Wesley Short and Avy, wife of Uncle Jack or John Short both died in Lawrence County, Indiana. My mother had five brothers, Reuben, Samuel, William and John (twins), Martin. He was the youngest son and a country to save and died with that hope that doth reach beyond the grave. He was a member of the Baptist Church when I can first remember, but I think reformed to the Christians. He lived years and died three miles of Somerset, Pulaski County, Kentucky east. He was a farmer and a man in good standing and high standing.
Grandmother's first name was Nancy. She kept up her secret prayer first I remember her and the last. My mother which altogether on both sides make a considerable multitude scattered over this planet. That is them that remains, a goodly number are fallen asleep. I was as familiar with nearly all of them once as my father's own family, they were near to my heart. My father, his father and mother, brethren and sister all moved from Kentucky to Lawrence County, Iowa about the year 1817 and located 3 miles below and 4 south of where Springfield now is and 12 miles west of Bedford. Made good farm there on big Indian Creek, this was my father's location his father and brothers, except uncles Sam who located and died in Tennessee and William died a single man. My father lived here about 13 years. He then sold and removed to Green County and located the best place for a farm I ever saw but on government land. Lived here about three or four years and sold out and moved to Sangamon County, Illinois, 12 miles southeast of Springfield. Bought a good location of eighty acres and bought a hundred more and twenty more. Had a farm prairie and timber. We lived here until 1837. He then sold for five dollars per acre and moved to Miller County, Missouri.
I visited my old native country, Lawrence County Iowa, in the year 1835. Taught a school there and returned to my father's in Illinois October 1835. The fall of 1836 my father sold in the spring 1837. He started to Miller County, Mo. arrived there to Richwoods Township 22 of March 1837; in one week after I started to Beaver Creek in Wright County with wagon and 4 horse team. Hauled a load for James Kendrick. Returned in ten or twelve days then started the next week to St. Louis. Hauled a load from there. Made the trip in 13 days. Next week I commenced a select school for 3 months term. In the fall I made a trip to the south with Z. Price to take a drove of horses. Sold out in Mississippi and Louisiana, boarded a steamer at Vicksburg and returned home. Found a good chance and entered a school for 6 month session to Elisha Vingart. He was the best teacher of math I had ever had out of eight previous ones that I had before: Floyd of Kentucky. Crook, Myres, M. Short, Kavins, Baty A. Pickford, D. Tannehil, T. Laughten of Ill. In 1838 & 1839. I taught the public school 2 sessions in Cole County, Missouri near Jefferson City then returned home or to Miller County and the next season taught another school during the winter of 1836 and of 41. The time I was not in school I mostly spent in reading medicine. Started by Professor J.B. Hayword of Cincinnati, Ohio and G.S. Conklin of New York on Dec. 19, 1841.
I was married to Nancy Ann Jones, eldest child of William Jones and Didama who migrated from Tennessee a few years before. She and her father were borned in Warren County, Tennessee. Her mother, my mother-in-law, was born in Kentucky. She was a noble woman. She died in Springfield, Mo. November 3, 1854. She was a faithful Christian. My father-in-law was an able preacher of the Christian religion. They were married in Nov. 1, 1821 in state of Tennessee. Father-in-law remarried, moved to Arkansas and died there. Mother-in-law was the eldest daughter of Willis Burks and Nancy Web. Before their marriage they were most exemplary Christians, unspotted.
My wife was borned April 13, 1824. She had five brothers and four sisters, and three half brothers she never saw. Willis the second is now living in Morgan County, Missouri. All of the remainder of own brothers have fallen. Her eldest sister, Eliza Brown, died in Springfield, Mo. Eliza Jane Hunt, widow of Hugh Hunt, lives at Springfield, Mo.
Shortly after I married I settled down in the south east of Miller County; lived there three years. When we had two children, Drushane and William Ruben, we picked up and moved to Benton County Big Buffalo. We moved near a year then moved to east part of Morgan County; lived in Morgan and Miller two years. Here Didama was borned then moved to the barren fork Richwoods Township. Here Robert O. was borned. We then moved to the valley we now live in. Our other children are John Latimer, Eliza, Jane, Isaac, Emma, Willis, Lincoln Blodgett, of whom all survive but Robert O. and Emma. For dates see record by J.L. Short.
My father was borned October 15, 1794; died in 1857. My mother was borned in July 15, 1799; died 1858 in Virginia. They were married Feb 2, 1815. After my mother's death, my father removed or moved to Arkansas and died there.
I must confess this is a very much abridged sketch at the request of my son John L. Short, which had not been, I would in all probability have neglected it entirely. If it is not satisfactory, if I am spared sufficient time I can supplement and could if it would be profitable to detail incidents extended to a history, make a volume.
Drushane, William Reuben, Didama, Robert O. Eliza, John Latimer, Jane, Isaac, Emma, Willis, Lincoln Blodgett.
So, this completes the story of the Iberia Short family, one of the earliest to settle in Iberia, and one of the most important as well concerning Iberia's early development. But since the family's last descendents left the area many years ago, few may have remembered them. And if it were not for my curiosity about the Short family stimulated by the old quilt on display in our museum, I also would never have known about this early pioneer family of Miller County.
---
Recently we received some Civil War related items donated to the museum by the Everett Fisher family of Lake Ozark. They were delivered to us by former MCHS board member Bob Hatfield, a friend of the Fisher family. Mr. Fisher passed away a few years ago; however, the family knew about our museum through their friendship with Bob. Bob said that Everett was an outdoor enthusiast who especially enjoyed walking through the Ozark forests (photo 09).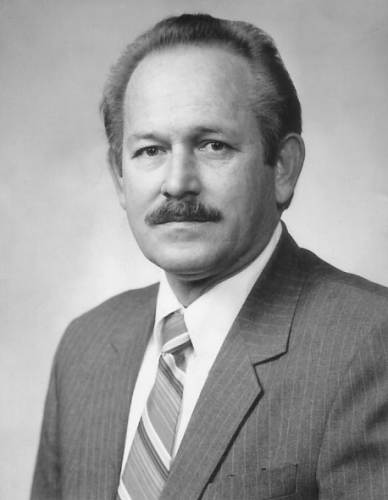 09 Everett Fisher
One of his most valuable discoveries was an old Civil War era bugle found half buried in a leaf covered Miller County woods area. Stamped near the flared end are the words "US Regulation-Made in the USA." He also found two cannon balls. His most exciting discovery was a Civil war era Saber Bayonet. These items are displayed in this photo (photo 10).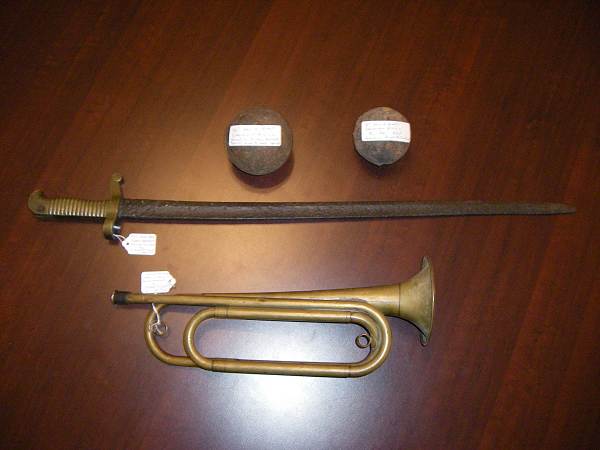 10 Everett Fisher's Civil War Items
We are very thankful to the Fisher family for thinking of our museum as the place they chose to have displayed these interesting historical items.
Bob Hatfield is the one who, with many local volunteers organized and established the Hope House near Highway 54 a couple of miles east of the Dam (40 Lakeland Road Lake Ozark, MO 573 365-0099). As I noted above, he also served as a board member of our Miller County Historical Society a few years ago. Bob was one of those who worked early on to help plan the construction of our new addition to the museum. He is a noted gun authority, especially regarding older guns, both rifles and pistols, and has written extensively about firearms for many years. One of his donations was an old Civil War Remington Revolver which is on display in our museum (photos 11 and 12).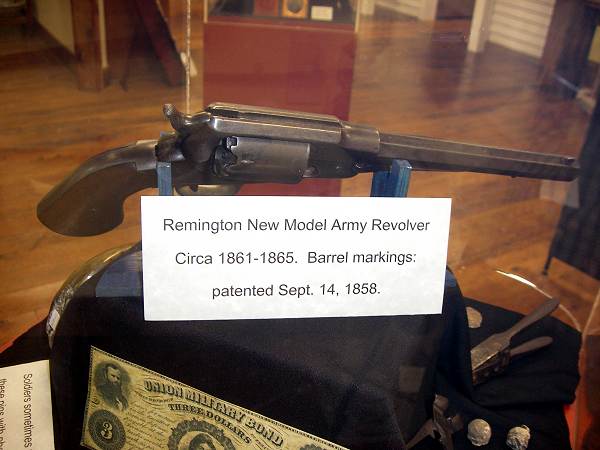 11 Remington New Model Army Revolver 1861-1865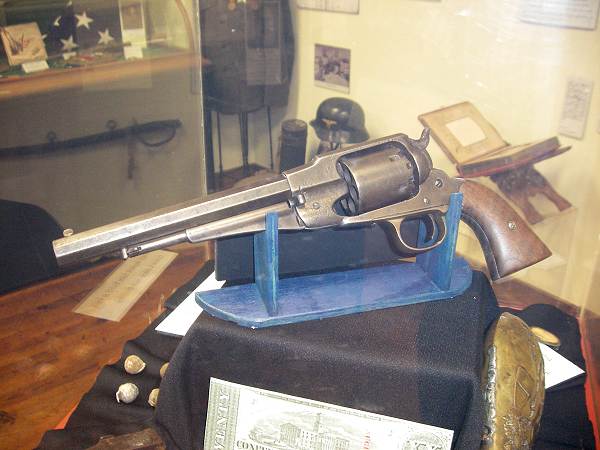 12 Remington New Model Army Revolver 1861-1865
The revolver is in a display case which contains other Civil War era items as well (photos 13 - 17):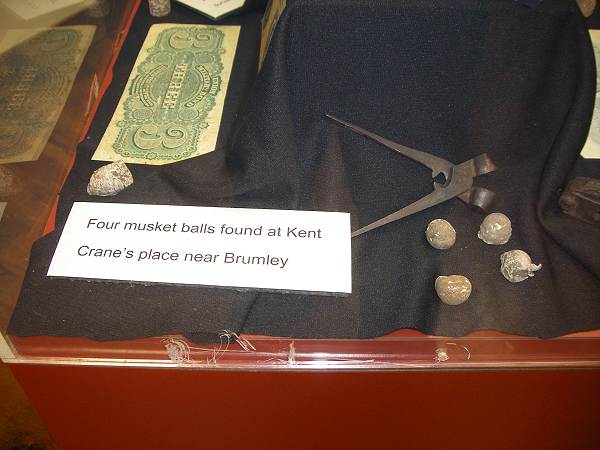 13 Musket Balls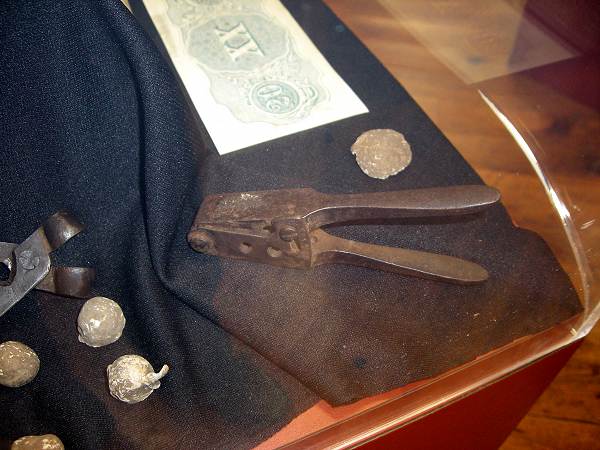 14 Ball Shaper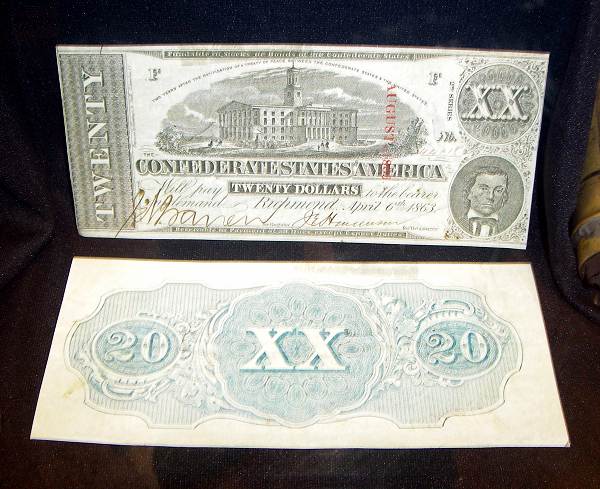 15 Confederate Currency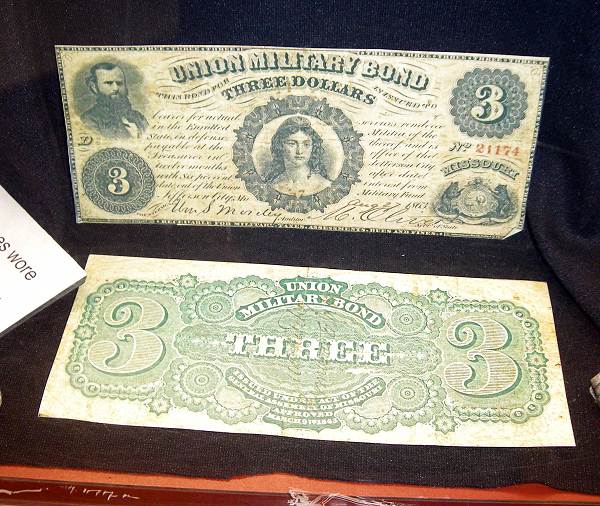 16 Union Currency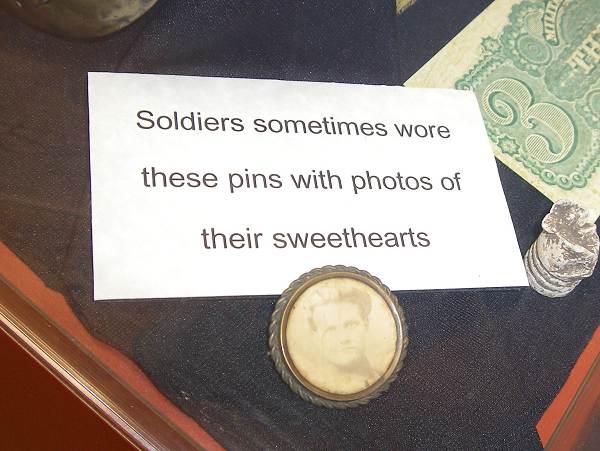 17 Sweetheart Pins
Bob is an authentic source of information about Civil War history. A number of years ago he gave a talk to the Tuscumbia High School Alumni Association entitled "The Affair At Tuscumbia" which was about an event that occurred in the town of Tuscumbia during the Civil War. I have a copy of that presentation which I will copy here:
During the Civil War Tuscumbia was used by both sides from time to time. The old court house served as headquarters at one time or another by both the North and the South (photo 18).
Each side had a field hospital here in town when they controlled the area. Though no great battle raged in Tuscumbia, there was the "Affair at Tuscumbia." This saga has been documented several times since the War Between the States, as the Union and the Confederacy struggled for control of Missouri. You have probably heard the name "Colonel William Clarke Quantrill," A southern sympathizer who literally wrote his name in blood across Kansas and western Missouri, between 1861 and 1863 (photo 19).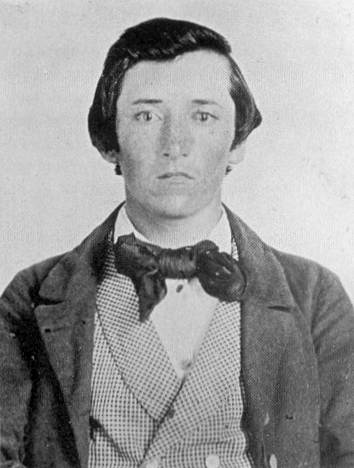 19 William Clarke Quantrill
At times, his band of raiders included such notorious people as "Bloody Bill" Anderson (photo 20), Jesse James and his brother Frank (photo 20a) as well as the Younger brothers (photo 21).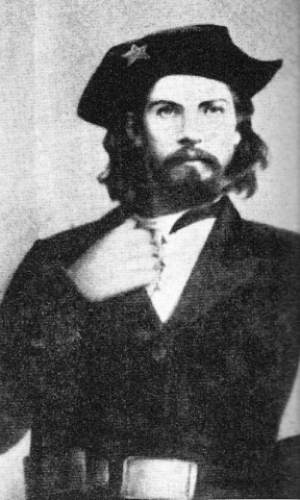 20 Bloody Bill Anderson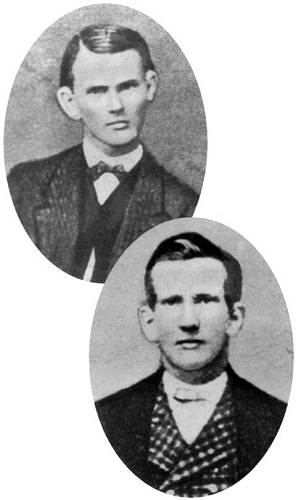 20a Jesse and Frank James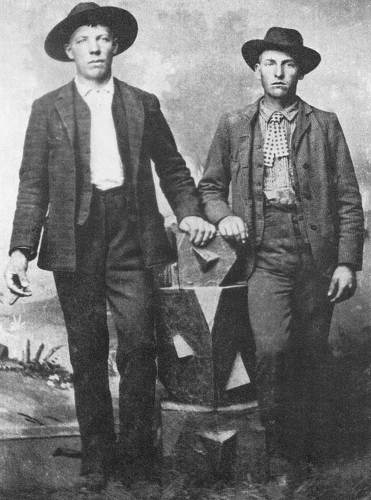 21 Cole and Jim Younger
Late in 1864, Quantrill and his marauders were being sought very vigorously by Federal Troops. So he decided to leave Missouri and take his men into Kentucky, to avoid the Union forces. They donned stolen Union uniforms and headed southeast, Quantrill had assumed the identity of Captain W.C. Clarke, Second Colorado Cavalry. This masquerade was for good reason, for at that time, the name "Quantrill" would trigger massive responses from the Union.
This is how the Official War of the Rebellion records published in 1881 read (please note that there is no mention of the name "Quantrill"):
December 8, 1864-Affair at Tuscumbia, Missouri
"Report of Lieutenant Colonel Theodore A. Switzler, Sixth Missouri Cavalry, Commanding First Sub District: December 16, 1864. Captain I have the honor to report that on the 8th instant, 9 a.m., a party of rebels, some fifty in number, captured Tuscumbia and disarmed and paroled twenty five of Captain Brown's Company, Enrolled Missouri Militia, stationed there.
The rebs were commanded by Captain W.C. Clarke, Missouri Cavalry, Confederate States Army. The officers and men dressed in full Federal uniforms and papers and saddles marked Second Colorado Cavalry, and passed themselves as belonging in that regiment, went on south, and nothing further from them. Since I assumed command I learned that this party crossed the Missouri River near Rocheport and the railroad between Tipton and Syracuse. This report was written to Captain J.H. Steger, assistant Adjutant General, Warrensburg, Mo."
A more colorful explanation, in the memoirs of John McCorkle, a scout for Quantrill, put it his way:
"Quantrill masquerading as "Captain W.C. Clarke" Second Colorado Cavalry and approximately 50 men rode boldly up to the Union Headquarters, in Tuscumbia and reported to the officer in charge and told him they were out on a scouting mission.
Captain Brown, the Union commander was out of town. The acting commander, Lieutenant William Carrol Brumley, invited them to warm by the fire. "Quantrill" invited the commander to the Sutler store for a libation. They talked about horse trading. One by one the union troops were invited outside and were told they were prisoners, and were disarmed. Their weapons were taken away, then broken and thrown in the river.
The Union Lieutenant in command was humiliated and the rebels forced their captives to ferry them across the Osage River. "Quantrill" and his men took food, supplies, clothing and blankets, pardoned the Union troops as long as they would take an oath not to take up arms against the confederacy anymore, ransacked the town, sank the ferry, cut the cables strung across the river and, as they say in old westerns, they rode off into the sunset."
Quantrill was shot during a battle with Federal Troops on May 10, 1865. He was 27.
---
You can read much more about Quantrill's activities in Miller County at this previous Progress Notes.
So in summary we are very grateful to the Everett Fisher family for the donation of these rare Civil War items to our museum. Also we are appreciative of the efforts of Bob Hatfield for encouraging the family to think of us for the donation as well as bringing them over to us. And we are also thankful to Bob for bringing us this Civil War story about Tuscumbia.
---
About a month ago Carl McDonald, Vice President of our MCHS board, brought to the museum an old cook stove which originally had been used in the old Lupardus Cabin which we have located on our museum grounds. Here is a photo of the old cabin on site at the original Lupardus home farm (photo 22):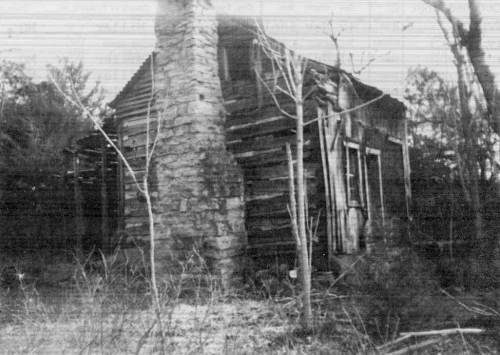 22 Lupardus Cabin at Original Site Before Moved and Restored
Here is a photo of the Lupardus cabin on site at our museum grounds where it was moved about ten years ago, located next to the old Williams cabin (photo 23):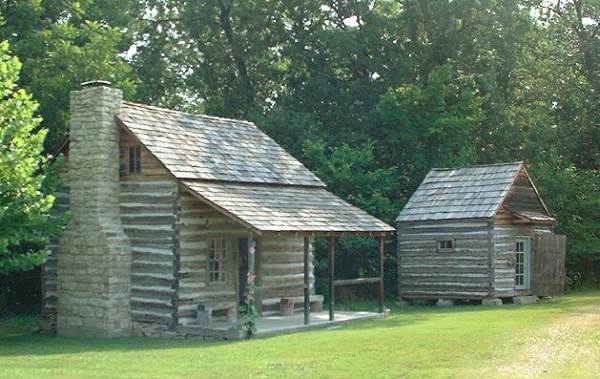 23 Lupardus and Williams Cabins
In the next photo taken from inside the Lupardus cabin, Carl McDonald is standing next to the old stove placed in front of the fireplace in the cabin (photo 24).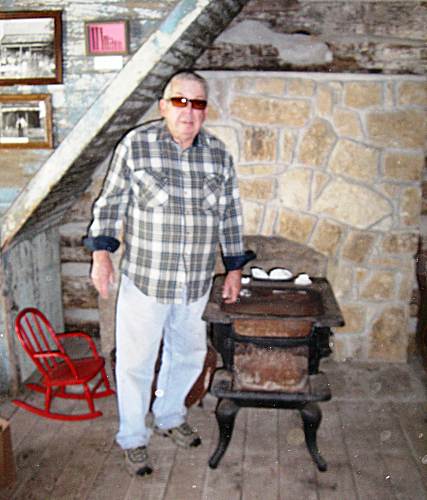 24 Carl McDonald beside Lupardus Cabin Stove
The stove was made by the Birmingham Stove and Range Company of Birmingham, Alabama (photos 25 and 26).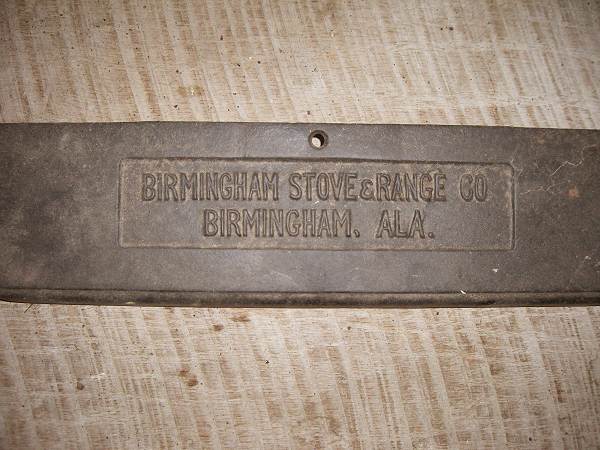 25 Stove Name Plate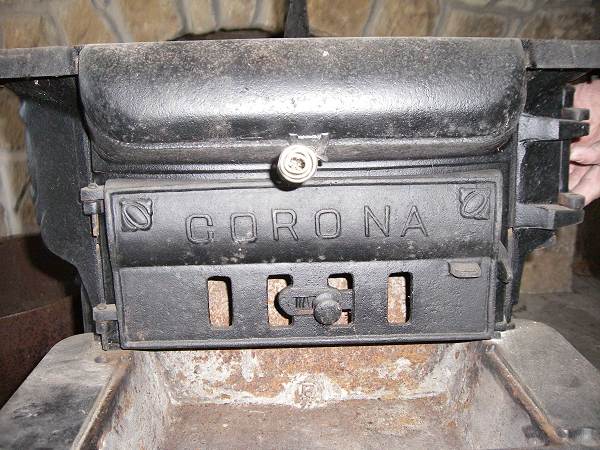 26 Stove Style
It had been in the possession of Marjorie McDonald Maylee, who is a descendent of Peter Lupardus and first cousin to Carl. Carl wasn't sure how the Maylee's came to have the stove so I called my mother in law, Elva Boyd Steen, whose parents, Willard and Maggie Boyd, were the last ones to live in the old cabin. She said yes, Bob Maylee had bought the stove from her mother, Maggie Boyd, about fifty years ago for fifty dollars. Elva said she thought at the time that Maggie had received a good price for the stove. Elva wasn't sure how long the stove had been located in the Lupardus cabin and whether or not it was there when her parents bought the farm or whether they bought the stove themselves. Elva did say that the stove was located in a "lean to" room attached to the back of the cabin, where Maggie kept her kitchen.
The Birmingham Stove and Range Company history is difficult to find. I searched the internet and found only one website which had any kind of significant information:
Here is what was written about it:
The Jones family aquired majority ownership of Atlanta Stove Works foundry, Atlanta Georgia in 1898. This foundry made stoves & ranges. In 1902, the family started another foundry in Birmingham, Alabama to make stoves and hollowware (cookware). This foundry (BSR), sold their hollowware through their Atlanta foundry until it closed in 1957, then through the Birmingham Company while retaining the Atlanta trade marks.
Birmingham was and is a very large iron ore producing and manufacturing area, which is why a lot of foundries located there close to the raw material produced from the Red Mountain iron ore belt area. This was the origin of the name used for the hollowware line produced, Red Mountain, continuing through the 30s into the 1940s, when another line of hollowware was created, "Centurary," ("made to last a centurary") Sales brochures listing the Red Mountain Stoves can be found originating from the 1950s, but exactly when the Red Mountain line of hollowware was discontinued is not certain. The 2 lines use different marking styles with the same handle design, helping identify pieces.
We are certainly thankful for all the work Carl McDonald has done through the years for the Historical Society in many areas, and especially so in accomplishing the feat of transferring the old historical Lupardus cabin to our museum campus as well as maintaining it for the benefit of those who visit our museum.
---
About three weeks ago I featured the Lawson family and in particular, Tolliver Lawson, who was one of the originators of the Lake of the Ozarks Square Dance Team.
Recently, I received more information about the early days of the square dance team's organization from Lois Mace Webb (photo 27), sister to Lee Mace, who with Tolliver Lawson, was one of the important original members of the group.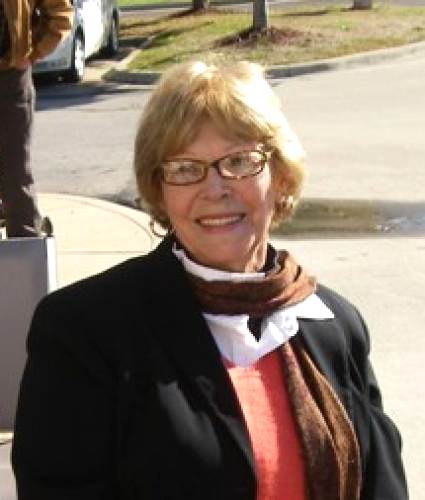 27 Lois Mace Webb
I thought many readers would be interested in reading Lois' memories of the events leading up to the appearance of the dance team on the Ted Mack's Amateur Hour show and the part she played in helping her brother Lee and Tolliver make preparations for the Amateur Hour contest.
Lois Mace Webb: Memories of Lake of Ozarks Square Dance Team
June 12, 2010
Originally, the square dance team was connected with the Camdenton Chamber of Commerce and Buford Foster who was the square dance caller (photo 28).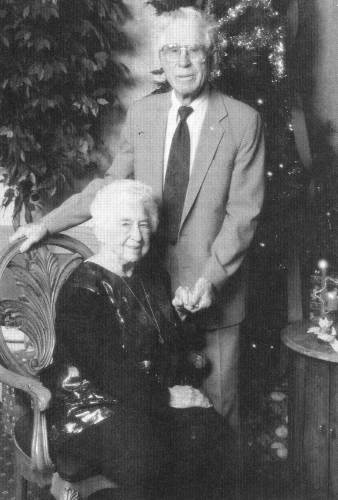 28 Mr. and Mrs. Buford Foster
The Chamber and Foster organized the group to perform at the beginning of what became the Dogwood Festival. Buford was the one who recruited my brother Lee Mace and others to make up the dance team (photo 29).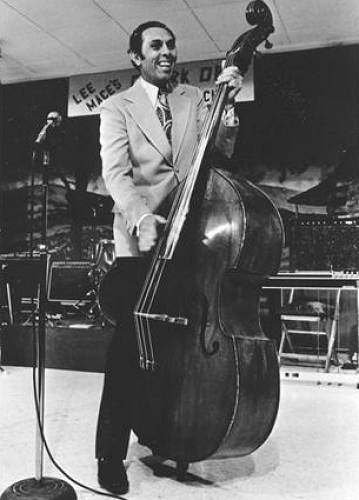 29 Lee Mace Playing Bass Guitar
Buford, however, soon pursued other interests and the management of the team was led by the team members, especially Tolliver Lawson (photo 30).

30 Tolliver Lawson
It was no big deal to dance with the group as far as I was concerned inasmuch as we simply did the same thing we always did on Saturday nights, either at various clubs around the area, and before that at the Tuscumbia High School, where we danced in the gym if we had a good natured authority figure to let us in.
Occasionally we danced in the vestibule of the jail, with Charley Bill Abbott calling, and inmates playing bluegrass (photo 31).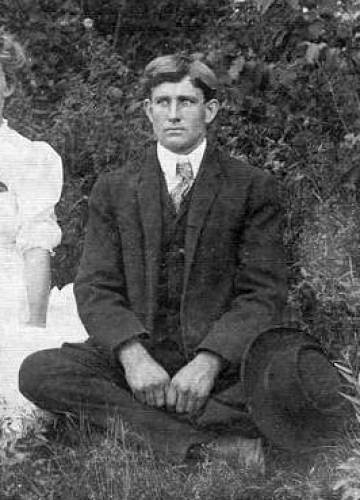 31 Charles Bill Abbott
That happened only when dad and mom were away.
Note: at the time Lois and Lee Mace's father, Lucian Mace, was Miller County Sheriff (photo 32).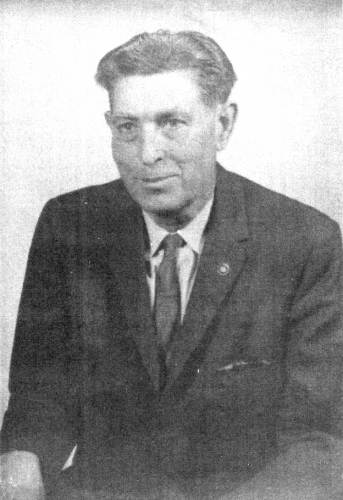 32 Lucian Mace - 1960's
Likewise, we had home dances toward the end of that era; then dad, John Edwards, Charley Bill Abbott, and other dads of teenagers rented a building which previously had been a beer joint [closed because of a killing] over around Mount Pleasant -- Oakwood or Oak Sprouts, I believe. Families went there for once a month dances. A few musicians were hired; women brought food but we didn't eat until midnight. We danced and square danced the night away. Most of mine and Lee's contemporaries (plus-minus) and old folks were part of that. During high school, and prior to real dating, Lee (Mace), my brother, and I were the dance partners. If we were moderately away from home, like Jefferson City, people would ask if we were twins and Lee would say yes. Lee would sometimes whisper to ask if I was ready to clear the floor; so we'd go to the side, turn on the taps and carry on; people generally cheered and tossed coins. So that's why the exhibition dance was a no bigger deal than at Sweaneys or for sure a club closer to Jeff City.
Note: Sweaney's was a family oriented restaurant, bar and pool hall in Tuscumbia (photo 33).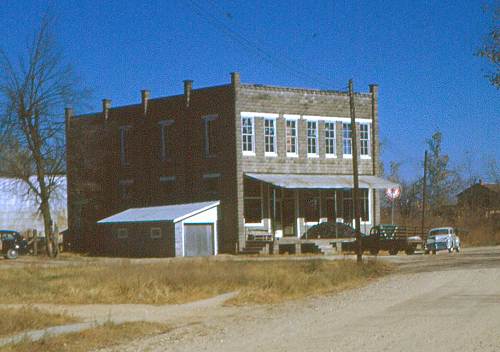 33 Sweaney's Cafe
Regarding community dances, the one big event of the year I should mention was the Tuscumbia Picnic. Everyone danced at the Tuscumbia Picnic -- young and old (photo 34 of dance floor).
One year I heard that the Baptist preacher chided the congregation that he believed more Baptists were on the floor than any other group. We laughed about it -- lots of good dancers in that crowd. We could get 8 sets of square dancers on the floor, and the dance part of the picnic sometimes lasted 3 days. In addition to the callers like Charley Bill Abbot, Jack Edwards was an excellent caller. And Jack could sing too, though he remained reserved about his talent perhaps all of his adult life (photo 34a).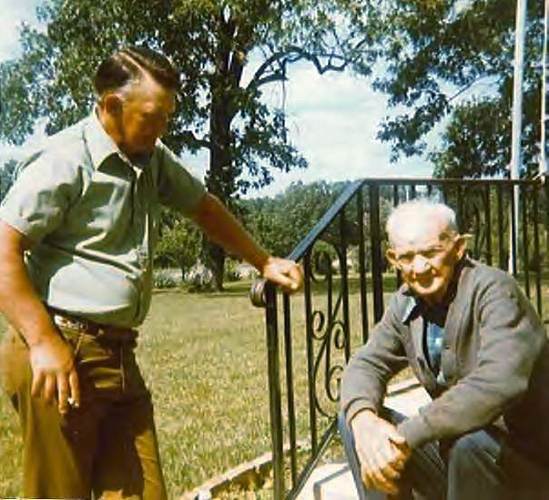 34a Later in life are Jack Edwards with his father John Edwards
Other community picnic dances included Mary's' Home, St. Anthony, St. Elizabeth, and the like. Dancing served as a major source of entertainment for a long time; yes, the dance places sold beer; however many, if not most, of the dancers did not drink alcohol.
Another memory just popped up: At mom's (Clare Mace) 90th birthday, one card she received stated that one of the sender's favorite memories was of watching mom and dad (Lucian and Clare Mace photo 35) dance at an Eldon street dance. "You were so smooth," she said, "and I enjoyed watching you". Sweet, wasn't it?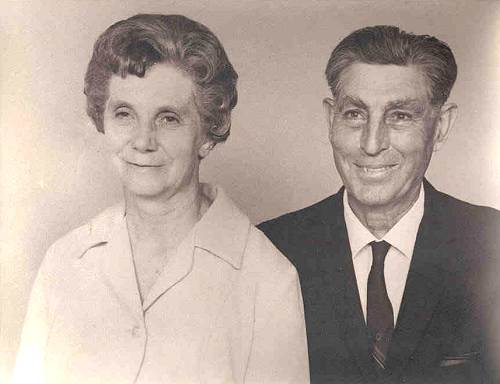 35 Lucian and Clare - 1970
After the high school era, I went to KC Business College; Lee began dating Joyce Williams of Linn Creek after a Tuscumbia Picnic, and Linn Creek became the focal area for dancing joints (Note: Lee and Joyce later married photo 36).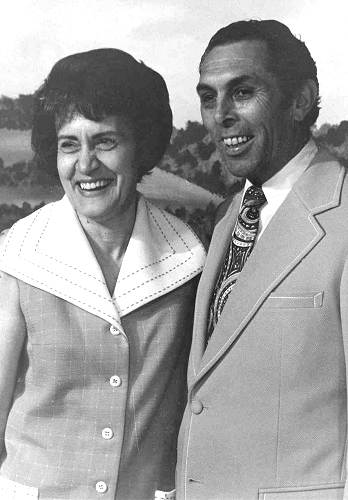 36 Lee and Joyce Mace
Newer groups were formed, and that's where a team was sort of picked, I suppose, by Camdenton Chamber when it was first organized.
By some quirk I learned about the Ted Mack auditions in KC where I was living then working for the 20th Century Fox office located there. I arranged for the application for the Amateur Hour, filled it out for the square dance team, and sent it to Ted Mack. The application got the team an interview at the Continental Hotel….. most of the team members stayed at our house at 41st and Agnes -- now a ghetto -- but nice by the standards of most of our socio economic worlds at the time.
H.D. Lee Company was down the street a few blocks from 20th Century Fox where I worked as an executive secretary; Lee and Tolliver, and perhaps Carl, went there to prosper fabric to make the girls' skirts; it worked, and they sewed most of the skirts on my new sewing machine at 41st and Agnes. Beds were made down all over the two story house and we all managed to eat and sleep and sew in time for the audition.
As an aside, and because I think of it, it did not go without notice and a giggle to most of the group that Tolliver was a Shriner, and whadda ya know, Tolliver managed to spend time with several of the execs at the audition who were also Shriners. No matter, the dance team strutted its stuff which is what it took to get noticed.
One of the most unique and fortuitous things the team came up with were the taps on the shoes. These were the innovation of Tolliver. Seems that several years before when Tolliver worked in Kansas City, an older fellow, black man as I recall, taught Tolliver to use taps and told (or showed) him how to put them on just a little loose in order to get an extra, almost echo-like, rattle out of them. Tolliver was the tap guru, and most of us had a pair of shoes with taps -- Lee fixed mine after Tolliver showed him. Tolliver showed everyone how to attach them in just the right way to get the echo sound. And, indeed we learned to walk and even dance keeping the taps quiet till the time came!
Then, Surprise! Right after the dancers auditioned for Ted Mack; he booked them immediately for the next three weeks -- two more local TV shows and then to New York. Point is, the swift bookings pretty well told everyone that the votes-of-the-people didn't have much to do with it. WDAFTV, KC's first and only for a long time, was on strike in KC those few weeks they would have appeared locally, but that didn't seem to matter much. They were all off and running (photo 37).
Various ones of the group said they'd made more money in those several weeks of on the road (bookings in New Orleans, and bonuses that came from Ted Mack show) than they'd ever made in their lives; Carl (Williams) started his grocery store; Lee and Joyce used money for getting launched, not in his show, but perhaps their house in Linn Creek and in work that ultimately led to the show; Tolliver expanded his poultry business, and others explored adventures made possible by the good fortune of show business.
Later on, I danced with the team for exhibition events on occasion including at the KC Municipal Auditorium and Grand Ole Opry.
However, my job had to come first as an executive secretary at 20th Century Fox, on KC's [now historic] Film Row. I still am a member of the Movie Lunch Bunch and Women of Motion Picture Industry.
---
Thank you so much, Lois, for sharing these memories with the readers of our website. Some of the things you recall were new to me as well, I imagine, to many others.
That's all for this week.

Joe Pryor
Previous article links are in a dropdown menu at the top of all of the pages.