---
OTTO G. SCHELL
By Gerard Schultz, 1933
Otto G. Schell, Treasurer of Miller County, was born on May 24, 1894, at St. Thomas, Cole County, Missouri. His father, I.W. Schell, who was born on May 2, 1869, also at St. Thomas, is a merchant at St. Elizabeth. His mother, Katherine (Massman) Schell, was born in St. Louis on May 28, 1875. His paternal and maternal grandparents came from Germany.
Mr. Schell graduated from St. Joseph College at Rensselaer, Indiana. He was employed by the St. Louis-San Francisco Railroad for three years, during which time he made his home in St. Louis. He was married on June 12, 1916, to Miss Anna Huchtmeyer in St. Louis. Her father, Frank Huchtmeyer, was born in America of German parents. Mr. and Mrs. Schell have had three children: James, age 14; Lorraine, who died at the age of ten years; and Harry, age 11.
In political convictions Mr. Schell is a Democrat. He was elected County Treasurer for a four-year term on November 8, 1932. He is the second Democrat since the Civil War to hold that office in Miller County. He is a member of the St. Lawrence Church at St. Elizabeth, and of the Knights of Columbus, Post 2149, located at St. Thomas, Missouri. Mr. Schell is a man of genial disposition, and his friendship is highly prized by all who know him.
HERMAN C. SCHULTE
By Gerard Schultz, 1933
Herman C. Schulte, progressive farmer of Jim Henry Township, was born on April 7, 1890, on the farm on which he now resides. He is a son of August F. Schulte, Sr., born November 29, 1850, in Hanover, Germany, and Elizabeth (Graf) Schulte.
On October 19, 1910, Mr. Schulte was united in marriage with Miss Mary Doerhoff, daughter of Mr. and Mrs. Ben Doerhoff, at Marys Home, Missouri. Nine children-four girls and five boys-have been born to this marriage.
When he was 20 years old Mr. Schulte began farming on the place he now owns. He is one of the most active men in the county in public affairs and in Republican politics. He was a member of the school board and clerk for 21 years; Secretary of Marys Home Farm Club, ten years; road commissioner, nine years; member of Republican County Central Committee, four years; Secretary of Marys Home Telephone Company, 12 years. He has also served as Vice President of the Board of Miller County Farmers Association, member of the board of Directors of St. Elizabeth Mutual Fire Insurance Company, member of the Re-Districting Board of Miller County Schools and member of the Board of Directors of Eugene State Bank. Mr. Schulte belongs to the St. Mary's Catholic Church. He is widely known and highly respected, a man of fine personality and above all, a true gentleman.
GERARD SCHULTZ
By Gerard Schultz, 1933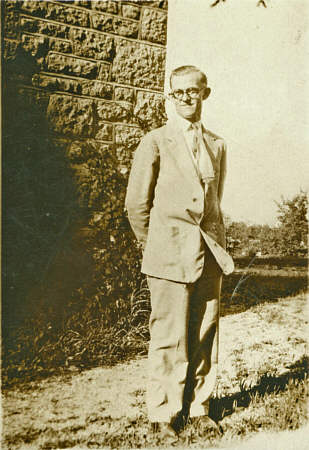 Gerard Schultz
Gerard Schultz was born near Owensville in Gasconade County, Missouri, February 11, 1902. His parents, Reverend George C. and Mrs. Helene Schultz, came to the United States from Germany when they were young. They were married at Troy, New York. His paternal grandfather was a small manufacturer in Westphalia, Germany and his maternal grandfather was the owner of a bakery in the city of Elberfeld. His father, George C. Schultz, had a good education and was a lover of books, having at the time of his death, October 9, 1924, a library of about 1000 volumes. His mother, Helene Schultz, resides at Hermann, Missouri. He has three brothers and five sisters.
Mr. Schultz was married to Miss Jennie Brumley at the home of her parents, John D. and Aulta Brumley, August 22, 1928. Mrs. Schultz was born April 14, 1908. A graduate of Iberia Academy, she has twice served as president of its Alumni Association. Mr. and Mrs. Schultz have one son, John Ludwig, who was born at Columbia, Missouri, July 28, 1932.
In 1921 Mr. Schultz graduated from Elmhurst Academy, at Elmhurst, Illinois, with a "magna cum laude." He earned most of his way through Knox College in Galesburg, Illinois, from which he graduated in 1925. For two years, 1925-26 and 1927-28, he had a teaching fellowship in the Department of History at Minnesota University. He secured his master's degree in 1928. Excepting one year he has been instructor of history at Iberia Junior College since 1926. During the past three years he has been dean. Interested in Missouri history, he has written many historical articles for newspapers in Miller and Gasconade Counties. He is the author of the History of Miller County, Missouri.
THOMAS SCOTT
by Gerard Schultz, 1933
Thomas Scott was a prominent figure in Miller County politics during the period of the Civil War. He was state senator from 1858 to 1862, state representative from 1863 to 1864, a member of the county court from 1860 to 1862, and a justice of the peace. As a member of the convention in 1861 he was active in behalf of the Union. In 1872 he supported the Liberal Republican Party. He lived on a farm on the Osage River, about three miles upstream from Tuscumbia. He practiced law at Tuscumbia with Jacob Gantt as his partner.
It is interesting to note that he had taken a part in the famous gold rush of 1849 and spent the later years of his life in California. He was an active member of the Baptist Church and the Masonic Order. Senator Scott was born in Tennessee, December 8, 1816, and died near Tuscumbia, August 30, 1887.
CHARLES O. SHORT
By Gerard Schultz, 1933
Charles O. Short, real estate and insurance agent at Iberia, was born on a farm near that town, October 5, 1870. His forefathers came to Miller County in 1837. His father, William Reuben Short, was born February 8, 1844, and his mother, Martha J. (Shelton) Short, January 26, 1865, both near Iberia. His grandfather, E.L. Short, was born November 6, 1815, at Smith's Falls, Pulaski County, Kentucky. His great-great-grandfather was a native of Virginia and a soldier in the Revolutionary War. His maternal grandfather, William Shelton, was a native of Tennessee.
Mr. Short taught in rural schools for ten years, after which he engaged in the mercantile business. In 1907 he organized the Farmers and Traders Bank at Iberia, and worked as cashier for almost nine years. He then returned to the mercantile business. He served in the 1921-22 session of the Missouri Legislature; as a representative he was an able champion of good roads of Miller County. Since that time he has been engaged in real estate, insurance, and farming. In the meantime he has devoted much time to public improvements. He has been mayor of Iberia and for many years has been a member of the Iberia Junior College Board of Trustees.
Mr. Short was married on August 25, 1904, to Miss Cora E. Miller, daughter of S. Brown Miller and Amanda M. Miller. Originally her paternal ancestors were German and her maternal forefathers Irish. Mr. and Mrs. Short have two children: Lela, who is now Principal of the High School at Mack's Creek, Missouri, and Edith who is now teaching in the High School at Newburg, Missouri. Both are graduates of Drury College. Mr. Short is a member of the Methodist Church, and gives his political allegiance to the Republican Party.
BIOGRAPHY OF EVAN LELAND SHORT
By Evan Leland Short
I am aware that it is not altogether a pleasant thing to write a narrative of one's own life, or a part thereof. One reason is the writer is or apt to be branded with exaggeration by someone. At any rate if there is anything presented a little strange but I assure the reader of these lines I am in my right mind and what I here pen shall be the truth and nothing else.
I was born on the 6 day of Dec. A.D. 1815 on the Bluff of Cumberland River at Smith Falls, Pulaski County, Kentucky. My father was Ruben Short. He was born Oct 15, 1794 in W. Virginia. My grandfather Short was John. He was born in the year 1756 on the 20th Feb and died Apr. 9, 1836. He was born in Virginia and died in Lawrence County, Indiana. My grandmother Short was Mary Hansford. She was born in 1758, deceased July 1821 over 15 years before grandfather but near the same place in one mile. They were married in Virginia, at least emigrated from there, to Kentucky as I was always taught these things that date before my time. My grandmother Short spoke and read the German. She was a good doctor in her day-a good Christian and a noble woman. My grandfather Short was of the Welch descent, was a Baptist preacher when I can first remember but about the year 1825, with uncle Wesley Short, my father's oldest brother, a prominent Baptist preacher, together with B.W. Stone and a Campbell, renounced the old creed and turned to the faith of Christ and the Apostles alone.
My father had seven brothers lived to be grown. Welley the 1st, John 3rd, Wm. 2nd and one sister, Sarah. Uncle Wesley Short was born 1780 Dec. 20, Aunt Sarah 1782, William 1784, John 1786, Thomas 1789, Samuel 1791, Ezekiel 1797, Hansford 1800. They have all passed away. Were members of the Christian Church except Uncle Sam. He was a Baptist preacher when I saw him last and Uncle William died a single man. Don't know anything of him only as told me.
The others I was partly raised with and delight to say I never heard a blemish to the character of one of them. They were all of a fair English education and intellect. They all raised a good sized family. I have never heard anything derogatory to the character of any of them yet they are scattered over North America from Virginia to Washington Territory. My grandfather on my Mother's side was William Owens. He was also from Virginia. My grandfathers were both Revolutionary soldiers, both immigrated to Kentucky when the bear and Indians were there and lived on bear meat one year or more, so they always told me. My Grandmother Owens told me that Grandfather went out _____ to kill game and she would hear his gun and fear it was the report of an Indian's gun 'till he returned. He was born Nov. 10, 1750; died Aug. 8, 1836. He hope his Christian preacher and a big gun to Uncle Samuel Owen. Lived many years at Springville, Iowa and died there.
Their other brothers all died in Kentucky. He was a Baptist preacher and a noble man. He was a farmer, had a good farm joining town, a smith shop. Sold goods there. All of my father's brothers and my mothers had several sons and the most of them daughters, and all were of good reputation the last I knew of them. Was the youngest child. She had five sisters. Aunt Jennie married Samuel Tate Aust. Sarah or Sally married Hansford Price. Their daughter Sarah, Perry Bonds wife, both lived and died near Mt. Pleasant, Miller County, Mo. Aunt Nancy Newell their children lived in Platte County, Missouri and Aunt Rebecca, wife of Uncle Wesley Short and Avy, wife of Uncle Jack or John Short both died in Lawrence County, Indiana. My mother had five brothers, Reuben, Samuel, William and John (twins), Martin. He was the youngest son and a country to save and died with that hope that doth reach beyond the grave. He was a member of the Baptist Church when I can first remember, but I think reformed to the Christians. He lived years and died three miles of Somerset, Pulaski County, Kentucky east. He was a farmer and a man in good standing and high standing.
Grandmother's first name was Nancy. She kept up her secret prayer first I remember her and the last. My mother which altogether on both sides make a considerable multitude scattered over this planet. That is them that remains, a goodly number are fallen asleep. I was as familiar with nearly all of them once as my father's own family, they were near to my heart. My father, his father and mother, brethren and sister all moved from Kentucky to Lawrence County, Iowa about the year 1817 and located 3 miles below and 4 south of where Springfield now is and 12 miles west of Bedford. Made good farm there on big Indian Creek, this was my father's location his father and brothers, except uncles Sam who located and died in Tennessee and William died a single man. My father lived here about 13 years. He then sold and removed to Green County and located the best place for a farm I ever saw but on government land. Lived here about three or four years and sold out and moved to Sangamon County, Illinois, 12 miles southeast of Springfield. Bought a good location of eighty acres and bought a hundred more and twenty more. Had a farm prairie and timber. We lived here until 1837. He then sold for five dollars per acre and moved to Miller County, Missouri.
I visited my old native country, Lawrence County Iowa, in the year 1835. Taught a school there and returned to my father's in Illinois October 1835. The fall of 1836 my father sold in the spring 1837. He started to Miller County, Mo. arrived there to Richwoods Township 22 of March 1837; in one week after I started to Beaver Creek in Wright County with wagon and 4 horse team. Hauled a load for James Kendrick. Returned in ten or twelve days then started the next week to St. Louis. Hauled a load from there. Made the trip in 13 days. Next week I commenced a select school for 3 months term. In the fall I made a trip to the south with Z. Price to take a drove of horses. Sold out in Mississippi and Louisiana, boarded a steamer at Vicksburg and returned home. Found a good chance and entered a school for 6 month session to Elisha Vingart. The best of maths I had ever found out of eight that I had ever tried viz. Floyd of Kentucky. Crook, Myres, M. Short, Kavins, Baty A. Pickford, D. Tannehil, T. Laughten of Ill. In 1838 & 1839. I taught the public school 2 sessions in Cole County, Missouri near Jefferson City then returned home or to Miller County and the next season taught another school during the winter of 1836 and of 41. The time I was not in school I mostly spent in reading medicine. Started by professor J.B. Hayword of Cincinnati, Ohio and G.S. Conklin of New York on Dec. 19, 1841.
I was married to Nancy Ann Jones, eldest child of William Jones and Didama who migrated from Tennessee a few years before. She and her father were borned in Warren County, Tennessee. Her mother, my mother-in-law, was born in Kentucky. She was a noble woman. She died in Springfield, Mo. November 3, 1854. She was a faithful Christian. My father-in-law was an able preacher of the Christian religion. They were married in Nov. 1, 1821 in state of Tennessee. Father-in-law remarried, moved to Arkansas and died there. Mother-in-law was the eldest daughter of Willis Burks and Nancy Web. Before their marriage they were most exemplary Christians, unspotted.
My wife was borned April 13, 1824. She had five brothers and four sisters, and three half brothers she never saw. Willis the second is now living in Morgan County, Missouri. All of the remainder of own brothers have fallen. Her eldest sister, Eliza Brown, died in Springfield, Mo. Eliza Jane Hunt, widow of Hugh Hunt, lives at Springfield, Mo.
Shortly after I married I settled down in the south east of Miller County; lived there three years. When we had two children, Drushane and William Ruben, we picked up and moved to Benton County Big Buffalo. We moved near a year then moved to east part of Morgan County; lived in Morgan and Miller two years. Here Didama was borned then moved to the barren fork Richwoods Township. Here Robert O. was borned. We then moved to the valley we now live in. Our other children are John Latimer, Eliza, Jane, Isaac, Emma, Willis, Lincoln Blodgett, of whom all survive but Robert O. and Emma. For dates see record by J.L. Short.
My father was borned October 15, 1794; died in 1857. My mother was borned in July 15, 1799; died 1858 in Virginia. They were married Feb 2, 1815. After my mother's death, my father removed or moved to Arkansas and died there.
I must confess this is a very much abridged sketch at the request of my son John L. Short, which had not been, I would in all probability have neglected it entirely. If it is not satisfactory, if I am spared sufficient time I can supplement and could if it would be profitable to detail incidents extended to a history, make a volume.
Drushane, William Reuben, Didama, Robert O. Eliza, John Latimer, Jane, Isaac, Emma, Willis, Lincoln Blodgett.
CHARLES DAVID SNODGRASS
By Gerard Schultz, 1933
Charles David Snodgrass, who is superintendent of the Public Schools of Miller County, was born at Vichy, Maries County, Missouri, on October 2, 1890. His parents, James David Snodgrass, born on March 27, 1853, and Harriet Elisabeth (Davis) Snodgrass, born November 23, 1861, were natives of Maries County. Both his paternal and maternal ancestors were English.
On December 20, 1916, Mr. Snodgrass was married to Miss Edith Mabel Cordsmeyer at the home of her parents, Mr. and Mrs. G.W. Cordsmeyer at Lane Prairie. Mrs. Snodgrass is of German descent. Mr. and Mrs. Snodgrass have five children: Melva Lorene, Charles Irvin, Charles Leroy, Doris Jean, and Mabel Louise.
Mr. Snodgrass is a graduate of the Central Missouri State Teachers College at Warrensburg. He has also studied at the University of Missouri and has taught seven years in rural schools. He was admitted to the bar at Tuscumbia on November 28, 1928. He was Maries County Superintendent of Schools four years, Superintendent of Bland Schools two years, Superintendent of Dixon Schools two years, and Superintendent of Brumley Schools three years. He was first elected Superintendent of Miller County Schools in April 1927, and was re-elected in 1931. His interest in the welfare of the schools has been of value to county. He is a dependable and untiring worker. The experience he gained by teaching qualified him especially for his present work, and his acquaintance with the legal phases of school matters is of great assistance to him.
Mr. Snodgrass is a Republican and a member of the Church of Christ. He is affiliated with the Masonic Lodge Number 531, at Vichy, Missouri.
SAMUEL H. SONE
Samuel H. Sone was born on a farm near Jefferson City February 16, 1848. He lived there until the age of twenty-one when he secured the contract for carrying mail from Jefferson City to Tuscumbia, the county seat of Miller County. He ran a stage for ten years.

He was united in marriage on August 10, 1876, to Miss Lena Hauenstein of Tuscumbia, after which he engaged in farming. When his wife died a year later, he engaged in the livery business in Tuscumbia for three years when he got into the real estate business in Aurora Springs. He then moved to Kansas City where he stayed awhile then came back to the Cole County home of his early life. Here he was deputy sheriff four years under T.B. Mahan, four years under F. J. Fromme. In 1894 he was elected to the office of sheriff and re-elected in 1896. At the expiration of the second term he moved to his farm west of the city.

He had a son by his first marriage. Mr. Sone married a second time to Mrs. Elizabeth Jenkins (nee Stone) a grand-daughter of the Rev. John West, minister of the Old School Baptist Church. As a result of this union he had four daughters. The family lived at 1400 West Main Street.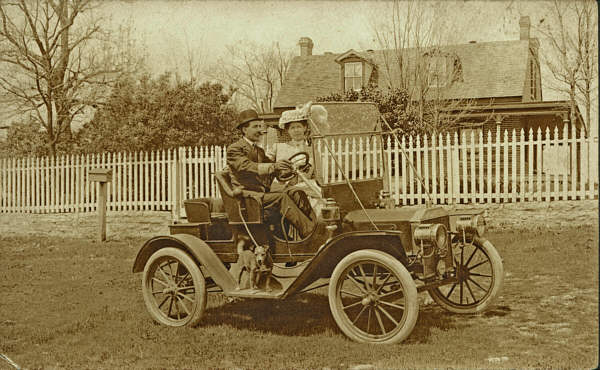 Dr. William Sone and wife Ella (early 1900ís)
When William Soneís mother died, he was raised by her sister, Emma Hauenstein Marshall, wife of riverboat Captain, Robert Marshall. He was a dentist in Jefferson City, Missouri where this photo was taken.
Jefferson City
CYNTHIA F. SPEARMAN
By Mabel C. Hawkins
The selection of 86-year old Cynthia F. Spearman for the role of Pioneer School Teacher in Miller County[s Centennial Pageant in 1937 was most appropriate. She was born in 1851 near the present site of Brumley, the daughter of Presley and Serepta McCubbin Hawkins. At the age of nine, her hands were crushed in a cane mill while family and neighbors were making molasses. Both hands and arms were amputated just below the elbows.
She continued her education and at age 16 began her teaching career which lasted 40 years. When very young she drove a covered wagon, taking her Mother, who was ill, and her younger brothers to Texas. (Being one to keep up with the times, she was much later in life to travel by airplane).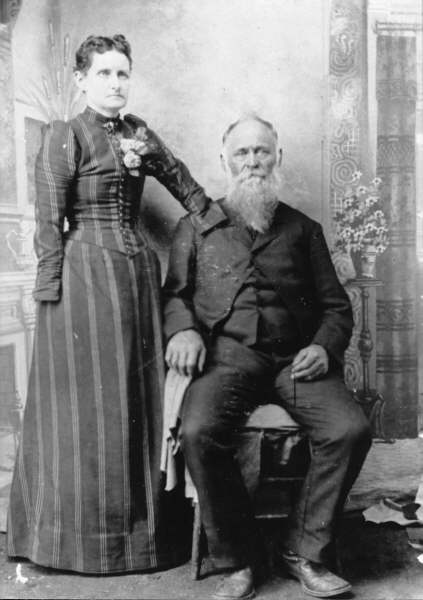 Zebedee and Cynthia Hawkins Spearman
She later returned to Miller County and married Zebedee Spearman, a widower with several children. They had no children of their own. She was active in community affairs and the Christian Church. In 1898 she was elected Miller County Commissioner of Education, the first woman elected to a political office in Miller County. The Brumley High School gymnasium was dedicated to her.
She did not consider herself to be handicapped nor did those who knew her. By grasping things between her elbows, she could do almost anything-she dressed and groomed herself, wrote, cooked, raised chickens, gardened and made quilts. She was affectionately known throughout Miller County as "Aunt Cynthia" and was an inspiration to all who knew her.
She died in 1943 but is still remembered when relatives show younger generations the beautiful penmanship and quilts made by a talented and courageous woman who had no hands.
ROY W. STARLING
By Mary Starling, 1981
Roy W. Starling was born August 26, 1898, near Olean, Mo. Father, Thomas Starling, died when Roy was 19 years of age. Mother, Mettie Starling, died in 1939.
Roy attended Olean and Eldon High schools and Central Missouri State (then) Teachers College and Missouri University at Columbia.
He served as County Superintendent of Public Schools (1922-1927) being the youngest ever to serve in the state. He was Superintendent of Brumley High School. July 1928 he was licensed to practice law as an attorney and counselor at law. Soon thereafter he and Harry H. Kay, a prominent attorney in Eldon, formed a partnership as "Kay and Starling" for the general practice of law with offices in the Buehler Building.
November 22, 1930, Roy was married to Mary Brockman, only surviving daughter of Judge J.N. Brockman and wife, Eliza C. Wilcox Brockman, of Tuscumbia, Mo. A daughter, Betty Nell was born October 14, 1831, who attended Central Missouri University at Warrensburg and Missouri University at Columbia and St. Louis. She married Robert J. Semple. Betty Nell taught school sixteen years and is now a graduate of real estate institute with license to sell real estate in the State of Kansas.
During the preliminary preparation of the building of the dam, Roy worked with Baker, Botts, Parker and Garwood, attorneys, in obtaining possession of the land in Camden, Miller, Morgan and Benton counties, which is now inundated by the Lake of the Ozarks and continued with the Union Electric thereafter.
Miss Brockman also worked with Kansas City Title and Trust Company in perfecting the title to the land being inundated by the Lake of the Ozarks. Roy served as city attorney of Eldon many years. (He resigned in 1948).
He was elected Prosecuting Attorney in 1934. He was a member of the Missouri Bar and served on many committees. He was Government Appeal Agent for Selective Service of Miller County and County Chairman for American Bar Commission on War Work. He received Selective Service Medal of Merit for this work.
He served on Eldon School Board many years and was appointed to Board of Regents for Central Missouri State College (now Central Missouri State University). He resigned in 1948 because of ill health.
Roy's interest in civic affairs led him into the activities of the following: Masonic Lodge; Eldon Lions, being District Governor; and the Chamber of Commerce. He was a member of the Eldon Baptist Church and active in church affairs.
Some of his beliefs of the duties of enforcement officers were found among his files which include the following: "That justice be done - for justice sake; not just to convict. To represent all the people including the defendant he is prosecuting. He may strike hard blows, but never foul ones; fair to everybody; to be a prosecutor, not a persecutor."
WALTER S. STILLWELL
By Gerard Schultz, 1933
Walter S. Stillwell is a distinguished member of the Miller County bar. He was born at Harrison, Arkansas, June 27, 1879, a son of Elias Stillwell, born near Hagerstown, Maryland, July 31, 1820, and Mary Ann (Brinkman) Stillwell. The latter was born in Dusseldorf, Germany, and was brought to the United States when she was a child. Elias Stillwell served with a Missouri regiment in the Union Army during the Civil War. He was a Methodist and a Republican. Walter S. Stillwell has two brothers, Jesse and Ira.
Mr. Stillwell acquired his early education in the public schools of Missouri. At the beginning of the Spanish-American War he enlisted, becoming a bugler in Company L of the Fourth Missouri Volunteers. He was in training at Camp Alger, Virginia, Camp Meade, Pennsylvania, and Greenville, South Carolina. Before and after the war he studied law at Warrensburg, Missouri, and was admitted to the bar there in 1901. From the beginning of his professional career he has been located at Tuscumbia. He was first elected prosecuting attorney by Miller County in 1904 and was re-elected in 1906, 1910, 1924 and 1926. Governor Henry S. Caulfield appointed him as Circuit Judge of the Fourteenth Judicial Circuit to fill the vacancy caused by the resignation of Judge Henry J. Westhues, in which office he served from November 17, 1930, to January 1, 1933. His circuit was composed of Cole, Cooper, Moniteau, Morgan, Miller and Maries Counties. Judge Stillwell has at all times shown diligence and efficiency in prosecuting cases against law and order and in using his office for the best interests of the community. Although a Republican he has received the support of his many Democratic friends, who believe in his fairness and integrity. The Iberia Sentinel states: "We have known Judge Stillwell personally since his coming to Miller County, and we can conscientiously say of him that there is not a cleaner or a more upright official to be found in the state. He has proven these traits in his everyday life and in the service he has so ably given us, both as prosecuting attorney and as circuit judge. He is a man of rare ability and the unbiased judgment he has used in the performance of the duties of his office has won for him favorable comment throughout the circuit."
At present Mr. Stillwell is a partner in the law firm of Stillwell and Fendorf at Tuscumbia. He is one of the publishers of the Miller County Autogram, a weekly newspaper which he and Lawrence Wright acquired in 1919. On November 25, 1932, he was elected to the presidency of the Bank of Tuscumbia, succeeding Captain R.M. Marshall. Prior to this time he had served as vice-president of the bank. For a number of years Mr. Stillwell was a member of the Tuscumbia School Board. He is an elder in the Presbyterian Church.
On April 254, 1905, Mr. Stillwell was married to Miss Lydia C. Fendorf, a daughter of Frank W. and Mary Isabelle Fendorf of Tuscumbia. Their living children are Mary Elizabeth, Robert Marvin, Roger Wayne and Mildred. One daughter, Marjorie, died in infancy.
Robert Price Stone
Robert Price Stone, who was Prosecuting Attorney of Cole County, was born on a farm near Maryís Home in Miller County, March 25, 1863. James Stone, the father of Robert Price Stone, was killed in the Civil War the year of his sonís birth, July 4, 1863, at Helena, Arkansas, leaving Robert an orphan at the early age of four months. At the age of 7 his family moved to Moniteau County, settling on a farm near Russellville. His early education was in the neighboring school; he later attended the Hooper Institute at Clarksburg.

At the age of 20 Mr. Stone moved to La Monte in Pettis County where he was book-keeper in a general store for nine months. He then worked as a carpenter for about a year until he moved to Moniteau County to engage a short time in farming. October 31, 1888, he came to Jefferson City and resumed the work of carpenter.

In 1893 he was made Deputy City Marshall, which he resigned about 15 months later. He was elected Justice of the Peace in November 1894, and Police Judge in 1895, filling both offices for two years.

He was admitted to the bar in 1895 when he began the practice of law. In January 1899 he associated with Mr. Waldecker in the practice of law, the firm being Stone & Waldecker.

Mr. Stone united in marriage March 21, 1893 to Miss Mary Workover of Moniteau County. They had three daughters and made their home at 609 East McCarty Street.

Jefferson City




William P. Stone
William P. Stone was born in Jefferson City September 5, 1883, the son of John W. and Mary E. Shadwick Stone. John W. Stone was born south of Jefferson City shortly before the beginning of the Civil War, and spent his entire life in this part of the state, dying in 1910. Mrs. John W. Stone was born near Russellville, the daughter of Mr. and Mrs. Jim Shadwick.
John W. Stone, a farmer, carpenter and builder, moved to Jefferson City about 1900. He was the son of Jim Stone, a native of Kentucky, who homesteaded land south of here years prior to the Civil War, as did two of his brothers. The war caused an estrangement in this as in many other families. Jim Stoneís brothers adhered to the Union cause, and Union sentiment prevailed in his neighborhood. He was loyal to the Confederacy, left home and joined the Confederate army and was killed at Helena, Arkansas.
William Stone learned the carpenter trade as a youth. He worked as a carpenter for wages until the spring of 1912 when he went into business for himself as contractor, and from that date to 1933 he erected many buildings of various kinds. Meanwhile, in 1922, he had acquired an interest in the billiard parlor and lunch room on High Street. When the depression stopped virtually all building activity he retired from contracting and gave his personal attention to the business.
Mr. Stone was married on December 18, 1912, to Miss Mary Goodall. Mrs. Stone was a native of this city, the daughter of W. W. and Sarah Handley Goodall, natives of Cole County. Mr. and Mrs. Stone had three sons, Jack T., William Rupert and Richard Neal. It is interesting to note that Jefferson Cityís first modern apartment buildings, the Wymore Apartments, were constructed by Mr. Stone.
Jefferson City
LEMUEL STRANGE FAMILY
Published 1981
Lemuel (Lemmy) and Rebecca (Becky) Conner Strange, were born and reared their family in Miller County. We had 5 sons, 1 daughter and 3 sons-in-law who were in World War II and the Korean Conflict.
Infant daughter born and died 1908
Roy 1909-1959 married Stella Prewitt, farmed near the Bagnell Dam and they have 4 children.
Ola, 1911, married Price Bledsoe, who retired from the Santa Fe Railroad. They have 1 daughter and live near Independence, Missouri.
Gaylord, 1913, married Lela Mae Thompkins and was employed by School fo the Osage for 28 years. They have 2 sons and live near Eldon.
Cletis, 1915, married Freda Quinn, retired from the Howerton Electric Company in Jefferson City, Mo. Lives near Bagnell Dam. They have 1 daughter.
Desmond 1917-1917.
Flossie, 1918, married Durward Callison, who retired as postmaster from Barnett, Missouri. They now live in Mesa, Arizona. They have 3 children.
---