Monday, August 11, 2008
Progress Notes
The Hawken family of Miller County is one of those which has well established roots of its origin in Rueggisberg of Bern, Switzerland. One of the older cemeteries in Miller County is the Hawken Cemetery located on Highway 17 a couple of miles north of Tuscumbia. But another fact of interest about the Hawken family is its gunmaking history. The Hawken made muzzle loading rifle of the mid 19th century was said to have been one of the most important weapons made for the time, both for hunting as well as protection (photo 01).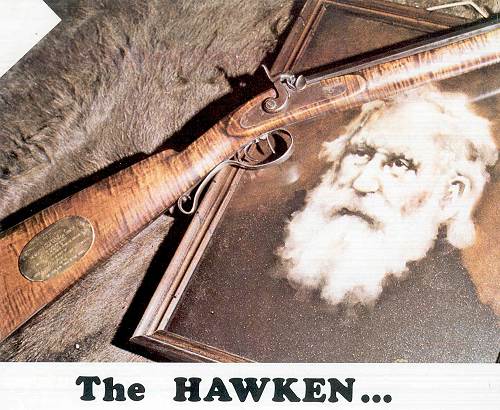 01 Hawken Rifle
It was especially favored by frontiersmen who were pushing our borders to the west and even American Indians learned how to use it as well. Maude Hawken of Tuscumbia worked out the Hawken family history and created a diagram which is reproduced here but because it is so complete it has to be uploaded in two photos (photos 02 and 03).
| | |
| --- | --- |
| 02 Hawken Family History | 03 Hawken Family History |
Click images above for larger view
I don't expect the reader to try to trace the Miller County lineage from the earliest Hawkens from the diagram on these online images so I will copy here a summary of the Miller County Hawkens as written by Mildred Messersmith Gray (photo 04).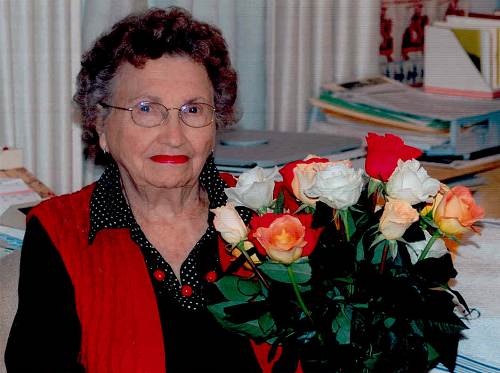 04 Mildred Messersmith Gray, age 90 - 2007
Mildred, whose grandmother was a Hawken, knew many of the members of the Hawken family and has several personal anecdotes to share:
Miller County Hawkens
Mildred Messersmith Gray
The Hawkens of Miller County have traced our ancestry not to Germany but to a village named Rueggisberg in Bern, Switzerland, a province/region where German was spoken and the religion was Lutheran. Rueggisberg is a municipality in the district of Seftigen in the canton of Bern in Switzerland.
Three brothers, Niclaus, Christian and Wolfgang came to America in 1750 on the ship "Sandwich," landing at Philadelphia. The Hachen (Hawken in English) brothers made their home in Hagerstown, Maryland, where they were gunsmiths. Of the three brothers, Niclaus Hachen is our ancestor. Niclaus and his wife Anna had a son named Christian who would later be known as Christian Sr. His wife's name was Juliana and they became the parents of nine children. Christian and Juliana's sons were Samuel, Jacob, Christian Jr., John, George and William. It is among these sons that we find the answer to the question of how the Hawkens of Miller County are related to the famous gunsmiths of St. Louis. The daughters were Margaret, Elizabeth, Nancy and Anna, but this is not their story. The sons of our concern are Samuel, Jacob, Christian Jr., and John in particular. With the exception of John, they moved to St. Louis and in 1825, the brothers, along with a small staff, made their rifles, shotguns, and pistols in their store on Laurel Street. The location is now occupied by the western abutment of the Eads Bridge, built in 1874, along what is now called Washington Street. Between 1825 and 1849, when Jacob died at age 63, the brothers designed a plains rifle of .54 caliber with a heavy octagonal barrel, low sights, double triggers, a ramrod carried under a metal rib, a sturdy but stock, and a crescent shaped butt plate. The total weight of the firearm was 10 to 12 pounds. This plains style rifle became popular due to its sturdiness and dependability in the field, important attributes for frontiersmen without access to repair shops.
Their brother John was a gunsmith but he remained in Maryland. He and his wife Hannah had three children and one was David, born 1812, who was the Hawken ancestor who came to Miller County (photo 05).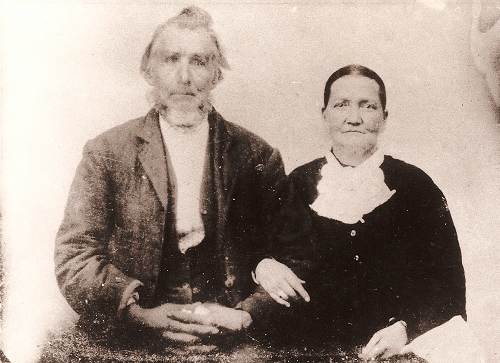 05 David Hawken - b. 22 Jan 1812 - d. 1 May 1891 and 2nd wife name unknown
He married Susanna Weiker in 1833. Their nine children were Hannah, Mary, Samuel, John David, Nancy, Matilda, William, Lewis (Louis) and Amanda, names that would be used over and over again to add to our confusion. But John David, son of David, is our man. By then the name was spelled Hawken in most families of our line.
John David Hawken (1829-1923), "Grandpa" to my mother, Minnie Small Messersmith, and Great Grandpa to me, was born in Pennsylvania and came to Miller County with his parents in 1855 by way of Ohio (photo 06).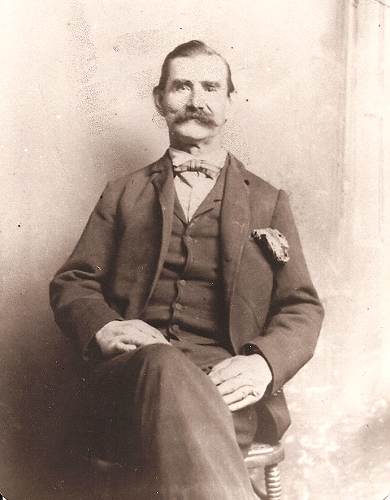 06 John David Hawken
His children were Sam, William, Emma, Martha, and Nancy (photo 07).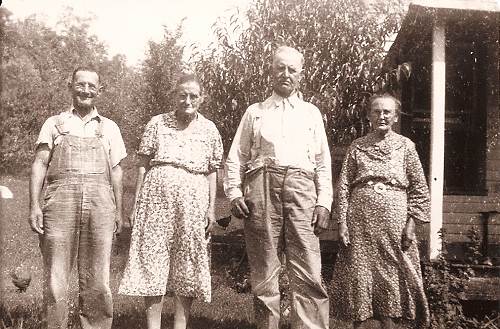 07 William Carroll Hawken, Emma Hawken Allen,
Samuel Perry Hawken and Martha Hawken Clark
Nancy was Arthur Small's wife and my grandmother (photo 08). She died before I was born but I knew the others.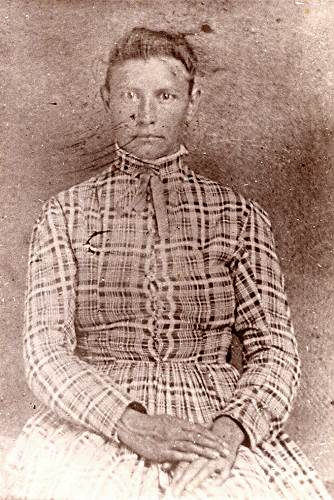 08 Nancy Hawken Small; b. 1867 - d. 1906
John David Hawken lived in Tuscumbia, in the section near the banks of the Osage River. His neighbor across the street was Mrs. Carrie Wright who made hats and was the mother of T.C. and Lawrence Wright. His first wife was Anna Hays whom he had married at Linn Creek. He outlived her by nineteen years and remarried, his second wife being Mrs. Lottie Barnhart Varner, "Aunt Lottie" (photo 09).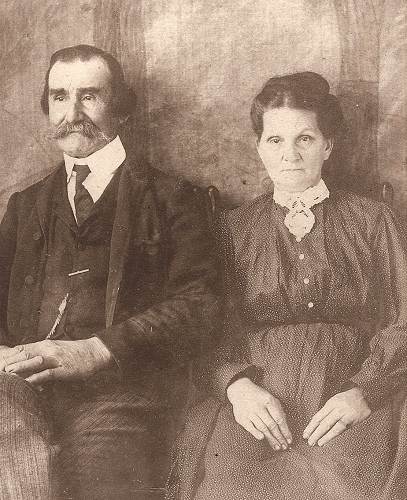 09 John David Hawken and 2nd wife Lottie Barnhart
My mother visited them when she was a little girl. She said her grandfather had a German Bible and was an early member of the Christian Church in Tuscumbia. They would sit in the porch swing and sing hymns. We were living in Iberia when Grandpa John David Hawken died in 1923. My mother came to Tuscumbia for his funeral, as did many of his other descendants, bringing me as well, when I was six years old. Our town's beloved teacher and mentor to so many, T.C. Wright, played the old organ at the funeral and may have conducted the service. He was capable of doing so. I remember that he sat on the little organ stool and cried. I asked Mama why. She said, "He was his neighbor." Grandpa had been a soldier in the Union Army and was injured in the Civil War.
Martha (1865-1946) was the firstborn child of John David and Anna. She married James Clark and they lived in a little house on the hill in Tuscumbia near the cemetery. They had four daughters: Anna, Grace, Maude and Edna. After James died, Aunt Mattie moved to another little house, this time near the school and across the way from our house. Her youngest daughter, Edna, was a victim of polio so she always lived with her mother. It was a good place for little kids to hand out. Aunt Mattie made good cookies and gooseberry pies. My sisters and I looked forward to playing with the grandchildren when they came to visit her. One time we got word that the Vernon boys were coming, so we moseyed over. Herschel and Harry were there all right, but Aunt Mattie told us to go home because "Herschel is bashful." Defeated and humiliated, we went home but Herschel heard about that from me when we met up many years later. One summer, two little Messersmith grandchildren came to spend time with their grandmother. They were Martha, age six and Mary Frances, about three. Martha was too young for school but Aunt Mattie asked T.C. Wright if she could attend the last six weeks, and he agreed. By the end of the six weeks she could read as well as the others. She liked for me to tell this story when we were grown.
The next child of John David and Anna Hawken was Nancy Ann (1867-1906), my grandmother (see photo 08 above of Nancy Ann Hawken Small). She married Arthur Small and they had eight children. Three died in childhood, leaving Minnie, Olive, Irvin, William and Irene. Nancy died when Irene was four months old. Minnie was my mother and had married Charles Messersmith., my father, in 1905, and they took Irene to raise as their own when her mother died in April 1906. Seven months later, their son John, my brother, was born. If Nancy knew she was dying, she must have been grateful that her baby would be in the hands of a workhorse like my mother. Hard work was all that the women of her generation knew. Arthur (Grandpa) Small married again, but our step grandmother was a disappointment.
John David and Anna's next child was a boy, Sam (1870-1959, see photo 07 above). Sam's first wife was Sally Williams and their children were Perry, Nellie and Opal. I don't remember any of them but I knew the children of his second wife, America Starks. It was nice to have an Uncle Sam and an Aunt America! Their first two girls were Myrtle and Mabel. My only memories of them are that Myrtle's husband was Fred Klint, who many, many years later became my mother's third husband.
Uncle Sam and Aunt America had twins, John and Frances. John was killed in an accident on a bridge in Kansas City. It may have been the bridge they called The Viaduct. Frances married and moved West, hoping the climate would help her arthritis.
Two more sons were born to Sam and America, Wayne and Jesse. Wayne was a basketball star at Tuscumbia High and the crowd loved him. They cheered him on by shouting "Shoot Sam." Tuscumbians have always been addicted to nicknames.
I saw Uncle Sam rarely, but one day after a long absence I was walking down the street and happened upon three old men sitting in front of an abandoned garage. I recognized Uncle Sam as the man sitting on an upturned boat. In a little town like Tuscumbia, you never walk by anyone without speaking so I said, "Hi Uncle Sam. Do you know who I am?" He replied, "I don't know your name but I know you are one of Minnie's girls." I walked on and thought it is funny that I have a different identity wherever I go. In Tuscumbia I am one of Minnie's girls. 'At home I am either Bill's wife or Jim's mother, etc.
Jess Hawken was Uncle Sam's youngest and he was a shy little boy. He is close to me in age and I saw him a few years ago at the funeral home in Eldon when we had the visitation for Ellis Smith, my brother in law. Jesse was over his bashfulness, but I reminded him. I believe he lives in the same place where he grew up on the original Hawken farm near Tuscumbia. A cemetery on the land is known as the Jesse Hawken Cemetery.
(Note: Mildred wrote this narrative several years ago before Jesse had passed away in 1996.)
John David and Anna's fourth child was Emma (1871-1963). I remember her. I was grown when I saw her and I thought she was a quaint little woman with a "dutchy" accent. Her father was bilingual and must have had an accent for her to speak that way. Aunt Emma first married Henry Cotton and they had three sons. He died and she married Isaac Allen; they had seven children and all the girls were pretty. Margie Cotton, one of the younger ones, had hair that was in fact as white as cotton (and was thus nicknamed as simply "Cotton"). One observer wrote that Margie died unmarried but another gives the name of a husband.
Aunt Emma lived to be in her nineties. She lived in Kansas City and was a member of a church called the Gospel Tabernacle. Her obituary was written by the members of that church and they told a little story about her in addition to many loving comments, calling her a mother in Israel. She was cooking and her apron strings caught fire. She didn't know what to do so she stopped and said, "Lord, are you going to let me stand here and burn to death?" She said that she heard a sweet voice say: "Back to the wall!" so that is what she did and although she received third degree burns on her back, she survived.
The youngest child of John David and Anna Hawken was William (1875-1951). He was the father of Maude, our researcher, and Clyde and Carl and Ruth (photo 10). He married Fannie Edwards. Maude has told their story.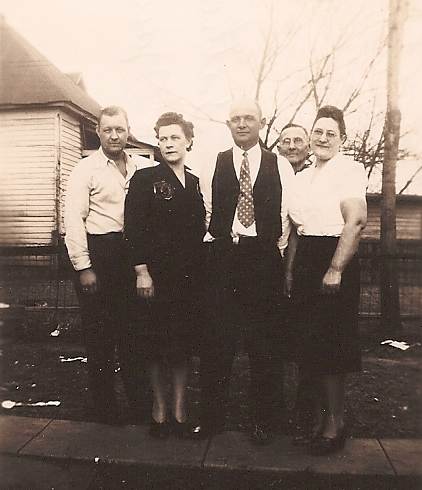 10 Carl Hawken, Ruth Hawken Crisp, Clyde Hawken,
William C. Hawken and Maude Hawken Smith
This Miller County story began with David and Susanna Weiker and their son John David, because John David was our ancestor. His brothers and sisters lived in Miller County too, but I don't know much about them except for John David's brother Lewis/Louis. Lewis (1853-1949), son of David, lived in Tuscumbia but was born in Ohio and came to the County as a young child. His home was a short distance from his brother, John David.
(Note: At one time Lewis owned the family farm, apparently having bought it from his father, David. According to information I received from Alice Hawken, wife of Lewis's son, Andrew, Lewis later sold the farm to Sam Hawken.)
Lewis' first wife was Caroline Smithy, or Smiddy, and what kind of name that is I do not know. They had no children but she may have been the wife with whom Lewis raised three children of his sister Nancy. Caroline died in 1899 and Lewis married Rosa McGowan in 1900. Lewis was then about 47 and Rosa about 14 when they married. They had seven children, if I am not mistaken. Lewis farmed and worked for the Anchor Milling Company but, in spite of his efforts, life was hard. He took his family to Kansas City to look for work but was unsuccessful and returned to Tuscumbia. Rosa refused to return and she kept a daughter (Alice) and a son with her. Alice had a child out of wedlock, who was adopted by a minister and his wife from Kansas. The years passed and when at age 70 her adoptive parents were no longer living, this child, Helen, began a search for her biological parents. Her search led her to the Hawkens of Miller County, so she came from her home in California to see them in person. Her uncle Andrew Hawken welcomed her and showed her the places of significance in their lives. In Kansas City she found her father's people, too. She said that her search brought her great comfort. Her name is Helen Mudge.
Rosa Hawken was the sister of Doug and Os McGowan, the two brothers who died in a shootout with the law on the streets of Tuscumbia in December 1933.
Andrew and Jack Hawken were sons of Lewis and Rosa and were well known around Tuscumbia both of them passing away in the latter part of the last century.
---
Thanks Mildred.
The first Hawken to arrive in Miller County was David Hawken (see photo 05 above). Peggy Hake has written on our own website his story:
http://www.millercountymuseum.org/bios/bio_h.html
For convenience, I will copy that narrative here:
DAVID HAWKEN
David Hawken was a native of Lancaster County, Pennsylvania, born 22 January 1812. Sometime about 1830, he married Susan Wiker/Weiker, born c/1812 in Pennsylvania. For several years they continued to live in Lancaster County and became parents of four children while there. About 1840, they moved west into the state of Ohio and remained for a few years. Four more children were born while in Ohio.
In 1856, David, Susan, and their 8 children moved by wagon to Miller County and settled in Equality Township in the Saline Creek Valley (near the Jim Henry Township line). Their neighbors included the families of Buster, Birdsong, Roark, Wright, Loveall, and Melton.
The children of David and Susan (Weiker) Hawken were:
1. Hannah Hawken b. 1834 m. Hugh W. Wyrick 1860
2. Mary A. Hawken b. 1837 m. Albert June 1866
3. Samuel Hawken b. 1838 m. Evaline Thompson 1869
4. John Hawken b. 1839 m. Ann Hayes 1862
5. Nancy Hawken b. 1841 (died before 1889)
6. Matilda Hawken b. 1840 m. Samuel W. Sanford
7. William Hawken b. 1848 (died before 1889)
8. Lewis/Louis Hawken b. 1853 m. (1) Caroline Smithy 1875, (2) Rosa McGowan 1900
9. Amanda Hawken b. 1859 (died before 1889)
David Hawken was a blacksmith and practiced his trade all his life. After moving to Miller County, he ran a mill near Tuscumbia. It was probably located on his farm near the Saline Creek. Susan Weiker Hawken died prior to 1880 and was probably buried at the Hawken cemetery near Tuscumbia. There is no record of her death or burial in county records. David married his second wife, Mrs. Elizabeth/Betsy Carson, on May 29, 1880. She was the widow of P. W. Carson, a native of North Carolina.
David lived to the age of 79 years and died on March 1, 1891. He was buried at Hawken Cemetery, probably beside his first wife, Susan. David has a gravestone marking his burial site, located on a grassy knoll overlooking Highway 17, about 1 1/2 miles northeast of Tuscumbia. The land is owned today by the Missouri Conservation Department.
NOTE: The Hawken Cemetery is one of the oldest cemeteries in Miller County. The first person buried there was Charles Smith (1760-1850), a soldier of the Revolutionary War. His grave was marked with special dedication services in February 1999 by the Eldon Chapter of the Daughters of the American Revolution (D.A.R.).
---
Thanks Peggy.
In reference to the Hawken Cemetery which Peggy mentioned above, more can be added. Located on the old original Hawken farm, it now is part of the Missouri Department of Conservation acquisition of several thousand acres of the Saline Valley. One can visit it by traveling a couple of miles north on Highway 17 out of Tuscumbia toward Eugene. Look for the Conservation sign along the highway where a parking lot is located (photo 11).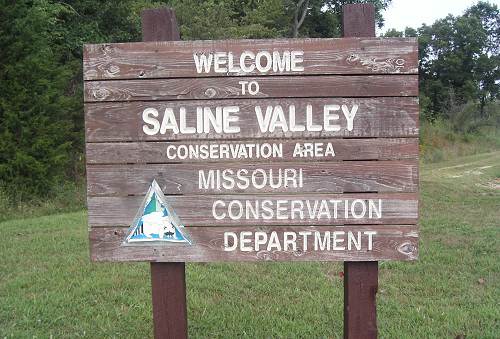 11 Conservation Dept. Entrance to Hawken Farm
Take a well groomed path to the left to the cemetery where you will find the old tombstone of David Hawken, the original Miller County Hawken (photo 12).
Some other interesting Miller County residents of the past are buried here. For example, as Peggy mentioned above, Charles Smith, a soldier of the Revolutionary War is buried here (photo 13).
Also, the great grandfather of Helen Fendorf Phillips, who herself celebrated her one hundredth birthday a couple of weeks ago, is buried here. His name is Henry Fendorf. Here in this photo montage is Helen standing by his tombstone as well as a couple of other photos of the surrounding area (photos 14a, 14b and 14c).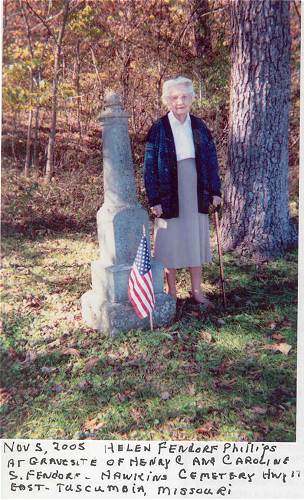 14a Hawken Cemetery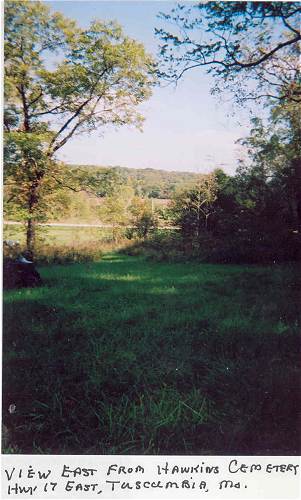 14b Hawken Cemetery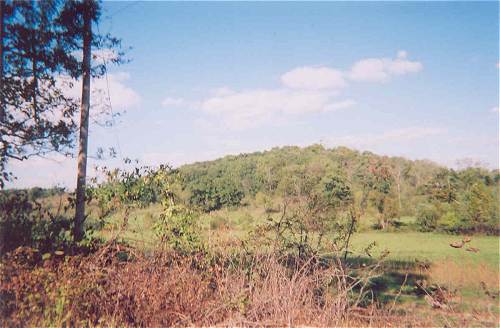 14c Hawken Cemetery
I asked Helen this week why her great grandfather, Henry Fendorf, would have been buried in the Hawken cemetery which was north of the river whereas he lived south of the river. Helen told me that in those days, not very many cemeteries were present, and the care they received was variable. Perhaps Henry knew David Hawken and felt a burial in the Hawken family cemetery might have been better preserved. It is speculative though to try to be very certain.
The Hawken family always was aware of the tradition of gun craftsmanship in its forebearers and pride in the name of Hawken being associated with one of America's most famous rifles of the past was understandable. Carl Hawken, son of William (photo 15), spent considerable time researching this rifle, and eventually contracted to have one made for his personal use.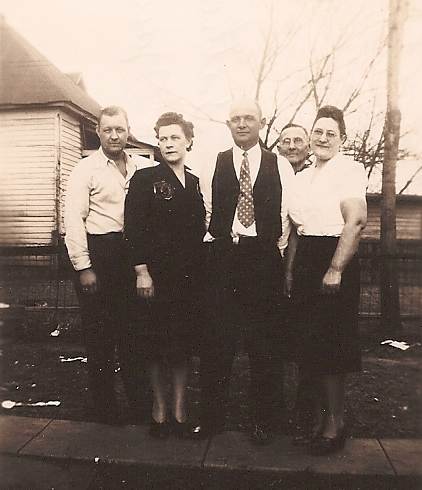 15 Carl Hawken, Ruth Hawken Crisp, Clyde Hawken,
William C. Hawken and Maude Hawken Smith
The gunsmith he contacted, Robert D. Reeves, wrote a story about his relationship with Carl as well as the story of the building of the rifle which was published in the magazine, "Muzzle Blasts," in June of 1973 and is copied here:
The Hawken's, Hawken (photo 16)

16 Hawken Rifle
Muzzle Blasts; June 1973
Robert D. Reeves
What would you call a rifle made especially for a descendent of the two famous St. Louis gun makers, Jake and Sam Hawken? This rifle is a replica of a Hawken "mountain rifle," and was made for Mr. Carl J. Hawken of Eldon, Missouri. His great, grandfather, David Hawken, was a direct relative of the two St. Louis gunsmiths, so I call this particular rifle a "Hawken's, Hawken."
At this writing, Carl Hawken is undergoing research into his family's history and records, in an attempt to document his ancestral lineage. I happen to be one of those devout "Hawken buts," and became quite excited many months back, when I received my first letter from Mr. Hawken asking if I would consider building him a rifle. Naturally, I was very much surprised to learn that there were descendents of Jake and Sam still around, and extremely pleased to receive correspondence from one of them. Very willingly I accepted the task, and knowing that the rifle would eventually be in the possession of one of the old master's relatives, gave me the feeling that I would be in some way contributing my share in commemorating a name so well known, and respected among the early fur traders, mountain men and the plains Indians.
Aside from the pleasure I received in building this rifle, I was well rewarded with a wealth that cannot be measured in material things, that being the true friendship of your fellow man. I have never met Mr. Hawken in person, but through our many letters, we have established a very sincere friendship. Also, he has related to me many interesting facts, photos and dates pertaining to the Hawken family, which were most graciously added to my muzzle loading memoirs.
Now that I have completed the project, and the rifle is in the hands of its owner, Mr. Hawken and I are making plans to meet and become personally acquainted, sometime in the near future. Mr. Hawken is a novice in the world of muzzle loading, so if any of you Missouri buckskinners could drop by and offer him guidance through your experience, or invite him to a shoot, I am sure he would appreciate it. He will master the big bore on his own, as many of us have, but I can still remember the day when I could have used some words of wisdom on the subject.
The rifle is patterned after a typical late period Hawken "mountain rifle," except for the addition of the engraved German silver patchbox and barrel wedge escutcheons. The hook breeched barrel measures 1.125 inches across the flats, 34 inches in length, .54 caliber, and was made by Bill Large, Ironton, Ohio. The lock and double set trigger assembly were made by Cherry Corners Gun Shop, Loke, Ohio, and adapted to Bill's patent breech very well. The stock was cut from a select piece of premium grade maple from K.E. Thompson, Slipper Rock, Pa. and has a hand rubbed, oil finish. The weight of the finished rifle is 10.5 pounds.
The silver patchbox was added at the request of Mr. Hawken. In one of his letters, he stated that he was especially fond of a patchbox, pictured on page 57 in John Baird's book, "Fifteen Years in the Hawken Lode." This particular patchbox was found on a Hawken rifle, marked Hoffman & Campbell, who worked as gunsmiths in the Hawken Shop. To balance out the addition of the patchbox, silver was used in lieu of steel for the barrel wedge escutcheons. A large German silver oval, similar to the inscribe plate found on the "Modern Hawken," was inletted in the beaver tail creek piece. The plate was appropriately engraved with the following inscription: "Made for Carl J. Hawken----The Hawken Rifle—1835 to 1850—A symbol of "American Heritage," and dated 1972.
After an initial test shot, using 150 grains of Dupont FFG powder, five shots were made from a bench rest at 50 yards to check the grouping. A charge of 85 grains, and .535 diameter round balls, patched with heavy pillow ticking, lubed with black solve, was used for the grouping. The five shot group could be covered with a silver dollar, so no other powder combinations were tried. I immediately knew that the accuracy of this rifle excelled the shooting ability of the maker using open iron sights. Of Course, those barrels from the 4 J's Ranch are pretty hard to beat.
In conclusion, I can sincerely state that it was a very interesting project and a pleasure to build the "Hawken's, Hawken."
---
Indeed, Mr. Reeves and Carl did meet up after Carl had received the newly made rifle. This meeting and the events afterward were summarized in a letter to Mildred Messersmith Gray by Maude Hawken, sister of Carl:
Mildred,
The man that wrote this article about Carl's gun and had it published in a gun magazine was named Robert D. Reeves. He lived in California. Some one had given Carl his address and told Carl he made replicas of the Hawken Gun so Carl wrote to him. He was surprised and shocked to know there were descendents of the Hawken family still around. He was so interested in the history of the Hawken family that he made Carl a replica of the Hawken Gun. It cost Carl $400.00.
Sometime later after Carl had received the gun, Bob, on his way from California to Georgia, stopped by to visit Carl. He brought Carl a Daniel Boone and Davy Crockett jacket, a coon skin hat and material to make bullets for the gun. He and Carl took his gun down in the woods and he showed Carl how to shoot it. He went on to St. Louis and stopped at Webster Grove and went through the Hawken Historical House and he wrote to Carl after he got to Georgia. Carl answered his letter and it went on and on and Carl never heard any more from him, so Carl sat down and wrote him again. This time Carl got a letter from his wife who said he died with a heart attack. That really hurt Carl for he and Bob had become such good friends. He was supposed to make Carl a Hawken Pistol but he never lived long enough to get it made. So that is what happened to Bob Reeves, the man who made Carl's Hawken gun and the writer of the story in the gun magazine.
---
Well, of course, that is not the most happy of endings to a story, but obviously, Mr. Reeves really enjoyed his relationship with Carl and Carl was very proud of the work accomplished for him by Mr. Reeves. Only recently in 2003 Carl passed away but I understand that his son Larry now possesses this valuable Hawken Rifle, made especially for Carl by a gunsmith who was a specialist in the crafting of this historical firearm. You can read more about the Hawken Rifle by going to this website on Wikipedia:
http://en.wikipedia.org/wiki/Hawken_rifle
And if you want to see how the rifle was loaded and fired just click on the image below to watch the video:
Carl and his brother, Clyde, were raised near where the Grant Edwards farm was located off of highway 52 going toward St. Elizabeth. After crossing the Dog Creek bridge turn left and take the gravel road to the farm. Donald, Carl's son, lives there now. The old original home was a log building and may still be standing. The home Carl was raised in is still standing also, according to Alice Hawken, who shared with me this information.
---
This last week we have been roofing the old log cabin now next to the museum but originally located on the John Williams farm near Iberia. This cabin is the smaller of the two we have on the museum property. It originally served as the home of two black women, Chaney, and her daughter, Easter, who accompanied the John Williams family on their trip from Kentucky to Missouri. We are very indebted to Buster Busch and David DeGraffenreid for their endurance of the severe hot spell last week working up on top of that steaming roof to lay the cedar shake shingles (photo 17).
17 Buster and Dave
Years ago these shingles were commonly made on site from trees on the local property. Now they have to be purchased and vendors are scarce. And the roofers have to be able to trim and cut to size the shingles since they come with some variability in their dimensions and shape. Dave and Buster were up to the task as the finished product reveals (photo 18).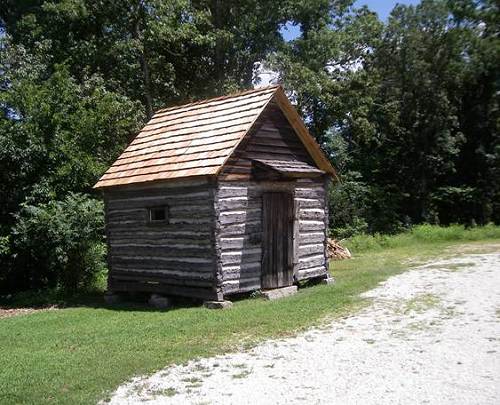 18 Williams Cabin
The story of the small log cabin is filled with mystery, intrigue and sadness. Sue Steen Cates' grandmother, Ellie Wall Steen, was a granddaughter of John Williams, and she and her husband, Frank Steen, lived on the farm when Sue was a young girl. Here is Sue's story of the cabin:
Slaves of the Williams Family
Sue Steen Cates
Finding new family members has to be the greatest joy of genealogy work. I had that joy in 1994 when I found Darleen Goldston (photo 19).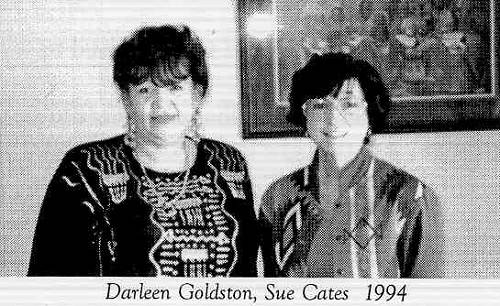 19 Darlene Goldston and Sue Steen Cates - 1994
We were living in Atlanta, Georgia, and I was frantically researching "Steens" since they had come from Georgia to Missouri. Peggy Hake, the unofficial historian of Miller County, gave me the name of a black lady, Darleen Goldston, also living in Atlanta, who is a granddaughter of Violet, the child of Ben Williams (grandson of John Williams) and Easter (daughter of Chaney, a black woman who came to Missouri with the Williams family).
I think my Steen grandparents did not talk about the slaves that came to Missouri with John Williams. They used the log cabin that was built for the blacks as a shed and called it the smokehouse. But my mother, bless her heart, is a lover of stories. She was barely 16 when she married my dad. They lived with Grandpa and Grandma Steen for a few months the following year, during the time that I was born. It seems that Grandma told Mom thing that maybe she had not told her own children. The amazing thing is that Mom was interested in them, remembered them, told us kids the stories while we were growing up, and was always proud to be a Steen.
When my son, Brent, was in high school, he came home and said that for a class project he needed a story about his family history. So we made a quick trip to Grandma's house with a little cassette recorder. Brent asked Mom to tell him the story about the Williams family coming from Kentucky and bringing slaves with them. My dad was still alive then, but he let Mom do the talking. Brent turned in that tape (and it is pretty pitiful with all that we know now) and got an A+ on the project!
So I've always been told the story of the Williams' coming from Georgia, and then Kentucky and bringing two blacks with them---Chaney and her little girl, Easter. Easter was close in age to Susannah Williams (daughter of John) and they were playmates. And only in recent years, was I told about Violet, the daughter of Easter and Ben Williams.
A page from the Williams family Bible says:

"A negra girl named Chaney was born the 6 day of August 1836,"
"A negro boy named Harison was born the 1 day of March 1849,"
"Negra girl named Easter was born the 25 day of February 1853."
A log cabin was built for them, joined to the big house by some type of breezeway, what sometimes is called a "dogtrot house." No one seems to know anything about Harison. (January 1996 I was told in a phone conversation with Evelyn Williams Johnston, an 85 year old daughter of Ben Williams, that there was also a black man named John that was with them and his name is on a slave list in Tuscumbia.) I also found in Judge Jenkins' book, History of Miller County, that in 1860, John Williams paid a slave tax on only one slave. They were probably taxed only on adult slaves. Was this "Chaney?"
As I remember the log cabin, it sat in the yard just behind the big house. But in an old photograph taken in 1913, the log house is sitting in the north side yard. Uncle Paul Steen remembers it sitting there, although he does not remember his dad moving it. But Frank Steen did evidently move it, probably to dig the cellar.
This little one room cabin had sat in this yard for over 100 years. The big house burned in 1955 but the cabin did not. The farm was sold a few years later. At that time, one of the daughters of Ben Williams, Edna, and her husband, Ray Irwin, moved the log cabin to their home. In the summer of 1983, the Irwins invited the four daughters of Violet (granddaughters of Easter and Ben Williams) to come see the cabin. They were Maude Driver Tatum, Gladys Driver Holmes, Minnie Driver Fulcher and Gladys Fulcher Holmes.
In 1993, the heirs of Edna and Ray Irwin gave the cabin to the historical society and it was moved to Tuscumbia. It is located on Highway 52 at the old Anchor Mill Building.
If they were southern slave owners as it seems, when they lived in Kentucky, the Williams' surely did not just have these two or three blacks that came to Missouri with them. My thought is that Chaney and Easter were listed in the Williams' family Bible because they were special to the Williams' family in some way. Were they brought to Missouri---not as slaves, but because they were family members? Coming to Missouri in 1855, Chaney was 19 and Easter was 2 (Susannah Williams was 4).
In conversation with Darleen Goldston, a great granddaughter of Easter (known to their family as Hester) and Ben Williams (grandson of John ), she told me that her grandmother, named Violet Mae Williams (Easter and Ben's daughter---born in the log cabin according to Violet's history) was very white---long straight hair, pale skin, blue eyes-and that her family has always wondered if Violet's mother, Easter, was half white---a child of Chaney and John Williams.
After Violet was born, due to the circumstances of her birth, Easter was forced to take her baby and leave the Williams' farm. They moved to Iberia, Missouri. In 1900, Easter (now known as Hester) married Jacob (Jake) Landers. Easter was 47 years old and Violet was 13. Jake and Easter had no children (photo 20).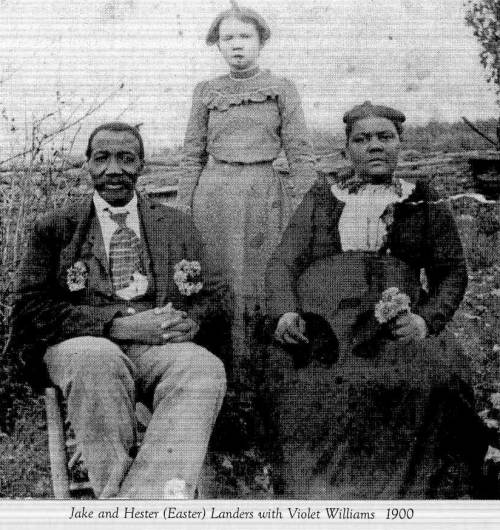 20 Jake and Hester (Easter) Landers with Violet Williams - 1900
Considering the above stories, if John and Chaney were the parents of Easter, she was born after John and Mahala, John's wife, had been married eighteen years with eight children and two more to come.
John's grandson, Ben, was twenty six when he and Easter, age thirty four, had their child, Violet Mae Williams. It was the year 1887 and that same year in November, Ben married Cynthia Dial. They had twelve children (Chaney probably died on the farm and was buried in the Williams cemetery).
Violet grew up in Iberia with Jake Landers as her step-father. Easter died March 9, 1916 at her home, one and one-half miles southwest of Iberia. It is assumed that she is buried in the Iberia Cemetery.
Violet Mae Williams married Bill Driver September 12, 1907. They lived for a while with his grandparents in Eldridge, Missouri. They later moved to Iberia where he worked as a farmer for several years. Together, they had eight children, one son and seven daughters.
Bill and Violet moved to Centertown, Missouri and in 1954, to Jefferson City. Violet died in 1957 at age 71. Bill died in 1986. He was 105.
The Driver family owned a barbeque restaurant in Jefferson City for many years. Waldo Steen first told me about it, saying that he had eaten there and talked with Bill Driver. Paul Steen also has been there many times, knowing some of the Driver family. It is still in operation today, west of Jefferson City, run by a family member.
After contacting Darleen Goldston, I and Al went to her house, then took her to lunch. What a wonderful experience for us. Darleen hugged me when she opened the door for us; we immediately felt like family. We talked as fast as we could, sharing our own family experiences. We talked freely about how our families connected. Darleen grew up in Jefferson City, Missouri. Her mother, Maude, was the daughter of Violet and Bill Driver. Maude grew up in Iberia, Missouri. Darleen was doing research on her family, which included our Williams' family. I spent time with Darleen again before we moved from Atlanta.
When I made plans to go to Missouri later that year, I called Darleen, and she made plans to be there at the same time. She had never been to Iberia and all the connecting places. She and her mother, Maude, who was 84 years old, came to my Mom's house and we loaded up in my van. My sisters, Sharron and Janie, with Mom, came along. In Iberia, we picked up my Aunt Icie Steen Evacko. We had taken a picnic lunch and stopped to eat it under a shade tree in the yard of Uncle Paul and Aunt Lucille Steen.
We went to the Williams Cemetery (photo 21) and looked down over the land that John Williams---our common ancestor---bought.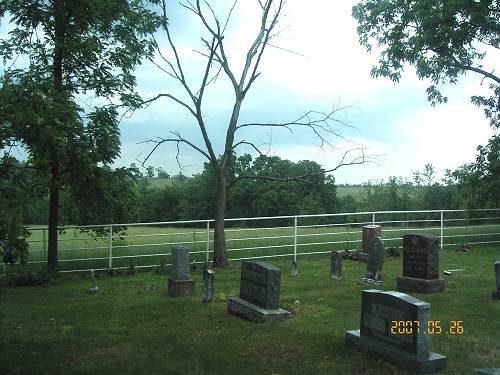 21 Williams Cemetery, Looking South
It did not matter whose face was black and whose face was white, we were bound together by a common bloodline (I imagine Caney is buried in that cemetery with one of those fieldstones as her marker. Easter is buried in Iberia with her husband's family, the Landers). They stood by the grave of their grandfather and great grandfather, Ben Williams. (photo 22) We all stood beside the grave of John Williams, our common ancestor.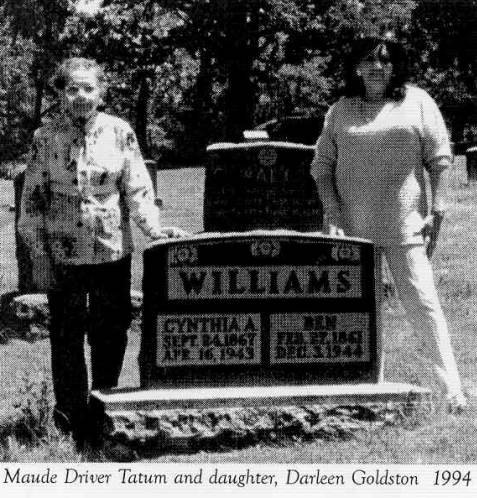 22 Maude Driver Tatum and daughter Darleen Goldston
Williams Cemetery - 1994
Leaving there, we drove past the old house of Ben Williams that is now owned by two of his grandchildren. We drove around downtown Iberia, with Maude remembering places from the yesteryear of her youth. We then picked up my Uncle Paul Steen at the lumberyard and he took us to an old tumbled down church building that he knew had a black baby's grave behind it Maude knew it was her baby sister, Bonnie. She had not been there since the day that the baby died. We came back by the Tuscumbia museum where the log cabin sits.
What a day! It was wonderful for all of us to spend the day with Maude and Darleen. It was also very sad for all of us, to know that, although we were related, because of the different color of our skins, we had never been connected as family. Darleen is my third cousin, once removed.
I have one more story connecting our families. Brent, my son, went to high school in Jefferson City. A good friend of his was a young black man, Clarence Driver. They played basketball together on the Jefferson City Jays, and both of them were very good at that sport. Clarence was called "Junie" because he was Clarence, Junior.
After I first met Darleen, the bells went off in my head. I called first Darleen, then Brent, to verify that Junie was indeed part of this same Driver family. Brent was thrilled. He soon was together with Junie and other old high school friends, having fun over the "new found cousin" status.
Later, Brent and Junie were to have their 15 year class reunion. There were 250-300 there out of their class of about 600. Brent emceed the program. He and Junie had planned ahead of time. Brent went into a long detailed story about his mother researching family history and that he had a new found cousin that was also in this graduating class of 1981. He wanted to share the news with everyone there. Brent said, "My new cousin is Clarence Driver." Junie was in the back of the room, let out a loud cheer, ran down the center aisle and jumped on stage. He and Brent began hugging each other and dancing around. The whole crowd loved it—and so did Brent and Junie.
This is some of the pay-back for time spent in researching family history!
Sue Steen Cates
August 1994
---
Thanks Sue.
You can read more about Bill Driver and his family as well as other black families of Miller County as recorded by Peggy Hake at this location on our own website:
http://www.millercountymuseum.org/bios/bio_black.html
You will need to scroll half way down the page to get to the section about the Drivers'
That's all for this week.