Cole R-V School District
Eugene, Missouri
Note:
Clicking on most images will display them in a larger size.
FREEDOM MEMORIAL
Liberty's Heroes
Private First Class

Allen Montgomery Norfleet

1918 - 1942

Seaman First Class

Raymond Daniel Farris

1923 - 1942

Corporal

Hobart Yancy Etter

1921 - 1945

Chief Pharmacist's Mate

Robert Bruce Spalding

1922 - 1945
Captain

Gary William Berendzen

1937 - 1964

Specialist Fourth Class

Patrick Benjamin Kempker

1948 - 1969

Lance Corporal

Darin Thomas Settle

1982 - 2006
Overview
May 18, 2005, professional ship divers Jamie McCleod and Stewart Oehl found the wreck of the USS Logarto, an attack submarine sunk in the Gulf of Siam (now Thailand) by a Japanese mine layer on or about May 3, 1945.  The Logarto was found intact with one of its torpedo tubes open, suggesting active engagement at the time of sinking.  Entombed within the wreck are the remains of the entire 86 man crew, including Chief Pharmacist's Mate Robert "Bobby" Bruce Spalding of Eugene, Missouri, the sole medical specialist aboard.  Bobby Spalding was a 1939 graduate of Eugene High School.  Later, The U.S. Navy verified the identity of the Logarto and deemed the wreckage, submerged in 230 feet of water, as a "war grave" to be left undisturbed.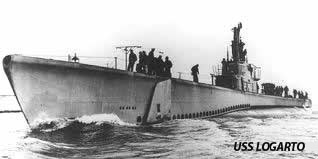 After reading an account of the finding of the USS Logarto, Alan T. Wright of St. Louis, Missouri made a decision.  He resolved to create and donate to the Cole R-V School District an appropriate memorial to all Eugene school students serving in the military and killed in the line of duty during wartime.  Alan, a 1964 graduate of Eugene High School, explained why:
I'm proud to have attended 12 years of schooling at Cole R-V, but I do not recall there being a mention at school assemblies or other gatherings of those Eugene students who made the ultimate sacrifice to preserve our freedoms.  Somehow, it seemed that other than in the memories of family members and a few surviving classmates, they had been forgotten.  I felt that it was time to recall and honor these heroes in a special way. I approached Superintendent Mark Blythe and the School Board with the idea of a memorial and they welcomed it and assisted in the project in every possible way.
Alan then set about the task of researching government records, seeking the memories of classmates, and interviewing family members to gather necessary facts, photos and memorabilia for the memorial.  Sadly, during this research, Marine Lance Corporal Darin Thomas Settle, Class of 2001, was killed in Iraq and his name was added to the list.  Alan continues:
Talking and corresponding with parents, brothers, sisters, and friends of those who went off to war but did not return was a very emotional but necessary task.  I was determined that this memorial would be more than just names and dates on a plaque.  If possible, there would be photos of these young men in both civilian and military life, a good accounting of their service within a historical context, and a narrative of where and how they lost their lives.  And lastly, if known, where their remains rest.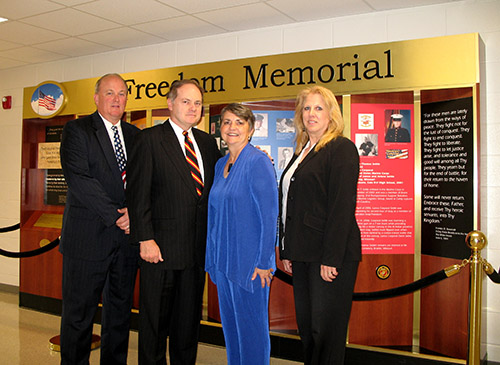 L-R:  Cole R-V Superintendent Mark Blythe; Memorial donors Alan & Mary Wright;
and school Music Director Donna O'Neal

Below is a list of those who provided information, photos and memorabilia about their loved ones:
Norman Benteman, spouse of Myrene (Norfleet) Benteman (deceased), sister of Allen Montgomery Norfleet

Neville (Farris) Neiman, sister of Raymond Daniel Farris

Kelan Spalding, brother of Robert Bruce Spalding

Daniel "Danny" Etter, brother of Hobart Yancy Etter

Lois Berendzen, mother of Gary William Berendzen

Charles "Chuck " Kempker, brother of Patrick Benjamin Kempker

James and Arlene Settle, father and mother of Darin Thomas Settle
Special mention should be made of Helen (Henley) Gibson, classmate or acquaintance of several of the honorees, who provided invaluable information in helping identify and locate surviving relatives.
On or about November 8, 2006, the finished memorial, manufactured by AdCraft of St. Louis, Missouri was delivered to the school and assembled in the gymnasium.
Freedom Memorial before unveiling

Freedom Memorial after unveiling
As a Veteran's Day observance, the memorial was dedicated Friday, November 10, 2006, at an all-school assembly.  The entire community, as well as family members of the honorees, were invited.  Highlights of the program included:
Welcome by School Superintendent Mark Blythe

Addresses by Alan T. Wright and Congressman Ike Skelton

Posting of the colors, hand salutes, and bell toll tributes by a special Inter-Service Honor Guard from Scott Air Force Base, Belleville, IL.

National Anthem, patriotic music and playing of Taps by the school concert choir and band, directed by Donna O'Neal

Remarks and readings by Cole R-V students

Unveiling of each honoree's panel by family members

Violin solo "Ashokan Farewell" by Kenny Schetzler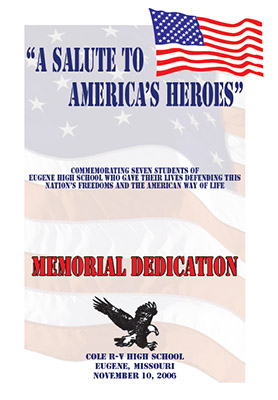 Memorial Dedication Program
Click the image above to view the Program in PDF format.
The Cole R-V School District's "Freedom Memorial" is now permanently located in the lobby of the School's Performing Arts Center.  The District believes it is one of the best memorials of its kind found anywhere.  Those wishing to visit the memorial must check in at the school administrative offices. Guests will be provided an escorted tour.  If a personal visit is not possible, the accompanying photographic "virtual" tour below helps portray the memorial in a meaningful and moving way.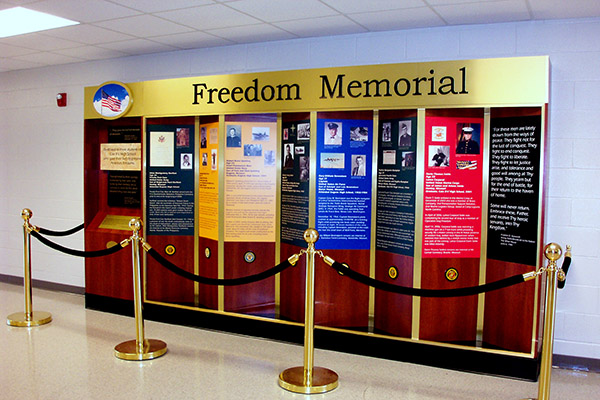 Freedom Memorial in the Performing Arts Center

Poet Laurence Binyon once wrote of soldiers killed in wars:
They shall not grow old, as we that are left grow old:
Age shall not weary them, nor the years condemn.
At the going down of the sun and in the morning
We will remember them.
---
---
Move your cursor over the images below and click on a panel to view a larger panel image:

| | | | | | | |
| --- | --- | --- | --- | --- | --- | --- |
| | | | | | | |
| Allen Norfleet | Raymond Farris | Robert Spalding | Hobart Etter | Gary Berendzen | Patrick Kempker | Darin Settle |
---
Musical Selections

"Ashokan Farewell" composed by Jay Ungar and performed by Jessica McAllister.
"Mansions of the Lord" composed by Nick Glennie Smith, lyrics by Randall Wallace, and performed by the United States Military Academy Glee Club.
"Echoing TAPs" performed by unknown bugleists.
Renditions of the above songs were performed at the Memorial's dedication on November 10, 2006.
Copyright © 2020 Cole R-V School District - All rights reserved
Website hosting courtesy of the Miller County Historical Society