School Name:

Topping School

School District Number:

#087



Location:
Township:

Twn50N

Range:

Rng14W

Section:

Sec26



Latitude:

38.190900

°N Longitude:

-92.446800

°W


---

School Photos:










---

School Information:



Date Started: Date Closed:

School Registers:

Teachers: Judge Jenkins lists the following teachers from 1874 to 1901:
| | | | | |
| --- | --- | --- | --- | --- |
| 1874-75 | George W. McCubbin | | 1887-88 | John L. Sullivan |
| 1875-76 | | | 1888-89 | Lizzie Balvein |
| 1876-77 | John F. Hammond | | 1889-90 | Lizzie Balvein |
| 1877-78 | E. L. Hawkins | | 1890-91 | W. A. Colvin |
| 1878-79 | W. P. Bliss | | 1891-92 | J. M. Renfrow |
| 1879-80 | James P. Wright | | 1892-93 | Z. F. Duncan |
| 1880-81 | Perry T. Nixdorf | | 1893-94 | Chas. O. Short |
| 1881-82 | Perry T. Nixdorf | | 1894-95 | Lulu Short |
| 1882-83 | Bessie Brown | | 1895-96 | Ed F. Keyes |
| 1883-84 | Lottie Latchem | | 1896-97 | Lulu Stephens |
| 1884-85 | J. W. Renfrow | | 1897-98 | J. L. Watson |
| 1885-86 | W. L. Short | | 1898-00 | Oscar W. Houser |
| 1886-87 | J. T. Sullivan | | 1900-01 | P. T. Wyrick |
Resident Taxpayers in 1871:
William Abbett, Thomas Bilyeu, Alexander Colvin, Henry Fendorf, Francis Fendorf, John Kelly, William Nally, J.R. Nickerson, Jefferson Nichols, William Posten, T.B. Posten, Joseph Patterson, M.H. Richardson, W.C. Scott, Martha J. Scott, Gilbert Topping, Peter B. Lupardus, J.W. Williams, Edington Williams, C.N. Wyrick, and Joseph Clemmens.
TOPPING SCHOOL
District #87
Also known as School No. 4
By Peggy Smith Hake
I have seen a picture of an old school and the students, which was taken in 1899. One of the students was holding a slate that stated. "No. 4 School, P. T. Wyrick, November 11, 1899".
Before his death, I consulted with Clyde Lee Jenkins and he was of the opinion this was known as the Topping School, which was located on the old Jefferson City-Springfield Road on land that was later owned by the Paul C. Smith family. I was told at the time that the Smiths were living in the old schoolhouse, which had been remodeled. It was approximately 2 miles north of Ulman in Glaize Township. In 1905, the land was owned by Ruth Topping, so I am assuming the school received its name from the Topping family who apparently donated a small portion of land to the county for the construction of the old school.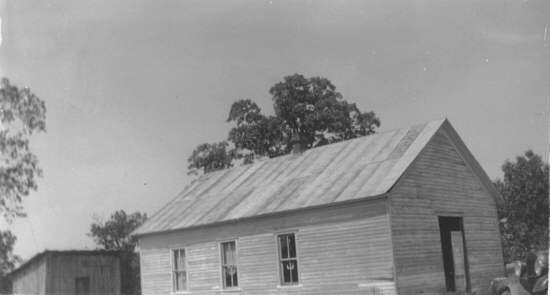 Ulman #4
I was not able to identify the students in the picture, but do know the families who lived in the surrounding area of the school included: Wyrick, Prock, McDonald, Hickman, Stephens, Beldon, Helton, Topping, Fischer, Renfro, Lupardus, Patterson, Richardson, Dixon, Nixdorf, and Van Wagoner. I am almost certain the children who attended this School No.4/Topping represented these families in 1899. The teacher was identified as Oscar Howser.
Note: The student holding the slated that identified School No. 4 was P. T. Wyrick (Perry Tolbert Wyrick) who was a brother to my grandfather, Chesley Sylvester Wyrick and both were sons of John Henry and Rachel Elizabeth (Kinder) Wyrick..
---
No. 4 School in Rhyme
Written by Clara Pierce and Inez Wyrick
Miss Olive Abbott, our teacher here,
We are always polite when she is near ,
She teaches us reading and arithmetic,
But she never has to use a stick.
Ray Watson who has light hair,
Always wants to play fair .
Velma Edwards in her book is smart,
She's always talking about her sweetheart.
Jack Wickham is very tall,
He is always wanting to play ball.
Ralph Martin, who sits on a stool,
Is the best boy in school.
Clara Pierce is always right,
She also acts very polite.
Inez Wyrick, so full of life,
She is always wanting to borrow a knife.
Grant Edwards has red hair,
He always says we don't play fair.
Jesse Wickham o'er his books did pore,
Says he isn't going to study anymore.
George Wickham, fat and low,
Has his lessons, but he is slow.
Ralph Watson doesn't study very hard,
But he says he studies till he is tired.
Herbert Martin thinks he is wise,
Always talking about his neckties.
Gonzel Edwards is very small,
He doesn't like to go to school at all.
Wilma Edwards studies her books,
And doesn't mind how she looks.
Ruth Martin sits on a stool,
I think she is the best girl in school.
Gean Wickham carries in wood,
But would stay in the house if he could.
All of us children are in " A " grade,
We will soon reach high school with the teacher's aid.
---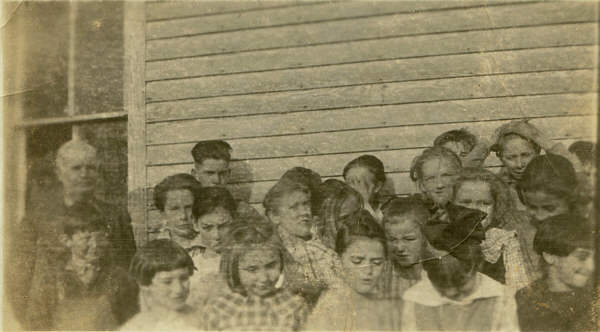 Ulman #4 Class
Inez Wyrick is the only person we have identified in this photo. She is the person with the short, dark hair in the lower right hand corner.
---

School Resources





---