School Name:

Brumley School

School District Number:

#069



Location:
Township:

Twn39N

Range:

Rng14W

Section:

Sec29



Latitude:

38.087714

°N Longitude:

-92.485614

°W


---

School Photo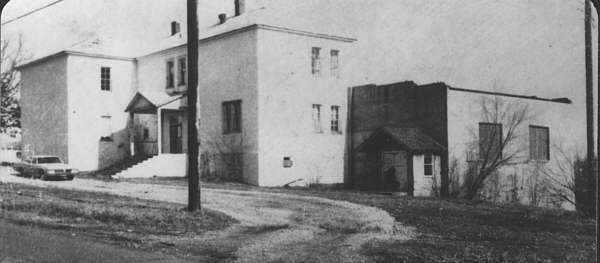 Brumley High School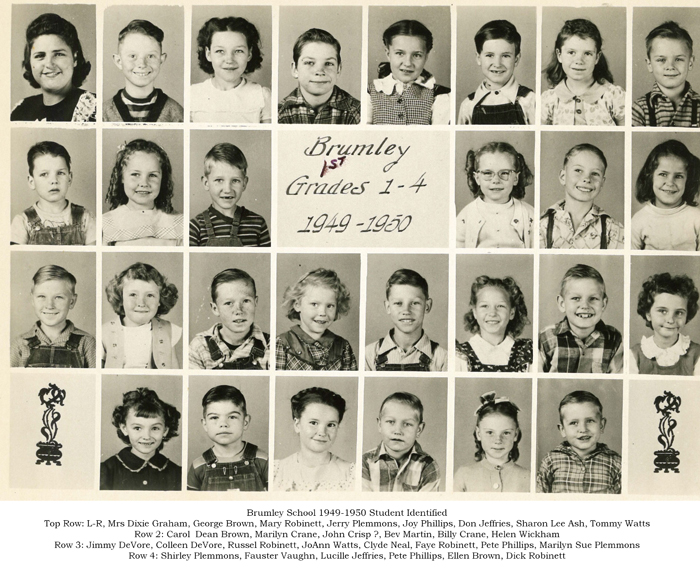 Click on Photo for larger version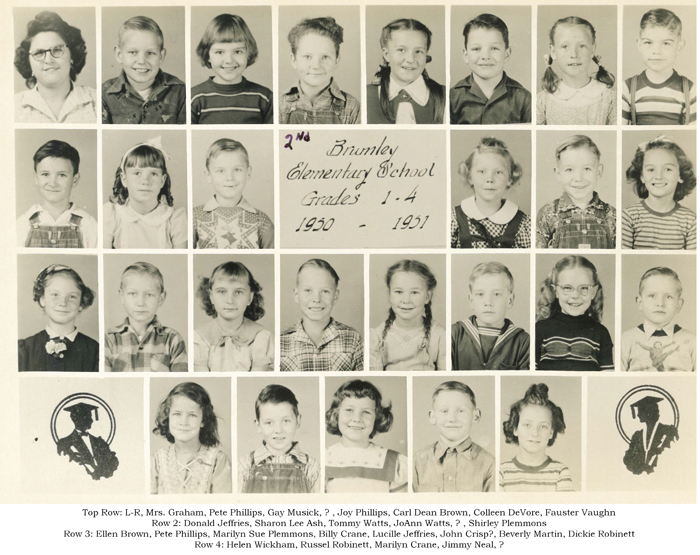 Click on Photo for larger version
Click on Photo for larger version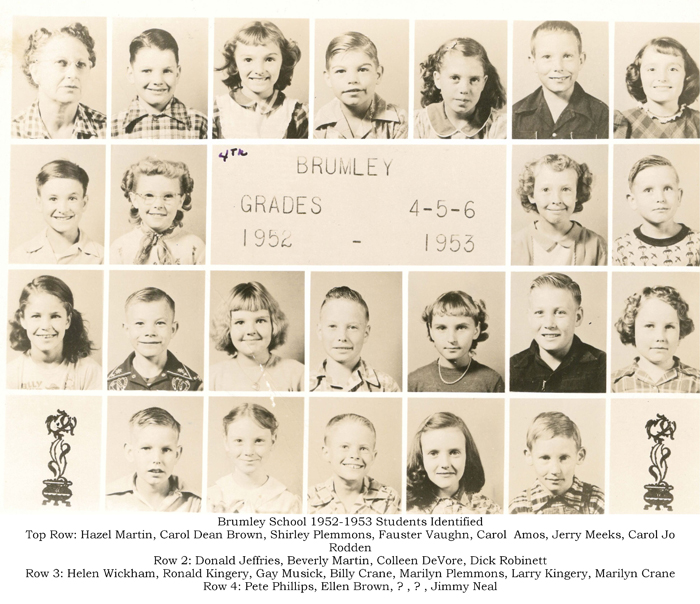 Click on Photo for larger version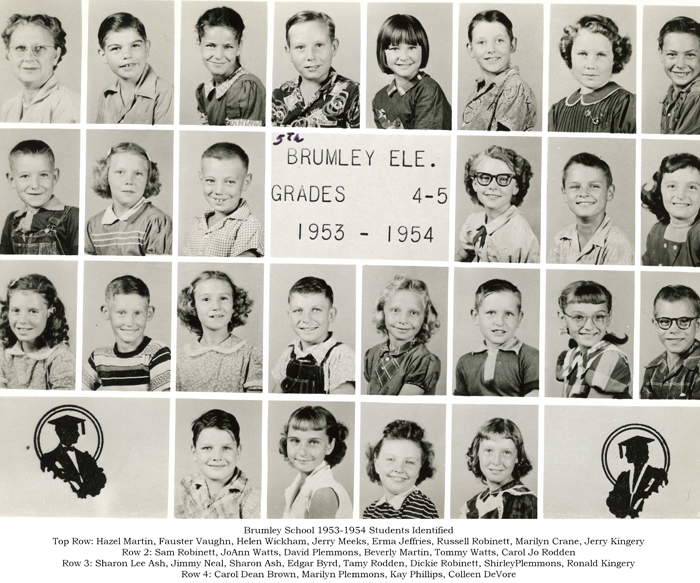 Click on Photo for larger version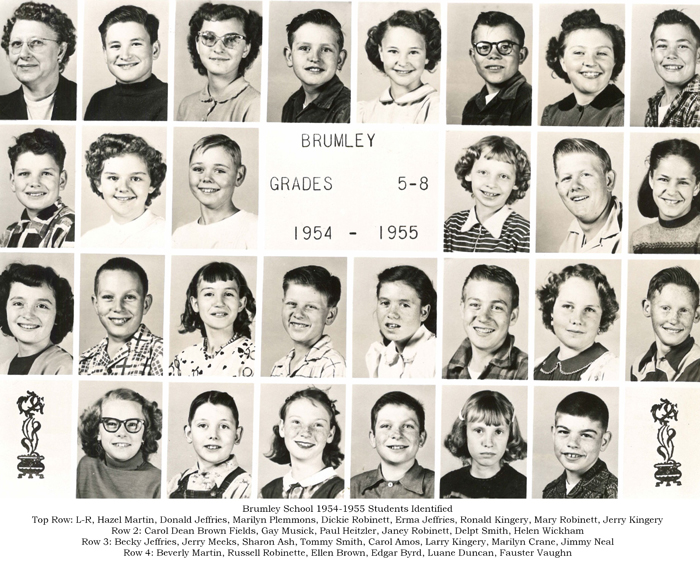 Click on Photo for larger version
---

School Information:
School Registers:
Teacher's Register: 1912-1915
Teachers: Judge Jenkins lists the following teachers for the early years of the school:
| | | | | |
| --- | --- | --- | --- | --- |
| 1874-75 | Elnora Singletary | | 1888-89 | M. A. Esty & L. B. Esty |
| 1875-76 | Elizabeth J. Salsman | | 1889-90 | G. W. Akers & Bettie Gott |
| 1876-78 | Cynthia F. Hawkins | | 1890-91 | H. J. Robinett & Belle Brown |
| 1878-79 | Hiram R. Popejoy | | 1891-92 | B. Reed, Jr. & D. F. Hawkins Spearman |
| 1879-80 | Cynthia F. Hawkins | | 1892-93 | C. F. Spearman & Nellie Harrison |
| 1880-81 | W. M. Winfrey | | 1893-94 | Wm. C. Hawkins & Rosetta Burris |
| 1881-82 | Minnie Kemper | | 1894-95 | Rosetta Burris & Nellie Harrison |
| 1882-83 | Cynthia F. Hawkins | | 1895-96 | Adona McCubbin & W. L. Hawkins |
| 1883-84 | Wm. L. Hawkins | | 1896-97 | Belle Stebbins |
| 1884-85 | A. E. McCombs | | 1897-98 | Belle Thompson & Effie Thompson |
| | & J. L. McCombs | | 1898-99 | C. F. Spearman & Effie Thompson |
| 1885-86 | J. L. McComb | | 1899-00 | W. S. Spearman & Effie Thompson |
| 1886-87 | O. L. Moore | | 1900-01 | J. B. Tinsley & Flora Gott |
| 1887-88 | Cynthia Spearman | | | |
Later teachers included:
1912-13 Oscar House, Alta McClain & Opal Carnes
1913-14 Maud Clark
1914-15 Lucy Burris
1956-57 Earl Humphrey, Zella Barr & Loetta Grady
1962-63 Norman DeVore, Carolyn DeVore, Goldie Wall & Paul D. Thompson


---

BRUMLEY HIGH SCHOOL (1919-1950)
District #69
By Clare Mace and Lucille Crane, 1981

For many years the two room public school housed in a substandard concrete building atop the hill northwest of Brumley served the community well. Walking distances for the students ranged from 1/4 mile for those in town to 4 to 5 miles for those in the further reaches of the district. Everyone walked to school and the distances were not considered inconvenient. For the few families who considered high school or further education necessary for their children, and who could afford it, children were sent to the Iberia Academy or to Eldon or even farther away to board and attend high school.

Many of the teachers in this school were long remembered and influenced many lives: Aunt Cynthia Spearman lost both her arms to just below the elbows grinding cane in a cane mill when she was a young girl. She overcame her handicap and learned to write with pencil and chalk held in the crook of her elbow, and many attest she could also handle a switch.

Josie McComb Buster decided teaching school could bring a better way of life for her and her family. However, she had not had opportunity as a child to attend school, so, after she was married attended a subscription school her uncle Ab McComb was teaching in order to pass the teacher's examination and get a certificate to teach and so accomplish her ambition. She never stopped educating herself and taught school some thirty two or three years, mostly in the schools of the Brumley area. She usually taught all eight grades and once had an average attendance of 80.

Cecil Houser was very popular with the pupils and was long remembered. He was killed when kicked by a horse.

Walter Winfrey was characterized as a stern disciplinarian and his instructions were well received for many years. In his later years he was a rural mail carrier.

By the early 1900's however, there was a demand to make a high school education available to every one of the district and a new four room building was erected in Brumley. The two room grade school occupied the two downstairs rooms and the two upstairs rooms were used for the high school classes.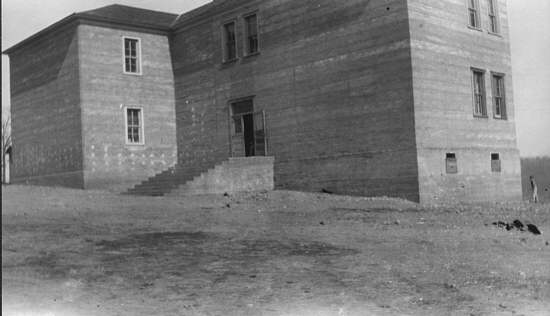 Brumley High School
In the school year 1919-20, Roy Starling, a young teacher from the Olean-Eldon vicinity was selected as the teacher for the upper grades and Superintendent of the High School class. There were no selective courses. The entire class, Arthur Phillips, Lucian Mace, Kirt Gott, Ona Ulman, Claudia Smith, Nellie Wall, Maude Wright and Clare Buster took the basic subjects offered: English, Ancient History, Algebra I, and Agriculture.
During his spare time while here, Roy Starling began studying law, in which he later took a degree and practiced law throughout the State. He was Miller County Superintendent of Schools for several years.
A class was graduated from the two year high school courses in 1921, but the growing school was continued two more years to graduate its first 4 year high school class of seven in 1923. John Bell was superintendent at that time.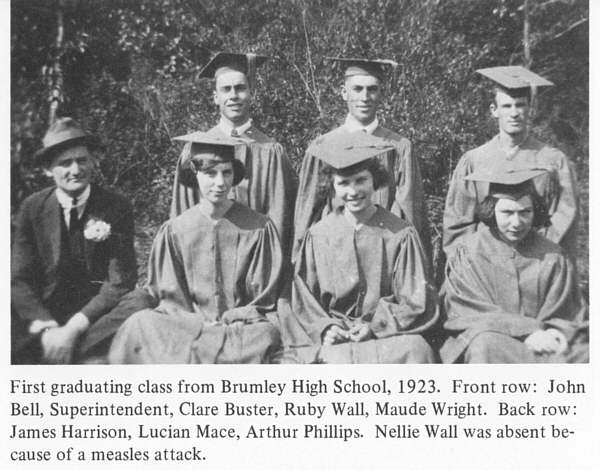 By this time the curriculum was expanded and the teaching staff had doubled. Members of the 1922 class were: James Harrison, now a retired Army Colonel living at Tuscumbia; Lucian Mace, deceased in 1972, spent most of his life in Miller County where his activities included teaching, farming, business, and serving as sheriff, legislator, and county court member.
Arthur Phillips, also deceased, taught school, served as postmaster and merchant, farmed, and was county assessor for many years. Clare Buster was married to Lucian Mace and now lives in Eldon. Ruby Wall was married to Bob Colvin and they reside in Kansas City, Kansas. Ruby is a retired Federal employee. Maude Wright is married and lives in Kansas City.
Nellie Wall was married to Troy Jones who is deceased. She lives in Olmstead, Illinois, where her husband for many years was employed at Lock and Dam work on the Ohio River in various capacities.
The school enrollment continued to increase. In the 20's two more rooms were build. In the 30's the gymnasium was added. Bus routes were established and reached into other communities because a state tax-supported high school was not available everywhere. The 40's-the war years-were difficult ones. Teachers were reluctant to come to a small town. War industry pay was better and Uncle Sam a demanding employer. However, the school continued to meet state educational requirement and a hot lunch program was instituted.
The year 1949 was the last year Brumley High School had a graduating class. Consolidate and grow was the cry of the Legislature. The Brumley school district was stymied. With much of its land inundated by the Lake or designated as a State ark, many people left the area and, thus, the tax structure was changed.
The Board of Education would not subject the student body to less than the best, so reluctantly but with ride, they voted to close the high school and transport the students to other schools. Some went to Iberia, some to Tuscumbia, and others went to the School of the Osage. Soon the feasibility of three districts sending busses into the community was questioned so in 1964, the options were presented and the patrons voted to consolidate and become a part of the School of the Osage. Some of the elementary grade students continued to attend school at Brumley until 1966. In the fall of 1966 the elementary grades, too, were enrolled at the School of the Osage main building and thus the doors of the historic old school building were closed for the final time.
The building stood empty for sometime. There was some thought of using it for a community center. Eventually it sold. Carol Fields was using the gym as a mechanics garage when in December 1973 it was destroyed by fire. Finally in 1981 Farris Whittle secured a professional wrecking crew that brought the formidable concrete walls to a heap of rubble.
Brumley High School had served the area well in a period of transition which saw automobiles and tractors replace horse drawn vehicles. Throughout its existence it provided a good basic course of subject matter and with good teachers the young people of the community were able to develop the skills necessary to take their places, not only in this community, but wherever their paths happened to lead them.
The impact the school had on the community will never be known. The contributions made by the t3eachers and administration cannot be given a value in dollars. To list the favorites would be impossible. Each was someone's favorite.
Brumley High School Basketball Team 1936-1937
By Lucille Crane
George Smith, a twenty-two year old aspiring young coach, came to the Brumley school when the high school enrollment was around 100 students. Twelve boys turned out for his basketball team. Coach Smith was a dedicated young man who worked the team hard and placed emphasis on fundamentals. The boys played hard because they enjoyed it. Winning was important but not everything.
Out of twelve boys Coach Smith built a team that lost only one game on the home court in a two-year period. The team went to the state tournament in 1937 but lost their first game to the team that won the tournament.
The people of Brumley point with pride to the achievements of that outstanding quintet, not only on the ball court, but in life. They are typical of many graduates of the small school where values instilled early have helped them to make outstanding contributions in other communities in a variety of fields. Members of that team reminisce about their school days and compare notes on present day activities.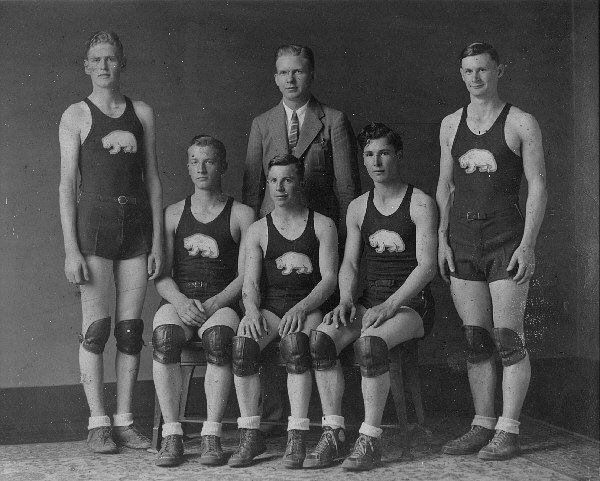 Brumley High School Basketball team 1936-37.
L-R: Windorf Sooter, Jack Dawson, Wayne Smith, Churchill Brumley and Clydie Bass.
In the center is Coach George Smith.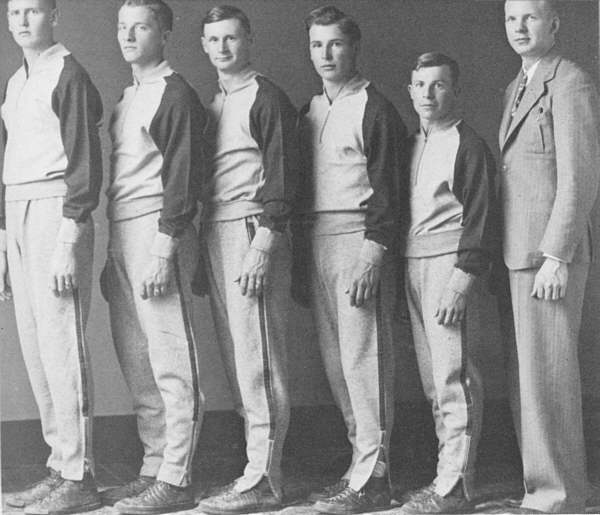 Brumley High School Basketball team 1936-37.
L-R: Windorf Sooter, Jack Dawson, Clydie Bass, Churchill Brumley, Wayne Smith, Coach George Smith.
Windorf Sooter, the tallest man on the team, was an excellent player in all categories. He went on to become an outstanding coach. In twenty years of coaching, his teams won 346 games and lost only 127. In Covina, California, he had a winning record of 28 straight wins in 1962-63. His grateful fans gave him and his wife a two-week trip to Hawaii to show their appreciation. HE was recommended for the honor of "Coach of the Year", but lost to a college coach.
Jack Dawson was an outstanding guard and team man. When there was a need to control an aggressive opponent, Jack got the assignment. During World War II Lieutenant (J.G.) Dawson served in the naval operations of the Pacific theater. Upon his return to civilian life he began the practice of dentistry in Eldon. His professional excellence has built a practice so large that he and a son, Gary, also a dentist, find the work load heavy. Jack is a devoted husband and father of four, a community-minded man who has faithfully served God and his fellow man.
Clydie Bass was a player who could do it all. He was a great team leader, excellent shooter and strong rebound man. He was voted team captain and outstanding player in high school and again in Kirksville State College where he graduated with other honors. He served in the navy during World War II and volunteered for overseas duty. While serving as a gunner aboard the U.S. Gwin, he was killed in action and was buried at sea. He was one of Miller County's first casualties in that war.
Churchill Brumley was a good guard and an excellent rebound man for his size. After his discharge from the army at the end of World War II he settled in the West Coast states. The construction company for which he has worked for a number of years has entrusted him with the responsibility of supervising the remodeling of the California State Capitol building in Sacramento where he lives. He is married and has four children.
Wayne Smith's stature was responsible for his nickname "Shorty". But Shorty, a real dynamo, whose speed and agility were phenomenal, worked hard and well. Few basketball players could equal his precision as an out-court shooter. After college and a short stint at teaching, Wayne went into the Air Force. He completed Aviation Cadet training and flew out of England during World War II with the 8th Air Force. He and his family have lived in many parts of the world, but when Major Smith retired they returned to Brumley to build a beautiful retirement home. Wayne is a church leader and a community-spirited worker. He has served as president of the local Lion's Organization. He and his wife, Helen, have five children.
---

School Resources





---