---
DR AND MRS. GRANT DANIEL WALKER
Published 1981
Dr. and Mrs. G.D. Walker, residents of the city of Eldon since 1902, celebrated their Golden Wedding January 28, 1941. Dr. Walker celebrated his 50th year of medical practice in Miller County.
Dr. and Mrs. Walker, children of pioneer families of Miller County, were marriedJanuary 28, 1891. He is the son of Kentucky bred pioneers of Miller County and was born on a farm in this county near Mt. Pleasant July 8, 1867. His parents were John J. Walker and Eliza Bond McKinney Walker. Mrs. Walker was born on a farm at south edge of Eldon on September 17, 1869. She was the oldest of Joel J. Haynes and Anna Miller Haynes who were pioneer families of Miller County.
Dr. Walker received his elementary education in Miller County schools and graduated from the American Medical school of St. Louis, doing his post graduate work in St. Louis hospitals. He was a charter member of the Miller County Medical Society and a member of the Missouri State and American Medical Association. He served as mayor for 3 terms and President of Eldon Building and Loan Association. Both he and Mrs. Walker are members of First Christian Church of Eldon.
They first resided in Mt. Pleasant, then moved to Olean where Dr. Walker practiced before coming to Eldon in 1902. Mrs. Walker was active in the First Christian Church, the Euterpean Club and P.E.O. She was instrumental in starting the Eldon Public Library and in World War I was chairwoman of Red Cross work in the county - a great lover of flowers and civic improvements.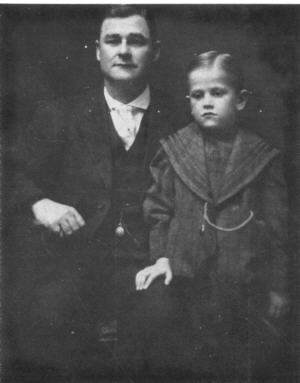 Dr. G.D. Walker and son John
Dr. and Mrs. Walker had 2 children: John S. Walker and Mrs. Curtis G. Weeks, and 4 grandchildren: John Walker and Margaret Rose Weeks Wright, George Robert Weeks and Donald Walker Weeks.
FREMONT WATKINS
By Gerard Schultz, 1933
Fremont Watkins, son of Emmett and Luiza Watkins, and grandson of William Shelton Watkins, was born at Brown Branch, Taney County, Missouri September 18, 1887. About two years later his parents removed to Miller County, and when he was eighteen, to Maries County. In 1908 he went to Colorado and from there to Oregon. When the World War broke out he enlisted. He left St. John, Washington about October 5, 1917 for Camp Lewis, Washington. He sailed from New York about December 4, 1917, and from July 1918 to November 11, 1918, he was in several of the hardest battles in which the Americans took part. He was cited for bravery in the battle of Chateau Thierry, July 15, 1918, where the American troops won their initial successes in the war. He was awarded the distinguished service medal. He died in the United States Army General Hospital Number 10, Boston, Massachusetts, April 20, 1919, of pneumonia fever contracted on his returning ocean voyage. The American Legion Post Number 105 at Iberia was named in his honor. The citation for bravery follows:

Citation for Bravery
March 9, 1919
From: Commanding Officer, Co. M. 101st U.S. Inf.
To: Commanding Officer 101st U.S. Inf.
Private Fremont Watkins, 79964, Co. M. 101st U.S. Inf. is recommended for the award of the Distinguished Service Medal by Captain Valentine C. Jacob, Commanding Co. M. 101st Inf.
For exceptionally meritorious service in the performance of a most hazardous mission while this company was engaged in repelling an enemy attack in the town of Aux west of Chateau Thierry, July the 15, 1918. When the company's supply of rifle grenades was practically exhausted, and at a moment when the need of this ammunition was indispensable, Private Watkins volunteered to go back through an enemy barrage to an ammunition dump. Private Watkins made three trips to the dump, and returned with grenades, each time passing through an intense artillery barrage. The result of Private Watkins' heroic endeavors contributed greatly to the success of the Company in repelling the enemy attack.

Valentine C. Jacob,
Capt. 101st U.S. Inf.

Next to Kin E.G. Watkins
HENRY PATRICK WATKINS
By Gerard Schultz, 1933
Henry Patrick Watkins, farmer of Richwoods Township, is a descendant of a pioneer family of Miller County. He is a son of Emmett G. and Luiza Jane (Bradley) Watkins, and grandson of William Shelton Watkins. His forefathers have given names to three post offices in the State of Missouri-Watkins, Bradleyville, and Igo. William Shelton Watkins who had taken part in the gold rush to California, settled in Miller County, Missouri in the early fifties. He entered his first tract of land near Watkins in 1855. Emmett G. Watkins was born on November 7, 1856. Luiza Jane Bradley was born at Bradleyville on September 26, 1852, a daughter of Seth Henry and Galletta Bradley. Henry Patrick Watkins was born at Watkins, Missouri July 16, 1890. He had one brother, Fremont, who paid the supreme sacrifice in the World War.
Henry Patrick Watkins entered the United States service during the World War, May 18, 1918. He was discharged at Fort D.A. Russell, Wyoming, on June 26, 1919.
On September 176, 1924, Mr. Watkins was married to Miss Ruby Catherine Haines, daughter of Winfred T. and Lillie (Johnson) Haines. Mr. and Mrs. Watkins have one son, Henry Bradley, born November 3, 1932. Mr. Watkins is a Democrat in his political beliefs, is a member of the Missionary Baptist Church, and an active member of the American Legion, Fremont Watkins Post Number 105. He is a substantial citizen of the community in which he lives.
JOHN THOMAS AND NANCY ALICE JOBE WATT
By Ruby Louise Allen Mead, 1981
John Thomas Watt was born April 29, 1872 four miles west of Eldon on the original Watt homestead. He died March 14, 1962. Nancy Alice Jobe Watt was born February 17, 1877 in Moniteau County, and died March 5, 1973. They were married at Versailles, MO. March 24, 1894, and settled on a farm later expanded to 300 acres, 2 miles west of Eldon.
In the winter John came to the Osage River to trade for livestock and fed them the grain grown on his farm. He drove cattle for Thomas Cotton from Oklahoma to feeders in Pettis County near Sedalia who fed them out and shipped them on the railroad to market.
John and Nancy were life time members of Rocky Mount Baptist Church. He was a Masonic member and Nancy was a charter member of the Farmer Wives Club and member of the Eastern Star. All five living daughters are Eastern Star members.
The neighbors shared butchering, haying, threshing, house and barn raising, where a big dinner was enjoyed by all. There were crank telephones and many times the neighbors all listened in to hear the latest news.
John and Nancy were the community undertakers until Phillips Funeral Home was established. On one occasion blackberries were picked and sold in Eldon to buy blue denim shirt and overalls for a man for burial in a hand-made pine box lined with curtains. The pillow was filled with white goose feathers.
Their children: John Watt, Jr. born May 1, 1894, businessman in Kansas City. Lena Jewell Watt Martin, born March 14, 1899. Dorothy Emma Watt Houston, born March 31, 1901; school teacher 45 years. Ralph Henderson Watt, born September 4, 1903, guard at Missouri State Prison, died February 11, 1966. Alice Irene Watt Vernon, born September 4, 1906, school teacher 44 years. Ruth Broox Watt Thomas, born September 1, 1908, school teacher 10 years. Ruby Hattie Watt Riffle, born September 30, 1910, died September 29, 1933 with typhoid. Joseph Raymond Watt, born September 4, 1912; engineer for Rock Island Railroad. Anna Louise Watt Allen, born May 31, 1915, resort owner. Infant son born January 22, 1919, died a few days later when Nancy had influenza.
CURTIS G. WEEKS
Published 1981
Curtis G. Weeks, born on a farm north of Eldon on April 26, 1895, graduated from Eldon High School in 1912. He attended Missouri University. The son of Eldon C. Weeks and Rosella F. Graham Weeks, he farmed his entire life and in later years was interested in Tennessee Walking Horses. On October 31, 1917 he married Freda Walker.
Freda Walker Weeks was born in Olean, Missouri October 5, 1897. She is a daughter of Dr. and Mrs. G.D. Walker. She attended Eldon Schools and graduated from high school in 1916, later attending William Woods College in Fulton, Missouri. Curtis and Freda lived their 55 years on a farm. Curtis was a partner of Walker-Weeks Dairy which served Eldon many years. The children of the couple are: Margaret Rose Weeks Wright, of Lebanon, Mo.; George Robert Weeks, M.D. of Cape Girardeau, Mo.; and Donald Walker Weeks , whose death occurred June 1972.
Mrs. Weeks is a member of First Christian Church and has taught Sunday school classes many, many years; a member of Chapter CH, P.E.O., a past president of P.T.A., a former member of Euterpean Club, Mid Mo. China Painters. Curtis passed away February, 1970.
Mr. Weeks is considered the founding father of Eldon. Hhe filed the original plat of Eldon and was instrumental in securing the right of way for the Missouri Pacific Bagnell Branch. He was also a member of the executive committee that secured the Rock Island Division in 1903.
GEORGE RILEY WEEKS
Obituary from the Eldon Advertiser, January 27, 1910
George R. Weeks was born in Lake County, Ohio in 1838. When he was 4 years old his parents returned to their home in Vermont. HE enlisted in the 7th Vermont regiment of the U.S. Army in August 1861, on the 7th of October of the same year he was married to Miss Almira Joslyn, who has been a faithful companion in all his efforts and labors and still survives him. In the army he was soon sent into the field where he endured great hardships. After serving 11 months he was discharged on account of sickness and consequent disability to perform the required duties. After his discharge he remained about three years in Vermont, when he came with his wife to this state and this community, where he has resided ever since.
He was very earnest and active in improving agriculture in this county and in building up this town. When there seemed to be some prospect of getting a railroad through this then almost uninhabited prairie he took a deep interest in the matter and promoted it in every way he could. He laid the foundation for the town. He got up the subscription for the first church in Eldon, which when it was completed, was used by all the then organized denominations.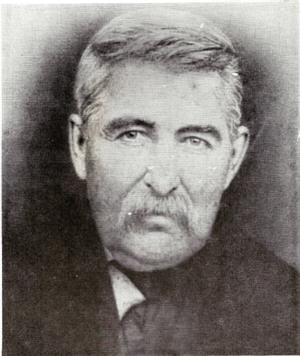 George Riley Weeks
As a farmer he distinguished himself by industry economy and especially by the application of correct principles of agriculture. As a citizen he was honest, upright and manly. As a church member he was faithful and useful. In all these respects his example was a blessing to his community.
The funeral was conducted at the Congregational Church by Dr. Garvin and because Mr. Weeks was the founder of Eldon all businesses were suspended as far as possible from 2:00 to 3:00 Monday.
RAY WICKHAM
By Gerard Schultz, 1933
Ray Wickham, owner of one of the finest farms in the county, was born near Ulman on August 19, 1893. His father, J.H. Wickham, of Eldon, was born July 22, 1854. His mother, Susan L. (Prock) Wickham was born in Miller County, a daughter of John Prock, who was a native of Wayne County, Kentucky. Her mother, Elizabeth (Albertson) Prock was a native of Fentress County, Tennessee.
Mr Wickham was married on February 24, 1915, to Miss Lucy I. Lurton. Mrs. Wickham was born October 25, 1895, a daughter of Edward H. and Livonia (Brumley) Lurton. She is of Irish ancestry. Mr. and Mrs. Wickham have two sons, Jim and Joseph.
Mr. Wickham's influence has been for good upon the progress of the county. He was clerk of Bear Public School for eleven years. He has been prominently identified with the Tuscumbia Farmers Exchange and has been a director of the county and township units of the Missouri Farmers Association. His farm is located on State Highway Number 17, two miles south of Tuscumbia. He is a Republican and a member of the Mount Zion Christian Church.
WRIGHT FAMILY INFORMATION
(From: A History of Miller County, Mo by Gerard Schultz, 1932)
LAWRENCE A. WRIGHT
Lawrence A. Wright, business manager and one of the publishers and editors of the MILLER COUNTY AUTOGRAM, was born at Tuscumbia, February 9, 1886, son of James Pinkney and Carrie Minnie (Fendorf) Wright, and grandson of James Lawrence Wright. The latter served as a lieutenant in the Union Army during the Civil War. The Wright family settled in Miller County about 1856.
Mr. Wright grew up in Tuscumbia, attended the public schools there, and has expressed his talents and industry in county affairs. He has done a great deal toward making the MILLER COUNTY AUTOGRAM the fine county-town newspaper that it is. During the World War, while both the cashier and assistant cashier were in service, he took their places in the Bank of Tuscumbia. He was director of banks and treasurer of the United War Work funds for Miller County and did such excellent work that he was given an honor medal by the Government. He is a member of the Editorial Association, and the Missouri Press Association and is on the Board of Deacons of the Christian Church. He is a Democrat in politics and was twice drafted by his party as a candidate for office. While the county is substantially Republican, he was defeated in 1912 by only 17 votes for county treasurer and by only one vote for county assessor in 1914.
In April 1909, he was married to Carmen Ercell Bassman, and they have four children---Dorothy Hope, Doris Nadine, Gerald Vance, and Lloyd Alfred.
TENNYSON CLAY WRIGHT
Tennyson Clay Wright, Supt. of Tuscumbia Schools, was born at Tuscumbia, August 23, 1889. He is a son of James Pinkney and Carrie Minnie (Fendorf) Wright. His mother was born at Allentown, Pennsylvania on December 15, 1846, of German ancestry. His father was born in Cole County, MO on November 14, 1850.
Mr. Wright was educated in local schools at Tuscumbia and later attended Westminster College at Fulton, MO and the University of Missouri, where he received his Bachelor of Science degree in 1923. He taught his first term of school at Bagnell. Following that for two years he taught in the grade school at Tuscumbia. For about 20 years he has been Supt. of the Tuscumbia Schools. Since 1920 he has been director of Vocational Agriculture in Tuscumbia High School. He has gone into educational work with thorough earnestness.
He has been President of the Miller County Teachers Association, President of the Association of the Christian Churches of Cole and Miller Counties, and has been Supt. of the Sunday school of the Christian Church for many years. For most of the past 27 years he has been director of the Glee Clubs and athletic organizations of Tuscumbia schools, and has been director of the Tuscumbia Band for 24 years. He is a very successful worker with young people, and is sponsor of the Christian Endeavor, Boy Scouts, and Camp Fire Girls organizations. He has been State Fair Commissioner for Miller County. His political allegiance is given to the Democratic party. During the World War he was a Two-Minute Man.
On June 17, 1915, Mr. Wright was married to Mary Paul Spearman, daughter of Willard Sherman Spearman and Cora (Thompson) Spearman. Mr. & Mrs. Wright have one son, Tennyson Clay, Jr...(NOTE:--Willard Spearman was Miller County Clerk from 1907-1914).
ORVILLE O. WYRICK
By Gerard Schultz, 1933
Orville O. Wyrick, Circuit Clerk and Recorder of Deeds, Miller County, was born near Ulman on November 18, 1903. His ancestors lived in Kentucky and Tennessee, although his parents were born in Miller County. His father, Perry T. Wyrick, was born near Ulman, on October 13, 1880, and his mother at Iberia, on January 18, 1886.
Mr. Wyrick was graduated from Iberia Academy in 1922. He began teaching the same year, and in 1924 became principal of the Iberia Public School. He filled this position for six years and was doubtless one of the best principals the school has ever had. He became Circuit Clerk and Recorder of Deeds in 1930, at 26 years of age, being the youngest man ever elected to that position. He is filling his office very capably and dependably.
In 1932 Mr. Wyrick was elected by the alumni of the Iberia Academy as alumni member of the Board of Trustees, having served as president of the Alumni Association previous to that time. He is now serving his second term as a member of the School Board at Tuscumbia and is Secretary and Treasurer of the Town Board of Trustees. He has also been Secretary and Treasurer of the Board of Trustees at Iberia.
In 1926 Mr. Wyrick was married to Miss Grace Martin, daughter of Mr. and Mrs. George M. Martin, at Iberia. They have two children, Dolores and Mary Kathleen. Mr. Wyrick belongs to the Christian Church; his wife is a Methodist. In politics Mr. Wyrick is a Republican. He has always shown diligence and a strong determination and personality.
PERRY T. WYRICK
By Gerard Schultz, 1933
Perry T. Wyrick, cashier of the Farmers and Traders Bank of Iberia, was born near Ulman, Miller County, on October 13, 1880. He is a son of John H. Wyrick who was born in Miller County on November 27, 1853, and of Rachel E. (Kinder) Wyrick, born in Miller County on February 4, 1856. His paternal ancestors were from Tennessee, while his mother was from a native Kentuckian family.
Mr. Wyrick was educated in the public schools of Miller County and the Miller County Institute at Spring Garden. For about 15 years he taught school in the counties of Miller, Pulaski and Camden. He has been active in political affairs of the county as a member of the Republican Party. He was clerk of the Circuit Court and Ex-officio Recorder of Deeds of Miler County from 1915 to 1919, and was supervisor of automobile funds in the State Treasurer's office at Jefferson City form 1929 to 1933, under Larry Brunk, State Treasurer. In April 1933, he was elected cashier of the Farmers and Traders Bank at Iberia. A man of unusual capabilities, he has always held himself at the disposal of his fellow citizens whenever the need arose.
On January 18, 1903, near Iberia, Mr. Wyrick was married to Miss Carrie G. Whittle, daughter of Josephus and Leatha Whittle, natives of Missouri. Mr. and Mrs. Wyrick have two children, Orville Oral and Elmer Everett. Mr. Wyrick is a member of the Christian Church.
---