---
ELMER CLAY PERKINS
By Gerard Schultz, 1933
Elmer Clay Perkins, partner in the firm of Irwin and Perkins Motor Company at Iberia, was born about six miles east of Iberia on February 15, 1895. His father, Melvin Perkins, was born in Maries County on February 13, 1868, and his mother, Addaline (Cross) Perkins, a native of Miller County, was born September 26, 1868.
Mr. Perkins enlisted January 31, 1918, and was in the Navy Aviation Corps. He was a landsman for quartermaster, second class. He received his discharge March 22, 1919. HE is a member of the Fremont Watkins American Legion Post Number 105. On June 25, 1925, Mr. Perkins was married to Miss Jessie L. Irwin, daughter of Mr. and Mrs. J.L. Irwin. Mr. Irwin was born in Union County, Pennsylvania, December 8, 1857, and the following year his parents came to Missouri. Mrs. Irwin was born near Washington, Indiana, May 16, 1860. Mr. and Mrs. Perkins have one son, Robert Lee, who was born December 26, 1927.
Mr. Perkins has been a Chevrolet dealer for four years; in August 1933, he and his business partner became direct agents for the sale of Chevrolet cars. As a business man Mr. Perkins has shown intelligence and good judgment. In 1931-1932 he was mayor of Iberia.
Mr. and Mrs. Perkins belong to the Republican Party and are members of the Congregational Church. Mr. Perkins' favorite sports are hunting.
HELEN FENDORF PHILLIPS
By Helen Phillips, 1981
Mrs. Louis D. Phillips (Helen) was born July 18, 1908 at Tuscumbia, Missouri, the daughter of William Alfred and Rosa James Fendorf. She moved to Eldon with her mother in 1918 after the death of her father in 1917. She graduated from Eldon High School and from Central Business College in Kansas City, Missouri.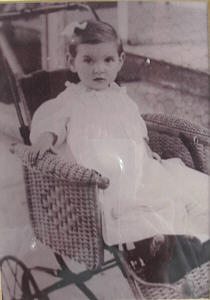 Helen Fendorf Phillips, circa 1909
| | | |
| --- | --- | --- |
| Wm. Alfred Fendorf - father of Helen Fendorf Phillips | | Helen Fenforf Phillips - 1933 |
She was employed as a secretary and bookkeeper for A.B. Cole & Son Produce Company in Eldon until the firm was purchased by Swift and Company. She remained with Swift & Company in California, Missouri until 1929, then returned to Eldon and worked as a secretary for Mr. Clark Vanosdoll and the Ford Motor Company. Helen was secretary and bookkeeper with Mr. Vanosdoll during the building of Highway 54 through Eldon to Bagnell Dam. He had the gravel contract for building the highway.
On June 22, 1933, she was married to Louis D. Phillips and they were associated with Mr. Phillips' father, William A. (Allie) Phillips, in the Phillips Funeral Home in Eldon, Missouri. Following her husband's death in 1978, she has continued her association with the Phillips Funeral Home.
Louis and Helen Phillips were the parents of two sons, Don E. Phillips, the present owner of the Phillips Funeral Home in Eldon, and William A. Phillips, who is associated with the University of Minnesota at Minneapolis. She also has two grandchildren, Mrs. Rodney (Denice Phillips) Kempker of Eldon and William Daniel Phillips, a student at the University of Missouri in Columbia, Mo.
Helen is a member of the First Christian Church of Eldon; Order of Eastern Star, Eldon Chapter No. 210; Miller Rebekah Lodge No. 324; Chapter CH, P.E.O.; Past President of Eldon Chapter of Parent-Teacher's Association and a member of the Board of Directors of the American Lung Association of Western Missouri.
WILLIAM ALBERT PHILLIPS
By Helen Phillips, 1981
William Albert Phillips was born in Waterbury, Vermont, August 29, 1834. HE was the son of Stephens and Mary Austin Phillips. He was married to Abbie Raymore at Eden, Vermont January 8, 1858. He enlisted in the Union Army 4th Vermont Regiment, Company D at Brownington, Vermont in 1861 and was transferred to the "Bloody 6th" and fought at Gettysburg. He was discharged in 1865.
He moved from Eden, Vermont that same year with his wife and young daughter, Mary Ellen, to Miller County and settled near Mt. Pleasant. The children born in Miller County were John Henry (1868-1946) and William Albert (1873-1945). William Albert, husband of Abbie Raymore, died August 24, 1873, and Abbie was married at Mt. Pleasant on December 11, 1875, to Rollin O. Joslyn, also a native of Vermont. They moved to Loveland Colorado and were the parents of one son, Samuel Archie. After Mr. Joslyn's death she returned to Eldon where she died February 10, 1920.
Mary Ellen was married to John William Son of High Point. She died in Rolla, Missouri, June 24, 1950 and Mr. Son died there on December 21, 1948. Descendants of Mary and John Son who still live in Miller County are a son, Homer Son of Rocky Mount, a granddaughter, Mrs. Christie (Mickie) Howser and her children, John and Christie Ann, all of Eldon.
Henry and William A. (Allie) Phillips became associated with the Eldon Hardware and Lumber Company where Henry remained until his retirement. Henry was married to Maud Smith who died in 1955. Their children were Julia, Arthur, Paul, Ray, Albert and Hugh. Two of their children have strong association with the Lake Area-Albert, an engineer with Union Electric, died in 1963. His widow, Mildred, lives at Lookout Point, FRD, Eldon, Missouri, and their son, David and his family live in Florida. Hugh, an attorney and former Prosecuting Attorney of Camden County, and his wife, Emma, live in Camdenton. They have two daughters, Judy Jackson and Jo Carpenter, living in Camdenton.
William Albert (Allie) Phillips was married to Esther Slanker in 1896. Esther died in 1933. Their children were Edna Ellen (Mrs. R.H. Gragg) (1896-1952) and twins, Louise Margaret (1906-1908) and Louis Daniel Phillips (1906-1978). Allie Phillips attended embalming school in St. Louis, Missouri and became a licensed embalmer in 1906. His embalmer's license was one of the first one hundred issued by the State of Missouri. He remained active in the business until his death in 1945.
Louis D. Phillips attended Eldon Public Schools and graduated from Eldon High School. He attended Williams Institute of Embalming in Kansas City and received his license in 1932. He was associated with his father in the Phillips Funeral Home in Eldon until his death in 1978. HE was married on June 22, 1933 at Eldon, Missouri to Helen Fendorf. They were the parents of two sons, Don E. Phillips, the present owner of Phillips Funeral Home and William Alan Phillips of St. Paul, Minnesota.
CLARENCE OLIVER PLEMMONS
By Mary (Plemmons) Hoskins, 1981
Clarence Oliver Plemmons, born October 9, 1884, in Miller County, Missouri, died November 30, 1966. The son of George and Elizabeth (McDowell) Plemmons, he married Virginia (McClaskey) Reed who came to Missouri from Iowa. They settled on the old Plemmons farm near Brumley. Their children: Kent, George, Bettie, Carolyn and Mary.
Kent married Marna Ryan and lives in Colorado. Their children: Kent, Jr., Robert and Kathy.
George married Delores Troxell and lives on a farm near Brumley. Their children: Debbie and Steve.
Bettie married Eugene Heard and lives in Colorado and they have a daughter, Beverly.
Carolyn married John Kelsay and lives near Iberia. Their children: Belinda, Ricky and Billy.
Mary Married Roy Hoskins and lives near Barnett on a farm. Their children: Roberta and Margaret.
WALTER M. AND HAZEL A. POPE.
By Hazel Pope, 1981
Walter Morgan Pope was born on a farm near Brumley, Mo., the son of Arthur M. and Martha E. (McDowell) Pope. At the age of six his parents moved to old Linn Creek. After graduating from high school, he attended Missouri University and graduated from Draughans Business College, Springfield, Mo.
The 13th of April 1927, he came to Bagnell, Mo. to manage a hardware and lumber company which his father had established in 1923.
In 1933, Walter married Hazel A. Sullivan, Brumley Mo., the daughter of William Burton (Bert) and Cecil (Conner) Sullivan. She graduated from Brumley High School, attended Iberia Junior College and Warrensburg State. She taught one year in a country school.
The Popes have one son, Morgan Dean. He is married to Constance Gayle Clark, daughter of Merritt A. and Hulda (Wallin) Clark. They are the parents of two sons, Morgan Clark and Sean Sullivan. Morgan is Manager of the Microlithography and Processing Labs - Monolithic Circuits Engineering for Tektronix, Inc., Beaverton, Oregon. They reside in Portland.
Walter and Hazel continued to live in Bagnell and operate the business and a tourist court until 1943 when the town was inundated by the waters of the Osage River. The business buildings were torn down, but they moved their home to its present location on Business 54.
Walter was substitute mail carrier on Route 3 for 13 months. From 1952 until his retirement in 1973 he operated a drive up lunch stand below Bagnell Dam. The Popes are members of the Lake Ozark Christian Church; Hazel is a charter member.
MR. AND MRS CHARLES H. PORTER
By Beth Porter Bales, 1981
Charley H. Porter, life time resident of the lake area, was born December 11, 1896 at Gladstone, five miles above the dam then five miles up the Big Gravois. He worked as a farmer most of the time, sometimes supplementing his income cutting railroad ties. Charley cut ties, earning $2 or $3 a day from the time he was 16 until 1937.
July 10, 1922, Charley married Opal Ruth Robbins. She was born March 23, 1902 close to Bagnell, Missouri, between Jackson Branch and Birdsong Holler.
At the time they were married, Charley was working at the tiff mill in Eldon. They later moved back to the lake and in 1929 Charley started working on the dam. At first he was working on the actual construction of the dam, but then began working in the reservoir topping timber. This was done with a chopping ax, chopping right and left handed. He would stick his spurs in and working with a belt around the tree, chop one side then the other. Sometimes they would sit on a limb and cut the top off without a belt. The trees would sometimes split down 15 or 20 feet.
In 1941 Charley went to work for the railroad out of Eldon and Opal began working for Glazier Bro. Mfg. pants factory. Opal worked at the pants factory for 18 years. Charley retired from the railroad after 20 years in 1962.
Charley and Opal are now living in Eldon. They have 5 children: Edna Witt of Eldon, Wilma Simpson of Eldon, John Porter of Brumley, Arthur Porter of Eldon, and Jean Cotton of Eldon. They have 16 grandchildren and 27 great-grandchildren and 1 great-great-grandchild.
ROY FESTUS PORTER
By Gerard Schultz, 1933
Roy Festus Porter is one of the leading merchants of Iberia, conducting business as a member of the firm of Grady and Porter. He was born near the town in which he is now located on October 27, 1883. His father, Joseph W. Porter, who was born at Pleasant Hill in Pike County, Illinois on March 3, 1853, came to Missouri at the age of 13. His mother, Letha Pittman Porter, was born near Hancock, Pulaski County, Missouri, on October 23, 1858.
Mr. Porter received his education at Iberia Academy and Central Missouri State Teachers College, Warrensburg. At the age of 16 years he began teaching in Pulaski County. His teaching career lasted for twenty years, seven of which he spent as principal of Iberia Public School.
On November 6, 1904, Mr. Porter was united in marriage to Miss Nellie Cadwell, daughter of Harry Cadwell and Jane (Stokes) Cadwell. Mrs. Porter's parents were natives of Illinois. Of this union were born two children, Quentin Balfred, now a resident of Kansas City, Missouri, and Vera Louise, who graduated from Iberia Academy in 1933, and who has shown interest and ability in music.
Mr. Porter is a Republican in his political convictions. He is a member of the Congregational Church and is affiliated with the Masonic Order, Lodge Number 410. He has served as a member of the Board of Trustees of Iberia and also as a member of the Public School Board.
JAMES EDWARD (ED) PREWITT FAMILY
By Elsie Prewitt Williams & John R. Prewitt, 1981
Ed was born in 1880. He married Annie Mansfield in 1903. She was born 1880 in Camden County, the oldest daughter of George and Alice Ahart Mansfield. Ed and Annie lived on several different farms in the Linn Creek area. Ed was efficient with a hammer, saw and ax. He sometimes would make railroad ties.
After the timber was cut for the lake and the fertile soil covered with water, the family moved to the Stover vicinity in Morgan County, later to Warsaw in Benter County where they spent the rest of their lives. While in Warsaw Ed was butcher for "Cooper's Store" until he retired, then he was city policeman for as long as he was able to work.
Ed died in 1963 and Annie died in 1966. They are buried in Conway Cemetery in Camden County. They were members of the Methodist Church. If a Methodist Church wasn't available they went to another church. Annie taught in the rural schools before her marriage…Roberts in Turkey Bend, Prewitt School located in Racetrack Hollow and Conway School near Turkey Bend Junction. Annie was a devout Christian and Sunday school teacher, and a loving mother who always put her family before herself.
There were seven children: Claude, Preston, MO; Malcolm, Eldorado Springs, MO; Dorothy Craig, who died in 1963 from injuries suffered in a car accident; Elsie Williams, Linn Creek, MO; John, Floyd, Iowa; George, who died during World War II; Bernice Ward, Liberty, MO. Their many grandchildren are scattered throughout many states and Taiwan.
JOHN W. AND MARTHA PREWITT
By Elsie Prewitt Williams & John R. Prewitt, 1981
John Wesley Prewitt was born in Tennessee. He became an orphan early in life, the death certificate showed that his parents were John Wesley Prewitt and Mary White. John Wesley Prewitt came to Miller County and in 1870 married Martha, the daughter of Charley Stark. She was raised on a farm where Stark or Fantasy Caverns are near Eldon.
About 1870 they homesteaded the farm where Estol Hanks lives now. He served several years as sheriff of Camden County. At the time when the dam was being built he was Justice of the Peace of Linn Creek. John Wesley owned land in the Osage River bottom.
His children who lived to be grown were Elizabeth Hopkins, Albert, Bob, Ed, Mallory, Nora Hunter, Cora Thomas and Virgil. They are all deceased now.
John and Martha had their house moved from Old Linn Creek to Albert's farm on Highway 54. A gas station is there now next to the Lake of the Ozarks Bank, a few miles from Bagnell Dam.
John died in 1931, Martha in 1934. They are buried in Conway Cemetery, Camden County.
WILLIAM ALBERT AND ROSALEE PATTERSON PREWITT
By Mrs. Robert H. Vernon, 1981
William Albert and Rosalee Patterson Prewitt, parents of Walter L. and Bessie M., moved from Linn Creek in 1919 to a farm they purchased in Miller County. In the spring of 1928 they opened a service station and general store here at what became known as Prewitt's Corner at Highways 54, 42 and D road (present site of Bank of Lake of the Ozarks). This was the only store between Bagnell and Old Zebra and its stock included many items handled in large boxes or barrels and weighted out and sold by the pound such as beans, rice, coffee, sugar, salt, lard, large boxes of tobacco twists and plugs and big slabs of delicious bacon, as well as kerosene pumped from a barrel for use in lamps and kitchen ranges. The congenial atmosphere of the store made it a favorite place for people to stop and visit; election nights were special times for people to gather here around the big radio and await election returns until the wee hours of the morning.
John W. and Martha Stark Prewitt, his parents, moved their home from Linn Creek to near the store as water rose in the new Lake. Walter L. Prewitt, Sr., and George M. Burch, husband of Bessie, worked on construction of Bagnell Dam; later they built and maintained many roads in the lake area. When W. Albert retired, the store was operated by his son Walter L. Sr., and wife Glea Lupardus Prewitt; then later by his granddaughter Helen Prewitt and Husband Robert H. Vernon. This business was later purchased by Carl Williams and moved to a new location across Highway 54.
On the original farm are Prewitt's Mobile Home Sales, Camper's Delite Campground, Riverview Baptist Church, Wide World Church of God, Foster Chiropractic Offices, Zeek Accounting, Farmer-Foster Insurance Agency, Lake Ozark 66 Service Station, and homes of Walter L. Sr. and George M. Burch.
---