---
LEE MACE
Lee Mace was born July 30, 1927, at Brumley to Lucian Thomas and Clare Buster Mace. He died June 16, 1985, in a plane crash in Gladstone Cove on Lake of the Ozarks near Gravois Mills. A probe into the fatal crash of his homemade, single-engine airplane, did not disclose any mechanical failure.
To the residents of the lake area who attended his funeral Thursday, Lee Mace was more than an entertainer. He also was a symbol of economic progress. Perhaps more than anyone else, Lee Mace believed strongly in the future of the Lake of the Ozarks area. He was an early investor in commercial ventures in the area shortly after the lake was built. He pushed relentlessly for progress. Many credit Mace as the driving force behind economic progress in the lake area.
Mr. Mace was owner-operator of Lee Mace's Ozark Opry in Osage Beach and he never missed a performance in 32 years, either at home or on the road. He also had a local television show of the same name which aired locally for two decades. Mr. Mace was owner of the Indian Burial Cave, Lakewood Condos, several real estate developments and a recording studio and production company. He was part owner of Modern Sanitation of Osage Beach and was a director at Bank of Lake of the Ozarks.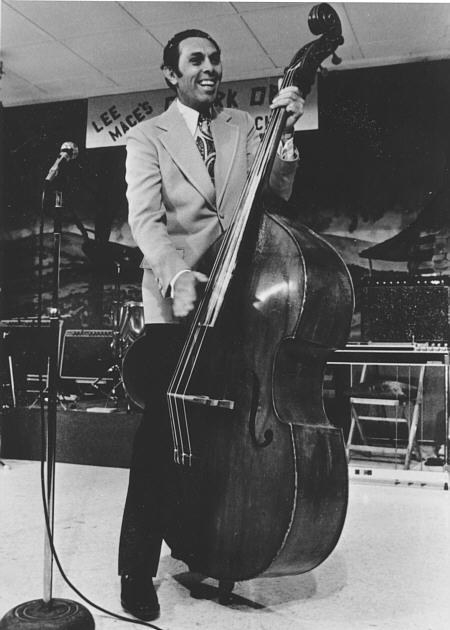 Lee Mace
Jim Franklin, president of the Lake of the Ozarks Bank and one of Mace's pallbearers, closed the bank lobby for the funeral and ordered the flat in front of the bank flown at half-mast. It was an appropriate tribute to Mace, a patriotic Christian who loved to perform wholesome country music shows. "Lee was a Miller County square dancer," Franklin said. But in later years Mace became not only a successful entertainer but also a successful businessman, Franklin said. Everything he became involved in prospered.
He was active in several civic, music and aviation associations, both local and national. Mr. Mace was also a member of the Tuscumbia First Baptist Church, Linn Creek AF & AM, Columbia Valley Ancient and Accepted Scottish Rite in Columbia, and the Abou Ben Adhem Shrine Temple in Springfield.
On August 16, 1950, he was married in Harrison, Ark., to Joyce Williams. In addition to his wife and mother, he was survived by two sisters, Lois Webb of Stillwell, Kan., and Sue Wyrick of Cedar Rapids, Iowa; and several nieces and nephews.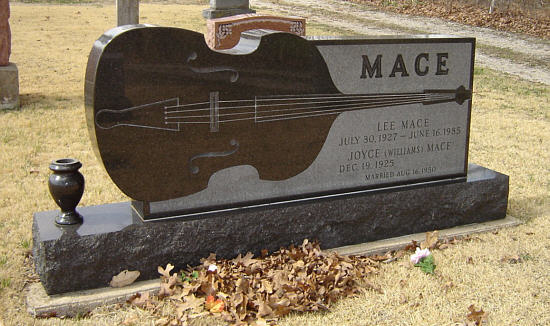 Lee Mace
Following a funeral service, he was buried in the Gott Cemetery near Ulman. The bass fiddle was Lee Mace's trademark. A black granite headstone was erected in the Gott Cemetery by Holt Monument Co. of Buffalo. The stone was made in St. Cloud Minn. and delivered in two pieces weighing a total of 3,500 pounds. A tracing of a bass violin was supplied to the stone cutters who made the unusual stone.
MAURICE E. MACE FAMILY
Maurice Eugene Mace, son of Claude Mace, deceased, and Mary (Hedge) Mace Bilyeu, Iberia, was born in Springfield, moved to Iberia at age twelve, and attended the Springfield and Iberia Public Schools. Eunice Daffade McKee, daughter of Mary and Albert McKee both deceased, was born in Miller County near Iberia, attended elementary school at Brays District and graduated from the Iberia Academy and Iberia Junior College.
Eunice and Maurice were married in 1942, and Maurice was inducted into the army three weeks later. He served three years and was with General Patton's 90th Infantry Division in combat during World War II. He received two injuries and was awarded the Purple Heart and Oak Leaf Cluster. While Maurice was in the Armed Forces, Eunice, having graduated from Knox College, Galesburg, Illinois, taught school in Illinois for three years.
After Maurice's honorable discharge from the Army in 1945, the Maces lived in St. Louis three years then moved to the Iberia community. Maurice spent 20 years in Civil service at Fort Leonard Wood and is now retired. Eunice earned her master's degree in Library Science from the University of Missouri, Columbia, and is an administrator in the Waynesville Schools and completing her 34th year in the teaching profession.
The Maces have three children: Mary Gwendolyn, Maurice Eugene II, and Michael David. Michael was killed in an automobile accident at age 17. Gwen attended Cottey College and graduated from Southwest Missouri State University. She taught school for a few years and is now working with Social Services of Missouri, is married to James Jones, formerly of Plad, and lives in Jefferson City. Eugene graduated from Southwest Missouri State University, is married to the former Denise Taylor of Texas, holds a managerial position as designing engineer with Rubbermaid in Cleburn, Texas, and has four children: Shannon Kay, Michael Joseph, Amanda Susan, and Nicholas Eugene.
The Maces enjoy horseback and trail riding and like to travel. (Eunice Daffade McKee Mace died 11 December 1995 in Jefferson City, Missouri.)
ROBERT HOWELL AND MARTHA PILKINGTON MACE
By Mary K. Burks, 1981
Robert Howell Mace was born November 17, 1887, the son of John T. and Malinda (Burton) Mace, Camden County, Missouri. Martha (Pilkington) Mace was born October 10, 1891, the daughter of James and Mary (Aust) Pilkington, Miller County, Missouri. They were married near Iberia, Mo. October 2, 1910. Mr. Mace and family moved to Eldon, Missouri from a farm near Olean, Missouri in the spring of 1928.
When work started on the Bagnell Dam he went to work for Union Electric until the dam was finished. For a number of years he was caretaker for Eldon cemetery and also worked with The Phillips Funeral Home.
In 1943 he moved to Kansas City, Kansas and worked during the World War II years and until his retirement in 1957 for the Rock Island Railroad. After retirement Mr. Mace moved to Versailles, Missouri in 1958 and lived there until his death, October 18, 1970.
Mrs. Mace was fatally injured in an automobile accident August 7, 1949 and passed away August 10, 1949.
Mr. and Mrs. Mace were parents of six sons and four daughters, seven living to be adults. Three sons and two daughters live in or near Versailles, Missouri. They are: Robert L., William T., and George A. Mace. Mrs. Donna Calton and Mrs. Clara McCasland, Mrs. Mary K. Burks lives in Kansas City, Kansas. The eldest son, W. Wilson Mace, is a resident of Eldon at the present time.
GEORGE AND ALICE MANSFIELD FAMILY
By Elsie Prewitt Williams and John R. Prewitt, 1981
George Mansfield was born in 1851 in Pensilwood, Gloucestershire, England. He died in 1904 in Camden County, Missouri. He married Alice Ahart, daughter of Abel B. and Rebecca Caroline Roberts Ahart. Alice was born in 1856 in Camden County and lived most all her life in the Turkey Bend area and died in 1948. Her son Roy lived with her and cared for her in her last years of life. In the last years she was confined to a wheelchair. She was strong mentally and physically for her age. Their children were: Willie, who died in infancy; Annie Mansfield Prewitt; Ellen Mansfield Anderson; Elsie Mansfield McDowell; Grace Mansfield McDowell; Roy Mansfield; Ray (Roy's twin) died in infancy; Edna Snelling is the only one of this family still living. (Edna died 10 July 1995 in Versailles, MO).

Alice had a very good memory and could tell stories of Civil War days in Camden County, as well as other stories. She mostly talked in a dialect similar to that of the people of the Southern Appalachians, where her forefathers had lived, and was very interesting to talk with. Roy did many kind deeds for his family and friends unbeknown to others.

Read the book, "Looking Back With an Old Timer" by Roy G. Mansfield as told to E.V. York. This is a very interesting and true story of the Mansfield family and Ahart family.




CAPTAIN ROBERT MELVILLE MARSHALL
GEORGE MONROE MARTIN
By Gerard Schultz, 1933
George Monroe Martin, editor and publisher of the Iberia Sentinel, was born at Tavern, Maries County, Missouri, December 5, 1889, a son of James Oliver Martin and Margaret (Rowden) Martin, both of whom were born near Vienna, Missouri, and whose ancestors were native Missourians.
Mr. Martin received his education in the public schools of Maries County and the Iberia Academy. For several years he engaged in the general mercantile business, and from 1904 to 1915 he served as postmaster at Iberia. His experience in the journalistic field covers a period of 20 years, having been editor and publisher of the Iberia Sentinel since 1913. He has shown an interest in community affairs and has manifested a high degree of ability in both his professional work and public service. He was clerk of the local camp of the Modern Woodmen of America for a number of years, and is now a member and clerk of the Iberia Public School Board, and a member of the Board of Trustees of Iberia Junior College.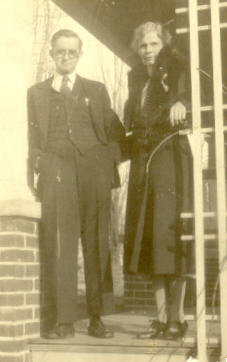 George & Laura Martin
On June 22, 1902, he was married to Miss Laura Ferguson, daughter of Mr. and Mrs. John Ferguson. Mr. Ferguson is of Scotch ancestry, and Mrs. Ferguson was English. Children born to this marriage were: Lena, who married John Heltzell; Grace, who married Orville Wyrick; Herbert and Glenn, who are linotype operators; and Lois Marie, who is deceased. Mr. Martin belongs to the Congregational Church, and in his political beliefs is a Republican.
JOHN W. MARTIN FAMILY AND JESSIE LEE PAYNE
By Jessie Lee Payne, 1981
John Wesley Martin and Lennie Wyrick, both native Miller Countians, upon marriage in March 1895, moved to Linn Creek in Camden County, remaining there for 30 years. Mr. Martin held a responsible position in the Watson Mercantile stores in Linn Creek, and served for two terms as Camden County Treasurer.
The nine children of the martins, all born in Camden County, were: Vesta, Eunice, Lesta, Lucy, and Traber, now deceased, and the four living sisters: Bertha, Hester, Jessie and Nadine.
Crossing the Osage River by wagon on the ferry, the family settled in Bagnell in 1924, where Mr. Martin was employed by the A.M. Pope Lumber Co., and served as Justice of the Peace and two term Mayor. Mr. Martin died October 19, 1931, and Mrs. Martin on September 7, 1944.
Three of the Martin girls married men in Bagnell: Hester to Lefty Taylor; two married brothers, Nadine to Cyrus Payne; Jessie Lee, born February 29, 1912, to Basil Payne, born September 20, 1906, a son of Melvin and Frances Payne, were married October 13, 1929, and lived in Bagnell, where Basil worked at dam construction, clerking in the Bear General Store, and then as merchant until 1944, when departing for employment in Kansas City.
A daughter, Basa Lea, was born to this union while living in Bagnell. Four children, Michael, twins Linda and Gary (now deceased) and David were born in Kansas City. Basil passed away September 26, 1966. Jessie and her sister, Hester, born February 29, 1908, have the unique distinction of being leap year babies, having birthdays every four years.
SEIGEL T. MARTIN FAMILY
By Jane (Martin) Hurley, 1981
Seigel Thomas and Letty (Vaughan) Martin were Bagnell residents when Bagnell was a river port and the Osage River was an important freight center in their day. Seigel was the son of Thomas Martin and he was an orphan at 12 years old with a 2 year old sister Nancy Jane. Seigel had outlived both his parents and 2 stepmothers by this age. From then on he worked and was responsible for himself, although his sister was given a home by neighbors. These children did have uncles, but Thomas Martin was a Union soldier and his family was Confederates and the Martin children did not have any contact with their relatives even on the death of their parents.
Letty Martin was the daughter of Stephen and Charity Vaughan and her family background included the earliest settlers in the Bagnell area of Miller county.
Seigel and Letty Martin were the parents of Frederick, Riley, Roy, Charlie, Joe and William and 2 sons who died in infancy. They are buried in the Riley Lamm Cemetery near Bagnell. Her parents, 5 sons and several grandchildren are also buried there. All of these people are deceased although some lived into their 80's.
Mr. and Mrs. Martin were young children during the Civil War. This obviously was very important for all of their lives. Mr. Martin's family was shattered. Mrs. Martin's family was more united. They faced the death of 2 children in infancy which wasn't uncommon in those days. They were descent and successful; having 6 sons to help make the living was an asset.
Mr. Martin worked at different things, among them, farming, as a lumberman making railroad ties, in the Bagnell Tie Yards, helped on building the Rock Island Railroad's Bagnell Spur and various other things during his life.
WILLIAM M. MARTIN FAMILY
By Jane (Martin) Hurley, 1981
Mr. and Mrs. William M. Martin of the Eldon area were natives of the Lake Ozarks area from birth. Mrs. Martin was born at Sagrada near Carver which were towns covered by the waters of the Lake. Mr. Martin is deceased. He was born and raised near the town of Bagnell, having worked in the Bagnell Tie Yards in the early 1900's. Mr. Martin is buried at the Riley Lamm Cemetery within a mile of his birthplace. Bessie (Upton) Martin was moved to the Aurora Springs area after being displaced by the Lake at an early age. Mr. and Mrs. Martin were young adults when the Dam was built, having been married during the Great Depression. They and their peers faced many hardships because of this.
William Martin's parents were Seigel and Letty (Vaughan) Martin and his ancestors were the earliest settlers of the Bagnell area of Miller County. Bessie Martin's parents were Solomon and Alice (Sconce) Upton and they were displaced from Camden County by the waters of the Lake. William and Bessie Martin are the parents of Norma, Grace, John, Lena, Paul, Jane, Fay and Anna and one son, Roy, died in infancy.
The Martins spent most of their lives in the Eldon area. Mr. Martin was employed by the Rock Island Railroad and was a farmer. Mrs. Martin worked at Oberman's and Glaser Bros. Manufacturing Companies.
The Martins lives have spanned unbelievable changes in their native country. Mr. Martin was the first person to ride a horse across Bagnell Dam. Mrs. Martin remembers the first automobile she ever saw, which was a rather short view since she was helping her father control frightened horses.
HERMAN JOHN MAYER
By Gerard Schultz, 1933
Reverend Herman John Mayer, pastor of St. Lawrence Church at St. Elizabeth, was born near Lake Geneva, Wisconsin, September 17, 1887. His father, Joseph Mayer, was born in Arnstein, Bavaria, November 19, 1827, and came to America at the age of 20. His mother, Caroline (von Krome) Mayer, who was of royal blood, was born at Wheatland, Wisconsin, July 23, 1851. Both of his grandfathers were in the German army, his paternal grandfather having served under Napoleon Bonaparte.
Reverend Mayer received his elementary education in the public schools at Bloomfield, Wisconsin. He then studied the classics at St. Lawrence College, Mt. Calvary, Wisconsin, and philosophy and theology at St. Francis Seminary in Milwaukee. He was ordained a priest at Kansas City, Missouri, April 10, 1917.
He began his life work as Assistant Pastor at the Cathedral in Kansas City. From there he was transferred, first to Sedalia, then to Osceola, Missouri. His next appointment was to the pastorate at Blackwater in Johnson County. On April 20, 1929, he was transferred to St. Lawrence Church at St. Elizabeth, Missouri, where he is still serving as pastor. His church now has a membership of about 125 families. The building is of cathedral proportion and the paintings and decorations of the interior cost hundreds of dollars.
Reverend Mayer has been a constructive force in the community to do good and to lead his people to higher standards of life.
WINIFRED (WINI) McBROOM
By Wini McBroom, 1981
Winifred Simpson McBroom was born September 30, 1918, in Eldon, Mo., to George L. and Celeste Slane Simpson. She has one brother, George E. Simpson of Eldon and one sister, Hortense Hillebrandt, now deceased. She attended school in Eldon and business college in Chillicothe, Mo. On August 4, 1939, she married Byron Kenneth McBroom, son of Byron and Minnie Frazman McBroom of Watseka, Illinois. They had three children: George Phillip McBroom of Orland, Florida, Margaret A. Tellman, Laurie, Mo., and Mary Jane Becchelli of Kansas City.
They resided in Colorado and Illinois until Mr. McBroom's death in December of 1959. Wini and her children moved back to Eldon in January of 1960 and in January of 1969 she purchased a dress shop in Versailles and moved from Eldon to Versailles. The shop was known as "Town and Country" and had been originally owned by Edna Ball and Janet Fleishman, who had operated the business for nineteen years. The shop name was changed to "Wini's Fashions".
In September 1973 a second shop was opened in Laurie, Mo., also known as "Wini's Fashions", and managed by her daughter, Margaret Tellman.
ZACH T. AND ELIZA McCUBBIN
Zachariah Taylor McCubbin and Eliza McComb were married March 12, 1874, at Brumley, Missouri. The couple was the parents of sixteen children. Eleven children reached adulthood. They were Mary Adona, James Oscar, Clarence William, Elda Amy, Ernest Zachariah, Jethro Thomas, Lewis Kline, Flossie Eliza, Millie Canada, Virgil Albert, and Herbert Henry.
Zachariah Taylor McCubbin was born September 16, 1855 at Watkins, Missouri, the son of William Cook and Margaret Canada Watkins McCubbin. His parents, James P. and Mary Parthenia Cook McCubbin, made the journey from Kentucky to Miller County in the Autumn of 1836.
Eliza McComb was born October 5, 1854 on Gravois Creek, near Bagnell, the daughter of William and Mary (Polly) McComb. Eliza's maternal grandparents arrived in Morgan County in 1837. Her paternal ancestors settled in Miller County about this time. Her parents were cousins.
Eliza was buried on her sixty-fifth wedding anniversary, March 12, 1939, in the Hawkins Cemetery, Miller County, Missouri. She died March 10. Zach died November 5, 1940. Both died at their home in Brumley. They were active members of the Brumley Baptist Church. Zach was a deacon. Eliza was very talented musically. As a young woman, she led the singing.
Two of their children are living (in 1981). Millie Sidwell, age 88, lives in Camdenton, Virgil A., age 84, lives in Jefferson City. Two grandsons, Roy and Carrol McCubbin live in Miller County. Several live in Missouri.
G. B. McDOWELL FAMILY
By Mrs. Mildred Franklin, 1981
On February 25, 1908 at the home of the bride's parents near Damsel, MO., Greene Berry McDowell and Elise Mansfield were married. His home was near Kaiser, Mo. in part of the area now know as State Park No. 1. Her home where they were married still stands in a tiny valley between the Dogwood Hills Golf Course and the new Lake of the Ozarks General Hospital.
The first few years of their married life, they lived in Miller and Camden Counties where he was engaged in farming. They were the parents of five children, two boys and three girls.
When preparations for and work began on Bagnell Dam, the family moved into "Old" Linn Creek and G.B. worked with the surveyors. This was a very interesting but sad time for the families who were having to give up their homes and move on to higher ground. When this family moved from the valley we lived in a little house on top of the hill overlooking the town that was being submerged by the waters of the Lake of the Ozarks. Every evening Mom would take us girls down into the "ghost town" to see how much the water had risen. Little by little we watched the waters cover the peaceful little village that had been home to so many for so long.
It was time once more for this family to move. This time their home was to be on the Old Maupin Farm near Osage Beach, Mo. The Dam Red-E-Mix plant now occupies the spot where the house once stood. While living here Dad worked for the Highway Department and also at the A.M. Pope Lumber Yard in Osage Beach.
While living here the three youngest of the family attended school in the little town of "New" Linn Creek. It was during these years that the resorts were springing up around the lake area. The boys in the family helped in the construction of many of the first cabin camps in the Turkey Bend and Osage Beach area. The girls worked in the hotels and cafes. During the time we lied here, Elsie worked very hard along with a few others to get the Harper Chapel Methodist Church reorganized and going again.
In 1938 with two children still at home, Greene and Elsie moved into a little home on a corner of the Roy Mansfield place. The spot is now home to the families of Bob and Don Hoffman.
This family can truly be called and is proud to be "natives of the area". Four of us are still here. Ralph McDowell lives on the old Mansfield place just across the valley from the Lake of the Ozarks General Hospital. Erma (McDowell) Barnes lives in Camdenton. Irene (McDowell) Franklin lives on a farm near Lin Creek and Mildred (McDowell) Franklin lives on State Road A just out of Linn Creek. Kenneth G. McDowell passed away in 1962.
W. A. McKEE FAMILY
1981
William Albert McKee and Mary Emaline Humphrey, natives of Miller County, were married in 1917. They lived three years in St. Louis where Albert worked for a street car company. They moved back to Miller County and spent the rest of their lives on a farm near Brays, except for a few years during World War II when they lived and worked at Fort Leonard Wood. They were active members of Brays Advent Christian Church all of their lives. Mary died February 27, 1969, and Albert died December 24 1972.
Albert and Mary had three children: Jennings, Eunice and Phyllis. Jennings married Lucille Walker of Sullivan. Their children are: Linda and Robert. Linda married Larry Fritchey of Iberia, and their children are: Jacquelyn; Larry Jr.; Kevin; Brandon and Michael. Robert married Laverne Toellner of Bunceton, and their children are: Robin and Travis.
Eunice married Maurice Mace of Iberia. Their children are: Gwendolyn, Eugene, and Michael. Gwendolyn married James Jones of Buffalo. Eugene married Denise Taylor of Texas and their children are: Shannon, Michael Joseph, Amanda and Nicholas. The Mace's son Michael was killed in an automobile accident at age 17.
Phyllis married Hovey Sumner of South Dakota. Their children are Harlowe, Jerry, Coni, Steve, and Shawn. Harlowe married Brenda Paul of Minnesota, and their children are: Kristy, Jessica, and Andrea. Jerry married Joyce Cole of Minnesota, and their children are Christopher and Shantelle. Coni married Derrel Fritchey of Iberia, and their children are: Staci, Dena and Melissa. Steve married Sandra Van Gorp of Minnesota and their children are: Dustin and Emilie. Shawn is a student in Dawson, Minnesota High School.
JOHN A. McKINLEY
By Elsie Williams, 1981
John A. McKinley (May 5, 1830-November 5, 1873) lived in Harlan County, Kentucky. In August 1850 he married Nancy L. Pierce (November 26, 1833-September 6, 1876). Their oldest son was born in Kentucky, then the family came to Missouri and first settled in Miller County. After a few years John and Nancy moved to Camden County where John was engaged in farming.
During the Civil War, John joined the Union Army and was wounded and hospitalized at Camp Benton, ST. Louis, Mo. in April 1863
John A. and Nancy L. were the parents of eight children:
James Solomon McKinley (January 10-1862-May 15, 1912) married June 30, 1874, to Mary (Polly) Adams (January 15, 1853-September 20, 1897). He married April 15, 1899 S. Henrietta McKinley (February 24, 1857-November 12, 1934) married Sarah Elizabeth Sidebottom (July 18, 1861-June 20, 1898).
George Robinson McKinley (April 29, 1859-February 3, 1928) married Malissa Rosetta Wood (July 25, 1863-February 1, 1944). He married March 29, 1906 Mary Alice Breckenridge.
John Andrew McKinley (January 4, 1863-July 29, 1931) married October 9, 1887 Nancy Ann Beeson Anderson (1865-1957).
Samuel T. McKinley (March 30, 1865-1940) married July 29, 1888 Delilah M. Routon (1866-1936).
Mary C. and Marel D. were twins. Mary C. McKinley (February 11, 1869-?) married October 30, 1887 William E. Cooper (1866-1947). Marel D. McKinley (February 11, 1969-?) married a girl named Lizzie.
Sarah Jane McKinley (January 22, 1871-September 10, 1951) married November 24, 1889 William Perry Madole (November 3, 1860-April 10, 1954).
John A. and Nancy L. Pierce McKinley are the ancestors of the majority of McKinleys and scores of other descendants now living in Miller, Morgan and Camden Counties.
WILLIAM GREEN McKINLEY
By Elsie Williams, 1981
William Green McKinley (February 24, 1857-November 12, 1934) was the son of John A. and Nancy L. Pierce McKinley. After his parents died, he farmed with his older brother on Indian Creek until he married Sarah Elizabeth Sidebottom (July 18, 1861-June 20, 1898), daughter of William and Nancy McGinnis Sidebottom. William and Sarah McKinley started farming in Moniteau County near Latham, Mo., where their seven children were born.
Cora Bell McKinley (December 8, 1881-November 26, 1963) married October 9, 1907 George M. Heatherly.
John William McKinley (August 9, 1884-195) married Bessie Whipple.
Harvey Green McKinley (June 28, 1886-?) married a girl named Moylda Levona McKinley (May 11, 1887-June 1, 1951) married July 17, 1902 George William Thomas.
Joseph Harrison McKinley (December 22, 1888-January 17, 1971) married April 9, 1938 Selah Swain.
Mary Alice McKinley (October 24, 1891-February 15, 1967) married Elmer Henry (Tip) English.
Aubrey Olen McKinley (March 31, 1893-November 2, 1970) was married late in life to a lady named Grace.
After Sarah died, William Green returned to Indian Creek where he was a well known farmer and rented pasture to other farmers as a stop over place on their way to Eldon, Mo. to sell their cattle.
WILLIAM AND SARAH McLAUGHLIN
By Shirley Kohlstaedt, 1981
William McLaughlin was born November 21, 1833 in Miller County, Missouri. He served with the Missouri Volunteers Co. E. 24th Mo. Inf. Regt. during the Civil War from July 25, 1861 to October 31, 1864.
He was in the Siege of Vicksburg and Bakers Creek in Mississippi. He was a farmer and settled in the Montreal vicinity after the War. He died April 13, 1906.
He married Sarah Catherine Edwards (born March 12, 1857, died January 21, 1925) on April 25, 1875. She was the daughter of Silas Edwards and Jane Siefort.
To this union were born the following children in Linn Creek, Missouri: Mary Jane Twitchel(1876), Priscilla Kuykendal (1878), James Twitchel(1880), Aaron Anderson(1882), Lizzie Long (1884), Dillie Earp (1886), Harry Mathena (1895 and Riley (1897) died.
William McLaughlin and wife Sarah are both buried at the Freedom Cemetery, Montreal, Missouri.
CHARLES MARION MESSERSMITH
By Gerard Schultz, 1933
Charles Marion Messersmith, former president of Missouri Assessors Association, was born about ten miles northeast of Iberia, on December 12, 1874. His father, Hiram Messersmith, came to Miller County from Cole County, where he was born on August 12, 1842. His mother, Harriet (Rowden) Messersmith, was born about ten miles northeast of Iberia. His paternal ancestors were originally German, while his maternal ancestors were from Tennessee and Alabama.
On May 14, 1905, Mr. Messersmith ws married to Miss Minnie A. Small, daughter of Arthur and Nancy Small. Mrs. Messersmith's father was of English descent; her mother was German.
Mr. Messersmith is widely and favorably known in Miller County. He taught school in the county for 13 years and served four terms as assessor from 1901 to 1909 and from 1925 to 1933. He has exceptional knowledge of the county, especially about location of land, and extensive acquaintance with people. He has been president of the Missouri Assessors Association, chairman of the Republican Central Committee of Miller County, and a member of the Republican Congressional Committee of the Eighth District.
In politics Mr. Messersmith is of the Republican Party. He is an elder in the Church of Disciples of Christ. Three of his children, James, Olive Jean, and Ida Helen, are deceased. Four are living: John, who graduated from Draughon's Business College in 1927 and from the School of Mines and Metallurgy at Rolla, Missouri, in 1933; Juanita, who graduated from Iberia Junior College in 1933; Mildred, and Betty Lou, who are attending school at Tuscumbia.
CHARLES M. MESSERSMITH, MILLER COUNTY ASSESSOR
By Mildred Messersmith Gray, Decatur, Georgia
Charles Marion Messersmith, Assessor of Miller County for 4 terms (from 1901-1909 and 1925- 1933), was the son of Hiram Messersmith and Harriett Rowden Messersmith. Charles was born ten miles northeast of Iberia on 12 December 1874. His father's parents were of German origin and his mother's ancestors were from Tennessee and Alabama.
Prior to becoming Miller County's Assessor, Charles taught in the country schools of Miller County for 13 years. He married Minnie Small, daughter of Arthur and Nancy Small, on May 14, 1905 and they became parents of seven children including: James, Olive Jean, Ida Helen, John, Jaunita, Mildred, and Betty Lou. Mildred (Gray) and Betty Lou (Smith) survive.
<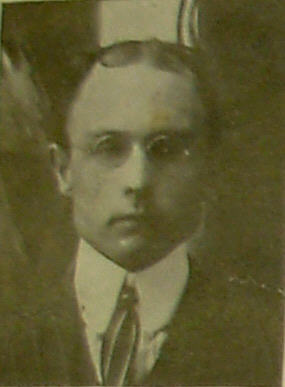 br>Charles Messersmith
Mildred remembers the era when her father covered the county assessing every piece of property. "My father assessed the county every summer driving to every house and it was said that he was familiar with every pig path. He would stay with whomever he was with at suppertime and the people in those days were very hospitable to him and he made many friends. Some of the older people in the county remember when he stayed with their folks.
His last term ended with the 1932 election when the Democrat party swept the elected offices in the county. Others remember when he taught school the county in the rural areas."
OKLE AND OZELL MOSELEY
By Otis Okle Moseley, M.D., 1981
The Moseleys are "natives", born and raised in the Miller-Morgan County area of Missouri, within a few miles of what is now the North Shore of the Lake. Okle's grandfather, Henry Clay Moseley, born in 1849, arrived with his wife, Elizabeth Ross, in Morgan County about 1883.
Okle's father was Guy Moseley, born in 18ir, in Gladstone, Missouri, which is now under water at the confluence of the Gravois and Osage Rivers. Guy Moseley married Lora Bowlin, born in 1881 in Miller County, in 1904. Guy and Lora lived in Miller County near the Rocky Mount-Blue Springs area all of the years of their marriage.
Okle J. Moseley was the first born son of Guy and Lora, born January of 1907. Okle married Ozell Crum, daughter of Laura Brewer and William "Bill" Crum of the Rocky Mount-Morgan County area, in October of 1930. They had four children, Otis, Harley, Ronald and Linda. They celebrated their 50th wedding anniversary in October of 1980 at the Lodge of the Four Seasons.
Okle Moseley is very much a part of the Lake. In September of 1929 he started work for the Stone and Webster Construction Company in the Carpenter's Shop, building the Bagnell Dam. HE started working for the Union Electric Company, in operations, at the Dam in July of 1931. He worked for the Union Electric Company until retirement in February of 1972, nearly 41 years. All of their children were born in or near the "Union Electric Village" on the hill north of the Dam.
Now retired, they live next door to their eldest son, Otis Moseley, M.D. in Lake Ozark, Missouri, on the beautiful Lake of the Ozarks.
JOHN MUSICK
By Gerard Schultz, 1933
John Musick, rural letter carrier of Iberia, was born on a farm near Ulman, August 21, 1881. His father, James V. Musick, was born December 8, 1857, at Hickory Hill, Missouri. His mother, Mary F. (Sidwell) Musick, was a native of Overton County, Tennessee, where she was born in 1853. She died June 28, 1927. Mr. Musick's paternal ancestors were from Ireland.
On December 21, 1905, Mr. Musick was married to Miss Ollie Mace, at the home of her parents, Mr. and Mrs. Thomas W. Mace. They have one daughter, Selma, who was born August 19, 1908. She was married December 25, 1930, to James E. Teays of Montrose, Missouri.
For many years Mr. Musick has been rural letter carrier at Iberia. Both he and Mrs. Musick are active in all affairs pertaining to the business in which he is engaged. He is a member of the national Rural Letter Carriers Association. For a number of years he was a member of the State Executive Board. He was president of the Executive District Number 5, composed of 15 counties, from 1931 to 1933. For the past two years Mrs. Musick has been State President of the Ladies' Auxiliary of the Rural Letter Carriers Association. Mr. and Mrs. Musick have attended national conventions at Buffalo, New York; Louisville, Kentucky; Peoria, Illinois; Oklahoma City, Oklahoma; Los Angeles, California; Baltimore, Maryland; Detroit, Michigan; and Des Moines, Iowa.
Mr. Musick is a deacon in the Missionary Baptist Church.
---