---
PEARLY JEFFRIES
By Laura Jeffries, granddaughter, 1981
Pearly Jeffries, son of William Derrick and Valonia Elizabeth Jeffries, was born at Zebra, Missouri, August 22, 1898, and passed away March 30, 1977. Ethel Mae (Burton) Jeffries, daughter of Jess and Sarah Burton, was born at Kaiser, Missouri, October 4, 1902 and passed away March 29, 1980.
They were married in 1919 and to this union ten children were born, nine sons and one daughter. One son is deceased. The nine children remaining are: Gale, Mildred, Nile, Luther, Ferrel, Orville, Eugene, Cecil and Nelson. They have twenty-one grandchildren, fourteen great-grandchildren.
Pearly was in the truck gardening business for many years and worked in the building construction before retirement 13 years before his death.
WILLIAM DERRICK JEFFRIES
By Laura Jeffries, great-granddaughter, 1981
William Derrick Jeffries, son of Toliver and Bell Jeffries, was born at Zebra, Missouri, March 27, 1877 and passed away May 13, 1945. Valonia Elizabeth (Snelling) Jeffries, daughter of Frank and Angeline Lucretia Snelling, was born January 9, 1881, at Brumley, Missouri, and passed away January 5, 1963.
They were married November 21, 1897 by Rev. James Dinwillie at the home of Jim and Amanda Byrd in Kaiser, Missouri. To this union eleven children were born, eight sons and three daughters. Seven sons are deceased: Pearly, who was married to Ethel Mae Burton, Roy Ezra to Iva Mae Henderson, Leonard Toliver to Elizabeth Jeffries, Leland Rosevelt to Matilda Bayne, Farris Darrell to Bette Finch, Frank, unmarried, and Arley, a baby. Four children survive: Cora Francis (Mrs. Joseph Laughlin), Wilma Olive (Mrs. Eugene Santti), Nellie Valonia (Mrs. Winston Esther), Vernon Clint married to Marcia Dee Hutcheson.
The remaining children all live in this area. They also have thirty grandchildren, twenty-one great-grandchildren and twenty-one great-great-grandchildren, and a great uncle, James Jeffries, who 8was one of the first settlers of Miller County.
William Derrick and some of his sons worked for the government on the Missouri River parat time, but their main livelihood was framing until Bagnell Dam was built, and the farm was inundated. They were then in the resort business, owning the Jeffries Cottages, Jeffries boat dock, boat motors and fishing guides at Osage Beach, Missouri.
JONES FAMILY
By Goldia Allen, 1981
Adolph Jones served in the Union Army December 1861-November 1865. He married Bethabra Dobson of Tuscumbia, Missouri December 1865. They moved to Foxville, Illinois, then back to Missouri in 1877 when their youngest child, John Wesley was 3. Adolph bought a farm on Little Bear Creek, near Elm Springs School, not far from where Osage Beach is now located. Adolph retired in 1897, sold this farm to John who married Nettie, daughter of James and Mary Wilcox Kilgore; whose adjoining farm was later bought by John and Nettie. This was still her home when Nettie died at age 101 in 1978.
John and Nettie's children were Goldia and Homer Allen, Sylvia and Homer Gover, Dorsey and Angeline Jones, Adolph and Nina Williams, John and Dorothy Barnett, Lucille and James Blankenship.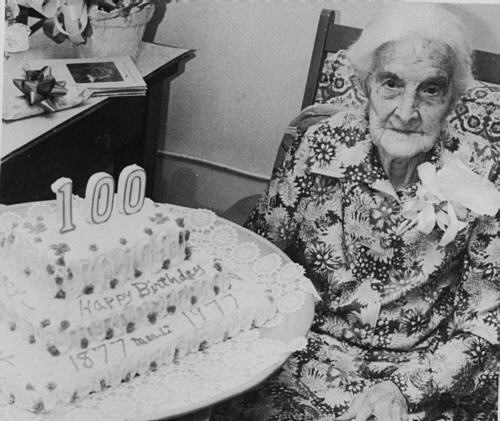 Nettie Jones
When Nettie Jones marked her 100th birthday on March 17, 1977, she was featured on the front page of the Lake Sun newspaper and Marcellus Bosworth, Poet Laureate of Osage Beach, honored her in verse. Born in Upper Clinch, Tenn., Nettie came to the area as a child, in a covered wagon. Her six children were born in a farm home near Osage Beach. Nettie Jones died June 28, 1978.
Goldia and Homer's daughter, Elaine, after marriage adopted Allen and Netti Lynn in Chicago, moved to Miller County, where son James Homer Rambo was born in 1949. He married Sandra Taylor. Their child Kimberly born January 28, 1973, is a half sister of Penny, Donnie, Connie and Wendy Taylor. All have attended school at Lake Ozark.
Cleve Rambo, born 19150, began working as a dock boy at age 12 and is still with Port Arrow Head Marina. He married Linda Dimbenski. Their son, David was born February 12, 1977. They expect their second child in May. It will be the sixth child, of the sixth generation of descendants of Adolph Jones and James Kilgore, who were truly "Pre Dam Pioneers".
---