---
DAVID PORTER FARNHAM
By Gerard Schultz, 1933
David Porter Farnham, one of Iberia's substantial citizens, was born at Williamsport, Pennsylvania, July 10, 1865. His mother, Henrietta (Goebel) Farnham, was born of German parentage on February 23, 1831, in Williamsport. His father, who was of English ancestry, was born in Canaan, Maine, June 6, 1826.
In 1866 the family came to Missouri. They traveled by rail to Pittsburgh, Pennsylvania, and from there down the Ohio, up the Mississippi and Missouri Rivers to Jefferson City. They came to Iberia from there by ox team, a journey which required two days' travel. On March 28, 1866, they arrived at Iberia, where they settled permanently.
On December 8, 1895, David Porter Farnham was married to Miss Lillie May Mace at the home of her parents, Thomas W. and Julia Ann (Tate) Mace, near Galatia, Illinois. Her ancestors were originally English. Mr. and Mrs. Farnham have four children: Lee, who is manager of the Farmers Produce Company of Springfield, Missouri, and has become a prominent figure in the Missouri Farmers Association, was born April 11, 1898. David R. was born September 22, 1901. Clarence was born October 27, 1910, and Vera Belle on November 19, 1912. All of the children are graduates of Iberia Academy. Clarence and Vera Belle also completed the work of Iberia Junior College. Clarence graduated in 1933 from the Southwest Missouri State Teachers College, in which institution his sister Vera Belle is now a senior.
Mr. Farnham gives his political allegiance to the Republican Party. He is a deacon in the Missionary Baptist Church.
---
ROBERT MAXWELL FENDORF
By Gerard Schultz, 1933
Robert Maxwell Fendorf, former Prosecuting Attorney of Miller County, was born February 25, 1898, at Tuscumbia, Missouri. His father, Frank W. Fendorf, a former Collector of Revenue of Miller County, was born August 5, 1849, at Allentown Pennsylvania. His mother, Mary Isabelle Fendorf, was born in Miller County on March 27, 1863. His paternal ancestors were from Germany. His maternal ancestors came from Kentucky and Ohio.
Mr. Fendorf received his high school education I schools of Tuscumbia and Jefferson City. During the World War he served in the United State Army in France for 12 months, and was discharged with the rank of Sergeant. He attended the University of Illinois in the year 1922-1923. In 1927 he graduated from the School of Law of the University of Missouri, with the degree of LL.B. Mr. Fendorf has made for himself a credible name and place at the Bar of Miller County, to which he was admitted in 1926. He was elected Prosecuting Attorney of Miller County on the Republican ticket for two terms from 1928 to 1932. He is now engaged in the practice of law at Tuscumbia as a member of the firm of Stillwell and Fendorf. He is a member of Phi Delta Phi, an international legal fraternity; I.O.O.F.; and the American Legion.
On February 25, 1928, he was married to Miss Eska L. Heltzell, daughter of Mr. and Mrs. Selby J. Heltzell, of Iberia. Mr Fendorf belongs to the Presbyterian Church.
---
JOHN HUNTER FERGUSON - LARGER THAN LIFE
By Nancy Arnold Thompson
When my great-grandfather, John Hunter Ferguson celebrated his 100th birthday in December 1938, I was only a few weeks old and attended his birthday party. There was a huge celebration at the old GAR hall in Iberia; friends and relatives came from all over and a special birthday cake was sent by relatives still living in Scotland.
Squire John, as he was known, loved to tell stories about the past and had a knack for getting his name and his photograph in the newspaper. Many interviews and articles have been written describing his journey from Scotland as a young lad, the hardships he faced growing up, his work aboard steamboats on the great rivers, his role in the Civil War…he was a very colorful man and a shameless self-promoter.
When I first started compiling my family genealogy, I took as gospel all the written accounts of his life that I found in various newspapers and publications. Closer inspection of public records, however, suggests there may have been errors in some of the generally accepted dates, and I feel compelled to set the record straight.
His birth date has been given as 25 December 1838. However the June 6, 1841 Census in Warrenhill Hamlet, Torthorwald Parish, Dumfriesshire, Scotland lists John's age as 5 months which would make his likely birth date December 25, 1840. In 1851 the family had moved to Mulligans Close in Maxwelltown, Dumfries and census taken there on March 30, 1851, lists his age as 10, again putting John's birth year as 1840.
There was another revealing piece of information in the Scottish census records. John's parents, William and Isabella Hunter Fergusson had a daughter named Mary who, according to census records, was born in 1848. She apparently died before 1855, because there is no record of her with the family after that date.
The second disputed date was the year of the family's arrival in this country. All accounts tell how the family boarded the Colonel Cutts in Liverpool and arrived in New Orleans in September or October 1852. John's father, William, died on the journey and was buried at sea. An examination of the ship's records reveals that the Colonel Cutts arrived in New Orleans on 3 December 1855 and William Furgueson's death aboard ship was recorded as November 20, 1855.
Isabella Ferguson and her three young children, John age 15, Elizabeth 12 and Martha 2, came up the Mississippi River to St. Louis to the home of Isabella's sister, Elisabeth and her husband William Dunlop (written as Dunlap in the U.S.). In those days, if widowed women could show no visible means of support, their children were made wards of the court. This is probably why Elizabeth was indentured to a German family in St. Louis and John was left in the care of his uncle William Dunlap who taught him the riverboat trade. Isabella then took the baby, Martha, and moved to Maries County, Missouri where she lived with her father, John Hunter, who had immigrated to this country at an earlier date. Isabella is listed as his housekeeper in the 1860 census.
Perhaps this is the time when John's birth date became clouded. Since he was not of age, he would have been made a ward of the courts. Declaring his age as 17 would give him some protection and make it easier to get a better job with better wages. John is known to have complained in later years that his uncle, who apparently was supposed to be holding his wages for him, never turned them over and cheated John out of his money.
There has always been some confusion as to where the youngest child, Martha was born. It was known that her birth date was circa 1852-1853 and if the immigration year of 1852 were true, she would have been born in this country. However, the 1860 census records for Maries County, Missouri lists Isabella Furgerson and her daughter, Martha, living with Isabella's father, John Hunter; all are listed as being born in Scotland. This further confirms 1855 as the year the family immigrated.
At any rate, the 1860 Census has John Ferguson, age 19, "Riverman" living in St. Louis with his uncle William Dunlap. It is said he came to Miller County in 1861, going first to Maries County to visit family. Records show John Married Dorcas Cansada Shelton 4 June 1862 in Miller County, Missouri and fourteen children were born of this union. They raised their family in the Madden area and later moved to a house in town.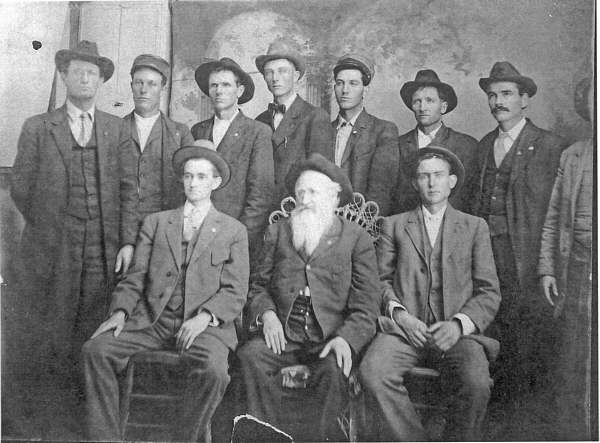 This is a photograph of John Ferguson with some of his sons and sons-in-law.
Seated L-R:
George Martin (Laura), Squire John, Willie Mace (Martha "Mattie")
Standing:
Fred Ferguson, George Arnold (Isabelle), John Richard "Jack" Ferguson,
Frank Ferguson, Harry Ferguson, William T. Ferguson, George Ferguson.
Cut off:
Edmund Scott Ferguson.
Not present
: Charles D. Ferguson & Grant Williams (Elizabeth).
The stories and newspaper accounts still remain fascinating and entertaining reading…some of the dates just need to be changed.
---