---
CLARENCE L. CASEY
By Gerard Schultz, 1933
Clarence L. Casey, a partner in the Adams & Casey Mercantile Company of Iberia, was born in the town in which he is now located on January 7, 1897. He is a son of John S. and Martha a. (Barlow) Casey. The father was born near Mt. Vernon, Illinois, on May 24, 1862, while the mother was a native of Missouri, the date of her birth being April 18, 1865.
On June 23, 1915, Mr. Casey was married at Springfield, Missouri, to Miss Cora M. Adams, daughter of George W. and Gertrude (Gardner) Adams. They have three children: Martha Gertrude, Juanita, and George John.
Mr. Casey gives his political allegiance to the Republican Party and was elected a delegate to the State Republican Convention at St. Joseph in 1928. He has given his fraternal support to the Masonic order, serving a Worshipful Master of Lodge No. 410 from 1930 to 1932. He is at the present time a member of the Board of Directors of the Missouri State Funeral Directors Association. He is also a member of the Board of Directors of the Bank of Iberia.
Both Mr. and Mrs. Casey are graduates of Iberia Academy, graduating with the classes of 1914 and 1912 respectively. They belong to the Iberia Baptist Missionary Church. Mr. Casey has shown a fine interest in local affairs and community progress. His favorite sports and hunting and fishing.
JOHN S. CASEY
By Gerard Schultz, 1933
John S. Casey, a successful businessman at Iberia from 1883 to 1920, was born May 24, 1862, at Mt. Vernon Illinois. His ancestors came from Northern Ireland and settled in Virginia about one hundred and fifty years ago.
At the age of about three years he came with his parents, Zadoc and Sarah Casey, to a farm on Barren Fork Creek about five miles west of Iberia. About the year 1883 he engaged in a mercantile business in Iberia and soon prospered. At one time he was also sole owner of a store at Ulman, Missouri, as well as a store and drug store at Iberia. He organized the Bank of Iberia and was its first president. He owned several farms and was at time a dealer in livestock.
In 1905 he was elected representative of Miller County and served in the 43rd General Assembly, as well as on five standing committees. He enjoyed attending State and National Conventions regardless of party. About 1920 he and most of his family moved to Kansas City, Missouri, where he bought a modern home at 3834 Forest Avenue and retired at the age of sixty.
He was a man of unusual business ability and his judgment was always considered the best. He has served as a member of the Board of Trustees of Iberia Academy.
On July 9, 1884, he was married to Miss Martha Barlow at Iberia, Missouri. Nine children were born to them-Clinton John, Olive Myrtle, Elva Etta, Clarence L., Clark L., Josephine, and Carl Parker are living. May Belle and Charles Clifford died when very young.
GERTRUDE HENLEY COFFMAN
By Helen Gibson
My Aunt, Gertrude Julia Henley Coffman was born Aug 10, 1894 in Miller County, Mo., the daughter of Thomas W. and Malinda J. Norfleet Henley. She attended school at Flintrock and Spring Garden. In 1913 she married Barney Coffman, the son of James and Jennie Pitchford Coffman, who lived near Spring Garden.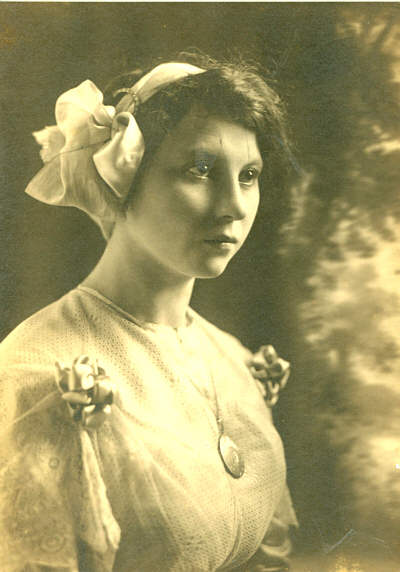 GERTRUDE HENLEY COFFMAN
A short time later they moved to Kansas City, Mo. to make their home, where Barney worked for the Kansas City Star and Gertrude worked as a milliner in Harzfelds Department Store. She worked there until she retired and was noted for her beautiful hats.
She and Barney had no children of their own but opened their home to their nieces and nephews and helped many of us find employment in Kansas City.
In 1964, they moved to Springfield, Oregon to live with a niece. Aunt Gert passed away March 18, 1980 at the age of 85 and was laid to rest beside her husband Barney, in Lane Memorial Garden Cemetery, Eugene, Oregon.
She will long be remembered for her many good deeds, courage, faith and unselfish ways which touched so many lives.
LEWIS AND LENA (ADCOCK) CRISMON
By Barbara Schwebel, 1981
Lewis and Lena (Adcock) Crismon were natives of Maries and Miller Counties, living for many years on farms south of Tuscumbia on the Osage River and in the Pisgah community.
They were married at her parents' home on the Osage River in 1896 and had four sons: Joseph, Elmer, Frank and Earl. The only living son, Earl, now resides in Modesto, California.
Lew served as Presiding Judge of the Miller County Court for several years, and was serving in that capacity on January 18, 1926, when at a special meeting the court ordered that a "Certificate of Convenience" be negotiated and transmitted to the Public Service Commission at Jefferson City, permitting Missouri Hydro-Electric Power Company to build a dam on the Osage River near Bagnell, Missouri.
Lew and Lena were faithful members of Mount Zion Christian Church from 1899 to the time of their deaths. They were married almost 61 years before both passed away in 1957. They were loving and caring people with many friends, and were dearly loved by their grandchildren: Barbara Schwebel, Laurei, Mo.; Otis Crismon, Edmond, OK; Virginia Nelson, Stover, MO; Kenneth Crismon, Eldon, MO; JoAnne Lynch, Stockton, CA; Curtis Crismon (deceased), Eldon, MO; Gonnie Frost, Gary Crismon and Joseph Crismon of Sacramento, CA; Carol Pearson, Sunnyvale, CA; James Crismon, Modesto, CA; and Vickie Bass, Los Angeles, CA.
---