---
BEAR FAMILY
George Bear
By David Eli Bear (great grandson of George Bear)
In September, 1857, George Bear sold his livestock, household goods, and farm implements at public auction at his farm in Ohio, and shortly thereafter the family left for the west headed to Kansas. They booked passage on a steamboat from Cincinnati, Ohio, then took another steamboat to St. Louis, Missouri. In St. Louis, George purchased a covered wagon which he hitched to a team of horses that he had brought from Ohio. The family then set out for Kansas with all the family walking except for the females and young David Bear, George's youngest son. They followed a well established trail that stayed south of the Missouri River. The coming of winter and the onset of illnesses of the season dictated a layover somewhere in Missouri until springtime, so they headed south looking for a place to spend the next few months. The family crossed the Osage River at Tuscumbia and continued south finally stopping for the winter in a protected hollow near the present Miller County Nursing Home. The children ranged in ages from five to twenty three years, so several of the young men were able to contribute to the hard work required to subsist.
In the spring of 1858, George made a decision to stay in Missouri to avoid the hostilities that were going on in Kansas that resulted from passage by congress of the Kansas-Nebraska bill. Also, George liked the Ozark hill country which was similar to his southern Ohio home where hunting and fishing had abounded.
A small tract of land was purchased on Coon Creek 3.5 miles east of Tuscumbia. Additional purchases increased the size of the farm to 180 acres. The previous owner had already constructed a two story house made with hewn logs with puncheon floors. The original portion was 18 by 20 feet. This room was connected to the original building by a breezeway and this addition became the kitchen and dining area. Cooking was done over the fireplace. Life was rugged for all, but hard work was all they knew, so there was no problem of acceptance of their lot.
April 12, 1861, ushered in the Civil War which had a major effect on this family. David, George's youngest son, was eight years old at the onset of the war. Six of his brothers served in various units of the Union forces. With many of the young men gone to serve in the military, the home front was left with less protection. Guerrilla war skirmishes occurred, and bushwhacking was a threat. Young David lived these early years with all the uncertainties of war. His schooling was interrupted because the schools ere closed for the safety of the pupils. David often spoke with regret that he had too little schooling. He probably received some basic instruction from his sisters who spoke and read English. The German language was the one used by the parents when talking to one another. His own desire to learn enabled him to become a good reader. His performance in adult life indicated that he was literate and well informed about the Bible, current events, history , etc. He was probably better educated than most men of his country. David grew up on the family farm. After the older boys returned from fighting the Civil War, many married, bought their own land and became farmers. John settled south of the Osage River near Tuscumbia. Andrew bought a farm adjoining his parent's farm. George Jr. purchased land with abutted on Andrew's farm, and Simeon purchased land adjacent to George Jr. All three of these farms were in the Dog Creek bottom just a short walk from the farm of their parents on Coon Creek. Henry bought land at Ulman, and Absolom moved to the Hickory Point Community just a few miles from Iberia.
Madison was a wanderer and moved to Arizona territory and bought land in the mouth of Ramsey's Canyon south of Tombstone. He died on December 26, 1882 at the age of thirty-seven years. A letter from G.G. McGee from Contention, Arizona Territory, stated that Madison died of "quick consumption " and was buried the next day at the mouth of Ramsey's Canyon in the Huachuca Mountains. He was sick about fifty days and was rational up to the time of his death. I am not certain whether this lay diagnosis was tuberculosis. If so, this could have been the reason for Madison going to Arizona to begin with.
Benjamin died on January 9, 1879, at age 28. The cause of death is unknown. He never married.
David was the only son of George who stayed on the home place and helped with the farming. His sisters, Mary Ann and Catherine remained at home and never married. David married Mary Samantha Winfrey in 1881 and brought her to the family farm. His father George died in 1876, and his sister Mary Ann died in 1877. By the time David moved his new wife to the family farm, his mother, Elizabeth, and his sister, Catherine, were the only ones still living there. Later, after the death of John's first wife, his two children joined the household. Their names were John Wesley and Minnie. David became the owner of the family farm after the death of his mother, Elizabeth in 1887.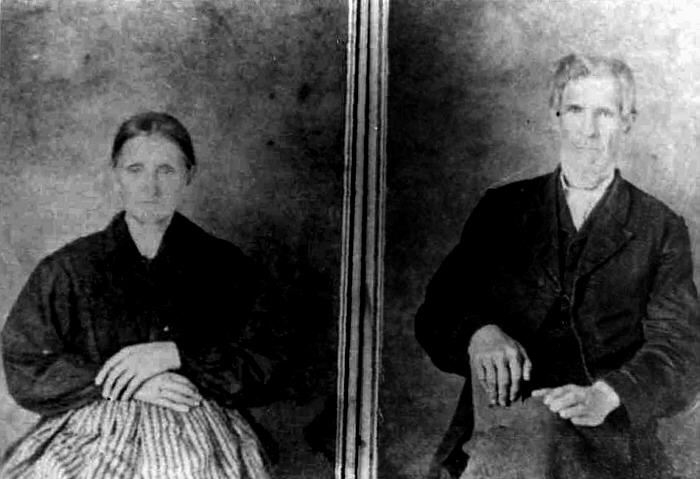 George & Elizabeth Bear
DAVID CHRISTIAN BEAR
From Goodspeed's History of Miller County 1889
David Christian Bear, another prosperous farmer of Miller County, and one of the enterprising citizens of the same, was born in Hocking County, Ohio, November 10, 1853, and is the son of George and Elizabeth (Vogt) Bear, the father a native of Kentucky and the mother of Ohio. The Bear family were originally from Switzerland, several generations back, as were also the ancestors of the Vogt family. Christian Bear, the paternal grandfather, was born in Gettysburg, Pennsylvania but went to Virginia when he was small. He afterward moved to Ohio, where he died. George Bear, father of our subject, was reared partially in Virginia and partly in Kentucky. He went to Ohio when a young man and there married Miss Vogt, after which he located in Hocking county. In 1857 he immigrated with his family to Missouri, going in wagons to Cincinnati, and thence by boat to St. Louis . He came out to Miller County and purchased the farm where David C. Bear now lives. There were few improvements on the place, and Mr. Bear set out to work and soon had a good farm well improved. He died in 1876. The mother died in November, 1877. They were the parents of thirteen children, eleven of whom grew to maturity and eight now living: John, Henry, Catherine, Andrew, Absalom, Simeon, George and David C., who is the youngest child. He was four years of age when he came to Missouri. He attained his growth on the farm where he now resides, receiving but a limited education , owing to the fact that school facilities were poor and that at about this time the war broke out. He stuck to the farm , however and now owns 180 acres of land, with seventy five acres under cultivation. He deals quite extensively in stock and his farm is well adapted to this purpose having a good range and plenty of fine water. Mr. Bear was married in 1881 to Miss Samantha Winfrey, by whom he has seven children: Cristina E, Arthur , and Lucy, Madison, Edward, Andrew, and Dora. Arthur and Edward died of a young age. Mr. Bear has in his possession one of the first editions of the old German Bible which his grandfather Christian Bear purchased at sale.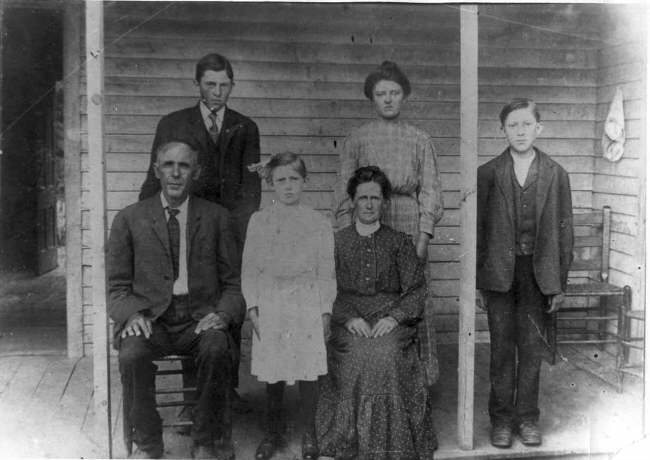 David Christian Bear family
David Christian Bear
By David Eli Bear (grandson of David Christian Bear)
David Christian Bear was the only son of George who stayed on the home place and helped with the farming. His sisters, Mary Ann and Catherine remained at home and never married. David married Mary Samantha Winfrey in 1881 and brought her to the family farm. His father George died in 1876, and his sister Mary Ann died in 1877. By the time David moved his new wife to the family farm, his mother, Elizabeth, and his sister, Catherine, were the only ones still living there. Later, after the death of John's first wife, his two children joined the household. Their names were John Wesley and Minnie. David became the owner of the family farm after the death of his mother, Elizabeth in 1887.
The children started coming in 1882 with the arrival of Christina, followed by Arthur in 1884, Lucy 1887, Madison 1889, Edward 1891, Andrew 1894, and Dora 1899. Arthur and Edward died young, one as a pre-teenager and the other in the early teens. One died from appendicitis and the other from a common childhood disease. Andrew died at about twenty-one years of age leaving a young wife and a baby boy named Evert. Andrew had been sickly for many years, probably a heart condition. These three deaths caused David C. Bear (my grandfather) to become extremely upset when someone in our family became ill. He had seen so many of his loved ones die that it had a permanent effect upon him.
David continued to farm the old homestead. During these years he served as Justice of the Peace for several terms from Equality Township. He also served a four year term as Presiding Judge of the Miller County Court. During this latter period he was successful in keeping the County Courthouse at Tuscumbia. The town of Eldon suggested a county bond issue for the purpose of moving the county seat to their town. David opposed that move and worked to keep the courthouse at Tuscumbia. He discovered that the county court could approve money for remodeling, but not for a new building, so he persuaded enough members of the court to side with him and remodel the old structure. This negated the need for a bond issue, which if passed, would have moved the courthouse to Eldon. In the construction that followed, the walls of the old building were left standing and the new structure built around it. This building served as the Miller County Courthouse for more than ninety years. The names of the judges are etched in stone on the corner of the building. David performed many marriage ceremonies, adjudicated many squabbles, and handled misdemeanor cases. The township offices of constable and justice of the peace served a useful purpose at that time, but these duties are now handled at the county level.
David C. and Samantha moved to Ulman, Missouri, following the death of his brother Simeon on September 28, 1917. David C. bought the house his brother Simeon owned known originally as the Coburn Hotel. David lived there for a few years and then sold the house to A.P. Nixdorf. Madison Bear, David's son, bought the old Bear homestead from his father David when David moved to Ulman.
David and Samantha lived at Ulman until the death of Samantha on November 1, 1921. She died a very painful death from stomach cancer. This writer has no recollection of having seen his grandmother Samantha. There is a faint remembrance of being at her funeral in Ulman. My mother, Sadie, always spoke very highly of her. Following her death, grandfather David moved back to the old family farm and became a part of our family. He was a vital part of our household, having lived twenty one years after joining us, and all but the last three years were spent with us. After reaching the age of 80, his health began to fail, and because of my mother's advanced Parkinson's Disease, she was finally unable to care for him. At that point, he went to Vandalia, Missouri, to live with his daughter, Lucy. He died there on February 10, 1942 at the age of 88 years.
JOHN BEAR
From Goodspeed's History of Miller County (1889)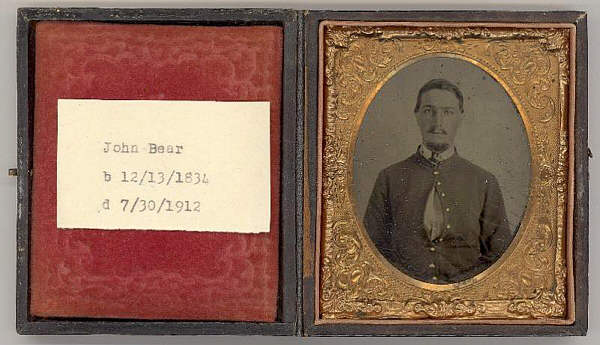 John Bear in Civil War Uniform
John Bear, ex-county judge and justice of the peace, was born in Fairfield County, Ohio, December 13, 1834, and is the son of George and Elizabeth (Vogt) Bear, natives of Kentucky and Ohio respectively. The family emigrated from Switzerland to America at an early day, and some of the members located in Pennsylvania and others in Virginia. The paternal grandfather, Christian Bear was a musician in the Revolutionary War. He was a cabinet maker by trade, and followed this principally during his life. He moved from Pennsylvania to Kentucky, from there to Virginia, and thence to Ohio, where he died. George Bear was a mechanic by trade, but his principal occupation in life was farming. When a young man he went from Virginia to Ohio, and settled in Fairfield County. From there he went to Hocking County, and in 1857 he came with his family to Miller County, where he bought and entered a tract of land in Equality Township. Here he and his wife died. John Bear, subject of this sketch, grew to manhood and received his education in Hocking County, Ohio. In 1857 he came with his parents to this county, and in the spring of 1861 he enlisted in the Home Guards, served a few months, and then enlisted in the Enrolled Militia, serving nine months. He was in several skirmishes, was captured at Tuscumbia by the guerrillas, but after a short time was paroled. He was a sergeant and was mustered out in the fall of 1864. The same fall he was elected county treasurer, and held the office for two years. In 1866, he was elected county judge, and served ten successive years in that capacity, eight years of which period he was presiding judge. He was also coroner some years and has been justice of the peace several times. He is one of the prominent men of the county, and a intelligent citizen. He is now the owner of 127 acres of land, with fifty acres under cultivation. He was married, in 1859, to Miss Laurinda Birdsong, by whom he had three children, two living-Minnie and John. Mrs. Bear died in 1865, and he was again married in August, 1872, to Miss Delilah Dobson, by whom he has three children-Mary E., James and William M. Mrs. Bear is a member of the Methodist Episcopal Church. Mr. Bear is a member of the Masonic fraternity.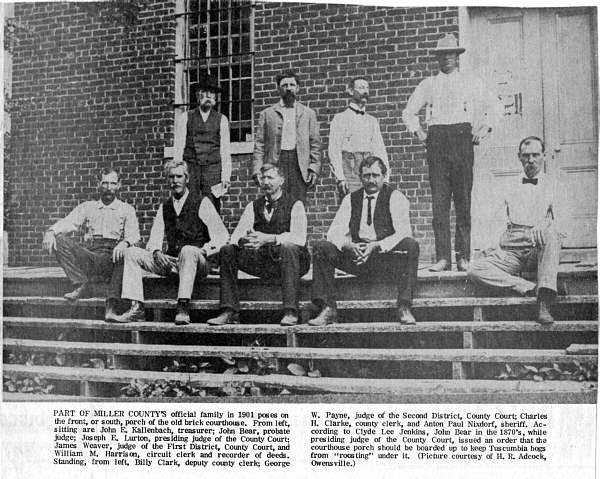 County Officials 1901, John Bear 2nd from left seated
John Bear b.December 13, 1834; d. July 30, 1912
MADISON BEAR
By Gerard Schultz, 1933
Madison Bear, merchant at Tuscumbia and Bagnell, was born on a farm three miles east of Tuscumbia on June 22, 1889. His father, David C. Bear, was born in Hocking County, Ohio, on November 10, 1853. He was a prosperous farmer and an enterprising citizen of Miller County, having come here with his parents in 1857. Madison's mother, Mary (Winfrey) Bear, was born June 29, 1855, in Miller County, of Kentuckian parents. His paternal ancestors were Pennsylvania Dutch, having come originally from Switzerland.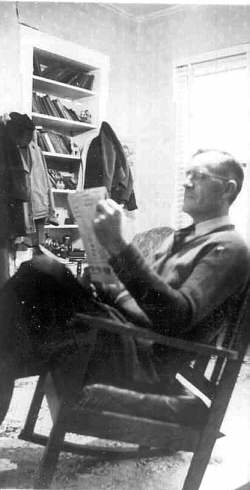 Madison Bear
On December 25, 1908, Mr. Bear was married to Miss Sadie Abbett, at the home of her parents, Eli and Susie Abbett. Mrs. Bear is also of Pennsylvania Dutch stock. Mr. and Mrs. Bear have five children: Arthur, Marie, David, Susie and Bonnie.
Mr. Bear has real business ability. He started in the merchandise business at Tuscumbia and at the present he has a store there which his son, Arthur, operates. He established a store at Bagnell in 1929, when the Osage Dam was being constructed. Although this store was destroyed by fire in February, 1932, Mr. Bear is again doing a good merchandise business at Bagnell. For a number of years he was manager of the Tuscumbia Farmers Exchange.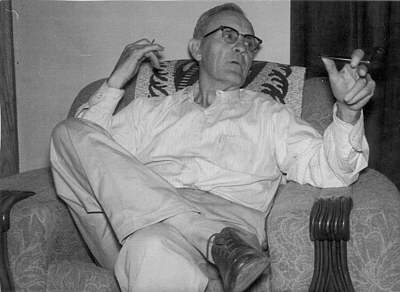 Madison Bear, more recent photo
In politics Mr. Bear supports the Republican Party. He is a member of the Mt. Zion Christian Church and is affiliated with the Modern Woodmen of America.
Absolom Bear Genealogy on WorldConnect
Bear Family photos of those who fought in the civil war:
Marie (Bear) Stillwell
This series of photos is of the six Bear brothers who served in the Civil War. The documentation from military records was completed by Marie (Bear) Stillwell in 1978. She also has completed a genealogy and family history of the Bear family in Miller County. George and Elizabeth Bear had nine sons and two daughters. They originated in Hocking County, Ohio and moved to Miller County, Missouri in 1857. Of their nine sons, six served in the Civil War and images of all six are included in this group with three in uniform. Notes by family members indicate all six saw service at the same time during part of the war and all six survived the war. The following images are included in the grouping: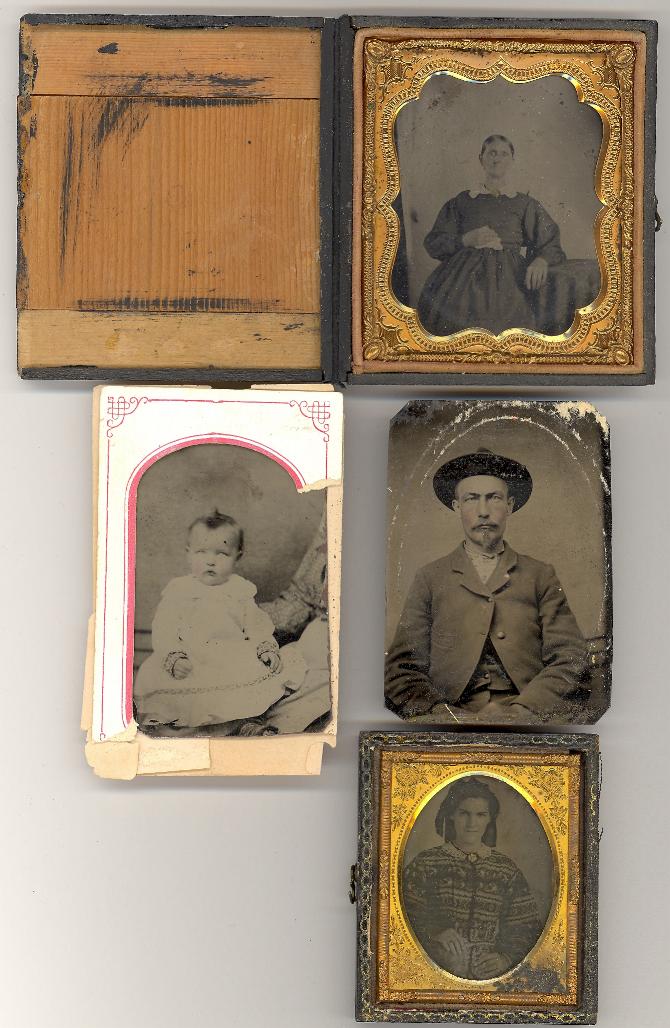 Photo 1 - George and Elizabeth Bear and unidentified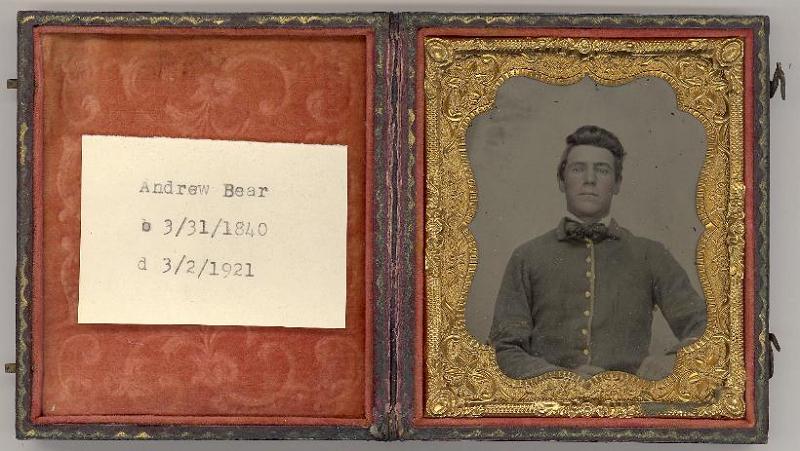 Photo #02 - Andrew Bear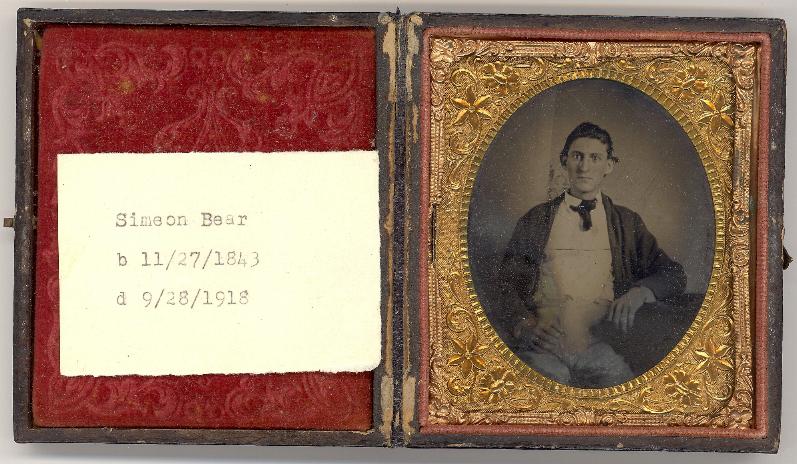 Photo #03 - Simeon Bear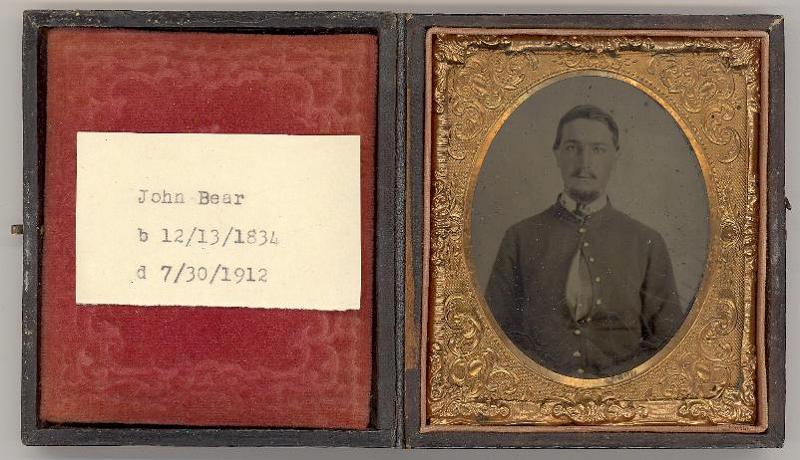 Photo #04 - John Bear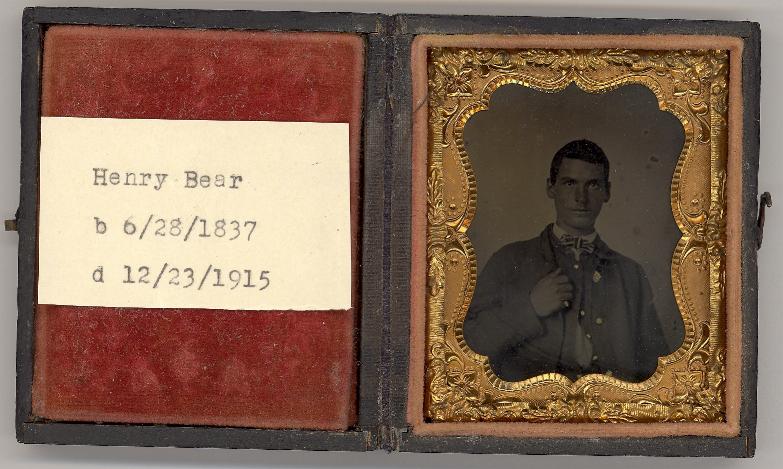 Photo #05 - Henry Bear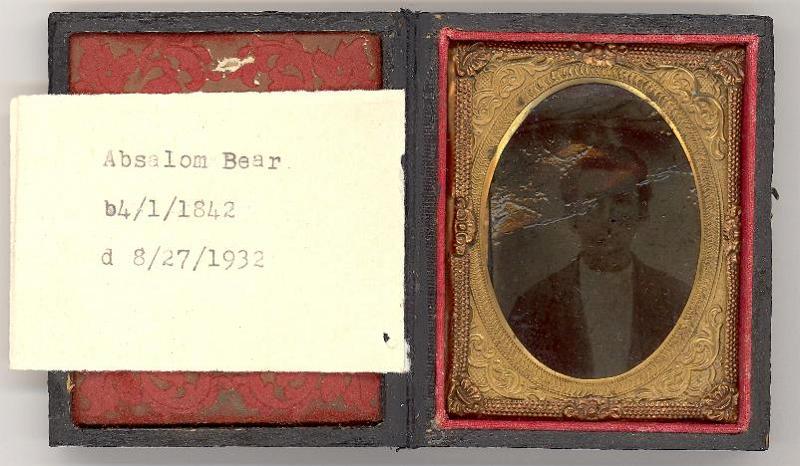 Photo #06 - Absalom Bear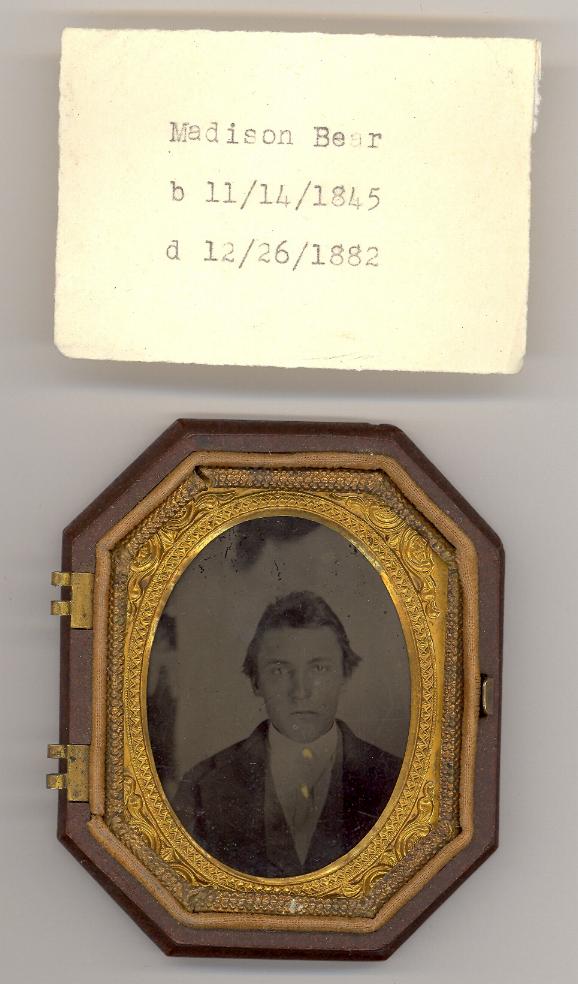 Photo #07 - Madison Bear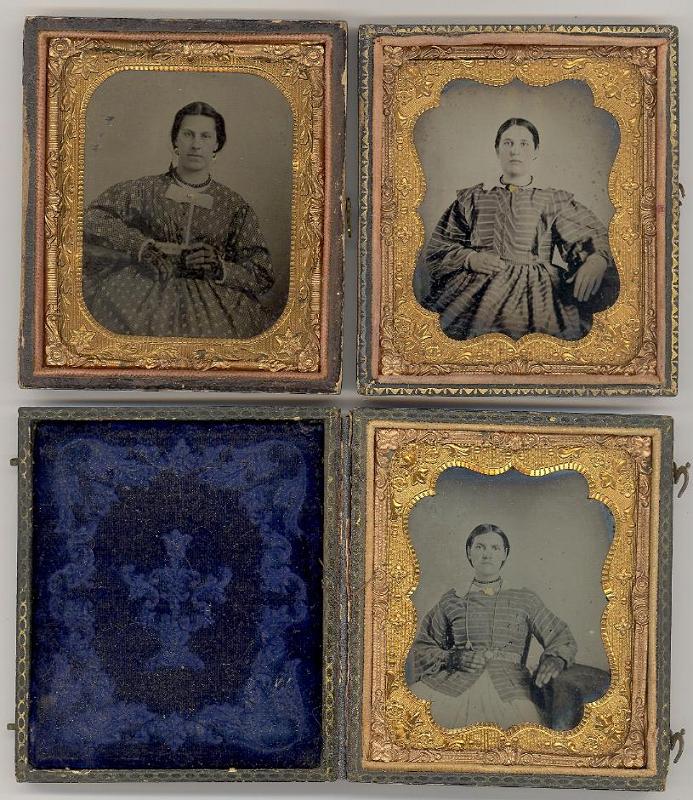 Photo #08 - unknown Bear family women

EMIL L. AND MARTHA JANE BECKER
By Lenah Becker Mills
Emil E. Becker, born in Westphalia Germany, in 1858, came to America at age twelve by way of New Orleans to St. Louis. Several years later the family came to a farm near Mary's Home.
E.A. Becker and his brother, Ernest, lived with their mother, Carline Becker, in Spring Garden. Here the two men had a general store across from the Spring Garden Institute, the first such school in Miller County.
Martha Jane Steen from near Hawkeye came to school in Spring Garden with her brother, Bennett, and sister, Joan. April 199 Emil Becker and Martha Steen were married at the home of George W. and Mathilda Steen.
In 1904 the Becker family moved to Eldon, built the stores building occupied by Mattinglys for many years. In late 1920 the merchandise was sold and the building leased to Jackson Hardware, and later to Mattinglys.
During the early years in Eldon, Emil Becker had the contract for many miles of road bed for the new Rock Island Railroad, soon to be built through Eldon. He also operated an ax handle factory, south of the old railroad depot, and shipped handles to dealers over the country.
Mr. and Mrs. Becker were active members of Eldon Baptist Church. Mr. Becker served as a deacon and was on the building committee during the construction of two Baptist Churches in Eldon. He was a director of Bank of Eldon and active in the Chamber of Commerce.
The family home, where Citizens Bank now is, was built in the early 1900's. Several hundred young maple trees were set out on back lots of their home. As these trees grew, Mr. Becker gave them to interested people in Eldon to serve as shade trees. He also offered to plant the young trees for anyone who was unable to do so. The main street became Maple Street because of the many maples from the Becker lot.
There were four children: Walter Steen Becker (1901-1959), Lenah (Mrs. Leland Mills), Eldon, Eula (Mrs. Paul Kllian) and Mabel (Mrs. William Harris), both of Springfield.
ANDREW L. BENAGE
By Norma Benage
The "Benage" name is French. In France it was spelled "Basnage". The family moved from France about 1690 and went to Rotterdam, Holland.
John Bennage, my great grandfather, was born in Union County, PA, new Lewisburg on April 17, 1804. He died on the farm near Iberia, MO, August 18, 1874.
Andrew Benage was too young to join the Army. Two years later, when he was 18 years old, he served in the Missouri Militia. Later, on August 22, 1862, he enlisted in Company E., Forty-eighth Regiment, Missouri Volunteers, having the rank of Sergeant. He served until the end of the Civil War, being mustered out at Benton Barracks.
Later, Andrew became a school teacher. While teaching in the Vienna School he met Miss Margaret Jane Rowden, daughter of Eccles and Kateryn Rowden of Vienna, MO. He was married to her on January 25, 1872. He engaged in the mercantile business in Iberia until he retired in 1905. The following quotation taken from a family history was written by Wilbur E. Benage, Lewisburg, PA.
They came on the ship 'Adventurer', Robert Carson, Master, sailing from Rotterdam, Holland, and were qualified at Philadelphia (that is, took the oath of allegiance to Great Britain).
Andrew and Margaret had six children: Ernest E. Benage, my father; John L. Benage and Otto C. Benage who became doctors; Maude (Benage) Bradshaw; Fred Benage and Sylvia (Benage) Bear. Andrew died May 30, 1932 at Lebanon, MO.
OBITUARIES - JOHN AND ELIZABETH BENAGE/BENNAGE

Mifflinburg Telegraph, Mifflinburg, Union County, Pennsylvania,
Thursday, October 1, 1874
Died - JOHN BENNAGE. - At his residence, near Iberia, Miller Co., Mo., on the 18th Aug. Mr. John Bennage, 70 years, 4 months, 1 day. He was born and reared in Union Co., Pa. In 1860 he emigrated to Missouri. He connected himself early in life with the Lutheran Church.
Lewisburg Chronicle, Lewisburg, Union County, Pennsylvania,
Friday, October 25, 1861
Died - In St. Clair, Franklin Co. Mo., 14th inst., at the residence of her brother, Col. James Moore, ELIZABETH, wife of John Bennage, aged 46 years. Worn out by the civil war around her home at Iberia, Mrs. B. started a few weeks ago with part of her family, for the East, but her strength failed on the way, and she died with kind friends in perfect peace.
GARRETT ALLMAN BERRY
By Gerard Schultz, 1933
Garrett Allman Berry, Clerk of Miller County Court, was born near Iberia, Missouri, on September 4, 1898, a son of Charles Benton Berry, born near Myerstown, Missouri, on June 24 1876, and Nevada Josephine (Hensley) Berry, born September 19, 1880, near Iberia. His paternal ancestors were from Tennessee; his maternal grandmother was a native of Indiana.
Mr. Berry attended Iberia Academy and St. James High School. He has studied through extension correspondence at the Central State Teachers College and at the University of Missouri. He was a successful teacher in Miller and Maries Counties for 13 years. He has always taken an interest in civic and political affairs, giving his support to the Republican party. On November 4, 1930, he was elected County Clerk for a term of four years, and he has given thorough and careful attention to his work. He was elected a delegate to the State Republican Convention at St. Louis in 1932. He is a member of the County Clerks Association of Missouri. Mr. Berry belongs to the Christian Church at Fairview, and is President of the Tuscumbia School Board.
On August 19, 1920, Mr. Berry was married to Miss Vesta Clarice Livingston, daughter of Mr. and Mrs. Richard M. Livingston, at Kansas City, Missouri. Their children are Mary Josephine, who is twelve years of age; Leland Wendorf, ten; Garrett Conley, eight; and Harry Judson, four.
AN AUTOBIOGRAPHY OF MY MOTHER
Written by Ida Jones Bilyeu (1872-1960),
daughter of Catherine Slone Jones and John F. M. Jones
Submitted by: Minnie Bilyeu Edwards, Tuscumbia, Missouri
Catherine Sloan/Slone Jones, daughter of Thomas S. and Margaret C. Sloan, lived to be 90 years of age. He (Thomas) was born on Feb 12, 1809 and she (Margaret) was 6 years younger (b. ca 1815). He came from state of Tennessee and the wife from North Carolina where this daughter (Catherine) was borne and remained there until they moved to Old Kentucky in a covered wagon, drawn by a yoke of oxen.
The family consisted of five sons and two daughters, one sister preceded her in death leaving one son whose name was Tommy Long, who at this time is deceased. Some of the boys walked a lot of the way in order to see the wonderful sights along the way. Her sister preceded her in death leaving her and the five brothers with their parents. When they decided to move on to Missouri, after locating in Bolin Green, Kentuck (Bowling Green), near the Green river where they spent many happy hours boat riding and such like after spending many years of pleasure, they decided to move on to Missouri.
Miss Catherine was 20 years of age. Two years later she was united in marriage to John F. M. Jones whose parents came from Taney Co., MO. He was a son of Henry and Nancy Davis Jones. He was mustered into the military service which broke out in '61 and lasted 3 years. Her and her sister-in-law occasionally rode horse back to a place called Bucksnort where their husbands were located and to get their mail. It was 20 miles away but the women that was a great treat. The husbands would come home at intervals but had to flee to the woods when they heard the bushwhackers coming on horseback at full speed. One of the neighbors was shot down on his own porch only because he was a Union man. The women became very brave and would talk right up to them. Their object was to burn their house if they could get it to burn. Sometimes they failed but would go to the barn and lead one of the best horses they could find. Those days the women worked hard making their own clothing from wool off the sheep('s) back and some of the time if there was a blanket of wool rolls in the house, they would pour kerosene on several times before they could get it to burn. The soldiers' wives had a lot to contend with in those days.
After the war broke up and the husband came home, six years of wedded lift (life) together, a daughter was borne to bless their home and some over 1 year of age, she was called away by the angels above. Later on she bore four more children who grew to age of accountability. Her husband passed away around the age of 46 (in 1887) which left her and the 4 children to care for the 220 acre farm. Of course when it came harvest time she would secure help to care for the crops. She attendee church regular as she was always near the church building (Alder Springs Church in eastern Richwoods Township). The husband went far and near to church and took the family and drove a team only the day before he passed away.
So many lonesome hours were spent, but she took her 4 children to the fields and all worked together until time for the noonday meal when one of the children would go to the house (which was near) and cal at them 'eat' and right off to work again. The three daughters married soon after their father's death which was June 13, 1887. The son married later leaving her alone on the same farm where all the children were born. She was borne Sept 10, 1837 and passed away Feb. 26, 1932 at the age of 94 years 7 months 16 days Interment was in the Brays cemetery beside her husband and daughter --written for Eileen Snodgrass by her Grandmother Bilyeu (Ida Jones Bilyeu).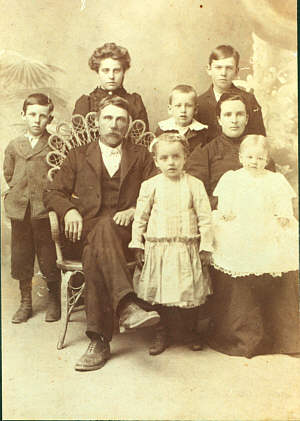 John Henry & Adeline Jones Bilyeu
L-R:
Nellie Sophia, Lewis Clyde, William Howard, Leonard Luther,
Allie Dorcas, Minnie Belle, John & Ida
ADDENDUM ..... This letter or autobiography is a wonderful account of life in Miller County in the mid 19th century and during the Civil War era. It tells a beautiful story of love, death, and hard work on our pioneer frontier of the l800s as Miller County was beginning its growth.
Shepard Bourne/Bowin
by Sharon Huff Leonard, a great-granddaughter.
Shepard Bourne/Bowin was born on 7 December 1870 at Hawkeye, Pulaski County, Missouri, in the heart of the Ozarks. His parents were William Lankford Bourne and his wife Elmira Shelton. When he was 1 1/2 years old his sister, Mary, was born on 16 May 1872. On 2 June 1875, their sister Elizabeth (Bettie) was born with a physical handicap. Shortly thereafter they lost their father. It is believed the spelling of Bourne was changed to Bowin by a school teacher when Shepard started school.
Shepard lived with his mother and sisters and grew up in the Hawkeye area in his grandparent's home (Shepard and Sarah Mashburn Shelton). He was a handsome muscular man of medium stature. He learned the carpenter's trade. Work was scarce, so he also became proficient in blacksmithing, and at one time he ran a sorghum mill in that vicinity. Like several members of his mother's family, he loved music, and could play the fiddle. With them, he often played the folk and bluegrass music of the Ozarks and he could call square dances and reels. His talents were often in demand at Saturday night gatherings in the settlements around Hawkeye.
Sometime in 1890, he married Rosetta Shelton, the daughter of John M. Shelton and his wife, Martha Elizabeth Ann Carroll of Miller County, MO. They were distant cousins. Rosetta's grandfather, Miles Carroll, had been killed by Bushwackers in 1864 during the Civil War, in Miller County, MO. In 1891 my grandfather, Elmer Frederick Bowin was born, followed by John William Bowin in 1892 and Charles Thomas Bowin in 1894. In 1897 Milbert D. Bowin was born and lived a few hours, and in 1898, Marthan Bowin was born. She lived three months.
In 1895, Shepard's uncle, Wiley Shelton and his wife, Laura Gibson, and his aunt, Mary Shelton and her husband Thomas Jefferson Stanton and families moved to Oklahoma, Indian Territory, near Paul's Valley. In the summer of 1901, around the fourth of July, family legend has it that Rosetta and Shepard left their three young sons in Missouri and went to Oklahoma to visit his relatives. Wiley and the Stanton children were also accomplished musicians and played at all the major celebrations. Wiley was an ex-lawman and was only eight years older than Shepard. While they were there, Wiley caught two ruffians cutting his pasture fences and he was shot and killed. One of the outlaws escaped and was never caught. The other was captured, and jailed. Tom Stanton and others took the law into their own hands, effected his release and promptly drowned the outlaw in a river. Amid rumors of death and violence, Rosetta and Shepard returned to MO.
In March 1902, Rosetta lost another baby. She never recovered and passed away on 21 Mar 1902. She is buried in the Hawkeye Cemetery in Pulaski county MO. Elmer was Eleven, John was ten, and Charles was eight. Shepard was 32 years old, and left with three young sons to raise.
On July 24, 1904 Shepard Bowin married Sarah E. Jeffries Cobble or Copple at Brumley, in Miller Co. MO, daughter of James Matt Jeffries and his wife Elizabeth "Betty" Henderson. Sarah had one son, James,born in 1897. He became known as James (Jim) Bowin. They lived at Hawkeye, close to Shepard's grandparents. His sister, Mary, had married William Wall in 1893 and was busy raising a large family near Crocker. His mother, Elmira and his youngest sister, Bettie continued to live with and care for Elmira's mother, Sarah. Shepard's grandfather, and namesake, Shepard Shelton, had passed away in 1887 and was buried in the Duncan cemetery on the border of Pulaski and Miller Counties in Missouri.
A few years passed, and Elmer and John joined their father in blacksmithing and carpentry. In 1913, Elmer married May Welcher at Linn Creek in Camden County, MO, and John married Bessie Byrd in 1914. It was about this time Shepard and Sarah along with their sons, Charles (19) and James (16) moved to Carona in Southeast Kansas where the mining industry was booming. As soon as they arrived at Carona, Kansas, Shepard went into the Pitcher, OK. mining fields where he worked as a carpenter. Shepard is included in a group picture taken at the completion of the 62 Mill, Acme Lead and Zinc Mining company, G.W. Howard Builder. Also making the move from nearby Brumley, MO. to Cherokee Co. KS were Sarah's sister, Priscilla Jeffries, and her husband Miller Graves Lawson. They moved to Scammon where he operated a hauling and dray wagon service.
In 1916, Shepard and Sarah returned to Hawkeye for his grandmother's (Sarah Shelton's) funeral. She had suffered a paralytic stroke and was bedfast for eight years before she died at age 88 on April 9. After a short visit they brought his mother, Elmira, and his sister, Bettie, back to Cherokee county, KS to live with them. Also making the move to Carona in 1916 was Sarah Bowin's brother, Charles (Charlie) Jeffries, who had married May Welcher's sister Nora. Charles was a blacksmith.
Earlier in 1916, Shepard leased a mining site in Cherokee County, KS. His oldest son, Elmer, with his wife, May Welcher, and their young son, Ephner, moved into a house near them at Carona. Together with Arthur Welcher, Elmer's brother-in-law, they opened and worked the Star mine, one mile west of Roseland, and between 1/4 and 1/2 miles north, on the east side of the road. The Western Coal and Mining Co. #21 was on the same section of land.
Late in 1917, Shepard's and Sarah's sons, Charles and James, went into the army and served in W.W.I. In 1918 John Bowin and wife Bessie Byrd and son moved from Missouri to Coalvale near Arcadia, Kansas. John and Bessie had four sons: Jewell Rubin Bowin; Rufus W. Bowin; Charles S. Bowin, and Linus Dale Bowin. . A baby girl, Audiva, was born in 1919, and died in 1920 of pneumonia. She is buried in the Sheffield cemetery. In later years all of John's sons except Jewell migrated from Arcadia to Osage City, KS.
By 1919, it was apparent the large mine owners were crowding out the small owners. Elmer and May moved into a large house between Roseland and Scammon. Eventually, Elmer took a job as a hoisting engineer in one of the nearby deep mines. They raised a family of six sons and two daughters. Elmer and May lived at that location for the rest of their lives.
By this time Charles and Jim were back from the Army and were living near their brother, John, in Arcadia. Jim had married Hazel Moonehan from the Englevale area. So, Shepard and Sarah took Elmira and Bettie and moved to Arcadia. Sarah's brother, Charles Jeffries and wife, Nora Welcher also moved to Arcadia.
Shepard, and sons, John, Charles, and James, continued to work as carpenters and blacksmiths for the mines in northern Crawford County. Shepard leased a mining site near Coalvale, and he and his sons, along with others, worked it. He often played his fiddle, but only for his family. The music of the Ozarks was not yet appreciated in the mining camps. The women of the family worked in their homes putting out big gardens, doing the heavy housework of the day, and raising children -mostly boys. Groceries were supplemented by what their men brought home from hunting expeditions in the nearby fields. They enjoyed visits from Elmer and May when they came up from Roseland, and from other friends and relatives from Missouri. May's, parents James and Nancy Spies Welcher, retired to Arcadia from Linn Creek MO in 1920. Joining them were two of their daughters, Mabel Welcher Potter and Lily Welcher Hart, and their two sons, Richard and Arthur Welcher.
In 1933, John Bowin was blinded by a shotgun blast in a hunting accident. Twenty-five years later he died at Arcadia on 4 Feb 1958. Bessie died in Osage City, KS, on 17 April 1979. Both are buried in Sheffield cemetery near their son, Jewell Bowin. Their other three sons are in the Osage city cemetery.
Shepard's mother , Elmira Shelton Bowin, died on 13 Dec. 1929. His sister, Elizabeth (Bettie) Bowin never married. She died 29 Jan 1938. Both are buried at Sheffield Cemetery. His sister Mary Bowin Wall passed away 21 September 1961. She had 11 children. She is buried in Crocker Memorial Cemetery, Pulaski, Co. MO.
Charles married Rose Gust of Arcadia, and they adopted a son, Donald Bowin. However, the marriage ended in divorce. Charles married Clara Mae Jones Fisher 10 April 1948 and moved to Pryor OK where Clara taught school. They both died in a car-train accident south of Columbus, KS, on a rainy morning, 24 May 1952. They are buried in the Deepwood Cemetery, Nevada, Missouri.
James (Shepard's adopted son) and Hazel were the parents of three sons and one daughter: Thomas William Bowin, Charles Eugene Bowin; James H. Bowin, jr., and Kathleen Bowin Haller. The family grew up in Arcadia and migrated to the Kansas City area and other places. James died on 20 Jan 1975 at their lake home in Gravois Mills, MO. Hazel died on 29 Nov 1975. Both are buried at Englevale (Fairview), Crawford Co. KS, along with their sons, Thomas William Bowin, and Charles Eugene Bowin.
Shepard and Sarah lived out their days in Arcadia. Shepard was a member of the IOOF. Sarah was a member of the Pentecostal Church. Shepard died in Mt. Carmel hospital, Pittsburg, KS, on 9 October, 1950. He was 80 years old. Sarah passed away the following year on 26 July 1951 in Arcadia. She was 79 years old. She and Shepard are buried in the Sheffield Cemetery, Crawford County, KS. Shepard is remembered in our family as a man who worked hard, who loved music, who loved and cared for his family, and who enjoyed his grandchildren He was survived by four sons, fourteen grandsons, and three granddaughters plus 24 great-grandchildren.
Sources:
Obituaries of Bowin, Jeffries, and Welcher family members, plus family documents
Bowin Family Bible
Shelton Family Bible
U.S. Census-1920- Crawford Co. KS
Oral histories by:
Ephner Bowin, grandson
Charles A. Bowin, grandson
Margaret Bowin Huff, granddaughter
Hite Boren of Hawkeye, MO;
Newspapers
The Crocker News, Pulaski County MO-1916
Pulaski county Democrat, Waynesville, MO.-1961
Chickasaw Enterprise, Paul's Valley, OK. July 1901
Submitted for the descendants of Elmer F. Bowin and his wife, May Welcher.
My appreciation to a host of cousins who have been doing genealogy for years.
RICHARD BOYCE AND FAMILY
By C. B. Wright
On an April day in 1866 the good steamer Kate Robinson rounded the point at Cairo, Illinois, coming from the Ohio into the Mississippi River, upstream, bound for points on the Missouri River. The family of Richard Boyce and wife, their two sons and three daughters, were passengers, on their way to find a new home in Missouri. And from the deck of this steamboat they first saw the soil of our State. Their journey ended at Jefferson City, where the Boyce family disembarked and made their way to the Rocky Mount community, where they found a home on what is now known as the Green McClure farm.
Mary Emma, a lass of ten at the time had a vivid recollection of some of the sights on the three rivers on which they had traveled; for instance, the intermingling of the waters of the Monongahela and Allegheny Rivers at Pittsburgh. One of the two was so much more clear than the other that she was impressed thereby, and in after years as her children grew up, she often related the story.
In 1866 the heat of the Civil War was not fully cooled and shortly after the family moved to their new home, Captain Babcoke rode to the front door and inquired of Mrs. Boyce, "Are you folks loyal?" Mrs. Boyce had to talk to the Captain for the reason that Mr. Boyce was not at home and they learned later that Captain Babcoke, though a Unionist, was somewhat of a renegade character. Sometime the same year an old gentleman by the name of Couner called on Mr. Boyce and told him, "I have a son hanging from a limb down on Indian Creek. Like to have you go with me to take care of the body."
Mary Emma was to grow up here, go to school, find herself a husband, rear a family, and take her part in the pioneer life of that day. She married Lee Wright in February 1877, and they took up a home on the Little Saline Creek, on the farm at the Big Spring, of carding machine fame. Five sons and one daughter were born to that union: C.B., Gertrude, O.W., R.L., and Charles. She knew no other home but lived her whole life on that farm. The social life on the Creek was of not much consequence-a quilting now and then, and exercises at school sometimes; but Mom would load her brood on an old mare and make all day visits with the other gals of the precinct. The school house where she taught two terms of school, C.B. one term and Gertrude one term, was used very often for church services, and she and the family went there to church. Luke Melton, Preacher Finley and other preachers of that day were the school house "spielers". Luke Melton was the man all the folk thought the very best. He baptized the sinners when they requested the rite. He officiated at marriage ceremonies-on foot or "hoss back"-tying the nuptial knot for more couples alter bound than anyone else in the county. Too bad death claimed Luke when he should have had several more years in front of him.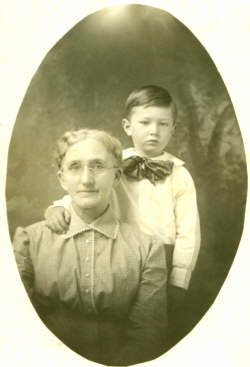 Mary Emma Wright and Homer Clay Wright
Methodist was Dad in his first church membership, but at the time of marriage he was of the Christian faith. Mom and her family too were all of the John Wesleyan faith, and it was six or seven years after marriage when she joined the Christian Church of Tuscumbia. Mom did not sing but she could qualify in any other achievements the women aspired to. She used not the lingo of the thick brush but the best as delineated by "Perfidious Albion". Lee Wright, too, used good language, although some of the gang really demolished the King's first reader.
Truly, Mom lived in a great era. She saw the country developed from a wilderness to a great nation -with no roads to start, to the hard roads of the 1943 era, when concrete and black top highways crisscrossed the Nation. The railroads of the country had laid their steel rails from ocean to ocean and bored their tracks under great mountains, over beautiful bridges to cross some of the great rivers of the world. Too, these great avenues of commerce laid their steel highway, not alone on the level prairies, but picked their way among mountain peaks, canyons, and gorges, revealing the most gorgeous scenery the world affords.
Leaving the west Pennsylvania country at the age of ten, she had the opportunity to go back to the land of her birth. This she did about 1903, at which time she visited with aunts, uncles, and cousins.
Now there are her two sisters living out here and one cousin in Pennsylvania-her nearest of kin. She was not afraid to meet her Maker, nor did she want the family too much concerned about her. Her last words to me were not to call the folks to let them know she was not so well -this on a Sunday before her passing the following day. An invalid for five years, on June 14, 1943, she went to meet her Maker.
(Addendum:) Richard Boyce and family attended the 4th of July Picnic. Half the men were barefoot and lot of them wore holsters and revolvers. Some carried Bowie Knives. Grandmother and her daughter Emma (my mother) wore hats-the only hats at the picnic. The Natives all in Sun Bonnets.
H. J. BREIT
By Gerard Schultz, 1933
Reverend H.J. Breit, beloved Pastor of St. Mary's Church, was born August 2, 1887, at Pittsburgh, Pennsylvania, a son of John Breit, born at Trier, Germany, September 2, 1854, and Margaret (Pauley) Breit, born at Pittsburgh, Pennsylvania, May 7, 1857.
Reverend Breit entered school at the age of seven years, and attended St. Martin's Parochial School at Pittsburgh until his graduation from the twelfth grade at the age of 14. As he was too young for entry into college he then worked for a year and a half. He entered the Pontificial College Josephinum at Columbus, Ohio, where he studied for 12 years in preparation for the Catholic priesthood. This work included six years of college, two of philosophy, and four of theology.
He was ordained a priest on May 30, 1914, by Rt. Rev. Joseph Hartley, Bishop of Columbus, and read his first Holy Mass at St. Martin's Church, Pittsburgh, Pennsylvania, June 7, 1914. He was incardinated into the Kansas City Diocese and was appointed Assistant Pastor of the St. James Church in Kansas City. July 1, 1916, he was made Assistant Pastor of Annunciation Parish, Kansas City. He was appointed, February 14, 1919, Assistant Pastor of St. Patrick's Church at Sedalia, Missouri. There he remained until April 8, 1920, when he received his appointment as Pastor of Holy Trinity Church, Marshfield, Missouri, with Mission church at Conway, Missouri. On July 17, 1923, he was transferred to Mary's Home as Pastor of St. Mary's Church. He has enjoyed his work and has made many friends in Miller County.
JOHN D. BRUMLEY
By Gerard Schultz, 1933
John D. Brumley is an Osage Township farmer who is widely and favorably known. His great-grandfather, who came to Miller County from Kentucky, was one of the earliest settlers in the county. The subject of this sketch was born September 22, 1884. His father, William F. Brumley, son of William Carroll Brumley, was born October 30, 1860, and died October 1, 1886. His mother, Margaret E. (Colvin) Brumley, was a daughter of Mark Colvin, who was killed by bushwhackers in the Civil War. She was born November 1, 1865, and died April 28, 1888.
On March 20, 1904, Mr. Brumley was married to Miss Aulta Ramsey, daughter of Mr. and Mrs. G.M. Ramsey. Mrs. Brumley was born April 2, 1889. Her great-grandfather and grandmother were both natives of Kentucky. To Mr. and Mrs. Brumley five children were born: Livonia, who married Lonnie Doubikin; Jennie, who married Gerard Schultz; Rayma Clara, Evelyn Eileen, and Dora May, who died in infancy.
Mr. Brumley was nineteen years old when he began farming independently. In 1921-22 he farmed on Cat Tail Creek. In 1923 he and his family moved back to his old farm where they now reside. Mr. Brumley has been prominent in Republican politics and has been an interested participant in public affairs. He served as representative of Miller County, 1923-24, and was president of the Miller County Farmers Association for six years. On March 14, 1921, he was elected the first president of the Farmers Exchange of Tuscumbia, and was the first shipping manager of the Tuscumbia Livestock Shipping Association. He is a charter member of the Fairview Christian Church and has always been a deacon and trustee of that church.
WILLIAM CARROLL BRUMLEY
By Gerard Schultz, 1933
William Carroll Brumley, Collector of Revenue of Miller County, represents one of the oldest families in the county. His grandfather, William Carroll Brumley, was for many years an outstanding figure in Miller County politics.
Mr. Brumley was born on August 23, 1894, six miles north of Iberia, at the birthplace of his father, Owen Alexander Brumley, who was born on August 18, 1873. His mother, Emma Caroline (Myers) Brumley, was born near Ulman on October 4, 1875. His paternal ancestors were natives of Kentucky; his mother was of Tennessee stock.
On March 12, 1915 at Iberia, Mr. Brumley was united in marriage with Miss Gertrude Camilla Patterson, daughter of Mr. and Mrs. Bead Patterson, who were of English and German parentage, respectively. Seven children were born to this union-Marguerite, Fay, Helen, Hazel, Alice Ruby, and Betty Lou. The eldest daughter, Marguerite, was married to Willie Stone in 1931.
In political convictions Mr. Brumley has always been a Republican. He was elected Collector of Revenue of Miller County on November 4, 1930. He has always engaged in farming on the old Brumley place, one of the best farms on Brushy Creek. Mr. Brumley is a member of the State Collectors Association and belongs to the Church of Christ at Mt. View. He has always taken an active interest in county affairs.
FELIX BURRIS: Revenge, Murder or Mystery?
By Dr. Norma Jean Coon
Felix G. Burris or "Fields" as he was called, was the son of Burrell W. Burris Sr. and Ellen Scott of Miller County. HE was a farmer by trade. Felix married Martha Elizabeth Matthews in 1871 when he was 23 years old. They had nine children, six of whom died before their third birthday. HE was found in census records from 1850-1910 and registered his cattle brand in 1873. He bought forty acres of land in 1881 and when his father died, he bought 8 parcels of land at the public auction of his father's estate in May 1883.
According to circuit court records in September 1883, Felix was declared to be insane and a curator was appointed for his estate. A curator's bond was put up by Samuel Matthews as principal (possibly Martha's father). Martha had given birth to five children by that time: Charles D. age 11, Sarah 1874-1874, Lorena age 8, George 1878-1878, and Robert 1881-1882. The only living children in 1883 were Charles and Lorena.
In 1884, Felix and Martha had a daughter, Parthenia, who lived until 1887. A son, Luther, was born in 1886 and died in 1887. Daughter, Melvina, was born in December 1887. In November 1889, after the birth of the 8th child, the probate records show that Felix G. Burris, once of unsound mind, but "now restored", had his curator Samuel Matthews discharged. There is no record of what caused his insanity or restoration of his soundness of mind. It could have been anything from alcoholism to psychosis. He was 35 years old when he was declared insane and continued to cohabit with his wife during the time of his insanity. HE was 41 when "restored" to sanity. From 1889 to 1900, Felix sold 5 pieces of property that they owned in Miller County. Anna, their last child, was born and died in 1891. In 1900 he bought a piece of property from the Palmers. M./Marquis M. Palmer served as one of the gentlemen who put up security in his insanity trial.
In September 1908, according to the Pathologist's files in the State Archives in Jefferson City, MO, Felix signed papers to commit his wife, Martha, and his daughter, Melvina, to the State Lunatic Asylum in Fulton, MO. They were transported there by W.J. Burris, Felix's brother. Martha was 51 and Melvina was 21. There is no record of Martha's discharge. Melvina was declared sane and discharged 6 months later on April 7, 1909.
Could Felix have been retaliating for his previous insanity? Could Felix have quietly caused the death of his children? Holding them sweetly in his arms and placing poison on sugar in their mouths while trying to comfort them? What happened to Martha? Folie a deux (2 peoplein the same family having same psychosis)? Why Felix committed his wife and daughter on the same day is not known. Certainly the commitments to the insane asylum, together with Felix's illness, gives new meaning to the word "Dysfunctional"! The truth may never be known. Melvina married Ellis Chapman on July 8, 1915, seven years after she was discharged from the asylum. No record has been found of Felix and Martha's death.
---