MILLER COUNTY EXTENSION CLUBS

The Eldon Advertiser and Miller County Autogram-Sentinel
1976 Bicentennial Salute
The women of Miller County began to show interest in the home economics programs as early as 1935, but extension clubs were not organized until late 1936. The Spring Garden Community, with the assistance of Miss Louise Moyer, part time home demonstration agent, organized the first club. It was followed by the Tuscumbia, Mt. Pleasant and Cooper communities.
In 1937, the first Achievement Day was held with 200 persons attending. In 1938 the county had the services of Miss May Young, a home demonstration agent for three weeks time. This was also the year the first council was organized with Mrs. W.H. Hauenstein, Tuscumbia, as its president.
In 1939 the total county membership was 207. The third annual Achievement Day was held with 150 persons attending. A Candle Lighting Ceremony commemorating the 25th anniversary of Agricultural Extension work was part of the program. In 1940 a committee of four women met with the extension board to go to the county court to ask for appropriations for a full time home demonstration agent. Previous to this Miss Julia Rocheford from the University of Missouri-Columbia had met with the council giving them good reasons why they needed a full time home demonstration agent. Since 1936, all training meetings were given by specialists from the university.
During 1942 one of the clothing projects were making paper dress forms. In 1943 club women were urged to help the war effort with scrap and rubber drives, fat salvage and silk hose collections. In 1938 a mobile X-ray unit was sponsored.
Clubs have donated to Campbell Harrison home, Pennies for Friendship, Nickels for Youth, observed National Home Demonstration Week, and sponsored a bus trip to interesting places in Missouri. Extension club work in Miller County has truly contributed to the educational needs of its members.
WOMEN'S PROGRESSIVE FARMERS' ASSOCIATION OF MISSOURI, INC.
The WPFA was organized in 1921 and incorporated in 1928 with the stated purpose to:
Improve rural life by making it more attractive
Build better homes and schools
Promote a more friendly relation between neighbors
Discuss the various problems of rural life
Provide wholesome and instructive entertainment for farm boys and girls
Foster all enterprises that will lead to higher and nobler things in life.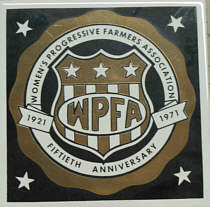 Logo - Women's Progressive Farmer's Association
The group adopted the motto, "Loyalty and service to the M.F.A." The Mutual Farmers Association was organized March 10, 1914, in the Newcomer School House in Chariton County, Missouri. Mr. William Hirth had a lot to do with the formation of the M.F.A. and used his publication, the Missouri Farmer, for that purpose. He encouraged farmers to organize and said he would furnish the by-laws and other suggested organizational material for them. Their goal was to collectively organize farmers and help improve their individual farm operations.
As a mutual organization, their activities included purchasing of farm supplies-paints, electrical appliances, tires. They also engaged in the processing and manufacture of farm supplies-feed, fertilizer, hybrid seeds. Processing products from the farm was another major business activity. That included the manufacturing process of milk, cream, butter, poultry and meat products. Another important activity was marketing of eggs, poultry and dairy products as well as grain and livestock through M.F.A.
---
IBERIA WPFA
A big central meeting of the M.F.A. was held at Iberia on Tuesday night, November 9, 1937. The purpose of the meeting was to perfect a central organization of the M.F.A. of the Iberia trade territory, forming a farm club that would meet monthly. The meeting was presided over by M. M. McKee who was the state field representative for M.F.A.
Mr. C.E. Land made a powerful address on the conditions, needs and remedies of agriculture. Mrs. W.A. Beal then addressed the ladies present, explaining the W.P.F.A. and its importance in helping promote the goals and objectives of the M.F.A.
At the conclusion of the address, the first W.P.F.A. Club of Iberia was organized with 16 charter members. Edith Law was elected President, Jessie Farnham Vice President and Anna Cross Secretary. Charter members were Mary Bilyeu, Ada McKee, May Morrow, Minnie Groff, Anna Cross, Jessie Farnham, Edith Law, Mrs. Eugene Keeth, Mrs. Jobe Kinder, Mrs. Clarence Law, Lillie Farnham, Sarah Crismon, Laura Fancher, Laura Shockley, Edith Wilson and Grace James.
When the club became too large to meet in the homes of the members, it met in the MFA Hall. A large kitchen was made possible then with money made from a picnic that was sponsored by the MFA and WPFA in the Hardy Park in the years 1939 and 1940. At one time the Iberia WPFA Club was the largest in the state with 150 members.
In 1954, Mrs. Jessie Farnham was elected to the WPFA state board as director from the fourth district. In 1960 she was elected state WPFA president.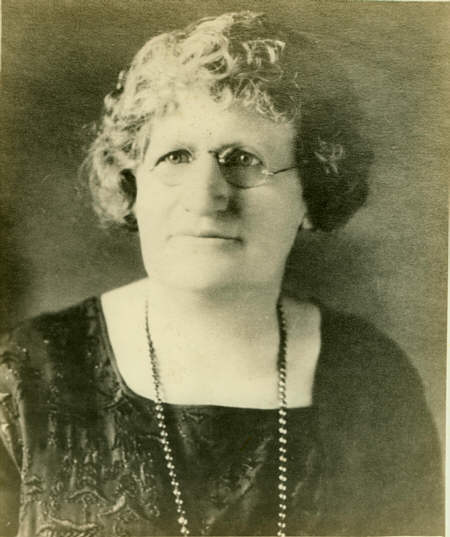 This unidentified woman's photo was among our files on the Iberia WPFA
We need to put a name with the face. Can you help?
In 1939, a Miller County-wide club was formed with five communities represented-Iberia, Eldon, St. Elizabeth, Alder Springs and Ulman.
For more information: http://www.umsystem.edu/whmc/invent/3726.html
---
ST. ELIZABETH WPFA
The Eldon Advertiser and Miller County Autogram-Sentinel
1976 Bicentennial Salute
The St. Elizabeth WPFA was organized November 20, 1936. The first meetings were held in MFA hall, which was located on the second floor of the local MFA exchange. Later the group met in the home of the hostess each month. When the St. Elizabeth Community Center was completed the group began to meet there.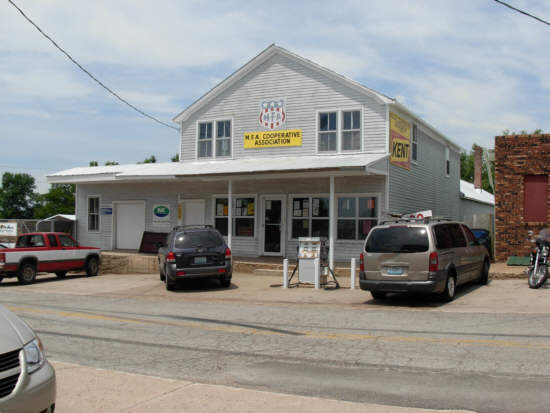 St. Elizabeth MFA
The group quilts a quilt for the member of members who are hostesses at the meeting. Group quilts are also made. They have donated a quilt to the community picnic each year.
When the Community Center was being built, the women donated $250 to the concrete work in front of the building, and $200 to the building of cabinets inside.
The WPFA has also donated a quilt and set of dishes to the St. Lawrence Church when a parish picnic was held in the past. Donations have been made to Cancer Drives, Red Cross, Girls Town, March of Dimes, Heart Fund, and Hirsch Center (Mr. Hirsch being the founder of the MFA).
The group maintains a fund for giving the stipends for two Masses to be read for deceased members or for a floral bouquet when a member dies.
To raise funds for the various donations made by the group, the women serve dinners such as for the junior-senior banquet and the alumni banquet for the local school, and lunches at public sales held by people in the community.
---
WPFA, RURAL TUSCUMBIA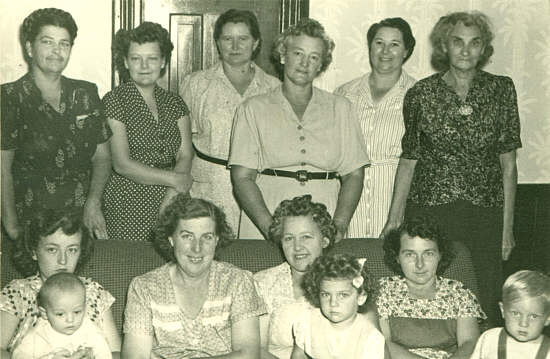 L-R Back:
Amy Summerford, Doris Edwards Wyrick, _______,
Letha Stokes Edwards, Jenny Bear, Mrs. Neal (Amy Summerford's mother).
Front:
Maudine "Dean Hawkins Edwrds holding Dennis Jack Edwards, Maggie Keith,
Minnie Bilyeu Edwrs holding Karen Wyrick, Mabel Curry holding her son.
---
UUU EXTENSION
Ulman Useful Union Extension Organization was founded November 26, 1938 with nine charter members. The photo of members shown below was taken on July 4, 1939 at a picnic at the home of Mr. and Mrs. Frank Topping.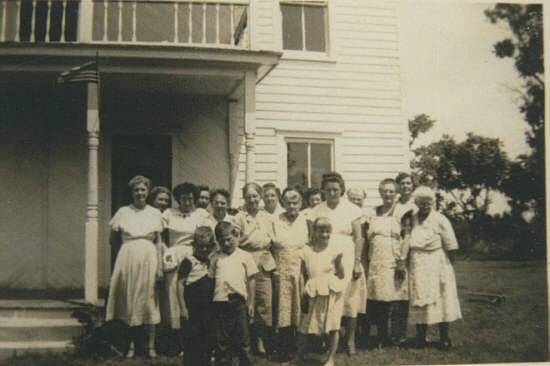 UUU Extension 1939
In 1948 there were only three charter members remaining, Mrs. Calvin Myers, Mrs. Guy Hix, and Mrs. Alfred Graves. During the ten years they reached the Standard of Achievement and had Blue Ribbon booths at county achievement day fifty percent. The main hobbies of the club members were quilting, crocheting, and rug making. Pictured below in 1948 are: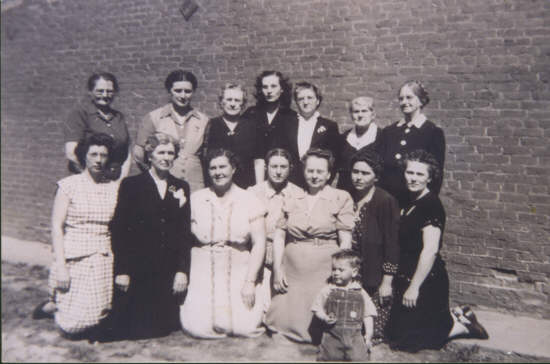 UUU Extension 1948
Front: Ruth Sullivan (Mrs. J.L.) Thornsberry, Cecil (W.B.) Sullivan, Oma (Walter) Graves, Grace (Guy) Hix, Tracy (Roy) McDonald, Pauline (Andy) Barnhart, Dorothy (Leslie) Burris
Back: Minnie (L.R.) Williams, Russell (Calvin) Myers, Lefty (C.B.) Bass, Evelyn, (Justin) Bonnot, Emma Bear (Andrew Bilyeu), Grandma (A.) Graves, Josie (W.C.) Nixdorf.
---
ELDON FRIENDLY NEIGHBORS
Organized November 13, 1942 through the University of Missouri Extension Division. The organization was devoted to programs, accomplishments and service in the interest of finer children, better homes and more satisfying community life and its motto was, "If you can't push…pull."
Project work was divided into three classes: Foods, Clothing, and Home Management. Each member was urged to select a lesson during the year that especially appealed to her. Some projects voted by club members were upholstery, slip covering, dress forms, cooking, sewing, rug making and glove making. As an annual project, this club supported the Miller County 4-H.
Meetings included a basket dinner, social hour and contact with neighbors. Each year the organization celebrated County Achievement Day, where club members from throughout the county met to see exhibits showcasing the accomplishments of members.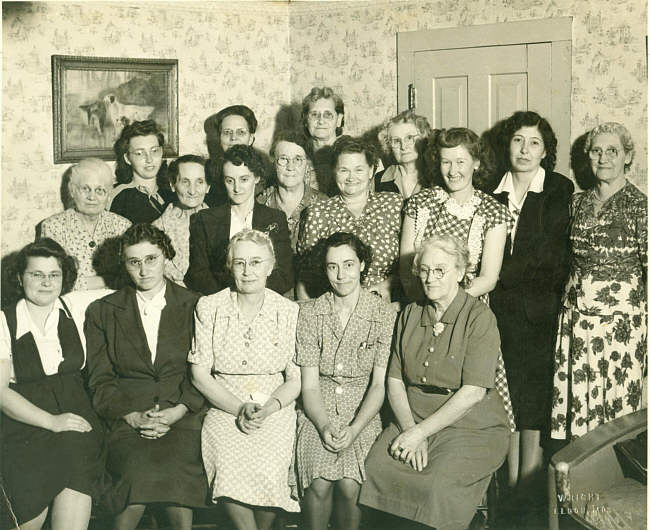 Eldon Friendly Neighbors
Circa 1948
L-R First row:Mrs. Charles Colvin, secretary/treasurer, Mrs. Hansen Bunker, president, Mrs. Garland Dooley, vice president, Mrs. Bernard Winneman, game and song leader, Mrs. George Brouse, child development leader. Second row: Mrs. Bert Slote, Mrs. Will Waltz, Mrs. Leonard Rea, Mrs. Hattie Slote, Mrs. Oscar Baysinger, Miss Alveretta Waltz. Third row: Mrs. Elwood Hackler, Mrs. Harry Rea, Miss Bessie Shepherd, Mrs. Phil Winneman, Mrs. Pete Merilam, reporter, and Miss Emily Walker. Not present: Mrs. R. Madole, Mrs. H. Duffield, Mrs. Ira Rebstock.
---
IBERIA COMMUNITY CLUB
By Peggy Smith Hake
The Iberia Community Club is now in its 15th year but its roots are much deeper and older.
The club is an offshoot of Iberia W.P.F.A. Club which was organized over 62 years ago on 9 November 1937. They were active through five decades of service to the community. When the M.F.A. organization began to dissolve in the mid 1980s, that also affected the W.P.F.A. Club which was associated with M.F.A.
The last meeting of the W.P.F.A. Club was held in August 1985 and at that time the members voted to continue on as a "community club". They met the next month, September 1985, at Iberia VFW Hall; re-organized the club and named it Iberia Community Club. So they closed one chapter of their history and opened another.
They elected new officers that day in September 1985. Those elected were: President, Mabel Fancher; Vice-President, Lorena Brown; Secretary/Treasurer, Stella Keyes; Chaplin, Faye Keeth; Pianist, Doris Wilson; Song Leader, Fern Powell; Team Leaders; Ruby Woody, Lorraine Atwell, and Lorena Brown; Past President of W.P.F.A., Lorene Allen.
In August 1985, Forty-Year Certificates of Membership (1945-1985) were awarded to Faye Keeth and Fern Powell and today, 15 years later, the ladies are still active members with 55 years of continuous membership. Mrs. Mabel Fancher-Jones, I.C.C.'s first president, is not physically able to be an active member of the club, but keeps the club's well-being and success in her thoughts.
Iberia Community Club meets the first Wednesday of each month at Iberia VFW Hall. They have a carry-in luncheon each month where spouses and friends are always invited to attend.
For many years the ladies spent many hours doing hand-quilting, but have now discontinued this service due to so few left who can perform this unique form of art. Many of the older members, who were the experienced quilters, are now gone and the younger members have not carried on the tradition.
Iberia Community Club continues to maintain an interest in the community as a whole. Over the years they have supported many projects including Halloween Alternative, Project Graduation, Bloodmobile, Best Choice Label programs, Girls State sponsorship, Iberia School's landscaping and tennis courts, the hospice program, the Miller County Ambulance District's "Jaws for Life", South Miller County Crime Watch program, Nimble Thimbles Quilting Club, the Miller County Nursing Home, Iberia's Community Christmas for the children; donated to the VFW's heating/air conditioning system and helped to buy kitchen appliance for the VFW Hall, and have assisted Iberia Community Betterment Association at Fall Fest, Christmas street decorations, construction of a new gazebo/bandstand downtown Iberia, and donated to the purchase of new spruce tree for the downtown Christmas displays. In additon to assisting all these community organizations, the club has often given donations to citizens who have had medical problems, fire losses, and various other needs. Each month the members look forward to gathering together at the VFW Hall for fellowship and fun. They share in a wonderful meal, compete to win door prizes, enjoy the various programs, sometimes sing a few songs, and participate in monthly devotionals. They always look forward to the annual "Picnic in the Park" in June; the Christmas dinner, party, and gift exchange; and the 'white elephant' sales conducted in the springtime.
Iberia Community Club remains "alive and well" in the year 2000, sixty-three years after the organization of their "mother club", the W.P.F.A. (Women's Progressive Families Association).

CURRENT OFFICERS:
 President:             Lorna Crawford
 Vice President:        Vi Greenlee
 Secretary:             Peggy Hake
 Treasurer:             Alice Stroyick
 Team Leaders:          Delores McDowell, Bennie Davis, Jean Zelsdorf
 Song Leader:           Fern Powell
 Patriotic Leader:      Ruby Plemmons
 Best Choice Chrm:      Mabel Yoakum
MEMBERSHIP FOR YEAR 2000:   38