May 27, 1937
BOAT SINKS IN OSAGE RIVER
Three Bodies Sink in 50 feet of Water - Two Girls Reach Shore
The Dead: William Eiffert 45, Iberia; Leslie Keeth 35, Iberia; Tera Cox 12, Richland…Bodies Not Found
A tragedy occurred about 3:30 p.m. Sunday afternoon (May 23, 1937) at King's Bluff Landing, about 5 miles below Tuscumbia on the Osage River, when a boat carrying 5 people submerged leaving its occupants struggling for life against the raging current of "Old Man River", who had been aggravated by the 20 foot rise the previous night. Two of our Miller County citizens, Wm. Eiffert and Leslie Keeth, and Tera Cox, formerly of Richland, but who was making her home with her aunt, Mrs. W. R. Wilson, who resides on a farm near the scene of the tragedy, were the victims claimed in the triple drowning.
The two rescued from the sinking boat were Ms. Rena Gardner, 15, daughter of Mr. and Mrs. Felix Gardner of Iberia, at present visiting in the Wilson home, and Ms. Doris Dean Edwards, daughter of Mr. and Mrs. John Edwards, residents of a neighboring farm. The Edwards girl displayed a lot of heroism when the boat sank. She succeeded in grabbing one of the 2 inflated inner tubes which were shoved out to her and Ms. Gardner by the men in the sinking boat and cautioned Ms. Gardner to keep cool-headed while she assisted her along and safely towed both in the swift current which took them to shore several hundred feet below the point where the boat sank. Ms. Edwards is an excellent swimmer while Ms. Gardner can not swim.
There were 18 members in the party-just a little Sunday gathering of friends and relatives where the men hoped to do a little fishing and the wives were congregated on the bank around the camp table. The ladies were making crepe-paper flowers to pass away the time and the 3 young ladies had been invited to take a ride in the boat. The additional loading of the boat, coupled with the pressure by the firing of the motor, caused the boat to immediately submerge at the stern (about 75 feet from shore). Efforts were made by several people on shore to rescue all five who had fallen overboard.
NOTE: Five days later, when the newspaper story appeared, the bodies had not been recovered from the flood waters of the Osage. William Eiffert was survived by his wife, Marion Rice Eiffert, a son, Carl and, a daughter, Geneva, all of Iberia. His first wife was Myrtle Humphrey, mother of his children and a daughter of Mr. and Mrs. Henry Humphrey. His parents survived and lived at St. James, Mo. He was also survived by a brother, George Eiffert and 2 sisters, Mrs. Otto Wall and Mrs. J.M. Hancock, all of Iberia.
Leslie Keeth was born in Miller County and lived there all his life. He was survived by his wife, Alta Wilson Keeth, daughter of Mr. and Mrs. W.R. Wilson of Tuscumbia. He was also survived by 2 sisters, Miss Aldyth Keeth, a teacher in the county schools, and Mrs. Oda Stites, both of Iberia. He was a son of Mr. and Mrs. James Keeth. His father had died the year before and he was survived by his mother. He had been a auto mechanic in Iberia at the Atwell Garage.
Tera Cox, the 12 year old girl who drowned, was an orphan and had resided in Richland only shortly before her death. She came to the home of the Wilsons, her near relatives.
Other persons named in the news article who were in the group enjoying a Sunday afternoon outing at the Osage River were:
1. Alta Wilson Keeth - wife of Leslie Keeth
2. Marion Rice Eiffert - wife of William Eiffert
3. Mr. Rice of St. Louis, father-in-law of William Eiffert
4. Mr. and Mrs. W.R. Wilson - parents of Mrs. Leslie Keeth (Alta)
5. Charles Wilson - brother of Alta Wilson Keeth
6. Lois, Paul, and LeRoy Jones of Iberia
7. Norma Tyler, Lavern Helton, Ilene Edwards, and Claude Edwards, all of Tuscumbia.
Doris Edwards Wyrick (Mrs. Rex Wyrick) of Jefferson City was one of the young girls who survived this terrible tragedy in 1937. She submitted the newspaper article to me, which told in such vivid detail, the happenings of that dark, distressful day several decades ago.
Her memories are still very painful and she could not write of the actual occurrence, so she asked if I could try to reconstruct that day in May,1937.
As I read the newspaper article and began to write the story, I can well understand how Doris' memories are so real and painful today, 57 years later.
- Peggy Smith Hake, October 1994
May 19, 1938
In honor of the gallant deed performed by Miss Doris Dean Edwards, 14, one year ago Monday, May 23, 1937, when she courageously encouraged Rena Gardner, age 16, to cling to an inner tube and safely brought herself and companion to shore while three others in the overturned boat were drowned, the Fremont Watkins Post No. 105, of the American Legion at Iberia, recognized her bravery by presenting her a beautiful medal.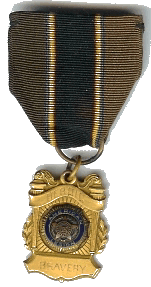 Doris Wyrick's Medal
The ceremony took place at the Tuscumbia High School auditorium at the Declamatory Contest Program. The presentation was made by Commander Frank Ferguson. The audience heartily approved this action with vigorous applause for Doris Dean and the school and community justly feel proud of her for the heroism she displayed in saving the life of her companion who could not swim.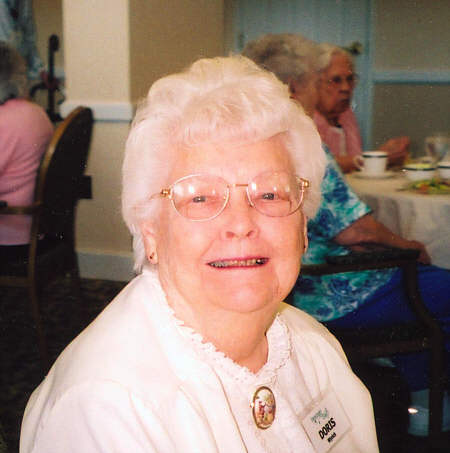 Doris Wyrick, 2007