Graham Concrete House
GRAHAM CONCRETE HOUSE
By Nancy Arnold Thompson
John Graham (1801-1856) and his wife Catherine Pridemore Graham (1807-1895) immigrated to Missouri with their family in May of 1851. Their children were:
Margaret b. 1827 m. ? Morgan
Samuel F. Graham b 1829 d 1911 m. Phoebe C. Berry
Daniel Graham b. 1831 d. 1878 m. Mary J. Chapman
George Washington Graham b 1833 d 1917 m. Eliza Ellen Golden
Robert S. Graham b 1835 m. Mary Jane Martin
Elender Virginia Graham b 1837 d 1916 m. Taylor Farrow Sullivan
Mica Graham b. 1838 m. Bill Ratliff
Luansa/Louisa Graham b 1842 d 1881 m. James M. Cooper
Henry Cain Graham b 1845 d 1932 m. Louisa Anna Abbet
John P. Graham b 1847 d 1913 m. Catherine Campbell
Catherine Graham b 1848
Their 12th child, Sarah Graham was born in 1855 after the family settled in Miller County.
George Washington Graham, fourth child of John and Catherine, was married to Eliza Ellen Golden 8 January 1857, in Miller County, Missouri. The ceremony was performed by Hiram Reed, a Justice of the Peace. Eliza Ellen was born in Missouri, the fourth child of Emly and Miriah Hawley Graham. Her father was a Colonel in the Union Army and played a major role in the Civil War in Miller County. Emily Golden story
George and Eliza Graham's children were:
John Emly Graham b. 1858 d. 1885 m. Samantha Jane Boltz
Zalmon Edward Graham b 1860 d. 1917 m. Anna Laura Maher
Mariah Catherine Graham b 1862 d 1954 m. Henry David Wall
George E. Graham b 1867 d 1945 m. Ella Hendricks
Loretta Isadora Graham b. 1870 d 1916 m. Jacob Sherman Catron
Laura Anna Graham b 1873 d. 1906 m. Doc George
Ella Mae Graham b 1876 d. 1902 m. Elmer Grant Coburn
Minnie Frances Graham b 1878 d. 1914 m. Ora Odell Coburn
Gertrude Graham b. 1880 d. 1916 m. Thomas T. Hendricks
Logan Bennett Graham b 1885 d. 1920 m. Opal Ulman
The George Washington Graham home is located off Highway C, north of Brumley, on property owned by Peggy Thornsberry Phillips. This photograph of some of the family was taken in front of their home in the early 1900's :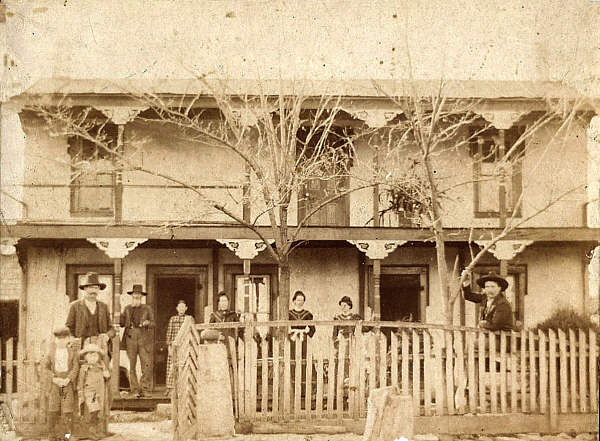 George Graham Family
The two small boys in the front are Garnett and Onyx Graham, children of Logan Bennett and Opal Ulman Graham. The adults L-R are George E. Graham, George W. and Eliza Ellen Golden Graham, Ella Hendricks Graham, Anna ?, Loretta Graham Catron, Zalmon Edward Graham.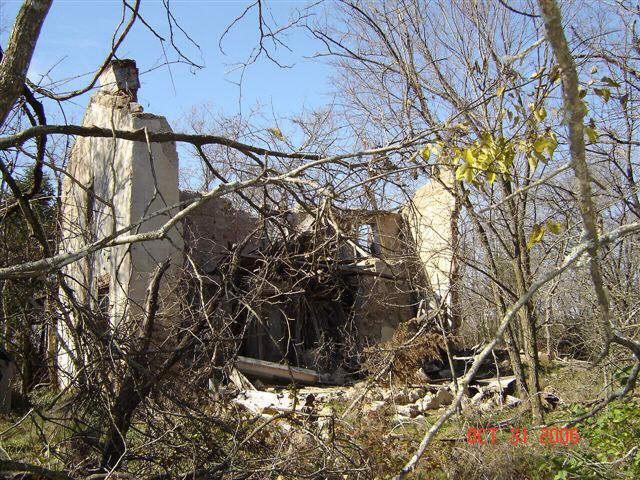 Front of House
The Graham house, a two-story structure, has a poured interior wall that runs from front to back for extra support for the upper story. The crumbling remains of this once solid old home still stand.
The house was built of poured concrete using a slip-form process. The cement was first created by building a three-sided frame of hardwood logs around a pile of limestone. The logs were ignited and the heat generated converted the stone to cement. Slip forms about one foot high were built for the walls and filled with river rocks combined with the cement. The next day the forms were raised and the next level poured. This time-consuming process continued until the building was of the desired height.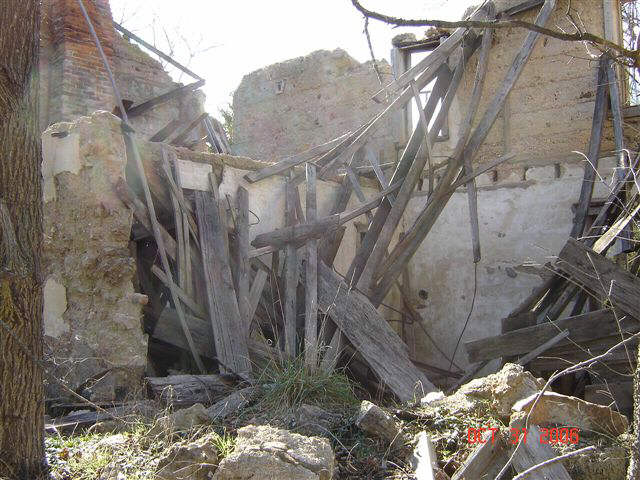 An interior shot of the house shows the lines from various steps in the pouring process.
The half-story interior support wall is visible under the rubble
Kitchen

Root Cellar

A one-story kitchen was added at the back of the house with the root cellar nearby.
A fence was built of quarried limestone, surrounding the house. The barn is gone, but the limestone foundation still stands.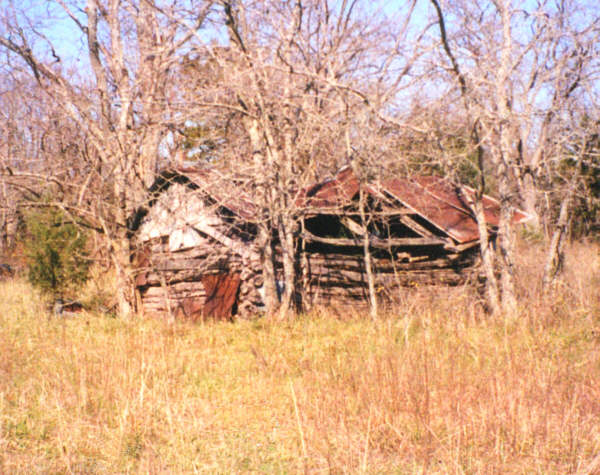 Log Home
The remains of a small log house sits a short distance from the house. We were told it was used to house pigs in later days. Most likely it served as living quarters for the family while their "new" house was being built.