HOECKER
By Kelly Warman-Stallings
The Ghost Towns of Central Missouri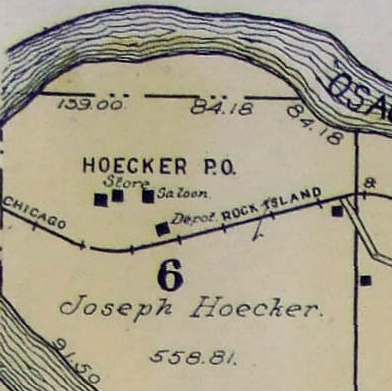 Hoecker Community from 1904 Atlas
Around the turn of the century, a small hamlet known as Brouses Bend was established. It was situated in the northeastern corner of the county near the Osage River and close to the Cole County line. Located in Jim Henry Township (today in Osage Township) on the Chicago, Rock Island and Pacific Railroad line, it was five miles north of St. Elizabeth. I found the name Brouses Bend to be interesting, but could not find any information that related to it. I do know the small village was located along a bend in the river, so it is safe to assume that it attributed to the name. Brouses very possibly could have been the name of a family that once lived in the vicinity.
The post office at Brouses Bend was established in 1902 and discontinued in 1904 when the settlement's name was changed to Hoecker. The post office at Hoecker was in existence from 1904 until 1921. The postmaster was James Hoecker.
Named for the Hoecker family, the little village had a general store and a railroad depot as well as the post office (probably in the general store). In 1930/31 there was a Hoecker School district with Virgie Hickey from St. Elizabeth as the school teacher. The clerk, also from St. Elizabeth, was Lewis D. Jones. The school was located somewhere in the Hoecker vicinity, but I am not sure where it sat..
In 1933, the railroad station was torn down and the town's demise came not long after that. Like many other little settlements in central Missouri, the death of so many of our long-ago towns and villages came about through progress and resettlement.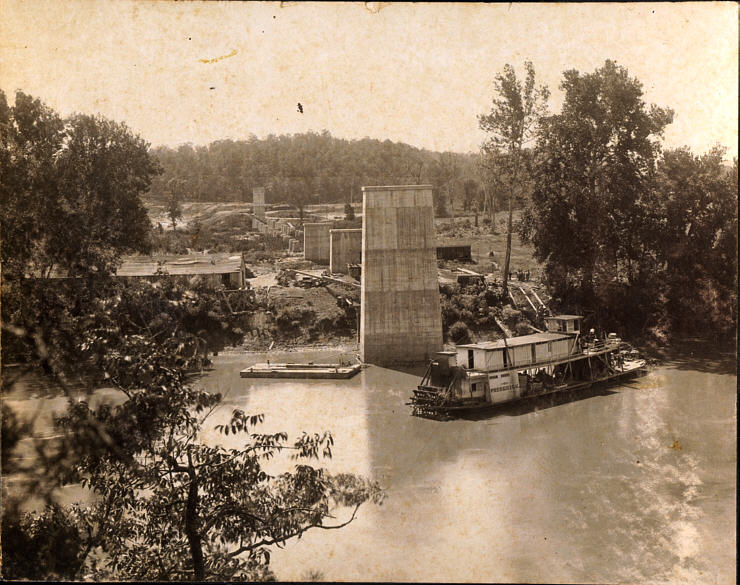 Str. Frederick aiding in construction of the railroad bridge at Hoecker, circa 1903
All that remains of Hoecker today is an old building or two along the abandoned railroad tracks and the steel railroad bridge which spans the great Osage River nearby.
Regional Ancestral Names: Hoecker, Kirkweg, Tappehorn, Wankum, Wetlock