PATCHQUILT SOLDIER
By Greg Huddleston, Brumley, MO
Jesse Marion Witt was a Miller Co. Civil War veteran, serving in the Union army as private of the 6th Regt. Mo. Cav. Volunteers. Captured by the enemy, arrested for desertion, his is an extraordinary story of a Brumley, MO farm boy who went to war barely beyond his teenage years. He left as a youngster but returned aged and worn, robbed of innocence. Like so many veterans of so many wars, it was to remain with him for the rest of his life.
Jesse was born near Ulmon's Ridge (now Ulman) on 22 Aug 1841, a simple farm life was his lot and he quickly became accustomed to the rigors and discipline of this existence.
Missouri was on the cutting edge, supplying sons to both causes. Some fought for the North, others for he South, and some only fought for their own interests, using the war to satisfy personal greed, lust, or vengeance. It was indeed an age of lost innocence... especially to Missouri and to her people.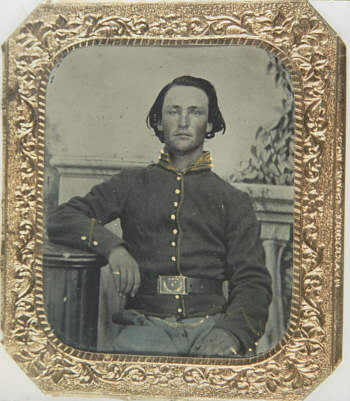 It was amidst this fury that Jesse Witt reached adulthood. He observed his 20th birthday while in the service of the MO Home Guards, Osage Valley Regiment, Co. D., Joseph W. McClurg commanding. The Home Guards were the Union's answer to the Confederate State Guards which had organized first and were using this advantage in attempts to threaten the local population into supporting the southern push for secession.
Near Brumley, at Camp Union, in May 1861, the formation of these Union Home Guard companies was the first sign of Federal military strength in Miller County. They were not organizing to merely fight FOR the Union, but AGAINST the Confederacy which seemed to symbolize nothing short of terrorism and murder.
Young Jesse joined the Home Guards at Brumley on 22 June 1861 and was assigned to Co. D. By Fall, the ranks became decimated as the patch-quilt soldiers became bored with military life. They soon began to drift away to their homes and families. Crops needed to be harvested, preparation made for the coming winter, home and hearth had to be protected from the marauding bands of guerillas still active in the area.
After Jesse had served his 6 months of duty with Co. D. he prepared to leave his native soil and quiet farm life again when he stated he wanted to join u and fight for the side that was going to win. He made his way south to Rolla and on 10 Feb 1862, enlisted for 3 years as a private in Co. E. Wood's Battalion, Union Rangers, MO Volunteers. The company mustered in 15 Feb 1862 and were sent south to Lebanon where the Union forces were gathering to move against General Sterling Price's rebels in Springfield. Within 30 days, Jesse Witt and the 6th MO Cav. Would be at the Battle of Pea Ridge in Arkansas.
After Pea Ridge, the Confederates faded away to the west across the Mississippi River into Tennessee and Mississippi to join forces with Lee's main armies. Missouri and Arkansas Federals began to strengthen their hold on the Ozarks in the absence of the rebels. On 14 Dec 1862, 24 men of the 6th MO Cav. Were captured near Helena, AR and Jesse Witt was among those taken. Fortunately for Jesse his capture did not last too long... on 21 Dec 1862, he was in a prisoner of war exchange and was back with his troops by the 27th. In Feb. 1863, Jesse was listed as absent without leave and in March was listed as a deserter. On 25 Sep 1863, he was arrested for desertion and on the 29th was delivered to the military prison at Jefferson City. It is unclear where Jesse spent the next year of his life. It is possible he languished in a military prison. However his name appears as being present on all company rolls after October 1863.
In 1865, Jesse was part of a brigade of 7 companies attached to the District of Baton Rouge, LA. There is no further explanation why they were on a detached service in July 1865, because the war had officially ended in April when Lee surrendered at Appomattox.
Jesse returned to Miller County in September 1865. By spring he began to pursue the dreams he had left behind that cold February day in 1862. On April 1, 1866, he married Martha Ann Luttrell. That winter their first child arrived. Little Hamen Witt was the first of six children to bless the marriage as the years went by.
His inability to perform prolonged manual labor worsened with age and prompted him to seek medical aid early in 1879. In 1890, Jesse filed for a disability pension. He was granted $2 per month. From stories told by his granddaughter, Verdie Witt Shelton, I believe he spent most of his final years with her family.
Jesse Marion Witt now rests in the Mt. Union Cemetery southeast of Brumley. One can stand at his gravestone and survey the land he knew so well and travelled so often, now owned by his great-grandchildren and great-great-grandchildren. The battles of the Civil War ended in 1865, but the war was never over for Jesse. Perhaps he has finally found the peace denied him in life... one can only hope.

---