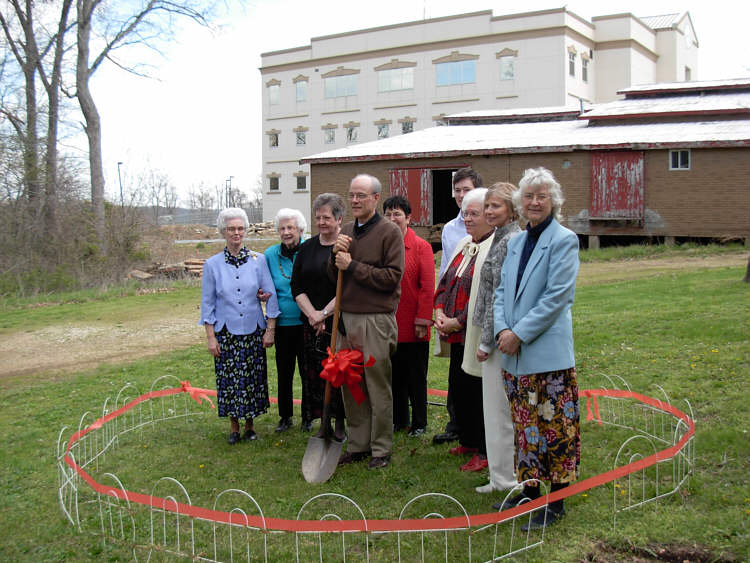 Wanda Wright, Helen Schulte, Betty Kallenbach, Joe Pryor, Judy Pryor,
Joe, Cochran, Peggy Hake, Donna Carrender, Sharon Cogdill
Miller County Historical Society Celebrates Groundbreaking
A groundbreeaking ceremony was the highlight of the first 2007 quarterly:meeting of the Miller County Historical Society held Sunday April 15 in the museum building in Tuscumbia. There were 40 persons in attendance and all shared a carry-in luncheon.
Sharon Cogdill, president, called the meeting to order and presented a printed copy of the Annual Report to Membership which included some of the milestones other than the new building addition and funding program such as a rapidly expanding website: www.millercountymuseum.org and a telephone at the museum : 573-369-3500. Heritage Art & Artists will be a feature at the Ice Cream Social June 16.
Six amendments to update the Constitution & By-Laws were accepted by unanimous vote of the members.
New officers and board members were presented to the group for election. The slate included: President: Joe Pryor, Sunrise Beach; Vice President: Carl McDonald, Jefferson City; Secretary: Peggy Hake, St. Elizabeth; Treasurer: Betty Kallenbach, Eldon. New board members elected included Donna Carrender of Lake Ozark, Joe Cochran, Iberia; and Wanda Wright, Tuscumbia.Helen Schulte, out going board member, was recognized for many rotations of elected terms on the board since 1983 and will remain as Gift Shop Manager. A board member may serve two consecutive 3 year terms.
New president Joe Pryor, and Judy Pryor expressed their appreciation and a gift of fresh flowers to out-going president Sharon Cogdill for her commitment to the Historical Society and on-going progress of the museum.
Dr. Joe Pryor, introduced himself to the members and then introduced his friend, Willie. Joe is a talented ventriloquist and had quite a conversation with Willie featuring some delightful stories aboutfarm life andthe talent of 'crossing species' on the farm. He then introduced his MUSEUM SONG and held a sing-along- with the willling audience. After the fun, Dr. Pryor spoke briefly about his family roots and deep feeling for his Millerheritage, his appeciation for the founders of the Society (Helen Gibson and Peggy Hake, Charter members were recognized). He said, museums such a Miller Countys have a responsibility to collect and preserve any material to illustratethe history of the area. He said our museum had reached the point of capacity and announced an anonymous donor was making an offer to match building fund donations on a one to one basis having already given $50,000 to make starting building an addition to the rear of the museum possible.A fund raising drive is being officially announced today, he said. The meeting continued with the groundbreaking cermony outside.
Following the festivities, Sharron Holder of Eldon, dressed in a 19th century costume, conducted tours of the two log cabins which are located on the museum's grounds. Everyone shared a special cake that commemorated the ground breaking ceremonies.
Guests included James Steen, Celeste Christianson, and Layne Helton of Eldon; Charles and Rosalee Pemberton, Iberia; Wyeth & Eula Bond, California, MO; Chuck and Alys Macias of Breckenridge, Colorado; and new members, Wally and Alice (Pemberton) Steen of Weatherford, Texas.
---

Our New Building Project
Dear Miller County Historical Society friend,
Perhaps you have noticed from features in the local newspapers or television that some exciting things are happening regarding the Miller County Museum in Tuscumbia. Several events are planned for the upcoming year including a Heritage Art at the Museum Day coordinated with the Lake of the Ozarks Art Council, an Afternoon Tea one day each month, a Farmer's Market and Craft Day, and a Tuscumbia Ladies Tea Day. We are even going to host a Classic Car Day.
But the most exciting happening this year at the museum has just been announced by the Historical Society Board: we are going to build an addition to the museum for the purpose of displaying more items and artifacts of historical importance to Miller County and its friends and patrons. Many items are now stored which have been donated to or accessed by the museum but which should be on display but are not because of a lack of space in the present structure. Our present museum is housed in the historical native stone building once owned by the Anchor Mill Company on highway 52 which in itself is worth a trip to Tuscumbia to visit. But its 3000 square feet no longer is spacious enough to display all the precious and interesting items we would like to make available to the public for viewing. The stimulus to begin a fund raising campaign to construct the new addition was a fifty thousand dollar donation given to us recently by an anonymous donor. The donor has agreed to add up to fifty thousand more dollars on a dollar for dollar matching program based on what we can raise from the community which would give us the possibility of raising a total of $150,000. Thus, contributors have the opportunity to double the amount of their donation due to this generous offer. All donations to the Miller County Historical Society are tax deductible under section 501(c)(3) of the Internal Revenue Code. This is a very exciting time for the members of the Miller County Historical Society because now we can begin the process of truly "professionalizing" our museum not only in regard to completing our selection of displays of historical interest but also now we will have the funds to complete our research facilities for those who are authors writing books or articles about the county as well as those interested in genealogy.
The accompanying brochure about the museum will give you more information about us and what we are. After reading it we hope you will be inspired as we are by the exciting possibilities open to us with the museum expansion and that perhaps you would like to join us and others in financially supporting the building fund now established for this project. If so, please send your donation, along with the completed form to the address on the brochure.
Joe Pryor
Building Fund Committee