Monday, July 21, 2008
Progress Notes
Last week Jim Phinney, who is the director of the recording studio of the Ozark Opry at Osage Beach, came by the museum to add some more items to the Lee Mace display which he and Cathy DeGraffenreid set up for us a couple of months ago (photo 01).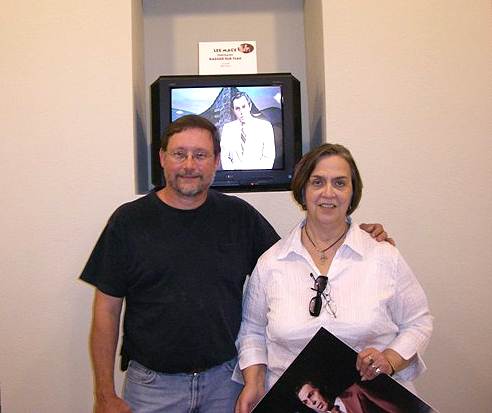 01 Jim Phinney and Cathy DeGraffenreid
In particular he brought a specially designed metal stand for the bass guitar which once was played regularly by Lee on his show (photo 02).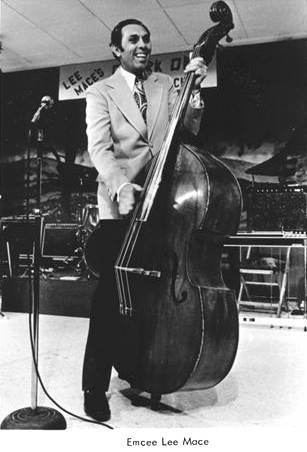 02 Lee Mace Playing Bass Guitar
The stand was painted coal black and has decorative features indicating the craftsman who made it was quite skilled (photo 03).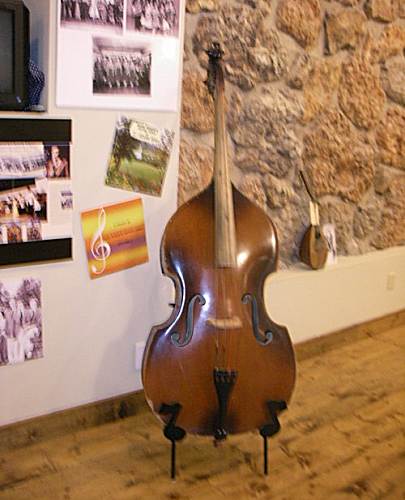 03 Lee's Bass Fiddle on Stand
Jim believes this bass guitar was the second one that Lee used after he started his show. It originally was donated to the museum by Lee's mother, Clare Mace, who along with her sister in law, Ollie Atkinson, donated many of the original items for our Lee Mace display. No one who ever saw Lee Mace playing his bass fiddle can forget his wide smile, tapping foot, and hand slapping way of playing his big bass guitar (photo 04).
Lois (Mace) Webb, Lee's sister recently told me that the first bass guitar played by Lee is now in the possession of her son, Dave, who plans to have it refinished including placing an honorary plaque on it as well. This instrument, about which more will be described in detail later in this narrative, was obtained by Lee when he was in the service in France.
Jim also brought over a wooden model of a bass guitar which had shelves built into it for holding CD's and DVD's which we will sell in our gift shop. These items were recorded at the Lee Mace studio in Osage Beach and contain all original music from Lee's show. So whenever you visit the museum you will have the opportunity to browse through this selection of recordings of a wide variety of performers who were part of Lee's show through out the last fifty years (photo 05).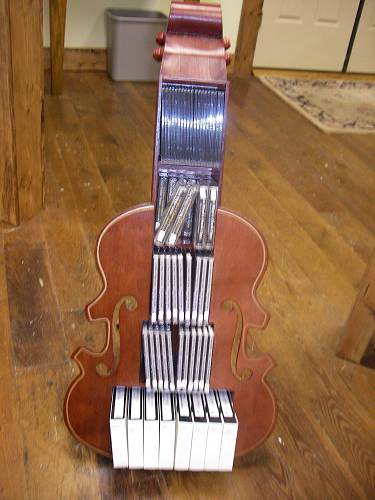 05 Case of CD's and DVD's
Jim has worked as director of the recording studio at the Ozark Opry auditorium since the early 1970's. During that time he worked very closely with Lee making many recordings of the Ozark Opry performers, both video as well as CD's (photo 06).
One popular part of Jim's display at our museum is the TV he set up to play the DVD of Lee narrating his rendition of "The Ragged Old Flag" (photo 07).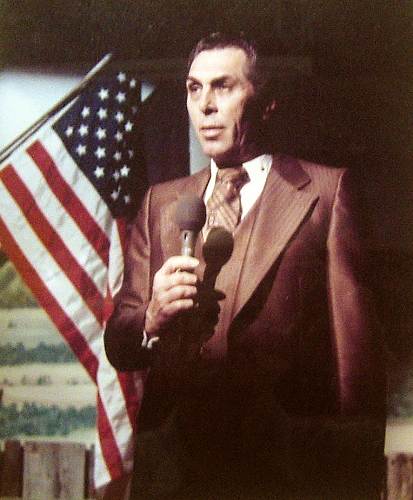 07 Lee Reciting the Flag Narrative
We have given the Lee Mace display an entire corner of our second floor museum display area since he was such a famous personality over so many years at the Lake of the Ozarks and in particular, since he was a native of Miller County and was raised for most of his early life in Tuscumbia. Lee was born in Brumley and lived his early childhood years in that area (photo 08) but came to Tuscumbia to live with his parents after his father, Lucian was elected sheriff in 1940.
The family included not only his parentss Lucian and Clare (photo 08a),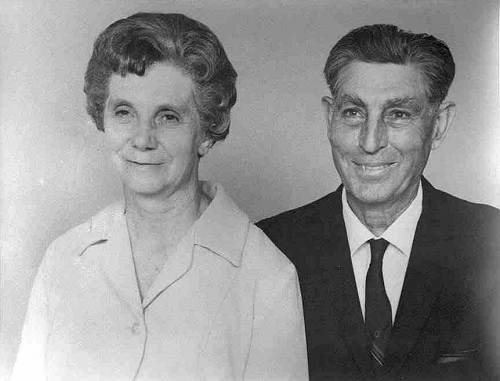 08a Clare and Lucian - 1970
but also his sisters, Lois and Sue (photo 09).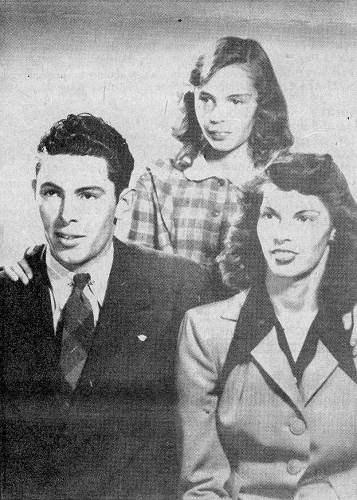 09 Lee, Sue and Lois
Lee attended school in Tuscumbia graduating from High School in 1945 (photo 10).
Lee was quite popular at Tuscumbia High School and was well liked by everyone who knew him. I asked my Aunt Bonnie (Bear) Tyler, who was a couple years younger than Lee, to write me a short summary of what she remembered about him at Tuscumbia High School:
Dear Joe,
I have a few neat remembrances of Lee. My memory is not as great as it used to be but it seems to me that the Mace family moved to Tuscumbia when Lucian became sheriff. I only remember Lee when we were at Tuscumbia High. One of my memories at school was a debate we had before the student body orchestrated by the venerable T. C. Wright. Lee was chairman of one side and I the other. I can't remember what the subject was nor which side won the debate. Probably his side won because with his charisma the judges undoubtedly ruled in his favor.
Lee and my best friend, Cleora Condra were an item back then. Although I was a freshman and they were juniors and I loved Cleora like a sister, I was secretly jealous that she had captured his heart. Of course young love doesn't usually last and they both went on to find other life partners.
Later when I was at Iberia Junior College and was home for the weekend Lee asked me to go to a movie. Even though the passion I had for him as a little freshman was no longer there, I still enjoyed the opportunity to go out with the debonair Lee Mace.
He was one of the few guys who had a car of their own and he would fill it up with kids and drive all over town, up hill and down hill. Lee had such a sense of humor. You would never be able to guess what the car's name was. Well, get ready for this. It was SUNDAY SCHOOL! Lee and his family were strong Baptists but in those days parents were careful about letting their daughters go off somewhere with a boy in a car. I don't know if Lee naming his car Sunday School helped things or not but it sure was funny.
When Lee and his square dance team appeared on the Ted Mack show in New York, the whole town cheered. Then later, of course, he had his own TV show on the Jefferson City television station after starting the Ozark Opry, which I am sure was known worldwide. It rivaled any of the other country shows around the country.
The rumor around town was that Lee was the first millionaire in Miller County. That was said with pride because Lee was one of the most likeable and humble person one could ever know.
I remember going to see the Ozark Opry show with my friend, Luella (Condra) Bielicke, just a short time before his tragic accident. I wasn't going to say anything to him to draw attention to me because it had been years since we were in school and I thought he wouldn't remember me. However, after all that time which had passed since our high school years Lee recognized me and pointed me out to the whole audience.
I have rambled on here, but to summarize Lee, I would have to say that he was a class act. He cared about people, had a wonderful personality, and great talent tempered with humility.
---
Thanks Aunt Bonnie.
My mother (Susie Pryor) has lots of memories about the Mace family. Lee's Uncle Vanus (Slim) Mace, lived across the road from our house. Lee's mother, Clare, and his Aunt Ollie (Mace) Atkison as well as his sister Sue came regularly to mom's beauty shop located in our home in Tuscumbia. Lois by that time had already married and moved to Kansas. I asked mom to write a few things she remembered about Lee Mace:
Memories of Lee Mace
Susie Pryor
This is a synopsis of a few things I can remember about Lee Mace. He came into this world to be heard. His mother, Clare, laughingly told me how much everybody around this area looked forward to the Tuscumbia Picnic held every year in August and like everybody else she did too. Lee was just a new baby so she was going to be so proud to dress him all up and take him to the picnic. Well when they got there Lee started crying and never stopped and she had to sit the whole time in the car trying to tend him so he would quit crying so that she could go to the picnic. Well her story was that he didn't and that was one year she missed the picnic.
The whole family, Lucian, Clare, and all three kids, Lois, Lee, and Sue, were all full of humor and were quick to tell the funny stories on themselves. Clare was one of my favorite patrons in my beauty shop because she was always fun to talk to. They moved into Tuscumbia when Lucian was elected Sheriff of Miller County and their living quarters were upstairs over the cells where the prisoners were kept. I have a friend, Ina Mae Wallace, who at the time was a classmate of Lee's in High School. Her mother cooked the meals for the prisoners and the Mace family. One day Lucian and Clare had gone to pick up a prisoner and the three kids were left at home with Mrs. Wallace, the cook. Lee's Mom, Clare, could play some on various stringed instruments, more for her own pleasure than anything else; so Lee goes up and brings down a fiddle and mandolin of his Mom's and handed them through the bars to a couple brothers whom he knew. They had been put in jail for stealing something and Lee knew them so these prisoners played music while Ina Mae and Lee danced.
Lee was a fun guy and was a good friend of Ina Mae as well as the man she married, Clint Wyrick.
Sometime after Lucian served his term as Sheriff he moved down to the service station at the junction of Highways l7 and 52, a good spot for business. The family lived in the back of the station. One day I went in there to buy something and I heard some loud sqweaks and sqwacks. People laughed and said Clare was teaching Lee to play the fiddle, so I guess that's where Lee got started playing although he finally ended up more permanently settled on the big base fiddle.
Lee decided to join the Navy and his Dad drove him to Kansas City where he was to catch a train to go to his destination (photo 10a).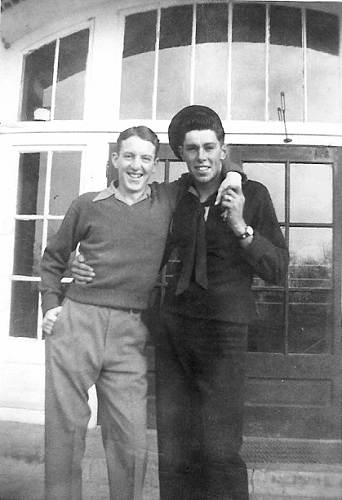 10a Judson Berry and Lee Mace in front of Tuscumbia High School - 1945
Lee went on to spend time not only in the Navy but due to some unusual turn of events also was drafted into the Army during the Korean conflict. I don't know the details but he finally got back home and pursued his first love...music. The next thing I heard of about Lee was that he had joined up with a Square Dance Team that became very good and traveled here and there and became entertaining enough that they were invited to appear on Ted Mack's Amateur Hour.
After that he and Joyce started the Ozark Opry. He started out down someplace around the Lake of the Ozarks near Bagnell Dam and formed an old time hill country musical group. He was always an entrepreneur and able to attract other musicians to team up with him.
I am very proud to say that my young daughter, Pat Pryor, was honored to be asked by Lee to play piano at only l5 on his famous widely known show after it was located at Osage Beach (photo 11). Lee took his show and musicians down to the Television Station, KRCG, in Jefferson City one night a week and all of us at home were glued to our TV station eagerly taking in the show.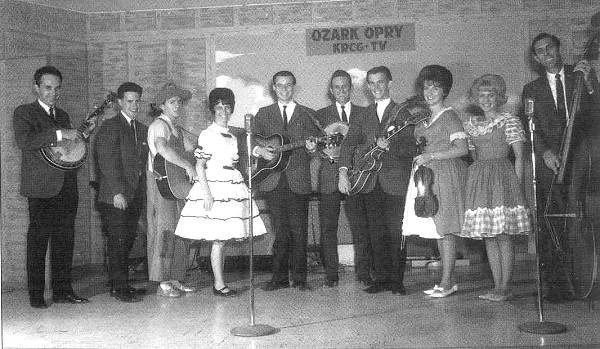 11 Pat next to Lee at Ozark Opry
One night on the TV Show, my daughter, Pat, was announced over the air by Lee that she would sing Nancy Sinatra's hit song, ' These Boots Keep on a Walkin' and They Walk All Over Me'. Well! I guess she stumbled through it in her untrained raspy voice, for you see she wasn't one of his regular singers. She thinks Lee was trying to show her to become more responsible for she had forgotten to take her tennis shoes off and put on her show shoes she always changed into before the show. And of course she was embarrassed to have everyone see her in tennis shoes but I would say that never happened again. I think Lee thought it was kind of a funny joke!
One night a close neighbor of Lucian and Clare asked them to come over and 'set a spell' after supper for they knew it was the night for Lee's Show on TV so they thought they would just watch it over there. Well they kept sitting and nothing was said about watching the show so as Clare tells me the show went on and that was one they missed. Clare was just too nice. I would have told them to shut up so I could turn on the show!
I could write a story on all the funny things Clare would tell me for she had such a good sense of humor. She tells me that one night Lucian was in St. Louis and the Policeman stopped him and told him he didn't have his car lights on and he looked out the window and told the officer he hadn't noticed needing them! Well, it makes sense to me. All those city lights were something we never ever had down here in Tuscumbia!
Another funny on Lee that his classmate, Ina Mae told me, was that on every paper he handed in to the teacher he signed his name "Lee Mace Incorporated". Now that tells you something about Lee doesn't it?
---
Thanks Mom.
The following article is from the Lake Times published September 5, 1985, shortly after Lee's untimely death in a private airplane accident. It is nostalgically sad to read but is an interesting summary of Lee's later life after he left Tuscumbia and became famous as a stage personality and showman as well as a successful entrepreneur:
Lake Sun Times
September 5, 1985
Lee Mace was the Lake of the Ozarks. He came out of the hills (photo 12), pioneering a new entertainment concept and standing tall as a leader and promoter of the lake community.
12 Lee at River Bank
A plane crash June 16, 1985 resulted in Lee's untimely death at the age of 57, leaving a void, not only in his family, but with his friends, his country music show and his beloved Lake of the Ozarks.
Lee was the oldest child of Clare and Lucian Mace. He and his sisters, Lois and Sue, were born on a farm near Brumley. "We met in high school and began to date (photo 13). Lucian was four years older than I, so it took him awhile to realize I had grown up. We lived on a farm after we married and Lucian taught school," Clare Mace remarked.
13 Brumley Graduates - 1923
According to his mother, Lee always loved music, "I remember we had an old autoharp with loose strings and when he was just a little fellow he used to sit and strum it. We had several friends who could play well and they would come to our house for music parties. Lee always laughed and said they came because they wanted to play my fiddle," she said.
When he was six, his mother attempted to teach him to play her fiddle. She shook her head and said, "He always said he didn't learn because I wanted him to play "Row, Row Your Boat" and he liked tunes like "Ragtime Annie." However he did learn to play a guitar. He was forever strumming, tuning and fussing when the strings were flat. He learned to chord and sang songs in school programs."
Lee's father, Lucian, was elected Miller County Sheriff in 1940 and the family moved to the living quarters above the jail in Tuscumbia. Before long, the jail became the musical headquarters for Lee and his friends who played and sang with the people in jail. It was at that time he also learned the jig step that sets Ozark square dancing apart from western style.
In 1946, several young men from Miller and Camden counties went to Washington to work in the potato harvest. It was at that time Lee and Carl Williams of Linn Creek met and became friends. Lee and some of his friends came home early for the Tuscumbia Picnic and he met Carl's sister Joyce Williams, on the dance floor. "Lee was with a boy I knew and he needed a dance partner. They lifted me up over the railing and onto the floor and we square danced. He took me home that evening and that is what he did for the next four years…danced and took me home." She laughed (photo 14).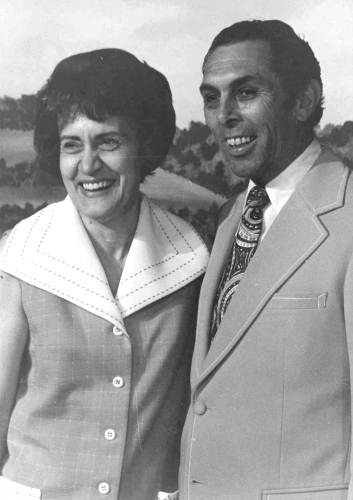 14 Joyce and Lee Mace
Lee, Joyce and Carl and several of their friends began putting on square dancing exhibitions at dances and picnics in the Lake area. In 1948, the Camdenton Chamber of Commerce sent the group to appear at the National Folk festival in St. Louis. They created such a sensation that the National Square Dancing Association asked them to perform at its convention in Kansas City. The group went onto perform on television on the Ted Mack Show and in some of the top hotels and night spots in New Orleans, Reno and Las Vegas (photo 15).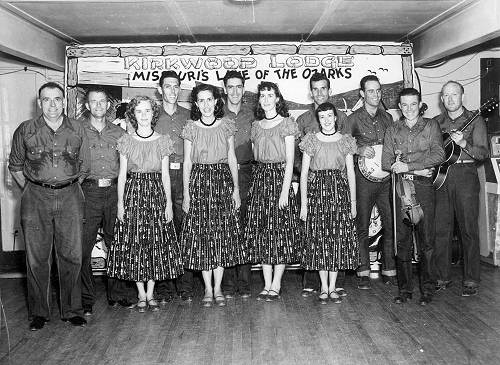 15 Lake of the Ozarks Square Dance Team
Lee and Joyce Fourth and Fifth from Left
The group was asked to become a regular dance group on the Grand Old Opry in Nashville, Tennessee, doing about 100 of the early Opry shows. "No one had more fun than our dance group. It was a new experience on every trip. Lee had the ability to watch everything and remember. He was able to use some of that information later in his own show," Carl said (photos 16 and 16a).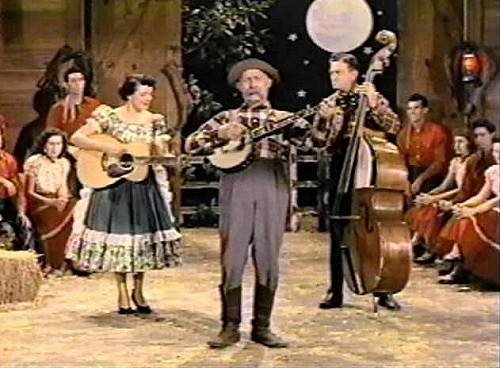 16 Lake of the Ozarks Square Dance Team on the Grand Ol Opry
Lee and Joyce on Left Sitting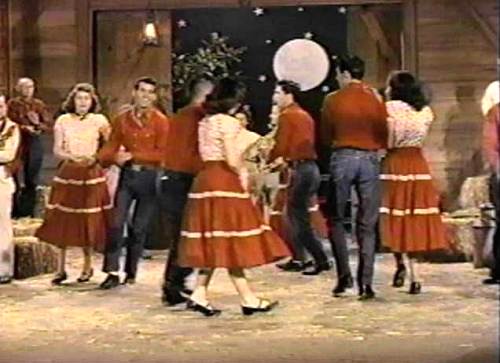 16a Lake of the Ozarks Square Dance Team on the Grand Ol Opry - 1954
Lee and Joyce were married in 1950, only to find upon returning from their honeymoon that he had been called to the Army. "We went to Texas for seven or eight months. In order to make ends meet, we would drive back and forth every weekend from Texas to Missouri giving other soldiers a ride. We would stay a few hours and head back," Joyce said.
(Note: Because of some kind of bureaucratic snafu, Lee had to serve in the army even though he previously had already served time in the Navy. According to Lois Webb, Lee's sister, he had joined the Navy in 1946 but was released a short time before his time was up because WWII was over. But unfortunately, he hadn't been in the Navy long enough to not be subject to the Korean War draft. So he served our country once more for three years in the Army during the Korean conflict.)
Lee was sent to France and Joyce returned to the Lake, working at Kirkwood Lodge. While in France, Lee and some of his buddies found an old bass fiddle in a dump. One of his friends was a cabinet maker and fashioned a neck for the base out of a baseball bat. "Lee taught himself to play and brought the bass home with him. It was a good thing he arrived before the bass, because it looked like we were getting a coffin when it was delivered," his mother said.

Lee and some other musicians put together a "hillbilly band" while stationed in France. His mother recalled a letter the family received telling about the first big show he was ever in. "He explained the Army put on a large show featuring all types of music. Several other groups had appeared but Lee's band was the only hillbilly one. When they led off with the "Texas Star Rag," he said, "The soldiers dern hear tore the place down." They even asked them to come back and play again before the night was over."
Returning to the Lake, Lee began working at the new radio station, KRMS, owned by Bob Smith. As an early morning disc jockey, he was known as the "Country Cousin." Smith wanted to use Lee and his talent to promote the station, so he helped him set up a country music show in a rented building near Bagnell Dam. This photo is of an early poster advertising the show (photo 16b).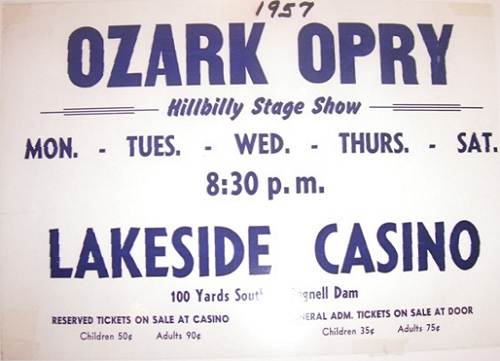 16b Poster Advertisement of First Ozark Opry Show
Here are some photos of some of the first members of the Ozark Opry show (photos 17, 18, 19, 20, 21).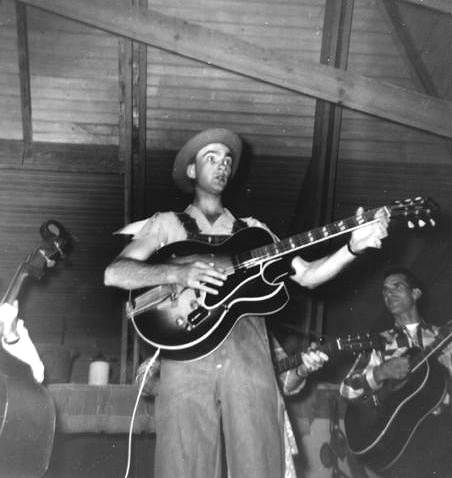 17 Bashful Bob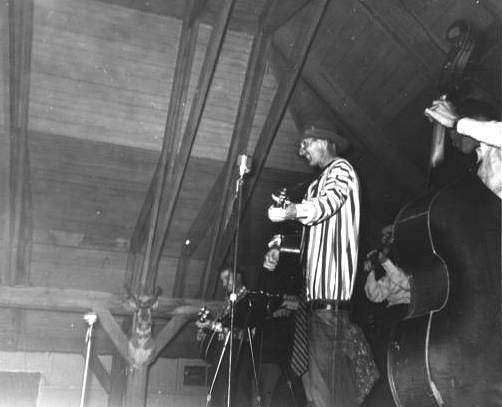 18 Bob "High Pockets" McCoy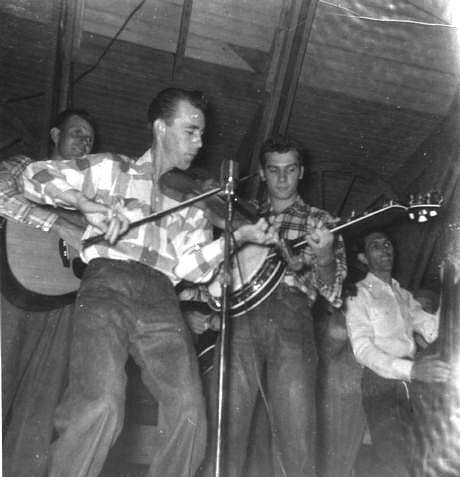 19 Bob McCoy, Don Russell, Dale Sled and Lee Mace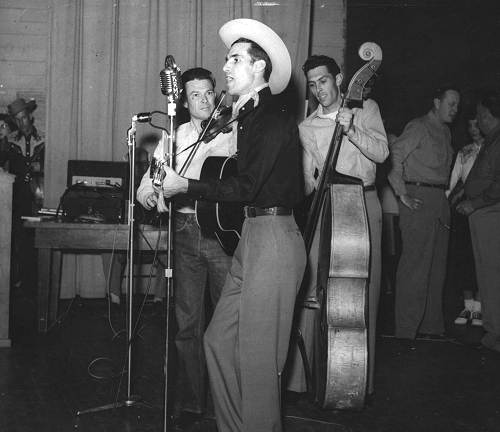 20 KRMS - Dillard Stamper, Lee and Jimmy Skiles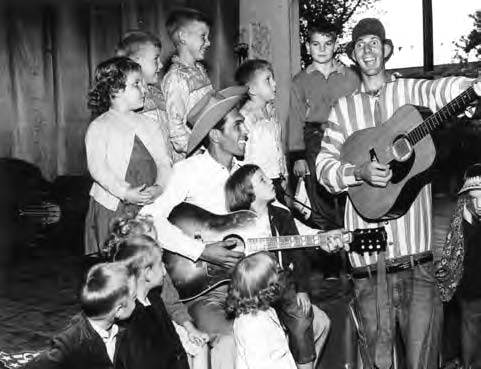 21 Lee and Bob "High Pockets" McCoy
When the station was sold, Lee bought the chairs and sound system. "We were at that spot for four years and began to outgrow the building. So we decided to move out on the highway where there would be plenty of parking," Joyce said.
The couple literally built the business from the ground up as they both worked making the individual cement blocks that composed the first building. "We painted it and put in 150 folding chairs, spread out to fill up the room. Lee wanted to put in a flat floor in case the show didn't make it, we could sell the building for something else," Joyce commented.
Joyce would open the ticket office early in the morning. She shook her head and said, "In the beginning there was no glass in the ticket office and no place to sit. Lee would park the cars and then we would clean the building after every show. Although we had a house in Linn Creek, we moved a bed into the dressing room and set up a hot plate in the snack bar and stayed there."
During the first few years of the show, Lee also conducted bus tours for tourists to the Brumley area. Announcing it during the show, he would tell the audience it was his country, the Ozark Hills. He would leave in the morning and would never let anyone pay for the tour until they returned, telling them if they did not enjoy the trip, they did not have to pay. He never had a dissatisfied customer.
An elevated floor was put in and the building added onto three times over the years, making the present seating capacity over 1000 (photo 22).
22 Ozark Opry Auditorium - Highway 54
For the first several years, Joyce handled all of the office work, paying bills, making deposits, handling the bookings, making the costumes, and acting as a talent scout for Lee. "Because he couldn't leave the show, Lee would send me all over the country looking for talent," she added.
For almost 35 years, the couple worked as a team with Lee out front as the entertainer and Joyce behind the scenes handling all the details. Cathy DeGraffenreid, the Mace's long time assistant, explained that decisions pertaining to Ozark Opry were made by both husband and wife. "Lee always said that Joyce could sing better than most. She had a great ear and could pick out a wrong note immediately. Both she and Lee had a knack for knowing what would work and what wouldn't. Sometimes, it would just be switching a couple of words that would make a number just right," She said.
Cathy began working in the Ozark Opry snack bar when she was in junior high. "I grew up coming to the show and I remember standing in awe of him in the grocery store," she laughed. She continued working at the show while in high school and college…even working part time in the office while she held down a teaching job.
"I have worked for Lee and Joyce for the past 21 years, full time for the past 10. They are very special people and I feel like they are a second set of parents to me," she added.
Lee loved his show, never missing a performance during its 32 years. "He was sick lots of times, but no one ever knew it. During all those years, he was only late once. They had put on an afternoon show and the bus broke down. He sent the kids home and stayed with the bus. He came in 30 minutes late that night and there were no more afternoon shows," Joyce said.
An example of his dedication was when the Grand Old Opry took Ozark Opry to court over its name. Joyce said that even though they had copywrited the name, Lee was required to be in court in Washington, D.C. After the show every night, he would fly his own plane to St. Louis and take a jet to Washington, D.C., appearing in court. Following the session, he would return, sleeping on the jet, and appear in his show. "That went on for a week before the judge found out about it and made other arrangements," Joyce said.
Lee worked to present a "wholesome, family show." In a recent interview, he said, "The only way our show can be a success is if the audience leaves feeling better. They have given their time as well as their money, and the show should feel fresh every time. I teach my people that this is the only time we will ever play to that exact audience. It is important to remember…you are only as good as the last thing you have done."
Explaining that timing is important to a successful show, Lee commented, "If you can get the show going in the first three minutes, you have got it made. If something goes wrong during a show, you can pretty pinpoint it to those first few minutes."
Lee is credited as the first entertainer in the country to locate in one building and run a country music show six nights a week. He explained that even the Grand Old Opry ran only one night a week.
"We have done it without stars and big names. All we have is a good show and enthusiastic entertainers. When the audience walks out the door, we want them to feel good…everybody, the parents, the kids, and the teenagers who came under protest."
Over the years, he worked hard to make his show a reflection of his beliefs about music and life. "I never told a joke or sang a song that would embarrass me to follow with a hymn," he said.
When hiring entertainers for his show, Lee looked for other things besides talent. "I watched him hire many people over the years. He always looked for attitude first and also personal appearance. After that, he considered talent," Cathy noted.
She went on to say that as long as a person, whether it was an entertainer or a cleaning person was willing to learn and give it their best effort, Lee would work for hours with that individual. "I have seen some very rough and unrefined kids come to the show and Lee would turn them into super entertainers."
Everyone who knew Lee appreciated his humor and enthusiasm for living, mentioning he was able to see something funny in every situation. Carl tells a story of the day he, Lee and Dr. Foster (Danny Foster, a dentist and son of Buford Foster) were were on their way to Jefferson City. Carl said, "Lee had his tour bus registered according to the Department of Revenue requirements but the Highway Patrol had been stopping him regularly and hassling him. As we were driving along, we noticed a patrol car in front of us. Lee drove along side of the officer and motioned for him to pull over. When he had stopped, Lee walked up to the car and said, 'Officer, have you shown your drivers license to anyone today?' When the trooper said that he hadn't, Lee asked to see it. Looking it over, he handed it back to the officer, said 'Thank you' and drove away."
His mother explained that Lee felt he was on the right track if he could get a chuckle from an Ozark native. "He really enjoyed the hillbilly wit and shrewdness," she added.
Cathy told about the time the Maces, another couple and she took a trip to Las Vegas. "No one could laugh and have as much fun as Lee. We were all having a great time, acting crazy and laughing when a man walked up to Lee after watching all of this and said, "Excuse me, didn't you use to be Lee Mace?" There was shock on Lee's face for just a minute and then the man realized what he had said."
Over the years, Joyce's schedule had turned her into a night person. "I have a very hard time if I need to get up early in the morning. Cathy and I had planned to go shopping, leaving early one morning. Before I went to bed, I asked Lee to get me up no matter what he had to do. Well, he got me out of bed, but I headed for the living room sofa. He kept trying to get me up…finally, he just picked me up, started humming and dancing around the room. When Cathy arrived and asked if I was up, he said, "Sure, we've been dancing." When she looked at him in disbelief, he laughed and said, 'Joyce can say a lot of things about me, but she can't say she married a dull person.' I certainly had to agree to that," she said.
Lee's zest or living was well known by his family and friends. Cathy explained that to him everything was an adventure. "He could even have fun digging ditches. Of all the people I have known, Lee Mace was probably the one person who could, at the end of each day, look back with the fewest regrets." Carl added, "Every night when Lee went to bed, he was always planning and looking forward to the next morning."
"Lee, in his own way, was a very religious man. He always said what you feel and what you do about it is what religion is all about," Joyce said.
She mentioned a letter she had received after Lee's death from Art Reed, a Methodist minister. "Art had dropped out of school when he applied for a job with Lee. He was very good on the steel guitar and a fine young man. Lee told him he would hire him and he could live with us, if he would go back to school. He did go back and graduated. He wrote that he felt he had learned everything from Lee and me while living in our home. That was such a nice letter to receive."
Immediately following the plane accident, the Ozark Opry closed until the family could decide what to do. The decision was made to open for the remainder of the season. After lengthy discussions, it was decided that a tribute be read at the opening of each show, followed by a recording of Lee's popular "That Ragged Old Flag."(photo 23)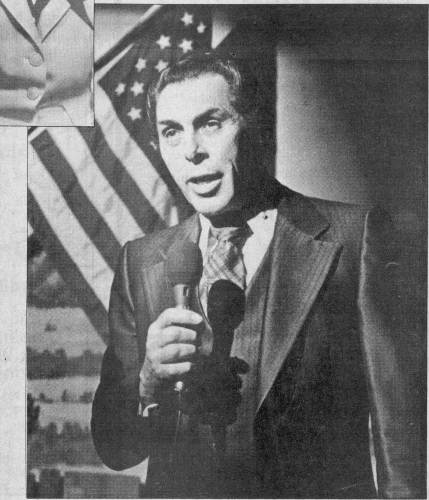 23 Lee at Mike
Cathy talked about how hard that first show was for the family and entertainers. "We all sat down that afternoon and listened to his recording…all of us, men and women, cried. However, it made that night possible. We were very touched at the number of local people who attended that first performance. Even today, there are a number of people attending the show from out of state who do not know about Lee's death. We will have to comfort at least one or two each night, so the feelings are always with us."
Lee Mace touched many lives. Cathy told of a small girl, about five years old, who came up to her recently during the show's intermission. She stood and looked at Lee's bass which is still onstage and said, "You know, Lee Mace and I were real good friends." Cathy answered, "Yes, so were we. He had lots of friends." The girl nodded and said, "I sure do miss him. Do you?"
---
One of the first members of the Ozark Opry group was Dillard Stamper of Linn Creek. Dillard also was one of the original members of the Lake of the Ozarks Square Dance Team (photo 24).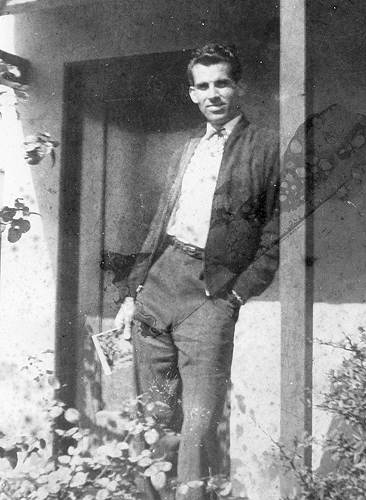 24 Dillard Stamper
Dillard's son, David, has created a website containing the Stamper family history. Part of that site is devoted to Dillard singing and playing the guitar. You can listen to these songs at this part of the website:
http://stamper.2daves.net/audio1/Memories/
A few years ago, the Missouri State Senate passed a post humus resolution honoring Lee Mace during the time of the Ozark Opry's celebration of its fiftieth anniversary. That resolution is copied here:
Journal of the Senate
FIRST REGULAR SESSION
SECOND EXTRA SESSION
---
THIRD DAY--WEDNESDAY, SEPTEMBER 10, 2003
RESOLUTIONS
Senators Vogel and Russell offered the following resolution, which was read and adopted:
SENATE RESOLUTION NO. 8
WHEREAS, it is with special pleasure that the members of the Missouri Senate pause to recognize Lee Mace's Ozark Opry, which is commemorating the resplendent occasion of its Fiftieth Anniversary of operation in beautiful Lake Ozark, Missouri; and
WHEREAS, Lee and Joyce Mace began Lee Mace's Ozark Opry in 1953 in the hopes of preserving the true flavor of the Ozarks through its music and dance, and giving the many young people they knew from nearby towns the opportunity to showcase their musical talent; and
WHEREAS, Lee Mace's Ozark Opry made its first home in a small building next to Bagnell Dam, and moved to its current location on Highway 54 in 1957; and
WHEREAS, Lee and Joyce Mace developed a format for their show that repeats itself night after night to one audience after another for the entire season, a concept that was emulated a few years later in Branson, Missouri, and has spread as far away as Myrtle Beach, South Carolina; and
WHEREAS, a veteran of the Korean War, Lee Mace performed Johnny Cash's "Ragged Old Flag" on the show in 1981, which became one of the show's most requested numbers and continues to touch the hearts of audience members as it is played while a spotlight shines on Lee's bass fiddle and the American flag; and
WHEREAS, following the death of her husband on June 16, 1985, Joyce Mace continued the business that she helped establish so many years ago to preserve the traditions of country music in the Ozarks; and
WHEREAS, Lee Mace's Ozark Opry currently plays six nights a week during the summer months, and continues to provide quality entertainment to those individuals who come from both near and far to enjoy a memorable evening of song and dance that was originated by Lee and Joyce Mace:
NOW, THEREFORE, BE IT RESOLVED that we, the members of the Missouri Senate, Ninety-second General Assembly, unanimously join in extending our most hearty and robust congratulations to Joyce Mace and to the many talented performers at Lee Mace's Ozark Opry upon this very special anniversary event; and
BE IT FURTHER RESOLVED that the Secretary of the Senate be instructed to prepare a properly inscribed copy of this resolution for Lee Mace's Ozark Opry.
On motion of Senator Gibbons, the Senate recessed until 11:20 a.m.
---
On May 6, 2007 Lee Mace was inducted post humus into the Missouri Country Music Hall of Fame. You can read about this award at this website:
http://pressreleases.kcstar.com/?q=node/1445
The event was hosted by Bill Atterberry, the performer who held the longest tenure on the Ozark Opry stage show. Bill, known perhaps better as his comedy character, "Goofer," presented the award to Lee's wife, Joyce. I was there that night and watched as Bill left the stage to personally hand over the award to Joyce. No one present could avoid feeling a strong emotional sentiment as we remembered the many happy years of the excitement the Ozark Opry gave us as Joyce received the award from "Goofer." And now, the only thing remaining to remind those who drive by the closed Opry building on highway 54 of what used to be the longest running nightly country music show in America is the sign where Joyce expresses her gratitude to all those many thousands of fans who came nightly to enjoy the show (photo 25).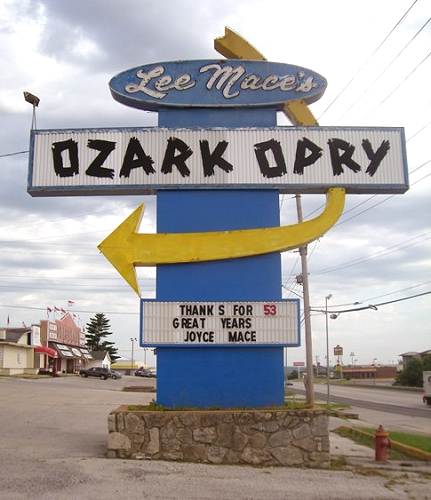 25 Ozark Opry Sign - Highway 54
But Lee's tombstone in Gott Cemetery where he was laid to rest helps to explain why the gift of his bass guitar to the museum was so meaningful to us and why it is placed first and foremost in front of the display (photo 26).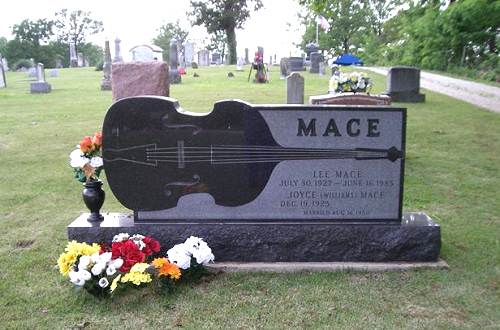 26 Lee Mace Tombstone - Gott Cemetery
No one who saw Lee's show can forget the image of him opening the show running out on stage at the same time holding the big guitar in his hands and joining the singing of:
"Howdy all you Friends and Neighbors,
Welcome to our hillbilly show!
Tune up your five string banjo,
Take down your fiddle and your bow.
Roll back the rug on the floor.
Light up your old cob pipe.
Everyone will have some fun,
At the Ozark Opry tonight!"
---
We were delighted to host visitors Tennyson and Sue Jarrett last week who were visiting the area for the annual Helton reunion (photo 27).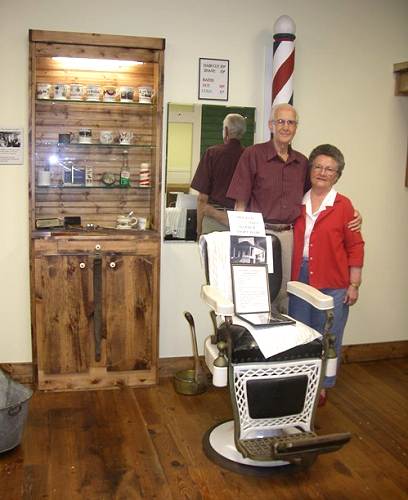 27 Tennyson and Sue Jarrett
Tennyson and Sue were kind enough to have donated the old Tuscumbia barber chair and associated barber paraphernalia some of which was present from the first days that a barber shop existed in Tuscumbia. Tennyson while he barbered here was quite a community leader. He was mayor and in that capacity led the effort to get ball park night lights, make improvements to the Riverside Park, and even organize and lead a new chapter of the Boy Scouts. The barber shop was the center of community activity when Tennyson was there. Many times eight or ten people were in the shop even after getting their haircut because no one wanted to leave for fear of not finding out what was going on around town. A checkers game always was going on. Tennyson said that the best players were Doc Marshall (Humphreys) and Lucian Mace. Tennyson said that he tried to play but wasn't in these guys' class. Everytime he played Lucian, even after Lucian let him make the first move, it didn't help. In fact, after Tennyson made the first move, Lucian would ask him, "Sure you want to do that?" Tennyson would think a minute and study the board, which didn't look all that different than before that first move, and he'd say "I guess so..", and then invariably Lucian would proceed to beat him, time and again.
We were very happy to see the Jarretts' again and hope they can return soon.
---
Also visiting last week were David and Sandra (Bear) Shelton, both formerly of Eldon, but living now in Rolla, Buster and Mina McGowin of Ulman, and Ann and Leon Wahbrink of near St. Louis (photo 28).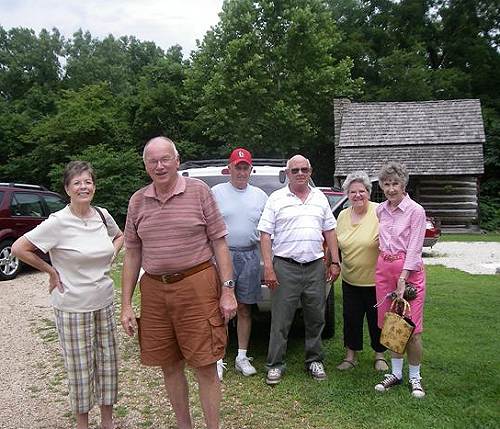 28 Ann and Leon Wahlbrink, Buster McGowin,
David Shelton, Mina McGowin and Sandra Shelton
Leon used to work at Bill Carr's store in Eldon many years ago. Mina and Sandra both had family links to the Lupardus cabin as both are great grand children of Peter Lupardus, the man who built the cabin which can be seen behind them in the background.
That's all for this week.