Monday, January 18, 2010
Progress Notes
In the Progress Notes of January 4 of this new year I included a review of the history of our local area published in 1936 in the Autogram entitled "Steamboats Had Important Role in Development of Miller County" which had been compiled by the State Historical Society of Missouri at Columbia. In that review mention was made of our earliest residents, the Osage Indians. I had included a colorful painting depicting some of the early French trappers trading with a group of Osage Indian tribe members (photo 01).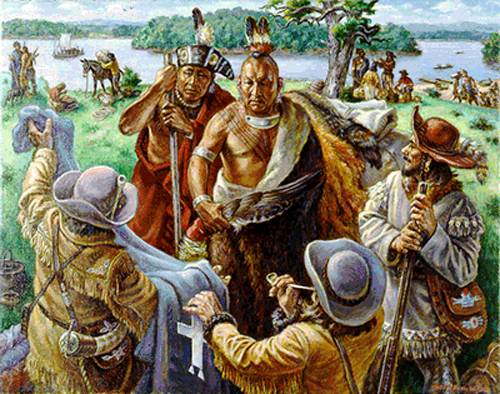 01 Osage Indians and Traders
The photo caught the interest of one of our readers, Lois Mace Webb (photo 02), originally born and raised here in Miller County, but since then a long time resident of Stilwell, Kansas.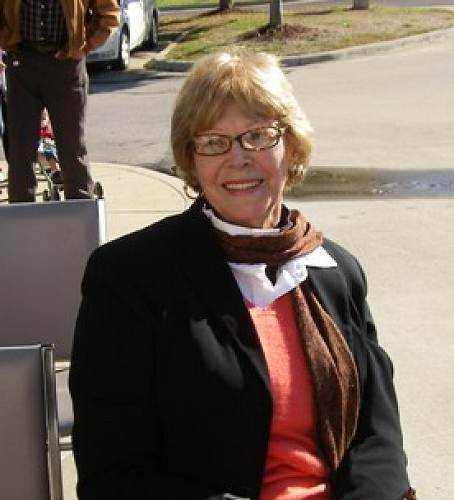 02 Lois Mace Webb
Lois has been kind enough to allow me over the last three years to copy several of her musings, essays, and philosophical thoughts on this page of our website.
Lois wrote to tell me how the photo had provoked her memories of the interest her brother Lee Mace (photo 03) had in the Mace Indian heritage and the suspected connection of the Mace family's Papen ancestors to the Osage Indians of this area.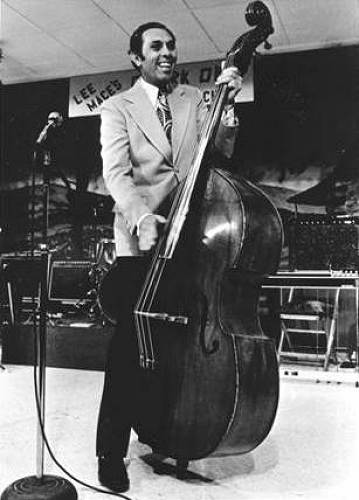 03 Lee Mace playing his Bass Guitar
You can read more about the Papen family as written by Lois at this previous edition of Progress Notes.
I had myself known about Lee Mace's interest in the Osage Indian history here in Miller County and also the Mace tradition of some Indian heritage from long ago in their family. One day I was talking with Monty Davidson who owns a large tract of beautiful hill and bluff land overlooking the winding Osage River just a short distance downstream from Old Bagnell. He told me that not infrequently he would find Lee sitting alone on one of the bluffs and that Lee would tell him about his longing to know more about the Mace family's ties to the Osage Indians. I had heard from other friends of Lee that sometimes he would seek some time to be alone in familiar remote places of the nearby hills. My wife, who used to work for Lee at his Ozark Opry theatre, said that his favorite place in those days was an outcropping of stones on a bluff overlooking the Osage River, and that she knew exactly where it was. So the other day after the snow we went to the place she remembered, not too far downstream from Bagnell. I walked through the snow to find the outcropping of stones on the bluff. The trail was covered still by fresh snow, and brush had grown up along the bluff precipice for a ways. Finally, I reached a clear area where I found the stone outcropping where Lee had spent time alone years ago. The next seven photos will take you along my way to where the rock outcropping is located (photos 04 - 10):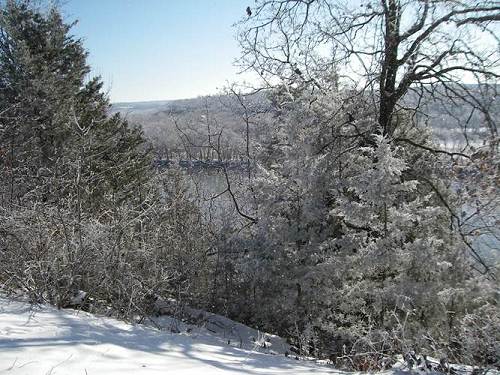 04 Reaching the Bluff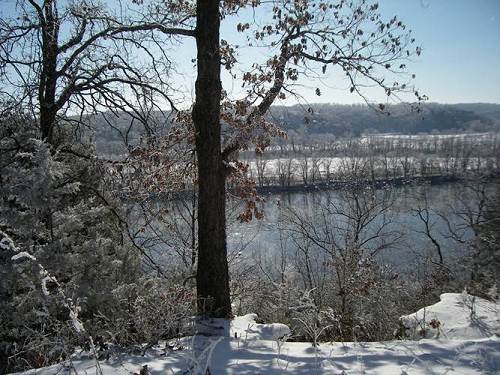 05 The View Opens Up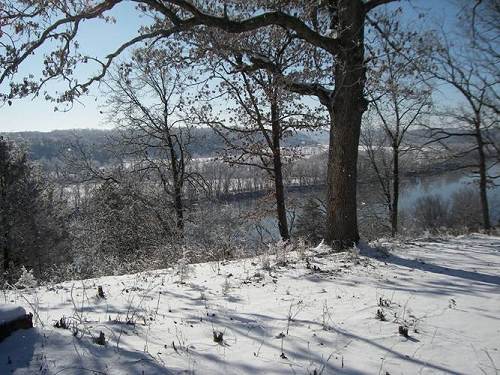 06 Heading toward the Sentinel Oak Tree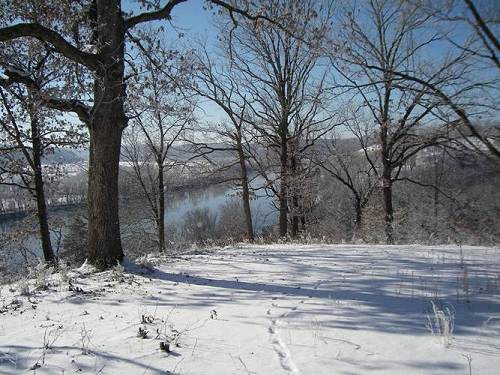 07 The Large Stones are supposed to be just ahead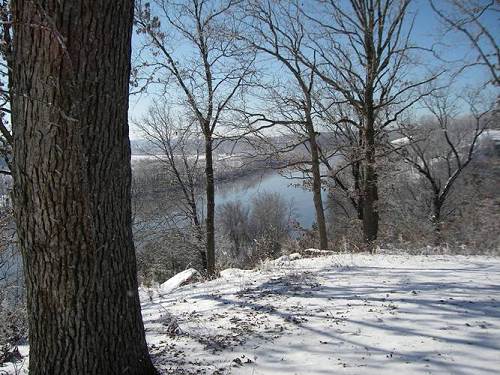 08 I just can make them out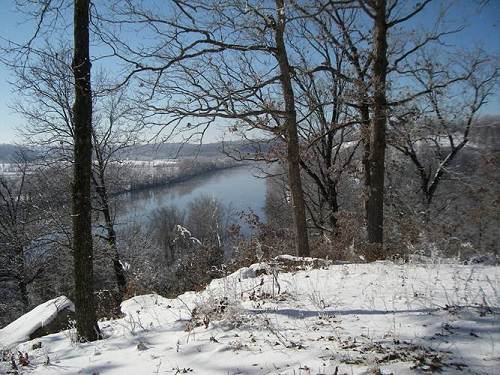 09 There they are!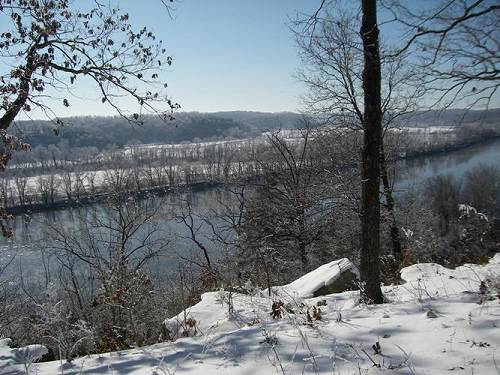 10 Lee knew where the Osage tread
You can read more about Lee Mace at this previous edition of Progress Notes.
Lee and Lois's father, Lucian (photo 11), was one of the really interesting and colorful Miller County figures of our past.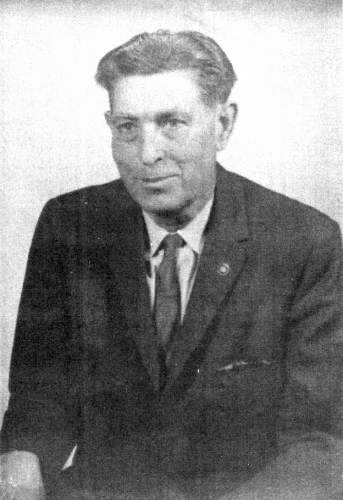 11 Lucian Mace
He as well as Lee had facial and other characteristics suggesting an Indian heritage. You can read more about Lucian and his wife, Clare, at this previous edition of Progress Notes.
Lois wrote me a short essay about some of her thoughts about the Mace Indian heritage as well as the tragic story of the Native American in our country's history which I thought would be of interest to readers of this website:
Joe,
First, Pawhuska (not Quapaw -- love those names!) is the capitol of the Osage Nation, and where Lee visited frequently during about the last three years of his life when his interest became intense about the Osage people, philosophy, and culture. Lee bought virtually every available book and he read them -- some to near dog-eared condition. He insisted that I read several, which I did, though I find the history too painful to stay with it very long.
Lee found it painful too. Hurt reflected in his voice after he had become enmeshed in the Trail of Tears story of the Cherokees, and moisture shone in his eyes when he reflected with more sadness than I can describe: "Lois, I just don't understand how Christians could have done that to those people!"
I simply replied: "I don't know either." And still don't.
Year so ago PBS ran a 4-part series about Indian near-genocide at the hands of our European ancestors.(Their title was more benign.) I wept at each session and considered resigning from DAR. I didn't, but enthusiasm dimmed considerably. And emotions of that nature keep a distance between me and details of Indian history. A number of years ago I volunteered at National Archives in paper conservation. My assignment was to preserve records of Haskell Indian School in Lawrence, where I found enough details to bring tears frequently while reading that history. We do have a shameful past in that regard.
Back to books though: One author, John Joseph Mathews, wrote "The Osages, Children of the Middle Waters" which Lee spoke of quite often. It remains available through Johnson County Library system, and I've planned to review it one of these days. Mathews was the major spokesman for the Osages. I have his book "Wah'Kon-Tah, The Osage and the White Man's Road," which I've never read completely. Of a division in the tribe, he states: "The division of the tribe was due to the influence of Pierre Chouteau, who had obtained a monopoly on Osage trade before the Louisiana Purchase" (p 324).
Another book on my shelf, "The Osage in Missouri," by Kristie C. Wolferman (MU-Columbia press, 1997) covers fur trade fairly well and Chouteau family, monopoly, etc., though I didn't see a Papen name. Nor did I read her book completely; it contains more than I want to know.
I've never seen documentation on the Papen family branches, though I'm under the impression one of the High Point Papen's has done some work on that. A dozen years ago or so, I met with several High Point Papen's at the Lake Creek Cemetery near Smithton, MO (southeast of Sedalia), located a few miles from Lake Creek United Methodist Church. The men repaired the headstone of one John Papen, whose original family farm was nearby, and where the current owners welcomed us to tour the one remaining original building. Cousin Leah Jo McNay, who worked at the Secretary of State's office, brought us each a copy of the Historical Listing of Missouri Legislature, which listed that John Papen as having served as Senator from 28th District in 1870.
However, Joe, I simply do not have enough factual information to be certain of the Papen heritage. You are welcome to use my comments including my memories and impressions of Lee's experience, though I cannot fill in the blanks about the determined cousin Sam Papen qualified to be on the Roll. I don't even know what that takes -- is it 1/16th?
Finally, Joe, in regard to Lee's interest in the Osage culture, I recognize the presumptuous nature of speculating on the philosophy of another person; however I'm talking about my brother now and I feel safe in saying that I believe Lee found a deep sense of at-homeness as he spent time with those Osage Elders -- they may have been called Tribal Elders. He reiterated details of his visits, as well as information from the literature, to anyone who would listen.
Once, here in KC, with a toddler sized relative in the car, Lee was teaching the little one a word -- a series of syllables, I'd say. The mother of the child asked if I knew the word. I didn't. She asked if it was a good word. I said I felt sure it was, because the syllables reminded me of sacred sounds.
Years later --1998, according to the sales slip -- I saw the book "Wah'Kon-Tah," by John Joseph Mathews, and bought it because the syllables seemed familiar. The facing page to Chapter One carries this statement in italics:
"That which the children of the earth do not comprehend as they travel the roads of the earth and which becomes clear to them only when they have passed on to the Great Mysteries is Wah'Kon-Tah."
I've held profound gratitude that Lee seemed to have found deep satisfaction in his interaction with the Osage Elders at Pawhuska. I've thought of it as his sacred time because he was absolutely reverent as he spoke of their discussions centered, in part about The Great Spirit. (Mathews' book, "Children of the Middle Waters," may carry some of their creation stories, though I'd have to read it again to be sure.)
As a matter of fact, when Lee and I were children at Brumley, dad explained to us while walking through the woods looking for squirrels, about Indian customs and beliefs, including The Great Spirit, or to that effect. He took pains to show us how the Indian walked quietly so as to not scare the animals, and I figured he was just trying to get us to hush! Who knew!
Bless. Lois
---
Thanks Lois for sharing this interesting information regarding your brother Lee's interest and concern about our area's first settlers, the Osage Indians and also your family's interest as well.
As I noted last week I am going to feature weekly for awhile a page from the diary of C.B. Wright (photo 12), old time steamboat captain as well as one of the partners and later President of the Anchor Milling Company of Tuscumbia.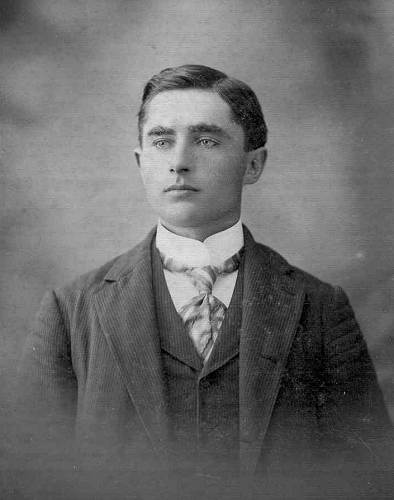 12 Clarence Wright
This week's entry is again taken from the first of C.B.'s diary books which he began in 1912 (photo 13).
Once again, C.B. gives the itinerary of his steamboat trip down to Osage City and back to Tuscumbia on the Osage River. I noticed perusing these diaries that the steamboat trips were a major feature of the items he selected to record. However, he also seemed always to record news of any event he thought significant, quite often being deaths or illnesses in the community at large. In this week's entry we once again are exposed to river landing names, details of many which are long since forgotten or lost to memory of anyone alive today. So I asked Wayne Johnson, the consultant who set up our website who also is an expert on steamboats and waterways of Missouri, to give me some help in obtaining some more information about the river stops along the Osage listed by C.B. First, Wayne updated our website regarding the location of these landing sites so that now it is complete up to Linn Creek. You can review the map of these locations at this website.
But knowing much more than location of these landing sites is a different story. I could not find any information about "Bloody Island" or "Mormon Island". I do know that the members of the Mormann family lived around Mary's Home early on and still do even today. Some of the names listed in C.B.'s entry for this week were local farmers receiving a shipment from the steamboat. This would include the Tappehorn, Vincent and Whaley farms. The Wickham mentioned would have been most likely Nelson Wickham who lived on a large farm on the Big Tavern Creek south of St. Elizabeth and Capps.
For more information about the small towns of Capps and Hoecker as well as other small and sometimes abandoned communities go to the Communities page on our website:
One of the best sources you will find about Osage River navigation with a lot of photos is the River Navigation page on our website:
Wayne Johnson also sent me two articles about steam boating on the Osage River. The first one, which is very entertaining regarding steam boating on the Osage and Missouri rivers with quite a lot of information about some of our own famous steamboat pilots, is one written by William L. Heckman, named Steamboating - Sixty-five Years on Missouri's Rivers.
Note: This article is in Adobe PDF Format (photo 14):
Another article about steam boating on the Osage River sent me by Wayne was obtained from the History Department of Lincoln University entitled:
Navigating the Osage River in Missouri: 1839-1926
Again, this article is in Adobe PDF Format (photo 15):
---
One of Miller County's most well known patriarchs was Squire John Ferguson originally from Scotland who settled in Iberia (photo 16).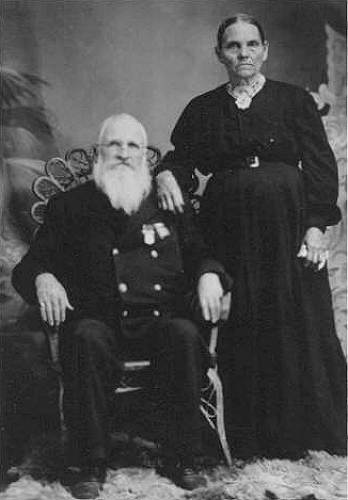 16 John and Dorcas Ferguson
He was very involved in many community activities living well into his late nineties. Among the activities in which he participated was the dedication of the new bridge across the Osage River in Tuscumbia in the year 1933. Of course, that is the bridge which soon is to be replaced by the new one presently under construction. You can read about the previous bridge dedication on our website.
One of the most remembered historical facts about Squire John was that he was the last surviving Civil War Veteran of our county. You can read about that as well as more about his life at the Biographies section of our website.

But the person I want to discuss at the moment is not Squire John but the person who was the second oldest veteran of the Civil War in Miller County. His name was Joseph ("Uncle Joe") Crismon (photo 17).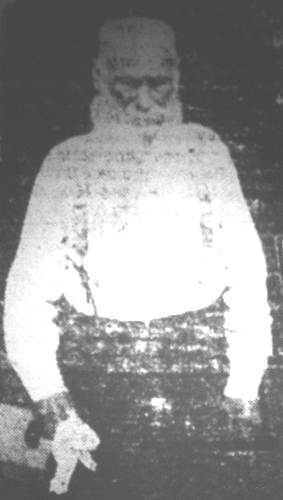 17 Uncle Joe Crismon
One person who knew Uncle Joe presently resides at the Lee House in Eldon. Her name is Lois Crismon. Many people know about Lois who now has attained the remarkable age of 107 years old. She is a resource of history of our county being herself a granddaughter of Peter Lupardus, one of our most well known Miller County patriarchs of the past. In fact, it is Peter Lupardus's cabin home which now is located on our museum property. We have a photo of Lois in the arms of her father, Ben McDonald, son in law of Peter, who is standing in front of the cabin many years ago for a family photo (photo 18).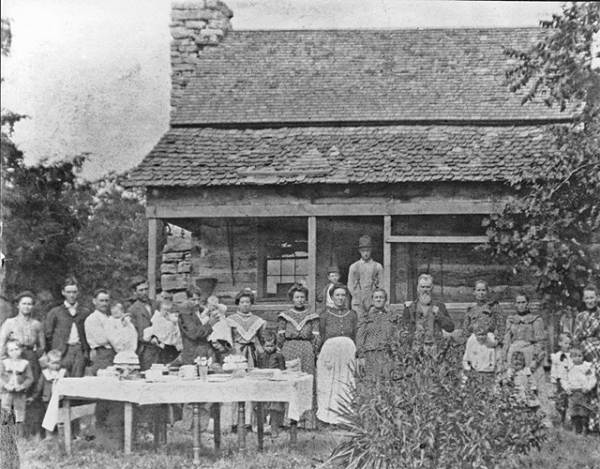 18 Lupardus Family and Cabin
In the photo, Lois is in the arms of the second father holding a baby. Lois is very alert with a wonderful memory. I talked with her just last week. She had just finished a nap but was quite agreeable after I asked permission for me to take her photo (photo 19).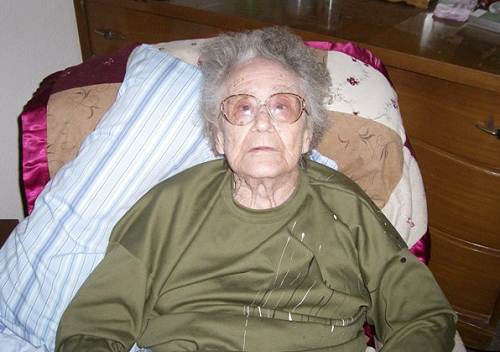 19 Lois McDonald Crismon
She is delighted, she responded, to have visitors, especially to talk about times of the past.
Lois told me that her father in law, Lou Crismon, was a nephew of Uncle Joe and that she saw Uncle Joe often in years gone by. Before proceeding with the history of Joseph Crismon, I thought this would be a fitting place to inform readers about Lois's father in law, Lou Crismon. What I found interesting is that he was on the county court when it authorized Union Electric to build Bagnell Dam. Because the site chosen for the dam by U.E. was in Miller County, these Miller County citizens on the county court were part of one of the most historical events to ever occur in our county, the construction of Bagnell Dam and Lake of the Ozarks. Here is that narrative copied from our website:
LEWIS AND LENA (ADCOCK) CRISMON
By Barbara Schwebel, 1981
Lewis and Lena (Adcock) Crismon were natives of Maries and Miller Counties, living for many years on farms south of Tuscumbia on the Osage River and in the Pisgah community.
They were married at her parents' home on the Osage River in 1896 and had four sons: Joseph, Elmer, Frank and Earl. The only living son, Earl, now resides in Modesto, California.
Lew served as Presiding Judge of the Miller County Court for several years, and was serving in that capacity on January 18, 1926, when at a special meeting the court ordered that a "Certificate of Convenience" be negotiated and transmitted to the Public Service Commission at Jefferson City, permitting Missouri Hydro-Electric Power Company to build a dam on the Osage River near Bagnell, Missouri.
Lew and Lena were faithful members of Mount Zion Christian Church from 1899 to the time of their deaths. They were married almost 61 years before both passed away in 1957. They were loving and caring people with many friends, and were dearly loved by their grandchildren: Barbara Schwebel, Laurei, Mo.; Otis Crismon, Edmond, OK; Virginia Nelson, Stover, MO; Kenneth Crismon, Eldon, MO; JoAnne Lynch, Stockton, CA; Curtis Crismon (deceased), Eldon, MO; Gonnie Frost, Gary Crismon and Joseph Crismon of Sacramento, CA; Carol Pearson, Sunnyvale, CA; James Crismon, Modesto, CA; and Vickie Bass, Los Angeles, CA.
Joseph Crismon was a very well liked figure in Miller County and Iberia so I thought I would present some information about him this week. His biography as written by Peggy Hake already is on our website but for convenience, I will copy it here:
JOSEPH CRISMON
Joseph Crismon was born in Osage County (now Maries), MO on 24 April 1843, one of eight children born to John and Flavilla Melcena (Brashears) Crismon. His paternal grandparents were Gilbert and Frances Crismon and his maternal grandfather was Rev. Joseph Brashears. Per his obituary, Joseph's place of birth was about 2 miles west of Vienna in the valley of the Maries River.
On November 30, 1866, at the age of 23 years, Joseph married Nancy Caroline Lawson of Miller County, daughter of Andrew and Sarah (Rowden) Lawson. Her parents were born in East Tennessee and migrated to Miller County before 1840. Her grandparents were Nathaniel and Nancy (Crain) Rowden and Nathan Sr. and Christina (High) Lawson, all natives of Virginia. (NOTE: These Rowden and Lawson families are also my ancestors---psh)
Prior to his marriage, Joseph served in the Union army during the Civil War. From August 1862 to June 1865, he served in Company H of the 3rd Missouri Cavalry Volunteers. In later years, he became a member of Iberia's Miles Carroll G.A.R. Post #11 and when he died in 1936, Squire John Ferguson was the only living Civil War veteran of Iberia's Grand Army of the Republic post. In Meta's 75th Anniversary Book, page 41, there is a wonderful picture of Uncle Joe Crismon and Squire John Ferguson, both with snow-white beards, looking very much like patriarchs of old (photo 20).
20 John Ferguson, Ruth Crismon and Joe Crismon
Joseph and Nancy (Lawson) Crismon were parents of seven children including:
1. Sadie B. Crismon m. George W. Wilson (they later lived in Oklahoma)
2. Millie Crismon (never married)
3. Nancy Crismon (never married)
4. Frederick Pinkney Crismon m. Sarah Elizabeth Shelton
5. John A. Crismon (1866-1875)
6. Alvertta L. Crismon (1870-1871)
7. William M. Crismon (1878-1888)
After marriage, Joseph and Nancy moved into Miller County and located in the Lawson school community near Iberia. They were members of the Methodist church and Joseph was an active member of the Masonic Order for over 50 years.
Nancy died in 1906 and after her death, Joseph moved near Meta (Osage County) and lived with his daughters where he spent the remainder of his life. He died on October 15, 1936 at Meta. As was customary in those days, everyone called him "Uncle Joe" which was a manner of showing respect. Uncle Joe Crismon's funeral was held in the home of his daughter with Rev. Charles Sooter conducting the services. He was buried beside his wife, Nancy, at Duncan cemetery in eastern Miller County, located on land that is still owned today by the Duncan family........

Joseph Crismon 24 April 1843 - 15 Oct 1936
Nancy Caroline Lawson Crismon 5 Nov 1840 - 11 July 1906
Further information about Joseph Crismon can be found at in his obituary as published in the November 12, 1936 edition of the Tuscumbia Autogram:
Thursday, November 12, 1936
Tuscumbia Autogram
Joseph (Uncle Joe) Crismon, Civil War veteran and one of the last members of his company, died at his home at Meta at 3:45 o'clock Thursday afternoon, October 15. He was 93 years old.
"Uncle Joe," as he was familiarly known, was born April 24, 1843, on a farm a mile and half west of Vienna in what was then Osage County and had lived in Central Missouri all his life.
During the Civil War, he served with the Union forces, his discharge papers showing he enlisted August 5, 1862 and was discharged June 14, 1865. He was a member of Company M, Third Missouri Volunteer Cavalry.
His death leaves but one surviving member of the company, "Colonel" John Ferguson of Iberia, who during the war served as a sergeant.
Mr. Crismon was married November 30, 1866, to Miss Caroline Lawson of the Lawson community in Miller County, several children being born of the union. Mrs. Crismon died 30 years ago.
After his marriage, "Uncle Joe" lived for a time on a farm in Maries County near Vienna. Later he moved to the Lawson school community, near Iberia and lived there many years. He retired from active life in 1906 and moved to Meta, where he made his home with two daughters, living there until his death.
"Uncle Joe" was a member of the Methodist church and for 50 years had been a member of the Masonic Order.
He is survived by four children, Mrs. Sadie B. Wilson of Keystone, Oklahoma, Misses Millie and Nancy Crismon of the home, and Fred P. Crismon of Russellville. Also surviving are eight grandchildren and eleven great grandchildren. Three children who preceded him in death, are John A., Alfretta, and William M. Crismon. He also leaves one sister, Mrs. Nancy Arendall of near Brays.
Funeral services were conducted at the home at 1:30 o'clock Saturday afternoon, October 17th, by Reverend Charles M. Sooter of Tuscumbia with Masonic rites at the cemetery. Burial was in the Rowden cemetery near Iberia.
Joseph Crismon and John Ferguson both were members of the Iberia Grand Army of the Republic. You can read more about this association of former Union Soldiers of the Civil War on our website.
Included in the article is this photo of the Iberia G.A.R. which includes both Joseph Crismon as well as John Ferguson (photo 21).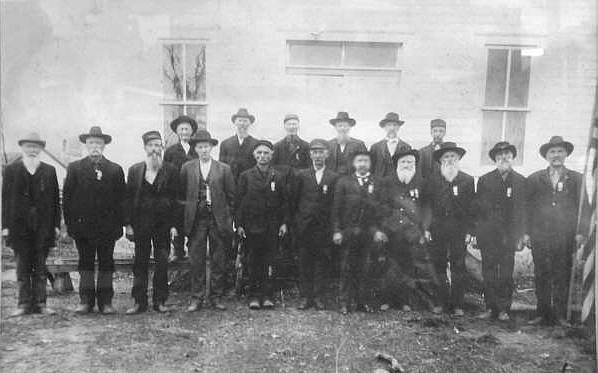 21 Iberia G.A.R.
The following paragraph about the G.A.R. includes the names of those in the photo:
Iberia's post was organized in 1890 under the name of Miles Carroll Post #111. Miles Carroll was a casualty of the Civil War, though not a soldier. While his sons were away from home fighting, bushwhackers rode through southern Miller County and viciously murdered Miles in the front yard of his home in full sight of his wife and daughters.
The Iberia G.A.R. post lasted until 1922 when they deeded the building (still standing) to the newly organized Fremont Watkins American Legion Post #105. The old Civil War soldiers reserved the right to use and access of the Hall.
Among the members of the Iberia G.A.R. were: Charles P. Myers, William A. Thompson, Thomas Marchant, A.L. Benage, Manessah Jones, John Ferguson, George Osborn, Absalom Bear, William Harrison Smith, John Wesley Smith, Simon Deardueff, Henry Carroll, John Carroll, Jeremiah C. Tallman, William R. Short, John E. Dickerson, Nicholas Long, William J. Teaverbaugh, Benjamin D. Roark, John W. Waite, Louis G. Forbes, C.W. Thomas, James W. Rowden, E.D. Hayes, John K. Bond, Joseph Crismon and others.
As a matter of interest to me, my great great Uncle Absolom Bear also is pictured in this photo second from the right in the front row. He was one of six Bear brothers who fought for the North in the Civil War. You can read more about them on our website.
(You will need to scroll down to the section on the Bear family about one third the page to find the history of the six Bear brothers in the Civil War.)
I believe Squire John Ferguson is fourth from the right on the front row. I am not sure which of the group is Joe Crismon.
---
I was delighted recently to be visited at the museum by Connie Howard Wyrick and one of her science students, Dylan Lyle, for a conference in which I had been requested by Connie to review a science project proposal of Dylan's (photo 22).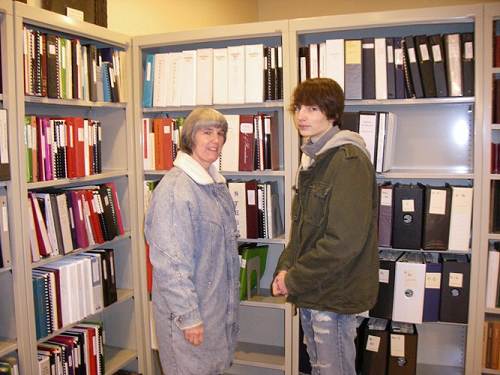 22 Connie Howard Wyrick and Dylan Lyle
Although retired, I still maintain my licensure as a Medical Doctor with the State of Missouri which qualifies me to be a reviewer of science project proposals by students of Connie. Connie is one of our exceptional teachers in Miller County who has the gift of inspiring and motivating her students to achieve superior results in their studies and projects. Year after year students of Connie win national awards in science fairs held at various locations across our country. And I say Miller County when I refer to Connie because she has taught not only at Tuscumbia but Eldon and School of the Osage as well in her career.
Dylan's project was one having to do with a biological product called a pheromone which is a chemical that triggers olfactory receptors in animals and primates which evoke a natural response in another member of the same species. There are alarm pheromones, food trail pheromones, sex pheromones, and many others that affect behavior or physiology. Their use among insects has been particularly well documented. In addition, some vertebrates and plants communicate by using pheromones. Connie asked Dylan to describe in detail to me the hypotheses which were the objective of his study and his methodology to prove them. I was very impressed by Dylan's knowledge of the subject as well as the reference resources to which he referred in his description of the study. He has contacted outside experts in the field and communicated with them regularly in preparation for his study. These days one has to comply with many safeguards to protect study participants and these were reviewed with Dylan as well. I posed several questions about the design and goals of the study to Dylan and was impressed by the facility with which he answered revealing he has done an appropriate amount of research to design his study. Once his study is completed and results have been analyzed, Dylan plans to enter his project in the Junior Science, Engineering, and Humanities Symposium being held this year in St. Louis. Judging by his preparation and knowledge of the subject demonstrated today I expect Dylan's research will receive high marks at the symposium.
---
This week ends the series of The Cricket's Song by School of the Osage graduate, Tim Pilkington (photos 23 - 28). Refer to the Progress Notes of November 23 of last year to read the biography of Tim, one of School of the Osage's most outstanding students.
(You will need to scroll to near the end of the page to get to Tim's biography.)
In this last scene Hannah and Davidson's daughter, Mary, returns home after six years with her husband, Shannon and their new baby, Phillip. In the interim years Davidson has tried to learn how to drive his first car with difficulty; however, otherwise, Mary and Shannon find that Bagnell has never recovered from the great fire of 1931. The play ends with Davidson taking his young grandson, Phillip for a walk along the Osage River just as the moon is rising in the sky. Looking across the river Davidson recounts to Phillip the story of the first inhabitants of the hills, the Osage Indians. Then Phillip looks up toward the moon and asks, "Grandpa, do you think people will ever go to the moon?" I wonder myself if ever the Indians asked the same question?
The Cricket's Song
By Tim Pilkington
Act One - Scene One
Act One - Scene Two
Act One - Scene Three
Act One - Scene Four
Act Two - Scene One
Act Two - Scene Two
Act Two - Scene Three
Act Two - Scene Four
Act Two - Scene Five (photos 23 - 28)
Just click on any of the photo thumbnails to view a larger image.
Note: Once you click on an image below, a new window will open. It would be best to maximize this new window by clicking on the middle box in the upper right-hand corner of the window. When you move your cursor over the image in this new window, it will change to a magnifying glass. Once this occurs, click on the image and it will show in a larger format for easier reading.
That's all for this week.
Joe Pryor