Monday, January 11, 2010
Progress Notes
I have alluded several times over the past three years or so to Clarence Boyce Wright (photo 01), son of Green Lee Wright (photo 02), and grandson of James Lawrence Wright (photo 03), the original Wright to move into our county before the Civil War.

01 Clarence Boyce Wright

02 Green Lee Wright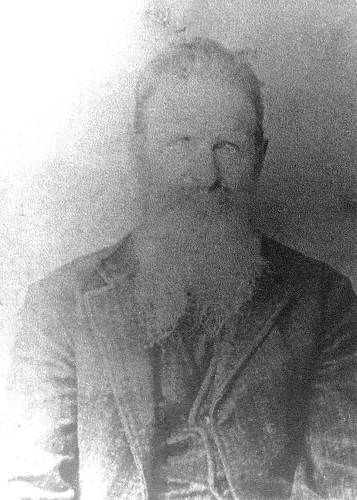 03 James Lawrence Wright - 1818-1896
Clarence's son, Homer Clay Wright (photo 04), succeeded his father as president and was the last president of Anchor Milling Company before it was sold.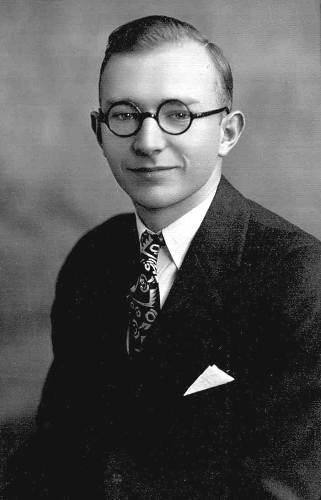 04 Homer Clay Wright - Age 24
Homer was the one who sold to our Miller County Historical Society the hardware and feed store on Highway 52 in Tuscumbia which now houses our museum and to which we added our new addition a couple of years ago (photo 05).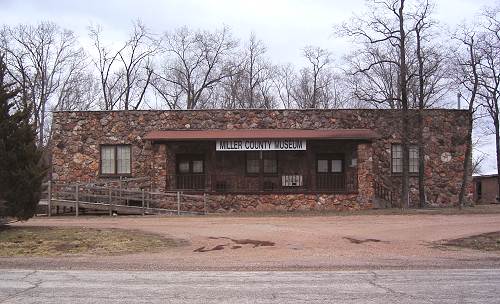 05 Old Anchor Mill Hardware Store now is our Museum
One of the interesting things about Clarence for which he may be remembered most is the diary he began in 1912 in which he described the daily events in Tuscumbia and surrounding areas. Although these entries in themselves do not seem all that important, the fact is, at this time so many years removed, many people use them as source of genealogical information as well as historical documentation of events and places of the area one hundred years ago. Clarence's son, Homer, for many years, used to copy Clarence's handwritten notes and type them for the Miller County Autogram to publish in its weekly newspaper. Quite a few readers saved these diary entries as clippings from the original paper. Bamber Wright, nephew of Clarence and first cousin of Homer, inherited the diaries after Homer passed away several years ago (photo 06).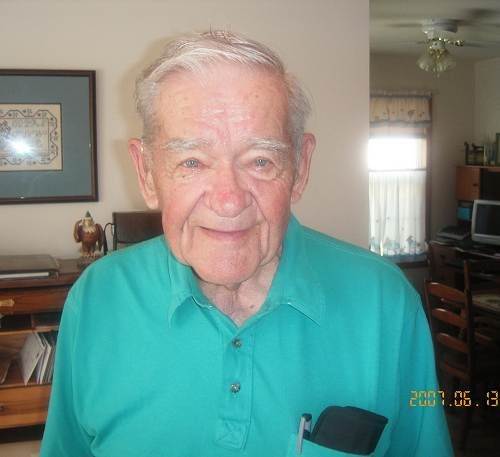 06 Bamber Wright
We now have them in our museum due to the graciousness, trust and confidence of Bamber Wright. They are very interesting to read even though it is difficult sometimes to decipher the style of Clarence's hand writing. Fortunately, Homer had already typed many of them for the newspaper making it easier to read Clarence's notes. In addition to placing his father's diary entries in the local papers, Homer also donated transcriptions of the diary to the Western Historical Manuscript Collection's branches in Columbia (Collection C3351) and Rolla (R110).
Here are some photos of the original diary books in which C.B. Wright recorded his daily record. The first photo is of some of the first books in which he made entries including the 1912 first edition (photo 06a).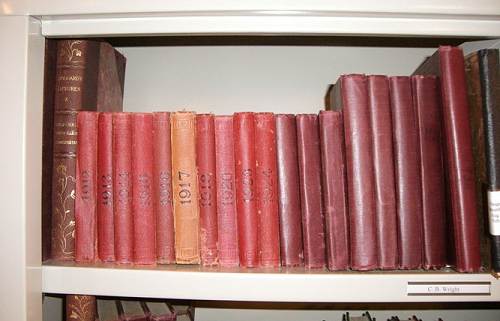 06a C.B. Wright Diaries - Including 1912 First Edition
The second photo is of the cover of the first edition (photo 06b).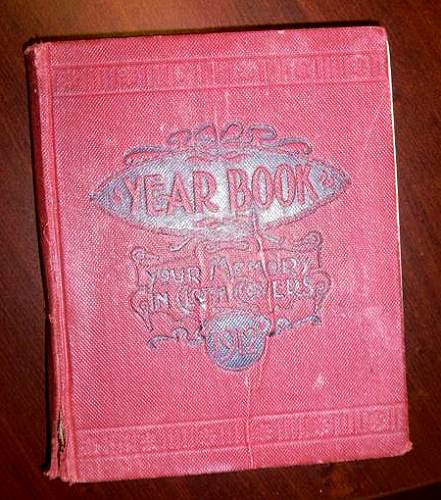 06b Cover of 1912 Edition
In the third photo which is of the first two pages, you will note that C.B. has made a notation that his brother, Homer Lee Wright, had just started to work at Anchor Milling Company on August 19, 1912 (photo 06c).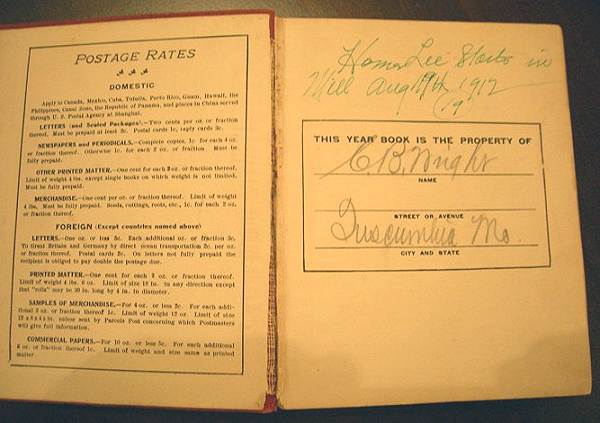 06c Inside First Page 1912 Edition
One of the collectors of the weekly diary of Clarence's submitted to the paper by his son Homer was Lillian Fogleman Thomas, who is the granddaughter of John Fogleman (photo 07), a local blacksmith who lived in Tuscumbia in the late 1880's.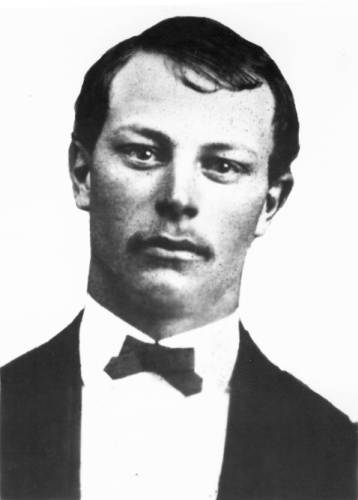 07 John Wilson Fogleman
John was married to Augusta Hauenstein, daughter of William Hauenstein Sr. (photos 08 and 09).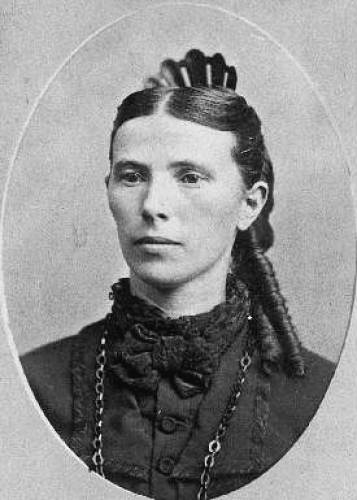 08 Augusta Fogleman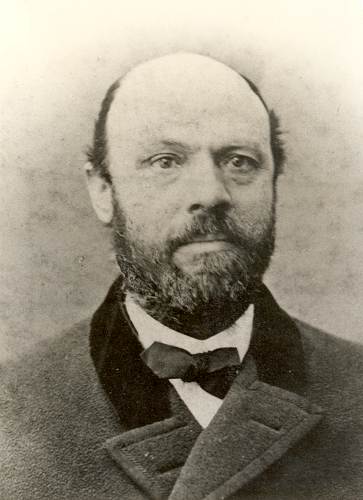 09 William Hauenstein, Sr. 1822-1913
(Note: you can read more about John Fogleman at this location on our website. Scroll half way down the page to find the Fogleman story.)
Lillian copied many of these weekly entries and donated them to our library. So I thought for the next few months I would place on this website some of Clarence's diary entries copied from the Autogram by Lillian.
Before copying this week's entry from C.B.'s diary, I want to place a short biography of Clarence Boyce Wright written by the Western Historical Manuscript Collection (R236) to be followed by another biography of Clarence written by his son, Homer:
Wright, Clarence Boyce, 1877-1953.
236 Diaries, 1912-1926.
Fifteen volumes.
These are diaries of Clarence Boyce Wright, a native of Tuscumbia, Miller County, Mis­souri, and an employee of Anchor Milling Company. Wright worked in the mill at Tuscumbia and was clerk aboard the company towboat Ruth (photo 10).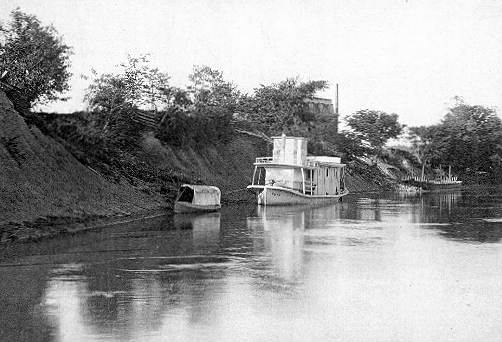 10 Ruth at Mill
The diary entries note events in Miller County and along the Osage River, weather and river conditions, and the milling company's business.
The first child of Green Lee Wright and Emma Boyce Wright, Clarence Boyce Wright (photo 10a) was born on 14 November 1877 on Saline Creek near Tuscumbia, Missouri.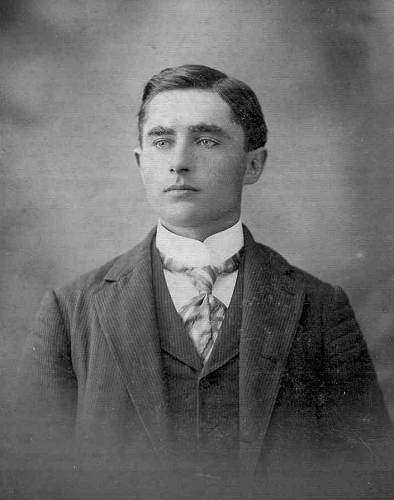 10a Clarence Wright - Age 25
He attended the local grade school which was named after his family (photo 11) and completed teachers' institutes at Spring Garden and Columbia, Missouri.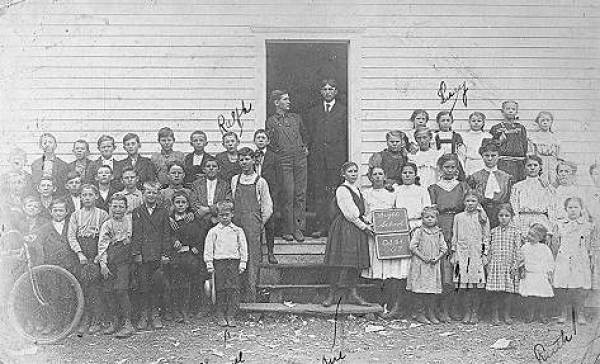 11 Wright School
Note: the named children in the Wright School photo are children of J.R. Wells, whose farm was nearby.
He taught school near Bagnell, and then took a position in 1905 with the Anchor Milling Company at Tuscumbia. Beginning in the mill, he went on to become a clerk and pilot of company tow­boats engaged in freighting on the Osage River including the J.R. Wells (photo 12).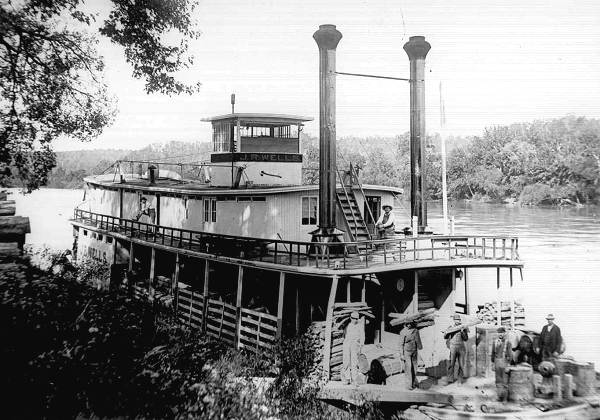 12 J.R. Wells with Men in Front
Wright married May Hauenstein in 1905 (photo 13).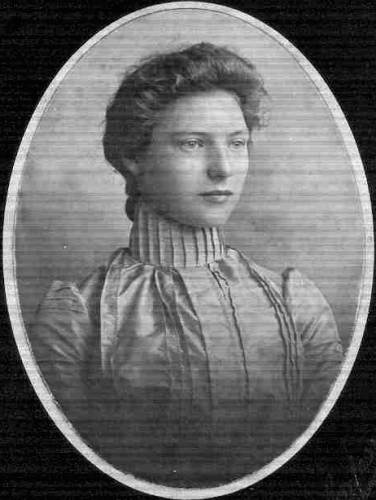 13 May Hauenstein Wright
She was the daughter of Philip F. Hauenstein and Sarah Sallie Riggins Hauenstein (photos 14 and 15).
14 Phil Hauenstein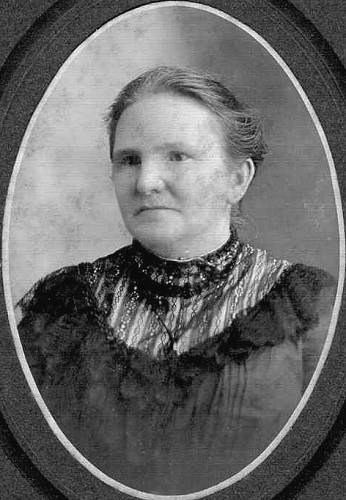 15 Sarah Sallie Hauenstein - Mother of May Hauenstein Wright
Wright's father-in-law was a boat pilot, stockholder, and officer of the Anchor Milling Company. The Wrights' only child, Homer Clay Wright (photo 16), was born in 1911.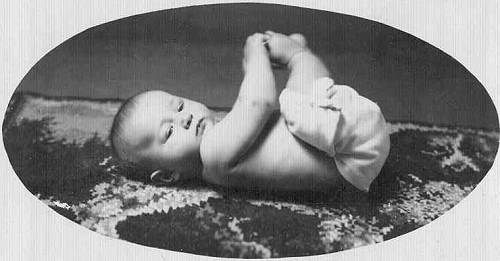 16 Homer C. Wright as an Infant
C. B. Wright worked as a building contractor after Anchor Milling sold its last boat in 1924 but also continued as an officer of Anchor Milling as well. In partnership with D. F. Thompson, he built a brick school at Tuscumbia (photo 17) and the first Miller County Nursing Home (photo 18).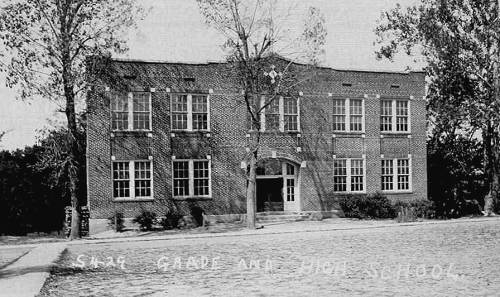 17 Tuscumbia Grade and High School Before 1938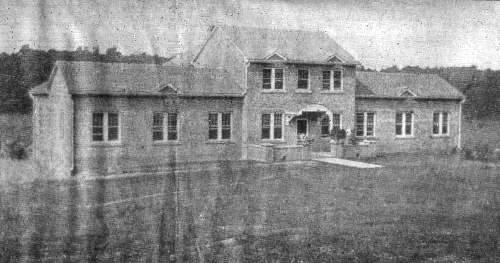 18 Miller County Nursing Home
He was quite active in the community, teaching Sunday School, serving on the school board, and promoting the winter lyceum and summer Chautauqua pro­grams. Wright's health failed in 1947, and he spent the remainder of his life confined to his bed. He im­proved the time by writing about his life on the river and in Miller County. Al­though he wrote extensively, his work was never published. Homer Clay Wright edited and published excerpts of his father's dia­ries in series for the Miller County Autogram-Sentinel and the Eldon Advertiser.
Wright's diaries include daily entries beginning on 1 March 1912. Each notation in­cludes meteorological observations and remarks on Osage River stages and conditions. He also re­marked on business of the Anchor Miller Company, including numerous trips aboard the towboat Ruth and the construction and launching of the steamboat Homer C. Wright at Tuscumbia in 1919 (photo 19). The boat was named for C. B. Wright's son.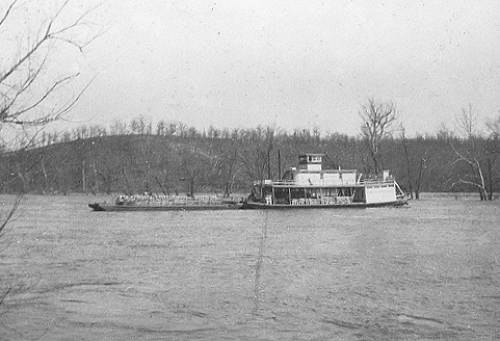 19 Homer C. Wright with load of Wheat - Big River
Of particular interest are the annual summa­ries entered on the "Memoranda" pages at the end of each volume. In them, Wright summarized the year's events. He touched on national affairs, natural phenomena, and changes in the Miller County community. Wright's diaries complement records of the Anchor Milling Company at the Western Historical Manuscript Collection's branches in Columbia (Collection C3351) and Rolla (R110).
And now I will copy a biography of C.B. Wright written by his son, Homer Clay Wright:
Clarence Boyce Wright
By Homer Clay Wright
My Dad, Clarence Boyce Wright, was born three miles north of Tuscumbia on the Little Saline creek, the first child of Green Lee and Emma Boyce Wright (photo 20).
C. B. was a self educated man, his formal education consisted only of grade school and terms at Teachers Institutes at Spring Garden and Columbia, Mo. His first job was teaching school in the Blue Springs area near Bagnell for $25 per month. In August of 1898, he began working for Anchor Milling Company in the flour mill and as clerk on the Steamer J.R. Wells. In 1905 he married May Hauenstein, daughter of Philip F. and Sarah Riggins Hauenstein. One son, Homer Clay, was born to this union in 1911.
Note: May Hauenstein Wright and her sister Ida Hauenstein Hix (photo 20a) attended the Presbyterian Church in Tuscumbia where my family also attended.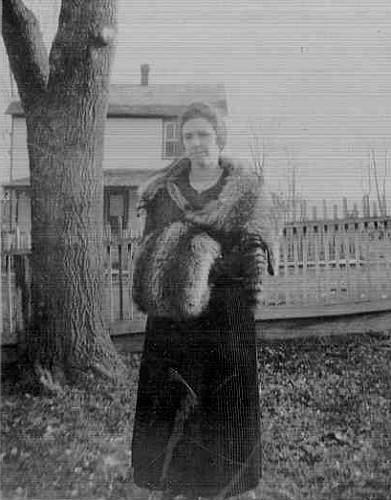 20a Ida wearing Raccoon Fur
Here is a photo of the church from the late 1800's overlooking the "Goosebottom" valley below (photo 20b):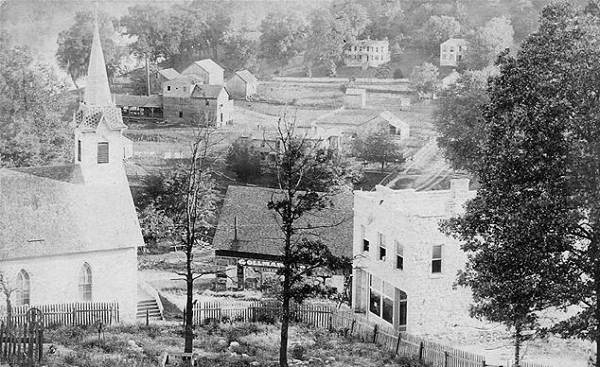 20b Tuscumbia Presbyterian Church overlooking Goosebottom - 1890's
However, May's husband, Clarence Wright, attended the Christian Church on High Street up on the hill (photos 20c and 20d).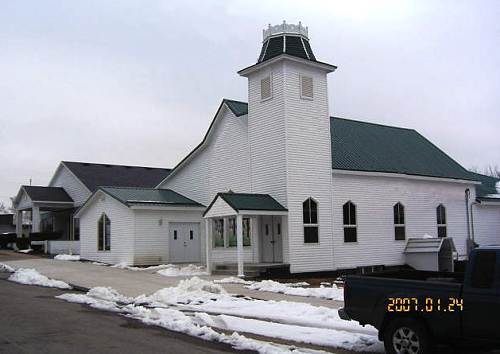 20c Tuscumbia Christian Church - Recent Photo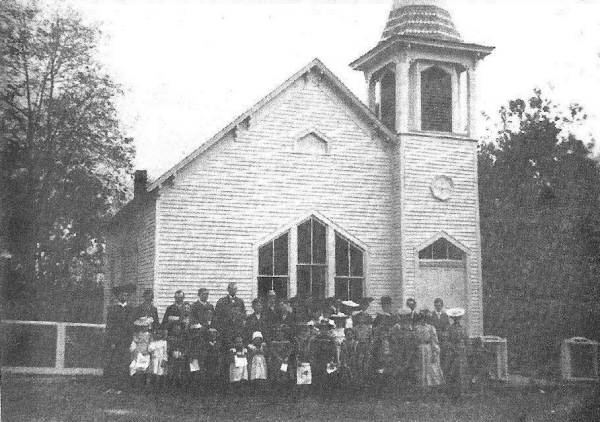 20d Tuscumbia Christian Church - 1903
The Wright family was very loyal to its family's tradition of attending the Christian Church as was the Hauenstein family to attending the Presbyterian Church. This was because family descendents on both sides had traditionally always attended the churches their ancestors had established and this loyalty exceeded any other bond. Because of this, although I knew May well, I never really knew C.B. Wright because he had already become house bound due to his illness in the late forties so I rarely saw him. Bamber Wright, his nephew, told me he thought C.B. suffered some kind of cancer, but it was always unclear to me exactly what was the problem; he seemed to have lived longer after he became ill than what one would have expected from most cancers. Bamber's mother, Elizabeth Hauenstein Wright, who was a daughter of William Hauenstein II, also attended the Presbyterian Church while her husband Homer Lee Wright and son Bamber attended the Christian Church (photo 20e).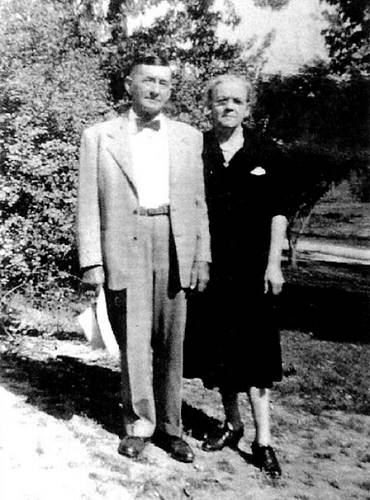 20e Homer Lee and Elizabeth Hauenstein Wright
These Hauenstein women were stalwart supporters of the Presbyterian Church. May and later Ida played the old piano for the song service and Elizabeth (Lizzie) always taught the adult Sunday School Class.
The company sold the Steamer Wells in 1909 and bought the gasoline powered "Ruth" from Mr. Wells. The "Ruth" was originally built as a pleasure craft for the Wells family and was named for one of Mr. Well's daughters. C.B. was the pilot as well as the clerk on the "Ruth," which was kept very busy for the next 10 years, including the WWI era. The "Ruth" was replaced by the Steamer Homer C. Wright in 1919 and named by P.F. Hauenstein for his grandson. C.B. was also pilot on the Homer C. Wright until the boat was sold to Union Electric in 1923, thus having spent 25 years on the river.
My dad was a civic minded and progressive person; he was a member of the Christian Church and taught the young people's Sunday School class for many years. He served on the school board, town board, played in the Tuscumbia Band (photo 21) and was one of the promoters for the winter Lyceum Courses and summer Chautauquas in the 1920's.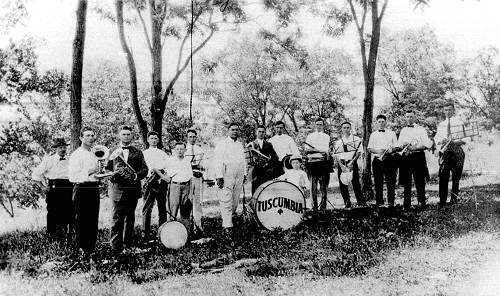 21 Tuscumbia Band - T.C. Wright, L.A. Wright, W.S. Stillwell, Robert or Roger Stillwell
Click image for larger view
He worked for the Liberty Bond drives in WWI, speaking for the drive at country schools in the area. He was one of the promoters that originated the Annual Tuscumbia Picnic and later the Men's Club that met in the 30's and 40's. He and D.F. Thompson were the contractors who built the brick school building in Tuscumbia and the first Miller County Nursing Home.
Note: About this time in 1933, C.B. built the brick home where he lived the latter part of his life located next to the Christian Church on the hill overlooking the Osage River Bridge (photo 22).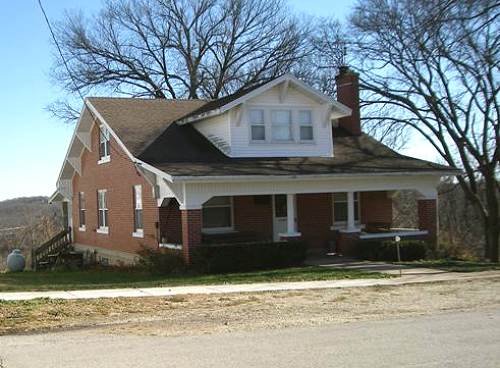 22 C.B. Wright Home
C.B. had the first car in Tuscumbia, a 1914 "T" model Ford. On his 70th birthday, November 14, 1947 he became bedfast for almost six years until his death in 1953. During these years, he wrote extensively about his life on the Osage, events that happened in Tuscumbia and the county and history of early Miller County families.
C.B. hoped to have this material published in book form but this was not to be, so we think he would be pleased that the Advertiser and Miller County Autogram Sentinel are running excerpts from his diaries.
If you, as a reader, enjoy this feature in the papers, please express your appreciation to Mr. Vernon, Mr. Green, or other members of the Eldon Printing Company
And now for this week's diary entry by Clarence Boyce (C.B.) Wright, photo copied from the Autogram (photo 23):
You will notice that by happenstance, C.B. mentions the marriage of Will Fogleman and Arie Bunker, who, as you can read in the short hand written note on the copy of C.B.'s diary entry, were the parents of Lillian Fogleman Thomas, who was the person who donated us these copies of C.B.'s diary entries in the Autogram. Here is a photo of Will Fogleman (photo 24):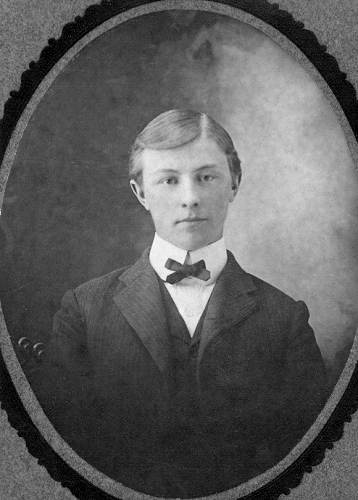 24 Will Fogleman as a Young Man
Also, I noticed that the death of Mrs. Sim (Simeon) Bear was recorded by C.B. Simeon was a brother to my great grandfather, David Christian Bear (photo 25).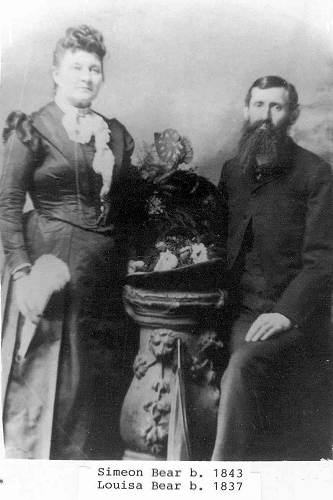 25 Simeon and Louisa Bear
C.B. mentioned a number of names in his diary entry of places along the Osage River that the steamboat Ruth passed. As noted above, early on C.B. worked as a clerk on the Steamboat Ruth (as well as the J.R. Wells) and the diary entry copied for today probably recounts his own personal observations as the boat travelled upstream to return to Tuscumbia. I asked Peggy Hake, our Historical Society secretary and historical consultant to comment about some of the locations C.B. listed by name:
Joe,

I believe these are places on the Osage river that identify locales along the river from its beginning at Osage City (Cole County), through the river locks on the river upstream to Tuscumbia.....The names of Vaches, Kraus, Schlicht, Hoecker, Schuberts and Tappehorn are all German names and they were probably named for families who lived up and down the Osage from the mouth of the river (Osage City) to Tuscumbia......

The name of a man (Fred Schlicht) was familiar and evidently he began working for the Tuscumbia-based mill.....In Pulaski County, on the Gasconade river, was Schlicht's Mill which was very well known and recorded in Pulaski County's history.

Hoecker (also called Brouse's Bend) was located on the south side of the Osage river with Cole County across the river to the north....very near there was the Osage river railroad bridge which was built around 1905 and would have been in existence when this was written in C.B.'s diary in 1912. It may have been the pier of the river's railroad bridge that the riverboat hit in the notes given.

I have heard of Mormon Island and I think it may have been named for a German family with the last name Mormon. They lived west of the river on the Marys Home side.

I have never heard of BLOODY ISLAND....that's a new one for me! I have no idea where Schubert's Lake or Vaches Island was either.......On the St. Elizabeth side of the Osage was a family named Tappehorn (and I think some of that family may still be there)..... Then Old Capps is mentioned which is familiar to most people who have studied the river history of Miller County. The Capps family lived there before and after the Civil War.

So, in conclusion, I feel the riverboat may have 'put into' the water at Osage City, went upriver into Miller County, past Hoecker, Capps, and then onward to Tuscumbia. THERE IS ALSO A FAMILY WITH THE HEAD OF THE HOUSEHOLD NAMED CLEM KALB MENTIONED, but I have no idea who they were or if they lived near St. Elizabeth or Mary's Home.

Best wishes,
Peggy
Thanks Peggy.
This website from our own webpage lists some of the steamboat stops along the Osage River from St. Thomas to Osage City.
We haven't found a source yet which maps all the smaller stops along the way from St. Thomas up river although, of course, we know that some of the larger ones included Tuscumbia, Bagnell, Linn Creek and Warsaw.
Before concluding this segment of this week's Progress Notes I want to write some more about Homer Clay Wright (photo 26).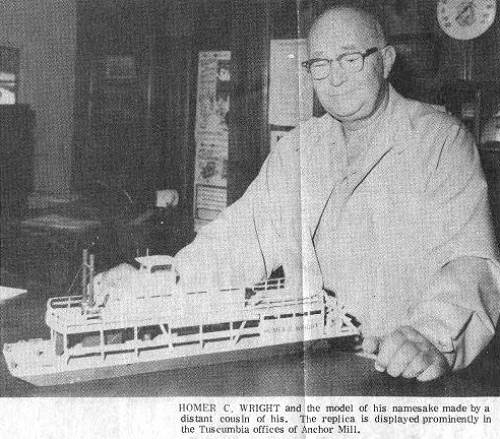 26 Homer Clay Wright
I remember him well as he just lived a few houses down the road toward Tuscumbia from my home. He often visited my father and uncles at the cedar novelty company they operated which was located adjacent to the Anchor Milling Company on Highway 52 (this was the second location of Anchor Mill, the original locations had been along the Osage River in lower Tuscumbia). Homer was reserved but always friendly. He was well liked by his employees through the years at the mill. One of those who worked for him at the Anchor Mill outlet in Eldon was Brice (Denzel) Kallenbach whose wife Betty is treasurer of our Historical Society. Both Brice and Betty remark that Homer was a generous man, especially during the Christmas season. He always took all the employees to one of the MU football games each season. I was president of our Senior year class in 1961 and I took that opportunity to ask Homer if he would be the honored guest to give the address at our graduation ceremony. Homer graciously assented and presented us a very inspiring message to carry with us for our future.
Homer was an only child and was very fortunate to have been raised in a home which provided him with certain advantages. As noted above, his father, Clarence Boyce, had been very successful in his career at Anchor Milling Company which meant that Homer was given many opportunities for which he was grateful and did not waste. I was told by Janet Hix Buthold, niece of Homer Clay Wright, that he, being the only son of Clarence and May Wright, was somewhat pampered by May, and that she dressed Homer in dresses for a number of years past the age usually done (in those days young boys could be dressed as infants and a little older in dresses). Homer's parents took quite a few photos of him during those years. Here are some of the photos of Homer Clay as a child (photos 27 - 30).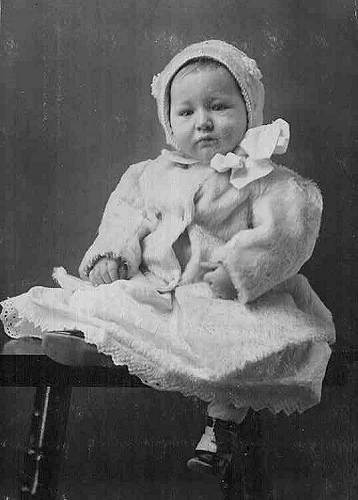 27 Homer Clay Wright as an Infant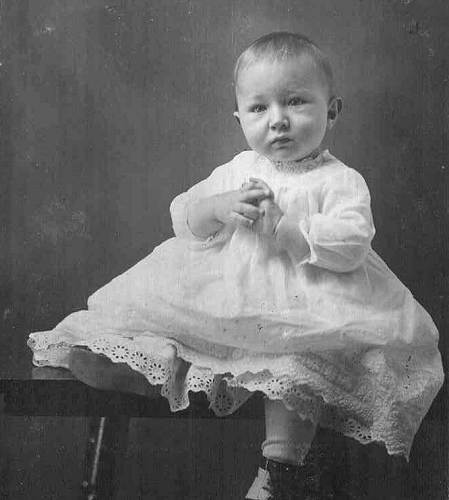 28 Homer Clay Wright as an Infant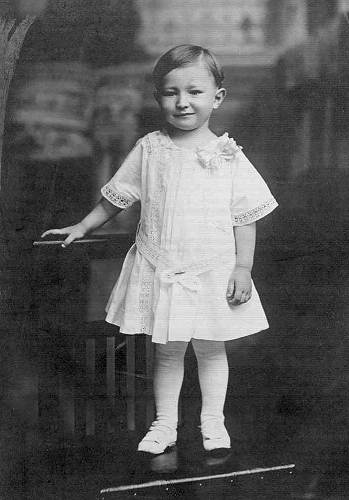 29 Homer Clay Wright - 2 Years 8 Months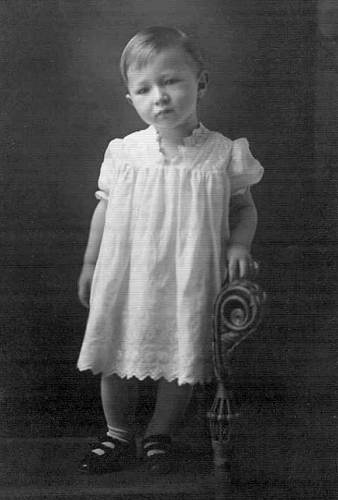 30 Homer C. Wright - 3 Years
As noted above, Homer also served in WWII. Here is a photo from that time in his life (photo 31):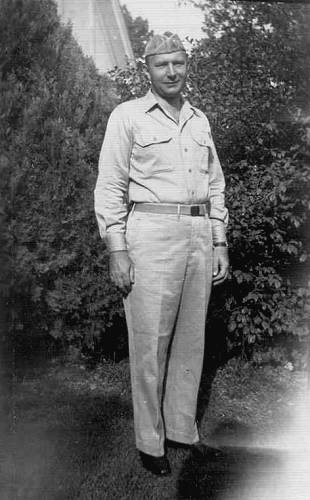 31 Homer C. Wright - WWII
For a few years Homer taught and coached at Tuscumbia High School. Here is a photo of one of the basketball teams. David Bear, one of the players, is my mother's brother (photo 32).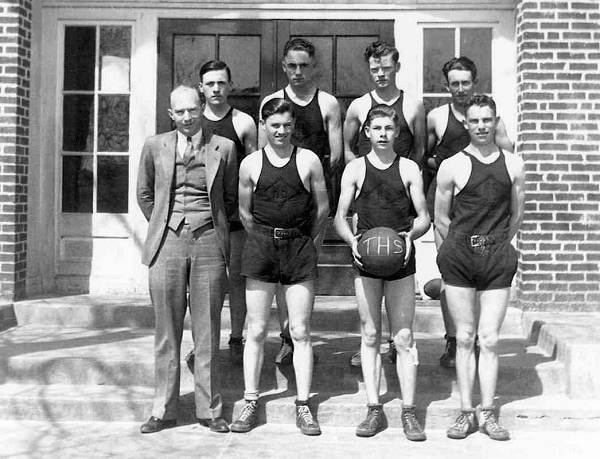 32 THS Basketball Team - About 1933
Front:
Homer C. Wright, Gene Templeton, Bill Hall, Alva Vaughan
Rear:
David Bear, Otis Nixdorf, Joe Wickham, Ace Tyler
As noted above, Homer spent most of his time managing the mill at its last location on Highway 52. The first building built there was the stone building where we now have our museum. It was constructed in 1943. A few years earlier in the mid 1930's Homer had built two houses across the road from where the stone hardware store was built later. He and his wife Rose lived in the southernmost house and Homer continued to live there until his death in 1996 (photo 33).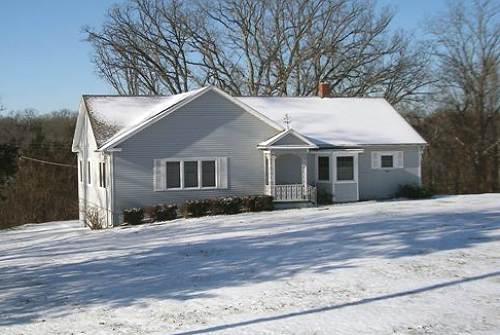 33 Homer Clay Wright Home - Tuscumbia Highway 52
Here is a photo of Homer in front of the stone hardware store where we now have our museum (photo 34):
This photo was taken near the time when the hardware store closed in 1982. Embedded in the outer stone wall of this building is the old mill stone from the original Wright creek water powered mill located on the Little Saline Creek (photos 35 and 36).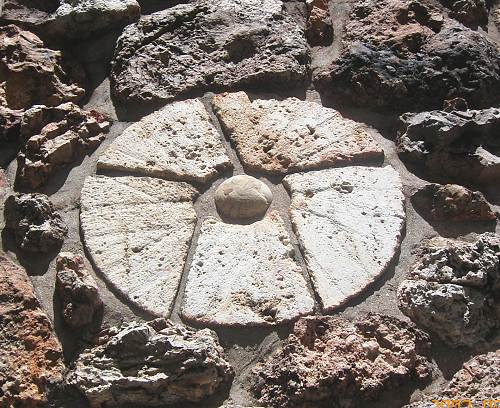 35 Millstone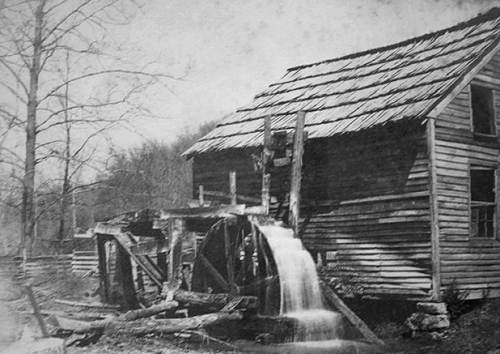 36 Wright Grist Mill at Wright Spring on the Little Saline Creek
Also embedded in the outside stone wall near and to the right of the entrance door is a smooth stone which lists the officers of the original Anchor Mill when it was first organized in 1898 (J.R. Wells President and Phillip Hauenstein Secretary) and below those names are listed the officers when the stone hardware store was built in 1943 (C.B. Wright President and Homer C. Wright Secretary) (photo 36a).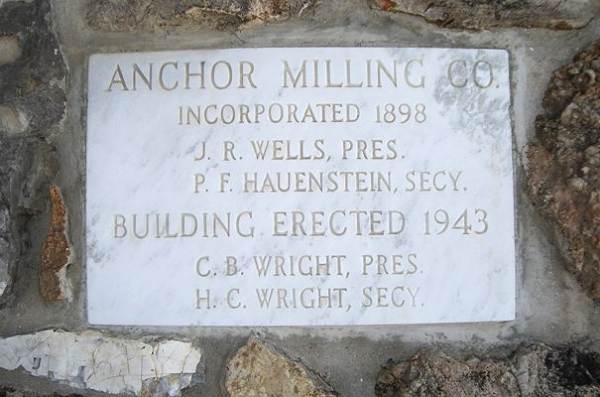 36a Stone Engraved Officers Anchor Mill 1943 Front Wall Hardware Store
After the construction of the stone building in 1943 the mill itself was moved from the river bank location to the new site in the late forties. This included transporting the very heavy roller type mill which originally was powered by steam, but on the hill was powered by diesel engine (photo 37).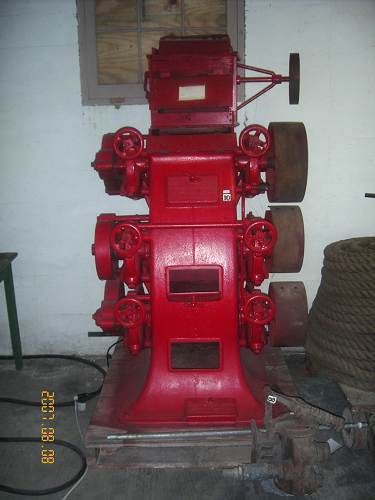 37 Roller Mill
Here is an early photo of the new location of mill on the hill. See if you can make out the team of horses next to the building (photo 38).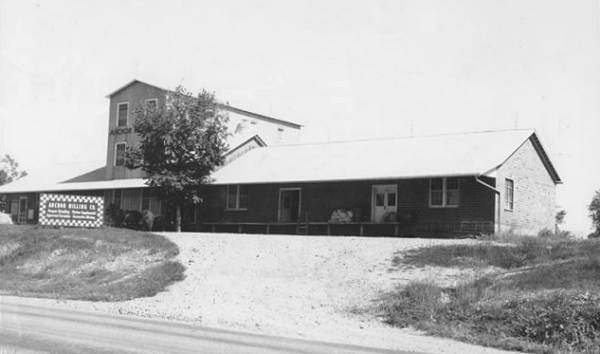 38 Anchor Mill in Tuscumbia
When I was a youngster, a couple or more families still came to town with team and wagon. I know that isn't so unusual to see anymore with the arrival of the Mennonite community near Eldon, but it was something that was passing away during my childhood. The mill building was sold in the mid 1970's. Here is a photo of the Anchor Mill building in Eldon (photo 39):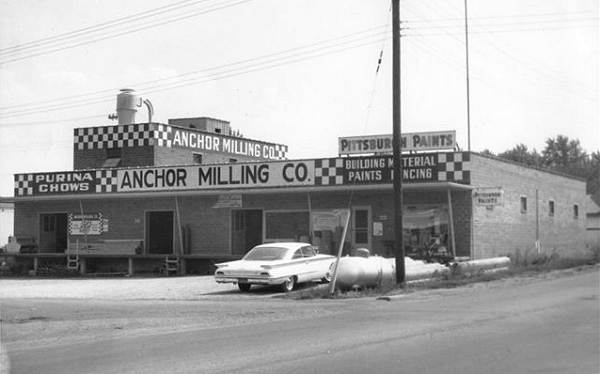 39 Anchor Mill in Eldon
Kim Green of the Vernon Publishing Company wrote a short biography of Homer Clay Wright in 1982 which was published in the Autogram and Advertiser. It tells the story of how business and demographic changes caused the eventual demise of the historic Anchor Mill:
Rollin' On the River
By Kim Green
Miller County Autogram Sentinel 1982
If one looks closely at Homer Clay Wright, it is easy to imagine him more than 60 years ago when, as a young boy of 12, he pestered his dad to give him a job only to quit the work when the newspaper arrived.
"He told me then, 'If you want a job, get to it'," Wright recalled.
And Wright, the famed "J. Leg" in the popular column published in this newspaper called "From the Diary of C.B. Wright," his father has "gotten to it" during most of his 75 years.
There was a stint with the United States Army where he reached the lofty status of corporal, and he did spend four years as a teacher and coach at Tuscumbia High School, but the life of Homer C…..and J. Leg for that matter…has been wrapped up in the Osage River, boats and the thriving hardware and lumber business called Anchor Milling Company.
When the Tuscumbia store is closed this year, as soon as its stock is depleted, it will mark the end of a long relationship between Anchor Milling and Tuscumbia. The two grew together until they peaked, first the town and then the business. It is no longer economically feasible for the company to keep a Tuscumbia store, and Wright has a simple explanation:
"All little towns are having trouble," he said.
But that wasn't always the case. Time was when Tuscumbia was a thriving town of 500 with a hotel, restaurants and an all purpose general store. In the 1920's and '30s, the place was bustling. It was the county seat then as now, and all the officeholders lived there, as did the school teachers.
Today, it is a commuter's world.
"Tuscumbia was a nice little town," Wright said. "I can remember 25-30 outstanding men who lived here."
There may still be some outstanding men in Tuscumbia, but the general population has dropped to about half of what it once was. Malls and discount stores have encouraged consumers to drive miles for material they once bought at home, and businesses like Anchor Milling may thrive in Eldon, but they struggle in a town like Tuscumbia.
"They (customers) used to come here and buy what they needed to build," Wright said. "Now they run all over hell's half acre to find a little bit better price. They think they do but they don't."
So the decision was made early this year that the Tuscumbia store would be closed. Archie Roark (photo 40), a 35 year employee at the store, will be eligible for Social Security in July, and Wright saw no need to have to hire a replacement for a store that simply is not as well shopped as it once was.
The Eldon store will, of course, remain open, but a chapter of Miller County history is closed with the Tuscumbia store's demise.
A brief history of the Anchor Rolling Mill is as follows:
Homer Wright's great grandfather on his mother's side, William Hauenstein Sr., opened a grist mill on the Osage River above Tuscumbia (see photo 09 above).
Note: Interestingly, as noted above, Homer's great grandfather on his father C.B.'s side, James Lawrence Wright, had built a grist mill powered by water on the Little Saline Creek in the mid 1800's (see photo 36 above).
In the late 1800's, the business moved to what is now Riverside Park. Later, the family built a roller mill (photo 41), then its first steamer, the J.R. Wells (see photo 12 above).
41 Roller Mill
That steamer was named after a family friend, local farmer, and partner in the Anchor Milling Company, Johsua R. Wells (photo 42).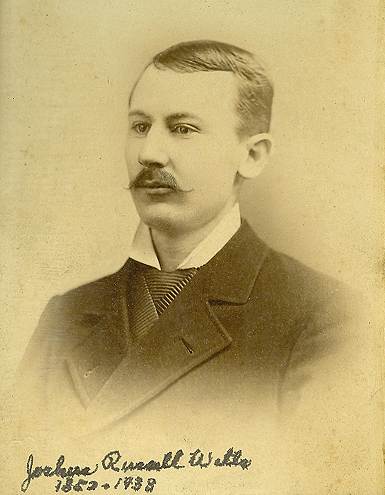 42 J.R. Wells
Many were the trips the steamer made from Tuscumbia to Linn Creek or down the Osage to connect with the Missouri Pacific Railroad. When the Wells steamer was finally retired, Anchor Milling bought a gasoline operated boat named the "Ruth," which was used for about ten years.
Then in 1920 the final boat to make the rounds up and down the Osage for Anchor Milling was launched. Named the "Homer C. Wright" by Phillip Hauenstein after his grandson, Homer Wright, son of C.B. Wright and Phillip's daughter, May Hauenstein Wright, it was used for three years before being sold to Union Electric in 1923 (see photo 19 above). Union Electric used it at its Cahokia, Illinois plant.
Homer remembers the old Missouri Pacific Railroad running a train from Jefferson City down through Russellville and Eldon to the town of Bagnell.
"On court days at the Miller County Courthouse, people would come to Bagnell by train and take our boat downriver to the courthouse, Wright said.
But like so many modes of transportation, including the horse and train, steamboats were pushed aside by transportation alternatives.
"The roads were built better," Wright said. "Trucks came in, and boats went out."
Though Anchor Milling's 25 years of river roving days ended, expansion did not. In 1924, a lumber yard was built at Eugene. It didn't close until 1976. In 1943, after the worst flood to ever hit Tuscumbia, the present store was built. A feed mill was built near there in 1949 and sold in 1976. In 1954, the Eldon store opened.
Neither Homer nor cousin Bamber Wright, another corporate officer, have any children interested in staying in the lumber and hardware business. So the future of Anchor Milling is uncertain, but plans for now include maintaining the status quo. Homer hopes to continue his travels, which have taken him to all fifty states, twenty foreign countries and five continents.
"This terrorism has slowed that down for a while," he said.
A 1931 graduate of the University of Missouri-Columbia, Wright has been semi retired for a number of years, but with the closing of the Tuscumbia store he won't have nearly as many opportunities to slip into work. That should please his wife Rena. He always has the weekly compilation of his father's diary into column form to keep him busy.
That may have sounded boring to J. Leg ("I don't know where he came up with that name, and I've never heard it since," said Homer), but Homer C. believes he can handle it.
In 1955 the old roller mill on the river bank in Tuscumbia was torn down (see photo 41 above). The Miller County Autogram Sentinel recorded that event as follows:
Miller County Autogram Sentinel
Sixty one year old Anchor Milling Company building being dismantled
1955
After 61 years of service the old Anchor Milling Company roller mills near the Osage River in Tuscumbia are being dismantled.
The old mill was erected in 1894 on the river banks because of its convenience to river traffic. The old rollers were shipped to the building from Indiana to Tuscumbia by boat and are still in the old structure though now out of date.
Homer C. Wright, manager of the Milling Company, said parts of the material in the old building will be used in building a new mill on the hill near the hardware store built in 1943.
Homer Lee Wright of Tuscumbia the miller for several years recalls the time when the mill sold wheat flour to customers over a wide area around Tuscumbia.
The old three story frame building has not been used for milling since 1949 when repeated floods plus declining river traffic caused the company to decide to build a new mill in its present location on the hill away from flood waters. Since the new building was completed, the old roller mills building has been used only for storage of lumber and other supplies.
Initials carved in the old building prove it was a popular meeting place for youngsters. Many of the initials are those of present day men of business in the Tuscumbia area.
The Anchor Milling Company at present grinds and mixes many types of Livestock feed and are also the manufacturers of Anchor Corn Meal, a favorite with many home makers.
A woman living in Arizona recently wrote the Mill to send her a supply of the Anchor Corn Meal by mail since she found it impossible to buy it in nearby stores.
So, the old Tuscumbia landmark of the Anchor Roller Mills will soon be leveled and exist only in memory.
Homer's obituary will add some more detail about his life in Tuscumbia. He truly was one of the leaders of our community during the 1950's and thereafter until his passing:
Homer Clay Wright
1996
Tuscumbia Autogram
Homer Clay Wright, 85, Tuscumbia, died Tuesday at Eldon's Health Care Center. He was born February 14, 1911, in Tuscumbia, a son of Clarence Boyd and Olivia Mae Hauenstein Wright. He was married to Virginia Rose Smith, who died August 16, 1956. He was married again February 26, 1958, to Lois Larson Kent, who died August 11, 1976. He was married March 12, 1983, in Deerfield, Illinois, to Rena Crague Richardson, who survives at the home.
A graduate of Tuscumbia High School, he received a bachelor's degree in business administration from the University of Missouri. He taught science and math and served as basketball coach at Tuscumbia High School. He was president of Anchor Milling Company for 40 years, prior to retirement.
He served as board member and president of the Bank of Tuscumbia. He served as board member of the Thomas Jefferson Library. He was active on the board of the Tuscumbia Cemetery. He was a past member of the mid American Lumberman's Association. An Army veteran of World War II, he was an elder and life member of the Tuscumbia Christian Church.
Other survivors include: two sons, the Reverend James B. Kent, Kansas City, and Dr. Calvin Kent, Huntington West Virginia; two stepsons, captain David C. Richardson, Houston, Texas, and Mrs. Edwin W. Richardson, Temecula, California; and four grandchildren.
Services will be at 2 p.m. Friday at Tuscumbia Christian Church. The Reverend Gene Edwards will officiate. Burial will be in Tuscumbia Cemetery.
Visitation will be from 3-6 p.m. Thursday at Phillips Funeral Home, Eldon
Memorials are suggested to the Tuscumbia Christian Church.
---
So that completes the story of those members of the Wright family who played a very important part in the development and management of the Anchor Milling Company after the original Hauenstein family members who started it had passed away. Of course, had Clarence Boyce Wright not married May Hauenstein, which gave us their son Homer Clay Wright, and had Homer Lee Wright not married Elizabeth Hauenstein which gave us their son, Bamber Wright, the Anchor Mill might not have been around as long as it was! And, of course, we may never have had given to us the extraordinarily interesting diary of C.B. Wright from which I will copy portions on this website over the next few months.
---
Back in March of last year I told a very unusual story about a man from Kansas name George Beuoy who had invented a method of caponizing roosters which was simple and could be done by about anyone including children. The story began when I came across a donation to our museum of one of the Beuoy Caponizer kits donated by Howard Wall who lived in Shawnee Mission, Kansas at the time of the donation. Howard was the son of James Everett Wall and Minnie Howard, and the grandson of David T. Wall and Nancy Katherine Blankenship. You can review that story at this previous edition of Progress Notes.
Here are photos of the Caponization kit Howard donated (photos 43 and 44).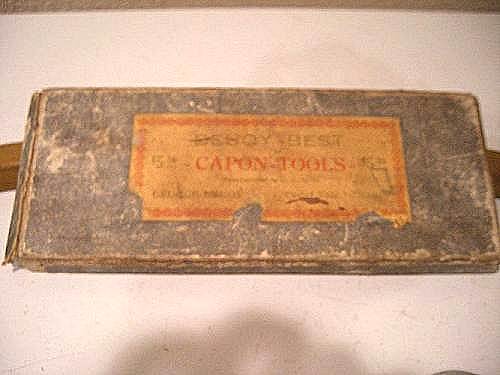 43 Capon Tool Kit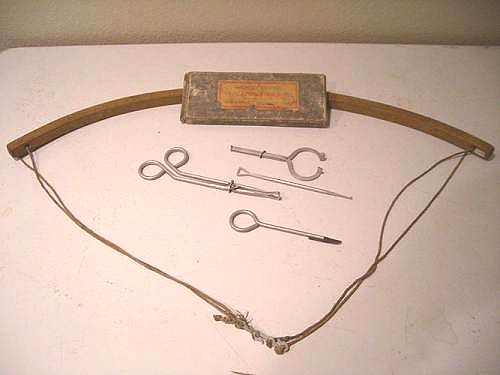 44 Beuoy Caponizer
Well, not too long ago I received an email from a lady named Liz Reyna who was a granddaughter of Mr. Beuoy. She was interested in what we had written about the caponization kit on display in our museum. But she also had a very interesting story to tell us herself about her grandfather who had been very successful in marketing his caponization technique around the first of the last century and well up into the 1940's. Ms. Reyna sent me a photo of her grandfather (photo 45), an informational page from one of his books giving further information about Mr. Beuoy (photo 46), and some additional photos which advertised the technique (photos 47 and 48).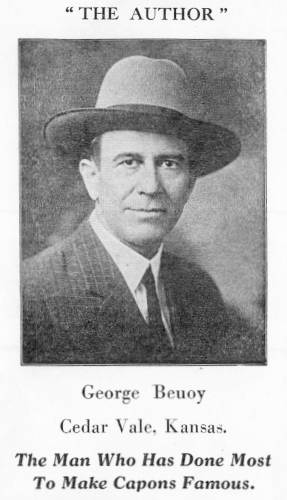 45 George Beuoy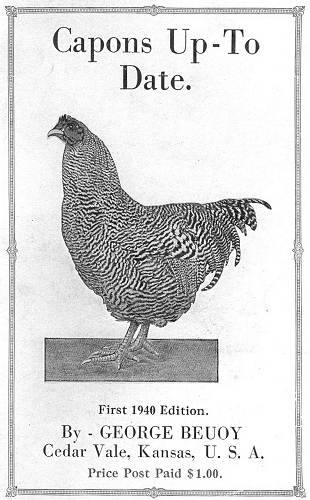 47 Capon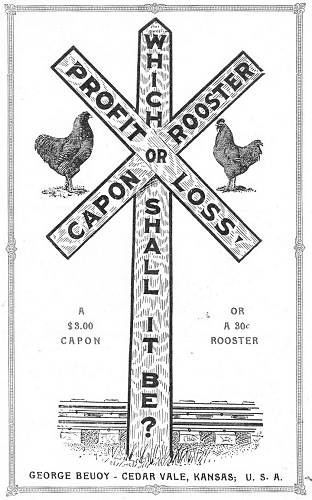 48 Capon Crossing Sign
Here is the additional comment Ms. Reyna sent us about her grandfather Beuoy:
For about 10 years I've been searching out any information I could get about the Beuoy family. My dad, Carl F. Beuoy, was divorced from my mom when I was quite young, and I only saw him one more time before he died when I was about 12. I never had any contact with his family. My mother was from Napa, California, and that's where I was raised.
I'm "cutting and pasting" some information below which might interest you...
As you may know, my grandfather George Henderson Beuoy was called "the Capon King" because he invented a method of caponizing (neutering) chickens and sold his caponizing instruments all over the world by mail. It is said he "put Cedar Vale [Kansas] on the map." Even now, you can get a set of these instruments on E-Bay sometimes. I have bought several. Some of them are accompanied by a little marketing booklet, such as "Capon Gold," or "What's a Capon and Why?" This last title has pictures of my father Carl, age 6 in about 1912, caponizing a chicken -- just to show that if a little kid can do it, anyone can (photo 49).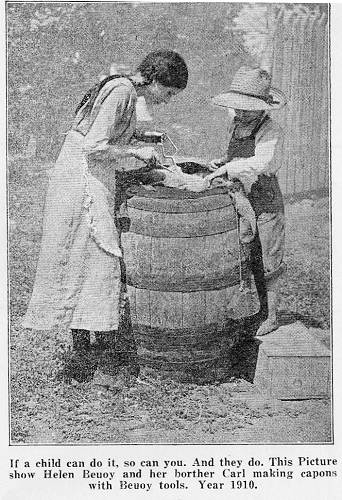 49 Child Caponizer
George Beuoy was quite the entrepreneur. He also acquired the local Cedar Vale paper, the Messenger, and my dad in later life claimed to be the youngest newspaper editor in the U.S. at the age of 16 (working on the Messenger). I've seen many issues of the Messenger on microfilm acquired by inter-library loan by my local library, and they're fascinating.
George Beuoy was married first to my grandmother, Celeste Rachel Rush. In my research, I have learned a lot more about her side of the family than the Beuoys. The Rush and Cable families, her ancestors, go back a long ways in Cedar Vale, and thanks to a Rush cousin I corresponded with, I was able to trace them to Holland in the 1700s. Also, another cousin, Blanche Carroll Rush, wrote two books about the family, "Saddle Horse Days," and "Jayhawker Children." They are out of print now, but I was fortunate to get copies.
My dad's family (George, Celeste and their 4 children, Helen, Howard, Waynoka and Carl) lived in a lovely large home, in addition to having a ranch outside Cedar Vale. My friend and correspondent Pat Molder (who grew up in Cedar Vale) sent me a long article about the house in town that compared it to "the house of the seven gables." I have to conclude that George Beuoy was a brilliant man and a great communicator. But there were tragedies too, and lots of gossip. The story as I understand it: A lady named Otis Brewster came to work for the Beuoy family as a maid in their home, and within a fairly short time she became the second Mrs. George Beuoy and my grandmother Celeste was confined to a state mental institution for most of the rest of her life. It was well known that Otis was a kleptomaniac. The shopkeepers in town had an agreement with George Beuoy that he would pay them for whatever Otis took. George Beuoy was gored by a bull on his ranch in 1947 and passed away; Otis quickly remarried a local lawyer nearer her own age. Most of the four children seem to have been estranged from their father to some extent, my dad perhaps most of all. I obtained a copy of George's will, and it shows that my dad Carl and his brother Waynoka were disinherited outright ("on account of their attitude toward me"), and Helen inherited only under certain conditions. Howard seems to have maintained a good relationship with his dad and inherited most of the property including the capon instrument manufacturing business. Sadly, only Howard had a long life. Helen, Waynoka and my dad all died in their 40s or early 50s.
Based on correspondence with a Rush cousin and one of Blanch Carroll Rush's books, I find my grandmother Celeste to be an intelligent and sensitive person. I loved learning more about her and her family. I wish I knew more about her mental illness. It certainly was convenient for George.
For me, finding out about the Beuoys was a pretty personal thing, since I had never known my dad much at all. Up till I started learning about the Beuoys around ten years ago, one of the few things I knew about my dad was that he had drinking problems. Thanks to my friend Pat Molder, I was able to obtain a copy of my dad's yearbook from Cedar Vale High School which showed how successful he was in everything from music to sports to writing. I also found out he was a great golfer and golfed with Pat Molder's father, who worked on the Wichita Eagle with him at one point. (My brother Phil and his son Chad are also avid golfers, and Chad is a golf professional.) My dad Carl worked in the newspaper business for most of his lifetime, as reporter, editor, publisher or advertising manager. He worked on the Wichita Eagle for nine years, and also worked for the Scripps-Howard newspaper chain in Chicago. When WWII broke out, he obtained a commission, became PR officer at Camp Beale in California, wrote speeches for a general, and met my mom. He was already over 40 and my mom was only in her early 20s. She had left Stanford after one year, and gone to work as a reporter on a Marysville, California paper. As part of her job she would contact the PR officer at nearby Camp Beale for news stories. As they say, the rest is history.
Thanks Liz!
I am always happy to receive follow-up comments about what I report on our website and it is fun to know that people are reading it many states away from us here in Miller County, as was Ms. Reyna from California!
---
Something you may have always wanted to know I just discovered a while back. It is where the geographic center of all the major U.S. Baseball stadiums is located. And where is that? Well, as a matter of fact, it is located near Tuscumbia, Missouri. You can find it your self by referring to this website.
To find who owned the property where the baseball center is located I went to our local Miller County GIS locator.
Here is a copy of that location (photo 50):
I asked Joe Cochran, Miller County Assessor, who designed the Miller County GIS system for the county's website, to determine who are the proud owners of the farm where the geographic center of all the major U.S. baseball stadiums is located and this is what he told me:
Joe,

I put in the lat/long and came up with Jesse & Rayma Flaugher to be the property at the center. Their address is 45 Hwy F and parcel number is 116014000000004000.
Thanks Joe!
Isn't it wonderful that Tuscumbia is where the geographic center of American Baseball is located? Many congratulatons to Jesse and Rayma for having a farm with this distinction!
---
In this week's installment of The Cricket's Song by Tim Pilkington (photos 51 - 56), Mary has just left for her honeymoon with her new husband Shannon but this happy moment is contrasted with the Bagnell fire of 1931 which occurred the very night of Mary's wedding day. And worse yet, Uncle Charlie, having tried to help put out the fire, suffers a heart attack and dies on the porch of Hannah and Davidson's home. But maybe even worse (we don't know for sure at this point) Davidson cries out "Hannah! I can't hear the crickets! I can't hear the crickets!" Well you'll just have to read it yourself because you will want to know what has transpired when we come to the final scene of this play next week. By the way, you can read about the fire at Old Bagnell on our website where the fire is mentioned.
The Cricket's Song
By Tim Pilkington
Act One - Scene One
Act One - Scene Two
Act One - Scene Three
Act One - Scene Four
Act Two - Scene One
Act Two - Scene Two
Act Two - Scene Three
Act Two - Scene Four (photos 51 - 56)
Just click on any of the photo thumbnails to view a larger image.
Note: Once you click on an image below, a new window will open. It would be best to maximize this new window by clicking on the middle box in the upper right-hand corner of the window. When you move your cursor over the image in this new window, it will change to a magnifying glass. Once this occurs, click on the image and it will show in a larger format for easier reading.
That's all for this week.
Joe Pryor