Monday, December 28, 2009
Progress Notes
Recently, Barry Biselx (photo 01) visited the museum to see how we arranged the memorabilia of his mother and father, Frank and Helen Biselx, in our Miller County Historical Military display.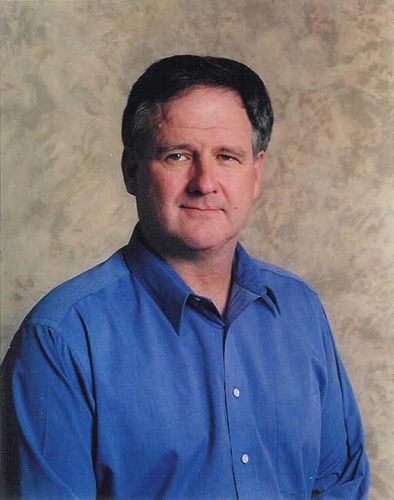 01 Barry Biselx
Both Frank and his wife, Helen, had served in WWII. Frank was in the Army and Helen served in the Women's Marine Corps. Here are photos of Frank, his Eisenhower jacket and the accompanying caption (photos 01a, 02 and 03):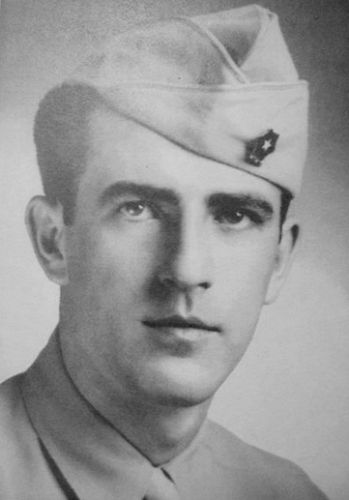 01a Frank Biselx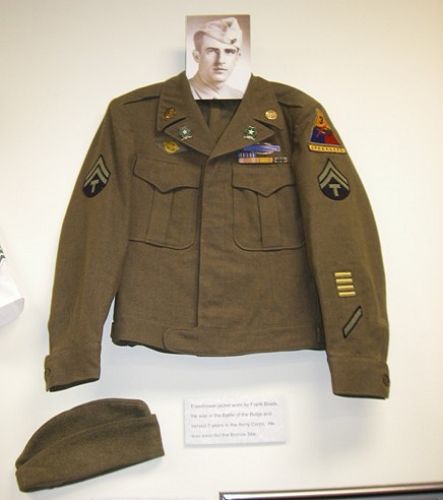 02 Frank Biselx Uniform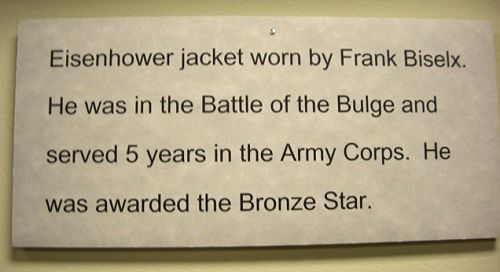 03 Frank Biselx Caption
Similarly, here are photos of Helen, her uniform and accompanying caption (photos 04, 05 and 06):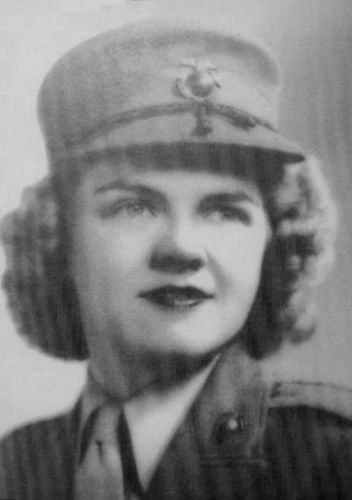 04 Helen Biselx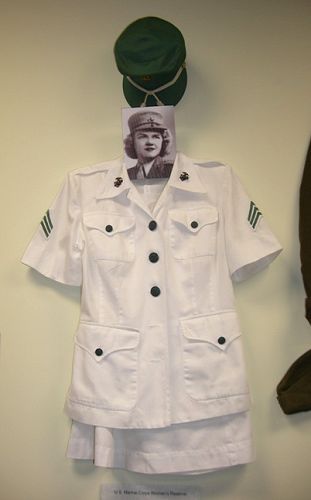 05 Helen Biselx Uniform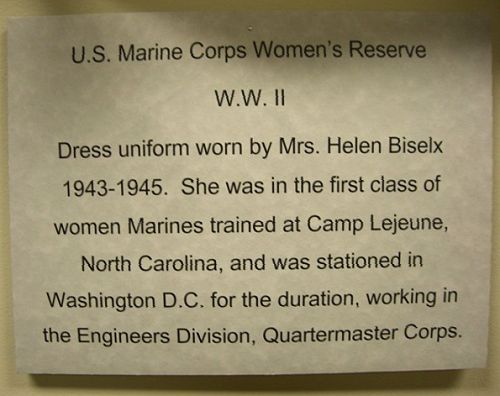 06 Helen Biselx Caption
Frank served in the 36th Infantry Division 1941-1946. He received a bronze star for his efforts in the Battle of the Bulge.
The Biselx family (including Barrys sister, Lisa Biselx Myles photo 06a) had donated these items previously but now since we have enlarged and remodeled the museum we have had the opportunity to create a new expanded area devoted to the military history of Miller County.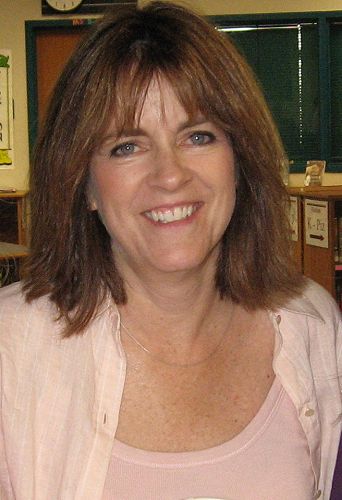 06a Lisa Biselx Myles
This provides a much better venue for displaying these important remembrances of our Military heroes of the past. Frank and Helen were one of the owners of the El Rancho Resort which for many years was located at the intersection of Highways 52 and 54 nine miles north of Tuscumbia. Soon after WWII ended they along with their friends Jim Lawrence and Jim Hannaford came to this area to purchase and manage the famous Musser's Resort which had been at this location since the mid 1930's. The history of that resort is interesting and that will be the subject of this week's Progress Notes.
To begin with, most people think that the resort first was the idea of Clarence Musser originally from Kansas City (actually his birth place was Starfield, Missouri) but who had been living in Eldon working for the railroad. However, the first Musser involved with the idea of creating a resort at this location was another Musser, Luther N. Musser, who at the time was living in Kansas City also. But before that, and this is information little known, Luther N. Musser was a resident of Tuscumbia for a number of years in the late 1800's. The following is quoted from Judge Jenkins' History of Miller County V II:
Luther N. Musser
"Luther N. Musser was a colorful figure in the county's legal history. A native of Pennsylvania, and a resident of Kansas, he came to Aurora Springs in 1882, reading law with Colonel John H. Stover. Admitted to the bar in 1885, after one year, established a law office at Tuscumbia in partnership with Charles E. Jones, Prosecuting Attorney. Upon lawyer Jones' death in December, 1866, Musser was elected Prosecuting Attorney, 1889-90, and served in the same office again, 1895-96. He served Miller County in the General Assembly, 1899-1900. He was active politically and was an eloquent speaker."
Here is a copy of a newspaper ad placed by L.N. Musser in one of the local Tuscumbia papers which accompanied the above quoted paragraph in Judge Jenkins' book (photo 07):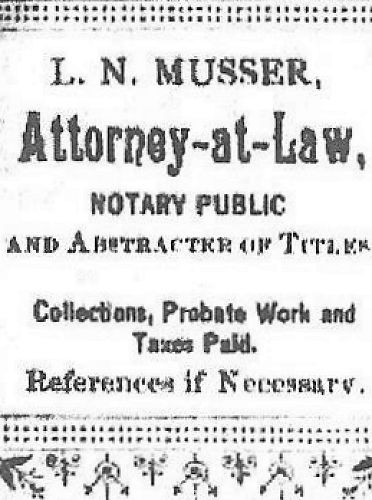 07 L.N. Musser Advertisement
I'm not sure at this point, even after significant research into the matter, what was the familial relationship, if any, of Luther Musser to Clarence Musser. Missouri Death Certificate records indicate that Clarence was born in Starfield, Missouri, that he died in Kansas City, and that his occupation was "resort owner"(photo 08).
However, the following article from the Miller County Autogram does establish the early interest of L.N. Musser in the development and origination of the famous Musser's Resort:
August 13, 1936
Miller County Autogram
Cahill Property To Be Converted Into Large Tourist Camp
Musser Tavern Company Starts Work On $12,000 Development at 52-54 Intersection
Attorneys L.N. Musser of Kansas City and H.M. Atwell of Eldon were here Monday afternoon looking after land title matters relative to the Cahill Property at the junction of Highways 54 and 52, three miles south of Eldon and ten miles northwest of Tuscumbia.
The Musser Tavern Company, which is to be incorporated later, has just purchased the Cahill property, including the large brick building, at a consideration of $5,000, and extensive developments are being planned. Work has begun on the addition of a big dining hall on this building.
On the opposite side of Highway 54, in the southeast corner of the intersection with 52, 15 cabins will be built along modern lines, with steam heat and individual baths. Each cabin will have a garage, detached from the cabin, and there will be a park with outdoor ovens. The development will cost approximately $12,000 in addition to the original purchase price of $8000.00.
The property is now in charge of Marshall Harrison, of Richmond, contractor and builder who constructed the tourist camp at Excelsior Springs which is said to be one of the most unique camps of its kind in the country.
The Musser Tavern Company recently acquired the White Lumber Yard corner in Eldon with plans for a similar development there, but the project has been delayed pending the decision of the State Highway Department in the matter of building Highways 52 and 54 under the Rock Island railroad tracks nearby which might affect the property. There is a possibility that the under ground pass will be built a block west of the present location on Aurora street, across the west side of the Musser holdings instead of along the east side of the property as at present. The matter of drainage for the under ground pass is the problem which now confronts the Highway Department, and it is thought that this could be handled better by changing the location of the highways a block to the west of Aurora Street.
And here is a follow-up article in the Autogram a few months later:
Miller County Autogram November 19, 1936
Musser Tavern Opens On Thanksgiving Day
Mr. and Mrs. E.J. John, managers of the Musser Tavern, located at the junction of Highways 52 and 54, three miles south of Eldon, were in Tuscumbia Tuesday and they announced that this new development will open Thanksgiving Day, with music by a well known Kansas City orchestra.
This is the Ozarks' newest and most modern tavern and is one of the attractive places on the highway to Bagnell Dam and the Lake country.
---
Before continuing with the story of the history of Musser's Resort at the intersection of Highway 52/54 I wanted to present more of the story of Luther N. Musser. Whether or not he and Clarence Musser were related, the stories above certainly indicate that L.N. Musser was involved in the early acquisition and development of the resort. He was one of Miller County's most important members of the fraternity of attorneys over the history of the county. As Clyde Lee Jenkins noted above, L.N. Musser even served for a time as state representative at the capitol in Jefferson City. But before that time period he already was recognized as one of the preeminent citizens of the county and Tuscumbia. In 1889, the Goodspeed History of Miller County records the following biography of Luther N. Musser:
Goodspeed 1889 p. 800
L.N. Musser, prosecuting attorney of Miller County, was born in Pine Grove Mills, Centre County Pennsylvania, September 5, 1856, and is the son of Jonathan and Matilda (Stover) Musser, both natives of Pennsylvania. The Stovers are of an old Maryland family, and the Mussers are of an old Pennsylvania family. Jonathan Musser is a tanner by trade, and owned and ran a steam tannery in Tyrone, Blair County Pennsylvania for a number of years. He afterward moved to Centre County, Pennsylvania, where he now resides, and is engaged in farming. His son, L.N Musser, was reared in Centre County, Pennsylvania, was educated at Pine Grove Mills Academy, and later attended the Pennsylvania State College, twelve miles from Bellefonte, the county seat of Centre County, Pennsylvania. He was reared on the farm until eighteen years of age, when he began teaching school, and followed this business until March, 1878. He then went to Saline County, Kansas, where he took a normal course, and also taught one year. He then removed to Smith County, Kansas where he entered 160 acres of land and began improving it. On October 31, 1879, he was married to Miss Catherine R. Krebs, daughter of John F. and Annie Krebs, of Centre County, Pennsylvania, at Beloit, Mitchell County, Kansas, taking her to his home in Smith County, Kansas, where they resided until October 26, 1880, when Mrs. Musser died, leaving as the fruits of their union an infant child three weeks old, named Anna Modra. Becoming dissatisfied with his place after the death of his wife, he sold out and took his child and wife's body back to his old home in Pennsylvania; the former to be reared, and the latter to be buried among her friends. There he remained until in September, 1882, he came to Miller County, Missouri, locating at Aurora Springs, and began reading law with Colonel J.H. Stover. He was admitted to the bar in April, 1885, at Versailles, Morgan County, Missouri, and in the May following he went back to his home in Pennsylvania, where he visited until May, 1886. He then returned to Tuscumbia, formed a partnership with C.E. Jones under the firm name of Jones and Musser, and was assistant prosecuting attorney. The partnership was dissolved at Mr. Jones' death in December, 1886, and in November, 1888, Mr. Musser was elected prosecuting attorney, which office he now fills. He owns town property in Aurora Springs, and is one of the representative men of the county. He is a member of the I.O.O.F. Lodge at Aurora Springs. Mr. Musser is well adapted to his profession, and is quite successful at the same.
As noted in the Autogram article above, at the time of the beginning of the development of Musser's Resort, L.N. Musser had moved to Kansas City, making the third time he had in his life lived in or near the state of Kansas.
But even though Luther Musser had in common with Clarence Musser the same surname as well as a common city where both of them lived, whether they were closely related has not been established. In this regard the following message I received from David Statler, who is the person in charge of preparing this page for the internet, is interesting.
Joe,

As you noted in your narrative, I couldn't find a connection between Luther and Clarence either, but I did find the following Rootsweb Databases for each one:

Luther N. Musser


Regards, David
---
Dwight Weaver, who is a historical consultant for our museum is very knowledgeable about the Lake of the Ozarks area having written four books concerning its development. Dwight donated the photographs which make up the wonderful photographic display in our museum about the Miller County area of the Lake. He has written the history of the Musser's Resort in his book, History and Geography of the Lake of the Ozarks V. I (published 2005):
History and Geography of Lake of the Ozarks V. I 2005 p. 143
Musser's Ozark Tavern/Resort/ El Rancho Junction, Miller County
Dwight Weaver
In the 1930's, Highways 54 and 52 ran together from Eldon to the point where, three miles south of Eldon, at the junction of Highway 54-52, Highway 52 peeled off and headed east to Tuscumbia. No sooner was Bagnell Dam complete than development began at this fork in the road, a fork that later became known as El Rancho Junction. Most of the property here belonged to William Cahill. In 1933, Gay's Tavern was built at the junction (photo 09).

09 Gay's Service Station
In 1934, William Cahill built a gas station…Cahill's Phillips 66 Filling Station…called "The Model." It sat adjacent to Gay's Tavern (photo 10).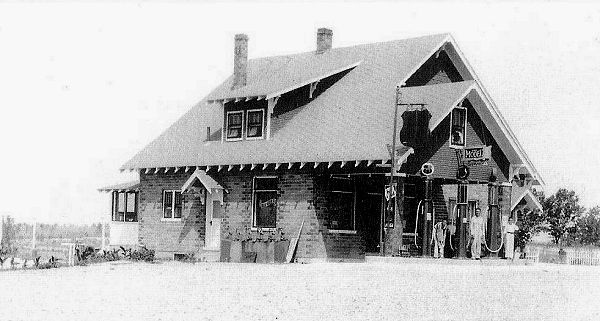 10 Cahill Gay's Station and Tavern
Highway 54 under went new construction in the 1970's. The businesses discussed here were on what is now an old abandoned stop of Highway 54 just east of the newer highway and the new station there in front of the motel presently located nearby.
On August 13, 1936, a headline in the Miller County Autogram said: "Cahill Property To Be converted Into Large Tourist Camp, Musser Tavern Company Starts Work On $12,500 Development At 52-54 Intersection."
Clarence W. Musser, an Eldon resident for several years and an employee of the Rock Island Railroad Company, teamed up with Attorney L.N. Musser of Kansas City and purchased Cahill's gas station and property for $8,000. Later, Musser would also purchase Gay's Tavern. Clarence Musser hired Marshall Harrison, a contractor who had built an elaborate tourist camp at Excelsior Springs, Missouri, to build his tourist camp. What arose over the next two years was an elaborate layout of fine English style brick buildings and various recreational facilities. Musser named the business Musser's Ozark Tavern and would use the word "tavern" for several years before replacing it with the word "resort." The original two story brick building was large, containing a café and coffee shop, cocktail room, dining room, amusement room, and the Crystal Ballroom with dimensions of 34 x 60 feet where live orchestra's and gig bands performed. For a time even a radio station broadcast special events from Musser's place.
Musser's Ozark Tavern Resort opened to the public on Thanksgiving Day 1936. He soon added a 15 room hotel, a filling station next to the main building and eight steam heated air conditioned brick rental cottages in the triangle of the junction facing both highways. He built a modern bath house with washrooms for men and women, a golf driving range, a double tennis court, and had plans for two swimming pools. "One pool will be 120 feet long and 80 feet wide, while the other will be 40 feet long and 20 feet wide," said a news story. The large swimming pool, when completed had a lighted waterfall at one end.
Here are some photos from Dwight's book of some of the buildings described in the above paragraph (photos 11, 12 and 13):
And here is a map printed by Clarence Musser for visitors to use who were coming down from Kansas City to stay at the resort (photo 14):
The groups that performed at Musser's Ozark Tavern were largely from Kansas City and some were noted black jazz bands. In the 1930's and 40's, Eldon was a "sundown town" where blacks were not welcome, particularly after dark, But Clarence Musser had grown up on the rough side of life in Kansas City. He didn't take kindly to being told who he could and could not do business with or associate with. He was rumored to have had ties with Big Tom and the House of Pendergast in Kansas City.
Musser was short of stature, somewhat hot headed and often armed. He paid no attention to local racial attitudes. Musser didn't recognize the color of a person's skin. He was only interested in the color of a person's money or a person's talent. He put the blacks up at his resort and drew huge crowds of people who appreciated good music and food and liked to dance and party.
"Musser's Tavern is now the popular place to spend an enjoyable evening, An excellent colored orchestra coupled with what many have pronounced 'the smoothest floor near Eldon' have continued to draw bigger crowds each night," said the Lake of the Ozarks News on December 15, 1936. "The orchestra plays until one o'clock each evening and with some encouragement has played much longer."
"Friendly hospitality and a grand time await all who enter the door. Ted Moore, formerly of the Casino, is the manager and Mr. and Mrs. E.J. John are host and hostess."
Note: Clarence Musser was familiar with the Kansas City Jazz community which was made up mostly by black musicians. Even Charles Parker, the famous black saxophonist, was said to have come down to the Musser's resort to perform (photo 15).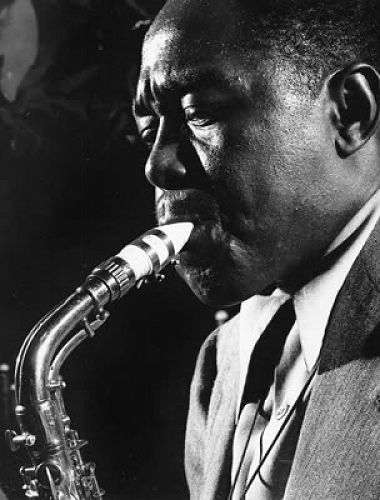 15 Charles Parker
More about Musser's familiarity with the K.C. black jazz community can be read at this website from which I am including some material for this narrative. Here is a quote from this website:
"Charlie spent several summers in the Ozark region of Missouri, and possibly played more gigs there than has previously been thought. It was during one of these summers that he underwent a radical change as a musician. Little is known of this period in Charlie's life but Musser's Ozark Tavern/Resort has been cited as one of, possibly several establishments that hired the youthful Charlie. Charlie was probably on his way to the opening of Musser's Ozark Tavern at Thanksgiving 1936 when he was involved in the car crash that killed George Wilkerson and assigned Charlie to bed for the following three months. As his saxophone was destroyed in the accident, Musser apparently bought him a brand new replacement."
During the last half of the 1930's, Musser's Tavern gave the Lakeside Casino restaurant and The White House Hotel, which were the hot spots on the Bagnell Dam Strip, stiff competition. Musser also tended to pirate good employees from other businesses on The Strip.
The quality of Musser's establishment and the entertainment that Musser was able to get from Kansas City drew the attention of politicians, both state and local, and their supporters. The year 1938 was a banner year for political shindigs at Musser's and kicking things off was the Miller County Republican Committee who sponsored a "Washington's Birthday Banquet" at Musser's Tavern on February 22, 1938.
"The banquet is being sponsored by the Miller County Republican Committee, and is one of several similar meetings to be held throughout the State of Missouri and other states," said the Miller County Autogram. "Mrs. George B. Simmons, a speaker of national importance, has been engaged as the principal speaker of the evening. Mrs. Simmons is a Missouri woman whose fame has spread throughout the nation, as a forceful and interesting speaker on the issues now confronting the American people…Charles R. Hawkins of Brumley, is Chairman of the Republican Committee."
An estimated 300 people attended the event. But that was small potatoes compared to the crowd that showed up in July 1938 when the friends of Judge James V. (Josh) Billings staged a big rally at Musser's (Billings was a Pendergast backed candidate for Supreme Court Judge, thus adding fuel to local rumors that Clarence Musser was a Pendergast "flunky.")
"Judge Billings will be the honored guest and the principal speakers will be Honorable Howard Hannah, secretary of the Young Democratic Club of Missouri, and Judge J.M. Boyd, former Chief Counsel for the Missouri Public Service Commission.
"There will be delegates from every county of the State, and those in charge of the demonstration are expecting the largest crowd ever to assemble in Miller County.
"James W. Miller of Eldon, a well known Rock Island engineer, will speak in behalf of the people of Miller County."
"Don Gill's orchestra will furnish the music for the free dance which will follow the speaking…and it will be broadcast over radio station KFRU, Columbia, from 7:30 to 8:30."
The crowd was estimated at 2,500, which was certainly beyond the holding capacity of the Crystal ballroom at Musser's Ozark Tavern.
"A platform and sound system were provided for the event on the east side of the highway, opposite the main building, and the crowd congregated on the green and overflowed the highway and adjacent grounds."
One of the principal speakers at the event "condemned Governor Lloyd Stark for his stand against Pendergastism, declaring that Pendergast was largely responsible for Stark's election."
---
Here are some advertisements that Clarence Musser published in local papers (photos 16, 17 and 18):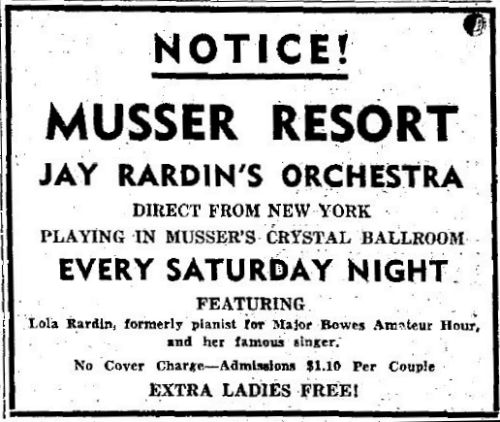 16 Musser Ad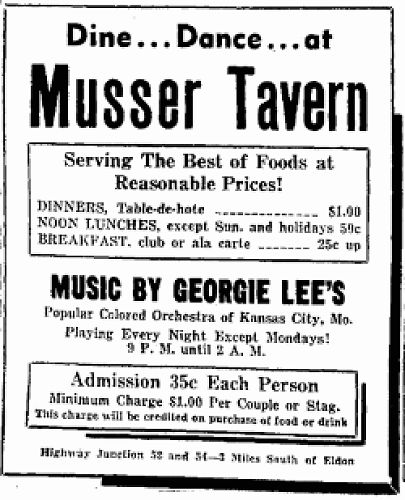 17 Newspaper Ad for Event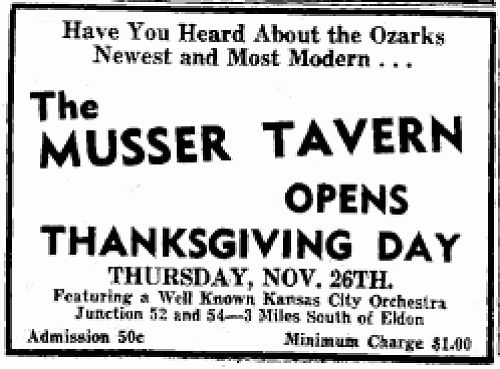 18 Newspaper Ad for Opening
And here is one ad of a political nature (photo 19):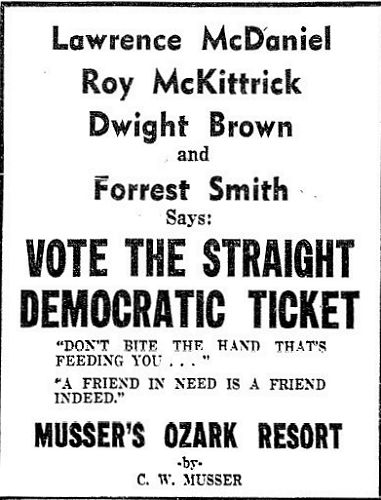 19 Musser Political Ad
It was well recognized as noted above that Clarence Musser was a friend of the Pendergast organization in Kansas City.
In the late 1930's Musser's Ozark Tavern Resort was receiving much attention in the press. Here is an article from the Jefferson City Post Tribune dated May 25, 1938 (photo 20):
One indication of just how popular was Clarence Musser's resort was the response he received to the elaborate float he entered in the Miller County Centennial Celebration of 1937 which won first place. Here is a short summary of that event:
The Miller County Centennial Celebration was held Friday, Saturday, and Sunday August 21-23, 1937 in Tuscumbia, Missouri. The event entertained more people than any other in the history of the town, having multiple attractions including a large parade, speeches by notables of the day, a Centennial Queen Contest, and ended with a religious ceremony on Sunday, both Protestant and Catholic. Musser's Resort not only furnished the largest float (it had to be revised in order to cross the bridge over Shut In Branch) but also brought to the event a Kansas City Jazz group which could have included Charlie Bird Parker, Saxophone artist, who a few years later became famous world wide. Charlie was known to play frequently at the Musser's Resort and Hotel on weekends.
Here is a photo published in the Autogram indicating that the Musser float won first place in the Centennial parade (photo 21):
The next photo was a close up of the one in the article (photo 22):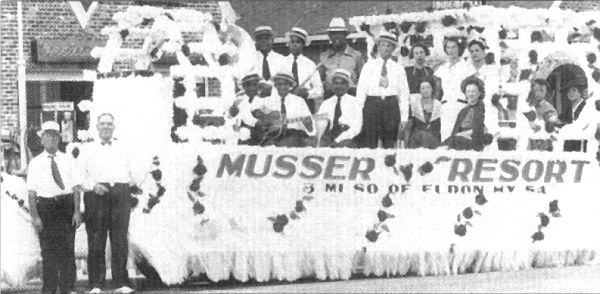 22 Closeup of Musser Tavern Float after winning Prize in the 1937 Miller County Centennial
Perhaps Charlie Parker is in this photo as the above paragraph suggests. Here is another photo of the float before the parade began (photo 23):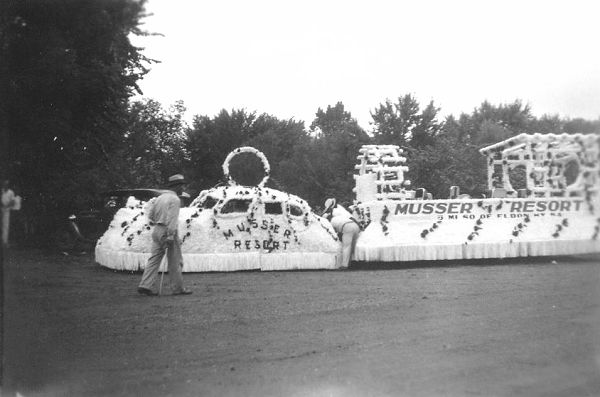 23 Musser's Resort Float before the Parade
You can read more about the Miller County Centennial at this location on our website.
---
Now continuing with Dwight Weaver's narrative:
Musser's Ozark Tavern Resort prospered until January 1941 when a disastrous fire occurred.
"The main building at Musser's Resort…one of the best known nightclubs in the Lake of the Ozarks region, was destroyed by fire early Thursday morning," said the Eldon Advertiser. "The loss, estimated at about $55,000, was only partially covered by insurance. The Crystal Ballroom, dining room, amusement room, café, kitchen, liquor store, filling station and beverage storeroom were destroyed…C.W. Musser, manager of the resort, discovered the blaze. He awoke in a smoke filled room and made his way to the main auditorium awakening the six employees who lived there. The Eldon Fire Department was summoned but flames, whipped by a stiff breeze, soon spread to all parts of the building. The electric wires connecting the water pumps, were severed by the flames, greatly handicapping the fire fighters. The fire department finally abandoned the main building and directed its effort to saving the hotel, cottages and other buildings."
Note: Here are two articles from the Jefferson City Post Tribune about the fire (photos 24 and 25):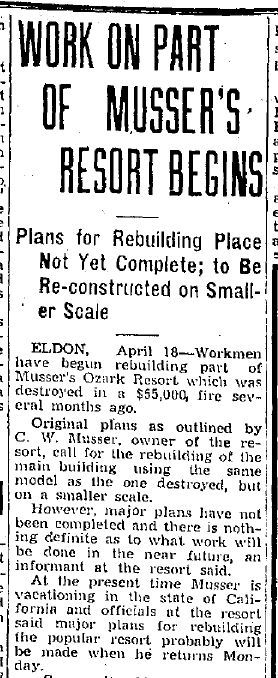 25 Musser Rebuilds - Jefferson City Post Tribune - 18 Apr 1941
And here is a poorly reproduced photo of the fire from the same Post Tribune article (photo 26):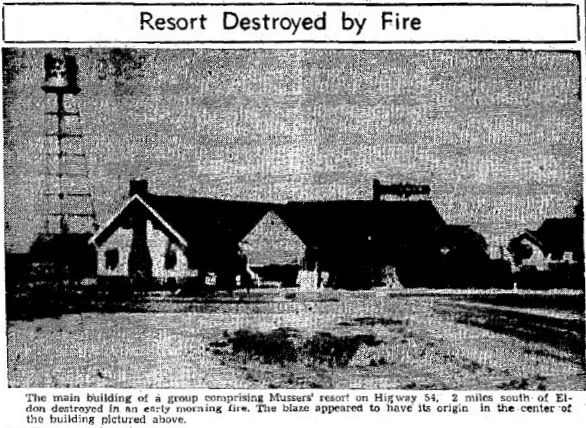 26 Musser Fire Photo - Jefferson City Post Tribune - 16 Jan 1940
Clarence Musser promptly rebuilt but on a smaller scale and reopened in 1943. Then in March 1945, trouble struck again when Musser was involved in an altercation with William E. Buckhart in Eldon. The two men exchange gunfire and Buckhart was killed. Musser was charged with second degree murder but on a change of venue to Jefferson City, he was acquitted.
Note: Here is a short paragraph from the Autogram about this incident (photo 27):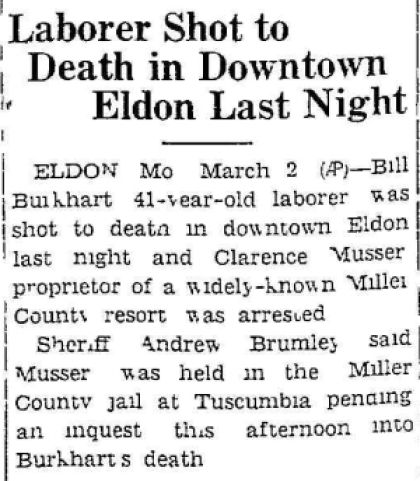 27 Musser Murder Article in Newspaper
During the trial period, Musser sold the resort and all of its associated properties to Mr. and Mrs. Jefferson W. Mitchell. Mitchell was a veteran in the business of building and operating oil refineries. He had been superintendent of the Phillips Refinery in Kansas City, Kansas, from 1928 to 1940 when he went to Bartlesville, Oklahoma where he was assistant manager of the refinery department of the Phillips Company. He was elevated to manager of that department in 1943 and resigned in 1945 when he and his wife purchased Musser's Ozark Resort.
It should be noted that the Phillips Oil Company has a financial investment in the property at El Rancho Junction. Phillips Oil Company products have been sold on the property for nearly 70 years.
The Mitchells had the business for one year and then sold to Jim Hannaford, Jim Lawrence and Francis Biselx who renamed it El Rancho of the Ozarks.
---
Below is what Dwight Weaver wrote about Musser's Resort after its name was changed to El Rancho by its new owners:
History and Geography of Lake of the Ozarks V I 2005 p. 62
El Rancho of the Ozarks
Dwight Weaver
El Rancho of the Ozarks, a motel, service station and convenience store combination, was located at the junction of Highways 54 and 52 about three miles south of Eldon from 1946 until the 1990's. A Phillips 66 gas station, convenience store and truck stop now stands where the El Rancho gas station and swimming pool used to be. Heritage Inn and Suites occupies property across from where the El Rancho cottages once stood. Only an old well house remains from the original structures of El Rancho of the Ozarks.
The El Rancho business property was previously known as Musser's Ozark Resort, which was built in 1936. The Musser business was sold to Jefferson W. and Sylvia J. Mitchell in 1945. They in turn sold to the partnership of James Lawrence, James Hannaford and Francis Biselx in 1946. The three men had just completed their tour of duty during World War II. The new partners changed the name to El Rancho of the Ozarks, a name which, in turn lent the name "El Rancho" to the junction of the two highways. Few people today who've lived in the area for more than 15 years, know the junction by any other name.
Portions of the formerly extensive business property were also owned by the Phillips Petroleum Company of Kansas City who sublet their portions of it to the new partners. The property included more that 60 acres on both sides of Highway 54 and 52. The service station, swimming pool, and convenience store was along the west side of Highway 54 and individual cottages were on the opposite side of the highway.
In 1950, Hannaford sold his interest to Biselx and Lawrence. In 1981, James and Martha Lawrence became the sole owners of El Rancho of the Ozarks. Martha Lawrence died in 1992 and shortly thereafter Jim Lawrence retired and sold the business.
El Rancho was noted for the elegance and charm of its brick cottages and its popular swimming pool, which attracted not only motel guests but local people. The business had its own deep well with a water tower that became a landmark for people traveling west on Highway 54 toward Lake of the Ozarks.
---
Thanks Dwight!
Here are some of the photos collected by Dwight of El Rancho resort after the new owners bought it in 1946 (photos 28 - 35).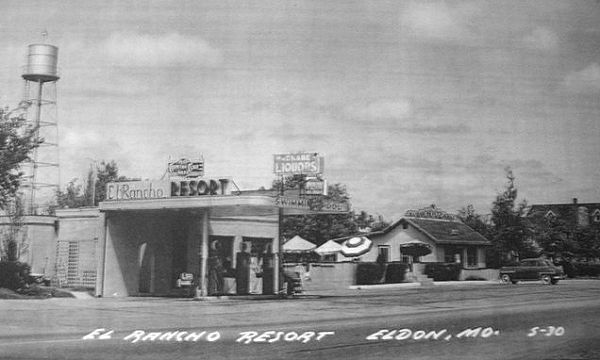 28 El Rancho Resort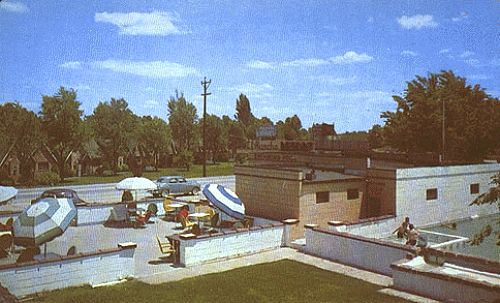 29 El Rancho Motel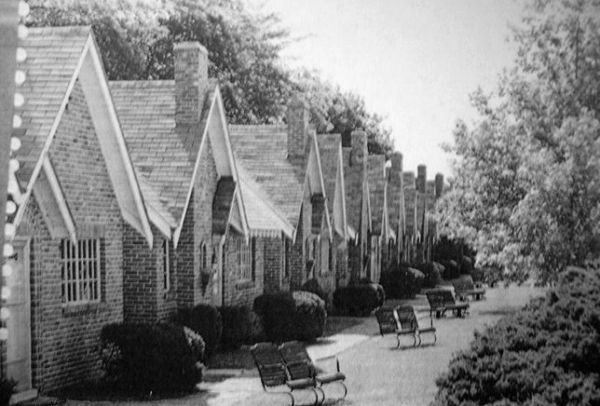 30 Cabins at Musser El Rancho Resort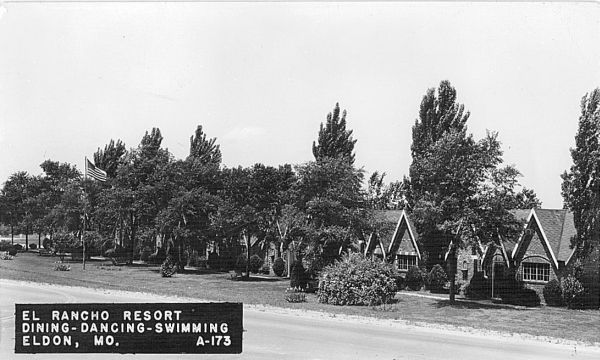 31 El Rancho Cabins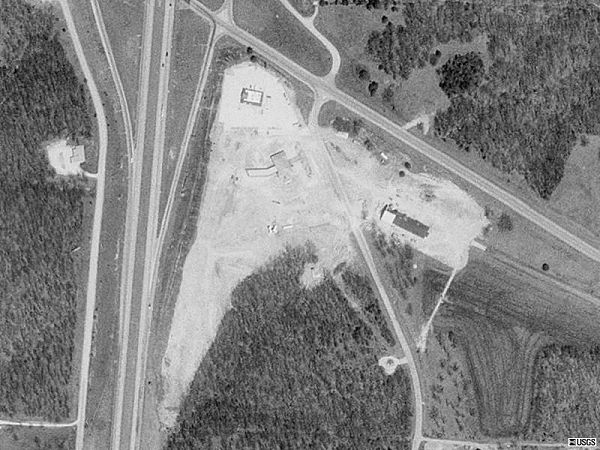 34 El Rancho Aerial Photo Recently Taken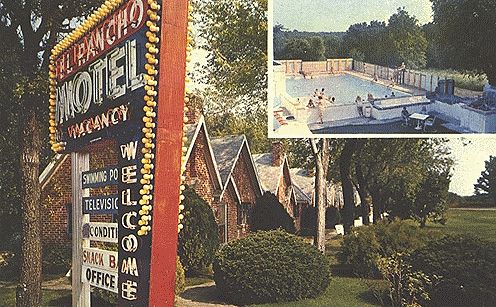 35 El Rancho Motel
Photo 34 above is an aerial photo taken recently since the new road has been built and the El Rancho buildings removed.
And here is a copy of an article from the Tuscumbia Autogram of January 1994 relating the story of Jim Lawrence selling El Rancho (photos 35a and 35b)..
Soon after this story was published the picturesque El Rancho cabins and other buildings were taken down and removed.
This last week I visited Mark and Kenneth Lawrence (photos 35c and 35d) at the farm where Jim lived a mile or so south of El Rancho.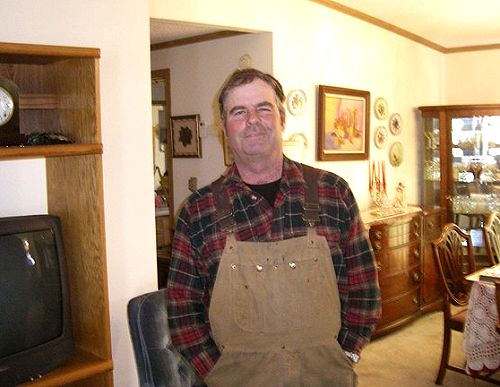 35c Mark Lawrence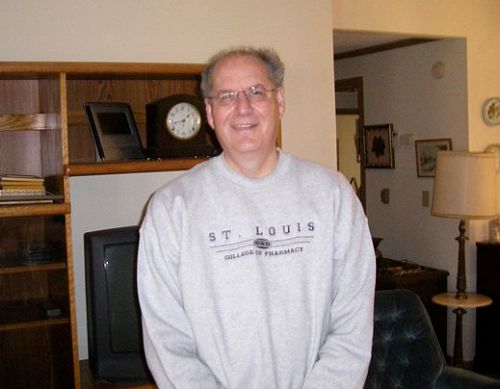 35d Kenneth Lawrence
We shared many memories of the early El Rancho days where they were raised as children. They provided me some extra photos of El Rancho. Here is one of Jim and Martha taken probably thirty years ago (photo 35e):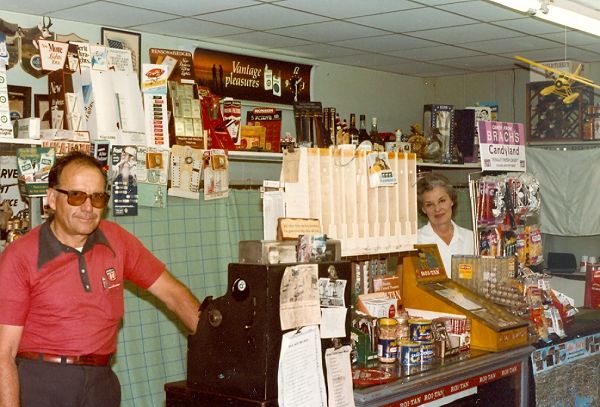 35e James and Martha Lawrence
And here is a photo of the old water tower dating back to when Clarence Musser owned the resort and which was a landmark until El Rancho was sold and the present complex was built (photo 35f):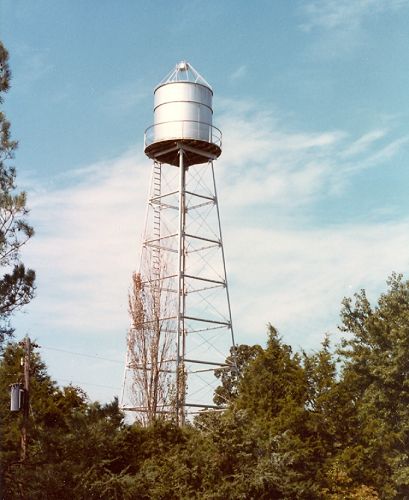 35f Musser El Rancho Water Tower
I have many memories of El Rancho resort. For one thing, it offered the first swimming pool I had ever seen (see photo 33 above). Up to that time we swam in the creek or the river. I even took swimming lessons there. My parents were good friends of all three of the owners although more so with Frank Biselx and Jim Lawrence since Jim Hannaford left the business rather early. Now, since the death of Jim Lawrence just a year or so ago, we have very little to remind us of El Rancho. I did have the opportunity to talk with Jim several times at the Senior Center in Eldon (a popular place for people our age to have lunch) over the last two years before his death when we exchanged memories of the times when El Rancho was such a well known resort. I was so sad that the quaint brick cabins had to be removed for the new development (see photo 35 above). Now the only thing left of the old Mussers/El Rancho resort is the brick well house (photo 36).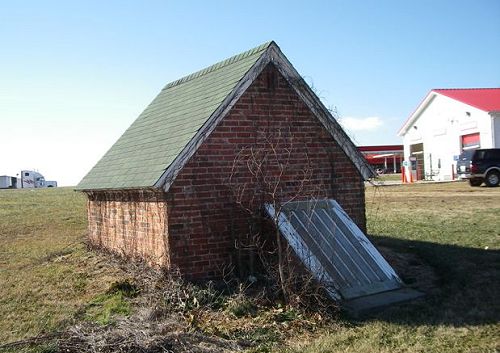 36 El Rancho Well House
---
One of our projects for this winter is to rehabilitate the Miller County probate files which were given to the museum quite a few years ago by the County for research as well as preservation. Through the years many of the older files have begun to deteriorate such that any handling of them such as would be done by those doing genealogical research can be harmful and destructive. To help us preserve these old records some of the staff of the Missouri State Archives has been instructing us in methods we can use to preserve these old documents.
In the November 9, 2009 Progress Notes I wrote about the visit of John Korasick, who is director of this function of the archives which is headed by Lynn Morrow in Jefferson City at the building of the Secretary of State. This last week we were visited by specialists from the Local Records Division of the Missouri State Archives who instructed us in the very technical method of rehabilitating dry and crumbling old paper records of up to one hundred fifty years age. One of our main goals besides preservation of the original records is to prepare them for microfilming so eventually they can be preserved on film. This will ensure they will be available for research for a very long time into the future…something that won't happen if we don't take action now.
The Archive representatives who helped us most recently were Diane McKinney, Conservator and Lisa Fox, Senior Conservator (photo 37).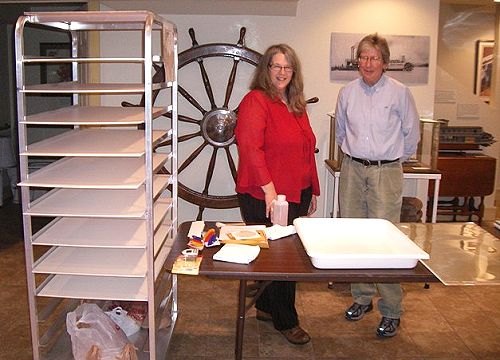 37 Diane McKiney and Lisa Fox
They brought special equipment and supplies as well as drying racks so that we could put the documents through a humidification and flattening process. This procedure removes wrinkles and also makes the records more pliable for handling as well as preventing crumbling and tearing of the paper.
In the next photo Lisa Fox is giving us an initial orientation to the procedure (photo 38).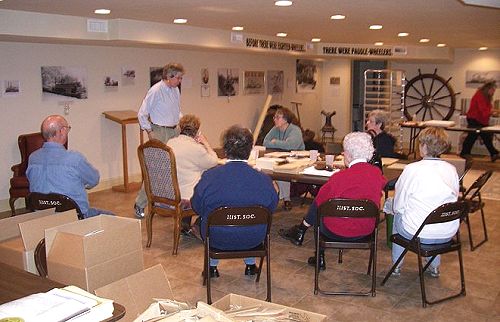 38 Lisa Fox Instructing Volunteers
The process uses moistened GoreTex laminate as part of the hydration process (photo 39).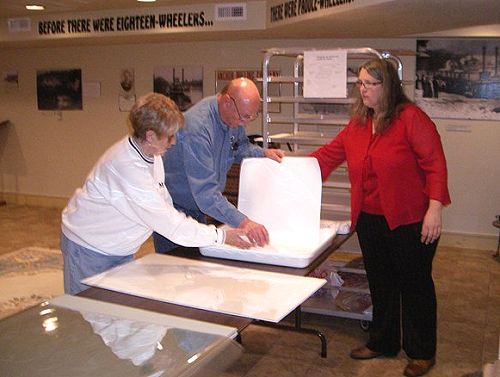 39 Jody Nichols and Brice Kallenbach dampening GoreTex Laminate supervised by Diane
Next the old paper document is carefully placed on the laminate as Diane is doing here (photo 40).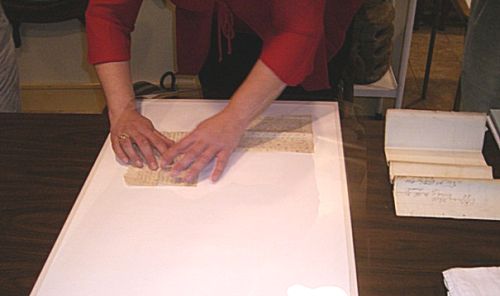 40 Diane carefully places Record on GoreTex
Sometimes the records have been rolled up and are stuck together such that trying to open them causes tearing and crumbling (photo 41).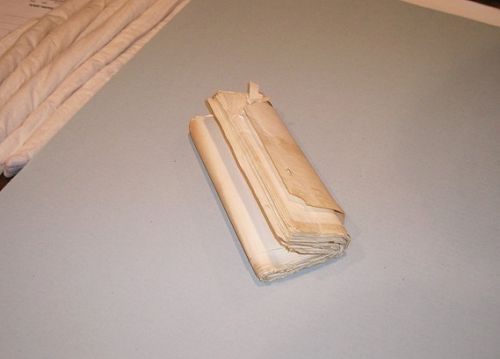 41 Old Fragile Paper Pages Stuck Together
The records then are placed on a rack for up to thirty minutes or more giving time for the moisture to be incorporated into the paper fibres in a controlled manner (photo 42).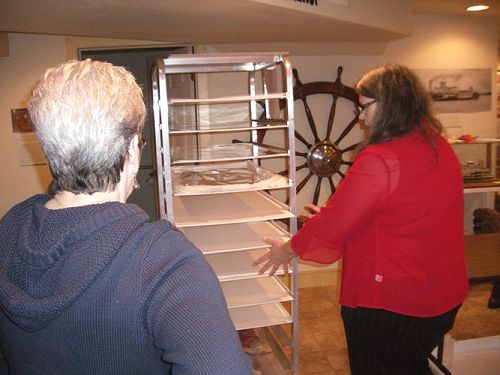 42 Moistenng Racks
Finally, the records are removed from the moistening racks and placed between other layers of dry GoreTex and allowed to dry. Several layers of GoreTex and Mylar Plexiglass are used for the above described process as depicted in this diagram (photo 43).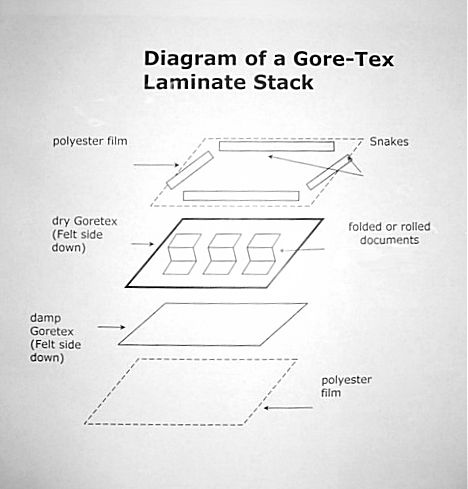 43 Diagram of Layers of GoreTex and Mylar
I was amazed that this technique was so effective! Without the instruction of these professionals from the Missouri State Archives we would never have figured all this out on our own!
We are depending on volunteer help for this project. If you are interested in helping us preserve these old records we would certainly appreciate your participation. We are meeting every Monday at nine a.m. (excepting the last Mondays of December). Some of the procedures are simple and not as technical as described above. And the most interesting thing is that somewhere along the way you will recognize that you are processing a file of one of your own relatives! I know that so far I have processed quite a few including three great great uncles of the Bear family!
---
In the Progress Notes of November 9 of this year Carrie Law Bond referred to the Quaker heritage of the Bond families of the United States.
Recently, in response to the Bond Quaker heritage discussed that week I received some interesting comments from Lois Mace Webb (photo 44) regarding some time she spent several years ago when she was living in New York where she became more aware of the Quaker history and the struggle for freedom of religious expression.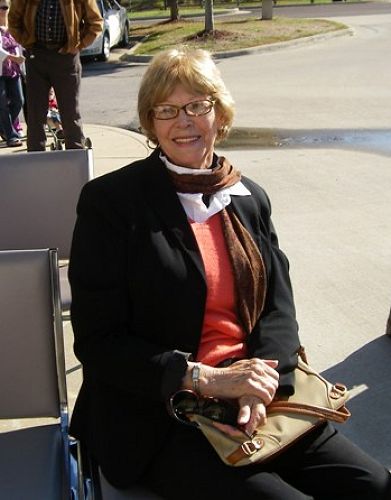 44 Lois Mace Webb
I thought the comments were interesting so I am copying them here:
Joe,

This is just a quick note to acknowledge appreciation for information in last week's e-publication re the Bonds, George Fox, and other things. I have long held Ozark style inklings that the Bond lineage, including those I knew on the South side of the River, carried interesting history. I won't elaborate, but I'm glad to see a little documentation about the Bond family's early religious beliefs, albeit about those on the North side! Smile.

George Fox (photo 45) has long been one of my theological heroes.

45 George Fox

I served a Unity ministry for about a year (including 9/11/01) in Flushing, Queens, NY, where much of Fox's "New Amsterdam" history transpired. I visited most of the historic sites, including a Sunday morning worship service at the first Quaker Church in America -- established in the 1600s -- perhaps 1643 or thereabouts; it still had original hand hewn pews -- most primitive. I treasure the experience. Also, while I cannot pass a test on details of that history, it was through George Fox that the first court decision on planet Earth was handed down for the right of persons to worship according to his/her inspiration. To me that is SOOO important! I believe the court decision happened in Europe -- perhaps a Dutch court -- but it had to do with Fox taking exception to the predominant belief at the time, that man must have an intercessory for communication with the Almighty. Fox believed that the individual was capable of receiving direct inspiration and obligation to abide by it. Or to that effect. A whole litany of argument with church tradition transpired; however Fox's belief was finally upheld by a court decision, and thus, to this day, we can worship as we please. Big deal, methinks!

It's one of those things that I believe we, the public, rock along never knowing how our privileges came to be, nor anything of the trials of those who paved our way. Thus my devotion and abiding gratitude to George Fox.

Just a FYI -- nothing much to do with Miller County history per se, but wanted you to know that information you pull together touches readers in ways you might never imagine, as with the Bonds and George Fox!

PS: I find it humorous that the original name of Flushing was Vlissinge (near that); however, the citizens wanted to de-Dutch the name, and changed it to Flushing. Surely this was before the advent of porcelain conveniences!
Thanks Lois for sharing with us your experiences in the New York area.
---
We were honored a couple of weeks ago when Christian Potucek and Antony Custard of Cub Scout Pack 14 of Eldon came to our museum to examine and study the representative one room school on display for a learning project which they were pursuing. They were accompanied by Vicki Custard, mother of Antony, and Ruby Bunch, grandmother of Christian. Also visiting were sisters Angelina Custard and Harleigh Potucek (photo 46).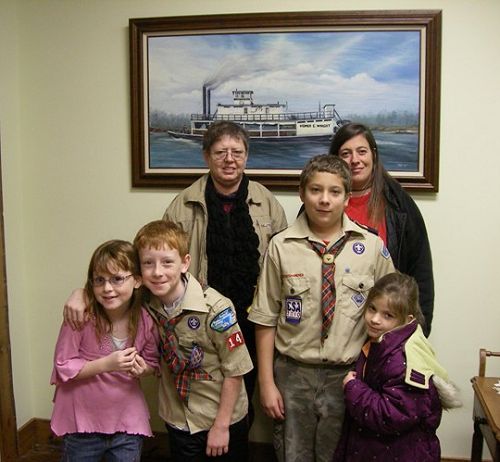 46 Harleigh and Christian Potucek, Antony and Angelina Custard
Rear: Ruby Bunch and Vicki Custard
Ruby, who has been the librarian of the Eldon Library for many years, is helping the cub scouts earn a badge of merit offered by the Cub Scout organization for completion of this project. After the scouts acquired the information they needed for the school project the entire group was given a tour of the entire museum. Although the museum is closed for the winter we do encourage group tours by appointment; and it is especially rewarding to host guests so excited and interested in what our museum has to offer as were the members of the Eldon Cub Scout Pack 14!
---
Continuing with The Cricket's Song series, this week presents Act Two Scene Two. In this short scene you will be amused at the way Charlie makes interesting Old Testament allusions to the Book of Genesis on his first view of the just finished Bagnell Dam. Up to this time over the more than two year time frame in which the Dam was constructed he had avoided going over to look at it. This scene presents his reaction on seeing for the first time the huge concrete structure and the water backed up behind it (photos 47-50).
The Cricket's Song
By Tim Pilkington
Act One - Scene One
Act One - Scene Two
Act One - Scene Three
Act One - Scene Four
Act Two - Scene One
Act Two - Scene Two (photos 47 - 50)
Just click on any of the photo thumbnails to view a larger image.
Note: Once you click on an image below, a new window will open. It would be best to maximize this new window by clicking on the middle box in the upper right-hand corner of the window. When you move your cursor over the image in this new window, it will change to a magnifying glass. Once this occurs, click on the image and it will show in a larger format for easier reading.
That's all for this week.
Joe Pryor