Monday, December 21, 2009
Progress Notes
Not long ago I visited Bamber Wright (photo 01) at his present home in Jefferson City to obtain some historical information relating to an old photograph of the family of his grandfather, Green Lee Wright.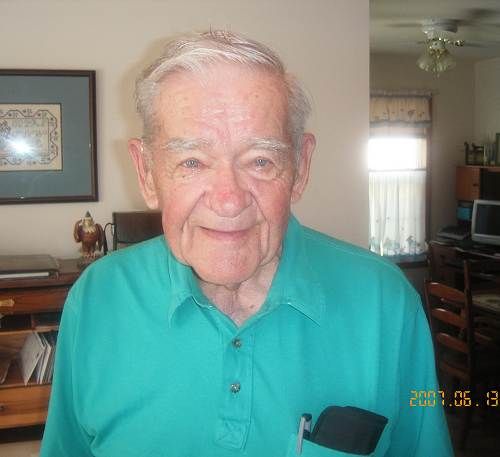 01 Bamber Wright
Later in this edition of Progress Notes you can view the photograph. However, during my visit our conversation migrated into many areas of Miller County history because I never miss an opportunity to learn as much as I can when I have the opportunity to talk with old time Miller County residents as is Bamber. The Wright family, in particular, is one of the many colorful and interesting Miller County families, and I never fail to leave Bamber's company without having learned something new about things old! While there I noticed once again the large painting on the wall of the living room depicting a beautiful creek and bluff (photo 02).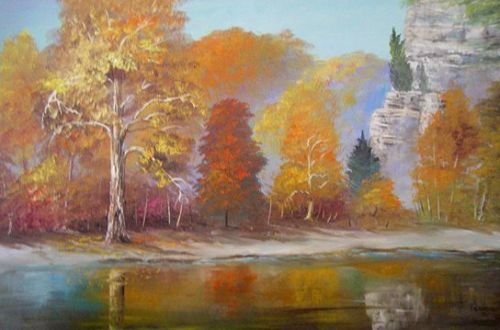 02 Dean's Creek - 1980 - Francesca Wright
I had seen the painting before when I visited Bamber but had never taken a picture of it. The painting was made by artist Francesca Wright Schwartz, who was born and raised in this area, a daughter of John (The Painter) Wright (photo 03), who was a brother to Bamber's grandfather, Green Lee Wright (photo 04).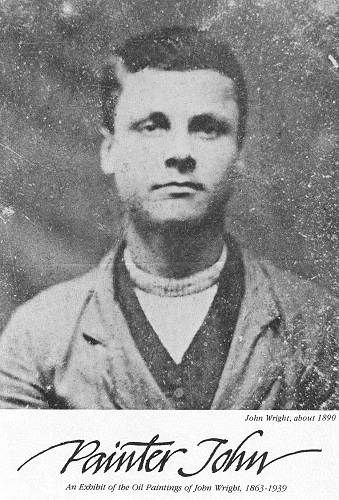 03 John Wright

04 Green Lee Wright
Francesca (her professional name; her given name was Francis) was much like her father John; adventurous, dynamic, exciting and possessed of a very engaging personality. I have written previously about John Wright which you can review at this previous edition of Progress Notes.
I also had alluded briefly in past writings to Francesca but I thought this week I would devote more space to her story. Francesca began writing the biography of her life many years ago, and in fact, when she visited here in 1980 she remarked in an interview that she had started it long before then and was still working on it. The book, titled 'Wildwood Days,' finally was published in 2006 when Francesca was ninety five years old! We featured it on our website and included several copies for sale in our museum library. The local response was really exciting and complimentary. I think I heard more comments about her book than any other we had for sale at the museum. Here is the publishing company's review of the book:
"Francesca Wright was born into abject poverty, the youngest in a family of nine children, in the Ozark Hills of Missouri in 1911. Her mother and siblings farmed a small parcel of depleted land while her father sought supplementary income as a painter of both structures and canvases. As a child, Francesca followed in her father's footsteps as he gathered bark and berries to mix for his paintings. Today, her acclaimed portraits and landscapes reside in prestigious art collections worldwide. 'Wildwood Days' is the true story of Francesca's childhood. It is the story of her mother's tireless efforts to educate and empower her children in the face of grinding poverty, and of Francesca, at the age of twelve, finding herself left entirely alone for four long years-alone to manage her own survival as well as the crops, livestock and buildings of the family farm. In counterpoint to the genuine hardships, the myriad delightful characters and details which Francesca recalls-through the eyes of a child-make for a heartwarming, often quite funny, and altogether uplifting read. Francesca's tale ends with her fortuitous escape at age seventeen into a wider world, a new beginning to a long and distinguished career."
If you would want to purchase a copy of Francesca's book you can contact the publisher at:
iUniverse
2021 Pine Lake Road, Suite 100
Lincoln, Nebraska 68512
www.iUniverse.com
1-800 288 4677
We sold out of our discounted copies at the museum so you will need to go to the publisher or Amazon.com to get one of Francesca's books. Here is a photo of its cover (photo 05):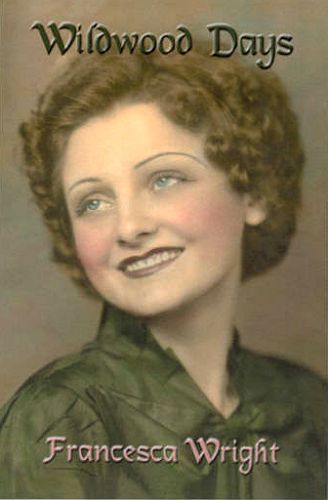 05 "Wildwood Days" by Francesca Wright
The painting hanging on the wall in Bamber's living room was painted by Francesca when she returned here for a prolonged visit in 1980. She stayed most of the time in the home of Homer Clay Wright (photo 06) of Tuscumbia, whose grandfather, Green Lee Wright, was a brother to the father of Francesca, John Wright, mentioned above.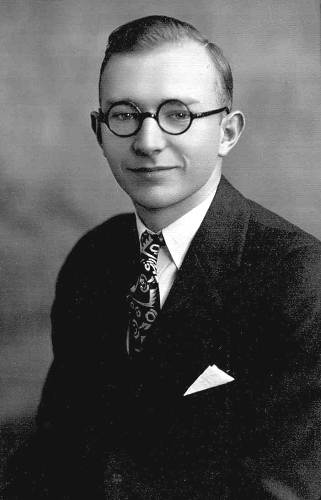 06 Homer Clay Wright
Homer and Francesca were second cousins. The painting is of a beautiful bluff overlooking Dean's Creek south of Brumley about eight miles. This was the area in which Francesca was raised. Here is a photo of her childhood home located nearby (photo 07).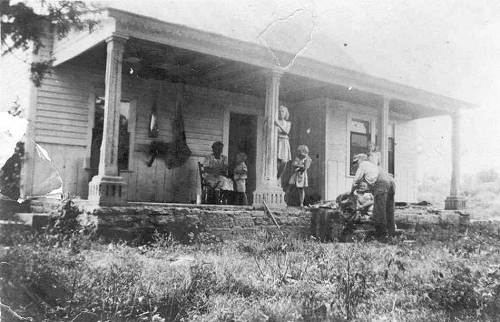 07 John Wright Home - 100 Years Ago
The home is still standing, and in fact, has been rehabilitated recently by members of the family.
Another painting of Dean's Creek by Francesca depicts an old log cabin on the creek bank (photo 08).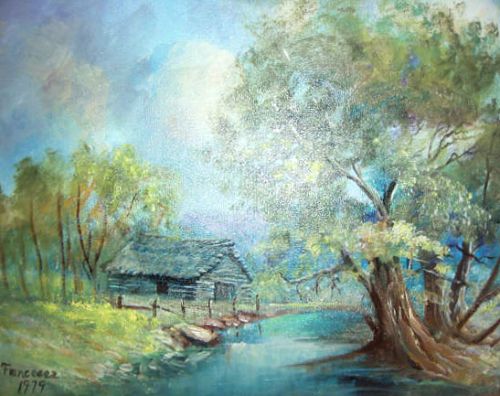 08 Log Cabin on Dean's Creek by Francesca Wright
I don't know if the log cabin is still there or not. It can't be her original home because the original John Wright home is located on a hill side and not close to a creek. Of course, in reality, I doubt that any early settler would have built a home that close to a creek anyway. This painting now hangs in our museum.
A couple of years ago we were delighted to have received as a gift from Lewis and Helen Wall (Francesca was Helen's aunt) another painting by Francesca of her mother Lillian. This portrait of Lillian Wright was done from a tintype photo, the only known picture of the artist's mother. It is now displayed in the entry way of the museum. Here is a photo of Lewis and Helen standing beside the painting the day they brought it over to us (photo 09).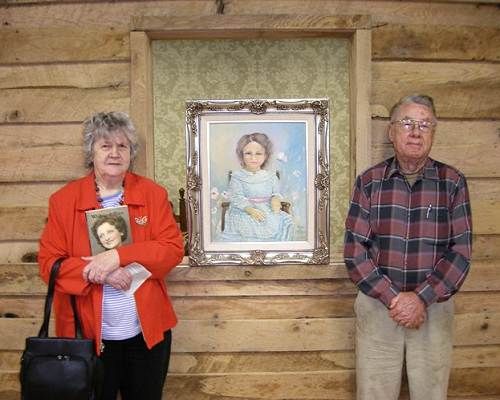 09 Painting of Lillian Wright, Mother of Francesca with Helen and Lewis Wall
Lillian was the grandmother of Helen Wall, so the portrait is very meaningful to her and we very much appreciated her willingness to give it to us for display in our museum.
Another painting by Francesca is not in our museum but is proudly displayed by Roy and Joyce Sone of Jefferson City. This painting depicts the steamboat, J.R. Wells, tied to shore during a snowstorm (photo 10).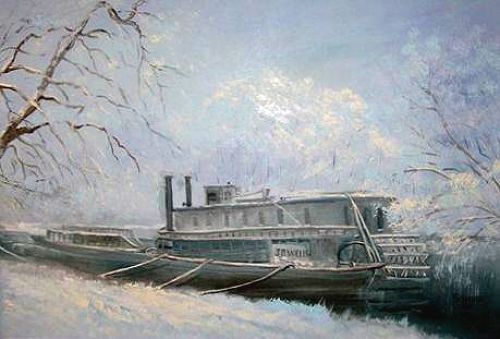 10 J.R. Wells by Francesca Wright
Roy is the grandson of J.R. Wells, one of the principal business partners and owners of the Anchor Milling Company during the late 19th century. The steamboat was one of the company's most famous. Francesca most likely created the painting from a photograph as she probably would not have been born, or at least old enough to remember, when it was in operation. In fact, I have a photograph of the J.R. Wells docked on the riverbank in a snowstorm which I am sure is the one Francesca used for her painting (photo 11).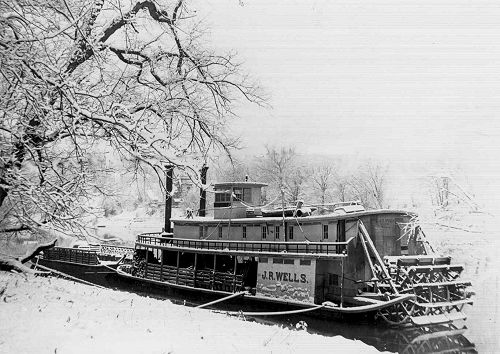 11 J.R. Wells in Snow
Another painting by Francesca is of the Saline Valley Church of Christ. The Wright family settled in this area north of Tuscumbia one hundred fifty years ago and this is the church they attended. John Wright, Francesca's father, would have attended this church as a child (photo 12).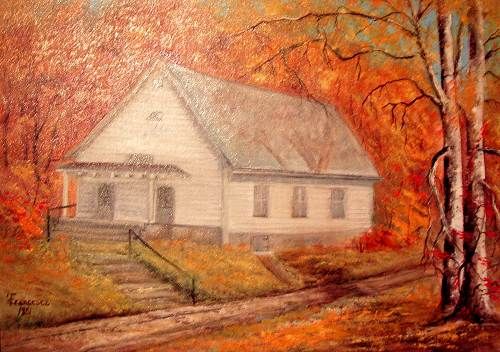 12 Saline Valley Church of Christ by Francesca Wright
When Francesca came home to Miller County in 1980, she was interviewed by the Tuscumbia Autogram. The article tells quite a bit about Francesca and her early life:
Tuscumbia Autogram
March 27, 1980
Francis (Francesca) Schwartz was born 68 years ago on a farm near Dean's Creek eight miles south of Brumley. She was the last of nine children in the family of John Wright, a house painter, artist and decorator known by all the residents of Tuscumbia. Her grandfather (James Lawrence Wright) built the Christian Church and a water powered mill near Tuscumbia in the Little Saline Creek valley.
It is hard to believe, with a background like this, that Frances Schwartz, the former Frances Wright, would today be recognized by the International League of American Pen Women and be listed in "2000 Women of Achievement," a book published in England.
Mrs. Schwartz has distinguished herself through painting, poetry, book writing, architecture and restaurant management. But she is best known for her paintings. She was interested in art from the time she was old enough to hold a pencil, and the first thing she remembers drawing was a banana. Then, about the time she was 5 years old, she began painting snow covered mountains. Landscapes are still her favorite subjects.
She remembers all the paintings she has done, even though the number is "at least 1000," she says. Mrs. Schwartz has paintings in private collections in every state, and in every major foreign country in the world.
"I have paintings in Canada and Alaska…I have one in Rhode Island, and one in New York," she says. "You know that just went to my head…a little girl from Dean's Creek, to send a picture to New York!"
Through all her other interests and adventures, her love of art and paintings is the one thing that has stuck with her. "I never stopped painting all my life," she says
Today, she teaches art in her home in the Sandia Mountains, east of Albuquerque, New Mexico. The lessons are held one day a week, and the students spend six hours working on a project.
"They either finish a painting, or they can't go home," Mrs. Schwartz says. It isn't all work and no play, though. Everybody brings a dish of food and they have a potluck meal.
There is only one part of painting Mrs. Schwartz doesn't like…signing her name. "I'd rather paint a whole picture than sign my name," she says. The brush is tiny, and "just won't behave. Other artists have the same problems."
It would be difficult for most people to recognize a painting by Mrs. Schwartz if they didn't know her work, or didn't know how she signed her paintings. They are signed "Francesca." That was one of the nicknames her father called her when she was growing up.
A college education was not the primary teacher in Mrs. Schwartz's life, although she did study art for a while at Washington University in St. Louis. Her primary teacher was experience.
After graduation from Eugene High School, she went to St. Louis where she attended school, worked as a waitress, and married. She didn't know too much about city life when she first moved to St. Louis, so her first few days as a waitress were trying.
"Somebody tipped me and I gave it back, it embarrassed me," she says. She soon caught on, however, and began pocketing the tips.
It was during her waitress career that Mrs. Schwartz ran across a lemon chiffon pie recipe that was destined to make her famous as a restaurant operator. After 11 years in St. Louis, she and her family moved to New Mexico and opened the Wayside Inn restaurant in 1946. The restaurant seated 150, had only seven items on the menu, and served only dinner. The restaurant became famous for the lemon chiffon pie, Mrs. Schwartz says.
Architecture also became a passion for Mrs. Schwartz about this time. She saw so many houses she believed could have been designed and decorated better that she decided to get into the business herself and show the professionals how it should be done.
She had no formal training in architecture, and she admits that she made a lot of mistakes in the beginning. But she learned from her mistakes and today claims responsibility for at least seven beautiful houses in Albuquerque. She did all the designing, supervision and decorating. She even designed the house she lives in today.
Although her book "How High the Hills," the story of her life, from the time she was 12 until she was 16, has never been published, it has been reviewed by several book companies and was praised by Allen Rhinehart, of Holt, Rhinehart & Winston publishing company. The book is something like "Little House on the Prairie," she says, but "it's the story of my life."
The fact that the book has never been published doesn't bother Mrs. Schwartz too much. "It was written in the first place just for roots for my children," she says. She has also written several poems.
Note: Francesca finally published her book in 2006 and titled it "Wildwood Days." The publishing company is:
iUniverse
2021 Pine Lake Road, Suite 100
Lincoln, Nebraska 68512
www.iUniverse.com
1-800 288 4677
The restaurant was closed in 1958, and Mrs. Schwartz began devoting much of her time to charities. She is a member of several organizations and has donated about 120 paintings to various causes. Today she is planning a showing of her paintings in New York, Miami and St. Louis. She has been accumulating paintings since last fall.
Mrs. Schwartz has never had a showing in Missouri. "I would like to do that," she says. But there doesn't seem to be much of an interest in art in Missouri. "The most exciting things in art are happening in New Mexico," she adds, noting that some 300 artists are listed in her phone book.
Note: not long after this article was published, a showing indeed was held of Francesca's paintings in Jefferson City organized by her cousin, Alan Wright.
Mrs. Schwartz has certainly come a long way from the barefoot farm girl she describes herself as while growing up on Dean's creek, and she seems happy with the life she made for herself.
---
A couple of years ago, Francesca's daughter, Joan Garritz, travelled here from New Mexico for the memorial and burial service of her mother at Glover Chapel. She stopped by the museum where I photographed her in front of two of her mother's paintings: The Cabin on Dean's Creek and the painting of Lillian Wright (photo 13).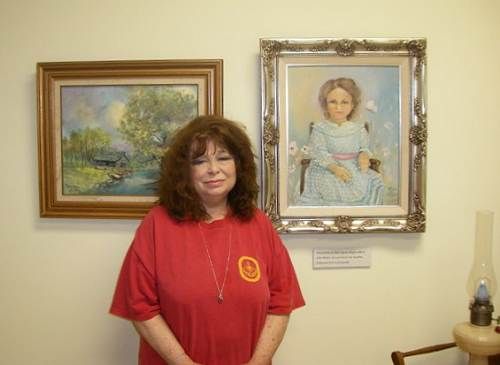 13 Joan Garritz, Daughter of Francesca
Joan has been kind to our museum having donated paintings by Francesca and copies of Francesca's autobiography, "Wildwood Days."
Copied below is a memoriam dedicated to Francesca Wright written a few months after the burial ceremony which occurred June 17, 2007 at Glover Chapel. She had died earlier that year in March:
Frances Wright
1911-2007
August 29, 2007
Noted artist and writer Frances (Francesca) Wright was laid to rest on June 17, 2007 with her parents, siblings, childhood friends and neighbors at the Glover Chapel Cemetery in Miller County. Francesca died in March of 2007 in Santa Fe, New Mexico. She was born in 1911, the youngest of nine children, to John (Painter John) and Lillian (Ingram) Wright in rural Miller County, Missouri near Deans Creek. Her autobiography, "Wildwood Days," tells of her growing up in the area between Richland and Iberia during the early 1900s. It paints a vivid picture of life of the people who eked out a living in these Ozark Hills in those days. The book was published in 2006 when Frances was 95 years of age.
As a child, Frances helped her mother and siblings farm a small parcel of land while her father sought supplemental income as a painter of both structures and canvasses. She followed in her father's footsteps as he gathered bark and berries to mix the colors for his paintings and taught her to look at the world with the eyes of an artist.
She studied art at Washington University in St. Louis and moved to Albuquerque, New Mexico with her husband, attorney Robert M. Schwartz and their two children Ron and Joan in 1942. She was one of the founders of the New Mexico Art league and the "All Faiths" Receiving Home, a refuge for under privileged children. She was recognized in 1972 as one of the 2000 Women of Achievement. Along with her family, she designed and operated the award winning Wayside Inn restaurant on old Highway 66 in Albuquerque.
During her lifetime, Francesca painted more than one thousand original paintings that are in private and corporate collections of art lovers all over the world. The beautiful vistas of the Southwest were the inspiration for many of her ethereal and mystical landscapes. She donated many of her beautiful paintings to charitable causes over the years. One of Francesca Wright's paintings has been donated by her daughter, Joan to the Miller County Historical Society's museum in Tuscumbia. The Portrait of Lillian Wright was done from a tintype photo, the only known picture of the artist's mother. It is now displayed in the entry way of the museum.
The Richland, Missouri Book Club read and discussed "Wildwood Days" as one of its selections in 2006. The members found it to be a well written and delightful memoir of childhood joys and sorrows. A trip to Glover Chapel, a short distance north of Richland and an equally short distance south of Brumley near Highway C, brings the memories further to life as the names of family and neighbors from the book are seen on the tombstones in the cemetery. The original house is still standing, though it cannot be accessed easily from the road. Dean's Creek is accessible and nearby.
Many descendents of John and Lillian Wright live in the Richland, Montreal, Brumley, Iberia, Lebanon and Lake of the Ozarks area. The extended family honored Aunt Frances at their annual reunion June 16. Her ashes were taken to Glover Cemetery the following day.
She was preceded in death by her father, mother and siblings, Ethyl Wright of the home, Garsey Wright of Eugene, Annie Wright Willoughby of Catawissa, Nellie Wright Pemberton of Richland, Jim Wright of Montreal, Paul Wright of Kirkwood, all in Missouri.
She leaves her son, Ron Wright, his children Robin, Michael and Patrick and grandchildren Michael Paul, Joshua, Kelsey and Talon, along with her daughter Joan Garrity, her children Troy and Mark Garrity, and Mark's wife Halla, Dawn Garrity-Rodriguez and husband Mark, along with grandson Thoreau Garrity-Rodriguez, as well as many nieces, nephews and friends.
May our Aunt Frances always rest in the peace of our Lord.
---
The Glover Cemetery entrance is pictured here (photo 14):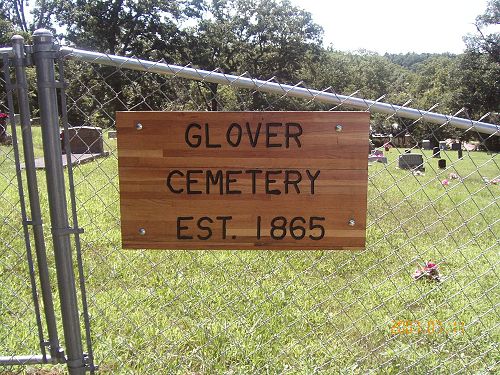 14 Glover Cemetery
Here is a recent photograph of Glover Chapel Church (photo 15):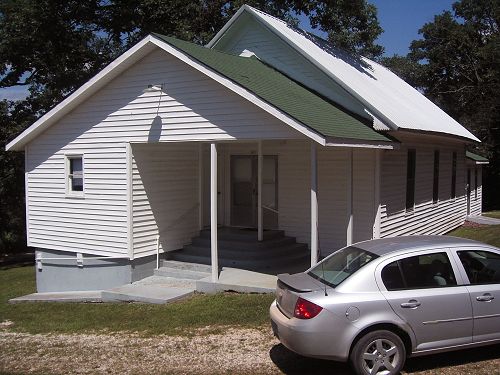 15 Glover Church
And here are the tombstones of Francesca Wright and of her parents, John and Lillian Wright (photos 16 and 17):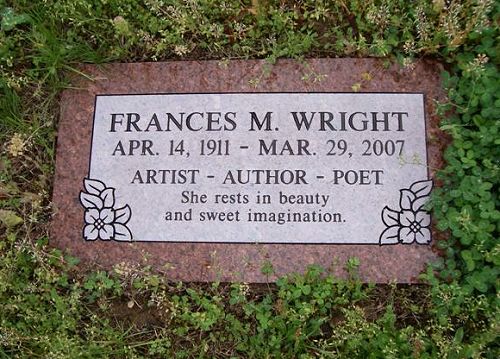 16 Francesca Wright Tombstone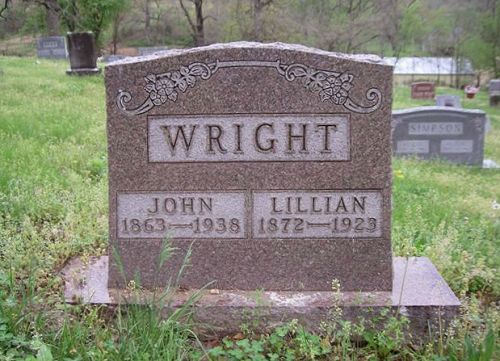 17 John and Lillian Wright Headstone
Be sure and read "Wildwood Days" by Francesca Wright. Few books will fascinate you as much as this one!
---
Very coincidentally, regarding the subject of the above narrative, we received this email message from one of the readers of the website:
Sirs,

I purchased an oil painting by Francesca Wright in 1978. I am the one and only owner of this painting and I would like to sell it.

I understand she has a pretty strong following as an artist in your area and was curious if any one there would be interested in buying this painting.

She painted this 16x20 inch painting in 1977. Attached you will find a recent picture of it in its original frame.

I am from Ruidoso, New Mexico where Francesca had a gallery in the 70's and 80's and her daughter Joan was a neighbor of ours when I grew up. I have been a close friend of Francesca's grand son Troy ever since. I always loved art and knew that Francesca's works were special. The painting was actually painted in south central New Mexico in the Sacramento Mountains, right outside of Ruidoso. The creek is the north fork of the Ruidoso River on the Mecalero Apache reservation. Until the mid eighties you could drive to the creek there but now it is a day hike in and out.

Mike Hyman
Here is the photo Mr. Hyman emailed me (photo 17a):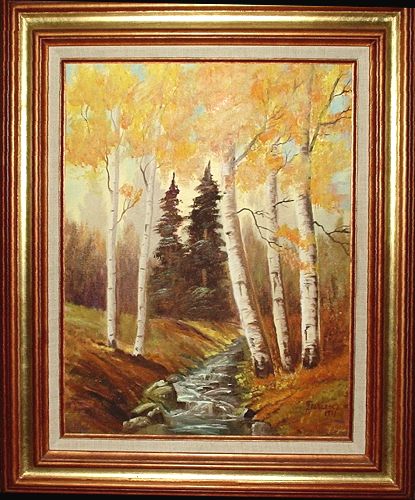 17a Mountain Creek by Francesca Wright
The surrounding scenery along the creek suggests a southwestern mountainous terrain based on the creekside trees and the fir trees as well in the back ground. Of course, Francesca lived most of her adult life in New Mexico so this could be where she painted it.
So if any of our readers would be interested in purchasing a Francesca Wright painting, contact me and I will pass on to you Mike Hyman's personal contact information. I don't know him nor can I vouch for the painting personally, but if anyone is interested and would like further information I can supply the names of some of the family who are familiar with all of Ms. Wright's paintings.
---
I thought I would continue with another Wright family story, that of Otis Wright and his father, Green Lee Wright (photos 18 and 19).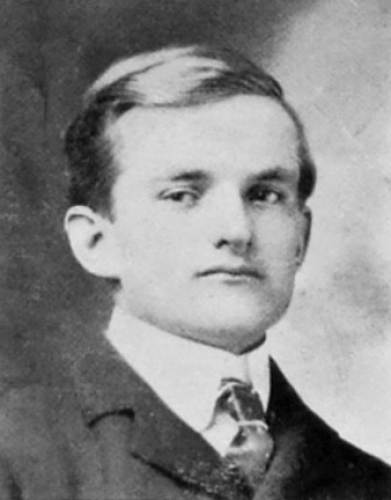 18 Otis W. Wright
Green Lee Wright was a brother to John Wright. Francesca Wright was a first cousin to Otis. Here is a photo of the Green Lee Wright family including Otis (photo 20).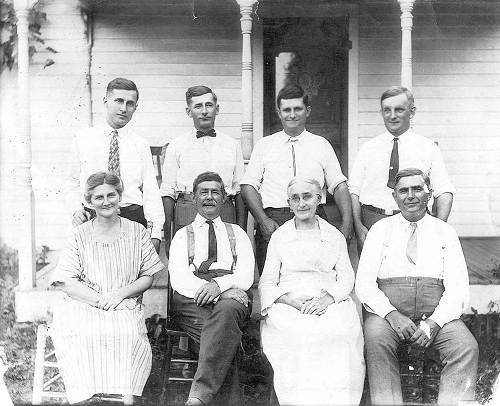 20 Family of Green Lee Wright
At the back of the photo are left to right Charlie, Homer Lee, Richard, and Otis. In the front of the photo left to right are Gertrude, Green Lee, Mary Emma Boyce Wright, and Clarence Boyce Wright. Here is a photo of Otis's first home on the family farm (photo 21):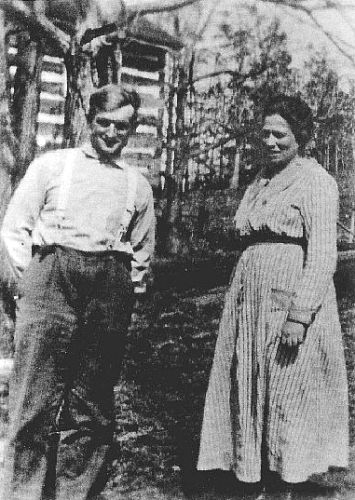 21 Otis and Maude Wright with their First Log Home
Circa 1918
Bamber is the son of Homer Lee Wright, also a son of Green Lee.
The following is just a short article from one of the old Autogram editions:
Relic of Days Gone By
Tuscumbia Autogram
January 4, 1934
Otis W. Wright, who now owns the old James Lawrence Wright farm where the carding machine and grist mill once operated, brought "ye" editor a prized relic last week of his grandfather James Lawrence Wright's handiwork.
James Lawrence Wright (photo 22), the father of Green Lee and John Wright, now living, and other sons who are now dead, came to Miller County from the Boia Bruhle, Cole County, about the year 1865, and settled on the Little Saline (see photo 03 and photo 04 of Green Lee and John).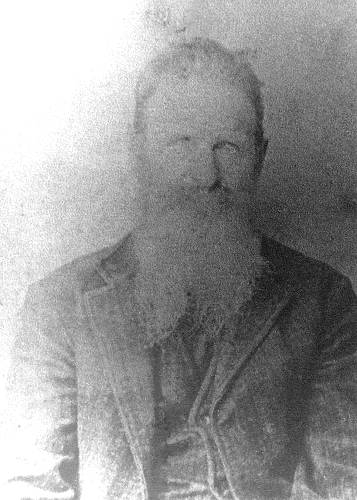 22 James Lawrence Wright - 1818-1896
James Lawrence Wright (J.L.) bought a large tract of land on the creek, including the big spring, paying $400 in gold for the tract. J.L. was a carpenter and was also greatly interested in water power. Hence he conceived the idea of erecting a mill, which he did on a location opposite where the J.F. Kallenbach house now stands. He brought the water down from the spring a distance of about a mile through a flume or canal along the hillside and down the valley to the mill, where it operated an over shot water wheel. Later he built a mill and incorporated a carding machine near the spring, where he and his sons continued to conduct the business for many years (photo 23).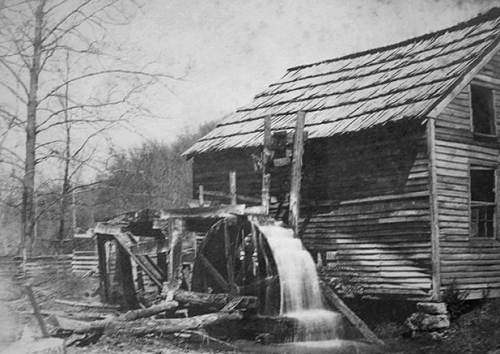 23 G.L. Wright's Carding Machine
Note: when this photo was taken, Green Lee owned the mill after his father's death.
James Lawrence served in the Union Army, and was mustered out at the close of the war as a lieutenant.
Now to the first part of the story….Shortly after the close of the war J.L. decided to build a new home. This was about the year 1868. It was to be of logs, and the rafters, other dimension stuff, and the flooring was sawed out with a sash-saw. The rafters were two inches thick, three inches wide at the comb of the roof and 6 inches wide at the eaves. They were mortised and fastened together at the apex of the rafters with wooden pins, and they were likewise pinned to the plate. It is a section of a set of these rafters with the mortised ends fastened together with the wooden pin that Otis brought to the office.
Otis relates an incident which his father, Green Lee Wright, tells him. It was back in the days when wire nails first made their appearance. Green Lee's father, J.L. Wright, sent him to town after some nails, and when he came back he brought some of the new fangled ones. The father said, "Lee, those nails are no good. Take them back to town, and get some of the cut nails." Square, cut nails were the kind which he had used for years. It required considerable skill to drive those old cut nails, but the father had become adept at it. However, he decided to try some of the new wire nails after he had given the matter a little thought. After driving a few of them with excellent success, he exclaimed, "Lee, I believe I like them better than the old nails!"
---
Most farmers have run across the old square or cut nails frequently in old buildings and barns (photo 24).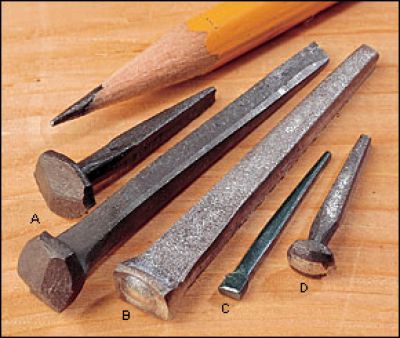 24 Square Cut Nails
But they did have some advantages apparently.
I found this information on the web:
Cut nails have two features lacking in wire nails:
1. They are near constant thickness but tapered in width. Aligning the parallel sides of the nail with the grain, the square tip shears fibers and the nail then bends fibers downwards as well as compressing them as it is driven. The fibers then act like a feather board on a table saw, preventing the nail from withdrawing.
2. Because the square tip shears the fibers, there is no wedging action across the grain; you can nail near the end of a board with no splitting. A wire nail tends to split the wood.
The decorative wrought head and common rose head are ideal for rough-sawn siding, face-nailed floors, batten doors, and framing. While both brands are popular for cabinetmaking, the slender headless brand excels at furniture repair and picture frames.
The wrought-head nails have a black oxide finish; the others are unfinished steel.
If you have the time or space you can read more at this website:
---
This week continues with another installment of The Cricket's Song by Tim Pilkington. In this segment, Scene One of Act Two Shannon proposes to Mary and her father, Davidson reacts as expected. This scene highlights the bitter feelings of those people who had been displaced from the valleys of the Osage River due to the flooding caused by the construction of Bagnell Dam. You'll also learn the place of gravy around these parts (photos 25-39).
The Cricket's Song
By Tim Pilkington
Act One - Scene One
Act One - Scene Two
Act One - Scene Three
Act One - Scene Four
Act Two - Scene One (photos 25 - 39)
Just click on any of the photo thumbnails to view a larger image.
Note: Once you click on an image below, a new window will open. It would be best to maximize this new window by clicking on the middle box in the upper right-hand corner of the window. When you move your cursor over the image in this new window, it will change to a magnifying glass. Once this occurs, click on the image and it will show in a larger format for easier reading.
---
My mother in law, Elva Steen, has lived for more than sixty years in a home located in the Flatwoods community on Catrock Road that this year is one hundred years old (photo 40).
40 Adcock House in Flatwoods - 2007
Originally, it was built by the famous steamboat captain, John Adcock (photo 41).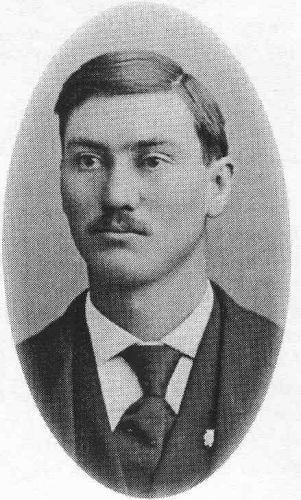 41 John Adcock
Here is a photo of the home soon after it was built featuring John and his family posing in the yard facing the road (photo 42):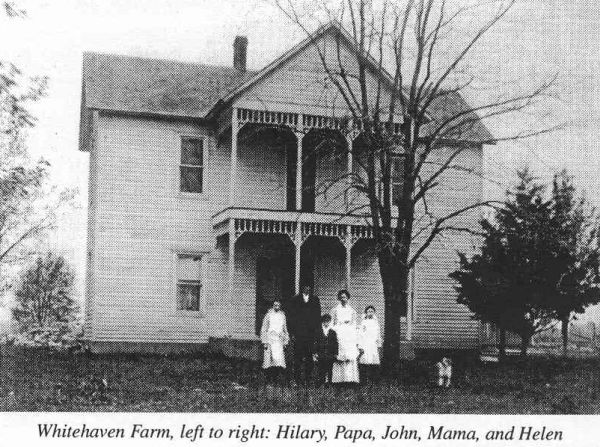 42 Adcock House in Flatwoods - 1909
Interestingly, John had first built an identical home in Tuscumbia which was located next to the high school building. It was taken down years ago when the high school was expanded. The last owner and I believe the second owner of the house after John, was Walter Stillwell, the famous Miller County attorney. His wife, Sue Wells Stillwell, had lived in it for many years after Walter died up almost until the time it was razed. She was the daughter of J. R. Wells who was the owner of the famous steamboat which carried his name. Interestingly, the man who usually captained the J.R. Wells steamboat was John Adcock! The home in which Elva lives and where my wife Judy was raised (although she was born near Bagnell) reeks with history. We recently repainted some parts of the outside of the house just a month or so ago. A house with so much historical interest is treasured and Elva continues many traditions for the enjoyment of her family. One of these traditions I appreciate are the old Christmas ornaments she places around the house every December. These are stored in an attic reached only by a ladder. Elva at eighty six years old never waits for one of us to help her which is a bit of a concern but she has always been quite independent. She has a very elaborate nativity scene which she places on a buffet table in the dining room as pictured here in this photo (photo 43).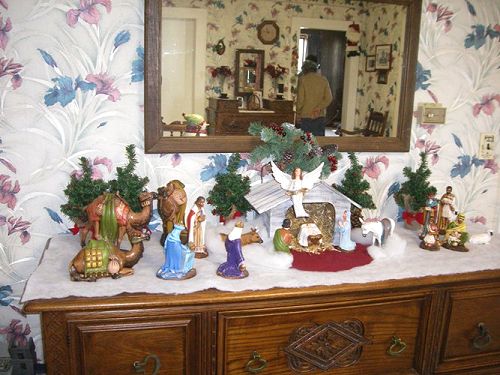 43 Nativity Scene
That's Elva with her back turned to us in the mirror. She doesn't go outside to cut a cedar tree anymore but has a miniature one on a table next to the window (photo 44).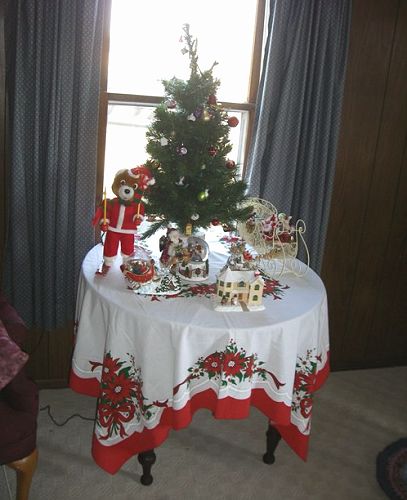 44 Christmas Tree
For years she had collected miniature Santa Claus figures which she displays in a corner shelf (photo 45).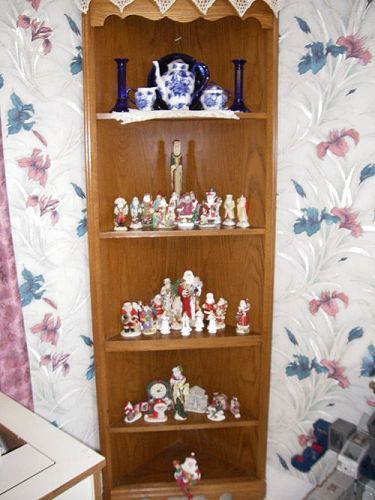 45 Miniature Santa Claus Figurines
So on that note I want to wish everyone a very Merry Christmas!
That's all for this week.
Joe Pryor