Monday, December 14, 2009
Progress Notes
A few weeks ago I received an email from one of our readers, Mary Jane (Miller) Quade, who has roots in Iberia. Here is what she wrote:
Mr. Pryor

I read with interest your weekly column about Miller County History. My mother was Mary Louise Heltzell Miller. Her father was Selby John Heltzell and mother was Samantha Josephine Mace Heltzell who lived in Iberia. My mother went to the schools there in Iberia.

My mother was given a diary Christmas of 1934 and began it January 1, 1935. At the time she was attending the Iberia College and it gave us a look at life at the school there. It does however contain many other bits and pieces and there is one entry which has my interest it reads:

Wednesday May 1, 1935. The Iberia Bank robbed today. They took Uncle George along but turned him loose. Got $500.

What can you tell me about this Bank robbery?

I thank you in advance for whatever information you can tell me.

Mary Jane (Miller) Quade
After reading this email I forwarded it to Peggy Hake, our Historical Society historian and she wrote me in response this email:
Joe,

This morning I called Betty Heltzell Robertson of Iberia and she remembered the whole incident! Her grandfather was also Selby Heltzell (photo 01), so it appears that she is a cousin to Ms. Quade.

01 Selby Heltzell

Betty told me she was almost 12 years old when it happened and she had walked downtown going to Kinder's store (on the corner of today's Hwy. 42 and Main St.) (photo 02) when she saw a car come speeding up the street which caught her eye but she didn't understand at the time what had happened.

She ran back home (her family lived upstairs over the printing/newspaper office on Hwy. 42/Lombar St. which was owned by her grandfather, George Martin--owner & publisher of The Iberia Sentinel newspaper) (photo 03).

03 George Martin Store and Post Office

She was excited and told her mother about the car she saw speeding up the street but didn't know why.....

They learned rather quickly that the bank had been robbed by a couple of men and they made a get-away with one of the employees (George Farnham who had married Anna Heltzell, sister to Selby.) He was the "Uncle George" referred to by Ms. Quade (photo 04).

04 George Farnham

Betty said they headed south out of Iberia traveling toward Crocker. At the "Cross Roads", about 2 miles out of Iberia, they released Uncle George unharmed and drove on south. The "Cross Roads" is the road today where you turn to your left and it goes past the old charcoal kilns.......

Betty told me they never did find the men who robbed the bank and never learned their identity. It was never told how much money they stole either....

This is an interesting story about Iberia that I had never heard before. I am sure the story appeared in the Iberia Sentinel, but I do not have access to it. Old newspapers are on microfilm at the State Historical Society on campus at the University of Missouri in Columbia and I am sure the story could be found but I am not able to make the trip there anymore.
---
Thanks Peggy for the information!
Because the bank robbery apparently was a little known piece of Iberia history I searched the archives of the Tuscumbia Autogram at the office of the Vernon Publishing Company in Eldon and found the following article:
Tuscumbia Autogram
May 2, 1935
Thugs Raid Iberia Bank
Two Desperados Escape With 500 Dollars in Currency, and Appear to Have Made a Clear Getaway
Cashier Farnham Kidnapped, Released Soon Afterward
Were Driving 1934 Ford V8 Sedan; Were Reported Seen Crossing Bridge At Tuscumbia
The Bank of Iberia was raided Tuesday about 11:45 by two men driving a 1934 Ford V8 sedan and robbed of approximately $500.00, and the cashier, George I. Farnham, was kidnapped, but was released a few moments later on Highway 17, south of Iberia near the Eiffert place.
The raid was made during the quiet part of the day. F.L. Hedge, assistant cashier, had gone to dinner, and Mr. Farnham was in the bank alone and at work when one of the robbers walked in, went immediately to the back of the cashier's cage and walked through the door, with a gun drawn on Mr. Farnham. The cashier was ordered to lie down in the vault, but Mr. Farnham remarked that the floor was dirty and that it was needless for him to do so, whereupon the robber produced a pouch and demanded that Mr. Farnham empty the till of what currency it contained. He also ordered Mr. Farnham to open the safe, but he was told that it was locked. This answer did not suffice and he required Mr. Farnham to try the safe, but he could not open as it had been set with the time lock.
When the robber secured what cash he could, he compelled Mr. Farnham to go with him to the front door where another man was waiting in the car, and he was told to get in the front seat with the driver, while the man who had entered the bank and who was armed with a square barrel revolver, took the back seat.
In their haste to drive away, the driver spun the car wheels in the gravel, and kept the car in intermediate gear as they sped past the Eads Garage. Frank Ferguson, of the Garage, saw the car go by, and noticed that Mr. Farnham was in the car with strangers. He declared that the Bank had been robbed and his surmising was correct.
The car had been observed to be parked near the Arthur Jones Garage, a hundred feet or so from the bank, for almost an hour before the robbery, but no one paid any particular attention to the strangers since quite a number of strangers are now coming to Iberia for work on the highway. Shortly before the robbery, one of the men stepped out of the car and sauntered toward the bank, while the other man drove around to the east and north to the new farm to market road, then around the Adams & Casey store square, down the main street to the Irwin and Perkins Garage, where he turned again and drove back in front of the bank where he waited until the other man came out with Mr. Farnham and the bag of currency, which consisted of $100.00 in $1.00 bills, $125.00 in 5's and the balance in 10's and 20's.
No one seems to have been on the street at the time, and the first ones to enter the bank were Clarence Casey and William Hedge Jr. who have stores on opposite corners of the square, and who had observed the robbers drive away. They rushed over to the bank and found that the till of the bank had been rifled.
Mr. Hedge had seen the car park in front of the bank while standing in the door of his store, but had gone to the desk to charge an item which had just come to his mind, and when he stepped back to the front door he saw the suspicious actions of the car.
Mr. Farnham was released about two miles out of town, and the last he saw of the car it was speeding on toward Crocker.
The car bore Missouri license plated numbered 581,278, which had been stolen at Richland the preceding night, but it is said that these plates covered yellow license plates, which were no doubt uncovered soon after the robbery. A car answering the description of this one was seen south of Tuscumbia and also crossing the bridge here, speeding toward Jefferson City, but the identity was not definite. It now appears that the robbers have made a clear get away.
One of the men had a mustache, perhaps false, and was of small stature and both were somewhat disguised with goggles or smoked glasses.
Mr. Farnham tried to draw the attention of Ray Kinder, who happened along as he stepped into the bandit's car, by winking at him, but Mr. Kinder never thought much of the incident, noticing that the other men were strangers. He also tried to make signs with his fingers as the car sped out of town. It was only a few minutes after the robbery that word of the hold up was sent to Tuscumbia and Jefferson City, but definite trace of the two robbers has not been found since they put Mr. Farnham out of the car.
Mr. Farnham went to Jefferson City Tuesday and examined photographs at the State Highway Patrol office of numerous criminals, but he failed to identify any as being the men wanted.
---
The 1930's in Miller County was during the depression era, a time when no jobs were available and money was scarce. Perhaps this economic depression led to some of the crimes committed here and elsewhere. For example, a few months ago I wrote about the robbery of the Bank of Tuscumbia. This was a rather sad story of a financially distressed member of the armed forces who chose the small bank in Tuscumbia for his robbery which you can read about in this previous Progress Notes narrative.
To get some orientation of Iberia's main street and some of the structures present up to the time of the robbery including the Bank of Iberia this next photo is helpful (photo 04a).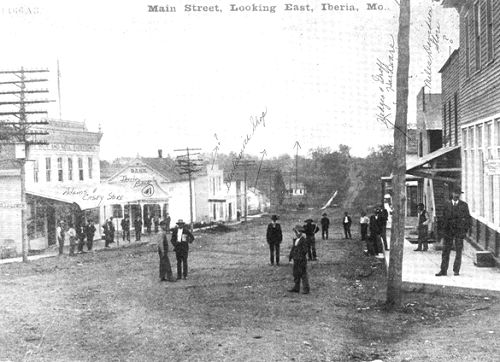 04a Main Street
On the left side you can see the Adams Casey store across the street from the Bank of Iberia. This photo was taken before the Iberia 1939 fire.
The Bank of Iberia burned in 1939, four years after the robbery. The bank was rebuilt at the same location. Here is a photo of the rebuilt bank no longer in use by the bank (photo 05).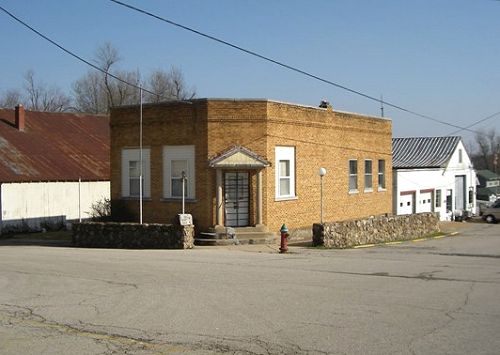 05 Third Bank of Iberia
Later, a new bank was built at a different location on Highway 42 which is where it is located presently (photo 06).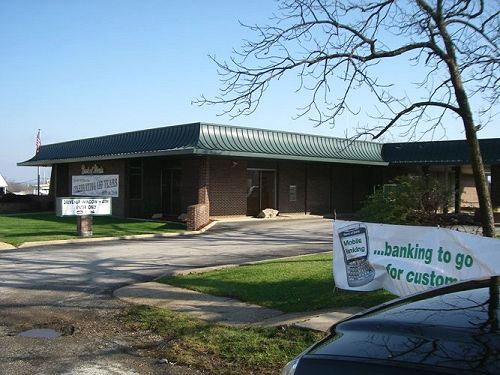 06 Present Bank of Iberia
However, as noted below by Peggy Hake, the very first bank was located near the Eads Motor Company building.
Peggy Hake has written for our website a short history of the Bank of Iberia which I will copy here:
BANK OF IBERIA: A CENTURY OF SERVICE
By Peggy Smith Hake
On Dec. 6, 1897, John Simeon Casey and his wife, Martha (Barlow) Casey, bought a parcel of land in the Original Town of Iberia (photo 07).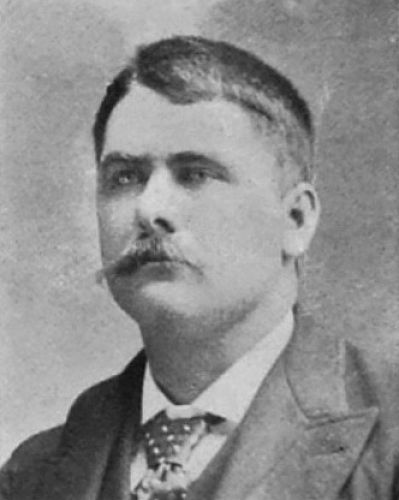 07 John S. Casey
It was a 50' by 60' lot located on the northeast corner of St. Louis and Main Streets (50' running north on St Louis St. & 60' running east along Main St). The parcel (town lot) was bought from Thomas D. and Margaret A. Garner (photo 08).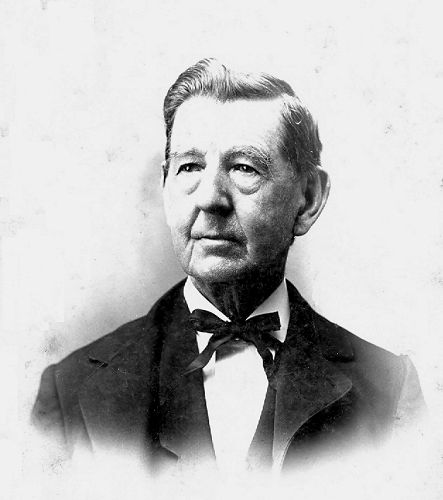 08 Thomas Durham Garner
The Garners had come to the Iberia area after the Civil war and purchased land to the north and east of the original town. They platted some of their land as "Additions to the Town of Iberia."
John Casey may have purchased the land in 1897, speculating that the corner lot might prove to be a wise investment in the future. He and Martha had built their home just a short distance east on Main Street and the lot was well in view of their property.
Less than two years later, on Sept. 25, 1899, the Caseys sold the 50'x60' lot to the new Bank of Iberia for $800. It was indeed a wise investment for John Casey because he had paid $250 for it in 1897. The bank had not officially organized at that particular time, but did establish their charter on Oct. 20, 1899.
Miller County had two banks in 1899, both north of the Osage River. The Exchange Bank in Olean organized in 1889 and Bank of Eldon in 1894. I am sure the people of southern Miller County felt the need of a banking facility in their area. Bank of Iberia became the county's third bank in 1899 followed by Bank of Tuscumbia in 1902, Citizens Bank of Eldon 1905, Bank of Brumley 1906, Farmers & Traders Bank of Iberia 1907 and Bank of St. Elizabeth in 1914.
Bank of Iberia's first president was John S. Casey with Miles J. Davidson as the vice president. By 1905, John Casey was elected as a state representative to the Missouri Legislature from Miller County and evidently at that time Miles J. Davidson took over the reins of president of the bank. Other early presidents were John L. Irwin and M. Jennings Davidson Jr. Other early officers were John B. Watkins, vice president; Barnabas Reed, cashier; George I. Farnham, cashier, William Topping, cashier; Robert Holmes Irwin, assistant cashier; Clint Casey, assistant cashier, and Frank L. Hedges, assistant cashier.
The first Bank of Iberia building was constructed of wood and was a small frame structure. Many people do not realize the first bank building is still in existence. It is sitting to the north of Eads Motor Company and has housed a restaurant and pool hall, a hardware store, a machine and lawn mower shop, and a small engine shop (photo 09).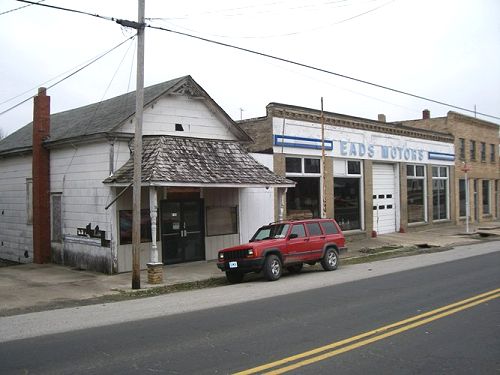 09 First Bank of Iberia
The second bank building was constructed in the late 1920s and was built of bricks. In October 1927, the Miller County Banks Association was formed at Iberia and the participating banks were Citizens Bank, Bank of Eldon, Bank of Tuscumbia, Bank of St. Elizabeth, Bank of Iberia, and Iberia Farmers and Traders Bank. This was before the Depression· years began across America and evidently all Miller County banks were solvent and successful at the time.
Farmers and Traders Bank of Iberia began to feel the crunch of the Depression in the early 1930s and on Jan. 5, 1933, the bank was closed. Two months later, on March 6, all Miller County banks were ordered closed by President Franklin D. Roosevelt Nine days later, March 15, 1933, the Missouri State Finance Department granted all banks in Miller County freedom to resume their daily business. The Bank of Iberia rallied back from the Depression while Farmers and Traders Bank did not.
The Bank of Iberia rode out the storm of the 1930s and was looking forward to a new decade of the 1940s, but fate intervened in April, 1939. The town of Iberia experienced a devastating fire on April 22, which left nine business places, two private residences and two other small buildings destroyed. Among those was the Bank of Iberia. According to newspaper reports, the bank was about the last to catch fire so the people had time to put the money, business machines, and important records in the bank's fireproof vault The one-story brick building was considered one of the best buildings in the town and even though the structure was destroyed, the 22inch, reinforced steel wall vault survived the flames and all money and bank records were saved.
The newspaper reported the bank had $5,000 insurance coverage on the building and $1,500 coverage on the fixtures. The bank continued on with business with only a short delay. The management rented the old Farmers and Traders Bank on Lombar Avenue from Jackson Thompson, who had purchased the building and grounds in August 1937. They conducted the bank's business from that location until a new bank building could be erected.
The third Bank of Iberia was built on the original spot and was constructed of light buff stone. The banking business for Iberia continued on for many years through the 1940s, 50s, and 60s on the northeast corner of St. Louis arid Main Streets. Today the building is Iberia's City hall.
In the 1960s a new modern bank was built on Lombar Avenue on the site of the old Lombar mansion (later the home of the Brown family). It is the fourth building that has housed the Bank of Iberia ... actually it is the fifth when you consider the old Farmers and Traders Bank was used for awhile after the 1939 fire (see photo 06).
Bank of Iberia celebrated its l00th anniversary on Oct. 22, 1999. The bank has existed through one of history's most magnificent centuries. The world has seen such unbelievable changes come about in the past 100 years. Now we have arrived at a new century and the Bank of Iberia is well into its second 100 years of service to the community. As a matter of fact, not only will it begin a new century but a new millennium which is quite a coincidence in the time frame of history!
---
I also asked Peggy to briefly describe some of the other buildings mentioned in the Autogram article about the robbery:
The Adams and Casey General Store was located on Main St. in what would be considered as "downtown Iberia" (see photo 04a above and photo 10: taken at a time when a man named Gaines was part owner).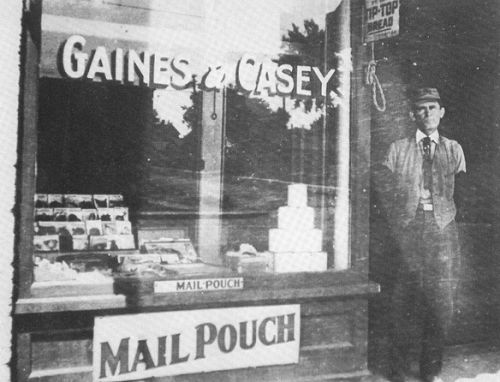 10 Gaines and Casey Store
Farnham's Store (owned by Bill and Gusty Farnham) was on Main St. also, in the western section of the downtown area and sat behind the old Iberia Hotel, which later was the post office when I was growing up in Iberia (photo 11).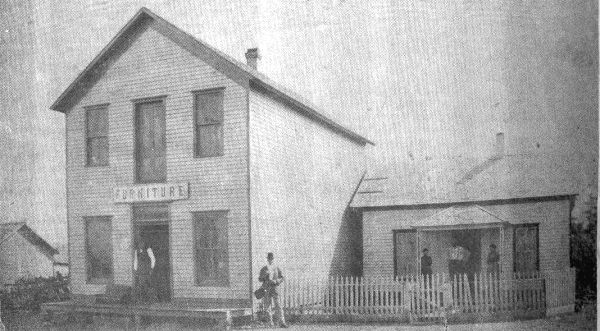 11 Farnham General and Mercantile Store
The hotel also had a barber shop owned and operated by Berry Livingston). Kinder's Market (owned by Earl and Lefty Kinder) was located at the northeast corner of Main St. and today's Highway 42. The original building was destroyed in the Iberia fire in 1939 and then they rebuilt it at the same location (photo 12).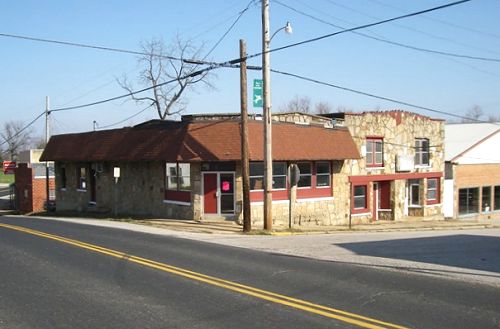 12 Earl Kinder Store - 2009
The Adams and Casey Store and Farnham's Store are both gone from the scene, but the Kinder's Market building is still standing, but not in use. Much of downtown Iberia is like a ghost town today with so many empty and deserted buildings.......
Thanks again Peggy. Peggy has sketched a map of the part of town where the robbery occurred. In the sketch, the old Bank of Iberia is located in the upper right hand corner facing Main Street which runs north and south through Iberia (photo 13).
In the upper left of the photo Farnham's store is located on the west side of Main Street near its intersection with High Street. Adam's Casey Store is located on the map facing Main Street and across St. Louis Street from the Bank of Iberia (on the map the store is only identified as Adam's Store).
Because of their importance to Iberia I will place here a couple of narratives with more detail about the Farnham and the Adams Casey stores. First, is the Farnham store history as written by Peggy Hake:
FARNHAM'S GENERAL STORE
(see Photo 11)
By Peggy Smith Hake
printed in The New Iberia in 1983 and also in Old Settlers Gazette in July 1987
Another of Iberia's historic landmarks has vanished from the face of the earth forever, but not from the memory of those who will always remember the old building that stood for almost a century facing north on Main Street on the old Tuscumbia-Big Piney Road. She has a history, as do all aged buildings in any town, and I am happy to preserve hers in this article.
The year was 1892 and two brothers, Charles and William L. Farnham, who lived north of Iberia on farms out near the old Rabbit Head School, decided to move to Iberia and start a general store and mercantile business. The father and mother of the Farnham brothers were David Farnham, born in 1826 in Canaan, Maine and Henrietta Goebel Farnham, born in 1831 in Williamsport, Pennsylvania. David and Henrietta came into Miller County after the Civil War from Williamsport, Lycoming County, Pennsylvania. Other Pennsylvanians came to Missouri during the same time including the Hedges, Newharts, Clarks, Hess', Heltzells, Johnstons, Irwins, Tallmans, Bennages, Groffs, Moores, and Browns. All remained except the John Hess family who returned to their eastern home.
When the Farnham brothers moved to Iberia, they acquired the land where the store was erected. On this land, in 1882, stood a small house where Will Farnham and his bride, Sarah Heltzell Farnham, lived for a few years. In 1900, he built the family home on Lombar Ave. at the corner of Normal Street. George Farnham, another brother to Will and Charles, built his family home next door to Will and Sarah. These two homes exist today. One is occupied by Wm. (Bill) Farnham and the other is owned by Mrs. Millie Duncan. Bill resides in his ancestral home where he was born 81 years ago. These two homes sat directly south of the old Lombar mansion which was replaced a few years ago by the Bank of Iberia building.
Note: since Peggy wrote this article the home of George Farnham no longer is standing. However, Will Farnham's house is still present (photo 14).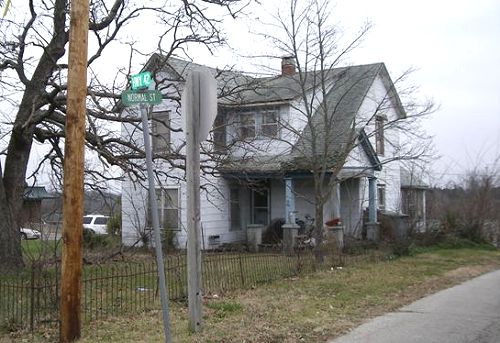 14 Will Farnham Home
In 1892, when the Farnham Store was ready to be opened to the public, William and Charles went to St. Louis on St. Patrick's Day and bought all the opening stock to outfit their new general store. The stock arrived from St. Louis, freighted by wagon, a few weeks later and their doors were opened for business in the spring of 1892. Bill Farnham told me his father and his Uncle Charley could remember being in St. Louis on St. Patrick's Day in 1892 because they observed the large parade by the Irish community of the city and were so impressed by the grandeur of the parade. They were, after all, small town country folk who were not accustomed to seeing such grand sights in Iberia.
The store continued on for many decades and passed on into a new generation. When I was a young girl growing up in Iberia, the store was operated by the grandson of David and Henrietta Farnham, the Pennsylvanians. He also owned and operated a lumber yard to the southwest of the store for many years.
The site of the old Farnham Store and Lumberyard is an historic spot which reaches back further in Miller County's history. During the Civil War, a fort was built on this piece of land by the citizenry of Iberia for protection from the renegade forces that ran rampant through the Big Piney Richwoods. It was used as a command post for the militia organized under the leadership of Captain William Long. Other buildings surrounding the fort in the war years included a blacksmith shop, a freighting company, a general store, and a saloon.
So you see every building and the land it sits upon, has some form of history which can be told after the years have melted away. Farnham Store is one of those that has a marvelous story to be told. It touches upon the history of the land, its people, the generations of our past. There are only a few old buildings left standing in Iberia and I am sure each of them could tell a wonderful story if only their walls could speak.
Here are two more photos of the old Farnham store which accompanied the original article (photos 15 and 16):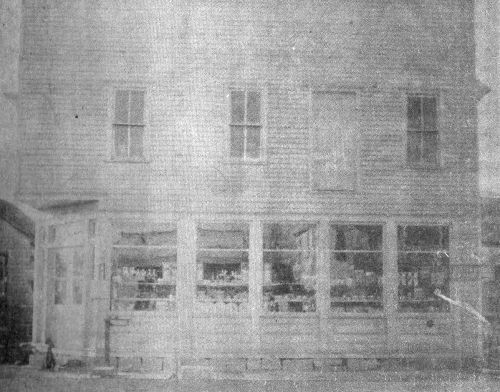 15 Farnham General and Mercantile Store - Exterior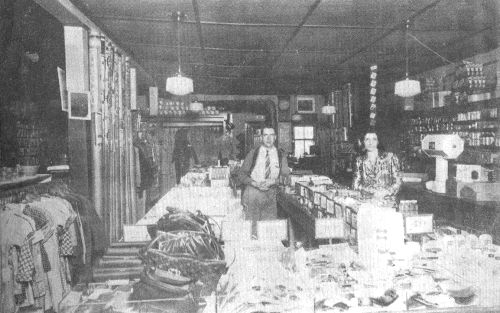 16 Farnham General and Mercantile Store - Interior
Arthur Holeyfield and Gustie Farnham
Click image for larger view
And next is a history of the Adams Casey Store as written in a letter to Peggy Hake by Martha Casey Bunge:
MY MEMORIES OF THE ADAMS & CASEY STORE IN IBERIA
By Martha Casey Bunge
Note: This old store was destroyed in the fire of 1939 which devastated much of Iberia's downtown area. Martha's memories bring life back to the store that was in existence for many years in the first half of the 20th century.... I am proud to share her memories with everyone. (Peggy Smith Hake)
My earliest memory of the Adams and Casey Store in the early 1920's was of a large general store, selling a little bit of everything except fresh meat, eggs and dairy products. Almost everyone had laying hens, milk cows and hogs for butchering. If not, the M.F.A. had eggs and Mr. Shelton had fresh meats of all kinds.
The front of the store, on the outside, had a roof covering it and there were benches where old men sat, watching the world go by very slowly. Inside, at the right, was another bench in front of the candy case. On the shelves, behind the candy case, were the school supplies. Next were the groceries on shelves and the counter in front. Crackers were sold in bulk form as were the cookies. The crackers were twice the size we have today and were kept in a large blue tin barrel.
At the end of the counter was a coffee grinder for grinding the Peaberry Coffee beans. On the shelves behind the grinder were slabs of chewing tobacco and bags of loose tobacco in case you wanted to "roll your own." There was an instrument for cutting the tobacco slabs into squares.
Shoes came next, and they were on shelves that reached to the ceiling. A ladder was used to reach the top shelves and it rolled on a rod the length of the counter. Men's suits were in the back of the store and men's work clothes were on the left side. There were bib overalls (we called them "overhalls,") blue denim work shirts, accessories, etc. The work shirts looked the same as those sold today at exorbitant prices.
On toward the front of the store on the left, were the ribbons, bolts of cloth for every use, and hosiery. I loved the ribbon case because the ribbons were so pretty -- satin, velvet, taffeta and of all widths. The bolts of material were of cotton, calico, flannel, rayon, chinasilk, organdy, deimity, dotted swiss, silk shantung, oilev and more. There were all widths of laces, lattings, batiste for making baby clothes, threads for sewing, dress patterns and more. Many more women made clothes for their children and themselves in that day than they do in the present day. The hose were lisle, rayon and real silk. Nylon hose came later and weren't early as nice as we have today. My first nylons were stiff and shiny, but they did resist runs.
In the ware room, in my earliest memory, were saddles on wooden "horses," buggy whips, and other horse gear, rope, large containers of lard, flour, and other products for sale. Up the steps from the wareroom was an area where caskets were on display. This was before the fire of 1939, which destroyed the store and it became necessary for Adams and Casey to build their funeral home. This upper floor also contained a variety of furniture for sale.
A very large stove, toward the back of the store on the main floor, provided heat for the whole store. There were chairs around the stove where the men could visit while their wives shopped. A sink with pump was in the middle of the store. A gourd hung there for use as a dipper for drinking. I don't believe we worried as much about germs in those days as we do today.
Saturday was like a holiday in the Iberia of my early years. The country people would come to town on that day for visiting and "trading." There would be wagons and buggies tied up by the side of the store and other places of business. This mode of transportation would be supplanted by Model T's, Model A's, pickup trucks, etc. One Saturday, when I was very young, I went to the store with my grandmother Adams. Sitting on the bench in front of the candy case was a very old woman, old to me at least, in a calico dress, smoking a corncob pipe. I know I stood there staring at her. It was most unusual to see a woman smoking a cigarette in that day, but I'd never seen one smoking a pipe before. No one seemed to mind or think it unusual. Times do change.
My sister, Juanita, and I had fun in the store of our childhood. We would play "grocery store" with one of us the clerk and one the customer. The customer would have a basket just like the country women carried, and it was fun, fitting different packages in the basket and adding up the bill. I guess our arithmetic skills, mainly addition, came into play, adding up the bill. I was still using the "pecking" method at that age. We enjoyed playing with our dolls upstairs where the furniture was located. The saddles were a special treat because we could pretend we were actually riding horses.
I loved riding on the ladder in the shoe department. It was fun going from one end of the counter to the other. I would sit at my father's desk and write on the Adams and Casey stationery, pretending to be a business person. In this area was the cash register, which I was shown how to use in later years. The coffee grinder and tobacco were in this same area and I can still smell the coffee beans being ground. If I were close by when someone wanted chewing tobacco, daddy or grandpa would let me use the cutter to cut the squares.
When I was a teenager in Iberia Academy, I remember the shoe drummer (salesman) would come to the store in the spring and in the fall. He would display his shoes, both moderately priced and higher priced, on the shoe counter. At school, I would spread the word that the shoe drummer was at the store. When school was out for the day, the teachers and others would come and look over the selection. My sister and I would pick out a school pair and a "Sunday" pair of shoes. In those depression years it helped a great deal that we could get our shoes at the wholesale price.
There is so much more that I could write about this store of my growing-up years because it was so much a part of my life at that time. I want to make it clear that our father and grandfather were lenient with us up to a point, but we knew when to stay out of the way on busy days. We also knew to be careful with the merchandise and there were never any problems with that.
My grandfather, George Adams, and my father, Clarence Casey, purchased the store from my other grandfather, John Casey. This was about 1920 when Grandfather Casey retired and moved with his youngest family members and his wife, Martha, to Kansas City.
---
So that concludes the story of the Iberia Bank Robbery of 1935 and some accompanying history of the immediate area of the Bank at that time as well. I want to thank Peggy Hake and Connie and Bill Prather for supplying much of the information and photos for the stories.
---
A few months ago, Peggy King-Trachli (photo 17), now living in Oregon, donated to our museum general store a Coca Cola sign (photo 18) which she had bought at a sale in the 1970's in Tuscumbia at the old Leonard Kallenbach store building which was being vacated.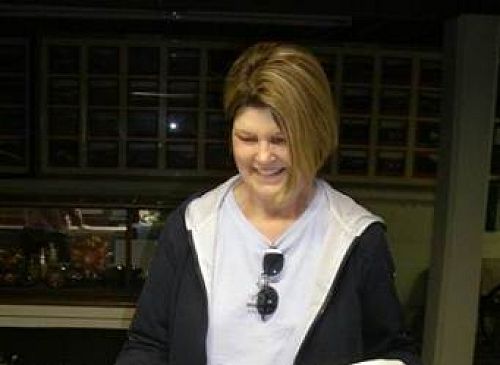 17 Peggy King-Trachi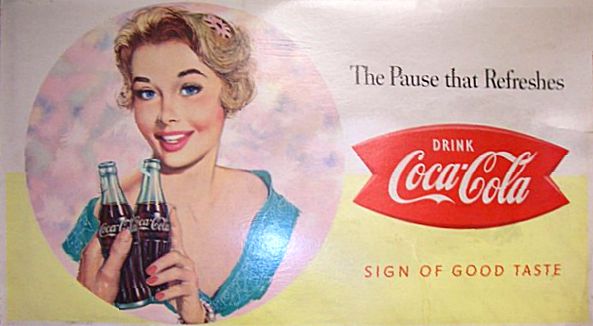 18 Coke Sign
Copied below is a narrative Peggy wrote about her experiences as a child describing her memories of the old store and also of her grandfather, Lafe King, who was county treasurer during that same time frame in the early 1960's (photo 19):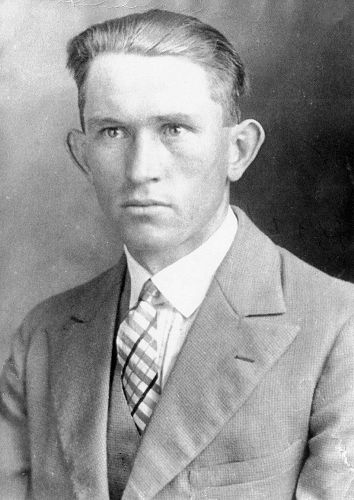 19 Lafe King
May 4, 2009

Dear Joe,

In the early 1970's and when I was in my early 20's my grandmother, Letha Edwards, had moved from her farm down on the Osage River into a small home located on the west side of Tuscumbia. Needing breaks from my studies at Southern Illinois University, I would often times come to spend weekends with her. She always had something yummy that she had baked, and we would spend time catching up on each other's news while we sat at the table eating her special homemade treat.

On one of these weekend visits, I decided to drive down to explore the old courthouse area where as a child I had on many occasions accompanied my father, Glenn D. King. He would take me with him to visit my grandfather, Lafe C. King, who was the Miller County treasurer at that time. The courthouse had tall ceilings, floors that creaked, a musty smell to it and was not air conditioned in those days (photo 20).

By noon in the summer months it would be sweltering inside. If grandpa had a few free minutes he would take a break from the heat, walk with us to the nearby grocery store (Kallenbach's store) and buy me a piece of penny candy and an orange Nehi "sody pop." Usually, we would find a shady place outside where grandpa could smoke a cigarette, I could sit down and enjoy my treats, and he and my father could loiter and chat with others who had congregated there. Although I was not so interested in adult banter and chatter, I always came away thinking that some of the world's problems had been solved that day.

These memories had drawn me back on this particular day. After I had driven the loop around the courthouse, I parked my car and walked down to explore around the old jail and then up the street to the old grocery store. A couple of elderly gentlemen were standing outside and greeted me, and I discovered that the store was being liquidated. When I entered, the first thing I saw was a large Coca-Cola sign hanging on the back wall, and an immediate image of those old times with my father and grandfather washed over me. I asked if it was for the sale. One of the elderly gentlemen told me to make an offer but I was at a loss as to how much it might be worth. I think he sensed my dilemma. "Give me a buck, and it's yours." The transaction was struck, I proudly drove it back to Edwardsville and displayed it on one of the walls in my apartment. It was often the focal point of my conversations.

Since then, it has graced other walls and for a time was lost to me. I was perplexed as to its whereabouts. Then, about three years ago and just after my father's passing, I was cleaning out the storage area above the garage helping to prepare for a farm auction, when I discovered it again. Somehow, it had made its way back to my parent's home, and my father had lovingly wrapped it and placed it in a safe spot over the garage. This is also where I discovered the topographical maps that had once hung in the hallway and my grandfather's workspace in the old courthouse. Rediscovered treasure (photo 21)!

21 Peggy King-Trachi with Topographical Maps

I am pleased to pass these items back to the people of Miller County in the hope that they too will enjoy the warm memories that such a heritage evokes.

Yours truly,

Peggy E. King-Trachi
---
We were very happy to receive the old Coca Cola sign from Peggy since it evokes a bit of nostalgia for those of us who remember Leonard Kallenbach and his store. For a few years before opening his store on the hill next to the courthouse, Leonard had helped his brother Dewey Kallenbach and wife Ina manage the old Hauenstein General store down by the river after Ida McCommons Hauenstein had passed away. Yyou can read more about the old Hauenstein store at this Progress Notes narrative from a few years ago. Ina was a niece of Mrs. Hauenstein.
Leonard passed away in 1973; his obituary offers some interesting history about him and his family (photo 22).
Earlier this year I scanned some photos supplied me by Lisa Grim, daughter of Geraldene and granddaughter of Leonard, when she was attending the Kallenbach reunion at the museum (photo 23).
23 Lisa Grim and Tom Snodgrass
In this next photo, Leonard is holding Lisa when she was a child; the store is behind them (photo 24).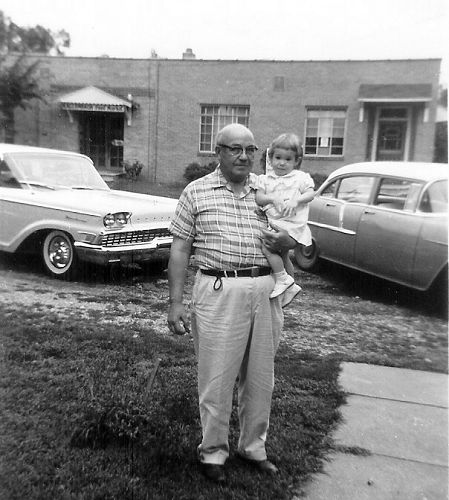 24 Leonard in front of store with Granddaughter Lisa
The next photo, which was taken recently, features the old jailhouse in the foreground and in the background is the now abandoned brick store of Leonard's (photo 25).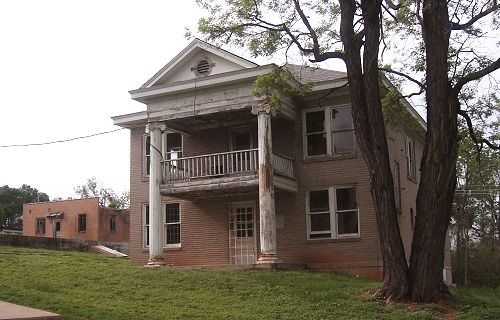 25 Jail and Kallenbach Store
In this next photo one can view the spatial relationship of the courthouse to the jail (photo 26).
26 Courthouse and Jail
Here is a photo of Leonard inside his store with one of his giant watermelons (photo 27).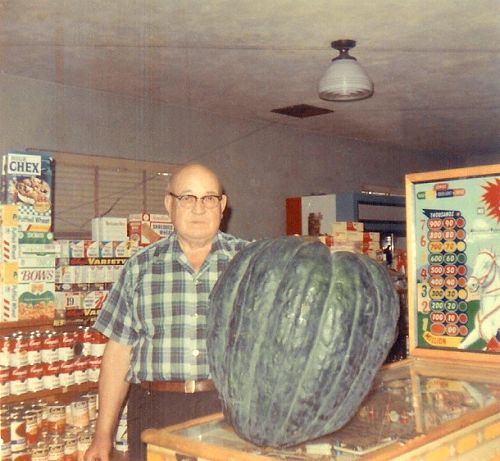 27 Leonard inside Store
And here is another photo of Leonard working in his garden located behind his home (photo 28).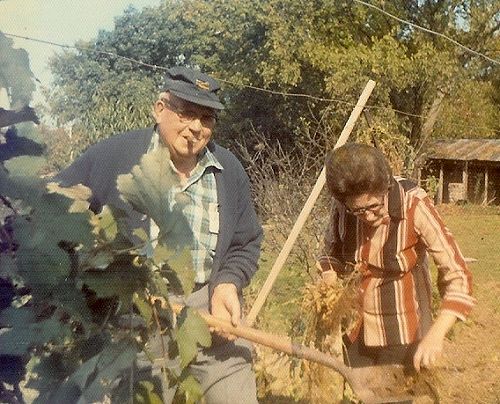 28 Leonard Kallenbach
The home was across the street from the store. Here is Leonard with his sister, Hattie, daughter Geraldene, and wife Hortense (Swanson) on the porch (photo 29).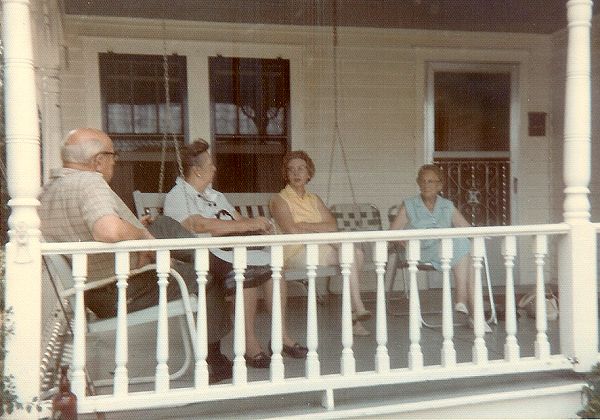 29 Leonard, Hattie, Geraldene and Hortense
Leonard was a brother to Dewey Kallenbach and was a son of Ed Kallenbach, who lived in a large white house just down the hill from the court house. The next photo taken from the area of Leonard's home (which no longer is standing) features the old tree in the courthouse courtyard where Peggy Trachli and her grandfather, Lafe King, spent time talking with the locals and neighbors (photo 30).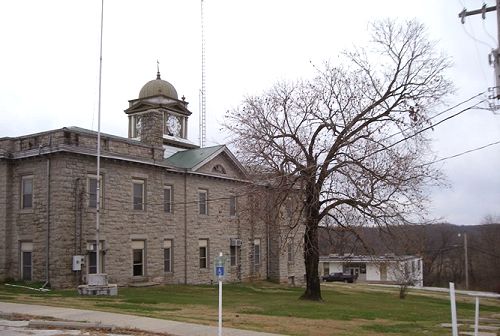 30 Loafing Tree
Leonard built his grocery and restaurant building in the mid 1940's (photo 31).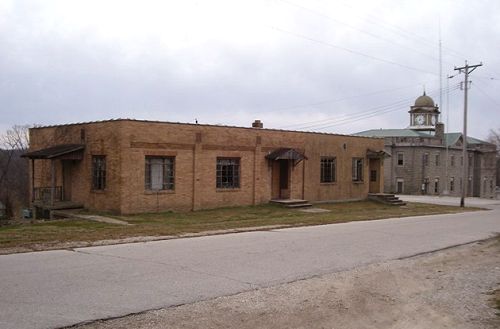 31 Kallenbach Store
On the south end of the building was an office rented by attorney Walter Stillwell who was joined later by his son, attorney Roger Stillwell, who had recently returned home after serving in WWII (photos 32, 33 and 34).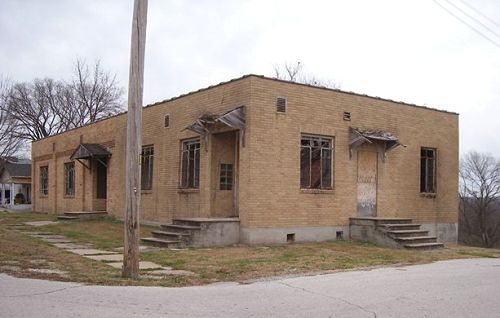 32 Stillwell Office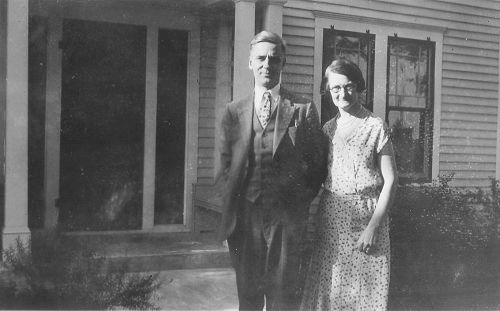 33 Walter and Lydia Stillwell

34 Roger Stillwell
The Stillwells' main effort, however, was an abstract business which was located in the Courthouse nearby. Roger passed away in 1997 having sold his abstract business to attorney James Grantham in the1970's (photo 35).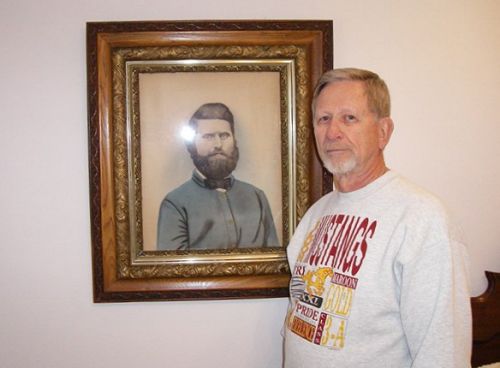 35 James Grantham posing with Great Great Grandfather James Lowry Grantham
I spoke with Mr. Grantham recently to find out more about the history of the abstract business in Tuscumbia. Here is a summary of what he told me:
In 1910 attorney Walter Stillwell bought all the records of land transactions in the County Recorder's office and began keeping a recording of all Miller County property transactions. He was allowed to keep his office in the Court House. Later he was joined by his son, Roger Stillwell, who also was an attorney. The father and son named their business Stillwell and Stillwell Abstract Company. Walter died in the early 1950's and the business then was operated by his son, Roger. They had a law office in the south end of Leonard Kallenbach's building but continued to utilize the Courthouse for the abstract/title business.
In 1969 or 1970 James Grantham built an office building across the street from Leonard Kallenbach's store and established his own title and law office. James originally was born and raised in Camdenton. He was a graduate of the University of Missouri Law school.
In the 1970's Roger Stillwell sold the abstract company to James. James moved all the abstracts and other related materials from the Stillwells' office in the courthouse to his separate office building nearby. He named his office The Miller County Abstract and Title Company (photo 36).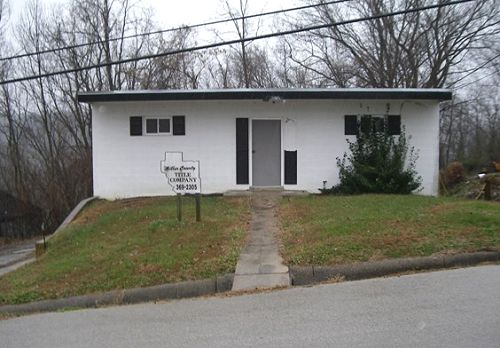 36 Miller County Title Company
Sometime later in the 1970's James purchased Leonard Kallenbach's building expecting to share office space with his son who was graduating from law school. However, his son decided to practice in the military so ultimately James never used the Kallenbach building. James was an innovator who was one of the first to transfer abstract documents to microfilm. This was a complicated and detailed project since all the transactions had to be indexed and typed from the original handwritten records before they were microfilmed. The work that James accomplished made it much easier to verify and confirm land transactions throughout the history of any particular parcel of land in the county. In the 1990's James sold his business to Harry Naught who later sold it to John Curran, the present owner. More recently he donated the Kallenbach building to the Tuscumbia Christian Church. During the time he was in Tuscumbia James also served as Prosecuting Attorney in 1971-72 and as Associate Circuit Judge from 1991 to 1998. Presently, he is retired and lives in Sunrise Beach.
Walter Stillwell, to whom Mr. Grantham refers above, was the first to own the abstract business in Miller County and was one of our county's most distinguished attorneys. A very interesting compilation of his life's work in Tuscumbia and Miller County is summarized at this previous Progress Notes narrative.
You will need to scroll half way down the page to get to the story about Judge Stillwell. Quite a few photographs of interest accompany the narrative. A shorter summary of Walter Stillwell's early life and career can be found in Gerard Schultz's "History of Miller County" which was written in 1933 well before the time described above when Walter had been joined by his son, Roger, in the law firm:
WALTER S. STILLWELL
By Gerard Schultz, 1933
Walter S. Stillwell is a distinguished member of the Miller County bar. He was born at Harrison, Arkansas, June 27, 1879, a son of Elias Stillwell, born near Hagerstown, Maryland, July 31, 1820, and Mary Ann (Brinkman) Stillwell. The latter was born in Dusseldorf, Germany, and was brought to the United States when she was a child. Elias Stillwell served with a Missouri regiment in the Union Army during the Civil War. He was a Methodist and a Republican. Walter S. Stillwell has two brothers, Jesse and Ira.
Mr. Stillwell acquired his early education in the public schools of Missouri. At the beginning of the Spanish-American War he enlisted, becoming a bugler in Company L of the Fourth Missouri Volunteers. He was in training at Camp Alger, Virginia, Camp Meade, Pennsylvania, and Greenville, South Carolina. Before and after the war he studied law at Warrensburg, Missouri, and was admitted to the bar there in 1901. From the beginning of his professional career he has been located at Tuscumbia. He was first elected prosecuting attorney by Miller County in 1904 and was re-elected in 1906, 1910, 1924 and 1926. Governor Henry S. Caulfield appointed him as Circuit Judge of the Fourteenth Judicial Circuit to fill the vacancy caused by the resignation of Judge Henry J. Westhues, in which office he served from November 17, 1930, to January 1, 1933. His circuit was composed of Cole, Cooper, Moniteau, Morgan, Miller and Maries Counties. Judge Stillwell has at all times shown diligence and efficiency in prosecuting cases against law and order and in using his office for the best interests of the community. Although a Republican he has received the support of his many Democratic friends, who believe in his fairness and integrity. The Iberia Sentinel states: "We have known Judge Stillwell personally since his coming to Miller County, and we can conscientiously say of him that there is not a cleaner or a more upright official to be found in the state. He has proven these traits in his everyday life and in the service he has so ably given us, both as prosecuting attorney and as circuit judge. He is a man of rare ability and the unbiased judgment he has used in the performance of the duties of his office has won for him favorable comment throughout the circuit."
At present Mr. Stillwell is a partner in the law firm of Stillwell and Fendorf at Tuscumbia. He is one of the publishers of the Miller County Autogram, a weekly newspaper which he and Lawrence Wright acquired in 1919. On November 25, 1932, he was elected to the presidency of the Bank of Tuscumbia, succeeding Captain R.M. Marshall. Prior to this time he had served as vice-president of the bank. For a number of years Mr. Stillwell was a member of the Tuscumbia School Board. He is an elder in the Presbyterian Church.
On April 25, 1905, Mr. Stillwell was married to Miss Lydia C. Fendorf, a daughter of Frank W. and Mary Isabelle Fendorf of Tuscumbia. Their living children are Mary Elizabeth, Robert Marvin, Roger Wayne and Mildred. One daughter, Marjorie, died in infancy.
---
In addition to the story of the Kallenbach store, Peggy Trachli's narrative above also reminds us of her grandfather, Lafe King, who was an important figure in Miller County politics in the middle the last century. I asked Peggy to write for us a short summary of the biography of Lafe King:
My grandfather, Lafe C. King (photo 37), was born May 28, 1900 and passed away March 23, 1973.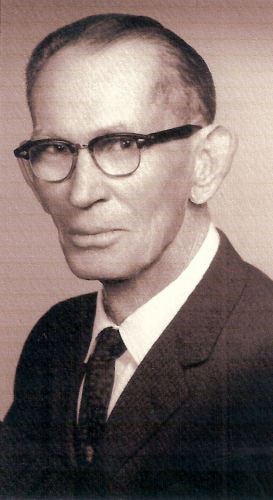 37 Lafe King
He was buried in the Mount Zion Cemetery near Tuscumbia, Missouri. His parents were Marion and Rosa (Roark) King (photo 38).
The family farm was located near Capps, just west of St. Elizabeth.
Note: the Marion King farm can be seen in section 11 of these plat maps of Osage Township (photos 39 and 40):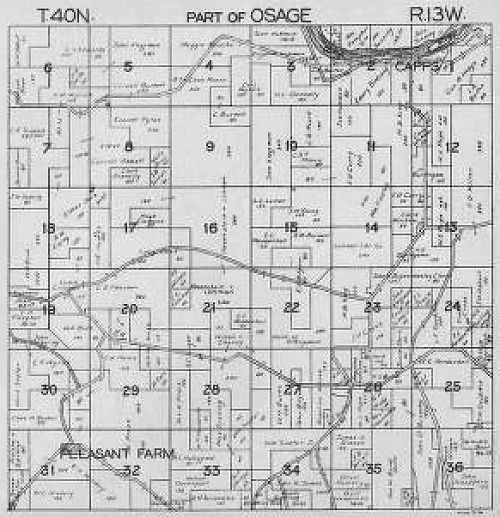 39 Plat Map T40N - R13W
Lafe married Grace Clark in 1924. Their only living child was Elanor Mae King born on January 23, 1925. Grace died while in child labor in 1926. She and her unnamed infant son are buried in a small family cemetery on the original Marion B. King farm at Capps. Lafe then married my grandmother, Clara Elizabeth Pierce, on December 2, 1928. She lived in Eldon with her grandparents, met my grandfather at a holiday "play party" in December 1927, courted largely via letters which are still in existence and married almost 12 months later after Lafe had succeeded in winning his first term as Miller County Treasurer a position he held from 1928 to 1932. Their children were Shirley Jean, Glenn Dale and Marian Lee.
Lafe was a farmer south of Tuscumbia being very mechanically inclined. From 1937 to 1944 Lafe and his family lived in Granite City, Missouri where Lafe worked as a carpenter at General Steel in Granite City. My father, Glenn King, attended all of his grade school years in Granite City. On returning home to Tuscumbia he and Clara lived on the "home farm" for thirty years until his death in 1973. Lafe also worked as a carpenter and electrician as well as being reelected county treasurer from 1962 to 1966. During his life here he served as a Republican committeeman of Osage Township, elder of the Mt. View Church of Christ and a member of the Iberia Church of Christ.
---
Thanks Peggy for the narratives and photos of Lafe and his family.
I'll conclude this week's narrative with a further installment of the play by Tim Pilkington, The Cricket's Song. This is the last scene of Act one. In this week's narrative you will learn what a cricket box is as well as follow further the budding romance of Mary and Shannon. (photos 41 - 50).
The Cricket's Song
By Tim Pilkington
Act One - Scene One
Act One - Scene Two
Act One - Scene Three
Act One - Scene Four (photos 41 - 50)
Just click on any of the photo thumbnails to view a larger image.
Note: Once you click on an image below, a new window will open. It would be best to maximize this new window by clicking on the middle box in the upper right-hand corner of the window. When you move your cursor over the image in this new window, it will change to a magnifying glass. Once this occurs, click on the image and it will show in a larger format for easier reading.
That's all for this week.
Joe Pryor