Monday, November 30, 2009
Progress Notes
This week I will continue the historical series about the automobile dealerships of Miller County. Presently, we have no new car dealerships in the county having lost the General Motors, Chrysler, and Ford agencies just in the last year. I previously discussed the Eads Ford dealership of Iberia, Vanosdoll Ford dealership of Eldon, and the Tompkins Chevrolet dealership of Eldon.
This week I will present the story of the Iberia Chevrolet dealership which was started in 1929 by Elmer Clay Perkins in partnership with his brother in law, Earl Irwin. I have a photo of Clay (photo 01) but could not locate one of Earl.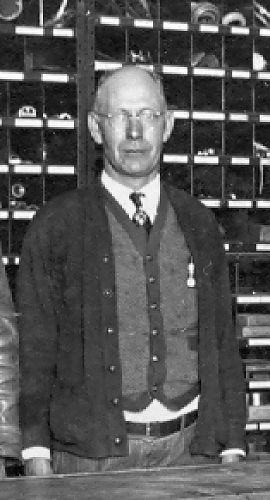 01 Clay Perkins
Gerard Schultz wrote a contemporaneous biography of Clay in 1933 which was published in his book, The History of Miller County:
ELMER CLAY PERKINS
By Gerard Schultz, 1933
Elmer Clay Perkins, partner in the firm of Irwin and Perkins Motor Company at Iberia, was born about six miles east of Iberia on February 15, 1895. His father, Melvin Perkins, was born in Maries County on February 13, 1868, and his mother, Addaline (Cross) Perkins, a native of Miller County, was born September 26, 1868.
Mr. Perkins enlisted January 31, 1918, and was in the Navy Aviation Corps. He was a landsman for quartermaster, second class. He received his discharge March 22, 1919. He is a member of the Fremont Watkins American Legion Post Number 105. On June 25, 1925, Mr. Perkins was married to Miss Jessie L. Irwin, daughter of Mr. and Mrs. J.L. Irwin. Mr. Irwin was born in Union County, Pennsylvania, December 8, 1857, and the following year his parents came to Missouri. Mrs. Irwin was born near Washington, Indiana, May 16, 1860. Mr. and Mrs. Perkins have one son, Robert Lee, who was born December 26, 1927.
Mr. Perkins has been a Chevrolet dealer for four years; in August 1933, he and his business partner, brother in law Earl Irwin, became direct agents for the sale of Chevrolet cars. As a business man Mr. Perkins has shown intelligence and good judgment. In 1931-1932 he was mayor of Iberia.
Mr. and Mrs. Perkins belong to the Republican Party and are members of the Congregational Church. Mr. Perkins' favorite sports are hunting.
---
Further history about Clay Perkins is contained in his obituary:
Unknown Publication, June 1968
Elmer Clay Perkins, an Iberia automobile dealer since 1929, died Sunday, June 9, 1968, at Memorial Hospital in Jefferson City. He was 73 years of age. Mr. Perkins was born Feb. 15, 1895 near Iberia, the son of Melvin and Adeline (Cross) Perkins. He was married June 24, 1925, in Iberia to Jessie Irwin who survives.
He left Iberia at the age of 18, and worked in St. Louis as a fireman on the Terminal railroad until he joined the Navy in World War I.
On Sept. 11, 1929, Mr. Perkins and Earl Irwin formed a Chevrolet dealership and garage. Mr. Irwin retired in 1942, and sold out to Bob Law, and the dealership was then known as Perkins and Law. They later obtained the Phillips 66 oil distributorship.
Mr. Perkins was a member of the United Church of Christ Congregational Christian where he had served on the board of trustees for several years. He was a former school board member, and a past master of the Iberia Masonic Lodge, No. 410, AF&AM. He also had been active with Iberia American Legion Post 105.
In addition to his wife of the home in Iberia, Mr. Perkins is survived by one son, Bob Perkins of Iberia; four grandchildren and four brothers, Roy Perkins, Willard Perkins and Arthur Perkins all of Iberia and Albert Perkins of St. Louis. A daughter, Ruth Ann died in 1929.
Funeral services for Mr. Perkins were held at 2 p.m. Tuesday at the Congregational Christian Church in Iberia with the Rev. Earl Brown officiating. Burial was in the Iberia Cemetery under the direction of the Stevinson Funeral Home of Iberia. Masonic rites were conducted at 9 p.m. Monday at the Stevinson Chapel in Iberia. Active pallbearers were Bob Law, Frank Dickerson, Gene Fritchey, Okley Kinder, Paul Steen, and Theodore Woolery. Honorary pallbearers were Oliver Abbett, Ralph Newhart, Herman Skaggs Jack White, Siegal Humphrey and William Hixenbaugh.
Bob Law (photo 02), who as noted above, purchased Earl Irwin's partnership in the dealership in 1942, was a son of James Author Law by his first wife, Jennie Bond (photo 03).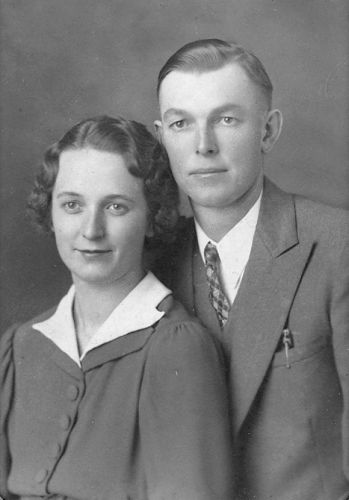 02 Bob and Edith (Keeth) Law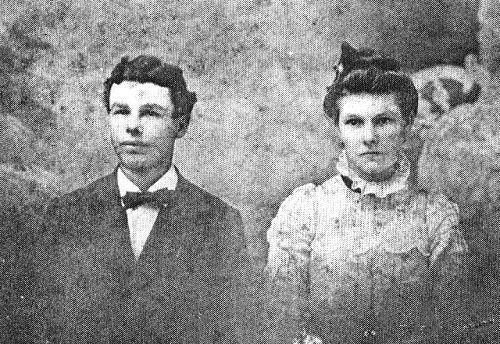 03 James Author Law and Jennie Bond Law
After the death of Jennie, James Author Law then remarried to Martha Bilyeu. From this second marriage of James Author Law was born James Edward Law, who was the subject of a previous Progress notes as having been one of those thousands of American soldiers who died in the Philippines on the Bataan Death March of WWII. He was a half brother to Bob Law. (Refer to this previous Progress Notes narrative to read the story of James Edward Law.)
The Law family came into the Richwoods Township of Miller County in 1896 when Joseph Frederick Law and his wife Henrietta, parents of James Author Law, traveled by covered wagon from Pettis County (photo 04).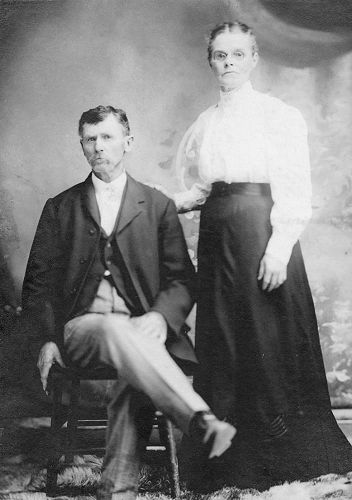 04 Joseph Frederick Law and Henrietta Clay Jordon Law
In 1974 Bob Law left the Perkins Law Chevrolet dealership having purchased from the dealership the Phillips 66 oil distributorship as a separate company and continued this business until 1991.
Clay Perkins' son, Bob Perkins, was a 1947 graduate of Iberia Academy (photo 05).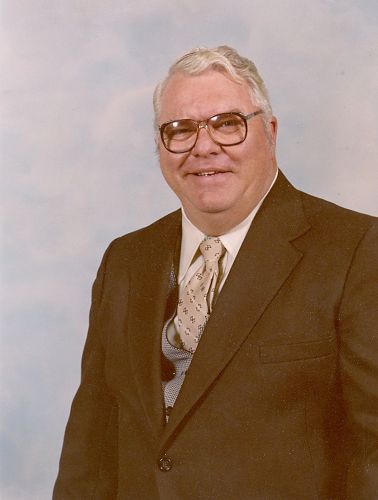 05 Robert Perkins
Later, he graduated from the University of Missouri-Columbia in 1950. After a couple of years in the U.S. Army he joined his father in the dealership and continued the partnership with Bob Law after his father Clay's death in 1968 until Bob Law left the firm in 1974. After that Bob Perkins owned the dealership alone. Roby Edwards purchased the Perkins Chevrolet dealership in 1996. However, the business was closed just a few years later.
In addition to his car dealership Bob Perkins was a cattleman owning and operating a large ranch in the Iberia area.
Bob Perkins was an outstanding citizen involved in many community and regional activities:
He was a member of Iberia Congregational Christian Church, where he served as chairman of the Board of Trustees.
He was a member of Iberia Masonic Lodge 410 AF & AM, and a member of Abou Ben Adhem Shrine.
He was a charter member and past president of the Iberia Lions Club.
He was a board member of the Bank of Iberia.
He served on the Board of Regents of Central Missouri State University, Warrensburg, from 1981 to 1987.
He was a member of the Miller County Alumni Chapter of the University of Missouri.
He served on the Lake of the Ozarks General Hospital Board and the Iberia Board of Education.
Bob passed away at the age of 69 in 1997.
The Perkins/Irwin/Law dealership had three different locations in Iberia. The first one was located on Main Street to the south of the old Bank of Iberia. It was where Clay Perkins and Earl Irwin began their business. The building was on the east side of Main Street at the location where Larry Martin has an auto body shop today (photo 06).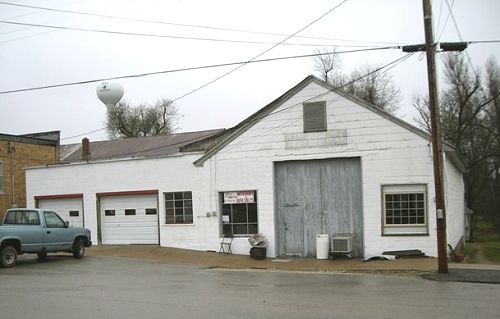 06 Larry Martin Auto Body Shop - 1st Location
It is next door to Friendship Hall, Iberia's meeting place for senior citizens. The building and business was destroyed in the fire that leveled much of downtown Iberia in April 1939. The body shop now present was built after the fire.
The second building was rebuilt as a brick structure on the north side of Highway 42 across the street from today's Iberia Parts Store (photo 07).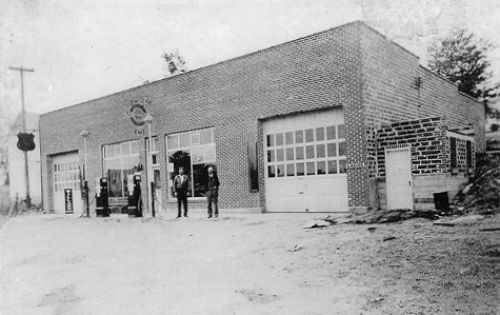 07 Perkins and Law Chevrolet Building owned by Clay Perkins and Bob Law
2nd Location
It was during this time frame that Bob Law joined the business.
The third building was a stone structure completed approximately in the early 1980's. It was built near Highway 17 on the east side across the road from what was known as 'Hardy Park'. H & L Market was built about the same time, both buildings constructed from the same form of native rock. Here are photos of the third building, one of the inside taken early on and the second is a recent photo (photos 08 and 09):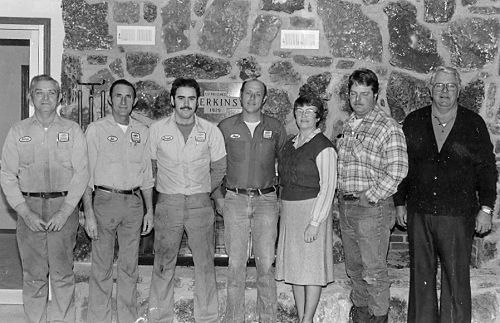 08 George Earp, Tommy Strutton, Dwight Humphrey, Floyd Blankenship
Lita Lynn Keeth, Dennis Perkins and Robert Perkins - 3rd Location
Click image for larger view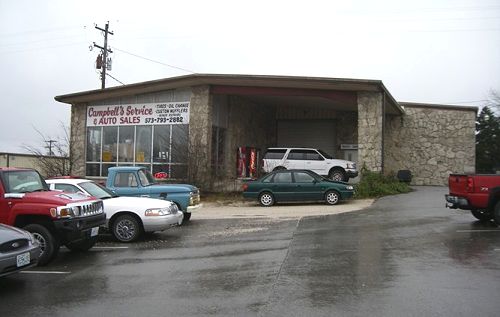 09 Third Perkins Building - Built 1982
Pat Perkins, daughter in law of Bob Perkins and wife of Dennis Perkins, came by the museum last week to share some of the memorabilia and photos of the Perkins/Irwin/Law Chevrolet dealership.
Here is a photo of Clay Perkins inside the garage (photo 10); judging by the age of the car this may have been the first building.
Next is a photo of Bob Perkins in front of the brick second building (photo 11).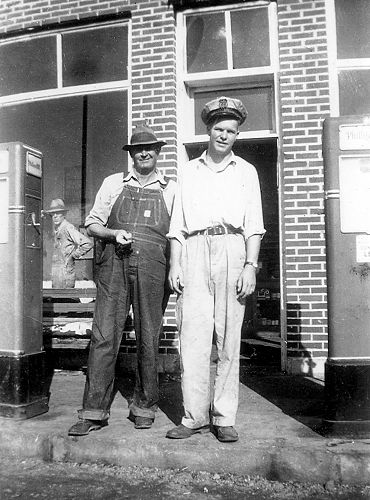 11 Bob Perkins on Right
This is a name plate to be attached to sold cars (photo 12).
12 Car Dealership Emblem
The next photo is of the invitation to the open house for the third building (photo 13).
Bob Perkins had some especially designed name cards (photo 14).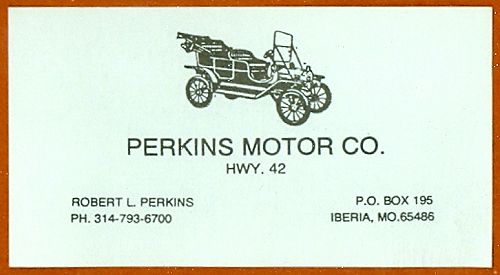 14 Original Business Card
Here is one of the dealerships newspaper ads (photo 15).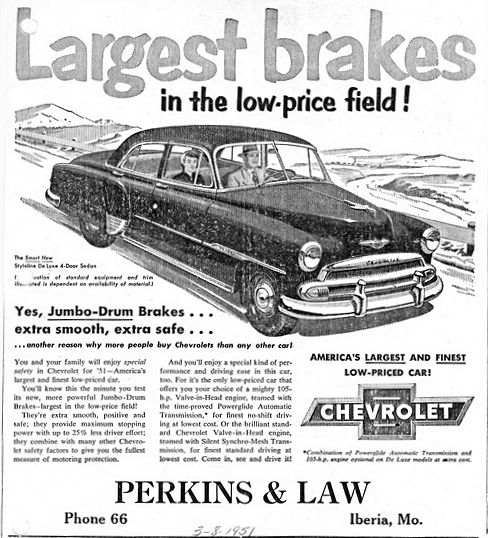 15 Perkins and Law Advertisement - 1951
Even heating pads were stamped with the company's name (photo 16).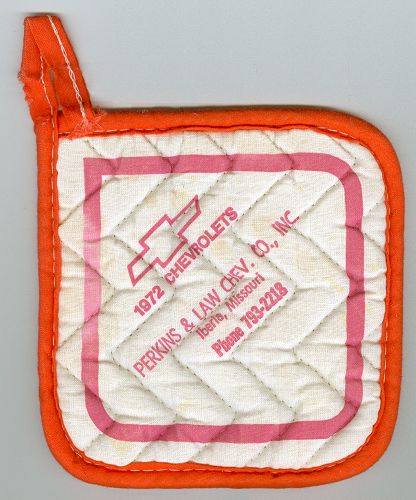 16 Perkins and Law Heat Pad
While I was in Iberia taking some photos for this narrative I continued south on Main Street a couple or more miles to take a photo of the old Irwin home place. It is in need of repair but one can visualize that at one time it was a fine home (photo 17).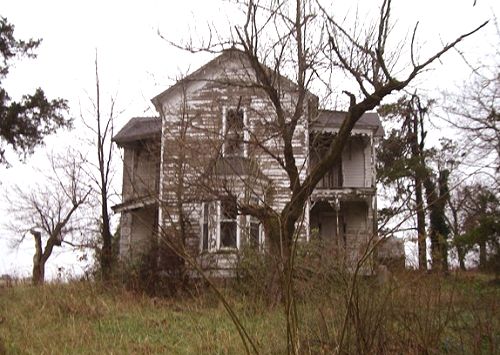 17 Irwin Home
I want to thank Pat Perkins, Carrie Law Bond, and Peggy Hake for the photos and information for this narrative.
---
Last week the Okley Kinder family donated to the museum an antique pump organ made by the Adler Organ Company of Louisville, Kentucky around the turn of the last century (photos 18, 19 and 20).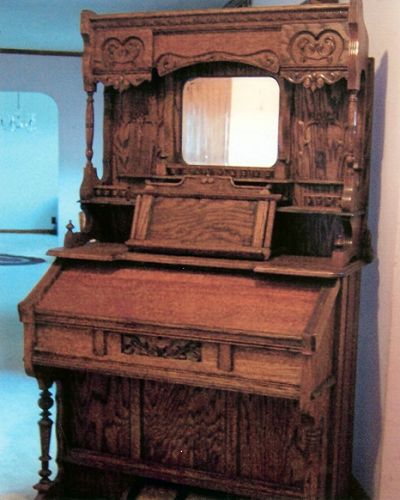 18 Organ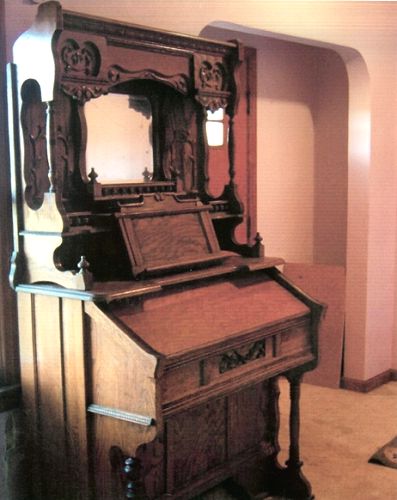 19 Organ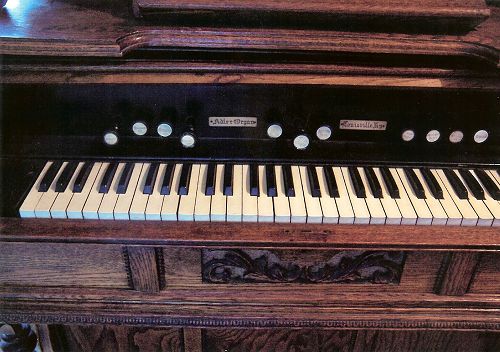 20 Organ
It was owned by John Kinder, Okley's grandfather who gave it to Oakley's father, Earl Kinder. For many years, Earl loaned the organ to the Bray's Advent Christian Church (photo 21) where it was played for the singing of church hymns.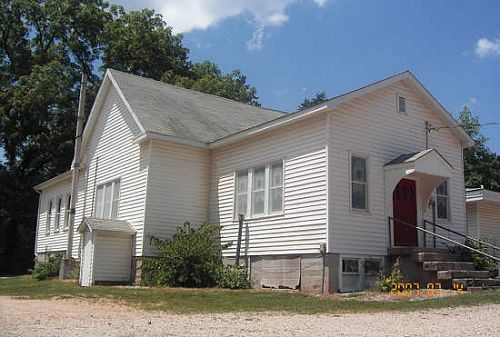 21 Bray's Advent Christian Church
Over many years Earl's sisters Minnie McDonald, Sadie Condra or Blanch Condra played it for church services. Jobe and Arlie Kinder, brother and sister in law to Earl, took the organ to their home after the church had purchased another organ. They refinished it and stored it in their hay barn. Okley received it from his Uncle Jobe and Aunt Arlie in the early 1950's. Sadly, Okley passed away this year but the family desired to donate the organ in Okley's name to our museum. We placed the organ in our old time church room of the museum where its ornate woodwork and superb finished appearance make it the highlight of the display (photo 22).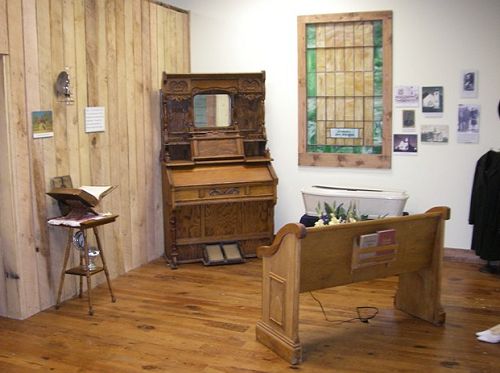 22 Placed in Museum Church
Here is a photo of Okley when he served in the Army in WWII (photo 22a) and another, more recent photo taken just a few years ago (photo 22b).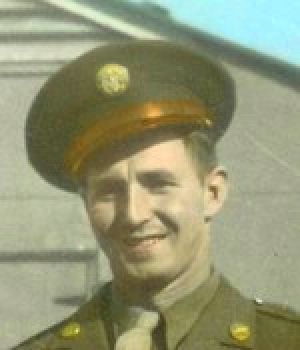 22a Okley Kinder in Uniform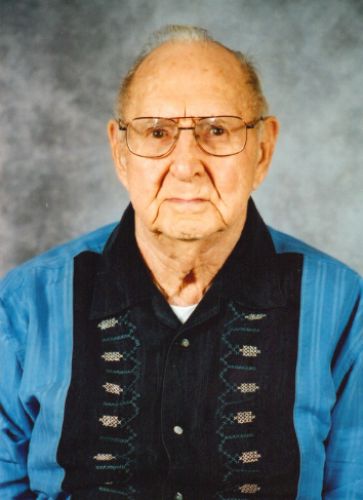 22b Okley Kinder
The following is the obituary written about Okley:
Okley Kinder
Okley Kinder, 87, of Iberia, Missouri, died Tuesday, August 4, 2009, at the Kansas City VA Medical Center.
He was born July 6, 1922, near Iberia to Marquis Earl and Leftie Bond Kinder. On June 16, 1946, at the Bray's Advent Christian Church near Iberia he was married to Edna Allene Shelton, who survives.
Mr. Kinder was a member of the Iberia VFW and American legion posts. He was past Master of Iberia Masonic Lodge 410, AF and AM, where he was a member for more than 60 years. He organized the Iberia Chamber of Commerce and was a founding member of the Iberia Lions Club. He also was involved in the Miller County Historical Society.
For many years, Mr. Kinder announced local football games for the Iberia Rangers and was the official statistician for the Iberia Ranger basketball team for many years. He was active in Bray's Advent Christian Church, serving as youth sponsor, elder, deacon and Sunday school teacher.
In addition to his wife, he is survived by two daughters, Dr. Charlotte Shelton and husband Dr. Jim Moore and Patti Fehlig and husband Mark; four grandchildren, Dr. Matthew Shelton of Houston, Texas, Laura Garfield of Kansas City, Megham Mitman of Oakland, Calif., and Mollie Fehlig of Manhattan, New York; and four great-grandsons.
Officiating at the funeral service were the Rev. Roy Gilkey and the Rev. Mike Gardner. Burial with military honors under the direction of Iberia VFW Post 6167 and American Legion Post 105 was in Union Cemetery near Iberia.
Memorials may be made to the Okley Kinder Youth Scholarship Fund at Bray's Advent Christian Church. Condolences may be shared with the family at www.fancher-rekusfuneralhomes.com.
The Bray's Advent Christian Church is one of the older churches of our county with a very interesting history. You can read more about it at this URL on our website:
http://www.millercountymuseum.org/christian.html
You will need to scroll down the page to get to the section about the Bray's Church.
---
Also in our church display area is the frock coat and hat of itinerant traveling minister, James Brown, who lived in the Kaiser area of Miller County (photo 23).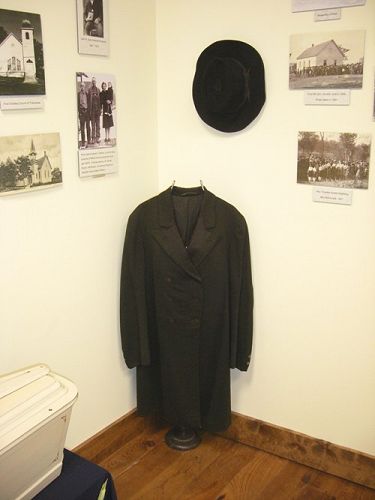 23 James Brown Display
James was the father of Will Brown who married Bess Lupardus. Will and Bess were the parents of several children including Earl Brown, who also became a Congregationalist minister in the Iberia area as well as publisher of a newspaper, The New Iberian.
In this next photo James, the minister is on the left and standing next to him is his son, Will, and one of Will's other children, his daughter Lena Brown Bear who is holding her daughter Sandra Bear Shelton, formerly of Eldon (photo 24).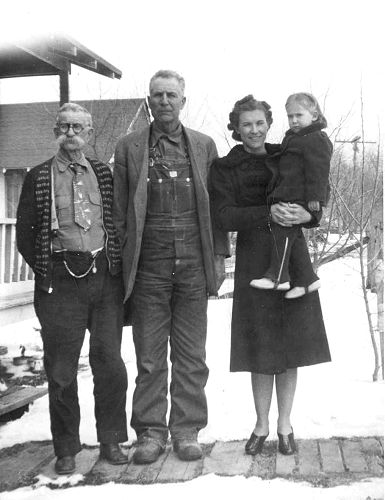 24 James and Will Brown, Lena and Sandra
Sandra was going through some old storage boxes of her mother and found this short biography of James Brown written by his grandson, Earl Brown (photo 25):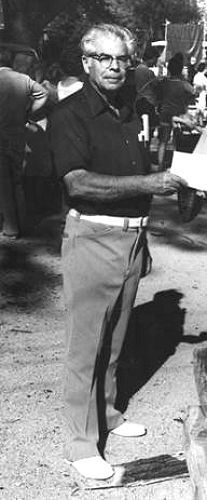 25 Earl Brown
"While I was a young child, into the home of my parents came my paternal grandfather to live for many years with our family. Having felt the urge to expound the scriptures, he practically dropped the plow lines to his horses in the furrow where they stood and began giving vent to his mind through his lips, instead of his strength through his hands. To the best of my knowledge, he began his preaching in the Missionary Baptist faith, but because his views about baptism were not consistent with those of the Baptist church, he left that fellowship of believers and became a wandering preacher in the hills of the northern Ozarks. He ministered to scattered congregations that would gather to hear him in school houses, brush arbors, private homes and other such places."
In those days of a century or more ago, the circuit riding preacher was not unusual, and sometimes congregations would only have one meeting a month when the preacher was present to give a sermon.
---
I'll finish up this week's Progress Notes with the second scene of Tim Pilkington's play, The Cricket's Song. Refer back to last week's Progress Notes for the first scene if you missed it.
In this week's installment you will find the answer as to why Charlie Davidson breaks a window and acts disorderly in other ways such that sheriff Frank Needles has to throw his old friend in jail.
The Cricket's Song
By Tim Pilkington
Act One - Scene One
Act One - Scene Two (photos 26 - 35).
Just click on any of the photo thumbnails to view a larger image.
Note: Once you click on an image below, a new window will open. It would be best to maximize this new window by clicking on the middle box in the upper right-hand corner of the window. When you move your cursor over the image in this new window, it will change to a magnifying glass. Once this occurs, click on the image and it will show in a larger format for easier reading.
That's all for this week.
Joe Pryor