Monday, November 16, 2009
Progress Notes
One of Miller County's most influential educators was Alice Irene Fitzgerald (photo 01).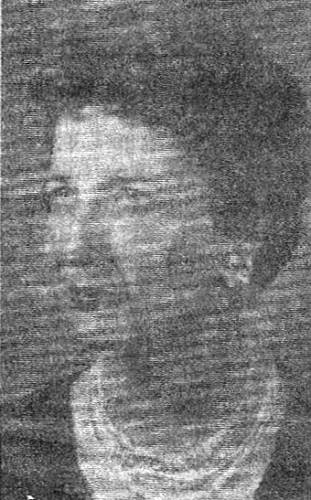 01 Alice Irene Fitzgerald - 1965
Irene, who was born and raised in Franklin Township, began her teaching career in one of the country one room schools, followed by a few years teaching the fourth grade in Eldon before going to the University of Missouri where she obtained her doctorate in education. Irene became known world wide as an authority in children's literature. As an authority on this subject, Irene traveled and lectured around the state and nation before her retirement from UMC as professor emeritus in 1981.
One of the special collections housed in the Missouri Historical Society's Reference Library is the Fitzgerald Collection of Missouri's Literary Heritage for Children and Youth. The collection was created in 1981 when Irene donated to the Society a nucleus of three hundred books. Her gift represented a majority of the three hundred books annotated in her 1980 bibliography, "Missouri's Literary Heritage for Children and Youth," and others from her collection. During Irene's career as a grade school teacher and a professor of children's literature at the University of Missouri-Columbia, she acquired a large collection of Missouri-related juvenile literature.
You can read more about the amazing career of Irene at these two University of Missouri websites:
http://shs.umsystem.edu/reference/fitzgerald.shtml
http://whmc.umsystem.edu/invent/3919.html
More information about Irene is documented in an obituary I was given by Helen Schulte of rural Eldon, who herself was a student of Irene's at the University of Missouri. The obituary was taken from a newspaper clipping which did not indicate from which paper it originated:
Dr. Alice Irene Fitzgerald, 82, of Columbia, died Tuesday, April 26, 1994 in Columbia. She was born June 9, 1911 in the Bagnell area of Miller County to James William and Ida Cotton Fitzgerald. She attended Eldon Public Schools and completed three degrees: Bachelor of Science in education; Master of Education and Doctorate in Education at the University of Missouri-Columbia. She began her career as a rural school teacher in Miller County. She later taught in the Eldon Public Schools and then became a supervisor at the University of Missouri Laboratory School. She served as instructor, assistant professor, associate professor and professor of education at the University of Missouri-Columbia.
She earned special recognition for her experience and expertise in the field of literature for children and youth. As a consultant for the Missouri Department of Elementary and Secondary Education, Dr. Fitzgerald contributed to curriculum development in the state and to the publication of "A Guide for Children's Literature K8." For 27 years she served on the Reading Circle Committee of the Missouri State Teachers Association, helping select, evaluate and recommend books to schools. She served as committee chair person for 18 years.
Dr. Fitzgerald served as a member of the Oversight Committee for the Core Curriculum Project of the Department of Elementary and Secondary Education for the Missouri State Board of Education, participated in a seminar, "Assessing for Excellence" of teachers and administrators conducted by the State Board of Education and Department of Elementary and Secondary Education in 1987, served on the Mark Twain Award Selection Committee several times, was a three year member of the Missouri United Methodist Church's Education Commission and also was a three year member of the church's Mission's Commission.
She was a recipient of the 1986 certificate of recognition of Women of Distinction, Missouri Division, AAUW, was a member of the advisory board for Who's Who in American Education from 1985 to 1990 and is featured in Show Me Missouri Women and Key to Missouri Authors.
Surviving her are a sister, Ellen Fuchs of Sedalia, and nine nieces and nephews.
Funeral services will be held at 11 a.m. Saturday at Memorial Funeral Home Chapel in Columbia with the Reverend Bruce Jeffries officiating. Burial will be in Dooley Cemetery near Eldon.
---
As important and well known as Irene was I found it frustrating I could not find a photo of her that was clearer than the one I copied above from a newspaper article. Numerous inquiries around the county for a considerable period of time didn't locate a picture of her. Even the University of Missouri could not locate one for me in its archives, although the University devoted two different websites to her as I listed above. Nevertheless, I found quite a few Miller County natives who had known her and had taken classes under her in Eldon, where in the 1940's she taught fourth grade, and at the University, where she taught courses in children's literature. Uniformly, I was told that she held to a very particular standard of teaching. For example, at the university her tests often consisted of giving students one page from a noted children's book author, and requiring the student to identify the title of the book and its author!
I first became aware of Irene a few years ago when my sister in law, Sharron Holder, who taught fourth grade for almost thirty years at Eldon, showed me a copy of a history of Eldon Irene had written in 1947 before she left Eldon to seek higher education at the University. I was reminded of her once again earlier this year when a cousin of Irene's, Frank Haynes, who lives in Chicago but is a descendent of the very well known and historical Haynes family of Eldon, gave me a copy of that same Eldon history. Irene researched and wrote the history for her fourth grade class when she was a teacher there in the 1940's. The unique feature of this history written by Irene is that in the1940's she had the opportunity to interview many early historical Eldon residents who by now are long gone. Also, in the 1940's many of Eldon's historic buildings still existed and could be described in detail as to location and significance. Previous historical narratives of Eldon have been written including those contained in the "Goodspeed Miller County History" and Gerard Schultzís "History of Miller County." Quite a number of shorter historical essays about Eldon periodically have been published in our local newspapers. The history of Eldon written by Tina Raynor in 1982 titled "Eldon...A Look Back" was very complete and included many photos. The history of Eldon written by Irene was tailored for a typical fourth grade class, but the research she did for her narrative was unique due to the opportunity she had to talk to some of the original Eldon historical figures.
So this week I will devote to the Irene Fitzgerald history of Eldon:
The Story of Eldon, Missouri
Irene Fitzgerald
(For the Fourth Grade Class 1946-1947)
"This Story is Dedicated to the Memory of my Mother, Mrs. Ida Fitzgerald"
Sources of Information
1. Mrs. G.D. Walker, the former Margaret Haynes, and pioneer citizen.
2. Mr. W.M. Haynes, pioneer citizen.
3. E.H. Shepherd, son of N.J. Shepherd, pioneer citizens and owners and operators of the Eldon Advertiser until 1945.
4. Scrapbooks, made by my mother, the late Mrs. Ida Fitzgerald, daughter of T.W. Cotton, pioneer settler of this community prior to 1840.
5. Journal of the Town Board, Book No. 1…loaned from the City Hall by W.R. Erlos, City Collector.
6. History of Miller County, by Gerard Schultz.
7. Pioneering in Ten Communities, by Hanna, Cullen, and Potter…a Scott, Foresman publication.
8. Curriculum Studies, Units in the Social Studies of St. Joseph Public Schools.
9. Missouri State Course Studies…integrated Social Studies.
10. Reverend A.L. Alexander, secretary of the Eldon Chamber of Commerce.
Order of Information
1. An Indian Hunting Ground.
2. Settlers Come To The Vicinity of Eldon.
3. Eldon Becomes A Town.
4. Religious, Educational, and Professional Developments.
5. Eldon Grows Up.
6. Natural Resources of the Community.
7. Developed Resources.
8. Cultural, Civic and Social developments.
9. Evaluation of the Community.
10. Achievements through the Study of the Community.
Eldon, Missouri
An Indian Hunting Ground
Today Eldon is a busy, growing, modern little city. Trucks and trains bring goods from all parts of the world and take away goods that are made from the factories and the products from the nearby farms. But less than one hundred and fifty years ago there were no people living here. This place was part of an Indian Hunting Ground.
Little was known about the geography of this part of the country as it had not even been explored at that time. A few French and Spanish traders had come into this region to trade with the Indians (photo 02).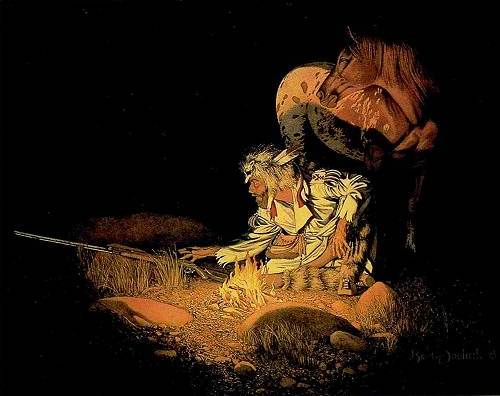 02 French Trapper
They told of the fine farming land they had seen. Trappers who had come westward to get furs told about the wide prairies that settlers could farm without cutting down the trees to clear the land. The land was flat, and high grass grew almost everywhere. Trees grew along the banks of the rivers and streams that flowed through the country. The Indians lived along this prairie land and hunted the wild animals. The Indians thought that these prairies would always be their hunting ground (photo 03).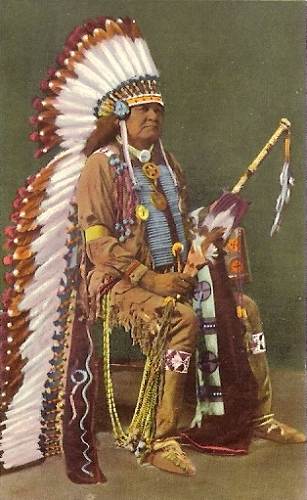 03 Osage Indian Chief
At first the only definite information to be had about this country was gathered by our United States government from some Osage Indians. These Indians were the first historical inhabitants of this region. The government came to know these Indians when it redeemed a small group of them from captivity among the Potawamie tribe.
In 1806, Zebulon M. Pike (photo 04), one of the most famous American Explorers, was sent by the government to explore all the region extending from the Mississippi River to the Rocky Mountains.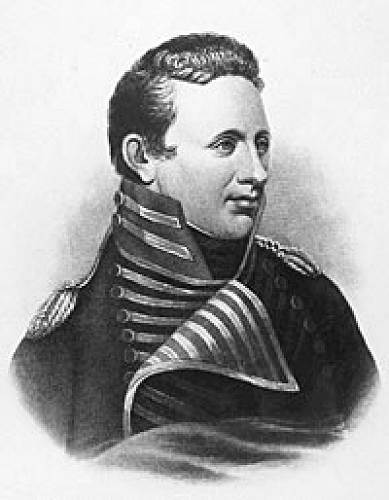 04 Zebulon Pike
Records show that he traversed what is now Miller County. He had with him several army trained men, and an Indian interpreter. He also had under his charge these captive Indians of the Osage tribe. He was returning them to the villages of their tribe on the Osage River. The last day of July of that year he entered what is now Miller County. From the account of this expedition the records show that they spent about seven days in this area. They found the Indians friendly and helpful. Plenty of deer, wild turkey, and other wild foods were available. Navigation was slow and difficult because of heavy rains, rapid currents, and rising water. At one time water rose a foot an hour. Much time was spent drying the baggage and travel equipment. Overland explorations were given to hunting two or three miles from camp. If a member of the party became separated from each other they often became lost, and a great deal of time was spent in searching for them, or trying to find their way back to camp. The Osages left the Exploration party for their villages as the party proceeded westward out of the county.
The Ozark Bluff Dwellers
Centuries ago this area belonged to a people known as the Ozark Bluff Dwellers (photo 05).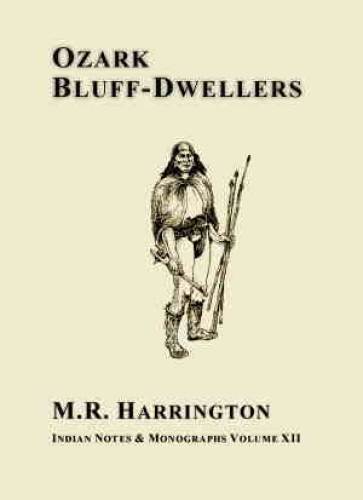 05 Ozark Bluff Dwellers
They were a pre-historic race. Careful search and examination of their rock shelter habitations prove many interesting facts of their existence. They did not know of the bow and arrow, but used the atlatl as a weapon. They cultivated corn, beans, pumpkins, squashes, egg gourds, sunflowers and other plants. They used hoes made of stone and mussel shells fastened to wooden handles. Their favorite meats were deer, turkey, bear, elk, and buffalo, and many of the smaller animals.
The Osage Indians (photo 06)
The Osage Indians were the first historical inhabitants of this region. It remained a hunting ground for them until about 1825. As late as 1822 they were said to have had a village near here. There never was any serious fighting between the whites and the Indians of this part according to historical accounts.
The Osages were the tallest race of men in North America. The braves were from six to seven feet tall. They shaved their heads, and painted them. Their ears were cut and decorated with ornaments. Their greatest interest was hunting. But they raised some crops of corn, beans, and pumpkins. They saved a portion of their vegetables and crops raised in the summer, and hunted in the fall and spring, and after crops were planted in the summer, they could stay in their camps during the cold season and feast. They also ate much wild fruit that abounded in this country. Walnuts, hazelnuts, pecans, acorns, grapes, plums, paw paws, persimmons, hog potatoes, and several nutritious roots were gathered and preserved with care.
In November 1808 a treaty was made with the Osage Indians providing for the cession of a large tract of land to the United States. The present area of this county was a small part of that cession. In return for the land the Osages received $800 in cash, and $1,000 in merchandise. Soon a few white settlers began to move into this Purchase, although they did not come in large numbers until around 1825.
The Indians remained in this county until 1837. Walter Haynes (photo 07) related interesting narratives about these later Indians as told to him by Madison Belshe, an old citizen of Spring Garden, and P.S. Miller (photo 08), the first white person born in this county.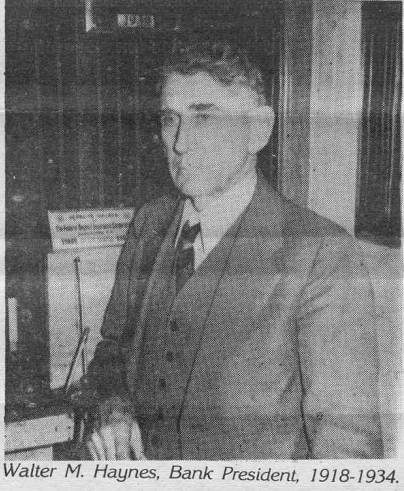 07 Walter Haynes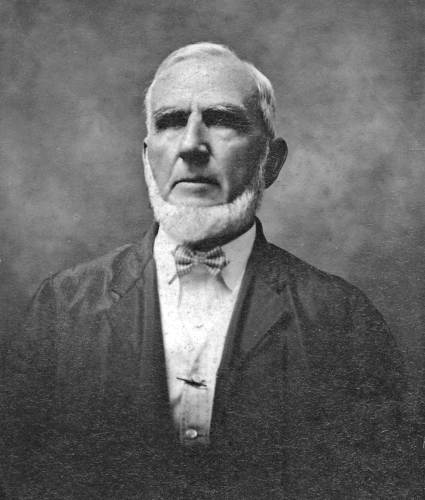 08 Pinkney Miller
Indian Jim Henry was an outstanding character, after whom is named one of our nearby townships. Three or four miles south of Eugene on the Jim Henry Creek is a large rock that has the print of his hand cut upon it (photo 09).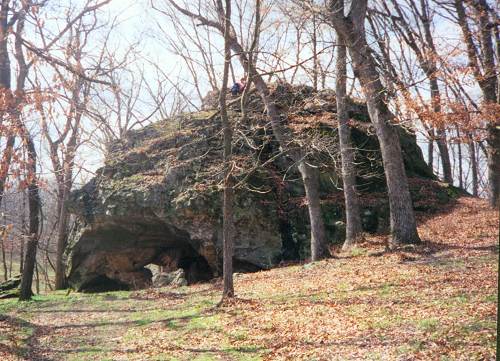 09 Jim Henry Rock Cave Home
In 1837, the government ordered these Indians to go to Oklahoma. Before they left for their reservation, they gathered with the white people in friendly fashion. The chief, Jim Henry, spoke to the people telling of the goodness of the white people. It was a sad gathering. Before dismissal he raised his hands to heaven and wept. Their main transportation was by ponies. These were used on their trip from Locust Mound, near Spring Garden to Oklahoma. Jim Henry stayed in this county until some time in the 1850's when he joined his tribe in Oklahoma.
Mrs. Walker told of a group of six Indians in natural costume passing by her home when she was a child. They stopped for food and water, and continued on their journey.
Countless arrow heads and various other Indian relics have been found here. John Kaiser, a member of this class, brought an arrow head found by his father when digging a sewer here on Colorado Avenue.
Even today there are traces of the Indian burial mounds and rock cairns. Before the Lake of the Ozarks covered a part of the Osage Valley several of the bluffs along the river bore colored pictures depicting events of tribal significance.
Chapter II
Settlers Come To The Vicinity of Eldon
The first settlers came to this county while it was still considered an Indian settlement and hunting ground. The first settler was William West, who came from Kentucky, and located in the northeastern part of the county in 1807. About 1815, William and Boyd Miller from Virginia, settled near the Spring Garden Prairie (photo 10).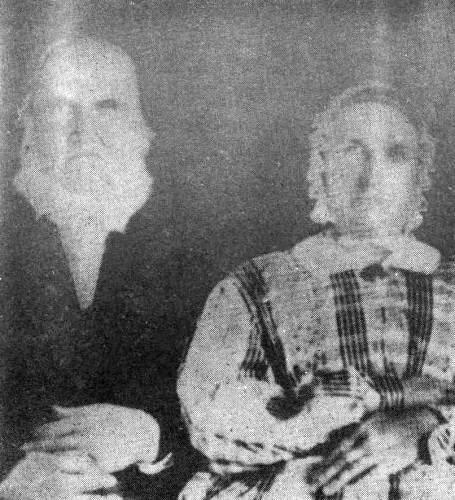 10 William and Sarah Miller
These settlers were called "squatters." They did not own the land on which they lived. Later when they had "claimed" the land, built homes, and had begun farming, they could buy this land at a low price from the government. The first land entry was made by William Miller, dated July 20, 1826. The first land to be bought in the immediate vicinity of Eldon was entered by Edmund Wilkes in 1829, and Jonathan D. Bills in 1829; followed by Alfred M. Huston, 1830; Louisa V. Nolan, 1831; Ebenezer Vernon, 1831; David P. Taylor, 1832; William Brockman, 1832; William Hanna, 1832; Willis Brock, 1833; Elijah Spencer, 1835. These and many others who followed within the next few years were to bear the names of many of the descendents who are now the present citizens of this town.
Most of the earlier settlers came from Kentucky, Tennessee, and Virginia. Many later came from Ohio, Illinois, and the extreme eastern states. They came in covered wagons pulled by oxen. They traveled over rough roads or Indian trails, and endured many hardships and dangers on their long slow journey. But these people were courageous and looking forward. They were hopeful of building homes in a new country where the land was plentiful and full of promise.
At first they built their homes close to streams or near a spring so that water could be had easily as there were no wells or any way to dig wells. Later dug wells and cisterns were used. An old tradition was to use a "water witch" to find or locate underground water streams. This was a forked stick from a peach tree limb that was used to move over the ground (photo 11).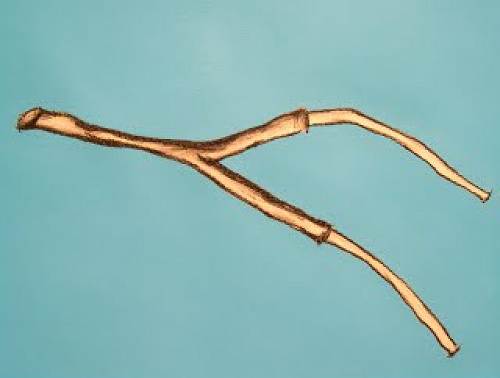 11 Water Witch
The man who was to locate the water, walked over the ground holding a forked branch in his hands. The story is that when he walked over ground under which water could be found, that the forked branch by some magic force turned in his hands and pointed downward. The stick was supposed to point of its own accord to the place where there was water located. For those who had the "power or the magic" to use this method, it was a sure and evident sign.
Note: my wife's Uncle Waldo Steen of Iberia "water witched" a field for us in 1984 where we planned to build a home. It was very obvious when the forked branch suddenly bent downward and held its position pointing straight to the ground. Soon after that the county offered piped water to residents of the area so we never drilled a well. However, we had the spot marked for years just in case we changed our minds!
These first homes were crude, one room cabins built of logs dobbed with mud, prairie sod, or sand and lime (photo 12).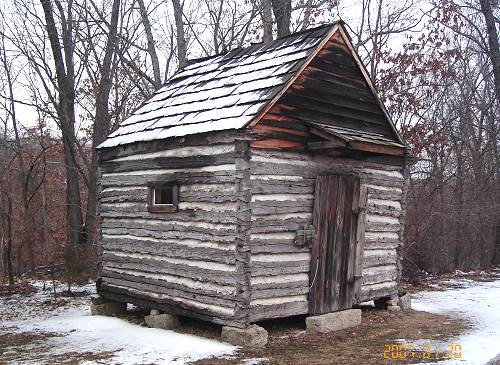 12 Old Log Cabin
A dried skin of an animal was used for hanging over the opening which served as a door. Sometimes logs were split and smoothed down with an ax to make long narrow strips called clapboards, that were nailed over the logs on the outside. These clapboards covered the cracks between the logs and kept out the wind and the rain, better than the mud dobbed cabin. Doors were also made from split logs hewn and smoothed with the ax. Since there were no stoves the cabin was heated by fireplaces built of mud so that the logs would not burn.
For a floor they often cut prairie grass and laid it on the ground inside the cabin. Over the grass they laid an old carpet or animal skin. Later they made a floor of logs split in half.
Their furniture was simple and rough. Their table and stools or benches were made out of split logs. Some of the beds were like hammocks suspended at points from the ceiling. Others were made with poles. The wall of the cabin made the head of the bed. A log on the floor made the foot. One end of each pole was stuck between cracks in the log wall. The other end rested on the log on the floor. For a cubbard a big wooden box was often used. They had been brought from their eastern homes, and had been used to pack bedding and other valuable necessities.
They cooked over the open fire. Meat was boiled in an iron kettle. Some of the food was cooked in an oven. Coals were pulled from the fireplace onto the rock or mud hearth. The oven was set on these coals and then covered over with coals.
These people made their entire living. They had no conveniences. They made their own clothing and raised their own food.
Their clothes were made from wool or cotton. They raised their own sheep and grew their own cotton. From these they made the yarn for cloth. The children often carded the wool and cotton. They had two wooden paddles stuck full of short wire bristles like a brush. They combed the materials between these two paddles. This carding cleaned and straightened the wool and cotton so that it could be wound into balls ready to spin into yarn. Some of the families had a wooden spinning wheel (photo 13).
A foot pedal worked to turn the wheel, and as the wheel turned the wool or cotton was twisted into yarn between the fingers. When the yarn had been spun, they would dye it. They made brown, yellow, and black dye by boiling pieces of hickory bark, red oak bark, and logwood with water. Pokeberries and sassafras roots made red and orange dye. Yarn was woven into cloth on crude wooden frames and clumsy wooden looms operated by hand.
Lights were tallow candles, which the pioneers molded for themselves. Coal oil lamps came later.
Tough grass roots made the prairies hard to plow but crops could be raised without much cultivation. Seed was sown broadcast. Threshing was done by hand, then later by a horse powered machine. The first mowing was done by hand with a sickle or scythe. Then came the grain cradle (photo 14).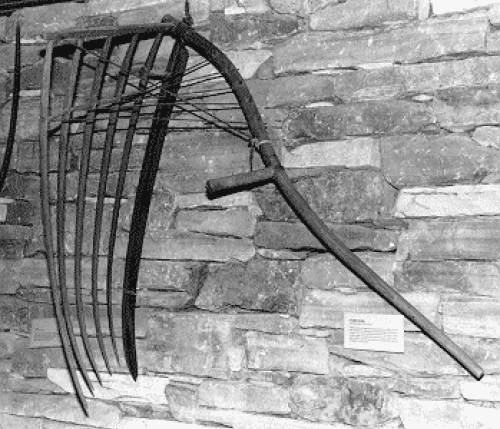 14 Grain Cradle
Oxen were the first means of drawing machinery (photo 15).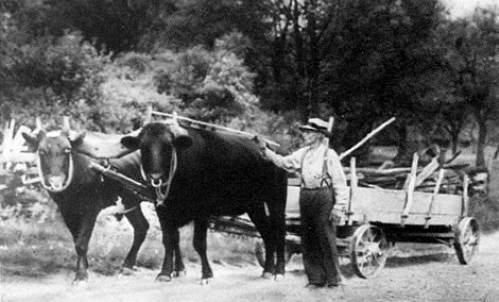 15 Team of Oxen
George Weeks (photo 16) brought the first mowing machine here about 1900.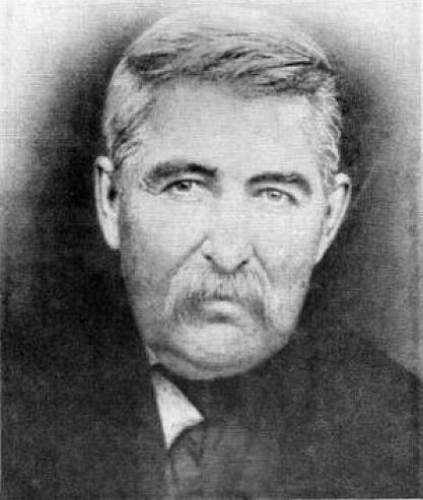 16 George Weeks
Before there were any mills families pounded their corn into meal in a home made mill. This was made from a big piece of log that stood on end with a hollow in the top, and a pounder made from a piece of iron, with a stick for a handle. The first mill in the county was a water mill built in 1834 by William Brockman, located in the Saline Creek. In 1853, John Humes built the first mill to be run by steam power. This was located near Pleasant Mount, now Mt. Pleasant, and proved to be a great help to the settlers of this community.
Note: Here is a photo of the Wright water mill located on the Little Saline Creek (photo 17):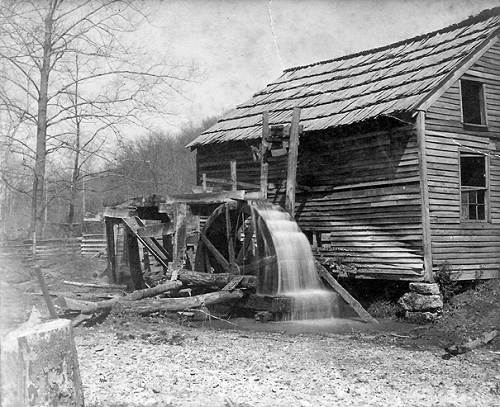 17 Wright Carding Mill at Wright Spring on the Little Saline Creek
There were orchards and wild fruits on all the farms. They had no canned fruits and vegetables. All these were dried in the sun for winter use.
They produced their own soap with waste fat, wood ash lye, and water.
Their only fences were made of rails (photo 18).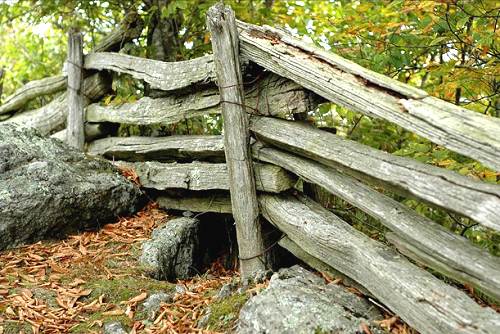 18 Split Rail Fence
There were no roads…just trails or ditches beaten out by wagons. There were no bridges across the creeks. Rain often caused the water to rise in the creeks and branches and became dangerous and destructive.
Neighbors were far apart. There were no telephones. The people would sometimes go for miles to help care for the sick or to get a doctor.
The earlier settlers had to depend upon mail being carried to the nearest trading post by anyone who was traveling in this region. The first mail service to be established came from Jefferson City as early as 1837 by way of Tuscumbia. It was carried on horseback. By 1842, the people could receive mail once a week.
Their amusements and social life consisted mainly of singing parties, square dancing, the Virginia Reel, and a popular game among the men played with a circular stone similar to horseshoes. There were also racing contests and wrestling.
Family and neighborhood gatherings made up their main social events. Because the barns were usually the biggest buildings, they were often used when a large group of people wanted to have a party. Often they met to help one another. But they usually managed to mix fun with work. House raisings, husking bees, and quilting bees were frequent reasons for gatherings
The first school building was a crude log structure. There were no desks, just seats hewn out of trees which had been split. These were called puncheon benches. The children were taught reading, writing, spelling, arithmetic, and some history. Elmira Swanson and William Alexander were two of the early known teachers. This old school building was located on the extreme southwest corner of what is now Grand Avenue, where the J.H. Brown residence now stands.
The primitive church, known as the old school Baptist or "the hard shelled Baptist," was located a short distance south of the school on what is now the Tolliver Harrison place. The building is still standing and is used as a barn. It is the last original landmark of the early settlers.
Eldon Becomes A Town
While in 1880 Aurora Springs, Spring Garden, Pleasant Mount, and Rocky Mount were flourishing villages, Eldon did not exist. But that year the Missouri Pacific Railroad surveyed for a branch road through this area. In the year 1881, before any road was built, T.J. Hart established the first store in the old church building mentioned in the story of the early settlers. Then in the fall of 1881 and the year following, the Missouri Pacific Bagnell Branch was built from Jefferson City to Bagnell, and a new town was conceived (photo 19).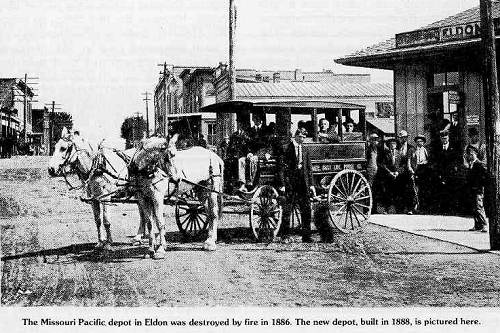 19 Missouri Pacific Depot - 1888
Three men, T.J. Hart, George R. Weeks, and his brother John W. Weeks purchased forty acres of land. They drew on a piece of paper a plan for a town. They drew a map of the land and divided the land into lots. This kind of map, which is called a plat, showed where the streets were to be built (photo 20).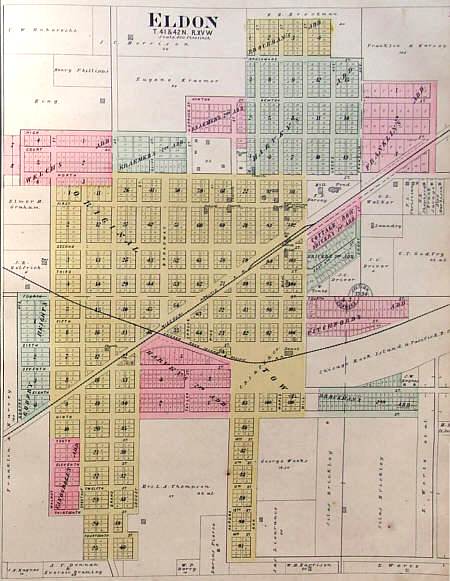 20 Eldon Plat Map
Note: you can read more about George Weeks' contribution to the development of Eldon on our own website at this URL:
http://www.millercountymuseum.org/communities/eldon.html
On March 15, 1882 the original plot of Eldon was filed with the Circuit Court by George R. Weeks. It extended to the present North Street south to Fifteenth Street and from Walnut Street east to Hill Street.
Eldon was first named Elmira for Mrs. George Weeks, but when the name was submitted to the U.S. Post Office Department it was found that there was another town in Missouri that had that name. This necessitated a change and the name Eldon was chosen in honor of the English Lord Eldon.
During that first year of the beginning of the town, the construction of the railroad and the building of a depot was the most evident sign of this newly formed village (photo 21).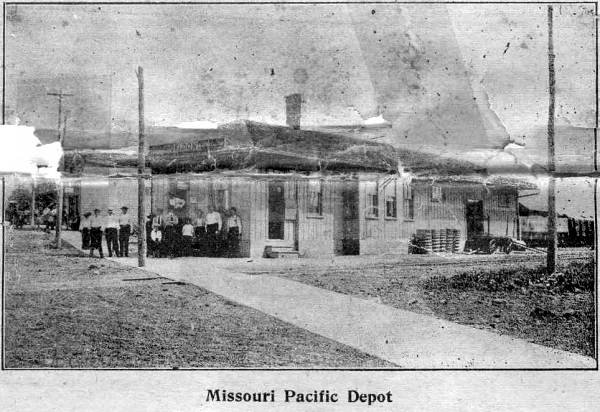 21 Missouri Pacific Depot
During that winter there was much snow, the mud was deep, and the weather extremely cold. Four mules hitched to wagons labored under difficulty to haul supplies from Jefferson City.
The first hotel was the Goss House, which is the present Howser Store on North Maple Street. This and the Cottage Hotel operated by Mr. James, and now the Maples Hotel, were begun in 1882, and mainly accommodated the construction workers (photo 22).
The first homes were built in the west part of the town on Grand Avenue. An old colonial home, one of the finest in the country, stood on the southeast corner of Grand Avenue. This had been built by an early pioneer settler of the community. The first store was already located there. A livery stable and blacksmith shop were situated on this street. The first post office and a drug store were located there. This part of the town became known as Upper Eldon. It had been thought that the main part of the town could be there, but after much difficulty and failure to locate a depot there satisfactorily the Missouri Pacific station was built where it now stands, and the business district changed to Maple Street. This part of the town was then known as lower Eldon.
A brick yard and kiln was started on what is now North Leeds Avenue just east of the then city limits of the town, and north of the old mill pond. There bricks were made for the Hart and Graham store, now Reeds Store, and the flouring mill, which is a part of the present mill building.
The first side walks were board walks…first laid in front of the Austin store, the original Hart and Graham Store (photo 23).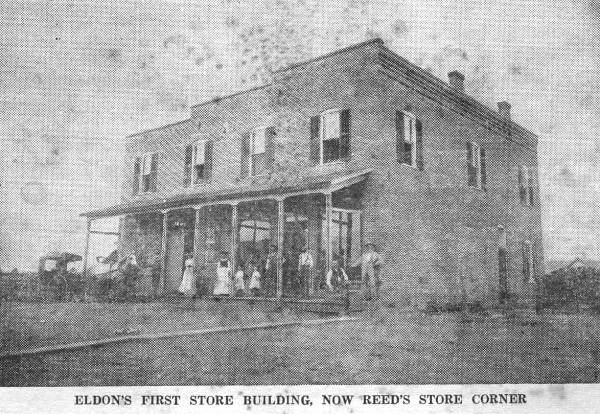 23 Eldon's First Store
Most all the early stores and business houses had wide wooden awnings extending over the walks. Between the outside posts were plank seats where the men gathered to exchange news, chew tobacco, and whittle. Beyond were hitching rails where the horses were tied. Horse "swapping," or trading was a common event. The lot where the Benson Lumber Company now stands served as a "hitching lot" for years until the motor vehicle gradually eliminated its use.
The first home in Lower Eldon was the Newton home, located just south of the present cheese factory. This home burned long ago before the town had a fire department or any fire fighting equipment to protect the buildings. The next home was the S.I. Parker home, now owned by W.H. Brockman, and located just west of the present post office. The third home built was the home of Arthur Blakeman, located where the post office now stands.
The first telegraph line came to Eldon from Jefferson City in July, 1882. J.W. Weeks was then the mayor and postmaster of the village. By 1892, Eldon, West Aurora, Aurora Springs, and Olean were connected by telephone.
Eldon was incorporated as a town August 9, 1889 with Louis Rusk, James Lieurance, Siles Parker, E.H. Graham, and J.W. Temple appointed as first Trustees of the town.
Slow progress was made in the growth and population of Eldon during the first ten years of its existence. Aurora Springs was a highly advertised resort town, with a population of 900, when the census was taken in 1900. Mount Pleasant was still considered the best trading center. But in spite of the fact that Eldon then only had a population of about 275 there were here those community leaders who showed extraordinary faith in the community development through the various channels of business, religion, educational, and professional developments. Their achievements made it possible for us to have a thriving, progressive town with its many opportunities.
The following is a list of the pioneer families of Eldon:
Harrison, Etter, Brickie, Haynes, Allen, Foot, Austin, Graham, Hart, Thompson, Beckman, Phillips, Weeks, Blakeman, Holloway, Temple, Mace Lieurance, Rusk, Smith, Kiesling, Hickock, Cummings, Austin, Harevey, Franklin, Laughbaugh, Shepherd, and Vanosdoll.
Religious Developments
In April 1883 the Eldon Congregational Church was built (photo 24).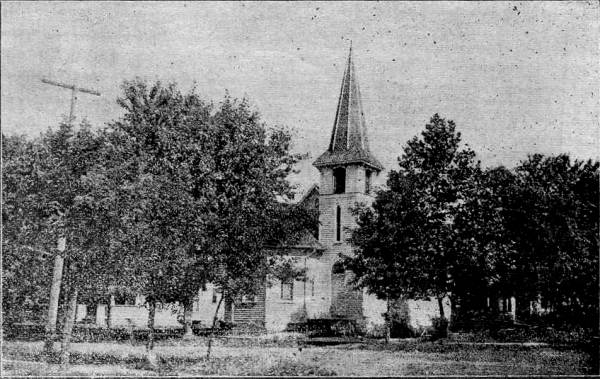 24 Congregational Church
This was the first church built in Eldon. The building was erected on Fourth Street and Grand Avenue. Reverend Loba was the pastor. Union Sunday School was organized and for a time services were held jointly by the Methodists, Christians, and Congregationalists. Reverend Loba also held an Academic Class in his home and later in the church in subjects that were in advance of those taught in the district school. This laid the foundation of what was later to become the Eldon Academy under the leadership of Reverend John Vetter, who was the church's second pastor. The church building was destroyed by cyclone in 1896, and rebuilt the following year. The building now is the Layne Apartment house on First and Aurora Streets. The organized church dissolved about 1934.
The Methodist Church (photo 25) was the first organized church in Eldon. It was formed in 1882 by Reverend Brough.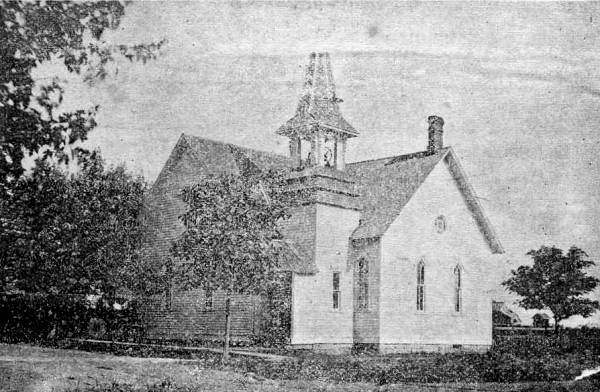 25 Methodist Church
The first building was destroyed by the 1886 cyclone, and the new building was erected and dedicated June 3, 1900, at its present site. This building was rebuilt and dedicated May 24, 1925. The pastor was Reverend Green. The present pastor is Reverend H. Showmaker.
The Christian Church had an organization in Eldon as early as 1882, but a building was not erected until 1889 (photo 26).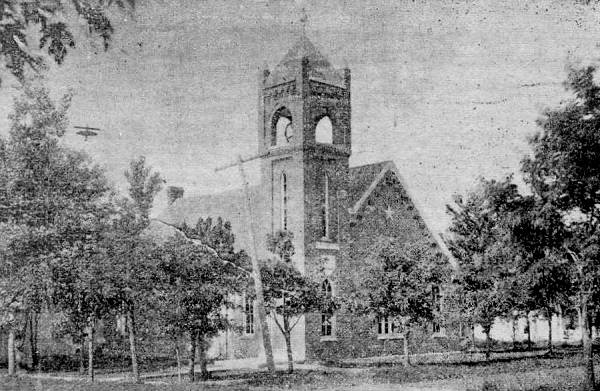 26 Christian Church
Reverend Edmund Wilkes was the first pastor. The building was located southwest of the Rock Island, and is now an apartment house on the west corner of Fourth and Maple Streets. As membership in the church grew a larger building was needed and the present church was erected and dedicated in 1893. The Reverend Alexander, present pastor has served since 1928.
The First Baptist Church of Eldon was organized in the fall of 1892, and in that same year a building was erected just west of what is now the junction of the Rock Island and Missouri Pacific Railroads (photo 27).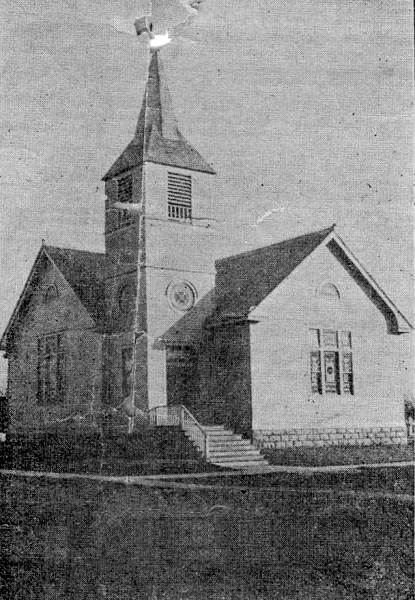 27 Baptist Church
A part of this building was moved from Aurora Springs. A new building was erected in 1908, which was destroyed by fire in 1914. The present brick building was completed in 1915.
The Catholic Church was erected in 1910.
Educational Developments
The one room log building located on what is known as the Brow property on the extreme South Grand Avenue became, with the plotting of the town, Eldon's first school house. In 1883 the Eldon School District bought the east half of block nine located on Ninth and Chestnut Streets, and built a two story frame building (photo 28).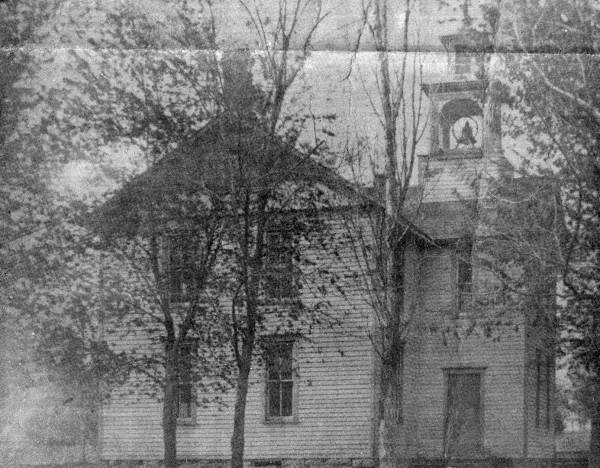 28 Early Eldon School - S. Grand Ave.
A Mr. Gier taught the first term in this building. Later Miss Margaret Haynes, the present Mrs. G. D. Walker, taught in this school. The smaller children used the upstairs floor, and the older pupils occupied the lower floor. Then the pupils were graded by readers. Mrs. Walker taught the group as far as the fourth reader. Sometimes grownup boys and girls were in the group.
In 1893 this building was discarded when the district bought the Eldon Academy building which was located on block six on First and Pine Streets, the present location of the grade school building. This was a two story, four room building and served the district until 1904 when the present grade building was erected (photo 29).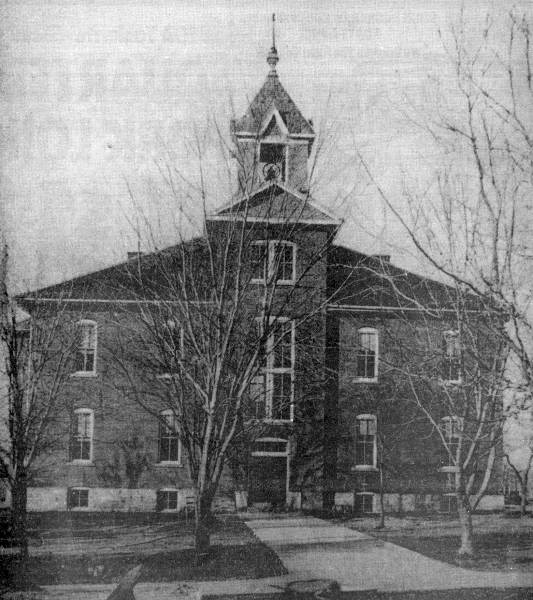 29 Elementary School
April 2, 1895, Eldon was organized as a village school district. R.S. Harvey (photo 30), Dr. J.W. Temple, Henry Phillips, C.G. Kiessling, and A.J. Blakeman were elected trustees.
The report of the Eldon Public School, October 8, 1896 shows the number of boys enrolled was 83, and the number of girls 78, a total of 161. A number of these were from outside the village.
Two of the first teachers in this building were Professor Platt and Reverend Vetter.
In the fall of 1907, T.E. Vaughan (photo 31) was employed as superintendent of the Eldon Schools.
31 T.E. Vaughan
In that year he completed plans for a graded system and laid the foundation for the Eldon High School. At the beginning of the year 1907-1908 the more advanced students were given credit for one year of high school work and on the basis of previous work. The enrollment of this class was twenty. Professor Vaughan was the only instructor in the high school that year. The total enrollment for that year was about 400. The following year the high school enrollment had reached forty, and Miss Grace Scott was employed as Mr. Vaughan's assistant. The total enrollment in the school was 486. The growth of the town made it necessary to add four rooms and the basement auditorium to the building in 1908.
By 1909-1910 the high school enrollment had grown to fifty seven and a third teacher was added to the high school faculty. H.E. Keltner (photo 32) became assistant in history in the high school and teacher of the eighth grade.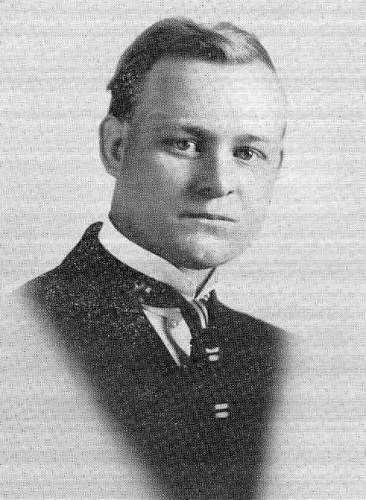 32 H.E. Keltner
There were eight other teachers in the grades, and an average daily attendance of 372 in the entire school. The spring of 1910 Eldon High School graduated its first class of three members…Earl Collins, Griffith Carpenter, and Prue Helfrich. That same year the high school was classified as a first class high school by the State Superintendent of Schools.
The next fourteen years of Mr. Vaughan's superintendence was a steady growth in the school system in every way. High standards of scholarship were maintained and enrollment grew. In 1914 the district bought adjoining lots and enlarged the campus to 400 by 832 feet. The present high school was begun and completed in the year 1915. This building will remain a monument to Mr. Vaughan's excellent work in the educational development of this community (photo 33).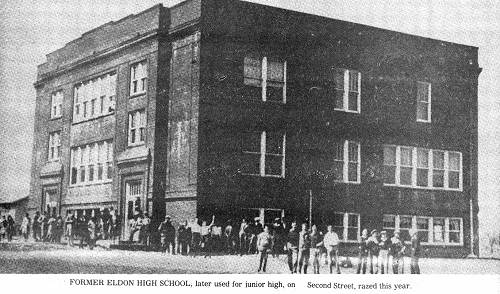 33 Former Eldon High School
The first class to be graduated from the new building numbered 17.
Note: An Eldon Advertiser on file carried a picture of the graduating class. It is interesting to note those who remained citizens of the town.
In 1919-1920 there was a change in the organization of the grades. Departmental work was introduced into grades seven and eight, and the foundation for the Eldon Junior High School was laid. Three teachers were then employed for those grades. Now, five teachers work in this department.
The Auditorium was built in 1932. This building made it possible to expand the high school curriculum. A vocational agriculture building was also added that year.
The grade school building was remodeled in 1941. The buildings are all modern and well equipped.
The total enrollment for the year 1946-1947 is 735; high school 362; grade school 373.
There are eleven grade school teachers, and fifteen high school teachers. The school continued to maintain a high standard of activity and scholarship and is fully accredited by the University of Missouri. It is ranked as a first class system by the State Department of Education. The High School also belongs to the North Central Association of Secondary Schools.
Eldon has an active local organization of the Missouri Congress of Parent Teachers. It began as a Parent Teachers Association in the early history of the school.
Succeeding T. E. Vaughan as superintendent have been F.M. Marshall; D.C. Rucker; J.A. Campbell; Lloyd Grimes; and Dr. G.J. Leslie, the first superintendent to hold a degree of Doctor of Philosophy.
Mrs. Ruby Brown has been the Elementary School President for the past nineteen years. She is recognized throughout the state as an outstanding elementary school administrator. Her high qualifications and fine standards are evidenced throughout the organization of the school.
Many will hold dear to their memory their first grade teacher, Miss Neva Collier, who has given a splendid foundation of learning to more than a thousand youngsters during the past twenty two years. She has served so remarkably well in the achievements and advancement of this school.
Eldon has indeed been fortunate to have had so many good leaders in the development of its educational system.
Other Professional Leaders
The first physician of Eldon was Dr. J.W. Haynes. The next was Dr. L.M. Camp, who sold his practice to Dr. J.W. Temple. Dr. Temple came here from Sparta, Illinois, in 1886, and continued his practice until about 1917. Dr. H.S. Brockman came to Eldon in 1901 and retired about 1920. Dr. G.M. Tinsley entered practice with Dr. Brockman for a few years. Dr. G.D. Walker (photo 34) located here in 1902. Later came Dr. W.L. Allee (photo 35), and Dr. E.C. Shelton (photo 36) who died in 1945.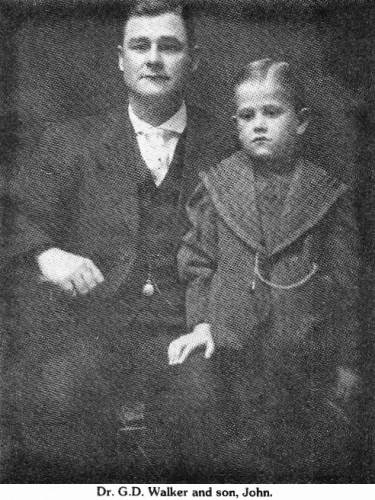 34 Dr. G.D. Walker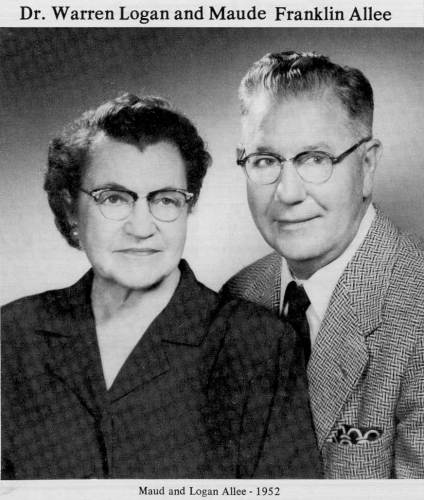 35 Dr. W.L. Allee and Maude Franklin Allee - 1952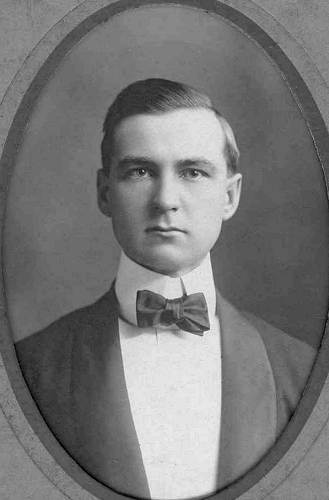 36 Edward Coleman Shelton, M.D.
His son, Dr. Olney Shelton (photo 37), also set up practice here.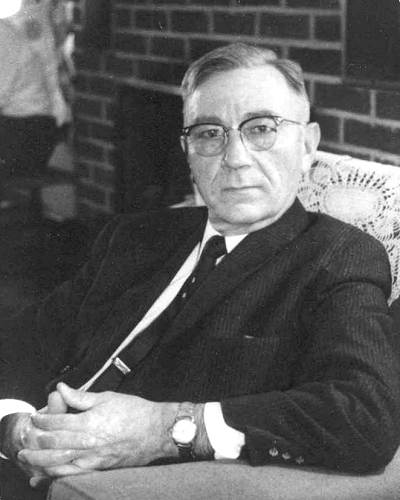 37 Edward Olney Shelton, M.D.
Dr. Shelton, Dr. Allee, Dr. Walker, and Dr. Berkstressor are the present physicians. Dr. Carl Buehler (photo 38) is beginning practice with Dr. Shelton this year.
Dr. J.A. Taylor, oldest living professional man here, was Eldon's first Dentist. He established a practice here in 1900. Following him were Dr. F. Enloe 19--, Dr. L. Layne 1918, and Dr. W.H. Brockman, 1919. Four dentists are in active practice here now…Dr. Almquist, Dawson, Frutiger and Brockman.
Leaders in Business Developments
Reeds Store was founded by T. J. Hart in 1882. The old part of the present building was built by T.J. Hart and E.M. Graham in 1883 (see photo 23 above). The following are some interesting price quotations from our early grocery store…eggs: 6 ½ cents per dozen; butter 12 cents per pound; apples 20 cents per bushel, and bacon 11 cents per pound.
An early newspaper was operated by T.J. Hart beginning in 1884. The Eldon Advertiser was started by N.J. Shepherd (photo 39) and J.R. Helfrich June 11, 1894. E. H. Shepherd (photo 40) next owned and operated the paper until 1945 when he sold to the present publishers.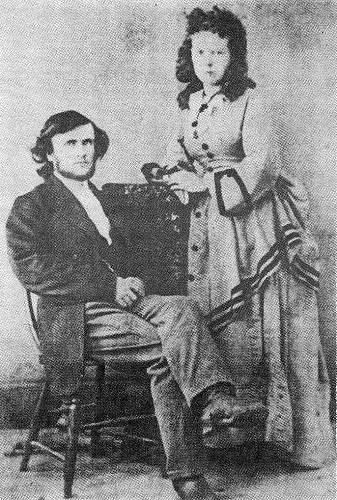 39 Nehemiah John Shepherd with wife Permelia Ralls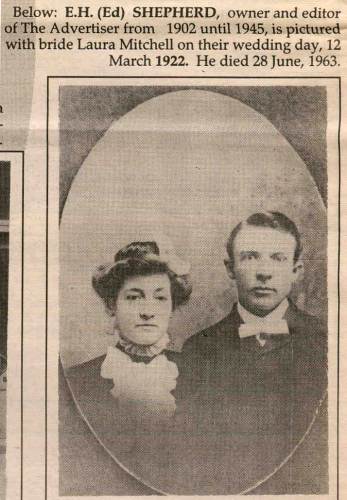 40 Ed Shepherd and wife Laura Mitchell
Eldon Hardware and Lumber Company, one of the largest in central Missouri was founded in 1888 by S.I. Parker and Henry Phillips. In 1908 it was incorporated with stock holders. It is now owned and operated by N.E. Harvey, and son, H.H. Harvey (photos 41 and 42).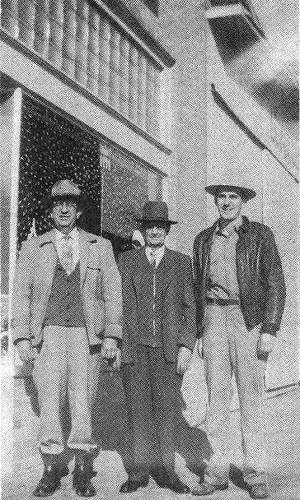 41 Harry, Nathaniel Edward and Herbert Harvey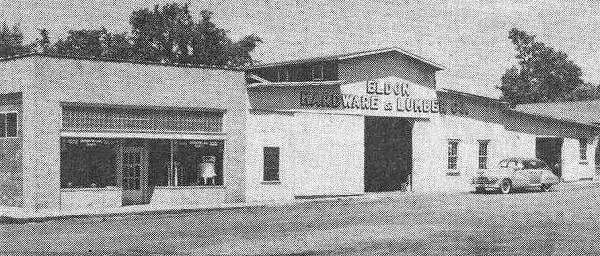 42 Eldon Hardware and Lumber
The Harvey Mercantile Company was founded in 1890-1891 by R.S. Harvey, who previously had a thriving business of its kind at Aurora Springs. Later J.S., J.B. and C.P. Franklin, brothers, acquired an interest in the store, which continued a leading trading center until about 1936 (photo 43).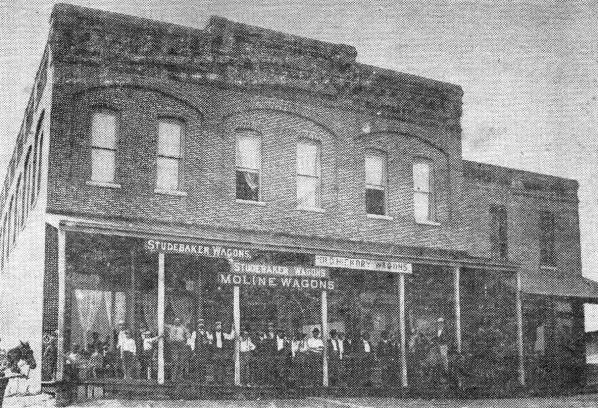 43 Harvey Franklin Store
The building now is occupied by a Ben Franklin chain store.
September 20, 1894 R.S. Harvey opened the Bank of Eldon for business (photo 44).
He was the sole owner of the bank which had a capital stock of $15,000. In 1900 it was organized with stockholders and the following officers were elected; R.S. Harvey, President and W.M. Harbison, Cashier. J.S. Franklin, E.M. Graham, H.H. Brockman, J.B. Franklin, W.M. Harrison, and G.R. Weeks were directors (photo 45).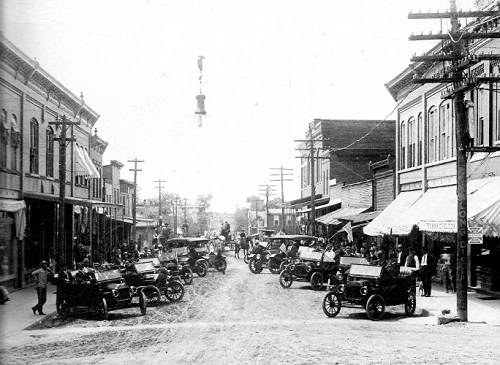 45 Bank of Eldon - First Building on Right - Early 1900s
Some of the first stockholders were R.S. Harvey, J.S. Franklin (photo 46), T.W. Cotton, J.J. Haynes, J.S. Franklin, H.H. Brockman, F.M. Graham, and J.A. Vetter.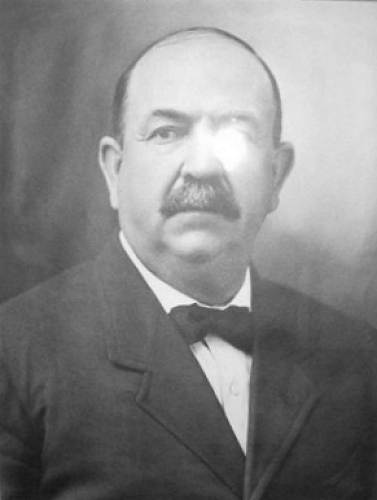 46 James S. Franklin
The Citizens Bank of Eldon was founded in 1905 by S.F. and Paul Spurlock, with the former as president. In June 1918 the bank was purchased by stockholders and W.M. Haynes was elected president (photo 47).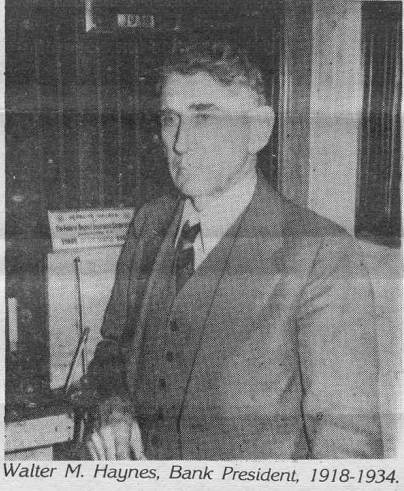 47 Walter Haynes
The Eldon Drug Company was founded by Dr. J.W. Temple in 1894. It is now operated by E.G. Hawthorne and C.B. Whitney (photo 48).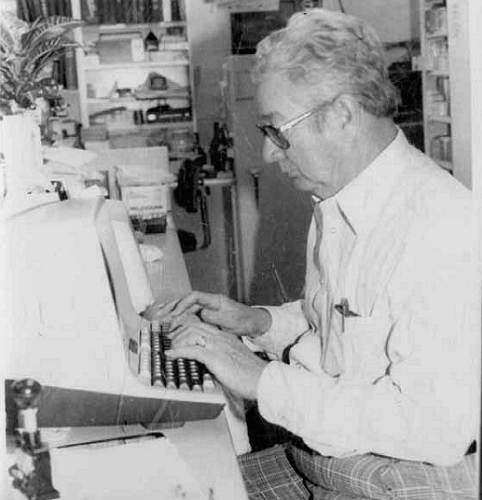 48 C.B. Whitney
Buehlers' Pharmacy has been owned and operated by Carl Buehler since 1917 (photo 49).
Previous to his ownership it was known as the Carpenter Drug Store.
The Kilgore Photo Shop was established in 1898 by H.S. Kilgore. Recently Mr. Kilgore sold the studio and retired. It is now known as the Wright Studio.
The first theatre was the Air Dome, built in 1912 by Charlie Barklow.
Eldon Electric Light Company (photo 50) was established by N.E. Harvey in 1904. At first electric irons and other appliances could be used only two days per week.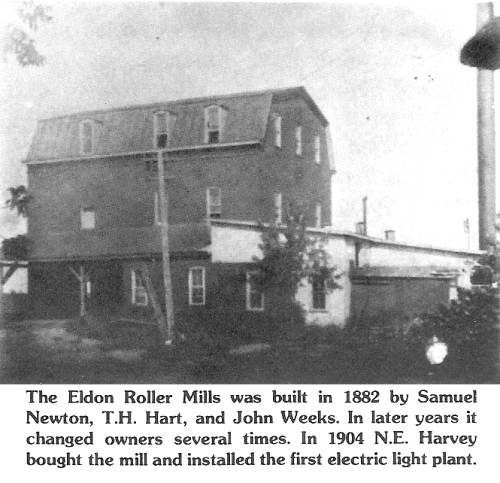 50 N.E. Harvey Electric Company
The Plant was sold to Missouri Utilities several years later. Russell Clotworthy is the present manager.
Eldon Grows Up
The building of the St. Louis, and Colorado Railroad, now Rock Island Railroad through Eldon in 1902, marked the beginning of the new era in the development of the town. The building of the round house and the establishing of the central division offices here brought the population up rapidly (photo 51).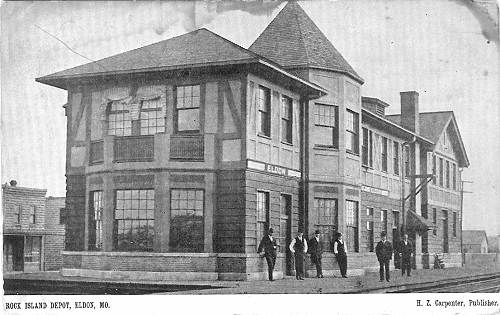 51 Rock Island Station - 1909
In 1900 Eldon had a population of 379 which increased to 2636 by 1920. New brick buildings began to take the place of small wooden business houses, and many nice new residences began to fill the vacant lots.
Many businesses and buildings were moved from Mount Pleasant and Aurora Springs. People from these towns began transferring their interests to this rapidly growing town.
January 8, 1904, the village of Eldon became a city of the fourth class. The proposition to incorporate Eldon as a fourth class city was carried by a vote of 198 to 1. the boundaries of this newly formed city were designated in section 4, Township 41, Range 15, and extending into township 42, with first, second, and third wards. Dr. J.W. Temple was elected Mayor; W.H. Austin, collector; J.L. Bruggy, Marshall; C.F. Laughbaugh, Police Judge, and Eugene Kraemer, City Attorney. The Board of Aldermen were: Dr. G.D. Walker, J.A. Stevens, C.G. Kiessling, J.H. Stiffler, Horace McKinney, and John P. St. John. They began their terms of office in 1904. Dr. Walker is the only living member of this original group.
During the building of the Bagnell Dam in 1928-1932 Eldon experienced a "boom" and profited then and since as a result of its construction (photo 52).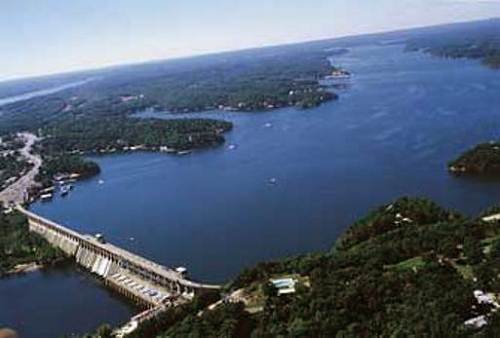 52 Bagnell Dam
Not only do many people from here find employment on this huge construction project, but it brought large numbers of families from elsewhere to make their homes here while there was work to be done. Eldon was located at a convenient distance from the work, and could offer good homes and desirable surroundings for many who were followers of construction work. This was a great help to the economic security of this community during the years of great financial depression. The town became alive with activity. The population increased to nearly 3600. Schools were overcrowded. At one time there were more than 800 children enrolled. Businesses flourished and profited while meeting the needs of this influx of people. Gradually as the work became finished the population decreased and activity drifted back to somewhat normal; but without doubt this "boom" left its influence upon the town. It gave it new hope of life and growth again. The location of Eldon and its nearness to this great Lake of the Ozarks has been a drawing point of interest ever since this region has been developing into a resort area.
Eldon is experiencing another great increase in business developments and a noted increase in population. Recently, the State of Missouri became actively engaged in promoting the industrial opportunities afforded in developing its natural resources as a part of post war reconversion, and thus provide an industrial expansion movement. The city of Eldon was one of the first in the county to make this industrial survey. Community leaders and Civic organizations cooperated in furthering the movement to apply to the interests and development of the town. As a result many commercial and manufacturing businesses have been established here, and many businesses already here have remodeled and expanded. An estimated survey of Eldon's business volume shows an increase of 30% in the past year.
The present population of Eldon is about 2800. The boundaries are:
North: a line at right angles with the end of Maple Street and at the North end of Maple Street.
South: Just beyond the "rock" fillings station on South Highway #54.
East: This is not a straight line. The east line at a point directly east of the school building is a line extending south from the intersection of North Street and the road leading to the Curtis Weeks place.
West: the corner of Godfrey Avenue also that avenue extending across the Rock Island and beyond the Highway to the North.
The approximate area of the city is one square mile.
There are many reasons for the growth of Eldon. Some cannot be found from the newspapers or stories of the history of the town. But it is growing because it offers advantages and conveniences whereby people can make a living here. The many places of business, the railroads, the factories, and other developments along with the fine churches, good schools, clubs, and community activities have benefitted and interested people who have wanted to live in a town that was growing and could help them to grow.
Eldon is yet young. It has only been here sixty five years. It began as a plot of ground, but its marked progress has shown the interest of its citizens across the years. It offers to all who live here a healthful, honest, happy way of progressive livelihood.
Natural Resources of the Community
Eldon has a delightful climate. The four distinct seasons offer no long periods of either heat or cold. Its altitude is about 1000 feet above sea level.
The city is situated in the center of a prairie farming community. The soil is medium, and suited to the growing of corn, wheat, fruit, vegetables, and the raising of poultry and livestock.
Eldon is about twelve miles from the Osage River, and has several nearby streams.
Some valuable deposits of coal, tiff, and lead are mined near here. Although there has been no large amount of ore, these mines have been dept in some use.
The wildlife of the community is made up of a host of birds, fish, insects, animals, and plants. Of the birds, the quail, wild duck, and goose are of most interest to sportsmen. The red fox, grey fox, grey squirrel, fox squirrel, flying squirrel, and cotton tail rabbit are the most common animals. There are a few mink, muskrat, opossum, skunk, woodchuck, and raccoon. A few copperheads and rattle snakes are to be found. These are poisonous snakes. There are a host of non poisonous snakes that are common in this area.
The streams offer practically every species of fresh water fish. Bass and trout are the favorites among fishermen.
Insects are numerous…both harmful and useful. The useful insects are the insects that carry pollen from flower to flower and make possible plant fertilization. The honeybee, butterfly, moth and beetle are common of this group the harmful insects are the most numerous. Among these are the mosquito and the housefly, both carriers of disease, and the grain weevil and the cutworm that infests garden and fruits.
The plants are more varied than any other wild life. All kinds of wild flowers may be found. Forests are the chief interests….forests of white oak, black oak, and post oak. From these are to be had timber for all purposes. During the past decades several men of this community, including R.S. Harvey and J.B. Franklin, have amassed small fortunes by the sale of this timber to the railroads to be used for ties. The ties were floated down the Osage River to Bagnell to be loaded onto trains owned by the Missouri Pacific Railroad Company to be shipped to all parts of the country (photo 53).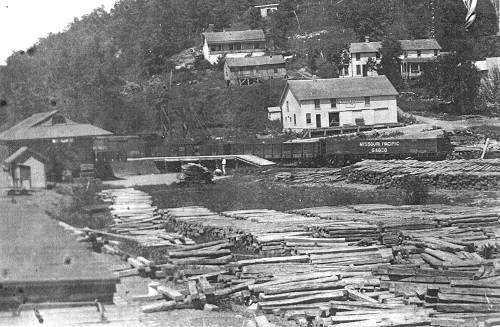 53 Bagnell Tie Yard
Much walnut timber has been taken from these forests. Furniture and small wood products are manufactured from the smaller trees.
Much can be said about the scenic attractions within the bounds of Eldon. The general countryside is a tourist's paradise. The Lake of the Ozark, largest artificial lake in America, is located just twelve miles south, and can be reached by way of a very scenic highway drive. The entire region is widely known for it scenic beauty and is fast becoming the "playground of the Ozarks." The State Park area is within an eighteen mile drive south of Eldon. There are located several caves within the vicinity that have intrigued people throughout the years. The exploring parties and picnics that were a jovial pastime in the earlier days are still enjoyed with equal interest by many today.
Developed Resources
Eldon has several and varied factories:
1. The Kraft Cheese Factory operates a large plant and furnishes a ready market for daily products.
2. The Glaser Brothers Factory supplies a shipment of an average of one hundred pair of pants to retail and wholesale buyers daily.
3. The International Shoe Company has a large output of shoe parts shipped daily to larger factories for finishing.
4. The Wessling-Jordan Shoe Company operates in a new building provided for by the Community Development Corporation.
5. Eldon has two Concrete Block Manufacturers. They are Farmer Concrete Block Company, and Todd Manufacturing Company.
6. A trailer Factory is also under construction.
7. A Home Bakery and Doughnut Shop serves a large number of customers.
8. Three Dairies furnish most of the town's milk supply.
9. Eldon has one outstanding Milling Company. The Eldon Flour and Grain Mill. There are five other Feed and Produce houses doing active business.
10. The Waite brothers have opened a Poultry Dressing Plant, specializing in the dressing and shipping of turkeys and chickens.
Through the Board of Health, and the efficient doctors, Eldon cares for the health of its people. A private hospital serves many.
A Public Library is open to serve the reading public.
The Ozark Central telephone Company serves the customers of Eldon and nearby communities.
Eldon is proud of its new post office building. It is a first class post office, with rural delivery daily, and city delivery twice and three times daily except Sunday.
Through the railroad stock yards, many hogs, cattle, and sheep are shipped to the Stock Markets. Much of the town's meat supply comes from the stock butchered here in this area. A Freezer Locker System serves many in the community.
Eldon has a rapidly growing trade center that well serves the needs of the town and the surrounding community, through two banks, six leading grocery stores, a semi department store, three clothing stores, and many other shops, cafes, hotels, garages, and numerous other places of business.
The people of Eldon elect the Mayor of the city along with the Treasurer, Auditor, and the Police Judge. The other officers are appointed by the mayor and ratified by the council.
The United States Highway 54 passes through Eldon, and State Highway 52 also runs through the town. Many other farm to market roads lead to and from the town.
Eldon's latest development has been the building of a Model Airpark, which was completed and dedicated in June, 1946.
Cultural, Civic, and Social Developments
Eldon has developed culturally along equally with its many resourceful developments. Through the Public Schools the boys and girls are given the chance of growing into useful and intelligent citizens. Educational Clubs comprise in the main the local Parent Teachers Association. A movement is under way to organize a University of Women's Club. The many churches are so located that Sunday School and religious services are available to everyone.
Social and civic life has been developed through sports, community clubs, annual celebrations, and business organizations and welfare organizations. Basket ball, soft ball, and golf are the favorite outdoor sports for the people. Once a year the school holds an all school carnival at Halloween. The Lions Club holds an annual Jamboree Celebration. The Chamber of Commerce and the Lions Club are the active men's clubs. There are three very active Women's' federated Clubs…The Euterpean, The Evening Euterpean, and the Sorosis club.
Many of Eldon's citizens belong to the Lake of the Ozark Association. Several own cottages and resort homes along the beaches of the Lake. Van View (photo 54), owned by Clark Vanosdoll, at Arrowhead Beach, is a pleasure haunt to his many friends and acquaintances. Mr. Vanosdoll has done much to revive and preserve the old fashioned square dance and other group dances popular in earlier days of our history. Many fun loving gatherings are held there in the wholesome atmosphere of his gracious hospitality.
54 Vanosdoll Home at the Lake
Evaluation of the Community
Eldon is a trading center for the people of the surrounding farming and stock raising community. Live stock and grain markets are reasonable centers of importance. It has eight factories. Truck lines bring supplies into the city daily. Two bus lines operate from here daily with schedules to all parts of the country. Passenger service on the Rock Island Railroad is available daily to Kansas City and St. Louis. Freight service is supplied regularly over the Rock Island and Missouri Pacific lines. The schools are modern and well equipped. There are six churches, one theater, a city hall, and a private golf course. It has one hotel and several tourist courts. It has all weather roads that reach to all parts of the country, a delightful climate, and a water supply unsurpassed for its purity. It has a modern cold storage plant, an ice plant, and many services that add to comfortable living. It has a Model Air Park, and last but not least it is located near the beautiful Lake of the Ozarks.
The community can be made a better place in which to live. Each citizen must consider it is his responsibility to clean and beautify his surroundings. We must observe the rules and laws of the city and nation. We must prevent fires, and help prevent accidents. We must have respect for other people's property and show kindness and courtesy to our neighbors.
Our school can improve the community. Public education in Eldon should develop a self realization within the individual. It should develop human relationships, economic efficiency within the individual, and a civic responsibility. Each child can help and grow to make Eldon a better place in which to live.
Through this study of the community we have gained knowledge of the early history and traditions, and an appreciation of the achievements of our ancestors. We have gained an appreciation of the changing conditions through the years which have affected the modes of living of the people. We know about the physical geography, the landmarks, the richness of the natural and developed resources. We know of the activities and organizations existing in the community. We have tried to look for pure facts, and evaluate statements carefully before accepting them as truth. We have learned to use charts and maps in interpreting factual materials, and are learning to be self reliant in using these books, and other sources of materials. We have a greater love and loyalty for the community and its people. Above all we have a greater desire on the part of each of us to help make the community a better place in which to live.
---
So concludes this rather long Progress Notes for this week. One of the elements of Professor Fitzgerald's narrative which really is apparent is the natural pride she felt for her home community of Eldon and the optimistic outlook she expressed about its future. In a way, one could feel that at the time she wrote her history of Eldon, the town had reached a very high level of developmental success and accomplishment, perhaps more than any subsequent time even into the future. The demise of the Rock Island Railroad Company, which I discussed recently on this page, and the more recent loss of industrial businesses due to the current recession have presented an era which doesn't seem as optimistic as was that post war period of the late 1940's and 1950's. At any rate, I certainly believe it was a very fortunate group of students who were selected to have Professor Fitzgerald as a teacher at one time or another during her career.
That's all for this week.
Joe Pryor