Monday, November 9, 2009
Progress Notes
For several months I have been communicating with Carrie Law Bond, who now lives with her husband Earl in Rocky Mount, regarding the Bond families of Miller County (photo 01).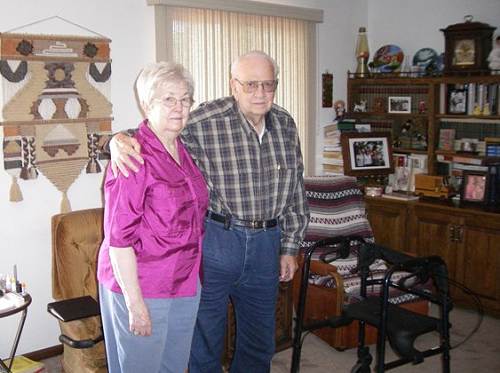 01 Carrie Law and Earl Bond
She is related to the Bonds of south Miller County and her husband Earl is out of the Bonds of north Miller County. His brother, Raymond, who was a well known local minister, passed away only a couple of years ago. Carrie originally was from Iberia. She went through 8th grade in Iberia but her family moved to Etterville after which she finished high school at Eldon. It was in the Etterville area that Carrie met Earl. Carrie's mother, Sadie Bond, was a descendent of a different set of Bonds than the family of Earl's; however, one assumes that very early on all the Bonds were related. Carrie's father was Claud Law. I will have more to write about Carrie's family in a later edition of Progress Notes. But certainly, it is confusing at times to try to work out how Carrie's married surname is the same as that of her mother's!
Originally, the Bond name was of English origin, and the earliest Bonds were members of the Quaker religion. Because of persecution in England they began making their way to America very early in our country's history.
Carrie's research discovered that the Bond name is of great antiquity in England where, from the time of Edward the Confessor (photo 02) down to the Norman Conquest, Bond families held many estates in Cornwell, Kent, Essex and several other counties.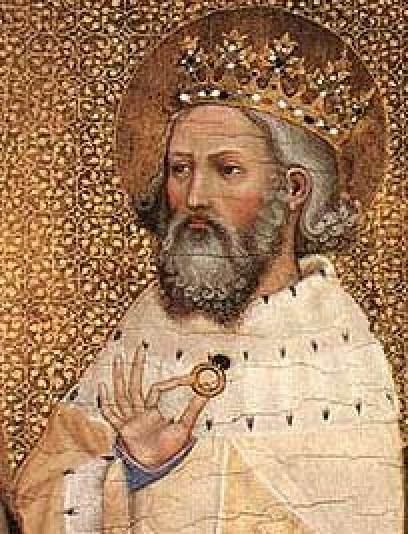 02 Edward The Confessor
Authorities generally agreed that the name derives from the Viking "Bonders", a class of freeholders next below the Earl in rank. Many Bonders migrated to England during the Norse invasions and settled upon the land. In time the name Bonde was changed to Bond.
According to Carrie, "The Quakers," or "The Religious Society of Friends," arose in mid seventeenth century England, during the religious, social and political upheavals of the English Civil War. Founded by George Fox (1624-1691) (photo 03), the movement was not intended as a new denomination, but rather as a rediscovery of original Christianity without institutional limitations.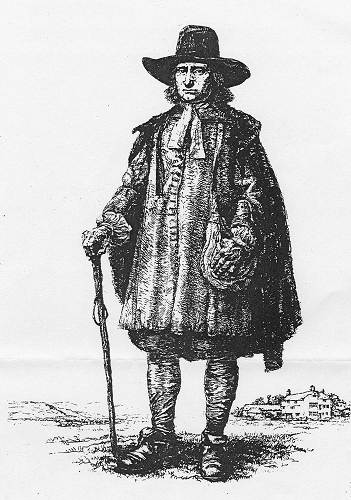 03 George Fox
With access to the Bible in English, converts to this new view called themselves "Friends of the Truth,' considering themselves to be friends of Jesus, after the Gospel of John 15:14 ("You are my friends if you do what I command you.").
Following the Restoration (of the Stuart Monarchy, 1660), it became a principal objective of the Crown to assure that no revolution would ever again unseat the Monarchy. The 1660's became a period of repression. The Quakers were by now a substantial movement, and although a completely peaceable sect, were among the principal victims. A young man, William Penn, 26 years old, and William Mead were arrested and spent two weeks in jail for participating in an unlawful assembly (photo 04).
04 William Penn
The jury acquitted them, but they (the jury) were fined and imprisoned for bringing an acquittal verdict. Eight of the jurors paid their fines, but four jurors sought relief in a higher court and won. This caused even more hatred toward the Quakers. Some laws were changed over the dispute and it was determined a jury cannot be punished over its verdict.
William Penn (1644-1718) immigrated to America and settled in Pennsylvania. He received full proprietary rights to Pennsylvania, which then included Delaware in 1691. This was one of the largest land grants given to an individual in the history of the world, and with it came enormous political power. King Charles II signed the state and federal governments. Penn set up public schools and rules to follow to make life pleasant and peaceful in the communities. However, he suffered a series of strokes and appointed his second wife, Hannah Callowhill Penn, acting proprietor in his stead in 1712. She served from 1712 to 1726, actively promoting commerce and peaceful settlement of the colony's western lands. In 1756, Philadelphia, PA had become the largest city in the thirteen Colonies.
Quaker dominance in Pennsylvania government ended in 1754-56 (during the French and Indian War). At that time FRIENDs were forced to resign public offices. They would not vote to create a militia for fighting a war, something to which they were strongly opposed. They held to the commandment, ("Thou shall not kill.") Quakers suffered persecution during the American Revolutionary War in the 1700's also.
They were conscientious objectors and were a very kind, generous, and caring sect which were noted as plain dressers. They practiced honesty, and hard work. Despite a long withdrawal from public offices, a number of Quakers slowly began to run for public offices. Some two hundred years later, two presidents were of Quaker or Friends background: Herbert Hoover and Richard Nixon.
Carrie has worked out a very complete genealogical descendence of her husband Earl Bond's family from its earliest origins in England. The first Bond of Earl's lineage in England whom Carrie could identify with some degree of certitude was Walter Bond (1550's) who lived in Laycock, Wiltshire England. The first Bond relative of Earl's to come to America, was Earl's Great great great great great grandfather Joseph Bond (b. 08-06-1704; d. 1760). He and his wife, Martha were bound under contract to exchange work for their trip to America. They came on the same ship and married after their contract expired, settling down to live in Pennsylvania. Carrie writes that tradition has it that Joseph and Martha did not comply with Quaker marriage rituals; therefore, they were disowned or refused membership in the Pennsylvania Friends Society. Disassociation must not have been that unusual because it seems that as members of the Bond families moved west throughout the early years, by the time they reached Missouri few remained Quakers.
The first of Earl's family to reach Miller County was John Bond, Earl's great great grandfather. Earl has in his possession photos of his great grandfather, Berry Bond, his grandfather Joe Bond, and his father Ollie Bond (photos 05, 06 and 07)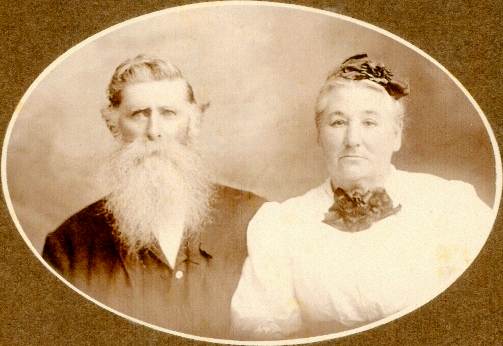 05 Berry Carter Bond - G-Grandfather of Earl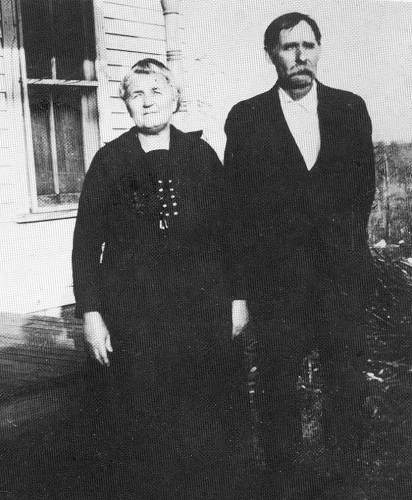 06 Joseph and Eliza Bond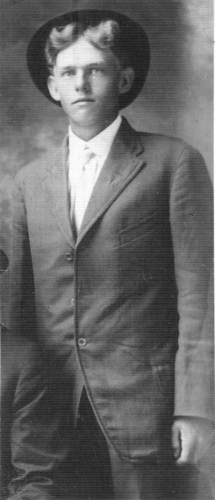 07 Ollie Bond
Earl's family of Bonds eventually settled around Etterville. Ollie, Earl's father, was born near Henley but later moved to the Etterville area. Soon afterward, the family moved to St. Clair where Earl was born and then to Jefferson City. Earl and Carrie spent their working lives in Kansas City, but after retirement returned to the home area having now lived in Rocky Mount for nearly twenty years.
During WWII Earl served in France where he participated in the Battle of the Bulge. Earl's unit was delayed for several hours in freezing weather. During this time he was trapped in a cramped position in a tank and could not move his feet, suffering severe frost bite which required three months of surgical care in a hospital. Earl had a very honorable record during the War and received several awards. Here is a wartime photo of Earl which includes the awards honoring his service and sacrifice (photo 08):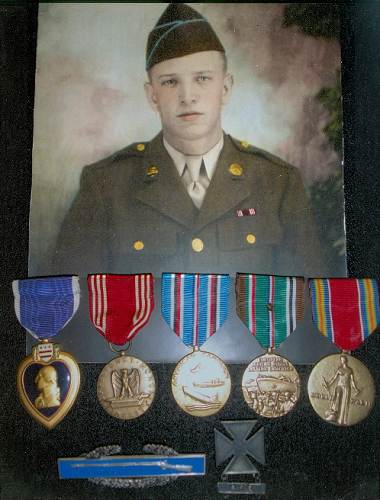 08 PFC Earl Bond
The following photo describes in order the names of the medals (photo 09).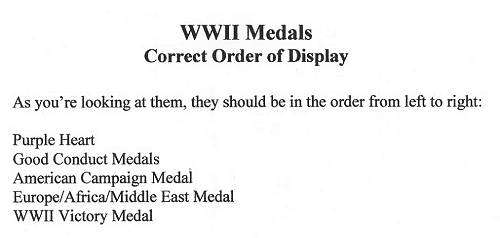 09 PFC Earl Bond - 2 Combat Infantry Badge - Marksman Award
The next photo is of Earl's combat brigade in France (photo 10).
I am very happy to have had the opportunity to meet Earl and give our readers an opportunity to learn of his wartime service and sacrifice. And Carrie's summation of the Bond family history was very interesting, I thought, especially the fact that early on the Bond family originally were Quakers who were some of our earliest immigrants to this country.
---
A couple weeks ago I featured the story of the gift to the museum by the Bamber Wright family of the wonderful painting by Sandra Smith of the old steamboat, the Homer C. Wright (photo 11).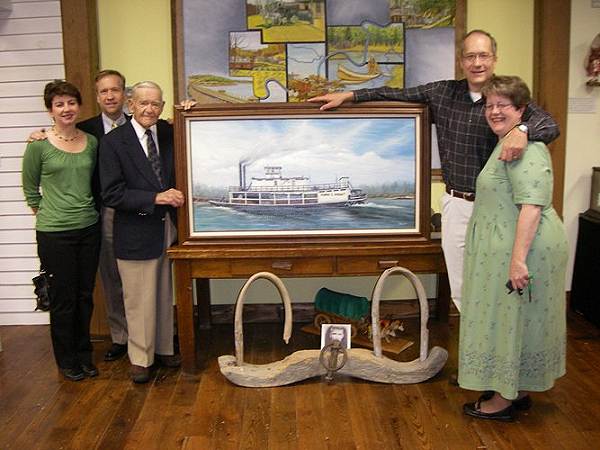 11 Sue and Phil, Bamber, Jack and Ann Wright Donation - Homer C. Wright Steamboat
We hung the painting on the wall of the main entrance to the museum where all will be sure to see it (photo 12)!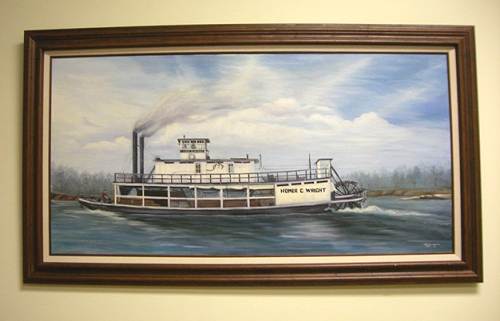 12 Homer C. Wright Painting in Entrance
We have in our steamboat section of the museum a display featuring this famous steamboat. In this next photo you can see the large pilot's steering wheel on the left which served as an identical reserve in case the original on the boat ever failed (photo 13).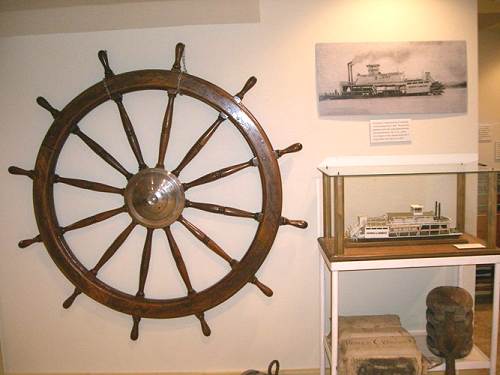 13 Homer C. Wright Display
Hanging on the wall to the right of the pilot's wheel is an old original photo of the Homer C. Wright steamboat. In the glass case is a hand crafted replica of the Homer C. Wright which you can better observe in this close-up photo (photo 14).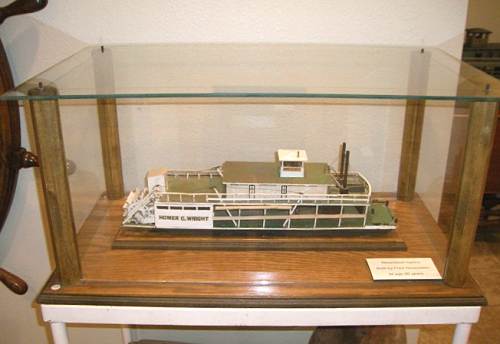 14 Handcrafted Replica Homer C. Wright
This Homer C. Wright replica was made by Frederick Hauenstein, son of William Henry Hauenstein, who was the brother of Phil Hauenstein, the one who commissioned the construction of the Homer C. Wright steamboat (photo 15).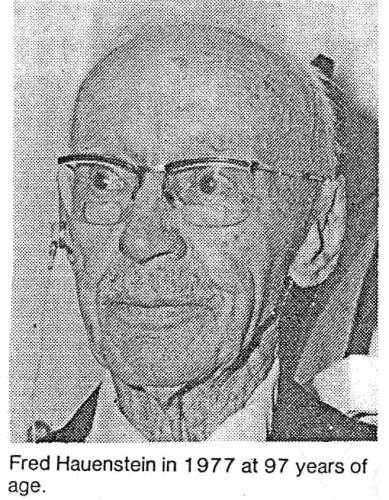 15 Frederick Hauenstein - 1977
Frederick Hauenstein also had a steamboat named after him. Here is that story:
In early life, Frederick Hauenstein's father, Mr. William H. Hauenstein (photo 16), became interested in boats, spending many hours with his father's boat, "The Alice Gray."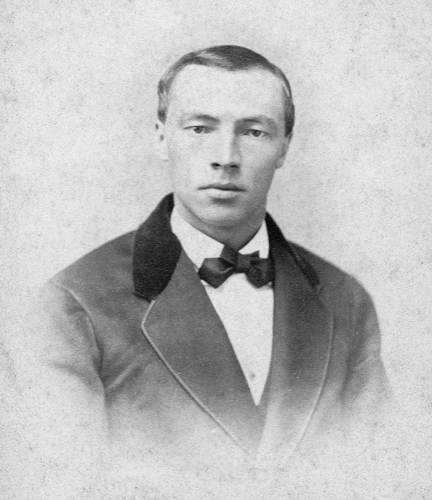 16 William H. Hauenstein
He conceived the idea of building a light draft boat with a barge. The boat propelled the combination and the barge carried the cargo. This design would make it possible to operate on a swollen river when heavier boats could not. The first boat built under this plan was the steamer, "Frederick," which as noted above was named for William's son. It was nearly 100 feet in length. This style of steamboat became very popular for rivers the size of the Osage.
Because of William's ingenuity and the popularity of the boat he soon acquired the nickname "Captain."
Tragically, before William built the Frederick, his first wife, Elizabeth Goodrich (photo 16a), who was the mother of William's first child, Frederick, had accidentally fallen off the steamboat Tuscumbia in 1881 and drowned.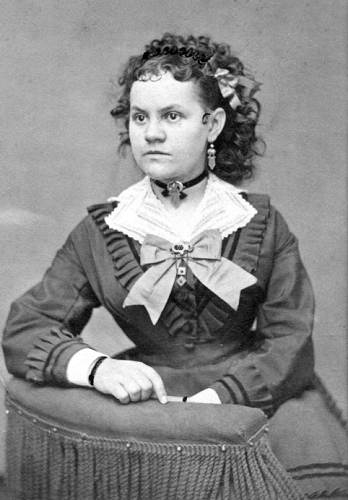 16a Elizabeth Goodrich Hauenstein
At the time, Frederick was only one year old as he had been born the year before on February 17. Perhaps in memory of his wife, Elizabeth, whose death was a tragic loss not only to William but also to their son, Frederick, William named his newly designed boat, the "Frederick."
Following is a description of the Frederick steamboat:
Name: FREDERICK
Type: Sternwheel, wooden hull towboat/packet. Size: 96.4' x 14.3' x 3'
Engines: 7 1/2" bore, 2 1/2' stroke. 1 boiler.
Launched: 1883, Tuscumbia, Mo.
Destroyed: *1903 Sank at dock. Dismantled
Area: Osage River in Missouri, connecting with MP Railroad at Osage City, Mo.
Owners: *Originally, Captain William Henry Hauenstein
1883-89, Captains Henry Castrup and Robert Marshall
1889, sold to other interests
1894, Managed by R.M. Marshall
Captains: *1883, Henry Castrup
Comments: 1894, Aug, 10, Jefferson City, Mo., sank of unknown causes.
*Raised and repaired.
*Designed by Capt. William Henry Hauenstein, who conceived the idea of a light draft boat propelling a cargo-filled barge. This system allowed travel on the Osage River when water levels were low and heavier boats could not pass.
*Source: Excerpts from History of Miller County Missouri, by Gerald Schultz, Midland Printing Co., Jefferson City, MO, 1933. Microfilm.
Sent by Kelly Hokkanen
At this website
http://www.riverboatdaves.com/areas/osage_r.html#FREDE
Here is a collage of photos of the Frederick Steamboat (photos 17 - 20):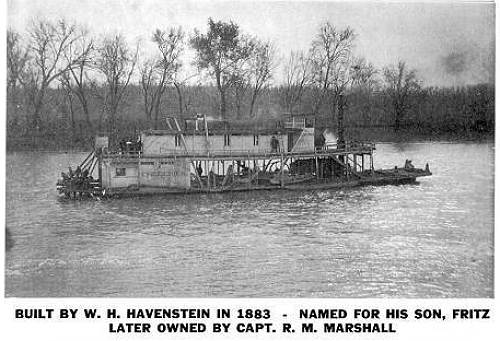 17 Frederick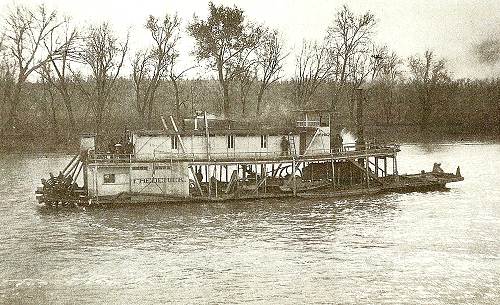 18 Frederick on the Osage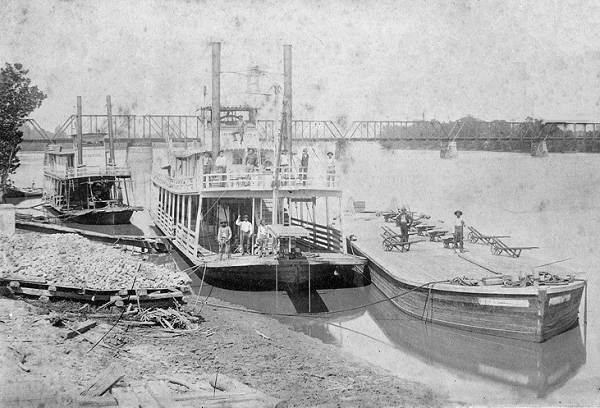 19 Frederick - Hugo - Osage City - Choking Stump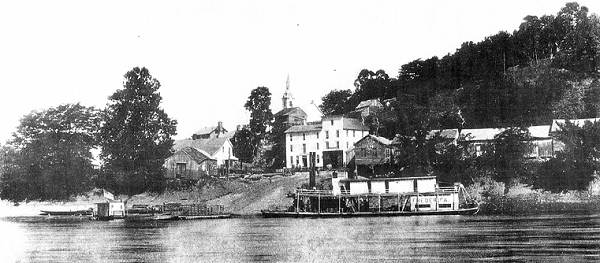 20 Steamer Frederick at Tuscumbia Landing
Now for the story of Frederick Hauenstein, son of William Henry Hauenstein, and grandson of the original Miller County Hauenstein, William (no middle name known) Hauenstein Sr. (photo 21)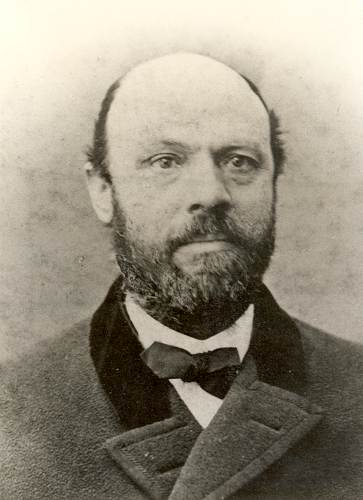 21 William Hauenstein Sr. 1822 - 1913
This narrative is copied from a clipping of an obituary for Frederick printed in a Kingsburg, California newspaper March 8, 1985 when Frederick was 105 years old:
Frederick Hauenstein, Kingburg's oldest citizen, died Friday, March 8, just slightly more than three weeks after celebrating his 105th birthday. A memorial service was held Monday at Creighton Memorial Chapel. The Reverend Frank Poole of the Evangelical Covenant Church officiated. Burial will be in Missouri.
Mr. Hauenstein, a Kingsburg resident since 1956, was born in Tuscumbia, Missouri, on February 17, 1880. He was one of eight students graduated from Westminster College, Fulton, Missouri, in 1900 (photo 21a).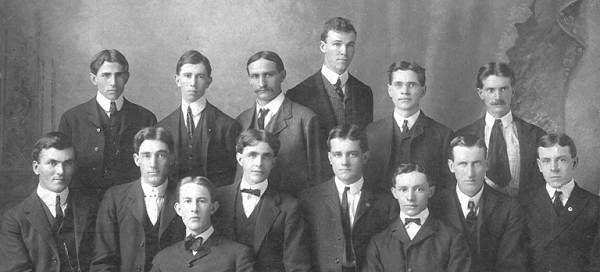 21a College class of Fred Hauenstein at Westminster - 3rd from Right Front Row
One year after his graduation he became the first person in the history of the college to receive a Master of Science degree. While pursuing his master's degree, he worked as a teaching assistant in the physics and chemistry departments.
In 1903, he was awarded a Bachelor of Science degree in mining engineering by the University of Missouri at Rolla, then called the University of Missouri School of Mines and Metallurgy.
Following his graduation he was a surveyor for railroad and mining operations throughout Arizona, Nevada and Mexico. In 1913, he married Mary Kouns (photo 21b), also of Tuscumbia. She preceded him in death in October 1978 at the age of 90.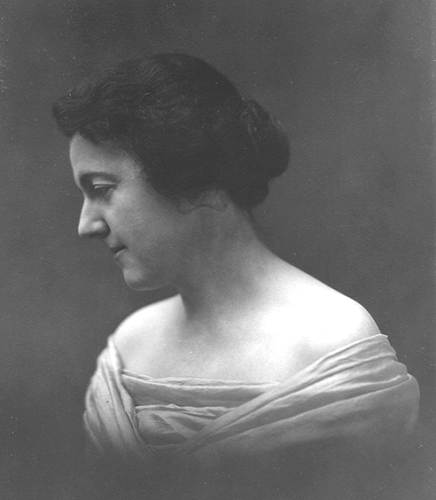 21b Mary Kouns Hauenstein
Seeking a professional degree in civil engineering, he returned to the Rolla University and was graduated in 1916.
The Hauensteins moved to Exeter in 1921. He bought a ranch and became a grape farmer, eventually owning and operating a packing plant. That same year University of Rolla named him a charter member of Phi Kappa Phi honor society.
While living in Exeter, he served as financial secretary and trustee for the First Presbyterian Church and was a trustee on the Exeter school board for 13 years.
He sold his business and retired in 1941. Shortly after the Hauensteins arrival in Kingsburg, he went to work for his son as the bookkeeper for Fred's Truck Fuels, riding the mile to and from work on his specially constructed three wheel cycle. He retired just a few years ago.
In May 1978 he received a standing ovation as the only 75 year alumnus in the 107 year history of Rolla campus from about 6000 persons attending the commencement exercises (photo 21c).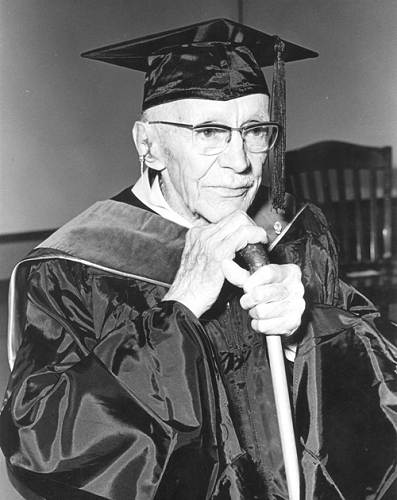 21c Frederick Hauenstein at 75th Alumni Reunion Westminster College
Simultaneously, he was honored by Westminster College with the college president describing him as having "helped lay the foundation of the strong science program that is such an important part of our past and present."
On both his 100th and 103rd birthdays elaborate ceremonies were held with greetings sent from presidents.
A member of the Masonic Lodge and Scottish Rite for more than 70 years, Mr. Hauenstein is survived by his son, Fred W. Hauenstein Jr. of Kingsburg; three grandchildren; and six great grandchildren.
The family has requested that remembrances be sent to the donor's favorite charity.
Because Fred had moved away from Tuscumbia so long ago at a relatively young age, he had no local history. Also, he left so early in life that no photos are available of him in this area from any existent descendents. The only photo I could find was the one above taken from the California newspaper obituary. Therefore, many times when visitors see the attribution to him as being the one who handcrafted the model of the Homer C. Wright steamboat, questions arise as to how he was related to the original Hauenstein family. Most people are quite impressed when informed of his stellar educational achievements here in Missouri as well as the outstandingly successful business career he had in California.
His son, Fred W. Hauenstein, who was raised in California, also made history there as he was one of the early pioneers in boat racing. Although his story is not part of our Miller County History I thought his life's activities and accomplishments also were very interesting and impressive. Sadly, Fred W. passed away just a few years ago. Here is his obituary:
Fred W. Hauenstein
January 3, 1914 – January 1, 2006
Frederick William Hauenstein was born in Denver, Colorado on January 3, 1914, the only child of Frederick and Mary (Kouns) Hauenstein. In 1922 the family settled in the Exeter, California area where Fred, Sr. grew grapes. Fred attended schools in Exeter, graduating from Exeter High School where he was active in all sports and social affairs. He studied divinity and law at the University of Missouri in Columbia, MO, where he was a star on the university track team. (He ran a best of 9.7 seconds in the 100-yard dash!)
Returning to California, he worked on the family farm and, assisted by his father, became interested in outboard powerboat racing in 1939 – a hobby that he passed down to his sons and grandsons. Also through his father, Fred acquired a love of hunting and deep-sea fishing. He spent much time on the Pacific Ocean and the Gulf of California.
Raised in an era that saw the rapid development of the automobile, Fred gained a life-long appreciation for cars, both old and new. He collected some great examples of older cars in later years and enjoyed working with them.
Fred married Frances Coffee in 1941 and they have enjoyed 64 years of married life together. They lived in Southern California during WW-II and worked for Lockheed Aircraft in the war effort.
Returning to the San Joaquin Valley, Fred became a Teamster and drove over-the-road trucks, as well as distributing gasoline and diesel fuel with his own tank truck. The couple started a truck stop and opened for business in Kingsburg in 1953. Fred's Truck Fuels and Café became a successful Kingsburg landmark on Highway 99.
In 1956 Fred returned to his boat racing hobby. In 1957 and 1958 he won the American Power Boat Association national amateur high point championship (the Paul Sawyer Medal).
By the 1960s he was involved in his life-long dream of flying through the sport of soaring. He decided to take up powered flight and eventually owned several airplanes, culminating in a project in which he built his own aerobatic airplane (partly at home, in the dining room!). He became proficient at aerobatics, as well. For a time he did part-time work as a sheriff's deputy, transporting prisoners by airplane between state and county facilities in California.
Fred was a member of the Quiet Birdmen, the American Power Boat Association, Northern California Outboard Association, the Kingsburg Kiwanis Club, the Rotary Club, the Kingsburg Gun Club, the Horseless Carriage Club of America, the Antique Outboard Motor Club, the Soaring Society of America, the Experimental Aircraft Association and was a charter member of the Kingsburg Golf and Country Club.
Mr. Hauenstein is survived by his wife, Frances; two sons, Fred M. (Linda Scheline) Hauenstein of Oshkosh, WI, Don Hauenstein of Seward, AK and daughter-in-law Kathy Hauenstein of Weatherford, TX; Grandchildren Dan (Kristy) Hauenstein of San Carlos, CA, Mike (Kate) Hauenstein of New Haven, CT, Hilary (Brad) Carpenter of Gilbert, AZ, Raina Hauenstein, USAF, Ira Hauenstein of Seneca, MO, Casandra King of San Luis Obispo, CA, Jack Hauenstein of Seward, AK, and five great grandchildren. He was preceded in death by one son, James F. Hauenstein; and a granddaughter, Melcena Hauenstein.
A memorial service will be held at the Evangelical Covenant Church, 1490 Lincoln Street, Kingsburg, CA, 93631, (corner of Lincoln and Draper) at 10 am Saturday, January 7, 2006.
In lieu of flowers, the family requests that donations in his memory be made to the charity of the donor's choice.
---
Last week John Korasick from the State of Missouri Archives consulted with our volunteer staff at the museum to instruct us in the proper method of organizing the original Miller County Probate files for microfilming. Turn out of volunteers to help was good and much was accomplished (photo 22).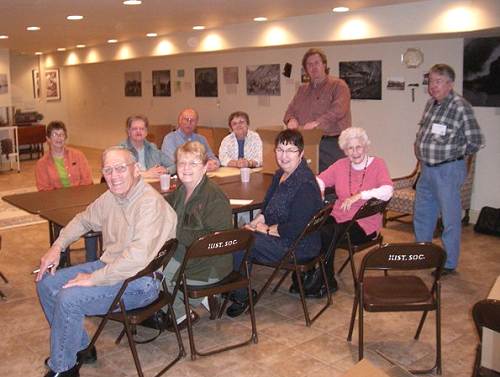 22 Probate Files Volunteers
Our tasks were to organize chronologically the documents for each file and to label each with name and date filed.
In the photo on the back row left to right are Doris Wiggins, Betty Kallenbach, Brice Kallenbach, Nancy Thompson, and John Korasick. In the front row are Jack Brumley, Connie Prather, Judy Pryor, Helen Schulte, and Carl McDonald.
The Probate Files include records going back to the very year our county was organized in 1837. Just about all of us found one or more family members from the distant past with documents included in these files. We feel the Probate Files are one of our museum's most important research assets; for that reason, we control access to the original files. However; once we get them on microfilm, they will be more accessible, more easily organized, and protected from deterioration, something which is beginning to occur with some of the older files.
---
At our Car Cruise show last month board member Jack Brumley gave each show car owner a plaque which memorialized Miller County Historical Society member, Jack Lupardus, who had passed away recently. Jack was a classic car enthusiast who had organized our car show in the past. This year Jack's friend, Jack Brumley (photo 23), who also is a vintage car collector, managed our show.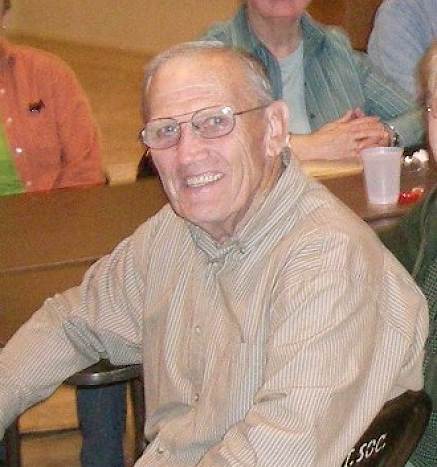 23 Jack Brumley
Jack Lupardus was most proud of the vintage fifty's model Cadillac Coupe he owned and often drove around the area. Here is a photo I took of him and his brother, Richard Lupardus, a couple of years ago by the car shaking hands with a friend of Jack's (photo 24).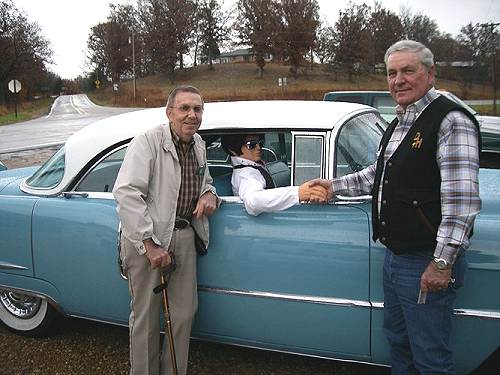 24 Jack and Richard Lupardus with Guest
It was the image of this car that Jack Brumley had reproduced on the plaque which was given to all our car event participants. I thought readers of this site might appreciate the opportunity to view a photo of this plaque which Jack Brumley designed and had produced for our event (photo 25).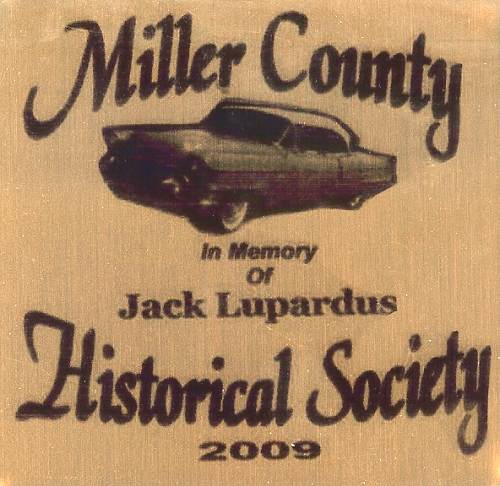 25 Memorial Placard
You can read about the recent car cruise show at this previous editon of Progress Notes from last month.
---
One of our visitors last week was Forest Bogg, originally of Jefferson City, although now he lives on the Mead's Flat area of Highway 54 just east of Bagnell Dam. Forest's father was A.L. Bogg, owner of the A. L. Bogg Machinery Company, which was located in Jefferson City. As a young boy I remembered traveling with my father to the Bogg machinery company in Jeff so that parts or new machinery could be purchased for the cedar wood novelty business my father and uncles owned in Tuscumbia. I hadn't met Forest before as far as he or I could remember. However, Forest said he had owned a service station in Osage Beach for a number of years about twenty years ago. It was located where the Bandana Barbecue restaurant is now. Forest and his brother, when they were teenagers, hunted the creeks of southern Cole County to find arrow heads and other Native American artifacts which they would bring to Lee Mace, owner of the Ozark Opry and Indian Burial Cave in Osage Beach. Lee would put the artifacts on display at the cave store and museum. Forest was surprised when I told him that during that same time frame in the early 1960's, I had worked for Lee as a cave guide at Indian Burial Cave! Then I took Forest over to the Lee Mace memorial display we have in the museum where I took his picture (photo 26).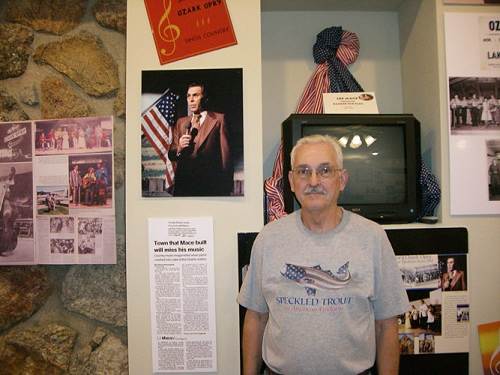 26 Forest Bogg
I always enjoy meeting all the guests I can who come to visit the museum; it seems we always find something in common to talk about!
That's all for this week.
Joe Pryor