Monday, October 19, 2009
Progress Notes
A couple of weeks ago I visited the home of Wallace and Marjorie Vernon to obtain information about the Tompkins Chevrolet Dealership of Eldon which was owned by Marjorie's father and grandfather, C.T. and Harry Tompkins. While there Wallace (photo 01) and I discussed some of the history of the Eldon Advertiser Newspaper which, along with five other local newspapers, is owned by Wallace's Vernon Publishing Company.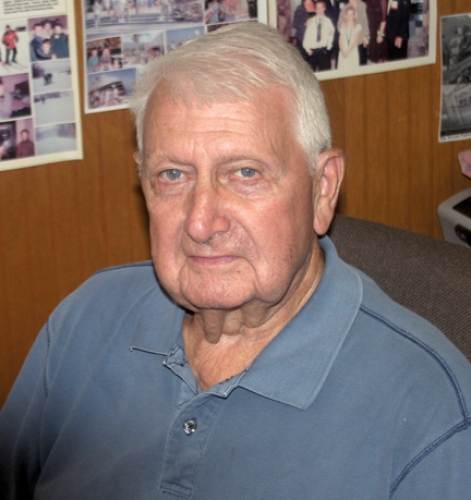 01 Wallace Vernon
I had already recorded a narrative of the history of the newspaper in a Progress Notes from last year.
Ownership of the newspaper has remained in two families for most of its 100 year history. Ed Shepherd sold The Advertiser to Mr. and Mrs. M.C. Dionne in 1945. The Dionnes' installed a later model flat bed press and updated other printing equipment before selling to Mr. and Mrs. Carl Winter in 1946. Wallace became a partner in 1948 and he and his wife, Marjorie, became sole owners of the paper in 1953.
Ed Shepherd was a very interesting person who often wrote articles for his newspaper about various subjects (photo 02).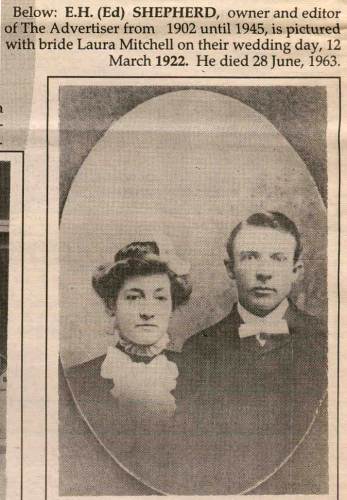 02 Ed and Laura Shepherd
The paper originally was started by his father, Nehemiah Shepherd in 1894 (photo 03).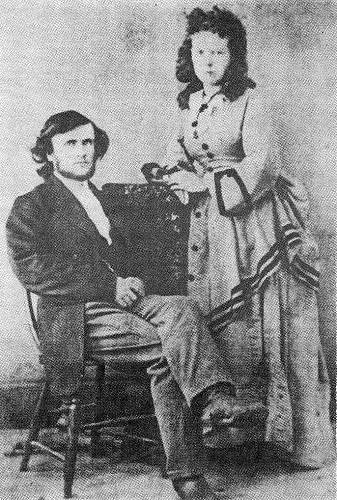 03 Nehemiah John Shepherd with wife Permelia Ralls
In the website I listed above about the history of the newspaper, I also included as a separate story the history of Stark Caverns. Interestingly, I recently had read an old article written by Ed which had been published in the Advertiser in the 1950's about some of Ed's early experiences at the turn of the 20th century as a teen ager exploring Stark Caverns (which at that time was called Aurora Springs Cave). So for this week I thought I would share that article with our readers. Refer back to the website listed above for the complete history of the cave. However, before getting to Ed's story, here is an interesting photo of the cave from the collection of Dwight Weaver (photo 04).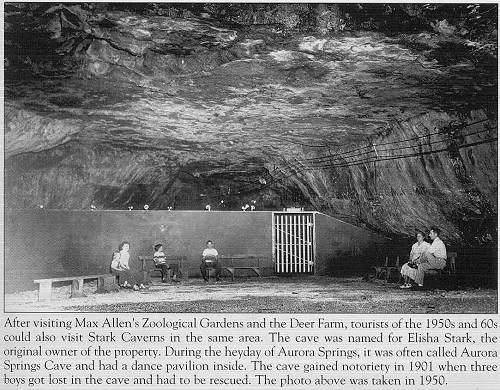 04 Stark Cave (From Dwight Weaver Collection)
The caption on this photo presages the story Ed is going to narrate:
Aurora Springs Cave
Ed Shepherd
Eldon Advertiser 1953
Soon after we came to Miller County in the fall of 1880, the Reverend William C. Downing discovered Aurora Springs while hunting and following an Indian trail. He drank of the waters and found they contained medical qualities.
A short time before Aurora Springs started as a town, James Jemphrey owned the 80 acres on which the park is now located. He offered the park land to my father for a black mare he had purchased from a man who hauled coal down the levee to barges on the Mississippi River at St. Louis. When father explained that the mare had never been driven in hilly country and was trained to put weight heavy on the breeching control when descending a grade, the trade was not made.
Father, however, did place some articles of advertising in some of the newspapers for which he was writing. Then the Missouri Pacific Railway Company started work on building the Bagnell Branch to Springield, and the boom town reached a census population of 900.
Other attractions awakened interest in the small Saline Creek valley. Klinger Cave or the Ancient Grotto, one mile east of Aurora Springs, was opened to the public at an elevation of 100 feet above and 400 feet back from the creek. A boat made to accommodate ten people was placed in the entrance to provide scenic transportation over the small subterranean lake about 18 feet back of the curved entrance. This trip proved to be a weird experience causing words of astonishment, fear and delight from the passengers. The last trip we made in this boat it leaked and was found unsafe. It may be almost entirely gone by this time.
Note: Here is a photo of Klinger Cave and a short narrative about it (photos 05 and 06):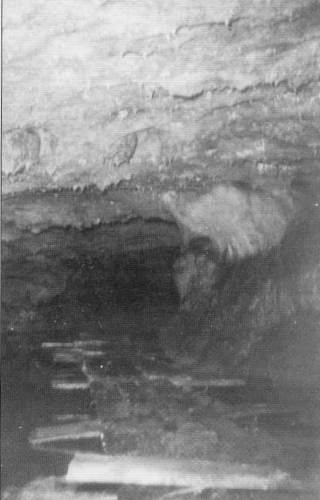 05 Klinger Vernon Cave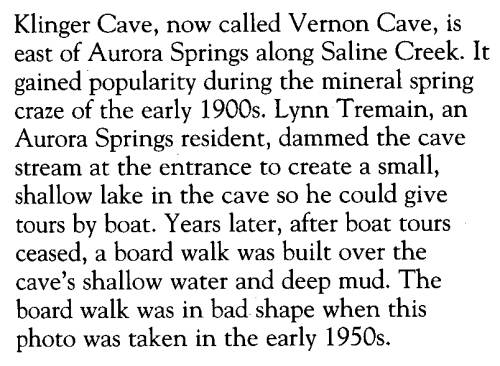 06 Klinger Vernon Cave Narrative
Then four miles south of the present location of Eldon, Aurora Springs Cave or Stark Caverns was opened. It created considerable curiosity with much less fear because the entrance was 55 feet wide and one could see 100 feet inside without going in. A dance floor and roller skating rink was built far enough inside to provide cool, regular temperature the year around. Soon people from St. Louis, Kansas City and other cities began visiting the big attraction while interested in the health promising use of the medicament offered by the drinking of Aurora Springs water.
On our first visits into the Caverns, we remember people on their first visit through the subterraneous passages became particularly interested and anxious to see the small fish without eyes in the dark pools. The guides used their kindest persuasion to keep the visitors from catching and holding the fish in their hands to be sure the fish had no eyes. Most of the visitors pleaded to take one home and it is doubtful if there are any that can be found now unless far back in the unexplored portion.
It is somewhat the same with the many stalactites and stalagmites. They were broken off and taken away if they could be reached, and now about all the smaller stalagmites have been taken from the floor. However, there is another pool in the unexplored portion and most of the other beauties remain natural. Arrowheads, small Indian stone implements, bear teeth and animal claws were often gathered from the stone shelving on either side of the first entrance, but are not often found now.
When a party of 25 or 30 tourists toured together, three of us, who understood the shorter routes of the smaller passages, could slip away with one lantern and not likely be missed until the party met us coming toward them. This caused a big surprise not at all welcome until we gave them assurance.
Note: Here is a photo of one of the original Stark Caverns Lanterns donated to the museum by Dwight Weaver, noted local Cave authority (photo 07):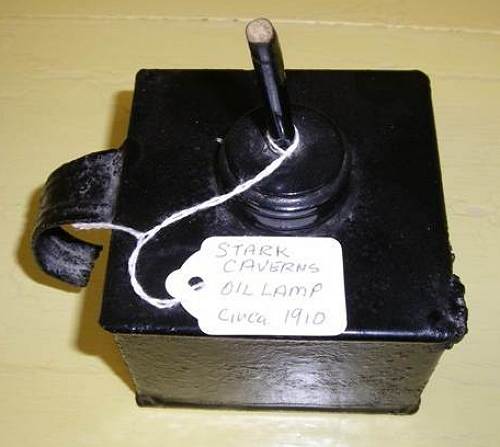 07 Lantern from Stark Cave
The last time this was tried, Brace Helfrich, now a successful business man of Wichita, Kansas, Elmore Harris, who died several years ago in Kansas City, and I made one get away too many. After climbing down over a shelf, from which we had to help each other, we entered an extra large room where there was a nearby pool surrounded by almost white sand. The only track we could find was a bear track leading from a low hole in the wall down to the pool and in a circle back to the hole in the wall. It had probably been made many, many years before (photo 08).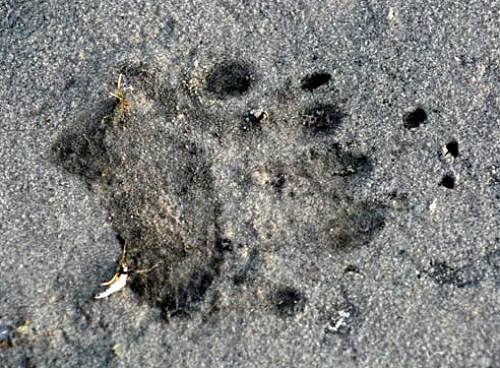 08 Bear Track
Believing the entrance would lead back to the explored portion, we spent considerable time looking about and each time we entered a strange place, we placed a small piece of my straw hat on a rock to designate the passage had been entered. This was kept up until all the small straw pieces had been used up except what was under the band. We had tried faithfully to find the shelf over which we had climbed but with the single lantern burning low this proved impossible. We then decided to follow the small stream of water out. This soon offered very close crawling at times with one leading with the lantern and the other two holding to the foot of the one ahead.
We were really tired and dared not stop long for fear of going to sleep and letting our face drop down into the water only a few inches from our chin. After going so far we had decided not to follow the water further, when Elmore said urgently he was fastened and could not get loose. I told him the crevice widened toward the left, but there seemed to be an opening large enough for me to turn around ahead where I could hand the lantern back to Brace and tell him to be very careful that he did not get his clothes wadded up to tighten him more. While reaching the lantern back to Brace with my wet clay covered hands, I accidentally let it slip and it fell over, the light going down into the wick and burner.
The extremely dark situation could not possibly have been worse. Feeling around as best I could, I found the lantern and was careful to raise it right end up and the light came back dim through a small bulls eye in the muddy chimney. Giving the lantern again to Brace I told him I was on the edge of a waterfall and must turn around and see if we could get away from the stream.
The place where the water was running over was so slick that I lost my hold, slid down a few feet and splashed into a pool of water. Having on boots I did not try to determine any size or depth, but after a couple of strokes, my hands reached the bank and I crawled out. After walking about carefully in the dark I saw the light and calling to the boys I told them to hold it as high as they could. By doing this I saw how they could reach the larger passage by leaving the water.
We could find no trace of foot steps or any sign that this part of the passage had been traveled and by going up grade for a short distance, a dry place was found and it seemed warmer. I told the boys that we could remain there several days, but what had bothered me most was that they might become frantic when the light went entirely out. I proposed that we place it in a small, almost round hole in the floor and cover it with a smooth stone large enough that no light would show and then they would not have to see it flicker out.
They agreed to my plan and after the light was put away, I said let us kneel about this great rock and pray…not pray to get out because a longer stay might disturb our faith; but to pray for the folks at home who would not know what had happened to us and pray that the Spirit of God always everywhere at all times, would be with us and stay any fear that might trouble us. For a moment that extremely dark place appeared to light up as the other two began their prayer almost before I had finished my first sentence.
The glow lasted only a few seconds, but it gave all the assurance needed that God was there. We took hold of each others' hands and went a short stance in the awful dark to the water to see if we could get a drink. After going back we emptied our pockets of stalactites and other relics in a pile together with money, too, if we had any. That was over fifty years ago and the pile will still be there unless water had dripped on it and formed a stalagmite.
We had no watch to know the time of night and all three of us were soon fast asleep until those seeking us awakened us sometime in the early morning after we had been about eighteen or twenty hours underground. The bats flew close to us after the light was out, but they never did hit us. There was no danger and it is not likely that anyone can live over two weeks in utter darkness where there is absolutely no light.
Note: Here is a photo with light of a narrow passageway in one of Miller County's Caves, Colvin Cave (photo 09). You can imagine just how difficult it would be to find your way without a light. Read more about this cave at this previous edition of Progress Notes.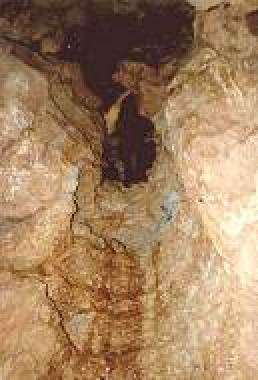 09 Colvin Cave
Mr. F. L. Hammitt, who purchased the Stark Caverns, has electrically lighted the interior of the big cave and placed cement bridges and gravel walks so that visitors now can see the entire explored portion without changing their clothes. By going up what is known as Grand Canyon, thirty hand made steps, it is possible to look down and see the stream which we followed by crawling. Mr. Helfrich and I would like to go back to the place where we slept on a stone bed with no cover.
The present lighting system makes the trip possible in a much shorter time, the high ceilings are now shown, and one can understand why a cord used to follow back never did work because it slipped under crevices too low to crawl under.
All danger of getting lost has been overcome, crawling is not necessary, and the wonder of the large subterraneous cavern now can be seen and enjoyed in a short time in almost perfect safety.
The only time I remember of ever being really frightened during the many times I have visited Starks Caverns, was years ago when one of the earlier out of state professors of Eldon High School arranged to explore the cave with two high school students, former Boy Scouts, who were with the Boy Scout party when I piloted them there.
We had come to a low ceiling place where it was necessary to get down flat and crawl through a small crevice into a large opening above the main floor. The boys went through easily first and the professor, who wore a raincoat, gave the opening a trial. When less than half way through, he decided not to go and when trying to back out, became fastened tight. He became frantic and as the opening was hollow underneath, I could hear his heart beating wildly.
We tried to tell him there was no danger and that we could remove his clothes some way. We tried to get him to put his foot on my shoulder so that by bracing with my other foot, I could push him through and I would take him out another way. He said he knew he was going to die, and would not try. Getting down flat, placing his foot on my shoulder, I pushed my very best and he went through. He was not as near death as he thought he was.
Several times, rather than disappoint a party touring, by one person becoming frightened, I have taken the one out alone by the shortest passage while he still protested we were lost. One time when a dozen or more were touring, they became confused and would not risk me piloting them out. We tried to tell them they were not following one passage far enough to get back to the main passage, and when they came to the room where on the smooth wall had been printed, "The Graves ask of thee to repent," some of them followed the instructions. It was explained to them that someone had evidently printed the line, probably Lynn Tremain, and after they calmed down, the main entrance was soon found. My grandfather, Rawleigh Ralls, against all protest, walked up to the shining eyes of an almost starved dog found in one of the rooms of the cave. It was probably left there and unintentionally forgotten.
---
Thanks Ed.
One of the displays in our museum we cherish the most and about which we receive the most comments is the history of those Miller County citizens who supported our nation by serving in the armed forces. In many instances our sons, close relatives or fore fathers gave their lives or suffered significant wounds. Many heroes are counted among those of our citizens who went away to foreign shores to fight for causes which represented the highest of humanitarian goals. For example, a few months ago I put on our website the story of Ace Tyler, crack air force pilot who was killed in action, written by his brother Bob Tyler. Bob authored one of the most compelling and detailed histories of the war effort of one of our native sons I ever read.
Another story of extreme sacrifice suffered by one of our Miller County soldiers in World War II is that of James Edward Law, who was raised on a farm southeast of Iberia near where the Little and Big Tavern creeks join (photo 10).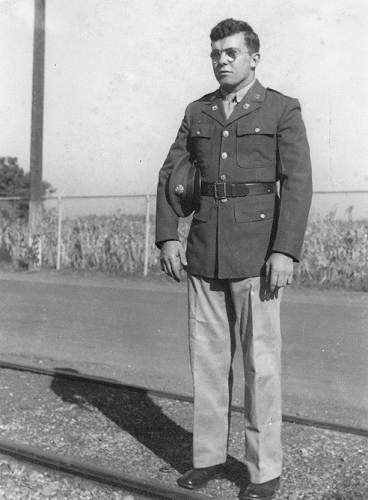 10 James Edward Law
James was the son of James Author and Martha Law. James' brother was Robert Law, who later became a partner in the Perkins and Law Chevrolet dealership in Iberia. The story of James has been shared with me by family relatives Carrie Law Bond of Rocky Mount and Judith Hannah Myers of Dadeville, Missouri.
James volunteered for service in 1940 leaving home May 27. He trained in Illinois at Chanute Field to become an airplane mechanic (photos 11 and 12).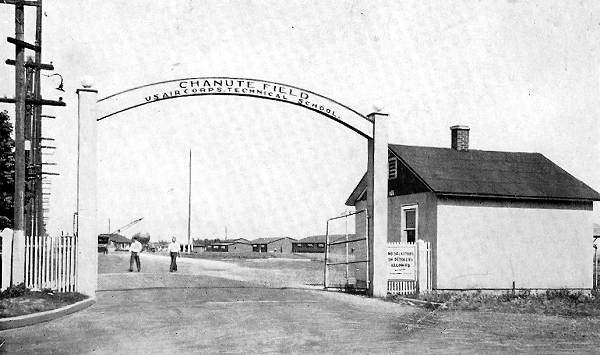 11 Chanute Field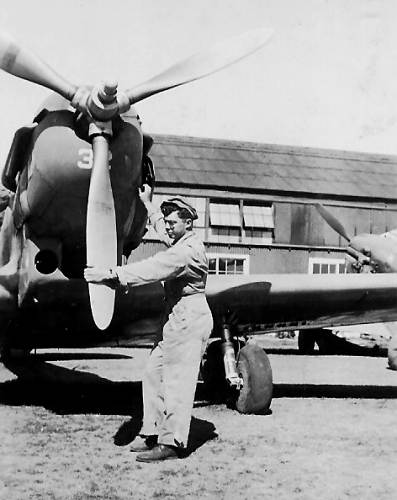 12 James Edward Law - Airplane Mechanic
Temporarily, he was sent to a staging area in San Francisco not knowing where he was being shipped. Here is a post card he sent home at the time (photo 12a).
In October of 1941 he boarded the ship, President Taft, which took him to the Philippine Islands (photo 13).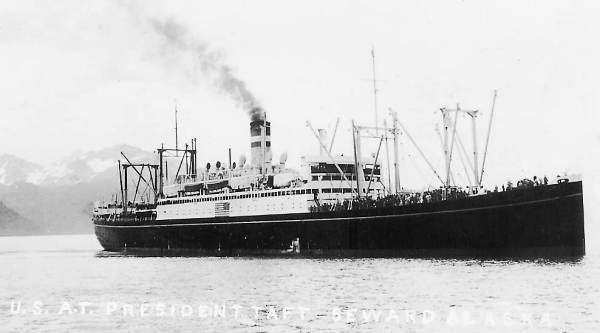 13 Edward's Ship
He had sent home his winter clothes and some money. Months passed but Author and Martha didn't receive any news about James, neither personal letter from him nor his commanding officers. The months stretched into years and even after numerous inquiries nothing was known back home about the whereabouts of James. Finally, one day in July of 1945, almost four years after his departure from the U.S., Author and Martha received this letter (photo 14).
Further inquiry revealed that James had been one of those seventy two thousand American and Filipino soldiers serving in the Philippines who were forced by the Japanese to march sixty miles in barely a week under tropical heat without food or water. The local newspapers carried the story of the Laws' receipt of the official letter from the government (photo 15) but no more details were available at the time to give the family.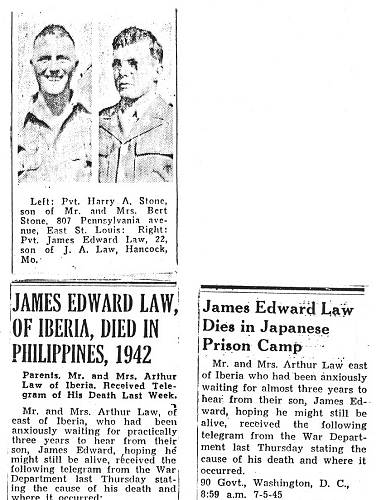 15 James Edward Law Newspaper Announcements
Click image above for larger view and to read full article
Later, notification was given that James had been buried at an official burial site for those who died in the march. James Edward's younger brother, Raymond, went to the Philippines and found the cross with James Edward's name on it. He took a picture of it (photo 16).
The family thought about bringing the body home but decided against it. He had died in July, 1942 and it was July 1945 that the Government notified the family of his death. The family thought it better to leave him there at that juncture since the possibility even existed the one buried there might not be he.
Knowledge about the inhumane treatment of the Americans by the Japanese was not immediately known, but as time passed news of the horrific nature of the event could not be suppressed causing the nation and the world to be not only horrified but infuriated toward the Japanese. Later, after the war ended, the event became known as the Bataan Death March, for which trials were held and the Japanese were held accountable. To better understand just how much suffering was encountered by James and the others who were captured and made to endure the forced march I am copying here a short summary from the Wikipedia website;
http://en.wikipedia.org/wiki/Bataan_Death_March
The Bataan Death March (also known as The Death March of Bataan) took place in the Philippines in 1942 and was later accounted as a Japanese war crime. The 60-mile (97 km) march occurred after the three-month Battle of Bataan, part of the Battle of the Philippines (1941–42), during World War II. In Japanese, it is known as Batān Shi no Kōshin, with the same meaning.
The march, involving the forcible transfer of 75,000 American and Filipino prisoners of war captured by the Japanese in the Philippines from the Bataan peninsula to prison camps, was characterized by wide-ranging physical abuse and murder, and resulted in very high fatalities inflicted upon the prisoners and civilians along the route by the armed forces of the Empire of Japan. Beheadings, cut throats and casual shootings were the more common actions — compared to bayonet stabbings, rapes, disembowelments, numerous rifle butt beatings and a deliberate refusal to allow the prisoners food or water while keeping them continually marching for nearly a week in tropical heat. Falling down or inability to continue moving was tantamount to a death sentence, as was any degree of protest or expression of displeasure.
Prisoners were attacked for assisting someone failing due to weakness, or for no apparent reason whatsoever. Strings of Japanese trucks were known to drive over anyone who fell. Riders in vehicles would casually stick out a rifle bayonet and cut a string of throats in the lines of men marching alongside the road. Accounts of being forcibly marched for five to six days with no food and a single sip of water are in postwar archives including filmed reports.
The exact death count has been impossible to determine, but some historians have placed the minimum death toll between six and eleven thousand men; whereas other postwar Allied reports have tabulated that only 54,000 of the 72,000 prisoners reached their destination— taken together, the figures document a casual killing rate of one in four up to two in seven (25% to 28.6%) of those brutalized by the forcible march. The number of deaths that took place in the internment camps from delayed effects of the march is uncertain, but believed to be high. One of the last remaining US commanders who survived the Bataan Death March, Dr. Lester Tenney, was interviewed at Hitotsubashi University in June 2008. On May 30, 2009, at the sixty-fourth and final reunion of Bataan Death March survivors in San Antonio, Texas, Japanese ambassador to the United States Ichiro Fujisaki apologized to the assembled survivors for the Japanese treatment of Allied prisoners of war, on behalf of the Japanese government.
Many Americans through the years of our history have given much for their countrymen so that our ideals and beliefs might be preserved in a world of danger and tyrannical domination. It would be hard to imagine how we would be living today if soldiers such as Ace Tyler and James Edward Law had not given their lives so that the rest of us could be free of tyranny and domination by those who hold different values and beliefs than we.
---
Bamber Wright, native of Tuscumbia and descendent of two of the oldest Miller County families, the Hauensteins and the Wrights, has always been one of our historical society's most loyal supporters. He has donated innumerable historical items related to the old Anchor Mill Company, which long has been associated with both the Hauenstein and the Wright families. This last week Bamber donated the gift of a painting of great interest to our museum: a rendition of the famous steamboat, the Homer C. Wright. The painting was donated in the name of the entire Wright family since it originally had been commissioned by Mrs. Homer Clay Wright (Rena) more than twenty years ago as a gift for Homer. The artist was Sandra Smith of Eldon. Here is a photo of Bamber and his children with the painting taken in our museum last week (photo 17).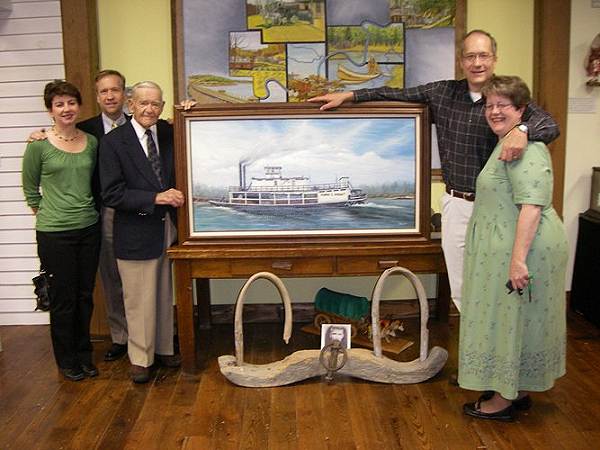 17 Sue and Phil, Bamber, Jack and Ann Wright Donation - Homer C. Wright Steamboat
Bamber also wrote a narrative history of the Homer C. Wright steamboat which I will copy here:
The Anchor Milling Company (photo 18) was incorporated in 1897 with 145 shares being created.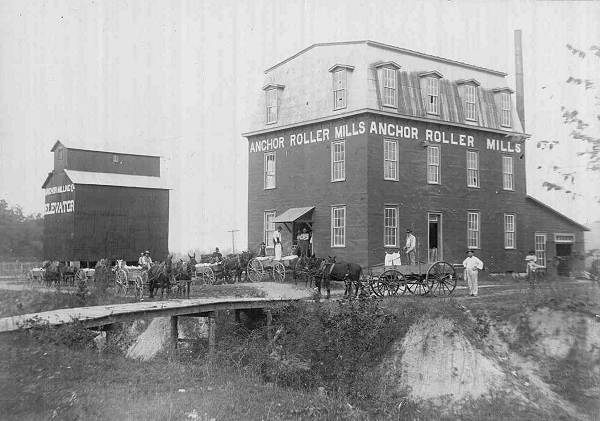 18 Anchor Roller Mill with Horses and Wagons Waiting
Phillip Hauenstein (photo 19) was the majority stock holder with 75 shares.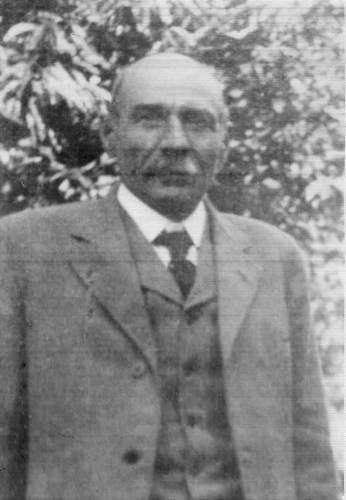 19 Phil Hauenstein
He had the boat, Homer C. Wright (photos 20 and 21) built and he is the one who named it.

20 Homer C. Wright Steamboat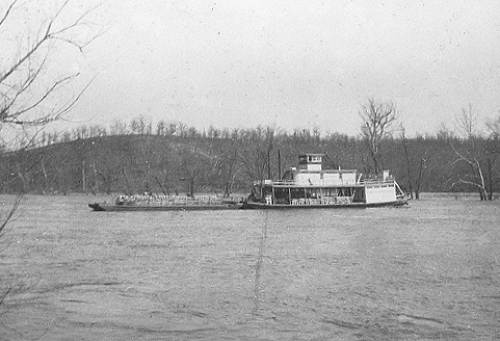 21 Homer C. Wright with load of Wheat - Big River
Homer Clay Wright (photo 22) was his grandson.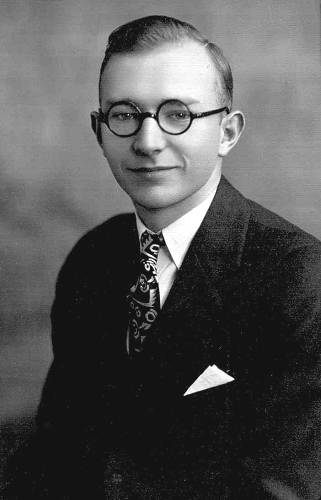 22 Homer Clay Wright
C.B. (Clarence Boyce) Wright (photo 23), who later was president of the company, had married Phillip Hauenstein's daughter, May Hauenstein (photo 24).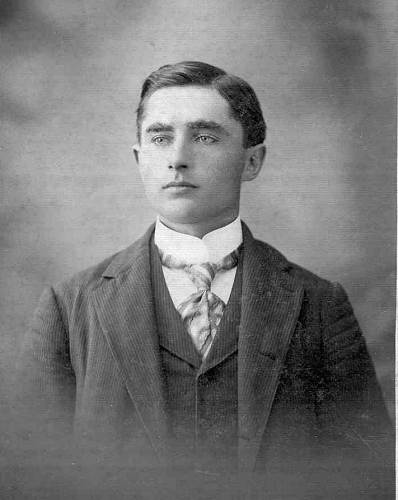 23 Clarence Boyce Wright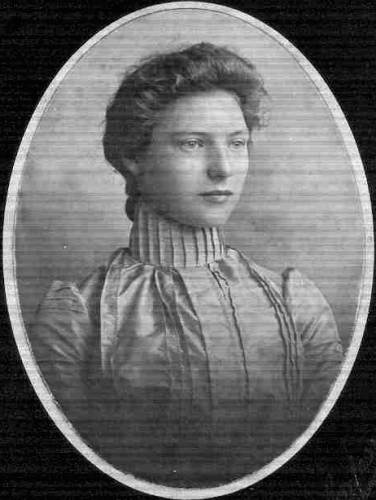 24 May Hauenstein Wright
C.B. and May's only child was Homer Clay Wright.
The steamboat Homer C. Wright had the following description:
Weight: 72 tons
Length: 86.8 feet
Width: 18.5 feet
Bow: 3.4 feet of water
Engine: fifty horsepower steam engine
The boat was designed to need a six man crew. Construction started in 1919 but the boat wasn't completed until 1920 when it was launched. The steamer Homer C. Wright began her maiden trip from Tuscumbia to Hoecker on March 3, 1920. It had been loaded with 478 sacks of wheat at Capps, which was located downstream from Tuscumbia, and arrived at Hoecker, a little further downstream, that evening.
I asked Bamber if he remembered the Homer C. Wright steamboat and he said his earliest memories of the boat were at about the age of three. The boat was sold some time in the mid 1920's to Union Electric Company and accidentally sank in the Missouri River at St. Louis in 1927. Others I have asked who remember the boat include my uncle, David Bear, and Royal Kallenbach. Royal and David, both in their early ninety's, were class mates at Tuscumbia high school.
Bamber is well known throughout the county. He first worked for the Anchor Mill in Tuscumbia. Here is an old photo of him at the roller mill (photo 25):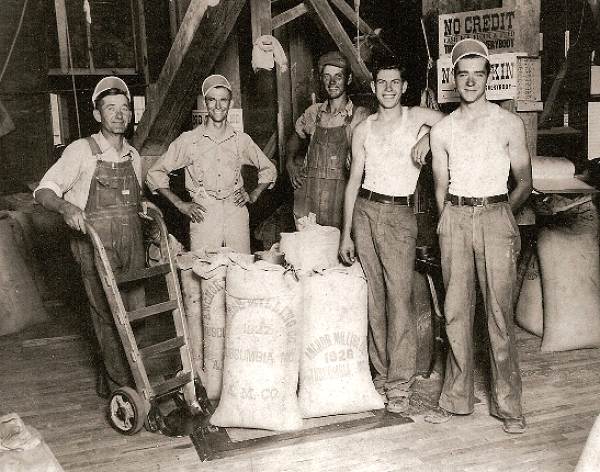 25 Anchor Mill
Homer Lee Wright (Far Left) - Bamber Wright (Far Right) - Toliver Lawson next to Homer
Later, he worked in the field stone hardware store on the hill in Tuscumbia, the building where is now located our museum (photo 26).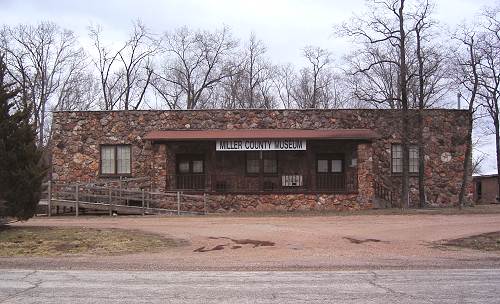 26 Old Anchor Mill Hardware Store - Now is our Museum
Later, he worked for a time at a branch location of the Anchor Mill in Eugene. His last position was as manager of the Anchor Mill branch in Eldon.
During WWII Bamber was a staff sergeant in the 24th Combat Mapping Squadron of the C.B.I. in China, Burma, and India. This was an intelligence operation. Here is a photo of Bamber at his work station in India (photo 27):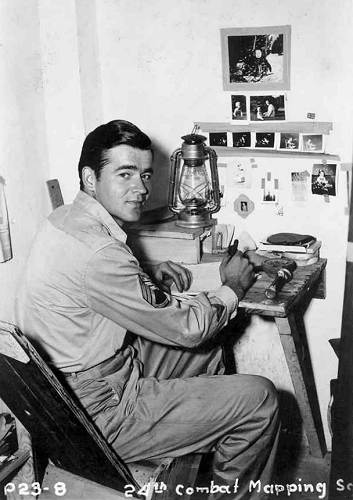 27 Bamber in India
And here are a couple of other photos of Bamber when he was serving in WWII. The first one is with my Uncle David Bear taken when they were at a training camp in Colorado (photo 28).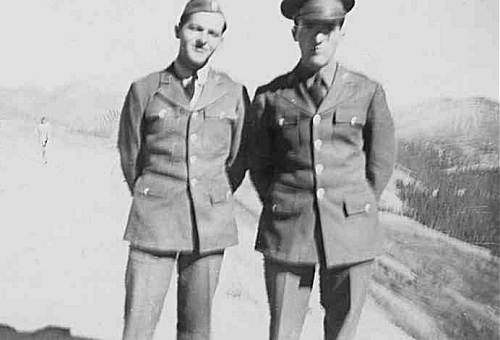 28 Bamber Wright and David Bear
The next one is a posed photo of Bamber taken at an unspecified time while he was in service (photo 29).
29 Bamber Wright - WWII
Bamber also gave to us this week a collection of bills of the foreign currency of China and one of Japan which he saved while he was serving overseas during WWII. I took them out of the frame and will present them as a collage of photos of the front side first and the opposite side second (photos 30 - 39).
Just click on any of the photo thumbnails to view a larger image:
Finally, it is interesting to consider how Bamber Wright and Homer Clay Wright were related. Bamber's mother, Lizzie Hauenstein Wright (photo 40) was a first cousin of May Hauenstein Wright (photo 41).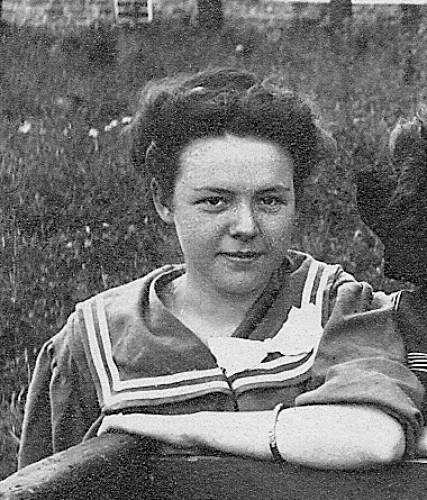 40 Lizzie Hauenstein - Age 17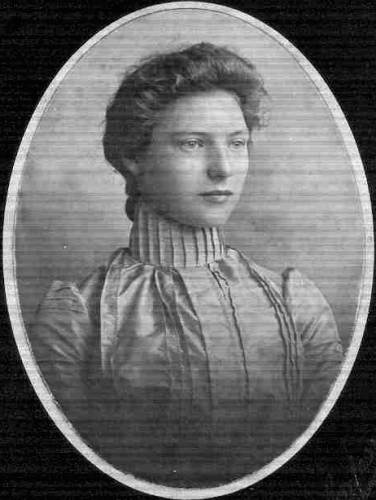 41 May Hauenstein Wright
Lizzie's father, William H. Hauenstein (photo 42), and May's father, Phil Hauenstein (photo 19 above), were brothers, being the sons of the original Miller County Hauenstein, William Hauenstein Sr. (photo 43).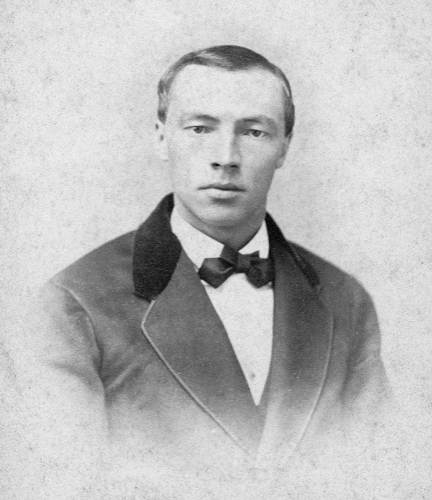 42 William H. Hauenstein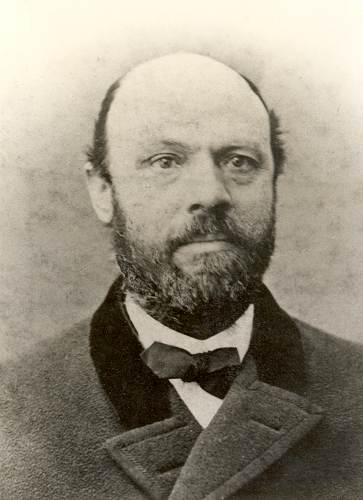 43 William Hauenstein, Sr. (1822-1913)
So Lizzie was a second cousin to Homer Clay Wright, son of May Hauenstein Wright, and that would make Homer Clay and Bamber third cousins.
On the other side, Homer Lee Wright (see photo 25 above), Bamber's father, was a brother of Clarence Boyce Wright (see photo 23 above), father of Homer Clay Wright. So, on the Wright side, Bamber and Homer Clay were first cousins.
Just this last week, Bamber was honored along with Helen Heafy Schulte by the Tuscumbia Alumni Association with a special award of recognition for their community service to the schools and the county.
Copied here is a biography of Bamber written by Ann Wright, daughter of Bamber, who now lives in Kansas City but who was raised here in Tuscumbia. Ann is a THS alumnus. This is the biography read at the ceremony the other night when Bamber, along with Helen Schulte, was given his award for community service:
"Dad, now ninety years old, was born April 17, 1919, in Tuscumbia, the son of Elizabeth Hauenstein Wright and Homer Lee Wright. He has two sisters, Betty, who is 83, and Barbara who is 91. Dad graduated from high school in 1937 and attended Iberia Junior College and later the University of Missouri--Columbia. He joined the Army Air Corps in 1940 and later served in a combat mapping squadron in the China-India-Burma theatre. Upon his return from the war, he worked for Anchor Milling Company, driving trucks into St. Louis, and working in the mill in Tuscumbia. He married our mom, Marcella Schell, in 1952. He was married on Thanksgiving Day. Mom and dad built their home in Tuscumbia, pouring the basement on July 4, 1952, before they were married.
Dad worked in Tuscumbia and later Eldon at the Anchor Milling lumber yard. He served as president of the Mid Missouri Lumberman's Association. He is a member of 40 and 8 (veterans organization), the VFW and American Legion (sorry, don't know the posts). He is a deacon in the Tuscumbia Christian Church.
Mom died last year (May 25, 2008) and there are three children Phil, class of 1975, Ann, class of 1973, and Jack, class of 1979. There are eight grandchildren, ages 15-23.
In 2002, Dad and Mom relocated to Jefferson City. Dad recently celebrated his 90th birthday with friends and family at the home. He enjoys reading and visiting with his family. He has a special interest in the history of steamboating on the Osage and has been interviewed by others interested in the topic. Until recently, he was a hunter.
During the late 60s and early 70s he was part owner of the Osage Gravel Company concern in Miller County. He served as picnic chairperson of the Miller County Homecoming picnic for most of the 1960s and 70s.
Ann Wright
Director of Student Services
AP US History/AP European History
Archbishop O'Hara High School
Catholic Education in the Lasallian Tradition
---
Thanks Ann.
The quilt raffle winner for 2009 was determined at our car cruise and chili dinner event last Saturday, October 10. The winner was William Harvey of Indianapolis, Indiana. William, who is retired now, is very well known and respected professor of law at the School of Law of the University of Indiana. He had been in our area during the summer when he and others of his family donated a number of valuable family portraits of the Harvey and Franklin families. On a whim, Mrs. Harvey had purchased just one packet of six raffle tickets for five dollars! But we are glad the Harveys' won the raffle; they have been so generous to consider our museum as a location to preserve and protect their valued heirlooms.
The quilt top was made by our museum director, Nancy Thompson. Ladies gathered at the museum each Monday to quilt it. They included Elva Boyd Steen, Martha Bittle Suttie and Dorothy Jenkins Edwards and Doris Edwards Wyrick. Here is a photo of the raffle quilt for this year (photo 44).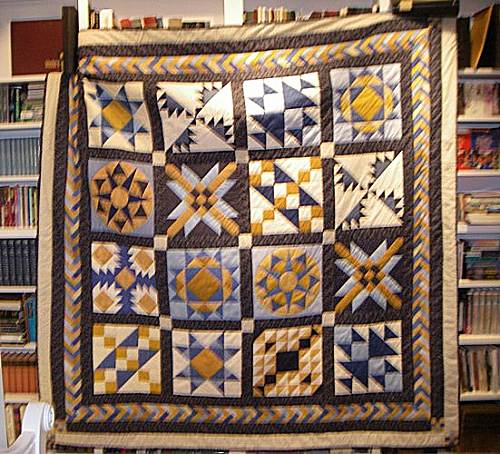 44 Raffle Quilt
We are very appreciative of the work the Monday volunteers do for our museum. If you would like to volunteer for museum activities call our number at 573.369.3500.
We also drew raffle tickets for fifty dollar bonds generously supplied to us by the Bank of St. Elizabeth, Citizens' Bank of Eldon, and the Central Bank of Tuscumbia. Winners were Mary Ann Lindenbusch of St. Elizabeth, Pat Vernon of Kansas City, Missouri, and Phillip Elseman (address unlisted).
The raffle was part of the Car Cruise show we held last Saturday, October 10 which was our most successful event thus far regarding attendance by visitors and supporters.
It has been wonderful over the last three years since we began the museum renovation the way in which the community supports the expenses and upkeep of our museum by participating in the various fund raising events we sponsor. Having no income from a foundation as have some of the larger museums, we have to rely on special events during the year to meet our expenses.
That's all for this week.
Joe Pryor