Monday, October 12, 2009
Progress Notes
Several weeks ago on August 10 I began a series of narratives about the history of the earliest automobile dealers in Miller County beginning with the Alf Eads Ford agency in Iberia.
I began with some quotes from Wallace Vernon's weekly column in the Advertiser in which he discussed who was the earliest Chevrolet dealer to set up business in Eldon. Here is a portion of what he wrote:
"Closer to home, though, comes a letter from Kent Kehr indicating that his grandfather, P.O. Kehr might have been the original Chevrolet dealer here, which was news to the First Wife and sister Nancy who always thought that Grandad Claud and Pop, Harry Tompkins, were the founders. C.T. as he was known had been a Willys Overland dealer in Atlanta in 1912, and Ford dealer in Shelbina in 1922, before coming to Eldon in 1927.
Back to the microfilm and sure enough Kehr Motor Company was advertising in the pages of The Eldon Advertiser in August of 1927, but notice of the sale of Kehr Motors to one R. M. Avery, of Fayette was announced in that very month.
The September 1, 1927 Eldon Advertiser noted that Tompkins Chevrolet Company was opening a new Chevrolet agency in the Kehr Bros. Motor Company brick building on South Maple Street. (Wonder what became of Avery!)
Among sister Nancy's files are papers of incorporation for Tompkins Chevrolet dated March 19, 1929."
---
However, recently I came across a photo in one of the Advertiser historical special publications (1994 100th year anniversary edition) which suggested George Hite was the first dealer of Chevrolet cars, or at least had a car dealership located in the same building the Tompkins later used. Here is the photo and caption (photos 01 and 02):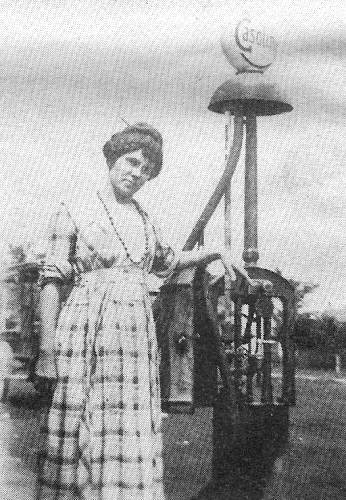 01 Mrs. George Hite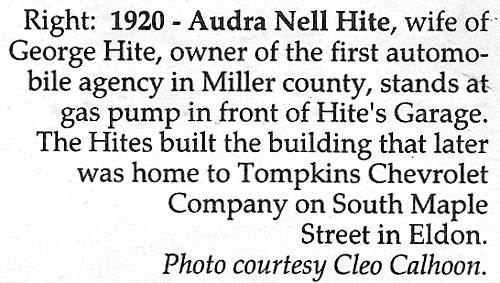 02 Caption
At any rate, The Tompkins family of Eldon is the name usually associated with the first longstanding Chevrolet agency in Eldon as well as Miller County. Therefore, continuing the series of articles about early Miller County automobile agencies I travelled to Eldon to talk to Marjorie Tompkins Vernon, wife of Wallace Vernon, to learn more about the Tompkins dealership. I was delighted to learn on arrival that Marjorie had invited Tom Procter to join us since Tom was the head of sales at the Tompkins agency and eventually became its owner. To begin with I took a photo of Wallace, Tom and Marjorie sitting around the table examining all the historical items about the Tompkins family Marjorie and her sister, Nancy, had saved (photo 03).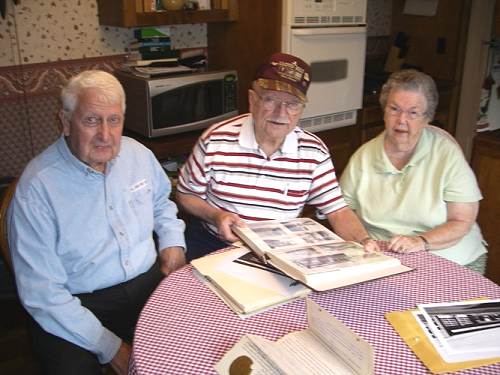 03 Wallace Vernon, Tom Procter and Marjorie Vernon
Marjorie provided me with a copy of the obituary of Claud T. Tompkins, her grandfather, who, along with Harry his son and Marjorie's father, established their ownership of the Chevrolet agency of Eldon in 1929. The obituary is copied here since it includes a short history of the Tompkins family:
Claud T. Tompkins, an automobile dealer in Missouri for nearly 60 years, died Saturday, January 1, 1972, at St. Mary's Hospital, Jefferson City. He was 94 years of age.
Mr. Tompkins was born May 13, 1877 in Darksville, the son of the late Jack and Lou (Heisner) Tompkins. On May 18, 1902 he was married at Macon to Idress Mae Halliburton. They spent the earlier part of their married life in northeastern Missouri before moving to Eldon more than 44 years ago.
Mrs. Tompkins died January 15, 1968.
Mr. Tompkins first entered the automobile business in 1912 as the Willis Overland dealer in Atlanta (Missouri). In 1922 he became the Ford dealer in Shelbina.
The Tompkins family came to Eldon August 1, 1927 when he and his son, Harry, purchased the Chevrolet garage here, and have continued the operation of Tompkins Chevrolet Company Inc. through out the years.
Mr. Tompkins was a member of the First Christian church of Eldon, and served for many years as a member of the church board. He also served on the board of directors of the Bank of Eldon, and as a commissioner of the Eldon Special road District.
In addition to his son, Harry Tompkins of Eldon, he is survived by two grandchildren, Mrs. Marjorie Vernon and Mrs. Nancy Rinaldi, both of Eldon, and eight grandchildren.
Funeral services were held at 2 pm. Monday at Phillips Chapel in Eldon with the Reverend Walter Simpson officiating. Burial was in the Eldon cemetery.
Pallbearers were Tom Procter, Gene Milburn, Karl Rebstock, Bernard Evers, Al Kliethermes and David Hammond; honorary pallbearers, Hannis Swanson, Robert Maylee, Jack Edgmond, W.L. Crigler, Dr. E.O. Shelton, and Harry H. Kay.
Here is a photo of Claud and Idress his wife (photo 04):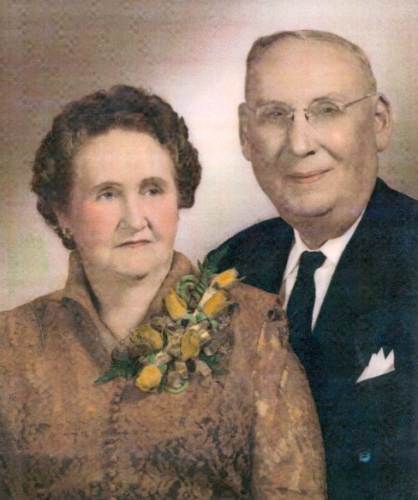 04 Idriss and C.T. Tompkins
According to Marjorie, Claud and her father Harry operated in partnership the Chevrolet dealership in Eldon together for forty four years. Here is a copy of the Articles of Incorporation of the dealership when the Tompkins started their business in Eldon in 1929 (photos 05 and 06):
The next photo is of the first Chevrolet sold by the Tompkins' (photo 07):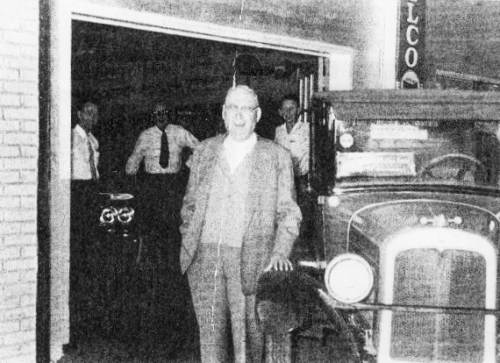 07 First Car Sold - C.T., Harry and Gene Milburn
Harry is pictured here in the show room with his mother Idress soon after the agency was opened (photo 08). And here is another early photo of Harry with book keeper Argel Roberts (photo 09):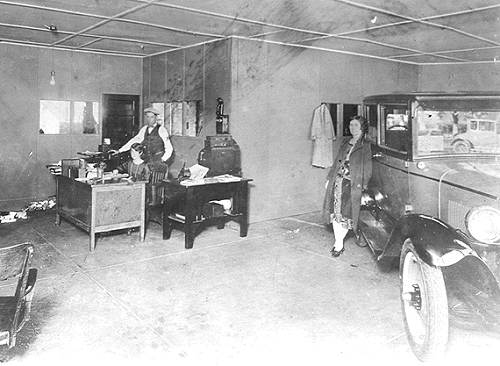 08 Harry and Idris Tompkin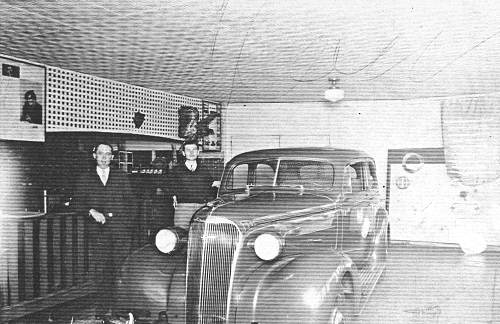 09 Harry and Argel Roberts
Airplanes and car dealers seem to go together in Miller County. Here is Harry with his Curtiss airplane and pilot Mr. Burks (photo 10). The caption says this was the first airplane in Miller County.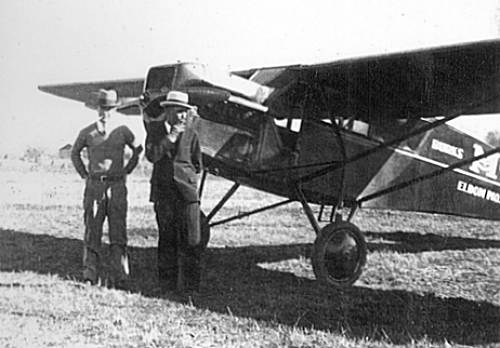 10 Mr. Burks, Pilot and Harry Tompkins
This photo is of the agency's office and garage building (photo 11):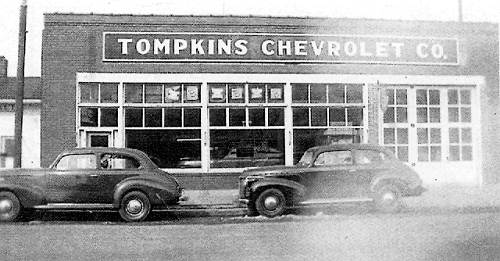 11 Original Building
Here is a copy of one of the advertisements published in the local paper (photo 12):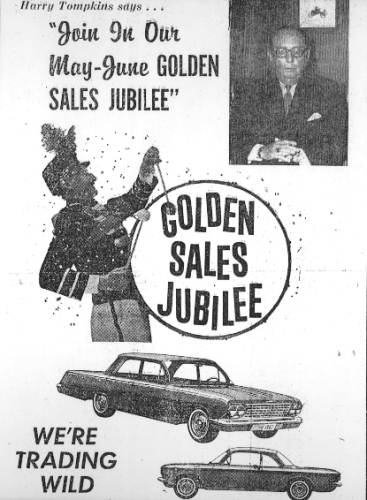 12 Advertisement
And here is a copy of one of the invoices of a vehicle sold in 1947 (photo 13). Prices certainly were much lower then!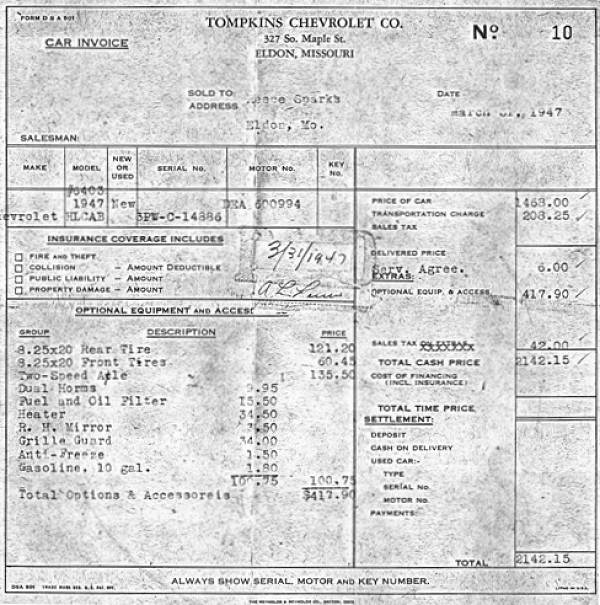 13 Invoice from 1947
Here is a newspaper clipping of Claud and Idress on the day of their 50th wedding anniversary (photo 14):
Quite a few employees through the years worked at the agency. Here are some of them:
Bookkeeper: Angel Robinson, Pete Lewis, Vince Rinaldi, Hannis Swanson
Service: Claud Hammond, Al Kleithermes, Gerald Vernon
Sales: Tom Procter, Gene Wilburn, Bob Maylee
Here is a photo of the some of the sales group including Claud and Harry (photo 15):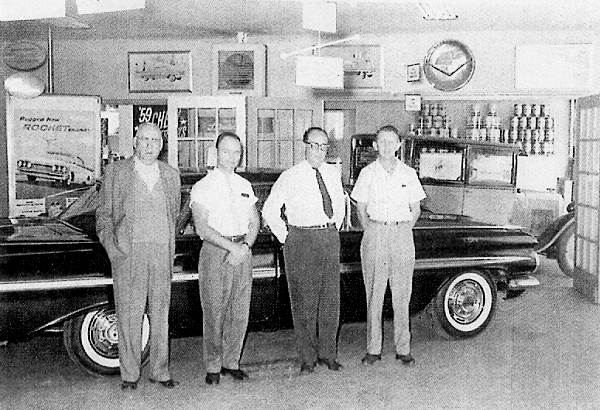 15 C.T., Tom Proctor, Harry T. and Gene Milburn
And here is a newspaper clipping noting the 94th birthday of Claud not long before he passed away (photo 16):
In this photo Tom Procter is completing the transfer of a car to Bill Toole (photo 17).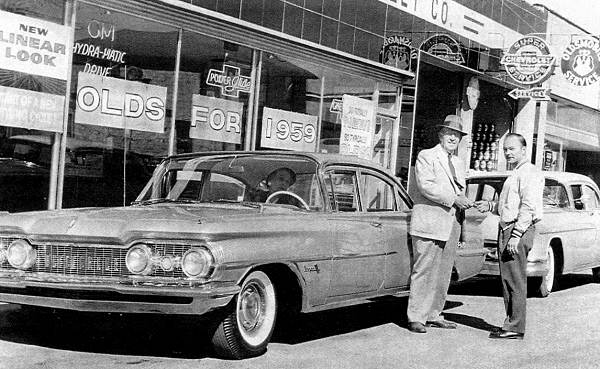 17 Bill Toole and Tom Proctor
Tom Procter was one of the best car sales representatives I ever knew. I remember as a youngster going to the agency with my father and being impressed with Tom's friendliness and good personality. Tom was raised north of Eldon on a farm. He went to Grant grade school, Olean high school for three years and finished at Eldon high school. He took the position of salesperson at Tompkins' Chevrolet in 1948 and ended up buying the business in 1975. In 1980 he sold the agency to Joe Seldon of Linn. However, he continued working as a salesperson even after the sale. Business Focus magazine published a profile of Tom in 1988:
Business Focus
December 26, 1988
Profile
Tom Procter: The Chevy Man of Eldon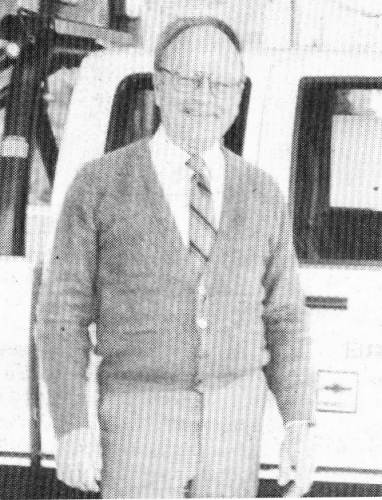 18 Tom Procter
He Talks About Cars, Past and Present
Imagine yourself on the streets of Eldon in 1949. The nation is recovering from the War; Detroit is producing cars again, and people are swinging to the big band sounds of Glen Miller and Guy Lombardo. The nation is on the brink of the Nifty Fifties.
You want to have a look at the new Chevys, so you head for the intersection of Third Street and South Maple and walk into Tompkins Chevrolet. A young man, 22 years old, approaches you. He tells you the price tag on the new'49 two door Deluxe Chevy is $1,487.50; if you want the optional heater, add $45. You have your choice of black, blue, or two shades of green.
That young salesman may have been Tom Proctor. Now, 39 years later, if you walk into the Eldon Chevrolet dealer wanting to have a look at the new Chevys, you may be greeted by a friendly, energetic guy who looks like he would make an ideal grandfather.
That young late middle aged salesman may be Tom Proctor. He will still show friendly eagerness to deal with you, is still excited about his cars, which now have more options than you can count, and come in all the colors of the rainbow.
Tom estimates that in his 39 year career he has sold 5,000 cars to folks living in Eldon and the surrounding community.
He sold cars for Tompkins until the early '70's when he bought the franchise in partnership with Karl Rebstock and Vince Rinaldi. The three maintained the franchise until 1980, when the company was sold to Joe Selden, who previously had a dealership in Linn, Missouri. The Tompkins building burned in 1984, and the business was moved four miles south of Eldon on dual highway 54. The new company was renamed Lake Chevrolet-Olds, Inc.
A year later Tom bought an interest in the company, and was general manager until the company changed hands and became Brocksmith Motor Company in 1986. Tom retains a business interest in the company.
"In all those transactions there was no down time for me." Tom says proudly. "I stayed steadily employed all those years."
In addition to steadily being employed in the car business, Tom also was active in community service. He's a longstanding member of the First Christian Church of Eldon, and has served on all their boards. He helped set up the Eldon Industrial Development Corporation, which assists the city in encouraging industry to locate in Eldon. He served three terms as city councilman, and one term as mayor.
While involved in the Eldon community, he has seen the growth of the Lake community in general.
"Being born in 1927, I can remember when the Lake Area was virtually uninhabited. The shoreline was bare except for a few fishing resorts…it was basically a fishing lake. Then a few retired people started moving here in the '40's and property started going up.
"I once went in on the purchase of 40 acres with about 4000 feet of lake frontage. The two other guys and I divided the land, and my share was a few acres with 122 feet of frontage, which I figure to have cost me about a dollar a foot. I sold the property for $3500, and considering my profit I thought I'd really hit a home run. I invested the money in stock, and the stock went off the market. So I guess you can say I'm a poor investor."
But Tom knows his business when the subject gets back to cars. "You hear people say that cars aren't built as well as they used to be. That's baloney. True, the older cars were made of heavier metal, but what good does heavy metal do, except shake down the chassis of the car?
"Today's cars are made of lighter metal, but are treated with rust inhibitors. And the engines are two to three times more fuel efficient. They are built better, more reliable, and run longer.
"In the late '40's and early '50's, you were doing good to get 50,000 miles out of a car; cars just seemed to run longer because they were kept longer, but were driven much less than today's cars. With better roads now, people are commuting farther to work, traveling farther on vacations putting more miles on the car. Today's cars are good for 100,000 miles and more; I've seen some with three to five hundred thousand on them."
Ok, Tom, we're sold. What do you see as the current downside of the industry?
"That the young people don't take more interest in it as a profession, either as mechanics or as sales people. Maybe it's just too involved, too much work. Take the modern mechanic. His job isn't just turning nuts and bolts; today's mechanic has got to learn electronics and computers in order to understand the complicated new cars. He's got to keep going to classes offered by the car makers if he's going to stay abreast. The day of the shade tree mechanic is over.
"And I think the young people are turned off by the long hours involved in sales. In the big cities maybe a sales person can punch a clock, but in a small community like this, you work from eight till six, you might stay until eight, if that's what it takes to sell a car. Young people don't seem to want to do that."
Then Tom turned while looking back at me and said, "Excuse me."
A young couple had just walked into the showroom. They wanted to have a look at the new Chevys and Tom was ready and eager to show them around.
---
On Tom's fortieth year in the car business, his friends wrote a poem celebrating his career (photo 19).
Tom had an essay he kept in the office which was of great help to novice sales people. You can read it here (photo 20):
Unfortunately, now that the large automobile corporations have decided to close many of the small town dealerships we no longer have a Chevrolet dealership or any new car dealership for that matter in the county. With the closing of Lloyd Belt's Chevrolet dealership, the Chevrolet story in Miller County now belongs to the history books. It's sad for me because I remember how exciting it was to go to Tompkins' Chevrolet and look at the new cars which back in the fifties never were boring because the style was changed every year. I remember when I saw the first Corvette at Tompkins', the first sport car I ever had seen. Nowadays, the cars all look pretty much alike to me.
---
Continuing the car theme, a couple of weeks ago Alan Wright wrote me regarding the recent Progress Notes of August 10 about the Eads family and the Ford dealership owned by Alf Eads and later his son, James Eads (photos 21 and 22).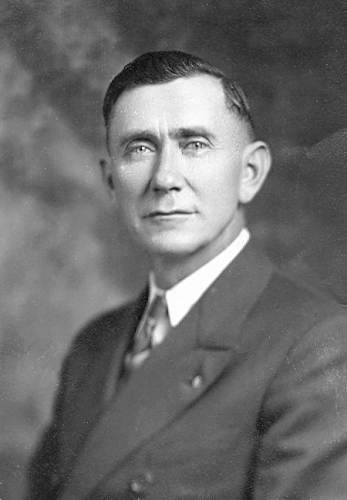 21 James Alfro Eads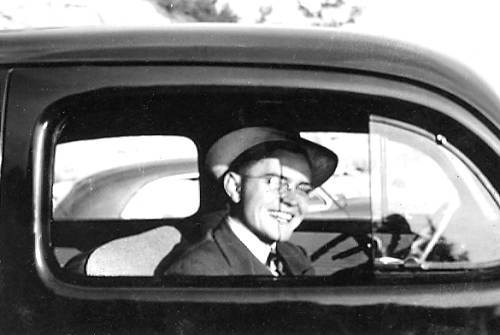 22 James Wendel Eads
Alan (photo 23) is a Eugene School graduate whose Wright family roots in Miller County are deep.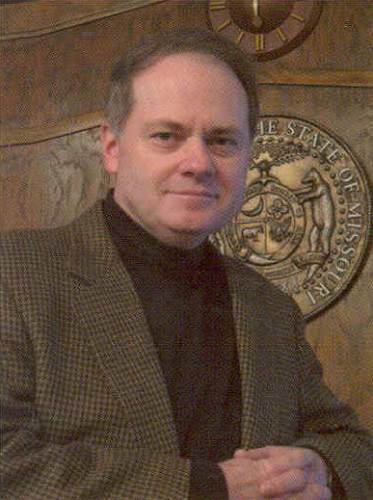 23 Alan Wright
His grandfather was John Wright, the famous Miller County artist, whom we have featured frequently on this website, the most recently when Alan invited me and Jim Ballenger to accompany him on a trip to the Windes Eddy on the Glaize Creek. You can read about that adventure on this edition of Progress Notes from last July.
Alan's most recent literary effort has been a historical novel entitled "Murder On Rouse Hill" (photo 24), based on a true story of the mysterious murder of one of the residents of Stoutland, Missouri, where his mother had lived and had told Alan the story.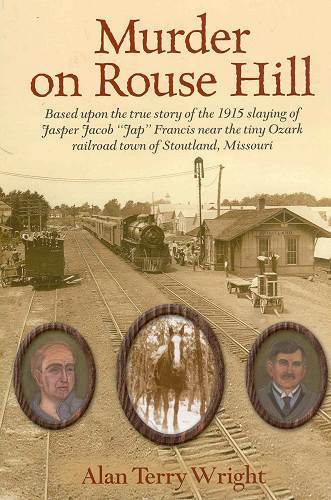 24 Murder on Rouse Hill
I checked recently and noticed Amazon.com had just five books left for sale, although the site did say that more were ordered.
Alan has some interesting historical comments to add to the article about the Eads family and their Ford dealership in Iberia which I will copy here:
Joe

I shouldn't delve into your weekly "Progress Notes," since I invariably find items of keen interest. Hence, I while away a good portion of the afternoon---how am I ever going to write another book?

None-the-less, while reading the August 10 Progress Notes about "Alf" Eads's life and family, I thought about the story that Jimmy Eads told me of just how his Dad got a Ford dealership in the first place. I kept looking for it in the narrative, but it never quite came out. It went something like this.

"My Dad went all the way to Detroit to see if he could get a Ford dealership and got in to see Henry Ford. When Ford looked at a Missouri map and where Iberia was, he was pretty skeptical. He said 'Son, I can't give you a dealership, why--nobody will buy a car there---there ain't any roads!" My Dad persisted and finally Ford, said, 'Alright, we'll give you three or four cars to start, and if you can sell'em, then we'll see.' Well, when he got back, Dad was able to sell those cars out in just a few days and Ford gave him some more and that's how one of the oldest family owned and operated Ford dealerships in the U.S. got started."

My Great Uncle Willard Duncan sold cars at Eads Motors for many years.

As I read the article, I spotted, of all things, a post-war photo of the Ford Motor Company Board of Directors. Sure enough, seated on Henry Ford II's right is his "right hand man," Ernest Breech (photo 25).

As mentioned in Murder on Rouse Hill, Ernest Breech, was born and raised in Lebanon, Mo., and married Thelma Rowden from Stoutland, Mo. Breech is credited with saving the nearly bankrupt Ford Motor Company. He instituted rigorous cost accounting and, along with Henry II, authorized the development of Ford's first entirely new post-war design, the beautifully styled 1949 Ford. Chevrolet continued, in one form or another, it's pre-war designs, really, until 1953. They just lengthened and swooped up the pre-war models and kept on selling those sturdy, but in my view, homely cars.

In loyalty to my home county, over the years, we bought two Fords from Eads Motors and referred other "city folks" to Eads. We and they were happy to deal with "real people" in Iberia rather than slick St. Louis salesmen. Jimmie Eads and Sherrill Woolery (our salesman) were gentlemen of the old school and it was a pleasure doing business with them. Both are dead now, and I truly miss the ability to stop in and chat and wish I had done it more often.

When the red 1991 Ford Thunderbird Super Coupe that we bought at Eads was trucked in and prepared for delivery, it definitely drew some attention from passers by. For a lot of folks, it might as well have been a Ferrari. The word had gotten out that the "out-of-town" buyers would be picking it up on a Saturday morning and when we drove it away, there must have been 12-15 people on the sidewalk wishing us well and admiring Ford's "answer" to the BMW 630. Although it never quite lived up to that billing, it was a wonderful high performance car with a supercharged V-6, a five speed transmission, and an adjustable ride suspension system. Its top speed was supposed to be in the vicinity of 150 MPH and when first introduced in 1989, was Motor Trend's "Car of the Year." I drove it for eight years and then two of my sons used it as a college car, safely making the long trek to Lexington, VA 5-6 times annually for six years. It never faltered and when its odometer read well north of 125,000 miles, and certain parts were getting hard to find, I finally sold it in 2005. It was still looking and running like "brand new," when a young "Super Coupe" fan from Iowa flew to St. Louis, gave me a check, and happily drove it home. Years after I bought it, Jimmie Eads told me that it was the only Thunderbird Super Coupe ever delivered at Eads Motors and likely the only one ever delivered in the county.

Alan Terry Wright
---
Thanks Alan.
And here is a photo of one of the 1991 Ford Thunderbird Super Coupes made by Ford to which Alan refers above (photo 26):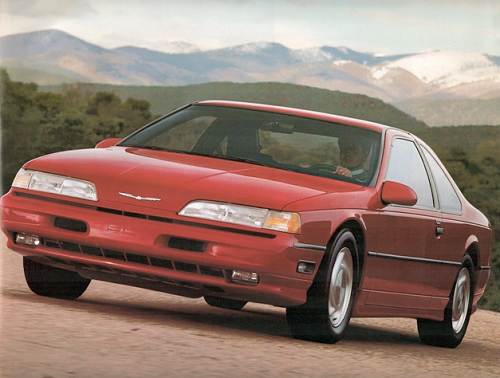 26 Ford Thunderbird Super Coupe
---
The weekend of October 3 several family reunions were held in the area. Two of those were the Lupardus/McDonald and the Edwards family reunions Quite a number of those attending from out of town visited our museum that weekend. One of those, Anne Alexander (photo 27) of Queen City, Missouri, is pictured here in front the old Peter Lupardus Cabin on our museum grounds:
27 Anne Alexander, Great Granddaughter of Peter Lupardus
Anne's grandmother, Mary Elizabeth Lupardus, was the daughter of Peter and his first wife, Mary Kizer Lupardus.
You can read more about the Lupardus cabin at these websites:
http://www.millercountymuseum.org/080331.html
http://www.millercountymuseum.org/homesteads/lupardus.html
And you can read the history of Peter Lupardus at this website from a previous Progress Notes narrative.
The Edwards family reunion reminded me of an old newspaper clipping I had saved featuring Grant Edwards taken from the Autogram in 1953. Grant was the son of Arthur Edwards and the grandson of George Edwards Sr. the patriarch of the Miller County Edwards. Grant was mentioned on our website a few weeks ago in the story about the Tuscumbia Bank robber as he was one of the witnesses of the event.
Here is a copy of the photo and the accompanying narrative about Grant (photo 28):
28 Grant Edwards
"Despite the Drought, Grant Edwards who farms in Miller County northeast of Tuscumbia, estimates he will have a corn yield of 75 bushels to the acre this year. Edwards said, "Planted my corn early in May around 17,000 stalks to the acre…I got my ground in condition by fertilizing according to soil tests and then put on 100 pounds of 8-8-8 at time of planting. This is bottom ground, and although hot winds and drought hurt…still feel mighty lucky to get what I got." Edwards farms 450 acres and has 50 acres of corn."
And finally, here is a wonderful history of the Edwards family compiled by Doris Edwards Wyrick. You will need to scroll down the page a short distance to get to the Edwards family history. However, on the way you can read more about Alf Eads!
---
Last week in preparation for the Car Cruise and Chili event at the museum several of the volunteers redecorated the museum with fall season displays of extraordinary imagination giving an authentic sense of the season. Doris Wiggins and Diane Berkbigler placed a setting of fall china in the kitchen area which was quite colorful (photo 29).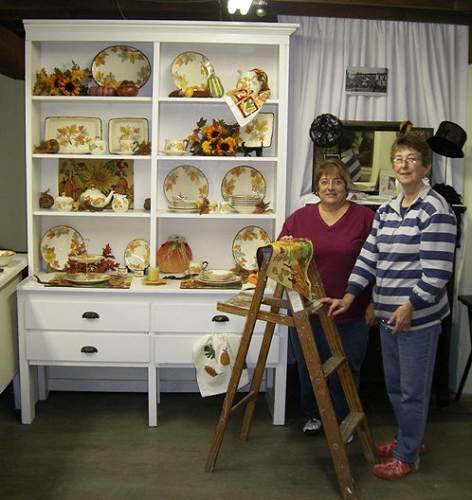 29 Diane and Doris
Judy Pryor came up with the idea of decorating the large dining table with a number of fall men's ties (photo 30).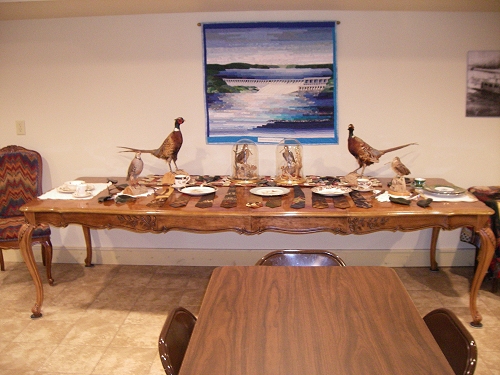 30 Fall Ties
Doris set all nine tables with a different unique fall setting collaged here (photos 31 - 39):
Just click on any of the photo thumbnails to view a larger image:
The Car Cruise event held Saturday, October 10 was our most well attended to date. The sunny day was a welcome change from all the rain bringing many visitors and a total of nineteen cars for exhibition. Here is a collage of the classic cars we had on display (photos 40 - 54):
Just click on any of the photo thumbnails to view a larger image. Hold mouse pointer over photo before clicking to read caption:
That's all for this week.
Joe Pryor