Monday, September 28, 2009
Progress Notes
One of the most traumatic upheavals of the past to occur locally to our neighbors in Camden and Morgan Counties as well as the western part of Miller County was the flooding of the Osage River valley above the Bagnell Dam after it was completed in 1931. Not only did people have to leave their family homes where in some instances several generations had lived, but even their loved ones who had been buried in local cemeteries who had to be removed and buried elsewhere.
Zebra, the original Osage Beach, Gladstone on the Gravois Arm, Iron Town at marker 44, and Cape Galena on Horseshoe Bend were some of the communities inundated by the rising lake water. Many valley homes and farms were lost to the rising waters up and down the Osage, Niangua and Glaize river ways. However, the most significant concentrated loss due to being submerged by the lake was at the town of Linn Creek (photo 01).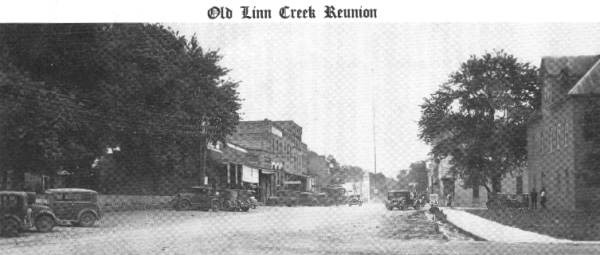 01 Old Linn Creek
The most detailed description I have found of this time during 1931 was written by Buford Foster (photo 02) of Camdenton in his book, "That's The Way It Was," published in 1999 and still on sale in local book stores around the Lake area.
Buford, whose family was one of the first to settle in this part of the Ozarks, now is ninety years old. He is one of the most colorful personalities in the Lake area and was very successful promoting tourism here. For example, he was a key figure in the organization of the Lake of the Ozarks Square Dance team, the children's square dance team known as the Tadpoles, and his numerous commercial activities in the Lake area. In this week's Progress Notes I am going to copy from Buford's book his telling of the story of the events which occurred in the Lake area leading up to the building of Bagnell Dam and the resentment it caused among local people. Then after that I will tell the story of two Linn Creek families forced out of their farms and homes by the flooding of the Osage River valley after the dam was built who decided to move a short distance east to Miller County where they became very prominent and well known citizens.
These were the Farmer and Ayres families who were relatives of our own board member, Betty Ayres Kallenbach. But first, here is the colorful and frank narrative by Buford:
Early History---Beginning of Bagnell Dam
By Buford Foster
"That's The Way It Was"
Note: The following is taken from several selected essays in Buford's book.
P. 16, 17, 18
Bagnell Dam and the Lake of the Ozarks did not originate here at Bagnell nor the Union Electric Company of St. Louis. It was initially started by a Kansas City Company known as Missouri Hydro Electric Company. The first principals associated with it were Walter Cramer and Ralph Street who were with the Missouri Land Bank Company. This was during the Depression and this bank had made a large amount of loans on farms here in Missouri and Kansas. They were having to foreclose on many of these farms. After they had started the procedures of acquiring some of the properties here in the lake basin they suffered some financially bad circumstances due to bad loans and foreclosures. They contacted the North American Holding Company of Boston, Massachusetts to take over. The North American Holding Company turned the project over to the Stone and Webster Construction Company which sold the deal to a St. Louis Company known as the Union Electric and Webster Construction Company which in turn sold to a St. Louis Company known as the Union Electric Power and Land Development Company. This company was run by Eagen and Associates. This all happened about 1925-1927 at about the time the Great Depression was beginning to originate.
People were out of work all over the country and the railroad trains were heavily loaded with men traveling to try to find jobs. No one at that time ever heard of welfare, food stamps, etc.
I was a true native born on January 15, 1919 and raised here just east of Linn Creek about 10 miles on the Dry Glaize River on a farm. As time went on, our family moved to old Linn Creek in 1927. We took over an old restaurant there, the biggest restaurant there was in this county; 27 seats, twenty seven Coca Cola chairs and tables and a soda fountain. Mom and Pop proceeded to run this restaurant and we did most all the work ourselves. We sold hamburgers for a nickel and chicken dinners for a quarter. Catfish dinners were thirty five cents and the catfish were all caught on the Niangua and Osage Rivers.
One day we heard there might be somebody going to build a big dam. Some outfit out of Kansas City was going to build a dam on the Osage River down by a little town by the name of Bagnell, Missouri in Miller County. Bagnell got its name from the railroad spur which was built so they could pick up the railroad ties that local people would cut and hew with broad axes, then nail them together into rafts and float them down the river to Bagnell. They would break up the rafts and haul them to the vats to be treated…where they took them. They went to build railroads.
Anyway, folks said they were going to build this big dam down there. Nobody believed it. I had relatives all over this country and up and down these rivers and nobody believed it. After several months passed, two well dressed fellows came into Linn Creek and came into my dad's restaurant. They asked who was the operator here and I said, "My Pop, right over there back of the soda fountain."
They went over and I listened to what they had to say. They said, "We would like to use your facilities to have a meeting." Pop said, "What kind of meeting?" They said, "It's going to be an announcement of a project we're going to do here. I can't tell you much about it right now, but we'll have some important people here. We'll pay you $25 for the use of your facility."
In 1927, twenty five dollars was quite a bunch of money, so Pop said, Well, sure you can use my restaurant."
So they had this meeting and these two fellows were the president and vice president of the Union Electric company in St. Louis and the president's name was Louis Eagen and the vice president's name was Frank Boehm. They invited all the county judges, which we call Commissioners nowadays, from Camden County and all the adjoining counties to this meeting. And the local newspapers were there as well as the Kansas City and the St. Louis newspapers.
And they made the announcement that they were going to build the Bagnell Dam. Everybody was awed and stunned when the news came out that they were going to build this big dam, but they still couldn't believe it.
Most of the people knew about the law that said it was illegal to block a stream and stop navigation of man and fish up and down a stream. Now, the law had been violated many times over the past years by people damming up streams and building grist mills for water power to turn their wheels and stone burs which ground the corn or wheat for the surrounding native people to make bread. For example, in about 1870, John S. Harold built a dam on the Wet Glaize River, or creek it is some times called, put his son-in-law, Alex Salsman, in charge of the mill. He ran this mill for a number of years, then it was sold to my grandpa, Willie Carnes, who lived about 10 miles down stream from there. He put his son in law, Every Story, a son of a mill family, in charge and he ran this mill for some years…until 1910.
Then, Sid Roach (photo 02a taken from book "Murder On Rouse Hill" by Alan Wright), who was a new lawyer, out of school and the new prosecuting attorney of Camden County, dug up the law that said it was illegal to block a stream, stopping navigation of man and fish, and made Grandpa Willie Carnes blow out the dam.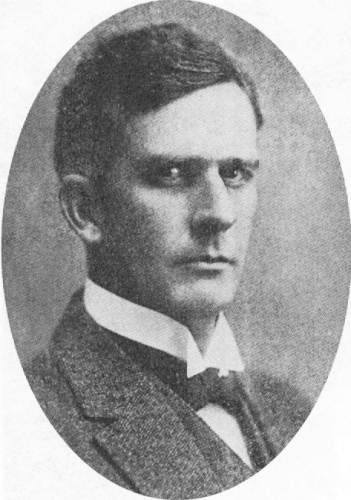 02a Sid Roach
This was in the common knowledge of our local people and due to the fact that the Osage River had been well known as a navigable stream with many years of river travel and freighting, everyone just simply knew that this was absolutely impossible to dam up and block this big river, so they all said, "Hog Wash. It ain't possible."
An example of river navigation to follow: My great grandpa, Jim Foster, worked for many years on the river boat, the J.R. Wells, which was a steam driven stern wheeler that freighted from St. Charles, Missouri. At that time, St. Charles was a greater freighting port than St. Louis and also was the capital of Missouri. It freighted all the way up the Missouri River, up the Osage River to Warsaw, Missouri, stopping at many ports, or bankings as they were called. The rivers were very unstable, so the old river boats simply had a big "gang plank" hinged on the front to lower and raise when they backed them. But as time went on, Grist Mills were gradually dropping away. For example, when Grandpa's Dam was blown out at old Toronto, he and Uncle Evert went to Kansas City with a wagon and 2 good mules and hauled back a small steam engine and set it up as a new way to grind the corn for the people's cornbread.
P. 21, 27, 28, 31
Well, our local people didn't want this dam to happen so the Prosecuting Attorney, who was Morgan Moulder, a cousin of mine (one of my great great grandpa's was George William Moulder, who arrived here in Kinderhook in 1836), filled out all the papers he could think of to stop the building of Bagnell Dam. He said it was going to take all of the good farm land we had in this part of the country…good tillable, corn raising soil…the river bottoms (photo 03).
Note: here is a copy of the first two pages of one of the several legal actions initiated either by Union Electric or the Linn Creek group opposed to the dam which is now in the possession of Miller County Historical Society Board member, Betty Kallenbach (photos 04 and 05). You will notice that the Farmer and Ayres families are well represented as defendants.
As it turned out, it was Louis Eagen from St. Louis, part of the Eagen bunch, who was the key figure working for the other side. They were very notable, powerful people (a little bit like the Al Capone bunch out of Chicago) but not as mean and racketeering.
But most people here thought the Union Electric fellows were pretty rotten and crooked and that they intended to steal all the land from the local people here. They did get a lot of it. They put out the word that we will make you one offer and if you don't take the offer we're going to flood you out. Of course, that sounded real fearful and everybody was scared about that. There wasn't one family in twenty that had a telephone in those days, no radios, and certainly no television. The communications were poor, so a lot of folks believed it. What they didn't know was that just a year or two before that, the legislature had passed a law that utility companies could condemn right of ways to cross peoples' property, and in some cases, might pay damages, but not always. That's what they had in mind when they said, "We will flood you out," but the main thing they wanted to do was scare everyone out. A lot of the people that were made offers for their property took them; some of the people didn't take the offer right away. My grandpa's family on my mom's side (the Carnes Family) didn't accept it at all. Grandpa had died, Willie Carnes was his name. There were 10 in mom's family and Uncle Jack, who was one of the older sons, was in charge of the farm. A lot of the kids had married and moved away.
These men came into the Carnes home and said,
"Mr. Jack, we're going to give you $5,000.00 for your 1200 acres."
Uncle Jack said, "You'll have to pay more than that."
This little guy said, "We'll flood you out, mister!"
Uncle Jack said, "I'll blow your damn dam up if you're gonna do that. You get up and get out of here."
And he kicked the socks off one of them guys. He hit him pretty good and threw him out and said,
"And don't you ever come back here. We're not going to sell the land to you!"
However, two to four weeks later, Louis Eagen himself went out there with his attorneys and they negotiated a deal for the farm for $20,500 which actually turned out to be a pretty good deal for them. It was time for them to divide up grandpa's estate between 10 kids, so that was accepted. Then Union Electric turned right around and did the same thing to them that they had done to the other people along the valleys. They said, "Look, we only need the valleys. We'll give you back the hill top land…all of it…for free….take it."
Note: I have been told that UE didn't want to pay the real estate taxes on the hill land.
Uncle Jack said the same as all the other folks did, "What the hell do we want that for? You can't raise nothing on it! It takes 10 acres to graze one cow."
That's the way it was in those days. It wasn't good hunting country. There were no deer or turkeys anymore. Sure, there were a lot of rabbits and squirrels and game like that, but it was not hunting country like we have these days. Anyway, they did not accept the land.
Note: This time frame was before the Missouri State Conservation Commission was organized to control hunting with limits and seasons.
In order to build the Bagnell Dam and form the Lake of the Ozarks, the power company had to either buy a property below the 660 foot sea level or acquire flooding privileges. As I have mentioned before, people in this area were somewhat startled. The company put out word that they would make on offer and if you did not take it, they would flood you out. This scared a lot of people. However, the power company people had in mind using a recent law called condemnation. They did use it in some cases, but mostly they propositioned,
"You have this land and what does it take to get you to sell and move?"
One of the Arnhold boys told some of what went on. Mr. Arnhold mentioned to the power company agent a very large amount of money and also said,
"You probably don't have that much."
What the final settlement amounted to, no one ever learned, but we all assumed it was a sizeable amount. Anyway, this was a very hot topic and much gossip was spread.
Many people that had sold and moved, kicked themselves for not knowing and doing what the Arnhold's did. Fortunately, no one was killed or hurt, and as far as we knew, this was the final piece of property to be acquired to complete the Bagnell Dam project.
Eagen's gang walked around here to all of the various meetings with suitcases full of $20.00 bills, and they bribed all the state, federal, and county officials with big handfuls of these twenty dollar bills. They bribed everyone that looked like they were opposed to building the dam, official people, that is. And with that system, they got the job done. A lot of people didn't want to know or to believe that this happened. A project like this could never be done nowadays. People are much too intelligent now and people could not be manipulated nowadays like they were in 1928-1930. Anyway, Louis Eagen and Frank Boehm got this gigantic project done by hook and crook, even though they both were sent to the Missouri Penitentiary soon after this project was finished.
When all was done and the dam was built, and everything was in place, they were taken into court, tried and sent to the penitentiary for what they called "illegal use of slush funds." That's bribery! They didn't serve more than just a few months 'til their big political powers had them out and going again. But that's the way the Bagnell Dam got going and that is how the Lake of the Ozarks came about.
Again, I say, damn your greedy guts for all the crooked dealings, hardships and inconvenience you caused too many of our local people. But today I say we are very grateful for the wonderful facility they have provided. Since I have spent most all of my life in being a part of the development of the tourism business here on the Lake, I have been part of many organizations that have dealt with the Union Electric Company.
We have had many meetings dealing with water levels, docks and many other items. There were times we would stand toe to toe and call each other sons of (*****), then after 2-3 hours of meetings, we would all go out and have drinks and eat together. There were times when I could have kicked the socks off of some of them and I feel sure that Union Electric had a contract out for me. But, after all, we still get along. We are having better water levels, and we should because we now have flood control dams on the Osage River and its tributaries. They are Truman, Stockton, Pomme De Terre, Pomona and Silver. All are flood control dams, owned and operated by the Corps of Engineers. We all must remember, we must stand and defend our grounds or we may be trampled and run over. That's the way the Arnhold's did, "That's the way it was."
When we decided Old Linn Creek was going to be flooded eventually, our family moved out and went back to the farm for awhile. I was in the 5th grade, and we finished the 5th grade in the old Freedom school house. One day they shot off a shot of dynamite that broke out the window in the old schoolhouse and scared the socks off me and everyone else in the room. That was in December, 1929. That blast was made by U.E. contractors digging new graves for graves being moved out of the lake basin. That Freedom school area was one of many locations that were chosen to move graves out of the proposed lake area. The graveyard was only 50 feet from the old school house, and the workers had to use dynamite to dig deep enough. Most remains were brought in small wood boxes, because after many years of no concrete vaults, there was very little left of the corpse and home made caskets. No doubt most of the remains were left in the old graves. I have heard it said that none of my relatives, which were many, were buried in the low lands.
Union Electric people had no idea that later, this land would turn into the valuable shoreline that it is today, so they gave back as much of the land as they could. Most of the people did not take it, so Union Electric would give it away to get rid of it. In fact, they gave approximately 36,000 acres, more or less to the State Park, which is the Lake of the Ozarks State Park around Brumley, Kaiser-Glaize and Osage Beach. If we had only known then what we know now, that a good and accessible lot 100 feet deep and 100 feet of shore line would be worth on what would become the Lake of the Ozarks. One hundred feet front and one hundred feet deep is worth $450,000 today. Oh boy! So Union Electric proceeded to sell off what they could, or give away what they could. But most people didn't take it because they didn't want to pay taxes on it. Most people weren't making much money in those days. If they were making 50 cents a day, well, that was a living wage and I'm talking 1929, 30, and 31. So they got the big Bagnell Dam built.
Most of my relatives, which was a lot of 'em, up and down the Osage, Glaize and Niangua sold to Union Electric and then scattered far and near to start a new life. They moved to North Missouri, Kansas, West Missouri, Iowa, wherever they could sit in and plow into decent ground because they were farmers at heart. My dad still had the old farm out on the dry Glaize River, out past the Freedom cemetery and school house, which had been in the family for a long time and was still in the hands of the estate of my dad's family. My grandma and her new husband still lived there, but Pop said, "We won't stay here." We'll go back and stay in Linn Creek until it floods and make the best of what there is to come." We heard big promises that the lake's going to be a big famous lake, but we didn't know it would take so long for it to do anything. So, the next few years were lean years for most folks.
However, until the lake finally filled in and flooded us, we prospered well in our restaurant in old Linn Creek, all day selling hamburgers for a nickel, chicken dinners for a quarter, catfish diners for thirty five cents cake for a nickel, ice cream sodas for a dime and so forth.
---
So there you have the history of the beginning of the Lake of the Ozarks from one of the natives of the area who was there and knew most of the people involved. Here is a map showing the Linn Creek mouth at the Osage where the old Highway 5 suspension bridge was located. The map demonstrates the original river channel as well as the area covered by the Lake after the dam was built (photo 06).
Two of those families who had to move from the part of the Osage River valley flooded at Linn Creek in Camden County eventually ended up a few miles east in Miller County. They were the families of John W. Farmer and James Ayres, both of them living near Linn Creek. As mentioned above, these families were relatives of our Miller County Historical Society board member and treasurer, Betty Ayres Kallenbach. John Farmer was her uncle and James Ayres was her grandfather. First I will present the story of the Farmer family:
John W. Farmer was a self taught photographer who had a photography shop in Old Linn Creek (photo 07).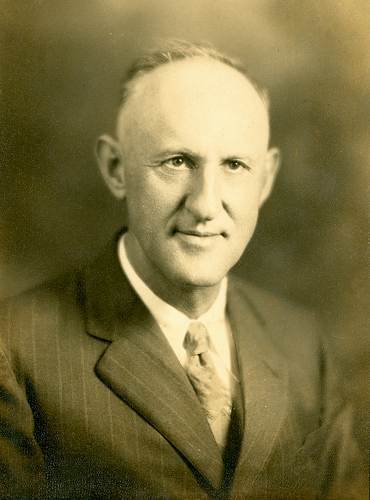 07 John W. Farmer, Son of Joshua
His father was Joshua Farmer who had a fine three hundred acre farm on the Osage River near Linn Creek (photos 08 and 09).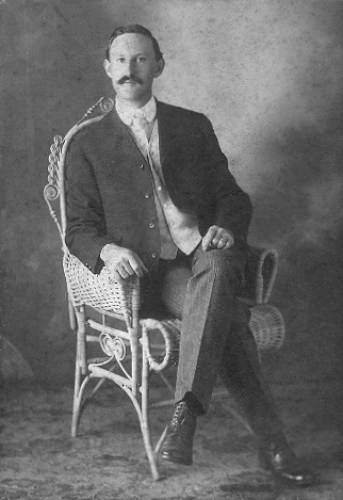 08 Joshua Farmer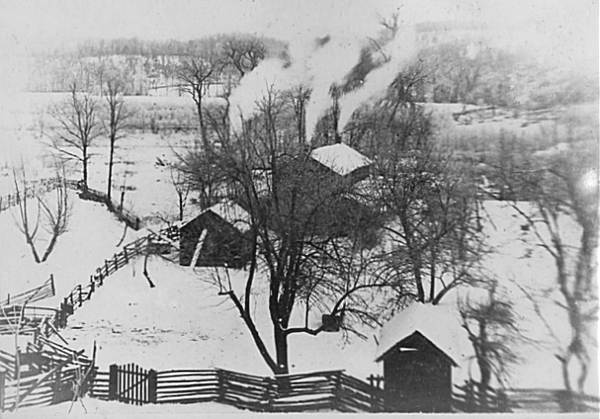 09 Old Joshua Farmer Homeplace
Here is Betty holding portraits of her great grandfather Joshua and his wife, Indiana (photo 10), and here are the portraits close up (photos 11 and 12):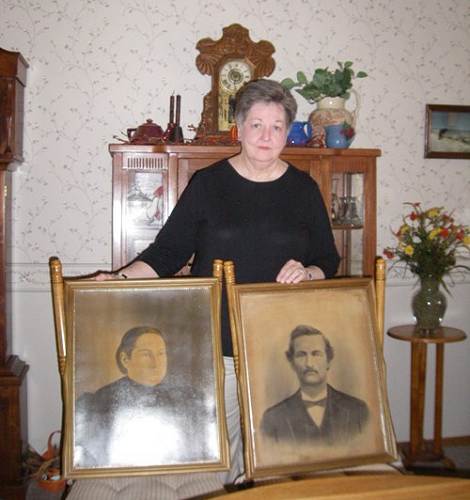 10 Betty Kallenbach and Photos of Indiana and Joshua Farmer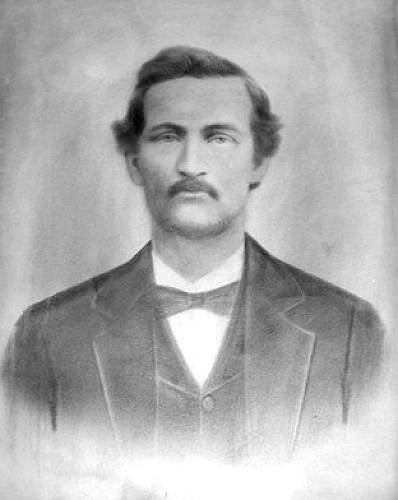 11 Joshua Farmer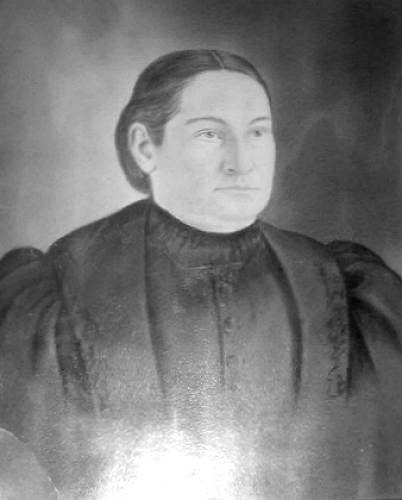 12 Indiana Farmer
The Farmers' were one of the original families to settle in the Linn Creek area. Goodspeed's history of Camden County records the Joshua Farmer history:
Joshua Farmer
Joshua Farmer, of Camden County, Missouri, was born in Montgomery County, Virginia, April 13, 1837, and is a son of John and Christina (Bishop) farmer, who were born in Virginia, and there made their home for many years, but immigrated with the paternal grandfather, Joseph, to Missouri, in 1838, locating in Cole County, but died in Miller County. They experienced many dangers and privations in their trip westward, and had considerable difficulty in crossing the mountains, which were at that time infested by numerous gangs of cut throats and robbers, but were piloted safely through by a man by the name of John Gausley, who did not know the meaning of fear. John Farmer, the father of Joshua Farmer, came to Missouri at the same time, and entered a tract of land in Cole County, ten miles south of Jefferson City, and here resided until 1851, when he moved to Fremont County, Iowa, and at the end of four years to Andrew County, Missouri, but finally located on the Osage River, near Linn Creek, where he purchased a farm and remained until the war broke out, at which time he moved North. At the close of hostilities he returned to Missouri, and died at Linn Creek. His wife died in 1873. Two of their nine children are living: Joshua and Joseph M. The former was an infant when brought to Missouri; and until seventeen years of age resided in Cole County. In 1861, he enlisted in Company B, Second Battalion, but at the end of six months the company was disbanded, and Mr. Farmer enlisted in the Ninth Missouri Cavalry, and from July 13, 1863, to July 13, 1865, served with this company, and fought bushwhackers in Northern Missouri. In 1869 he purchased his present farm on the Osage River, consisting of 300 acres, and is now considered one of the prosperous farmers and stock men of the county. In 1860 he wedded Miss Zeruviah A. Roberts, who died in 1871, having borne four children, who are all deceased: Mary Francis, Joseph William and two infants. In 1871 he married his second wife, Miss Fannie L. Edwards, who died August 23, 1874, leaving one child, Margaret J. Mr. Farmer's third wife, Indiana A. Farmer, whom he married in 1874, has borne seven children, five living. The names of those deceased were James Edward and William E. Mr. and Mrs. Farmer are members of the Christian Church, and he belongs to the I.O.O.F.
---
Betty has in her possession an old journal kept by her great grandfather Joshua (photo 13).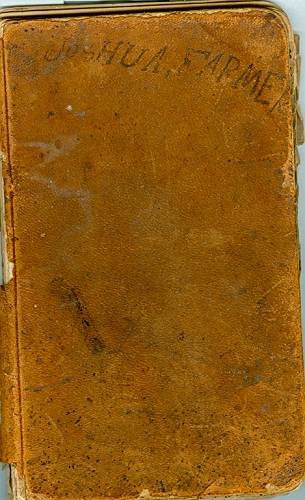 13 Joshua Farmer's Journal
This journal recorded a variety of items but the most interesting ones were some notes Joshua kept of his testimony giving witness to injuries suffered by fellow soldiers in the Civil War. The testimony was necessary so the soldiers could receive compensation related to wartime injuries or illnesses. Interestingly, one of the soldiers for whom he gave testimony was a great great uncle of mine, Absolom Bear. Here is a photo of that entry (photo 14):
As best I can make out the complaint had to do with a recurrent bout of cramping and diarrhea intermittently suffered by Absolom over a couple of years.
Betty also has Joshua's old Odd Fellows ribbon to which Goodspeed referred (photo 16).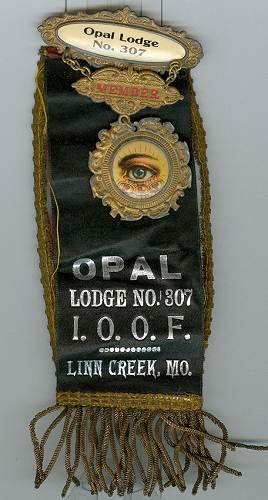 16 Joshua's I.O.O.F. Badge
Another interesting record Betty has regarding Joshua is a testimony by a fellow soldier describing an injury Joshua received in 1864 when the unit to which they belonged was fighting guerillas near Liberty, Missouri which were being led by Jesse and Frank James. This would indicate that the James brothers were participating in guerilla activities before the Civil War had ended.
John W. Farmer, son of Joshua and Indiana Edwards Farmer, and Betty's uncle, was a self taught photographer who, as noted above, had a photography shop in Old Linn Creek. He married Lulu McNeal (photo 17).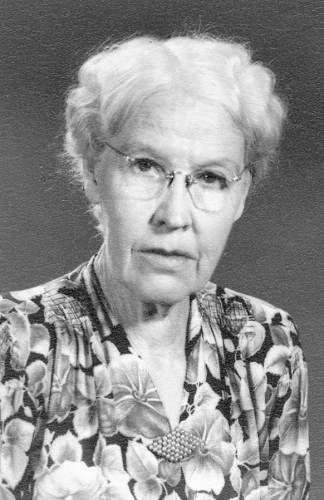 17 Lulu McNeal Farmer, Wife of John
Lulu started teaching at the age of fourteen in rural, private and high schools. After the construction of the dam caused the flooding of Old Linn Creek, the Farmer home farm was covered by water. At this time Lulu and John moved to Miller County to settle on a farm on the Little Saline Creek where they lived for twenty five years. While here Lulu taught at Ginger Ridge School. The school was located a hill away so Lulu usually walked to the school every day. She taught for 53 years including her time at Old Linn Creek, They moved then to Eldon where she lived for one year before passing away in 1957. John worked in photography around Eldon during that time. He died in 1966.
Upon Lulu's retirement from teaching, an article about her was placed in the Eldon Advertiser which I will copy here:
Teacher Retires, Now Has Time For Hobbies; Raises Ton Litter In Three Months
Eldon Advertiser 1947
Mrs. Lulu Farmer, first Miller County Teacher to be retired under new State Law now has time for hobbies…Sells ton litter of pigs at top market prices.
In just five months and six days, Mrs. Lulu Farmer, retired school teacher, at the age of 70 years, has realized the first of her life's ambitions…fed a ton litter of pigs and sold them at top market prices…weighing 2226 pounds, they brought $27.25 on August 19th. The litter of 11 pigs was farrowed and were in the tonnage class just 24 days before the customary six months growing period usually allotted for that weight. The feat was accomplished at the Farmer home place on the Little Saline, and is a challenge to the F.H.A. Boys…Can they top this?
And this is just the beginning…Mrs. Farmer says she has a number of other hobbies on her list of "life ambitions" which she plans to carry out now that she has "time on her hands:" a woodworking shop in her home; piecing quilts; become a housekeeping expert; and at the same time continue her contacts with educational facilities.
Mrs. Farmer, who was retired this year under the new state law, after 46 years of teaching, is well known in the community to young and old alike. Approximately 1000 students learned the three R's under Mrs. Farmer's tutelage and in many instances students grew up and married and she taught their children. Of interest to note is that 10 of the 12 living children in the Earl Wood family of Ginger Ridge district all went to school under Mrs. Farmer over a period of six years.
With a teaching career which stared at the age of 14 years in Morgan County, Mrs. Farmer, who has just passed her 70th birthday, was retired this year under the new State Law. During that span of some 63 years she has taught in rural, private and high schools. She tells us that she had enjoyed every minute of that time and regrets that the new law requires her retirement as she would like to continue her work with the young folks.
Constant association with the young fry has kept Mrs. Farmer young too, in heart and mind, while the years rolled by. She is a slim, alert little person with snowy white hair full of animation and enthusiastic about modern methods and progressive educational facilities. With every intent of continuing her contacts in that field, she was in attendance at the August Meeting for Teachers at the Court House recently.
Times have changed and it's a far cry from the "little red school house" where Mrs. Farmer started her career of service. Progress through the years entailing modern methods and improved facilities, she tells us have added greatly to the joy of teaching and have enabled teachers to give more of service. The improved standards of home training have also contributed much over the years, while lack of the fear of the old time physical punishments played a big part toward making children more courageous, more adaptable and more eager to learn.
Mrs. Farmer and her husband are just now "catching up" on things they planned to do at their country home. The successful pig event is just one of many they have in mind. They have one daughter, Mrs. Dorothy Noyes, who lives in Cleveland, Ohio, and one granddaughter, Kathleen Noyes, now 11 years old.
Mrs. Farmer, the former Miss Lulu McNeal and John W. Farmer were married in 1903. At that time Mrs. Farmer gave away her little school bell and "retired forever" with big plans to become an expert homemaker. Three years later she retrieved "the little brass bell" and has been using it off and on ever since that time.
We feel sure that the many, many Miller County folks who recited to Mrs. Farmer down through the years are all wishing her many hears of good health and happiness so that she may continue to "catch up on her hobbies."
Betty has the old school bell which Lulu used for so many years (photo 18).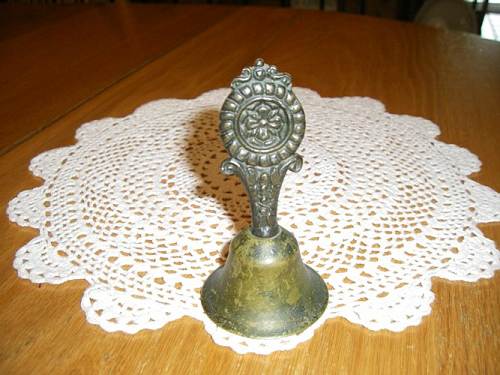 18 Lulu Farmer's School Bell
And here is the photography ledger John used to keep his business records and appointments (photo 19):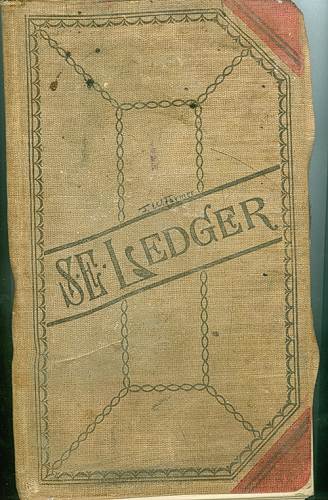 19 John Farmer Photography Ledger
---
John's sister, Ida Farmer (photo 20), had married James Marshall Ayres (photo 21).
20 John W. Farmer and sister Ida Farmer Ayres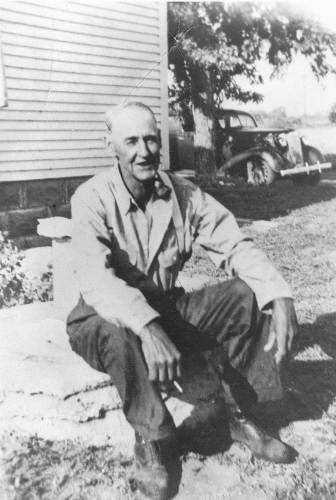 21 James Marshal Ayres
James was Betty's grandfather. The Ayres' came up from Van Buren, Arkansas before the Civil War to Old Linn Creek. Here is a photo of the Ayres' family when it was located on the farm in Linn Creek (photo 21a):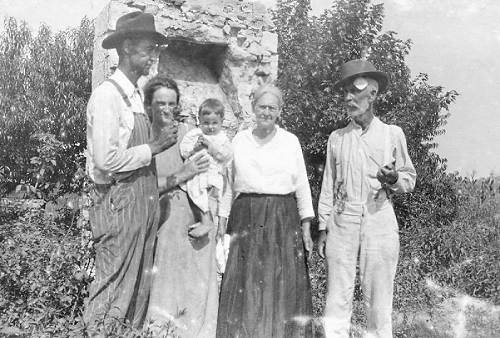 21a James Ayres Family
From left to right the names are James M. Ayres, Ida Ayres and son Joe, Jane (Childers) Ayres and her husband Joseph Ayres.
Joseph was father of James. Jane was his mother. James Ayres had brought a very old family Bible up from Arkansas (photo 21b).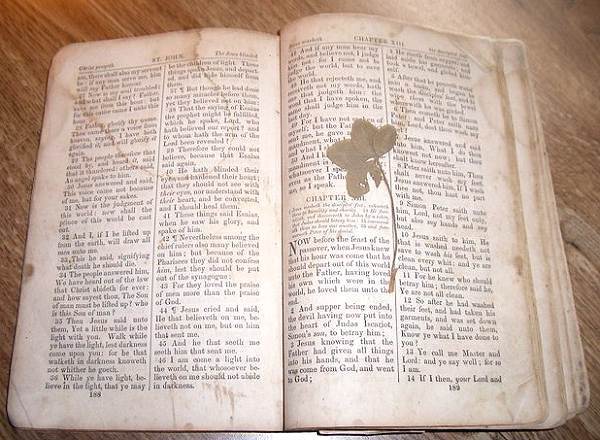 21b Ayres Family Bible
I wonder how old that four leaf clover is! James also had an old branding iron which had belonged to the family a long time (photo 21c).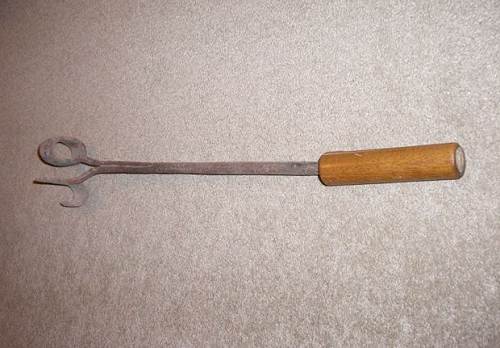 21c Branding Iron
Ida and James Marshall moved to Fortuna after the construction of the dam. The move was very distressing to Ida for which as an inducement James gave Ida a clock and a couple of pitchers which Betty now has in her possession (photo 22).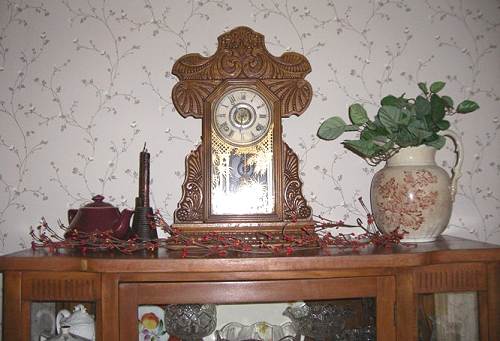 22 Gifts for Ida
In the mid forties the Ayres' moved to Eldon. On a trip to Kansas to sell some property James Marshall tragically was robbed and killed. James and Ida were the parents of John Frank Ayres (photo 23), father of Betty Ayres Kallenbach.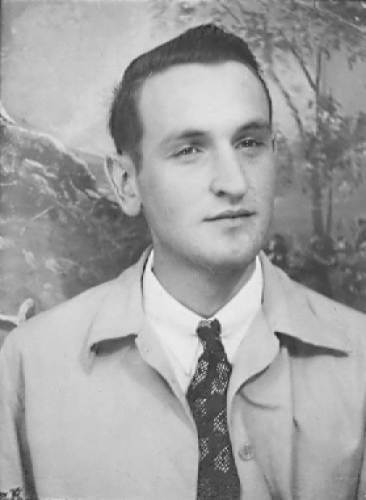 23 John Frank Ayres
John Frank was six years old when they left old Linn Creek. He was educated in the Fortuna schools, graduating in 1943 after which he joined the Army. During the war, John was wounded four times and received two badges of merit (photo 23a).
Upon return he married Thelma Elaine Robinett in 1946. She was born and raised near Brumley and was a niece of Jim Robinett, being the daughter of Perry Robinett. John Frank owned and managed gas stations in Eldon after the war. His marriage to Thelma Robinett truly merged Miller and Camden Counties together in Betty's heritage.
The story of the Farmers and the Ayres is just one of many hundreds which could be told about those who were forced to leave their homes, farms, churches and cemeteries when the Bagnell Dam was finished in 1931 and the Osage River and its tributaries began to flood. The valleys were covered with water for 120 miles upstream hiding forever landmarks, geological formations and caves, as well as an important archaeological history. However, as Buford Foster states above, many of us cannot complain too much since the Lake of the Ozarks produced a rich economy for the area helping it to fend better than other areas during the Depression as well as for many years thereafter. I know that my own family benefitted since my father and his two brothers provided for their families by selling hand crafted cedar wood souvenirs to tourists at the Lake and other areas for many years.
---
In the narrative above, Buford Foster mentioned that his Uncle Jim Foster worked for many years on the steamboat, J.R. Wells. This boat was the most well known of the Tuscumbia Anchor Mill steamboats, owned by Joshua Wells, who at the time, was president of the Anchor Mill Company (photo 24).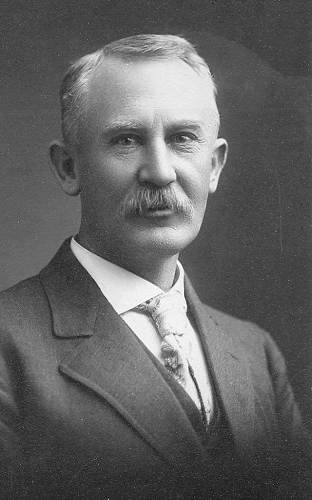 24 J.R. Wells
You can read the story of J.R. Wells on a previous Progress Notes of April 28, 2008.
We recently received a number of photos of the J.R. Wells steamboat sent us by Wayne Johnson, our website consultant, who is a historian with a special interest in the steamboat history of the waterways of Missouri. Most of these I have never seen before. First, I will copy a history of the J.R. Wells sent us by Wayne:
Title: J. R. Wells (Packet/Towboat, 1897-1920)
Description:
BOAT DESCRIPTION: Sternwheel

BOAT TYPE: Packet/Towboat

BUILT: Tuscumbia, Missouri, 1897

FINAL DISPOSITION: Sank in Pelican Bend near St. Charles, Missouri, January 30, 1920

OWNERS: Anchor Milling Company, Tuscumbia, Missouri (1897-1909); Stanton and Jones (?-1920)

OFFICERS & CREW: Captain John W. Adcock (master/pilot, 1897-1909)

RIVERS: Osage River; Missouri River

OTHER INFORMATION: Ways - 2880; Named for the head of the Anchor Milling Company; ran Osage River trade until sold in 1909. Stanton and Jones owned her when she sank in January, 1920


And here are the photos Wayne sent (photos 25 - 34):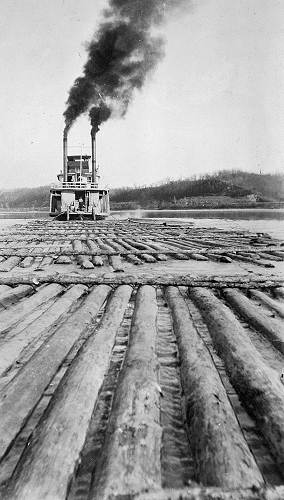 25 J. R. Wells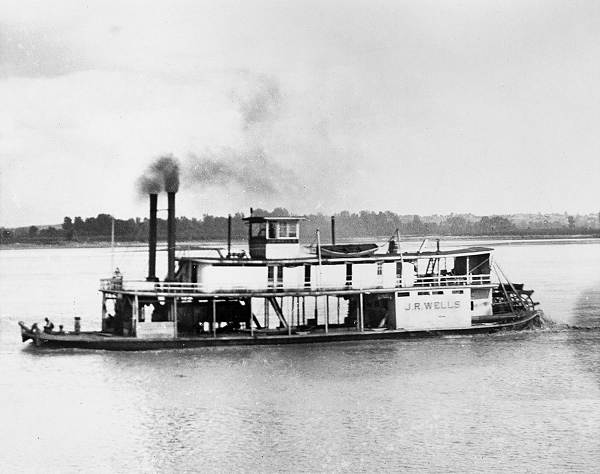 26 J. R. Wells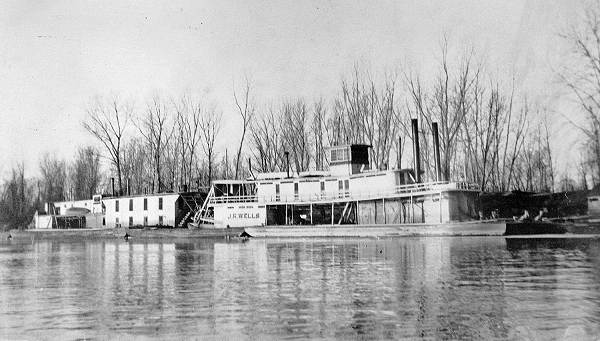 27 J. R. Wells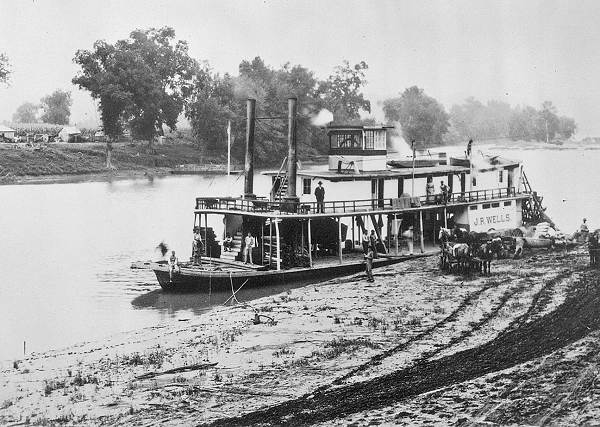 28 J. R. Wells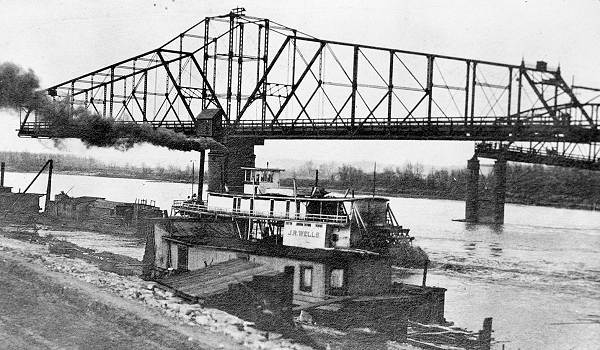 29 J. R. Wells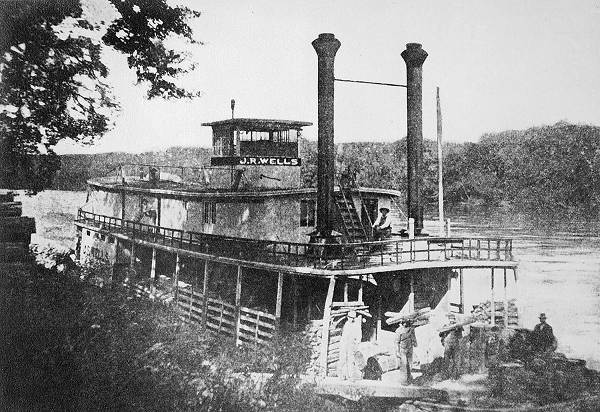 30 J. R. Wells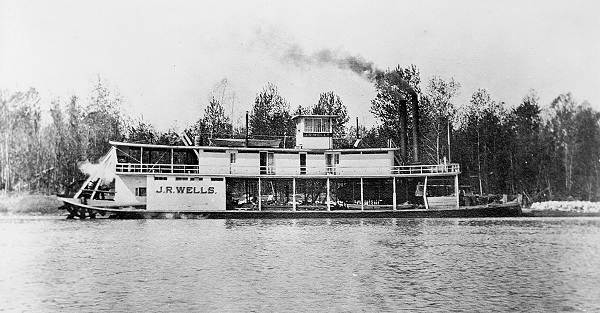 31 J. R. Wells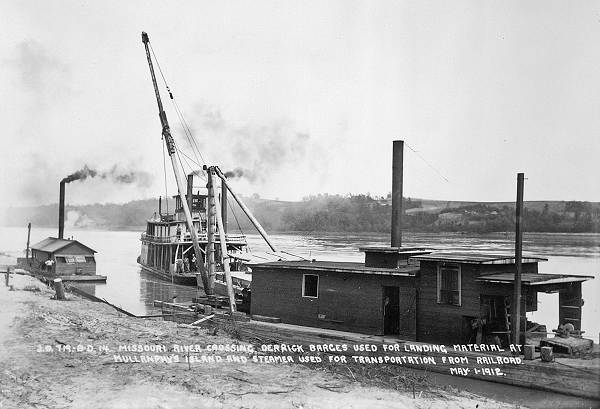 32 J. R. Wells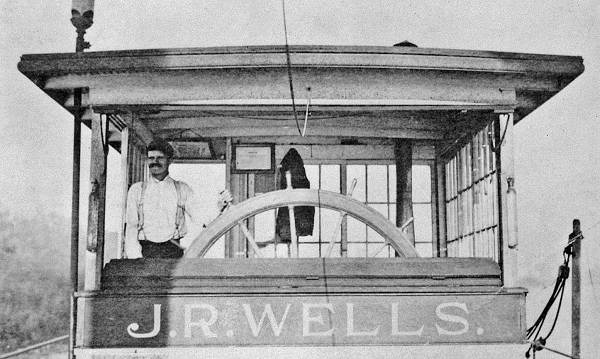 33 J. R. Wells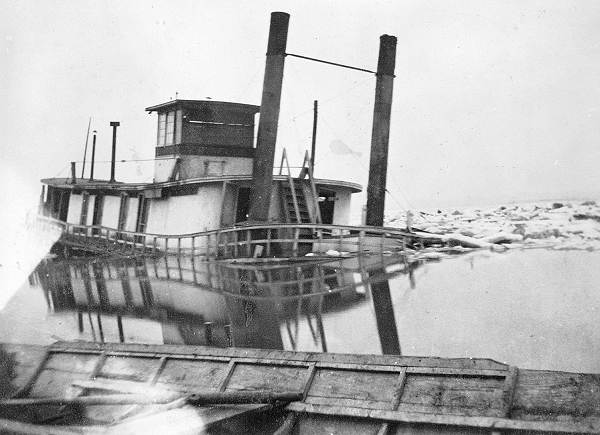 34 J. R. Wells
Photo 25 shows the steamboat pushing railroad ties, probably purchased at Bagnell. Photos 26, 29, 32 probably were taken on the Missouri River judging by the size of the river. Photo 34 most likely is the last one taken when the boat sank into the Missouri River near St. Charles in 1920. I'm not sure who the pilot was in Photo 33. John Adcock was the captain of the boat most of its history when owned by Anchor Mill (photo 35).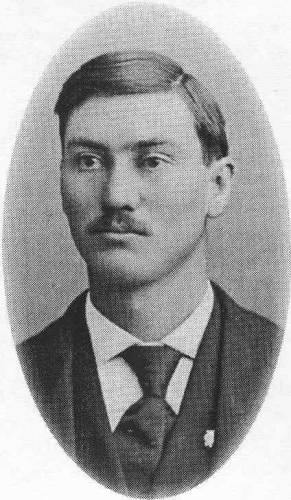 35 John Adcock
However, I don't think the person piloting the boat in the photo looks like the photo I have of John Adcock. At times others piloted the J.R Wells but this didn't necessarily imply they were the captain of the boat.
---
Recently, we were visited by Frances Head Byrd of Pocahontas, Tennessee which is near Memphis, and her daughter, Sharon Byrd Robison of Brighton, Tennessee (photo 36).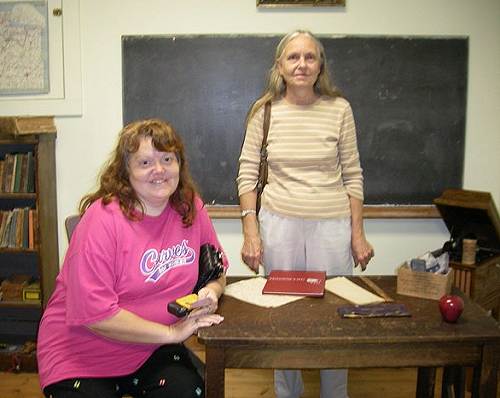 36 Sharon Byrd Robison and Frances Head Byrd
The couple visited Tuscumbia so Mrs. Robison could see the town where she was born and lived her first couple of years. Mrs. Byrd had been a science teacher at Tuscumbia High School in 1964 (photo 37).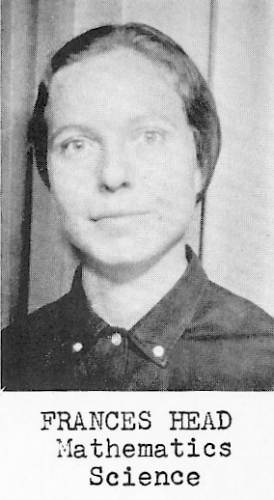 37 Frances Head Byrd - 1964
A year or two after arriving here Mrs. Byrd gave birth to her daughter at the Humphrey's Hospital which was located near the High School. Dr. Paul Howard was the attending physician; things went so well that Dr. Howard jokingly told her she could go back to her class that afternoon! I called Dr. Howard, who lives close by, and he came over to the museum with his camera so photos could be taken of his patient and her daughter whom he delivered (photo 38).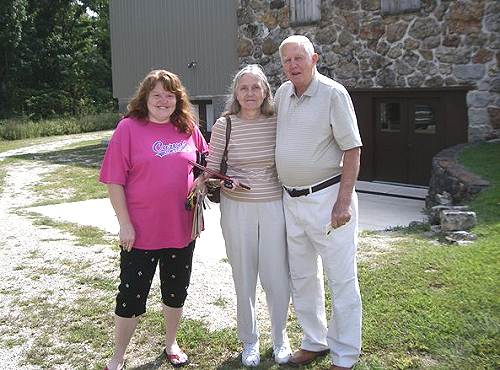 38 Sharon Byrd Robison, Frances Byrd and Dr. Paul Howard
Mrs. Byrd taught science and mathematics courses at Tuscumbia High School. She remembered having my sister, Patricia Pryor, in her algebra and biology classes. Later, Mrs. Byrd joined a biomedical company in Tennessee which researched and produced viral detection procedures. After the visit Mrs. Byrd asked me where they could go for lunch and I suggested she go across the river to the Red Oak Inn which is owned and managed by another student of hers, Wes Horton!
That's all for this week.
Joe Pryor