Monday, September 14, 2009
Progress Notes
Lois Mace Webb recently sent me a letter her mother, Clare Mace, sent her back in 1954 describing the robbery of the Bank of Tuscumbia. This was the first robbery ever to have occurred of the bank and as far as I know, the only one. Clare was an eye witness of the event as well as several other Tuscumbia residents who happened to have the misfortune that day to be present. I had written in the Progress Notes of August 25, 2008 a detailed history of the life of Lucian and Clare Mace, one of Miller County's most community minded couples (photo 01).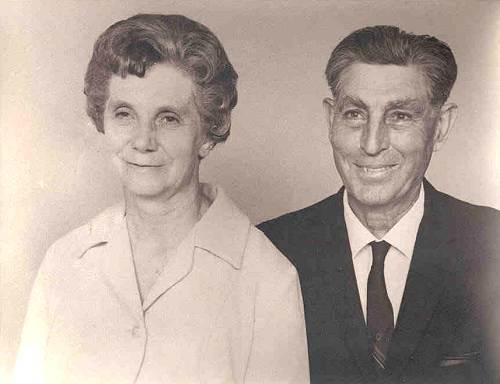 01 Clare and Lucian Mace
To set the scene, in 1954 we were just coming out of a recession so for some people times were difficult, perhaps explaining the motive of the robbery. Why the robber chose Tuscumbia is unknown except for the fact that it was a small town without a police force. Although Tuscumbia was the county seat where the sheriff's office and jail were located, quite often the sheriff was away from town on official business. Also we didn't have as many deputies then as now. Another factor, although we have no way of knowing if the robber knew it, was that a meeting of many local law enforcement personnel was being held that day at Jefferson City.
The Tuscumbia bank at the time was located on the side of a steep hill near the bottom with a narrow street between it and the Presbyterian Church. For historical interest here is a photo of the bank and church in the late 1800's (photo 02).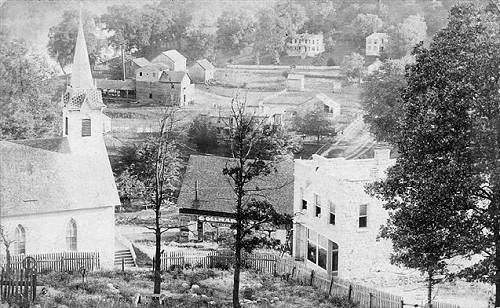 02 Goosebottom from above Presbyterian Church and Bank
You can see the church on the left and the bank on the right with the street between. The building immediately behind and to the left of the bank was a blacksmith shop. Farther down in the valley (known as Goosebottom) behind the bank to the left is located the original Anchor Mill before it was moved east to the other side of town further down the river. To the right of the mill along the left side of the street (known as Goosebottom Street) are two houses. The one closest behind the tree was Dr. McGhee's home. Here is a close up of his home on the left and in the distance on the right the Phil Hauenstein home (photo 03).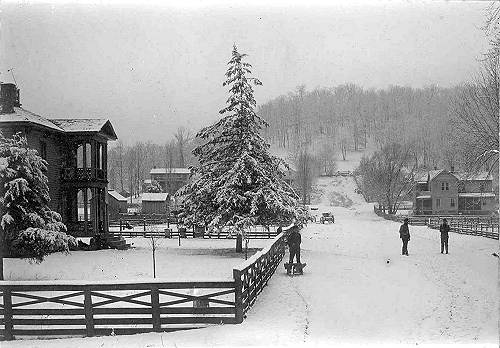 03 Dr. McGhee Home on Left - Phil Hauenstein Home on Right
And here are photos of Dr. McGhee and Phil Hauenstein (photos 04 and 05):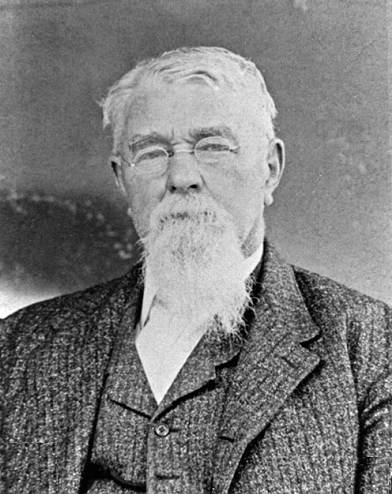 04 Dr. James McGhee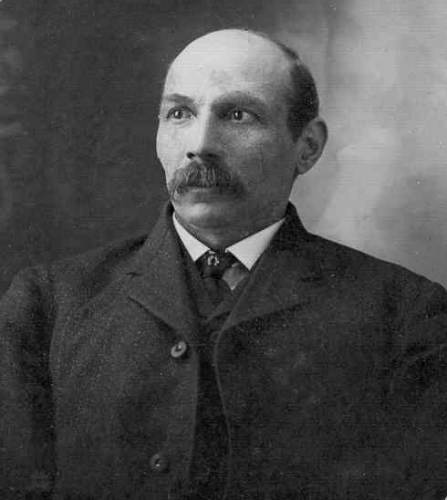 05 Phil Hauenstein
Referring back to photo 02, looking down the left side of the street near the end hidden by a tree was the Jim Johnson home. At the time of the robbery in 1954 the McGhee and Johnson homes were no longer standing. In the background where the hill starts to rise are two homes. The one on the left was the Bob Marshall home, originally built by William Hauenstein Sr. (photos 06 and 07).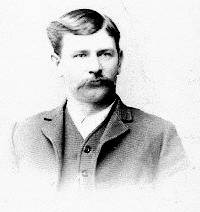 06 Bob Marshall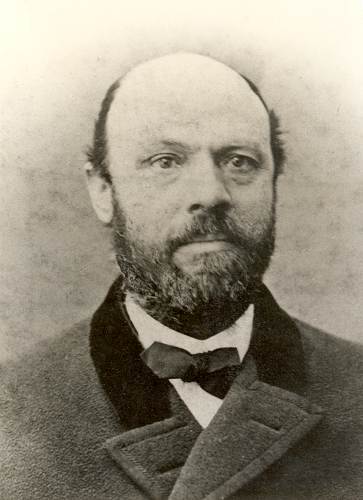 07 William Hauenstein Sr. (1822-1913)
Next to the Bob Marshall home to the right was the William Hauenstein Jr. home (photo 08).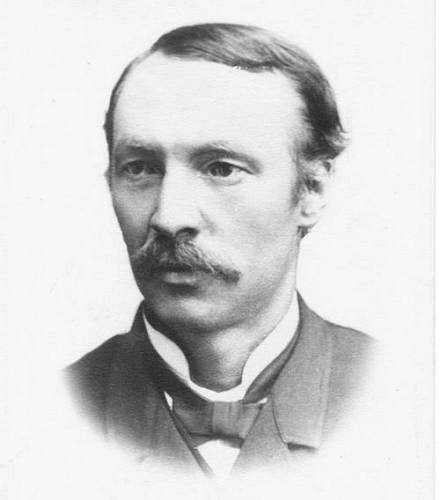 08 William H. Hauenstein Jr.
In the next photo you can see the south side of the bank on the left and across the street the Presbyterian Church (photo 09).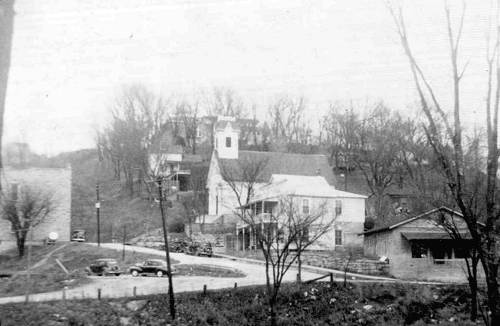 09 Presbyterian Church on Right - Bank on Left
Just below the church in the middle of the photo is the old George Nichols general store. Here is a photo of George inside of the store taken in the 1930's (photo 10):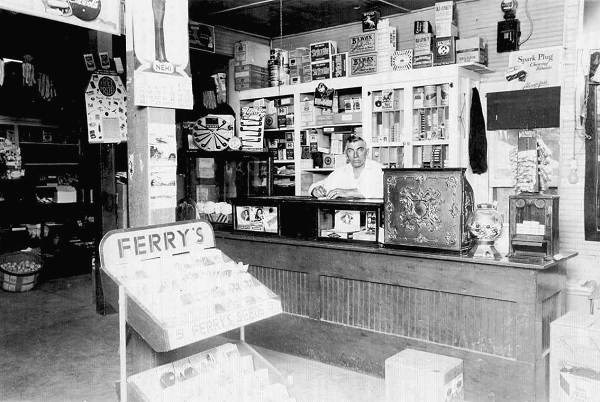 10 George Nichols Store - 1930's
After George died it was owned for awhile by Aubrey Johnston.
The next photo is an aerial view showing the bank, the church, the George Nichols store just below the church, and Hauenstein's Store at the bottom of the photo (photo 11).
At the time of the robbery Hauenstein's store was owned by Dorsey Barron (photo 12).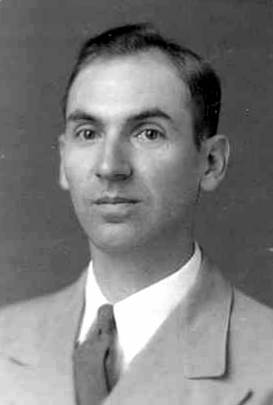 12 Dorsey Barron
Here is a photo of the original owner, George Hauenstein (photo 13).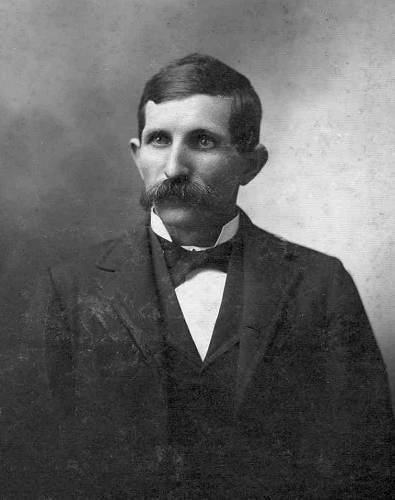 13 George Hauenstein
Inside the bank, the enclosure for the teller was at the rear to the right a short distance from the front door as seen in this photo taken in the early 1900's (photo 14).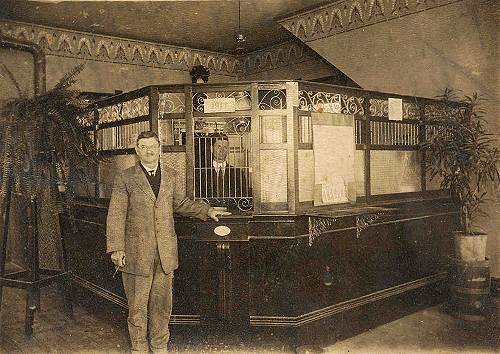 14 Robert Marshall and Fred Fendorf
In this photo Robert M. Marshall, bank president and teller Fred Fendorf (father of Helen Fendorf Phillips) are pictured. It was at this very window that Clare Mace was standing in line the day of the robbery.
So after that lengthy introduction here is the letter from Clare to Lois Mace Webb, Clare's daughter, about the Tuscumbia Bank robbery in 1954:
Tuscumbia Bank Robbery 1954
Clare Mace
Monday about fifteen minutes before closing time I went to the bank. While I was making out my deposit, a man came in and stood pretty close by me, slightly to the side at first, then behind me. Most people here don't stand in line, but rather over by that little table at the side until whoever is at the window finishes, but at most banks they do stand in line, so I really thought nothing of it except that he was probably a stranger. Ella Swanson (teller) waited on me. Garrett Berry (assistant cashier) was waiting on Grant Edwards at the other window. I was talking to Ella about an unusual pin she had on. When I was finished I started on out, but Mrs. Hawk and an Uncle or something of hers had come in so I stopped and exchanged a few words with them. While I was doing that the man at the window had handed Ella a paper sack and said something. She thought he had said "Read it," so she reached into it (looking for a note) but saw nothing. Then she saw he was holding what looked very much like a pistol covered with a cloth. She said, "Garrett will wait on you," because Garrett had just stepped to the window then too. The man then said something like, "Everybody over in that corner and don't leave here!" Apparently, that last statement was to me but I hadn't noticed it until he said again sharply, "Hey you! Don't go out that door!"
I was practically opening the door at that moment and had my hand on the handle, but wasn't aware that anything was going on. I turned, thinking it was Garrett or Grant who had called, and really looked at them first, and saw by their expression that it was serious and then I noticed the covered gun.
I said, "You mean me?"
He said, "Everybody over in the corner."
We were so dumfounded nobody hurried and Mrs. Hawk said, "You really mean this?"
He said something to Garrett and had been speaking low all the time except when he called to me at the door. So we couldn't hear what he said to Garrett, but Garrett said he said "Fill it up in a hurry!"
Ella said she guessed he had said "Fill it" instead of "read it" at first.
Garrett proceeded to fill it in a hurry, just out of the till which was already open. There was a little over 1400 dollars, which isn't very much for a bank robbery. He made some sort of threat and told us not to leave, and hurried out and into his car which was near the door. It was all over quicker than you can tell it. There was a whole bunch of men on Aubrey Johnston's store porch who saw him come in and leave; they saw the car pretty good and that he had no license tags on it. There was no car right close but Jesse Hawken ran down in front of Dorsey Barron's store and saw a car that looked like it was going across the bridge.
They had just put in a two way communication system in at the court house. Herman Abbett and Johnny Setser (sheriff and deputy) were driving their car between Iberia and Tuscumbia at the time and heard LeRoy Snodgrass (prosecuting attorney) broadcast it right away. The Highway Patrol, some of whom were having a meeting in Jefferson City, put up roadblocks using their new radio communication system. Because of the rapid response they were able to catch him between Meta and St. Elizabeth. He had stopped on a side road to replace the license plate he had removed before the robbery. Also, he changed his clothes and put the money in the trunk. But they pretty well knew what kind of car to look for, so they didn't have too much trouble identifying the car. They found the money in the trunk.
He was a Recruiting Sergeant from Fort Leonard Wood (Actually, according to later newspaper accounts, he was working out of Jefferson City), making over $400 a month, with a wife and four children. Although he wouldn't talk at first, after several people identified him, he confessed. However, I myself wasn't positive it was the same man. I guess I was worse scared than I thought. He says it was only a toy gun he used, but they still haven't found it. Byron Hix (photo 15), cashier, missed it all!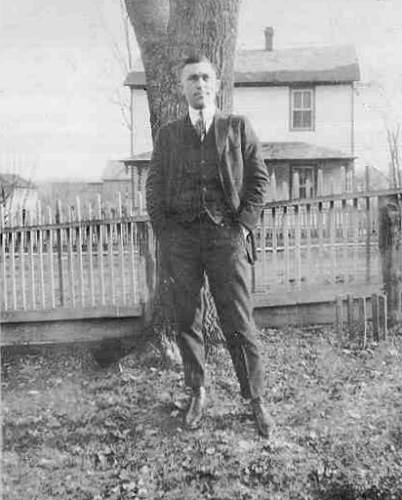 15 Byron Hix
He was at Crocker when the bank was robbed!
---
Thanks Clare.
At the time of the robbery Herman Abbett was sheriff with Johnny Setser as his deputy. LeRoy Snodgrass was prosecuting attorney. Clare mentions that many of the law officers were in Jefferson City at the time of the robbery. I don't know if the next photo was taken at the time of the robbery but it does happen to be a photo of a meeting of many of our local law officers at the time, probably at Jeff (photo 16).
Here is the caption for this photo so you can recognize many familiar names from the past as well as some of those Clare mentioned in her story:
Standing behind those seated left to right:
Sgt. Lester Patton, Roger Stillwell, Ray Snodgrass, LeRoy Snodgrass, Harry Kay, Hugh Atwell, Unknown, Unknown, Unknown, Trooper Louis Rohls, Lucian Mace, unknown, Onis Keeth, Johnny Setser
Seated left to right:
Ted Hawkins, Judge Charles Abbett, Judge Sam Blair, Alton Hendricks, Jackson Stanton, Graden Haynes, Glen Casey, unknown, Barney Tyler
Another photo I have also contains some of the people Clare mentions in her story. This photo is of the Tuscumbia School board taken at about the time of the robbery (photo 17).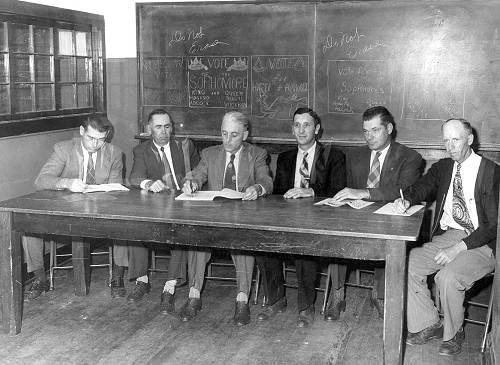 17 Tuscumbia School Board
From left to right:
Dr. Marshall Humphrey (whose offices at the time were on the second floor of the bank building); George Barron (brother to Dorsey Barron mentioned above in the story); Garrett Berry; Frank Martin; Ansel Pryor; and Herman Abbett.
From an old Autogram newspaper I photographed a photo published at the time of the robbery of Ella Swanson and Garrett Berry (photo 17a).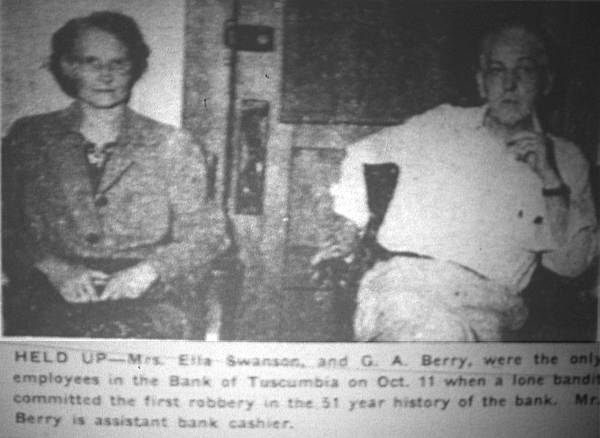 17a Ella Swanson and Garrett Berry
Another photo I photographed from the Autogram published during the same time frame as the robbery is of Prosecutor LeRoy Snodgrass, Probate and Magistrate Judge Charles Abbett, and G.R. Haynes, Clerk of the Court (photo 17b).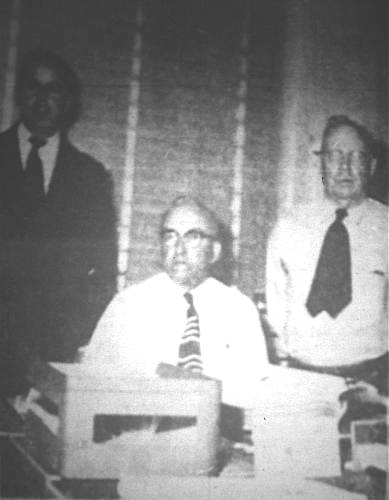 17b LeRoy Snodgrass, Charles Abbett and G.R. Haynes
Lois best sums it up with this comment about the robbery which she wrote me when she sent me the copy of Clare's letter:
"I do recall the gee-whizzes when we received mom's account of the bank robbery, and the smiles it brought in later years. Call it cultural history. I suppose the real heroes of the story were the good ole boys on the front porch of the store -- those who noticed the car and its lack of tag, and their astuteness in watching its direction of escape. An Andy Griffith type capture story before the days of Andy Griffith!"
---
Because this was the first and only robbery of the bank (again, as far as I know now or remember) I went over to the Vernon Publishing Company in Eldon to search the archives for the Autogram articles about the robbery. I found them in the October 14, 1954 and January 6, 1955 editions:
Miller County Autogram
Thursday, October 14, 1954
Cashier Berry Tells How Robber Held Up Tuscumbia Bank Monday
By Richard Jackson
The first robbery in the 51 year history of the Bank of Tuscumbia took place in an interval of only four or five minutes, according to Garrett A. Berry, assistant cashier.
Berry said the robber walked in almost unnoticed. He loitered inside until Mrs. Ella Swanson, a teller, had served Mrs. Clare Mace, one of the four customers in the bank.
Then he walked up to Mrs. Swanson's window and showed a paper bag beneath the bars. Mrs. Swanson said she thought the robber told her to "read it." Thinking he was referring to a note inside the bag, she put her hand inside. At about this time, Mrs. Swanson said she noticed the man was holding what appeared to be a gun covered by a white handkerchief in his right hand. She said she was unable to do anything but step aside and motion for Mr. Berry.
Still unaware of what was happening, Mr. Berry walked to Mrs. Swanson's cage to experience the first bank robbery in his lifetime and in the 51 year history of the bank.
First words spoken by the robber to Mr. Berry were "fill 'er up in a hurry!" Seeing the outline of a pistol in the hand of the robber, Mr. Berry began to take bills from the open drawer and stuff them into the paper sack.
In the meantime, Mrs. Mace, unaware of the robbery taking place, made her way to the door. The unmasked man turned away from the "cage" (note: this was what the teller's box was called) to shout, "Hey you! Don't leave!" Then referring to the other customers, he said, "I don't want anybody to leave here."
Mrs. Mace said she didn't guess what was happening until the bandit waved his gun toward her and said, "This is a holdup!"
She said she laughed at him and said "Do you really mean it?"
Mr. Berry stuffed bills into the paper bag. The estimate of $1500 taken included two $100 bills, a $50 bill, and five $2 bills. Mr. Berry said the bandit at no time appeared overly nervous. Only when he called to Mrs. Mace did he raise his voice out of ordinary tone. He backed toward the door then turned sideways to watch those inside the bank as he left.
As he made his exit, Mr. Berry ran to the bank vault to get a pistol kept there in case of trouble. He hurried to a side window in case the robber passed by. When he didn't see the man in a few seconds, Mr. Berry ran to the door in time to see the rear of the car turn a corner heading to the east.
Miller County Autogram
October 14, 1954
Bank Robber Caught Soon After Holdup At Tuscumbia
An Army master sergeant who robbed the Bank of Tuscumbia of $1480 at 2:45 p.m. on Monday was apprehended less than two hours later on muddy Highway 52 west of St. Elizabeth near the Highway 133 junction by Highway Patrolmen and Sheriff Herman V. Abbett.
Master Sergeant (name protected) 34 year old Army recruiter on temporary assignment at Jefferson City, entered the bank at 2:45 p.m. He ordered Mrs. H.M. Swanson, bookkeeper, to fill a sack with money while he disguised a toy pistol beneath a handkerchief. Garrett A. Berry, assistant bank cashier, filled the sack with $1480. Mrs. Melba Hawk, Frank Sullins, Mrs. Lucian Mace and Grant Edwards also were in the bank at the time.
The soldier, a veteran of 14 1\2 years in the service, was wearing a tan pair of pants and was not masked. He ordered the persons in the bank to stay there until he was gone. He left in a 1949 model black, two door Ford and apparently headed east. County and state law enforcement officers were notified immediately and a road block was organized in less than 15 minutes.
Sheriff Abbett was returning to Tuscumbia from the east when he was notified by radio from the courthouse of the robbery. He and Highway Patrolmen stopped the Ford on a mud covered Highway 52 about 4:30 p.m. The soldier had changed into a fresh clean uniform.
(name protected) confessed at about 5:35 p.m. at the County Courthouse and was then taken to the Cole County jail shortly before midnight by Abbett. A total of $1480 was found in the trunk of his car. Troopers obtained a warrant and opened the trunk after (name protected) said he had left the key at Jefferson City.
(name protected) gave no reason for pulling the robbery, but apparently was having financial difficulties according to the regular Army recruiter at Jefferson City. His wife under went major surgery early this year. They have no children.
Following an afternoon long search Tuesday afternoon along Highway 52, Sheriff Herman V. Abbett said he doesn't believe the pistol (name protected) used in the robbery was a toy.
Sheriff Abbett said (name protected) directed eight or nine searchers to the place where he said he tossed the pistol a short distance south of Tuscumbia. Their search was fruitless and Sheriff Abbett said there probably will be no more full scale searching.
U.S. Commissioner Joe Kendrick ordered Master Sergeant (name protected) held in the Cole county jail on $10,000 bond after a hearing in Jefferson City Tuesday during which the Army recruiter waived both preliminary examination and Grand Jury indictment.
(name protected) is scheduled to go before U.S. District Judge Charles E. Whittaker at 9:30 a.m. Tuesday. A federal complaint charging (name protected) with holding up the federally insured Bank of Tuscumbia "by force and violence" was read to him at the hearing.
Byron Hix was in Crocker at the time of the holdup and said he learned of the incident at Iberia. A crowd of approximately 100 gathered at Tuscumbia during the evening to watch the excitement.
Prosecuting Attorney LeRoy Snodgrass coordinated the communications between the Patrol and the sheriff from the base radio station at the Courthouse. The base station and radio in the sheriff's care were under the Civil Defense program and in cooperation with the Miller County Court.
(name protected) World War II decorations include the Philippines Liberation ribbon with one brown service star, an Asiatic-Pacific Service Medal, the American Defense Service Medal, a Good Conduct Medal and an "Army Commendation ribbon. He served with an armored unit in Europe during World War II and later was a machine gun non-commissioned officer in the Pacific.
---
Eventually the accused robber had a trial in January which was recorded in the Autogram as follows:
Tuscumbia Bank Robber Sentenced to Three Year Prison Term
Thursday, January 6, 1955
Master Sergeant (name protected) pleaded guilty to a charge of robbing the Bank of Tuscumbia last October 11, and was sentenced to a three year prison term Saturday, January 1, according to an Associated Press report. The report said (name protected) pleaded guilty before U.S. District Judge Charles E. Whittaker in Kansas City. Earlier he had been arraigned in federal court in Jefferson City October 13 and pleaded innocent to the charge October 19.
(name protected) was apprehended by Sheriff Herman Abbett and the Highway Patrol on muddy Highway 52 east of St. Elizabeth less than two hours after he robbed the bank of $1480 at 2:45 p.m. just before closing time. (name protected) admitted the robbery to officers later in the evening and they found the cash loot in the trunk of his 1949 two door black Ford.
(name protected) was an Army recruiter on temporary assignment in Jefferson City. He apparently was having financial difficulties according to the regular Army recruiter at Jefferson City.
The robbery was the first in the 51 year history of the Bank of Tuscumbia. (name protected) insisted he used a toy pistol to hold up Mrs. Ella Swanson, a teller, and Garrett A. Berry, assistant cashier. The pistol was never found.
---
When I read one of the paragraphs above in the Autogram articles about all the medals the accused robber had been awarded during WWII I thought to myself that this man had been a hero having served his country well during the war. My heart really went out to him the other day reading the articles even though I didn't know him.
I did some research and found that he is 87 years old still living in Central Missouri with his wife to whom he has been married for 66 years. For that reason I have not included his name in the articles written above. However, the story of the first and only Tuscumbia Bank robbery certainly is of historical interest and caused quite a stir at the time.
Adding additional interest to me personally about the story is the fact that Sheriff Herman Abbett was a brother to my grandmother, Sadie Abbett Bear. Charles M. Abbett, also mentioned above, was Herman and Sadie's brother.
---
The family and friends of former Iberia resident Don Pemberton (photo 18) celebrated his 90th birthday last August 15th at his home in Cape Girardeau.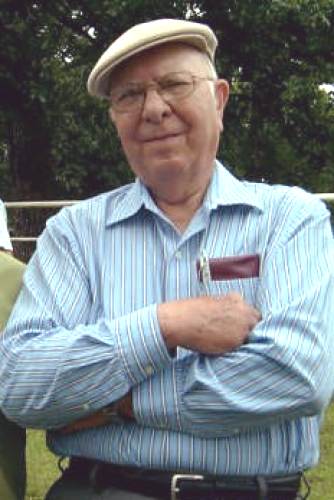 18 Don Pemberton
Don, who was a graduate of the Iberia Academy in the late 1930's, early on moved to Cape Girardeau where he established a grain storage business. Don has been an active supporter of our museum for which we have been very grateful. He returns regularly to the area, especially for the Williams Cemetery meeting each year. Don presented an insightful narration to those attending his birthday celebration which I thought would be of interest to others so I am copying it here:
Let's Deal With Reality
By Don Pemberton
There must be a divine blessing hidden in here somewhere, as I have my 90th birthday enjoying the pleasure from my effort to stay abreast of this fast moving, and ever changing technological world that surrounds me.
However, with the passing of time I have become aware of the fact that I must deal with the reality that I am growing old.
I find that Mother Nature is merciless, as she robs my body of its vigor and grace, putting a stoop in my back and wrinkles on my face.
Also it seems to me She is not playing fair because She has already taken most of my hair. I often put things away and forget where they are.
Going down to my basement is quite a chore because I find the steps are much steeper than they were before.
When I find it necessary to make the trip, I hang on to the rails for fear I might slip. When I get to the bottom I look all around, trying to remember why I came down.
As I amble along on unsteady feet, I can't help but wonder the thinking of those that I meet.
Do they see me only as I am today not realizing that I was once young and gay?
That I was once in my 20's with wings on my feet, dreaming of a lover that I would soon meet.
Can they imagine that in my late 20's I had a family of my own, who needed me to guide them and provide them a good home?
In my upper 50's our children were gone, leaving my wife and me all alone.
Soon this era faded away and we had grandchildren coming to play.
This too was a phase that could not last, as grandchildren have a way of growing up fast.
On August 14, 2009 I reached the milestone of four score and ten as the summers seem hotter and the winters seem colder.
When I count my blessings it's easy to see that the best ones are the ones that came free.
The greatest treasures of my wealth are my family, my friends, and my health.
As I continue to travel this highway of life, I am reaping better than I sowed. I am now drinking from my saucer because my cup has overflowed.
---
Thanks Don.
Last week I presented some historical biographical narratives from the Goodspeed History of Miller County printed in 1889. For the next several weeks I am going to choose some other biographies from the Goodspeed history to copy on this page. Some of those selected by the Goodspeed authors for their biographical section no longer have living descendants in the county and quite a few of the surnames no longer can be found as well. But at the time of publication of the Goodspeed history these residents were considered to have been people respected by their neighbors and peers and, according to the Goodspeed editors, worthy of having their history recorded.
This week I will present three members of the Bear family included in the Goodspeed History who are some of my antecedents: John, Andrew and David C. Bear. They were sons of the original Bear to come here, George Bear (photo 19).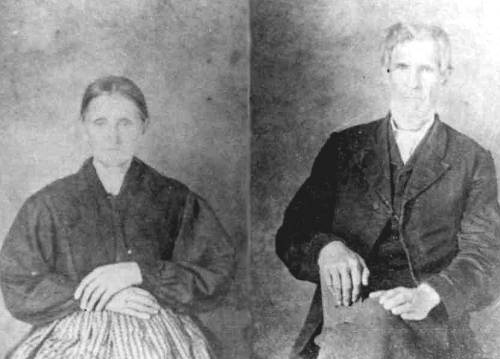 19 George and Elizabeth Bear
George Bear was my great great grandfather; David C. Bear was my great grandfather and John and Andrew were my great great uncles. The Bear family came to Miller County in 1857 from Ohio.
You can read more about the Bear family on our own website.

Goodspeed History of the Bear family p. 146,147
John Bear
John Bear (photo 20), ex county judge and justice of the peace, was born in Fairfield County, Ohio, December 13, 1834.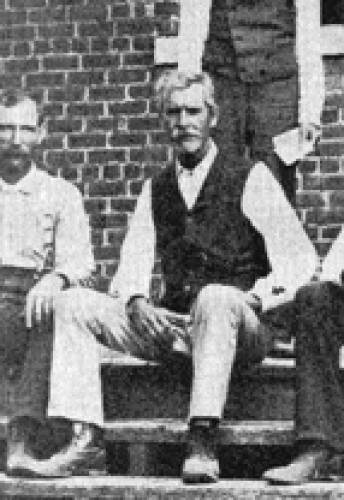 20 John Bear
He is the son of George and Elizabeth (Vogt) Bear, natives of Kentucky and Ohio respectively. The family emigrated from Switzerland to America at an early day, and some of the members located in Pennsylvania and others in Virginia. The paternal grandfather, Christian Bear, was a musician in the Revolutionary War. He was a cabinet maker by trade, and followed this principally during his life. He moved from Pennsylvania to Kentucky, from there to Virginia, and thence to Ohio, where he died. George Bear was a mechanic by trade, but his principal occupation in life was farming. When a young man he went from Virginia to Ohio, and settled in Fairfield County. From there he went to Hocking County, and in 1857 he came with his family to Miller County, where he bought and entered a tract of land in Equality Township. Here he and his wife died. John Bear, subject of this sketch, grew to manhood and received his education in Hocking County, Ohio. In 1857 he came with his parents to this county, and in the spring of 1861 he enlisted in the Home Guards, served a few months, and then enlisted in the Enrolled Militia, serving nine months He was in several skirmishes, was captured at Tuscumbia by the guerrillas, but after a short time was paroled. He was a sergeant and was mustered out in the fall of 1864 (photo 21).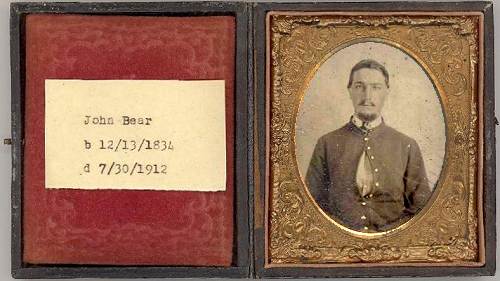 21 John Bear in Civil War Uniform
The same fall he was elected county treasurer, and held the office for two years. In 1866 he was elected county judge, and served ten successive years in that capacity, eight years of which period he was presiding judge (photo 22).
He was also coroner some years, and has been justice of the peace several times. He is one of the prominent men of the county, and an intelligent citizen. He is now the owner of 127 acres of land, with fifty acres under cultivation. He was married, in 1859, to Miss Laurinda Birdsong, by whom he had three children, two living…Minnie and John. Mrs. Bear died in 1865, and he was again married in August, 1872, to Miss Delilah Dobson, by whom he has three children…Mary E., James and William M. Mrs. Bear is a member of the Methodist Episcopal Church. Mr. Bear is a member of the Masonic fraternity, belonging to the Chapter.
---
Andrew Bear
Andrew Bear (photo 23), of Equality Township, Miller County, Mo., was born in Hocking County, Ohio, March 31, 1840.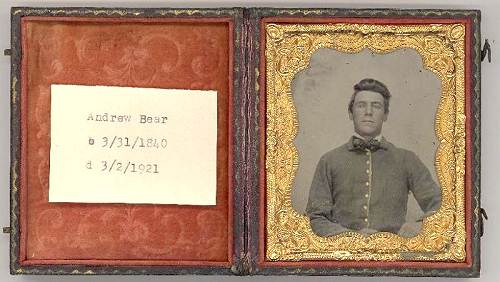 23 Andrew Bear in Civil War Uniform
He is the son of George and Elizabeth (Vogt) Bear, the father a native of Clark County, Kentucky, and the mother a native of Perry County, Ohio. They were married in the last named state. The paternal grandparents were early settlers of Kentucky, and were there during the Indian troubles. A sister to Grandfather Vogt was murdered by the Indians in Pennsylvania. George and Elizabeth (Vogt) Bear came to Missouri in 1857, and here passed the remainder of their lives. Their son Andrew Bear was reared and educated in Hocking County, Ohio, and came to Miller County with his parents, with whom he remained until the war broke out. He then enlisted in the Home Guards, under Captain Jacob Capps, and served about four months. He then re enlisted in Company I, Fourth Missouri Cavalry, Missouri State Militia, and served in this regiment a little over three years. He was engaged in Big Blue battle, Mine Creek, Independence and numerous other skirmishes. He was mustered out at St. Louis in 1865, came home and was engaged in farming at different places until 1876, when he bought his present property, which consists of about 165 acres, with sixty three under cultivation. Mr. Bear was married, in 1874, to Miss Cynthia A., daughter of William and Hester E. Loveall. This union resulted in the birth of four children, two living: George W. and Hester. Mr. Bear is a member of the Baptist Church and one of the enterprising citizens of the county. He deals quite extensively in cattle and hogs, to which his farm is well adapted. He is a member of the Masonic fraternity, and of the Grand Lodge of the State; he is also a member of the Agricultural Wheel and G.A.R. (Grand Army of the Republic).
---
David Christian Bear
David C. Bear (photo 24), another prosperous farmer of Miller County, and one of the enterprising citizens of the same, was born in Hocking County, Ohio, November 10, 1853.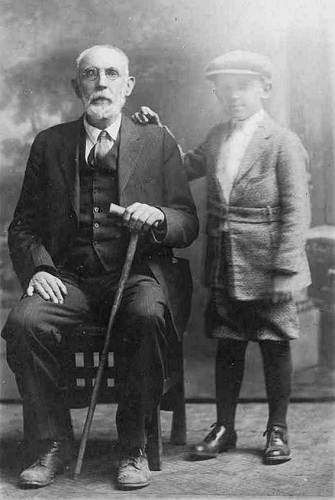 24 David C. Bear and Grandson Evert Bear
He is the son of George and Elizabeth (Vogt) Bear, the father a native of Kentucky and the mother of Ohio. The Bear family was originally from Switzerland, several generations back, as were also the ancestors of the Vogt family. Christian Bear, the paternal grandfather, was born in Gettysburg, Pennsylvania, but went to Virginia when he was quite small. He afterward moved to Ohio, where he died. George Bear, father of our subject, was reared partially in Virginia and partly in Kentucky. He went to Ohio when a young man and there married Miss Vogt, after which he located in Hocking County. In 1857 he immigrated with his family to Missouri, going in wagons to Cincinnati, and thence by boat to St. Louis. He came out to Miller County and purchased the farm where David C. Bear now lives. There were few improvements on the place, and Mr. Bear set to work and soon had a good farm well improved. He died in 1876. The mother died in November, 1877. They were the parents of thirteen children, eleven of whom grew to maturity and eight are now living: John, Henry, Catherine, Andrew, Absalom, Simeon, George and David C., who is the youngest child. He was four years of age when he came to Missouri. He attained his growth on the farm where he now resides, receiving but a limited education, owing to the fact that school facilities were poor and that at about this time the war broke out. He stuck to the farm, however, and now owns 180 acres of land, with seventy five acres under cultivation. He deals quite extensively in stock, and his farm is well adapted to this purpose, having a good range and plenty of fine water. Mr. Bear was married in 1881, to Miss Samantha Winfrey, by whom he has three children: Christina E., Arthur, and Lucy.
Note: subsequent to this writing Madison and Andrew also were born.
Mr. Bear has in his possession one of the first editions of the old German Bible, which his Grandfather Bear purchased at a sale.
Note: this Bible is still in the family, now in the possession of David Eli Bear, son of Madison.
---
Madison Bear (photo 25), second youngest son of David C. Bear, was my grandfather.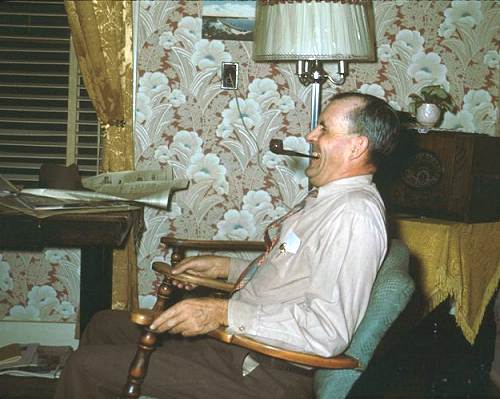 25 Madison Bear
He wasn't included in the Goodspeed book although he was born the same year it was published (1889). However, when Gerard Schultz wrote his history of Miller County in 1933, Madison was included in the biographical section of that book. Copied below is that narrative:
Madison Bear
A History of Miller County (1933)
Gerard Schultz
p. 133
Madison Bear, merchant at Tuscumbia and Bagnell, was born on a farm three miles east of Tuscumbia on June 22, 1889. His father, David C. Bear, was born in Hocking County, Ohio, on November 10, 1853. He (David) was a prosperous farmer and an enterprising citizen of Miller County, having come here with his parents in 1857. Madison's mother, Mary (Winfrey) Bear, was born June 29, 1855, in Miller County, of Kentuckian parents. His paternal ancestors were Pennsylvania Dutch, having come originally from Switzerland.
On December 25, 1908, Mr. Bear was married to Miss Sadie Abbett, at the home of her parents, Eli and Susie Abbett. Mrs. Bear is also of Pennsylvania Dutch stock. Mr. and Mrs. Bear have five children: Arthur, Marie, David, Susie, and Bonnie.
Mr. Bear has real business ability. He started in the merchandise business at Tuscumbia and at the present he has a store there which his son, Arthur, operates. He established a store at Bagnell in 1929, when the Osage Dam was being constructed. Although this store was destroyed by fire in February, 1932, Mr. Bear is again doing a good merchandise business at Bagnell. For a number of years he was manager of the Tuscumbia Farmers Exchange.
In politics Mr. Bear supports the Republican Party. He is a member of the Mt. Zion Christian Church and is affiliated with the Modern Woodmen of America.
---
Madison operated three different general stores in Tuscumbia. The first was the Farmer's Exchange where he was manager (photo 26).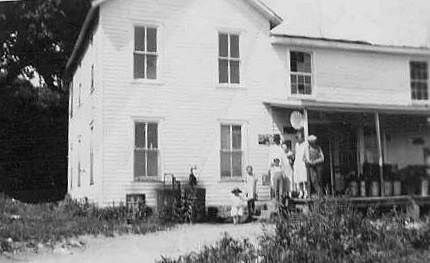 26 Farmer's Exchange - Tuscumbia
The second was located in the old Woodman Fellows Lodge building (photo 27).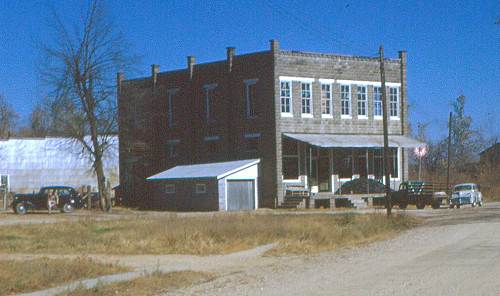 27 Madison Bear's General Store in the old Woodman Building
Later this building was owned by Jim Sweaney and was known as Sweaney's Tavern. Many people still remember the Sweaneys' parrot, Billy, who always wanted a cracker and didn't fail to let you know it! After Jim Sweaney the tavern was owned and operated by Tandy and Eula Jenkins. After that Hilda Hager Stark owned it naming it "Big Mama's." The last owner named it "Miss Kitty's." Miss Kitty (Joyce Wilhite) moved her store to St. Elizabeth after the old Woodman Fellows Lodge building burned several years ago. Currently, she is operating a very good restaurant in St. Elizabeth which I visit anytime I am in the St. Elizabeth area.
The third store of Madison's in Tuscumbia was operated by his son Arthur located in a concrete building at the bottom of the bluff facing the river (photo 28).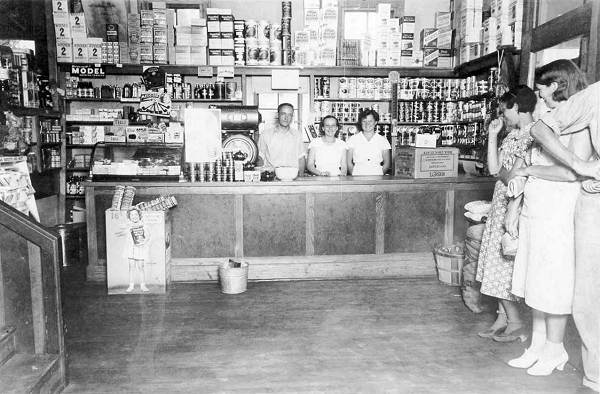 28 Arthur and Susie Bear and Amelia Williams at Bear Tuscumbia Store in Jim Spearman Building
This building, initially built by Jim Spearman, later was used for the Tuscumbia post office. Arthur later moved to Eldon where he owned and operated the Sanitary Market on Maple Street for many years.
During the building of Bagnell Dam Madison opened a store in Old Bagnell which he operated for more than ten years. During this time his stores in Tuscumbia were run by his wife Sadie and his son Arthur. Madison's store in Bagnell burned twice. Here is a photo of the interior of it taken some time in the late twenties or early thirties (photo 29).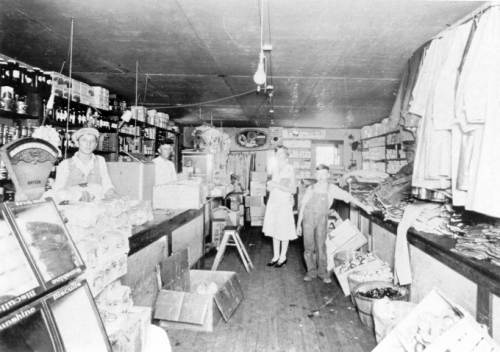 29 Bear Bagnell Store - Frank Martin, Madison Bear, unknown and David Bear
In the late 1940's Madison was County Treasurer. He was a historian from whom I learned much of what I know about Tuscumbia and Miller County.
That's all for this week.
Joe Pryor