Monday, September 7, 2009
Progress Notes
One goal of our website is to present the history of Miller County and we do that in various ways. For example, last week I presented a narrative of Miller County history written by Peggy Hake which was based on a timeline of important historical events of the past. Whatever method used for presenting Miller County history depends upon genealogical data, historical articles by authors such as board member Peggy Hake, as well as oral history which others have recorded and which we still are recording currently. Oral history about the earliest period of our county is getting more difficult to obtain as our older citizens pass away. As I wrote last week we also depend upon and appreciate two books of Miller County history written by Gerard Schultz (photo 01) and Clyde Lee Jenkins (photo 02).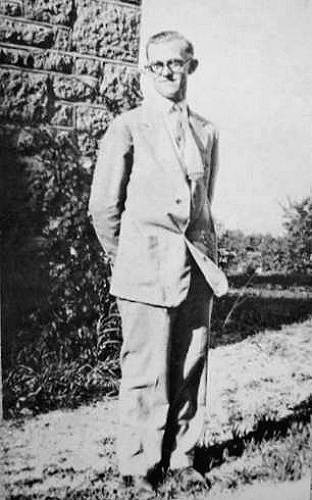 01 Gerard Schultz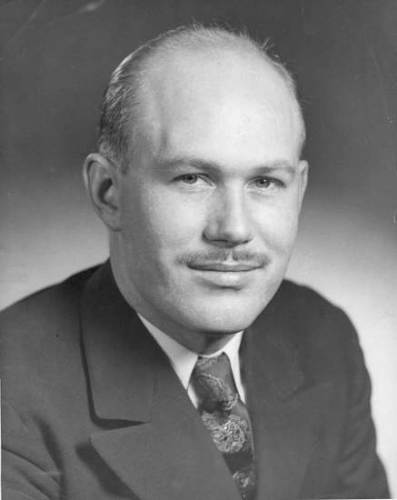 02 Clyde Lee Jenkins
One voluminous book of Miller County history was written during the 1880's and 1890's as a result of an ambitious project undertaken by an organization named the Goodspeed Publishing Company which had offices in Nashville and Chicago. The Goodspeed brothers and their historians travelled throughout the country, especially its southern half, interviewing local citizens thereby obtaining first hand accounts of local history and genealogy. They combined general state history with a group of county histories including some associated biographies into a single volume. The general history would take up the first section, with the county pages following. These narratives documented the settlement of Middle America by the earliest pioneers to migrate here from the East. Not all states or counties were included and it is unknown just what criteria were used to select the areas included for the project. Also, at this time, it is difficult to even find out much about the company itself as little recorded history is available concerning its owners. Although quite a number of books were printed they are scarce now although one can purchase an isolated volume on the internet. Each volume contains the histories of a certain number of counties located in a common geographic area of a state. Missouri, Arkansas and Tennessee had more attention than other areas. Fortunately for us in Miller County, our county was one of those included in one of the early volumes which included our neighboring counties: Cole, Moniteau, Morgan, Benton, Maries and Osage Counties. The particular volume containing Miller County's history was printed in 1889. It gives us a wonderful window into the time period covering the history of the county up to 1889. The method of investigation primarily was by individual interview of people thought to be prominent citizens, farmers, business people, officers of the county, and various others. The subjects covered were natural disasters, political events, crimes, Civil War events and prominent citizens and organizations.
Copies of Goodspeed containing Miller County history are scarce but we have been fortunate at our museum to have received two of them. One was donated by my Aunt Lena (Brown) Bear, who was married to my mother's brother, Arthur Bear. The Bear family originated in Pennsylvania settling in Miller County in 1857. Goodspeed's book includes information obtained from interviews of several of the Bear family. Lena was a granddaughter of Peter Lupardus whose history also was presented in this Goodspeed edition. Here is a photo of Aunt Lena's Goodspeed History (photo 03):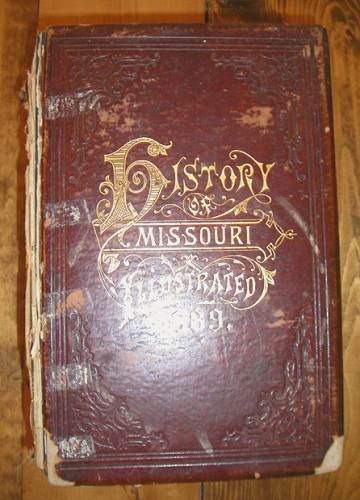 03 Goodspeed Book
On the inside cover page of this large book Aunt Lena's mother, Bessie Lupardus, wrote a short verse to her father, Peter Lupardus. Here is a photo of that (photo 03a). If you have trouble reading it, this is what it says:
"Dear Pa
I had a heart and it was true,
It flowed from me and went to you.
Now treat it well as I have done,
For you have two and I have none!"
Written by Bessie Lupardus (1910)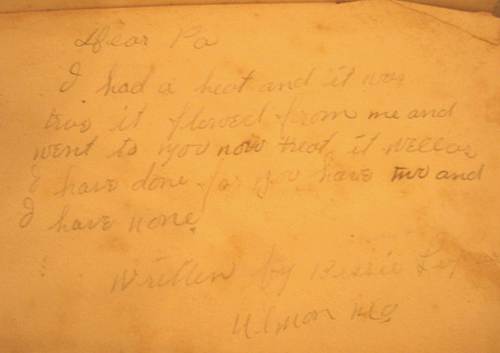 03a Note to Peter Lupardus from his daughter Bessie
Here is a photo of Aunt Lena and Uncle Arthur Bear about the time they were first married in the early 1930's (photo 04):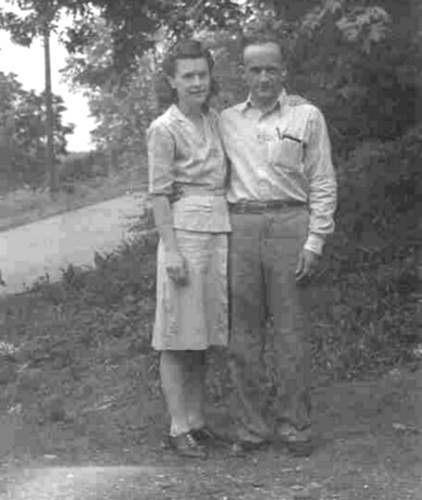 04 Lena and Arthur Bear - 1930
The introduction to the Goodspeed book is interesting describing some of the ways in which the information was gathered and some of the policies of the company:
Preface to Goodspeed History of Missouri 1889
This volume has been prepared in response to the prevailing and popular demand for the preservation of local history and biography. The method of preparation followed is the most successful and the most satisfactory yet devised; the most successful in the enormous number of volumes circulated, and the most satisfactory in the general preservation of personal biography and family record conjointly with local history. The number of volumes now being distributed seems fabulous. Careful estimates place the number circulated in Ohio at 50,000 volumes; Pennsylvania, 60,000; New Your, 74,000; Indiana, 40,000; Illinois, 40,000; Iowa, 35,000; Missouri, 25,000; Kansas, 20,000; Tennessee, 20,000, and all the other States at the same proportionate rate. The entire State of Arkansas has as yet scarcely been touched by the historian but is now being rapidly written.
The design of the present extensive historical and biographical research is more to gather and preserve in attractive form, while fresh with the evidence of truth, the enormous fund of perishing occurrence, than to abstract from insufficient contemporaneous data remote, doubtful or incorrect conclusions. The true perspective of the landscape of life can only be seen from the distance that lends enchantment to the view. It is asserted that no person is competent to write a philosophical history of his own time; that, owing to imperfect and conflicting circumstantial evidence, that yet conceals, instead of reveals, the truth, he cannot take that correct, unprejudiced, logical, luminous and comprehensive view of passing events that will enable him to draw accurate and enduring conclusions. The work of the former is statistical; of the latter, philosophical.
To him who has not attempted the collection of historical data, the obstacles to be surmounted are unknown. Doubtful traditions, conflicting statements, imperfect records, inaccurate public and private correspondence, the bias or untruthfulness of informers, and the general obscurity which, more or less, envelops all passing events, combine to bewilder and mislead. The publishers of this volume, fully aware of their inability to furnish a perfect history, an accomplishment vouchsafed to the imagination only of the dreamer or the theorist, make no pretension of having prepared a work devoid of blemish. They feel assured that all thoughtful people, at present and in future, will recognize and appreciate the importance of their undertaking, and the great public benefit that has been accomplished.
In the preparation of this volume the publishers have met with nothing but courtesy and assistance from the public. The subscription list was much smaller than hoped for and that was expected; and although the margin of profit was thus cut down to the lowest limit, no curtailment or omission of matter was made from the original extensive design of the work. No subject promised is omitted, and many not promised are given. The publishers call special attention to the great quantity of fact crowded into the volume, and to the excess of matter over their agreement as promised in the prospectus. Special care was employed and great expense incurred to make the volume accurate. In all cases the personal sketches have been submitted by mail and in most instances have been corrected and approved by the subjects themselves. The publishers disclaim responsibility for the substance of the matter contained in the Biographical Appendix, as the material was wholly furnished by the subjects of the sketches. The publishers, as usual, stand ready to correct by errata sheet, which will be sent to all subscribers, the few errors or omissions which may appear in the volume, upon prompt notification of the same to the main office. With many thanks to our friends for the success of our difficult enterprise, we respectfully tender this fine volume to our patrons.
June, 1889.
THE PUBLISHERS
---
This week I am presenting a couple of biographical sketches from the Goodspeed book. The first is about the Miller family, the first to actually settle permanently in Miller County, and the second is about Peter Lupardus, the famous Miller Countian whose log home is displayed on our museum grounds (photos 05 and 06).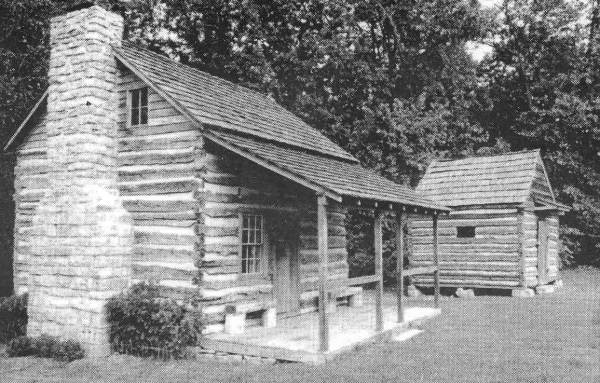 05 Lupardus cabin at Museum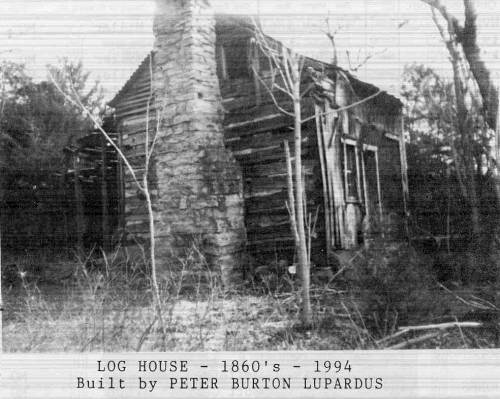 06 Lupardus Cabin at original site before Restoration
One value of referring to the Goodspeed history is that it contains first hand information received from our earliest Miller County settlers, and for that reason may have value not only because of its originality but also by being spared of reinterpretation by later authors.
William Miller is the true patriarch of our county (photo 07).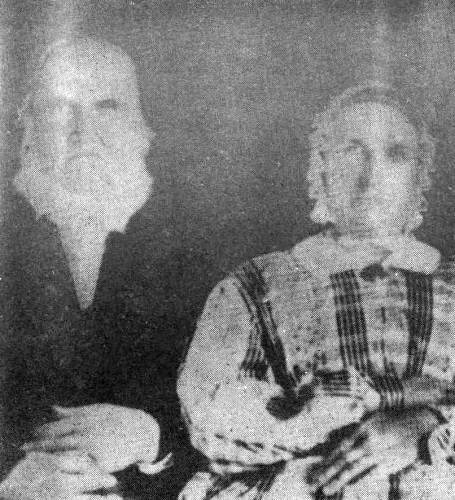 07 William and Sarah Miller
He is given credit by Miller County historians as being the one who instigated the legal maneuvers required to have the territory now included in Miller County to be legally recognized by the State of Missouri. Intuitively, one would assume that the name of the county was given in honor of him but in reality it was named after his cousin, John Miller, who was governor at the time (photo 08).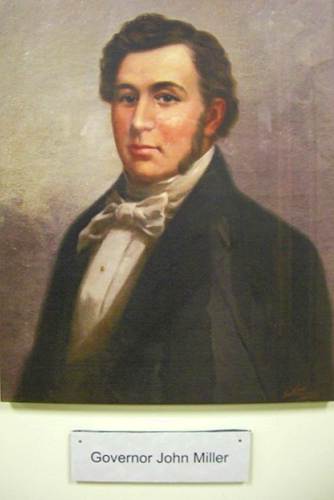 08 John Miller - Missouri Governor
The story of that is complicated and you will read more about it later in the narrative.
I drew on three sources for the history of the Miller family. First, I wanted to copy here the history as recorded in the Goodspeed book referenced above since the information recorded there is the oldest of which I know. The second source for history of the Miller family was given me by Erik Miller of Eldon, who is an eleventh generation descendant of William Miller (photo 09).
09 Erik Miller
He told me probably 10,000 or more people are estimated now to be descendants of William including most of those with the surname Miller remaining in Miller County. The Miller history of Erik's was written by members of his family, Gwen Shoemaker and Grace Farmer. The third source of Miller family history was written by Peggy Hake (photo 10).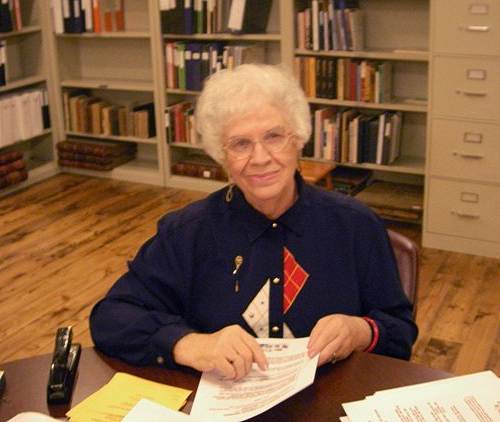 10 Peggy Hake
Some of the information from these three sources is repeated, but in slightly different ways. First, I will present the Goodspeed history:
Goodspeed History of Miller Family 1889
Early White Settlement (p. 531)
While the Indians were still here white hunters and trappers came and went, and some settled. Among the first of whom information can be obtained was Seneca R.Y. Day, in 1815. He was followed some four years later by S.J. Lindley, near the mouth of Big Tavern. About 1821 William and Boyd Miller settled near Spring Garden Prairie in the north east, the first permanent settlers in this territory. Both are now dead.
Miller Family (p. 793)
William and Sarah (Mulkey) Miller were born in Virginia and North Carolina, October 23, 1795, and December 13, 1800, respectively (see photo 07 above). William came from Virginia to Missouri in 1818, and the following year located in Cole County, at Factory Fort, where he was married in 1820 to Sarah Mulkey, whose parents came from their native State of Tennessee to Missouri in 1805, locating ten years later in Cole County, where they resided many years. After his marriage Mr. Miller resided in Cole County until 1825, when he moved to Spring Garden, Cole County, and entered 500 acres of land, and built a log cabin. Four years later he built a large double log house.
In the winter of 1834, he located on the Osage River, in the vicinity of where Tuscumbia now is. Mr. Miller was residing in the county when it was organized in 1836, and the first county court was held in his house near the Osage River as well as the first circuit court.
Three years later he entered another large tract of land, but in the fall of 1837 he traded his Osage River land for his original entry at Spring Garden. Following that, in 1838, he sold this farm, and purchased forty acres more in the vicinity. He afterward disposed of this land also, but continued to reside near Mt. Pleasant until his death, in 1878. He took an active part in politics, and was a life long Democrat. His wife died May 2, 1883.
---
At this point, Goodspeed records the history of one of William's better known children, Pinkney Miller:
P.S. (Pinkney) Miller, stockman and farmer, of Miller County, Missouri, was born in what is now Miller County (then Cole County) Missouri, in 1827, being the fourth of fourteen children born to William and Sarah (Mulkey) Miller (photo 11).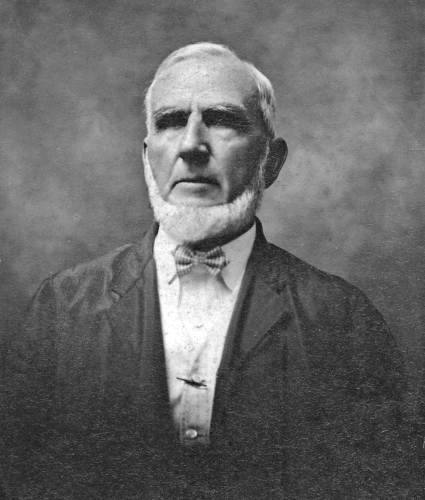 11 Pinkney Miller
He was the first white male child born in what is now Miller County, and was educated in the select schools of the latter county. He aided his father on the farm, and in November, 1848, was wedded to Miss Lucy A. McKenzie, who was born in Cole County, and ever since has resided on the farm where he now lives, which consists of 320 acres, 120 of which were given him by his father. All the land is under fence, and over 160 acres are under cultivation. He raises a good grade of cattle, hogs and sheep, and is considered one of the prosperous farmers of the county (photo 12).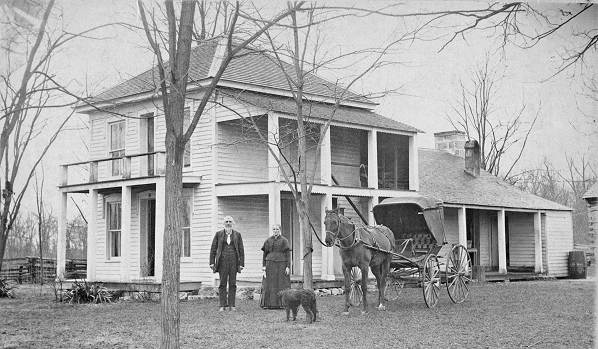 12 Pinkney Miller Home
He is a Democrat in politics, and in 1879-80 was sheriff and collector of Miller County, and in 1883-84 filled the office of collector only (photo 13 of sheriff certificate).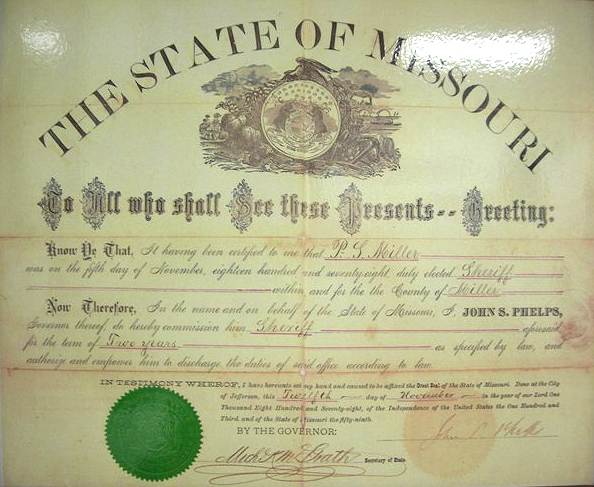 13 Sheriff Certificate
Socially he is a member of the A.F. &A.M., Mt. Pleasant Lodge, No. 134, and is a member of Chapter No. 87, at Tuscumbia. He and his wife are members of the Christian Church, and are the parents of the following family: Sarah A. (Mrs. L.D. Atkinson), Mary M. (Mrs. Benjamin Hinds), Icaphena I. (Mrs. William Long), Fannie T., Lou A. (Mrs. S.S. Starting), John F. (who died in April, 1881, aged nearly nineteen years), and Maggie M. (Mrs. James Weaver).
Mrs. Miller is a daughter of John and Agnes (Gibson) McKenzie, who were born near Rockingham, N.C. and immigrated to Cole County, Missouri in 1829. The father followed farming until his death, in 1871. His wife died in 1870.
---
Here is a photo of Pinkney with his first wife, Loucy McKenzey (photo 14):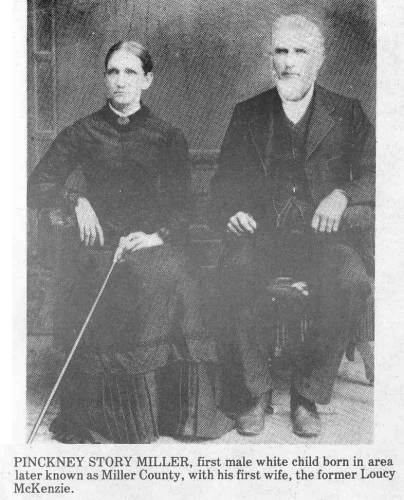 14 Pinkney Story Miller and wife Loucy
Here is a photo of Pinkney's home near Spring Garden when he was sheriff (photo 15):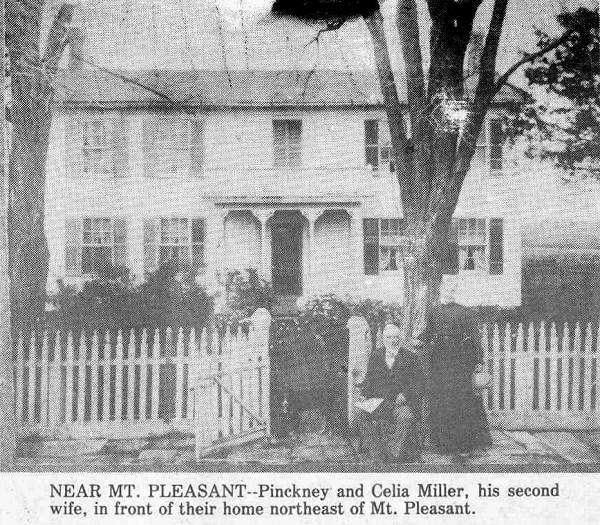 15 Pinkney Miller and Home
Next is the story of the Miller family as related by Erik Miller's aunts:
William Miller
Written 1971 by Gwen Gunn Shoemaker and Grace Adams Farmer
William Miller was born 23 October 1795 in Greenbrier County (West) Virginia and died 7 February 1878 in Miller County, Missouri. He was married 31 August 1820 in Cooper County, Missouri to Sarah Mulkey, daughter of John and Polly (Lewis) Mulkey. Sarah was born 13 December 1800 in North Carolina and died 2 May 1884 in Miller County, Missouri. At the time William and Sarah were married the Millers and Mulkeys were still living near the mouth of the Moniteau River, then in Cooper County, now in an area which is part of Monteau County, Missouri.
William and his brother Boyd came a few miles south and settled on land near what is now Spring Garden, Miller County, Missouri, where they are said to have raised the first crop grown south of the Moreau River. This was about two years before the last Indians had left the area. The first land entry for the Miller County area (then Cole County) was for William Miller, dated 20 July 1826, for land located in the Spring Garden area. William cleared some land, built a log house, and brought his family down from the Moniteau County area where they had been staying with relatives.
After a few years, William sold that land and moved to land near the mouth of Saline Creek where it enters the Osage River, to the farm known as the Tellman place, now owned by the Taylors. The house on the farm now is built around the William's log house.
Note: subsequent to this writing, the land was sold to the Missouri State Department of Conservation. Unfortunately, shortly after the sale of the land to the Conservation Department, the house containing the historic log cabin within its walls burned.
A few years ago when some remodeling was being done the owners found part of the original log house still in the walls. In 1837 William carried a petition signed by area residents to the Capitol at Jefferson City asking that a new county be formed and that it be named "Miller" for Ex Governor John Miller. The first county and circuit courts were held in William Miller's home until the county seat was established in Tuscumbia.
According to the story of the formation of Miller County as told by long time inhabitants the county was named for Pinkney Story Miller, son of William, who was said to be the first male white child born in the area. However, state and county records show that the county was officially named for John Miller. One of William's descendants said that William didn't believe the state legislature would agree to name the county for a "local farmer" so asked that it be named for John Miller. In that way, "everyone around here" would know that the actual intent was to name it in honor of Pinkney. William's children said that Governor John Miller was a "cousin" of William's father, Boyd.
Later, William moved near Mt. Pleasant where he bought a tract of cleared land and entered more. He gave each of his children 100 acres when they married, or its equivalent. Some of his descendants are now living on land he originally owned.
William and Sarah Miller are buried in Spring Garden Cemetery, Miller County, Missouri, near the first farm he owned in this county. They had 12 children:
1. Jenett---married Witten
2. Mary—married Stephens
3. Cerena—married Stephens
4. Pinkney
5. Delilah---married Williams
6. Margaret---married Witten
7. Caroline---married Jones
8. Boyd---
9. John M.T.
10. Sarah---married Stephens
11. Isabella---married Shipley; Morris; Harrison
12. Thomas H.B.
---
I travelled recently to the Spring Garden cemetery and found the tombstones of William and Sarah Miller, the first couple to settle in Miller County. Here is a photo of the entrance to the cemetery (photo 16):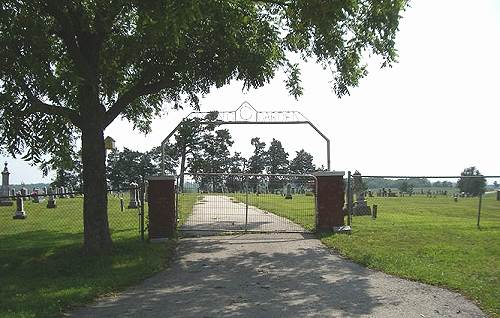 16 Spring Garden Cemetery
After entering the gate continue heading east to the south east corner of the cemetery. There you will find together the stones of William and Sarah (photos 17 and 18).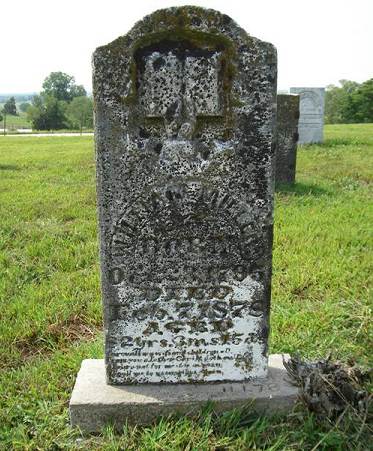 17 William Miller Tombstone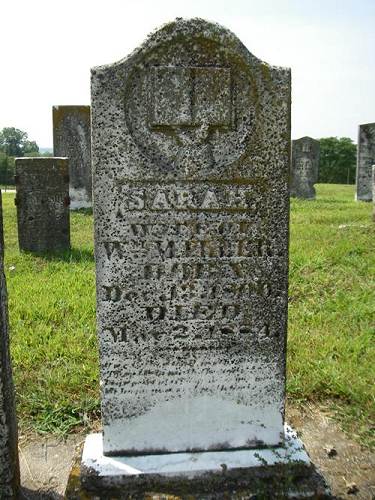 18 Sarah Miller Tombstone
It is amazing that after all these years the stones are in such good shape. Also, I felt some degree of wonderment that there lay the remains of the first official non indigent residents of Miller County.
Now for the history of the Millers' by Peggy Hake:
Eldon Advertiser June 1984
The Miller History of Miller County
Peggy Hake
A few weeks ago I wrote about a meeting held between interested persons wishing to preserve a Miller County landmark…the old Miller Tellman house near the confluence of the Saline Creek and the Osage River in Equality Township. Since that story came to light, I have discovered that a grandson of William Miller, the father of Miller County, is still living in Miller County today near Etterville. It seemed impossible at first that a grandson of William could be living today, 150 years after William Miller built his log cabin near the Osage River in 1834, but it is true! William Ernest Miller of Etterville, age 95, is the 11th child of Thomas Hart Benton Miller who was the 12th child of William Miller. Amazing? Yes, indeed, but true. I made a trip to Etterville and visited with Mr. Miller and what a wonderful store of memories he has in his heart and mind. With Mr. Miller's marvelous memories and some research on my part, I discovered a story of great historical value to Miller Countians, both present and former.
Boyd Miller Sr. was an Irishman who came to America prior to the Revolutionary War. During that colonial war, Boyd served under General George Washington. He settled in Green Briar County, Virginia and married Miss Mary Story. They had two children, William, born in 1795 and a daughter (name unknown). After Mary's death Boyd married Elizabeth Stephenson and they had several more children including Boyd, Jr., born 1800, a half brother to William. In 1809 Boyd and Elizabeth, with their young family, moved to the Kentucky Frontier and stayed until 1815. During their sojourn in Kentucky, Boyd, Sr. served in the war of 1812 with the Kentucky militia. Circa 1815-1816, they came west to the new frontier sometimes called "upper Louisana" or just the "Western Country" and settled in the young city of St. Louis, Missouri. It was Missouri's largest city in the early 19th century and was the nucleus of different peoples and customs. There you could find the French elite, English noblemen, Spanish government officials, Negro slaves, Indian chieftains of the Osage, Iowa Sioux and Missouri tribes. You could also find the American fur trappers and mountain men and men of exploratory fame such as Lewis and Clark and Zebulon Pike.
By 1818, the Millers moved on West and settled for a short time near Meramac. For some reason they did not linger there very long and moved on to the Moniteau Cole County region of Central Missouri. Circa 1819, William and his brother Boyd bought the old Factory Fort which stood near the Missouri River about 30 miles West of Jefferson City. The place called Factory Fort, in present day Moniteau County, was actually a large cave or cavern that was used to make wagons. For two years they remained there and in 1821, they moved to the Spring Garden area presently in Miller County, but at that time the land belonged to Cole County.
The best I can determine, the nephew of Boyd Miller, Sr., was John Miller who became Missouri's 4th governor in 1825 and served until 1834. He was one of the state's most popular governors and Miller County was named in his honor. Governor Miller also served in the war of 1812 under General Henry Harrison who later became America's 9th president. President Harrison only served 32 days in office when he died in 1841. Ernest Miller did not know just what kinship Governor Miller and his grandfather, William Miller shared. My conclusion was drawn when I found an old obituary of Charity Miller Clay who was a niece of William Miller (daughter of Boyd Miller, Jr.). In her obituary, it stated she was a second cousin of Governor John Miller; therefore, her father, Boyd Miller, Jr. and his brother, William, were first cousins to Governor Miller.
Boyd Miller, Sr. died about 1824 and his burial place is probably in the Spring Garden cemetery as well as his wife, Elizabeth. Many of the Millers' are buried in that old cemetery in northwest Saline Township.
William Miller, son of Boyd and Elizabeth, was the first person to make an official land entry in what is now Miller County. The date was July 20, 1826 when he entered the acreage on the Spring Garden prairie. It was in section 23, Township 42, Range 14 near Spring Garden.
Note: here is the plat map of T42N R14W as recorded in 1905 and a closeup of Section 23 (photos 19 and 20):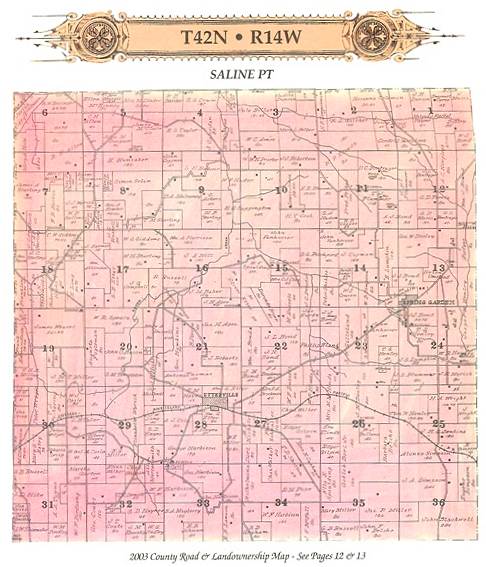 19 Plat Map T42N R14W - 1905
20 Plat Map T42N R14W - 1905 Cropped
For a few years, the Millers had been 'squatters' on this prairie land prior to the official filing at the District land office. They settled there before the government surveyors came through the area and divided the land into sections, townships, and ranges. Other early land entries were filed by Boyd Miller in 1827, Gaddis Miller and Samuel Miller in 1836, John Miller 1837, and Jefferson Miller in 1837, all in Saline Township so it is probable they were all close kin; perhaps sons of Boyd, Sr.
William Miller married Sarah Mulkey in Cooper County, Missouri on August 24, 1820. Sarah was the daughter of John Mulkey and Polly Lewis of Rutherford County, South Carolina. William was born in Virginia on October 23, 1795 and died in Miller County February 7, 1878 at the age of 82 years. Sarah was born in South Carolina December 13, 1800 and died in Miller County May 2, 1881, almost reaching her 84th birthday. Both are buried in the old Spring Garden cemetery. The father of Sarah, John Mulkey, is buried in a lone spot very near present day Mount Pleasant in Saline Township. There is evidence that other graves could be there but if so just who they are is unknown.
The brother of William Miller, Boyd, Jr. married Isabella Mulkey on March 10, 1825 (Cole County records). She was another daughter of John Mulkey. I have found marriages of record in Cole County for other Mulkey people including Betharbara Mulkey who married Samuel Miller in 1832; Charles Mulkey married Sally Eads in 1829, and John Mulkey married Charity Vernon in 1829. I believe all those named above were children of John Mulkey who was born in Rutherford County, South Carolina in 1768 and were closely related to Philip Mulkey who was one of the first Campbellite preachers (later called Disciples of Christ) to come into the central Missouri area. Reverend Mulkey pastured the Spring Garden church, organized in 1840, which became the mother church of the Campbellites of Miller County. In 1845 Boyd Miller donated two acres of land to the community of Spring Garden for 999 years and it was there the cemetery was situated and the frame of the church house erected.
William Miller patented many acres along the Osage River in Equality Township in April, 1833 and it was on this acreage he built his one room log cabin in 1834 where he, Sarah, and their children lived for a few years. I believe the old log cabin, hidden for many generations inside the walls of the Tellman house, was the oldest structure standing in Miller County before its destruction by fire only a few weeks ago (photo 21).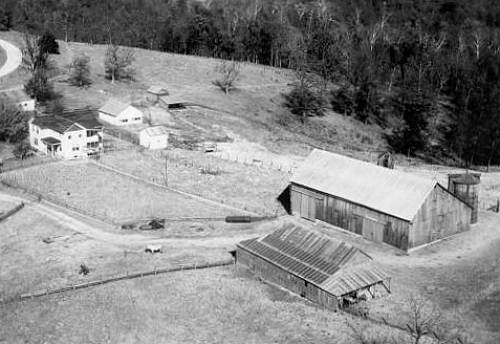 21 Miller Tellman Farm - 1940
Wonderful stories have come from the habitation of the William Miller log cabin. Tradition tells us that Pinkney S. Miller, oldest son of William, at the age of 8 years, chained himself a bear (a baby bear) and took it home for a pet. He also was a super fisherman when he netted himself a 120 pound fish at the mouth of the Saline and with some assistance, drug it through the woods and up the hillside to his old log home. Living in those pioneer times must have been exciting. I have also heard wild tales in my ancestry of a black panther being killed, dragged through the underbrush, thrown in the kitchen door and orders given, "Betsy, skin this squirrel." Those were rough and tough folks!
I was curious why William and Sarah left their homestead on the Spring Garden prairie and their relatives who lived close by to venture south quite a few miles to the Osage River country. Ernest Miller told me it was family legend that William had an opportunity to sell his prairie homestead to a fellow who was traveling through the countryside and who offered him $2,000 (silver dollars) for his land. The silver dollars were kept in an old wooden nail keg! William recognized a good deal when offered so he sold out and entered new river bottom land of the Osage. He built his cabin in 1834 and the family spent a few years there near the river. They loved the wilderness and the rich, fertile earth but nature ran rampant in those days with no flood control. After three years of crop failure due to high water covering his corn fields, they finally gave up and traded the land back for their first home at Spring Garden. He also entered more land (approximately 480 acres) in Saline Township along Brush Creek and three of his sons continued to farm the land after William's death.
The children of William and Sarah included Jenetta (Whitten), Caroline (Jones), Boyd, John Mulkey Tate, Sarah, Isabella (Shipley) and Thomas Hart Benton. Pinkney S. Miller, oldest son of William and Sarah, was born near Spring Garden March 23, 1827. His birthplace was a log cabin which sat approximately 500 yards west of the school house in Spring Garden and formerly was the Spring Garden Seminary. Ernest Miller's father, Thomas Hart Benton Miller, was the 12th child born to William Miller. Thomas was married to Emily Jane Tindell and she gave birth to Ernest in 1898 (photos 22 and 23).
The Miller family played an important role in the settlement and organization of the county. William Miller carried a petition with many signatures to Missouri's state legislature to request that Miller County be formed from land north of the Osage (then Cole County) and an equal amount from the south side (then Pulaski county) following which he was very instrumental in the final success of county organization.
Within the walls of William Miller's one room log house near the Osage River, with its one door and one window, the wheels of county government began grinding on May 1, 1837. It was there almost 147 years ago that five men met with William Miller and his family and held the first session of the Miller County court. Included in the small group were John Francis, first "President" of the court; Edmund Wilkes and Stephen A. Blevan who acted as Justices; William N. Harrison, appointed as first sheriff and his brother, James P. Harrison, the first clerk of the County Court. On the second day, May 2, 1837 the court established the four townships of Saline, Osage, Equality and Richwoods; the first election was ordered held July 1, 1837; monies were requested from the Treasurer of Missouri for a road and canal fund, election judges were appointed and more….
Also in the same one room log cabin, the first session of the Circuit Court was held on June 22, 1837. Among the members of the first Grand Jury was Samuel Miller. Members of the first trial by jury included Gaddis E. Miller and William Miller. William Miller and Thomas Sorter were overseers of the Tuscumbia California road constructed through Saline Township in 1837. In 1841, William Miller was appointed by Missouri's General Assembly as a road commissioner of the Tuscumbia Springfield road. Boyd Miller served as commissioner of the Lisle Town Versailles road in 1847 and the list goes on regarding Miller names in early Miller County government.
Is it any wonder that William Ernest Miller, the grandson of William and Sarah (Mulkey) Miller looks upon his heritage with pride and honor? Who among you yet walking the earth today can say that your grandfather was born when George Washington was serving as America's first President in 1795; when your father was born in 1845, James Knox Polk, America's 11th President was in office; and when you were born in 1898, William McKinley, America's 25th president was holding the reins of government? In only three generations of the Miller family (William 1795 to Ernest 1994) the Millers' have spanned 199 years and lived under the leadership of 42 presidents from George Washington to Bill Clinton. Isn't that a marvelous statistic and almost unbelievable!
Unfortunately, just a few days before I wrote this article, the old Miller/Tellman house which had stood on our Miller county soil 150 years was the victim of a fire of unknown origin and was completely destroyed on Sunday night, March 11, 1984…..a piece of American history is lost…!
---
In 1994 Ernest Miller passed away inspiring Peggy to write the following article:
Eldon Advertiser June 16, 1994
William Ernest Miller
By Peggy Hake
William Ernest Miller (1898-1994)
Ernest Miller passed away in late April of this year and his brief obituary, which appeared in the local newspapers, may have gone unnoticed by many, but he had a wonderful story worth repeating. About ten years ago, I had the honor and pleasure of visiting with Mr. Miller at his home in Etterville and we sat for a few hours as he told me the story of his ancestors…the Millers of Miller County.
I wrote a story about his ancestral family in 1984 and it appeared in The Eldon Advertiser and The Autogram Sentinel. He was truly proud of his heritage and had every right to feel that pride. The Millers were among the county's earliest settlers, homesteading on the prairies of Saline Township several years before Miller County was formed. His grandfather, William Miller, was instrumental in getting the wheels of government grinding. The first session of the Miller County Court was held in his one room log cabin which sat near the Osage River in 1837.
I'd like to tell you more about William Ernest Miller. He was born near Mt. Pleasant on November 27, 1898, the 11th child of Thomas Hart Benton Miller and Emily Jane Tindell. His father was the 13th child of William and Sarah (Mulkey) Miller, the early settlers of Miller County. Ernest's mother, Emily Tindell, was a daughter of Josiah Tindell of High Point in nearby Moniteau County.
Ernest's parents married about 1869-70, probably in Moniteau County because their marriage was not recorded in Miller County. When they married, they lived near his parents in the Mt. Pleasant area. Some of their neighbors in those years were the families of Allen, Brockman, Stephens, Bittle, Vernon, Jones, Adcock, and other Miller families.
Over the years, Emily gave birth to at least 11 children because Ernest told me he was #11 in his family. Some of those children were: Laura Miller, Lillia J. Miller, Ida Miller, Pearl Miller, Gertha Miller, Anna Miller, Jefferson Miller, and William Ernest Miller. Evidently three others died in infancy.
In 1900, Ernest was two years old and was living with his father, mother, and two sisters in the same general area of Saline Township where the family had laid down roots many years before. Among their neighbors were Pinkney, John, and George Miller and some families named Franklin, Hicks, Edmonson, Starling, Etter, Pickering, and Weaver.
When Ernest was about 32 years old, he married Jewell Mae Thomas in Tuscumbia. For 52 years they shared their lives and were parents of one son, Daryl Miller. When I visited with Ernest in 1984, he was a widower and was living in the home of his son and daughter in law. They were very warm and cordial to me. They knew Ernest was special and had a story to tell.
As I told you ten years ago…who among you can boast that when your grandfather was born (in 1795), George Washington was serving as America's first president; when your father was born (in 1845), James Knox Polk was America's 11th president; and when you were born (in 1898), William McKinley was the 25th president of the U.S.A…..Ernest could!!! In only three generations of the Miller family, 199 years was spanned and every American president from Washington to Clinton had led our country from its birthing pains of the late 18th century onward to become the greatest nation on earth at the end of the 20th century…What a heritage! What a story! Rest well among your ancestors, Mr. Miller. I am so proud I had the privilege to meet you.
---
Thanks Peggy.
Now to the second biography from the Goodspeed book, that of Peter Lupardus (photo 24).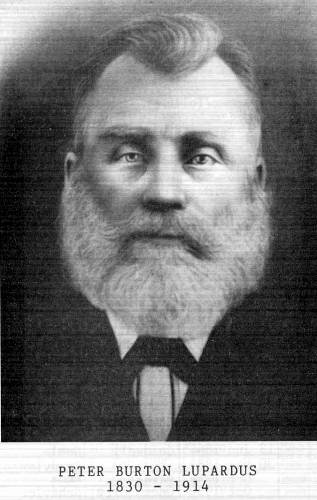 24 Peter Burton Lupardus
Peter was a well respected citizen of the county having migrated here from Ohio in 1867. He had fourteen children having had two wives, and many of these children's progeny for years have stayed in the county creating a situation where somewhere in the family tree just about any longtime Miller County resident, it seems, can point to a Lupardus ancestor. That may be an exaggeration but it sure seems that way sometimes. For example, I mentioned above that one of my aunts by marriage, Lena Brown Bear, was a granddaughter of Peter's. Here is a photo of Lena with her sisters, all daughters of Will and Bessie Lupardus Brown (photo 25):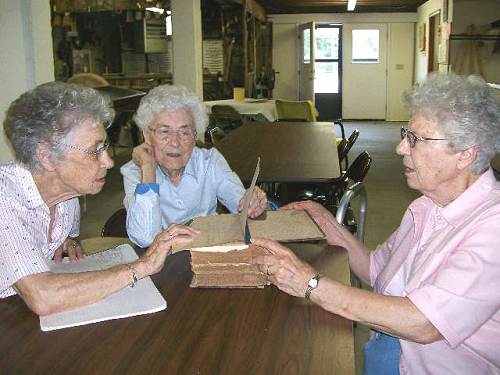 25 Lucille Brown Shockley Brightwell, Lena Brown Bear and Doris Brown Porter
Here is a Lupardus family photo taken in 1903 now hanging on the wall inside the Lupardus cabin at the museum site (photo 26):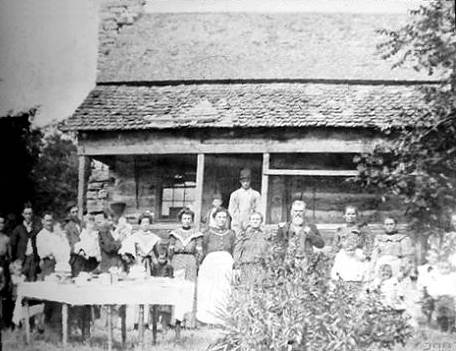 26 Lupardus Family Photo - 1903
The fourth man from the left holding a baby is Ben McDonald, who was married to one of Peter's daughters, and the baby is Lois Crismon, who is still living now residing in the Lee House in Eldon. She is going on 106 years of age!
Here is a photo I took a couple years ago of Joanne Lupardus at a fundraiser for the Nixdorf family after their historic home burned (photo 27):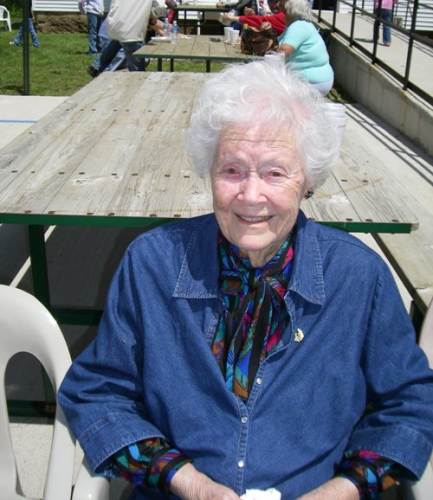 27 Jo Ann Lupardus
Jack Lupardus, who sadly recently passed away, was a faithful member of our society who helped us with our annual car show. Jack and his brother Richard Lupardus are pictured in this photo I took a couple of years ago with one of Jack's favorite classic cars, a vintage 1950's Cadillac (photo 28).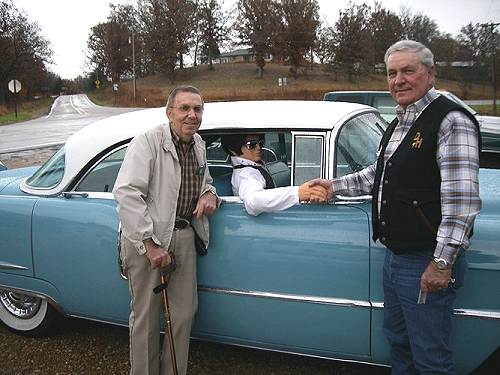 28 Jack and Richard Lupardus with "Guest"
Notice the guest he has riding with him in the passenger seat! Earlier this year some local Lupardus descendants' photo was printed in the Autogram in front of the old Lupardus home now residing on our museum grounds (photo 29).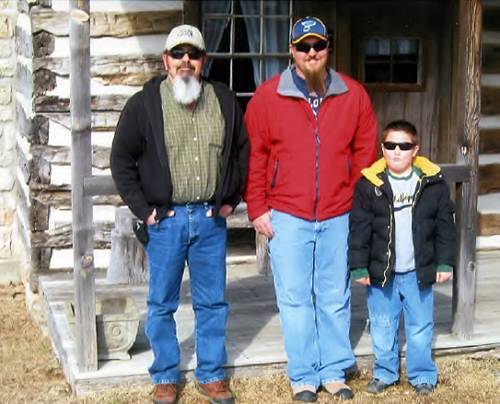 29 Three Lupardus Generations
Here is the caption that went with the photo:
"The Old Homesite - On a recent visit to the Miller County Historical Museum in Tuscumbia, three generations of the Lupardus family stood in front of the Lupurdus cabin built by Peter B. Lupardus now located on our museum grounds. Pictured are, from left: great-grandson Ben, great great-grandson Quentin, and great-great-great-grandson Nolan. All live within three miles of the original site of the cabin."
You can read more about the history of the Lupardus cabin itself at two locations on our website:
http://www.millercountymuseum.org/080331.html
http://www.millercountymuseum.org/homesteads/lupardus.html
And finally, here is copied from Goodspeed the history of Peter Lupardus:
Goodspeed's History of Miller County
P. 789
Peter B. Lupardus, another prominent and enterprising farmer of Equality Township, was born in Muskingum County, Ohio, October 14, 1833. He is the son of Peter and Mary A. (Demic) Lupardus, and grandson of Richard Lupardus, who was born in France. The last named left his native country, came to the United States, and settled where the city of New York now stands. He died in that State. He was a farmer by occupation, and was a captain in the Revolutionary War. The parents of the subject of this sketch were both natives of New York State, and the father was a ship carpenter and joiner by trade, which occupation he followed for many years.
At an early day he moved to Ohio, locating at Marietta, where he erected some of the first houses. He also built some of the first houses in Chillicothe, Ohio. He followed his traded all his life, and helped to build a great many ships and boats. He was a first class mechanic, and his services were always in demand. He was a soldier in the War of 1812. He died in Morgan County, Ohio, and the mother in Noble County of the same State. They were the parents of three children, two now living: Peter B. and Richard B. By his first wife he was the father of two children, one living: Maria, wife of Thomas Moor, and residing in White County, Indiana. Peter B. Lupardus was reared principally in Muskingum County, Ohio, and received a liberal education. In November, 1861, he enlisted in Company G, Seventy Eighth Ohio Infantry, and was out about one year. He was at the battles of Fort Donelson, Fort Henry and Pittsburgh Landing, Tennessee. He received an injury in the left hip by being thrown from a wagon, and afterward had a severe time with the typhoid fever. He was discharged at Columbus, Ohio, in the latter part of 1863, and afterward went home where he remained about two months. He then again reported for duty, but was not accepted.
In the fall of 1867 he came to Miller County, Missouri, bought the farm where he now lives, and in June, 1868, he moved his family to that county. He owns 480 acres of land, with 130 acres under cultivation; has made a great many improvements, and now has a valuable farm. He is a member of the Agricultural Wheel, and is one of the representative citizens of Miller County. He was married first, in 1857, to Miss Mary Kizer, who bore him three children: John W., Nancy J. and Mary E. (photo 30). Mary died in 1862, and Mr. Lupardus then married, in May 1863, Miss Joanna Caine, a native of Noble County, Ohio (photo 31).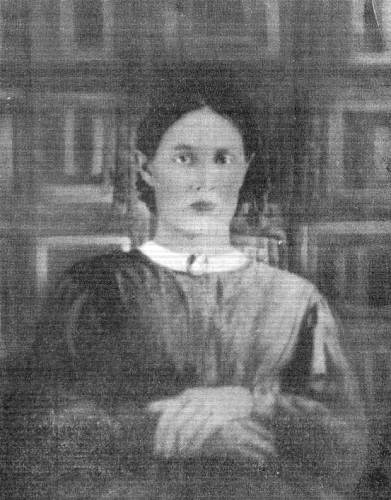 30 Mary Kyser Lupardus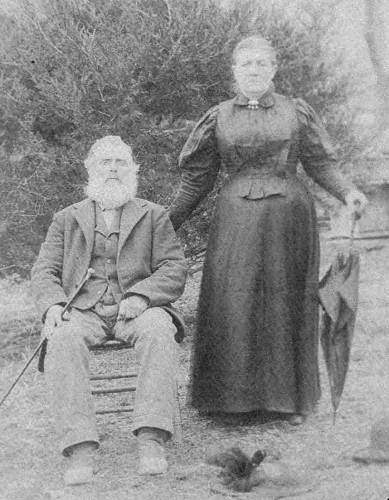 31 Peter and Joanne Lupardus
To this union were born eleven children: Florence A., James E., Thomas R., Rachel E., Priscilla M., George F., Henry B., Ida L., Esther B., Chastine T. and Minnie M. Mr. and Mrs. Lupardus are members of the Methodist Episcopal Church, and Mr. Lupardus is a Mason and Odd Fellow.
---
Here is a photo of Peter Lupardus's tombstone (photo 32) located in the Gott Cemetery with this caption:
Lupardus, Peter Burton
14 Oct. 1830 - 7 Feb. 1914
h/o Joanna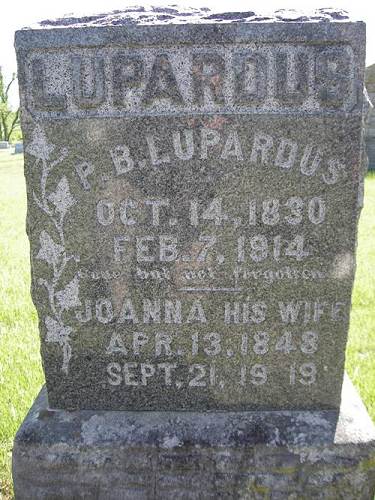 32 Peter Lupardus Tombstone
---
Finally, here is a photo I took this week overlooking the bluff south of the Osage River just above where the new bridge is being built (photo 33).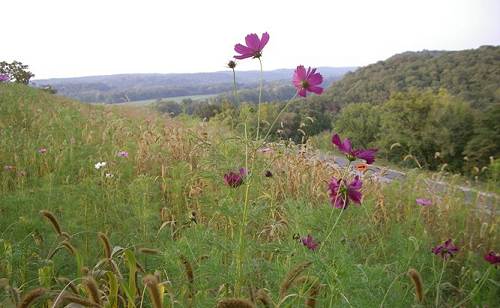 33 Above the Bridge Construction Area
That's all for this week.
Joe Pryor