Monday, August 3, 2009
Progress Notes
Recently, I travelled to Mexico, Missouri to meet with Bette Garner, a descendent of Thomas D. Garner of Iberia, to receive some historical documents and artifacts having to do with Iberia history (photo 01).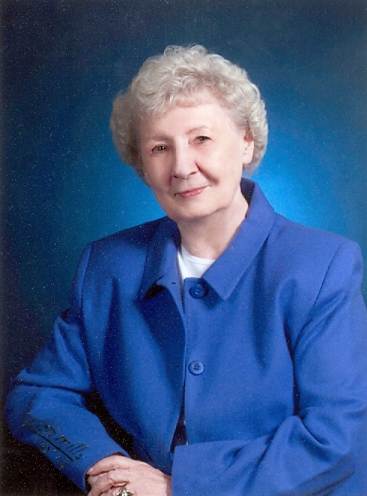 01 Elizabeth V. (Bette) Garner
Thomas, who was Bette's great grandfather, was a very successful businessman of the late 1800's in Iberia and contributed significantly to the development and growth of the community (photo 02).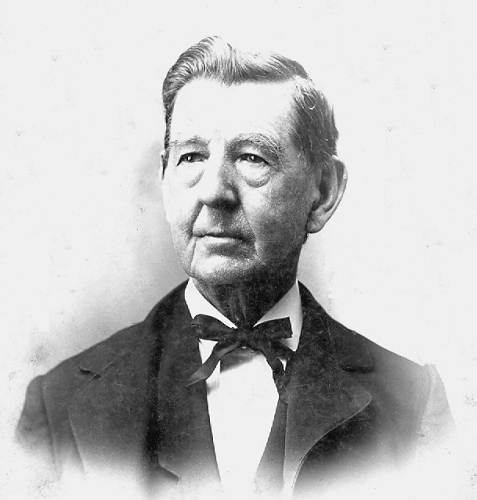 02 Thomas Durham Garner
Thomas was from Tennessee who came to Arkansas and then to Iberia during the Civil War. He started a General Store in Iberia and also built a large mill. Here is a family photo of his wife and children (photo 03):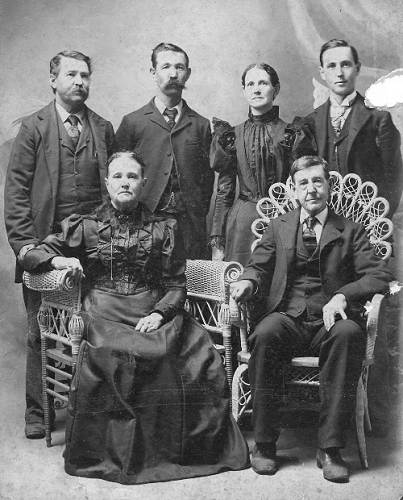 03 Front: Mary Ann McCarthur Garner and Thomas Garner
Behind are: Ben, Tom, Francis and Hugh Garner
Thomas's son, Hugh M. Garner, was Bette's grandfather. He had a photo shop from which many of the Garner family photos originated (photo 04).
04 Hugh Garner, Millwright
Hugh, who was a graduate of Iberia Academy, was sent to the Rolla School of Mines by his father, Thomas, to study the field of the Mill Wright. He was very successful in this field and had opportunity to travel throughout the United States to other areas to build mills. In addition, he directed the Iberia Cornet Band, the Iberia Banjo Band, and the Iberia City Band (photos 05, 06 and 07).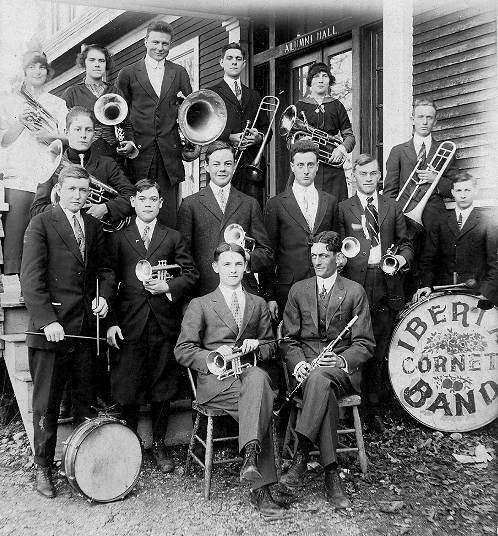 05 Iberia Cornet Band - 1915 - Leslie Garner seated left, Director: Hugh Garner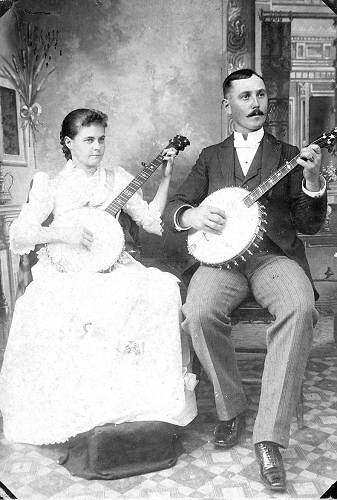 06 Estella Moore Garner and Hugh Garner
Iberia Banjo Club - 1893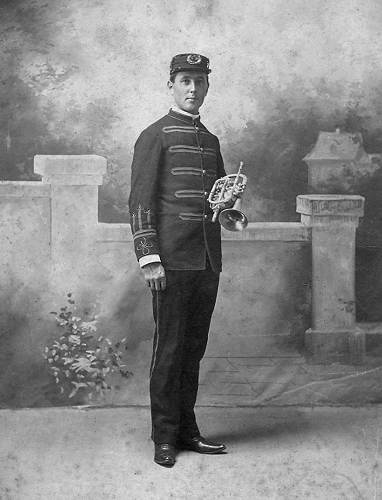 07 Hugh Garner - Director of Iberia City Band
In the photo of the Cornet band Bette's father, Leslie Garner, son of Hugh, is sitting in the front row. Another skill Hugh possessed was wood carving. Hugh married Estella Moore, daughter of Dr. Harry J. Moore (photos 08 and 09).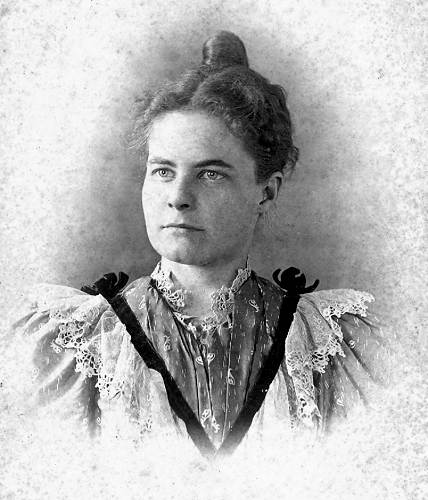 08 Estella Moore Garner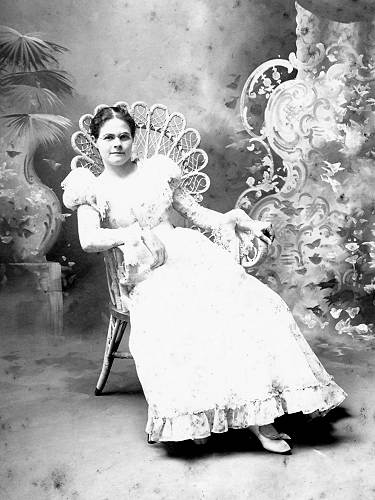 09 Estella Moore Garner
Estella was the first graduate of the Iberia Academy. Here is the wedding photo of Hugh and Estella (photo 10):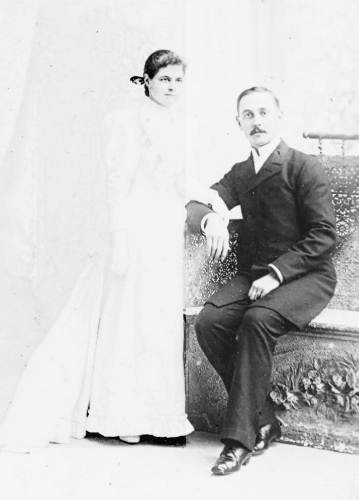 10 Estella Moore and Hugh Garner
Wedding Photo - December 6, 1893
Next is a photo of Estella and Dr. Moore in front of his home (photo 11):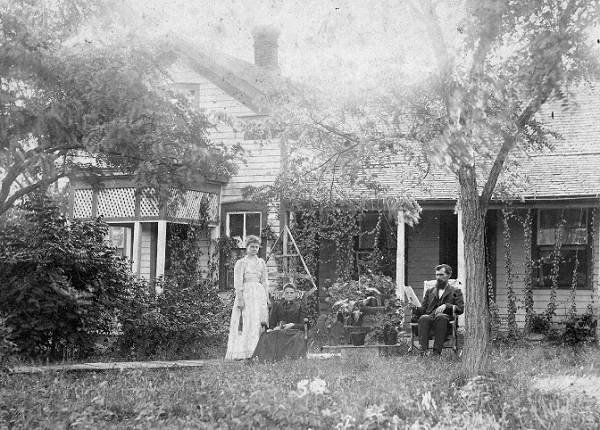 11 Estella, Alice Catherine Fancher and Dr. Harry J. Moore
Hugh and Estella later moved to St. Louis where he continued his profession as Mill Wright. They celebrated their sixtieth wedding anniversary there (photo 12).
12 Estella Moore Garner and Hugh M. Garner
60th Wedding Anniversary - December 1953
Leslie, their son, who was Bette's father, later moved with his family to Mexico, Missouri in 1944 where Bette has lived most of her life. Leslie was in the furniture business. Bette, before she retired a number of years ago, worked for most of her career in the legal department of the A.P. Green Company.
Here are a series of photos of Leslie (photos 13, 14, 15 and 16):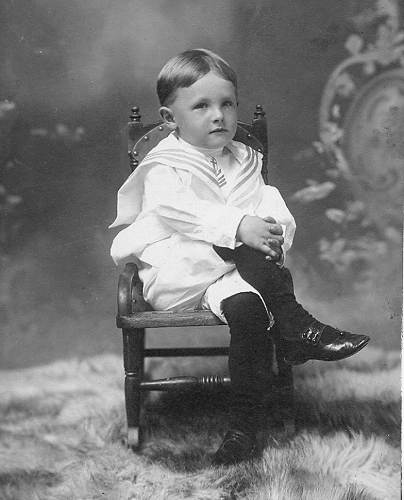 13 Leslie Garner - Photo taken by his father Hugh Garner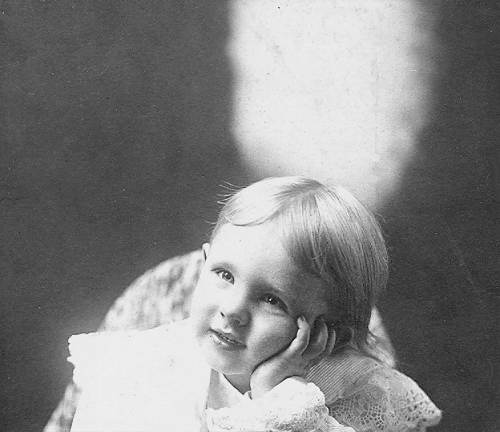 14 Leslie Moore Garner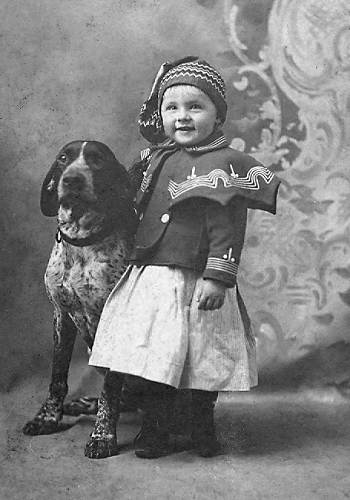 15 Leslie Moore Garner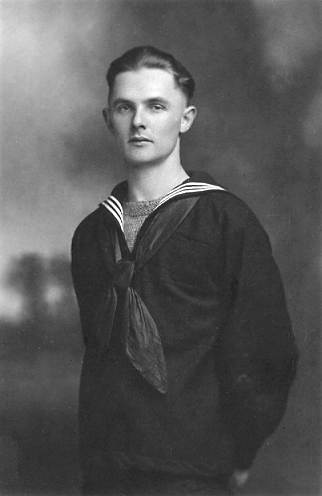 16 Leslie Moore Garner - WWI - Navy
As noted above, Thomas Garner was one of Iberia's most important figures in the post Civil War era. Peggy Hake has written two narratives about him which I will copy below taken from our own website:
THOMAS DURHAM GARNER, SR.
Thomas Durham Garner, Sr. was born 10 Feb 1821 in Tennessee. He was one of ten children born to Benjamin Garner and Margaret Eaton, both natives of North Carolina. The Garner family immigrated to America from Wales in the 18th century and settled in North Carolina, but late generations moved into Tennessee where Benjamin and Margaret both died. Each of Thomas' grandfathers fought in the Revolutionary War. A man named John Garner was one of the soldiers who fought in the Battle of King's Mountain in No. Carolina...he may have been Thomas' ancestor.
Thomas Garner married Mary Ann McCartney in Tennessee on 18 Nov 1849. She was a native of Tennessee, born October 15, 1834. Mary Ann was the only child of John McCartney and his wife, Mahulda Green. About 1850, Thomas and Mary Ann moved to Arkansas. Circa 1863, they moved to Miller County, MO and settled in Iberia. He farmed for a few years after arriving but about 1870, he decided to open a mercantile business in the small village. By 1889, he had a very profitable business with an inventory valued at $3500. By today's standards, this was a very successful annual business. He continued to own an excellent farm that adjoined the town of Iberia.
Thomas and Mary Ann lived at the edge of the original town of Iberia, which is part of the city limits today. They built a home on the same land where the David Vineyard family lived in later years. His son, Hugh Garner, and family built their home where David and Jessie Farnham lived in the 20th century. In 1892, Thomas platted and sub-divided some of his land and called it "T.D. Garner's First Addition to the Town of Iberia" and in 1895, filed his second addition called "T.D. Garner's Second Addition to the Town of Iberia" (photo 17).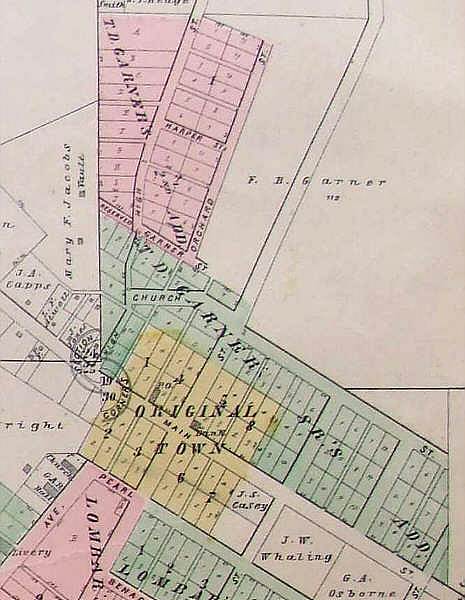 17 Iberia Garner Additions
Thomas Garner was a staunch Republican in his politics and cast his first vote for Henry Clay in the election of 1844. Clay lost to James Knox Polk, a Whig, who became America's 11th president.
Thomas and Mary (McCartney) Garner were parents of seven children including:
1. Margaret/Mary Elizabeth Garner 1841-1872 m. Joseph B. Jacobs 1866
2. Robert Benjamin Garner 1853-1923 m. Elizabeth H. Thompson 1873
3. Frances Emeline Garner 1856-1908 m. Dr. Samuel P. Hickman 1907
4. Thomas Durham Garner Jr. 1859-1923 m. Margaret Ann Adams 1881
5. John B. Garner 1861-1863
6. James Henry Garner 1868-1870
7. Hugh McCain Garner 1870-1955 m. Rosa Estella Moore 1893
Thomas Durham Garner Sr. died at Iberia on 20 Jan 1906 at the age of 85 years. He was buried at the Iberia Cemetery. His wife of 57 years, Mary Ann, died 31 Jan 1907 and was placed beside Thomas at Iberia Cemetery. They also had two babies, James and John, buried in their family plot. Youngest son, Hugh and wife Stella (Moore) are buried at Iberia Cemetery; and the oldest daughter, Mary Elizabeth (Garner) Jacobs is also buried there. She has an infant child buried beside her. Another daughter, Frances Garner Hickman is buried beside her husband, Dr. Samuel P. Hickman, at Gott Cemetery near Brumley in Glaize Township. I could find no record of burials for sons Thomas Jr. and Robert Benjamin.
NOTE: Robert Benjamin Garner served as sheriff and collector of Miller County from 1884-1890 and lived at Tuscumbia during those years.
Thomas D. Garner Sr. and his son, Hugh, built the T. D. Garner and Son Roller Mills in Iberia, probably in the late 19th century. Hugh Garner was an expert mill right and his miller was Roy Brown. About 1905, the Garner Mill was destroyed in an explosion that occurred during a low-water stage. It was rumored it may have been sabotaged but was never proven. Luckily all the employees received ample warning so no one was hurt in the explosion although the mill was a complete loss. It was located to the north of today's Friendship Hall and east of the old home once owned by Bill and Mary Hedges (photos 18 and 19).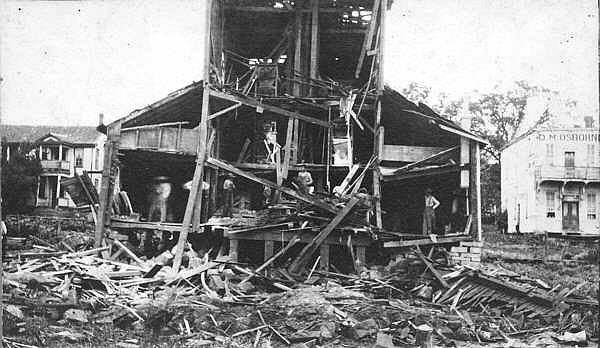 19 Garner Mill Explosion
Margaret/Mary Elizabeth Garner, the oldest child of Thomas and Mary Ann, was born in 1851 in Izzard County, Arkansas. Sometime about 1869, she married Joseph Jacobs and by 1870, they were living in Iberia near her parents. In 1872, Mary/Margaret died at the age of 21 years, probably from childbirth complications. She and an infant child are buried at Iberia Cemetery. Her husband, Joseph Jacobs, is the man who built a huge two-story home near the Garner family in north Iberia. The old house was destroyed by fire a few years ago. Joseph Jacobs was also noted for building his burial place called "Jacob's Tomb" which was located in a north pasture on his land. He was buried there when he died and in later years, his body was exhumed and carried by horse and wagon to Iberia Cemetery for reburial (my grandfather, Frank Smith, was one of four men who moved the body through Iberia and on to the city cemetery). I have heard my grandfather tell the story many times of the procession that carried Mr. Jacobs to his final resting place.
---
Here is a second article about Thomas Garner written by Peggy with some more information about the mill fire. Some of this article repeats what was written above but also some new information is given as well:
THOMAS D. GARNER ROLLER MILL
By Peggy Smith Hake
(printed in The New Iberian, 20 Oct 1982)
It was in the early 20th century, circa 1903-05, that the town of Iberia was rocked by a mighty explosion. Thomas D. Garner and Son Roller Mills were destroyed when the boiler, in a low-water stage, exploded and a great deal of damage occurred. Luckily the workers were given warning in ample time to evacuate the building and no one was injured. It was never proven, but there were indications it may have been a case of sabotage. Hugh Garner and Roy Brown were running the Roller Mills at the time of the explosion. Hugh was noted as a competent millwright who had set up the machinery and Roy was the miller. It was told to me by Cass Farnham, a former Iberian, that the force of the explosion was so tremendous that a piece of timber from the mill's wall flew through the air and crashed through the walls of the Bank of Iberia sitting over a half-block away. A few years later, Roy Brown erected a flouring mill across the street toward the west of Garner's mill.
The mill was built by Thomas D. Garner and his son, Hugh McCoin Garner. It was located in an area almost directly north of today's Friendship Hall and the Loren Adams home and east of the old Hedges Beauty Shop.
Thomas D. Garner was born in North Caroline 10 Feb 1821. As a young man he ventured into Tennessee and there he married his wife, Mary Ann. She was a native of Tennessee, born 15 Oct 1834. They moved on into Arkansas as a young couple and lived for awhile before traveling north into Missouri. They were the parents of at least five children: John B. 1862-1863; James H. 1868-1870; Hugh McCoin b 25 Apr 1870; Cyrus W. 1886-1887; and Mary C. 1887-1888. Hugh was their only child who lived into adulthood.
Thomas D. Garner opened a grocery store in Iberia prior to 1870 and listed himself as a dry goods merchant. Apparently he was a successful businessman with his merchandising enterprises. He and Mary Ann built a beautiful home in Iberia, the former home of the David Vineyard family. Hugh Garner, the son, married Stella Moore, daughter of Dr. John H. Moore, a druggist in Iberia. Dr. Moore was a native of Virginia, born there in 1846. Hugh and Stella built their home on the location of the David Farnham residence. Stella Moore Garner was the first graduate of the Iberia Academy in 1893 at the age of 19 years.
Thomas and Mary Ann Garner platted two additions to the original town of Iberia. The land laid north and east of the original town platted in 1859 by Henry Dickerson. They also owned some lots in the original town and sold off a corner of Lot 2, Block 5 to John Casey in 1897. In 1899, John sold the same parcel of land to the new Bank of Iberia. The town's first bank was built on the southeast corner of Main and St. Louis streets. Years ago the old bank building was moved to Lombar Street and today it is the home of Catron's Electric Shop.
Thomas D. Garner died at Iberia in January 1906, sometime after the destruction of his mill. Mary Ann died one year later in January 1907. She had reached the age of 72 years and Thomas had lived to be 85 years old. I do not know for sure where Hugh and Stella resided in later years or if they left Iberia.
Note: As I stated above, Hugh and Estella moved to St. Louis.
The entire Garner family including Thomas, Mary Ann, Hugh, Stella and the infant children, are all buried in a large family plot in the Iberia Cemetery.
The Garner family was an important part of Iberia's early history and heritage because they were her merchants and millers. Today I know of no descendants of this family, although they may exist.
(Yes, Peggy, we found her in Mexico, Missouri!)
I would hope their lineage did not cease with the death of Hugh Garner in 1955.
My sincere thanks are conveyed to the following persons whom I interviewed and to whom I owe so much for their marvelous memories of the Iberia by-gone days: Ms. Edna Jones, Arthur Perkins, David Farnham, Cass Farnham.
---
Thanks Peggy.
Here is another reference to the Garner family about Thomas's daughter, as recorded on our website by Peggy:
Joseph Jacobs and his first wife, M. Elizabeth Garner, and her parents, Thomas D. and Mary Ann Garner, came to the Iberia area circa 1865-70. Thomas Garner was born in Tennessee in 1822 and was an early merchant in the new town of Iberia in 1870. Iberia did not become an incorporated village until August 1875, so in 1865-70 when the Jacobs and Garners came to Miller County, it was a small, newly peopled community of both white and black families. In 1880, the Garner family employed a black girl named Ola Allen who served as a hired girl in their house which stood where David Vineyard and family lived in the 1950s.
Mary Elizabeth Garner Jacobs was born 13 Nov 1851 in Arkansas and she probably married Joseph Jacobs in that state since I found no record of a marriage for them in Miller County. At the age of 21 years, in September 1872, Mary Elizabeth died and was buried at the Iberia Cemetery. Lying beside her is an infant born in 1868. He lived only 11 hours. Also nearby is another child's grave with the inscription, "Infant son of R.H. and Ida Jacobs born and died April 1892". This may have been a grandchild of Joseph and Mary Jacobs. R.H. Jacobs may have been their child, perhaps born when his mother died?
After the death of Mary, Joseph Jacobs married again. His second wife was named Mary F. _____. In the 20 years spanning 1880-1900, there are several land transactions involving Joseph Jacobs.
---
And here is another historical reference to the Garners' regarding Hugh Garner by Peggy:
IBERIA'S OLD BANDSTAND
"In the l890s the town (of Iberia) had a well drilled in the middle of Main at Lombar Avenue, where farmers could water their saddle horses and teams, and for general public use. The old common drinking cup, used by chewers, smokers or not, alike, hung on the pump many years, doctors not questioning if it was sanitary."
After golden sunsets, evening work done, nearby farm families and townsfolk gathered around band stand over the well to hear the town band which was directed by H. M. Garner (Hugh M.Garner). They played patriotic and folklore tunes. It was thrilling to all, especially the youngsters.......Many of us were grieved to know the stand was torn away, the pump taken out, the well filled with rubbish and the band boys played there no more."
From: History of Iberia, Miller County, Missouri, by: Wm. Freeman Jones c/1959
Iberia had an orchestra in 1922. (I think this was the Academy's orchestra but they probably played at the band stand if it still existed in 1922). In the 1890s, Hugh M. Garner had a photo gallery and wax record-making shop on St. Louis St. while directing the Iberia Academy orchestra...........
"Iberia had a bandstand at one time. In the 1890s there was an old well located in the middle of Lombar and Main Streets (today's Highway 42) and a small bandstand was constructed over the old well. The folks of the town were entertained by a local band directed by Hugh M. Garner and the band played the old country folk tunes as well as the patriotic songs of their day to the delight of the young and old alike."
Unfortunately I have not been able to locate a picture of the old bandstand nor the old well. Evidently the well was drilled in the 1890s and the bandstand built over it shortly thereafter. How long it was in existence is unknown. Most of the older generation, who could have remembered the days when the bandstand was located in the middle of Iberia, are long gone and their memories passed on with them.
William Freeman Jones (1883-1975) was of that important generation and did record the existence of the old well and bandstand in the 1950s. He did not indicate if anyone owned an old photo of the bandstand when he wrote his booklet about Iberia's history.
From: Iberia Academy & The Town, Its History by Peggy Smith Hake
---
And here is another interesting little story recorded by Peggy about a robbery at the Thomas Garner general store recorded on our website:
Robbery at Garner Store
"about 1889 or 1890"
John Moshier and Mrs. Sorter who were bound over last week to the Circuit Court for robbing Uncle Tommy Garner's store at Iberia in December, were taken to the Cole County jail last Thursday morning for safe keeping. Before leaving that morning, Mr. Moshier called at this office and requested that we take his statement of the affair, requesting also that it be published in the paper. He said:
"Mrs. Sorter spoke to me about robbing the store about the last week in November, 1889, but I refused. She kept at me for two or three weeks until finally I consented to go with her and rob the store.
On the night of the 13th day of December we went to the store, but that evening, before going, Mrs. Sorter borrowed a brace and bit from Mr. Grant Thompson, stating that she wanted it to make a 'what-not' stand. We then went to the store and entered the cellar. With the brace and bit she and I bored 40 odd holes in the floor immediately under the counter. Bored the holes so close together that the pieces of plank were easily pushed out. Both of us went up in the store, Mrs. Sorter following me. I took 3 pairs shoes, pair pants, some pocket knives, box and a half of cartridges and a little candy. Mrs. Sorter took 3 women's skirts, several pairs shoes, bolt of lawn, part bolt of blue navy waterproof, some flannel, 2 pieces comfort calico, large lot of ribbon, handkerchiefs, laces, dress trimmings, rubber elastic, four boxes hair pins, four purses, some brown veiling and a large lot of jewelry.
After leaving the store we took the goods to Alfred Arnold's house and secreted them under the floor in a box. We kept them there all the time until about three days before the officers searched the house and placed us under arrest. Mrs. Sorter had used some of the goods before her arrest.
Mr. and Mrs. Arnold were absent from home on a visit when we committed the robbery and put the goods under the house."
-John Moshier
---
We are very grateful to Bette Garner for sharing with us her photos of her ancestors and especially the significant number of Garner family items which we will be displaying in our museum.
Before I left Mexico the other day I visited the Audrain County Museum. The history of the county is displayed on this sign in front of the museum (photos 20 and 21).
The museum is located in a mansion named Graceland built by John P. Clark in 1857 (photo 22).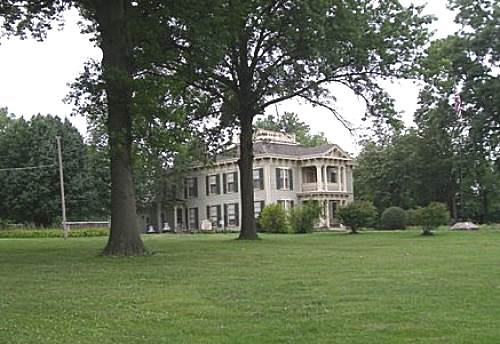 22 Graceland
Especially featured is a wing devoted to the A.P. Green Firebrick Company. Here are a couple of photos demonstrating one of the earlier pieces of equipment used there (photos 23 and 24):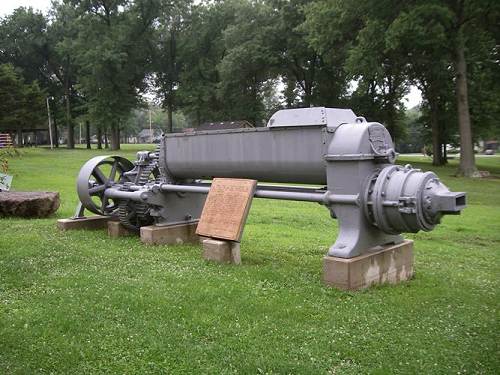 23 Green Company Brick Machine
Also featured is a room devoted to the American Saddle Horse association which has its world headquarters located there (photo 25).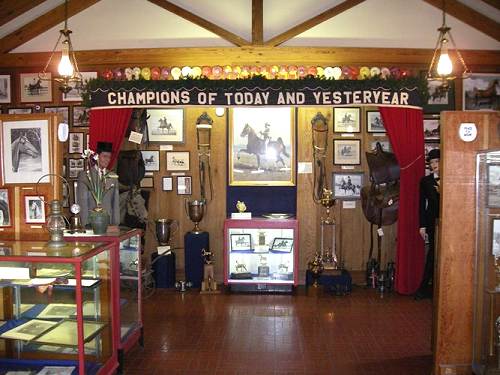 25 Saddle Horse Museum
And in the courtyard one finds the burial of Rex McDonald, which according to the sign was the world's most highly rated saddle horse (photos 26 and 27).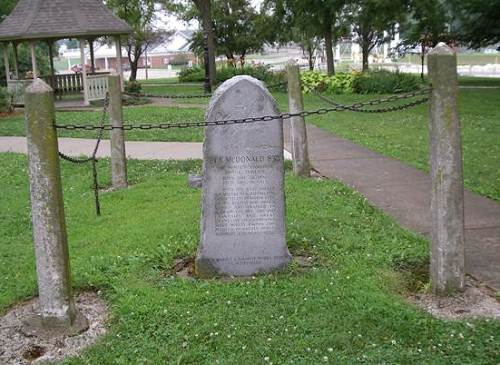 26 Burial Site of Rex McDonald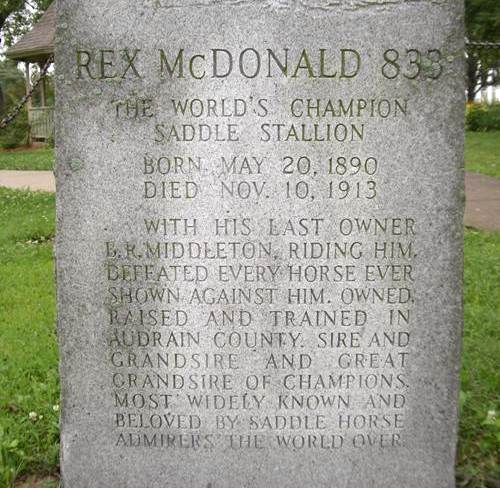 27 Closeup of Rex McDonald Tombstone
---
A couple of months ago we received a donation of an old trunk brought to us by Ron and Bernice Cada who presently live in Nebraska (photo 28).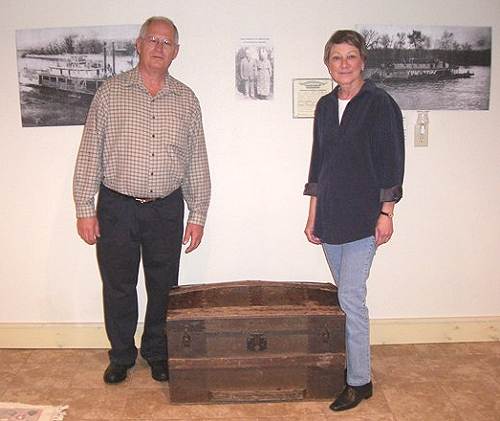 28 Ron and Bernice Cada
However, for several years they had lived in Eldon during which time they bought the trunk at a sale at the R.C. Evans home (photo 29).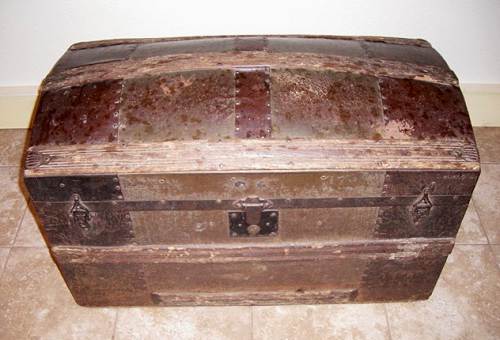 29 Trunk of Grace Clark Vernon
The sale was being administered by Bob Vernon who was selling the home after having lived there for a few years. Bob told Mr. and Mrs. Cada that the trunk had belonged to his mother, Grace Clark Vernon (photo 30).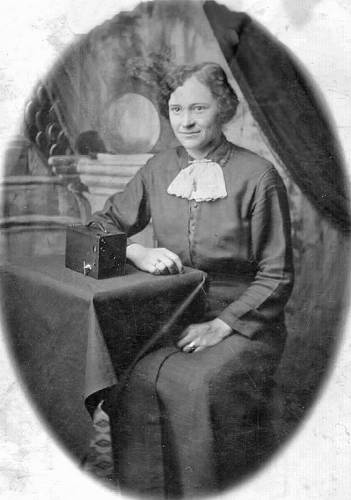 30 Grace May Clark Vernon
Grace was the daughter of James Clark, an old steamboat pilot for the Anchor Mill in Tuscumbia, who oftentimes piloted the J.R. Wells steamboat (photo 31).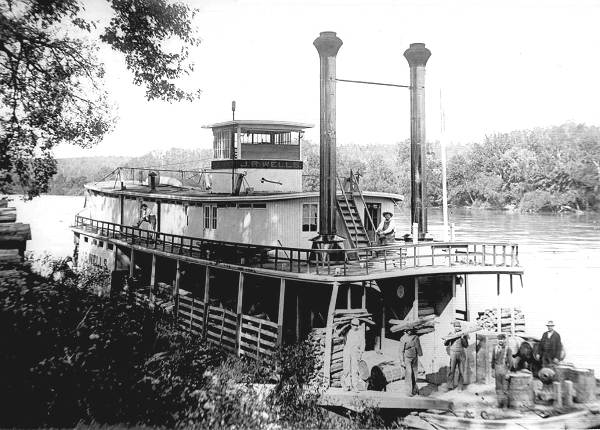 31 J.R. Wells with men in Front
Oftentimes, according to Bob, Grace would accompany her father James on his river excursions, using this trunk for her belongings. Bob said his mother had owned the trunk for a long time having it even before she got married in 1920 to Edgar Vernon.
James Clark had married Martha Jane Hawken, daughter of John David Hawken, in 1888 (photo 32).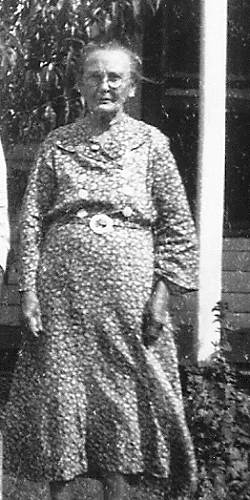 32 Martha Hawken - Wife of James Clark
Besides Grace they had several other children including Ann Elizabeth Clark who married James Garfield Messersmith. James and Elizabeth were the parents of Mary Messersmith Von Gremp, who recently moved from Camdenton to Rogers, Arkansas. Mary was the wife of the recently deceased James Von Gremp, who was the son of Dr. William Von Gremp, a physician of the past who had practiced in Iberia.
We are very appreciative of the donation of this historical trunk to our museum by Ron and Bernice Cada. They are the parents of local physician, Dr. Debra King. The Cada's told me they come from an area of Nebraska which has a large Czechoslovakian community. Their grandparents had immigrated to the United States around the turn of the last century. Recently, they had travelled in the Czech Republic where they were delighted to visit areas from where their ancestors came. Here in the U.S. they said most of the Czech descendents speak little of the Czech language; however, about everyone can say a few words in the native tongue which they remember from childhood.
---
The following short essay was taken from the diary of C.B. Wright, probably written sometime in the 1930's, although I don't have the exact date since I copied it from an Autogram newspaper clipping which had not included the date:
Remembered Trees on the Osage River
From the diary of C.B. Wright
The Big Soft Maple, upper end upper horn at Osage City, tall rough looking old tree…..not many limbs near the ground. Steamboats tied to it in high water as per the Frederick in 1895 flood.
The Pretty Pecan Tree midway between Price and Rice shoals stood at the top of the bank on the Cole County side. It had wide spread branches for a pecan tree, short body and would make a 12 foot saw log. I have seen wheat sacks piled against it and think J.B. Fork owned the land.
The Rugged Old Pecan at the foot of Rice shoal on the Osage County side. It was a tall rough looking big tree with few limbs. There was no defined channel through Rice and the pilots would line their steamboats at the pecan tree and a rock the size of a box car half mile above on the Cole County side and could always get through Rice.
The Big Elm Tree at the head of Round Bottom at John Luebbring's landing. This was a pretty big one…short trunk and wide spreading branches. I think a brush pile at the base of the tree was set on fire and killed the tree years before I quit the river in 1923.
The Big Sycamore at Strope and Bereusmeir landing …fine, tall and straight tree.
The Big Sycamore at Frank Sanning's landing…big tree, not a pretty tree but a good shade tree.
The Pecan Tree at Berry shoal…short trunk, wide spreading limbs on the high bank side. I tied the Homer C.Wright to the tree on a real windy night with waves running high. I had told Captain Hauenstein, who was chief engineer, that we ought to tie up on such a stormy night. "No!" he said; "make no money tied up for a breeze like this." About 9 p.m. we ran over a floating log a hundred feet long which we could not see on account of the breakers and with a lot of moon shining too. Sounded the "nigger" whistle to land and tied up to the pecan.
Note: unfortunately, pejorative racial terms were common in those days.
The Big Elm at Tuscumbia at the mouth of Shut In branch. It was a fine looking tree and still stands. Captain Phil said he cut a notch in the tree to mark the 1882 flood crest. He took me out to show me the notch during the flood of 1922 but the three had grown so much we could not find the gash.
The Big Cedar Tree on Captain William H. Hauenstein's ford above Brockman Ford. The tree is gone now and I never did know what happened to it.
---
The Big Elm C.B. describes at Tuscumbia located behind Hauensteins's Store on the bank of Shut In Creek can be seen in this old photo thought to have been taken in the late 1920's or early 1930's based on the presence of gasoline pumps (photo 33).
33 Hauensteins Store
Notice the wide spread of the branches of the Elm Tree behind the store. This tree was present at least until the 1940's according to Carl McDonald, our board vice president. He comments that his wife, Maxine Shackleford McDonald, used to live in the Goosebottom area and remembered swinging from a long rope tied to a large limb of the big elm on the other side of Shut In Branch creek from Hauenstein's Store. Recently I tried to find some remnant left of the tree but couldn't. Jim Clark, another board member, remembered that a disease of Elm trees came through the area in the 1960's destroying many of them. That is one reason besides age why the huge elm no longer is present on the other side of Shut In Branch from Hauensteins'.
---
Recently, Morgan Pope, a Miller County native, now living in Hillsboro, Oregon, sent us a large number of recorded fiddle music performed by a number of Missouri fiddlers. The collection was entitled "Now That's a Good Tune: Masters of Traditional Missouri Fiddling." It is a selection of documentary recordings of regional violin playing made between 1984 and 1989. The project was produced by the Missouri Cultural Heritage Center at the University of Missouri, Columbia. The current edition has converted the recordings to a compact disc format including two different discs. We play one or the other disc regularly at the museum in the music section.
Morgan also sent us an audio tape containing thirty six tunes by Lyman Enloe, a famous central Missouri fiddler (photo 34).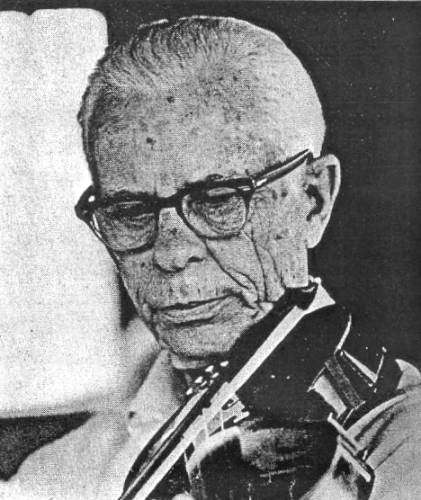 34 Lyman Enloe
Morgan copied these off a couple of old albums which his father, Walter, had sent him years ago. One album, entitled "Fiddle Tunes I Recall," is considered a collector's item.
I discussed Lyman Enloe earlier on a Progress Notes from last year.
Lyman was born in southern Cole County and is a member of the local Enloe families who settled in both northern Miller and Cole Counties. He was quite well known in the area playing in and winning many fiddle contests. I thought I would put one of his selections from the collector's album mentioned above on our website this week:
Here is a recent photo of Morgan and Connie when they visited our museum this spring (photo 35):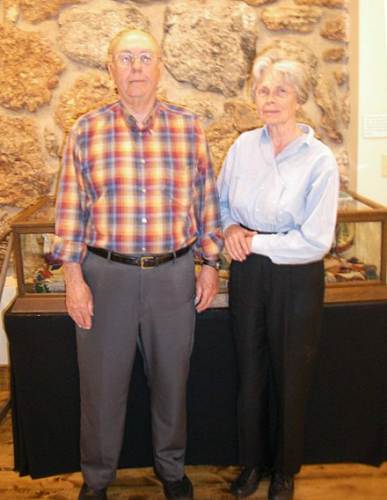 35 Morgan and Connie Pope
We are very grateful for their support of our museum. Morgan is a historian and has offered many helpful comments and information to our museum staff over the years.
---
Ruby Vaughan of Osage Beach is shown here with the microfilm reader she recently donated to the Miller County Historical Society (photo 36).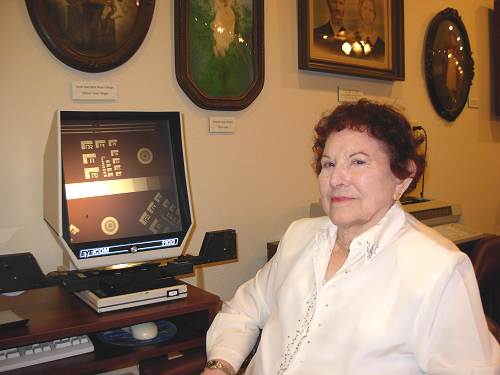 36 Ruby Vaughan
The addition of this important piece of equipment will enable researchers to access the growing number of filmed records in the museum's research library.
In addition, Betty Maher of Fairfield, CA has donated 28 rolls of microfilm and 13 envelopes of microfiche, all records of Miller County history. The Missouri State Archives is presently filming over 150 volumes of school records for the museum and copies of these films will also be available for researchers in our library. I don't have a photo of Betty at this time. Once again, we are so grateful for the help we are receiving from persons interested in our Miller County Museum, without which, we couldn't offer the public the standards we think are necessary for recording and displaying to the public our history.
That's all for this week.
Joe Pryor