Monday, July 27, 2009
Progress Notes
Recently, we were honored to receive from genealogist, Mary Roberts of Rohnert Park, California, some items belonging to one of the Thompson family descendents, William Thomas Tomson (photo 01).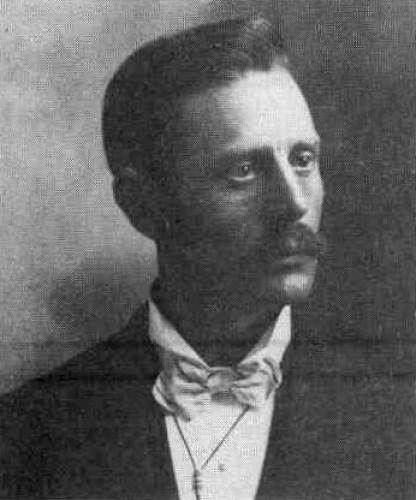 01 William Thomas Tomson
These included a named cup and a shaving brush (photos 02 and 03).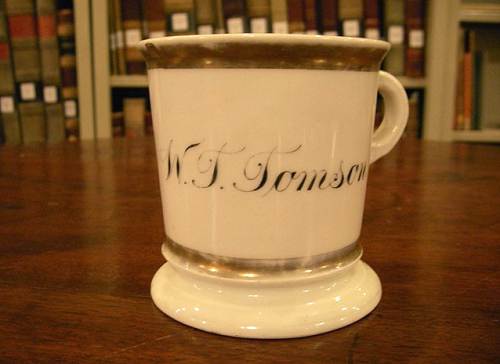 02 Tomson Cup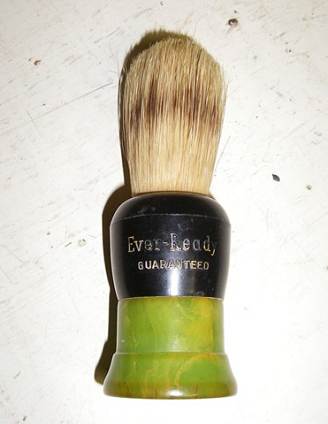 03 Shaving Brush
Mary is a Kallenbach descendent herself (grandchild of Will Kallenbach) who has spent many years working out the genealogy of this long time Miller County family.
The Thompson (or Tomson) and Kallenbach families are closely connected not only by blood but also due to the close proximity where they lived along the Little Saline Creek area north of Tuscumbia. William Tomson spelled his name without the "h" and "p" so I will continue that spelling when referring to him in this narrative. However, most of the Thompson family nowadays uses a spelling containing these two letters. William was the son of Josiah Henry Docking Tomson (photo 04) and great grandson of Henry and Elizabeth Tomson, the original Thompsons to move to the central Missouri area (photo 05).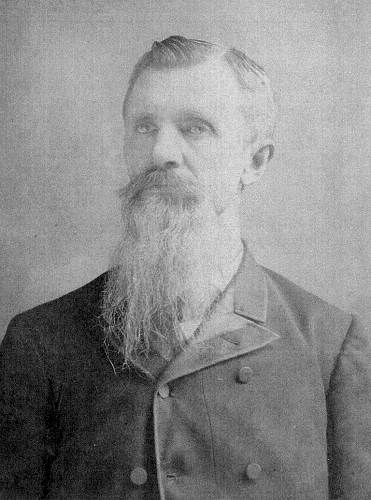 04 Josiah Henry Tomson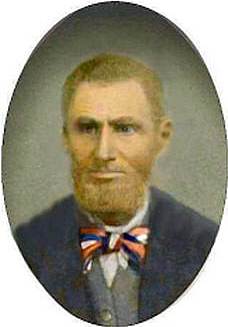 05 Henry Tomson 1787 - 1862
William was a well known minister and song writer who spent most of his adult life in Ohio. Before continuing with more information about him I think it would be best now to present the background history of the Thompson family in central Missouri and later in Miller County. First, I will copy here an article published by The Jefferson City News and Tribune in February 1990 by author Bob Watson which gives the history of the Thompson patriarch, Henry Tomson:
Family Manuscripts Reveal Perspective of History
Bob Watson
Jefferson City News Tribune, February 1990
Henry Tomson died in 1862 on his farm in Brazito, a small community about 10 miles southwest of Jefferson City (photo 06).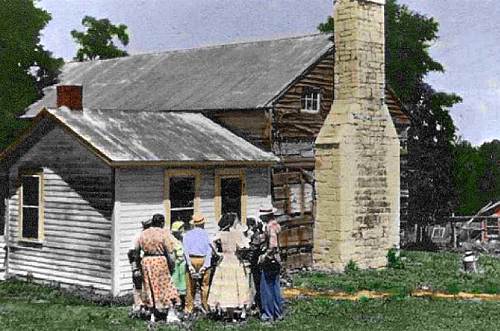 06 Henry Tomson Home near Brazito
Modern Missourians can be forgiven for saying they have never heard of Tomson, even though they may know some of his relatives.
Henry Tomson and his wife, Elizabeth, had a large family. Many of his descendants still live in Mid Missouri, with last names such as Tomson, Thomson, Thompson, Kallenbach, Robinson, Curtiss and Wright. Henry also left hundreds of pages of his writings.
In November of 1989, his descendants, represented by Mary L. Curtiss Roberts, of Richmond California, and Alan Wright of St. Louis, donated his papers to the Missouri Historical Society in St. Louis.
Peter Michel, the society's library and archives director, said: "The interest of it is he was a very perceptive man who wrote in long poetry about life in his town, country, and international events."
Born in Maryland in 1787, he lived through the early days of the new nation, fought in the War of 1812 and traveled through much of the East and Midwest before settling in Cole County. He was a minister for congregations in three states.
Michel called Tomson's papers "a remarkable record of life at that time in the mid 19th century, and of Cole County."
In a letter announcing the donation to the Historical Society, Mrs. Roberts said the "manuscripts and books will be available to interested descendants and scholars researching Tomson's influence on literature, history and religion."
Michel said there is a lot of material to be studied. "Here's a guy who wrote a long poem about what he perceived to be the issues," Michel said. "That's the sort of thing a historian of the Civil War would be interested in…what was the popular opinion at the time?"
Michel said answers to those types of historical questions are not easy to come by because "it's easy to read some speeches made by politicians and newspaper accounts, but it's hard to figure out exactly what people felt or thought about something like this."
For that kind of research, Michel said historians prefer the letters and other writings of the common people rather than the politicians, "simply because they were never meant to be published."
He said: "They are not self conscious records of people who are saying, "I'm a historically significant person…I'm going to write down everything I did."
Michel said that "the every day things that people do that are recorded" in the papers is "what makes them of value."
Included in the Tomson collection is a 50 page epic written at the end of 1856 titled "A Poem for the New Year."
Michel called it "one of the most interesting" works in Tomson's collection. "He comments on just about everything that was going on in that year," Michel said, "from the Crimean War in Russia and a long commentary about what was going on in Russia to politics in Cole County, the recent elections and the gubernatorial elections."
One of the longest items in the collection was titled "The Capers of Sots." Michel said it focuses on"the evils of alcoholism, which was a major social problem in the mid 19th century and not one that people are always aware of. It talked about what happens to people when they drink too much…what goes on in taverns, the violence and how people's lives are ruined."
Michel said Tomson's poetry offers "an interesting perspective on some of the issues. It was a time when there was a great deal of change in morality and in popular culture. Tomson was very old fashioned…he didn't like much of what he saw, although he was still very optimistic about the American spirit and that, in time, we would solve all these problems."
Michel appreciates the efforts of Tomson's descendants in saving the writings, and he encouraged other families to do the same.
"Records such as these are important in our understanding of the history of our country and the history of our town and our state," he said. "Often buried in these things is very important material that should be preserved."
The archivist said families should save their papers, even though they may not think the papers hold any historical value.
"What we need to do is put our own family histories into a larger context," he said. "We are part of a larger community, and various forces that families dealt with or adapted to were also issues that were facing other families."
---
To better understand the descendancy of the Thompson family I will reproduce here a family history written by Clyde Lee Jenkins several years ago in the mid 1970's which was published in the Tuscumbia Autogram Sentinel:
In 1807, Henry Tomson, a son of the Reverend Thomas and Priscilla, born at White Haven in Maryland, on March 11, 1737, was married to Elizabeth Lee, a daughter of Willoughby and Fanny, born in Rockingham County, North Carolina, on March 19, 1791. They lived after their marriage for some time in North Carolina, then emigrated from Rockingham County into Hardeman County, Tennessee, where Henry farmed and hunted, while teaching the rule of three to children in subscription schools, and preaching the gospel to inhabitants in their wilderness homes.
The Rule of Three? Read more about this fascinating concept taught regularly in early American schools at the websites accessible via this link:
http://mathforum.org/library/drmath/view/62685.html
Henry Tomson and Elizabeth Lee were the parents of nine boys and four girls. Their children included William, born September 21, 1808; Thomas Arrington, born March 5, 1810 (photo 07);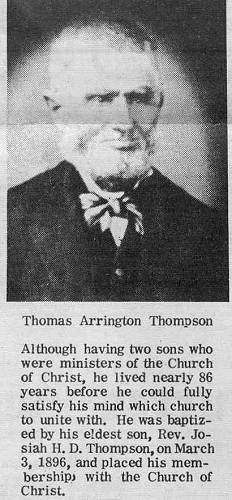 07 Thomas Arrington Thompson
John, born December 9, 1811; Fanny Avery, born September 20, 1818; Elizabeth Mace, born September 6, 1820; Henry Brannock, born February 24, 1823; James Cunningham, born October 25, 1825; Joseph Coe, born January 24, 1828; Milton Green, born February 2, 1830; Jackson Garrett, born September 13, 1832; and Irene Anne, born March 10, 1835.
In the later 1830's, Henry Tomson and Elizabeth Lee moved from Tennessee by ox wagon into Missouri, and settled in Benton County, near Warsaw. Two years later they immigrated into Illinois, but returned to Missouri in 1842, and this time settled in Cole County, westerly of Brazito now, and northerly of Hickory Hill. Here two, one-room log houses with stone fireplaces were raised, with a roofed breezeway between them.
Henry Tomson died on January 22, 1862; a veteran of the War of 1812, having served a term of two months and 17 days in the Tennessee Militia. He was buried in the family cemetery, near the log house which he erected in Clark Township, Cole County, beside the grave of his wife, Elizabeth, she having died on May 24, 1857.
Of their children, William died in Tennessee on November 1, 1829, when 21 years of age.
Thomas Arrington, the eldest child surviving, born in Rockingham County, North Carolina, was married to Carrenhappock Sellars on July 31, 1834. She was born on December 9, 1816, in Dublin County, North Carolina. They came from Tennessee by covered wagon to Miller County, Missouri, in 1860 and upon arriving, he swapped a fine team of horses and a good wagon having new bed bows and sailing cloth, for several hundred acres of land in the Ginger Ridge community. Carrenhappock Sellars died on May 4, 1890; Thomas Arrington in 1898.
Their children included Josiah Henry Dockery, born January 23, 1837; Green Lee (photo 08), born December 19, 1838;
Sarah Carrenhappock, born November 13, 1840; James Downing, born October 19, 1847; Dan Fraser (photo 09), born April 23, 1850;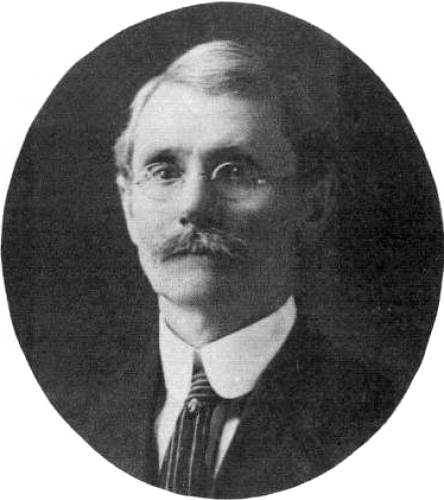 09 Daniel Fraser Tomson
Frances Hespianna or Josephine, born March 25, 1853; Amos Arrington Franklin born November 11, 1854; Jennie, born May 4, 1857; and Oliver Goldsmith born October 19, 1861, who died July 19, 1862.
John, the third child of Henry Tomson and Elizabeth Lee, was married in Tennessee, but he died soon afterward, on September4, 1834, when 22 years of age.
Fanney Avery, the fourth child and first girl, was married to Valentine Jenkins, in Tennessee. They followed Henry and Elizabeth, Fanney's parents, into Missouri, but settled in Ripley County. He served as a chaplain in the Confederate Army. He was the father of Henry Robert, born March 7, 1862; and James Lee, born May 28, 1863. Nothing more about him is known by this author; nor is much known about Joseph Coe, Milton Green, and Jackson Garrett, the 10th, 11th, and 12th children of Henry and Elizabeth, except that Joseph Coe was a lieutenant of cavalry in the State Guard under Governor Jackson, fighting for the Confederacy, and after the war, moved to the state of California; that Jackson Garrett died on September 15, 1855; and Milton Green, a composer of music, suffered mental derangement over religion when about 30 years of age, and died while a patient in the State Hospital at Fulton, Missouri.
Irene Anne, the last child of Henry and Elizabeth, came with her parents to Missouri when they first settled in Benton County, then was carried by them into Illinois, and back to Cole County, Missouri. She was married to Presley S. Riggins on October 8, 1856, and they were the parents of one son, James Henry, who was born on January 21, 1858, and died in 1870. Presley S. Riggins was the owner of more than 200 acres of land along the Little Saline Creek in Miller County. He became ill late in the summer of 1858, and although attended by Doctors A.P. Nixdorf, Bolton, Bollinger, Wells and Winston, died on November 3.
On January 24, 1860, Irene Anne was married to William Thomas Harrison. He was born on August 31, 1859, a son of a widow Milla Ann Harrison who came to Equality Township from Benton County in the 1850's. Irene Anne and William Thomas were the parents of Sarah Leona, born December 8, 1861; Joseph Richard, born February 26, 1864; Charles William, born September 11, 1866; John Jenkins, born September 27, 1863; Anna Lee, born in 1870; Cora Angeline, born June 17, 1872; and Lena Zobeda, born September 12, 1875, Irene Anne Harrison died on December 7, 1870, in the 44th year of her lifetime.
Of Irene Anne's children, only one, Cora Angeline, who married Charles Vaughan, died under 60 years of age, Sarah Leona, who married Wiliam G. Carrender, was approaching a century of living at her death in 1961. Joseph Richard lived almost 77 years; Charles William, 87 years; John Jenkins, 97 years; Anna Lee, 97 years; and Lena Zobeda, who married Marvin Slote, is still living, approaching her 97th birthday on September 12, 1972. She is the only living grandchild of Henry Tomson and Elizabeth Lee (photo 10).
Mention will now be made of some of the descendants of Henry Tomson and Elizabeth Lee, especially the descendants of Thomas Arrington Tomson and Carrenhappock Sellars. Josiah Henry Dockery, their eldest child, was a prominent preacher of the Church of Christ, and held many meetings in central Missouri where early churches of that faith were established. He was a composer of music, especially sacred songs. He published the Gospel Proclamation, a religious monthly, at Tuscumbia, with James Pinkney Wright (photo 11) in the 1870's.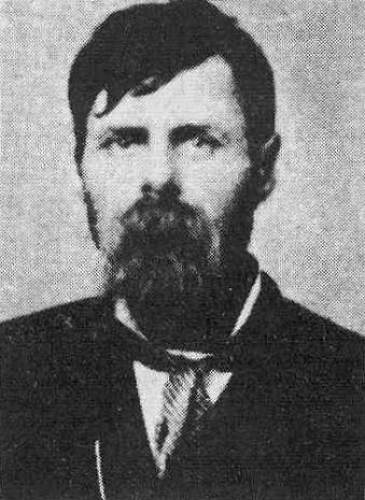 11 James Pinkney Wright
In January, 1879, they changed the name of the religious tabloid to Good Tidings, in order to better spread the "good tidings of Campbellism as hatched out in the backwoods of West Virginia." In February, 1880, they commenced The Miller County Vindicator, a weekly newspaper, published at Tuscumbia, which lasted for seven years, although Josiah H.D. sold his interest in the paper to his partner, and cousin, James Pinkney Wright, in January 1883. During the Civil War, Josiah H.D. was a guard at the Missouri State Penitentiary in Jefferson City. He was married to Mary Anna Rainey, a native of Tennessee, born September 11, 1838; died May 22, 1908. They were the parents of three children, James Franklin (photo 12) born October 23, 1856; William Thomas (photo 13), born August 22, 1859; and Nancy Joann (photo 14).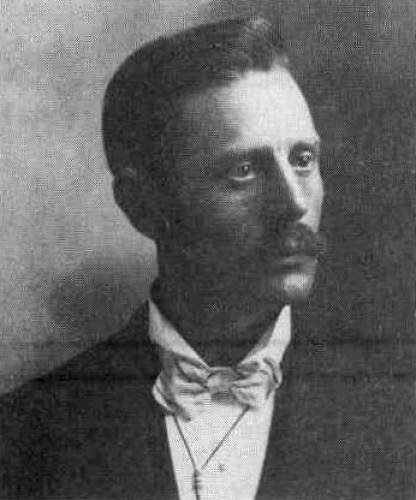 13 William Thomas Tomson
14 Nancy Joann Tomson Belshe and Family
---
Thanks Clyde.
You can read more about the Thompson/Tomson family on a previous Progress Notes.
Now that Clyde has carried the Thomson/Tomson genealogy down to the subject of this week's narrative, William Thomas, son of Josiah Tomson, I will present some of the information about him researched by Mary Roberts.
Mary wrote us a letter about William Thomas Tomson stating that he was very gifted in music, composing and playing instruments. He spent his early life in Miller County but died in Marietta, Ohio in 1910 after an infection following an appendectomy. Mary has in her records a memoriam dedicated to William Thomas which came from the library of Daniel Frazer Tomson, an uncle of Williams'. It was printed in a journal named the "Christian Leader and the Way" of unknown year. Quite possibly it was written by William's father, Josiah, based on other content of the article. However, we don't have all the pages of the article so authorship of some of it is unclear. But I do believe it was written by Josiah because of the nature of the writer's obvious grief and questioning regarding the circumstances of death:
In Memoriam
William Thomas Tomson, son of Elder J.H.D. Tomson and Anna E. his wife, died suddenly at Washington Hospital, Marietta, Ohio, under the care of Dr. Cunningham, who drugged him and operated on him for appendicitis, and, finding nothing the matter with his appendix, claims that an abscess in his stomach had broken, making a hole through his stomach as large as the end of his finger, through which pus and other poison had oozed into his body to the amount of a half gallon or more; and, had he been with him when he was first taken, knowing what his illness was, that he nor any other doctor or surgeon could have saved his life. He holds that his bowels were inflamed until they were of a red or pink color, and that the lining of the stomach and the bowels were in a condition of peritonitis, and for these reasons there was no hope for his life from the time the abscess broke. This seems very strange to me, and others, who were recently informed by himself of his good health. Does it not seem strange that he would write me on the 12th of October of his good health, that that abscess would kill him in less that two days after?
How could a man with a half gallon or more of pus and other poison in his stomach enjoy health? Such an idea seems very unreasonable and hard for me and others to believe, that a man could carry all that in his stomach and enjoy good health up to twenty four hours before it broke through the stomach and emptied itself into his body, causing peritonitis, which caused his death within the twenty four hours from the time his suffering began. If the drug and knife had not been used, the story from the hospital would be more reasonable. He worked all the day before his death at the annual fair at that city.
He was born in 1859 and died in 1910, making him 51 years old at the time of his death. From early childhood he had great taste for music, both vocal and instrumental and applied himself to the study of that science and art, with his other studies, but never neglected his music. He was professor of music in Orange College, Stark, Florida in 1887, where he lost his wife, Annie May (nee Bishop), and himself barely escaped death. He never married again, but devoted about nine years in succession as principal of the Academy of Music at Arcola, Illinois that he, in connection with Professor F.A. Wagner, of Potsdam, Prussia, established in 1888, Wagner remaining with him about one year. He was superintendent of the schools of the city also for some time, always giving satisfaction in reference to whatsoever he did.
He traveled and taught a while, then engaged to sell organs and pianos for the Stevens Organ and Piano Company, and afterward became their salesman and manager in their store, where he had labored about twelve years up to the time of his death, always giving entire satisfaction to both employers and customers. Always the same congenial gentleman, ready to accommodate and wait on all calling on him, and give his advice and judgement when asked by anyone wishing it, about anything pertaining to music, instruments, etc.
He is the author of several of the hymns and tunes, and of the most of the harmony, of the new compositions in the Gospel Melodies; but of late years he did not compose nor teach much. He and Brother Bosworth, of the Christian Publishing Company, had intended publishing a book of anthems, but Brother Bosworth died before the intended book was prepared.
Note: the following poem was written in tribute to William by his father, Josiah Tomson, copied from the same source as the memoriam written above:
The Spot Where Tommie Lies
Dear is the spot where Tommie sleeps
And sweet the strains which angels pour;
Oh, why should we in anguish weep?
He is not lost, but gone before.
We'll plant a rose upon the spot,
For Tommie dear is not forgot;
The weeping willow, too, shall wave
And drop a tear on Tommie's grave!
The blooming roses cheer the heart,
And thoughts of meeting ne'er to part
Revive the drooping spirits now,
So to our fate let's humbly bow.
The day will come when we shall meet,
And all our loved ones we shall greet,
And join with them to praise the Lord,
If we prove faithful to his word.
Note: The next paragraph, also written by Josiah, followed the poem he composed above:
Most of the foregoing short sketch of the life and death of my dear, beloved son was written shortly after his death, but sickness and other things have delayed its publication until now. The memories of thousands who were acquainted with him and knew him from childhood up to the time of death will enable them to say, "He was a good boy and a good man."
J.H.D. Tomson
My interest in the story of William Thomas Tomson was heightened when I came across the above memoriam dedicated to him by Josiah, his father, because Josiah obviously was quite distressed by the medical treatment offered his son by the attending surgeon. In particular, as noted by Josiah in the above narrative, the history of only two days symptoms and the finding at surgery of an abscess harboring a "half gallon of pus," which is a huge quantity to be sure, seems incompatible. Also, gastric abscesses are very rare. I researched the subject and found a website to refer those who are interested in learning more about gastric abscesses:
http://www.clinicaladvances.com/article_pdfs/gh-article-200809-khan.pdf
This website has some interesting endoscopic photographs of a gastric abscess as well as CT scan images of one as well. In summary the authors wrote the following:
"Gastric abscess was first described in the time of Galen (AD 150) as an erysipelas tumor of the stomach. A review of English language publications since 1972 identified only 18 reported cases of intramural gastric abscess. Normally, the stomach harbors low numbers of bacteria due to its highly acidic contents. Because of this semi sterile environment, gastric wall abscesses are very rare."
Apparently, William Thomas Tomson was the victim of an extremely rare infection of the stomach which caused his very rapid demise.
---
Last week I got a call from Mike Patterson of Ulman that he had some large wall portraits to donate to the museum of some of his ancestors. I was really excited to receive his call because Mike's great great grandfather was Anton Paul Nixdorf M.D., one of Miller County's most well known physicians of the past. Therefore, I was hoping that Mike possibly was intending to donate a portrait of Anton since we didn't have one at the museum. So I asked Mike to come right on over to the museum which he did and not only did he have a great portrait in the original frame of Anton but also of one of Camilla, Anton's daughter, who had married Will Patterson, Mike's great grandfather. Following the lineage further was Jim Patterson, son of Will, who was Mike's grandfather, and Jim's son Wendell (Wendy), Mike's father. Here are photos of Anton and Camilla taken out of the frames (photos 15 and 16).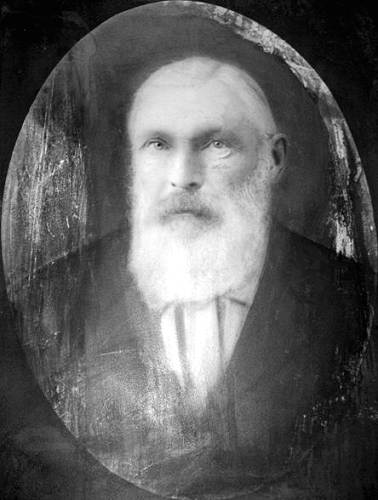 15 Dr. Anton Paul Nixdorf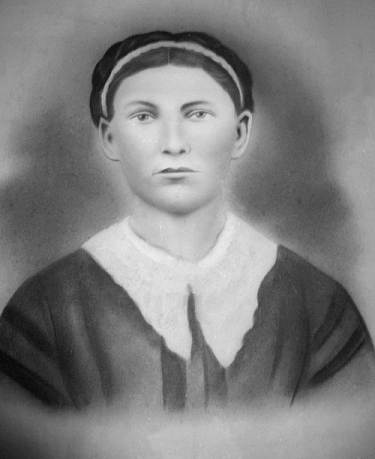 16 Camilla Nixdorf Patterson
Mike also brought a portrait of his grandfather, Jim Patterson, pictured in this next photo out of the frame (photo 17).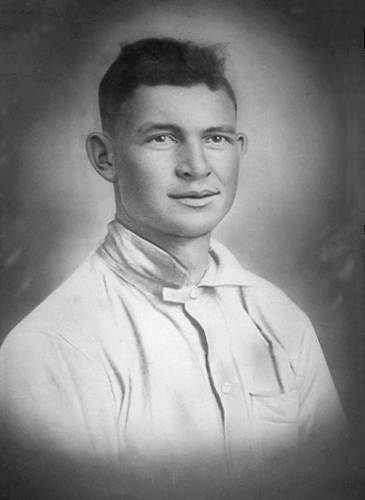 17 James Patterson
We were very eager to place the portraits in their frames on our museum Wall of Patriarchs and did so immediately after Mike left which you can view in this next photo (photo 18).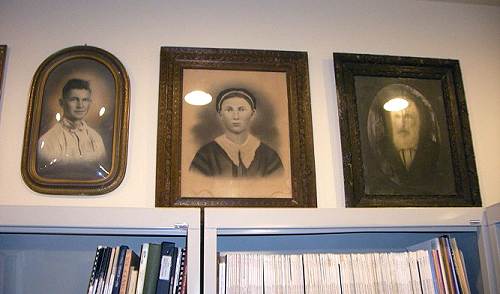 18 Wall of Patriarchs
We already have on our website a long article about Dr. Anton P. Nixdorf which you can read on a previous edition of Progress Notes.
In addition we also have a detailed article written by Peggy Hake describing Camilla's life.
Jim Patterson, Mike's grandfather, was quite a baseball player about whom I wrote on a previous Progress Notes.
I will copy here what I wrote about Jim:
Joe Kallenbach, who played baseball for Tuscumbia in the early 1900's, mentioned in his biography a pitcher from the Ulman area who could pitch so fast he didn't need a curve ball and whose team beat Tuscumbia 13 to 1. But Joe failed to give his name. I did some research and a number of people told me that in those days the fastest pitcher anywhere around was Jim Patterson of Ulman. I believe that Jim has to be the one to whom Joe was referring. According to Buster McGowin, former school administrator at School of the Osage and well known sports enthusiast who has lived in the Ulman area since 1957, Jim Patterson, according to all the old-timers to whom Buster talked, could throw a ball so hard that Ulman had to send out for a catcher who could handle his fast ball. Buster said that Jim was offered a try out by the professionals but he had no way of making the trip to the city as he had no car. That wasn't unusual in those days. My wife's grandfather, Willard Boyd, who also lived on a farm near Ulman, never drove or owned a car in his lifetime either. Willard also was on the Ulman team. Jim Patterson was the father of a classmate of mine at Tuscumbia, Carolyn Patterson, who married my cousin Max Pryor. I called her and asked her to send me a photo of her father (photo 19).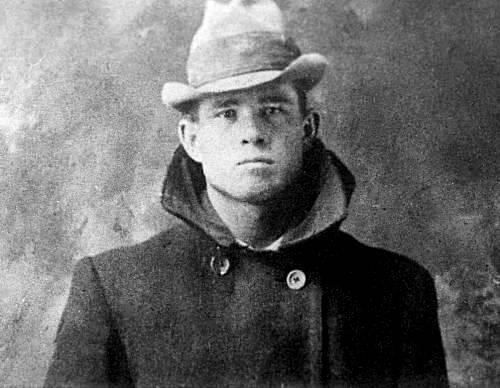 19 Jim Patterson
Carolyn offered this short biographical summary of her father, Jim Patterson:
James Willard Patterson was born at the home in Ulman, Mo. that his parents had homesteaded on November 20, 1890 and died February 7, 1983 at the age of 93 years old.
Ruth Elizabeth Graves Patterson was born Nov. 27, 1898 and died June 13, 1981 at the age of 83 years old.
They were married across the river from Bagnell, Mo, where the Mack Brown Lake was located on D road, on July 20, 1920. We had a large family of eleven children, in order, Babe Ruth (which explains dad's love for baseball), Elsie May, James Alfred, Bobbie Dean, Warren Quentin, William Wendell, Donald David, Maurice Lane, Marvin Lynn, Harold Allen and then me Carolyn Ann.
Everyone always teased him that he had enough boys for a ball team and two bat girls.
---
Mike Patterson presently owns and operates a car detail company in Ulman. Many of the classic car exhibitors in the area send their cars to Mike to prepare for the various car shows they attend. Here is a photo of Mike I took the other day at work rehabilitating an old Farmall tractor for one of his customers (photo 20).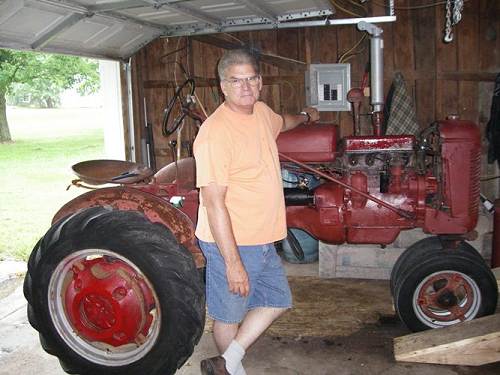 20 Mike Patterson
On the wall of his work shop are photos of classic cars he has detailed for many of his clients in the area (photo 21).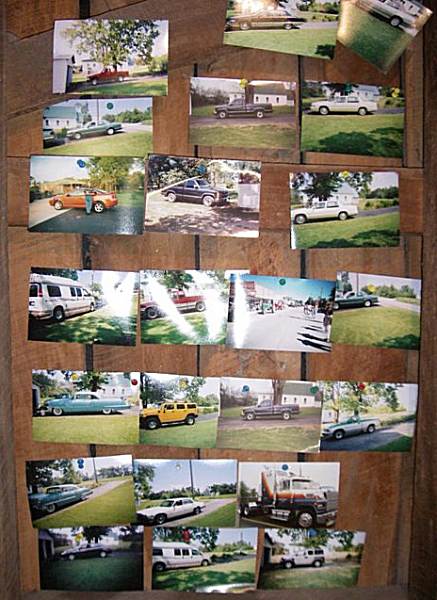 21 Cars detailed by Mike
If you want to have a first class detail job for your car which will withstand the rigors of a car inspection at a classic car show, give Mike a call at this number: 573 369 3341.
---
A year or so ago I was scanning some old family photographs saved by my 92 year old Uncle David Bear, who is my mother's brother. The Bear family came to Miller County in 1857 from Ohio and bought land in the Dog Creek area south of the Osage River. As I was going through David's box of old photos I found a couple of old documents recording the acquisition of land under the "Land Grant Act of 24th of April 1820." One of the acquisitions was by John Abbet and the other by Sayles Brown, both of whom had been the original homesteaders (photos 22 and 23).
These parcels of land were purchased by the Bear family from the original owners sometime after the Bears arrived in Miller County in 1857, according to my Uncle David, and for that reason these documents were transferred to the Bear family. Since the documents are dated in the year 1859 I am not sure when the purchases were made. It is unclear at this time if George Bear, the father, had made all the purchases or if his older sons also purchased some of the land, since the plat map of 1905 lists some of the sons as owners. Uncle David said that most likely George Bear bought the property initially and then sold parcels to his sons as they grew older. In addition, although unlikely, the possibility exists that some of the Bear family property was homesteaded but no document has been saved proving that as far as I know.
Since they are somewhat difficult to read, I will first copy the legal description of each of the grants and then following I will copy the relevant plat map 1905 including close-ups.
This plat map is the oldest I could find, so it is not going to show some of the owners of 1859, the year these documents were dated. Also, in the intervening years, the Bear family acquired more adjacent property so you will see more Bear properties on the maps than the homestead documents describe.
John Abbet Homestead
"The south half of lot numbered two of the south west quarter of section six, in township forty of range thirteen, the north east quarter of the south east quarter of section twelve, and the south east quarter of the south east quarter of section one in township forty range fourteen in the district of lands formerly subject to sale at Clinton now Warsaw, Missouri containing one hundred nineteen acres and sixty seven hundredths of one acre."
Plat Map T40N R13W (photo 24)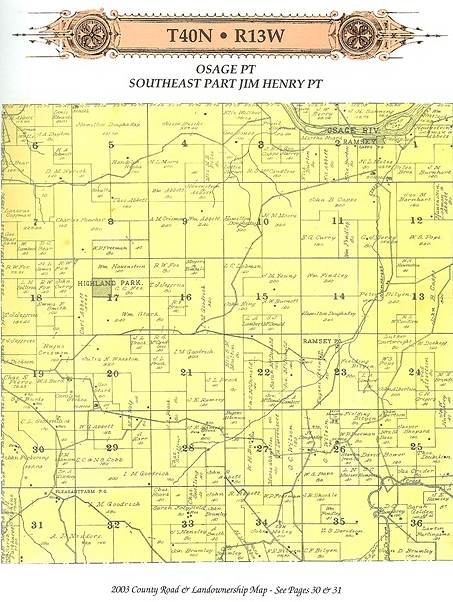 24 T40N-R13W
Section 6 close-up (photo 25)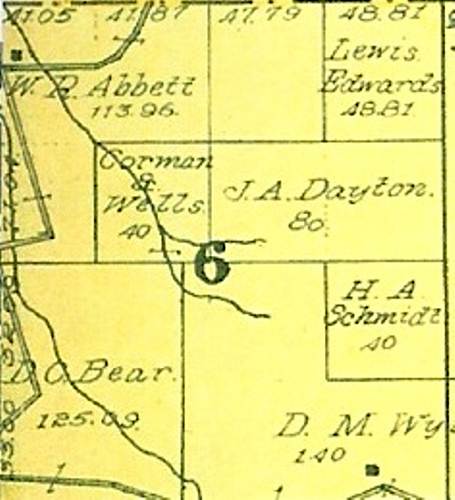 25 T40N-R13W - Section 6
Plat Map T40N R 14W (photo 26)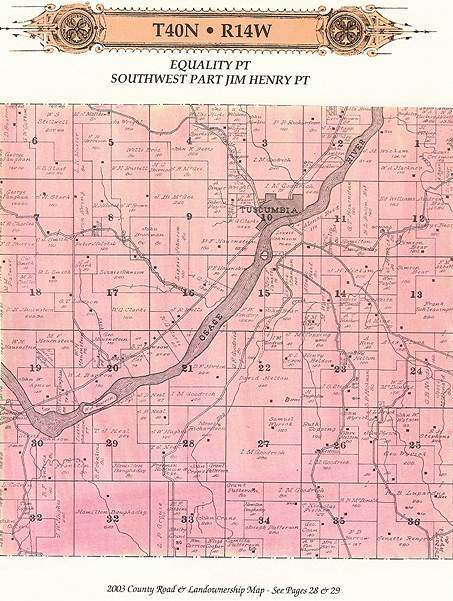 26 T40N-R14W
Sections 1 and 12 (photo 27)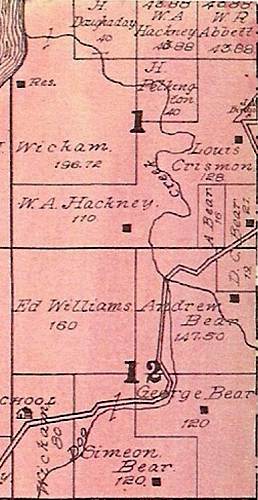 27 T40N-R14W - Sections 1 and 12
Sales Brown Homestead
The northwest quarter of the northeast quarter of section twelve in township forty of range fourteen in the district of lands subject to sale at Warsaw, Missouri containing forty acres (see photos 26 and 27).
I want to thank David Statler, our website manager, for integrating the photos of the old Land Grant documents since they were so large they had to be scanned in two sections each.
For more information about the Homestead Act I have copied the following from the Wikipedia website:
The Homestead Act was a United States Federal law that gave an applicant freehold title to 160-640 acres (1/4-1 section or about 65-259 hectares) of undeveloped land outside of the original 13 colonies. The new law required three steps: file an application, improve the land, and file for deed of title. Anyone who had never taken up arms against the U.S. Government, including freed slaves, could file an application and improvements to a local land office. The Act was signed into law by President Abraham Lincoln on May 20, 1862.
Eventually 1.6 million homesteads were granted and 270,000,000 acres (420,000 sq mi) were privatized between 1862 and 1986, a total of 10% of all lands in the United States.
The Homestead Act was intended to liberalize the homesteading requirements of the Preemption Act of 1841. The "yeoman farmer" ideal was powerful in American political history, and plans for expanding their numbers through a homestead act were rooted in the 1850s. The South resisted, fearing the increase in free farmers would threaten plantation slavery. Two men stood out as greatly responsible for the passage of the Homestead Act: George Henry Evans and Horace Greeley. The agitation for free land became evident in 1844, when several bills were introduced unsuccessfully in Congress. After the South seceded and their delegations left Congress in 1861, the path was clear of obstacles, and the act was passed.
The Enlarged Homestead Act of 1909 gave 320 acres (1.3 km2) to farmers who accepted more marginal lands which could not be irrigated. A massive influx of new farmers eventually led to massive land erosion and the Dust Bowl of the 1930s.
The Federal Land Policy and Management Act of 1976 ended homesteading; the government believed that the best use of public lands was for them to remain in government control. The only exception to this new policy was in Alaska, for which the law allowed homesteading until 1986.
The last claim under this Act was made by Ken Deardorff for 80 acres (32 hectares) of land on the Stony River in southwestern Alaska. He fulfilled all requirements of the Homestead Act in 1979, but he did not actually receive his deed until May 1988. Therefore, he is the last person to receive the title to land claimed under the provisions of the Homestead Act.
---
I am not sure which John Abbet is the one who owned the other tract of land mentioned above as one of the recipients of the Land Grant document since more than one John Abbet can be found in genealogical lists. I do have an interest in working out the Abbet (also Abbett and Abbott) line since my grandmother Bear's maiden name was Abbett.
However, Sayles Brown, the other owner from which the Bear family purchased property, was a very important figure in Miller County history. Peggy Hake has written a very interesting biography of him for our website which I copy here:
THE BROWN FAMILY
Sayles Brown was born in Rhode Island on October 3, 1822 and came to Miller County, MO about 1858/59. He and his first wife, Sarah M. (Gerard) Brown (b. 2 Jan 1831 Ohio and died 27 Dec 1870 in Miller County), were enumerated in the 1860 Miller County census living in Equality township. In their home were two young children: Arthur Brown age 3 and Roselia Brown age 8 months. They lived near the families of Bear, Curry, Barton, Jones, Abbott , Allen, Wyrick, and Birdsong. I think this was south of the Osage River a few miles from present day Tuscumbia.
In 1870, Sayles and Sarah were living in Jim Henry Township, north of the Osage River, in what is known today as the Saline creek valley. They had become parents of several more children including: Eliza b. 1861, Frederick N. born 1864. In 1870, Cassius C. was born but died in 1872.
The following is a list for the marriages of Sayles and Sarah's children:
1. Arthur LeRoy Brown 1856-1936 m. Mary E. Crane 1882
2. Rosella A. Brown 1859-1942 m. James Bond 1880
3. Eliza Brown 1862- m. Daniel G.Pitchford 1881
4. Frederick N. Brown 1865-1899 m. Dorinda/Doshia Shikles 1893
5. Cassius C. Brown 1870-1872
According to marriage records in Miller County, Sayles Brown married again on 23 Nov 1871 to Mary Pierce, the marriage performed by Thomas Thompson, justice of the peace. Mary Pierce Brown was born 15 Feb 1847 in Corinth, Mississippi. When I looked for the death or burial place of his wife, Sarah, I found her buried at Spring Garden Cemetery, Saline Township, and her death date (according to the written inventory records) was 2 Dec 1876. Actually she died in 1870 per a descendant, Harley Brown of Northglenn, Colorado.
In the 1880 Miller County census, Sayles and his second wife, Mary Pierce, were living in Saline township and they had became parents of three children:
1. Elisha F. Brown b. 1873 m.Annie E. Cotten 1894
2. Clara B. Brown b. 1876 m. no record found
3. Julia A. Brown b. 1879 m. no record found
4. O.S. Brown b. 1885 m. no record found
- he was living in Denver when his mother died.
NOTE: The child listed as O.S. Brown was a son born 6 Nov 1885 who was their 5th child. (This info was found in a book of births & deaths in the Miller Co. courthouse (1883-1891)...according to the book, he was their 5th child. No record has been found for another child born before O.S. but there is a lapse of time between the births of Julia and O.S. of about 6 years.
I believe Mary Pierce, 2nd wife of Sayles Brown, was a daughter of Daniel Pierce, born in the state of Mississippi, who came to the Miller County after the Civil War. I do not know the identity of her mother, but she did have a stepmother, also named Mary Pierce who was only about 6 years older than Mary Pierce Brown.
Sayles Brown played an important role in Miller County during the Civil War. He was from the northern state of Rhode Island, so naturally favored the Union. When war first broke out in Missouri, he became known as Captain Sayles Brown of the 42nd and 47th Enrolled Missouri Militia in Miller County. His fellow Captains included William and James Long of Iberia, Thomas J. Babcoke of Pleasant Mount, and Andrew Jackson Green of Cole County.
In 1861, Sayles Brown was one of the securities on a $10,000 bond for Sheriff Thomas Thompson. Both were strong Union men in their beliefs...In June 1864, Provisional Companies were formed in Miller County and Capt. Sayles Brown was given the district around the county seat at Tuscumbia. He was ordered to maintain order in the county during the worst part of the Civil War. He and his company of 100 men defended the courthouse against a threat from Price's Confederate army which was making plans to make an assault in the area. It was also Capt. Sayles Brown and 50 of his men (half of his company) who escorted Count Clerk Isaac M. Goodrich to Jefferson City where he carried the county's official records and placed from there for safekeeping.
In the mid 1880s, Capt. Sayles Brown operated a hotel at the new resort town of Aurora Springs in Saline Township. It was in existence for only a short while because, according to family records, the hotel/boarding house burned about a year before Sayles' death in 1889. The resort town had its popularity for only a few years. When the railroad bypassed Aurora Springs and was built a couple of miles north, then Aurora Springs began its demise and Eldon became the new hub of activity for Saline Township.
"Captain Sales/Sayles Brown Mustered Out" was the headlines of his death notice! He died on Thursday evening, May 9, 1889 at his home in West Aurora, Miller County, MO. He died in his 66th year. Per his obituary, printed in the Aurora Springs Democrat, he was once a member of the U.S. Navy for 4 years; cruised at the mouth of the Congo River on the western coast of Africa and then he went to the west coast of Mexico in 1846 when war was declared between America and Mexico...Capt. Brown left the Naval service and joined General Fremont, returning to the states after the Mexican War. Later he served in the Civil War being a staunch Union man, organizing and commanding a company of Enrolled Missouri Militia.
When he died in May 1889, he left a widow (2nd wife of Mary Pierce) and nine children. Since his obituary does not mention the place of his burial, no one knows exactly where he is buried. Some of his descendants think he could be at Gageville Cemetery in Saline Township. His first wife, Sarah Gerard, is buried at Spring Garden Cemetery with their young son, Cassius, buried beside her. Second wife, Mary Pierce Brown, many years younger than Sayles, is buried at Eldon Cemetery under the name Mary Blood, as she remarried after Sayles' death. She died at the age of 85 years on 7 March 1932.
NOTE: Sayles could be buried at Spring Garden Cemetery with first wife, Sarah, and their son, Cassius...or he could be at Eldon Cemetery...or Gageville Cemetery which was located not far from where his son, Arthur Brown, and his family lived. He may be in an unmarked grave at one of these cemeteries and his burial spot is known only to God.
I have a BROWN/LONG line I am actively pursuing that of Calloway H. Brown b. circa 1849-1851 to the parents of James BROWN and Paulina SULLIVAN/BROWN. He married Martha L. Long in Miller County MO. 1874.
---
Thanks Peggy.
The Bear family also significantly was involved in the Civil War as was Sayles Brown. You can read more about the Bear family in the Biography section of our website and also on a previous edition of Progress Notes.
A special exhibit which features photographs of all the six Bear brothers who fought in the Civil War is located in the southwest area of the museum main level (photos 28 and 29).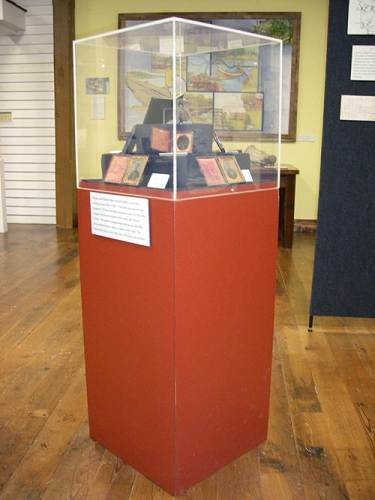 28 Bear Family Display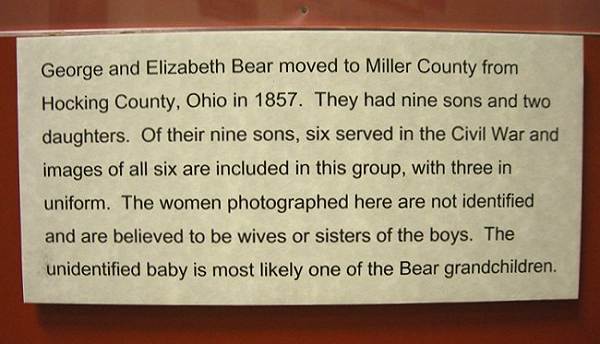 29 Caption for Bear Family Display
---
Last Saturday we enjoyed a very well attended ice cream social which was attended by a representative cross section of Miller Countians from north to south. The ice cream was accompanied by a large selection of homemade cookies (photo 30).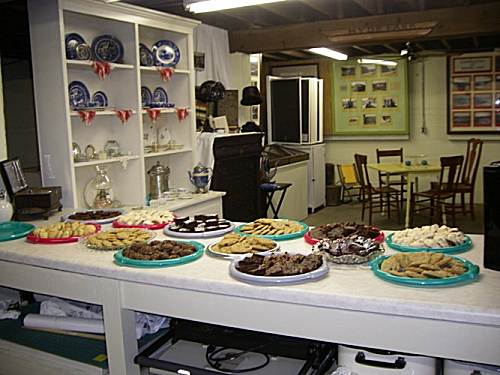 30 Cookie Bar
All the preparations were made by board members of the Miller County Historical Society. We were especially delighted by the visit of David Statler and his family of Jefferson City (photo 31).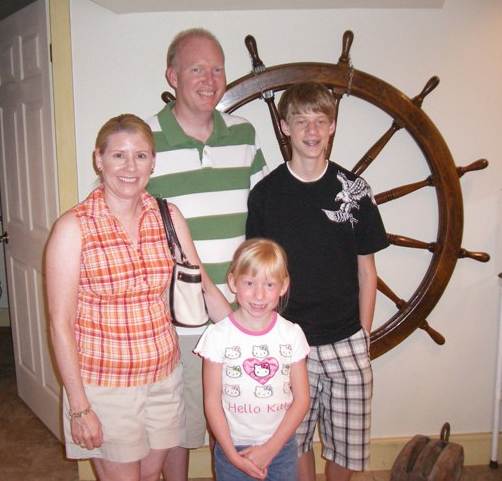 31 Tricia, David, Lauren and Jared Statler
David is the one who organizes the layout of the Progress Notes page of our website.
Others attending included G.R. Keeth of Iberia and Donald and Alisa Steen of Eldon (photo 32).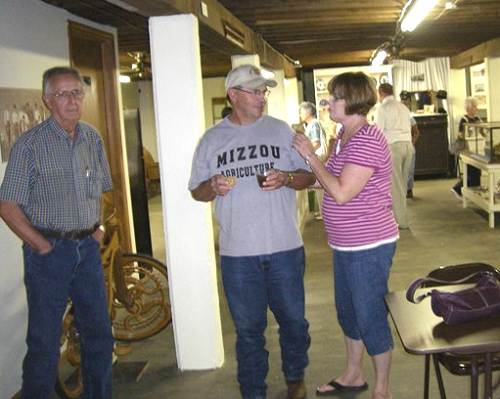 32 G.R. Keeth, Donald and Alisa Steen
The person traveling the farthest probably was Nina Strange who drove here from Colorado. She was visiting her Aunt and Uncle, Ruby and Gary Tucker of Eldon (photo 33).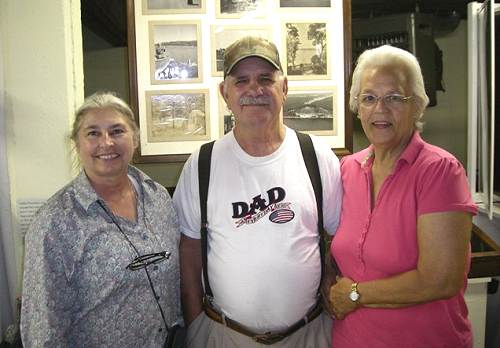 33 Nina Strange, Gary and Ruby Tucker
Nina is the granddaughter of Charles Williams of Tuscumbia, who passed away quite few years ago. He was commonly known around Tuscumbia as "Catfish" and his brother, Nina's great uncle, was named Willard Williams but commonly was known as "Friday". Many Tuscumbians who lived here forty years ago or so will remember them.
The highlight of the day was the wonderful music provided by Joe Jeffries and his group, featuring Amber Jeffries, Joe's granddaughter on the fiddle (photo 34).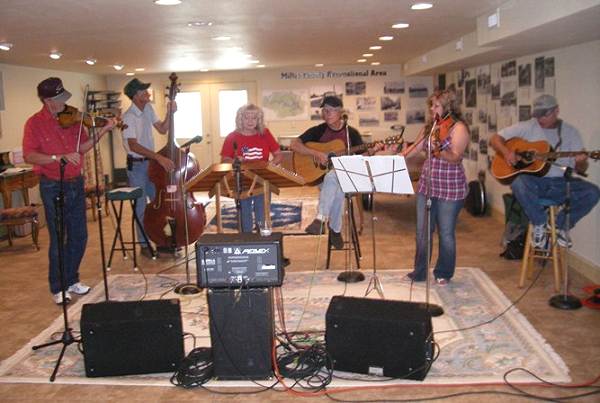 34 Joe Jeffries Group
All the seats remained filled as long as Joe's group stayed and played for us. We very much appreciate his willingness to entertain our guests at Museum events.
That's all for this week.
Joe Pryor