Monday, July 20, 2009
Progress Notes
The day of our quilt show, Saturday June 27, one of the couples I photographed was Betty and Kleo Robertson of Iberia. Betty had brought an old quilt made by her grandmother Laura Ferguson Martin (photo 01).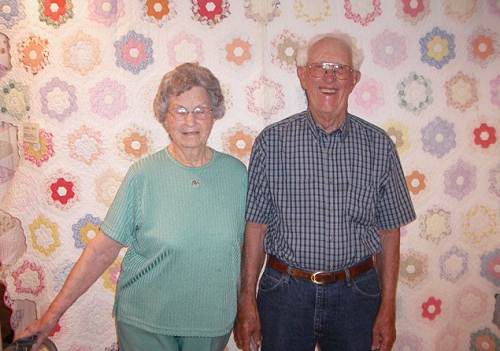 01 Betty and Kleo Robertson
I had such an interesting conversation with Kleo that day that I eagerly accepted his invitation to come to Iberia and let him give me a tour of his home farm as well as many of the numerous and interesting historical artifacts of Miller County he has collected over the years. Kleo's family history is interesting and I will begin with a short synopsis of that:
Kleo's great grand parents, James and Sarah Robertson, came to Miller County from the Hannibal area shortly after the Civil War. In this photo Sarah is looking down because by that time for some unknown reason she had become blind (photo 02).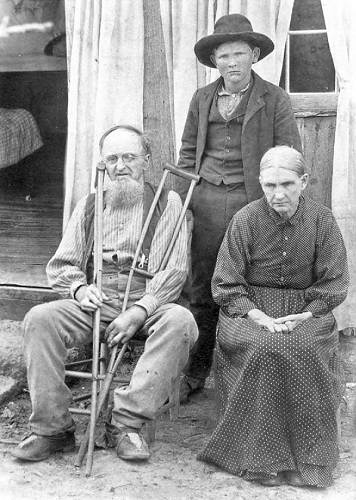 02 James and Sarah Robertson with son Jess
With them came a number of children walking and riding on a wagon pulled by a team of mules. The reason for coming south was to get away from the lowlands along the Mississippi where their original farm was located due to the frequent flooding. James had said he was looking for "ridge land" that never flooded. When the family reached the hill country of central Missouri they knew they didn't want a farm along a stream, so they chose to stop and look around the south east Miller/Maries County area ridge land. Kleo says that the family arrived when snow was on the ground and the farm which they were thinking about buying had numerous dark looking lumps sticking out above the snow line. The owner explained that the dark looking lumps were tree stumps from a previous clearing of the field. James liked the way the land lay so he purchased the farm which was located just over the line in Maries County. When the snow melted, however, what James discovered was that those lumps sticking out above the snow level weren't stumps but were rocks! So James had gotten what he thought he had wanted; that is, land that wouldn't flood…true ridge land. But he hadn't counted on the work involved with not just clearing timber but with clearing fields of rocks. He soon learned why Iberia was sometimes called "Rock Town!"
James and Sarah eventually had thirteen children. Here is a copy of family data written many years ago by James (photo 03).
Kleo's grandfather, Risden, son of James, bought a farm nearby in Miller County and built a house near a large spring which ran into a nearby creek. Here is a photo of Risden, his wife Lily and their children, Elvis Roselle, Mable Geraldine, Aubrie Gail, James Pleasant and Kenneth Kleo (photo 04).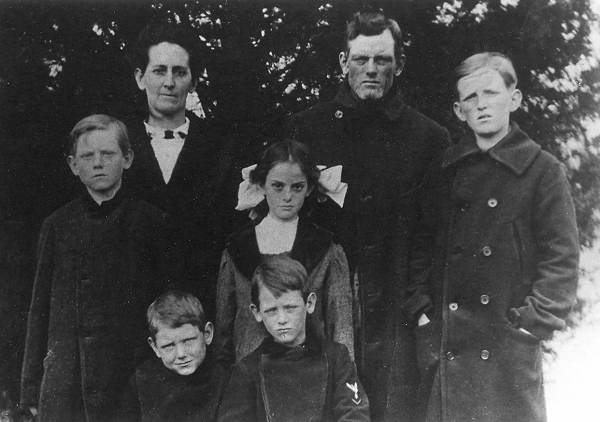 04 Lily and Risden, Elvis, Mable, Aubrie, James and Kenneth Robertson
Aubrie, son of Risden, named his son after his brother, Kenneth Kleo. So the Kleo of whom I am writing this week is the grandson of Risden and son of Aubrie. No one knows for sure where the name Kleo came from in the family but Kleo told me he hadn't really appreciated very much having been given the middle name of his uncle Kenneth Kleo! He said he always had to spend so much time trying to explain about his name!
Here is another photo of Risden's five childen with their horse Kate and dog, Carlos (photo 05):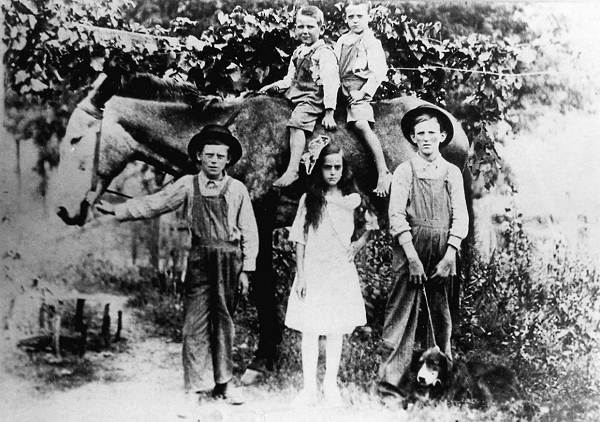 05 Old Kate, James, Kenneth, Elvis, Mabel, Aubrie and dog Carlos
In later years, perhaps because of creek risings, Risden laboriously moved the house he had built near the spring further up the hill pulling it inches at a time with horses by rolling it over logs on the ground. In this house was raised Kleo's father, Aubrie. Here is a photo of Aubrie on his horse in front of the house which was thought to have been built in the Civil War era (photo 06):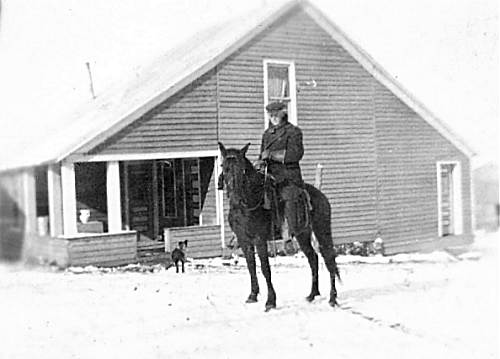 06 Aubrie on Horse - House built in Civil War Era
In later years, during the 1990's Kleo and local carpenter, Eugene Prater, remodeled the home. It is this farm which in 2001 was awarded by the State of Missouri its Century Farm designation (photo 07).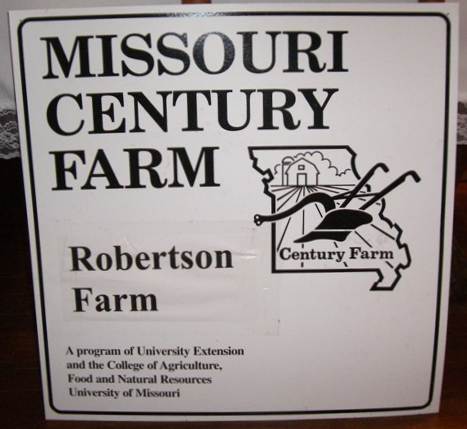 07 Century Farm - 1901
Aubrie married Emma Burnham and moved to a farm he bought nearby from Will Shelton where he and Emma raised their family. It was here that Kleo and Lucille, his sister, were born and raised. Lucille married Paul Steen, who was a brother of my father in law, Holmes Steen. Kleo married Betty Heltzel, granddaughter of Selby Heltzell, about whom I had written earlier this year in my Progress Notes.
The Will Shelton home was quite elaborate for its day and area being larger than usual and having an upstairs porch. Here is a painting depicting the home when it was still being maintained and inhabited (photo 08).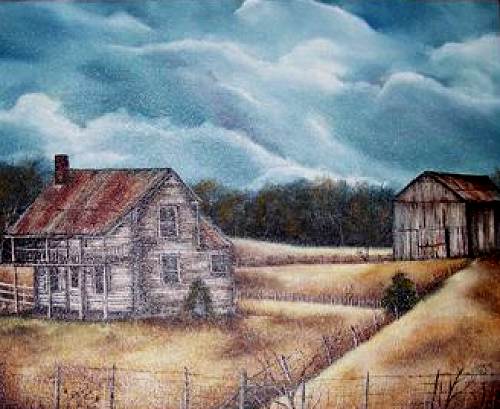 08 Aubrie Robertson Home
Later as the home aged it no longer was inhabited. Here is one of the last photos of it (photo 09).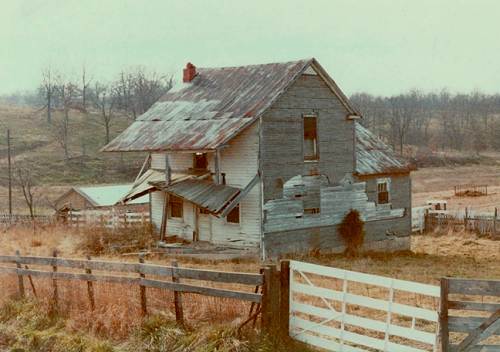 09 Shelton Robertson Home where Kleo was Born
Growing up in this wooded area Kleo loved to hunt and trap. Here is a photo of a number of trapping tags he attached to the skins which he sent to markets in St. Louis (photo 10).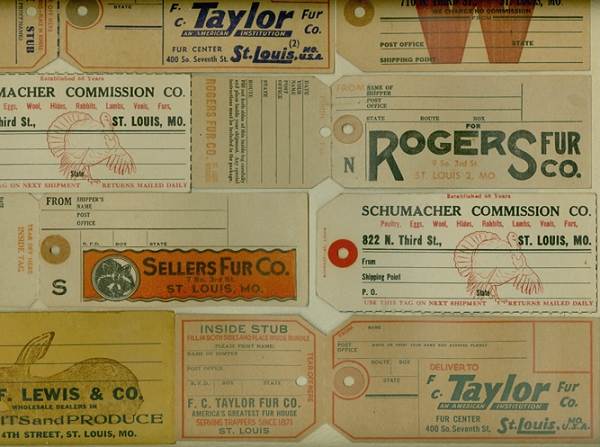 10 Trapping Tags
Kleo said that in that day, all you had to do was put the tag on and wrap the skin and the post office would send it on. Kleo also liked to hunt turkey, quail, and rabbits. Here is a photo of some of the old guns he used when young (photo 11).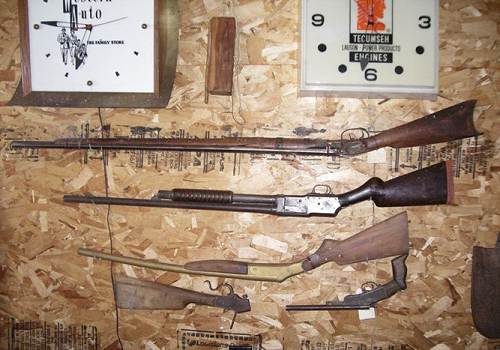 11 Old Guns
The top gun in the photo was bought from Oval Crane of Ulman who said his grandfather had also used it. Here is a handmade turkey call used by Kleo when he was a boy (photo 12):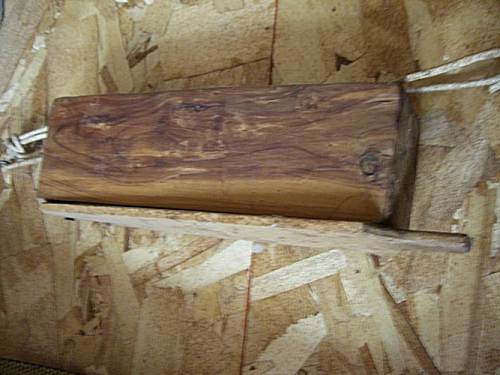 12 Box Call
Fox hunting was not one of Kleo's favorite sports. He remembers one night his grandfather Risden took him fox hunting. Kleo asked if he could bring his shotgun in case they came upon some quail. That was ok if he didn't shoot the fox, Risden said. Later on by the fire the men were listening to the dogs chase the fox and Kleo was bored. Then he heard a rustling by the fence and saw the fox stealthily creeping low to the ground. Kleo couldn't resist…he shot the fox with his twelve gauge whereupon he might have gotten into a lot of trouble if the older fellows had found the carcass since that would have meant the end of the hunt and chase for the night. They couldn't find the fox but neither did the dogs since they had lost the trail. But suspicious as they were Kleo wasn't invited again to spend the night around the fire listening to the hounds.
Kleo went to the White school as did his father Aubrie (photo 13).
Both of them walked through the woods to the school. Kleo has maintained the path both he and his father walked along to the school house. He could have gone to Vienna for high school since his home was near the Maries County line, but he chose Iberia and is glad he did or he wouldn't have met Betty Heltzell whom he married. Kleo was on the basketball team at Iberia (photo 14) and after being graduated attended one year at the Iberia Academy.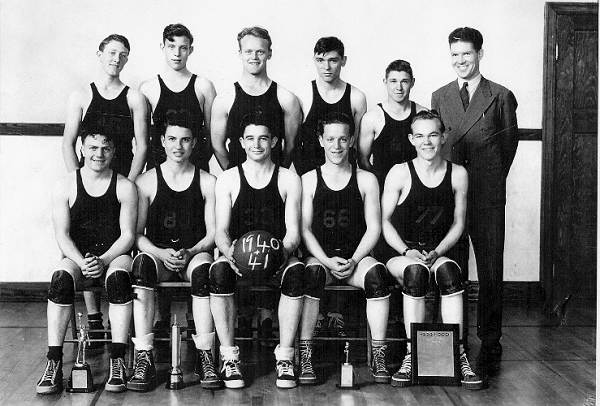 14 Basketball Team - Kleo Back Row Left - 1940/41
His father, Aubrie wanted Kleo to study medicine but his heart really was in his home land and the profession of farming. Shortly after attending the Academy he and Betty married (photo 15).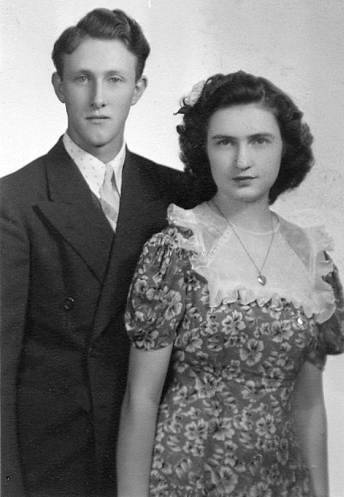 15 Kleo and Betty Wedding Photo - 1942
About 1947 Aubrie was thinking about building a new home but after considering the cost decided instead to start a business in Iberia, the Western Auto Store, which he operated until 1980 when he passed away. Here is a photo of Aubrie and Emma in later years (photo 16).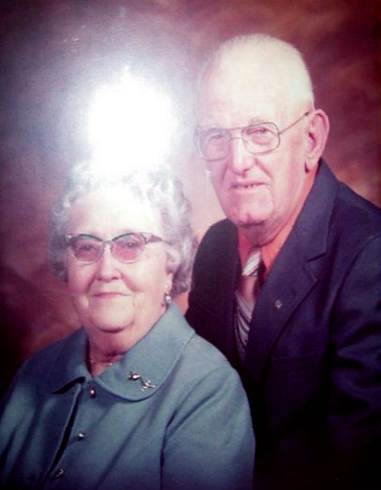 16 Aubrie and Emma
In 1951 Kleo decided to start a farm implement and repair business which he located next to the Western Auto Store. Kleo operated this business until 1990. He has kept the building, however, and stored quite a number of old vintage farm tractors which he has restored. These old tractors and other antique farm equipment can be seen through the large picture windows of the old implement store which is located along the east side of Highway 17 going south out of Iberia, next to the old Western Auto Store (photos 17, 18 and 19).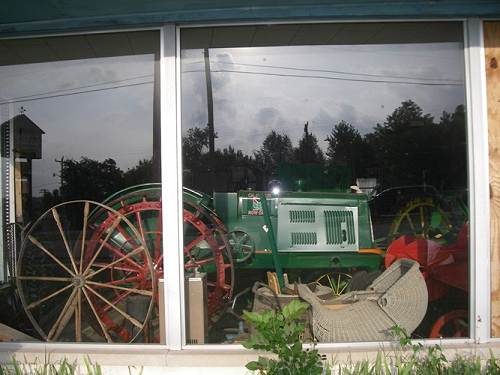 17 Old Oliver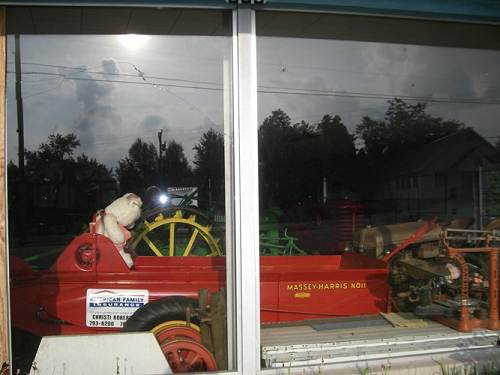 18 Assorted Implements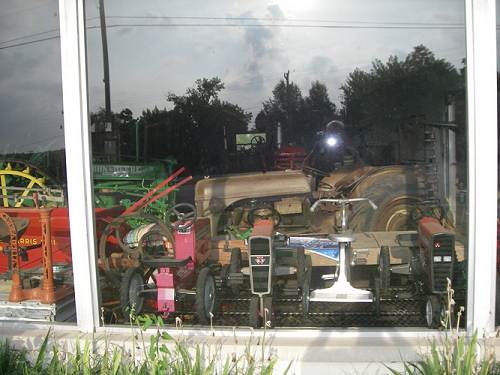 19 Toy Tractors - Old 8N
The next photos are of two of the old outside signs put up in front of their businesses (photos 19a and 19b):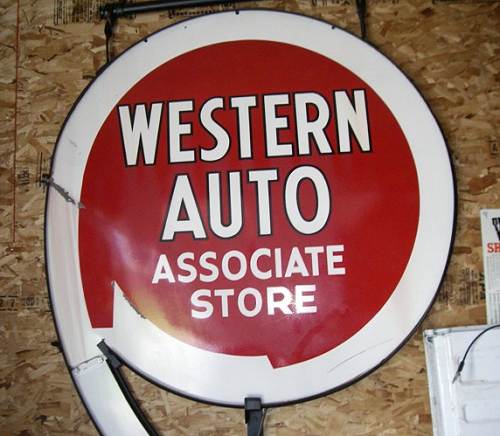 19a Western Auto Sign
19b Zephyr Sign
Kleo and Betty have three children: Dwight, who is head of the engineering services at Fort Leonard Wood; David, who now is managing the Robertson Farms, and Julie who is an executive with the Data Systems International Company in Kansas City.
Kleo enjoys going to farm sales which have given him the opportunity to collect a number of interesting items used by Miller County farmers in the past. One very old tool, called a "falling axe" dates from the early 1700's (photo 20).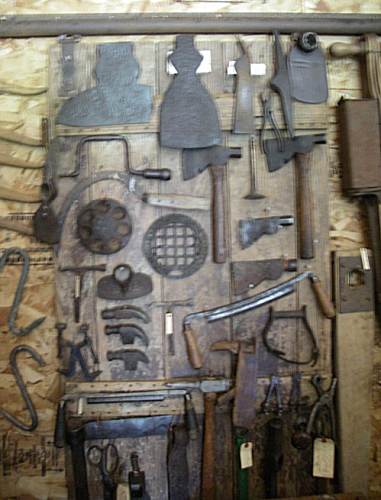 20 Falling Axe - Top Middle
Here is a letter from the Smithsonian Institute sent Kleo after he sent the authorities there the necessary information for identification (photo 21).
The next photo gives some more information about the axe (photo 22).
Kleo said that the early settlers had such big trees to fell while clearing land that this axe was needed because of its extra long horizontal dimension.
Betty also has some interesting historical items in the home which she has inherited. One in particular is a chest of drawers brought by her great grandmother, Dorcas Shelton, from Tennessee, when her family moved to Missouri (photo 23).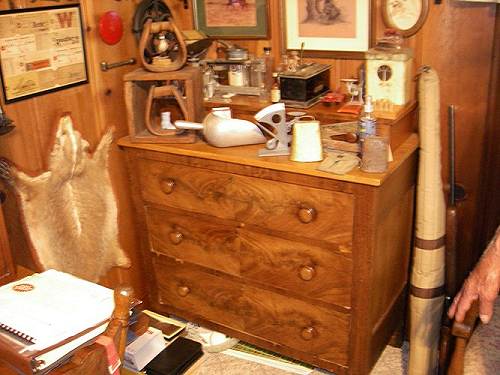 23 Chest of Drawers
Dorcas married Betty's great grandfather, Squire John Ferguson, about whom I wrote in the Progress Notes to which I referred above about the Heltzell family.
Kleo Robertson is one of that generation of Miller County people whose family goes way back in time and in addition he is blessed with a good memory for facts and the people of long ago when he was being raised. The times have really changed during his life he told me. For example, one of his neighbors growing up was Robert Duncan who never owned a car or tractor and walked wherever he had to go including the ten or so miles to Iberia. He had a team for working the field and for the most part lived off the land (photo 24).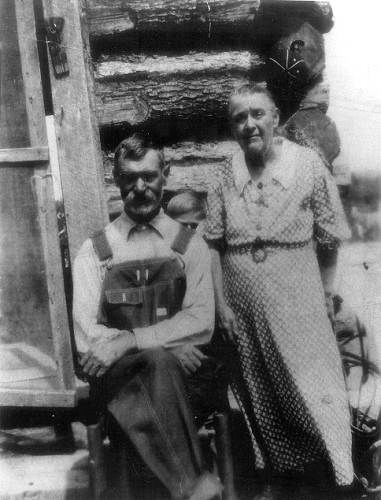 24 Robert and Laura Duncan - In rear is their grandson Merle
Robert was one of the nicest gentlemen he ever met, Kleo told me.
---
The next items for this week cover some interesting little "this and that's" which have been waiting in one of my folders for some time so I thought I would put them on the website this week.
First, I want to thank Brenda Laffoon of Tuscumbia for reminding me of the old ice breaker that is located in the Riverside Park of Tuscumbia (photo 25).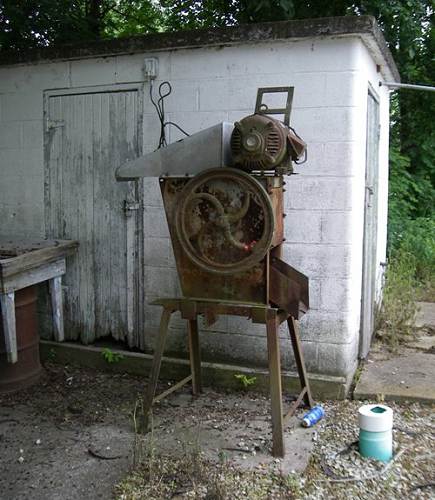 25 Creasey Ice Breaker
It was used for many years and I think probably continued in use until just a few years ago although I am not sure. It was powered by an electric motor. The metal name plate indicates it was a Creasey Ice Maker made by the Gifford Wood Company (photo 26).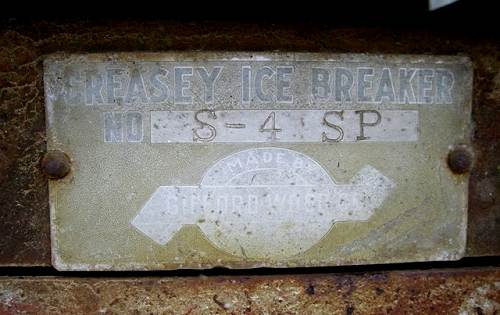 26 Name Plate
I looked on the internet for some further information and found this entry in the Catalogue of Copyright Entries of the Library of Congress:
P. 5460 Catalogue of Copyright Entries by Library of Congress. Copyright Office
Harrison safety boiler works, Philadelphia, Pa. Creasey Ice Breaker and ice users' hand book. Cover-title, 24p. illustrated 24mo. (5460 April 3, 1911; 2 c. April 5, 1911; A 2857633)
I also found this entry in an 1893 edition of the American Journal of Science:
The ice machine used is a modification of the Creasey Ice Breaker manufactured at Philadelphia, Pa. It is a small light hand machine which, as modified, does its work very satisfactorily. With it 40 kilograms of ice may be pulverized in ten minutes or less. The particles of crushed ice vary in size from the smallest visible up to the bulk of a cubic centimeter; and this gradation in size appears to be advantageous as compared with uniformly finer particles like those of snow, since there is less liability of regelation and packing.
But for those really interested here is a web site which mentions the name of the company which made the ice maker, the Gifford Wood Company, as well as details the history of the use and making of ice over the last three centuries:
http://www.archive.org/stream/array00thom/array00thom_djvu.txt
---
The next item is about old sewing machines and in particular the New Home model. My mother in law, Elva Steen, who is our quilt maker for the museum, also is quite a seamstress. She made all the wedding dresses for mine and Judy's marriage ceremony in 1967 for less than three hundred dollars! Elva has donated to our museum her old New Home sewing machine (photo 27).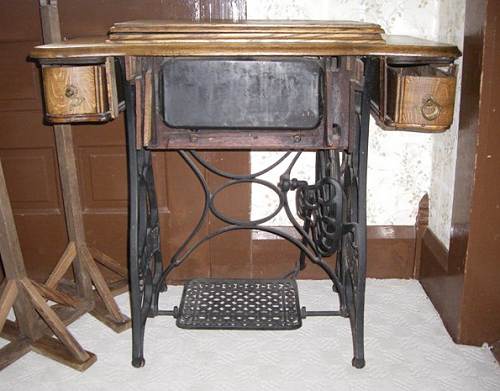 27 New Home Sewing Machine
Here is the history of this sewing machine as written by my wife Judy who is Elva's daughter:
"It originally belonged to George Washington McDaniel (born 12/24/1858, died 1/5/1943) and Ann Liza Colvin, born 7/13/1871, died 5/20/1914), my maternal great-grandparents who were married July 13, 1886, when she was 15 and he was 28. She had 13 children between 1887 and 1913 and was pregnant at the time of her death. Ann Liza died in 1914 when measles and typhoid fever swept through her household. My grandmother, Maggie Boyd, was 12 years old at the time and not only was also ill, but was sharing her mother's bed at the time of Ann Liza's death. Maggie became the 'woman of the house' and had to deal with her REALLY sick younger siblings, as well as cook, wash, etc. Hard times! The machine was given to Maggie, who in turn gave it to Mom."
Thanks Judy!
You can read more about the McDaniel family on a previous Progress Notes.
At one time this machine was nearly as popular as the Singer Sewing machine. I researched the New Home sewing machine and found something interesting. The fellow who wrote the article is from Slovenia! His name is Tomaz Mencinger and he was born in Slovenia in 1972 (photo 28).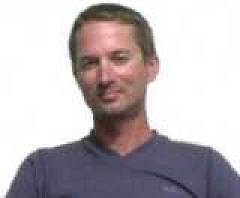 28 Tomaz Mencinger
His first passion was volleyball, but at the age of 16 he turned this passion towards tennis. In addition to having this unusual interest in antique American sewing machines he also has been a professional tennis coach for 12 years and shares his expertise and knowledge through his personal website:
http://ezinearticles.com/?expert_bio=Tomaz_Mencinger
Here is the article Tomaz wrote about the New Home Sewing Machine:
The History of New Home Sewing Machines
By Tomaz Mencinger
A New Home sewing machine that you can find in the market these days could have been manufactured a long time ago and may be considered as a collector's item or mechanical sewing equipment such as one of the modern models.
In any case, be assured that the New Home sewing machines still work wonders for any sewer.
The start of New Home Company began around 1860 when major manufacturers of sewing machines started to battle each other out in pursuit of obtaining lead in the market and securing patents.
That's when Thomas White came up with what could be the first New Home sewing machine, which he called the New England. Soon his business expanded, despite the many downs that he had to face then, and survived until this day.
Over the years there are already several New Home models that have been released and sold to the public.
There is the model no. 914, which was one of the first New Home sewing machines that were manufactured. It still had a treadle, a hand crank, and a wheel. You needed to step on the pedal and turn the crank for the machine to work and start creating some stitches.
The body, though made of solid metal frame, was elegantly finished. It also came with a cabinet, where you could store the no. 914 model once you were done using it. There was a drawer where you can place a number of much-needed accessories such as threads, bobbins, and scissors, to name a few.
Then there was the model 915, which was basically following model 914. There wasn't any difference between the two, except that the former had a cover, which could protect the sewing machine itself from dust and from constant movement. Perhaps one of the first half-case sewing machines was the no. 4 New Home sewing machine.
It was still ornamented, but the body was primarily made of nickel. There were also a number of included attachments and which you could make use immediately.
Newer types of sewing machines from New Home include the 104D, which is actually a mechanical model. It has an additional feature, which is a carry handle so you can conveniently bring this with you anywhere you go.
There are also twin needles that you can find included in the sewing machine, so you can sew two colors at the same time. Moreover, there are feed dogs, which will then help you the creation of stitches so they don't end up puckering or stretching the fabric. Meanwhile, another mechanical model is the L-373. There are 13 built-in stitches, as well as a buttonhole feature.
Having a New Home sewing machine means that you have a very solid machine which may not be as technological or as advanced as other sewing machines, but it can last for a very long time. They do make perfect collectibles, or as heirlooms to your children and even to your grandchildren.
Thanks Tomas. I wasn't completely sure which model of New Home sewing machine Elva has but by looking at the photos the reader may have some thought about that (photos 29, 30 and 31).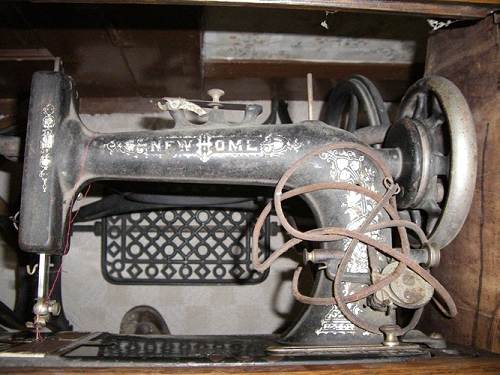 29 New Home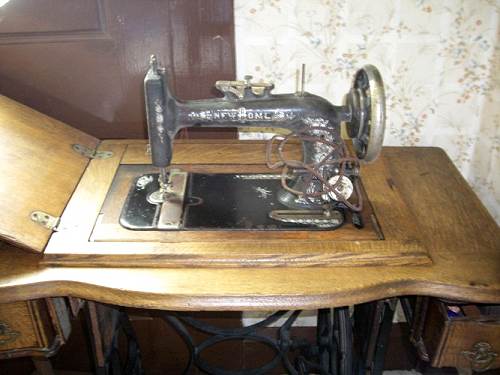 30 New Home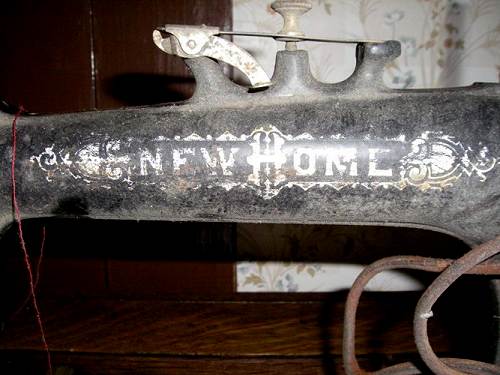 31 New Home
---
Most of us know pretty well the history of the Bagnell Dam which certainly has been told in several places on our own website. But for those who want a brief synopsis you cannot do better than to read the sign placed by the Missouri Historical Society on the south side of business Highway 54 soon after crossing the dam (photos 32 and 33).
32 Bagnell Dam History Sign - Front

33 Bagnell Dam History Sign - Back

Click images above for larger view
---
The Buechter Bridge is one of the next Miller County swinging bridges to be replaced. Connie Prather of Iberia sent this recent photo of the bridge for our readers to view (photo 34).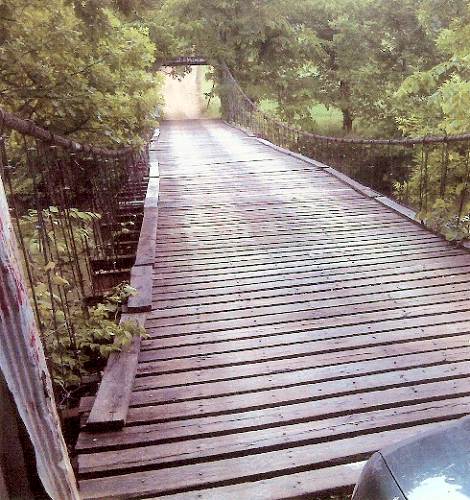 34 Buechter Bridge on way to St. Anthony - To be Replaced Soon
The following is a short history of the bridge placed on our website by board member Donna Carrender:
Buechter Bridge
Buechter Swinging Bridge was built in 1920 by Joseph Dice. It spans the Tavern Creek on Buechter Bridge Road southwest of St. Anthony. It is approximately 128 feet long and twelve feet wide. The bridge is in poor condition, but open to traffic with a two-ton weight limit.
---
The next photo was taken last April and placed in the Tuscumbia Autogram Sentinel. First is the photo which is followed by the caption (photo 35):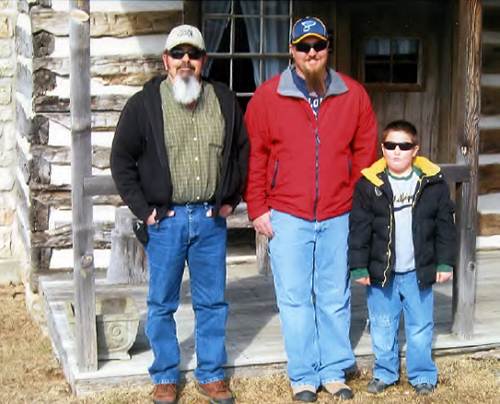 35
The Old Homesite
- On a recent visit to the Miller County Historical Museum
in Tuscumbia, three generations of the Lupardus family stood in front of the cabin
built by Peter B. Lupardus. Pictured are, from left: great-grandson Ben,
great great-grandson Quentin, and great-great-great-grandson Nolan.
All live within three miles of the original site of the cabin.
---
This next Saturday we are hosting our annual ice cream social at the museum. Below is the announcement sent to the newspapers:
Ice Cream Social At Museum
The Miller County Historical Society will host its annual home made ice cream social at the Miller County Museum Saturday, July 25 from 11:00 a.m. to 2:30 p.m. Entertainment will be provided by the Joe Jeffries musical group. In addition, the museum will be open for tours so that visitors will have the opportunity to view the many new items for exhibit which have been added this summer.
---
That's all for this week except for the turkey poults I photographed alongside the road the other day (photo 36).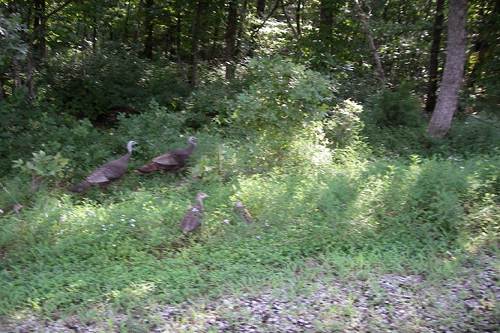 36 Turkey Poults
Joe Pryor