Monday, July 6, 2009
Progress Notes
One day early in the spring of this year I accompanied Alan Wright and Jim Ballenger on a mini adventure to visit an area of the Big Glaize (Auglaize) Creek where under a small bluff is located a small eddy known locally as Windes Eddy. The trip was Alan's idea related to an old fish story told him by his father, Garsy, which Alan will relate a little later in this narrative. I was really excited to have been invited to join them for a number of reasons. First, I enjoy Alan's company because of his knowledge and interest in things having to do with Miller County, especially since he was raised here. Alan lived in the Eugene School district from where he was graduated to go on in life to become an executive with Edward D. Jones Investment Company (photo 01).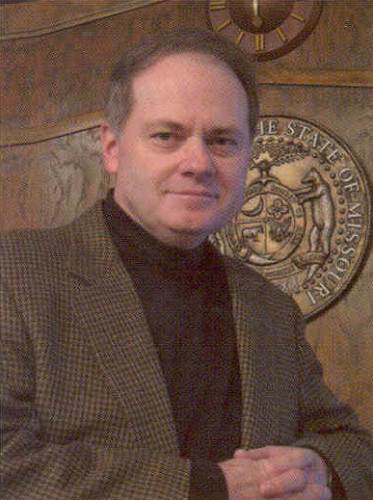 01 Alan Wright
Our Historical Society had invited Alan a year and half previous to speak to us about his recently written book, Murder On Rouse Hill (photo 02).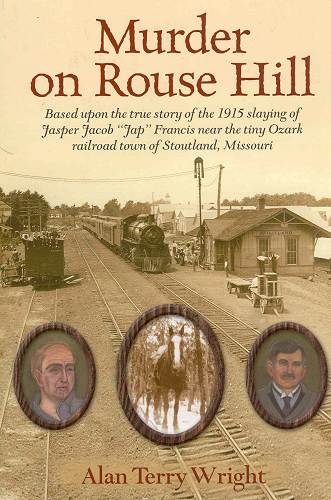 02 Book Cover
You can read about that day on a previous edition of Progress Notes.
A second reason I was eager to go along was that I had known Jim Ballenger from way back in the early 1960's when both of us were cave guides at Lee Mace's Indian Burial Cave. Jim later went on to success in life as an executive with ATT Corporation. Jim was raised near the boundary lines of Camden, Miller and Pulaski counties; he went to school in Richland.
But another reason I was looking forward to the trip was that the area of the Glaize where the Windes eddy was located is near where live some relatives of my father in law, Holmes Steen. I won't go through all the family history but suffice to say that Holmes was a first cousin to Ruby George Windes, the current owner of the property near where the Windes Eddy is located, and he also was a first cousin to Jim Ballenger's mother, Fern George Ballenger. Ruby and Fern's mother was Alma Wall George, sister to Holmes' mother, Ella Wall Steen.
A few days ago Alan sent me a wonderfully written narration of our trip along with photographs as well. Alan is a skilled and gifted writer as those who have read his book, Murder on Rouse Hill, know very well. I will intersperse his photos into the narrative.
Searching for the "Winezetty" and Finding Garsy
Alan Wright
Since this story is really about my father, Garsy Wright, and my grandfather, John Wright, let me tell you a bit about them (photos 03 and 04).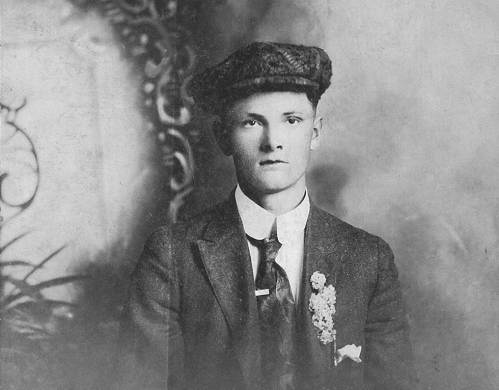 03 Garsy Lloyd Wright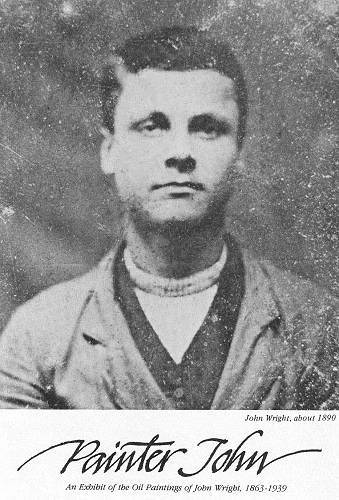 04 John Wright
John was the youngest child of James Lawrence Wright and Elizabeth Mace (Thompson) Wright (photo 05).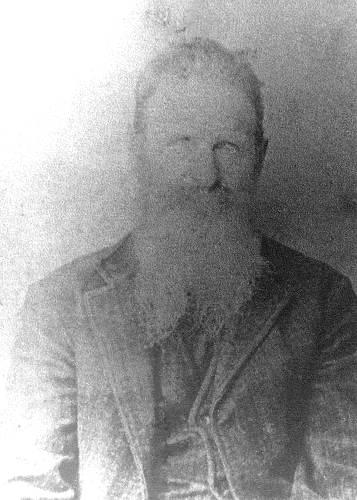 05 James Lawrence Wright - 1818-1896
James and Elizabeth, and several of their brood, came to Miller County in 1856, from Cole County, where James had built a watermill on the Boise Bruhle Creek. They patented land north of Tuscumbia and James built another watermill, powered by the waters from a big spring on the Little Saline Creek (photo 06).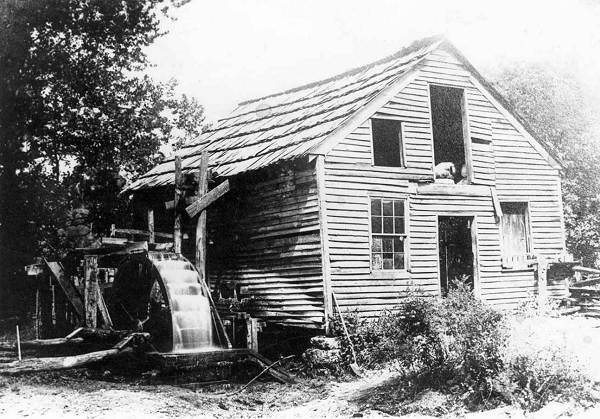 06 James Lawrence Wright Mill
To this day, many still call it "Wright's Spring." John was born there in 1863, during the Civil War.
John Wright was a handsome young man and if old autograph books are an indication, he had a certain way with the ladies. He also had an artistic bent and began painting lovely landscapes as a boy. His earliest known effort is that of a watermill depicting a miller talking with a young girl who has apparently "come to mill" with her parents. John was also something of a non-conformist, a sort of "hippy" for his era, with a close "crew" haircut and a brief career as an acrobat with a traveling show (photo 07).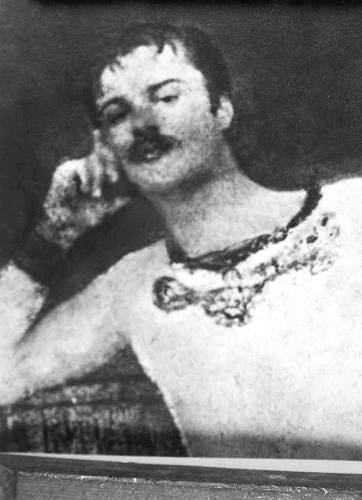 07 John Wright - Trapeze Artist
He became a sixteen year old "run-away" when his father remarried in 1879. It's safe to say he and his new stepmother did not see eye to eye. He did not run far, moving in with his older brother, Joseph Wright, just outside Tuscumbia, on the old Tuscumbia-Eldon Road.
In 1891, John married Lillian "Lilly" Ingram from the Ulmon's Ridge community. My father, Garcia Lloyd Wright, was born in the bitter February cold of 1895, the second child of John and Lilly. The young couple was living in a house that John had built on forty acres that they owned adjoining his brother Joe's farm at Tuscumbia. In 1901, John and Lilly would move their expanding family to a farm in Camden County, near Toronto.
Note: You can read more about John Wright, father of Garsy Wright, on an edition of Progress Notes from last year.
"Garcia," you ask? "What an odd name for an Anglo Saxon boy baby!" A search of the 1900 US Census discloses no other child in the entire country having an English surname but with the Spanish given name, "Garcia." Dad was unique. It seems that his father, John, had become a fervid advocate of U.S. intervention in Cuba and an alliance with General Calixto Garcia (photo 08), leader of a revolutionary army fighting for independence from Spain.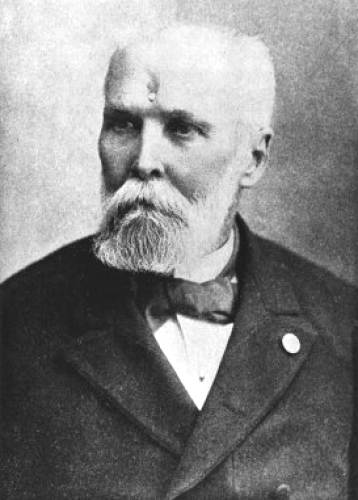 08 Calixto Garcia
Cruelties visited upon their Cuban colony by the Spanish were sensationalized by William Randolph Hearst in his national chain of newspapers (photo 09).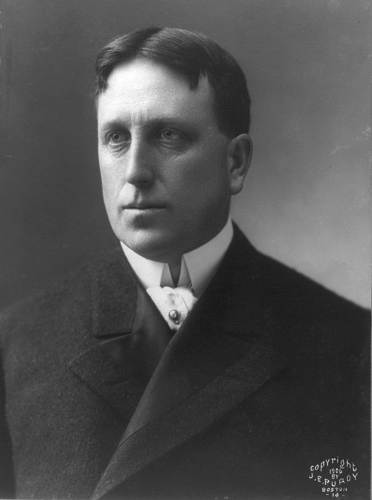 09 William Randolph Hearst
John Wright was a little ahead of his time in naming his son after the Cuban hero, but not much. By 1898, the mysterious sinking of the U.S. battleship "Maine" in the Havana harbor, was blamed upon the Spanish and precipitated the Spanish American War (photo 10).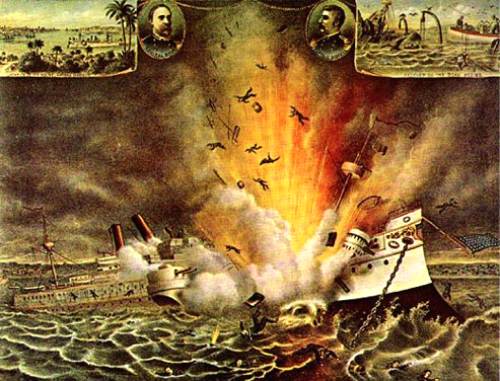 10 Maine Explosion
The war was short, relatively bloodless, and the Americans easily won. Later, U.S. Secretary of State, John Hay (photo 11), dubbed it "…a splendid little war."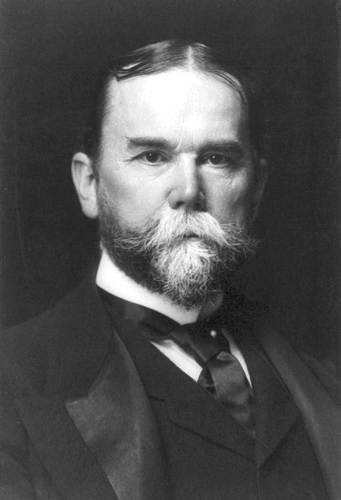 11 John Hay
Col. Theodore Roosevelt's "Roughriders" charge up San Juan Hill didn't hurt his future in politics a bit (photo 12).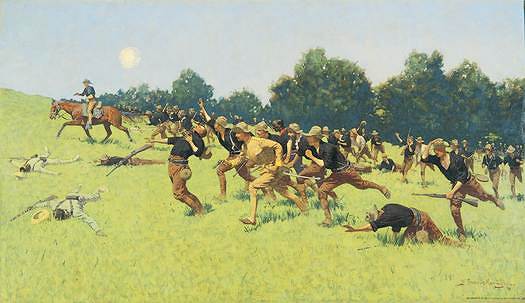 12 Roosevelt and the Charge of the Rough Riders
So, you might say that Dad got a name, and the country got a president on Mount Rushmore, all in one fell swoop. Not a bad way to start.
The folks around Tuscumbia, including his first schoolmates, quickly dropped one syllable of Dad's name and he became forever "Gar-cee," spelled Garsy. Some used Gar-zy.
So, what's with the "Winezetty?" Where is it? What is it? Why did my brother Glen and I have a livelong desire to see it? Here's the story. Our dad, Garsy, loved to talk and was an artful storyteller. He liked to get to the "action" part of his monologues without laying a lot of needless groundwork. Much of the "who was who" and "what was what" was tossed overboard in a headlong rush for the dramatic, the thrilling and the heroic. His tales usually began something like, "One time, when me and Little George Abbott was in the army…." Or, "One time me and Sammy Wright were diving off the rocks at Cedar Bluff…Or, "I'll never forget when Mr. Traw's old Jersey bull ran me and Laverne Willoughby up a tree..." Get the picture? Most visitors hadn't the foggiest idea who Dad's accomplices were in his many adventures, nor the locales. The art was in the storytelling—they didn't seem to care about such details.
In 1933, John Wright painted one of his most beautiful pictures, depicting Garsy, as a very young man, landing a big fish. It was a true fish story and the painting always hung on the wall at our modest home on Highway 54 near Eugene. The work of art, painted on fiberboard, got no proper frame, just a couple of punched holes in the edges and some twine held it to the wall. Dad seemed a lot prouder of the fish than he was of the lovely work of art in which his father memorialized him forever. Sons never fully appreciate their dads until…but that's another story. No visitor came to our house that wasn't led to the painting and Dad's intro began: "Here's a picture of me catching a sixteen pound jack salmon over on the Winezetty…" It was casual, matter-of-fact, and wildly presumptuous. He quickly moved on to how the behemoth was landed, the bait, the length (widely outstretched arms) and how good it tasted when rolled in cornmeal and fried. There was nothing about just where and what the "Winezetty" was.
My brothers and sister grew up thinking the "Winezetty" was some exotic spot on the globe where wine was consumed, sinfully, in large quantities. What an exciting prospect for us youngsters! Wine was strictly prohibited in our Church of Christ household and even at church, where grape juice was piously substituted for the fermented "fruit of the vine." Fishing and consuming such a beverage at the same time? Well, it made us shiver with the thrill of a perilous brush with the forbidden. We were childishly oblivious of the ways of a large portion of the male population who find the combination irresistible. The "zetty" part was a mystery, but it sounded a lot foreign and a little bit dangerous. Maybe very dangerous. Later, when reading of the trials of the accused anarchists and terrorists, Sacco and Vanzetti, dad's fish picture came quickly to my mind. Wine and anarchy---what a delicious combination! The "Winezetty." Hmmn. "The Winezetty." Say it again. Sounds good. Worth repeating. Rolls well off the tongue.
Many years later, after Garsy was dead, my imaginings about the "Winezetty" were brought to an inglorious halt by the asking of a simple question, "Mom, where in the world is the "Winezetty?"
"Why, it's just a bend in the Wet Glaize—it's on the old Windes farm. It's not that far from where your daddy lived on Dean's Creek—it's right near the Camden and Miller County line."
Dad had been running two words together all those years! Windes (a family name pronounced with a long "i"), unseparated from "eddy," a sort of whirlpool created in a stream by a bank jut-out or submerged rocks. In a dialectical nanosecond, the romantic "Winezetty" of my youth had morphed into the correct but mundane "Windes Eddy."
Yes, anarchists and biblical winebibbers took a beating that day in my childhood memories. At the time, I wished it wasn't true. I wished I hadn't asked. But, sometimes our treasured fantasies meet the cold, unblinking eye of reality. It's something about growing up, becoming a man, facing life's facts. It was painful, but I got over it.
However, burning questions remained: What would the Windes Eddy look like nearly a hundred years after dad caught that fish? Had it been washed away---eroded by time? If still there, how faithfully did Grandpa Wright's painting reproduce Dad's "Winezetty?"
My brother Glen, who resides in Florida, proudly possesses the original "Windes Eddy." Oldest sons do get some privileges. Dad gave it to him. "Glennie" put up with a lot from his younger siblings and practically raised me as a small child before he went off to the big city of St. Louis in 1951. Lord knows, Glen deserved a lot more. But dad had only this, his most prized possession, to give. Glen and I speculated for years about exactly how one would get to the Windes Eddy and made vague plans to seek it out "sometime." The years disappeared. Glen is now seventy six and I am sixty two.
Then, in the twilight of a bitterly cold evening in Richland Missouri, I met an old man by the name of Jesse Ballenger. It was February of 2008, and Jesse had driven his pick-up truck to the town library to buy a copy of my book, Murder on Rouse Hill, and have me sign it. The two of us were the first to arrive, and sizing me up as coming from afar, he asked, "Are you Garsy's boy?" My dad had been dead for thirty seven years. I had supposed that everyone he ever knew as a young man was dead. No one had asked me that question in years. It plucked a heartstring---that's for sure. He described my dad and it was plain that he had, indeed, known him. Jesse appeared only to be in his seventies but he proudly told me he was ninety one. He well recalled Dad from when he had worked and lived around Richland, before he married my mom. I was thrilled! Here was a person who knew Garsy "way back" and, some seventy or eighty years later, had come out on a cold night to meet his son. Jesse said, "I don't drive much at night anymore," but he had come anyway.
What an honor to shake his hand! I did not know that I would never see Jesse Ballenger again.
When Glen and I decided that the search for the Windes Eddy could wait no longer, I got Jesse Ballenger's telephone number from the operator and called him in February of 2009. Since he had grown up near the Windes farm, I knew that Mr. Ballenger could, without fail, take me to the Windes Eddy. The phone rang on for a long time. No answering machine. It just rang—and rang. I tried the next day with the same result. I feared the worst and located Jim and Beth Ballenger in the same area code. Jim said his dad had died "last November." I was too late.
Jim Ballenger and his lovely wife, Beth, retired from careers far from their homeplaces, had returned to Jim's birthplace and built a comfortable home among the cedars and oaks near the old George School (photo 13).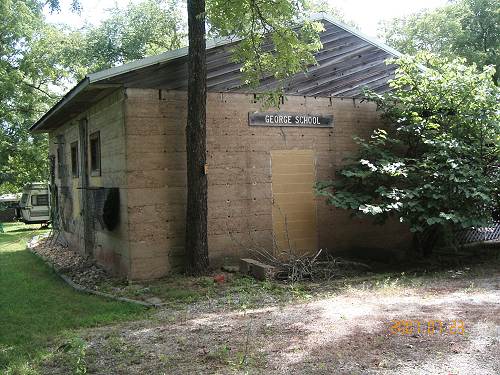 13 George School
Garsy once "out ciphered" the teacher's pet in a public assembly there many years ago. Jim immediately set about making arrangements with the Windes family, who still own the farm, to take me to the Eddy. In that same February week, Jim and I trekked the ½ mile or so overland, west of Route C, to a high bluff overlooking the beautiful Auglaize Creek. The spring-fed stream, once a tributary of the mighty Osage River, now adds its waters to the Lake of the Ozarks. Some fifty to sixty feet below, after circling through dense woods, we cast our eyes unmistakably on the Windes Eddy. We knew, because I had a framed photo of John Wright's uncannily accurate painting in my hands.
Thank God! The Windes Eddy had not changed. Virtually unspoiled by man and time, this remote place still possesses the large outcropping of limestone under which my dad caught that big Jack Salmon! A part of my life was complete. A cross-off on every man's "bucket list."
I happily conveyed the good news to Glen, with the full expectation that he would "come home" to Miller County in May and we would go to the Windes Eddy together. In the meantime, desiring to photograph this mythical place with the dogwoods in bloom, as in the painting, a late April visit was arranged. This time, Joe Pryor, President of the Miller County Historical Society, a man smitten with the folklore, families and history of the area, along with Jim Ballenger, made a threesome. Bound by a common birthplace, life experiences, families, and on an almost religious-like mission, we climbed the fence and began our hike. A Black Angus bull, grazing just ahead, snapped his head up and sniffed the wind with a nose much keener than his eyesight. When he began sidling in our direction, we decided to give that fellow a wide berth.
Note: Alan sent me a series of captioned photos of our walk down to the Windes Eddy. These follow in order before continuing Alan's narrative:
Photo 14: Canopy of dogwoods on bluff above the Windes Eddy, Auglaize Creek, near Toronto, Missouri, April 30, 2009.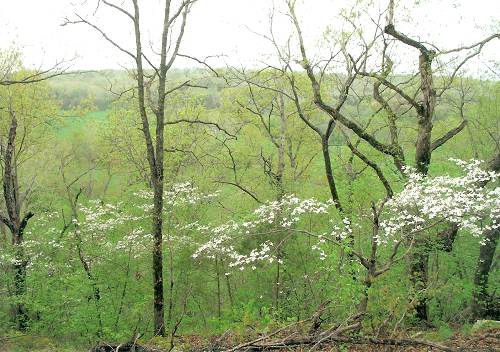 14 Dogwoods
Photo 15: Jim Ballenger, L., and Alan Wright at the Windes Eddy, April 30, 2009. Jim and Alan's fathers knew each other in the 1920's.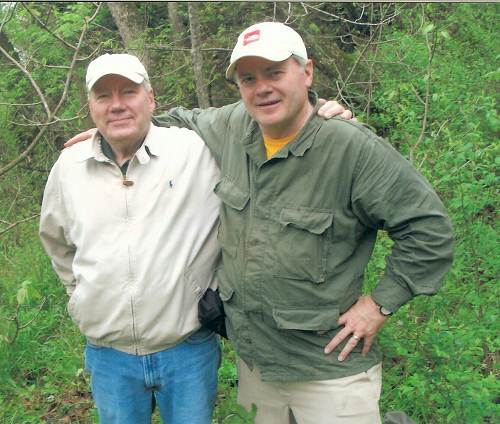 15 Jim and Alan
Photo 16: Long time local resident, Jim Ballenger, L., and Joe Pryor, President of Miller County Historical Society. Expedition to the Windes Eddy, Auglaize Creek, with Alan Terry Wright, April 30, 2009.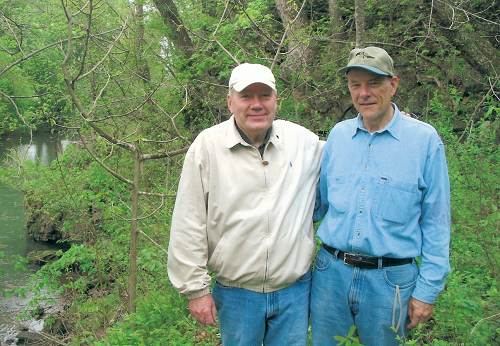 16 Jim and Joe
Photo 17: The Windes Eddy, Auglaize Creek, subject of John Wright's 1933 painting of his son, Garsy, catching a large Jack Salmon fish.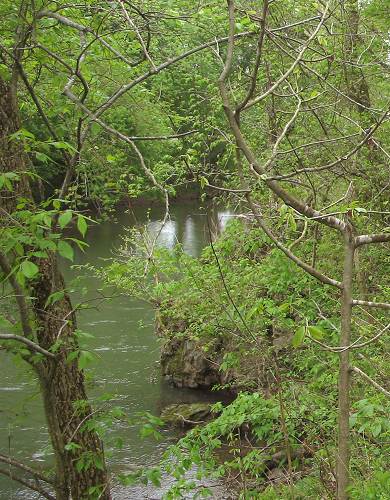 17 Photo of Windes Eddy from the perspective most similar to the John Wright painting
Continuing now with Alan's narrative:
Arriving at a spot looking down on the Eddy, Jim, walking point for our little squad of adventurers, remarked, without a hint of excitement, "Here's a copperhead." I immediately looked down---isn't that where copperheads are supposed to be? On the ground? This one was coiled at eye level, directly on our path, in the branch of a low sapling, maybe a sassafras or a persimmon (photo 18).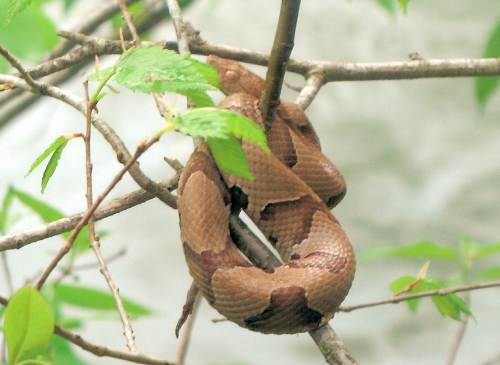 18 Copperhead Snake in a small Tree - At Eye Level
Jim's keen eye probably prevented a disaster. Walking second and looking down for camera angles, I may very well have walked right into the beautifully marked and camouflaged viper. We photographed this dangerous sentinel and moved away, leaving him undisturbed.
While photographing the Eddy from the streambed, and seeking the best possible shot, my comrades staged the most meaningful photo of all. John Wright's painting is held in the foreground with his grandson (me) below, photographing where Garsy (my dad) caught that big fish so many years ago. Thank you, Joe Pryor and thank you, Jim Ballenger (photo 19)!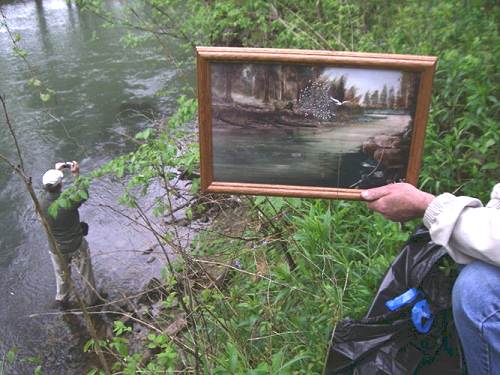 19 Windes Eddy - Alan in stream Photographing
Note: Here is a photo of John Wright's painting of Garsy's great fish taken frontally. Look in the lower right hand corner to see Garsy and the fish (photo 20).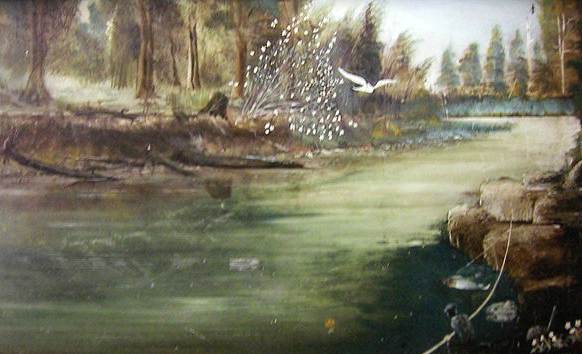 20 Wright's painting of Windes Eddy on the Glaize
I must report that shortly thereafter, my brother Glen had a mild stroke. Although he seems on the mend, I do not know whether we will ever see dad's "Winezetty" together. I sent him all the photos and I know he appreciated them. But they were probably an unsatisfying substitute.
All I can say is that the truth of the "Winezetty" is hardly an inglorious dashing of our fantasies about the place. Its real beauty and glory exceeds all our imaginings and brings us close to our dad in a way that none other can---a good fish story! In finding his "Winezetty," we found Garsy.
Alan Terry Wright
St. Louis, Missouri
June, 2009
---
Thanks Alan for inviting me to participate in your realization of the dream to visit Windes Eddy. I had a great time! And, in addition, I am very appreciative of the time you took to write the story of this very meaningful day!
---
Here is an unusual color photo of a Missouri Pacific Bagnell branch train (photo 21).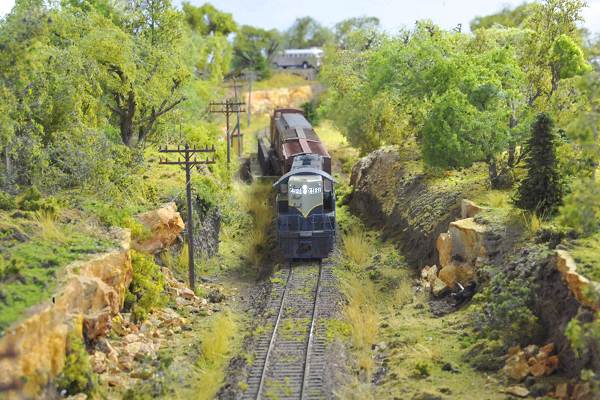 21 Missouri Pacific Railroad - Bagnell Branch
I say unusual because when I first saw it I didn't realize it was a miniature model and not a photo of the actual train itself. This artistic work was done by a minimalist model maker named Charlie Duckworth. He has a website which you really should visit, especially if you are a train enthusiast.
Charlie's first model layouts of old time railroad stations were of Bagnell, Eldon, and Olean. But more recently he has expanded his works to include other areas of Missouri. Charlie and his wife (photo 22) both have Miller County roots.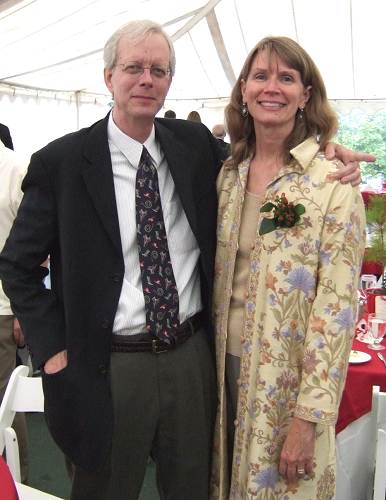 22 Charlie and Linda
I asked Charlie and Linda to tell me a little about themselves. Here is what Charlie wrote me:
We live in Omaha, Nebraska where I work for Union Pacific Railroad. The Missouri Pacific's Bagnell Branch has family ties, as it ran only a few miles from my wife Linda's childhood farm in Mary's Home. Her family later moved to another farm in Wardsville. While my family lived in St. Louis, my grandfather, Al Markway had a dairy farm in Wardsville, and throughout the 1950s and 1960s, my mother, two brothers, and I spent weekends on the farm after riding the Missouri River Eagle to "Jeff City." Dad worked for the "MoPac," so we had a family pass and rode the trains for free. Being very familiar with the area was the tie to modeling the Jefferson City yards, freight house, and industries. When my father retired, he and Mom built a home on part of the old farm, so we frequently traveled back to that area.
During the summers, Dad and I explored some of the former MoPac's Missouri branch lines. Following the Bagnell Branch, we came across the 1912 depot at Lohman and another depot that was built at Olean in 1881. We measured the 16 x 40-foot depot at Olean, which proved helpful in having a laser model made for the layout. I started working for the Missouri Pacific in 1974 and built a couple of large layouts based on the MoPac's White River Division from Branson, Missouri to Cotter, Arkansas. After relocating to Omaha in 2004, however, I decided to model the Bagnell branch. After tearing down two large layouts, I decided to build a small, semi-portable layout so I could save the major areas when we moved again.
Branchline railroading also attracted me, as model railroading, like every hobby, gets down to time management. I wanted to focus on the buildings, scenery, and a detailed freight car fleet – something I couldn't do with a large layout and working full time. I got out of college in 1973 with a major in art, and the scenery in the Missouri Ozarks attracted me to that part of the country. During the summer, we took family canoe trips down the many small rivers in south-central Missouri, so I got to see the Ozark woods, hills, and rock cuts that make great candidates for modeling. My professional, family, and modeling activities continued to develop around the MoPac.

While working for the railroad in 1975, my job took me to Jefferson City for a couple of weeks. I attended a cousin's wedding while I was in town and met my wife, Linda, at the wedding dance. We've been married 33 years. My wife's grandfather, Joe Sanning, told me stories of shipping cattle from Eugene, Mo., to St. Louis on the Rock Island. So adding a Rock Island yard and interchange at Eldon (just a few miles from Eugene) let me add that as well.
And here is what Linda wrote:
Hello Joe -
Charlie told me you wanted to know a bit about me. I was born at the clinic in Tuscumbia; my mom is Lois Berendzen and my dad, now deceased, was Adolph Berendzen. They have about 50 descendents now, since I'm one of ten!
We lived in Mary's Home until I was about 5, when we moved to Wardsville. However, our family continued ownership of the farm in Mary's Home on the Osage River for a number of years, so we would make several trips each summer to swim in the river and just enjoy the beauty of it (photo 23).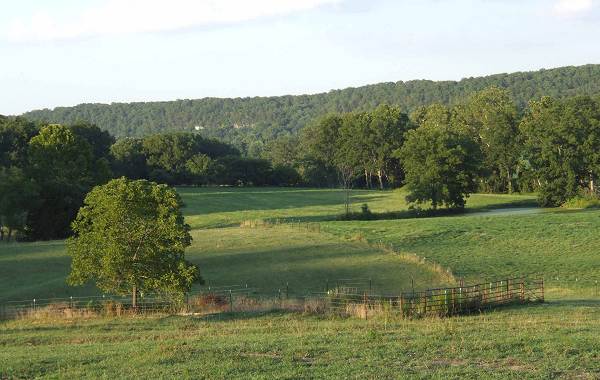 23 Mary's Home Farm
I had forgotten how beautiful it is down there, or maybe never appreciated it through a child's eyes, until a couple of years ago when we all enjoyed a reunion there for three days.
My main connection to Eldon is that in 1974 I was a student teacher at Eldon High School, under Mr. Tarpley. During that three months I stayed with my grandpa, Joe Sanning, in Mary's Home. My grandma had died a few months before that and I thought grandpa would be awfully lonely through the long winter. Besides, the rent was free! There were a few nights, when it threatened snow, when I stayed in Eldon with my great aunt Clara Sanning. She was always a lot of fun and a wonderful cook.
Charlie and I usually make it to the Berendzen reunions, every three years, and the Sanning reunions, every two years. I'll bet I'm related to at least half of Miller County. Heck, I bet you're my relative!
Charlie has a first cousin in Etterville - Marc Markway. When my grandpa first met Charlie he said, "So you're Al Markway's grandson. I knew Al. He was a Democrat, but still a good man". We think Al would have said the same thing about him.
If you want to know any more just ask.
Sincerely,
Linda Berendzen Duckworth
---
Thanks Charlie and Linda for letting us know about where you are and what you are doing presently; and thanks to you Charlie for telling us about your unique and interesting hobby which highlights some of the historical places in Miller County and elsewhere in Missouri.
---
Betty Crider West, originally from Vienna, visited the museum last week (photo 24).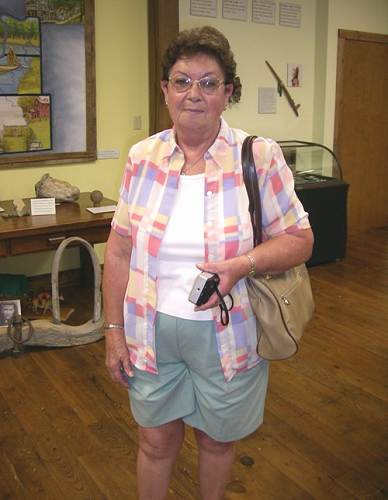 24 Beth Crider West
She told me her father, Sam Crider, was the father of ten children. One of her brothers, Harold Crider, lives in Miller County near St. Elizabeth, on Humphrey's Creek. Betty told me her father, Sam, was a close friend of Vernon Helton, the father of country/western music star, Leona Williams (photo 25).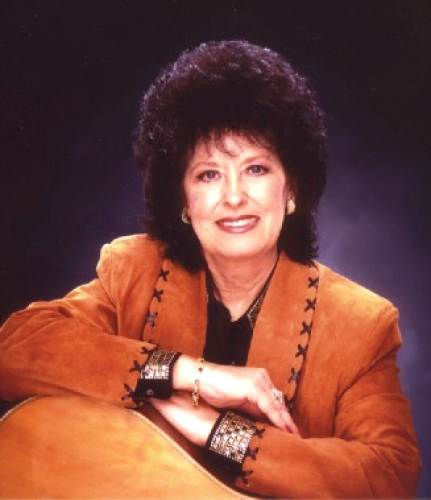 25 Leona Williams
Sam and Vernon worked together on construction projects all through Maries County, mostly for road building.
Coincidentally, the same day, we were visited by sisters Beverly Whiten and Eileen Frank of Kansas City (photo 26), whose mother's sister, Dorothy Green, was Vernon Helton's second wife and mother of Leona Williams. They were in Miller County researching their Clark ancestors, especially John "Hoppin'" Clark.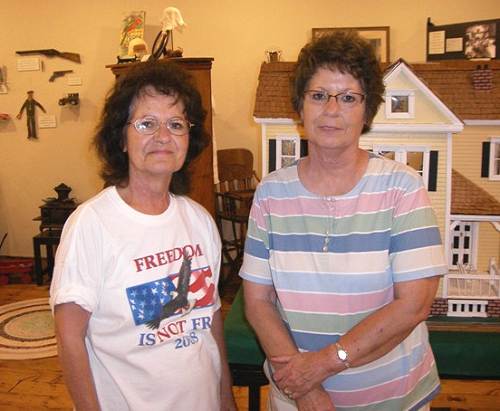 26 Beverly Whitten and Eileen Frank
You can read more about John "Hoppin'" Clark on a previous edition of Progress Notes from earlier this year.
---
Debra Wolfe of the Lake Today newspaper came over to the museum last week to interview Helen Schulte about her uncle, Carl Wenzel (photo 27), who served during WW I and whose American Flag we have on display in our war memorial section of the museum.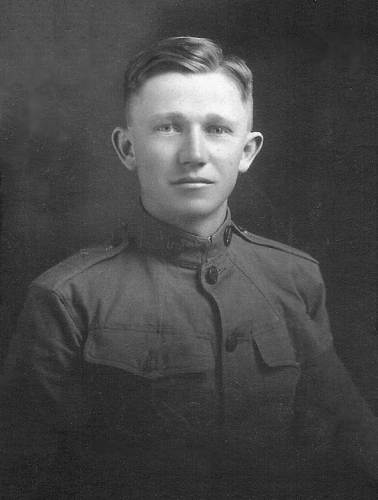 27 Carl Wenzel
Debra was working on a story relative to the upcoming Fourth of July celebration which was going to emphasize flags. The flag on display was draped over the coffin of Carl's casket the day of his funeral in 1978. Carl fought in WW I. Here is a photo of Helen and Debra and Carl's flag (photo 28).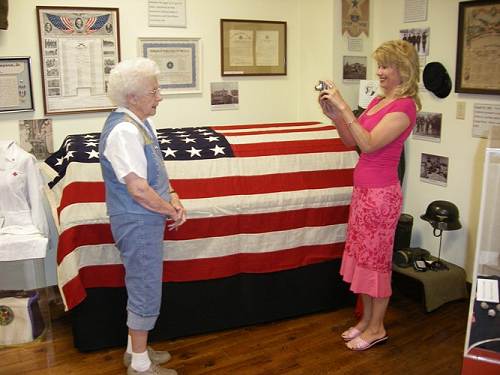 28 Helen Schulte and Debra Wolfe
He was Helen's uncle, being a brother to her mother, Lena Wenzel Heafy. Lena and Carl's parents were Conrad and Mary Artz Wenzel. Carl's family home is still standing across the road from the Jadwin saw mill on Highway 52 about a quarter mile before reaching the intersection of Highway 52 and 54. Going north on Highway 52, the saw mill is on the left and the Wenzel home is on the right. Next to the saw mill is the Wenzel/Artz cemetery; however, Carl is buried in Eldon. Carl was one of the last Miller County boys to go to war. Fortunately, he was not wounded. Here is a copy of Carl's obituary (photo 29):
---
Website Tips...
A member of my wife's family brought up to me the problem she faced trying to find a biography or other information about a person or subject when no listing of the person can be found in the section titled "People" under the "Yesterdays" column at the top of the home page, nor the section labeled "Window to the Past" under the "Publications" column also at the top of the home page.
The reason for this is different for each section. In the "People" section under the "Yesterdays" column, the entries were given us by various people who submitted the narratives and photos on a volunteer basis. When we started the website we solicited and still solicit the voluntary submission of biographies about Miller County people. In fact, the subheading of each page is: "Biographies from Miller County People." We encourage readers to submit their own biographies of their Miller County ancestors which would be considered for placement in the Yesterdays/People section.
Regarding the section labeled "Window to the Past" under the "Publications" column, this section was taken from Peggy Hake's work. She has written hundreds of biographies but not everyone is included since she usually selected subjects based on her own particular interests rather than trying to accomplish the impossible task of writing about every person of interest who ever lived in Miller County.
In the meantime, when one does not find a reference to a particular family or person under the "Yesterdays/People" column or the "Publications/Window to the Past" column, then the alternative source of information is the "Site Search" under the column on the far left titled "About Us." When you place the pointer over that heading you get a drop down box which on the bottom gives the choice "Site Search." Clicking on "Site Search" gives you a page with a space to type in the name or the subject of interest. Then click "Find" and you will get all the "hits" for that word. This tool works best with single words, not phrases. You can scan the list acquired from using this tool quickly because most of the hits which are not of interest are very obvious. The Site Search tool is the fall back method of finding something which is not found by utilizing the headings at the top of the home page.
Another observation to point out is that often a paragraph here and a paragraph there can be found on the website in reference to a person or subject, but is not part of the main theme of the page or subject at hand. For this situation the Site Search is an invaluable tool. I use the Site Search immediately if I cannot find the person of question in the "Yesterdays/People" or "Publications/Window to the Past" sections. Even for my own part of the website, the "President's Page," where we haven't accomplished yet the task of creating an index of subjects from the archives of previous editions of Progress Notes, I use the Site Search tool more than any other for finding the reference for which I am searching, which I may have written more than a couple of years ago.
That's all for this week.
Joe Pryor