Monday, June 29, 2009
Progress Notes
Wanda Warren Wright is one of our Miller County Historical Society board members who always contributes in many ways to our organization. Whether working at the museum as in this photo (photo 01), or offering her vast knowledge of Miller County history, Wanda has contributed much through the years.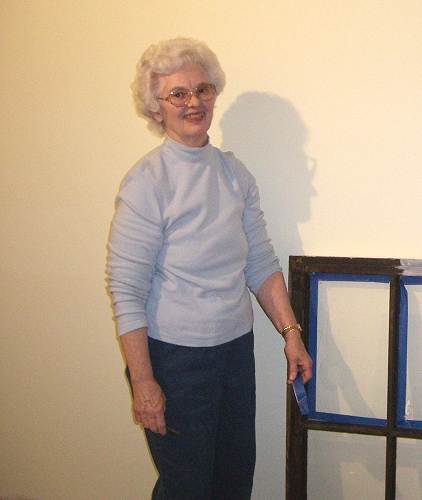 01 Wanda Wright
She has deep Miller County roots not only from her own family of origin (Warren and Williams) but also, as the wife of James Robert Wright, who sadly passed away about three years ago, Wanda has ties to the Wright family which also has extensive roots in our county. Very little can one ask about our county that she cannot offer historical information. Wanda lives close to her son and daughter in law, Tom and Dori Wright, on the historic Wright farm located on Dry Creek road just two or three miles north of Tuscumbia. Wanda's husband and Tom's father, James Robert Wright, whom we always called Jim Bob, was one of the men in Tuscumbia who had an early influence on my life as he was the Boy Scout leader of the first troop Tuscumbia had organized back in the mid 1950's. Here is a photo of Wanda and Jim Bob taken a few years after he was a scout leader (photo 02).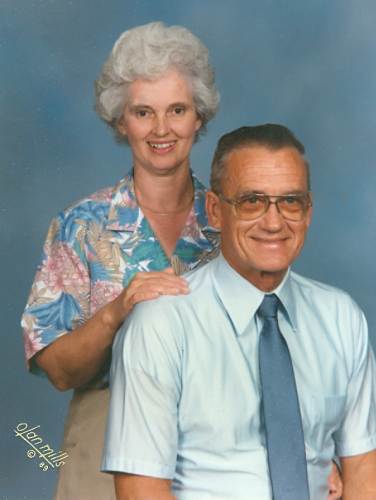 02 Wanda (Warren) and James Robert Wright
Earlier, Jim Bob, after serving in the Navy, returned home to go to school to learn the trade of printing and linotype operation. For several years he worked for the Vernon Publishing Company and after that taught Graphics Communication class at Tri-County Technical for nearly twenty years.
Jim Bob and Wanda's son, Tom Wright, is the current Miller County Presiding Commissioner. I took this photo recently of Tom in his office at the courthouse (photo 03).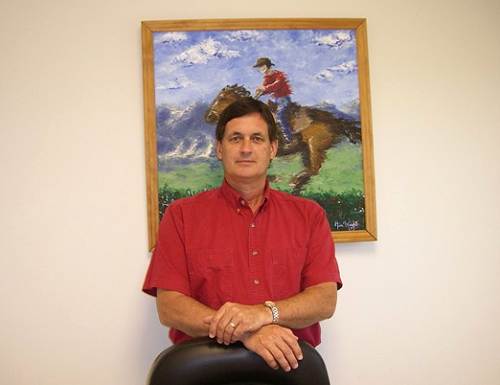 03 Tom Wright
Behind him is a beautiful painting of a horse and rider painted by Tom and Dori's daughter, Tara. Tara is quite an artist, perhaps having inherited some of her talent from her Wright family ancestors. Two of them, John Wright and his daughter, Francesca, were very well known artists. Tara is the artist who designed and sketched the very tastefully done note cards we have for sale in our museum book store (photo 04).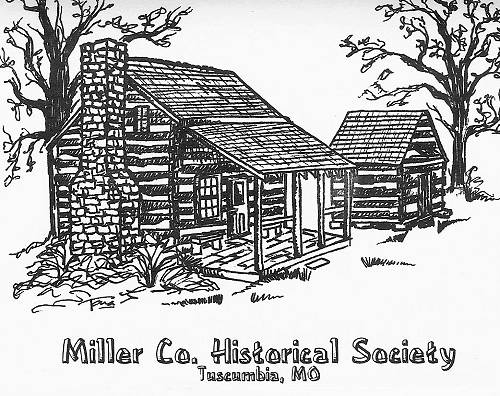 04 Museum Note Card
These cards were printed for us by her grandfather, Jim Bob, on his own printer at home. Here is a photo of one of Jim Bob's old printers located in the home's basement (photo 05).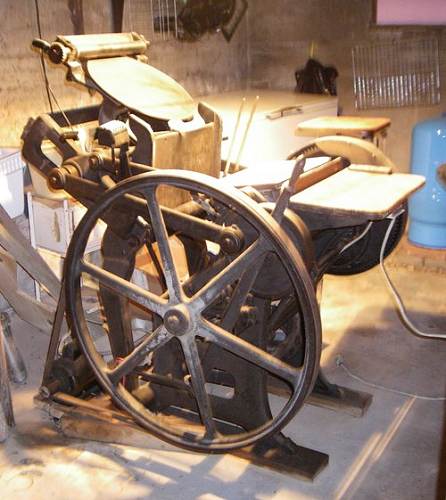 05 Chandler and Price Co. Printer
It was called a "New Style" press made by the Chandler and Price Company. Here is what Wikipedia at the following website says about it:
http://en.wikipedia.org/wiki/Chandler_&_Price
"Chandler and Price was founded in 1881 in Cleveland, Ohio, by Harrison T. Chandler and William H. Price. They manufactured machinery for printers including a series of platen jobbing presses, as well as paper cutters, book presses, and assorted equipment. By 1964 the offset printing industry had eclipsed the world of movable type printing thus putting C and P (and many others) out of business.
The New Style press made by Chandler and Price was such a popular press that The Practice Of Printing: Letterpress and Offset by Ralph Polk, the standard textbook for thousands of high school printing programs in the middle of the 20th century, used the press as its example when teaching students the basics of press operation."
While I was in the basement taking a photo of Jim Bob's press, I also took a picture of the old desk Wanda used during the thirty years she taught kindergarten at the Tuscumbia school (photo 05a).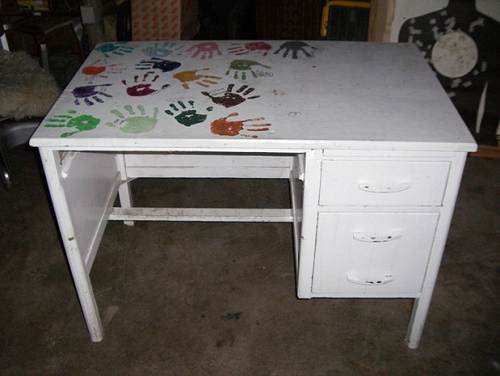 05a Wanda's Teacher's Desk
Tom and his wife Dori, live close to Wanda on the same farm, which consists of 500 acres of beautiful wooded hills and valleys through which run several small clear water running streams…. except for Dry Creek, of course, which only runs intermittently after rain storms during the early spring rains since no spring is located near its runoff area.
The Wright family settled in this area many years ago in the mid 1800's when James Robert's great grandfather, Hiram Wright, came to the Dry Creek area. Tom has a document signed by President James Buchanan in which Hiram was recognized as the original homesteader of forty acres near where Tom lives now. Tom Wright's family history has been traced all the way back to a Peter Wright of England who was born about 1570 in Thorpe, Yorkshire, England, and died 17 December 1617 in Howden, East Riding, Yorkshire, England. The first Wright to come to the mid Missouri area was Anthony Wright who lived near Brazito. It was his sons, James Lawrence Wright and Hiram Wright, who came to Miller County. James Lawrence Wright settled a short distance north of Hiram's place on the Little Saline Creek where he established an important water driven carding mill. You can read the complete family tree of Tom Wright on this attachment as put together by genealogist, Don Blankenship.
We don't have a photo of Hiram but we do of his son, William, and William's wife, Anna Roach (photo 07).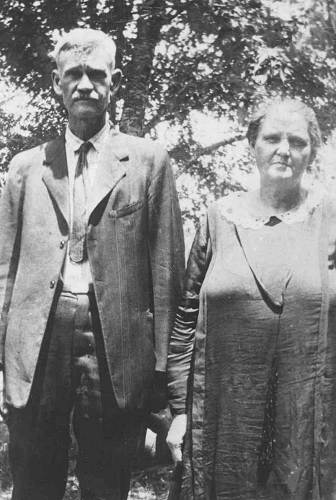 07 William H. Wright and Anna Mae Belle Roach - 1888
They were married November 4, 1888
We also have in our museum hanging on our wall of patriarchs this photo of Anna Roach holding her son Isaac when he was a small baby (photo 08).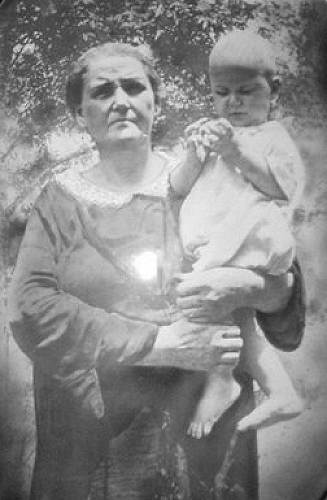 08 Anna Roach Wright and son Isaac
Also, we have an old portrait of Isaac when he was just a little older (photo 09).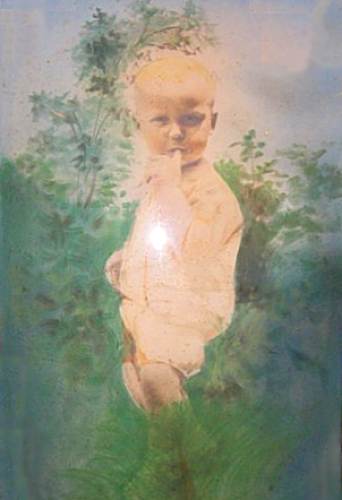 09 Isaac Wright
When Isaac became an adult he married Barcie Williams (photo 10).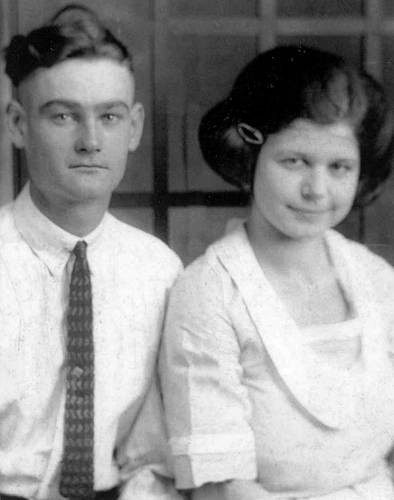 10 Isaac Wright and Barcie Williams
About fifteen years later this family photo was taken including Jim Bob and his sister, Doris, who later married Gail Wyrick (photo 11).
11 James Robert, Isaac, Barcie and Doris Wright
Jim Bob and Doris first lived with their parents Isaac and Barcie in a small house behind where Bob Wyrick lives now on Highway 52 north of Tuscumbia. Later, the family moved to Wright Spring on the Little Saline Creek. Later, when Jim was about ten or eleven the family moved a short distance south to a farm near Dry Creek, near the original farm homesteaded by Hiram Wright. Isaac and Jim cut oak trees to obtain the logs which they pulled with a horse to their own saw mill to make the lumber to build a new house. At that time Isaac had a team of horses which he often used for farm work as well as transportation (photo 12).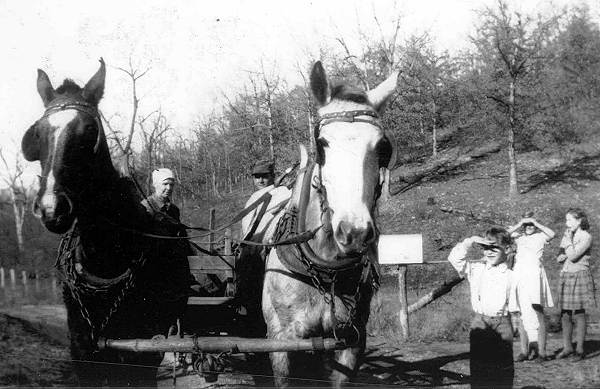 12 Barcie and Ike ride in a wagon pulled by Daisy and Dolly, while James, about eight, and Doris,
about ten, look on. The other girl is a neighbor. About 1940.
An old barn nearby was refurbished with the help of Isaac's brother, Ed Wright, who had a home nearby (photos 13, 14 and 15).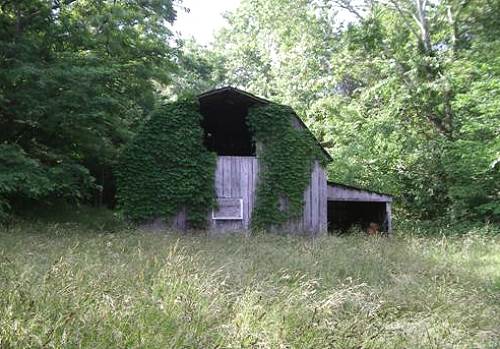 13 Barn built by Isaac and Ed Wright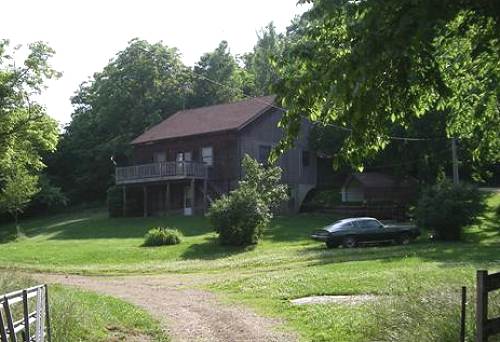 14 Old Ed Wright Home Site replaced by Present Home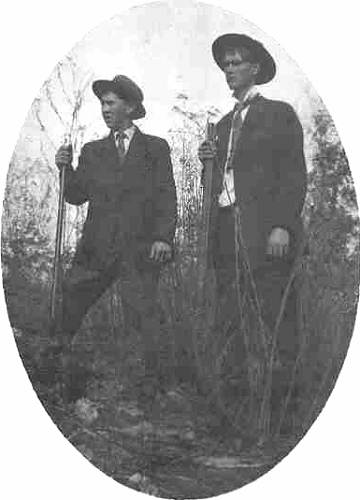 15 Cousins Pittman and Ed Wright
Jim Bob lived in this home until he married Wanda after which he and Wanda moved a little further north to a farm originally owned years earlier by "Rabbit" Dan Thompson who had lived in a log cabin. After "Rabbit" Dan the land next was owned by Ray Bean who built a frame home with the help of his brother in law Onis Keeth. It was to this home that Wanda and Jim Bob moved in 1963.
The home Isaac and Jim built was sold by the family to William Formby, former Tuscumbia school teacher, at which time Isaac and Barcie moved to a trailer close to Jim and Wanda's home. After Mr. Formby passed, the Wrights' bought back the farm and house.
A year or so ago, Tom and his wife Dori, decided to rehabilitate the old Isaac Wright home and offer it as a vacation home for tourists who want to visit the Ozarks and experience what it is like to live on a true hill farm without the usual noise and extravagance of the tourist attractions over at the Lake of the Ozarks.
They gutted the little 4-room homestead of Isaac's after which they changed the floor plan and remodelled the home using a rustic décor. Additions to the home included an attic loft/balcony for an additional sleeping area, multiple windows for viewing the landscape, and a private study/reading area which allows one to thoroughly enjoy the solitude.
Dori has spent more than a year working with an architect and skilled carpenters to remodel the old Isaac Wright home. Tom has handmade some items for the home out of old barn lumber. Together, they have created a delightful retreat for those vacationers who would rather experience their visit to the Ozarks in a natural setting of forested hills and the running water of the several spring fed streams in the area. Visitors have a large area to explore as Tom has added acreage through the years now amounting to more than 500 acres. On this plat map you can see that in sections 33 and 28 at the bottom of the map the Wright farm is quite large (photo 16).
I had the opportunity to visit the remodelled home the other day and took these photos with explanatory captions (photos 17 - 25):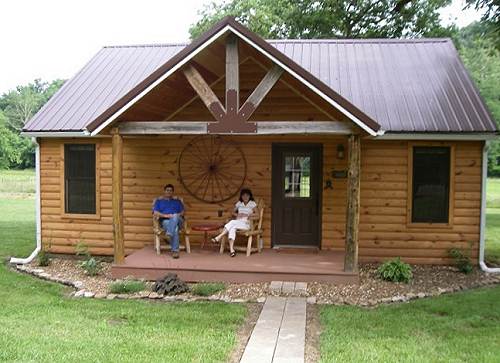 17 Tom and Dori expecting Visitors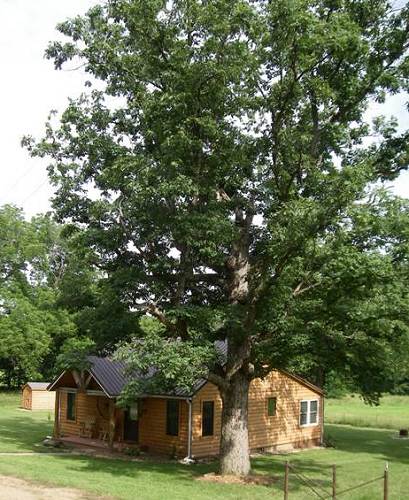 18 150 Year Old Oak Tree in Yard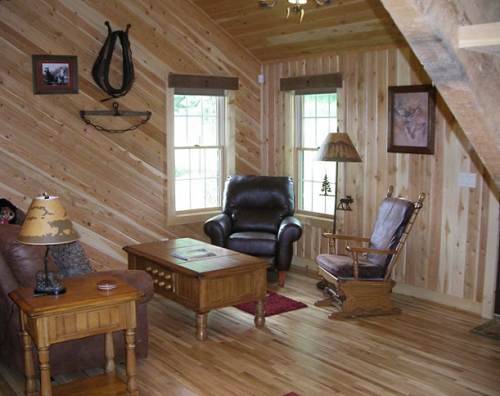 19 Living Room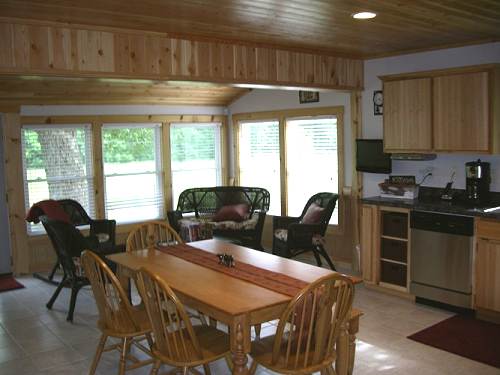 20 Kitchen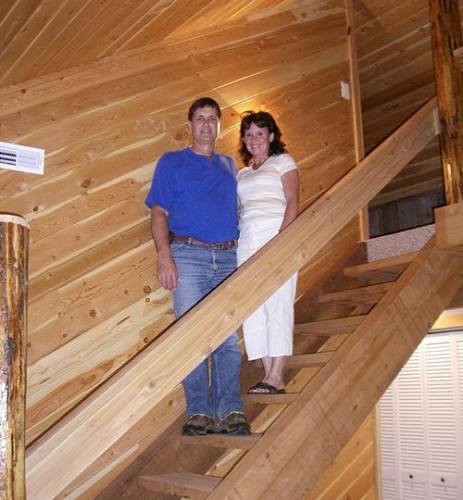 21 Tom and Dori on Steps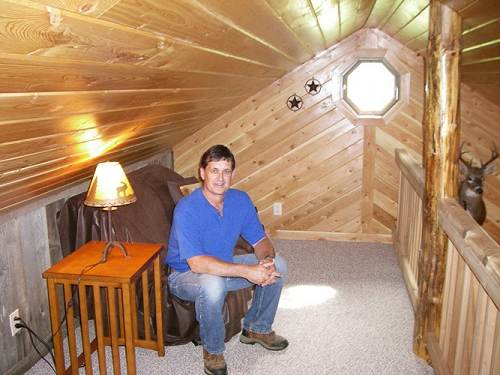 22 Tom Wright in Loft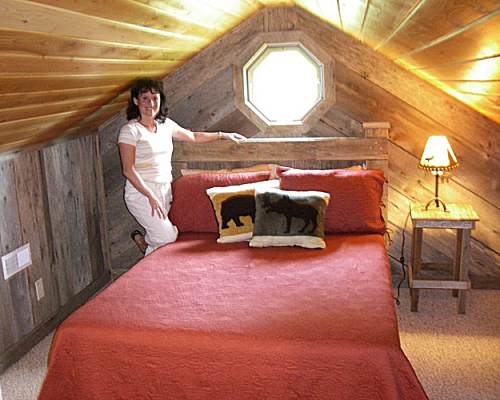 23 Dori Wright in Loft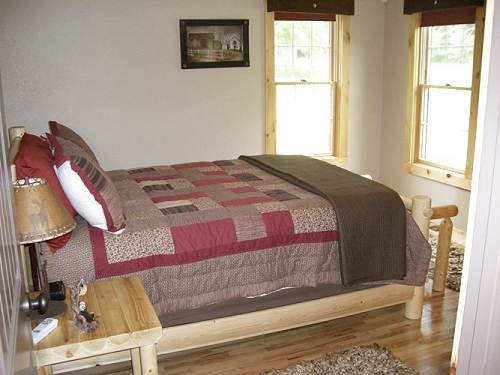 24 Bedroom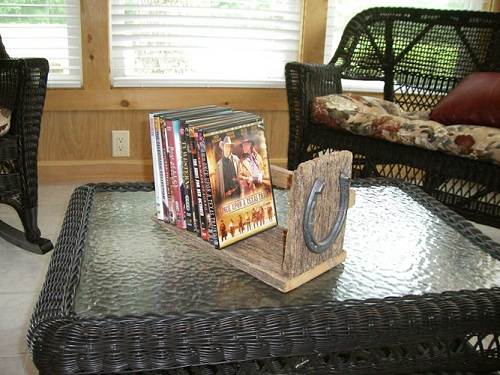 25 Barn Wood DVD Holder
Tom and Dori have created a delightful webpage which features their quaint and beautiful cabin retreat. You can take a look at it at this URL:
I was very impressed by the quality of workmanship of the remodelling of the old Isaac Wright home and I believe it offers even the most discerning guest a relaxing atmosphere for rest and relaxation in a beautiful Ozark valley setting.
---
Earlier this month the nation recognized the loss of 2,500 of our soldiers on D Day, June 6, 1944 during WW II. We lost 417,000 of our troops overall in that conflict. Our country also lost many soldiers during the first world war as well (118,000). Many also died of influenza during that war due to a world wide epidemic caused by the most virulent influenza virus ever known in history. World War I was the first extended war in which our country mobilized thousands of men to fight on foreign shores such a long way from home. It was with trepidation and anxiety that families watched their young men leave home to go so far away to fight a war which seemed so distant and unrelated to affairs here at home.
William Franklin Harvey, who recently wrote for us a wonderful article about his great uncle Robert S. Harvey of Eldon, has sent us a pictorial essay about the day that the first group of Eldon young men left their homes to go to Europe to fight in WWI.
The photos offer a view of a dramatic moment in time in our county when our young men had to leave home and families to fight a war on foreign soil. The photos sent by Professor Harvey, enhanced by his accompanying captions, offer a dramatic historical witness to those of us now living many years later who may know little of that first great world war in which our country was involved. Please note how carefully the boys and their families and friends have dressed, including suit coats and ties, as they go off to war. It is one small indication of a very different time and culture than the one we have nowadays.
World War I
Comes
To
Miller County
Pictures Taken in August 1918
At the Missouri Pacific Railroad Depot
In Eldon, Missouri
By William F. Harvey
Indianapolis, Indiana
June 3, 2009
Photo No. 26: An exciting day. A crowd gathers to see the train and to see "the boys off" to camp and the War.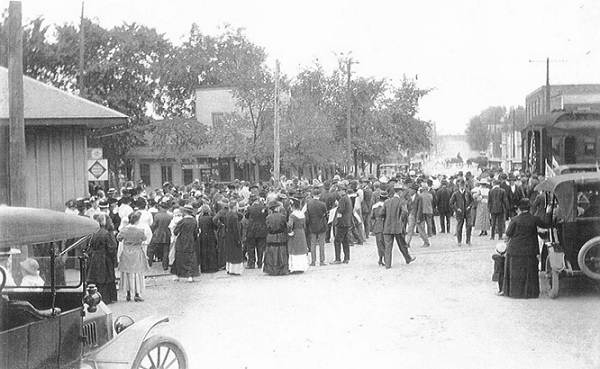 26 Crowd Gathers
Photo No. 27: The train has arrived, the crowd is divided into two main groups, and the anxiety or pensiveness builds.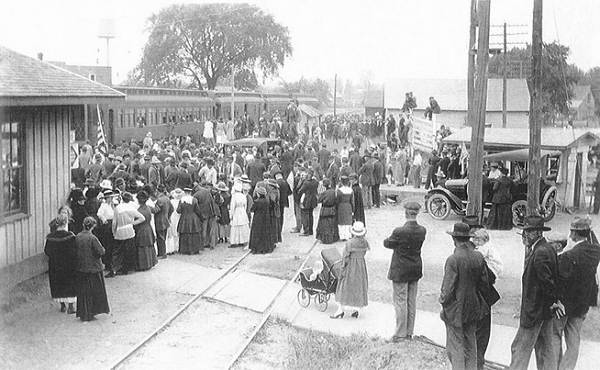 27 Train Arrives
Photo No. 28: The crowd presses toward the train as "the boys" board. The Eldon sign on the Missouri Pacific Railroad station is shown. The station was on the main street in Eldon, across the street from the Harvey Mercantile Building.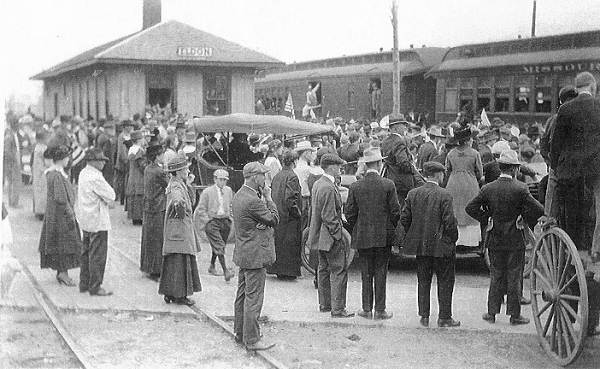 28 Boys Board
Photo No. 29: In Missouri Pacific car No. 504, four "boys" from Miller County are shown in windows. The young man, alone in the fourth window or the last window on the left side of the picture, is William T. Franklin, the son of Mr. and Mrs. James S. Franklin of Eldon, Missouri.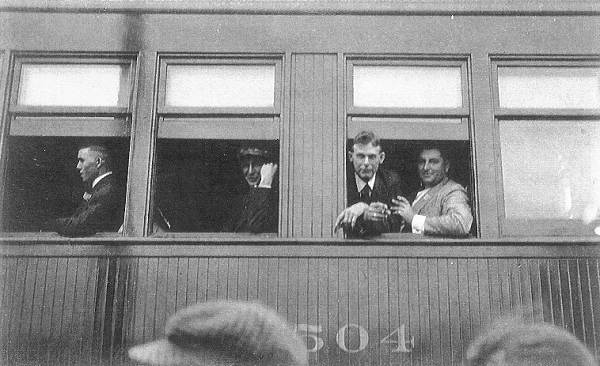 29 William Franklin
This is the last picture ever taken of William T. Franklin. He died October 10, 1918 of the Spanish Flu epidemic when in officer training in the U.S. Army at Camp Pike, Arkansas. His sister, Maud Franklin Allee, wife of Dr. Warren L. Allee, asked her husband, Dr. Allee, to retrieve his body at Camp Pike. Dr. Allee did this and brought the deceased back to Eldon for burial.
His death was widely noted, as in the St. Louis Globe Democrat newspaper at that time.
Photo No. 30: The train departs the station in Eldon. As the train leaves, many persons remain and stand on the track. Their posture, their backs, their hands, their heads, their uniform stare, and their stillness radiate the apprehension, the anxiety, and the doubt that consumes them.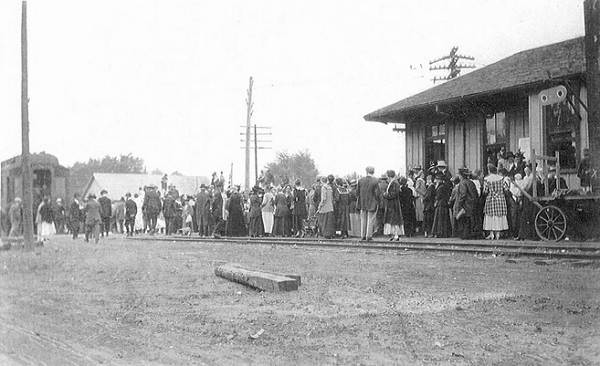 30 Train Departs
Note: I was named for William T. Franklin (hence: William Franklin Harvey) by my father who was a very close friend to his first cousin, "Bill Franklin." They were born in Eldon in the same year, 1897, a few months apart.
---
Professor Harvey wrote me the following regarding the tragic death of his father's first cousin, William T. Franklin, to which he referred above:
"I was named for William T. Franklin; he was a very close 1st cousin and friend of my Father, Harry F. Harvey. Bill attended the Culver Military Academy in Indiana and the University of Missouri when WW I came upon us. He was a member of a social fraternity, Phi Delta Theta, at MU. He was there about a year and a half when he went into the Army. His name appears on the first level wall of the MU Memorial Union Tower. His death broke his father's heart, J. S. Franklin. He never recovered from it and died early in the 1920s. J. S. Franklin was very prominent in Eldon and Miller County along with R.S. Harvey, and N. E. Harvey, and he was the brother of both of the Harvey brother wives--two Harvey brothers married two Franklin sisters."
As noted above, Warren Logan Allee M.D. accompanied the body of William T. Franklin back to Eldon. Copied below is an article in the Eldon Advertiser about the funeral of young William Franklin which includes a very moving memorial by his friend, R. S. Allee:
Eldon Advertiser
(Published approximately October, 1918)
Will Franklin Died At Camp Pike
Was In Training For Officer
Young Man of Prominent Pioneer Family of Miller County
W.T. Franklin, son of Mr. and Mrs. J.S. Franklin, one of the most prominent and wealthy pioneer families of Miller County, passed away at Camp Pike, Arkansas, Thursday and the body was brought home Friday and buried in the Eldon cemetery. A very large crowd attended the services held on the hoe lawn Sunday afternoon.
A splendid choir and Decker's Band furnished music and an impressive sermon was preached by Reverend W.L. Reese, pastor of the Christian Church assisted by Reverend Edmond Wilkes of Columbia, a former pastor.
William Thomas Franklin was born in Eldon, June 16, 1897. He became a member of the Christian Church in August, 1907. He graduated from the local High School in the year 1915 and graduated from Culver Military Academy in 1916 where they conferred on him a membership in the Black Horse Troop, which is considered an honor. For a year and a half he was a student in the Missouri University and a member of the Greek Letter Fraternity, Phi Delta Theta.
He volunteered in the United States Army on the 17th of June 1918. He received appointment to the Infantry Officers Troop 6th Company, 2nd Battalion, Infantry Officers Training Camp. The family was glad that he was patriotic and loved his country and humanity enough to offer himself for service in this, the world's greatest crisis. His Captain in the following letter to his father speaks of him in most admirable terms:
Mr. J.S. Franklin, Eldon Mo.

My Dear Mr. Franklin,

It is my duty to inform you that your son, Private William T. Franklin, died at 4:20 a.m. October 10, 1918, of bronchopneumonia, bilateral.

Your son entered the Base Hospital, Camp Pike, Arkansas, October 4, 1918. He was an excellent soldier and generous. Though his privileges and circumstances might have caused him to be otherwise yet there were none of the lowly too humble for his association, and to be recipients of his kindness and generosity. His father told me this morning that he had this consolation, "He was a good boy."
Reverend W.L. Reese offered the following statement:
"In our church association we found him most attentive. While at home he was always present at our Sunday School and church and seldom were the doors open that Will was not there."
The following eulogy was read by R.H. Allee of Kansas City:
"It has been a time honored custom among all nations and all peoples to go through the formality of some service over the remains of those who have passed into the great beyond. Following this beautiful and impressive custom we have come together today to pay a last tribute of love and respect to a departed friend and neighbor boy. The silent form who lies before us is beyond the influence of any word that I may say or any act that I may do. The tender hand clasp which I but so recently had extended to me in friendly greeting is gone forever and the voice that once welcomed me is forever hushed.
Our young friend died just as he reached the portals of manhood, just where the great possibilities of a useful and an eventful career began to unfold themselves. Achievements in all of the fields of endeavor were opened to him but he passed away before he had an opportunity to take a high place in the business or professional world. Success in these peaceful pursuits is measured by the good a man does and the sacrifices he makes for his fellows. The mere accumulation of wealth is not a laudable ambition nor a praiseworthy accomplishment but an honest purpose and a clean intent will always mark the pathway of a useful and a successful career.
Recent events have rocked the very foundation of civilization; have torn babes from their mothers' breasts; have taken boys from their peaceful homes; husbands from their families and smiling lands have been laid waste by the marauder. Ambitious men and boys were forced from their homes to further prevent the slaughter and butchery of innocent people and the whole world has been turned from legitimate commerce to the awful business of war. This boy gave up a promising career to prepare himself for a splendid service to his country and staked his life in order that we might enjoy unmolested peace and happiness. He was never permitted to go over the top amidst the shouts and applause of the bravest boys that the noblest women of God's Universe ever gave birth to. No distinctive emblems of heroic deeds adorn his breast; no ghastly wounds disturb his peaceful countenance and his heart was not stilled by the assassin's bullet but still he was a hero and we cherish his memory none the less because the facts did not decree the realization of his fondest hopes. His purpose and his intent cannot be doubted and he was on his way, preparing himself to give the fullest measure of service and devotion to the land he loved so dearly.
His purpose was honest and his ambition lofty and when the heroes of this great conflict are given the praise and homage so justly due him, the poor unfortunate boys who died in the training camps will have a high place in the greatest of records and Will Franklin's name will occupy a position that we may all point to with pride and affection.
I come not here to expound a new theology nor to advance novel theories on the immortality of the soul but I come simply in the capacity of an humble friend to mingle my tears with yours and to assure you of my profoundest sympathy. It seems but yesterday when many of the dear friends, whom I see here today, came to me with tear stained faces and saddened hearts to share with me, my greatest grief. Those unmistakable evidences of a sincere and lasting friendship partially assuaged my grief and convinced me that while I had suffered the greatest of losses I still had a priceless possession, a host of friends. To the relatives and friends of this dear boy I pledge my friendship, my love, my sympathy and if my presence and my brief words are a consolation, I am thankful.
To the father and mother of Will Franklin, I say, be brave, be calm and be consoled with the fact that you have made the supreme sacrifice, the gift of your only son to the cause of humanity.
---
In the same edition of the Advertiser in which the funeral of William T. Franklin was published, the Advertiser also ran an article about the illness which caused William's death, the influenza virus which caused the world wide epidemic sometimes known as the "Spanish Flu:"
Eldon Advertiser
(Published in October, 1918)
Precautions Against Spread of Epidemic
By United States Public Health Service
The So-Called "Spanish Influenza" Three Day Fever"…or "The Flu"
The United States Public Health Service through the State Board of Health asks the publication of the following extract from report on "Spanish Influenza" or "Three Day Fever" or "The Flu" which is epidemic in this country at the present time and every precaution is urged to prevent its spread and interference with the necessary business everywhere. Theaters, schools and churches have been closed and all public gatherings postponed not because of the serious death rate, which is very low considering the number of cases, but because of the complications which follow. Pneumonia and the complications of other diseases following this epidemic are taxing the nurses and physicians of the country beyond their capacity.
The disease now occurring in this country and called "Spanish Influenza" resembles a very contagious kind of "cold" accompanied by fever, pains in the head, eyes, back or other parts of the body, and a feeling of severe sickness. In most of the cases the symptoms disappear after three or four days, the patient then rapidly recovering. Some of the patients, however, develop pneumonia, or inflammation of the meninges, and many of these complicated cases die. Epidemics of influenza have visited this country since 1647. It is interesting to know that this first epidemic was brought here from Valencia Spain. Since that time there have been numerous epidemics of the disease. In 1889 and 1890 an epidemic of influenza, starting some where in the Orient, spread first to Russia, and thence over practically the entire civilized world.
There is as yet no certain way in which a single case of "Spanish influenza" can be recognized; on the other hand, recognition is easy where there is a group of cases. In contrast to the outbreaks of ordinary coughs and colds, which usually occur in the cold months, epidemics of influenza, may occur at any season of the year, thus the necessity of never failing to consider this disease when typical flu like symptoms develop, even during the warm seasons.
---
Copied below is a short excerpt from Wikipedia about the "Spanish Flu" which can be found at this website:
http://en.wikipedia.org/wiki/Spanish_flu
The 1918 flu pandemic (commonly referred to as the Spanish flu) was an influenza pandemic that spread to nearly every part of the world. It was caused by an unusually virulent and deadly Influenza A virus strain of subtype H1N1. Historical and epidemiological data are inadequate to identify the geographic origin of the virus. Most of its victims were healthy young adults, in contrast to most influenza outbreaks which predominantly affect juvenile, elderly, or otherwise weakened patients. The flu pandemic has also been implicated in the sudden outbreak of Encephalitis lethargica in the 1920s.
The pandemic lasted from March 1918 to June 1920, spreading even to the Arctic and remote Pacific islands. It is estimated that anywhere from 50 to 100 million people were killed worldwide, or the approximate equivalent of one third of the population of Europe. An estimated 500 million people, one third of the world's population (approximately 1.6 billion at the time), became infected.
Scientists have used tissue samples from frozen victims to reproduce the virus for study. Given the strain's extreme virulence there has been controversy regarding the wisdom of such research. Among the conclusions of this research is that the virus kills via a cytokine storm (overreaction of the body's immune system) which explains its unusually severe nature and the concentrated age profile of its victims. The strong immune systems of young adults ravaged the body, whereas the weaker immune systems of children and middle-aged adults caused fewer deaths.
---
Some controversy now exists as to whether the neurological syndromes which affected some survivors of the "Spanish Flu" really were a direct result of complications of this particular influenza virus or were due to an unrelated but coincident sickness perhaps caused by a different virus. The website cited above gives more information about the neurological syndromes suffered by some survivors of the "Spanish Flu."
Quite a few people in Miller County suffered from the "Spanish Flu," about which I discussed in a previous Progress Notes narrative.
This photo of William T. Franklin was copied from an article about the Spanish Flu published in the St. Louis Globe Democrat in October of 1918 which was sent me by Professor William Harvey (photo 31).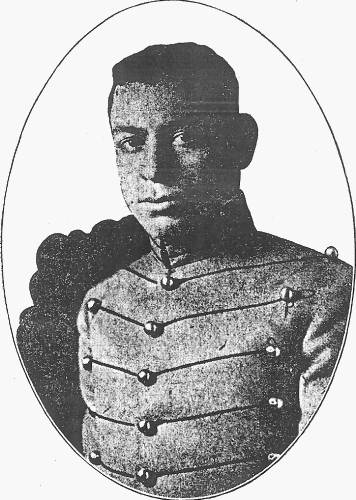 31 William T. Franklin
---
Here are some recent photos of the Osage River bridge construction project now ongoing in Tuscumbia. The trestles are now being placed upon the piers. They are very long and require special wheel setups to which they are attached. The trestles are delivered one at a time. My wife saw one truck and trestle at the Highway 54/52 exit ramp which couldn't make the turn to get on Highway 52. She said traffic was backed up quite a ways as the driver tried to maneuver his vehicle in such a way as to keep the trestle and carrying wheels on the highway (photos 32 - 35).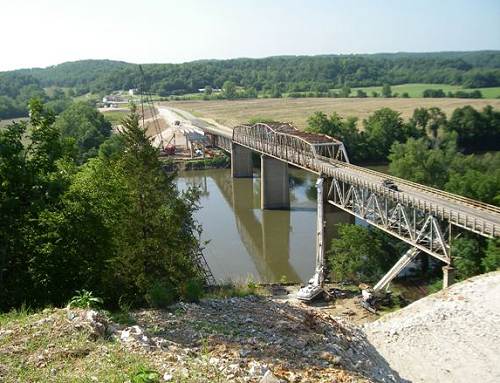 32 Piers and Trestles at other End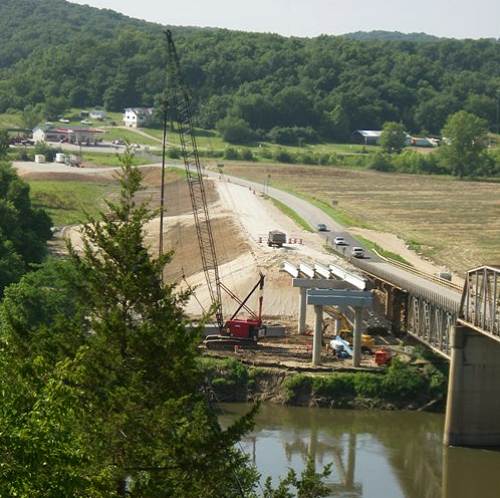 33 Closer View of Trestles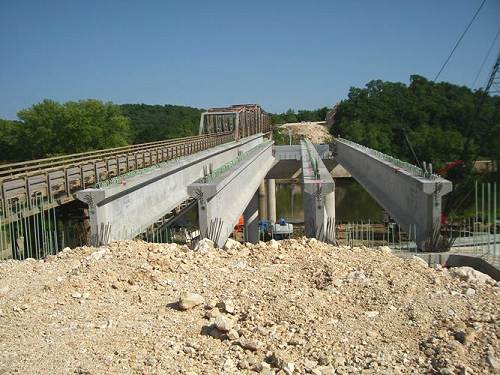 34 Trestles from North Side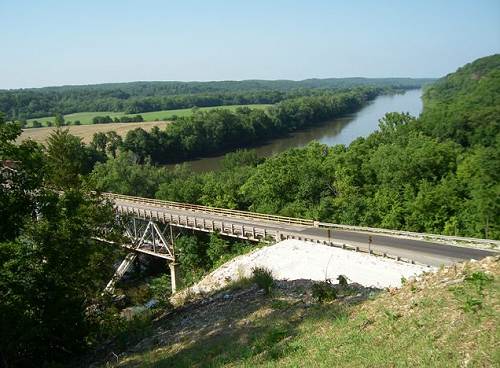 35 River is Up
---
Recently, Lynn Morrow, director of the Local Records Division of the Missouri State Archives, and John Korasick, Administrative Archivist, returned to us ten huge boxes containing many of our old one room school record books which had been sent to Jefferson City to be microfilmed for placement in the State Archives microfilm library (photo 36).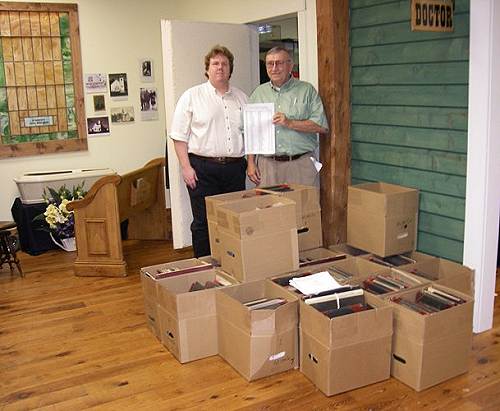 36 John Korasick and Lynn Morrow
We had scrupulously cleaned each of these books last fall to remove mold before sending them to Jefferson City for microfilming. We are very thankful to Lynn and John for their work in helping us preserve these very interesting and valuable records which are especially of value to those researching genealogy histories. Lynn's family has deep roots in the "Big Richwoods" region of Miller County.
We actively encourage those who have old Miller County school book records to donate them to our museum library where they will be cleaned to remove mold and sent to the state archives for microfilming, which is the only long term method of preserving the information contained in them. The original record books are returned to us by the state archives where they are stored in a restricted location.
---
Last week we were visited by Eldon Public School summer students who enjoyed a tour of our museum. They were accompanied by Phil Wood, director of the Physical Education Department, as well as several others of the school staff (photos 37 and 38).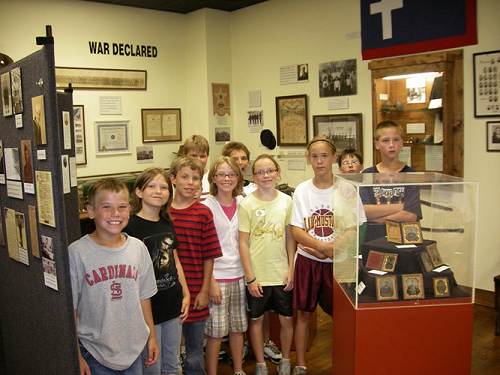 37 Eldon Summer School PE Class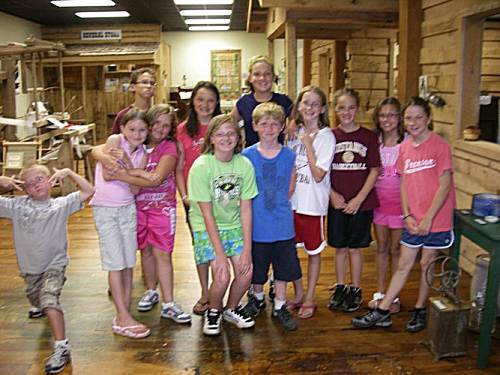 38 Eldon Summer School PE Class
---
Last Saturday we hosted a very successful quilt show entertaining close to one hundred guests. The planning began long before when our own quilt team began working with the quilts offered for show (photoa 39 and 40).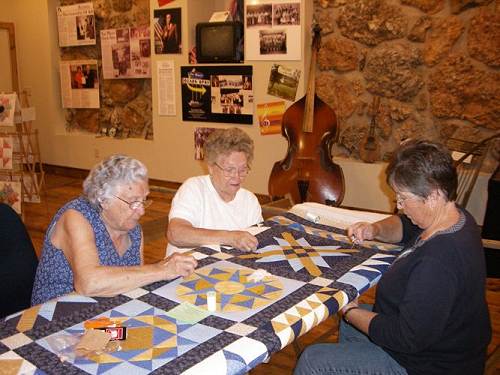 39 Elva Steen, Dorothy Edwards and Martha Suttie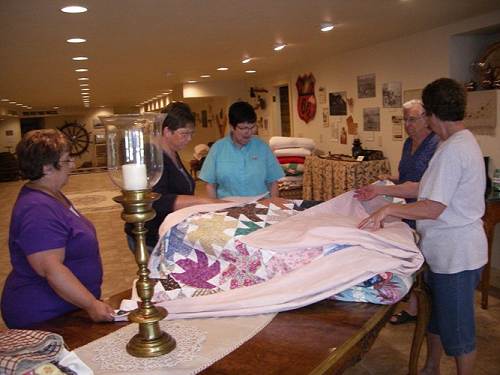 40 Dianne Berkbigler, Martha Suttie, Judy Pryor, Elva Steen and Doris Wiggins
A couple days before the show quilt racks were set up (photo 41) and quilts hung (photo 42).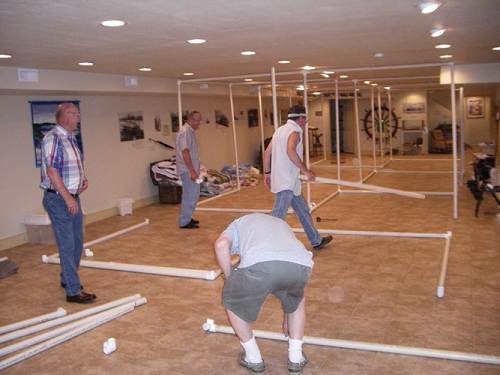 41 Setting up the Quilt Racks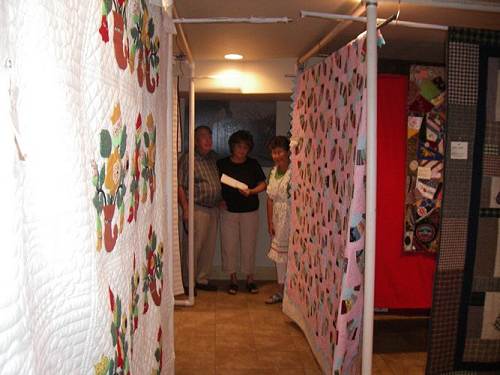 42 Quilts on Racks
Many area people entered quilts. One couple, Mr. and Mrs. Kleo Robertson of Iberia, brought one of the older quilts made by Mrs. Robertson's grandmother, Mrs. George Martin (photo 43).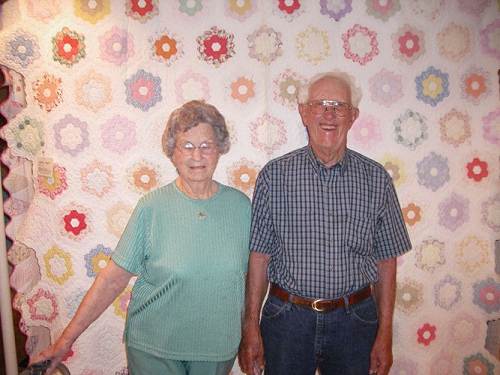 43 Betty and Kleo Robertson - Quilt made by Laura Martin, wife of George
The lunch served was cool and light, just right for the ninety plus degree heat outside consisting of chicken salad croissant sandwiches, fruit, and light pastries. Our lunch preparers and servers are pictured here (photo 44).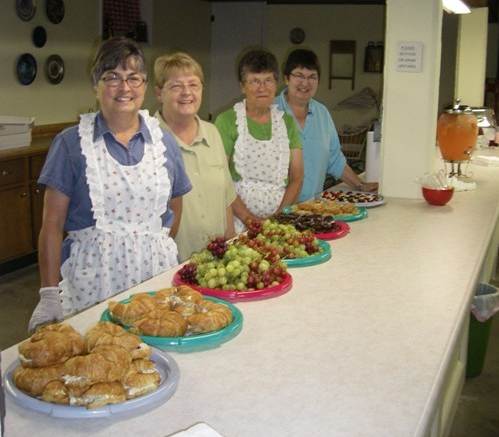 44 Janie Davis, Connie Prather, Sharon Holder and Judy Pryor
We had our guests and visitors vote for quilts organized in several categories. However, "Best of Show," the overall winner, was brought by Jean Keeth of Iberia (photo 45).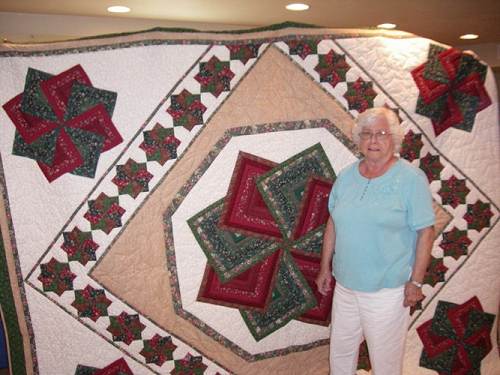 45 Jean Keeth - Winner Best of Show
I also want to express our appreciation for all the help and advice we received from Vi and Melvin Dale of Stover Quality Quilting who supplied the racks for our quilts (photo 46).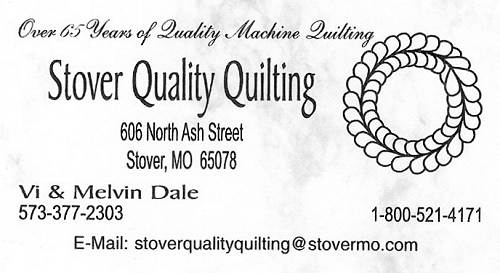 46 Stover Quality Quilting
We are very grateful to all who volunteered to work with us to make the quilt show so much fun and entertaining. Miller County has an exceptional number of very talented quilters; we feel very honored that they took the time to come and present their quilts for our show.
That's all for this week.
Joe Pryor