Monday, June 22, 2009
Progress Notes
Recently, I went over to Iberia to visit Maurice Mace, who is the grandson of Dr. George R. Mace (photo 01), one of Miller County's earliest physicians.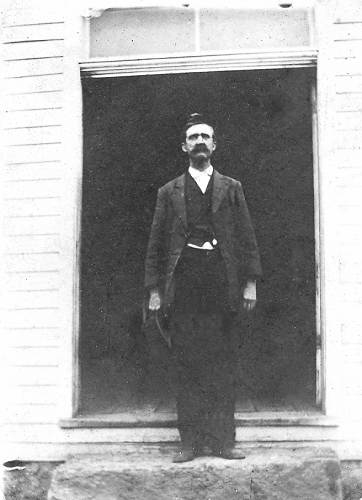 01 George R. Mace M.D.
Maurice had contacted Lewis Wall, one of our museum historical consultants, and told him that he had a saddle bag that his grandfather, Dr. George Mace, had used to carry medical instruments and medications when he made house calls throughout the region (photo 02).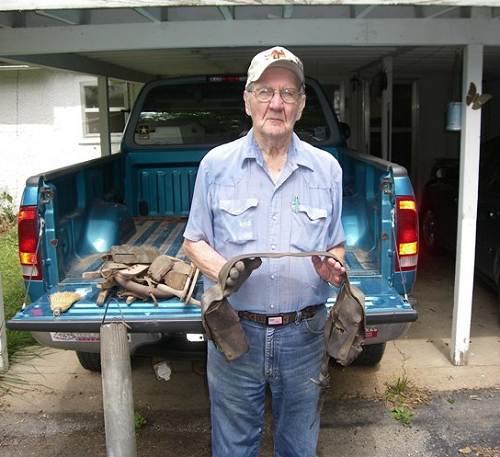 02 Maurice Mace with Saddle Bag
Maurice told me that Dr. Mace was born in Illinois in 1854 but came to Miller County early with his family. Where he went to medical school isn't remembered now but he began practice in Iberia in 1880. After a while he moved to Linn Creek to open a practice but soon moved back to Iberia. He retired from medical practice in 1930. Dr. Mace was married to Victoria Fox (photo 03).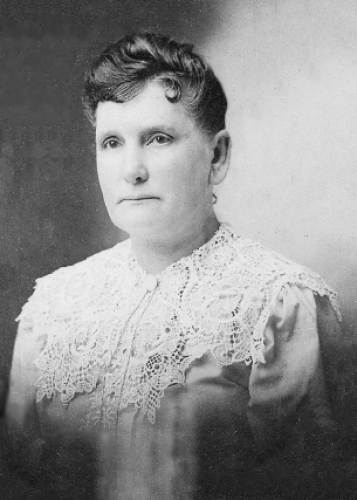 03 Victoria Fox Mace - Wife of Dr. George Mace
The couple had five sons; Everett, Claude, Elmer (photo 04), Bert (photo 05) and Roy for whom I don't have a photo.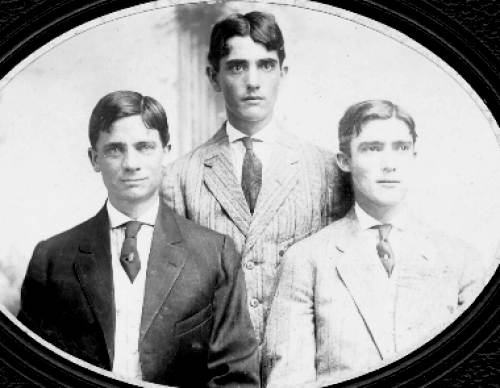 04 Everett, Claude and Elmer Mace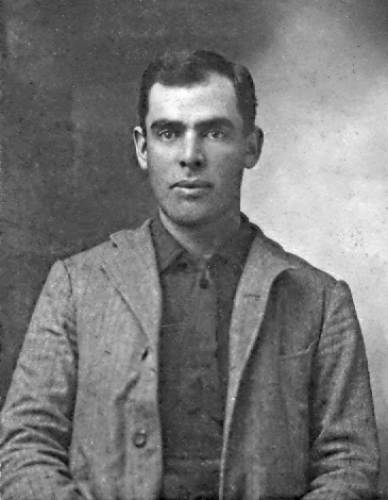 05 Bert Mace
Roy was married to a woman with the last name of Green, one of four sisters; here is a photo of Dr. Mace with two of the Green sisters (photo 06).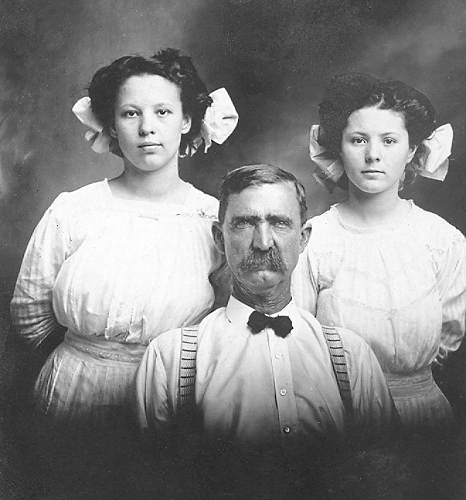 06 Dr. Mace with Green Sisters
Maurice remembered fairly well his grandfather, Dr. Mace, as he often played in the area of Dr. Mace's office which was part of the home. The home later was bought by the Nazarene Church, details of which I will present later in this narrative. One of the main things remembered by Maurice was how hot the Mace's kept the home. Maurice said every room had a wood stove and the doctor kept them all fired up day and night. Maurice also remembered how often Dr. Mace was paid with farm produce. Hardly ever was money exchanged for his services. Dr. Mace had a 500 pound stone hitching post near his home where his horse was tied so that in emergencies Dr. Mace wouldn't have to go to the field to fetch it in. A man was hired to ride the horse around town on a regular basis during the day so it would be "warmed up" and ready to go. Here is a photo of Dr. and Mrs. Mace in front of his small office located in front of his home (photo 06a).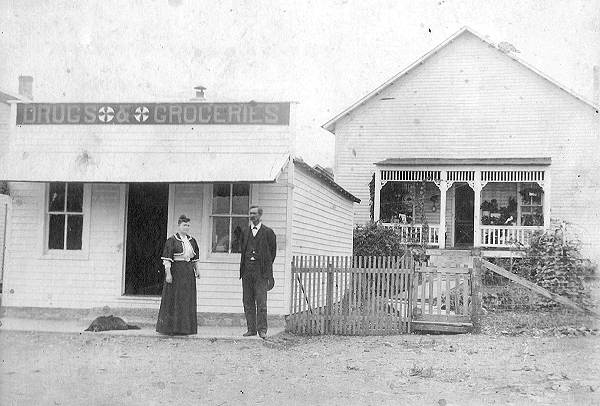 06a Dr. George Mace and Wife in front of Office and Home
These structures eventually were replaced by the Nazarene Church and the Iberia City Jail which, as noted above, will be discussed later.
The doctor's bag which belonged to Dr. George R. Mace would have contained items common to medical practice in the late 1800's and early 1900's. Although we no longer have any of the items left which Dr. Mace kept in his bag, I did find a wonderful web site which describes in detail what the doctor in those days would have carried in their bag. Be sure and peruse this site which even includes an interview with an old doctor who used such a bag:
The home in which Dr. Mace had his office later was sold to the Nazarene Church. The story of this church is interesting in itself and is inserted here as told by Peggy Hake:
IBERIA'S CHURCH OF THE NAZARENE
by Peggy Smith Hake
The site of Iberia's Church of the Nazarene was once occupied by the Methodists. It has been 'holy ground' for well over a century. In 1871, James and Ruth Martin sold off a parcel of land in Iberia to the Trustees of the Methodist Episcopal Church of Miller County. The trustees named in the deed included William Tallman, David Farnham, John W. Waite, Jeremiah (Jerry) C. Tallman, and John C. Thompson. They built a church on this land and kept it until 1903. That year the trustees (John Ferguson, Jeremiah Whalen, John L. Hopkins, John C. Thompson, and M.V.B. Trent) sold the church site to George R. Mace, a local physician, for $255. In the transaction, the church was referred to as "People's M.E. Church".
When Dr. Mace purchased the old Methodist church, it is my understanding he remodeled the building into his living quarters. Later he constructed a small structure to the west of the old church where he sat up his medical profession and practice. When the trustees of the Nazarene Church bought the property, the small medical office was still standing on the lot.
From 1903 through 1925, this property was owned by various members of the Mace family. In 1915, George and Victoria Mace sold to Elmer and Erma Mace. In 1918, Elmer and Erma sold to Bert R. Mace, a single man. Bert kept the property until 1925 when he sold it to Martin C. and Mary Hicks.
On March 10, 1926, Martin and Mary sold this piece of land to the Church of the Nazarene, which had organized just a short time earlier, for $1500. In the deed it specified that this property was..."In trust, that said premises shall be used, kept, maintained, and disposed of, as a place of worship for the use of the ministry and membership of the Church of the Nazarene; subject to the doctrine, law, and usage of said church, as from time to time declared by the General Assembly of said church".
On April 13, 1944, the church acquired the adjoining property from Joseph and Sophia Hendricks. It was located to the north of the church's parsonage. This adjoining lot has a parcel 33 feet by 33 feet excepted from the transaction because it was owned by the town of Iberia and was the location of the town's old jailhouse.
In 1908, David and Henrietta Farnham conveyed off this 33-foot square parcel to the Trustees of the Town Board of Iberia and thereupon was built the old concrete jailhouse (photo 07).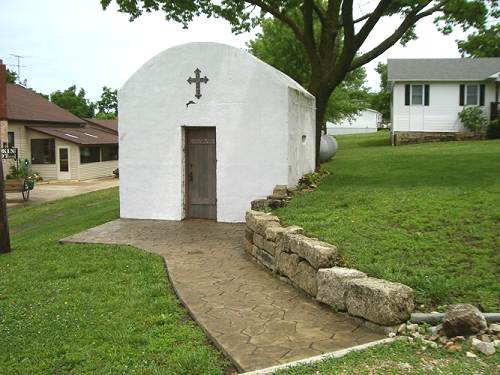 07 Iberia Jail
In 1954, the town of Iberia conveyed the old jail property to the trustees of the Nazarene Church who included Willard Duncan, Will Jarrett, and James Hendley. The real estate transaction was signed by Mayor Charles Abernathy of Iberia.
In the 1930s, under the pastorate of Rev. A. O. Shearer, the first parsonage was built from native limestone. The old church was torn down in 1947 and the present church building was built and finished in 1949. The church was built of 130 tons of red granite rock that was quarried in Iron County, Missouri and hauled to Iberia for cutting and placed by talented stonemasons including my grandfather, Frank Smith, and his brother, Felix (Pea) Smith.
As I mentioned before, the old deserted jail still remains today....a historic place of confinement, condemnation, and calamities neighbored by a hallowed place of comfort, compassion, and Christians.....the Iberia Church of the Nazarene (photo 08 which shows church and the little white jail to the left).
08 Nazarene Church and Old Iberia Jail
Thanks Peggy.
Now one thing leads to another; you might remember in Progress Notes of April 4th I discussed the conversion of the old Iberia Jail to a prayer room by the Nazarene church.
(You will need to scroll to near the end of the page to get to this story.)
Now back to Maurice Mace and his memories of his grandfather, Dr. George Mace.
Maurice said that Dr. Mace had a brother named Thomas Walker Mace whose farm was located near the old Mace school. Thomas, according to Maurice, was somewhat parsimonious, at least, that is what Maurice's father, Edward Mace told him, because Edward and his brothers thought Thomas paid them way too little when they worked on his farm. However, Thomas was generous enough to donate the acre of land from his farm upon which was built the Mace School.
Here is an article about the Mace school from the Vernon Publishing Company taken from our own website at this URL:
http://www.millercountymuseum.org/schools/orsp.html
The Eldon Advertiser and Miller County Autogram-Sentinel 1976 Bicentennial Salute:
On the west edge of Iberia on Highway 42, stands a home that is full of history. In or around the year 1854 a man named Thomas Mace donated the land for a school to be built and be known as the Mace School. This school was a one room building with a wood stove for heat and two outhouses, one for boys and one for girls, that became mighty cold on snowy winter days.
The school stood until the year 1927. At that time the original Mace School was torn down and a new school erected on the same spot. This school was also a large one room building complete with woodstove and two outhouses (photo 09).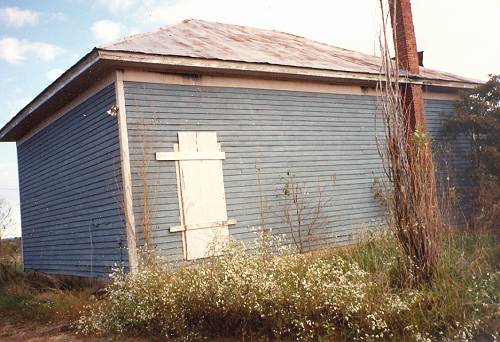 09 Second Mace School
Many students passed through the doors of Mace School and there were many teachers who took on the almost impossible task of teaching all grades in one classroom. Among those teachers were Goldie Wall, Oliver D. Agee, Marie Adams, Ruby Ferguson, Edna Jones, Lois Thompson and Verdon Rook.
In the late 1950's the one room schoolhouse had outlived its usefulness when Iberia consolidated. Mace School was sold to Mr. and Mrs. Oscar Wilson. The Wilsons turned the one room school into a modern home, preserving the large windows, light globes, and such incorporating these into the home. It was then used as a rental property for several years.
In the spring of 1975 the Omer Creech Jr. family purchased, remodeled and redecorated the home (photo 10 which indicates that since Peggy wrote this article others have lived in the old remodeled school house).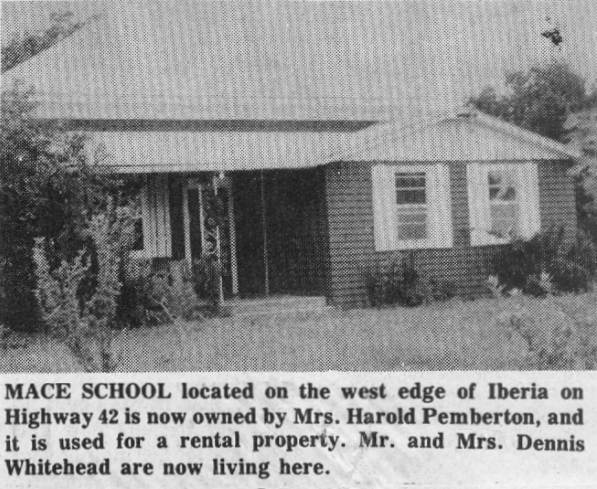 10 Remodeled Mace School
Here is a photo of one of the 1928-20 classes at the Mace school, again taken from our website (photo 11):
And here is the caption for the above photo:
1st row L-R: Charles Laden Berry, Earl Jarrett, Elmer Golden, Floy Groves, Dorsey Wilson?
2nd row: Maud Jarrett, Belle Hensley, Mae Sooter, Sarah Adams (Jarrett), Beulah Wilson (between 2 boys heads), Edna Farnham (Pemberton), Lucy Adams (Atwill), Grace Golden, Eula Groves (Groff).
3rd row: Oscar Wilson, Sam Jarrett, Lev Adams, Elmer Wyrick, Basil Stone, Herman Golden (hat but no face), and the teacher Goldie Wall. Standing in the door is Clarice Shackleford (Tracy).
Maurice remembered that a school house for black children was located very near the Mace school detailed above. Sometimes it also is called the Mace school. Here is its story as told by Peggy Hake also taken from the above website about the Mace School:
MACE SCHOOL
District #73
by Peggy Smith Hake
On 3 March 1855, the U.S. Congress enacted a new law, which read..."An act in addition to certain Acts granting bounty land to certain Officers and Soldiers who have engaged in the Military service of the United States." Immediately thereafter, 120 acres of Miller County land was awarded to a man named Samuel Bogan who had been a private in Capt. Egbert's Pennsylvania Militia in the War of 1812. Samuel apparently did not want this land so he signed it over to a man named John Darrong.
Well, John didn't want it either for some unknown reason and he in turn, assigned it over to James Long in 1860. James owned other land in the area, so it is possible when he had attempted to get a patent, he learned it was already owned by some unknown person named John Darrong.
James Long became the legal owner of the 120 -acre tract on 1 November 1860. James and his wife, Harriett, donated a one-acre tract from the land for a schoolhouse to be used by the black children of the Iberia area and a one-room log school was built on the land in 1869.
On 9th March 1885, a second school was built just a short distance east of the other school that was used to educate the black children. The Directors of the new school were William C. Mace, George Johnston, and George W. Arnold. When the school was established in the district it was called School No. 4 for some time. There is an old school still standing today, converted into a private home. Everyone will remember it as the old Mace School which sits on a prairie land about one mile west of Iberia.
---
Thanks again, Peggy.
Claude Mace was the father of Maurice. Maurice told me that early on his father Claude went to St. Louis to find work. Soon after arriving Claude sent this postcard home (photos 12 and 13).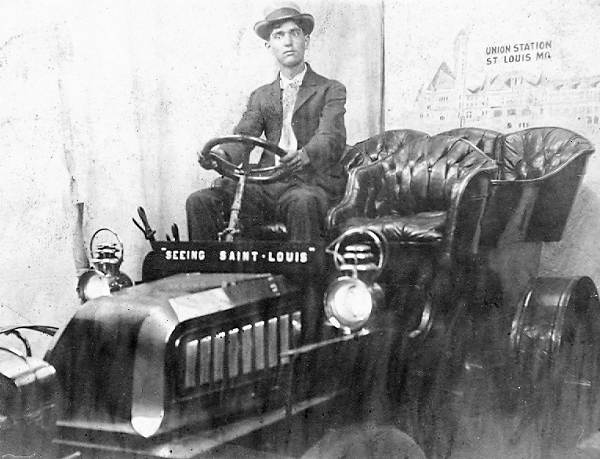 12 Claude at Union Station, St. Louis - 1908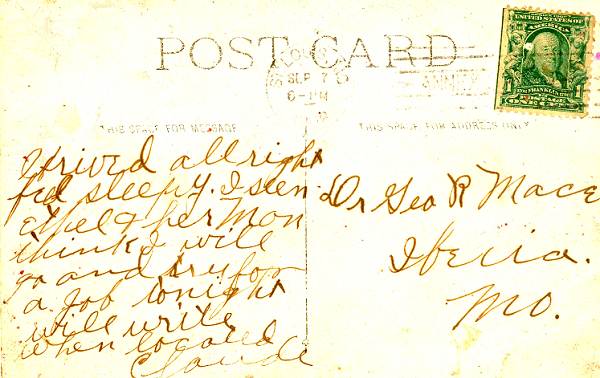 13 Back of Card of Claude in St. Louis
Claude didn't stay in St. Louis, however, but returned to Iberia.
In another photo of Claude, he is seen painting the Bank of Iberia (photo 14). Maurice told me that the bank eventually was moved to a location close to Ead's Ford dealership.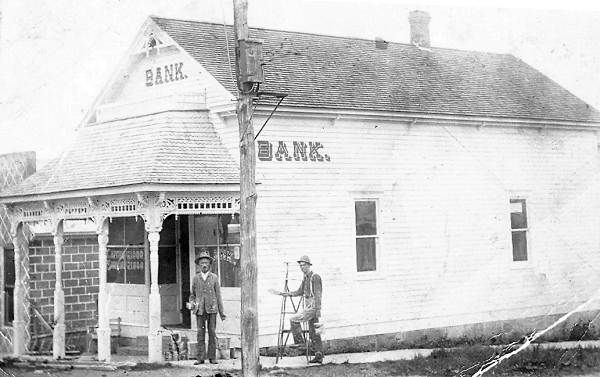 14 Claude Mace on right, painting Bank - 1910
Finally, here is a biography of Maurice Mace, who so kindly donated us the old saddle bag of his grandfather Dr. George Mace and was the source of much of the history above about the Mace family. This biography is taken from our own website and had been given to us by members of the family:
Maurice Eugene Mace, son of Claude Mace, deceased, and Mary (Hedge) Mace Bilyeu, Iberia, was born in Springfield and attended the Springfield Public Schools. At age twelve the family moved to Iberia. His wife, Eunice Daffade McKee, daughter of Mary and Albert McKee both deceased, was born in Miller County near Iberia, attended elementary school at Brays District and graduated from the Iberia Academy and Iberia Junior College.
Eunice and Maurice were married in 1942, and Maurice was inducted into the army three weeks later. He served three years and was with General Patton's 90th Infantry Division in combat during World War II. He received two injuries and was awarded the Purple Heart and Oak Leaf Cluster. While Maurice was in the Armed Forces, Eunice, having graduated from Knox College, Galesburg, Illinois, taught school in Illinois for three years.
After Maurice's honorable discharge from the Army in 1945, the Maces lived in St. Louis three years then moved to the Iberia community. Maurice spent 20 years in Civil service at Fort Leonard Wood and is now retired. Eunice earned her master's degree in Library Science from the University of Missouri, Columbia, and is an administrator in the Waynesville Schools and completing her 34th year in the teaching profession.
The Maces have three children: Mary Gwendolyn, Maurice Eugene II, and Michael David. Michael was killed in an automobile accident at age 17. Gwen attended Cottey College and graduated from Southwest Missouri State University. She taught school for a few years and is now working with Social Services of Missouri, is married to James Jones, formerly of Plad, and lives in Jefferson City. Eugene graduated from Southwest Missouri State University, is married to the former Denise Taylor of Texas, holds a managerial position as designing engineer with Rubbermaid in Cleburn, Texas, and has four children: Shannon Kay, Michael Joseph, Amanda Susan, and Nicholas Eugene.
The Maces enjoy horseback and trail riding and like to travel.
(Eunice Daffade McKee Mace died 11 December 1995 in Jefferson City, Missouri.)
---
The Mace history in Miller County is somewhat confusing because more than one George Mace can be found through the years. Peggy Hake has looked into the family history of the Mace's of this area and here is what she wrote me:
According to an old "Window to the Past" article I wrote in 2002, I believe George Mace was the son ofJohn Jackson (Jack) Mace and Melinda, his first wife. The Mace families of Iberia and Brumley all seem to be descended from John/Jack and Melinda..... some settled in Glaize township and others in Richwoods township.
John/Jack and Melinda had at least 9 children but only 4 survived to adulthood, including George. Jack and Melinda are both buried at the Iberia Cemetery. According to the article, John/Jack married 3 times and I believe that is what Lois (Lois Mace Webb) also said in her message.
BUT, once again, it appears there was more than one George Mace! It is so confusing when all these ancestors named their children the same names which occurred when they were given the names of their fathers, grandfathers, uncles, etc. I don't know if this can be worked out or not.
I HAVE PROBABLY RAISED MORE QUESTIONS THAN I HAVE SOLVED ! ! !
Peggy
---
Thanks Peggy.
One thing that is of some interest is the following short obituary for Thomas Walker Mace, the man who donated the land for the Mace School as detailed above. This obituary restates that Dr. George R. Mace was the brother of Thomas Walker and confirms Maurice's history that they came from Illinois to Miller County. This obituary was taken from our own website:
http://www.millercountymuseum.org/bios/bio_m.html
OBITUARY OF THOMAS WALKER MACE
Thomas Walker Mace was born Dec. 10, 1842 in Saline Co., Illiniois. On Nov. 1, 1860, he married J. Ann Tate and they became parents of 11 children. Three children preceded him in death. The surviving children were: George A. Mace, Wm.T. Mace, Louisa (Groff), Mary (Arnold), Josie (Heltzell), Lillian Farnham), Cora (Benage), and Ollie (Musick). Thomas came to Missouri in 1881 and the same year he bought and moved to the farm where he lived the rest of his life. He died in Iberia on October 29, 1923 at the age of 80 years. He was also survived by a brother, Dr. George R. Mace.
However, Maurice says that his understanding is that Dr. George R. Mace's father is buried in Freedom Cemetery located in Camden County. He said once that his son looked for the grave over there but couldn't find it. However, if you go to the website for Freedom Cemetery West:
http://files.usgwarchives.net/mo/camden/cemeteries/freedomw.txt
You will find the name of Dr. George T. Mace's father listed as "Mace, George W., 27-Jun-1815, 11-Nov-1900." So, indeed, that is where he is buried.
One thing Maurice told me was that Lucian Mace, from Brumley, was kind to his family and siblings; he said that often Lucian would come to Iberia and take the children swimming. It had always been Maurice's thinking that Lucian was related to Maurice's great uncle Thomas Walker Mace. If only we could know for sure whether the middle initial in the name of all the George Mace's was correct or not, we would have a better idea of the lineages of all the Maces in Miller County.
Lois Mace Webb (photo 15) is the daughter of Lucian Mace (photo 15a), former sheriff of Miller County as well as former state representative .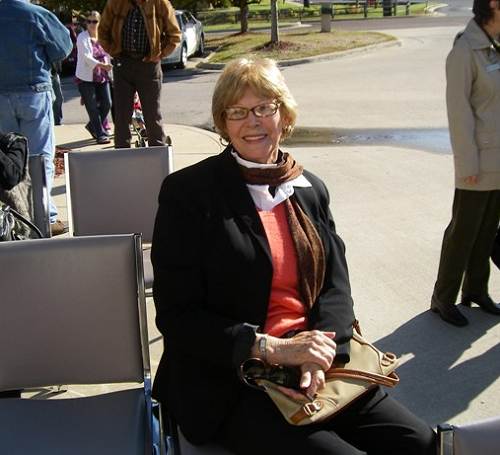 15 Lois Mace Webb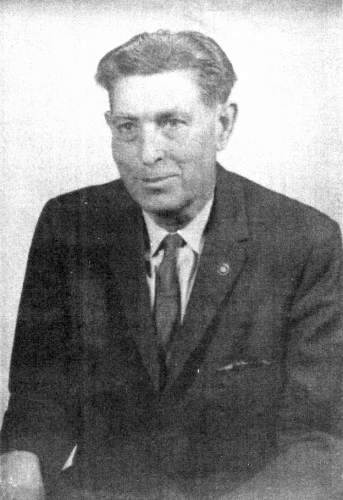 15a Lucian Mace - 1960's
Note: I wrote about Lucian on the previous Progress Notes of 25 August 2008:
Lois has some interesting comments to add about the Mace family in Miller County:
I have very little documentation on dad's family, however I've always been under impression that the Iberia Maces were related, and for sure, the Thomas name is part of dad's ancestry, i.e., Lucian Thomas Mace, and his father was George Thomas Mace. Also, we often visited the Iberia cemetery where George T's father, Jackson (?middle name) Mace, is buried, along with his wife/wives. I've been told that Jackson "Jack" came to Brumley, from Iberia, as a pharmicist -- or druggist. Even that could suggest a connection to the Dr. George, though I do not know.
I've heard the story that Jack's first wife died fairly young and, in keeping with biblical directive (it's there, loosely, but I can't cite chapter and verse) he married the wife's sister; she died and he married another sister. Not sure how long that continued, but the story was always told with smiles. The Thomas name could have come from that family of sisters, or wives of Jack. And I believe Peggy may have documented some of that in her research. A man named Frank Thomas lived in Brumley (during first half of 20th century) and we referred to him as a "distant" cousin.
The only documentation I have -- and if I can dig it out, will send a copy -- came from the late Lucille Thornsberry Crane (Mrs. Kent) of Brumley. Thomas is a prominent surname in Lucille's family -- her mother may have been a Thomas, and she and my dad acknowledged a cousin kinship. Likewise, mom connected with the Thornsberrys, so we always boasted kind of a double cousin thing. Lucille's commented to the effect that, yes, we were kin, but not close enough to take credit or blame for actions of the other. Lucille's documentation is mostly related to Thornsberrys however it shows the Thomas connection.
I've been fortunate to receive copies of genealogy compiled by other people so I've never researched much myself, though I'm very interested and will appreciate any relevant information. (Even mom's papers that qualified her for DAR came from other people who hounded her to join because her Revolutionary ancestry was alreadyapproved through the work of others. And they gave us copies which I appreciate.)
Thanks Lois.
I think the site that best site which ties Dr. George R. Mace to Lois's Mace line is this one:
http://archiver.rootsweb.ancestry.com/th/read/MOMILLER/2001-12/1008609941
Summarizing what is on this site indicates that three Mace brothers, John Q. Mace, George Walker Mace, and Thomas J. Mace came with other siblings and their parents from VA to AL in the later part of the 1820's. Most went on to Saline/Gallatin Co., IL by 1830 but fairly soon moved to central Missouri. George Walker Mace is known as the father of Dr. George R. Mace. Lucian Mace is a descendent of John Q. Mace. Studying the above information I have concluded that Lois Mace, daughter of Lucian, and Dr. George Mace are cousins several times removed.
I did find a lineage of Dr. George R. Mace on a Rootsweb site. It reveals that he and his brother, Thomas Walker Mace, did originate from Illinois. For those interested you can peruse the Rootsweb genealogy at this URL:
http://archiver.rootsweb.ancestry.com/th/read/ILFRANKL/1999-04/0925187241
I have summarized what was contained in the above website at this link.
One final aspect of the Mace story was told me by Lois Mace in which she discusses another interesting facet of the Mace genealogy, the Papen-Mace connection:
Joe, this story gets far afield and we, the family, have scarcely discussed it. And I hardly know where to start with you. Just the same, this story could well occupy one of those nearly-buried or back-burner e-files you maintain.
I entered the query in January 1967 at the funeral in High Point, MO of my great uncle James Webster Papen (brother to Lucian's mother, Margaret Elizabeth "Maggie" Papen Mace). We referred to the deceased as, Uncle Jim Papen. Point is, I retained the image of aged Uncle Jim in the casket.
At that funeral I sat next to dad's brother Harrison (Harrison W. Mace). I remarked to Harrison that a facial expression around the eyes is one I'd always thought of as "the Mace look" but here was Uncle Jim Papen who had "that look" and he was not Mace. Harrison responded that back down the line a long way, there was a cross-over or match-up of the families, and "the look" would show up in a Mace or a Papen through the generations. Ho hum and I let it go at that. Until....
March 1967 at my home in Stilwell, Kansas the morning Kansas City Star lay on the kitchen table. I walked by and the picture accompanying a story on the front page stopped me in my tracks. Egad, I thought, that man looks just like Uncle Jim Papen. The story was about the death of Franz von Papen, a German dignitary whose memoirs are titled "The Fall of a Democracy" (I have a copy, in German). It supposedly outlines the framework for government in Germany, which was said to have been taken by Hitler and turned into the government as he (Hitler) chose. Or something like that. von Papen was freed at the Nuremberg trials, and plenty of history has been written about him, much of which I've read (photo 16).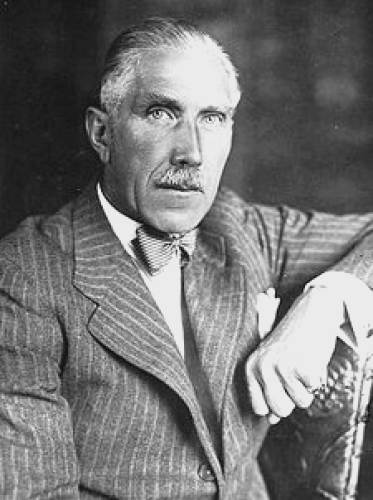 16 Franz von Papen
We always knew there was a Papen high up in German government though we never knew (still don't) of familial connections. The Papen ancestor I've heard mentioned was Henry von Papen and they dropped the von to be more Americanized. However when I saw a picture of Franz von Papen and saw his facial resemblance to Uncle Jim, well...seems to me people couldn't look that much alike and not be kin.
(By the way, a few years ago I joined some of the Papen family at a cemetery near Sedalia -- south east of Smithton I think --to repair a headstone of one John Papen who served in Missouri House or Senate in 1870. I believe the record says he represented District 28, so we went to the farm cemetery near where he and his family once lived)
I kept the KC Star newspaper (still have it) because Lee was coming in a few days. I hid all the names and asked Lee to look at the picture and see if it reminded him of anyone. Immediately he replied, "Looks dead out like Grandma Mace." Lee had not seen Uncle Jim recently in the casket as I had. Lee's remark was accurate -- same facial features and bone structure as Maggie Papen Mace and her brother Jim. We just smiled and remarked of the similarity. End of story, until.....
Sometime in the 1980s mom was in hospital for a moderate procedure. Sue and I were in her room when our cousin, Jimmy Webster Mace came to visit mom. I don't know how we got on to history of familial stuff during his visit, but in summary, Jimmy had been in Salt Lake City researching at their extensive genealogy library. When an assistant asked for the names he wanted to research, he told her Mace and Papen. Well....before long he said they took special interest and spent time which yielded an astounding lineage. Sue, mom, and I didn't know what to make of it -- he repeated enough information we knew from general history, we had no idea where or if to sift in the information we didn't know. Just the same, it got our attention and put me in communication with Jimmy. We still phone-visit occasionally.
Digressing to Franz von Papen, the newspaper obituary documented his lineage to Charlemagne. Jimmy went on back before that and told of the history where the Pepins of the six, seven, and eight hundreds (predecessors of Charlemagne) and the Martels, were interwoven, i.e., one of the Pepins was father of an illegitimate Martel ---and it doesn't take much to lose me along this trail. Somehow the Merovingians and the Carolingian either fought or made love -- likely both at different times -- but that's the era when the Papens (Pepins) and the Martels, whose name somehow interrelated with Maccabees, which became Mace, were entwined.
Even today's Oxford Dictionary lists Mace as an abbreviation for the Maccabees. You may recall that two books of Maccabees are part of the Apocrypha, and interestingly enough, those are the only two books of the Apocrypha that I've read -- and I read them long before I knew of history just mentioned. The first candle of the Menorah is lighted for the Maccabees. They were not gentle people and thus were called Hammer, and that's where the name Hammer comes from, as in Armand, etc.
In the 1990s, I commenced gathering and reading books related to church history in France and surrounding areas. Well, to cut to the chase, one book I bought titled Secrets of Rennes le Chateau, gave me all kinds of surprises when it documented much of that history, about like Jimmy had told us at mom's hospital bed a decade earlier -- that he'd learned in Salt Lake City. My main church reference book is The Oxford Dictionary of the Christian Church, and low and behold, information contained there pretty well tracks with stuff I've just overviewed, and gives credence to the story Jimmy detailed for us.
I read nothing into this except that it's fascinating and it's not just Mace, but its connection with Papen, that puts some fairly intriguing twists and turns on history BC and into the early Christian era.
Jimmy told me other aspects of European history that rocks me back on my heels. One example: long before Charles and Diana of England were separated or divorced, Jimmy told me of the lineage of that union and why her Spencer bloodline was necessary to the future king...and implied her absence from the union -- things like that. I figure he knows lots of ancient to current history. And he's no stranger to chemistry, physics, math, and geometry and related subjects.
Not sure why I share this with you, except that it doesn't hurt for someone to know these things, though for sure, on the back burner. I say it also because the Mace genealogy is one thing; yet the Mace-Papen genealogy is a whole other story. By the way, I'm mindful also that untold millions of people by now spring from the same tree.
Well... just believed I should share this; however, thanks for listening.
Lois
Thanks Lois. Later, Lois sent me the K.C. Star article which you can view here (photo 16a), the photo of Loisís Uncle Jim Papen (photo 16b), a photo from the paper of von Papen (photo 16c), and a photo of Lucian Mace, Loisís father, which has a resemblance to the one of von Papen (photo 16d).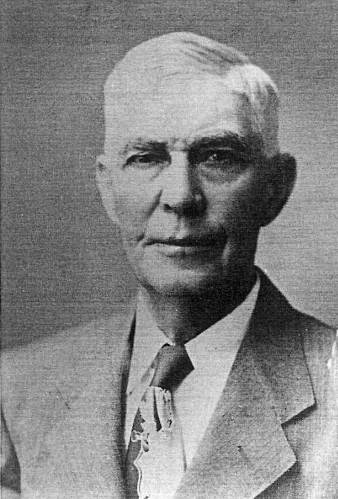 16b James Webster Papen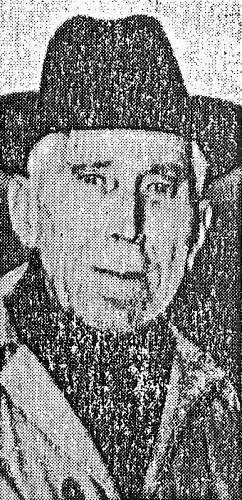 16c Franz von Papen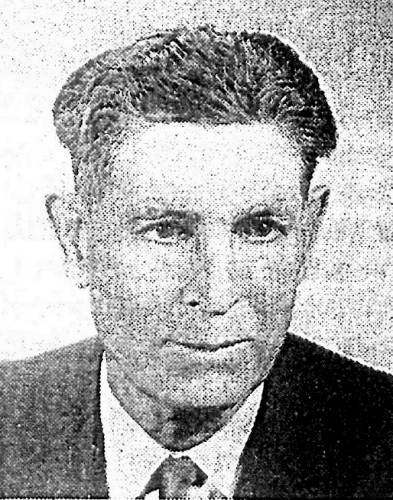 16d Lucian T. Mace
---
We had the pleasure recently of a visit to our museum by St. Louis resident, Larry Condra. Larry's grandfather, Clint Condra of Iberia, was a brother to Norma Condra West, who was married to Clarence West, the Iberia artist who painted the landscape painting of the old cabin which hangs in our entrance foyer (photo 17).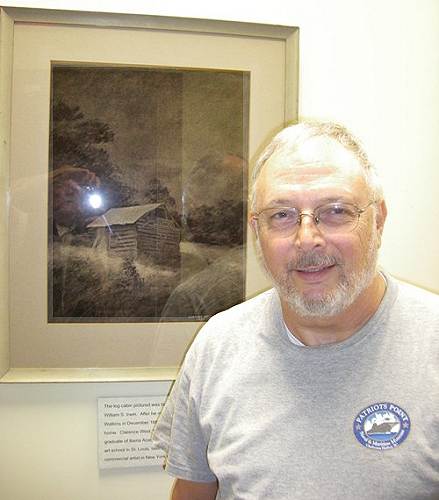 17 Larry Condra
Another interesting tie of Larry's Condra heritage is the old barber chair donated to our museum last year by its last owners, Tennyson and Sue Jarrett of California (photo 18).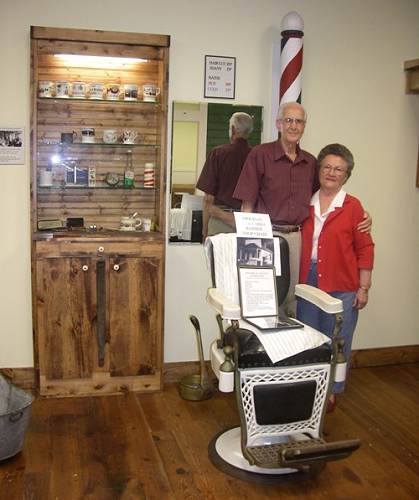 18 Tennyson and Sue Jarrett
This chair originally belonged to Wes Condra who also was a brother to Larry's grandfather Clint (photo 19).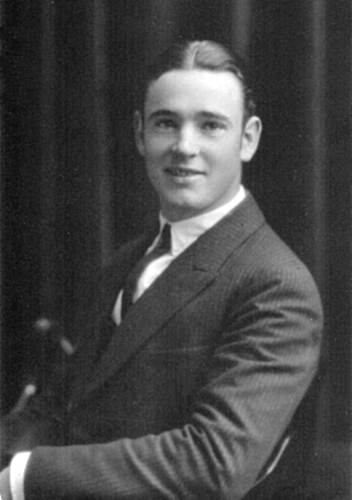 19 Wes Condra
Wes had barbered for many years in Tuscumbia during the middle of the last century. I received my first haircut from Wes sitting in that very chair. The old barbershop building still exists today located along the river in downtown Tuscumbia. It delightfully has been renovated by Beverly Pendleton who now enjoys it as her residence. Here are two photos of the old barbershop, the first taken years ago and the second after its make over by Beverly (photos 20 and 21):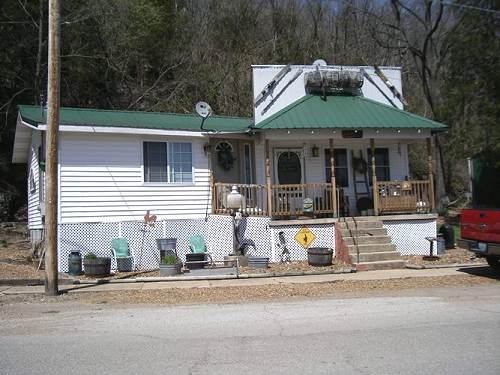 21 Renovated Barber Shop Building
We were delighted recently when Carl McDonald gave us a photo of his son, Mike, getting his first haircut in Tuscumbia in September of 1953. Mike is sitting in the same chair we now have in the museum. Also pictured is Dwight McDonald, Mike's grandfather (photo 22).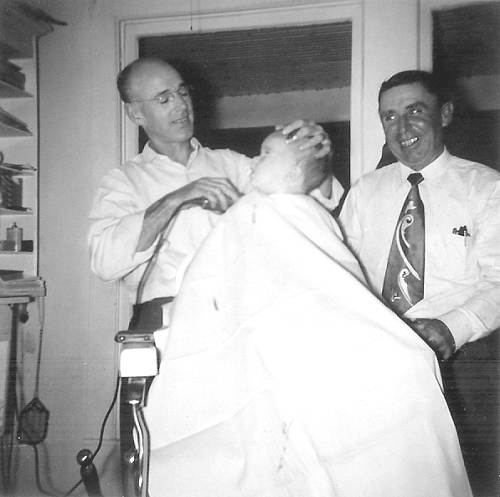 22 Wes giving Mike McDonald first Haircut
Unfortunately, Carl, Mike's father, could not attend this important milestone for his son since he was out of the country serving in the U.S. Navy during the Korean conflict.
Whenever the Osage River flooded, Wes had to move his chair to higher ground. I'm not sure exactly where he moved it in this next photo but it may have been on the post office porch, which was next to the barber shop but at a higher level. The man in the chair is Charles Webb (photo 23).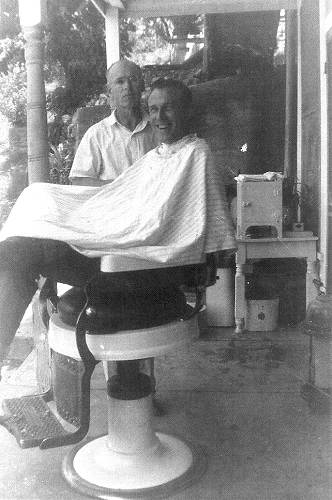 23 Wes Condra and Charles Webb
I wasn't sure at first when I received this photo from Bill Condra, son of Wes, who the man in the chair was. But Lois Mace Webb confirmed his identity. Here are her comments:
"Joe, I'm likely the only person in Miller County who could identify the customer in Wes' barber chair--my husband, Charles Webb, David's father. I showed the pix to David and to Sue (Mace Wyrick) and they each concurred. Granted, David never saw his father at that youthful age because we were married seven years before David was born. It was fun for me to see a young Wes Condra and Charles Webb (now deceased). We visited Tuscumbia often in those days, especially if the river was up.
Sue speculated that mom (Clare Mace) might have taken the picture -- or do you know where it came from? Mom worked for the Autogram and often took pictures in the community.
On our recent visit to the museum, seeing the barber chair brought memories to David of having had his hair cut in that chair as a little boy.
Thanks for sending the picture -- a smiling reminder of our youth! LW"
Here is a copy of one of Wes' Barber licenses (photo 24):
---
David Shelton and Sandra (Bear) Shelton of Rolla (but natives of Eldon) were hosts of the museum recently. David observed that our Lake of the Ozarks photo display provided to us by Dwight Weaver included a photo of the Loc-Wood boat dock (photo 25).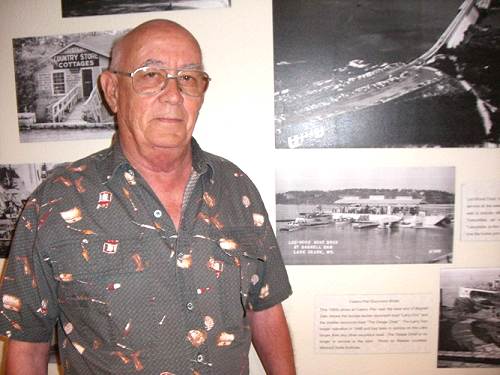 25 David Shelton
I remembered that David had worked several summers there in the 1950's as captain of several of the boats which were used to give tourists boat ride tours of the lake. David told me that he often captained the first two boats shown in the photo which are docked on the left (photo 26).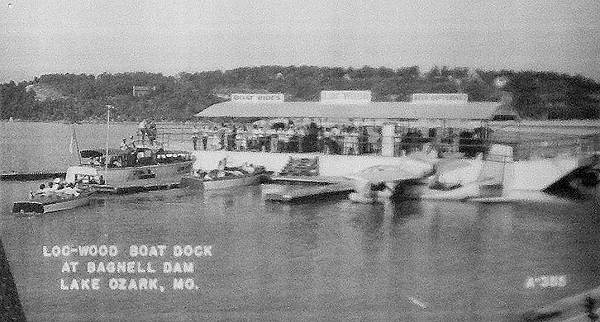 26 Loc-Wood Boat Dock
The first one, which was a fifty passenger boat, was named the Tuscumbia. The second boat was a speed boat named the Higgins. A third boat he also captained is not in this photo but it was a Chris Craft cruiser. David said the boat dock was named after the surnames of the owners, John Lock and Glen Wood. I remembered best the speed boat which David captained, the Higgins, and the way David would end the tour by coming in to the dock at a very high rate of speed simultaneously blowing the boat horn and then making a sudden left turn but still be able to maneuver the boat precisely into the dock slip without bumping either side.
In those days speed boats were something new for most people and were fun and exciting, especially if David was the captain.
David said that the boat dock next to the Loc-Wood dock was owned by Harvey Fry and was known as the Casino Dock. This is where the famous Larry Don excursion boat was located.
---
Don't forget the quilt show scheduled for Saturday, June 27.
Here is the announcement which was in the paper this week:
Quilt Exhibit At Miller County Museum
The Miller County Historical Society will host a quilt exhibit and luncheon, Saturday, June 27, between 11 a.m. and 2 p.m. Votes will be cast by those in attendance and awards will be given in each category as well as for "Best in Show." Tickets are available in advance or at the door for $5. This includes the show and luncheon.
That's all for this week.
Joe Pryor