Monday, June 15, 2009
Progress Notes
Last month I had the opportunity to attend the ceremony celebrating the opening of the new Iberia Medical Clinic. About seventy five guests were present for the outside event on a beautiful Monday morning, May 18 (photo 01).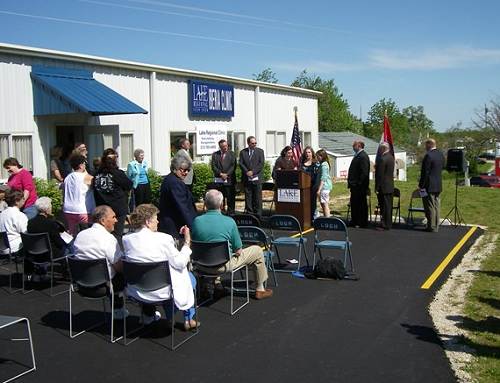 01 Iberia Clinic Opening
Several noted speakers were present including Lake Regional CEO Mike Henze, U.S. Representative Blaine Leutkemeyer, State Representative Rodney Schad, State Senator Carl Vogel, and Wendell Bailey of the Small Business Association (photo 02).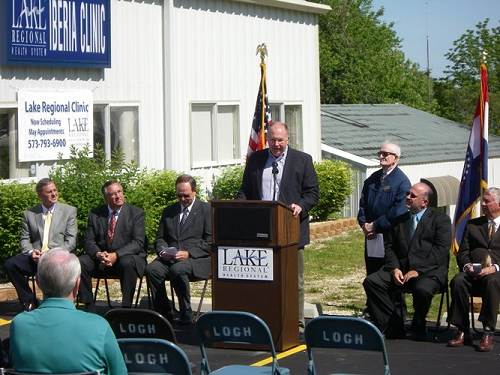 02 Blaine Leutkemeyer, Mike Henze, Rodney Schad, Carl Vogel,
Richard Meyers, Cliff Baucom and Wendell Bailey
The physicians who will be staffing the clinic temporarily are well known to all of Miller County and the surrounding area, Dr. Clem Haggerty and Dr. Robert Mason (photo 03).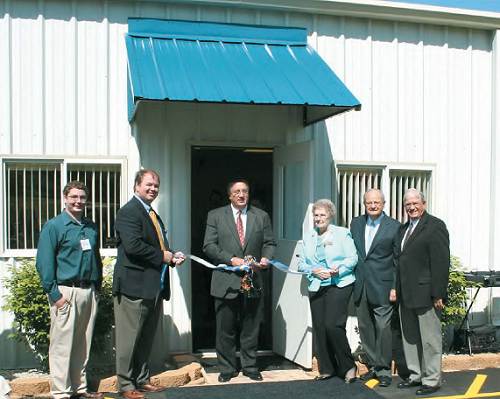 03 Cutting the ribbon – Lake Regional Health System CEO Mike Henze, center,
cuts the ribbon for the new Iberia Clinic the hospital opened in the community
last week at 2333 Highway 17. Dr. Mason and Dr. Haggerty on the right
Photo by Ginny Duffield
Ginnie Duffield of the Autogram Sentinel summarized the event as follows:
New Clinic In Iberia
Miller County Autogram Sentinel
By Ginnie Duffield
Although the facility had been open for a week, a crowd of about 75 people was on hand Monday morning, May 18, to welcome the new Lake Regional Health Systems Iberia Clinic and witness a ribbon cutting hosted by the Iberia Area Chamber of Commerce. An exploratory committee of former mayors Jack Hogue and Bob Crawford, Rick Wright of the Bank of Iberia, Todd McKinnon of First State Bank of Iberia, former school superintendent Mike McLeod, Kinni Nichols and Richard Meyers of the chamber and Tony Keeth of Iberia Auto Supply worked with the hospital in Osage Beach to bring the clinic to Iberia.
"Before, Iberia residents had to go 25 miles in any direction for even the most basic healthcare needs," Lake Regional CEO Mike Henze said. Peggy Hake, who lives between Iberia and St. Anthony, said the new clinic puts her and her husband Ambrose 40 miles closer to medical care.
"It was clear that establishing a clinic in the community was the right thing to do," Henze said.
"We band together to do things ourselves," Congressman Blaine Luetkemeyer of St. Elizabeth told the crowd, noting no government funds or programs were involved. "We are the type of people that are self-reliant."
"This gets us back to the very basic deliver of healthcare," State Sen. Carl Vogel said in his remarks.
"We've had people driving for basic healthcare," Rep. Rodney Schad said.
Wendell Bailey of the Small Business Administration said there are 1,000 communities of less than 1,000 people in Missouri. He said Iberia needs a community foundation to meet other needs the community has. "You're on your way. You're doing your job," Bailey said.
Alexis Cline, Jillian Pollard and Tara Curtman sang the national anthem acapella for the ceremony and Rev. Cliff Baucom delivered the invocation and benediction.
Organizations taking part in addition to the chamber were: the 8-40, DAV and Dav Auxiliary, American Legion and American Legion Auxiliary, MOC Auxiliary, the VFW and VFW Auxiliary,
Miller County Ambulance District Board, St. Anthony Catholic Church, Cornerstone Ministry, the Marine Corps League, Iberia United Methodist Church and the Bank of Iberia.
Dr. Robert Mason and Dr. C.E. Haggarty are staffing the clinic now, and specialists will begin visits in June. A permanent, full-time physician for the clinic is being recruited.
While I was at the ceremony I met Terry Gould of Osage Beach who was attending the ceremony in honor of her father, Dr. William Gould, who was the physician who attended patients in Iberia longer than any other physician who has practiced in Iberia (photo 04).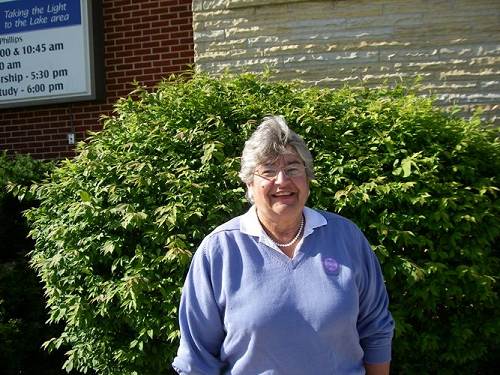 04 Terry Gould Griffin
In honor of Dr. Gould, the clinic is placing a display in the patient reception area of the clinic of medical items and other memorabilia belonging to Dr. Gould when he practiced in Iberia (photo 05).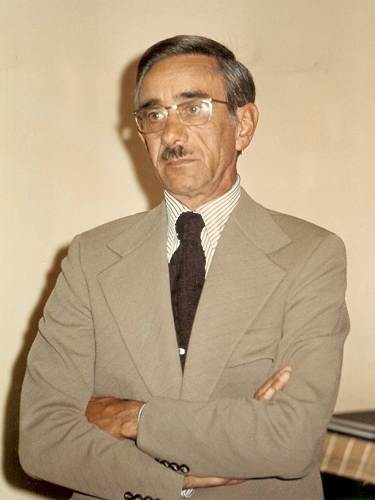 05 Dr. William Gould
Terry returned to the Lake area in the 1990's having been very involved with the PGA in St. Louis. Upon return to the Lake area she organized a youth golf program in which she sponsors a youth golf tournament every year. Terry's brother, Bill Gould, was attending Iberia High School when I was attending school at Tuscumbia. I told Terry that I remembered how good a basketball team Iberia had in those days and I especially remembered what a crackerjack player Bill was. We discussed the value Dr. Gould, her father, had been to the Iberia community for so many years. She told me that her father probably wouldn't have known about Iberia those many years ago in the 1930's if Dr. Marshall Humphreys of Tuscumbia hadn't invited him to come to Miller County to open a practice in Iberia where a great need for medical care was present (photo 06).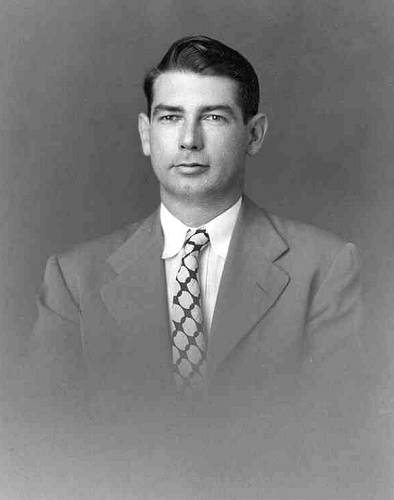 06 Doctor Marshall Humphreys
I had presented the story of Dr. Marshall Humphreys on our website a couple of years ago.
You will need to scroll a short distance down the opening page to get to the story about Dr. Humphreys.
I told Terry that I would like to feature Dr. Gould on our website in honor of the devotion he displayed for so many years to the citizens of Iberia and surrounding area rendering to them high standard, compassionate medical care as well as years of community service in many different activities and organizations.
Terry gave me quite a number of articles and photos from which I have put together the following biography of her father. First, I will copy here a very interesting and complete review of Dr. Gould's life and career written by Judy Talley of the Lake Times November 15, 1987:
The Lake Times
November 5, 1987
"Wherever the art of medicine is loved, there also is love of humanity." Hippocrates
By Judy Talley
For 40 years William A. Gould D.O. provided medical care for the people of Iberia and surrounding communities. When he began practicing medicine in 1938, there were no hospitals close, no "wonder" drugs…but there were hundreds of house calls to make in "less than desirable" conditions and long and tiring office hours.
Not only did he provide general medical care for his patients, but he also became involved in all aspects of his adopted community, serving as mayor, president of the school board, and an active member in church and civic groups.
The older of Albert and Margaret Gould's two sons, Dr. Gould grew up in an environment that most people would consider ideal. His father, an Englishman, was the butler for Joseph Pulitzer which allowed his entire family to live in the servants' quarters on Pulitzer's large estate in the St. Louis country Club area and in Bar Harbor, Maine.
Note: the next photo is a copy of Dr. Gould's family history (photo 07):
"Joseph Pulitzer, Jr. was only a year older than I was and we played together when we were small. He even tried to make me eat sand one time when we were in the sandbox together," he laughed.
Between June and August, eight of the servants and their families would accompany the Pulitzers to Bar Harbor. "I spent my summers at Bar Harbor so during my high school years I would work as a caddy or a guide at the Arcadia National Park. Every Wednesday, Mr. Pulitzer would let his employees use the large family sailboat with its captain and two crewmen. We would go for cruises and have clam bakes. I never wanted to miss any of those times," he said.
In St. Louis, Pulitzer kept a large garage with as many as eight cars. Dr. Gould would spend time after school in the shop working on a motorbike he had purchased.
Note: The next photo is taken of a copy of the St. Louis Post Dispatch which detailed the sale of the St. Louis Post Dispatch by the Pulitzer family. In this photo you can read the handwritten note pointing to Joseph Pulitzer Jr. who was a child hood friend of Dr. Gould (photo 08):
Dr. Gould attended high school at a nearby private boys' school called Chamanide College. "My father thought I should attend a boys' school so I would keep my mind on the studies and not on girls. I really didn't consider myself to be a good student but I did graduate as valedictorian and as president of the senior class (photo 09)."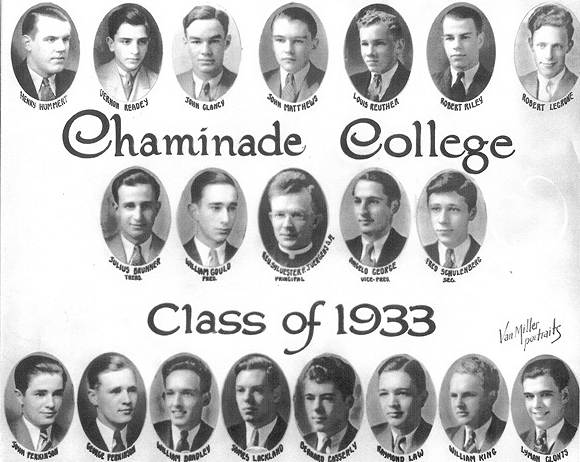 09 Chaminade College - 1933
Graduating from high school, Dr. Gould was not sure what he wanted to do next when he talked to the family physician. "He was an osteopath who had graduated from Kirksville College of Osteopathic Medicine. He suggested I might want to attend Kirksville and just out of the blue I decided to do it. I really had no idea what I was getting into at the time," he laughed.
Right out of high school, Dr. Gould found he was competing for grades with many students who were older and had college experience. "It was tough but I enjoyed it…particularly my contact with the patients. I always thought that I made the right choice (photo 10)."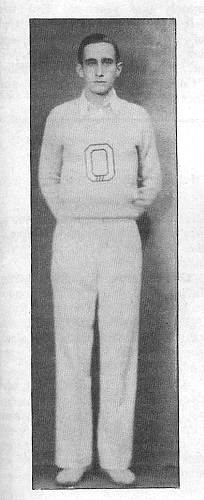 10 Dr. Gould, Cheerleader
During his junior year, Dr. Gould accepted a blind date which was set up by his roommate. "I was to go out with his date's roommate. I remember watching Hilda Couch walk down the steps of the nursing dorm and I knew she was for me. She was very popular and had lots of dates. I would go with her as often as she would let me," he added.
Note: Mrs. Gould obtained her nursing license in 1938 (photo 11).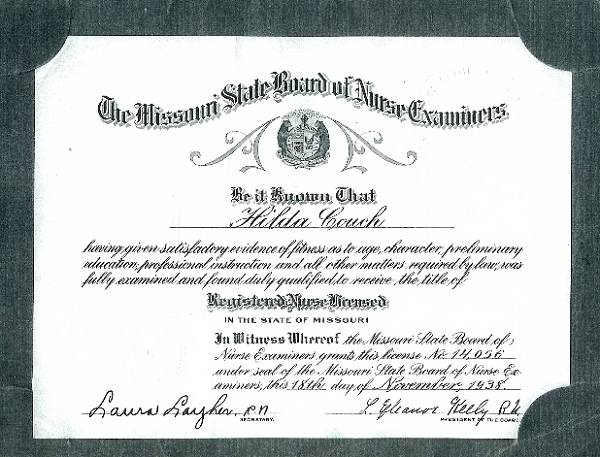 11 Hilda Crouch Nursing Diploma
Following his four years of schooling, Dr. Gould spent his year of internship at Kirksville. "Dr. Marshall Humphreys, who had been a classmate of mine, came back to Kirksville for a refresher course. He was practicing in Tuscumbia and told me that he had just the right place for me. However, he refused to tell me the name of the town for fear I would look it up on the map and not be interested. So early in June of 1938, I made my first trip to Iberia. It seemed all right to me. And anyway, I wanted to get married as soon as I could…I saw no sense in fooling around. So, I decided to set up shop in Iberia."
Dr. Gould moved into the local hotel, paying $1 a day for room and board. He rented a one room store on the main street and hung out his shingle. The equipment in his office consisted of a treatment table, a goose neck floor lamp, and second hand instruments he had purchased from the widow of a doctor.
"I opened my office on June 22, 1938. Two days later, I had my first patient. He had been burned in a wheat field in Kansas and came in to see me at night. I dressed his wounds with about a pound of yellow oxide of mercury. There were no shades on the window and when we left the office, the street had people lined up who had been watching to see what the new doctor was going to do," he laughed.
The next day, four new patients came to see him and his practice was "off and running." Within a month, he had left his one room and rented a small house…living upstairs and using the main level for offices (photo 12).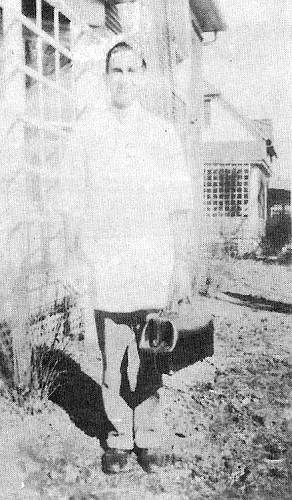 12 Young Dr. Gould
In the appointment books Dr. Gould still has, it shows charges for office calls that first year ranged from 25 cents to $1…which included the medicine he had dispensed. In July, he billed $145 and collected $141. "I never really had any problems with collecting from my patients. Most of them were very good about paying their doctor bills," he commented.
The month Dr. Gould made $211, he called Mrs. Gould who was working as a nurse in Kansas City and asked her to marry him. Since she had no idea what type of town Iberia was, Dr. Gould began his selling job on her.
"I told her Iberia had a junior college and a large airport. I also explained it was the second largest inland town in Missouri. What I meant was it had no railroad, no navigable waterways, and no major highways leading to it."
Mrs. Gould agreed to the marriage. Following the ceremony in St. Louis, Dr. Gould brought his new bride to Iberia arriving at night.
When she got up the next morning and looked out the window, she saw a town of about 700 with gravel roads and no modern plumbing….only outhouses. "I wasn't going to stay…Bill was a city boy and I had always thought he would end up being a city doctor. Iberia was just about as far from that as you can get," she laughed.
Somehow Dr. Gould convinced Mrs. Gould to stay and give Iberia a chance. The two began working side by side, providing medical care for the community. "Hilda was great. We were together all of the time. She delivered several babies when I would be out on house calls. In addition, she worked under less than desirable conditions in the beginning. For example, we did our lab work and urinalysis in the kitchen sink, he said.
As the young couple got acquainted and joined in community and church activities, Mrs. Gould began to enjoy Iberia and the friendliness of its people (photo 13).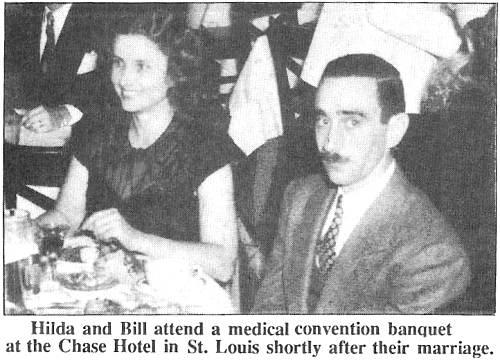 13 Visit to St. Louis
Another house was rented for a residence, keeping the first as the office. In 1941, their first child, Terry, was born, followed by William, Jr. in 1943 (photo 14 first home and photo 15 holding Terry).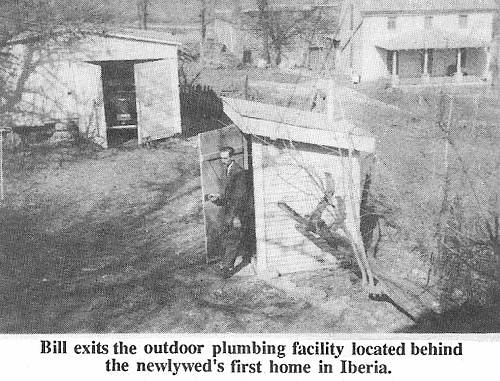 14 First Home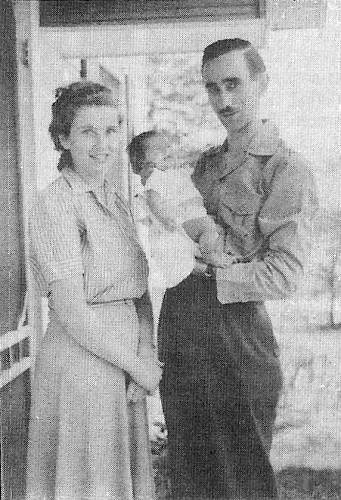 15 Terry Arrives
In between children, the Goulds built the home/office combination that they would live in for the rest of their time in Iberia. "In addition to our home and the office, we also had a hospital room which we could use for the patients who needed our constant attention. In those days, no one went to the hospital unless you were dying. We did tonsillectomies, delivered babies, and set fractures in the office. The tonsillectomies were done with drop ether for $25. That is something you wouldn't even think about doing today," he said (photo 16 of new office).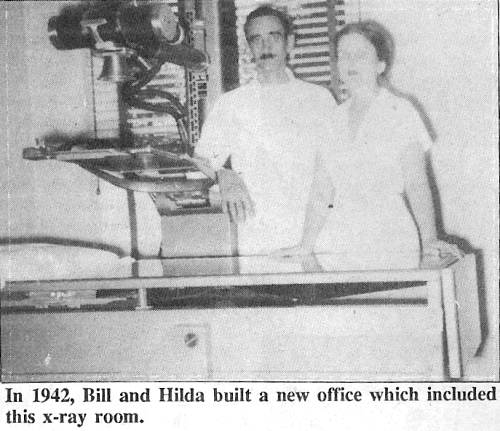 16 New Office
According to Dr. Gould's very accurate record keeping system, his expenses in 1943 were $626 for automobile and $4000 for drugs and supplies.
The closest hospitals were in Lebanon and Jefferson City. If Dr. Gould had a patient who needed hospitalization, he would refer them to a doctor in one of those towns. Later, small hospitals opened in Tuscumbia and Waynesville which allowed him to treat his own patients.
One of Dr. Gould's busiest days was Saturday when people living out side of Iberia would come in to do their weekly shopping. On the way home, many would stop by to see the doctor and pick up medications.
"When I first started delivering babies, I would go to the home for $20…often staying all night. Once the baby was delivered, I gave the mothers strict orders not to get out of bed for 14 days. On the third day, I would go back to check on how the mother and baby were doing. All together, I delivered 952 babies during the years practiced."
House calls could be at the end of some mud road in the middle of the night or, as in one instance, at the home of someone who had a mental problem. Dr. Gould explained, "Someone came in and told me a little boy living about five miles out had cut his foot on a tin can and the mother wanted me to come out and look at him. When I got out there I realized the cut was such that I would need to bring the boy back to the office to sew him up. I got the mother and child in the car and things were going all right until we came to a gate. When the mother got out to open it, she took the boy and sat down right there…refusing to move. So I drove back to the office to get the equipment and sewed him up by the side of the road."
One of the services Dr. Gould provided was lending a bedpan to his temporarily bedridden patients. "I asked them to bring them back to my office when they were up again. I loaned a bed pan to the little boy who had cut his foot but it was not returned. One day when I was out that way, I decided to stop by and pick it up. When I stopped, I saw the bedpan in the chicken yard full of water."
Another night, Dr. Gould was called out to deliver a baby, taking with him a folding treatment table. As he made his way up a mud path, he twisted his leg, fell, and heard his ankle snap. "I went in the house and called Humphreys, the doctor in Tuscumbia, to come deliver the baby. I went back home, x-rayed the ankle, and waited for Humphreys to finish and come in to put a cast on."
After Mrs. Gould and Dr. Gould delivered a set of premature twins in the office one evening, Dr. Gould quickly put together a makeshift incubator, caring for the babies until they were ready to go home.
Besides keeping very busy with his medical practice, Dr. Gould took part in many other activities.
Fort Leonard Wood made a big difference to Iberia. About three or four years after we moved there, they opened up jobs for everyone. Anyone who wanted to work could find a job at the Fort. As a result, the people in Iberia had more money to spend and so we could work on improvements for the town."
Dr. Gould ran for mayor and a water system was built and roads were blacktopped (photo 17 certificate of election and photo 18 mayor oath including scribbles).
He was a member of the school board, serving as president in 1957, when John Bearden was hired as superintendent. "We were in the midst of reorganization. John had just been hired when the school building burned. We moved the kids into the old junior college which had been closed during the war. We started a building program, constructing a $600,000 high school. John was just an excellent superintendent. He really made a difference in the Iberia school system (photo 19 of school board and photo 20 of speech asking for support for bond)."
Both Mrs. Gould and Dr. Gould were very active in the First Baptist Church. Mrs. Gould was a member of the town's garden club and Dr. Gould took part in Lions Club activities.
In 1968, the Goulds bought a condo at St. Moritz in Osage Beach, spending weekends there whenever they could.
Medicine began to change with many of the differences being good…but many bringing headaches to the doctors.
"There was the discovery of penicillin and sulfa drugs which have made a big difference. We also have better x-rays and labs. However, the paperwork that Medicare and Medicaid caused was becoming impossible. People's attitudes changed…instead of not wanting to go to the hospital, they all thought they should go for the slightest problem."
Dr. Gould began to consider retiring, finally making it official in 1978. "I loved my people and practice. Having an office in your home when you start into medicine is fine. But it gets to be difficult. I could close the office at 4 or 5 o'clock and start to mow the lawn when someone would come by and ask to see me. What was I going to do? Not see them? Adding that to the increased paperwork, I decided it was time to retire," he explained.
Dr. Gould was honored by the town of Iberia in the high school gym for his years of service to the community (photo 21 of retirement ceremony).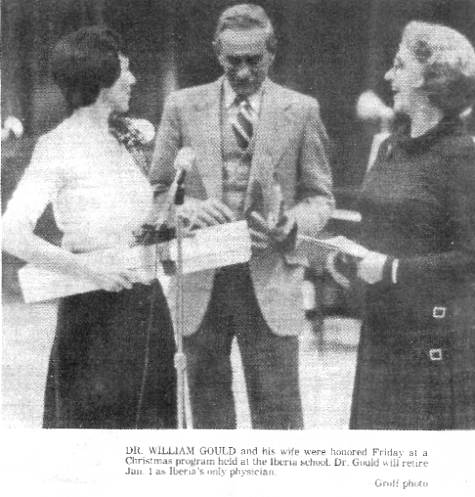 21 Retirement Award
He and Mrs. Gould went to San Diego for the winter before moving to their condo in Osage Beach.
"I missed my practice. However, I still kept in touch with many of my old friends and patients. They would call and ask if they could come by and ask my opinion on some medical matter."
Three years ago, Dr. Gould developed emphysema which has limited some of his activities. However, he continues to play golf and fish and play his organ. Mrs. Gould enjoys paining with watercolors and piecing quilt tops. And they both enjoy going out to eat with many of their friends.
Dr. Gould and Mrs. Gould spend January, February, and March in Green Valley, Arizona in a rental unit next to Dr. Gould's brother. "We visit, play golf, relax and sometimes drive the 22 miles to Tucson," Mrs. Gould said (photo 22 of Dr. Gould and Mrs. Gould after retirement).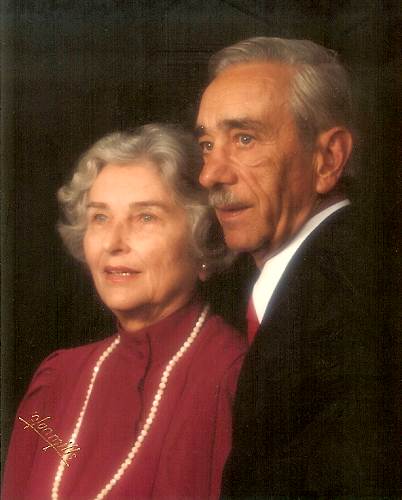 22 Dr. and Mrs. (Hilda) Gould
Plans for the future might include a move to retirement apartments in Springfield. "We are thinking about it. The five story apartment is under construction and will be located right next to Battlefield Mall. My son lives close by in Willard and has 15 acres which I could help him keep mowed. I like to be doing something," he added.
Looking back over his many years in medicine, Dr. Gould shook his head and said, "I'm pleased I was able to serve in that capacity for so long. Who would have thought when I was a student at Kirksville that I would have fallen in love with the little town of Iberia?"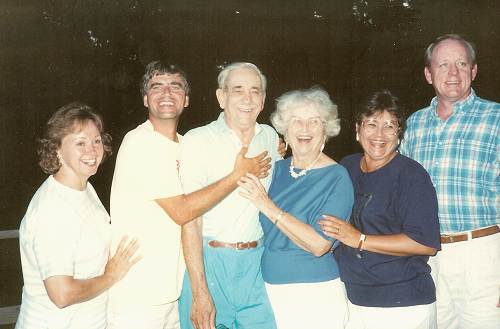 23 Connie, Bill Jr., Dr. Gould, Mrs. Gould, Terry and Ron Griffen
One of Dr. Gould's interests outside of medicine was flying his private airplane. However, this activity was more than just a hobby because he used his skills to aid a local emergency rescue organization. This story was published in the Fort Leonard Wood GUIDON in 1968:
Fort Leonard Wood GUIDON 1968
React Operates As Mercy Club
Members Work Around The clock
By Vera L. Martin, GUIDON Staff Writer
A local flying club, organized for the purpose of helping others, operates in the Fort Leonard Wood area with members on call 24 hours a day, seven days a week. The Mark Twain Radio Emergency Associated Citizens Teams (REACT) with headquarters in Crocker, Mo., has been in operation for a year and has a membership of 50, made up of both military personnel and civilians. Members operate their own Citizens Band (CB) radio installed in their homes, offices, cars, boats, or airplanes.
Although no operator's license is required, each member is a licensed station operator with a identifying sign. The station license is approved by the Federal Communications Commission. Although no test is required, the owner is allowed to operate up to two transmitters as an individual, the primary purpose of the REACT organization is to assist in any possible way in case of accidents or emergencies in an area within a 30 air mile radius of Crocker. In order to pin down an emergency situation, a member chosen by roster is on 24 hour duty for in coming calls from those club members who have spotted a situation needing help.
Immediately the call is monitored to other club members and within a short time emergency mobile units go to the scene. At the same time state and other proper authorities are notified.
The club is especially helpful in relaying early messages as club members use their radios while traveling or at work to call a fixed base station.
A case in point was the recent airplane crash near Midway, Mo. Within 30 minutes four mobile units were at the scene to help police with vital work.
Another recent case in which the club played an important role was in the search for a 3 year old boy who strayed from his home near Tuscumbia, Mo., the county seat of Miller County. The call was received about 7 pm and within one hour over 35 Mark Twain club units were on the scene to organize searching parties of more than 800 people who worked all night to find the lost child.
The local REACT club has done outstanding work in their combine efforts toward fighting forest fires in the Fort Wood region.
Each club mobile unit is equipped with radio, first aid kits, proper safety marking facilities for accidents, tow cables, mechanical tools, fire fighting equipment and at least 300 feet of rope. Electricians who are REACT members carry special electrical equipment; others have had specific training in first aid work and two local physicians, Doctors John Mihalevich of Crocker and William A. Gould of Iberia are active on call.
Dr. Gould, the only member with a private airplane, used his plane last year in the REACT program to locate forest fires and relay messages in the Fort Wood area.
During the coming spring months, club members are scheduled to use spelunker equipment in searching out local caves in order to close those considered unsafe.
All calls using the emergency channel nine, are submitted on written reports and sent to Washington, D.C.
The Mark Twain REACT organization is divided into two squads. The first of these includes members who live in the southern section and patrol an area bordered by Rolla, Vichy, West Plains and Stoutland. The second squad patrols the northern region bordered by an area north of Crocker to Vichy, Tipton, Camdenton and Stoutland.
REACT is a national organization with clubs in every state and major city. Missouri had 912 members. Dues are one dollar per month. Each man must have his own radio, call sign and mobile unit.
Officers in the club are Ben Towns, Crocker, team chief; Sergeant First Class Jesse Cole, Fort Wood, assistant team chief; Clifford Mcleaster, Dixon, operations chief; Mrs. Fred Garcia, Fort Wood, secretary and A. Mooneyham, Crocker, treasurer.
Robert Robbins, Crocker, is president of the Board of Directors. Other directors are Sergeants Fred Garcia, Mitchell Siechert, Russ Call and J. Vance, all of Fort Wood.
The club meeting is held the first and third Tuesday of each month at 7:30 pm in Crocker.
---
Dr. Gould also enjoyed competing in flying skill events. One such event was described in the Miller County Autogram-Sentinel:
Autogram Sentinel
Thursday, April 24, 1969
Iberia Airport Has Fly In
Dr. William A. Gould, Iberia, won third place in the spot landing contest of the Missouri Pilots Association Fly In, held Sunday afternoon for the first time at Eads Airport in Iberia.
Winner of the event was Dave Fullgraf, St. Louis, and Jim Jones, Kansas City, won second.
Almost 300 persons, including 26 pilots, attended. Nine planes were entered in the two competitive events…spot landing and bombing. Trophies were given to the top three finishers in each event.
For the spot landing contest, a line is marked across the runway. Each pilot cuts the motor of his plane while perpendicular to the line. The one touching down closest to the line is the winner. If the wheels touch behind the line, the plane is disqualified. The theory being that an aircraft in trouble which lands short is in serious danger of hitting trees, fences, etc.
A strong cross wind made this event even more difficult. In spite of the handicap, Fullgraf landed his six passenger Cherokee right on the line.
"A landing this good does not happen very often," said Richard Lennertson, St. Louis judge of the event. "Usually a landing 8 inches from the line wins the contest."
Dr. Gould, the only entrant from Miller County, flew a Commanche. He did not enter the bombing event. The other contestants were from St. Louis or Kansas City (photo 25 of Dr. Gould in airplane).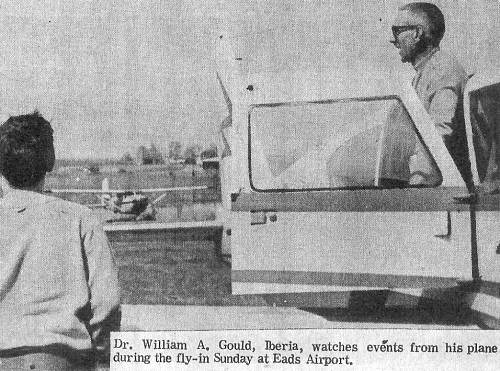 25 Dr. Gould Fly-In Photo
The MPA usually sponsors three or four fly ins per year. "I have seen no accidents yet in any of our contests," Lennertson said.
Before the fly in, the MPA held a brief business meeting to make plans for its annual meeting and convention. It will be June 27 and 28 at Wulff Harbor on the Lake of the Ozarks. About 75 to 100 pilots are expected to attend, Mrs. Jean Lennertson, editor of the Missouri Pilots Association Magazine, said.
This event was also described in the "Missouri Pilot's Association Newsletter." The author of the article records a conversation with Alf Eads, who was there that day, and who was the first person in Miller County to own and operate an airplane as well as building the first airport:
On The Scene Report
Alice Jackson
Missouri Pilots Association Newsletter
May 1969
Those of you who missed the Fly In Sunday, April 20th at Iberia, Missouri missed a real fun day. The day was perfect for flying for I could see St. Clair, Union, Washington, and miles around. That is my kind of day (Editors' Note: Alice is the Flying Grandmother Who!).
After having the flu all week nothing could keep me from going with my husband John to Iberia. Harry Lischer went with Dave and Rose Fullgraf and Irvin and Irene Rawlings. They went by way of Wulff Harbor for breakfast and were late for the meeting. Harry said with five pilots in one plane they could not agree. That is understandable, isn't it?
Thirty pilots attended the Fly In and board meeting. Dr. William Gould was a marvelous host. They had several cars available to take us to the High School for a chicken dinner. The Seniors were sponsoring the event and I'm sure we helped by attending.
The whole town turned out to watch the activities, and there were reporters and photographers from Eldon and Springfield, Mo.
The pilots who entered the contests were: John Jackson, Frank Nickel, Allen Pard, Dave Fullgraf, Walter Poeschal, Harry Betz, Roy Houlihan, Dr. William Gould, Jim Jones and they had other pilots or their friends ride with them.
The winners for the spot landing contests were:
1. Dave Fullgraf
2. Jim Jones
3. Dr. William Gould
The winners in the bombing contests were:
1. John Jackson
2. Walter Poeschal
3. Roy Houlihan
These winners were all awarded beautiful trophies. The grass field (a little wet in spots) and stiff cross winds were handicaps to all and the pilots deserve much credit for their participation and accomplishments.
Dr. Gould used his airplane radio to help direct planes in the air. He also furnished coffee at the field. We enjoyed meeting him and appreciated his asking us to Iberia.
I had the pleasure of meeting Mr. Alpha Eads, 83 years young, who owns the airport, so the name, Eads Airport. He told me he made it 45 years ago and has been a pilot longer than that. He was so pleased to see all the people who had come to watch the contests. He reminded me of Mr. Craddock who flew with the Wright Brothers and lives in Kirkwood.
Mr. Eads had been in the hospital recently but was confident he will be around for the next visit with any flying friends who decide to visit Eads Airport (photo 26 of Alf Eads and airplane).
In closing let me say, we have always had a grand time, met wonderful people at the few Fly Ins we have been able to attend. Where else can you meet such nice people except flying? Hope you all come next time.
---
Dr. Gould passed away on May 27, 1995 having retired in 1978 (photo 27 of funeral program).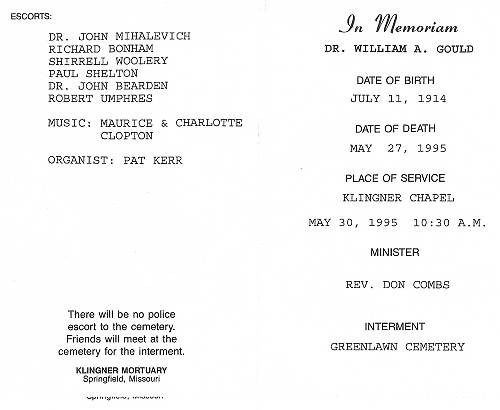 27 Funeral Program
He was a very well respected physician and community leader for many years in Iberia. It seems fitting that the first physicians to practice in the new Iberia Medical Clinic, Dr. Haggerty and Dr. Mason, are of the same background and training as Dr. Gould and will demonstrate the same devotion to their patients as did he for so many years for the Iberia community.
---
About three weeks ago Bamber Wright and Don Pemberton met each other for the first time in about seventy years at the museum (photo 28).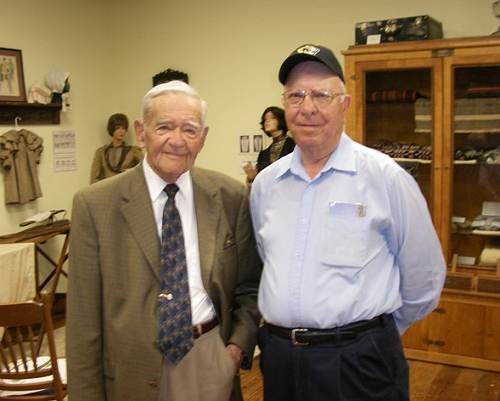 28 Bamber Wright and Don Pemberton
Neither knew the other was going to be there so it was a complete surprise. In fact, they met in the parking lot and were engaged in casual conversation before they recognized each other, the years having changed appearances somewhat, I imagine. Both had attended the Iberia Academy back in the late 1930's being members of the same class.
The interesting coincidence about their careers is that both went into the grain business. Bamber was associated all his life with the family Anchor Milling Company of Tuscumbia, and Don started his own very successful grain storage business near Cape Girardeau many years ago. I find it interesting that so many people seem to meet at the museum as a coincidental unplanned event but all have the same interest in Miller County History.
Don had returned to the area for the annual Williams' Cemetery meeting. In the next photo Don is standing next to the old loom we have on display at the museum (photo 29).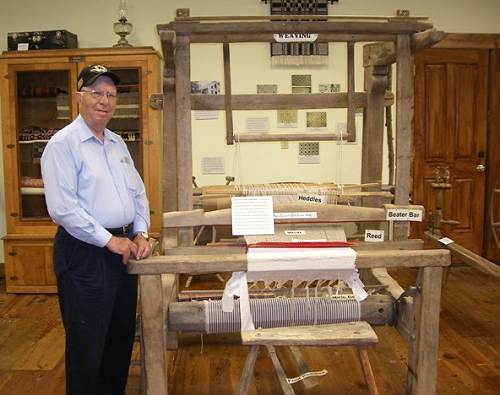 29 Don Pemberton by Williams Loom
This loom was built many years ago by Don's great grandfather, John Williams of Iberia. At the Williams' Cemetery meeting the day before this photo was taken, Don had presented the history of the Williams family as researched by his wife, Barbara.
---
Other recent visitors to our museum were Donald and Kay Forbis of Holts Summit Missouri (photo 30).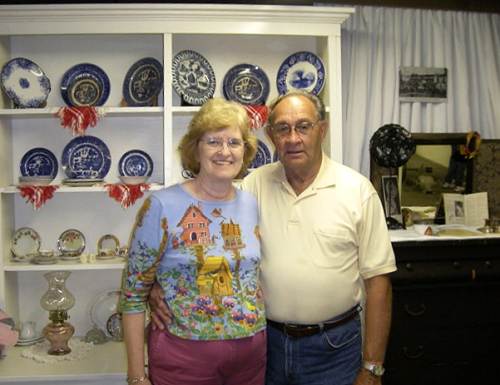 30 Donald and Kay Wilson Forbis, Holts Summit, Mo.
Kay was the daughter of Chester and Roma Wilson who lived for many years in the Tuscumbia area. Kay attended the Tuscumbia School through her elementary and secondary years. Chester, her father, was one of the early employees at Pryor Novelty Company of Tuscumbia and spent his entire working career there. Presently, Donald and Kay are retired although Donald continues a farming operation in the Holts Summit area. We are always glad to host former friends and neighbors who once lived in the area who return here for a tour of the museum.
---
Last week we were delighted to host fifty 5th and 6th graders from Iberia Elementary School for a tour of the museum. Our guests were very attentive and interested in many aspects of the museum. The most popular attraction was the story of the old Lupardus cabin as told by Sharon Steen Holder, whose grandparents, Willard and Maggie Boyd, were the last to live in it before it was transferred from their Ulman farm to our museum campus (photo 31).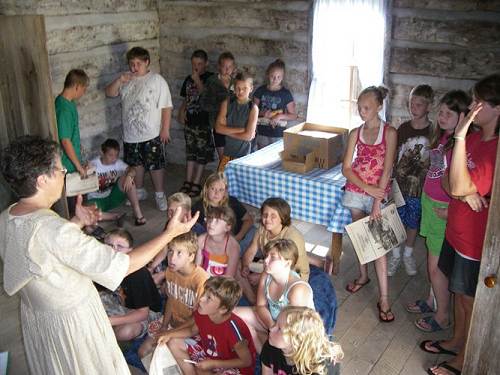 31 Sharon Holder telling the Lupardus Cabin Story
You can read more about the cabins on the museum campus at this previous edition of Progress Notes.
Among many other interesting displays the students really enjoyed the presentation by our Native American expert, Ellis Bray, regarding artifacts and tools used by these first inhabitants of our county (photo 32).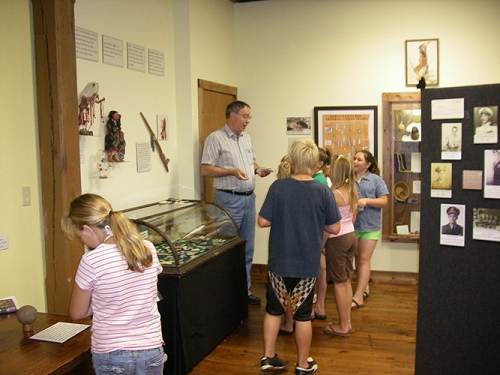 32 Ellis Bray teaching Indian Lore
The old loom was also of interest. In this photo museum board member Karen Smith is demonstrating some aspects of the weaving process (photo 33).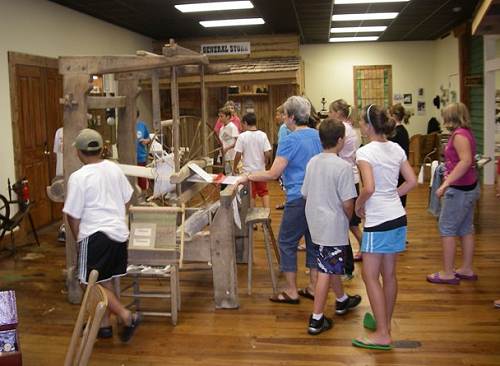 33 Karen Smith Demonstrating Loom
Since all the items in the museum originated from Miller County homes, many of the students were able to make connections with their ancestors from the past. One really excited student was Beverly Nixdorf when I told her that she was the great great granddaughter of Anton Nixdorf M.D. (photo 33a)., one of our counties best known early physicians.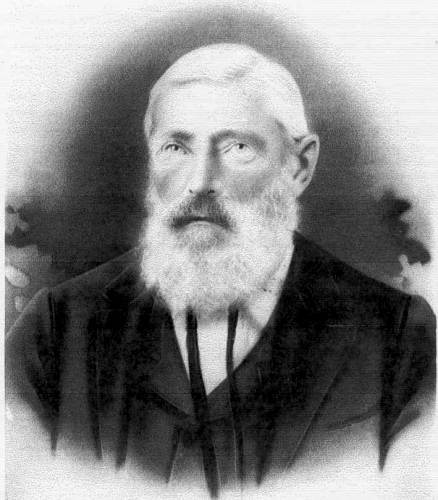 33a Anton Paul Nixdorf M.D.
Here is a proud Beverly standing in front of the wall display in our doctor's office which honors Dr. Nixdorf (photo 34).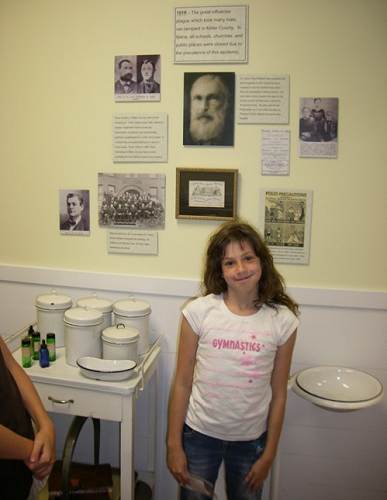 34 Beverly Nixdorf
According to Brian Nixdorf, Beverly's father, the descendency is as follows: Anton Paul Nixdorf MD; Otto Bismark Nixdorf, Charles Anton Nixdorf, Bob Nixdorf, Brian Nixdorf and then Beverly. You can read about this famous Miller County physician of the past on this previous edition of Progress Notes.
Father and son Jim and Tim Davidson from Novato, California happened to pay a visit while we were giving the Iberia students their tour (photo 35).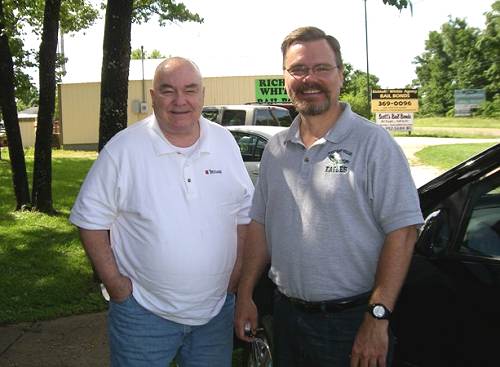 35 Jim and Tim Davidson
It was just a spur of the moment decision, probably because of the crowd of visitors they saw, so they stopped their car and joined the students for the tour. Maybe because it was such a surprise detour for them but they told us the museum was one of the most interesting they had ever seen!
That's all for this week.
Joe Pryor