Monday, June 8, 2009
Progress Notes
A few weeks ago I announced the donation by Bill Harvey of Eldon, our Miller County Collector, of a magnificent oil portrait of his great great uncle, Robert S. Harvey (photo 01).
01 Bill Harvey with Painting of Great Great Uncle R.S. Harvey
You can read more about that story at this previous edition of Progress Notes:
We now have the portrait placed conspicuously where all can see in the upper level of our new addition to the museum (photo 02).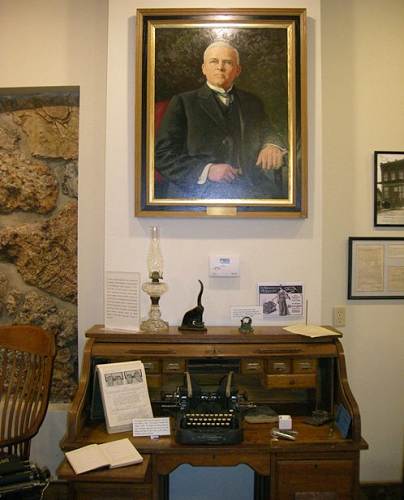 02 R.S. Harvey Portrait
Robert Harvey was one of the early developers of Eldon, perhaps the most important one, so I thought it would be appropriate on the occasion of having recently received his magnificent portrait to record here his story. I asked Bill who might be the member of the family who was the historian and he referred me to his Uncle William F. Harvey who for many years has been a professor in the Department of Law at Indiana University in Indianapolis, Indiana (photo 03).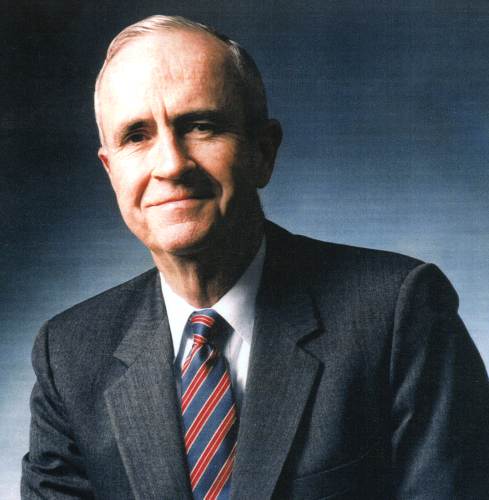 03 William F. Harvey
I called Professor Harvey and he very graciously offered to send me biographical and historical information regarding his great uncle Robert S. Harvey. However, before introducing the material about Robert S. Harvey, I wanted to share with our readers some biographical data about Professor William F. Harvey. I always am pleased to learn about the success of former Miller County people who left here early in life to achieve great success elsewhere and Professor William F. Harvey certainly is one of those successful Miller Countians. Very rarely will one read a resume' as distinguished as that of Dean Emeritus William Franklin Harvey of the Indiana University School of Law (photo 04).
I enjoyed talking with Professor Harvey about his early Eldon experiences, especially the fact that he often had played golf with my Uncle Arthur Bear, who owned the Sanitary Market on Maple Street some 45 years ago. He was quite eager to send the readers of our website information he had gathered about Robert S. Harvey. The first item he sent me was his own biographical composition of the life of Robert S. Harvey which I will copy here:
R. S. Harvey (photo 05)
(Robert Sylvester Harvey)
1855-1937
A Summary or Synopsis of His Life
By William Franklin Harvey*
Born: November 20, 1855, High Point, Missouri.
Died: January 1937, Pomona, California (where he moved in 1936, after living over 80 years in Eldon and Miller County, to live with his two sons and their families).
Father: Noah Harvey
B: Date unknown, believed to be 1825.
D: 1864, buried in "Denny Cemetery" in Miller County.
M: 1850 to Lucinda Reynolds
Mother: Lucinda Reynolds Harvey
B: 1833
D: 1873 (possibly 1876), buried in "Denny Cemetery" Miller County.
M: 1850 to Noah Harvey
Brothers and Sister:
Jalie Harvey (among the five (5) children, she might have been the oldest child).
Some spell her Christian name: "Jaylie," which is
acceptable, but she did not.)
Nathaniel Edward Harvey
B: January 27, 1863 (probably 1862)
D: February 4, 1952 (buried in Eldon Cemetery)

Walter Harvey (death at Bagnell; burial is unknown)
Barton Harvey (buried in Eldon Cemetery)
Married: Mary Cirrelda Franklin, January 13, 1880, Pleasant Mount, Missouri (now Mt. Pleasant, Mo).
Children: Bert T. Harvey
Ralph S. Harvey
Opal Harvey (Mrs. Elmer Hale, McAlester, Oklahoma)
50th Wedding Anniversary: January 13, 1930. This grand occasion, attended by many, is extensively discussed on front page, Eldon Advertiser, in that week.
(Note: this will be presented later)
Business Activities:
1. Railroad Ties: For twenty-five (25) years, R.S. Harvey (and his brother N.E. Harvey), harvested railroad ties from timber in Miller, Morgan, Camden, Dallas, and Benton counties. This became a very substantial business.
An article in the Eldon Advertiser for the week of January 13, 1930, states that for many years his firm furnished over 1,000,000 railroad ties a year. His firm furnished railroad ties to the Missouri Pacific Railroad Bagnell Branch (photo 06).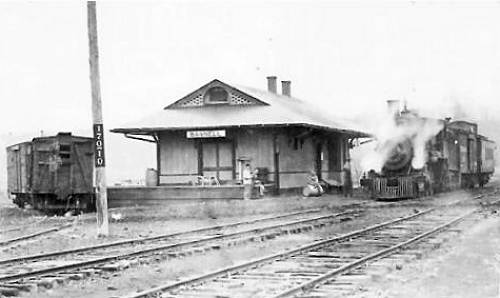 06 Bagnell Depot
Ties were sold to several railroad lines such as Union Pacific, Rock Island, Southern Pacific, Missouri-Kansas-Texas, and others (photo 07).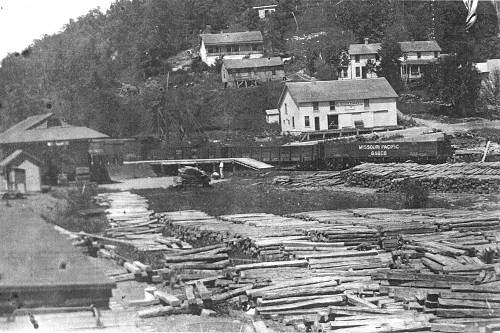 07 Bagnell Tie Yard
2. Bank of Eldon. In 1891, he built the first Bank building at the corner of First and Maple in Eldon, Missouri. His name is easily read atop the building today. (In 2009, it is occupied by the Eldon Drug Co., a pharmacy.)
At that time in 1891, he organized the Bank of Eldon. He capitalized it with $15,000 and solely owned the Bank's stock. [The Eldon Advertiser for April 2, 1936 states that the Bank of Eldon was opened on September 20, 1894.] He was the Bank's President until 1931, at which time he resigned. Dr. Warren Logan Allee, who was the Vice-President, became the Bank president.
After 40 years, when R. S. Harvey left the Bank of Eldon in 1931, it was the largest financial institution in Miller County, Missouri, with assets over $1,100,000.
Dr. Allee bought most of R.S. Harvey's capital stock. Others bought, too. On or about 1957, Dr. Allee's stock returned to the Harvey family when it was purchased by Harry F. Harvey and Marian C. Harvey of Eldon, and their sons. Along with Mr. Robert C. Evans of Eldon, they had and voted a majority of the Bank's stock.
Soon afterward, the Bank of Eldon moved to a new location, one block west and just south of the Phillips Funeral Home.
In the 1960s, the Bank of Eldon was bought by Mercantile Bank of St. Louis. A new bank building, the Eldon Bank of Mercantile Bank, was constructed in 1981 in its present location at the highway intersection, Highway 54, in Eldon.
At that time, Herbert E. Harvey, my older brother (we were great-nephews of R. S. Harvey) was a member of the Board of Directors. Herbert served as the President of the Bank or its Board.
Afterward, the Mercantile Bank of St. Louis was bought by U. S. Bank and that is the Bank now found in Eldon. Today it is not related to the Harvey family in any way or respect.
3. Harvey Mercantile Building. In 1891, the same year the Bank of Eldon building was constructed, R. S. Harvey built the Harvey Mercantile Building. It is located on the same side of the main street in Eldon as the Bank, at the end of the same block, and is found at the intersection of Maple and Second streets.
At that time, it was the largest mercantile-department store in Miller County, Missouri. It was also the largest building in Eldon, Missouri.
The Harvey Mercantile Department store was run by Nathaniel Edward ("N.E.") Harvey, R. S. Harvey's brother, and his son, Harry F. Harvey. Its doors were open from 8:00 AM to 9:00 PM each day, including Saturdays, and closed on Sunday. ["N.E." Harvey was my grandfather. I have strong memories of being in this store before W.W.II.]
Note: At this point I will place some photos of the above described buildings. The next two photos are taken of Maple Street from the North during the early 1900's. In each of these, the Harvey Bank of Eldon building is the first two story brick building on the right. At the end of the street on the right but less easily seen, is the Harvey Mercantile Department building (photos 08 and 09).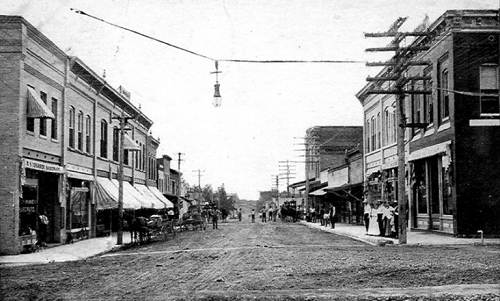 08 Eldon - 1907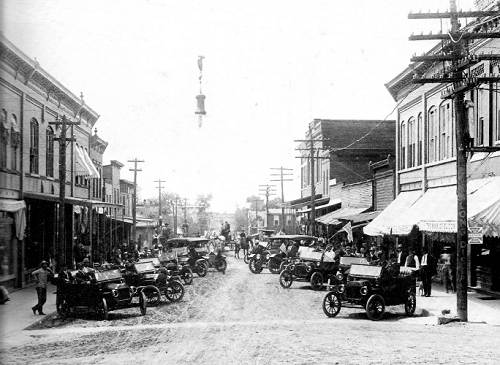 09 Eldon Street Scene - Early 1900's
The next photo is of the R.S. Harvey building as it appears today (photo 10), and a little further down the street on the right is the Harvey Mercantile Building (photo 11).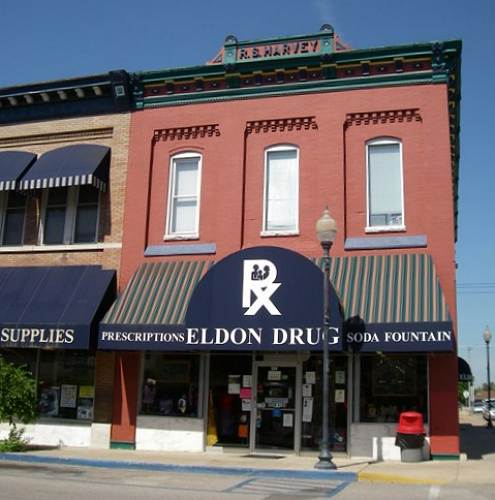 10 R.S. Harvey Building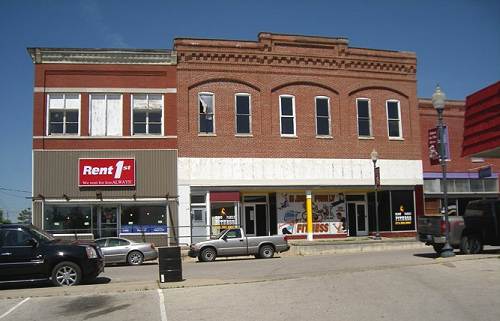 11 Harvey Mercantile Building
4. Homes in Eldon. R. S. Harvey built twenty-two (22) houses in Eldon. Several of these very well-constructed houses still stand and are occupied.
5. R. S. Harvey Home. When he and his wife, Mary Cirrelda, moved to Eldon from Aurora Springs, he built the home that is now known as the Phillips Funeral Home. When Mr. Harvey left Eldon in 1936, or shortly before that time, his magnificent home was sold to Henry Phillips (a strong, lifelong family relationship between the Harveys and Phillips has existed for three or more generations) and it became the Phillips Funeral Home.
[Mrs. Helen Phillips is a dear, dear friend, as was her son, Don Phillips. Often she has seemed like a second mother. In July 2009, she will be 101 years young. Last year we were speaking about this house and home. Helen made the comment that only two names are found on that property's title: Harvey and Phillips. She and I laughed, saying that would be a very easy "title check." In fact, each of us is proud of the title history to her home, and the Phillips Funeral Home. Our two families have been "as one" for over a century.]
Note: I will digress again to show a photo of the R.S. Harvey Home (photo 12).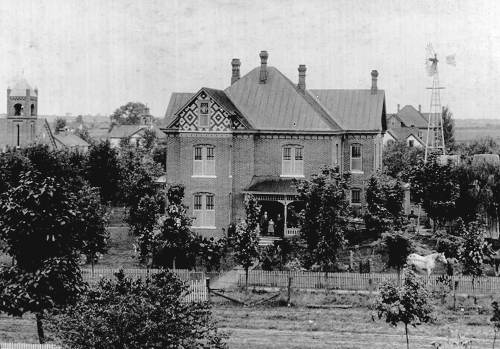 12 R.S. Harvey - Phillips Home
In the back ground you can see the James S. Franklin home discussed in the paragraph below (photo 13).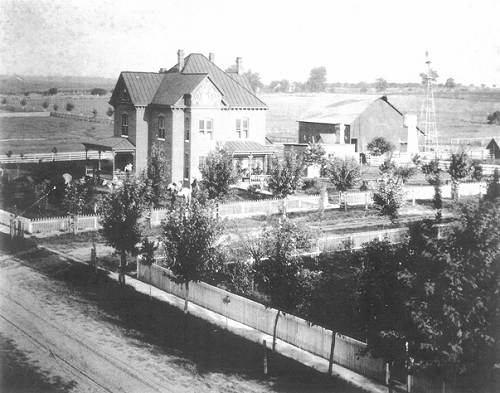 13 James S. Franklin Home
A year and half ago I was given a tour of the Harvey/Phillips home by Helen Phillips and her son, William. You can read about that tour on a previous edition of Progress Notes.
Mr. R.S. Harvey's brother-in-law, James S. Franklin, built an identical house, one block away, west. Later it was owned by Dr. and Mrs. Warren Logan Allee. [Mrs. Allee, Maud Franklin Allee, was one of James S. Franklin's children. Her bother, William Franklin, an officer in the U.S. Army in W.W. I died in the Flue Epidemic in 1918. I am named for William Franklin, a very close friend of my father, Harry (Harold) Franklin Harvey.] In the late 1950s, that house was sold to the Eldon School system and then raised for the construction of the Eldon High School.
Benefactor and Benefactions:
1. Churches. R. S. Harvey gave generously to every Church that opened in Eldon.
2. Land. He gave the land on which the First Christian Church of Eldon now stands, and he served on the Church Board.
He largely financed the beautiful pipe organ in this church.
He gave all of the land that now forms the major intersection of Highway 54 in Eldon, as it turns toward to the Lake of the Ozarks.
He gave the land that is now the Eldon Fair Grounds across from the former Rock Island tracks and station (as it was until the 1960s or later when the Rock Island railroad ceased to exist.)
3. Railroads: When the Rock Island Railroad came to Eldon in 1901-1902, R. S. Harvey gave all of the right-of-way for the railroad and he gave generously to the construction of the Railroad's round house (photo 14).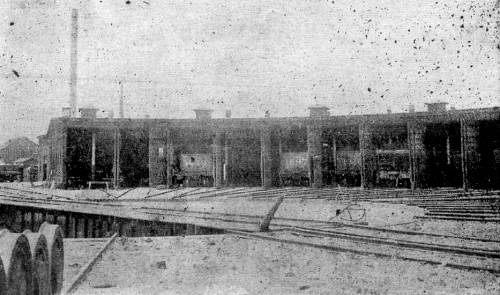 14 Rock Island Round House
As a result, the Rock Island line became a major stop and station between St. Louis and Kansas City in Eldon (photos 15 and 16).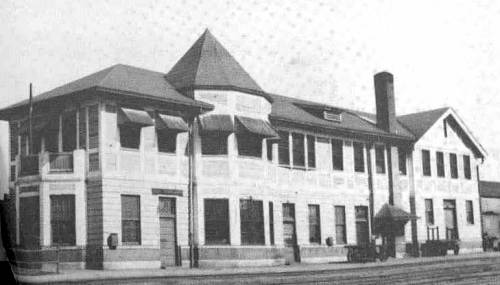 15 Rock Island Station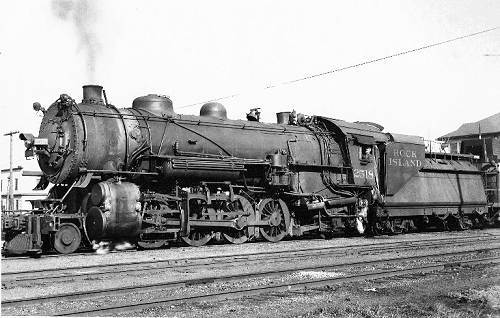 16 Rock Island Engine
He seemed, almost, to have created the presence of the Missouri Pacific Line in Eldon (photos 17 and 18).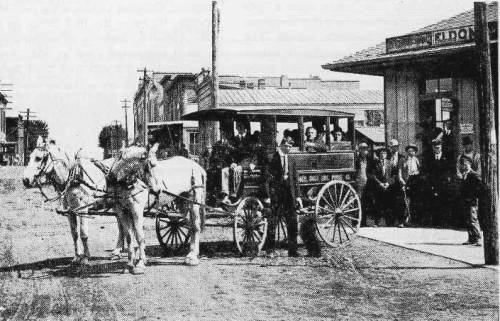 17 Missouri Pacific Depot in Eldon - 1888

18 Missouri Pacific Engine
Moreover, he and N.E. Harvey and his brother-in-law, Mr. Franklin, assured the presence of that railroad in Eldon through the harvest of millions of railroad ties which the "Mo-Pac" used in construction (photo 19).
19 Bill Harvey, Great Grandson of N.E. Harvey, brother to R.S. Harvey,
holding Tie Marker used to identify Harvey Brothers' ties
Click image for larger view
4. Highways. He was instrumental in causing Highway 54 to be surveyed through Eldon. He took a large delegation from Eldon on a special train to Jefferson City, Missouri to appear before the State Highway Commission
Moreover, he and two other men personally secured state road bond issues for this construction. Eventually, those bonds were secured by the state and the United States itself.
5. Eldon Schools. He gave full support to the development of the Eldon School System. Later this became the Eldon Public Schools. He was a member of the first school board. He supported school construction and the New High School that opened in Eldon on or about 1913 or 1914. This was the building in which I attended High School in Eldon (photo 20).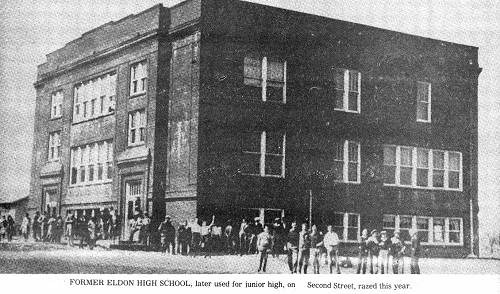 20 Former Eldon High School
He often said that, "Young children should receive the best education of which they are capable."
This is especially significant because he and his brothers, especially N.E. Harvey and their sister, were all self-taught and had little or no formal schooling.
My grandfather, N.E. Harvey, lived with us and was part of our family for many years. He was, of course, my father's father. So, too, did my Mother's mother, Mrs. Caroline G. Correll.
The education I received from them was beyond measure. Each was very highly accomplished and extraordinary well-informed and well-read. Their memories of their childhood days and lives as adults were and remain one of the great treasures in my life.
They had become adults before excellent schools were established. Their children, my parents, attended them. Those schools had extraordinary and very demanding curricula. Their grade cards and books, which I have, show that heavy emphases were placed on the classics, languages, mathematics, history, geography, literature, and science. Schools were sustained by the community. The community insisted on high substantive educational standards. Schools were not created by the State, as we think about and experience school systems today.
6. Bagnell Dam & Lake of the Ozarks. It is reasonable to say that because of the railroads, their availability, the fast access they gave from St. Louis, and because of U.S. Highway 54, in 1932 the Bagnell Dam was constructed at the site selected and the Lake of the Ozarks formed.
The Bagnell Dam is eleven (11) miles from my original home in Eldon, and from the Rock Island and Missouri Pacific Railroads then in Eldon (photo 21).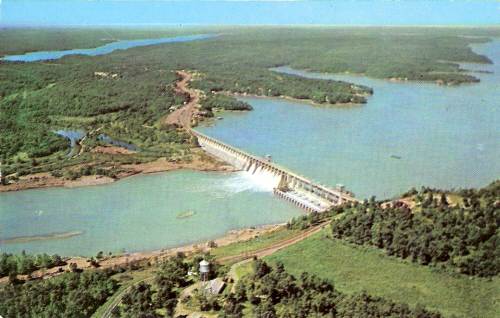 21 Bagnell Dam
Additional Comments:
1. Charities. It is important to remember that in the time and days when he made major gifts to many churches, schools, charities, and communities, there was NO income tax and there were NO charitable deductions.
In short, R. S. Harvey was motivated by powerful commitments: love of family, community growth, education for young persons, a strong Christian faith, love of Country, and love for the State of Missouri, Miller County, and towns such as his home in Eldon, Missouri.
2. 1900 Republican Convention, Philadelphia, Pa. R. S. Harvey was a Missouri state delegate to the 1900 Republican National Convention held in Philadelphia, Pennsylvania.
He was strongly recommended by his party to run for Congress. He declined the invitation and nomination.
3. Personal Memory. I am blessed with a very active memory. Although I was young, I have images of "Uncle Bob and Aunt Cirrelda." Often I would walk with my older brother, Herbert E. Harvey, to Aunt Cirrelda's house for a cookie. She made delicious cookies. That became a high light of a summer's day.
4. A Railroad Town. Eldon became a railroad town. A book "Up The Caboose," (Copyright 1991 by Birdsong Press) with a subtitle, "Tales of Growing Up In A Jazz Age Railroad Town," by Bob Richardson is delightful. I knew many, many people described in this entertaining and informative book. I knew them as great friends, and I miss them very much (photo 22).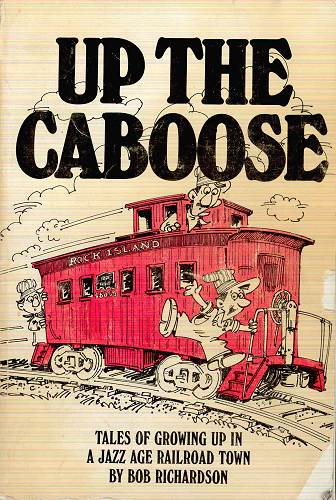 22 Up The Caboose
This part of the significance of R. S. Harvey's life is obvious. He is the man who brought the Rock Island Railroad through Eldon. The outstanding pictures in "Up the Caboose" of the Rock Island station in Eldon (and the trains) show the impact of his life. He is the man who caused that splendid station to be built, and he contributed to its construction as well.
It is literally true that that fine book about many lives in Eldon could not have been written but for the Rock Island Railroad and R. S. Harvey, who brought it to Eldon.
5. Family History—The Rock Island and My Mother's Family: My Mother's father, Herbert E. Correll, was very highly regarded in railroad circles in Chicago, Illinois.
When the Rock Island line was constructed, my grandfather became the Superintendent of that Line between Chicago, St. Louis, and all points west, especially into Oklahoma and the Southwest.
Because of this, he moved his family from Chicago to Eldon about 1905, about three (3) years after the Rock Island Line was established there.
My Mother, Marian Correll Harvey, moved to Eldon from Chicago when the family moved. She told wonderful stories of traveling with her father on his own, private railroad car throughout the many lines and areas of the Rock Island Railroad.
She married my Father, Harry F. Harvey in her home, at 623 East Newton Avenue in September 1922.
My Mother's first home in Eldon, at 623 East Newton Avenue, was constructed by my grandfather, Herbert E. Correll and my grandmother, Caroline G. Correll. It remains there to this day. With some additions and the like, it is still the same house.
Thus, the life of R. S. Harvey and the Rock Island Line also brought my Mother's parents and family to Eldon, Missouri.
6. Family History—Jalie Harvey. Jalie Harvey was the sister to the four (4) Harvey brothers. She might have been the oldest child. For a time after their mother's, Lucinda's, death in 1873, she cared for her younger brother, N.E. Harvey, my grandfather. He was ten (10) years old when Lucinda died.
Jalie married William Neville. They made their home in Oklahoma. They had three (3) children: James, Albert, and Cara. She died too early of cancer. The children were young. In that situation, her bother R. S. Harvey took James and Cara into his home and raised them. Her brother, N.E. Harvey (my grandfather), took her son, Albert, into his home and raised him. Albert became "a brother" to Harry (Harold) F. Harvey, who was my father.
In the late 1800s and early 1900s, this was the meaning of the word, "Family," It meant total support for each other. This included raising children of a brother or sister with the all of the love and familial commitment that was extended to children already in the home.
It also meant taking parents into a son's or daughter's home when they were alone, or a widow, or ill. This was a first principle and first duty of the family. It occurred without question.
I knew this first-hand: My parents, Harry F. and Marian C. Harvey of Eldon took my Mother's mother and my Father's father into their home where they lived, with all of us, for over twenty (20) years.
Family, community, life, and reality were vastly different from several Dickensian stories and novels that were written, and images that were created, in that time.
7. Pomona, California. Remarkably, R.S. Harvey, who lived over 80 years of his life in Eldon and Miller County, Missouri, was buried in Pomona, California. In 1936, Aunt Mary Cirrelda and he moved there to be with their two (2) sons and their families.
He died in 1937. She and they survived him. She passed away on February 1, 1945.
The Bank of Eldon, the Harvey Mercantile Department Store and almost all of the businesses in Eldon, Missouri, closed on the day of his burial in California in 1937.
___________________________________
* I am a great nephew of R. S. Harvey and Mary Cirrelda Franklin Harvey. I have personal memories of them. I was born and raised in Eldon, Missouri, and graduated from the Eldon High School in 1950.
This information is based on family records such as family Bibles, family letters, memorabilia, and old pictures; birth and death records; personal knowledge, acquaintance, and recollection; newspaper articles, such St. Louis newspapers, and the Eldon Advertiser; Bank of Eldon records; railroad records, DAR and SAR records, and other similar data.
The sources of this information are especially strong because R. S. Harvey, my great uncle, and Nathaniel Edward Harvey, his brother (and my grandfather), married Mary Cirrelda Franklin Harvey (wife of R.S. Harvey) and Nancy Melcena Franklin Harvey (wife of N.E. Harvey, and my grandmother).
Thus, two Harvey brothers married two Franklin sisters. The Franklin family has a long and very productive history in Eldon and Miller County, too. All members of the families and their children were very close, and near and dear, all of their lives.
---
Thanks Professor Harvey for this wonderful first hand account of the history of your great uncle Robert S. Harvey and his contribution to the development and growth of Eldon. A further history of the early development of Eldon can be found on our own website at this URL:
http://www.millercountymuseum.org/commerce/eldoncommerce.html
Also, I presented a detailed summary of Eldon from the Eldon Advertiser printed in 1909 which is very interesting to read and covers the time in which Robert S. Harvey was actively engaged in business there. You can read this account at the Progress Notes from June 23, 2008.
Further information about Robert S. Harvey was found in this article from the Eldon Advertiser sent me by Professor Harvey:
Eldon Advertiser January 13, 1930
Mr. and Mrs. Harvey Celebrate 50 Years of Married Life
Have Lived In Eldon For Thirty Five Years
Couple Who Hold Friendships of Many Years in Same Community With Honored Respect
The celebration of the fiftieth wedding anniversary of Mr. and Mrs. R. S. Harvey, Sunday, and the reception at their home in Eldon, Monday, was an event of unusual interest because Mr. and Mrs. Harvey have long lived in Eldon and during a well spent life in the same community they have made many close friendships and have kept them with honored respect.
Mr. Robert S. Harvey and Miss Cirrelda Franklin were married at the home of Captain W.T. Franklin and Mrs. Franklin in Mount Pleasant, January 13, 1880, by Elder S.D. Dutcher. Sunday, this event was celebrated with a family dinner at which Ralph S. Harvey and Mr. and Mrs. B.T. Harvey of Pomona, California; Mr. and Mrs. Elmer Hale, Cirrelda Hale, and Elmer Hale, Jr. of McAllister, Oklahoma, and other immediate relatives were present.
Mr. and Mrs. Harvey were assisted in receiving Monday by Mrs. N. E. Harvey, Mrs. J.S. Franklin, Mrs. J. M. Neville, Mrs. W. L. Allee, Mrs. Harry Harvey, Mrs. A. G. Veville, Mrs. J. B. Franklin, Miss Laura Elizabeth Allee and Miss Cirrelda Hale. More than twenty five telegrams coming from New York in the east, to California in the west, and from Southern Texas in the south, the the far north, were received. Flowers were also received from California, Texas, New York, and other sites from friends who could not be present.
The reception room and dining room were lighted with golden candles, a large wedding cake was adorned with golden bells and individual cakes and candy favors were streamed with golden decorations. The rooms were made cheerful with large bouquets of flowers despite the dismal day outside.
When the Missouri Pacific Bagnell Branch was being built, Mr. Harvey furnished the ties for the construction work. He continued in this business for twenty five yours, having ties made in Miller, Morgan, Camden, Dallas and Benton counties. For many years he handled more than a million ties a year.
In 1891, the large brick department store, now known as the Harvey Mercantile Company, was built by Mr. Harvey and his brother in law and partner, Mr. J. S. Franklin. At the same time the Bank of Eldon building was erected by Mr. Harvey on the corner of the same block. Mr. Harvey became president of the Bank and has remained at the head of this, the strongest financial institution of the county for 35 years. For years he was one of the political leaders of the Republican Party in the county, holding important state offices. During his active business career he was a financial adviser in many general business affairs because of his widely known ability and success. He took the lead in promoting better school facilities for Eldon, aided in the building of the churches of different denominations, and was always a strong, enthusiastic worker for good roads. Even up to this time no other man in Eldon community is stronger or more earnest in his effort for highway building than is Mr. Harvey. He was a member of the finance committee of this district during both campaigns for Missouri road bond issues and to him was due much of the credit for the fact the county showed a surprising condition of success both in finance and votes in favor of these measures.
This obituary was taken from the Advertiser and saved by Mrs. Marian Correll Harvey, of Eldon, Missouri. She was the mother of William Harvey and wife of Harry F. Harvey of Eldon, Missouri, who was the son of N.E. Harvey, a brother of R.S. Harvey.
Eldon Advertiser; Winter of 1937:
R.S. Harvey, Eldon's Well Known benefactor, Dies At Pomona,California, Tuesday
He Opened Bank of Eldon In 1894 When Town Had Population of Only 379
As a Friend of Schools and His Home Community His Progressive Enthusiasm Was Shown in Every Public Enterprise For Many Years.
Robert S. Harvey, for many years one of the most influential men with the greatest financial interests in the county, died at his home in Pomona, California Tuesday morning at 5:30 o'clock.
Mr. Harvey founded the Bank of Eldon September 20, 1894, and continued as president of the institution 38 years until July 1932 when he resigned and Dr. W.L. Allee, who had been vice president since 1920, took the responsibility with J.B. Franklin as vice president.
The Eldon Bank, though started as an individual bank, increased in business until in 1931 the resources reached $1,086,194.02.
Moving to Eldon from Aurora Springs, where he operated a general store until 1900, he started in an earnest effort to make his home town a success with the population then at 378. Better schools were his hobby and he worked for every school proposition believing in offering the very best possible advantages to the young. He lived to see Eldon grow to a population of 3171.
In 1891 the large brick building occupied by Harvey Mercantile Company was built and furnished by Mr. Harvey and his brother in law, J.S. Franklin. They remained partners in the department store business until after the death of Mr. Franklin. The business first started as Harvey and Franklin, later the firm was known as N.E. Harvey and Company, and afterwards the membership of the firm was increased and became Harvey Mercantile Company (photo 23).
For years the firm of Harvey and Franklin bought thousands of ties made from the timbers of Miller and adjoining counties. Christmas week in 1895, they had ninety thousand ties on the bank of the Osage River at Bagnell when the flood came and Mr. Harvey remained on duty almost night and day directing a force of men who worked to keep the waters from moving the ties down the river (photo 24).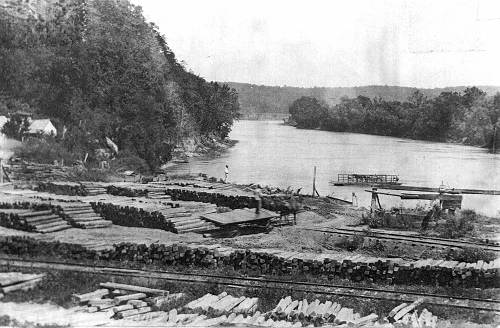 24 Bagnell Tie Yard
To every church built in Eldon Mr. Harvey contributed liberally to the building fund. He was interested in every enterprise started in the city. When the Rock Island was built through the city in 1901 and 1902 he gave right of way and gave liberally to the right of way fund for the railroad and for the roundhouse. For many years he was named chairman of the roads committee because of his interest in road improvements in the county. When Highway 54 was considered and because he strongly believed such financing was necessary to have better roads in Missouri.
Before leaving Eldon Mr. and Mrs. Harvey donated to the city an 9 acre baseball park at the south end of Maple Street and a tract of land between the Missouri Pacific and Rock Island Railroads as a factory site. They also gave to the First Christian Church pipe organ fund, $1000 on condition that the church was to be remodeled and refinished on the interior.
Besides donating to the city the two tracts of land, Mr. Harvey and J.S. Franklin together donated the land to the city for the Eldon cemetery.
Mr. Harvey was born at High Point November 20, 1855, and was married to Miss Cirrelda Franklin, daughter of Captain W.T. Franklin and Mrs. Franklin of Mount Pleasant, January 13, 1880. To them three children were born, all surviving, Ralph S. Harvey and Bert T. Harvey of Pomoma, California, and Mrs. Elmer Hale of McAlester, Oklahoma.
Mr. Harvey is survived by two brothers, Barton Harvey, who resides on a farm southeast of Eldon on the Saline and N.E. Harvey who is a member of the firm of Eldon Hardware and Lumber Company. There were four of the brothers and all lived to be over 70 years old. The oldest, Walter Harvey, died at Bagnell several years ago, one sister, Mrs. W.C. Neville, the mother of J.M. Neville and A. G. Neville of Eldon, died when the boys were children.
Mrs. Harvey, who survives her husband, was one of the most zealous charity and church workers in Eldon during her long residence here. She was indeed a companion to Mr. Harvey who loved his family and their devotion together for their children caused them to give up their longtime friends and associations here.
The funeral will be held Thursday afternoon at Pomona, California and burial will be made there. The Harvey Mercantile Company and the Bank of Eldon will be closed during the time of the funeral service in honor of Mr. Harvey's service to these institutions and to the community.
---
Although this week's narrative features Robert S. Harvey, Robert's brother, Nathaniel Edward Harvey, who was the grandfather of Professor William F. Harvey, also was very involved with the development of Eldon. He was Robert's partner on many ventures as listed above. He ran the Eldon Lumber and Hardware Company along with his son Harry and grandson, Herbert, brother to William (photo 25).
He also was the initiator and producer of Eldon's first electrical company (photo 26).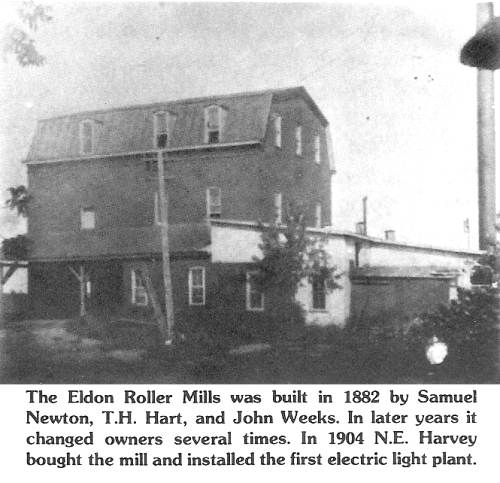 26 N.E. Harvey Electric Company
Tina Raynor, in her very interesting history of Eldon (Eldon, A Look Back) presented an article from the Eldon Advertiser which gives the details:
Eldon Lighted (from an early edition of the Eldon Advertiser) quoted from:
Eldon A Look Back
P. 68
Tina Raynor
Monday evening, N.E. Harvey, to whom the Electric Light franchise was granted only a few weeks ago, announced that the lights would go on. At the appointed hour the street and every house that has been wired glowed with a brilliance that shows the public spirit of enterprise that exists here and that is making Eldon a rural city. The new plant power is supplied by a Warner Induction Alternator with a capacity of 75 K.W. or 1500 bulbs.
The plant was installed under the supervision of George C. Moulder of Linn Creek in a remarkably short time, being only seven weeks at work. All the street lights and 400 private lights were turned on the first night. Other lights will be turned on as fast as the wiring can be done, and in a very short time Eldon will have a complete Electric light system. Mr. Harvey was going to light the Rock Island depot in a few days and there are a number of business houses yet to be supplied. He gives an all night service at an unusually low rate. Business houses, 65 cents per month. In order to get the street light service as soon as possible, the power house was turned on before half the wiring was ready.
James S. Franklin was a brother in law of Robert S. Harvey. He had a business relationship with Harvey in several areas most importantly the Harvey and Franklin Store (see photo 23 above).
His life was closely intertwined with that of Robert S. Harvey, both in business as well as family. Professor William Harvey sent me this obituary of James S. Franklin which summarizes his accomplishments in the development of early Eldon:
THE ELDON ADVERTISER

ELDON, MISSOURI, THURSDAY, FEBRUARY 3, 1921

PROMINENT BUSINESS MAN PASSED AWAY

Death Resulted Saturday Night From Stroke of Paralysis Suffered Feb.19, 1916

James S. Franklin, the eldest son of Captain and Mrs. W. T. Franklin, was born at Mt. Pleasant, Mo., October 2, 1858. He spent his boyhood and youth in this place, assisting his father who was engaged in the mercantile business.
In the summer of 1881, he went to Aurora Springs, then a thriving town, and engaged in the mercantile business, becoming a partner of R. S. Harvey, his brother-in-law. This was the beginning of a long, successful and congenial partnership, a partnership which has continued unbroken for forty years.
On Oct. 27 of the same year, 1881, Mr. Franklin and Miss Elizabeth Cross were married. The marriage ceremony was performed by Judge J. H. Todd at Mt. Pleasant in the home of Dr. and Mrs. J. A. Stevens, the latter a sister of the bride.
Because of business interest in Bagnell, Mo., Mr. and Mrs. Franklin made their home there for several years where the three oldest daughters were born.
In 1901, Mr. Franklin brought his family to Eldon, and soon afterwards he erected the attractive home which is still the family residence.
Here he and Mr. Harvey established the business under the name of Franklin and Harvey, a business which was the most extensive ever conducted in this part of the state. This business concern grew into the present firm known a as the Harvey Mercantile Co., of which Mr. Franklin was president at the time of his death.
In 1893, Mr. Franklin united with the Christian Church at Eldon and was one of the most loyal supporters of his church during the remaining years of his life.
He had always been connected with the Bank of Eldon since it was established, he being the vice-president and a director of the bank, when death called him.
He was also a member of the firm of the Eldon Hardware and Lumber Co. Not only was he interested in his mercantile and banking business but he was vitally interested in the schools of his town, in fact he was always among the first to strive for and promote everything that was for the good of his community. And he will be greatly missed by the men of affairs in his community who listened to his counsel, who reposed confidence in his integrity and ability.
He was a member of the Masonic, L.O.O.F. and M.W.A Lodges. To Mr. and Mrs. Franklin, five children were born, four daughters and one son. The son, William T., while in the service of his country, was called from this life Oct. 10, 1918, at Camp Pike, Arkansas.
On February 19th, 1916, Mr. Franklin suffered a stroke of paralysis, from which he never recovered. He spent many months in the south and on the Pacific Coast, hoping to regain his health, but it brought only temporary relief. On January 29, 1921, in answer to the "last summons," he quietly fell asleep.
Besides the number of friends who feel so deeply the loss of a real friend, there are those in the home circle whose loss is irreparable, the wife and fond daughters, Mrs. W. L. Allee, of Eldon; Mrs. Harry Kruse, of Peoria, Ill.; Mrs. Thomas Cuthbertson, of New York City; and Mrs. Otis E. Burris, of Bixby, Oklahoma.
Mr. Franklin also leaves two brothers, J. B. Franklin and C.P. Franklin, of Eldon; three sisters, Mrs. R. S. Harvey and Mrs. N. E. Harvey, of Eldon; and Mrs. R. G. Spaulding, of Oklahoma City and three grandchildren.
The funeral services were held in the First Christian Church, Wednesday morning at 10:30, by Rev. W. L. Reese, of Pittsburg, Kansas, assisted by Rev. Edmund Wilkes, of Columbia, Mo; Rev J. H. O'Heeron, pastor of the Eldon Christian Church and Hon. Herbert J. Corvin, Mayor of Topeka, Kansas.
Interment was made in the Eldon cemetery. The funeral was one of the largest ever held in Eldon, the church being crowded to overflowing. The business houses closed during the services.
So that concludes the presentation of the history of one of Miller County's most important early figures, Robert S. Harvey, who contributed more than about any other one person to the development and progress of Eldon during its early days of development. Once again, I am so very thankful to Professor William Harvey for taking the time to put together the various documents and newspaper articles to which I referred for this narrative.
---
The Bungart brothers (Charles, commonly known as Clemmie, and Dale) who own and operate the Bungart Cabinetry Company located in Mount Pleasant came to the museum the other day to put in a new top for the counter in our museum kitchen (photo 27).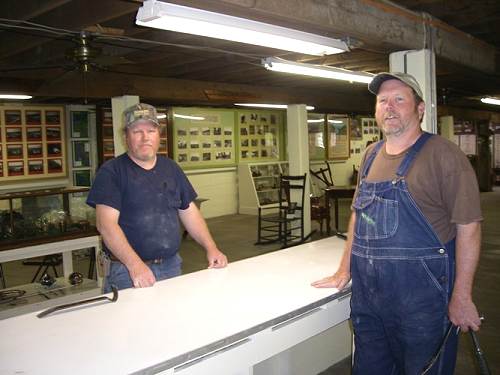 27 Charles (Clemmie) and Dale Bungart
They are from one of the County's historical families originally from around Mary's Home. Their great grandfather Wilhelm (William) Bungart helped build the present church in Mary's Home around the turn of the last century. He fell off the steeple and would have died except that he landed in a pile of ashes. All his masonry tools have remained with the family and now are in the possession of another brother, Bill. The brothers' father, Clem, learned cabinetry from a priest in Mary's Home. Here is a family photo taken in the 1940's which shows Clem in the middle and Wilhelm on the right (photo 28).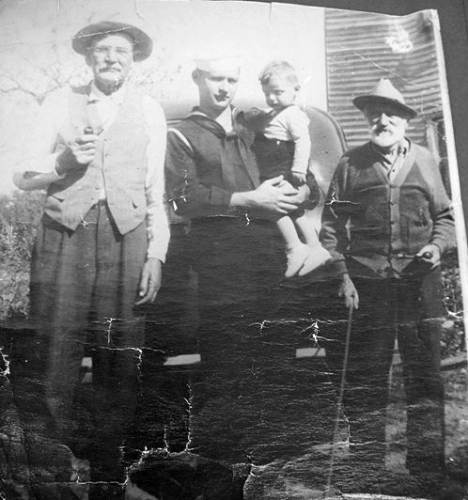 28 Grandpa Sanning, Clem, Lee and William Bungart
Wilhelm had a large trunk he in which he carried his tools. The trunk is very old. He may have made it himself.
Whenever Wilhelm had a house or other structure to build he would load up the trunk on a wagon and have it pulled to the farm where he would live until the project was done. Here is a photo of the trunk with the Bungart brothers posing around it (photo 29).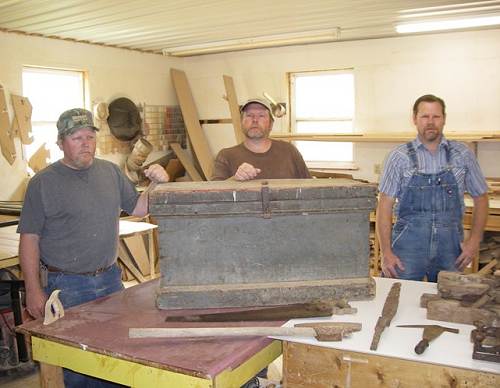 29 Clemmie, Dale and Bill Bungart
Other views of the trunk are interesting (photos 30, 31, 32 and 33).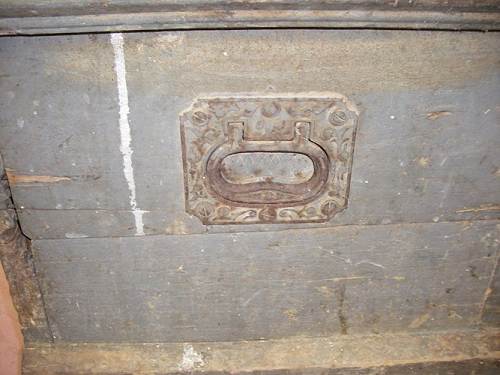 30 Side Handle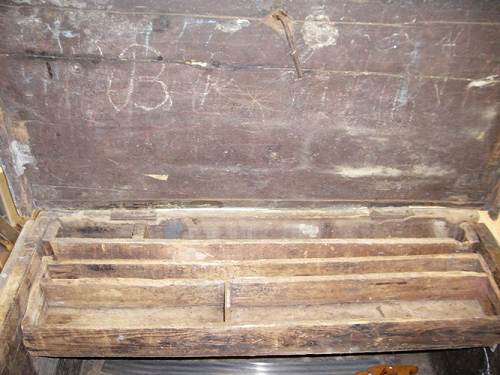 31 Trays in Trunk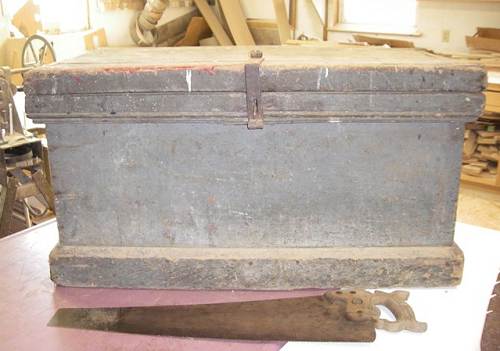 32 Trunk Closed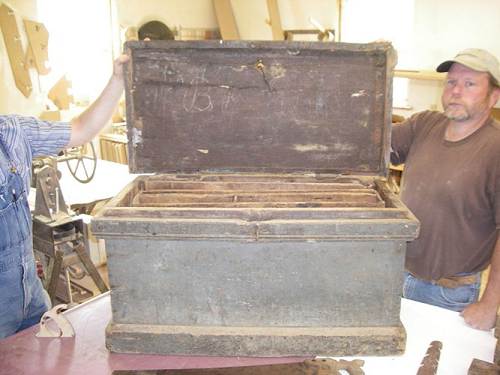 33 Trunk Open
And here are some of the tools used by Wilhelm in his work (photos 34, 35 and 36).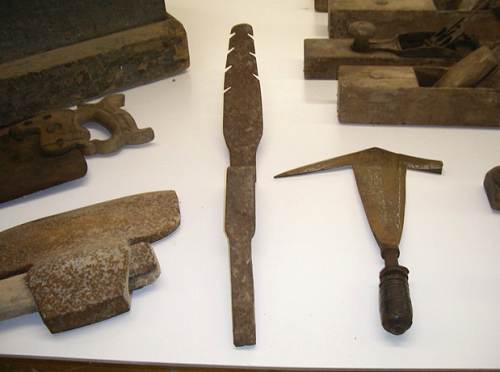 34 Broad Axe, Nail Puller and Late Hammer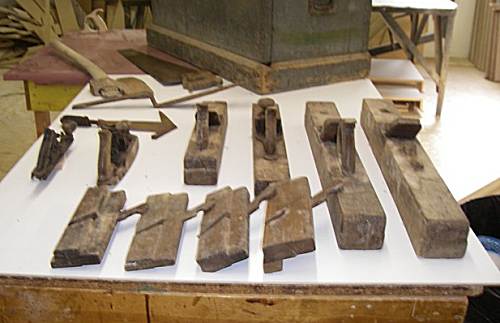 35 Molding Cutters and Boxplanes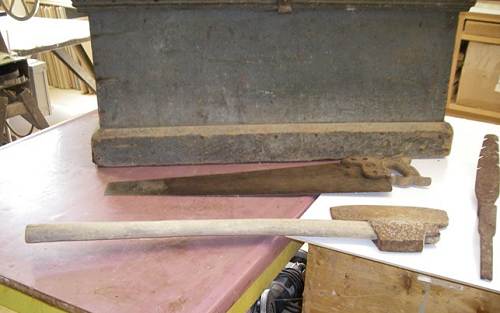 36 Saw and Broad Axe
One never sees these types of tools being used anymore; everything is electrically powered with all types of innovative ways to accomplish what in the past required much skill and experience to accomplish.
Bamber Wright, who managed the Anchor Milling Company lumber and hardware store in Eldon told me that Clem was one of the best cabinet craftsmen around, and that he did a lot of business with Anchor Mill in Eldon while Bamber worked there. A humorous coincidence occurred the day the Bungart brothers were at the museum working. They told me that recently, they had put some new cabinetry in Bamber's former home in Tuscumbia at the request of Brian and Jennifer Ahart who own Bamber's house now. The Bungart brothers remarked to me that the cabinetry was very well done in Bamber's house, especially the way the corners of the cabinetry were smoothly rounded. They asked me if I knew who did the cabinetry, which would have been more than fifty years ago. I called Bamber and he said it was Clem, their father! By the time Dale and Charles had come along, apparently cabinet making had changed greatly as they seemed genuinely perplexed as to how those rounded corners had been made, even if it had been their own father!
---
Last week we had the pleasure of a visit by Belvia Cooper who was accompanied by her son and daughter in law, Walker and Sharon Cooper from the state of Washington (photo 37).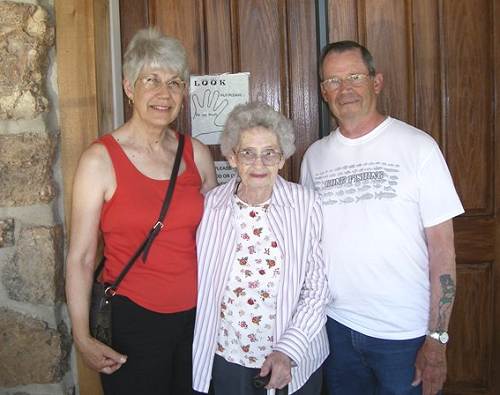 37 Sharon and Walker Cooper with Belvia Cooper
Belvia is from the Ulman area and that is where Walker was raised. He attended the School of the Osage where he had met classmate Jody Newman who is an MCHS member. Jody is the one who introduced us to the family. The story is interesting and was first placed on Progress Notes a year and half ago.
However, to save time I will reproduce it here:
"Progress Notes (November 19, 2007)
Jody Newman stopped by last week to deliver us a friendship quilt that was being donated by Belvia Cooper. The quilt was made by the Ulman WPFA in the 1940's and is essentially like new and quite lovely. Bill Cooper, Belvia's son, provided a partial list of the women who worked on the quilt and they included Della Coan (Belvia's grandmother), Ruth Patterson, Minnie Patterson, Nita Patterson, Amanda Graves, Gertie Wyrick, and Leaetta Graham. Belvia was the youngest member of the club and won ownership of the quilt by raffle. Belvia's Grandmother's maiden name was Luna Adele Van Wagnen. She was born near Ulman in 1867. Her parents came to MO from Indiana in a wagon pulled by oxen. She married a Miller CO man whose parents had come to Miller County from Sandgate, VT. Belvia has had a recent health set-back and is temporarily living at the Miller County Care Center while she is undergoing rehab. Jody says she has many interesting stories about the Ulman community. Bill Cooper, Belvia's son, brought the quilt over to the Care Center and took a photograph of his mother with the quilt spread across her bed (photo 38).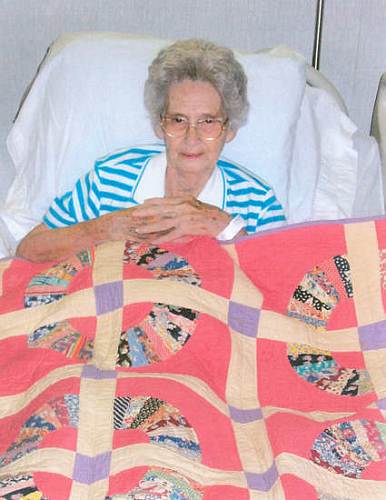 38 Belvia recovering from recent Illness
We are very grateful to receive the quilt and thank Belvia and Bill for the gift to the museum and we thank Jody Newman for delivering it to us."
And indeed, we are very appreciative that Belvia was feeling well enough to visit us last week and also that her son and daughter in law, Walker and Sharon Cooper, took the time to bring her over. All of them enjoyed the tour of the museum.
---
Now for some odds from ends. Here is a ball like object, perfectly round and smooth, given us by Patsy (Adcock) Wickham on June 16, 2008 (photo 39).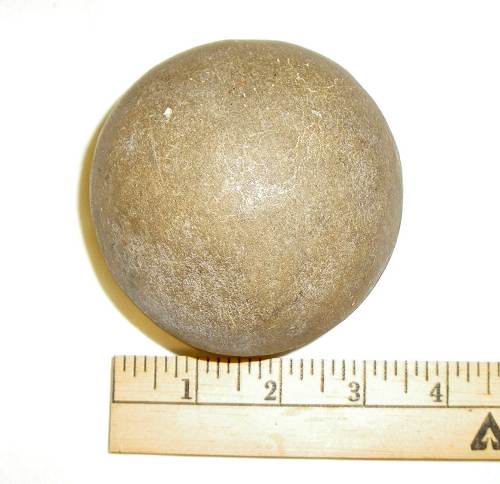 39 Hair Ball
You might have thought it was a cannonball found in a field somewhere in Miller County, something that does happen once in a great while, but this ball is too light. Patsy told me it was a "hair ball" that was found in a cow's stomach at the time of it being butchered. Nancy Thompson, our museum director, thought it was too large to be a hair ball so she took it by the Veterinary Museum this week to get a professional opinion. Yep! It turns out Patsy was correct. The Veterinary Museum has only one hair ball on display there and it is only 1/3 the size of ours. Nancy says it is hard to classify this item on the basis of a genealogical or historical reference so she suggests we put it on our "oddities" table. No one who has seen it can tell us they have ever seen a bigger one. We may be a bit presumptuous at this point but the possibility exists we may have the largest one in existence!
That's all for this week.
Joe Pryor