Monday, June 1, 2009
Progress Notes
A couple of weeks ago I presented photos taken at the time of our Grand Re-Opening of the museum for the 2009 season. One of the photos displayed Brice and Royal Kallenbach raising the flag as part of the opening ceremony (photo 01).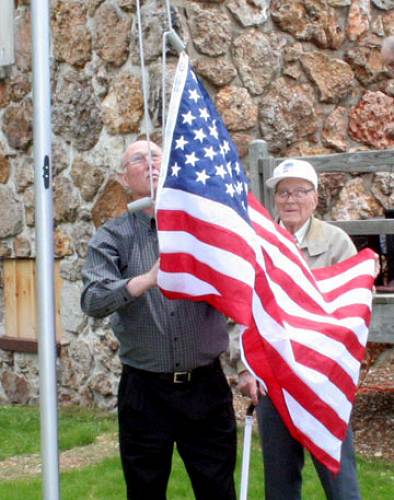 01 Flag Raising
Photo By Ginnie Duffield - Autogram Sentinel
The flag pole was donated to the museum by the Kallenbach family and its construction and placement was under the direction of Brice Kallenbach who is pictured in the flag raising photo with Royal. Royal is now 93 years old, going on 94. I featured him and the Kallenbach history in Miller County on a previous Progress Notes of July 7, 2008.
In that account of the Kallenbach history I relied upon details Royal gave me as well as research and photos gathered by Royal's nephew, Don Blankenship, who presently lives in Florida.
Recently, Don sent me a very interesting essay accompanied by photos of his childhood memories visiting the original Kallenbach farm when he and his family were living in Iberia. The essay not only is interesting regarding details of the Kallenbach family but also in the way Don integrates concurrent historical events in our country and the world during those years of his frequent childhood visits to the Kallenbach home.
The placement of this essay by Don this week is especially timely since the annual Kallenbach reunion is to be held at our museum on Saturday, June 6.
The Old Kallenbach Farm
& Memories of my Grandparents
by Donald L. Blankenship
In February 1946, shortly after the end of World War II, our family1 moved to Iberia, Missouri from Crane Indiana. My father, Lloyd Blankenship (b. 14 April 1915), then 31 years old, had just been discharged from the U.S. Navy after serving 11 years. He served primarily in the Pacific theater of naval operations during the war. Following his separation from the Navy he brought my mother, Kathyleen (Kallenbach) Blankenship (b. 15 February 1918), my older sister Joann (b. 4 October 1940) and our newborn sister, Rita Kay (b. 4 January 1946), and I, Donald Leslie (b. 3 October 1942) to live on a small farm on the western edge of Iberia, Missouri. Iberia lies 12 miles southeast of Tuscumbia, Missouri. It was near Tuscumbia where my maternal grandparents William Kallenbach (1869-1958) and Cora Bell (Tomson) Kallenbach (1876-1954) lived on a 365 acre farm2 just 3½ miles north of this small town on the Osage river located almost in the center of the state of Missouri.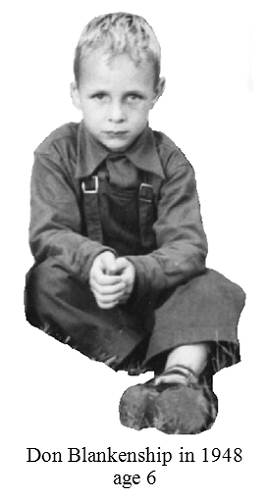 My father told my mother shortly before his post-War Navy discharge that he wanted to live close to his own parents, who then lived on a small farm3 just to the south of Iberia. Mother and father purchased a small farm in Iberia for about $3,500 which included a two story home, a small barn, an orchard and a small tract of land for grazing cattle. Like most other soldiers and sailors returning from the great war my father had to reestablish himself in society and begin his quest for a livelihood that would support his family. He sold the family car to buy a dump truck which he used to haul coal and gravel in central Missouri. Mother settled into the business of being a mother and managing our new home. Before her marriage to Lloyd she had, for two years, been a school teacher at Etterville, near Eldon, Missouri. After her marriage to my father in 1936 she had, in November 1940, moved to the U.S. Naval Base in Portsmouth, Virginia. Her relocation occurred shortly after the birth of her first child, Joann, who was born in 1940 in Eldon, Missouri. I later was born at the U.S. Naval hospital in Portsmouth in October 1942. Rita, my youngest sister, was born three and a half years later in Bedford, Indiana near Crane where we moved shortly before my father's discharge from the Navy.
I was about 3½ years old when we moved to Iberia where we lived from 1946 through 1949. In the fall of 1948 I entered first grade in Iberia elementary school. During this period we lived in Iberia our family often would drive to the Kallenbach farm near Tuscumbia to visit with my grandpa and grandma Kallenbach. Tuscumbia, although it was the county seat seemed much smaller than Iberia during the 1940's. It is said that the total population of Tuscumbia, just after the turn of the century—or in 1910, was 285. The population, however, had diminished somewhat after the Civil War. In 1995 there were 504 residential telephones in Tuscumbia, which perhaps represented a similar number of heads-of-households. Miller county, in which Tuscumbia is the county seat, has today a population of about 20,000.
When we moved to Iberia in 1946 grandpa William Kallenbach was 75 and grandma was 70. Their farm had been passed down to grandpa from his father Johann Valentin Kallnbach (1816-1899) who originally paid $550 dollars in gold for the property. Valentin, my great grandfather, immigrated to America from Leimbach, Germany in May 1860 with his second German born wife, Maria Magdolana Recknagel (1837-1875), a likely cousin of his first wife.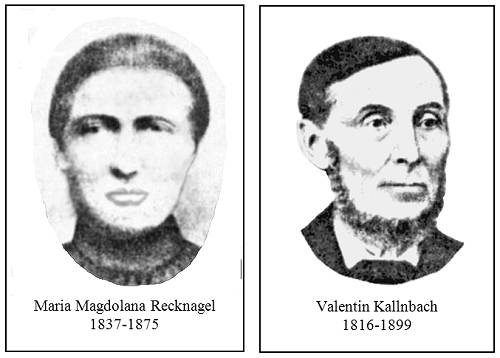 Valentin brought with him three sons, ages 9, 14 and 17 from his first marriage to Anna Catharina Scharfenberg. Anna died in 1856 of smallpox in Germany after 14 years of marriage to Valentin. The three German sons from this first marriage accompanied Valentin to America in 1860. Valentin was 44 years old when they departed Germany and his second wife Maria was 22. They arrived in America aboard the sailing ship Louisana which landed in New York harbor on 17 May 1860. From New York City they traveled to Cleveland, Ohio and onward to St. Louis, Missouri and from there to Jefferson City. Within about 45 days after their arrival in America they ended up buying a farm just a few miles north of Tuscumbia, Missouri. The farm was purchased in July 1860.
This was actually the second trip Valentin made to North America. He had come earlier in 1855 with his brother George and together they remained for about one year in Canada, presumably in the area of Ontario. Afterwards Valentin returned alone to Germany to learn of the death of his first wife. He married his second wife, Maria Recknagel, about one year after his return to Germany from Canada. On his second trip to North America he brought Maria and his three sons. They were Henry Kallmbach (1843-1916), who later married Tina (Tinnie) Dunlap (1855-1935); John Kallnbach (born in 1845) who later married Minnie Nixdorf; and George Kallnbach (1851-1889) who married Mary Ann Jeruwsha Wright (1855-1889). Henry, the oldest, left home, probably in anger, sometime after their arrival in America. He changed the spelling of his name to Kallmbach, perhaps to differentiate himself from his immediate family—or perhaps in spite. He lived most of his life in Steelville, MO. Some of his progeny moved to Texas. John, the next oldest son, seems to have retained the Kallnbach spelling for his name. He served a short stint in the Union Army, settled in Tuscumbia, MO and became a blacksmith who also repaired wagons. Many of John's progeny later migrated to Kansas, near Valley Center. George Kallnbach and his wife died of an unidentified illness in their 30's and left children to be raised by Valentin and his son John. Much of George's progeny eventually settled in the area of Saint Louis, MO.
My genealogy search of 90 million deceased Americans shows no evidence from Census or marriage records that there were any Kallenbach's living in the United States before 1860. However, they do begin to show up on census records in 1880. While we do not know what happened to Valentin's brother George, I venture to theorize from my research that he eventually relocated from Canada to Salem, Ohio after he and Valentin parted company in about 1856. Stories passed down through the generations hinted that George had been killed in an Indian skirmish, but there is no proof of that. I further theorize that the large concentration of Kallenbach's living in Wisconsin, Michigan and Minnesota may possibly be the progeny of George Kallenbach, brother of Valentin.
In returning to North America in 1860, Johann Valentin Kallnbach must have had an overpowering pioneer spirit to want to take his family into the wilderness area around Tuscumbia, Missouri. It was not until 1812 that land West of the Mississippi River was first established as Missouri Territory, and not until 1821 that the Missouri Compromise permitted Missouri to enter the Union as the 24th state. The Missouri Compromise, which brought it statehood, also declared it to be a slave state in its entirety in order that Maine could enter the union as a free state. There was no Mason-Dixon line dividing Missouri into slave and free regions. Had this not been written into law with the Missouri Compromise then slavery would only have been permitted in the southeastern tip of Missouri below the 36º30" parallel, or that part which juts downward into Arkansas just below New Madrid.
It was near this small Missouri land appendage, near New Madrid, in 1811 that the second strongest earthquake in recorded history occurred. New Madrid is about 250 miles southeast of Tuscumbia. The quake had an estimated Richter scale magnitude of 8.75. It began as a strong series of earthquakes on December 16th of 1811 and the seismic force of it caused the Mississippi River to foam in places between Memphis and St. Louis. River currents ran upstream for several hours and most of what was then New Madrid crumbled down the bluffs into the river. The sequence of shocks was felt as far away as Detroit, Baltimore, and Charleston, and the tremors continued for months. Valentin Kallnbach undoubtedly never heard of this catastrophic earthquake in present day Missouri because the region then was very sparsely populated and news reporting in the area was almost non-existent.
The area now encompassed by the State of Missouri was under Spanish domination from 1762 through 1800. In 1803 this land area was passed to the US as part of the Louisiana Purchase. However, prior to the Spanish dominion of the area of Missouri, it was called home by the Missouri Indians who spoke the Souian Language. The word Missouri is actually from the French ouemessourita, meaning "Indians with the dugout canoes." These Indians inhabited what is today the north and central regions of the state, including Miller County.
In 1822, one year after Missouri became a state, exploration of the upper Missouri River gained impetus from Missouri Lieutenant Governor William H. Ashley who placed a notice in the newspaper at St. Louis: "To enterprising young men. The subscriber wishes to engage one hundred young men to ascend the Missouri River to its source, there to be employed for one, two, or three years." Within a week, Ashley and his associate Andrew Henry, 43, had the men they wanted to establish a permanent fur trade along the Missouri River. Development of this fur trade and incursions into new territory along the river brought devastation to the Indians living there. In 1837 a smallpox epidemic along the Missouri River killed 15,000 Indians, nearly wiping out the Arikara, Hidatsa, and Mandan.
Prior to 1839 Missouri had attracted thousands of Mormons led by Joseph Smith. But around 1839 the Mormons were driven out of Missouri because of their intolerable polygamous ways and were pushed into Illinois where they located themselves in Nauvoo (formerly the small town of Commerce). Due to the rapid Mormon influx, the population of Nauvoo quickly increased to 10,000, making it the largest city in Illinois.
Early transportation in Missouri was very difficult indeed. Not until 1831 did John Jacob Astor's American Fur Co. steamboat S.S. Yellowstone make the first steamboat voyage on the upper Missouri. In 1851, just nine years before Valentin Kallenbach's arrival in America, the Missouri Pacific Railway began laying track at St. Louis on July 4th under the name Pacific Railway. The first railroad west of the Mississippi, it grew to serve the Mississippi Valley south to Memphis and New Orleans and the Missouri Valley west to Kansas City and Pueblo, Colo. By 1885 the Missouri, Kansas, and Texas Railroad reached the heart of the Texas cow country and ended the need to drive cattle long distances to railheads4.
As a child I can remember my mother's frequent reference to the Mason-Dixon line in Missouri without really knowing what it meant. This well defined dividing line between free and slave regions was frequently, but perhaps incorrectly, called the Mason-Dixon line. The true Mason-Dixon Line was a boundary line only between Pennsylvania and Maryland. It was surveyed between 1763–1767 by the English astronomers Charles Mason and Jeremiah Dixon and later extended in 1779 to present-day West Virginia. Before the Civil War the Mason-Dixon line was popularly designated as the boundary between the "slave states" and the "free states," and it is still used on occasion to distinguish the South from the North5.
Kansas City Missouri is located about 200 miles northwest of Tuscumbia where Valentine Kallenbach first settled in 1860. Today it has a population of about 450,000. However, it was not even founded until November 1838 and did not become incorporated as a city until 1851—nine years before my great grandfather Valentine Kallnbach arrived in Missouri. Even then, in 1851, Kansas City was just a few buildings on a hill overlooking a bend on the Missouri River at the confluence of the Kansas River. The first settlement there was near Westport Landing which had been established earlier as a post for the Indian fur trade and an outfitting station for wagons headed to Santa Fe and Oregon Territory. By 1865— just five years after Valentin Kallenbach's arrived in Tuscumbia, Missouri—the population of Kansas City was only 3,500.
The old Kallenbach farm just north of Tuscumbia, Missouri sat in a shallow valley with the Little Saline Creek on the south portion of a large tract of bottom land which was farmed rather continuously from the 1860's until perhaps the 1980's.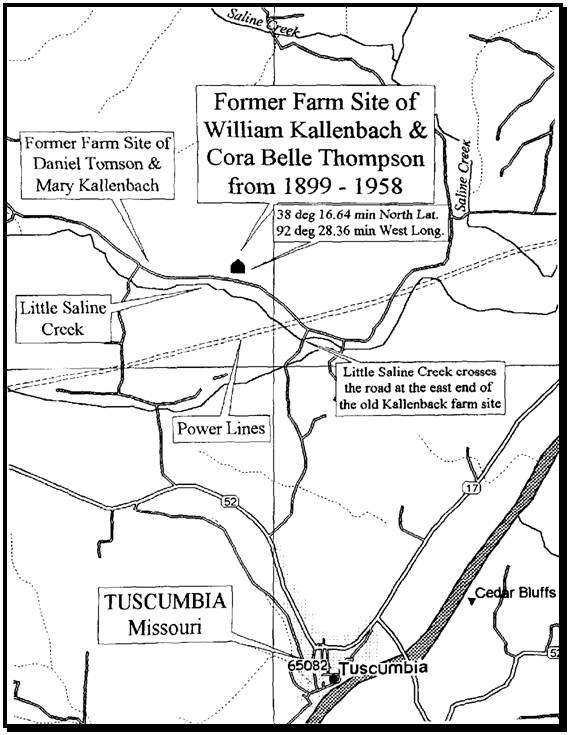 William Kallenbach and his wife Cora were the owners of the farm from 1897, when grandpa first bought it from his father Valentin, until his death in 1958. William was one of the four sons of Valentin by his second wife Maria Magdolana Recknagle. He also was the sixth child born to them. Melton, a twin and one of their four sons, died about three months after he was born in 1875 and was buried on the hill directly behind the Kallenbach farm house. Of the other three sons who lived— John Edward, or uncle Ed, grew up and later lived in Tuscumbia; John Milton (born in 1875), the twin of John Melton, moved away to live in Jefferson City; MO. William grew up on Valentin's farm site and remained there the rest of his life. Valentin Kallnbach also had three daughters by his second wife Maria. They were Louise (b. 1861), the first born to Maria; Emma Agusta (b. Abt 1872) and Mary Magdalene (b. Abt 1876) whose middle name was spelled with a slight variation from that of her mother. William, the sixth child of Valentin and Maria, remained on Valentin's farm and later married Cora Belle Tomson (1876-1954). Together they raised to maturity 11 children of their own plus two foster children. One infant of William and Cora died in childbirth.
Missouri was always a rather dangerous region to live in terms of destruction caused by tornadoes and floods. As a boy growing up in Iberia, Missouri I can remember the instructions given to us as children in case a tornado should ever strike. First and foremost was escape to a cellar, or any low lying place. These instructions were certainly not unfounded as there had been several violent Missouri storms which spawned tornadoes during the 1920's and 1950's. I can remember that the topic of tornadoes was often discussed by the grown-ups who visited grandma and grandpa at the Kallenbach farm site on weekends. Tales of the tornadoes sucking up heavy things was frightening to hear about as a child. The all-time re-cord trip for something suctioned up into a tornado was a canceled check found in Palmyra, Nebraska which had been carried 210 miles away after a 1915 Kansas twister. Earlier in April 1878 a cow was offi-cially reported as having been carried 10 miles away by an Iowa twister. But the official record for a heavy object being carried by a tornado occurred in Kansas in 1915 when a sack of flower was transported 110 miles away. A list of the major tornado disasters in Missouri are noted below 4.
Some Notable Tornadoes In Missouri Since 1925:
| | | |
| --- | --- | --- |
| Date | Location(s) | Deaths |
| 1925 Mar. 18 | Mo., Ill. Ind. | 689 |
| 1927 May 09 | Ark., Poplar Bluff, Mo. | 92 |
| 1927 Sept. 29 | St. Louis, Mo. | 90 |
| 1952 Mar. 21 | Ark., Mo., Tenn. (series) | 208 |
| 1955 May 25 | Kan., Mo., Okla., Tex. | 115 |
| 1957 May 20 | Kan., Mo. | 48 |
| 1959 Feb. 10 | St. Louis, Mo. | 21 |
| 1968 May 15 | Midwest | 71 |
Floods were another big concern in Missouri. The great flood of December 1982 and the major catastrophe of July-August 1993 proved once again the destructive power of nature. The 1993 flood caused more than five billion dollars in property damage throughout the midwest. East of Kansas City, MO, the width of the flooded Missouri River was estimated to be as much as 10 miles. Just 35 miles north of Tuscumbia sits Jefferson City, Missouri's capital. This city on the Missouri River in the middle of the state, suffered its biggest blows on 29 July 1993. Flooding knocked out the city's sewage treatment plant, and the city began pumping raw sewage into the river. Route 54, the principal access route to the capital from the north, was closed when water overrode the sandbag walls along the road. On the Missouri River, the most devastation occurred from the region of Omaha, Neb., to the river's confluence with the Mississippi north of St. Louis. On July 19, the Mississippi was flooded for 464 miles (from McGregor, Iowa, to St. Louis) and the Missouri for 616 miles (from Omaha to St. Louis). Beyond the rivers, patches of low ground had disappeared.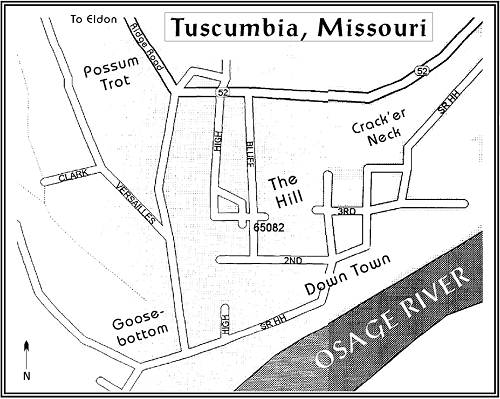 The little town of Tuscumbia had its share of flooding from time to time. In 1895 there was very serious flooding along the Osage river but it was far short of the major flooding which occurred there in 1943. During the 1943 flood even the Anchor Roller Mills building located well above Riverside Park in Tuscumbia was partially inundated. Warren William Kallenbach6 (b. 16 July 1926) recalls seeing six to eight feet of water in the Anchor Milling Co. lumber yard with pieces of wood floating everywhere.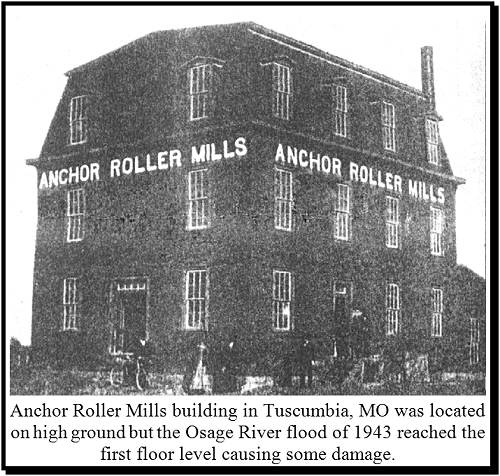 During the late 1940's I can remember traveling with my family to locations along the Osage River that had been flooded and I can vividly recall the impressions recorded by my mother and father at the effects of the devastation. There was a lot of poverty among people living along the river. The Osage floods served to magnify the indiscriminate excesses of nature and it certainly underscored the danger of living along its banks.
Tuscumbia enjoyed its small place in history as a steamboat stop along the Osage River. According to the memoirs7 of Joseph Kallenbach the little town had names for its various districts in spite of its very small size. There was the "downtown" section along the river front; "Goose Bottom" was the area near the river which was first to flood; next there was the "Hill" which was rather steep; and farther East a bit was where uncle Ed, or John Edward Kallenbach, lived in the area called "Crack'er Neck." It had some rough hilly spots where if you fell down—you would Crack-your-Neck. The area northwest of Tuscumbia was called "Possum Trot." Just above it was the dirt and gravel road known as the so-called "Ridge Road" which went to Eldon. About one half mile up the Ridge Road, now known as Highway 52, was another side road on the right hand side which led north to grandma and grandpa Kallenbach's farm.
The hills around the Kallenbach farm site where William and Cora lived contained an abundance of native walnut trees on surrounding hills. Their farm, just 3½ miles north of Tuscumbia was apparently never affected by the Osage river flooding due to the intervening high ground along the Ridge Road north of Tuscumbia.
A small dry creek, or the "wash" as grandma Cora called it, ran North-South through the middle of the farm property until it arrived at the Little Saline Creek. During heavy rains this dry creek, or wash, would become a torrent of rushing water. Smooth stones of all sizes could be found in the wash under and along the foot bridge in front of their farm house. These stones were continually being carried down from the hills above by heavy rains. I found these stones perfect for makeshift slingshots and for ideal for throwing at old tin cans. On a rise above the wash was where Valentin, and later William Kallenbach built their homes. At certain times of the year there would be puddles of water in the wash where children could find tadpoles. Collecting these tiny tadpoles in your hands or putting some in an old mason jars became quite a sport.
A large barn sat about 400 yards southeast of the Kallenbach home. I was told as a young boy that the huge timbers to build the barn were probably milled about the time of the Civil War. The barn had no paint and was just a weathered, dark-gray color. As a guess I would say it was about 70 feet wide, 40 feet high and about 100 feet long and I recall it had a slightly rusted, galvanized-tin roof.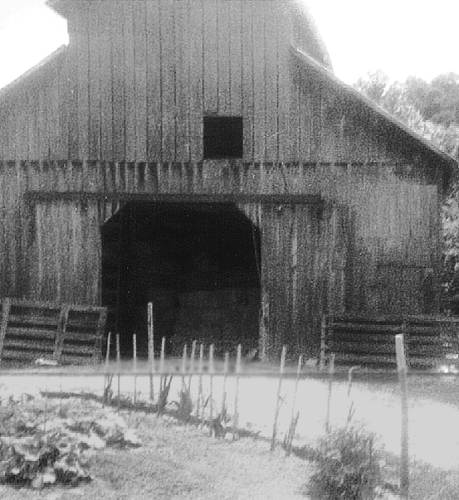 As a young boy I had ample opportunity to explore this old barn. To me it offered a certain intrigue. Its two story structure seemed massive inside and out—boundless in size with endless compartments, nooks and crannies to discover. There was an air of mystery about it that compelled almost any young boy or girl to want to examine it thoroughly. On the second floor was stored hay in abundance for feeding cattle during the winter months. The sweet fragrance of the drying hay was alluring to me and it had a kind of magical springboard quality about it as I jumped higher and higher on each of the stacked bales. The fragrance of the hay often mingled with the cow manure and dusty mildew odor to ward off adults who might otherwise interlope in a safe haven for children at play. There were tools in that barn which were foreign and non-descript to a young child. Scythes with blades which appeared to be six feet long were precariously perched in their holding racks high upon the inside walls of the barn. Near a ladder leading up to the 2nd floor loft of the barn were the leather harnesses for hitching up a team of horses to plow a field. They were arranged alongside metal bridles and bits, most of them rusted from lack of maintenance. The strong smell of horse sweat permeating the leather harnesses and reins only added to the pungent uniqueness of the barn yard aroma. During the summer months the heat contained under the tin roofed barn would cook this aroma as gentle breezes moved it about. On the second story above the sliding front door entrance was a shuttered opening through which bales of hay were passed for storage in the barn loft. A child could spend a great deal of time roaming through this old farm structure as the spirit of discovery increasingly urged to be satisfied. In former years this large barn had stabled fine work horses named Old Maude and Sealham and later another team given the names Ginger, Beauty, White Sox and Bob. After their useful years were finished the horses were saddled and ridden by my mother who would take them on jaunts through the woods and hills on the Kallenbach property.
To the east of the barn was a great expanse of flat land which provided the income for the Kallenbach's who had lived there during the previous 85 years. As a child I recall seeing various crops planted in those large fields—corn one time, wheat on another occasion, and perhaps alfalfa or oats at still other times. Often a potato crop would be planted along the north side of the barn, or its front side which faced the dirt road. Across the road sat the two-story wood frame house just behind a row of trees along the dry creek.
Prior to 1900 there existed a double log home with a connecting breezeway on the Kallenbach property. This was enlarged over time by Valentine Kallenbach sometime after 1860 to accommodate his growing family. Visible remnants of the concrete footings or foundation where this structure stood were buried in the front yard about 40 feet from the dirt road near the dry creek and close to the rope swing. The original log cabin was there when Johann Valentine Kallenbach bought the farm from Aaron and Elizabeth Roberts in July 1860. For the farm land and log cabin that stood on it he paid $550 in gold8 that he brought with him from Germany. Shortly after the death of great grandpa Valentin Kallnbach in 1899, the old log cabin structure that had existed on the Kallenbach farm was torn down and a new two story structure was built by grandpa and Uncle Dan Tomson.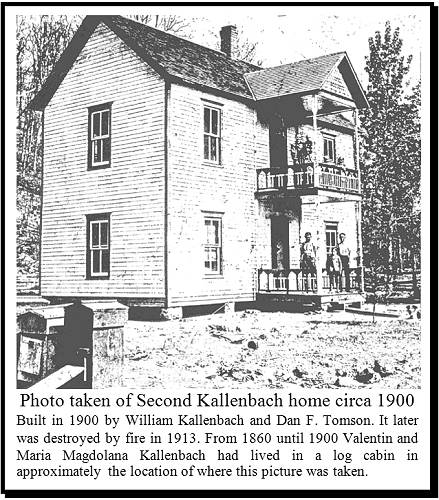 It lasted from about 1900 until 1913 when it accidentally was destroyed by fire. The fire presumably occurred while grandma Cora was washing diapers for her seventh child, Robert Wynes Kallenbach (1910-1975). Apparently the interior wood stove overheated something flammable nearby. Frederick Valentine "Val" Kallenbach (1896-1989), then about 17, recalled seeing the small home go up in flames as he was returning home from school in Tuscumbia. Grandpa's nephew, Joe Kallenbach, and his teacher Otis Wright could also see the black smoke of the fire from their vantage point at the schoolhouse in Tuscumbia, some 3½ miles away. They speculated among themselves as to whose home it might be that was burning.
In front of the farm house was a wooden foot bridge with no hand railing at that time. Two parallel 30-foot logs were set horizontally into concrete footings on the side of the dry creek in front of the house and rough hewn wooden planks were nailed atop them. Some planks were always loose on the foot bridge as children were continually jumping up and down on it. The small bridge provided a convenient walkway over the dry creek which then led directly across to a large open area where cars often were parked. If one walked directly across the bridge and kept going for another 100 yards you would come upon the fresh water well. An eight inch diameter metal shaft went down into the well. The height above ground of this shaft was about 3½ feet high. A rope was then used to lower a cylinder into the well to draw out water. A metal dipper hung nearby the well. Drawing water was a lot of fun for a kid. The well water tasted so cool and refreshing. It had a kind of magical quality about it—loaded I'm sure with good minerals. The metal dipper used to drink the well water probably added a certain metallic tang to the taste that was not otherwise there. Surrounding the well were large trees. Sometimes, after watching the grandchildren play in the hot summer sun, grandpa would invite them to go to the well to "wet their whistles." I would laugh at that because I had not heard it used before. "I didn't even have a whistle," I would tell him. Grandpa would laugh, a kind of rolling chuckle as he cocked his head up and then let it drop back down to his chin., Later grandpa would search out an appropriate twig and carve me a whistle that made a nice little flute-like sound.
Not far from the well, about 125 yards northwest, was the granary—another magical environment that compelled a child's entrance. It was build upon four strong concrete pillars which served as the footings for the elevated granary. Stairs led up to the granary door which sat about five feet above ground. A simple large metal latch secured the door. The walls of the granary were made of rough hewn planks which were weathered almost black in color. Open wood-plank stairs led up to the granary.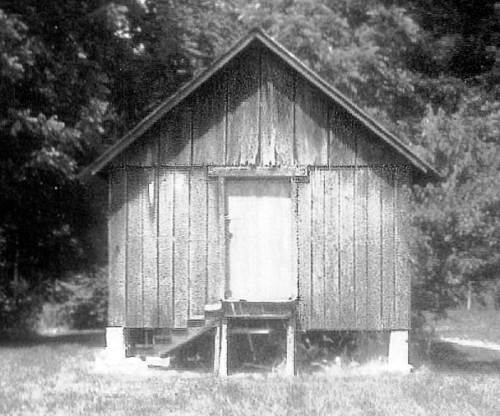 The Grainary
Inside the granary it was dark because there were no windows. However, due to the shrinkage of the wooden planks narrow, dimly lit beams of light would enter. This was a forbidden sanctum for the children. Grandma, and later aunt Ethyl, frequently told the children that black snakes could often be found there crawling around within the granary. Once inside the darkened structure there was always the frightening specter of all those warnings. But alas, the sweet aroma of the grain inside it was entirely too tempting. The grain was placed into four large bins or compartments, perhaps six feet square and about six feet deep. In one granary bin could be found corncobs left there to dry as feed for the livestock. In another might be whole wheat grain and in another might be shucked dry corn to be used as chicken feed or dried oats. There was a musty sweet fragrance that exuded from each compartment. My how wonderful it was to jump into each of the compartments and run your tiny hands through grain and then toss it into the air. I used to ask myself, "How could that much grain have ever come from those fields." It was a genuine mystery how it ever got into the granary in the first place. We thought it was just there for our pleasure and, indeed, it was fun to play in it. There is little doubt that the granary was equally inviting to snakes but I never recall seeing one in there. Underneath the granary was entirely open and grandma would remind us she had seen poisonous copperhead snakes in repose there during the heat of the afternoon sun.
Behind the granary was a ¼ acre pig sty around which a barbed wire fence was erected using wooden posts. Square wood-plank feeding troughs were placed inside the sty and it was common in the late afternoon to see grandma Cora bring her heavy metal bucket of slop to the fence to dump into the feeder troughs where the pigs would simply squeal with delight at the noxious smelling hog nectar. She would talk to her pigs as she approached with her heavy bucket. Suh-EE, suh-EE—suh-EE little pigs! Her pig call had cadence, rhythm and pitch to it such that all of her pigs, large and small alike, heard it with equal gusto. Her pig yodel meant only one thing to these ever hungry pigs. As a young child I would try to imitate her pig call to her great delight—but only she brought the pigs to the trough when she sang it aloud. We would beg her to teach us this magical quality of pig calling, and she would humor us with another call or two and then be on her way back to the house where more afternoon chores lay in wait.
One day—sometime after grandma's death in December 1954—my mother and sisters and I, were at the farm visiting grandpa and aunt Ethyl, who then provided full time care for him. I decided I would like to go inside the old pig sty and build a very respectable fort.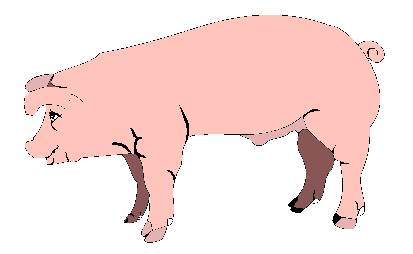 I used loose logs and timber found inside the sty to construct the walls of my so-called fortress. One side was essentially open but there was a slight rise or mound of dirt on that side which offered some small restriction. I desperately needed an enemy to attack my little play fort so I began to lob corn cobs at the rumps of the pigs in the sty. That would get their attention, but only briefly. Then I began to throw more corn cobs and a few little stones. The pigs began to get agitated and I just loved it when they came charging towards my fort to get at the source of the nuisance. I played like this for a long time until I decided I needed a companion inside the fort to ex-perience the same sense of adventure I was enjoying. I ran off to get my younger sister Rita Kay, who then would have been about seven or eight. We managed to return to the fort through the gate of the pig sty. Once inside, the fun started all over again and the corn cobs were flying. I previously had assured myself of a good stock of corn cob ammunition to properly defend ourselves from these snorting, slop-eating beasts. Eventually our ammunition began to run low and I knew it was time to return to the granary for more corn cobs. Along the way I spotted a full-sized, long handled ax with a recently honed, and very sharp double blade. This seemed like something useful to have inside the my fort so I brought it along with me to where Rita Kay was awaiting me in the hog pen. This time I decided to enter the sty over a rail fence where the pigs would not see me. In doing so I carried the ax along with me over the fence, and as I climbed over, the ax slipped from my hand and I fell from the railing. The falling ax cut deeply into my lower ankle—almost to the bone—and a piece of flesh about the size of a 50¢ coin was half carved out. Blood was flowing profusely and I was in big trouble. But I had to rescue my sister first because at that time the pigs were away momentarily away from the fort and this gave me the opportunity to bring her out. All the while I continued to bleed with this gaping wound in my ankle. Eventually Rita Kay and I made it back to the house where Aunt Ethyl and mother heard our yelling. A gentleman suitor of Ethyl's, named Charley, was there at the time and after a suitable tourniquet was applied to my lower leg we quickly set off for the doctor in Eldon. Several stitches were required to close my wound. I long have carried that leg wound scar as a red badge of courage since the day of the vicious hog attack in which I valiantly defended my little sister from the forces of barnyard evil.
Also located behind the granary, on its north side, was a vegetable garden where grandma grew tomatoes, string beans, peas, and squash among other things. She would go there to pick fresh vegetables when her kitchen menu required it. Sometimes she would bring an old bushel basket. More often she would simply gather up her skirt and gingerly place the ripest of the vegetables in it. Her dresses were often made of the cloth obtained from 40 or 50 pound flower sacks. The flower sack cloth was very pretty and usually came with prints of small colored flowers on a white background. Once grandma was back at the house with her raw vegetables gathered in her skirt they would then be washed and set in a metal wash tub for further processing. Chairs sat out in the front yard and once an appropriately shady area could be found the chore of deveining the string beans and husking the corn could begin. This was a leisure time activity where we could gather around and listen to the patter of grandma's rhyming verse. If children were about then it might be possible to coax her into reciting some of her memorized poetry. For a young lad of four or five, like me, her poems seemed a bit lengthy. My mother would always insist the children listen to her poems until she had finished reciting them. She had an excellent manner of delivery and her pronunciation was distinct as she gazed into the eyes of the listening children—raising her voice now and again, lowering her tone and then raising the pitch of her voice just as quickly. The cadence of her voice and the rhyming of her poetry marched softly along. She rarely faltered in her memory of the verses she would recite. Grandma graduated from the academy at Garden Springs, Missouri and for her time was considered well educated. Her Thompson ancestors were rather gifted with the written word and her great grandfather, Henry Tomson (1787-1862), demonstrated that with his now published poem The Capers of Sots9 which took him 30 years to complete.
About 75 feet west of the Kallenbach farm house stood another small two story building of certain intrigue known as the smoke house. The building sat next to the side of the hill and to the rear of the farm house. It had a cement foundation and thick cement walls for the first story. The second story was made of rough hewn weathered wooden planks that were almost black with age. Once inside the smoke house an acrid salt pork odor exuded from the walls and the salt laden pungency was absolutely overpowering, especially during the summer time. This was where salted and smoked meats were stored before the invention of iceboxes. I can recall seeing the use of large two foot square blocks of ice covered with saw dust at other Missouri farm sites where food needed some means of refrigeration. Ice blocks cut from frozen ponds during the winter would serve as the refrigerant in make-shift ice boxes to chill meats or other perishables well into the late spring. Although I do not remember seeing ice blocks covered with saw dust in the Kallenbach smoke house, it is possible it may have been utilized at some time in the past. Nonetheless, the inside of the smokehouse was always cold, even in the summer time where it was used to store preserved foods which had been prepared by grandma Kallenbach. Jars of garden vegetables were always to be found on shelves in the smoke house. The musty order and mildew inside was never inviting and few went there except to retrieve preserved foods kept on the first floor. The inside of the smoke house had a kind of eerie aspect about it, perhaps because there was no lighting. To a child it was more like a dark and dank castle dungeon with this horribly pungent butchered carcass odor. Nonetheless, William and Cora Belle Kallenbach and seven of their children spent the winter of 1913 in that smoke house until such time as they could begin construction on their new home in the spring of that year. How terribly cold that long Missouri winter must have been for the Kallenbach children—Ethyl (age 16), Val (15), Gola (14), Dean (12), Harry (8), Cora Elizabeth (6) and toddler Robert. The amount of room available was not much more than a present day two car garage. Times were very hard indeed at the turn of the 19th century in rural central Missouri.
A new and larger Kallenbach home was built during the following spring of 1913. Construction took very little time with everyone pitching in to help. Uncle Dan, or Daniel F. Tomson, who lived just West and down the road from grandpa, was a fine carpenter and he helped build the new home.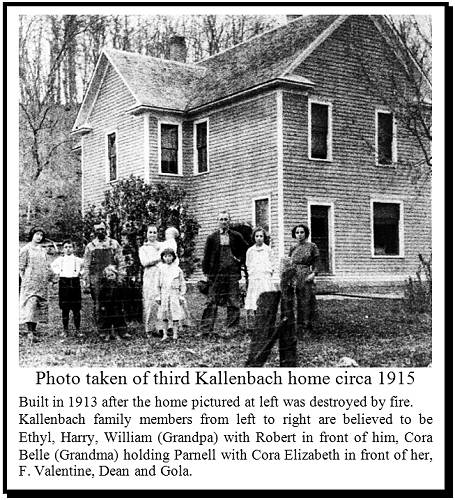 Uncle Dan was married to the former Mary Magdalene Kallenbach (b. 1866) whom I never really got to know. Aunt Mary was grandpa's sister and uncle Dan was Cora Belle's brother. Therefore, grandpa and grandma Kallenbach's children were double-cousins with the children of uncle Dan and aunt Mary. The father of Daniel and Cora Belle was Green Lee Tomson and, of course, the father of William and Mary was Valentin Kallenbach, our immigrant ancestor.
As previously noted, the cost to grandpa for the large new 2-story Victoria-style home was about $3,500 in 1913 when it was built. There were no inside toilets because there was no plumbing. During the 1940 and early 1950's the only toilet was a 2-holer outhouse along side the road on the south side of the house. Sometimes it became a very long hundred yard dash to the toilet from inside the house This outhouse apparently existed in the same location—beside the branch next to the chicken coops—since perhaps before the new Kallenbach home was constructed in 1913. However, I recall that in 1974, long after uncle Bob (Robert Wynes Kallenbach) acquired the property, there were constructed modern indoor toilets, both upstairs and downstairs within the Kallenbach home. Inside the old outhouse lived an horrendous colony of flies of every description. Often there were mud daubers buzzing around as well. Torn pages of old catalogs sat on the floor to serve as toilet paper. This was not an elegant place for lengthy stays where one would want to take a morning newspaper for leisurely reading. However, my mother tells me that when she was a little girl she converted the outdoor toilet into her doll house and had one of her brothers place a wooden shelf on the inside wall where she could sit her dolls while she played with them during the mid 1920's. The only toilets in the old Kallenbach home were large ceramic or metal chamber pots, much like spittoons, for use during the night when nature's call sounded. The outhouse was never a place where young children dared to venture after dark.
At night on the farm there was a great symphony of insects that beat out a continuous melody. When locusts were out the noise level was raised to a high raspy pitch as thousands simultaneously rubbed their rear legs together in a screeching cacophony of insect music. Collecting the empty shells of locusts was a regular past time for children who wanted to see who could collect the most. Also at night could be seen fireflies by the millions. Collecting them to place in an old mason jar provided lots of good exercise and the children chased them around the front and back yard. My cousins tried to show me how you could pinch them at their mid-section and keep their glowing tails lit. Sometimes it worked but most of the time it did not. Usually we kept the fireflies alive and put pieces of clover in the bottom of the jar for their food. Holes were cut into the metal lid for ventilation. As there were no night lights in the house we used the fireflies for that purpose. I remember that one of grandma's tricks to keep the children occupied was to send us off looking for a 4-leaf clover. She would sing the song "I'm Looking Over a 4-leaf Clover" and that was our clue to head off on our search. She would always claim to have seen one or two on the lawn near her kitchen and she wanted us to find them if we could. That little trick was always good for keeping bored children occupied for at least an hour.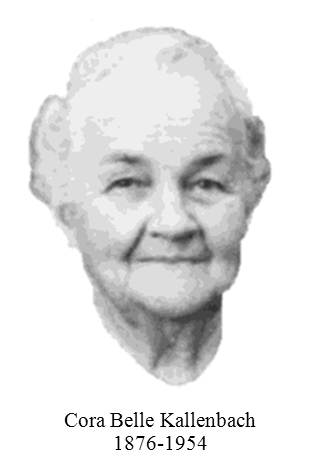 Grandma had another gimmick for exciting children. If they would be good and not bother her while she was working, her reward was an offer to take them out to pick black berries or goose berries at one of her secret spots up on the hill behind the house. I never participated much in this ploy because I remember how awful the chiggers and ticks were once we had finished the exercise. The picking of black berries is a delicate operation as I recall because of the stickers and thorns in the bushes where they grow. Impatient and untrained little fingers often were stuck mercilessly by the thorns. I didn't care much for the picking of goose berries because you couldn't eat the bitter green berries right off the vine. It was not until grandma had waved her magic wand over a goose berry pie that the berries became edible. Rhubarb and goose berry pie were two sweet things grandma made which I didn't much like. Still another ploy grandma used to occupy bored little children was the gathering of walnuts. She would give us a paper bag or a pot and send us out to search for them.
The inside the Kallenbach home was another great adventure. It too had its own intrigue for a small child. The rooms seemed very large with high ceilings. A whole different blend of aromas permeated the home. A large pot-bellied, wood burning stove sat in the living room where a large window looked out over the front yard and the dry creek with the foot bridge beyond. The smoky aroma from the stove left a permanent odor that attracted rather than repelled. It was a distinctive charcoal and parched linoleum odor that blended mysteriously with the 1,001 other odors inside the house that left a unique and indelible mental image of something old—something strange and quite different. Liniment drawn from quart sized bottles wafted through the air as well. This all-purpose rubbing solution which salved the painful arthritic joints and sore muscles of grandpa served equally well to diminish the itching of chigger bites which invariably plagued the younger set. Old Readers Digest and Life magazines stacked in the corner absorbed and re-radiated the unique blend of odors in the living room. This newsprint provided a singularly unique aged pulp fragrance. By the pot bellied stove in the living room was a spittoon reserved for grandpa's occasional chew. The residue within the spittoon and its proximity to the heat of the nearby stove created still another aromatic blend that added to the multiplicity of smells. A young child's early morning olfactory apparatus went into overdrive condition once descending the stairs leading into the living room. But it was delightful and totally unique when blended with the coffee aroma coming from the kitchen area.
Breakfast bacon and sausage never tasted as good as it did at grandma's. The bouquet of cooking fragrances emanating from her kitchen were as powerfully alluring as any siren's song. Her early morning, full-bodied biscuits were magical and made only better when slathered with her home made jam or jelly. You always had a visual clew when fresh biscuit had been prepared for breakfast. Grandma's apron would have a light sprinkling of white powder residue from the cooking flower which made powdery smudges around her apron pockets and vest. But there was something even better in that large linoleum floored kitchen with the big wood burning kitchen stove—grandma was there to greet you each morning with all of her sweet charm and almost mystical and heavenly presence. She knew very well you could smell her biscuits, bacon and eggs all the way out to the stairs leading up to the second floor. Her cooking magic invariably worked on children and adults alike. Grandma seemed to love cooking and she was still hard at it pleasing others until only two weeks before her death in 1954.
A hand pump for drawing water from the outside well was used for washing dishes, clothes and taking baths. It was located next to the kitchen on the North side of the house. Originally it had been a large open area and mother told me it was a wonder that no one ever fell into it and injured themselves, especially the children. For drinking water, someone always had to go to the well located 150 yards in front of the home across and over the dry creek foot bridge. Woe be unto the person who drank the last of the drinking water in the kitchen and failed to return to the well to replenish it. It was something not tolerated in the Kallenbach home. A large metal dipper was hung on the side of the drinking water container and it usually was placed by the south kitchen door. This door was left open in the morning to allow the light from the sun to enter the kitchen and warm its busy inhabitants. Just outside and to the left of the door stood a large grouping of hollyhocks or lilacs. The chickens, always early risers, would congregate there waiting for their daily ration of dried corn or whatever grandma would toss them. The incessant early morning crowing of cock-a-doodle-do would always increase to a cacophonous roar in the ears of the little ones sleeping in the upstairs bedrooms. Alarm clocks were not needed with those noisy early risers.
Freshly cooked fried chicken was one of the delights at grandma's house. She always seemed to have an abundance of chickens at any given time. They produced fresh eggs daily from their roost just across the road from the house and occasionally one would be caught by the neck and twisted overhead in a snappy figure-8 move that would leave it lifeless and ready to be dipped quickly into a boiling vat of water. This scalding procedure made it considerably easier to pluck their feathers. To a young child with 20/20 smelling apparatus the wet feathers of the recently scalded chicken were disgusting. Children's little fingers, although desirous to help, were just not adequately strong enough to pluck the well cemented feathers. This was a job for grown-ups who knew what they were doing. After plucking the chicken grandma would take it to her kitchen stove where one of the top burners was removed in order that the wood fire below could be used to singe away the pin feathers which remained after the initial plucking. The whole chicken operation seemed to happen so carefully, so methodically and so quickly—but for young minds the concept of grandma wringing the neck of a chicken was almost unbearable at first sight.
Detached about 200 feet north of the farm house sat the one story wash house which was a small wooden building open on two or three sides. The openings, much like large windows, had open chicken wire covering them to keep out "the critters" as grandma called them. This place, the wash house, was where the clothes were washed and sometimes ironed and more often than not, hung out to dry. It had its own unique fragrance resulting from the aroma of the large cakes of home made soap used for all manner of washing things. The cakes of soap were in actual fact about the size of a small loaf of bread. After per-sistent questioning about the origin of the soap grandma told me it was made of pig fat and lye but she never imparted the chemical process or procedure for its preparation. To this day I have no idea as a grown man how that strangely efficient home made soap was produced. Just outside the wash house a large metal corrugated wash-board sat in a bathtub-like, zinc-galvanized tub. Clothes were immersed in the tub for pre-soaking. They were then rubbed with the soap and scrubbed in a forceful up-down motion between the hands to work the soap into the soiled areas. Then, as I remember, they were rubbed vigor-ously over the wash board. Knuckles were bruised in the process of the rubbing action over the corrugated wash board. An agitator-type, stand-up washing machine also sat outside the wash house. It may have, at one time, worked by use of a small gasoline run motor, but as I recall the clothes were then placed into the tub portion of the machine and stirred about with poles or sticks. Above the outdoor washing machine was an old-style double ringer with a rotating handle that would squeeze out the water from the clothes after they had been washed, and rinsed. It took real muscle power to crank the wringer through one or more revolutions and the yellowed rubber ringers would groan as the water slithered over the outside of the tub and fell to the ground. When fresh rinse water was needed someone went to fetch it using the outside hand pump at the well next to the kitchen.
Grandpa, now strained with advancing age at 75 and the discomforts of swollen arthritic joints in each finger of both hands would often seek the warmth of the early morning sun. His back was arched and almost cemented in curvature from his many years of stooping, hard farm work and the natural pro-gression of advancing age. He nearly always wore faded overalls and long john underwear. He used well worn, ankle-length brown boots and he usually carried a big red handkerchief in his right rear pocket. The handkerchief was frequently used as a scarf around his neck if he went out into the hot mid-day sun. In his right front pocket was his steadfast jack knife that he kept honed to a razor's edge sharpness. He often honed it on the lip of a crock pot. He then would further hone it using a thick leather strap also used to sharpen his straight razor. It always frightened my mother when we would ask to look at his knife. Grandpa, in spite of his debilitating arthritis and grotesquely swollen finger joints, liked to whittle. He whiled away some of his time carving whistles for the children. It was marvelous to watch him with that incredible sharp jack knife carefully shaving off flakes of the white wood he used for to make flutes and whistles. He would work the wood until he got just the note or two he wanted and when it was finished he would show us how to blow through it and make a musical sounds by tapping our fingers over the hole he had carved out on top. His work done, he would then sit back and smile at the children with satisfaction. We all thought it was pretty neat. Every now and again, as he whittled away, he would briefly stop to reach into the small front vest pocket of his overalls. There he would inch his crooked index finger inside to pull out a "chaw of tabaccy" as he called it. The children loved to entertain the notion that grandpa might let them also have a "chaw of tabaccy" but he never conceded. He would simply pass the ubiquitous bar of sweeten tobacco past our noses and zoom it back into his own pocket. He would chew a bit and then carefully aim and fire his spittle at a target he had previously selected. Chew and spit—chew and spit, always ever so carefully. He told me he had not always chewed tobacco, giving me the impression it was something he had taken up late in life. His brother, uncle Ed, who then lived in Tuscumbia, also chewed tobacco.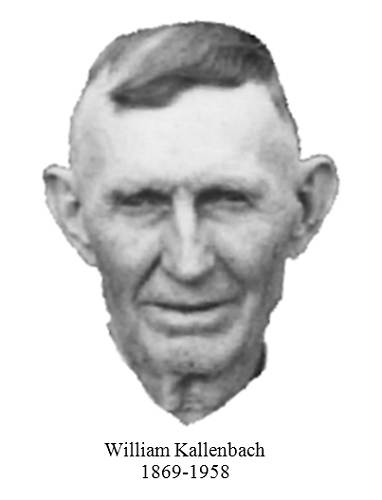 Grandpa's father, or my great grandfather Johann Valentin Kallnbach, was a German speaker and it is not really known how fluent he became in English during his lifetime. He immigrated to America in 1860 when he was 44 years old. Even with today's modern language teaching techniques it remains a major hurdle for anyone over 40 to learn a foreign language with any degree of fluency and competency10. In 1866, when Valentine went to trial to prosecute a man who had pulled a gun on him at his farm near Tuscumbia, MO, he apparently spoke little or no English. A German-English translator, William H. Hauenstein, was required for the court proceedings. His wife Maria Magdolana seems to have had a marginally good command of English even though she may never have spoken it fluently. She presumably had a German accent. Unfortunately William Kallenbach, my grandfather, hardly knew his mother because she died when he was only six years old. Only German was spoken in the home of Valentin and Mary Magdolana Kallenbach, as recalled by his second child John Edward Kallenbach (1864-1960)11.
As a young child I remember asking grandpa to teach me German. Mother had told me he spoke German, but he appeared at age 75 to only remember a few phrases. However, he could count in German. So in 1947 or 1948 when I was only about five or six he taught me to count from 1 to 30 in German, something I never forgot. Later I would learn to count to a million in German after I attended University. But one thing I remember as peculiar about his ordinal count was that he pronounced the number five (5) not as fünf but as fin-eff. It was not until 15 years later when I was working in Germany in military intelligence that I discovered that grandpa's German pronunciation of fin-eff for five (5) was, in fact, the way the number five was properly pronounced in what was then East Germany. That is the way he had learned it from his father Valentin, who originally came from Leimbach, East Germany. This region today is called Thuringia and is located in the central part of the country under the new unified Germany. And last, but not least, grandpa taught me how say to Ich liebe dich, I love you. I'm sure he probably used that often when he and Cora Bell Tomson were spooning back in the summer of 1892 just before their marriage in September of that year. Grandma is the one who taught me the English vernacular spooning (i.e. dating or romancing) which one rarely hears these days unless you happened to be in the distinguished presence of a centenarian, of whom we had only one such Kallenbach in 1995—namely Ethyl Kallenbach, first born of grandpa and grandma in 1895. Ethyl died in February 1996 shortly after her 101st birthday.
Another interesting thing grandpa taught me which I found useful over the years was a memory tool for learning the number of days in a month. Using those big gnarly and swollen knuckles of his, he demonstrated to me a way to tell the number of days in each month by observing the hills and valleys of the knuckles. You start with the knuckle of the index finger of the left hand and proceed to the left. Knuckles, or hills, each have 31 days. Valleys have 30 days, except for February which was has 28. Of course you have to return in the counting sequence by using the end knuckle twice.
The cost of general merchandise was often a subject of conversation at grandma and grandpa's home. Store sales in those days were not common as they are today. Prices tended to remain rather fixed. In 1936 when my mother was a school teacher at Etterville, MO she only earned $75 monthly. She got an extra $5 monthly for coming to school early to start the fire in the furnace. However, in Missouri during the later part of 1948 and into 1949 the average school teacher received $4,700 annually. Steel workers in 1948 netted $3,000 per year after taxes. The average social worker made $3,500 yearly, a car salesman $8,000, a dentist $10,000. Typical prices during the 1948-1949 era included a new Cadillac for $5,000, a gallon of gasoline 25¢, a man's gabardine suit $50, a 10-inch table TV set $250, a pack of cigarettes 21¢, a pound of pork 57¢, a pound of lamb chops $1.15, a bottle of Coca-Cola 5¢, a quart of milk 21¢, a loaf of bread 15¢, a dozen eggs 80 cents12.
Grandpa had his own particular form of early morning entertainment. It was an old battery operated radio in a nicely finished wood grain cabinet. The size was about that of a large loaf of bread and it had a single ear phone. He would hold the earphone to one ear and press the palm of his hand to the other ear for better listening. He kept his radio in the living room not far from the pot bellied stove that he would stoke from time to time. I always assumed he was listening to the local news and morning weather reports. There was no other radio in the house with a loud speaker. Occasionally, while he was listening to the radio with one ear, he would look up and give a toothy grin and chuckle to himself as though he was genuinely enjoying which ever program he had tuned in.
At our home in Iberia we had a very large, cabinet-style, AM radio with short wave coverage. The huge wood cabinet had a rounded dome. Narrow vertical slats on the front were installed in front a grill cloth which covered a very large speaker inside. The lighted white dial had a long black pointer which rotated on a curved face plate indicating the frequency of the radio broadcast. Also printed on the dial were cities around the world which, if you tuned the radio to them, you could hear foreign language broadcasts. I was amazed with this mammoth sized radio which was powered by house current. The AC cord for it was of the old cloth-wound insulation type and was a bit frayed and certainly dangerous for children to be near, as my mother often would tell us. I would lay in front of that old radio listening to it in the evening as my father would tune it to different stations at my request. I wondered aloud what those letters on the tuning dial meant—ROME, PARIS, FRANKFURT, MEXICO CITY, HAVANA, etc. Soon a strange voice in another language would be heard briefly from the large speaker only to fade away leaving me perplexed. At the time I was only about four or five and I actually thought the people speaking through the radio must be inside so I would try to peek through the grill cloth to see if I could actually get a glimpse of them. The whistles and heterodynes coming out of the radio speaker from nearby radio stations was often a bit unnerving. Just when a foreign broadcast would be tuned in, an interloper teletype or Morse code station would block it out but occasionally when conditions were just right a broadcast station transmitting a voice in a foreign language could be heard clearly. I suppose this first exposure to radio was what later prompted my interest in HAM radio and just a few years later, at the age of 13, I passed a federal government examination to get my first amateur radio license. I eventually upgraded my license and have continually renewed it for the last 40 years13.
Television was all but unheard of in the mid-1940's, even though the first commercial TV transmissions occurred in 1938. By February 1946, when our family first moved to Iberia, there were only 5,000 homes in America with television sets—and these had bulky receiver cabinets with tiny screens that picked up what little programming was available from the handful of stations in operation14. During the early 1950's in larger cities, like Kansas City, those who owned TV sets were only able to watch them in the late afternoon when a single low power TV station would begin broadcasting Howdy Doody on the children's hour. Any other time you turned on the TV set you would only get a faded TV test pattern. By 1948 there were approximately one million homes in America with television sets, up from 5,000 in 1945. However, the sets were still large cabinets with small screens but the programming began to improve and more TV stations went into operation.
In 1946 the population of the United States was 140 million people or about half of our 1995 population. China had 555 million, less than half of its 1995 population. India, which today has close to one billion inhabitants, then had about 310 million. The country of Mexico had only 22 million total in 1946, which is about the same amount as Mexico City has today. Political events in 1946 included the Nuremberg Tribunals in Germany returned verdicts on September 30. Twelve leading Nazis were sentenced to death including Joachim von Ribbentrop and Hermann Goering (who committed suicide by taking poison). Rudolf Hess and Walter Funk were sentenced to life imprisonment, Franz von Papen and Hjalmar Schacht were acquitted. Strikes idled some 4.6 million U.S. workers during the year with a loss of 116 million man-days. These were the worst stoppages since 1919. Included were 260,000 electrical workers on strike at General Electric, Westinghouse, and General Motors in January along with 263,000 meat packers and 750,000 steel workers. U.S. troops seized American soft coal mines on May 22 to end a strike begun on April 1. John L. Lewis, who brought his United Mine Workers back into the AF of L late in January, led his membership out on strike on November 21 in defiance of a federal injunction, he was fined $3.5 million dollars on December 4. The workers returned to the pits on December 7. U.S. troops seized the nation's railroads May 17, 1947 in the face of imminent strikes. A brief strike ended when President Truman recommended wage boosts. A U.S. energy crisis in mid-January 1948 brought urgent requests for voluntary reductions in the use of gasoline, fuel oil, and natural gas. Long a net exporter of oil, the United States had become a net importer through the development of low-cost petroleum sources in Venezuela and the Middle East.
WHAT ELSE WAS HAPPENING IN THE LATE 1940's ?
Food Availability in 1947 was a problem. U.S. sugar rationing after the war did not end until June 11, 1947. Widespread food shortages continued in the wake of World War II and crop failures exacerbated the situation. President Truman urged meatless and eggless days on October 5 of that year to conserve grain for hungry Europe, and a Friendship Train left Los Angeles November 8 for a cross-country tour to collect food for European relief.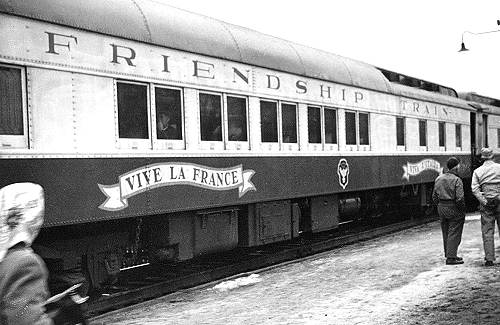 Britain, in 1947, set up Pakistan as an independent Muslim state bordering India to the west and east with her capital at Karachi and named Mohammed Ali Jinnah, 71, of the Muslim League as governor general. A dispute over control of Kashmir was referred to the United Nations on December 30th after millions died in bloody riots following partition. In 1948 a Hindu extremist assassinated Mahatma Gandhi, then 78, on January 30. Many Hindus resented Gandhi's agreement in the 1947 partition of India and Pakistan.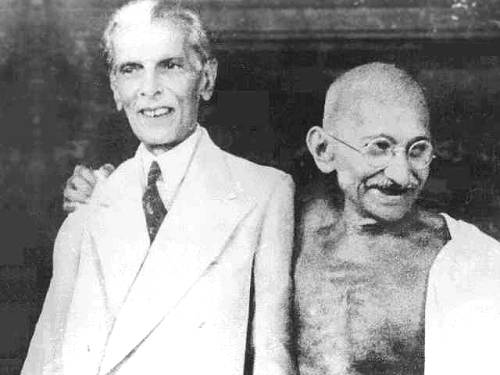 Mohammed Ali Jinnah and Mahatma Gandhi
In late 1948 Soviet occupation forces in Germany set up a blockade on July 24 to cut off rail and highway traffic between West Germany and Berlin. An airlift began on July 25 with U.S. and British aircraft flying in food and supplies for the more than 2 million people of West Berlin. The airlift carried 4,500 tons per day by September 1948, and it continued until September of 1949.
By reading advertisements in the 1946-1948 newspapers you would have discovered some new commercial products hitting the market. Almond Joy was first introduced to augment the popular Mounds bar.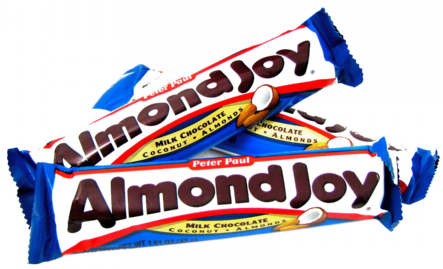 "Sometimes you feel like a nut... Sometimes you don't....
Almond Joy's got nuts... Mounds don't"
Peter Paul survived the candy war only by importing coconuts for his new Almond Joy via small schooners from Honduras, El Salvador, Nicaragua, and other Caribbean countries The 5¢ Hershey bar was shrunk in size to 1 1/8 ounces in 1947. It was further downsized to 3/4 oz in 1968. In 1948 Dial soap was introduced by Chicago's Armour and Co., and it was the world's first deodorant soap.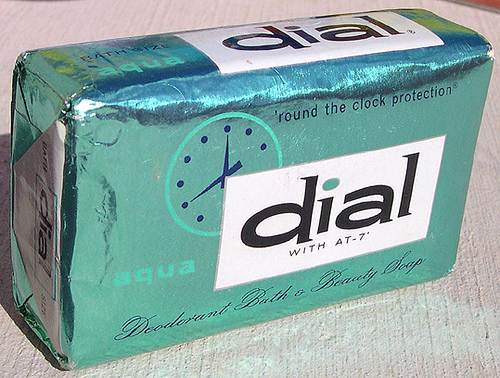 It employed the bacteria-killing chemical hexachlorophene discovered during World War II. Ajax cleanser was first intro-duced in 1947 by Colgate-Palmolive-Peet It was a silica-sand product that was more likely to scratch than feldspar cleansers such as Bon Ami and Dutch cleanser but it required less elbow grease. It soon outsold all the rival cleaners.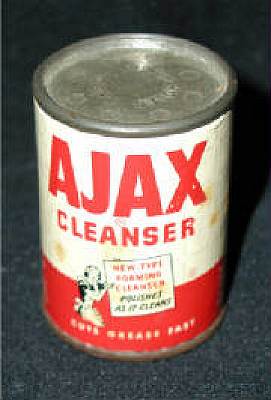 The fashion world of 1946 was truly revolutionary. The "New Look" designed by Paris couturier Christian Dior, age 42, lowered skirt lengths to 12 inches from the floor. Padded brassieres were in, and padded shoulders were out. New hat styles were added as well. This new fashion look made previous wardrobes obsolete and it won quick support from fashion design magazines and the $3 billion U.S. garment industry. U.S. women resisted the new fashion briefly, but then succumbed and slavishly adopted not only long, full peg-top skirts, V-necks, curving waists, sloping shoulders, and frothy blouses, but also clogs, espadrilles, spike-heeled "naked sandals," and fezzes.
On the coffee table in the Kallenbach living room were the typical magazines from the 1946-1948 era. On top of the small pile of papers and magazines which resided there was an impressively large magnifying glass retained by a thick metal band which had a heavy handle. As a child I was mystified by the power of this glass lens. My mother was always afraid that if I touched it I would drop it and she begged us not to lay our hands on it. Grandpa used it to read everything because his eyesight was very poor in his 70's. He could read, although his school education was limited. It has been said that he probably only finished third grade. Frequently one would see a tin of peanut brittle in the front living room area. This was grandpa's one exclusive indulgence. My mother would always try to remember to bring him a tin each time she came because she knew of his fondness for this candy.
If you picked up a copy of the Readers Digest on the coffee table in the living room you were likely to have read the tragic article of the New York city Collyer brothers who made headlines on March 21, 1947. It seems that Homer Collyer, 71, was found dead of malnutrition in a cluttered brownstone home at 5th Avenue and 128th Street. The rat-gnawed body of his brother Langley, 61, was later found dead in the house on April 8th after searchers removed 120 tons of rubbish including bicycles, sleds, most of a Model T Ford, a car generator and radiator, the top of a horse-drawn carriage, kerosene stoves, umbrellas, 10 clocks, 14 grand pianos, an organ, a trombone and cornet, three bugles, five violins, 15,000 medical books, thousands of other books, and mountains of yellowed newspapers dating back to 1918.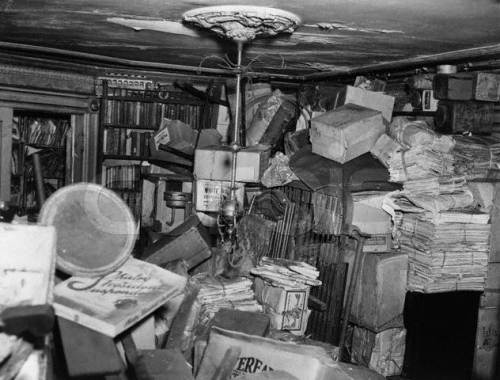 Inside the Collyer House
By listening to his battery operated radio grandpa undoubtedly learned in 1948 that President Truman had won reelection. Truman did so with 303 electoral votes to 189 for his Republican opponent Thomas E. Dewey of New York. Dewey got 45 percent of the popular vote to Truman's 49.5 percent. Truman had campaigned vigorously to confound poll-takers and embarrass the Chicago Tribune, which published a front-page headline proclaiming Dewey the winner.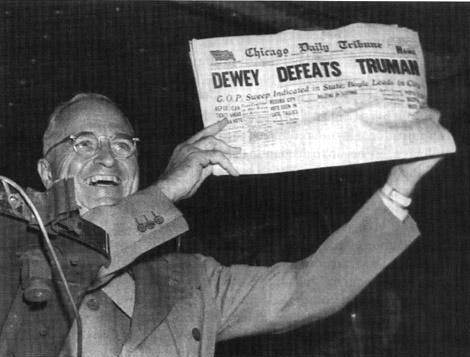 After grandpa would listen to his local morning news report he might wander off down the road for a walk and a sojourn with nature. If he was feeling good he might pick up a shovel and an empty metal bucket and head for his potato patch near the barn. I liked to follow him and watch his actions. He was after "big taters" and it often would break his heart to push his shovel into the softened earth and discover he accidentally had sliced open a nice big tater. He had a German word for this misfortune that for some reason he would never explain to me. But after a while he would single out the nicest potatoes he could find to fill his bucket. He then would trudge back to grandma's kitchen where he would dutifully deposit his garden fresh taters.
In front of the house, next to the road, was a swing for the children. During a weekend get together when the grandchildren came with their parents this swing would be in constant use. The swing was supported by a thick sisal rope hung from a high branch beneath which was an old tire swing-seat worn smooth from constant use. At the base of the tree where the swing was located was placed a natural artifact which drove me insane with interest. This curious object was a rather large meteorite, a little larger than a football. It was said that someone plowing in the field one day had come across it. It was heavy and I marveled at its weight. A meteorite is a large meteor that survives the intense heat of atmospheric friction and falls to the earth's surface. They may originate as fragments of asteroids. Based on my knowledge of astronomy I suspect it was a rare type known as a siderolite, or stony iron-type. I was fascinated by it and really wanted to take it home, but my parents explained that it was there for the enjoyment of everyone to look at and, after all, it did belong to grandpa. Science interested me as much then as young boy as it does today. Perhaps my early fascination with the natural world propelled me later to become a scientist for the federal government during the late 1970's.
During the late 1940's UFOs (Unidentified Flying Objects) made big headlines for the first time. I can remember as youngster hearing my mother talk about them and wondering what they really were. The newspapers fanned the fire of interest in flying saucers when in 1947 they reported that a Boise, Idaho businessman, Kenneth Arnold, 32, claimed to have seen nine shiny, pulsating objects15 flying over the Cascade Mountains at speeds of up to 1,700 miles per hour while flying his two-seat plane from Chehalis to Yakima on June 24 of that year.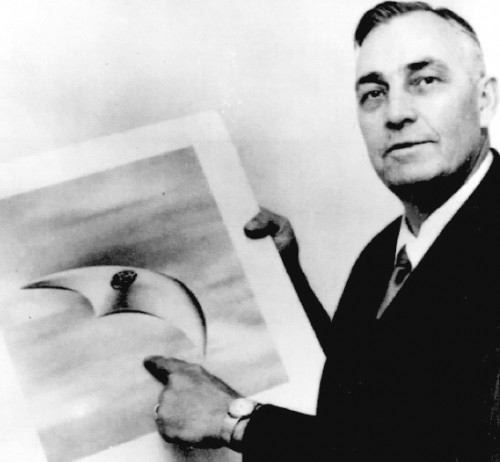 Kenneth Arnold
He said "they seemed to be alive in the center and to have the ability to change their density." The Civil Aeronautics Administration expressed doubts that "anything would be flying that fast." However, many more UFO sightings began to be reported. The sightings became so numerous that over 15 million Americans claimed to have seen UFOs between 1947 and 1970. Today more than half of all Americans say they believe in the existence of such objects. In the late 1940's this was a very scary matter indeed.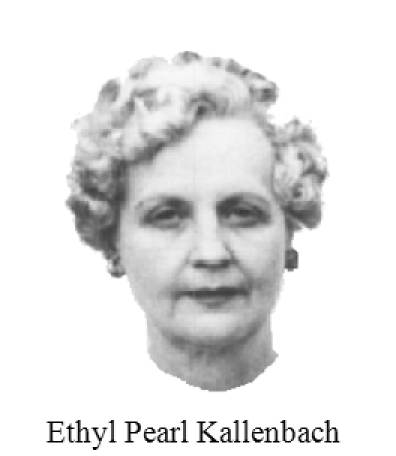 I distinctly remember one summer evening at the Kallenbach farm during the mid-1950's when I was sitting outside looking into the night sky searching for flying saucers. Aunt Ethyl Kallenbach and my mother has just departed for the house to complete some final chores in the kitchen. Earlier that evening my sisters, Joann and Rita, and I had sat in the front yard talking to Aunt Ethyl about religion and the eventual return of Christ. I must admit it was a bit frightening for me to hear Aunt Ethyl tell of the closeness at hand of the return of Jesus and how he would gather up his flock to return to heaven in a moment of surprise. I had not yet been baptized and was afraid the day of reckoning might come sooner rather than later. I genuinely feared I would be caught off guard by the occasion and not properly cleansed of my childhood peccadilloes. This thought caused me very serious concern. Aunt Ethyl seemed to have left me with the impression that the first evidence of the second coming of Christ would be evidenced in some unexplained manifestation in the heavens, the strangeness of which she did not define.
After Aunt Ethyl and the others left the front yard that evening to return to the house, I began to think reverently about her words when I spotted mysterious lights in the night sky. At first I saw only one light and no noise, then two, and then suddenly there were more lights in the sky than I could possibly count. As I recall, the lights in the sky proceeded from southwest to northeast and they appeared to be in a huge formation of some sort. After about five minutes of staring upward it appeared the entire sky was filled with lights. The faint noise of motors also could be heard and the characteristic red and green aircraft safety lights could been seen very dimly as they flew rather low over the Little Saline Valley. I had a flashlight with me and I decided I would try to signal the flying objects by Morse code. I recently had learned signaling in the Boy Scouts. As I repeatedly flashed S-O-S to the flying object by flashlight I sud-denly noticed a very brief, but intense light shining back at me from one of the lower flying, partially lit objects. I ran inside to call Aunt Ethyl and my mother. They came running to look at this curious aerial phenomenon I nervously had told them about. We all sat there outside and watched as more flying objects passed overhead until after quite a few minutes had elapsed, they all disappeared beyond the horizon. There may have been a hundred or more flying object—but what were they? I remember Aunt Ethyl going to the telephone, a wall mounted hand crank unit in the living room, and calling someone…perhaps the telephone operator, constable or sheriff. A while later the party called back and told her they believed that what we saw were private aircraft en route to, or returning from, an air show in Arkansas! And that was the end of my short lived flying saucer observation. Fifty years later I can say that I have never seen so many aircraft in the sky during such a brief time interval. Not even in wartime Vietnam or Laos did I ever observe the sky so illuminated by flying objects. Seeing that many objects flying at night, and so low, was a uniquely unnerving event which I never forgot.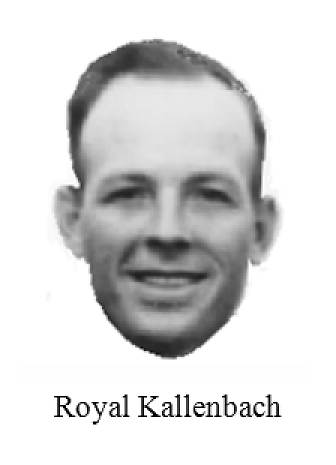 Squirrel hunting on our grandparents farm was a favorite pastime for many Kallenbach's. I would often hear my uncles talk about it when I was young. Eventually I got my invitation to go hunting. I believe it was uncle Royal (Kallenbach) who first took me with him. We had to get up very early in the morning, before daybreak. I, of course, was much too young at the time to handle a shotgun. We walked down the dry creek that ran in front of grandpa and grandma's house headed for the Little Saline Creek. I had absolutely no idea about the stealth required for hunting game and I am sure that I must have greatly annoyed uncle Royal as I gingerly stepped on dry leaves and twigs. As we came along side the creek uncle Royal would turn his head around and whisper ssshhhh…do you see'em up there? I would strain my eyes desperately looking but I couldn't see any squirrels. Then he would—quick as lightning—pull his shotgun to his shoulder and… BOOOM!. Down out of the tree dropped a squirrel. I believe he put the squirrel in a gunny sack and proceeded onwards. After walking a short distance further he again signaled the presence of another squirrel high up in a tree. He lifted his shotgun and held it in his sights as it ducked behind the limb of the tree. He waited a bit and then…BOOOM! again. It too fell to the ground. This time I wanted to recover the squirrel so I quickly ran to where it lay lifeless near a bush. I reached out my hand to grab it by the tail and lift it into the gunny sack. Having gotten it about two feet off the ground the squirrel suddenly sprang back to life, lurched forward at me, and landed squarely upon my left knee where it sank all of its teeth firmly into my upper thigh. I screamed with pain and it hastily made its retreat. The suddenness of it all and the intense pain frightened me terribly. The tooth wound from the squirrel bite was rather deep. It was still very early morning and quite cool but we washed off my leg in the frigid water of the creek and returned home. I never went squirrel hunting again in my entire life. Now I just feed them nuts in remembrance of that traumatic incident.
The Kallenbach farm did not get electricity until the early to mid-1930's and telephone lines were not installed until the early 1950's. I can remember many times when we would visit our Kallenbach grandparents and the electricity was off. This mattered very little during the day, but at night it became very spooky indeed. If it was summer we often would sit outside in the front yard until dusk and then re-turn inside to light one or two oil filled lanterns. These were large glass lanterns with very fragile glass hoods. They emitted a kind of eerie amber glow that seemed to invite ghosts and goblins that we had heard so much about as children. When the electricity was off and it was still early evening we might retreat to the parlor in the middle of the house on the downstairs floor. In there was kept a piano. Grandma played chords on the piano and could make lovely music. My mother, who in her youth had bartered live chickens for professional piano lessons, was an accomplished pianist as well. They both would entertain the children with bible songs or popular songs of that day. The most popular songs in 1946 were "La Vie en Rose"; "Get Your Kicks on Route 66"; "To Each His Own"; "Tenderly"; "You Call Everybody Darling"; "Ole Buttermilk Sky" by Hoagy Carmichael; "Stella by Starlight"; "Seems Like Old Times"; and the Christmas Song "Chestnuts Roasting on an Open Fire" by U.S. songwriter-vocalist Mel Tormé. In the parlor were large pictures hung on the walls and a few large furniture pieces. This is what I always referred to as the liniment room and the smell from it was an essential part of the character of the parlor area. This is where you came to dab liniment on your intolerable chigger bites. The parlor was also the gathering room when guests arrived for dinner. I seem to remember Ethyl Kallenbach's mandolin being stored in that room and if other children were present they would try to strike up a melody between the piano and the out-of-tune mandolin. The parlor also reeked of perfumes and talcum powders that must have been stored there and tampered with by curious children.
In the evening at grandpa and grandma's home it wasn't long before the children would venture out into the darker sanctum of the front living room and the stair case leading to the second floor. This was a magnificent dark wood stair case which had attached to it an equally magnificent banister, otherwise known as Thunderball Express. It seemed at the time to be an extraordinarily long banister to a young lad and it beckoned any child large enough to mount it. But first you had to climb the stairs. Once mounted it was a very fast ride to the bottom and you had to apply the brakes as you rode down because at the bottom was an abrupt halt which could bring certain pain if you were of the masculine gender.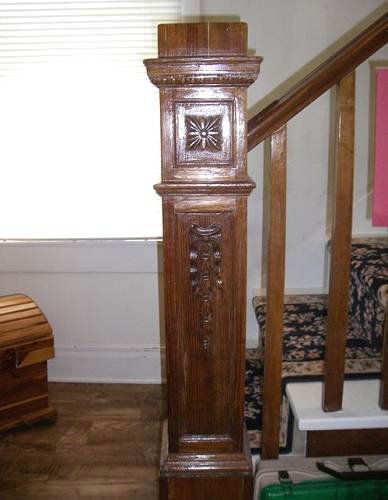 Abrupt Halt!
The hallway beside the staircase and the staircase itself had a kind of musty wood odor. Underneath the stair-case was a huge closet which contained mysterious looking steamer trunks and other verboten storage items. In the hallway beside the staircase stood a tall furniture piece with hat racks. On that rack is where Ethyl Kallenbach kept her 410 over & under shotgun when she lived there while caring for grandpa after grandma died in 1954. I recall that she also kept a full box of red shotgun shells beside it. This, of course, worried my mother to no end. Prior to Ethyl living there, no one ever seemed to remember locking the doors of the Kallenbach farm house at night. In fact, if it was a warm humid summer night the front door was left open to invite the cool night breezes inside. The only protection from bridge trolls entering the house was the thin veil of a screen door which also was usually left unlatched. That worried me a lot as a child!
During the 1920's and 1930's there were a lot of people living in the Kallenbach home as my mother was growing up. Not only did grandpa and grandma raise 11 children of their own, they also took in others who had befallen misfortune in life or needed a helping hand. One foster child taken in by grandpa and grandma was Vertie Starks from Ginger Ridge. Vertie came to live at the Kallenbach farm when she was a young girl and stayed many years until she eventually married Herman Starks who worked on the railroad. Vertie and her husband eventually moved to Eldon where she and Herman had two children, Roy and Irene. Vertie was a tremendous help to grandma and was well remembered for her commitment to handling the heavy work load around the Kallenbach home. Vertie had sisters who lived out west and a niece who occasionally would visit from Chicago. The niece would always bring candied dates which the Kallenbach children enjoyed so much. There was another younger person also taken in as a foster child. My mother believes it may have been Lee Kallenbach, son of George Kallenbach who was the third son born to Valentine by his first wife Anna who died in Germany in 1857. I believe it was during the early 1930's that Mary Lou Roberts, daughter of Elmer Eugene and Gola (Kallenbach) Curtis (b. 12 October 1898), also lived with grandma and grandpa and went to Wright school one year while her parents were building a new home.
My mother, Kathyleen remembers the large population at home all too well. She, as the youngest16 of the family, slept in grandpa and grandpa's bedroom until she was 14 years old. All the other upstairs bedrooms were fully occupied by other family members. Another permanent member of the Kallenbach home who occupied an upstairs bedroom was Emma (Nellinger) Tomson (1854-1945), affectionately known as "Auntie." She was the second wife of Green Lee Tomson (1838-1918). Auntie's professional career began as a school teacher at the ripe old age of 13. She married my great grandfather Green Lee, of Spring Garden, MO when she was 39 and they were married for 25 years. After Green Lee died in January 1918, which was just weeks before my mother and uncle Forrest Jean's birth, Auntie came to stay with William and Cora Belle Kallenbach. She remained there until her own death in January 1945. Green Lee, of course, was the father of grandma Cora Belle. Auntie, whom I do not remember, was a small unassuming woman who also pitched in to help with the task of raising the children of William and Cora but she essentially remained very much in the background.
During a family reunion, or on special holidays, it seemed the whole world descended into the Little Saline valley to gather at grandma and grandpa's home. There were children galore. I don't ever remember seeing manufactured toys there except for a croquet set that seemed to stay around for a long time. Wire hoops would be set up in the front yard and wooden balls would be slammed into them by wooden mallets. The balls would travel a pretty good distance so it was really a game of some skill. Usually it was the adults who enjoyed playing the game. There also were horse shoes which could be tossed and this usually was done out beyond the foot bridge where no one would be hurt by the flying metal objects. I can remember making my own toys at grandma and grandpa's home. Usually I would ask other older kids or an adult to help me. In particular, I always seemed to want someone to help me make a bow and arrow. Bailing twine was usually to be found in the granary. After a short hike in the woods around the Kallenbach home one could always find an adequately sized branch for a bow. Arrows were a bit more difficult to fabricate, but after a fashion something always could be made to look like an arrow. Chicken feathers could be found near the chicken coop and one or two would be cut to the right size and placed in a slit at the end of the arrow and tied snugly with string. There was nothing like making your own archery set, with a little help from an adult who had a jack knife handy.
Years ago when genealogy material was being collected on the Kallenbach extended family it was erroneously noted that the name of my mother, the former Kathyleen Kallenbach, had suddenly acquired a new first name—that of Emma—presumably for the namesake of Emma Nellinger, or Auntie. This was a surprise to mother as all of her personal documentation and identity records throughout her life listed her only as Kathyleen, with no second name. She recalls as a child lamenting not having a middle name, like the rest of her brothers and sisters, so Forrest Jean (1918- ), her fraternal twin, gave her an appropriate moniker to suit the occasion. Because the twins were born shortly after Emma "Auntie" Tomson came to permanently live at the Kallenbach farm house and because she always was close to them during their young and tender years—it is likely that Emma may have been chosen by Forrest as Kathyleen's adolescent nickname. Mother, some 75 years later, halfway remembers Forrest nicknaming her Emma. However, there is no documentation to suggest it was her given birth name.
Mother tells an interesting story about the rural doctor who came to the Kallenbach farm house on 15 February 1918 to deliver grandma's twins. He apparently habituated the use of what Ethyl Kallenbach would call, "Old John Barleycorn." If you have never been to Missouri in the dead of winter riding in an open-air, horse and buggy, you will never know the pain and suffering endured by doctors of that era. It turns out that this particular doctor must have had a pretty bad case of the shakes because the birth certificate he prepared was totally illegible. In later years when my mother needed her birth certificate to enroll in a business college in Jefferson City, MO. it simply was not legible enough to read. She had to work with her older Brother Robert Wynes, who then was a Missouri state legislator, to obtain a new birth certificate. When it was found necessary to prepare the requisite forms for certification, Robert had to swear under oath that he was present at the actual time of my mother's birth. She did eventually receive a new birth certificate but it listed only one name for her, Kathyleen. This particular spelling is very unique indeed. Most often it is spelled Kathleen, without the extra letter "y". In 1995, while I was preparing a genealogy research paper on the Kallenbach family history I did a computer search through one of my data bases containing about 90 million deceased Americans. I was looking for other females with the name Kathyleen. I found only a handful with her unique spelling. She never knew where her mother got the name. In fact the unique spelling may have occurred as a spelling error while filling out her original birth certificate. Nonetheless, she was proud of the unique spelling of her name. One day, while working in a medical clinic in southern California during the 1970's, my mother came across something quite unusual. She discovered there was a patient on record at the clinic named Kathleen Kallenbach who apparently was from the San Francisco area. Mother called her to see if she was any relation to her but the woman replied she was not and that she was formerly from Australia. They never talked again after mother's initial call.
Today in 1995 there are 350 Kallenbach's listed as having telephones in the US. These people are spread throughout America, including one listing for Hawaii. Estimates made in 1971 by the genealogy research group Halberts17 in Bath, Ohio revealed there were approximately 775 Kallenbach's in the US. New estimates were made by myself in 1995 using a variety of data bases and techniques. The best estimate for the total number of Kallenbach in the US in 1995 is about 1250. Of this total number of 1250, only about 250 living Kallenbach's are actually descended from Johann Valentin Kallenbach. There are two streets in Wisconsin named Kallenbach. One is located in Almena and the other is in Niagara. There is even a Melvin Kallenbach who lives on Kallenbach St. in Niagara, WI.
In 1949 our family bought a new Buick. My father purchased it in Coffeeville, Kansas. I can remember sometime after we bought it that we went to grandma and grandpa's home and took grandma to Eldon to do her shopping. Our Buick was a big car inside and grandma rode in the back with my sisters Joann and Rita. Young kids can be annoying to older people but grandma always seemed to have a way of making the most of such situations. She began to entertain us by having us repeat tongue twisters. We, of course, were willing to meet her challenge. She was amused at our faltering attempts to repeat what she could say so easily. One tongue twister which grandma loved to have the children say was "I BESLIT THE SHEET AND THE SHEET BESLIT ME." Hearing us say it seemed to cause her intense laughter to the point that she would almost snort and tears would run down her cheeks. We, of course didn't know the evil trap she was setting us up for but it was obvious she took genuine delight in making us repeat her bawdy little tongue twisters. As an enticement to enhance the euphoria of her belly roll laugh she would promise to give us an extra portion of her peach cobbler pie after dinner if we could just say her tongue twister 10 times in a row. By that time we had arrived in Eldon and there was serious shopping to attend to.
Back on the Kallenbach farm there were fascinating stories to be told by grandma on a variety of subjects. She was a pretty good story teller. I was interested in cowboys and Indians, especially Indians, and she or aunt Ethyl once told me about the Indian burial site near their property about a mile east of their home. I was fascinated with the prospect of going there, but for one reason or another we never went. My mother told me in 1995 that she recalls the burial site being up on the side of a hill about a mile or a mile and a half East of the Kallenbach farm. When I was about eight or ten I would try to learn as much as I could about Indians. In fact I really wanted to be an Indian or know that I had some Indian blood. I believe I must have coerced grandma into telling me that there actually was some Indian blood in the Kallenbach or Thompson ancestry. In actual fact, there is nothing I have discovered in any of the genealogy materials I have researched to suggest that any of our blood line ancestors has had legitimate issue with native American Indians. There was something she told me as a child which may possibly have some validity regarding the Thompson ancestry having ties to Union general Robert E. Lee.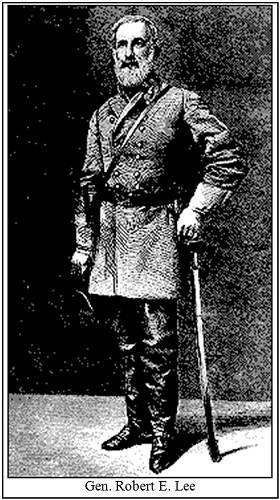 Grandma seemed to be aware of stories passed along over time which stated that Elizabeth Lee (1791-1857), wife of the poet Henry Tomson (1787-1862), was a cousin of Gen. Robert E. Lee. Elizabeth Lee was the 2nd great grandmother of Cora Belle (Tomson) Kallenbach, who in turn was my grandmother. Elizabeth Lee's home was in Dorchestor County, Maryland not far from Robert E. Lee's residential estate in Virginia on the Potomac River bordering Maryland. No conclusive information exists to confirm or deny the connection between Elizabeth Lee and Robert E. Lee. However, it would not be difficult to check on this story because the genealogy of most notable figures in American history have been studied extensively by researchers. Incidentally, the parents of Elizabeth Lee were Willoughby Lee and Fanny Cryer. My genealogy data base of over 90 million deceased Americans shows no official record of a Willoughby Lee, but that is not unusual.
Grandma once told me about a phenomenon referred to as ball lightning, a rare form of lightning in the shape of a glowing red ball, associated with thunderstorms and thought to consist of ionized gas. My vaguest recollection is that she mentioned seeing such a phenomenon on the farm site more than once. However, she also mentioned a mystical experience in seeing a dim glowing light on the hillside near where baby John Melton Kallenbach was buried on the hillside, just above the Kallenbach home. John Melton was the infant son of Valentin and Maria M. Kallenbach who died in the summer of 1875. Remembering grandma's stories of ball lightning, and just out of curiosity of course, I once asked a scientist at Los Alamos Scientific Labs (LASL) about this phenomenon. At the time I was at LASL attending seminars on nuclear physics and thought there might be some truth to the ball lightning stories grandma talked about. He indicated to me that while the visual phenomenon is quite rare, there is documented scientific literature on the subject. They often are spawned or travel along high tension electrical wires such as those that run across the old Kallenbach farm. As I remember grandma's version of the matter, these balls of lightning chased around the farm and danced above the ground at about tree top level. The balls of lightning were about the size of a grapefruit or a basketball and her sightings seem to agree with the observations by others of this rare quirk of nature.
As a child I can remember eating squirrel prepared by grandma. This was the only time I have eaten squirrel in my life. I believe it tasted a little like fried chicken with a game-like flavor. My mother recalls one time when she was young that grandma cooked up a raccoon but did not tell anyone what it was. Mother did not like the taste of it at the time and later was disgusted to hear of what she had eaten. Aunt Ethyl told me in 1974 that when she was young the boys would hunt raccoons and opossums in the woods and later bring them back to give to the poor people in the area around Eldon.
In the 1920's and 1930's there was a lot of cooking to be done by the women folk at the Kallenbach home. During the harvesting season hired hands would come in to harvest the fields and they expected hearty meals throughout the day. Mother says it was very hard work in the summer months when the kitchen remained like a blast furnace during the day. There were no fans or air conditioning to alleviate the heat. All of the Kallenbach girls living at home were expected to pitch in and help with the cooking during this very demanding time of year. Usually three large meals a day were cooked for the always hungry field hands. I can remember my mother telling me as a young boy that there were days when she just hated cooking at home because it reminded her of those fatiguing hours in her mother's hot kitchen feeding what seemed like hoards of men who were harvesting their crops.
I can remember taking baths in grandma's kitchen in a large zinc-galvanized tub. This was the way it had always been done—usually on Saturday nights. Large kettles of water were heated on the stove and then a mixture of boiling water would be mixed with the cooler well water collected in buckets from the non-potable well water pump just outside the kitchen. For children it could be a fun experience. For normal day to day washing a large open pan was used to wash one's face or to shave the beards of the men.
As grandpa grew older it was common to see him with a rough beard much of the time. The arthritis in his hands was such that he lacked the control to shave himself with a straight razor. However, I can recall him doing it from time to time and it just seemed so dangerous as he would shave the under part of his chin. Frequently he would nick himself in the process. During the mid-1950's aunt Ethyl, or others, would shave his beard for him. There was a wide leather strap that was used to fine hone the blade of his large straight razor, something that presumably had been used in earlier years to give his sons a whack or two if they overslept in the morning. Grandpa believed in the German tradition of strong discipline he had learned from his own father, but that did not seem to extend to my mother who could never remember him spanking her.
In 1948, presumably during the latter part of the month of September, there was a Kallenbach reunion to celebrate the 57th wedding anniversary of grandpa and grandma who were married on 24 September 1892. All of the children and most of the grandchildren were present at that reunion held on the old Kallenbach farm. I was there as well. Two group photographs were taken at the reunion, one of grandma and grandpa and their children, the other included the same people but added the spouses and all of the grandchildren of grandma and grandpa. The portraits of the people you see in this genealogy report were taken from that group photograph and then digitally manipulated and enhanced with computer software. It was necessary to do this because in some cases there were individuals in the photo who were partially hidden because they were standing behind other people. There may have been some confusion in the past as to when these group photos were actually taken because the same 1948 group photo was later used in a newspaper article in September 1952 when grandma and grandpa celebrated their 60th wedding an-niversary. I was just starting first grade in Iberia, Missouri when the 1948 family reunion was held.
If you were present at the 1948 reunion you may have heard some people whistling or humming one or more of these songs which were popular then: "Tennessee Waltz", "On a Slow Boat to China", "Manana—Is Soon Enough for Me", "Nature Boy" , "It's a Most Unusual Day" , "Candy Kisses", "'A'- You're Adorable", "Red Roses for a Blue Lady", "Baby, It's Cold Outside" , "You're Breaking My Heart", "Buttons and Bows", (from the film Paleface with Bob Hope); "Enjoy Yourself—It's Later than You Think", "Pigalle" and "I'll Be Home for Christmas" .
Aunt Ethyl was given the middle name Pearl when she was born on 2 January 1895. She would be the eldest of 11 children born to William and Cora Bell Kallenbach. She was born in the two room log cabin that existed on the old Kallenbach farm when Valentine purchased it in 1860. My mother tells me that Ethyl was in the very first high school class in Tuscumbia, MO. After she grew up she met and married Agustin Mauzy who presumably was from Memphis, Tennessee.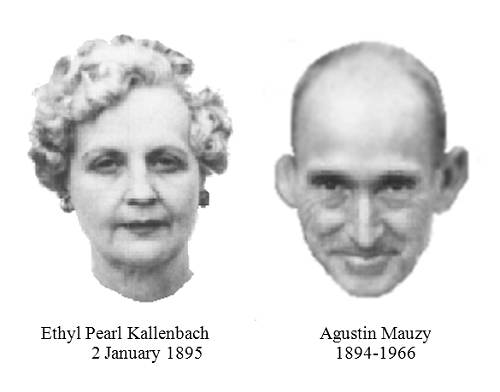 When I was a young lad I always called him uncle Gus. Aunt Ethyl and uncle Gus traveled extensively in the American southwest after they were married. Although Agustin had many different jobs during his lifetime, I can only remember that he was a traveling salesman for the Singer Sewing Machine Co. Aunt Ethyl tells some wonderful stories about their travels in Arizona and Texas. Once, while she and Agustin were in Arizona driving along a dirt road she noticed an Indian mounted on a horse appear in the distance. He seemed to observe them as they traveled along the road. As Ethyl and Agustin rounded the top of the hill, where the Indian had been waiting and looking at them, she saw him suddenly ride off. As he did so, something glittered as it dropped to ground near where his horse had been standing. After the mounted Indian had departed they stopped and looked around to see what had dropped. As I recall from hearing aunt Ethyl's story, she recovered a shiny revolver that had apparently fallen from its holster as the Indian rode away.
In 1952 we departed our home in Olathe, Kansas as our family headed westward to relocate in Burbank, California. Along the way we stopped in on aunt Ethyl and uncle Gus where they were living in Armarillo, Texas. I believe that was the last time I ever saw uncle Gus as he and aunt Ethyl parted ways in the early 1950's. Ethyl then returned to her parcel of land near Eldon which I believe she called Milldale Pond. Ethyl later lived on the old Kallenbach farm site from about 1954 until grandpa Kallenbach died in 1958. She and uncle Gus had one child, Laska, who died at birth. Aunt Ethyl never remarried. At 101 years of age in 1996 she held the record for longevity for all of the Kallenbach or Thompson families I have in my database. When she was a young girl she was said to be the most beautiful around. Even when she was in her 50's she remained very attractive. She retained her lovely blonde hair throughout her life. Ethyl had a folksy manner which everyone loved. She wrote poetry and loved to recite her own poems as well as others she had learned during her long life.
Aunt Ethyl died suddenly in Eldon, MO on 17 February 1996 only six weeks after celebrating her 101st birthday. All who knew her were touched by her pioneer spirit and love of life.
Aunt Alma and uncle Vale came by often to visit with grandma and grandpa. I believe they lived near Ullman, MO while we were living in Iberia.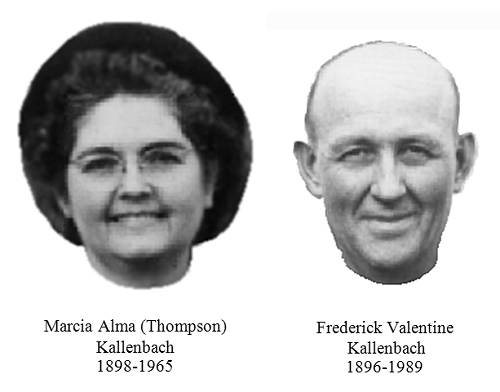 We also traveled to their home on at least one occasion which I can remember. They had a pretty little farm house which sat on the slope of a shallow incline with a small barn set down below the house. Aunt Alma was a very attractive woman with soft rounded features and a soft voice. Uncle Val was a rather tall individual with a rather serious manner. Mother was always very proud of him because of his church involvement and the fact he was a deacon. It is funny how we store some memories so well while other important things are never remembered properly. However, I do remember the day we went to uncle Val and aunt Alma's home for lunch and aunt Alma cooked chicken flower dumplings in white gravy sauce, something my mother had never cooked. I didn't much care for dumplings anyway so I held out for the wonderful apple pie that I had seen her cooking earlier.
Uncle Val was born on 5 August 1896 and was given the name Valentine after his grandfather, Johann Valentin Kallnbach. He was born on the Kallenbach family farm near Tuscumbia. He, like all of his other brothers and sisters went to Tuscumbia High School. His first job for pay was thinning corn for 25¢ a day. He later went on to work for Armour Company packing meat in Kansas City. In 1917 with America at war with Germany, he joined the Navy. He went to boot camp in Chicago and later was assigned to a temporary assignment on the East coast. Following that he was assigned to the troop ship U.S. Finland and made 14 voyages across the Atlantic Ocean. He was a Boatswain's Mate and ferried sailors and officers to and from other ships or to shore. For a while after the war he worked as a civilian in St. Louis as a mail sorter for a railway company. This required too much time on his feet so he later accepted a job to work for the Anchor Milling Co. in Tuscumbia, MO His employment position offer was to manage a new lumber yard, hardware store and grain warehouse built next to the Rock Island Railroad tracks in the south part of Eugene, MO.
Val married Marcia Alma Thompson (b. 31 March 98 - d. October 1965) in the summer of 1924. Alma had graduated from the Academy in Iberia, MO where she studied Latin and Greek as well as other studies of that era. She was an accomplished pianist. She later went to Drury College in Springfield, MO and was teaching school before she actually graduated. During the early 1960's she finally graduated from Lincoln University in Jefferson City, MO. She taught elementary school in Long Lane near Branson, MO. Val and Alma's first home was built near the school house in Eugene, MO and it only cost them $1,285 because the Anchor Milling Co. gave uncle Val the lumber to construct it. It had six rooms and a sun porch but no bathroom until the late 1930's.
Uncle Val was always a community leader. In Eugene he served on the town board as mayor, town Marshall, president of the school board and superintendent of the Eugene Christian Church Sunday school. Warren Kallenbach, Val's son, recalls that Eugene, MO had a population of 201 in 1940—and that counted the Morris' new baby! In 1942 Val ran for and won the elective office of Miller County Tax Assessor. However he failed to be reelected in 1946 so the family moved to Ulman, MO where he tried his had at farming but later returned to work in lumber sales. Uncle Val loved to hunt quail and fish. He often would take his sons to fish in the Osage River or the Little Saline Creek.
After grandpa Kallenbach died in 1958, Val, Robert and Parnell Kallenbach purchased the old farm site. Sometime later Val and Alma lived there for a while. During this time uncle Val traveled a lot in central and northern Missouri selling lumber. Aunt Alma died of liver cancer while living on the old Kallenbach farm in October 1965. In 1969 uncle Val married Lettie Jenkins, the widow of Dwight Jenkins of Eugene, MO. They later moved to a little farm house on the Big Saline Creek. Robert Wynes Kallenbach then acquired the old Kallenbach property. Later in 1985 Val and Lettie sold their little farm on the Big Saline Creek and moved into the new Missouri Veterans Home in Mexico, MO. Lettie later died there in July 1986 and Val died peacefully in the Veterans Home on 9 June 1989. Val was buried with a military-style graveside service next to his first wife Alma in Eldon, MO.
Val and Alma had four children who were William Warren (b. 16 July 1926), Dorothy Lee or Dottie, (1927-1980), John Ray (b. 8 December 1937), and Roger Valentine (b. 8 July 1939). Dottie and her husband Harry Oliver Ingstrom died in 1980 in an auto accident on Pacheco Pass highway near Gilroy, California. They later were buried in Eugene, Oregon.
Gola Lee (Kallenbach) Curtiss was the third child of William and Cora Belle Kallenbach. She was born in her father's log house on 12 October 1898. In fact she was born one year after grandpa purchased the farm from his father Valentin. Gola grew up on the farm and went to school in Tuscumbia. She later married Elmer Eugene Curtiss and they had four children, Mary Lou, Nell, Robert E. and Edith Lee.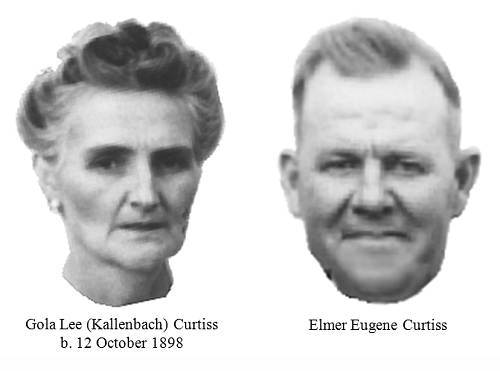 Aunt Gola and uncle Elmer's children were all pretty much grown up when I was a child. In fact, there was only about five years difference between the age of my mother Kathyleen and Mary Lou, the oldest daughter of aunt Gola.
I can remember going to visit aunt Gola only one time and I believe it probably was about 1949. They lived on a farm and I recall there was a barn on their property near the farm house. It was in the middle of summer and was hot and humid as always. I believe that some of her children (my cousins) were home for that week-end and my sisters and I were made beds on the floor in the bedroom where our parents slept. My mother called them bed pallets. This was something very exciting for my sisters and I. We enjoyed the experience of trying something new and different like bed pallets. We slept upstairs where all the windows had been opened to bring in the evening breeze. My recollections of aunt Gola and uncle Elmer are hazy but I do remember my mother saying what a hard worker uncle Elmer was. He was a farmer and a good motor mechanic. And I do remember how kind aunt Gola was with all of her nieces and nephews. She had a remarkable warmth about her and was gentle and caring.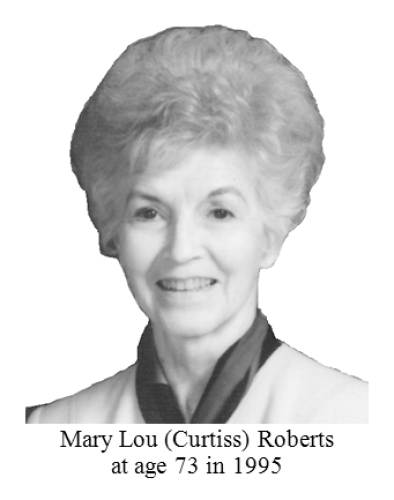 For a short time in 1982 and again in 1995 I had occasion to correspond with Mary Lou (Curtiss) Roberts18, the daughter of aunt Gola and uncle Elmer. Mary Lou is Married to William Jinx Roberts, a retired military officer and they have two children, Bill and Judy. For at least the last 20 years Mary Lou has been intensely interested in genealogy and actively involved in the publication of three copyrighted books on the subject of family trees. She currently is working on the family tree of the Curtiss family. Prior to that she had collaborated with Roy Edward Huegerich (1907-1984) on compiling a Kallenbach geneal-ogy for later publication in book form. They worked together for a few years on the project during the early 1980's but Roy's death in 1984 left the work still unfinished in 1995. Mary Lou Roberts still retains all of the collected genealogy materials and photographs concerning the Kallenbach ancestry. Roy Huegerich was the great grandson of Valentin Kallenbach and his first wife Anna Scharfenberg. Valentine and Anna had three sons Henry, John and George. It was George Kallenbach (1851-1889) who married Mary Ann Jerushwa (1855-1889) and they in turn had a girl who was Clara Mae Kallenbach 1879-1972), the mother of Roy Edward Kallenbach, the genealogist. Some of Mary Lou's 1980's Kallenbach genealogy newsletters helped me compile this publication.
In the late 1940's when my sisters and I were small tikes growing up in Iberia, Missouri we would occasionally go to Jefferson City to visit with aunt Dean and uncle Bill Gregory.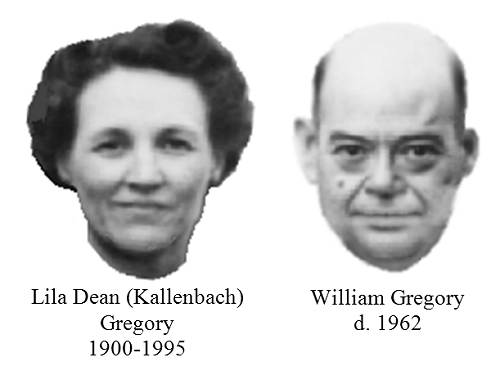 They lived in a beautiful home that was wonderfully decorated. Uncle Bill was an optometrist and aunt Dean worked with him in his office. Once or twice we went to aunt Dean's so that she could care for us while mother was in the hospital. I remember they had a new phonograph in their home which was the first time as a child I had ever seen one. One evening they put on one of their favorite 78 RPM records which was "Indian Love Call" from the Broadway musical, Rosemarie with lyrics by Otto Harbach and Oscar Hammerstein II. I thought it was just the most beautiful music I had ever heard and I insisted they play it over and over again. I also can remember uncle Bill's keen interest in photography. He had his own photo development lab in the basement and he had a number of cameras, the best of which was a German Leica that made him immensely proud. The strong odors from the chemicals he used to develop his prints offered new and exotic aromas for a child. Once in a while he would let the children inside his dark room where he had soft and dimly lit red lights which just barely allowed for visibility. There were enlarging machines in his photo hobby shop and other equipment that was fascinating to look at. His enthusiasm for photography began to interest my father who sometime later bought one of the early Kodak 8mm film cameras to take pictures of us growing up. Uncle Bill smoked Camel cigarettes and quite a few at that. He was one of the very few of our relatives who smoked and, as with all smokers, the aroma from the tobacco could be smelled in his presence. I remember him as a slow talking man who had a warm sense of humor. He tended to be a more serious type. My mother loved her older sister Lila Dean and they corresponded frequently over the years after our family migrated to California in 1952.
Uncle Bill and aunt Dean had one child, Dantzelle who later marrier Paul Mitchem Schowengerdt. They live in Jefferson City, Missouri. Dantzelle and Paul raised two children, William Wesley and Laura.
Many years after William Gregory died in 1962, aunt Dean met and married Norris Steenberger. They lived in Jefferson City until aunt Dean's death in 1995 at age 95.
William Harry Kallenbach (b. 31 January 1903) was the fifth child of William and Cora Belle Kallenbach. Harry married Wilma Page (27 Nov. 1907) and together they had two daughters Patricia Jane and Harriet Page Kallenbach.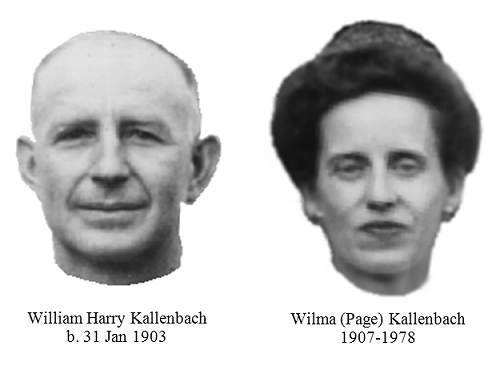 Uncle Harry previously owned and operated a gasoline service station in Jefferson City, Missouri. Harry and Wilma had two daughters. Patricia is married to Dr. Warren Fieber, who was Associate Professor of Surgery in Tampa, FL during the early 1980's. Their other daughter, Harriet, is married to Dr. Donlin Long, a neurosurgeon at Johns Hopkins University in Baltimore, Maryland. Today, in retirement, Harry and his second wife, Florence Summers, live in Raymore, Missouri.
Taking the west bound road to Eldon from the Kallenbach farm one would eventually go by a log cabin which sat beside the road. Mother would always point it out to us as the home that her sister Cora Elizabeth (Kallenbach) Wolverton (1905-1994) had lived in with her husband Barnett (1905-1986) shortly after their marriage.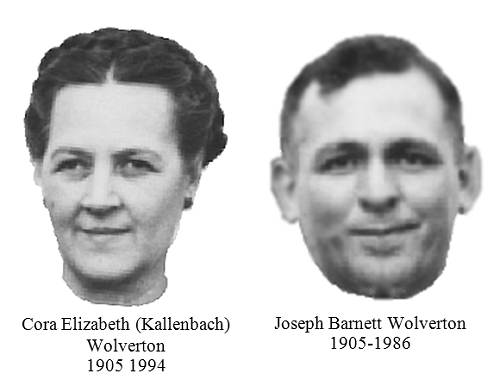 It was a typical square log cabin and still appeared to be in reasonably good condition in the late 1940's. I assume they were living there in the mid-1920's shortly after their marriage. As a young boy it reminded me of the house Abraham Lincoln had lived in as a youth. When our family later moved to Olathe, Kansas near Kansas city we used to visit aunt Cora and uncle Barnett in their home in Kansas City, Missouri. Aunt Cora, like the other daughters of grandma and grandpa were very sweet and kind hearted, especially to children. Aunt Cora was a wonderful cook and I remember going to her home for a thanksgiving day dinner. She and uncle Barnett had cooked the largest turkey I had ever seen. I can still remember the strain on Barnett's face as he lifted the gargantuan turkey to take it from the kitchen to the large dining room table. Aunt Cora had cooked so much food that she could barely fit it all on the table that day. I remember how everyone ate so much that thanksgiving afternoon that they were almost ready to pop. Mother always said aunt Cora was the best cook. I can remember how she also would brag on uncle Barnett and tell us what a wonder father he was to his children and what a excellent husband he had been to Cora. There also were times when we lived in Olathe, KS that we would go with aunt Cora and uncle Barnett and their children for a day in the park. I believe it was called Swope Park. Huge picnic baskets would be overflowing with food and there always was the chilled water melons for dessert. Again, it was always the custom on these occasions to overeat and I recall my father taking his 8mm film camera along and capturing pictures of uncle Barnett lying on a blanket, almost incapable of lifting himself up with the weight of the heavy afternoon picnic lunch.
Barnett and Cora Wolverton had seven children. They included Eloise (b. 21 Aug 1926), Joe, Marchetta, Dale, Donna, Gloria Beth, and Stephan.
Robert Wynes Kallenbach was the seventh child born to William and Cora Belle Kallenbach. He was born 24 March 1910 in the first two-story home his father built in 1900. This home later was destroyed by fire in 1913. Uncle Robert went to school in Tuscumbia and later earned a B.S. in agricultural education from the University of Missouri at Columbia. In 1935, at the age of 24, he became a Missouri state legislator for Miller County in the House of Representatives, fifty eighth General Assembly. He later became a County Extension Agent, a job that he would hold for most of his remaining working career. He enjoyed hunting raccoons and his hobby was training hunting dogs for this purpose. He was a minister in the Church of Christ and a school teacher during the 1920's where he taught at Wright school about two miles East of grandpa and grandma's farm house. He married Bonnie Faye Small on 2 June 1936.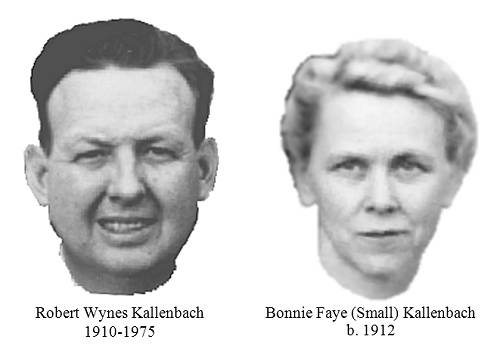 Bonnie Faye attended Central Missouri State University and S.W. State University at Springfield. She later obtained a life teaching diploma. Uncle Bob and aunt Faye purchased the old Kallenbach home and were living there until Robert's death in 1975. Bonnie Faye now lives in Bolivar, Missouri.
Robert and Bonnie Faye had three children, Deanne (b. 1937) who married Charles Hamilton, William Robert, or Bill-Bob (b. 1939) who married Judith Kay Lemmons, and Rose Faye (b. 1941).
I last saw uncle Bob in September 1974 when I made a short visit to see the old Kallenbach farm site near Tuscumbia which he had purchased a few years earlier. He told me then that he had acquired more acreage for the farm and that the total size in 1974 was about 1,000 acres. He also had constructed a one acre spring fed pond not too far down the road and just East of the old Kallenbach home. This was where he raised fish, and occasionally caught them, as was his pleasure. The old Kallenbach home had been remodeled and was beautifully redecorated with wall-to-wall rugs. He seemed very proud of his achievements in life and both he and Bonnie Faye were very happy living in the old Kallenbach home. His oldest daughter Deanne Murphy now lives on the old Kallenbach estate. Her husband, Charles Hamilton Murphy died on the farm site some time after his retirement from the military during the mid-1980's.
Uncle Parnell and aunt Nancy live in Mexico, Missouri where Dr. Glen Parnell Kallenbach (b. 29 January 1912) carried out his medical practice until he was almost 80 years old.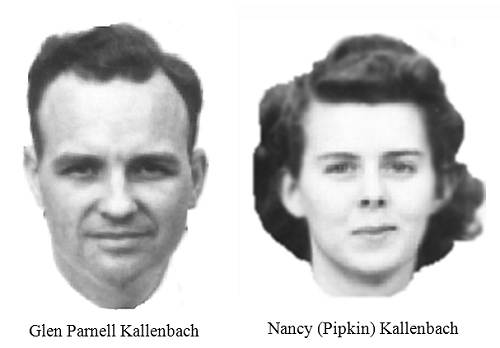 During World War II Parnell served in the U.S. Army in North Africa. He attended Washington University in St. Louis, MO. Parnell and Nancy, now in retirement, have a winter home in Sun City, Arizona. While I have very few childhood memories of uncle Parnell, I do know him indirectly by the people I have met in my own travels who called him their family doctor. Back when I was single in the mid-1970's I met a young woman working as a computer programmer for IBM in Manassas, Virginia. It was a double-date as I recall, and I had invited to dinner a physicist working for the Department of Navy. The IBM programmer mentioned that she was from Mexico, Missouri so I asked her if she knew a Dr. Kallenbach. She then burst out rather loudly in the restaurant that she did, in fact, know Dr. Kallenbach and that he was the doctor who had delivered her. She was absolutely astonished at how small the world really is. In 1995 I was at the Orlando, Florida international airport picking up a foreign exchange student from Korea who was going to stay with us while attending courses at Florida Institute of Technology. As I rode the tram from the airport lounge to the passenger pick-up point, I overhead an older woman talking with her husband and she mentioned Missouri. I asked her if they were from Missouri and she replied yes, they were from Mexico, Missouri and that they had come to see DisneyWorld. I then asked her if she knew Parnell Kallenbach and she was simply amazed. Sure we know "Gus' she said. Everyone in Mexico calls him Gus. I told the woman that he was my uncle and she became excited and quickly told her husband and he told someone else in their party. There was such a commotion that I was a little embarrassed I'd mentioned his name in the first place. I now know how small a city Mexico, Missouri is, so it is no wonder that almost anyone you might ever meet from there would almost certainly know Dr. Kallenbach.
Parnell and Nancy Kallenbach have six children, Bill, Kenneth, Nancy, Jim, Katherine and Carol. Recently Parnell and Nancy purchased a home near Phoenix, Arizona where they spent part of their retirement years getting away from the colder winter months in Missouri.
Royal Gordon Kallenbach (b. 1 February 1915) was a farmer all his life. I can remember as a child going to the farm where he and aunt Helen lived.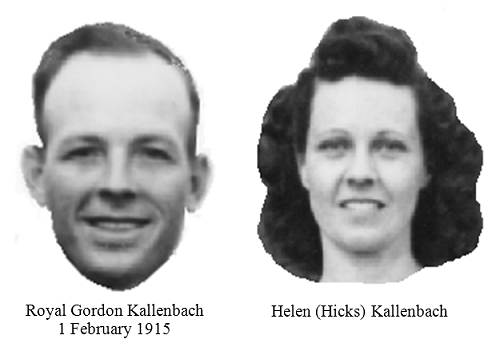 It was a beautiful farm with an attractive fence surrounding the large fields of crops and pasture land. What I remember best as a child is the wonderful home made ice cream they would make in the summer time. When I was about six years old I thought aunt Helen was just about the most beautiful woman in the entire world. She had beauteous features and a picture perfect smile. Royal and Helen are today retired in Eldon, Missouri.
In 1948 Royal and Helen had only one child, Carolyn Sue, whom my sister Joann loved to play with. They were about the same age and had such fun together at grandma and grandpa's farm. It was not until many years later that they had a second daughter named Elizabeth Ann, or Beth, who today is married to William Ayler Brown III. Carolyn Sue had two children, Timothy and Teresa by her former husband Charles Musick. My genealogy records indicate that Beth had one child, Anna Elizabeth, but these records are at least 15 years old and in need of updating.
My mother, Kathyleen Kallenbach, was a fraternal twin. She was born on 15 February 1918 only minutes before her brother Forrest Jean. Because she was the first born she frequently would boss him as a child, always reminding him that she was the first to enter this world. Mother went to high school in Tuscumbia and loved sports. She was the captain of her basketball team and her grades were very good. After high school she went to Capitol Commercial College in Jefferson City and later taught there. Following that she found a teaching job in Etterville, Mo. While teaching there for two years she also attended Teachers College in Warrensberg, MO. In 1936 she married Lloyd A. Blankenship who was then in the U.S. Navy.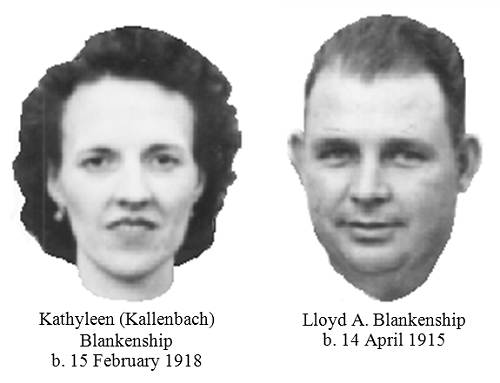 During World War II mother lived in Portsmouth, Virginia while Lloyd served on different battleships in the Pacific. Following the war they moved to Crane, Indiana; then to Iberia, MO for about three years. After that they moved to Barnsdall, OK; on to Allen, OK; and then to Olathe, KS. We moved to Burbank, California in 1952 where I began the 5th grade. Kathyleen and Lloyd were divorced in 1965. She still lives in Burbank and Lloyd lives in Cerritos, Calif. My father, Lloyd, worked primarily in the petrochemical sales arena and in his later years was involved in domestic and foreign sales and imports. My younger sister Rita (b. 4 January 1946) was married to Steven Eisenberg and they have two sons, Jason and Justin. Rita was divorced in 1994. Joann had one son, Eric Rich and she now lives in Cerritos, Calif. Her last husband, Don Waters died in 1988. I was the only son of Kathyleen and Lloyd and I am currently married to my second wife, the former Wannee Wanthiang who is from Chiang Mai in northern Thailand. We have two children, Derek (b. 7 May 1990 in Thailand) and Kayleen (b. 12 July 1993 in Melbourne, FL). I retired from federal government service in 1992 and relocated to West Melbourne, Florida in June 1993.
Forrest Jean Kallenbach (b 15 February 1918) was the fraternal twin to Kathyleen. He grew up on the old Kallenbach farm, attended Tuscumbia High School and later went into the U.S. Navy during World War II. He later married Arlone and they traveled extensively throughout the US while Forrest took various University teaching positions.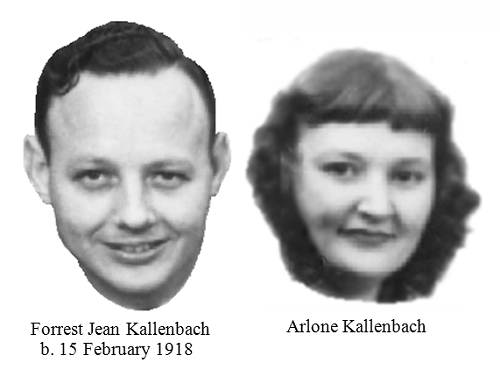 For a while they lived in southern California and later moved to Minnesota. They have two children, Ron and Charlotte Ann. Today uncle Forrest and aunt Arlone are retired and living in Doniphan, MO in the southeast corner of the state. Forrest has just completed the preparation for publication of a new book which he authored on the subject of horticulture.
One thing I remember about uncle Forrest is that he had an amazing ability to wiggle his ears. As a child this was fascinating to watch and I still to this day do not know how he did it. Uncle Forrest, as I remember loved to smoke cigars. One time when Forrest and Arlone came to visit us in Burbank, California they drove their new Hudson, an absolutely mammoth car. It was forest green as I recall and it was a superb touring car because of the spacious interior. While they were staying with us my father and uncle Forrest went to a war surplus store and bought up a large number of smoking pipes that were on sale. They returned home and began smoking their pipes on our front porch. I was then about ten or twelve and I thought that with so many pipes they could afford to let me have one. I really insisted. Finally, after an appropriate period of pestering them, they allowed me to partially fill the bowl of one pipe with tobacco while I joined them in a smoke on the front porch. It was not very long before I was turning green and suffering all the unpleasant side affects that go along with nicotine poisoning. I never smoked again until I was about 30 years old.
The very brief biographic profiles of the people noted above can hardly do them justice in view of their lifetime accomplishments. Each has certainly contributed far more than I have knowledge of and therefore I have elected to simply caption their photographs with a few words of praise or some anecdotal humor recalled from my childhood.
END
December 1995
FOOTNOTES
---
1Father, Lloyd A. Blankenship; mother, Kathyleen (Kallenbach) Yoder; sister, Joann (Blankenship) Waters; son, Donald L. Blankenship; and sister, Rita (Blankenship) Eisenberg. Lloyd was the youngest child of John E. and Emma (Hensley) Blankenship of Iberia, MO and Kathyleen was a twin and the youngest daughter of William and Cora Belle Kallenbach from near Tuscumbia, MO. (return)
2The Kallenbach farm was located about 3 miles due north of Highway 52 from a reference point about a hald mile West of Tuscumbia along the old Ridge Road (Hwy 52). At that point a winding 3-mile dirt and gravel road proceeds North and eventually crosses over the Little Saline Creek and the road splits East-West. Taking the west fork about ½ mile leads to the old Kallenbach farm located on the north side of the dirt road. The geographic coordinates of the farm are 38º-16.64' North Latitude and 92º-28.36' West Longitude. (return)
3Our farm in Iberia was located about 1,000 feet east of Rabbithead Creek on the north side of Main St. which is located at geographic coordinates 38º-05.686' North latitude and 92º-17.950' West Longitude. (return)
4The World Almanac® and Book of Facts 1994 is licensed from Funk and Wagnalls Corporation. Copyright © 1993 by Funk and Wagnalls Corporation. All rights reserved. (return)
5The Concise Columbia Encyclopedia is licensed from Columbia University Press. Copyright © 1991 by Columbia University Press. All rights reserved. (return)
6From a 1989 letter to his daughters Ann Thalia, Sallee Renee and Sue Allison Kallenbach. Warren Kallenbach was the first born of Val and Alma Kallenbach. (return)
7My Life and Times, by Joseph Ernest Kallenbach; a 556 page autobiography completed by his wife and privately published in 1995. Joe was the youngest son of uncle Ed and aunt Hattie, aka (John Edward and Hattie (Maylee) Kallenbach. (return)
8F. Val Kalenbach, son of William and Cora Kallenbach, related the amount paid for the farm site to his son William Warren Kallenbach who subsequently recounted it to me. (return)
9Compiled by Mary L. Roberts, copyright © 1988, printed in the USA, bound by the Bookbindery, Trappisgt Abbey, Lafayette, OR. The Capers of Sots literally means the frivolous antics of people muddled or stupefied with liquor. Sot was used in old English to mean a drunkard. (return)
10I say this as a former certified translator and career linguist in several foreign languages.—Don L. Blankenship. (return)
11My Life and Times , op. cit. Joseph Ernest Kallenbach, (1903-1991) was the sixth and youngest child of John Edward and Hattie (Maylee) Kallenbach. of Tuscumbia, MO. (return)
12The People's Chronology is licensed from Henry Holt and Company, Inc. Copyright © 1992 by James Trager. All rights reserved. (return)
13My first HAM radio callsign, which I got in 1957, was K6JGS. When I later moved to Virginia I had it changed to W4PUL. (return)
14The People's Chronology, op. cit. (return)
15The People's Chronology is licensed from Henry Holt and Company, Inc. Copyright © 1992 by James Trager. All rights reserved. (return)
16Kathyleen was born only minutes before her twin brother Forrest Jean Kallenbach. Using this as childish justification she found ample reason to boss him around as a kid, saying "I was born first, therefore I am your boss." (return)
17Halberts, 3687 Ira Road, Bath, Ohio 44210 (return)
18In late 1995 Mary Lou and Jinx Roberts were living at 1505 Hunters Circle, Sedalia, Missouri 65301-8807 while they cared for aunt Gola in Sedalia, MO. They still own their own home in Richmond, California and one day expect to return there. (return)
---
I am so very grateful to my website designer and organizer, David Statler, for putting together this great narrative by Don Blankenship in such a readable manner. Don sent many photos which David was able to incorporate just where Don had put them in the narrative. This was not an easy task due to the nature of converting the narrative by Don into a vehicle acceptable by the website structure and requirements. David also researched and found some photos himself regarding the world events to which Don referred in his narrative. So this week all thanks go to Don Blankenship and our great web master, David Statler.
---
Below is a video from NBC Nightly News which aired on Thursday, May 28th that gives an update on the Osage River Bridge. It seems the news people still don't realize this bridge was dangerously close to collapsing. Neither does the media consider that absence of the bridge would create a negative economic impact south and north of the river due to the amount of commercial traffic it carries. At least, the video gives some time to my Tuscumbia school classmate, Wes Horton, owner of the Red Oak Inn, who easily spars with these media elites!
That's all for this week.
Joe Pryor