Monday, May 18, 2009
Progress Notes
On one of the few sunny days we had earlier this year I and an old school friend, Clifford Hill, took a drive up the Tuscumbia Versailles road leading out of town toward Highway 52 to the North West. Clifford spent most of his early life on a farm located on this road about a mile out of Tuscumbia and my home was located on Highway 52 on the hill top almost precisely above where Clifford lived. Here is a photo of Clifford the other day standing in front of the entrance to his well maintained home place (photo 01).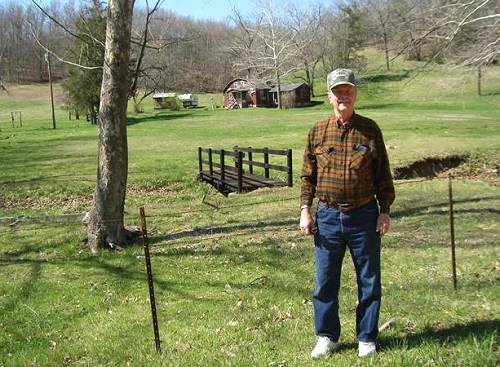 01 Clifford Hill
Through this valley flows Shut In Branch Creek on its way to the Osage River in Tuscumbia. The creek meanders back and forth across the gravel road for several miles and is fed by many small clear water running springs along the way. On either side of the road are high forested hills harboring much in the way of wildlife rarely disturbed by human beings except for the occasional seasonal hunter. This was a bittersweet journey for both of us because many of the old homes we remembered from the past are gone. As people gradually migrated out of the area to find work in the cities, fewer of the old houses were occupied and they slowly over the last fifty years have deteriorated to the point of falling to the ground to be hidden under the inevitable overgrowth of weeds, sprouts and brush. Only those who lived in the area such as Clifford can find the remnants of these old homes which have succumbed and fallen. It brings a sense of nostalgia to remember that here once people whom we knew and who were our neighbors had for generations farmed their small acreages, raised their families, and in some cases buried their loved ones in this valley.
Some very interesting families lived on the old Tuscumbia Versailles road especially along the first mile and half after leaving Tuscumbia. And a couple of the homes are still standing and occupied. So I thought this week I would feature this mile or more section of road and the families which once lived along it.
One of the first homes we passed on the east side soon after leaving Tuscumbia was the James Frank Wright home (photo 02).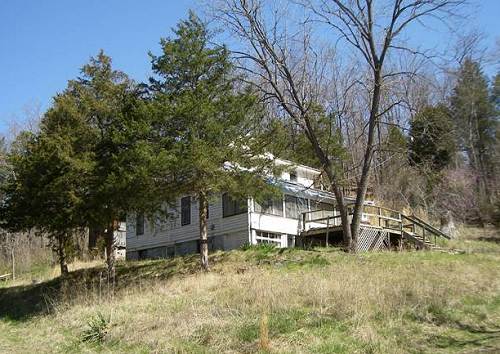 02 Frank Wright Home
Frank was a well known carpenter in the area back in the early part of the last century (photo 03).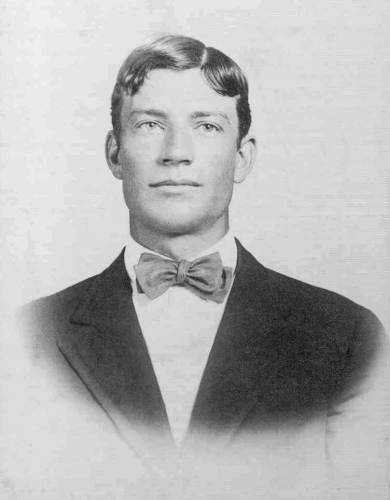 03 James Franklin Wright
His sons, Winston and Dorrill, had donated quite a few of his carpenter tools to the museum several years ago. Presently, the tools are displayed in a covered glass case with identification for each one as to its use. According to Winston and Dorrill, the tools were first owned by Joseph Thompson Wright, Frank's father, and were used to build the log cabin in which Joe raised his family. (This cabin, which was on the other side of the road from Frank's house, no longer exists.) I picked a couple of the tools to photograph. First is this shake shingle cutter known as a "fro" (photo 04).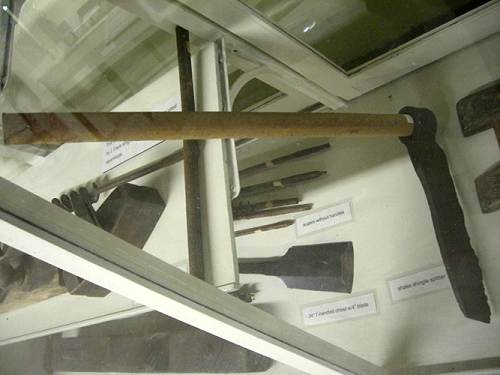 04 Fro for cutting Shakes
The other photo is of a T auger used by Frank and Joe when helping build or repair the steamboats which landed at Tuscumbia during the last part of the 19th and early part of the 20th centuries (photo 05).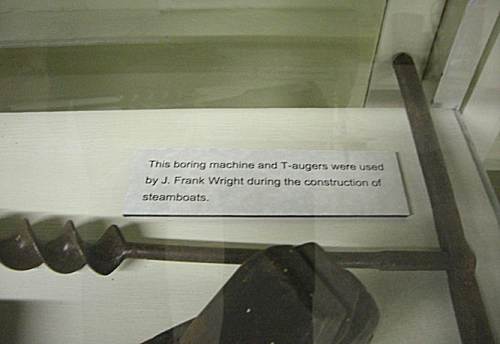 05 T-Auger
Previous to the outing with Clifford I had visited one of Frank's grandsons, Arthur Hager, who lives near Eugene, but who had spent a lot of his younger years in Tuscumbia staying with his grandfather, Frank. Arthur had the photograph of Frank shown above as well as his wife, Eva Bassman (photo 06).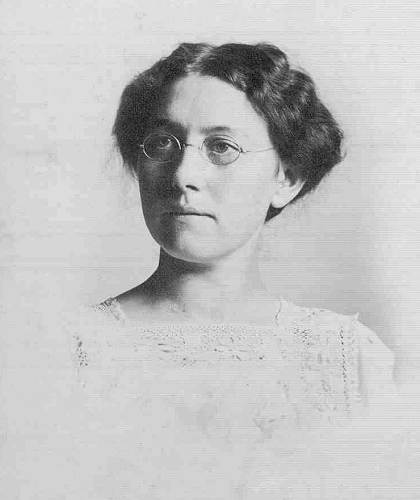 06 Eva Bassman Wright
Arthur said both photos were taken the day they were married June 2, 1912. Eva's sister, Ercil Bassman, married a cousin of Frank, Lawrence Wright, who owned the Autogram newspaper in Tuscumbia back in the 1930's. These Wrights were all descendents of James Lawrence Wright, the first one of the Wrights to come to Miller County.
Art's mother, Lucille Wright Hager, was a daughter of Frank. Tragically, she died in a house fire twenty or so years ago and many photos were burned in the house.
Art said that Frank was a serious man who spent a lot of time making sure his carpentry work was done well. He also made furniture and many various items of wood being an excellent woodworker according to Art. He was one of the carpenters who helped build the brick school house in Tuscumbia after the wooden frame one was no longer used.
Art is married to Louise Horton, who attended Tuscumbia school in the same time frame as I did. Here is a photo I took the other day of them when I was visiting them at their beautiful farm near Eugene (photo 07).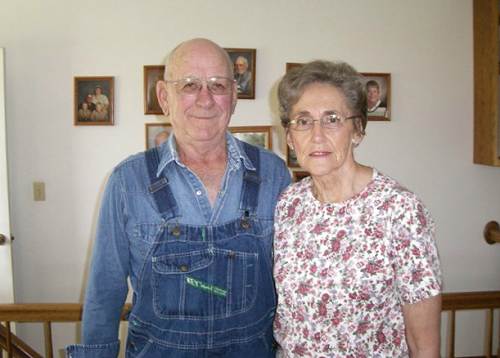 07 Arthur and Louis Horton Hager
Clifford remembered Frank quite well since they lived near each other. Frank didn't have a car so he had to carry his heavy tools with him to whichever job he had. One time Clifford was at the Anchor Mill Lumber shed on the hill above Frank's home after Frank had just purchased some lumber for a job. Homer Clay Wright, who owned the Anchor Mill then, and who was a cousin of Frank, offered to deliver the lumber, but Frank declined and instead placed the heavy boards on his shoulder and walked down the hill to his home. Clifford remembered that Frank had decided as an after thought to build a basement after he had finished building his house which, of course, was quite an undertaking then.
Frank's father, Joe Wright, also was known as a good carpenter as well as being a cobbler. Here are some of his cobbler tools also donated by Winston and Dorrill Wright (photos 08 and 09).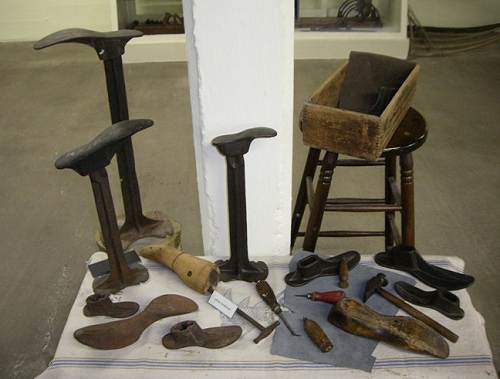 08 Cobblers Tools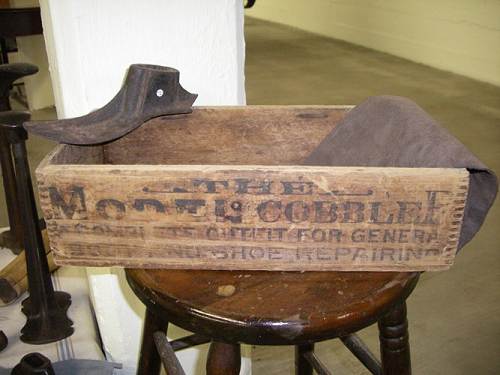 09 Box to hold Cobblers Tools
According to the Wrights', these tools were used by Joe to repair his own family's shoes. They were found in the smoke house next to the log home where the family lived.
Clifford remembered that Joe Wright was said to have been fascinated with the subject of "perpetual motion" and had a number of contraptions in an upstairs room where he experimented to try to make a perpetual motion machine.
The Wright family of Miller County has a long history here and many descendents. For those who are interested in genealogical ties, here is a genealogy of the Joe Wright branch of the Wrights' in this web page attachment.
A little further up the road on the right is the old Roy Smith Home (photo 11).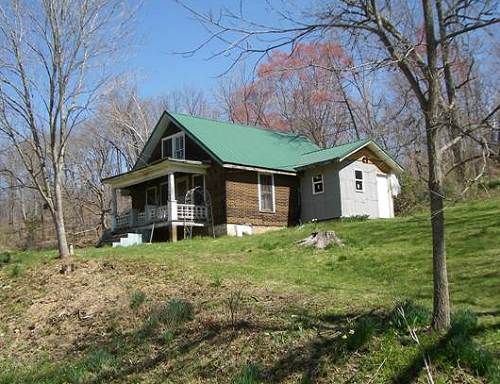 11 Roy Smith Home
Here is a photo of Roy when he was younger (photo 12).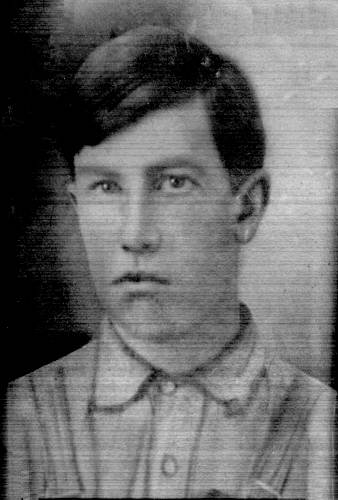 12 Roy Edgar Smith
He was a sawyer (photo 13) but also had skills doing flatwork for concrete floors and sidewalks.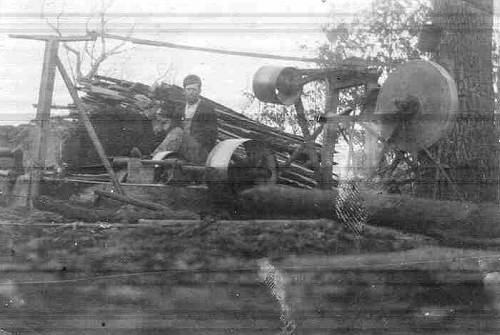 13 Roy and his Saw Mill
He is the one who built the first concrete side walk in Goosebottom street in Tuscumbia, according to my mother, whose home used to stand at the west end of the street. This is the street where the Riverside Park is located.
I visited Roy's grandson, Ray Smith of Tuscumbia, the other day to copy some photos he had of the Smith family (photo 14).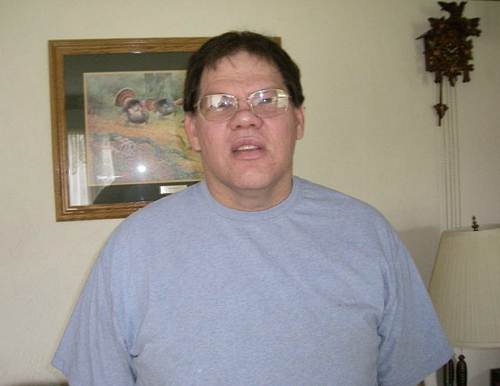 14 Ray Dean Smith
Ray told me one of Roy's biggest jobs was helping build the Saline Creek Bridge on Highway 17 north and east of Tuscumbia about five miles.
Here is a series of photos of the early construction of the bridge shown me by Roy. I had never seen photos of this bridge in construction before (photos 15 thru 20).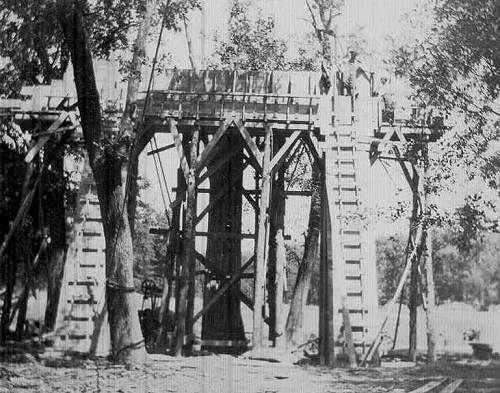 15 Saline Bridge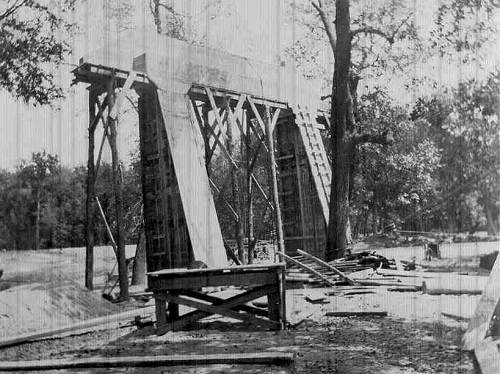 16 Saline Bridge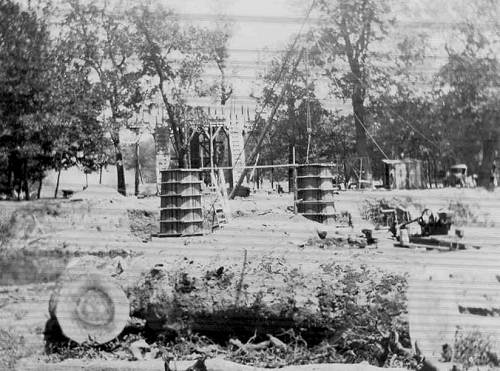 17 Saline Bridge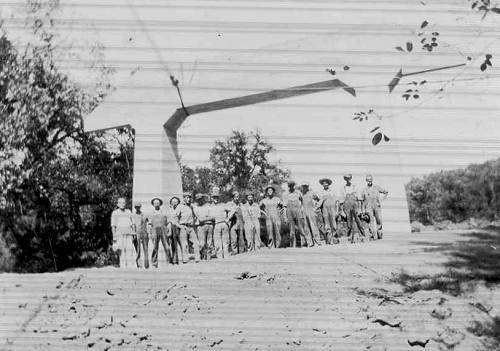 18 Saline Bridge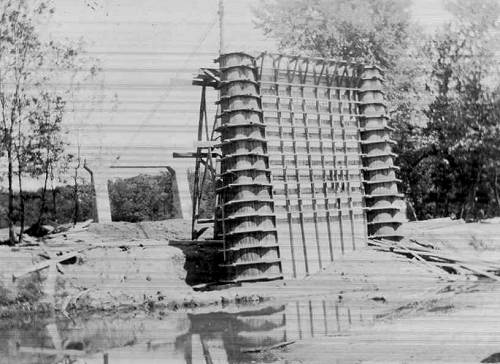 19 Saline Bridge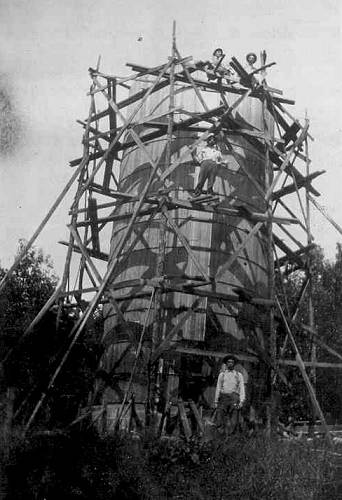 20 Saline Bridge
The bridge was completed in 1925 according to a sign on both ends of the bridge (photo 21).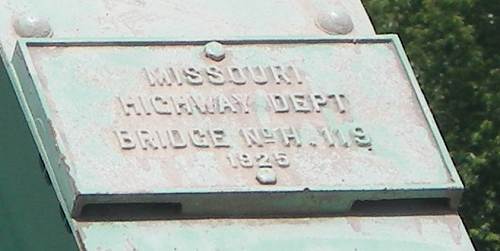 21 Sign on Saline Bridge
Here is a recent photo taken from under the bridge (photo 22), and, sad to say, here is a photo taken from the north end of the bridge showing how the road is crumbling away on the sides (photo 23).
22 Saline Creek Bridge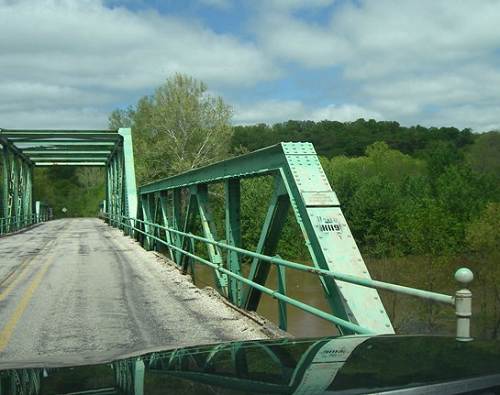 23 Crumbling at the Edges
Roy's family was very well liked in town. He had married Ida Lee Wright (photo 24) and they had a number of children.
24 Ida Lee Wright Smith
Here is a family photo of Ida with her children (photo 25):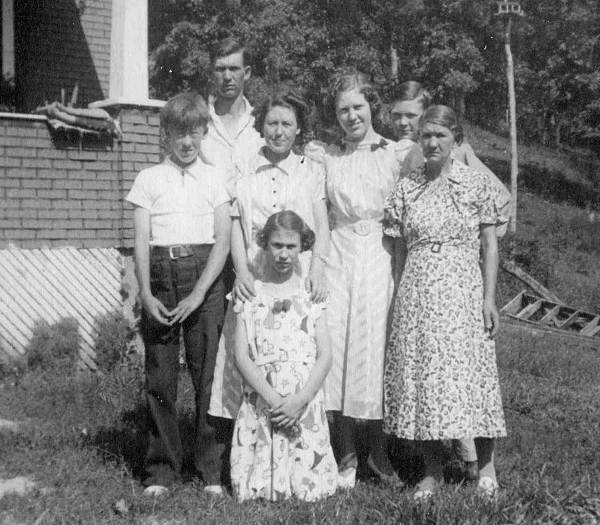 25 Bryce, Walt, Bessie, Vivian, Dean, Paul and Ida
Ida was a second cousin of John Wright, the artist, and she had several of his paintings in the home. Ida's grandfather was Hiram Wright, a son of Anthony Wright, the original Wright of this family to come to Missouri. Hiram was a brother of James Lawrence Wright, who had the old water mill on the Little Saline Creek. Hiram's son, Aaron Wright, was Ida's father. Here is a photo of Ida with her father Aaron (photo 25a):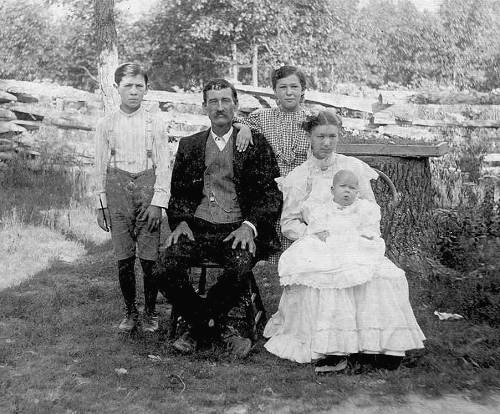 25a Pittman Wright, Aaron Wright, Kate Wright, Ida Wright Smith and Harold Smith
Paul Smith, son of Ida and Roy and Ray's father, was very well respected because of his heroic service in World War II as a bombardier. Here is a photo of him in uniform (photo 26):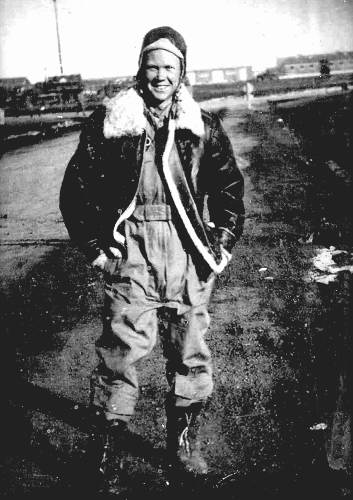 26 Paul Smith while in Air Force
Ray still has the leather army jacket his father Paul wore on his bombing missions (photo 27).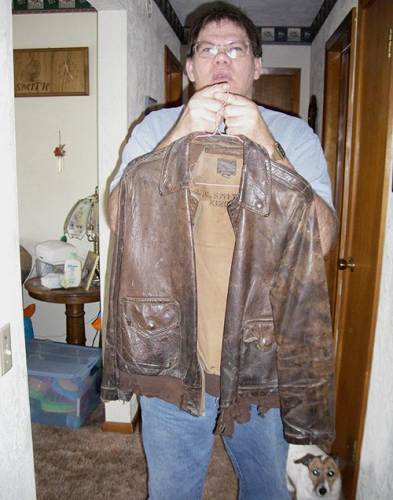 27 Flight Coat of Paul Smith
Clifford Hill, mentioned above as being a neighbor of the Smiths', had a few conversations with Paul about his war experiences. Paul, being a bombardier on a B-24, had very little room to maneuver because of the cramped quarters due to the design of the airplane. On several occasions the plane was hit by flack or direct fire and on two of those occasions the plane lost an engine and was losing altitude. While some of the crew could get to a door and escape to parachute down, Paul couldn't get out in time. So he stayed with the plane and released his entire bomb load before the pilot had to crash land the plane.
If you read the Progress Report of April 27 which describes the B-24 very well, you can understand what kind of bravery it took to carry out the missions assigned the airmen in that war.
Paul was married to Roseanne Horton (photo 28).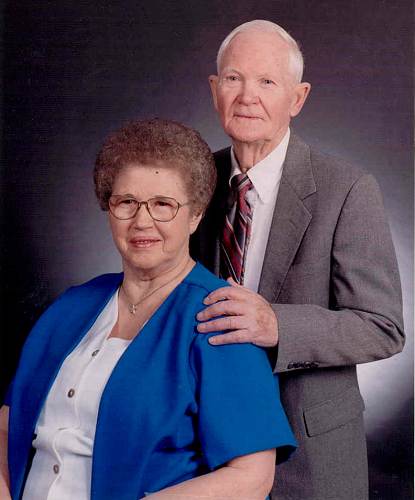 28 Roseanne and Paul Smith
Both of Ray's parents are now gone, Roseanne having passed away only a year or two ago.
Two other of Ida and Roy's sons, uncles of Ray, were Walt and Bryce Gene Smith (photo 28a).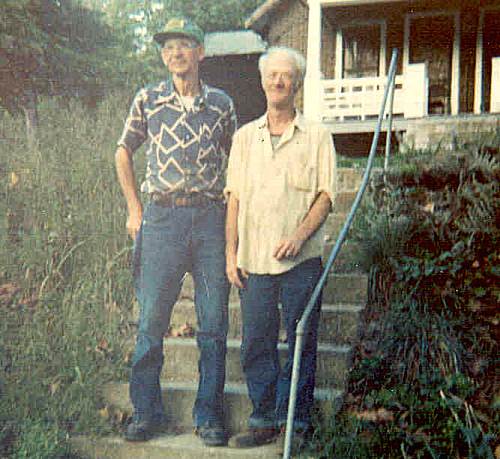 28a Walt and Bryce Gene Smith
They continued living in the home Roy built after their parents had passed away.
Bryce Gene was well liked in Tuscumbia, always very friendly and personable. He had a hobby of painting landscape scenes, perhaps an attribute he inherited similar to that of his famous relative, John Wright, who was a noted artist of Miller County. Here is one scene he painted, now in the possession of his niece Linda Halderman of Tuscumbia, of a cabin Bryce Gene built on the hill above his home (photo 28b).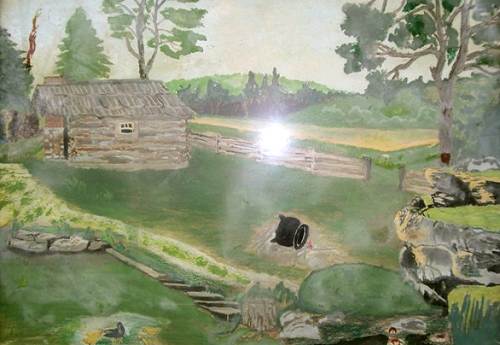 28b Cabin built by Bryce Gene
He had a lot of fun building the cabin and two newspaper articles were written about it at the time (photos 28c and 28d).
Walt was known as an excellent home painter and electrician. Clifford Hill, whose farm was located across the road from the Smiths', remembered this anecdote about Walt. Although Walt was shy and not one to speak up very much, he was a very respected electrician, so much so that Harold Koplar, the St. Louis hotelier and businessman who developed the Four Seasons Resort Complex at the Lake of the Ozarks, hired Walt to work for him in the early days of the construction of the huge resort. According to Clifford, Harold preferred Walt for his electrical wiring if the job was to be more complex than usual. Clifford, who also had done some tile work early on at the Four Seasons complex, told me that Harold always had a liking of the local Ozark Hill folks and gave them jobs whenever he could. However, this preference by Harold for Walt upset the general foreman who one day on some pretext discharged Walt from his position. When Harold was informed about the loss of Walt, he was very upset and he himself drove down to Tuscumbia, found the Tuscumbia Versailles road, and drove right up to Walt's front door to apologize and ask him to return to work. Walt, of course, was only too happy to have his job back.
The most interesting, perhaps, of the Smith family, is Ray's great grandfather, Francis Cook "Curle" Smith (photo 29).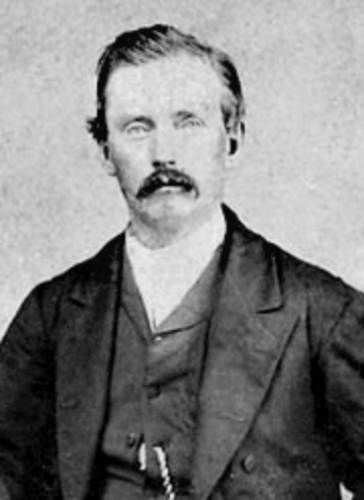 29 Francis - 1865
The following website, created by Smith relatives in Illinois, was shown to me by Ray which tells the story of his great grandfather:
http://riverton-wy.com/family/family.htm
The part having to do with Francis' life in Miller County I am copying here:
"Francis Cook "Curle" Smith was born in England or Wales on October 21, 1821, and on all of his census records states that he became a naturalized U.S. Citizen in 1840. He served as a member of the band with the Illinois Volunteer 10th Calvary for about two years (photo 30) during the Civil War.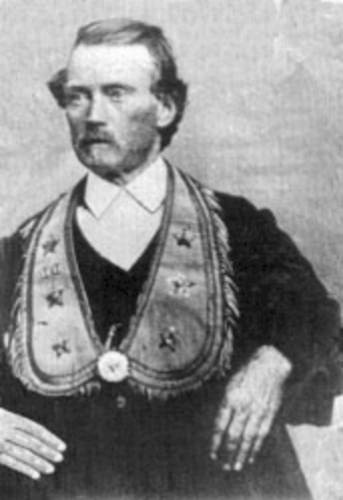 30 Francis in Band Uniform
Mary Elizabeth Poynting was born 11 July 1852 in Wooster, Ohio. At age 16 on 20 September 1868 she became the wife of Francis "Curle" Cook Smith, then about 47. They had ten children, five of whom lived.
(Note: It isn't clear if Francis met Mary in Ohio and moved to Missouri or if she and her parents had already moved to Miller County in which case they would have married here.)
In this photo Mary and Francis are pictured with their three oldest children, Walter born November 7, 1872; George, born 19 September 1869; and Lilly born in 1877 (photo 31).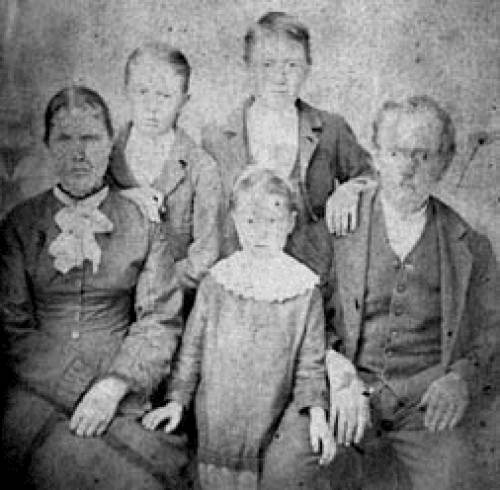 31 Francis, Mary and family
In this next photo are the three youngest children: Roy, born 27 September 1885; Maude, born 7 July 1888; and baby Eva, who was born 4 September 1892 and died in 1894 (photo 32).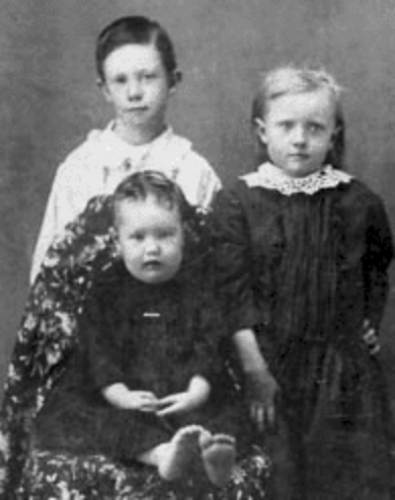 32 Roy, Maude and Eva
Mary Elizabeth Poynting is pictured in this next photo with their daughter, Rosa (photo 33).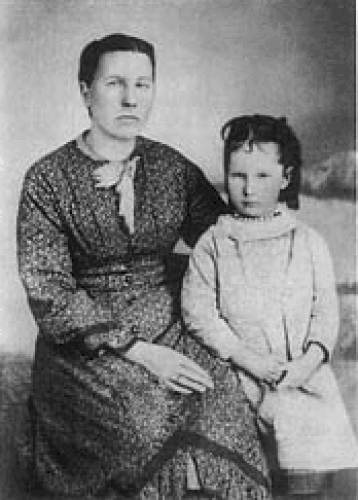 33 Mary Poynting with Rosa
Francis died Christmas Eve in 1901 in Tuscumbia (photo 34).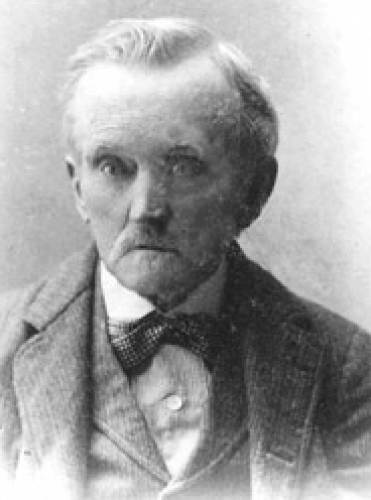 34 Francis in Later Years
Mary died on the 23rd of February 1925 in Tuscumbia.
Rosa, along with her brother Roy Edgar Smith went on to live in Tuscumbia."
The cemetery where Francis and Mary were buried locally is known as the Allen Cemetery but others refer to it as the Camp Vaughn Cemetery. One reaches it by turning south off Highway 54 onto Highway 52 at the Junction of what used to be known as El Rancho. Go south east on 52 two and one half miles to Poplar Road, turn right, go one and one half miles to Allen Road, turn right, and go one more mile. The cemetery is on the left. Here is a photo of the cemetery (photo 34a) and of Frances' tombstone (photo 34b).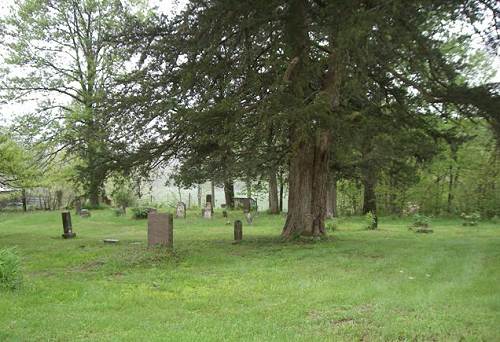 34a Camp Vaughn Allen Cemetery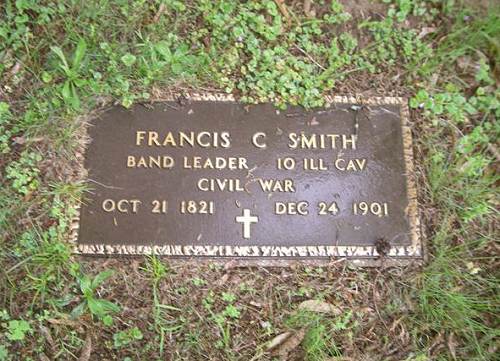 34b Francis Smith Tombstone
According to the website noted earlier, In England, Francis had worked as an apprentice to a painter and learned to make his own paints and grind his own colors. He knew how to mix chemicals to produce colored fireworks, how to mix olive oil, and copper sulfate solution and also sharpened dulled files. He was said to have been an expert in making gold leaf and mother of pearl signs and was also reported to have painted some frescoes in Washington D.C. after arriving in America.
In the Civil War, where he was a Captain, he took tin type pictures using an old camera with a large barrel type lens with a pinion adjustment.
The story found on the above cited website as to how Francis happened to come to America is a very adventuresome one. Below is a summary:
In England, he was born Francis Cook Curle. At about age 18 he and a cousin were serving in the British Army. It is said they were framed by some officers who accused them of some offense, for which they were convicted and put in a guard house to await the "Cat 'O Nine Tails." Desperate to avoid this fate, they decided one night to risk escaping, and since they were near the English Channel, stripped off their clothes, and jumped into the sea.
Francis' cousin became frightened and returned to the ship. The officers, thinking it impossible to swim the Channel, especially at night, searched awhile then gave Francis up for dead. But Francis did make it and on arriving on the coast of France, stowed away on a ship, and after reaching high seas, came out of hiding. He had to work by swabbing the deck, which he described as "holy stoning," in which a round flat stone was used to scrub the planking until it was white and clean. At this point, Francis had taken the name "Smith" to hide his identity and no longer used the "Curle" surname. Francis spent three years on the high seas, sailing a "windjammer". He made a trip around the "Horn" and eventually even became a captain.
Then one day while off ship, he decided to take leave and stay in America. He probably was 21 at the time. When he was about thirty, he volunteered for the Union Army and fought in the Civil War. Sometime after that he came to Missouri. How he came to live in Tuscumbia or exactly how he met Mary is not known.
The family history of Francis and his descendents in Miller County also is given on the website listed above. For that I will refer you to this web page attachment.
Going on up the Tuscumbia Versailles road a short distance from the Roy Smith home are the remnants of an old home first built by Green Lee Thompson, well known early Church of Christ minister (photo 36).
Later, the home was lived in by several families. One family who lived there soon after Green Lee Thompson were the Williams siblings, Nancy, Abner, Willard (Friday) and Charles (Catfish). When Nancy and Arthur Edwards married, the others moved to town. No one I know now or even then seemed to know much about the origin of this particular Williams family. They weren't related as far as I have been able to tell to other Williams in the county. The best summary of this family of Williams was given by Mildred Messersmith Gray on a previous Progress Notes from last year.
I lived on the hill just above the home when Arthur and Nancy Williams Edwards lived there. He had been a tie whacker early in life and was known as a "pretty tough old man" who got into a lot of scrapes and fights usually coming out ahead (photo 37).
37 Arthur Edwards
His father was George Washington Edwards (photo 38) who had fought in the Civil War and had been imprisoned at Andersonville for six months before escaping. I had discussed George Edwards in an earlier Progress Notes.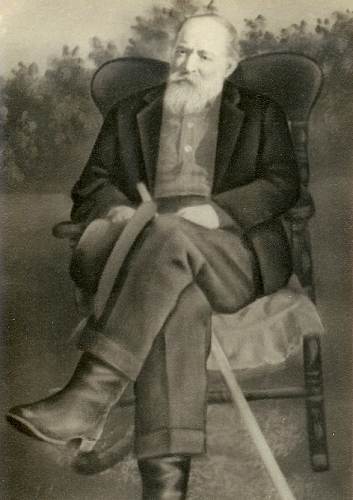 38 George Washington Edwards
At any rate, Arthur didn't like anyone on his place if he didn't know about it. If I ever did start to walk through the woods down the hill to go visit the Hill family across the road in the valley below, Arthur's dog would start barking and out Arthur would come growling himself and yelling up the hill at whomever might be there. So I usually just took the long way around being too scared to upset the old man below.
Presently, little is left of the old house as it had fallen down years ago. Certainly, these old houses, even when well built, finally give way to the ravages of time and weather and fall away, eventually to be forgotten.
That eventually will be the case with the next home up the road from Arthur's house, the Hendricks Small home. It once was a two story well constructed and stylish building but now is nearly collapsed. The barn is in somewhat better shape (photos 39 and 40 of home and barn).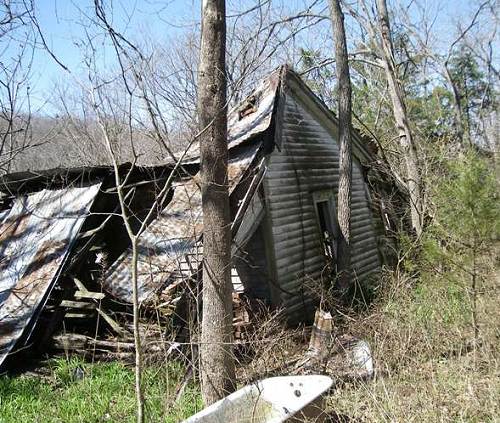 39 Hendricks Small Home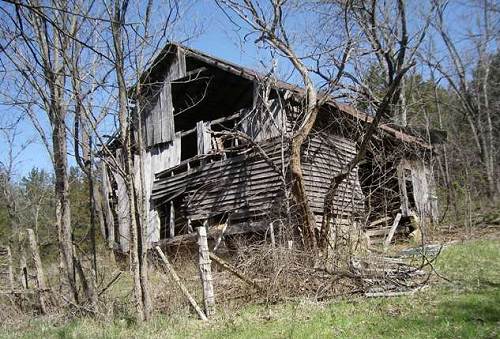 40 Hendricks Small Barn
I discussed this home on a previous Progress Notes where I told the story of the Archibald Small family.
Here is a short summary of the history of the home as told by Darlene Ferguson, great granddaughter of Archibald taken from the website above:
"Regarding my great grandfather Archibald Small (photo 41), he and his family settled originally one mile north on the Tuscumbia Versailles Road.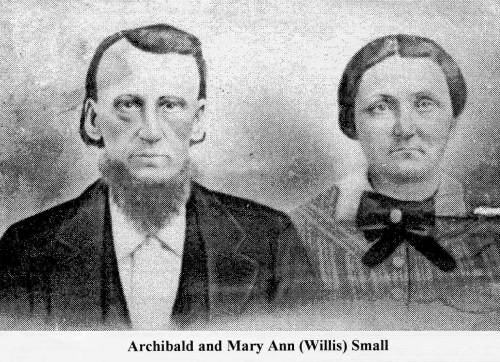 41 Archibald and Mary Ann Small
I was always told that they lived in a dug-out until their log house could be built. I believe my grandfather, Hendricks Small (photo 42), built the house that my Dad, Kelly, and his 5 sisters grew up in (photo 43).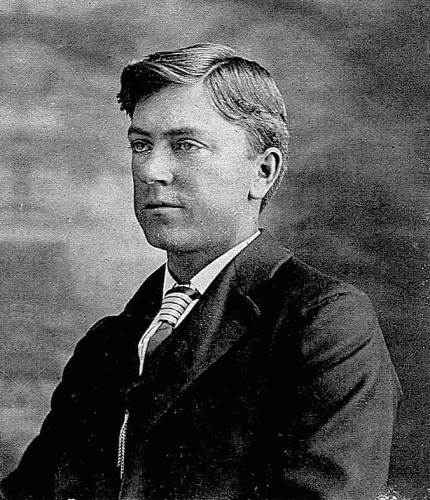 42 Hendricks Small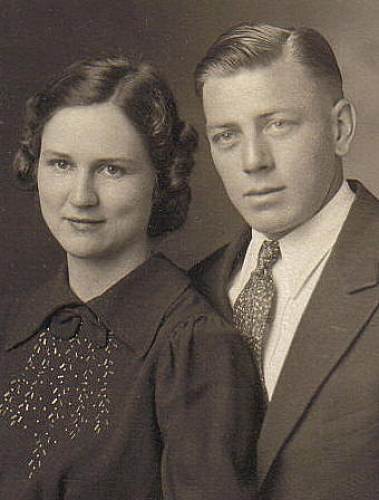 43 Dortha and Kelly Small
It's right next to where Walt and Bryce Smith grew up and lived until they both died a few years ago. Their parents were Roy and Ida Smith. Since my Dad grew up with 5 sisters, Walt and Bryce were like brothers to him (photo 43a)."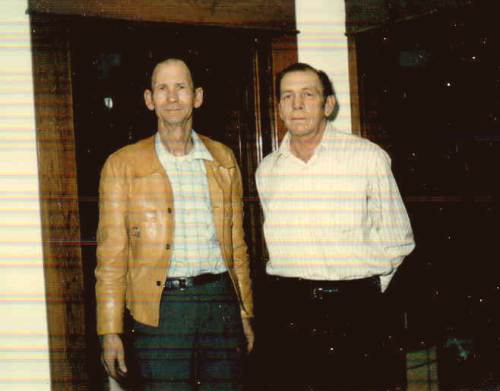 43a Walt Smith and Kelly Small
My mother, Susie Bear Pryor, also remembered the home:
"The Hendrick Small house was a nice two story structure, well kept, and was located a ways up the hill on the right side of the Tuscumbia Versailles road as you drove north one or two miles out of Tuscumbia up toward Eldon. Across the road from the house was a pretty little spring called Small's Spring. Everybody in Tuscumbia knew about the Spring as it was a part of their farm. It had sort of a little grassy park near it. Often times some of us kids would go up there to have picnics. One time I and a group of us kids went up there but unfortunately I sprained my ankle really badly and had to hobble all the way home. That was many years ago. The last time I passed by there I couldn't see it; I just wonder if it has dried up and all overgrown with brush and the like?"
Clifford, whose home farm was located near the Small farm, remembers that the next owners of the property had the name Sealy and were from Chicago. Clifford says that Mr. Sealy told Clifford's father that he had gotten caught up in a financial scandal and had to leave Chicago. Clifford remembers that the couple seemed somewhat out of place; Mr. Sealy always wore a dark suit and tie and smoked cigars, and his wife often sported a fur stole and smoked cigarettes with a long cigarette holder. Not much more is known or remembered about them. We went over to the spring where years ago local folks had many picnics, but sadly, although still running strong, the brush and weeds have grown up around it so that it is hidden from the road from passersby.
After the Sealys', Paul and Roseanne Smith lived in the house followed by George Wickham. Clifford wasn't sure who might have lived there after that.
After looking over the Small place Clifford and I walked about a half mile to the west of his old home over a huge hill to another farm once owned many years ago by the W.S. Pullen family. The old house is still standing although in disrepair (photo 44).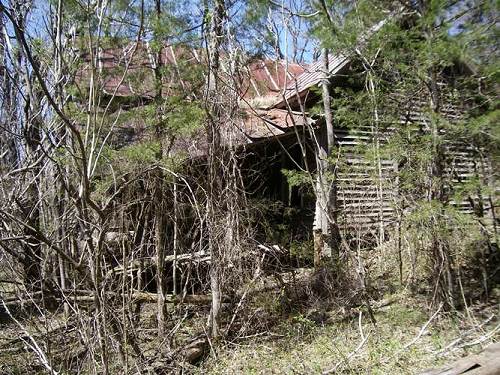 44 Pullen Farm Home
The Pullens' were no longer living there when Clifford's family moved to the valley in the early 1940's. Clifford didn't know much about them but my mother told me Mr. Pullen would buy grocery items from her father, Madison Bear, who had a grocery store in Tuscumbia in the late 1920's.Clifford remembers several people rented the home while he was growing up.
On our return having finished the "Tour of Homes," we came upon a section corner which is located on Clifford's farm. It was marked by a United States Survey marker which included the "corner monument" (photo 45) and the "witness" or "bearing trees" (photos 46, 47 and 48).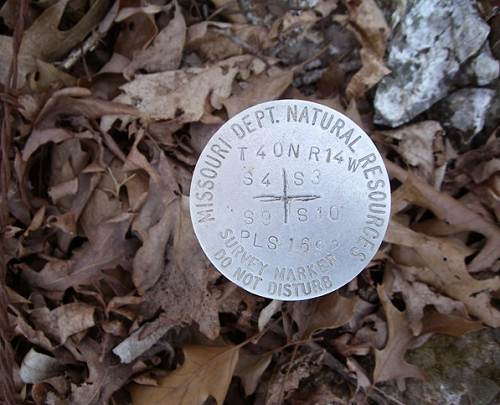 45 Survey Marker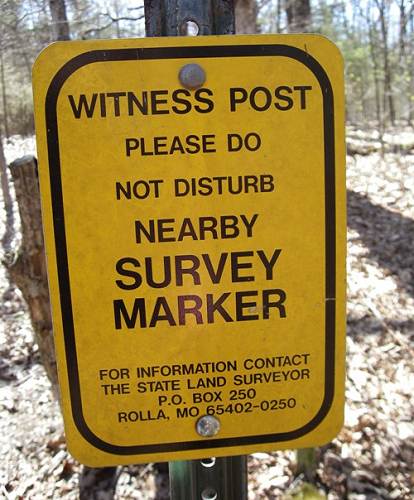 46 Survey Marker Sign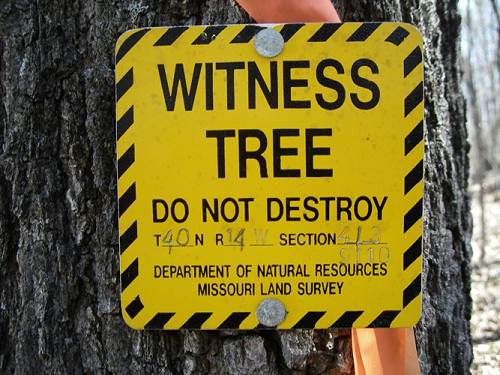 47 Township Number Sign 1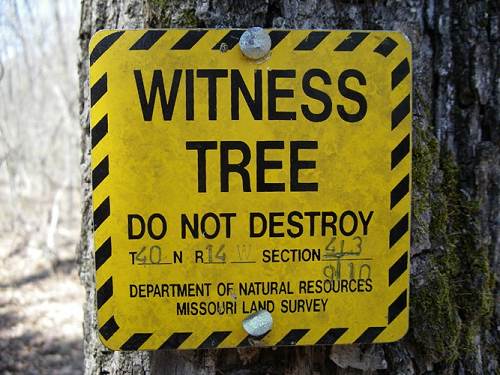 48 Township Number Sign 2
You will notice that the metal cap of the "corner monument" has imprinted on it the crossing corner lines with the numbers S4, S3, S9 and S10. On the plat map of 2003 (photo 49) you can find exactly where this corner monument is located by looking at the top and the middle of the map above and to the right of the red lettering for "Tuscumbia".
At the point where the lines cross is where the four sections corners meet. I don't know how many readers have seen a corner "stone" or monument but in case you haven't the following description is from Wikipedia:
The intersection of a township line with a range line is called a township corner, of a section line with another section, township or range line a section corner, and a point halfway between two section corners a quarter corner. At each such corner, a corner monument is established to mark the location of the corner on the ground. This monument is the legally binding mark used for setting property lines as the land is sold off and/or settled; it is the culminating work of the entire survey. As with most surveying specifications, those for the corners have changed over time. In the 19th century, the monuments were commonly a rock pile, a wooden post, or a combination of the two. Trees were also sometimes used when available. In the 20th century, steel pipes with caps, supported by mounds of rock, became required. Monuments are always witnessed to by the marking of other nearby natural objects on the ground. These witnesses can be trees, rocks or trenches dug in the ground; the exact locations of the witness objects, and the markings made on them, are recorded in the surveyor's official field notes. Witness trees are commonly referred to as bearing trees, and they are highly important, not just for their legal purposes, but also for their use by ecologists in the estimation of historic forest vegetation conditions. The witness objects are designed to allow subsequent surveyors and landowners to find the original corner monument location should the actual monument be destroyed. It was not uncommon for squatters or homesteaders to destroy corner monuments if they felt the patenting of the land would threaten their residence on it. For this reason, destruction of corner monuments or their witness objects is a federal offense.
As you examine the plat map above showing the point at which the corners of sections 3, 4, 9 and 10 meet you will notice that the boundaries of each property owner are delineated as well as listing the names of these property owners. For comparison you might find of interest this same corner of previous plat maps of 1935 (photo 50) and 1905 (photo 51).
As you can observe, property changes ownership often over the years.
You can read more about the United States Land Survey System at the Wikipedia Website:
http://en.wikipedia.org/wiki/Public_Land_Survey_System#Understanding_property_descriptions
So after returning to town Clifford and I crossed over the Osage River bridge to go to the Red Oak Inn to get a bite to eat where we visited with proprietor, Wes Horton, one of our school classmates years ago at Tuscumbia. The topic of the new Osage River bridge being built was still very current in the restaurant especially since the week before Wes had been interviewed on CNN about the bridge and for a day or two was seen over the whole world as the broadcast was repeated several times.
You can view a transcript from the CNN.com website to view Wes' comments.
---
Bamber Wright, as was Ida Wright Smith mentioned above, was a descendent of Anthony Wright, the first of the Wright family to enter mid Missouri. Bamber celebrated his 90th birthday last April 25th for which he was given an honorary party by the Tuscumbia Christian church on Sunday, April 26th (photo 52).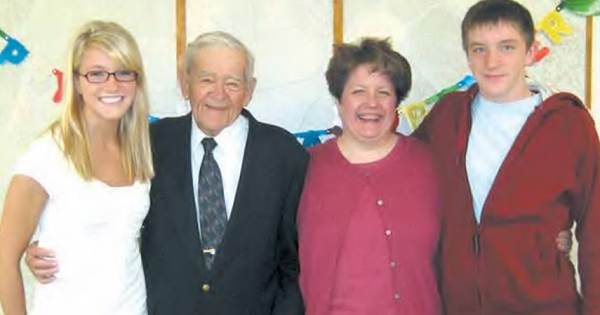 52 Bamber Wright, a member of the Tuscumbia Christian Church and longtime resident and
businessman in Tuscumbia who now lives in Jefferson City, was honored recently for his 90th birthday.
The church hosted a reception. He is shown with his grandchildren, Rebecca McInerny and
Matthew McInerny, on either side, and his daughter, Ann Wright-McInerny.
(Submitted photo) Miller County Autogram Sentinel April 30, 2009
Bamber was one of the share holders in the Anchor Milling Company and spent several years working in the old hardware store which now is our museum in Tuscumbia. Later he managed the hardware and lumber store for Anchor Mill in Eldon before retiring. Bamber has been a steady friend of the museum through the years donating many historical items having to do with Miller County, Tuscumbia, and the Anchor Mill. He supplied most of the photos we have of the old steamboats which carried freight up and down the Osage years ago for the Anchor Milling Company.
Last week Bamber paid us a visit (photo 53) to donate some more historical items which he had stored in a large box.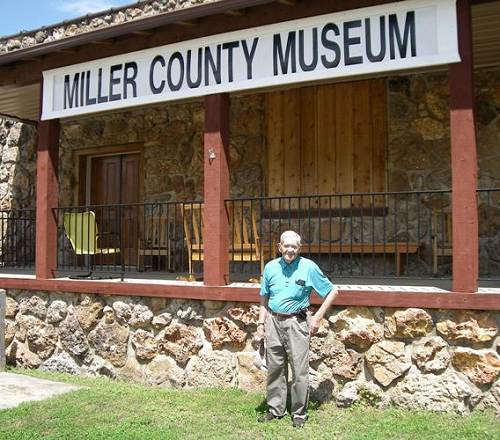 53 Bamber Wright - 2009-05-07
The most interesting of the collection was a very ornately designed umbrella which originally belonged to Phil Hauenstein (photo 54) but was later used by Phil's brother in law, the famous steamboat captain, Robert Marshall (photo 55).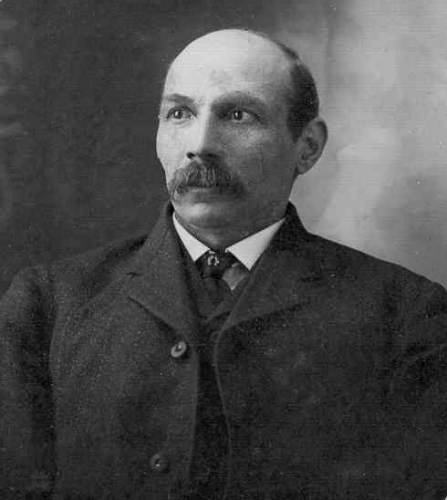 54 Phil Hauenstein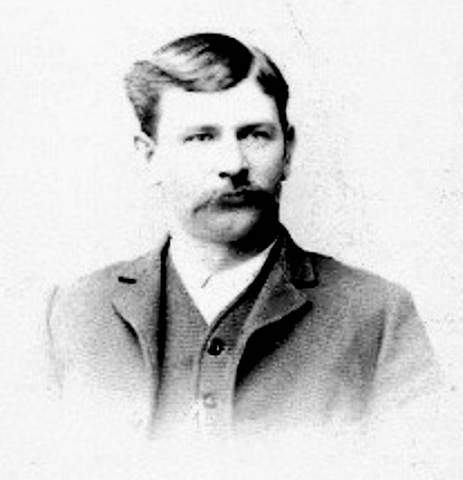 55 Bob Marshall
Here is a photo of the umbrella (photo 56):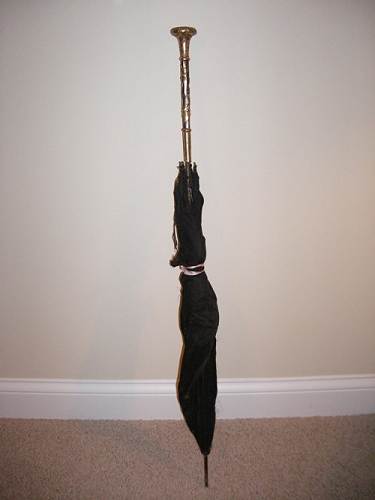 56 Umbrella
And here is a photo of the end of the handle where the very ornate initials of Phillip F. Hauenstein are engraved (photo 57):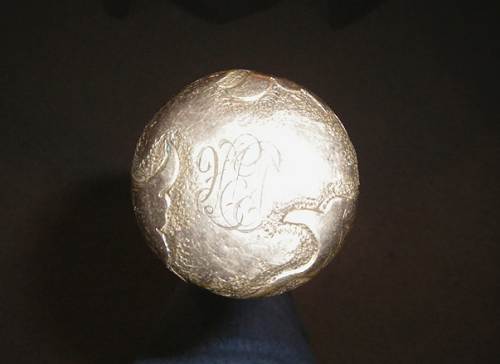 57 Umbrella Handle with Initials
In addition, Bamber brought an old 1884 gold twenty dollar piece which at a weight of 1 oz would be worth one thousand dollars today (photo 58)!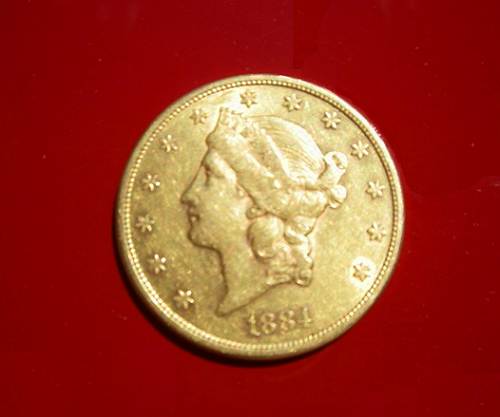 58 Gold Coin from 1884
Bamber said he was keeping that historical artifact a while longer.
---
The Grand Re-Opening celebrated Saturday, May 16, was a huge success. We had an estimated two hundred visitors, maybe more, since not everyone was able to sign the guest register. Many other events were competing for guests this last weekend so we felt very rewarded that so many chose ours as one of the places to spend some time. The day started with a short program in which we were honored to have the presence of special guest speakers Tom Wright, Presiding County commissioner, Blaine Leutkemeyer, our U.S. Representative in Washington, Carl Vogel, our Missouri State Senator, and Rodney Schad, our local Missouri State Representative (photo 59).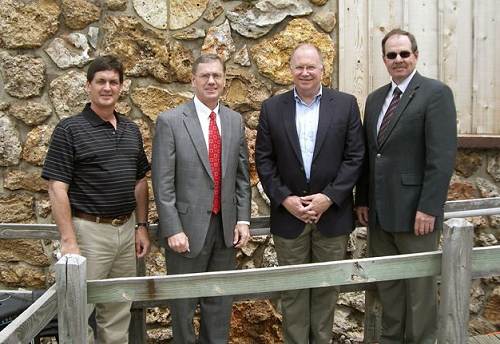 59 Commissioner Tom Wright, Congressman Blaine Luetkemeyer,
Senator Carl Vogel and Representative Rodney Schad
Rodney brought us a new American Flag to raise on the flag pole provided by the Kallenbach family which was made by Brice Kallenbach (photo 60).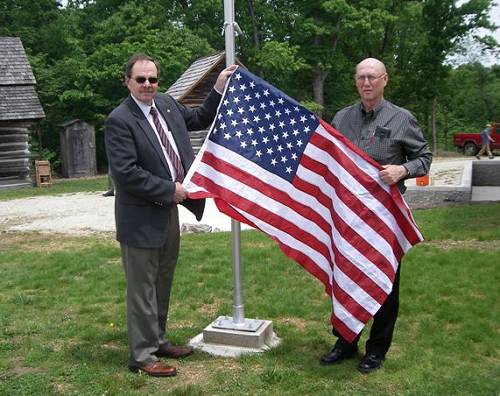 60 Flag Raising
A special guest who was ninety three year old, Royal Kallenbach, helped Brice with the flag raising ceremony (photo 61).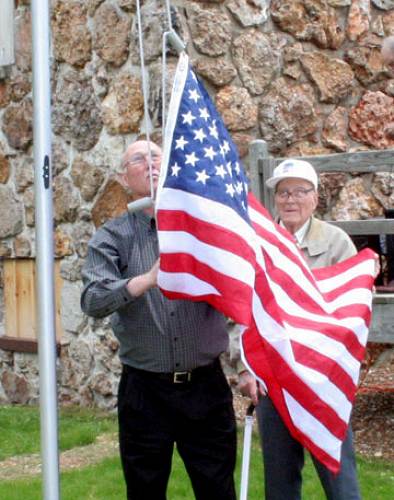 61 Flag Raising
Photo by Ginnie Duffield, Autogram Sentinel
The ceremony's beginning was heralded by the ringing of the old Tuscumbia Presbyterian Church bell recently returned to Miller County as a special donation by the College of the Ozarks. We were very fortunate to have the skills of Jim Clark who constructed the bell's new home (photo 62).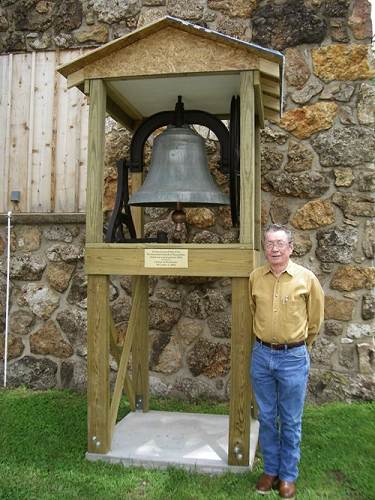 62 Jim Clark in front of Bell
Special outside exhibits and demonstrations included antique farm machinery brought by Nadine and Elwood Hachler (photo 63).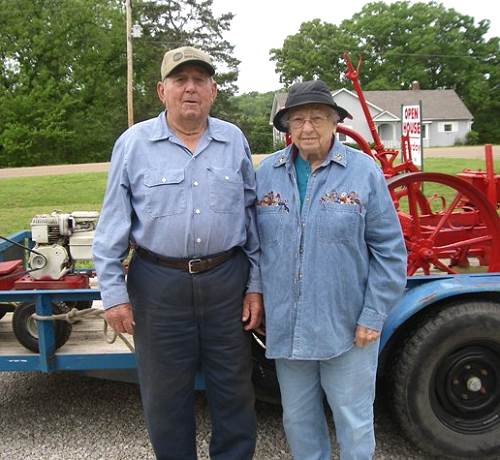 63 Elwood and Nadine Hachler
Also, an old farm wagon was brought by Brice Kallenbach built by his grandfather, John Kallenbach in the late 1800's (photo 64).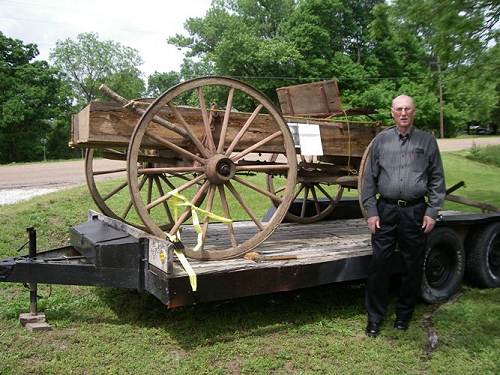 64 Brice Kallenbach with Old Wagon
Rope making was demonstrated by Greg Keeth (photo 65).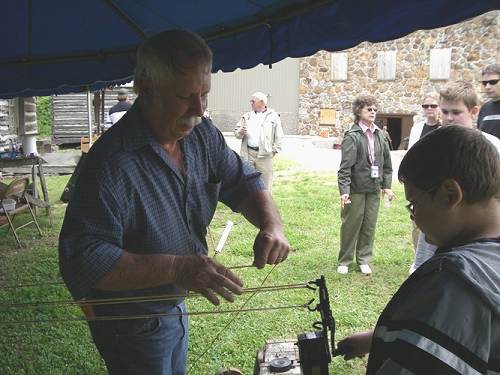 65 Greg Keeth, Rope Maker
And taffy pulling was performed by members of the New Hope church (photo 66).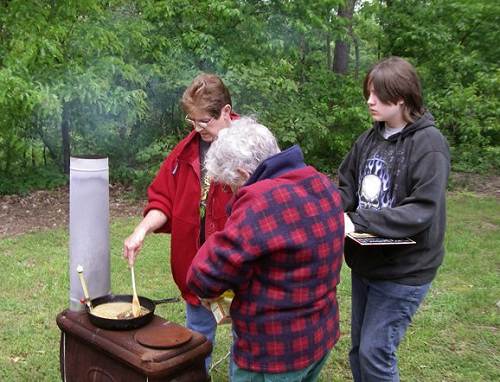 66 New Hope Church Taffy Pull
Log hacking was demonstrated by Wayne Juliano (photo 67).
67 Wayne Juliano, Log Home Building
Sharon Holder guided guests through the old Lupardus log home once lived in by her own grandparents, Willard and Maggie Boyd (photo 68).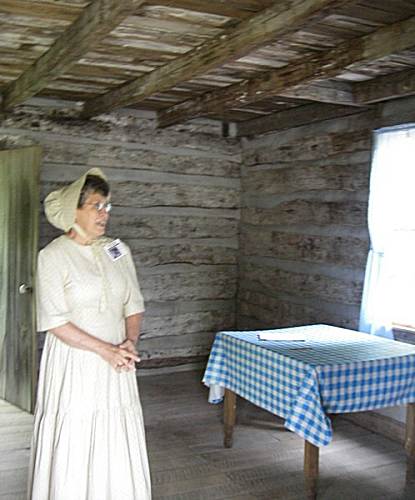 68 Sharon Holder in Grandfather's Home
Inside the museum were quilt makers Elva Steen, Martha Suttie, and Doris Wyrick (photo 69), weavers Lola Howser and Samantha Richardson (photo 70), and Quiller Mariane Dennie (photo 71).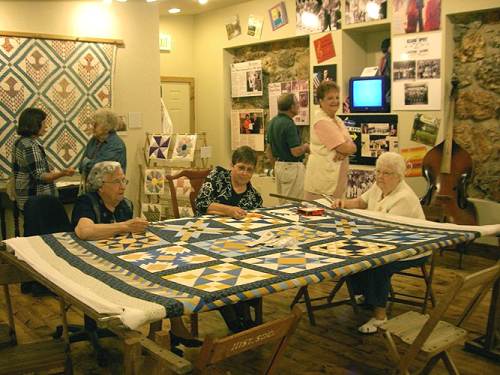 69 Eva Steen, Martha Suttie and Doris Wyick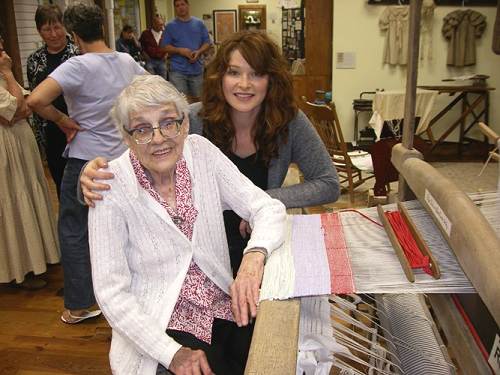 70 Lola Howser and Samatha Richardson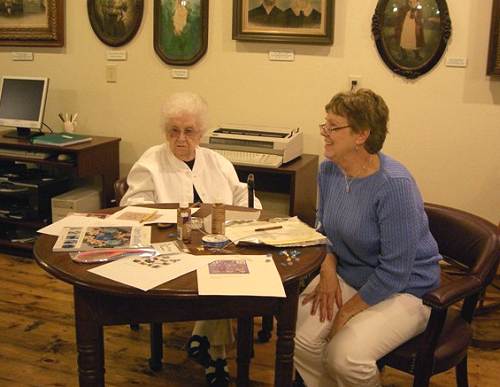 71 Quiller Marianne Dennie with friend Pauline Hicks
Serving in the kitchen were Janie Davis, who was a tremendous hit with her home made hot bread, and Judy Pryor, who was constantly refilling the punch bowl and making coffee (15 pots!!) (photo 72).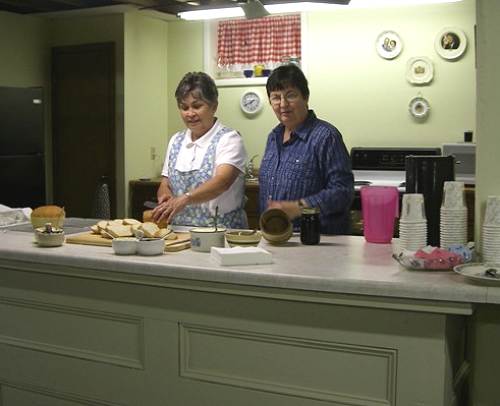 72 Janie Davis making Homemade Bread and Judy Pryor serving Coffee and Punch
In the lower level new addition the Joe Jeffries group entertained an overflow crowd of fans with hill country music (photo 73).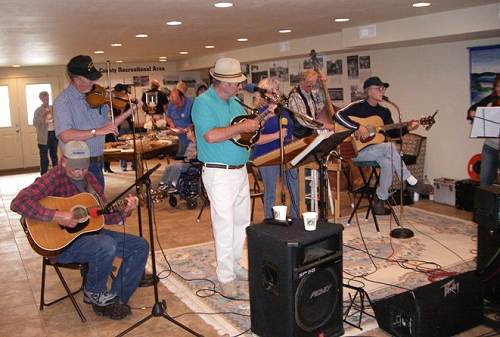 73 Joe Jeffries Group
A nearby table was covered with overflowing plates of various kinds of homemade cookies (photo 74).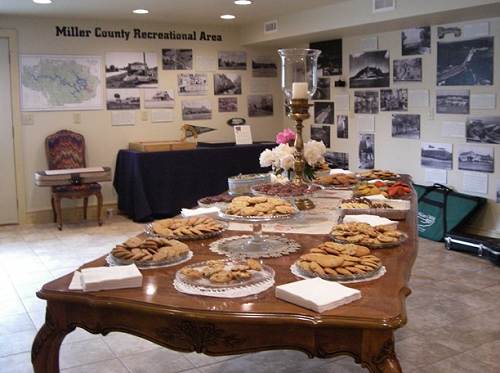 74 Cookies
In the old one room school, Mikaya Wallis was keeping strict order and discipline (photo 75).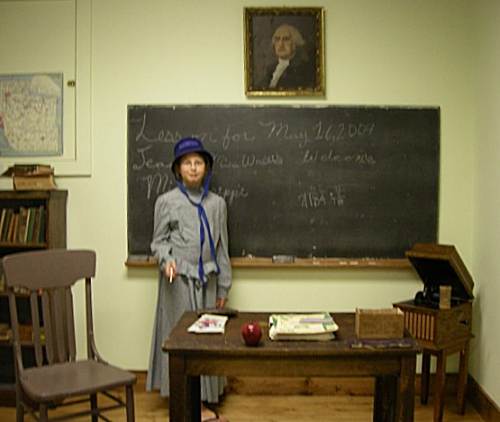 75 Mikaya Wallis
On one wall we were proud to display the names of the many benefactors who supported the funding of our new addition as well as those who have supported us financially in the past (photo 76).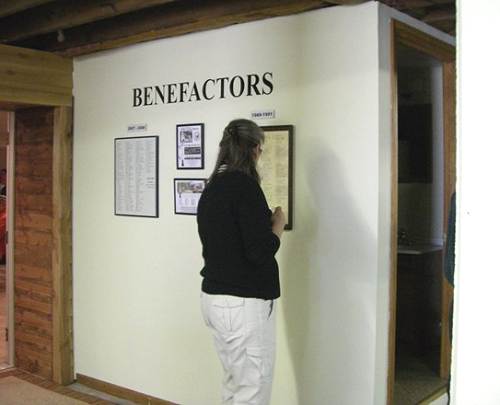 76 Benefactors
Here are five photos (photos 77 though 81) of the Grand Re-Opening taken by Ginnie Duffield which were published in the May 21 Autogram. Since I was busy during event much of the time I wasn't able to get some of the photos she took. I am grateful to Ginnie for her complete coverage of our celebration!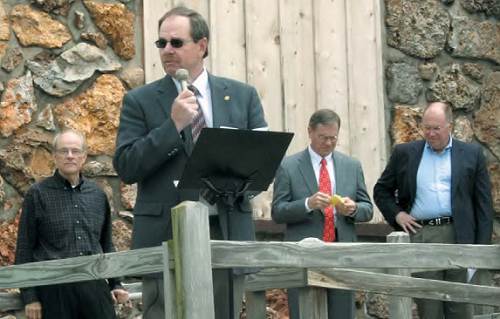 77 The Grand re-Opening – Rep. Rodney Schad speaks Saturday afternoon, May 16,
as the grand reopening of the Miller County Museum in Tuscumbia got underway.
Behind him are, from left, Miller County Historical Society President Joe Pryor,
Congressman Blaine Luetkemeyer of St. Elizabeth and Sen. Carl Vogel of Jefferson City,
all of whom spoke. Presiding Commissioner Tom Wright, who delivered the invocation, is not pictured.
(Photo by Ginny Duffield)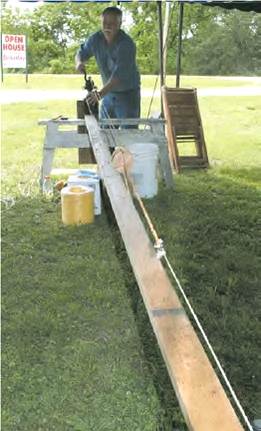 78 Greg Keeth demonstrates how to make rope on the farm Saturday, May 16,
at the Miller County Historical Society's open house at its newly enlarged
and refurbished museum in Tuscumbia.
(Photo by Ginny Duffield)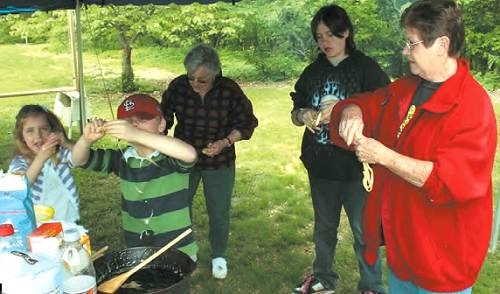 79 Taffy pullers – Becca and Ian Thompson, left, try their hand at pulling taffy at the
Miller County Museum grand re-opening Saturday, May 16. Demonostrating how it is
done are members of New Hope Church: Mona Wilson, Luana Davenport and Wilda Trusley.
(Photo by Ginny Duffield)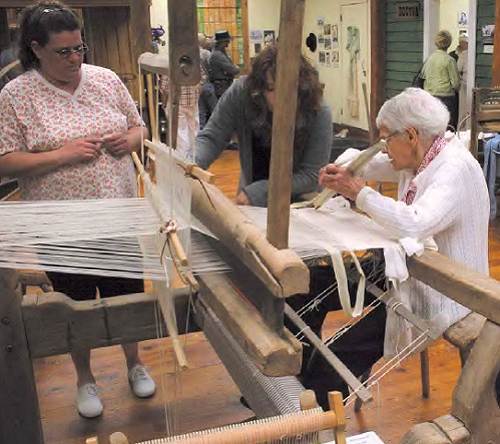 80 Weaving with scrap cloth, Lola Howser, right, said she learned to work a loom from
an aunt and then taught herself more. She gave a demonstration Saturday at the
Miller County Museum, assisted by granddaughter Samantha Richardson.
Watching at left is Kelly Warman Stollings of Jefferson City.
(Photo by Ginny Duffield)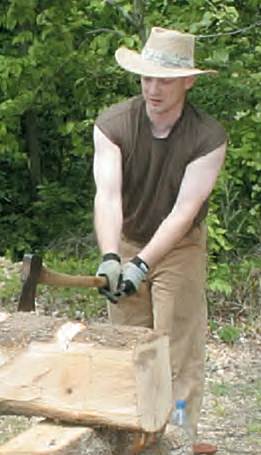 81 Wayne Juliano of Iberia demonstrates how to square a log with hand tools
Saturday, May 16, at the Miller County Museum grand re-opening. He is constructing
a log home but said the techiques are similar for making ties.
(Photo by Ginny Duffield)
We are very grateful to all who helped make this year's Grand Re-Opening the most well attended and exciting opening day in recent memory. Many volunteers dedicated long hours over the last winter to help create one of the most interesting county museums you will ever visit! So drop by sometime this summer and have a visit with us. Our hours are ten a.m. to four p.m. Mondays, Wednesdays, Fridays, and Saturdays.
That's all for this week.
Joe Pryor