Monday, March 30, 2009
Progress Notes
I was accompanied recently by my wife, Judy, her sister Sharon, and their mother, Elva Steen, on a trip to visit the Colvin Cemetery where Elva's grandfather George McDaniel (photo 01), and great great grandfather, James Hamilton Colvin, are buried.
01 George Washington McDaniel
The cemetery is located on a farm now owned by Mona Wilson (photo 02).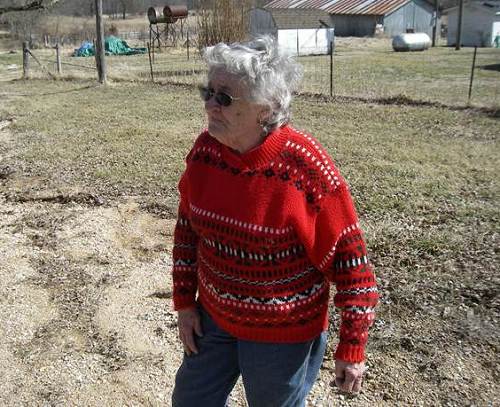 02 Mona Wilson
However, over a hundred years ago the farm was owned by James Hamilton Colvin whose daughter, Ann Liza, married George Washington McDaniel, who later bought the farm from Colvin's sons. The farm was later owned by Dan McDaniel (photo 03), son of George, who sold it in 1943 to Mona and her husband (who now is deceased).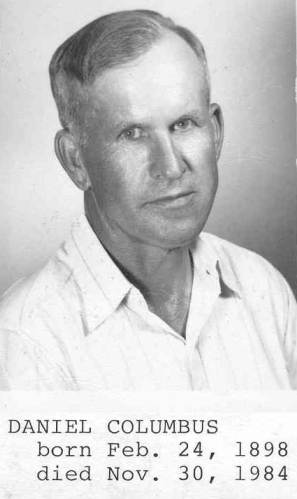 03 Daniel Columbus McDaniel
The cemetery is old and some of the tombstones have weathered badly such that the names can't be read. I took a photo of George McDaniel's stone (photo 04).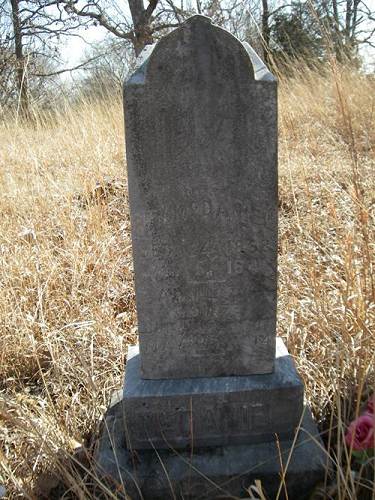 04 George Washington McDaniel Tombstone
However, the stone marking the grave of James Hamilton Colvin, according to Elva, had deteriorated so badly that her nephew, Gary Flaugher, had to make another stone in which he had hand carved the name of James Hamilton Colvin. You can hardly make it out in this photo (photo 05).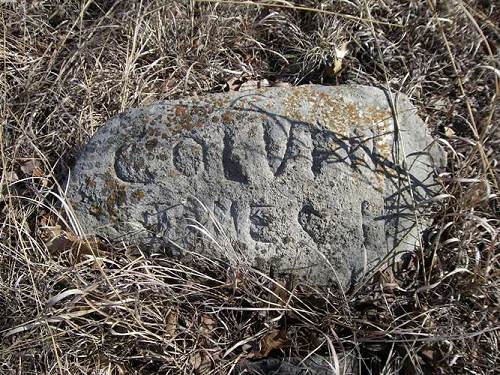 05 James Hamilton Colvin Stone engraved on rock by Gary Flaugher
After visiting the cemetery we went down to the old McDaniel home place in the Bear Creek valley below and visited with Mona. Elva, of course, years ago, had spent much time on the farm visiting with her grandparents, the George McDaniels', and her several McDaniel cousins. One of her memories was the large spring which was located just a few steps from the old farm home (which now is no longer standing). Elva said that she remembers wading and playing in the clear cool water coming out of the wide cave entrance (photo 06).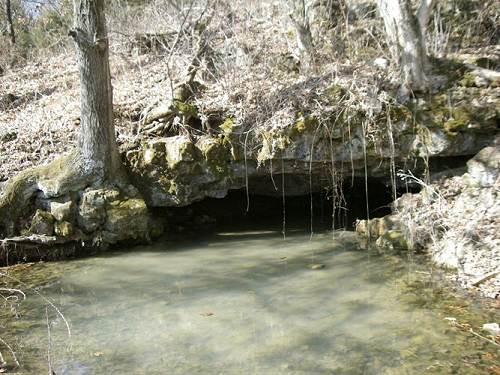 06 Cave Entrance
The McDaniels' used the spring water to keep the milk and other perishables cool as well as for drinking water. The spring runs all year and traditionally the owners have always shared the water for neighbors' livestock when summers were dry.
The bluff opening from which flows the spring is about thirty feet wide. However, the ceiling is low making entrance into the interior of the cave difficult since one would have to crawl a good distance before it opens up. In places one would have hardly enough room to breathe. For that reason, Elva said she never had attempted to enter the cave, and apparently, few others have tried as well.
Mona said that quite a few years ago, she's not sure how many, some folks arrived at her home and asked permission to explore the cave. They had brought special equipment and Mona said they were in the cave for several hours exploring. When they emerged they told her the cave was long and that it opened up into a room with a ceiling three stories high. Photos had been taken and they promised to send copies back to Mona soon. And, as a matter of fact, they kept their word and did send a number of photos of the inside of the cave revealing many different types of formations and several room size enlargements. Mona said she had given the photos to her son Jerry, who lived close by.
After returning home, I called Dwight Weaver, who is truly one of our state's most renowned cave experts and who lives locally, to inquire as to whether he knew anything about the cave. After describing its location, Dwight said nothing was on record that the cave had ever been listed in any of the Missouri Cave Exploration literature.
So the other day I visited Jerry Wilson, Mona's son, and he very graciously allowed me to copy the photographs sent Mona by the spelunkers several years ago.
Jerry is a 1961 graduate of School of the Osage. He retired from his excavation business about twenty years ago and has spent his time pursuing several outdoor avocations. Perhaps his first love is hunting and fishing. But he also participates in muzzle loading and competitive archery events. He has a variety of bows, muzzle loading rifles, shotguns, and fishing gear as well. One of the things he is most proud to have accomplished was the stalking and harvesting of two record size bucks which are now mounted above his fireplace (photo 07 of deer with Jerry).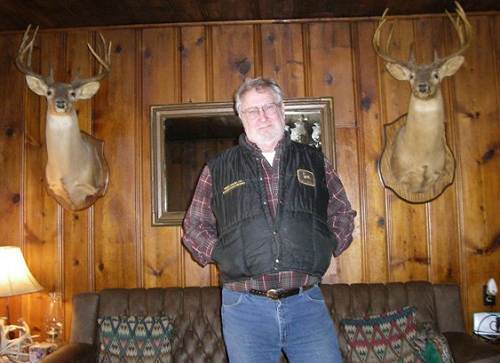 07 Jerry Wilson
Here are the photos of the cave Jerry allowed me to copy. Some were labeled by the cave explorers but others weren't (photos 08 - 19). Click on an image to view a larger version:
Jerry didn't remember the exact year the spelunkers came to explore the cave, but it was quite a few years ago, he thought. I would judge by the men's hairs styles it would have been sometime in the 1970's.
Missouri is said to have more caves than any other state, and most are located south of the Missouri River. That means that the hill country where we live and on south is a concentrated area for a great number of caves. You can read a wonderfully interesting book about Missouri caves in Dwight Weaver's latest publication, Missouri Caves in History and Legend 2008 (photo 20 of Dwight).
Many of the caves are hard to find because the entrance is hidden or small in size and unnoticed. Local people know about many caves around south Missouri which may not be generally advertised. The cave on the old Colvin farm was known locally but apparently escaped notice by those who attempted to locate and record data about Missouri caves. For one reason, although the spring is of good size flowing out of the cave, the small entrance belies what the actual size of the cave is once one gets past the narrow opening. I know my degree of claustrophobia is such that the days we were at the farm I wasn't going to try to enter. The photos were proof enough to me that it is a cave of substantial dimension. Mona did say that she wouldn't let anyone try to enter the cave without signing a lot of papers first!
---
Once in a while readers write requesting information about something or other for which my response is always to be inquisitive as well as helpful. This is because many times the correspondent is a descendent of someone who left Miller County a long time ago, and I have found that once in a while, those who left took some important records or lost data which are of interest. Such a correspondence occurred recently when Jim Hoyt, of Oregon, emailed a simple request wondering if any of Gerard Schultz's books, "History of Miller County" were still available for sale. I told him that the book was out of print and really hard to find. However, our conversation back and forth revealed that he has many Miller County roots, one of whom was one of our early physicians, Samuel Peter Hickman M.D. Jim said,
"My great great grandfather was James Madison Hickman and one of his sons was Dr. Samuel Peter Hickman, one of the earliest in Miller County (photo 21). His sister was my great grandmother."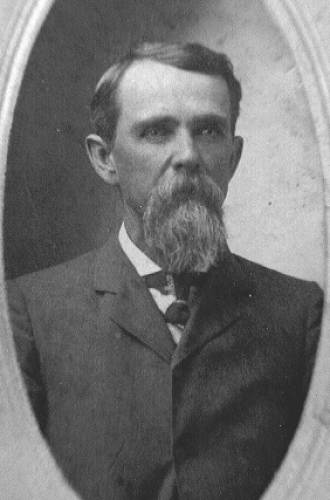 21 Samuel Peter Hickman M.D.
Since I have been documenting the history of early Miller County physicians, I was very interested in obtaining more information about Dr. Hickman. Jim, who for ten years now has been gathering genealogical history about his Miller County roots, had some biographical data about Dr. Hickman I had never seen before. One can find references to Dr. Hickman in old newspaper clippings and legal documents but I had never known much about him. So, somewhat by the fortunate circumstance of Jim Hoyt writing me about Gerard Schultz's book this week, I have been given the opportunity to present a short biography of Dr. Hickman, Jim's great great grandfather. Jim already had obtained from Peggy Hake some information she had researched and sent him several years ago. I will copy that here:
DR. SAMUEL P. HICKMAN
by Peggy Smith Hake
16 June 1994
Dr. Samuel P. Hickman was born at Crawfordsville, Russell County, Indiana on 9 December 1849. He was a son of James M. Hickman (1825-1909) and his wife, Elizabeth A. Hickman (1826-1907).
The children of James and Elizabeth Hickman were Samuel P. Hickman 1849-1908 m. Frances E. Garner in 1875; James W. Hickman 1853-1943 m. Rachel A. Meyer 1877; Mary A. Hickman b. c/1861 m. Lemuel Payne 1879; Thomas S. Hickman b.c/1865 m. (1) Mary Jane Catron 1887 (2) Mary Evans 1899; and Edmund B. Hickman 1867-1924 m. Mary J. Hill 1889.
Samuel P. Hickman was educated in the Crawfordsville common schools and later attended the Indiana School of Medicine where he graduated in February 1874 (photo 22).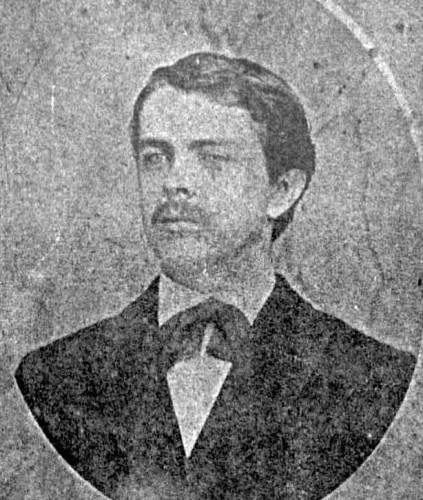 22 Samuel Peter Hickman on graduation from College
Two months later he came to Miller County with his parents who settled in the Brumley area of Glaize township. Dr. Samuel was often called "Little Boy Doctor" and he went to the Iberia area to practice his medical profession (photo 22a of medical certificate) It was there, on 7 February 1875, he married Frances E. Garner, the only daughter of Thomas and Mary (McCartney) Garner of Iberia (photo 23).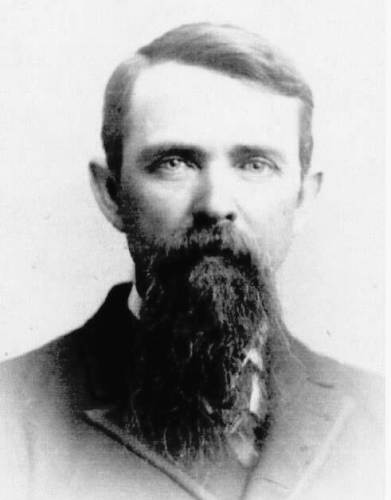 23 Samuel Peter Hickman in His Twenties
The Garner family came to the Iberia community after the Civil War from Izard County, Arkansas where most of their children were born. In 1870, Thomas and Mary lived in the village of Iberia where he owned a general merchandise store and was also a miller.......Their children included: Robert Benjamin Garner b. 1853 m. Elizabeth Thompson 1873; Frances E. Garner b. 1856 m. Dr. Samuel P. Hickman 1875; Thomas D. Garner Jr. b. 1860 m. Margaret Ann Adams 1881;ames Garner b. 1868 - died young; and Hugh McCoin Garner b. 1870 m. Rosa Estella Moore 1893. The Garners had two other children who died in infancy. Estella Moore Garner (Mrs. Hugh M. Garner) was the first graduate of the old Iberia Academy (Class of 1893).
NOTE: On 6 August 1892, the Miller County Medical Society was formed at Tuscumbia. The doctors present at the time included Dr. S. P. Hickman (photo 24) as well as Drs. Baysinger, W.W. Norwood, Anthony, Kouns, J.B. Norwood, McKee, and Conner.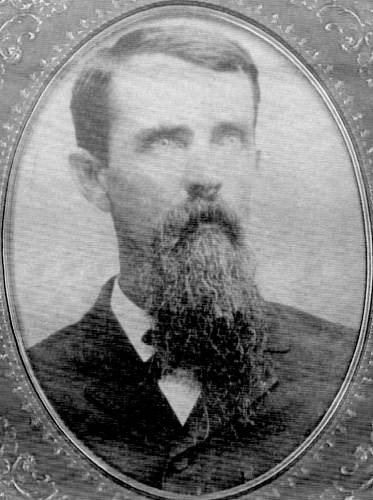 24 Samuel Peter Hickman in His Forties
After their marriage, Dr. Samuel and Frances (Garner) Hickman moved to the Brumley/Ulman area. In 1901 he joined the Ulman Baptist Church where he remained a member until his death in 1908. The Hickmans were parents of six sons: Mack Alvis Hickman b. 1878; James Thomas Hickman 1812-1903; Samuel G. Hickman 1884-1904; Eugene P. Hickman 1889-1928 (also was a doctor); Orville Hickman and Howard Hickman.
Dr. Samuel P. Hickman died 15 February 1908 at the age of 58 years. Frances Garner Hickman, his wife of 33 years, died seven months later on 1 September 1908. Both are buried at Gott Cemetery, near Route C between Ulman and Brumley. The Hickmans have a tall, ornate tombstone on the south side of the cemetery which has the Masonic emblem as part of the engraving and decoration (photo 24a).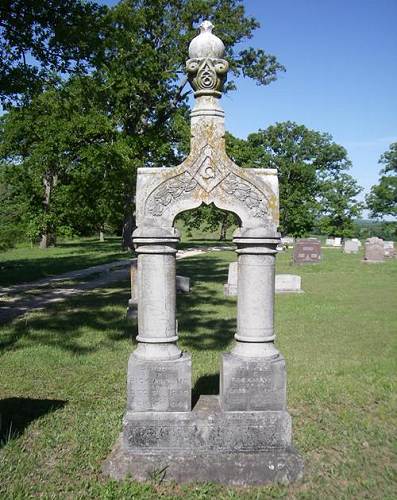 24a Sameul P. Hickman M.D. Headstone
by Peggy Smith Hake - - - - - 16 June 1994
---
I asked Jim what was meant by Peggy's statement that Dr. Hickman was called "The Little Boy Doctor." Jim said because Dr. Hickman was able to enter medical school so early of age, he apparently appeared too young to be a doctor. So his patients and others called him "The Little Boy Doctor."
Here is the official American Medical Association information cited about Dr. Hickman which Jim sent me:
Hickman, Samuel P. d. 2/16/08, male, place Ulman, MO, b. 1850
Type of practice: Allopath; specialty: FOP Forensic Pathology;
Licensed IL; Medical School: Indiana Medical College, Indianapolis, graduated 1874;
Obit: JAMA v50 p984; cause of death Pneumonia; Belonged to AMA.
"Translated" from coded entry in Directory of Deceased American Physicians 1804-1929 v1 p709 [copied at SLO]
---
And here is an announcement of his passing in the Miller County Autogram:
Miller County Autogram
February 20, 1908
Page 4
Dr. Samuel P. Hickman, one of the leading physicians and surgeons of this county, died at his home in Ulman Sunday afternoon, of pneumonia, after only a few days illness, and was buried with Masonic honors in the Gott graveyard.The Doctor had a severe attack of pneumonia just a year ago which almost took him away at that time. For a week before stricken, he had been riding night and day.
In his death the family has lost a kind husband and indulgent father, and the community an upright citizen and professional man whose place will be hard to fill.
---
Jim sent me a brief biographical chart about Dr. Hickman:
ID: I109554858
Name: Samuel Peter HICKMAN
Given Name: Samuel Peter
Surname: Hickman
Sex: M
Birth: 9 Dec 1849 in Union Twp, Crawfordsville, Montgomery Co. Ind.
Death: 15 Feb 1908 in Ulman,Miller Co. MO
Burial: Gott Cemetery, Ulman/Brumley, Miller Co. MO

Note: Census: Samuel appeared in the census of Union Twp, Montgomery Co. IN in 1850; and in Bainbridge, Russel Twp, Putnam Co. IN;
He was listed in 1860 in Glaize (west part) Miller Co. MO in 1900.

Samuel was elected as Coroner on 7 Nov 1876 in Miller Co. MO.
He was a Physician
---
I haven't found much more information than this about Dr. Hickman. One reason may be that he died at the relatively young age of 59.
For those interested go to this website for a really complete genealogical history of the Hickman family here in the USA as well as Europe:
http://wc.rootsweb.ancestry.com/cgi-bin/igm.cgi?op=AHN&db=:2151264&id=I109555140
---
As Jim and I corresponded, he mentioned one of his local uncles was Wilford Robinson. Many people around here remember Wilford; I went to school with his son, Phillip. As an attachment I will place here the other roots from Miller County Jim has researched of his Payne and Hickman antecedents (photo 25 - MS Word Document).
Jim gives us this short synopsis from that attachment in reference to how he happened to be from Oregon:
"My great grandfather was Lemuel Payne, my grandfather was James. Lemuel lived for most of his life in Kansas. James was the first to move to Oregon and my mother who was his 3rd child was the first of Lemuel's branch to be born in Oregon. She was born in Troy Oregon on 4/1/1919. Troy is in the North East Corner of Oregon. I was born in LaGrande, Union County Oregon and raised in Union County. I now live in The Dalles, Oregon."
Here is an old photo Jim sent of his Payne antecedents taken in Elk City, Kansas in 1912 (photo 26).
So, my correspondence with Jim Hoyt has resulted in adding information about another Miller County physician of long ago as well as learning about some of the earlier residents of our county who moved away to the west, a not uncommon occurrence during the 19th century.
---
A couple of weeks ago I wrote about another Miller County physician, George Washington Lansdown. In that narrative I recorded quite a lot of information about a home he built in 1839-40 which is now on the National Historical Registry. We have some other sites in our county on that registry. Here is a list of websites where more information is given:
National Park Service List of Historical Places in Miller County
Brumley

Lake of the Ozarks State Park Highway 134 Historic District

Iberia

Iberia Academy and Junior College

Lake Ozark

Bagnell Dam and Osage Power Plant (listed 8/27/2008)

Lakeside

Union Electric Administration Building-Lakeside

Mary's Home
Olean
St. Elizabeth
---
Sue Jarrett (photo 27) wrote me the following comments after reading my recent stories about the Osage River bridge in Tuscumbia: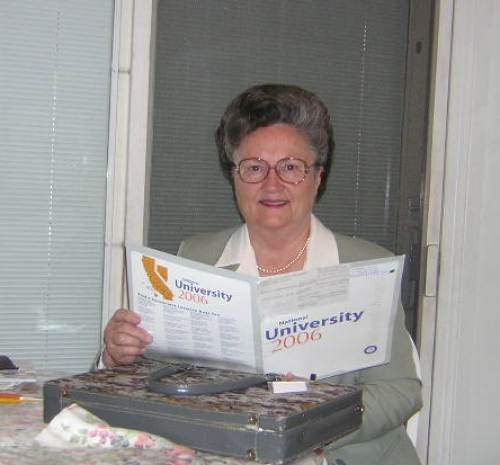 27 Sue Helton Jarrett
Joe,
We really enjoyed today's articles about the new and old bridge. It took me back to 1933 (I was born Christmas Day 1930 and of course didn't remember) - my Uncle Troy Paul (who was married to Mom's sister Maude Wolverton Paul) helped build the bridge that was finished that year. It's great to know that my cousin Layne Helton has a part in building this new bridge. My Mom & Dad, Addison & Edith Helton, lived on my Grandfather, David Helton's farm, and I used to follow Dad in that field barely south of the bridge as he plowed the ground behind a mule, guiding the single 16 Oliver plow. I enjoyed the feel of the cool dirt under my bare feet walking in the furrow. I would take him a lunch and cold well water. We lived south in that house which is still there on the hill directly across from Tuscumbia. It now belongs to Wes Horton. Just south on the East side of the river was a wonderful place to pick huckleberries which we did every year we lived there. Also, during that period of time, my cousins, Walter and Oma Graves, owned the store at the top of the hill. I learned the day that Frank Martin (the candy man) made his delivery and I always knew he would give me some Necco wafers. Yum! What wonderful memories of those days and attending Bear School (that's a story for another day).
Thanks for your wonderful articles.
Sue Helton Jarrett
Thanks for your comments, Sue!
---
Last week the Miller County Historical Society held its monthly board meeting. Peggy Hake, Association secretary recorded meeting details which were published in the Miller County Autogram Sentinel, March 26. For those readers of the website who do not receive the Autogram or our newsletter, I am copying Peggy's submission here:
Historical society makes event plans for the year
By Peggy Hake, board secretary
Board members and guests of the Miller County Historical Society met for their monthly meeting on Tuesday, March 17, at the museum in Tuscumbia with 12 in attendance, including Joe and Judy Pryor, Sunrise Beach; Jim Clark and Wanda Wright, Tuscumbia; Peggy Hake, St. Elizabeth; Betty Kallenbach and Helen Schulte, Eldon; Donna Carrender, Lake Ozark; Carl and Sue McDonald, Jefferson City; Nancy Thompson, Jefferson City; and Karen Smith, Eugene.
A treasurer's report was given and minutes from the February meeting were read and approved. Several things were on the agenda that were discussed including upcoming events to be held at the museum during the summer and fall months.
The April meeting of the general membership will be held on Sunday, April 19, with a carry-in luncheon to be shared at 1 p.m. Officers and two board members will be presented for election at the April meeting. A slate of officers will be given by a nominating committee and other nominations will be accepted from the floor per Robert's Rules of Order.
The annual open house meeting will be held on Saturday, May 16 from noon to 3 p.m. A new flagpole will be installed and a flag will be raised in special ceremonies conducted by Rep. Rodney Schad and Joe Pryor, the society's president. Tentatively scheduled will be a special presentation by U. S. Congressman Blaine Luetkemeyer of St. Elizabeth. Also during the afternoon special demonstrations will be held including quilting, weaving, rope tying, making of apple butter, old fashion taffy pulling, local music performers, and dedication of the old bell that once graced the tower of the Presbyterian Church in Tuscumbia and donated back to the museum by The College of the Ozarks near Branson.
On June 27, the historical society will host a quilt show at the museum. There will be quilts in different categories including pieced, appliquéd, embroidered, crazy quilts, baby quilts and several others.
The annual ice cream social will be held on July 25 from the hours of 12 noon to 3 p.m. Special music will be presented with bluegrass and gospel featured as special events. The last event for the season is scheduled for Oct. 10, when the annual old car show and chili dinner will be held. The raffle prizes will be awarded at the chili dinner including a beautiful handmade quilt.
Upcoming events will be printed in the newsletter and announced in local newspaper and on radio and TV stations in mid-Missouri.
That's all for this week.
Joe Pryor