Monday, March 23, 2009
Progress Notes
A few weeks ago I received word that Wayne "Bud" Tyler, a former athletic coach in the Miller County area recently had been awarded the honor of "Wall of Fame" membership by the Alton, Illinois Public High School (photo 01).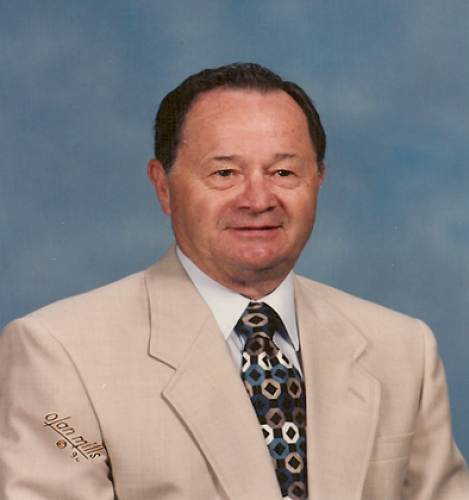 01 Wayne "Bud" Tyler
Prior to that Bud had been enshrined in the Illinois High School Coaches Baseball Hall of Fame in 1982. His first coaching position locally was in Eugene in 1950 where he coached boys' basketball and baseball until the end of the 1953-54 year. He also coached girls' basketball. He had winning years with all the teams he coached there. Then he moved to Iberia for the year 1954-56 where he coached basketball and baseball. After being offered a position at Pacific, Missouri he moved there for the 1956-57 and 1957-58 school years before going to Alton, Illinois where he coached for 18 more years before retiring from coaching. You can read more about the recent honor bestowed upon Bud at these websites:
http://www.thetelegraph.com/news/alton_22991___article.html/class_wall.html
http://varsity.thetelegraph.com/articles/alton_1555___article.html/tyler_fame.html
Bud was a member of the Miller County Tyler family, whose history and genealogy were very well compiled and recorded in 1991 by Homer C. Tyler, who was a third cousin of Bud's. Homer's father, Barney Tyler, who was a former sheriff of Miller County, was Bud's second cousin. The book written by Homer, entitled "A Tree of Families and Their Memories," is in our library where we have six copies donated recently by a generous and long time Miller County Historical Society member who wished to remain anonymous.
I had followed Bud's career since the 1950's after he married my mother's sister, Bonnie Bear. In addition to recognizing Bud's accomplishments as recorded above, I thought this would be a good occasion to present the entire Tyler family history for this week's Progress Notes.
Henry Tyler is the first Tyler of this family's record in Miller County. The following brief summary gives the names of Henry's two sons and how Bud and the other Tylers' are related:
Henry Tyler
1.Will Tyler
1. Walter Tyler
1. Bud Tyler

2. John Tyler
1. Barney Tyler
1. Homer Tyler
2. Alta Tyler
3. Ace Tyler
4. Donald Tyler
5. Bob Tyler
6. Norma Tyler
Little is known about Henry, but Homer Tyler, Henry's great grandson (photo 02), wrote the following which is taken from his book which was cited above:

02 Homer and Louise Tyler
Henry Tyler
By his great grandson, Homer Tyler
Henry Tyler, my great grandfather, was born 12 March 1836 (photo 03).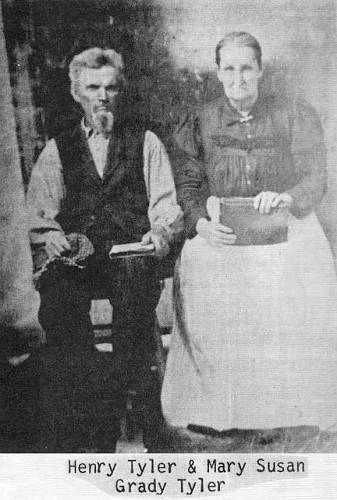 03 Henry and Mary Susan Tyler
He was born on the White River in Arkansas, March 12, 1836 but came to Missouri at the age of 12. He died in Miller County, Missouri 17 December 1910 and is buried in the Tyler Atwell cemetery in Richwoods Township, Miller County, Missouri.
He was in the Brown's Miller County Provisional Enlisted Missouri Militia, Company I, 47th Regiment in 1862 and 1864. Henry and his first wife, Martha J. Giffin Tyler, together with her mother Harriett Giffin, signed a deed in Cole county Missouri dated July 1, 1858. After the census of 1860 we have no further record of Martha J. Giffin Tyler or her daughter Harriett E. Apparently they both died between late 1860 and 1863. The other daughter, Hannah P. married George Martin Humphrey and they had 13 children.
On 24 March 1864 Henry Tyler married Mary Susan Grady in Miller County, Missouri. They had three male children: one died in infancy. The other two were William T. Tyler and John Calvin Henry Tyler, who was my grandfather. John Calvin died in 1891 at the age of 26 (photo 04).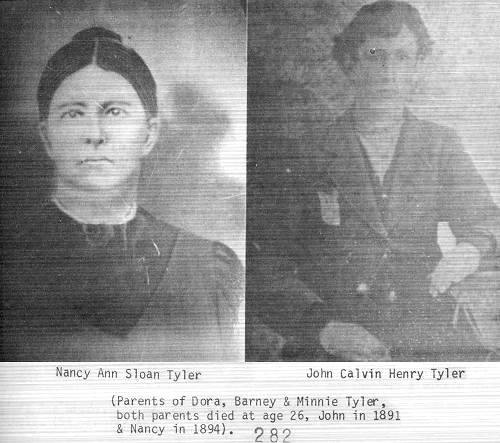 04 Nancy and John Tyler
We know little more about Henry Tyler. Some tales have been passed down through the family. According to family legend, Henry said because his step father was cruel to him, he ran away while they were in Arkansas and came north with a cattle drive to or toward Sedalia, Missouri. Since this would have been 1848, and the cattle drives from Texas did not start until after the Civil War, I would guess that the 12 year old boy attached himself to a wagon or wagons heading north, perhaps helping to tend a few head of milk cows along the way. We have been unsuccessful in locating any family with whom Henry lived during his earlier teens.
I believe that my Henry was born in Tennessee, perhaps his father dying while he was quite young, his mother remarried, and the family left Tennessee for Arkansas or Texas and on this trip the young Henry talked his way into a family heading north, perhaps telling them he was an orphan.
This is all we have ever been able to learn about the forefather of the Miller County Tylers'.
---
Peggy Hake has written a short biography of Henry Tyler which I will copy here. It is prefaced by a few paragraphs giving details of Henry's second wife's first marriage before she married Henry:
MARY SUSAN GRADY-TYLER
Mary Susan Grady was born in Miller County on February 15, 1845, the oldest child of Calvin Grady (b. c/1824 in Tenn.) and Mary West (b. c/1825 in Kentucky).
She was one of several children born to Calvin and Mary including:
1. Mary Susan Grady 1845-1932 m. Henry Tyler 1863
2. Nancy Grady b. 1848 m. James Knox Polk Hicks 1865
3. Sarah Grady b. 1849 (no record found after 1850)
4. Fanna/Frankey Grady b. 1851 m. William Humphrey 1873
5. Emeline Grady b. 1858 (no record found after 1860)
6. Thomas J. Grady b. 1861 m. Sarah J. Jones 1882
Mary West Grady, mother of Mary Susan, died in 1864 and Calvin married his second wife, Sarah Burlingame Colvin, a widow with a young daughter.
He fathered 3 children by Sarah including:
1. Asa F. Grady b. 1866 m. Sarah Thompson 1894
2. Hannah F. Grady b. 1869 m. Henry F. Carroll 1887
3. Rebecca Grady b. 1872 m. _____Howard
Sarah Grady, the second wife, died in 1872 and Calvin married a third time to Martha J. Hawkins in 1872. No children were born to their union.
Mary Susan Grady married Henry Tyler in Miller County 25 March 1864, the marriage performed by John W. Harlan, a justice of the peace in Richwoods Township. She was Henry's second wife and several years younger. Henry was born in Tennessee in March 1833 and came to Miller County in the early 1850s. His first wife was named Martha but I could not find a record of their marriage, so it is likely they married before coming to Missouri.
They were parents of 2 daughters:
1. Harriett E. Tyler, born c/1856 -- died young
2. Hannah P. Tyler born c/1857 m. George Martin/Mart Humphrey c/1873
After Mary Susan married Henry Tyler, she reared her stepdaughter, Hannah, until her marriage to Mart Humphrey.
Mary Susan (Grady) and Henry Tyler were parents of three children, but only two lived to adulthood:
1. John C. Tyler 1866-1891 m. Nancy A. Slone 1883
2. William T. Tyler b. 1867 m. Emma Null 1890
John C. Tyler died in 1891, at the age of 25 years, and his wife, Nancy (Slone) died shortly thereafter. They had 2 children: Dora M. and Barney M. Tyler. The two children were reared by their grandparents, Henry and Mary Susan, after the death of their father and mother.
In 1900, Henry and Mary Susan were living in the southeast section of Richwoods Township near the families of Atwell, Porter Caldwell, Davis, Hale, Allen, and Hensley. Their son, William Tyler, was living near Henry and Mary with his wife, (Emma) and four children.
Mary Susan Grady Tyler lived for 87 years and died in July 1932. Her husband of almost 50 years, Henry, passed on about 1912 and she remained his widow for 20 years. Her funeral was held in her home with Rev. Miles Bowden and Rev. George Warman, ministers of the Advent Christian Church, conducting the services. She was buried at Tyler Cemetery, which is also known as Atwell Cemetery in today's inventoried records. She was survived by one son, William, several grandchildren; two sisters: Nancy Grady Hicks and Frankey Grady Humphrey; one brother Thomas Grady; one half-brother Acy/Asa Grady and two half sisters: Hannah Grady Carroll ad Rebecca Grady Howard.
---
The best known Miller County Tyler I would say was Barney Tyler who was Miller County sheriff at two different times. Many people today will remember him and his children, who went to school at Tuscumbia as well as at Iberia where Barney lived a couple of different times. A couple of the Barney Tyler children I have known myself over the years include Bob Tyler, who married my wife Judy's cousin, Alice Steen, from Iberia; and Alta Tyler McDonald, who, though only a few years older than I, was my baby sitter when she lived in Tuscumbia when Barney was sheriff.
So I thought I would copy here some of the memories Alta and Bob have written of their memories of childhood when Barney was sheriff of the county. First, I will copy here what Alta has written:
My Memories of My Father
Alta Tyler McDonald (photo 04a)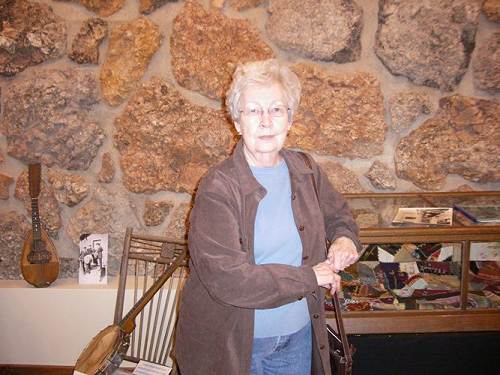 04a Alta Tyler McDonald
Barney M. Tyler was born February 26, 1887 in Miller County, Missouri to John Calvin Henry Tyler and Nancy Ann (Sloan) Tyler. He was not given a middle name…just an initial. He had one older brother, Dora and one younger sister, Minnie. When Dad was four years old, his father died, and when he was seven years old, his mother died. His paternal grandparents, Henry and Mary Susan Tyler took him and his brother to live with them. The maternal grandparents took his sister to live with them. Both sets of grandparents lived in the same vicinity, therefore; the children saw each other frequently.
In his teens, Dad left his grandparents to take care of himself. He had overheard his grandmother telling a neighbor how much of a burden the young boys were. At age 17 he was working in St. Louis and, after a year or so, he decided to "go west" (photo 05).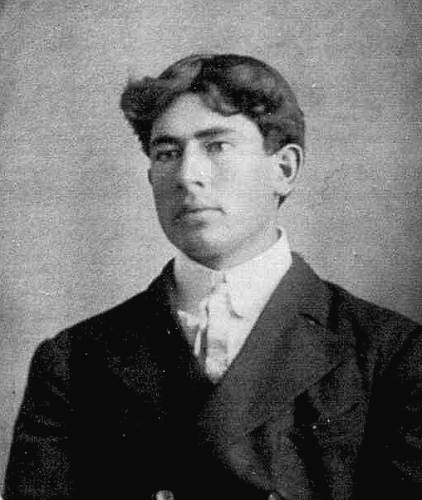 05 Barney - Age 17 - Went to St. Louis to Work
He took a train to Kansas City where he bought a nice heavy working coat (he called it a Mackinaw). He also bought a ticket to Sheridan Wyoming with the idea to work with logging crews in northwestern Wyoming. When he arrived there, however, he could only get a job as assistant cook (I'm assuming because it would take some time to learn the logging skills). Anyway, he soon decided he would be better off back in Miller County. He needed more money than he had to get back to Missouri so he raffled his new coat. He sold many tickets to the logging crews and obtained enough money to come back to Miller County. When he told the story, he said he had to walk from the logging camp back to Sheridan and he suffered cold and frost bite of the toes of one foot which bothered him for many years.
After Dad's trek out west, he worked for Henry Carroll who had a blacksmith shop in Iberia, Missouri (photo 06).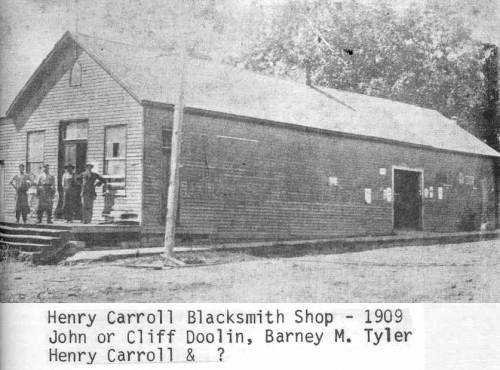 06 Henry Carroll Blacksmith Shop - 1909
Dad stayed in their home while he worked there learning to work with iron and how to shoe horses.
My Dad and Mother (Minnie Doubikin) were married in 1911 (photo 07).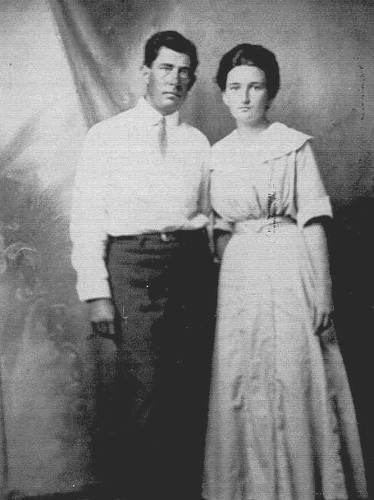 07 Barney and Minnie Doubikin
Dad was twenty four, mother, eighteen. Through the years, seven children were born (one dying in infancy). They lived in Miller County for several years and then moved to Kansas City. One of the jobs he had there was an ice truck driver but his roots soon called him back to Miller County. He bought a small store in Frank's Switch (a railroad stop between Dixon and Jerome).
Around 1930, Mom and Dad bought a farm on the Osage River near Tuscumbia, Missouri.
In 1932, Dad ran for sheriff of Miller County; however, that was the year of the Democratic Roosevelt landslide all over the country in the depression time, and he was defeated as a Republican. One story I can remember my Mother telling about that election was that Dad had gone to Tuscumbia Courthouse to await the election returns and late that evening she heard him coming up the walk whistling. She said "how in the world can you be whistling?" He just said, "I might as well."
In 1936, Dad ran for sheriff of Miller County again and this time, he won and we moved to Tuscumbia (in living quarters over the jail) (photo 08).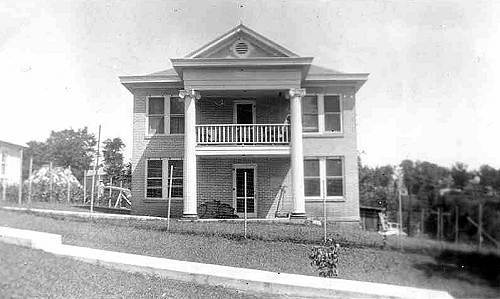 08 Miller County Jail
There are lots of memories of that time. We lived on the same block with the Berry's, Barron's, and Snodgrass's and some of the antics of the children of all our families could probably have made some pretty funny videos in today's time.
We lived in Tuscumbia for four years and then moved to Iberia where Dad worked in construction at Fort Leonard Wood. About 1943, we moved to Boonville, Missouri where Dad worked at the Boonville School for Delinquent Boys. While living there, my oldest brother, Ace, was killed in WWII. He was a B-24 pilot. After the loss of my brother, once again, Dad decided to come home to Miller County…Iberia, Missouri.
In 1948, Dad ran and was elected sheriff of Miller County again. Here are his nomination certificate and campaign card (photos 09 and 10).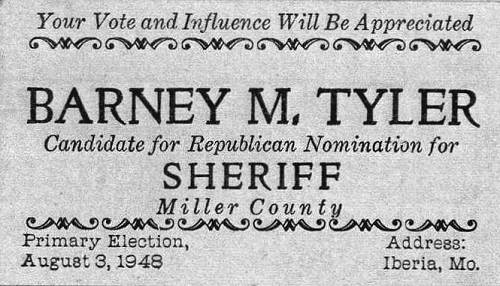 10 Campaign Card
Once again, we (just I and Mom and Dad by then) moved to Tuscumbia (over the jail). The jail almost always had prisoners in it. My Mom cooked for them, so they ate what we ate (my Mom was a good cook). There are lots of memories of that time. At Tuscumbia picnic time, it seemed, we had more prisoners than usual. One time Dad had to arrest some people who were working with the carnival at the picnic and they had a little dog that I took care of while they were in jail. When they got out of jail they gave me the dog. Another incident was when someone in jail set their mattress on fire and they had to be evacuated while the fire was extinguished. We experienced one jail break while we lived there.
After serving four years, Dad and Mom moved back to Iberia where they lived until Dad died in 1965.
When I think about so many moves and so many different jobs that my Dad experienced, I think that the beginning of his life was very hard and he learned to struggle to make a living for himself and his family during the depression when money was very scarce.
My perspective of Dad is that he was always honest in his dealings with people. He did his job, no matter what it was, to the best of his ability. He was a father who showed his love for family through his providing and care. His children respected and trusted his teachings. He spent quality time with us. He loved to fish and hunt (photos 11 and 12) in his spare time and passed that on to his children. He and my Mother were wonderful parents.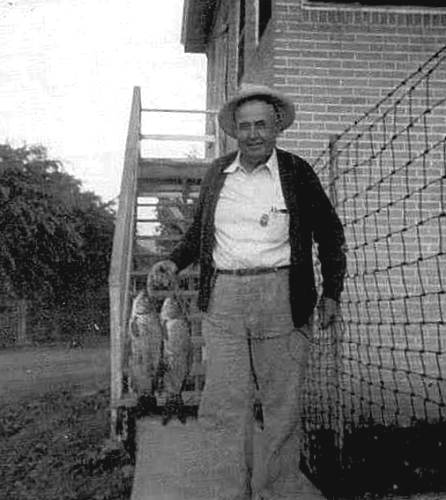 11 Barney Fishing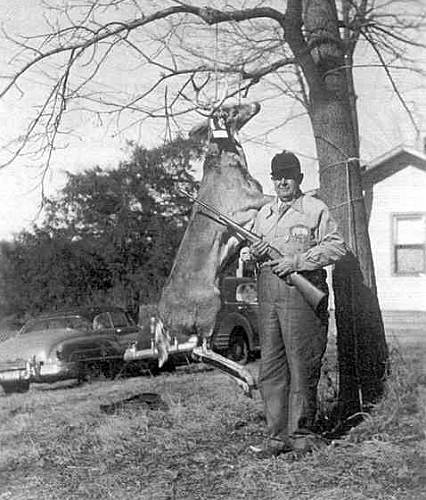 12 Barney Hunting
---
Thanks Alta. Alta gave me one very interesting photo of a meeting of the Law Enforcement Association of Miller County, probably taken in the late 1940's. We were able to identify most but not all of the attendees in the photograph (photo 13):
Left to Right Standing:
Sgt. Lester Patton, Roger Stillwell, Ray Snodgrass, LeRoy Snodgrass, Harry Kay, Hugh Atwell, Unknown, Unknown, Unknown, Trooper Louis Rohls, Lucian Mace, unknown, Onis Keeth, Johnny Setser
Left to Right Seated:
Ted Hawkins, Judge Charles Abbett, Judge Sam Blair, Alton Hendricks, Jackson Stanton, Graden Haynes, Glen Casey, unknown, Barney Tyler
Many older Miller County residents will remember most of those in the photo.
---
Now I will copy a few memories Bob Tyler (Barney's son and Alta's brother) sent me. Bob has spent many years back East where he received a PhD. at Penn. State after which he taught at the University of Maryland from 1969 to 1993 in the Department of Kinesiology. However Bob and his wife Alice (Steen) come back to Miller County fairly often as I see him maybe once every year or so (photo 13a).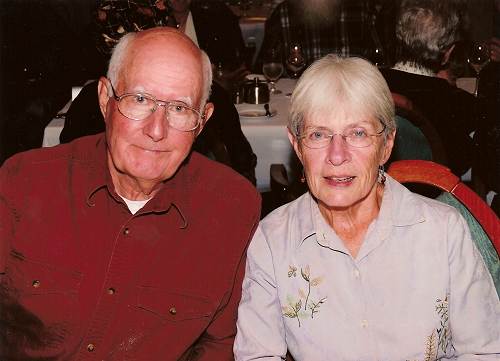 13a Bob and Alice Tyler - 2007
MEMORIES OF DAD
I'm sure that many people, as they get older, realize things about their parents that they did not appreciate when they were growing up. It is that way for me. I now can see how talented my father was and how he tried to pass on the correct way to live to his children.
First, let me talk about his talents. As a young man he grew up on a farm, raised by his grandparents, since both his parents had died when he was very young. I'm sure this caused him to mature rapidly and miss much of childhood, as we know it today. When he was a late teen-ager he went to St. Louis to work. One of his jobs was as a streetcar conductor. In his early twenties, he learned the blacksmith business, working in Henry Carroll's shop in Iberia. After marriage in 1911, he mainly was a farmer. During this period up through the 1930's, he moved his family several times to various farms in Miller and Maries Counties. In one move, he got away from farming and bought a general store at Frank's Switch, near Dixon, Mo.
Over the years he also became an accomplished carpenter. This skill, I'm sure was largely self taught and as blacksmithing, was a necessity as a farmer. From the early memories that I have of the 1930's, I now realize how talented he was. His carpentry skills are most evident. On the Lurton Farm, he built a large barn around 1931 and this structure is still being used today (photo 13b).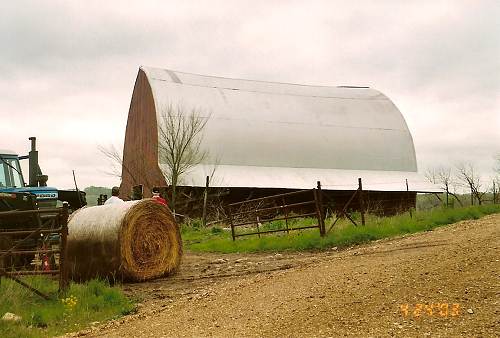 13b Barney Tyler's Barn
He later built similar, but smaller barns on other places that we lived. Dad also made several pieces of furniture for our house, some of which is still being used today.
I often have wondered what my Mother thought about their moving so much, and I think she realized that Dad had a bit of the "frontier" character, wanting to try new and different things. This also was likely a result of the times that he was living, when raising a family was difficult. Looking back, I can say that we lived pretty well and had pretty much what we needed. As the children grew, we learned to help out on the farm with various chores. He was patient in showing us how to do things and letting us make some mistakes along the way. I couldn't understand at the time why the fence posts had to be lined up so perfectly and the wire stretched just right. I have memories of the first time he let me drive the car, showed me how to bait a hook, and skin a squirrel.
There are other more important things that a parent passes on to their children. As we grew up, it was clear to us how our parents acted in their relationships with other people. The neighborly actions, which we took for granted, helping others when they had needs, sharing what we had, were all characteristics that became a part of one's life. We now thank them greatly for all these things they have given us.
When one thinks of parent-child relationships, often the question of discipline arises. Usually, it was left to the father, to carry out discipline of a child, especially in the cases where the more extreme measures were needed. I can remember that Dad could be very stern when needed and I did not want to do anything, which would cause him to have to dole out the punishment, which was needed. I am not talking about physical things, such as spankings, because these rarely, if ever, occurred. A serious "talking to" was enough to help one remember that the kind of behavior, which had occurred, should not, and likely would not happen again.
I will share one memory of my childhood that illustrates how my Dad reacted to an incident in which I was the guilty party. We lived in Tuscumbia from 1937-41 when Dad served as Sheriff for his first term. I was probably around eight years old at the time. This particular day, I was with my friends, Jud Berry and Robert Allen Condra, who were both a couple years older than me. I don't know whose idea it was, but we decided we would go to the river for a boat ride. We went to the river near the old Anchor Mill site and found a boat which was tied up to a tree. This particular day, the river was high and almost bank full. So, off we went. I think Robert Allen was rowing, Jud was in the front, and I was in the back. I'm sure we had been warned about the dangers of the river, but as kids are, we didn't think much about it. Sometime during our adventure, someone saw us and called one of the mothers. Soon, Bertha Condra and Clarice Berry were standing on the bank and yelling for us to come to shore. We promptly did that and knowing I was in trouble, I jumped out and ran as fast as I could up the hill toward our house above the jail. I later learned that Jud and Robert Allen were escorted up the hill by their mothers. Mrs. Condra had a switch, which she used to strike the ground behind her son as she yelled at him. In the meantime, the only thing I could think of was to find a place to hide so I could temporarily delay any punishment I might receive. I went in the lobby of the jail and found a good hiding spot behind a door. As I stayed in my hiding place, I could hear the talking of my parents and the calling to me. They knew that I was there somewhere because others had seen me come into the house. Finally, I was discovered by my Dad. Obviously, he was very angry. I really don't remember, if I got a spanking or not, but it was enough to have the severe "talking to" that occurred. I have often thought about this incident, and of course realize how frightening it was for parents. I think though, my father was more angry about my hiding, which resulted in more anxiety for them, than he was about our boat ride.
My father always liked to fish. When we lived on the Lurton farm, he had little time to fish, but always had trotlines out to keep fish for the table. When company would come, he would "run" the trotlines to see if there would be fish for dinner. Many enjoyable weekend days were spent on King's Bluff where picnics were spread for guests that had come to visit. Fish fries were a big part of it.
In his later years, Dad would spend many hours on the river or other creek bank waiting for the fish to bite. Often, our mother would accompany him. He had great patience for this and seemed to enjoy the time to reflect and meditate.
---
Thanks Bob. Bob sent me another photo of some of the youngsters who lived in the vicinity of the jail where Bob lived when his father, Barney was sheriff. Some of the Tuscumbia residents of the early 1930's may recognize some of these kids (photo 13c).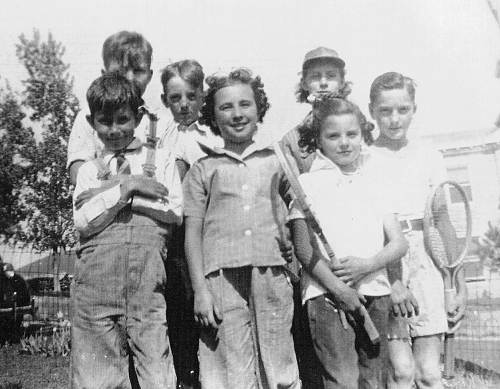 13c Bob, Don, Jud, Mary Maylee, Doris Snodgrass, Delores Wyrick and Robert Condra
Homer Tyler, son of Barney and Alta's brother, who wrote the book I mentioned above about the Tyler family, had a humorous and interesting style of telling a story. His book is much more than genealogical tables but is replete with one anecdote after another about rural life in Miller County during the great depression when he was growing up. It is one of the more entertaining books we have in our museum library. I will select one of his stories he wrote entitled the "Big Fish." It is a true story verified not only by well known Missouri Wildlife writer, Joel Vance, but also by Homer's neighbor at the time, Doris Edwards Wyrick, who remembered it well; she was retelling it to me just the other day. Here is the story as Homer wrote it:
During the summer of 1931 my Uncle Mert "Duck" Scott and Great Grandma Susan Tyler were visiting us when we lived down on the Lurton farm on the Osage River. We usually didn't need an excuse to go fishing, but this time Dad said that we had better put out a trot line and perhaps could catch a mess of fish for everyone. We went up to Kings Bluff on the western part of the farm on the Osage and set out a line baited with worms hoping to catch some channel catfish. The line reached almost across the river and we tied a fairly heavy iron on the end to weight it down.
After the line had been in a day or so we went up to run the line. Ace (brother to Homer) got in the boat and after going out about thirty feet or so he said, "Dad, I think we got a pretty good fish on." Dad told him to let the line down easy and come back to the bank. Then, of course, we all got in, Dad, Uncle "Duck", Ace and I. As Dad picked up the line he started removing each drop line and hook as he came to it. (I found out later that this was in case the fish made a "run" it wouldn't drag the line through and catch a hook in your hand.). The depth of the water at the Bluff was about thirty feet, but the length of the hole was not very long. The fish had dragged the weighted end out into the river. So that it had probably about 200 feet of line slack. After about 45 minutes of pulling the boat up and down the river, the fish surfaced next to the boat and turned over on its side. I remember dad slipping his hand through the fish's gill out its mouth and slipping it over the side and into the boat and then sitting down on the fish.
After we got back to the bank they tied a piece of line through the fish's gill and mouth and tied it to a rather large limb and then carried it up on the bank on a flat area and then Dan went back to the house to get the car to haul it home.
Now Grandma Tyler was in her 86th year and Mom, Dad or someone needed to help her with the two steps at the front or back of the house. However, when Dad came home, she looked up and said, "Didn't get anything, huh?" Dad replied "Yes," and then she said "Well, where are they or why did you come back" or something like that. Dad said "To get the car to haul it home." Well now Grandma was up out of her rocker, out the hall, across the porch, down the steps, around the house and to the car before Dad could get it started. She wanted to go along to see that fish that was so big that he needed a car to haul it home.
After everyone got a good look at the fish, they just had to take it to Iberia to show it off. When at Iberia, several pictures were taken, one with Walter Grady, son of Asa Grady, Grandma's half brother, one with Oliver Abbett, and probably several others. The only other memories that I have about the Sturgeon is that it was very good to eat, it was 5 feet 8 inches in length and weighed 85 pounds when they got it to Iberia. When they cleaned the fish they removed a 6 quart pan of eggs. I'm thankful for memories like these.
16 May, 1991
Homer C. Tyler
---
Here is a copy of the newspaper clipping in which the story of Barney's big fish is documented (photo 14).
And here is the photo which accompanied that article (photo 15):
---
Like most families now and then, the Tyler family was not spared of tragedy. Everyone who knew him really liked Ace Tyler, Barney's son. Ace and Mary Jo Berry, whose family lived close to the jail when Barney was sheriff, fell in love and got married just after Ace had completed flying school for the U.S. Army Air Force in 1943. Mary Jo was present in Pampa, Texas the day Ace was awarded his Silver Pilot's Wing after just being graduated from flying school. In fact, that was the week they got married and Mary Jo was the one who pinned the medal on his uniform (photo 16).
They were a couple greatly admired and loved by everyone who knew them. After a short time in the states, Ace was sent over seas in command as first pilot on a B-24 bomber. But in May of 1944 he was reported as missing in action. Here is the local newspaper news story of that event:
"Word was received here Tuesday evening that Lt. Ace W. Tyler, first pilot on a B-24 bomber, based in England, is missing in action in the European theatre since May 29. The official message came from the War Department to his wife at Independence Tuesday afternoon late, and was relayed to G.A. berry here soon after by telephone. No details are available, but it is known that the American air forces were heavily engaged in pre-invasion bombing missions at about that time and that Lt. Tyler had been active in these bombing missions for the past several months, and recently wrote relatives that he had "not too many more missions" to make to earn a furlough home. Ace is a graduate of Tuscumbia high school, a member of the Tuscumbia Christian church and was a successful school teacher of this community before entering the army air force. He is an exemplary young man and his many friends here hold out that he is still alive and will safely return home after the war."
However, Ace was never found. After several months, the Air Medal with one Oak Leaf cluster was posthumously awarded to Ace and was presented to his wife, Mary Jo, on January 10, 1945, with the following citation:
"For exceptionally meritorious achievement, while participating in five separate bomber combat missions, and for accomplishing with distinction several operational missions over enemy occupied Continental Europe. The courage, coolness, and skill displayed by this individual in the face of determined opposition materially aided in the successful completion of these missions. His actions reflect great credit upon himself and the Armed Forces of the United States."
Mary Jo's love for Ace was to be eternal and true for she never married again but lived a quiet helpful life for others until she passed away several years ago. She was one of my mother's best friends, something, actually, that could have been said about everyone who knew her.
---
One of the few industries Miller County had early on were the canning companies. I'm not sure how many were in operation but we do have Homer Tyler to thank for recording what he found on some old records of a Canning Company once located in the south part of the county named the Cross Roads Canning Company (photo 17).
I have copied this from one of the many stories informational as well as entertaining that can be found in his book:
Cross Roads Canning Company
Homer Tyler
I do not know who actually started the canning factory, but from 1908 through 1915 it was operated by Joseph F. Soan and his brother Harvey B. Sloan. It was located near Alder Springs, in Miller County, Mo.
The ledger from which the following information was taken is the property of Mildred Sloan Eiffert. All of the entries, I believe were made by her father Joseph F. Sloan (1880-1963). I am very grateful to Mildred for lending the old ledger to me. I have spent many enjoyable hours reading and attempting to reconstruct some of the records.
The partnership of J.F. Sloan and H.B. Sloan was dissolved March 18, 1916 with the following final entry in the ledger:
SETTLEMENT MADE BETWEEN J.F. SLOAN & H.B. SLOAN LEAVING H.B. SLONE INDEBTED TO J.F. SLONE……$24.75.
Following is a list of some of the employees of the Canning Factory, together with notes on some of their jobs, the rate of pay and other information that was picked out of the ledger.
Before I start listing the names I must point out that during this period the family name Sloan was also spelled Sloane and Slone with Slone perhaps being the most common. So, for the sake of simplicity I will spell all the names Slone.
J.F. Slone, D.M. Tyler, Guss Null, H.B. Slone, Elmer Slone, J.M. Slone, Barney Tyler, C.M. Slone, W. T. Slone, Vaskey Slone.
Most of the men worked at packing cans, soldering lids, labeling cans, packing cans in crates, labeling crates, and other miscellaneous jobs.
The women also worked at various jobs, mostly peeling buckets of tomatoes, however, on one page is shown that Lectie Thompson on the 28th of August 1909 packed 1,013 cans, on September 1st 705 cans and on September 4th, 1457 cans. Also shown is that Myrtie Slone capped the same number of cans on the same three days.
Following is a list of women who were mostly peeling tomatoes and were paid .04 cents per bucket. The number before the name is as it appeared in the ledger.
1. Myrtie Slone…Peeling, packing and capping
2. Bertha Slone…In addition to peeling, Bertha also worked by the hour in August and September, 1909 at the rate of 8 ½ cents and 7 ½ cents per hour.
3. Susan Slone…Peeling tomatoes, averaging about 11 buckets per day at .04 cents per bucket.
Most all of the following were listed during 1909 as peeling tomatoes: Letha Slone, Ida Slone, Bessie Beal, Martha Bilyeu, Katie Slone, Bertha Munch, Bessie Munch, Pearl Slone, Rosa Thompson (peeling and labeling), Sarah J. Slone (peeling and marking cans), Stella Thompson (peeling tomatoes and also apples), Paradine Branson, May Thompson, Nellie Bilyeu, Myrtle Null, Bertha Slone, Electie Thompson, Josie Lee.
Mostly they appeared to work only about 11 days each month and most of the canning was in August, September and the first half of October.
Following is a list of names of women who were working in 1911 and 1912:
Stella Thompson, Susan Slone, Bessie Beel, Ollie Bilyeu, Martha Bilyeu, Letha Slone, Bertha Bilyeu, Ida Slone, Grace Thompson, Josie Slone, Dora Thompson, Dorothy Thompson, Mary Slone, Dora Jones, Dulsie Slone, Ida Bilyeu, Lillie Lawson, Ethel Chrisman, Virgie Chrisman, Etta Chrisman.
Following is a list of names of men who were working in 1911, 1912, and 1913 at least for a few days each year:
H.BJ. Slone, J.H. Thompson, Otie Slone, Elmer Slone (was listed as ticket puncher), Claude Slone, J.H. Slone, J.M. Slone, C.B. Thompson, J.W. Roar, C.D. Jones, Howard Bilyeu, Clifford Jones (On September 20 he capped 1000 cans and picked 8 crates of tomatoes), T.L. Jones, Chester Cross, J.H. Bilyeu, A. E. Settles, J.B. Thompson, A. R. Thompson, Walter Jones, R. B. Thompson and Melvin Alexander. Most of these men were working for .10 cents per hour.
August, September and October, 1913, the following employees were listed: Stella Thompson, Izara Alexander, Sadie Kehr, Allie Bilyeu, Martha Bilyeu, Ella Yoakum, Eva Blize, Guy Thompson, Mollie Alexander and Roy Slone.
In 1915 tomatoes were purchased from Edd Schubert, T. L. Jones, Bill Morrain, D.D. Jones, and Otie Slone.
In September, 1915 the following employees were listed: Martha Bilyeu, Bertha Bilyeu, Stella Bilyeu, Minnie Bilyeu, (Minnie would have been 13 years old and was working with the other women peeling tomatoes), Stella Thompson, Silvie Denton, Guy Thompson, Howard Bilyeu, Ettta Dake, Emma Slone, I.A. Slone, Sarah J. Slone, Anna Pankey, Dora Jones, Urcil Jones and Jewel Jones.
The average number of days of work per month appeared to be about 8 or 10 and the wages per day about .35 cents to .50 cents, making a total monthly wage of perhaps $4.00. For example, Eva Blize worked 8 days in September 1913, peeled 92 buckets of tomatoes, and received in wages $3.68.
In going through the ledger it appears that both Joseph Slone and Harvey Slone were receiving the same rate of pay per hour as the other men. I have no way of knowing what the total profit was for the year, but looking at the final settlement it must not have been a very lucrative business. I am told that one time Joe reminded Harvey that he still owed him $24.75 to which Harvey replied, "Well, if I had paid you, you would just have spent it."
9 September 1991
Homer C. Tyler
---
The new bridge construction over the Osage River at Tuscumbia continues to be a popular topic of conversation. I found a website which lists all the known bridges known, past and present to have crossed the Osage River:
http://bridgehunter.com/category/waterway/osage-river/
Here is a summary of that site:
Bailey Bridge (Benton County, Missouri)
Built 1908; collapsed 1954
Lost swinging bridge over Osage River, near the end of Route KK southwest of Warsaw
No longer exists
Bell Island Bridge (Benton County, Missouri)
Built 1899 for $1,000
Lost suspension bridge over Osage River on Charlie Bell's farm
No longer exists
Branstetter Swinging Bridge (Benton County, Missouri)
Built 1924 for $8,500
Lost swinging bridge over Osage River, southwest of Warsaw
No longer exists
Brown's Ford Swinging Bridge (St. Clair County, Missouri)
Replaced 1974
Lost swinging bridge over Osage River (now Truman Reservoir) on Route C northwest of Iconium
No longer exists
County Line Bridge (Henry County, Missouri)
Built 1912 by Joseph Dice
Lost suspension bridge over Osage River
No longer exists
Heath Ford Bridge (Benton County, Missouri)
Built 1908 by Joseph Dice for $5,820
Lost swinging bridge over Osage River, on what is now MO 7 west of Warsaw
No longer exists
Henley Bridge (Miller County, Missouri)
Through truss bridge over the Osage River on the Rock Island Railroad
Rail line currently out of service
Hurricane Deck Bridge (Camden County, Missouri)
Built 1934-36; rehabilitated 1985
Cantilevered deck truss bridge over Osage Arm, Lake of the Ozarks, on MO 5
Open to traffic
Monegaw Springs Bridge (St. Clair County, Missouri)
Lost swinging bridge over Osage River (now Truman Reservoir) at the town of Monegaw Springs
No longer exists
Mystery Swinging Bridge No. 1 (Benton County, Missouri)
Lost swinging bridge over Osage River in the Warsaw area
No longer exists
Mystery Swinging Bridge No. 2 (Benton County, Missouri)
Lost swinging bridge over Osage River in the Warsaw area
No longer exists
Osage City Railroad Bridge (Cole County, Missouri)
Through truss bridge on the Union Pacific Railroad over Osage River at Osage City
Still in use
Osage River Bridge at Hubers Landing (Osage County, Missouri)
Lost vertical-lift through truss bridge over Osage River on US 63 and US 50
Replaced by new bridge
Osage River MO 7 Bridge (Benton County, Missouri)
Built 1930; replaced in the 1970s by a new bridge with the creation of Truman Reservoir
Lost through truss bridge over Osage River on MO 7 (formerly MO 35) west of Warsaw
Removed
Osceola Arch Bridge (St. Clair County, Missouri)
Built 1928; replacement bridge completed 1974
Lost open-spandrel arch bridge on MO 13 over Osage River (Truman Reservoir) near Osceola
Replaced by a new bridge
Osceola Bridge (St. Clair County, Missouri)
Lost two-span through truss bridge over Osage River at Osceola
Demolished with the creation of Truman Reservoir
Roscoe Bridge (St. Clair County, Missouri)
Replaced 1976
Lost through truss on Route E over Osage River (now Truman Reservoir) at Roscoe
Replaced by a new bridge
Sagrada Bridge (Benton County, Missouri)
Built by Mr. J. S. Kidwell. Demolished 1931 with the completion of Lake of the Ozarks
Lost swinging bridge over Osage River at or near the Benton-Camden County line, probably beyond the end of modern-day Route FF
No longer exists
Schell City Bridge (Vernon County, Missouri)
Built 1906
Through truss bridge over Osage River on Rockville Road/Old River Road north of Schell City
Closed to all traffic
Taberville Bridge (St. Clair County, Missouri)
Lost swinging bridge over Osage River somewhere near Taberville
No longer exists
Tuscumbia Bridge (Miller County, Missouri)
Built 1932
Through and deck truss bridge over the Osage River on MO 17 at Tuscumbia
Open to two-lane traffic, but in poor condition
Tuscumbia Swinging Bridge (Miller County, Missouri)
Built 1905 by Joseph Dice; replaced 1932 by the current bridge
Lost swinging bridge over Osage River at Tuscumbia on what is now MO 17
No longer standing, but artifacts still visible on both banks
Warsaw Lower Bridge (Benton County, Missouri)
Built 1897; destroyed by fire in 1926
Lost suspension bridge over Osage River at Warsaw
Destroyed by fire
Warsaw Middle Bridge (Benton County, Missouri)
First bridge built 1895; collapsed March 1913; new bridge completed Sept. 1913; demolished in 1975
Lost swinging bridge over Osage River on the road between Warsaw and Whitakerville
No longer exists
Warsaw Upper Bridge (Benton County, Missouri)
Built 1927 by Joseph Dice; closed to traffic in 1979; rehabilitated 2007
Swinging bridge over Osage River on MO 7 (formerly Route A) in Warsaw
Open to pedestrians only
---
We are fortunate to have such eager and helpful volunteers working at the museum. Jack Wiggins and Brice Kallenbach (photos 18 and 19) are our painters who in the last month have painted walls, doors, furniture, and assorted other assignments utilizing their cheerfull willingness to share their skills with us.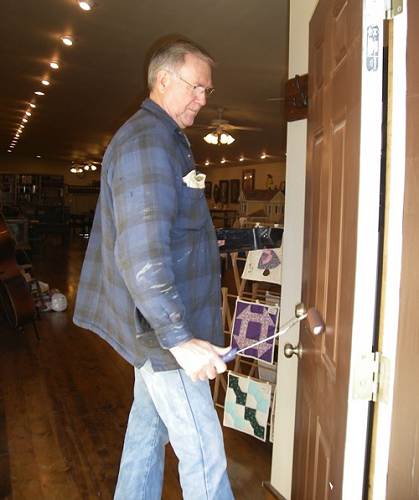 18 Jack Wiggins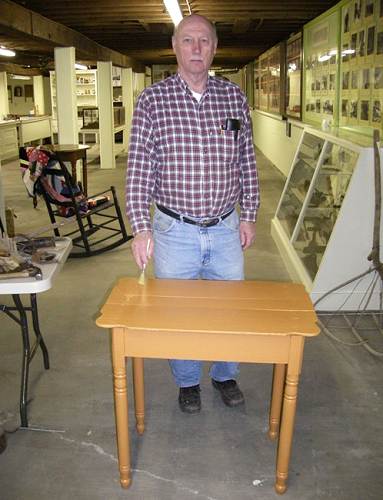 19 Brice Kallenbach
Jim Clark (photo 20) shared his cabinet working skills by refinishing our kitchen cabinets and replacing the drawer slides.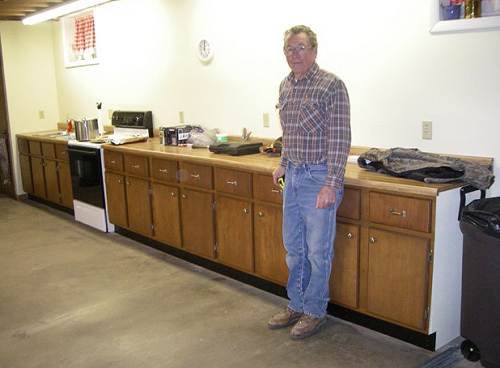 20 Jim Clark
All our work for the next two months is oriented toward preparing the museum for our "Grand Reopening" on Saturday, May 16.
---
Last Monday we were visited by Lola Howser of Barnett and her granddaughter, Samantha Richardson, of Barnett (photo 21).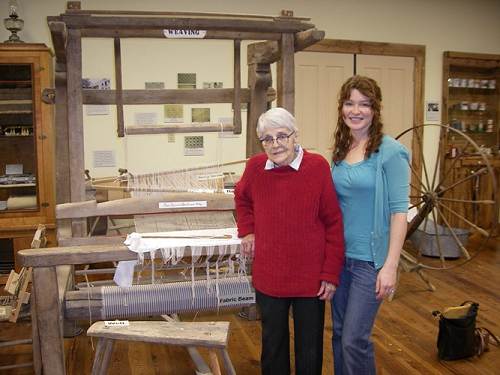 21 Lola Howser and Samantha Richardson
Lola is an expert at the art of weaving which she has done for many years having her own loom at home, which she reports is almost two hundred years old. However, the loom's age is somewhat relative since Lola is going on 92 years old herself! Samantha, as a child, enjoyed watching her grandmother Lola weave rugs, and when she grew older, she learned the skill herself when she attended College of the Ozarks near Hollister, Missouri. We are fortunate, indeed, that Lola and her granddaughter are going to give demonstrations of weaving at our "Grand Reopening" on May 16. In preparation for that Lola and Samantha came to the museum to inspect our loom and spinning wheel to get them in working order for the demonstration. I was especially impressed that Lola was able to take our one hundred fifty year old loom, donated by the John Williams family, and get it in working order very quickly. She obviously has used one for many years! Here are some photos of Lola and Samantha working with the loom (photos 22-26):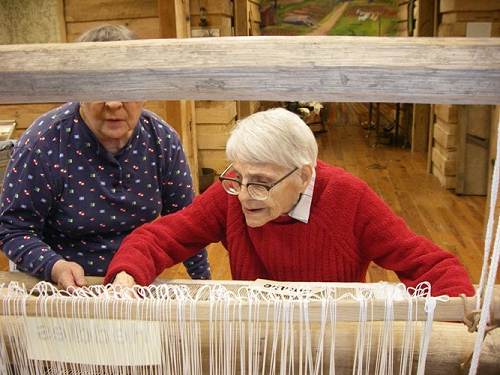 22 Lola Howser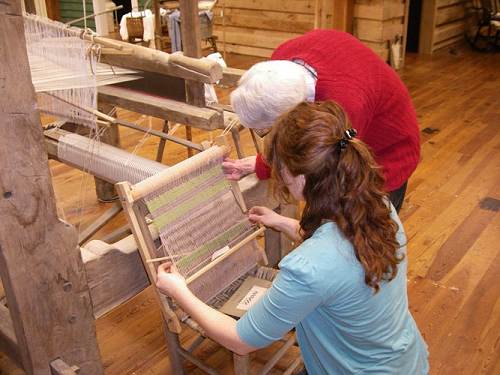 23 Samantha and Lola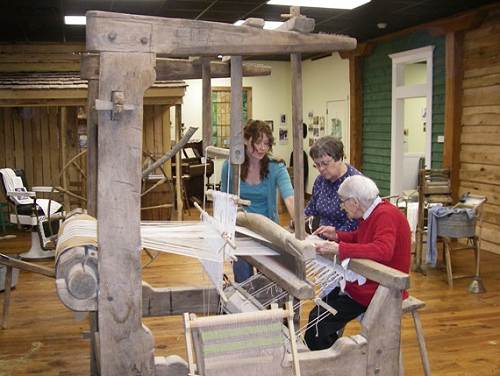 24 Samantha Richardson, Nancy Thompson and Lola Howser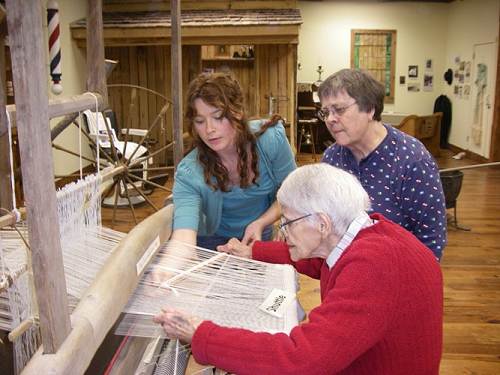 25 Samantha Richardson, Nancy Thompson and Lola Howser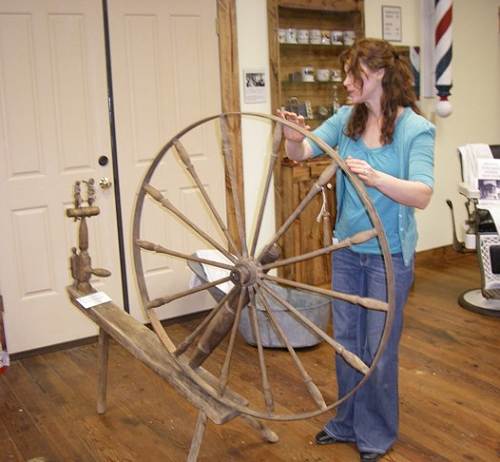 26 Samantha Inspecting Spinning Wheel
---
Another visitor last week to the museum was Greg Keeth of Iberia (photo 27), who brought us a number of signs which originally were used to designate various rooms in the old girl's dormitory at the Iberia Academy.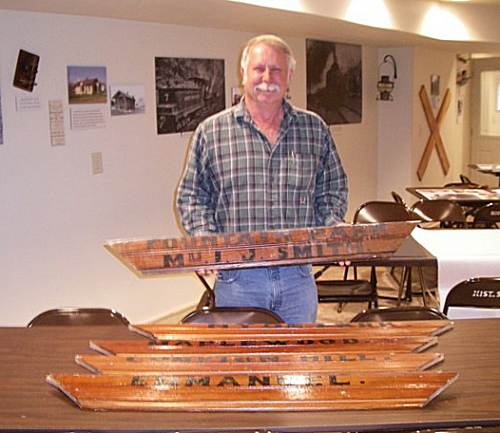 27 Greg Keeth
These signs are very old, probably almost one hundred years old. We plan to add them to our museum at various locations because of their historical importance. Greg had collected them several years ago to preserve them and after he saw our Iberia Academy Display a few months ago decided to donate them to us. We are very grateful to Greg for these important historical items.
That's all for this week.